This year's performance by the Norfolk & Norwich Operatic Society (NNOS) at Norwich Theatre Royal is Kinky Boots – one of my favourite musicals! Read on for my spoiler-free review of Kinky Boots.
*We were invited to the press night to see the show so that we could share our experience with our readers.
Note: This post contains affiliate links.  As an Amazon Associate, we earn from qualifying purchases. Please see disclosure for more information.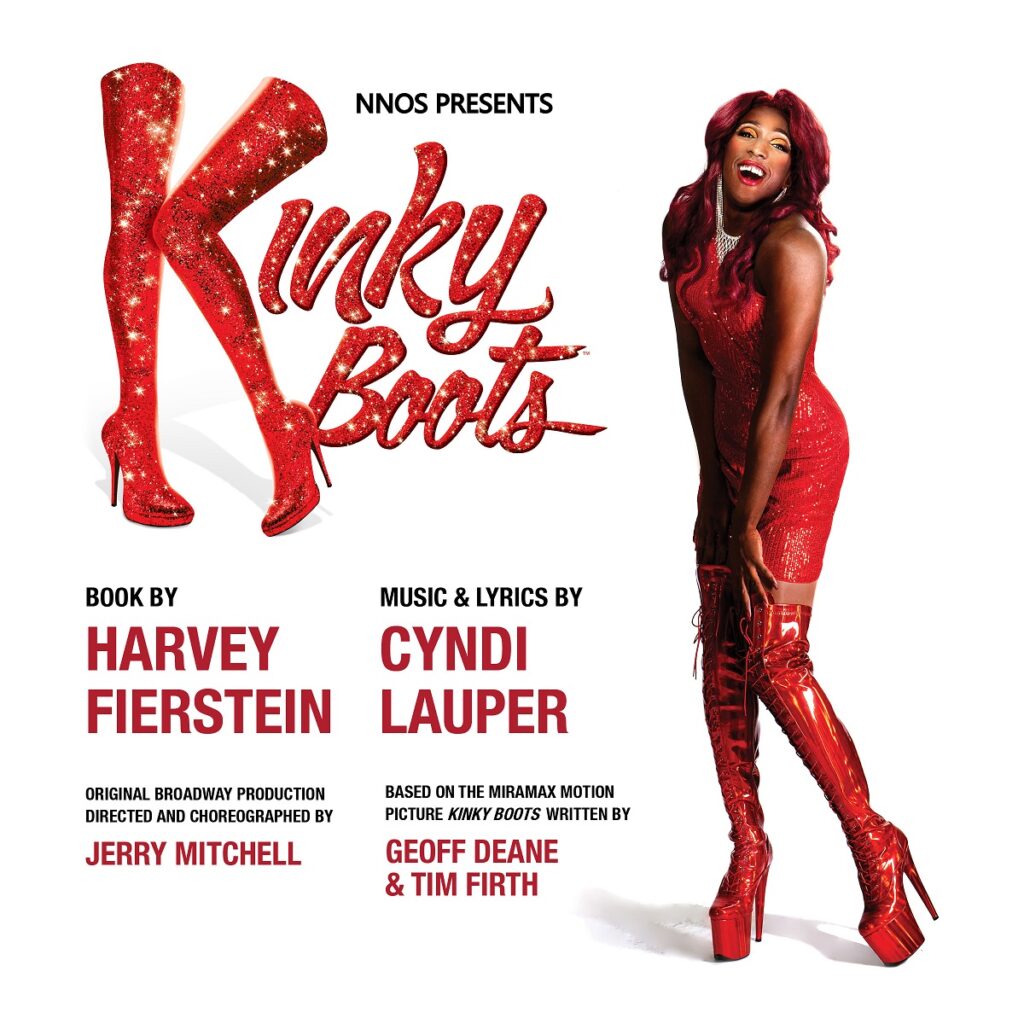 About Kinky Boots
Loosely based on a true story, Kinky Boots started as a musical comedy-drama film released in 2005. In 2013, it made its Broadway debut with music and lyrics by Cyndi Lauper and won six Tony awards. A few years later when it made its West End debut, it won three Laurence Olivier Awards, including Best New Musical.
Kinky Boots follows the journey of Charlie Price, a young man who inherits a struggling shoe factory. To save the business, he partners with Lola, a cabaret performer, to create a line of high-heeled boots for drag queens. Can the unlikely duo overcome widespread scepticism, financial and social pressures – and even their own preconceptions to find success? What does success even mean anyway?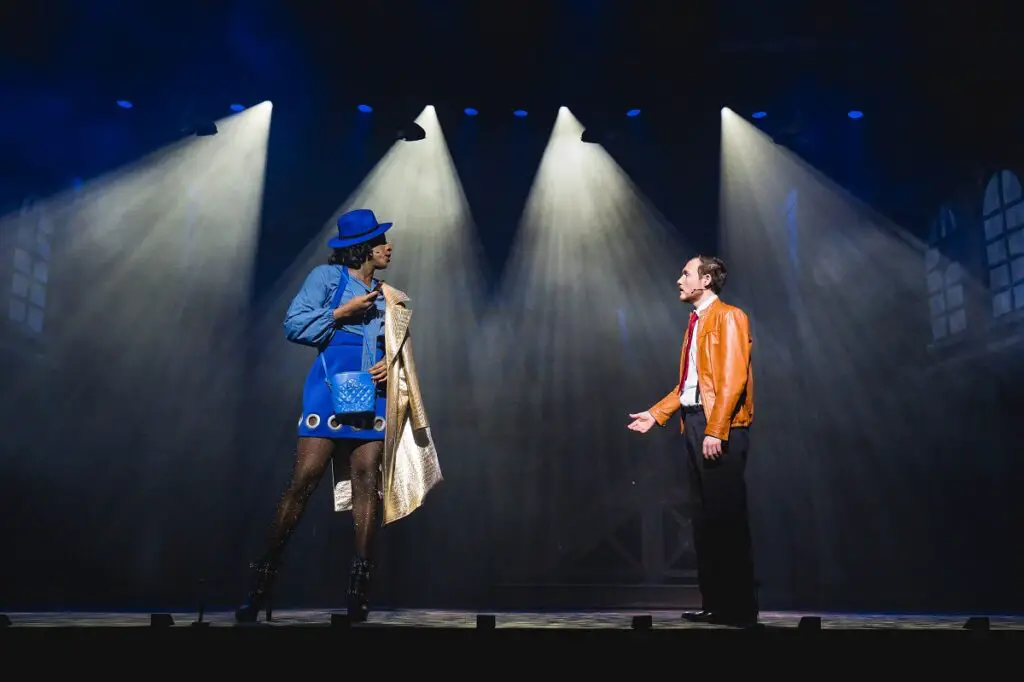 Review of Kinky Boots at Norwich Theatre Royal
This is one of those stories that manages to be both uplifting and heartwarming, while blending comedy and poignancy along the way.
Kinky Boots is different from other shows that the NNOS has produced and I applaud them for having the courage to take on the challenge. They weren't able to find a Lola in the wider Norfolk community, so for the first time in their history they had to cast a professional actor, Akeem Ellis-Hyman.
The show starts out with a glimpse of the shoe factory and Charlie as a young boy (played by Archie Woodward). All seems well as we can appreciate "The Most Beautiful Thing in the World" – shoes.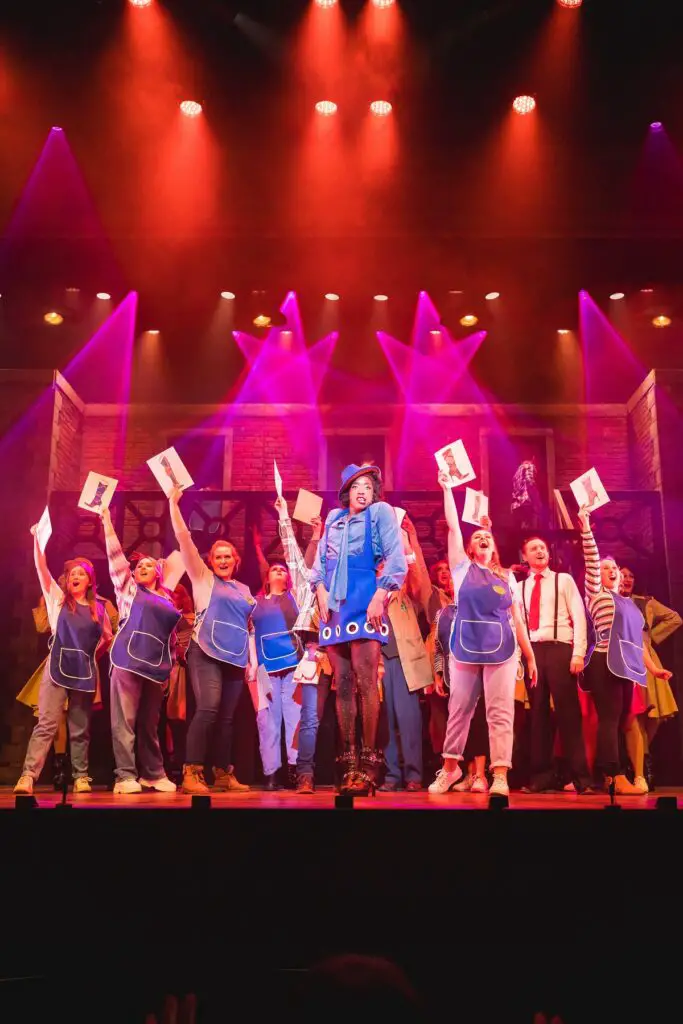 It doesn't take long for things to turn around. Charlie's dad (played by Ian Chisholm) passes away and we start to learn that the shoe business is in trouble.
In a city like Norwich with a rich history of shoe manufacturing, you can almost hear the echo of voices from years past in Charlie's despairing cry that there's nothing he can do to save the firm his family built.  
First, Charlie (played by Dominic Sands) turns to Harry (played by James Bell), a friend who is a shoe salesman. He playfully tells him to "Take What He's Got." Then Lola entered the story and I felt the energy level of the cast go up another notch.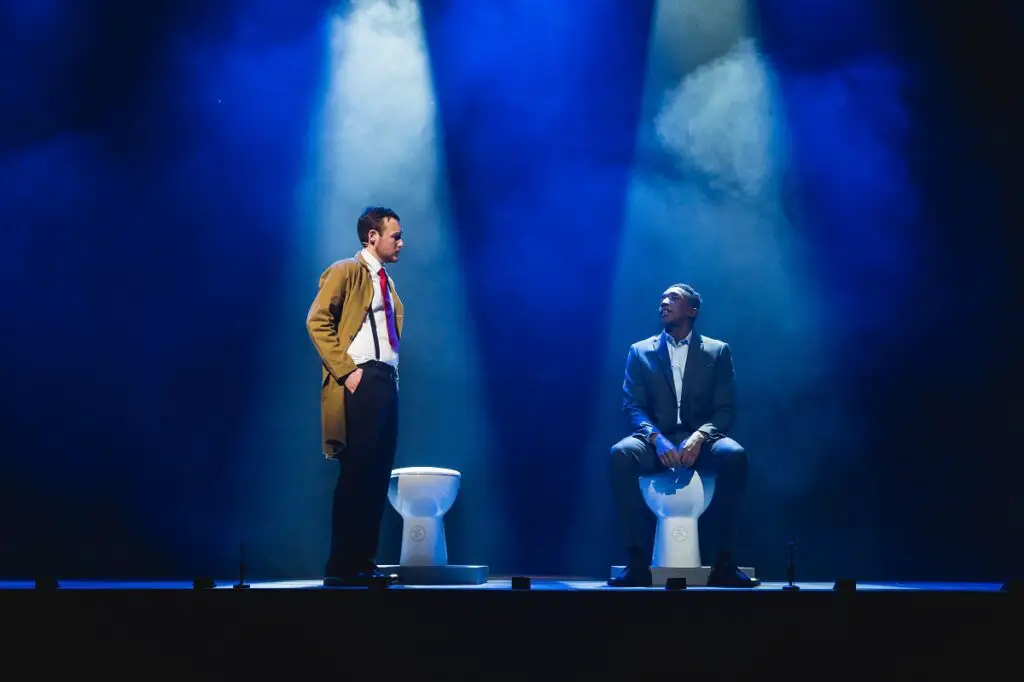 From this point on, the plot moves on at a good pace, interspersing large ensemble numbers with dialogue and more intimate performances. The live band had me dancing in my seat and the audience clapping along to the music.
You have to give credit to the men dancing in heels. I know it is not easy and I say that as someone who is used to wearing heels (well pre-covid).
Songs like "I'm not my Father's Son", a duet with Lola and Charlie (performed rather incongruously on the toilet!) were brilliantly executed, so that the emotionally charged scenes really hit home. Special mention has to go to Emmie Wright's show-stealing performance of Lauren's solo, "The History of Wrong Guys". It was both hilarious and powerfully performed.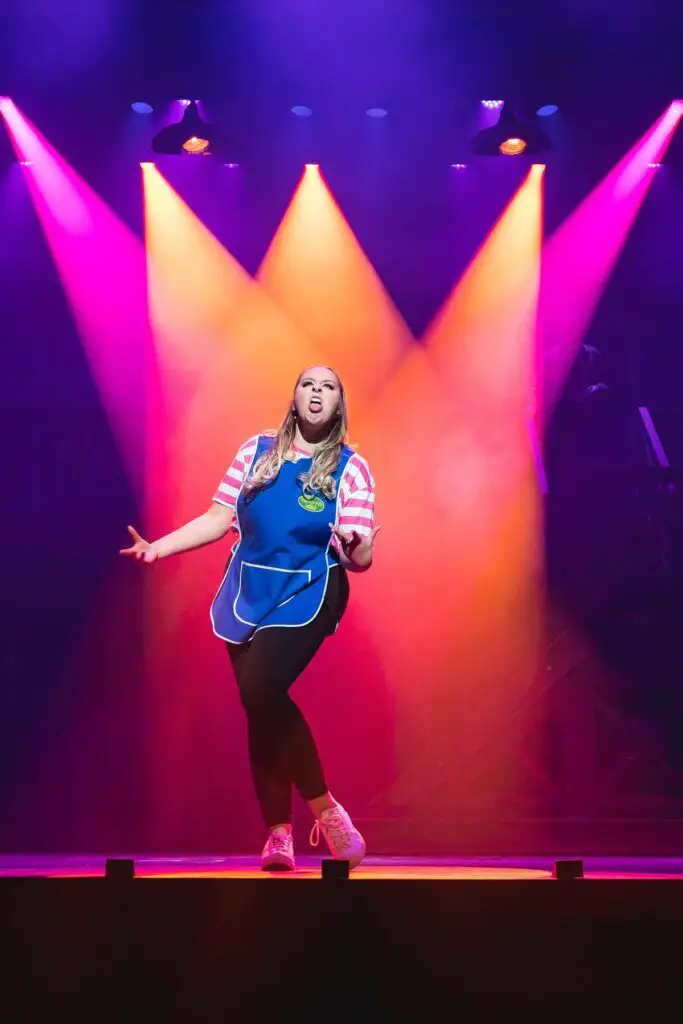 As the show progresses through Charlie's crisis of confidence through to the final, riotous act set at a Milan fashion festival, it becomes clear that Kinky Boots is not about saving a shoe factory, or a guy in a dress, it's an exploration of that most human of experiences: the search for one's own identity and voice.
Whether it's Lola, with parental pressure to be a boxer; Charlie, who has the voice of his father ringing in one ear and his fiancée in the other; or Don (played by Alex Green), who sees himself as a 'man's man' and can't abide anything different, they all have their own journeys to make.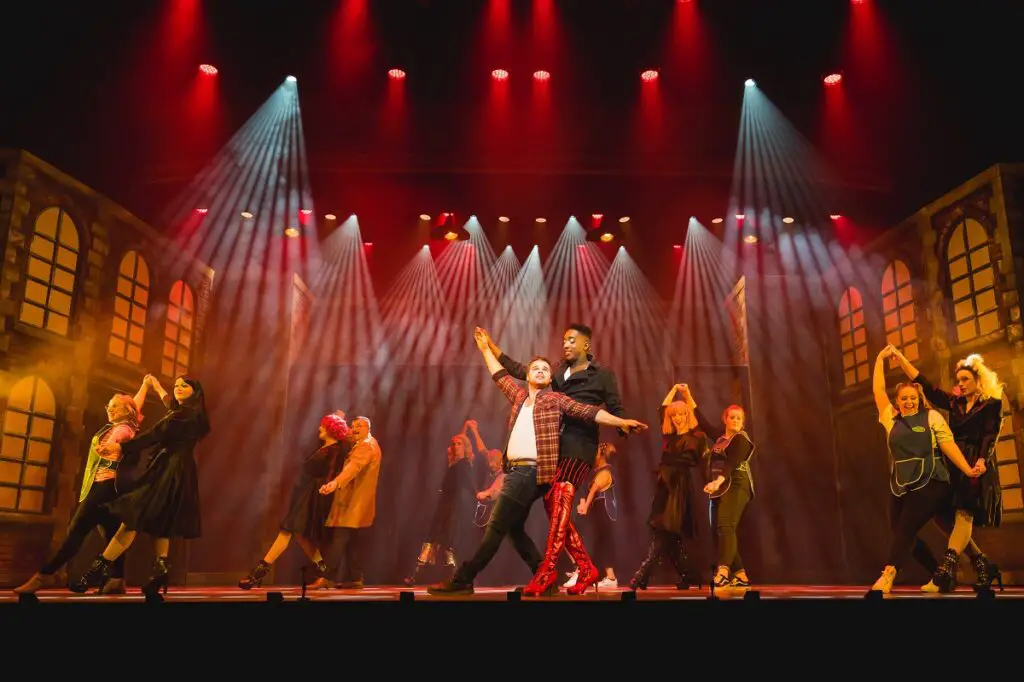 You can't help but be inspired by this story. The premise that a seemingly-crazy idea could turn a business around and the uplifting message about having the courage to be true to yourself is encouraging especially in today's world when social pressures have never been higher. The cast definitely brought that message home with a show that is well executed and entertaining.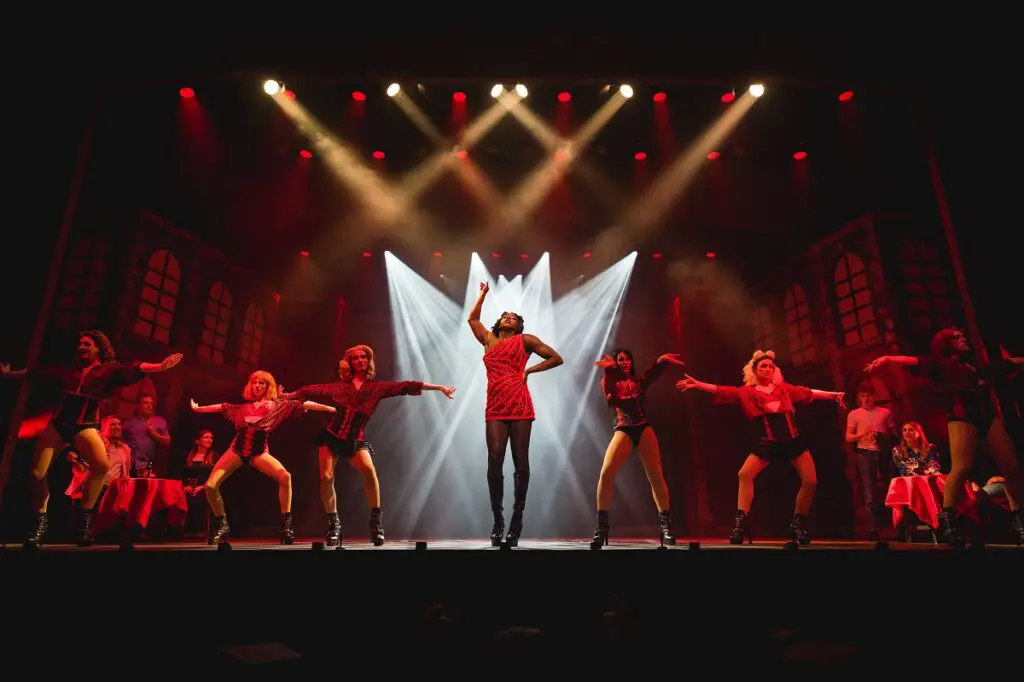 At the end of the musical, the cast got a well-deserved standing ovation from the packed house. The crowd loved what they saw, and if you go, you will too.
For me, Emmie Wright was the shining star. I hope to see her back on the Norwich Theatre Royal stage, she has a bright future ahead of her.
After last year's performance of the Sound of Music and this year's show, Kinky Boots, I am looking forward to seeing what NNOS does with their production of Betty Blue Eyes in 2024.
Ladies and gentlemen (and those who are yet to make up your minds): Don't miss Kinky Boots at Norwich Theatre Royal!
Kinky Boots FAQs
When can you see Kinky Boots at the Norwich Theatre Royal?
There will be performances of Kinky Boots at Norwich Theatre Royal from 31 January – 4 February.
How much are tickets for Kinky Boots?
Tickets run £10 – £28.50. At the time of writing, only very limited tickets are remaining. Check availability here.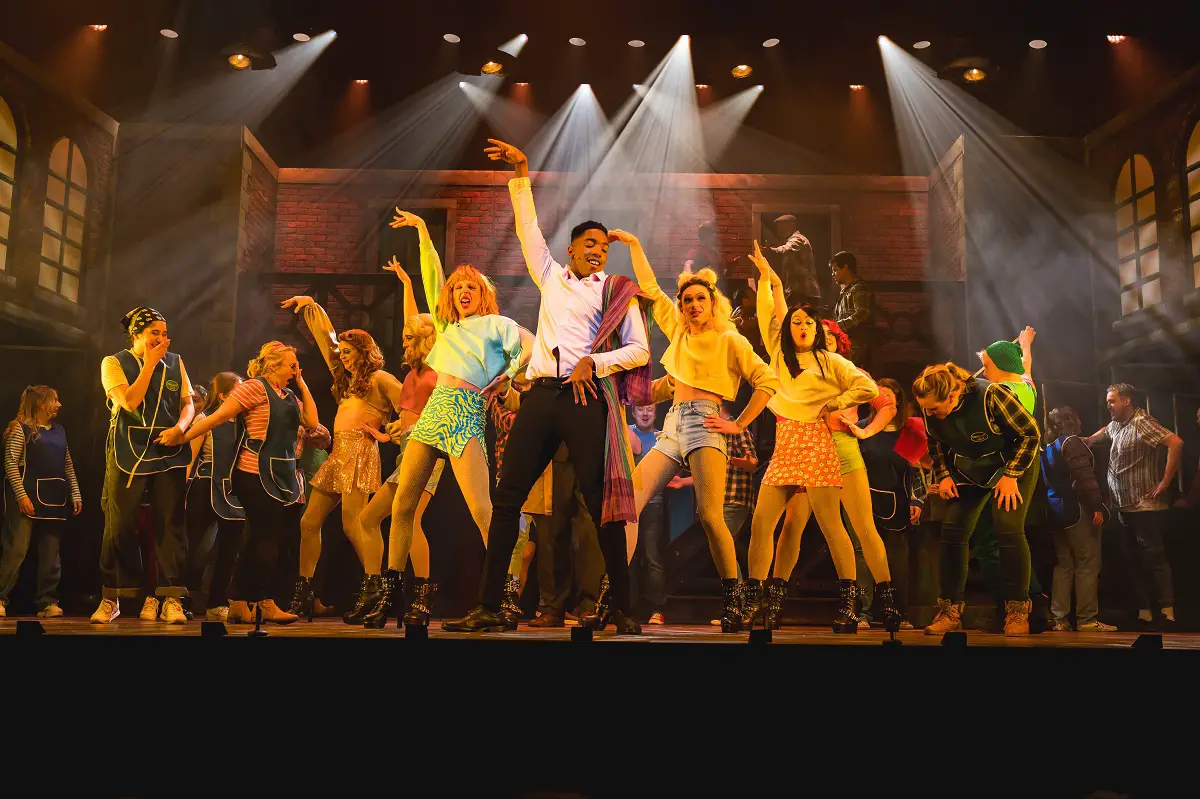 Is Kinky Boots suitable for kids?
It depends on the child, to give you an idea, the movie received a 12A rating as the show does deal with some mature content like gender identity and sex.
How long is a performance of Kinky Boots?
The show runs around 2 hours and 20 minutes with a 20 minute interval.
Is food and drink available at Norwich Theatre Royal?
You can have a pre-show meal in the Prelude Restaurant. Before the show and during the interval, snacks and drinks can be purchased at Cafe Royal or the Circle or Stalls Bar. We recommend ordering your interval drinks at the bar before the show starts.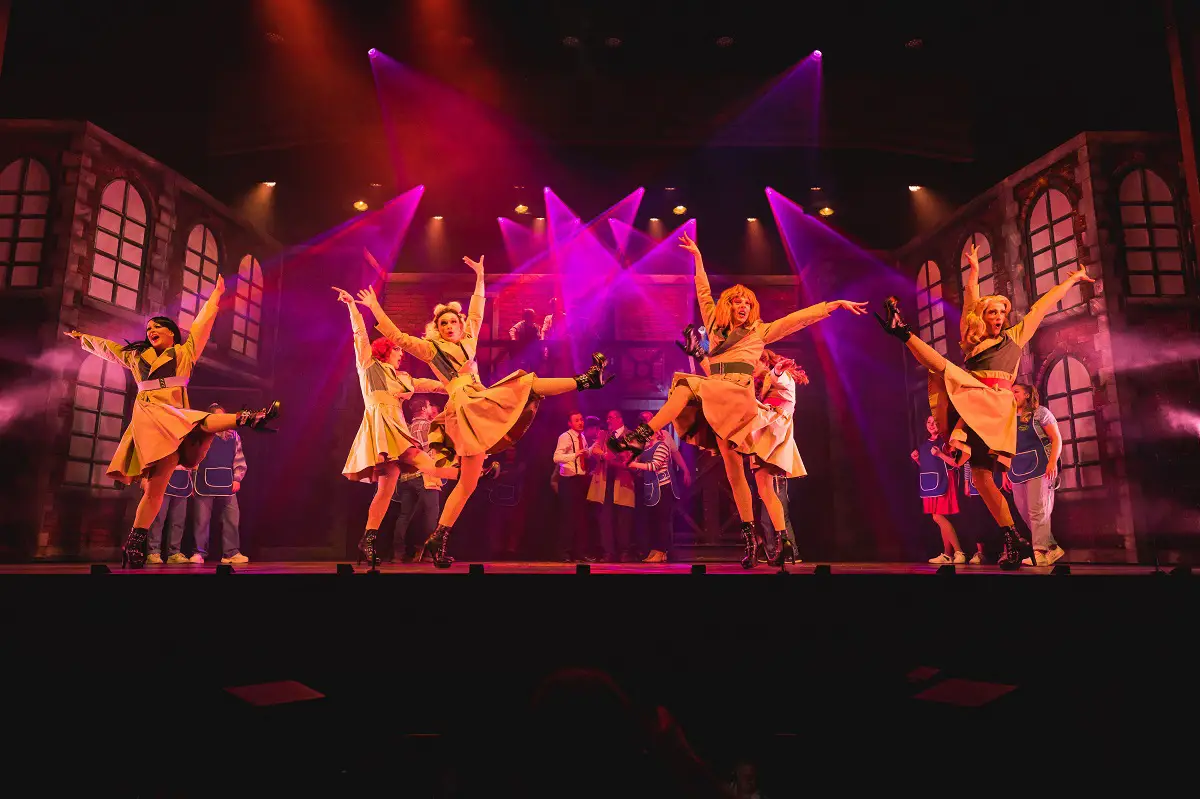 How do you get to Norwich Theatre Royal?
Norwich Theatre Royal is easy to get to as it is located on Theatre Street (next to the Assembly House) in the Norwich city centre. It's about a 7 minute walk from the Norwich Bus Station or a 20 minute walk from the Norwich Train Station.
Where should you park for Norwich Theatre Royal?
You could use any car park in Norwich city centre, but The Forum and Chantry car parks are the closest ones to Norwich Theatre Royal. Alternatively, you could use the Park & Ride as it's a short walk from the Norwich Bus Station.
Disclosure: This post contains affiliate links. This means we will receive a small commission for some purchases made using links in our blog with no additional cost to you.  Please be assured we would not promote any product unless we believe that our readers will also benefit.  The commission does not influence the editorial content of this site.