Are you looking for an authentic hammam experience but don't feel like traveling all the way to Morocco or Turkey? Well, guess what? You don't have to! Believe it or not, there's a hammam right here in the UK, specifically at The Old Post Office (TOPO) in Harleston, Norfolk. And let me tell you, it's not just the hammam that's worth raving about – there's more!
We recently had the pleasure of indulging in both the hammam and afternoon tea at The Old Post Office, and it was an experience to remember. From the moment we stepped inside the historic building, we knew we were in for a treat. The hammam itself was nothing short of amazing – we felt like royalty as we were pampered from head to toe. And as if that wasn't enough, the afternoon tea that followed was the cherry on top.
Trust me, you don't want to miss out on what The Old Post Office has to offer. Keep reading to hear all about our experience with the hammam and afternoon tea!
Note: We were guests of The Old Post Office so that we could share information about our visit with our readers.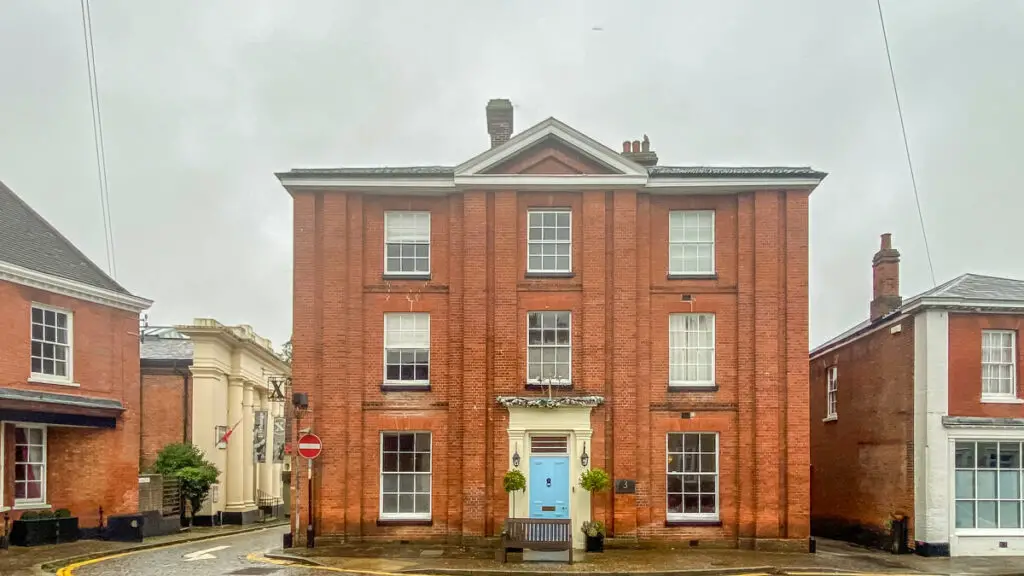 About The Old Post Office
The Old Post Office is housed inside a property that was originally built in 1790 as the Gurney Bank. When Gurney Bank merged with Barclay's in 1886, the National Post Office took ownership of the building.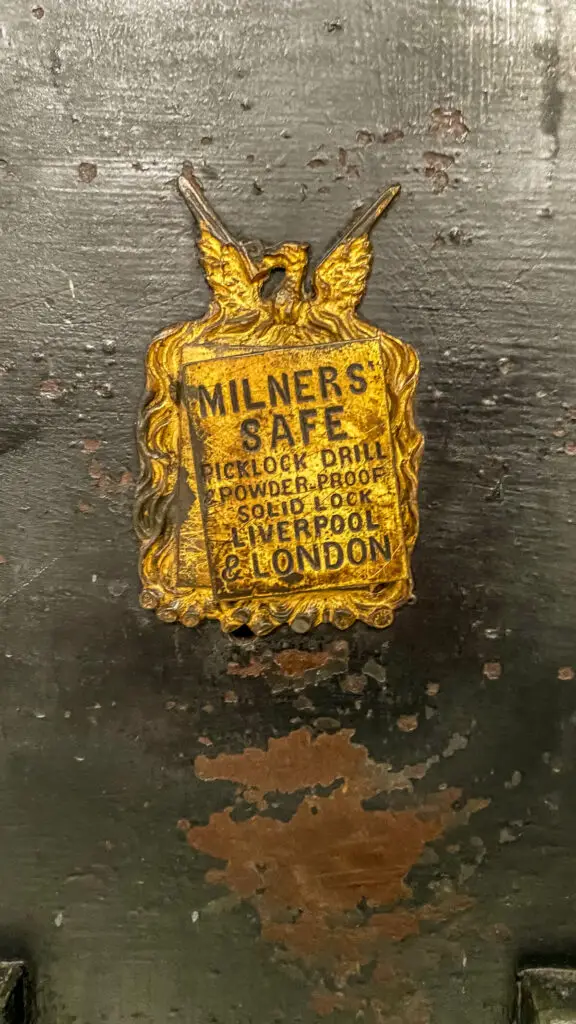 The Grade II listed building became derelict after it was vacant for 10 years. Claire, TOPO's owner, has lovingly restored and refurbished it to create a luxurious residence, guest house, and day spa. It took about a year, but the work was completed just a few days before the first lockdown in 2020.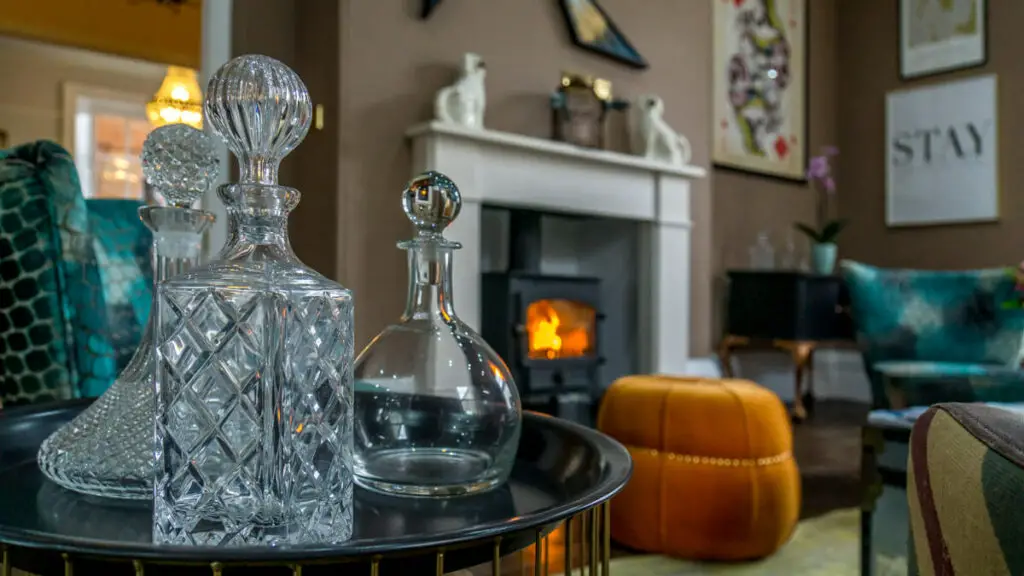 When you step inside The Old Post Office, it's hard to imagine that only a few years ago it was in a fairly dilapidated state. Now it's beautifully decorated to a high standard with Georgian and Arabic elements. The rooms are all furnished with antiques.
Claire gave us a tour of all the rooms and I'm not sure which one I liked best because they were all stunning. They can host up to 12 guests in their three themed bedrooms – The Shakespeare Room, Gurney Room, and Waveney Room. It's the perfect place to celebrate that special occasion or just treat yourself.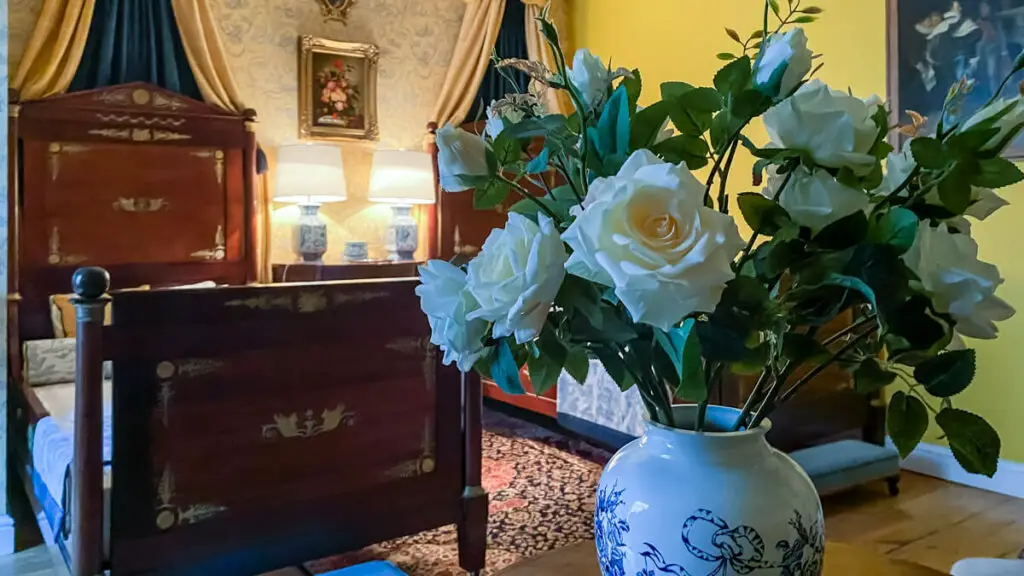 The Shakespeare Room is a romantic French-inspired twin bedroom that feels like something out of a fairytale. It gets it name because the 1998 film, Shakespeare in Love, was filmed in Norfolk. We enjoyed lounging in the sitting area by the fireplace before and after our hammam spa time.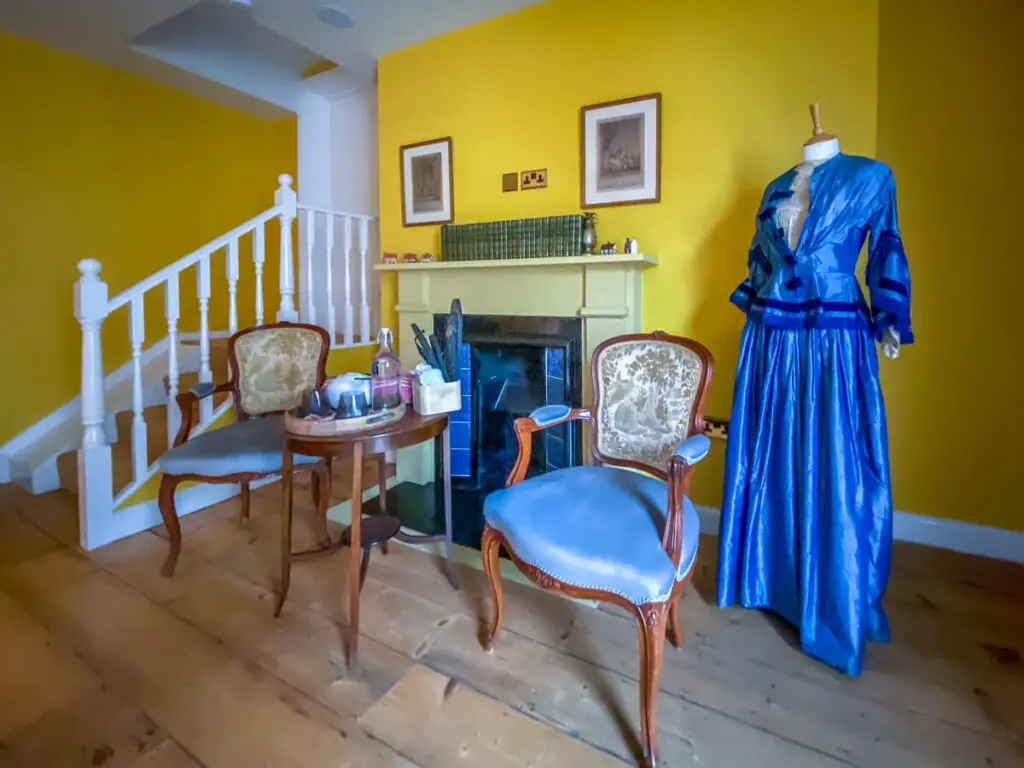 When I walked into the Gurney Room, my eyes were first drawn to the large cast iron bath right by one of the windows. Then I turned and saw the super king-sized designer four poster bed. You can't help but feel pampered in this opulent, yet comfortable room.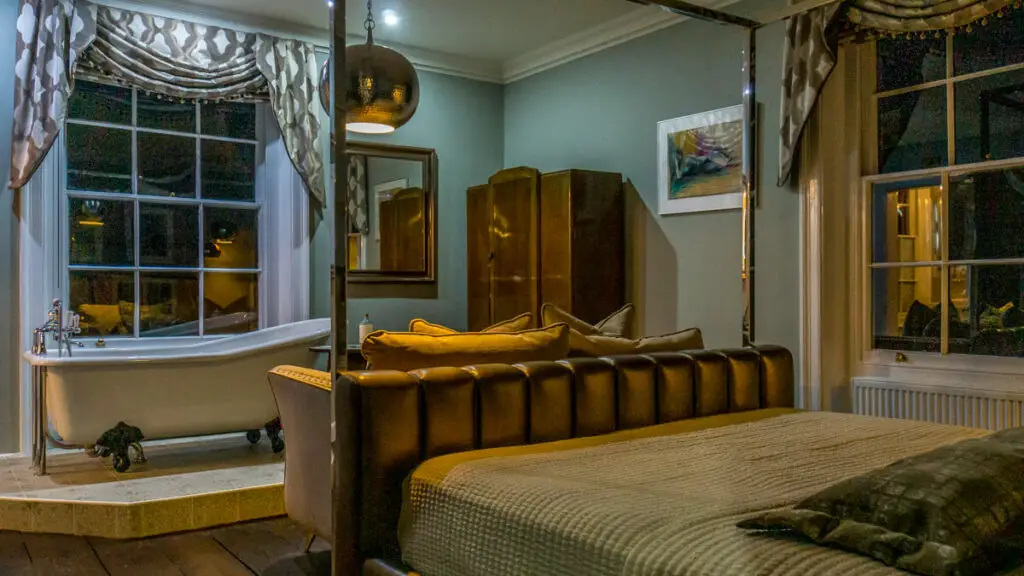 For larger groups that want to stay together there is the Waveney Room. It can sleep up to 8 with two ensuite bathrooms. The beds are a bespoke design that take advantage of the high Georgian ceilings.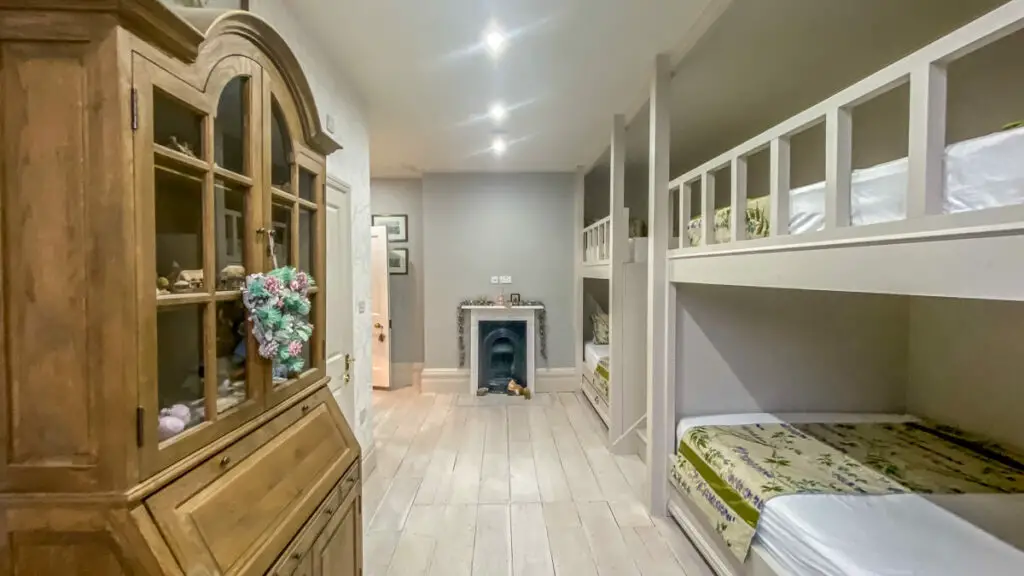 You can find out more about The Old Post Office on their website.
Our Hammam Experience at TOPO
On a dreary and chilly November afternoon, we made the short drive (a little more than 30 minutes) out to Harleston from Norwich to visit TOPO. Claire greeted us with a big smile when we arrived and led us to the lounge for a cuppa and a chat.
Once we finished our tea, we were escorted up their stylish curved staircase to the first floor where they have their guest rooms and the hammam spa. The hammam has been created inside what was an old bank vault.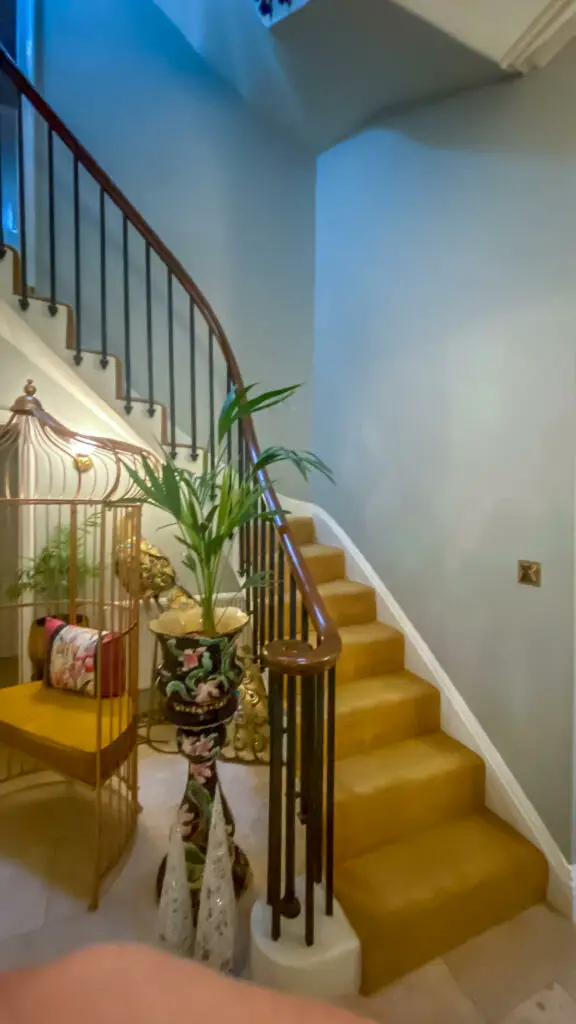 You will see the arched brickwork and iron reinforced walls of the original bank vault alongside the modern tilework. The hammam has a glass door but the original safe door has been preserved on the other side of the shower and can be seen in the bathroom of the Gurney Room.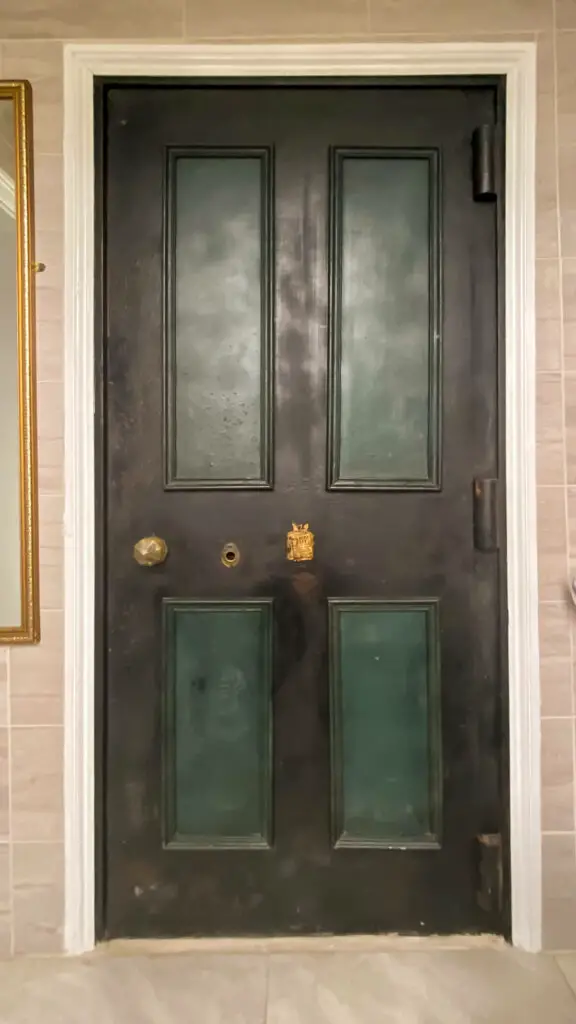 It was our first time to experience a hammam so Claire explained how it would work and some of the health benefits. The hammam offers four levels of therapy – steam, light, sound, and aroma.
Our treatment started with about 20 minutes of just relaxing in the hammam while the steam worked to open up our pores. We could either sit or lie down on the tiled benches (which felt slightly cool to the touch) on either side of the hammam. I enjoyed both positions.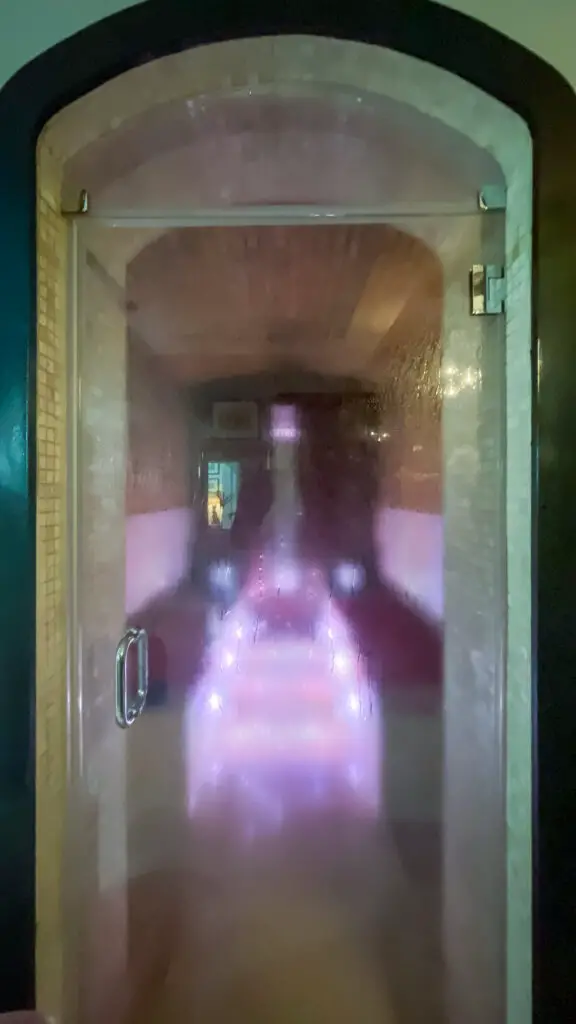 The temperature was set at 38°C but it could be increased up to 50°C depending on our preferences. The lights were putting on a colourful show and rainforest sounds were playing through the speakers. I couldn't quite place what the scent was but it was pleasant and relaxing.
A few minutes after we went into the hammam, Claire came by to bring us cold water (to drink if we wanted) and check and make sure the temperature was ok. Russell might have wanted it a bit warmer but I thought it was best to just keep it at 38°C.
After 15 more minutes had passed, Claire was back with bowls of the special Moroccan rhassoul clay for each of us. This clay is only found in the Atlas mountains in Morocco, where it is mined by hand, and allowed to dry naturally in the Moroccan sun. When it is mixed with water it looks and feels like mud.
We began to massage it all over our bodies and face which would help draw out any toxins. I think I might have accidentally got a bit of the clay in my mouth, but it's all natural and I couldn't taste it so it wasn't a big deal.
After a few minutes of relaxing with the clay working its magic on our skin, Claire brought us the exfoliating bath sponges with African black soap. After using the sponges to get as much of the clay off as we could, we rinsed off the soap and any remaining clay using the refreshing cool water from handheld showerhead inside the steamy hammam. In addition to cleaning off your skin, the water also helps to reduce your body temperature after being in the steam.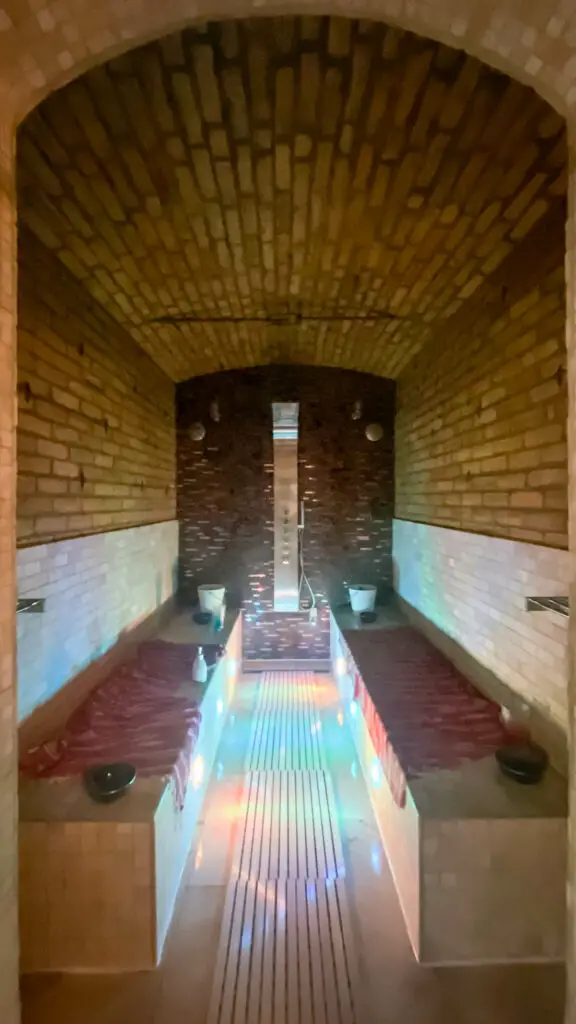 When we stepped out, Claire had fresh hammam towels and slippers ready for us. We had the choice of a mist of organic rose, lavender, or orange water. Claire recommended we try the orange and sprayed a little bit on our faces. The citrus scent was envigorating.
I noticed a difference in my skin almost immediately after I came out of the hammam. My hands felt incredibly soft and when I looked in the mirror I noticed a healthy glow, just like when I have had a facial.
We went back into the Shakespeare Room to change back into our clothes. Claire also gave us argan oil to rub on our skin. There was also tea, water, almonds, and dates waiting for us.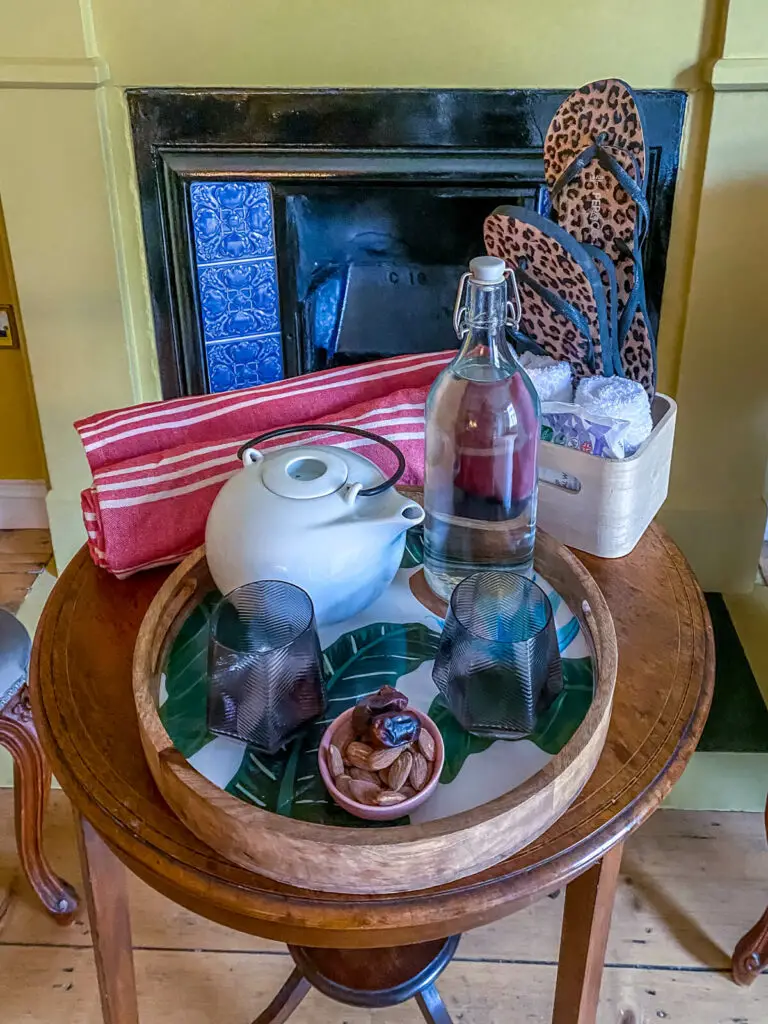 While we did a good job of making sure all the Moroccan clay was off our skin, some was still left on our bathing suits. It rinsed off easily at home.
When you do the hammam at TOPO, you need to bring your bathing suit. They provide hammam towels and slippers. It's also a good idea to bring a plastic bag to transport your bathing suit home as it will be wet.
I wore my long hair up in a ponytail, but I did get some clay in it. Although it washed out easily, I think next time I might wear my hair in a high bun to keep it out of the way but not make it uncomfortable to lie down.
While this might have been our first hammam experience, it won't be our last. We both thoroughly enjoyed the treatment as we felt pampered and relaxed. The soft skin and other health benefits were a nice bonus.
Once we were dressed and had enjoyed the snacks and drinks that were left for us, it was time to make our way downstairs for our afternoon tea.
Note: The hammam is not recommended for pregnant women, children under 12 years old, or those with heart conditions or open wounds.
Afternoon Tea at The Old Post Office
Our afternoon tea was already laid out for us on a table right by the large window when we arrived in the elegant dining room. Since we visited at the end of November, there was a bit of a Christmas theme to it.
Instead of the traditional three tiered presentation, the afternoon tea at The Old Post Office was served on a unique circular unit with shelves along with a slate cutting board. The sandwiches were presented on a rectangular plate.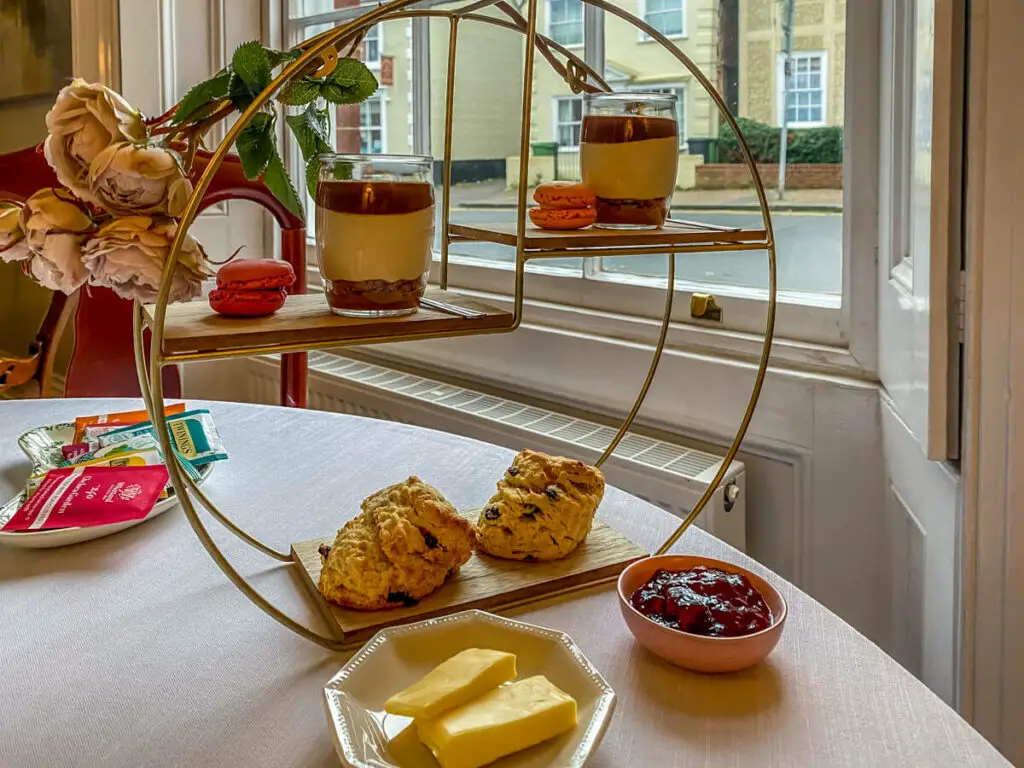 We had a large pot of English Breakfast tea along with a pot of hot water in case we wanted to try one of the selection of tea bags they had on the table. I tried the Rose Black Tea and Russell had the Green Tea with Mango and Bergamot.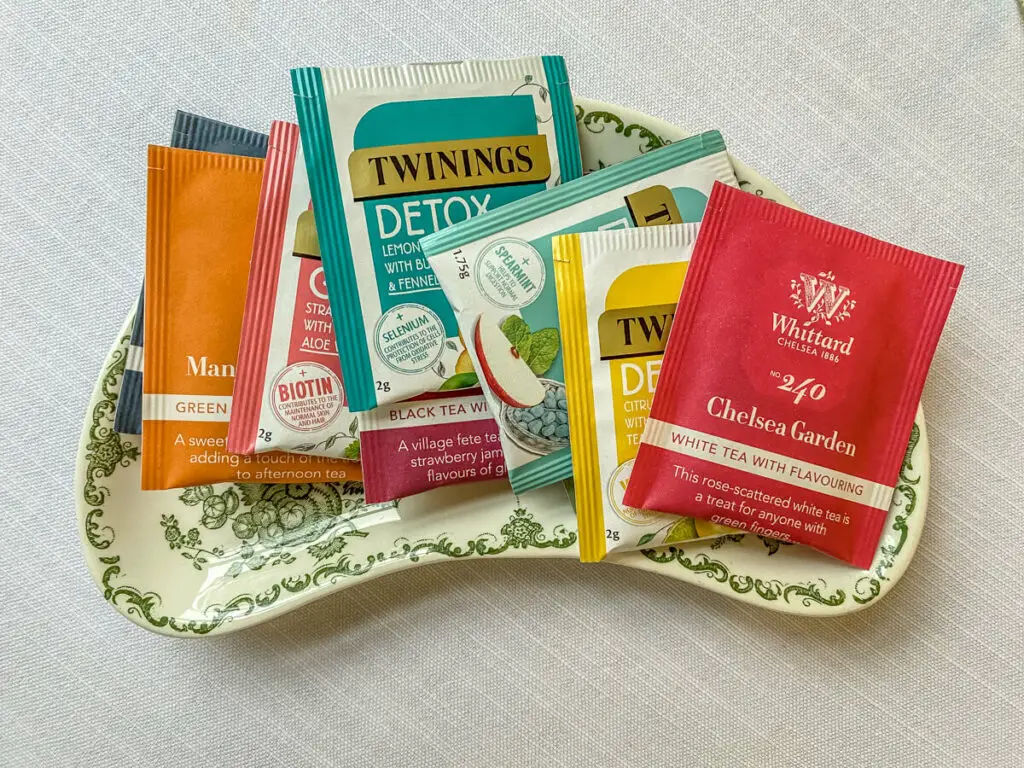 While our tea was brewing we decided to start with the sandwiches. There were 4 different finger sandwiches each – ham, cucumber, salmon, and egg. These are some of the classic sandwiches served as part of an afternoon tea. They were delicious and a perfect introduction to the afternoon tea experience at The Old Post Office.
Next we dived into the savoury platter that was served on a slate cutting board. It had sausage rolls, Stilton cheese, cranberry sauce, red onion, plum tomatoes, rocket, and gherkins.
The sausage rolls were excellent. The texture of the pastry and sausage filling were perfect. They were well flavoured with a hint of cranberry – just enough for them to be balanced and slightly festive.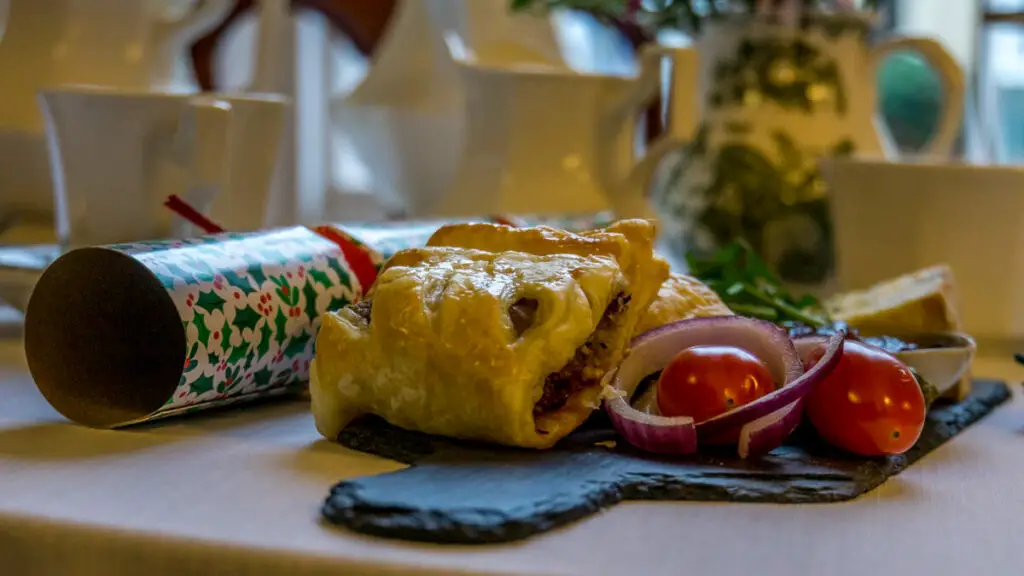 We enjoyed the Stilton cheese with the cranberry sauce too. Those flavours pair together well and the creaminess of the Stilton is such a treat. More afternoon teas should include cheese!
Then we moved on to the fruit scones. These were sweeter than most I have tried, almost like they had a little sprinkle of sugar on top. Such a tasty treat.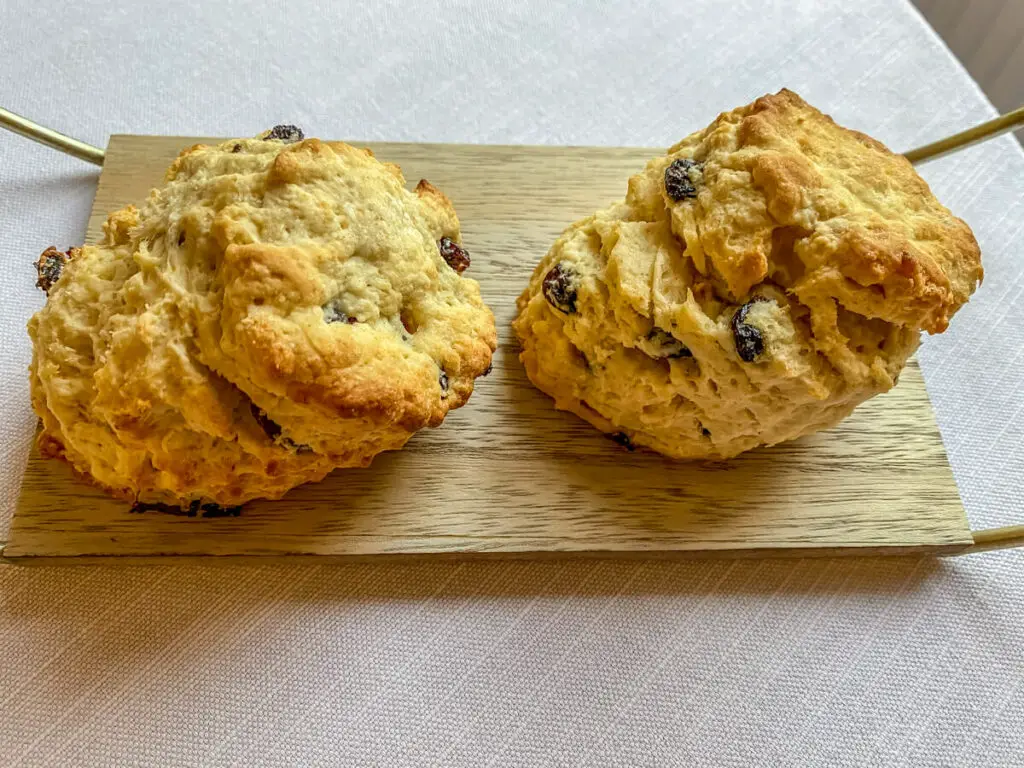 For dessert, we had macaroons, a layered cream pot, and amaretti. We started with the two macaroons, one pink and one orange.
I assumed the pink was strawberry but was pleasantly surprised when I tasted it and it was raspberry. Russell tried the orange one and couldn't place the flavour. Claire had to tell us it was mango.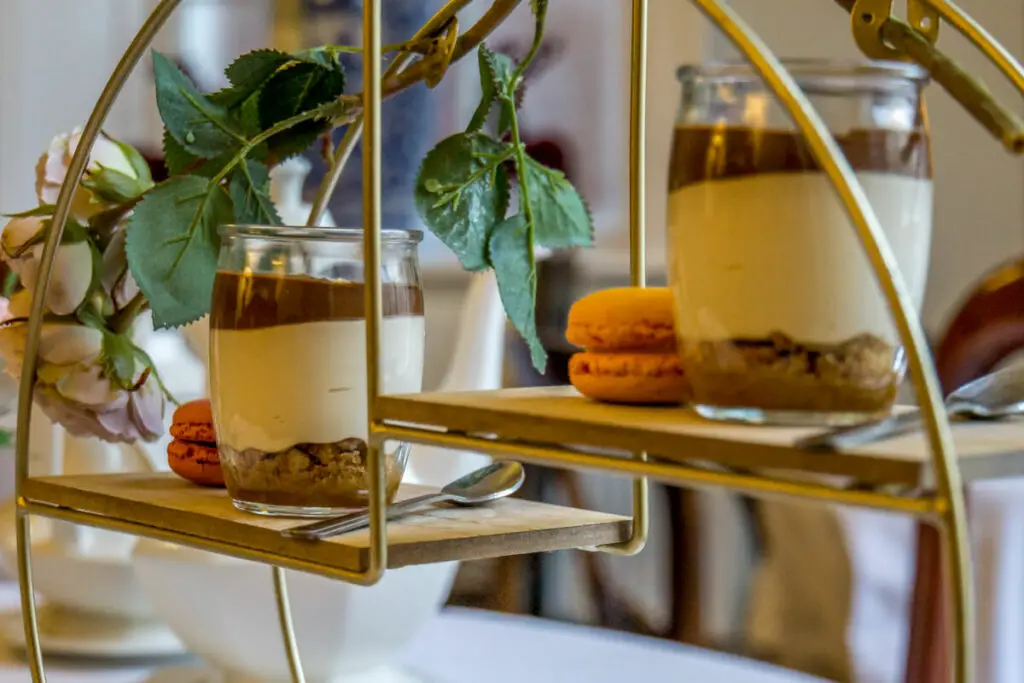 The cream pot had three layers. One was decadent chocolate. Under that it was cream with the bottom layer being the crumble from a biscuit.
The amaretti was a fitting way to end our afternoon tea. It's not rich but I enjoy the almond flavour and the crunch.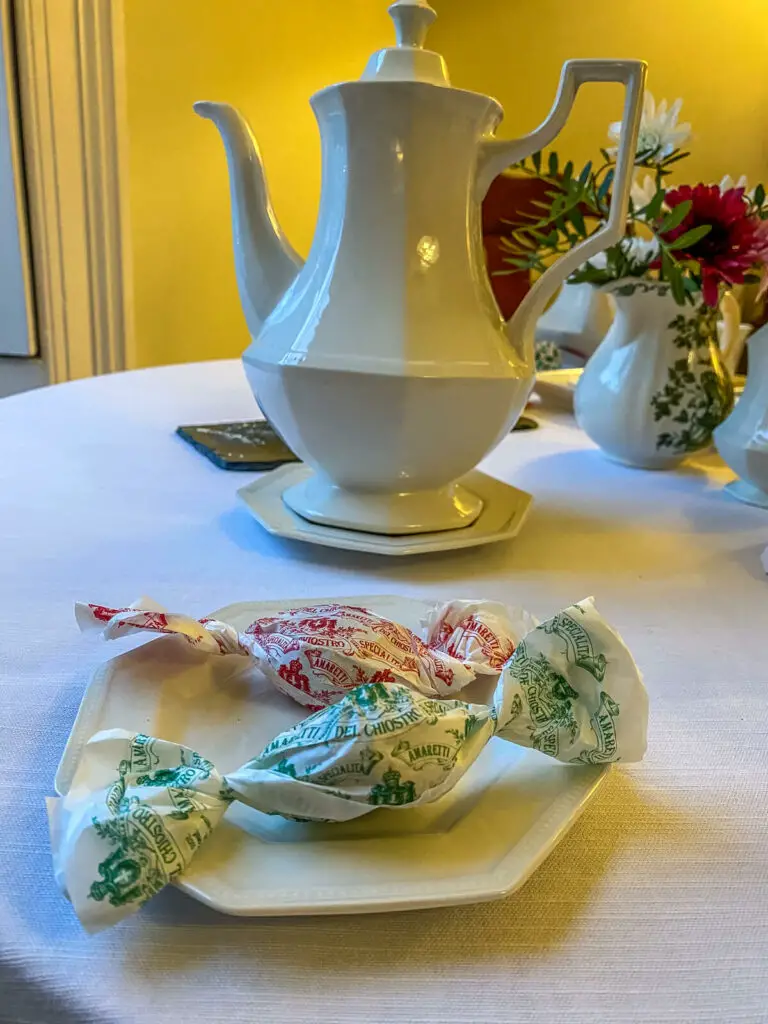 Soothing piano music filled the room while we dined. The decor, atmosphere, and food all came together to create a unique, refined and high quality experience.
We don't have any dietary restrictions but TOPO can do an afternoon tea that is vegan, dairy-free, or gluten free. You do need to provide advance notice when you make your booking.
I should also mention that we got Christmas crackers. It was our first for the season. We got stickers (I'm now an official Christmas pudding taster), crowns, and of course the corny jokes.
After all that we were happy and satiated. Russell turned to me and said, "That was a lovely way to spend an afternoon." I couldn't agree more.
Other Offerings at The Old Post Office
The Old Post Office is more than just the hammam and afternoon tea. It is a luxury guest house that offers many bespoke experiences.
Breakfast and cream tea is included with each stay. Claire can also help you arrange other activities such as private dining (i.e. Lebanese meze) or wine tasting at vineyards nearby.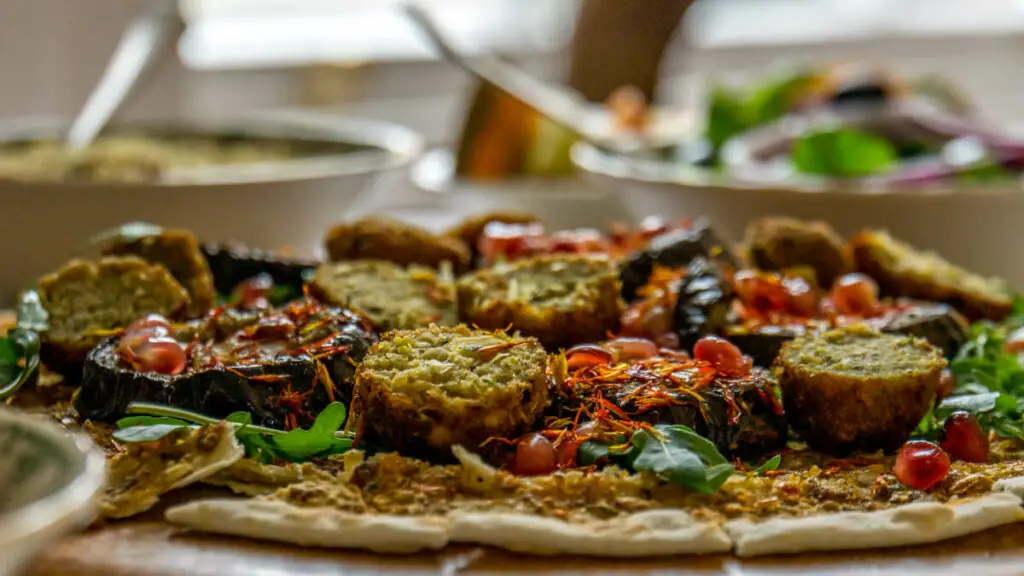 They offer many other spa treatments in addition to the hammam. You can get a massage (deep tissue, Swedish, Mind/Body Holistic, Balinese, Hawaiian LomiLomi, Ayurvedic, Himalayan salt, or hot stone), facial, manicure, waxing, and/or brow/lash tint.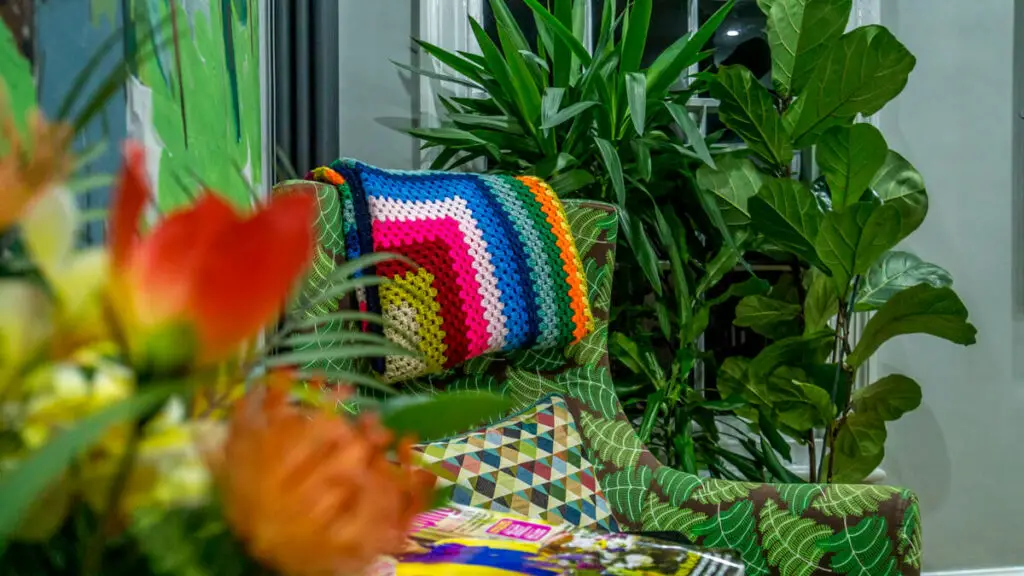 On select evenings, TOPO hosts supper clubs. These special dinners are created by experienced chefs and have different themes. One of the most popular options has been the Arabian Night Supper Club which also includes a belly dancer.
Get more information about the offerings at TOPO here.
Is The Old Post Office Worth Visiting?
If you are wondering if it is worth a trip to Harleston to visit TOPO, the answer is YES!
First of all, the building is beautiful. The renovation work Claire has done is remarkable, like something out of a magazine. It's finished to a high standard and the decor helps create the feeling of a quality experience as soon as you walk through the door.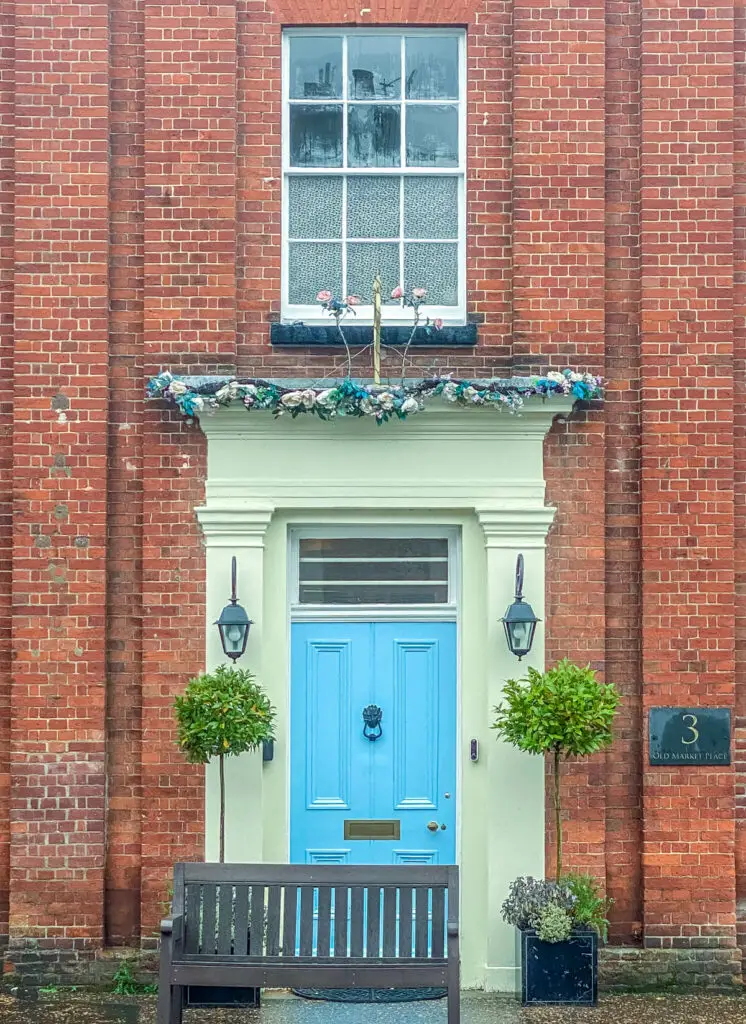 They have a unique offering. You can enjoy a hammam spa inside an old bank vault and it will also be a private experience (you won't have to share the hammam with people you don't know). A similar quality experience at a spa in London would probably cost an arm and a leg – and it still wouldn't be the unique experience of The Old Post Office!
Everything about the afternoon tea makes it feel like a special treat. Of course everything tasted delicious but it's the details (presentation, piano music, atmosphere) that make it memorable. We took our time and enjoyed every bite and never felt rushed.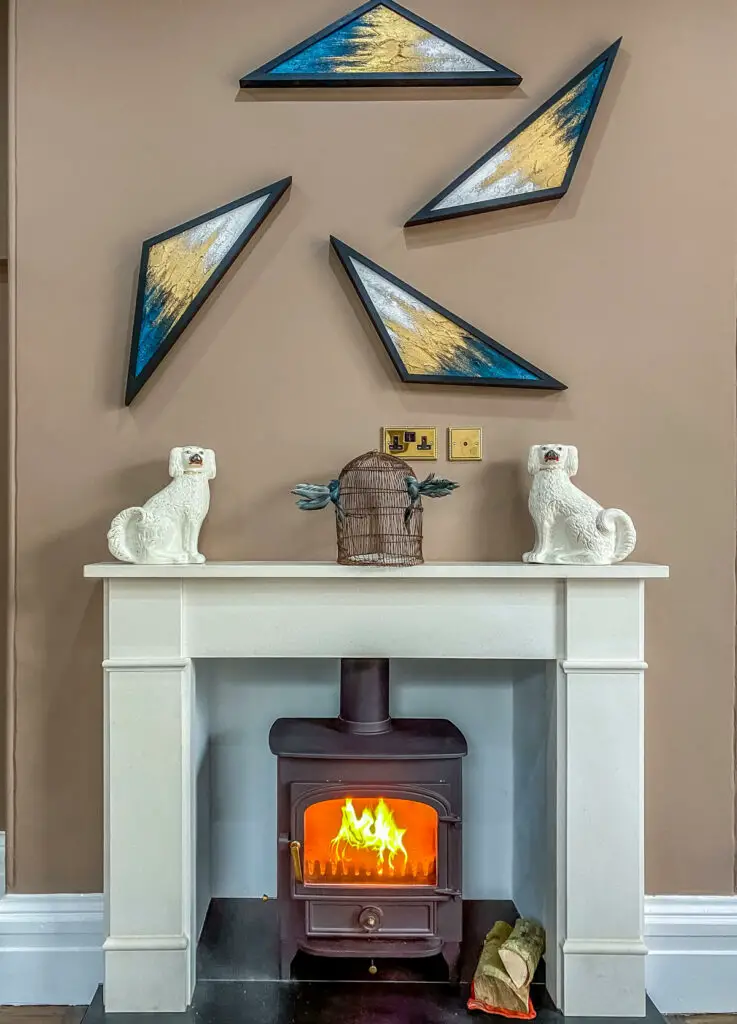 Claire truly cares about every guest and wants to make sure they have the best time. You will leave The Old Post Office happy and relaxed.
When you think about it, Harleston is not very far from Norwich. It's only a little more than 30 minutes to drive there. You will be glad you made the trip.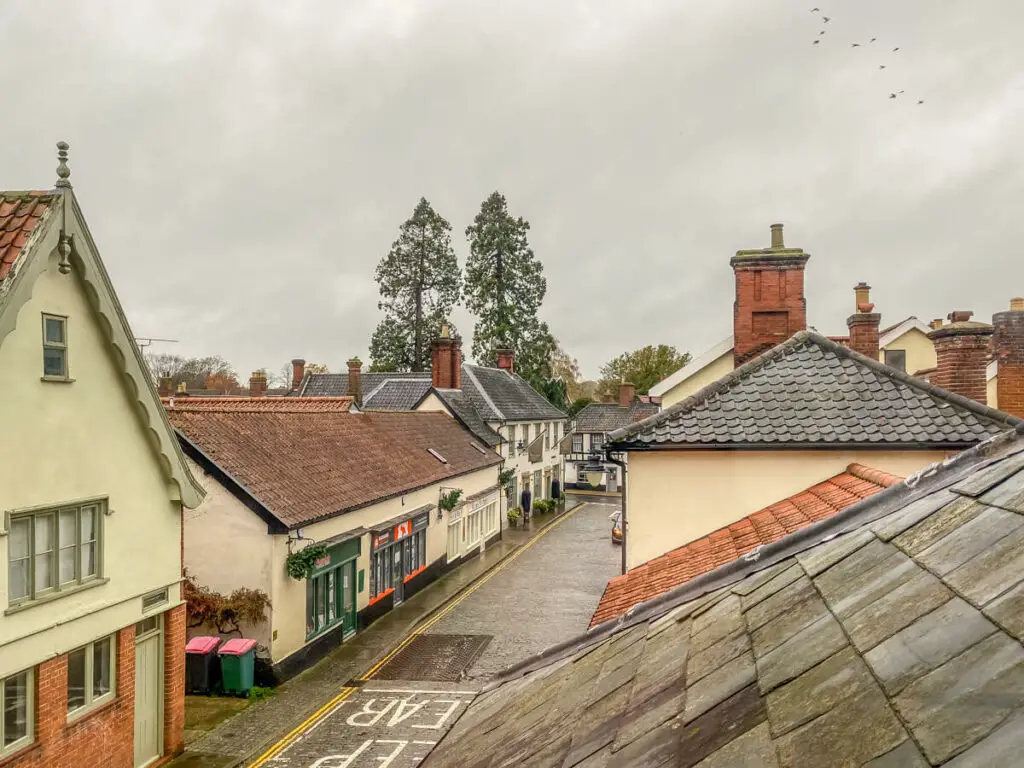 The Old Post Office FAQs
Where is The Old Post Office located?
The Old Post Office is located in Harleston town centre at 3 Old Market Place.
Do you need to book afternoon tea or the hammam at TOPO in advance?
Yes. Everything will be prepared especially for you so you need to book your experience in advance.
Where can you park for The Old Post Office?
There is safe free parking only a 2 minute walk from the Old Post Office at St John's Church on Broad Street.