While Norfolk has plenty of beautiful countryside to explore, you will want to make a point to visit its towns too. You will find some of the best beaches, shops, restaurants, museums, pubs, and tourist attractions in the county.
Since you might not have time to visit all 27 towns in Norfolk, we wanted to share a list of our top picks.
Be sure to also sign up for our email newsletter here to keep up to date with all the events around Norfolk.
Note: This post contains affiliate links.  As an Amazon Associate, we earn from qualifying purchases. Please see disclosure for more information.
Best Towns to Visit in Norfolk
In this post, we will share more information about our favourite Norfolk towns along with other helpful information for you to plan your own visit.
Consider using these towns as your base for exploring more of Norfolk. Alternatively you could stay in the Norwich city centre and take day trips to visit these towns.
Cromer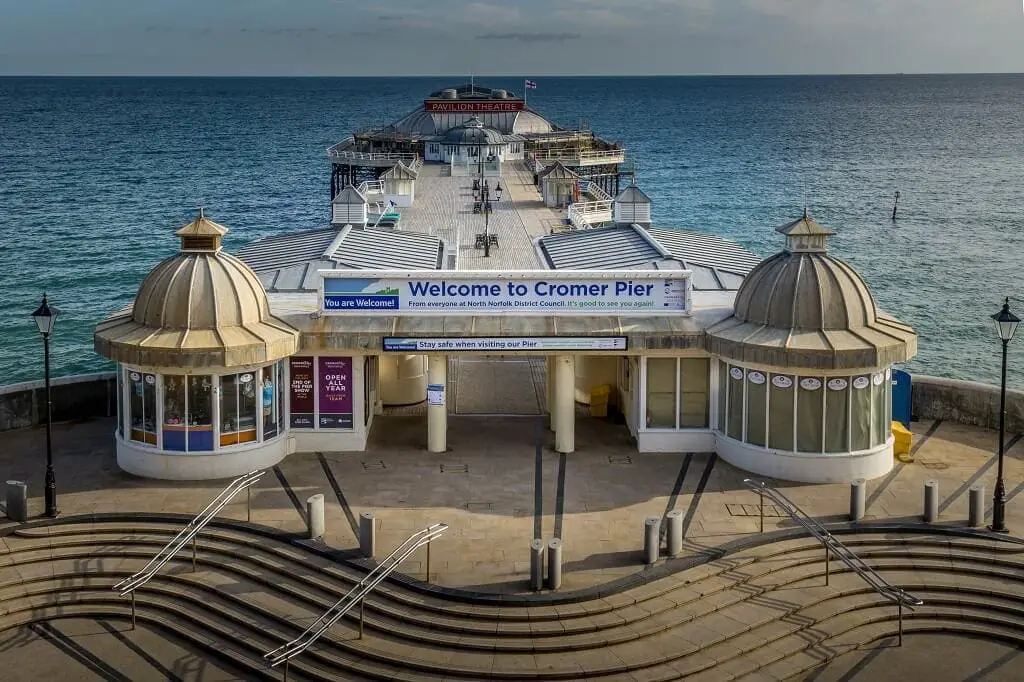 Cromer is probably best known for its pier and crabs. Even if you don't want to eat any Cromer Crabs, you can have fun trying to catch them from the pier. Alternatively, if you time your visit right you can catch the last surviving "end of the pier" show in Europe.
The beach in Cromer has earned blue flag status. At low tide, you can go for a swim or enjoy the sand. It's a popular spot for fossil hunting and also surfing. If you plan on spending a lot of time at the beach, you might want to hire a beach hut.
Away from the water, the town has more to offer. You can visit a museum or the parish church of St. Peter and St. Paul. The church has the tallest bell tower in Norfolk which is now home to a pair of peregrine falcons.
When you get hungry, head to No1 Cromer, which is owned by award-winning chef Galton Blackistone, for fish & chips. As another option, you can relax and grab a bite to eat at one of the town's pubs.
Read about more things to do in Cromer.
Find a place to stay in Cromer here.
Sheringham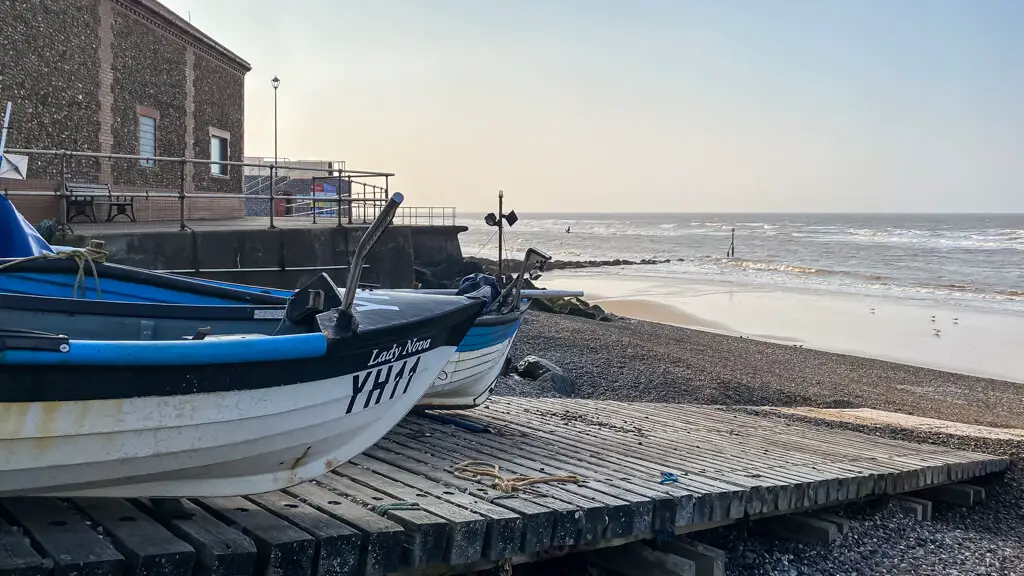 Just a few miles from Cromer, you will find the enchanting seaside town of Sheringham. It's home to the North Norfolk Railway, a heritage train line with both diesel and steam engines, that runs to the market town of Holt.
Like Cromer, it also has a blue flag beach with colourful beach huts. You can hire a paddleboard or walk along the promenade and enjoy some street art too.
This beach town has several interesting museums including the Sheringham Museum at the Mo and the Fisherman's Lifeboat Museum. If you're not into museums, you can check out a show at The Little Theatre or check out the market (on select days).
Golfers will fancy the 18-hole clifftop course which made the 2022 list of the National Club Golfer Best 100 Courses in England.  Others that want to enjoy the views can do the Beeston Bump walk.
Read about more things to do in Sheringham.
Find a place to stay in Sheringham here.
Hunstanton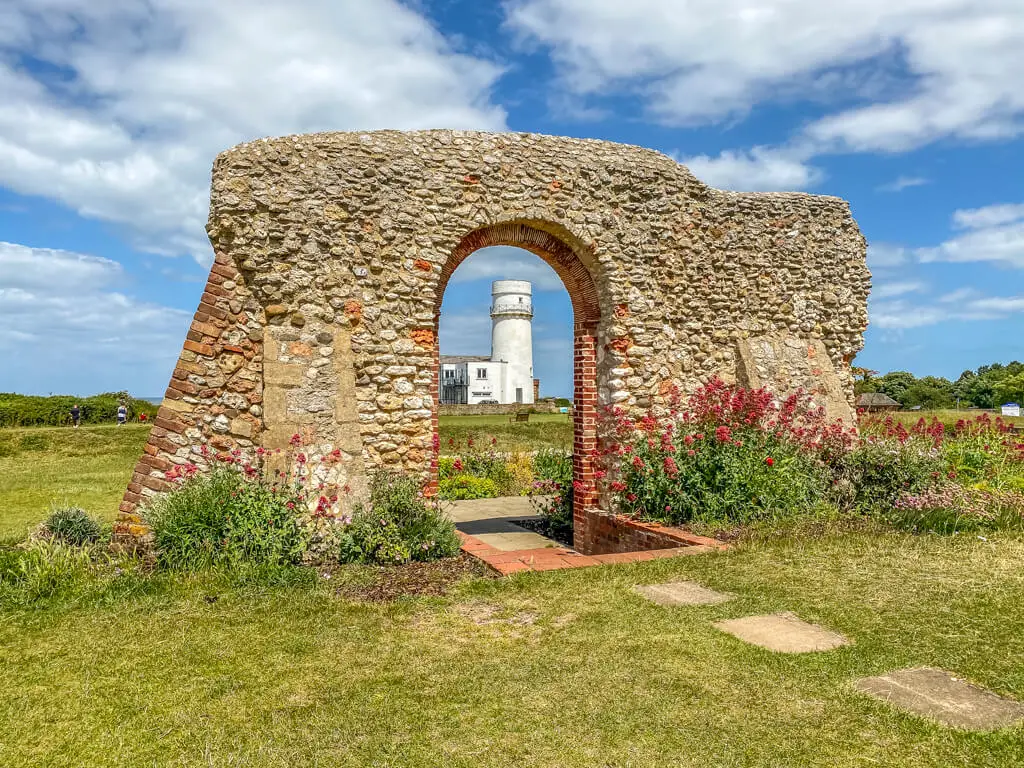 Hunstanton started out as a Victorian resort and now it's become one of the best seaside towns for families in Norfolk. There are several attractions that the kids will love.
The beach is huge when the tide is out so it's perfect for kids to play in the sand, wade in the shallow water, or go rockpooling. Old Hunstanton beach has unique striped cliffs, while New Hunstanton has a promenade full of activity.
The promenade has a funfair (with big ferris wheel and helter-skelter), amusements, crazy golf, and food stalls. There is also the Sea Life Centre which has a seal sanctuary and the Wash Monsters, unique amphibious vehicles, that can take you for a ride.
RELATED: How to See the Seals in Hunstanton
You'll want to make the walk up the cliff to see the Old Hunstanton Lighthouse and ruins of St. Edmund's chapel. Try to time it for sunset as Hunstanton is west facing making it the one of the only places in Norfolk where you can watch the sun go down over the water.
Read about more things to do in Hunstanton.
Find a place to stay in Hunstanton here.
Great Yarmouth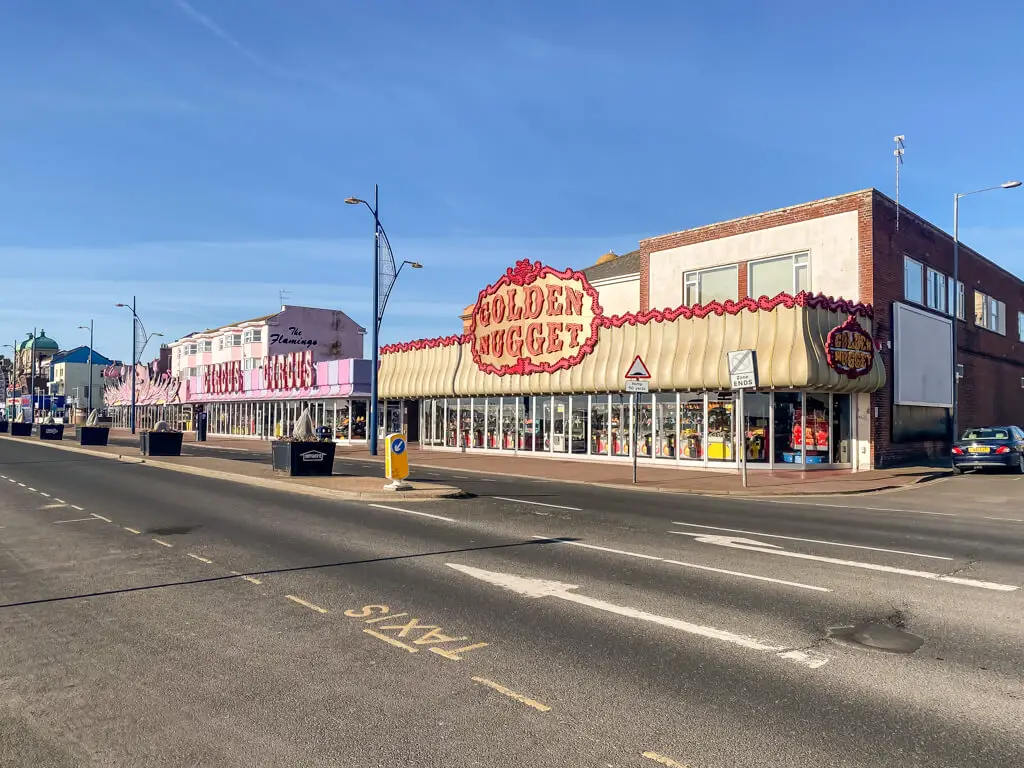 People have been enjoying holidays in Great Yarmouth for centuries. The large beach and abundance of family-friendly attractions make it quite a popular spot, especially during the summer holidays.
Great Yarmouth Central beach runs from Britannia Pier to Wellington Pier. Just behind the sandy beach, you have the Marine Parade which is sometimes referred to as the Golden Mile. At night it glitters with lights.
You can find amusements, restaurants, and other top attractions along the Golden Mile. The Pleasure Beach is a traditional theme park with 28 rides and attractions. There is also a Sea Life Centre, ferris wheel (high season only), model village, and a place where you can play laser tag.
Just behind the Marine Parade you will find the Hippodrome, the only surviving total circus building in Britain. It's also just one of three circuses in the world to have a water feature. In addition to their summer show, they have special themed shows for Halloween and Christmas.
Great Yarmouth also has several museums and art galleries to check out. Both the Time and Tide Museum and the Elizabethan House Museum are kid-friendly.
Read about more things to do in Great Yarmouth.
Find a place to stay in Great Yarmouth here.
King's Lynn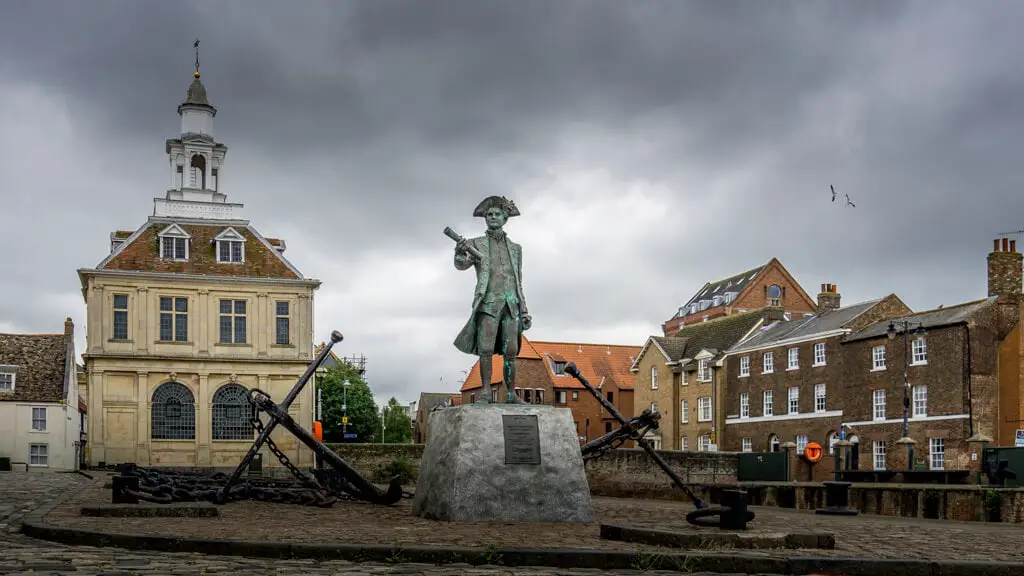 King's Lynn is a well-preserved historic town with no less than 481 listed buildings. For a town of its size, the medieval architecture is unmatched anywhere in the country. You can learn more about the history by taking a tour led by King's Lynn Town Guides.
When you visit King's Lynn, you must go inside St. George's Guildhall, which is the only theatre in the world that can claim that Shakespeare performed there. Nearby, the Lynn Museum has a Seahenge display where you can see the remains of a unique Early Bronze Age timber circle, discovered at Holme Beach in 1998.
There are also two significant churches in King's Lynn that you will want to see. The King's Lynn Minster dates back to 1101. It has been rebuilt and restored several times over the years so you will see several architectural styles including 14th century Decorated Gothic and 15th century Perpendicular Gothic.
St. Nicholas Chapel is the largest Chapel of Ease in England and known for its angel roof. It was built in the early perpendicular style in the late 14th to early 15th centuries incorporating the stone tower (dating around 1225) from earlier churches on the site.
Read about more things to do in King's Lynn.
Find a place to stay in King's Lynn here.
Holt
While much of what you see in Holt today is Georgian, the town dates back to Roman times. It was rebuilt after the Great Fire of Holt devastated the town on 1st May 1708. Now, Holt is one of the best towns in Norfolk for food, art, and antiquing.
When you visit Holt, come hungry! The food hall at Bakers & Larners has been described as the Fortnum and Mason of East Anglia.  Both Byford's and The Folly provide a special afternoon tea experience.
In the town centre, there are several art galleries and antique shops. As you walk around you might notice a pavement plaque with the picture of an owl. There are actually 24 that form the Owl Trail which is a self-guided tour of the most historic sites.
Just outside the town, you will find a North Norfolk Railway station with a small museum. The Poppy Line as it is affectionately provides daily steam and diesel train service from April to October to Sheringham and back. They also have some special events like dining trains, behind the scenes tours, signaling experience days, and more.
Read about more things to do in Holt.
Find a place to stay in Holt here.
Wells-Next-the-Sea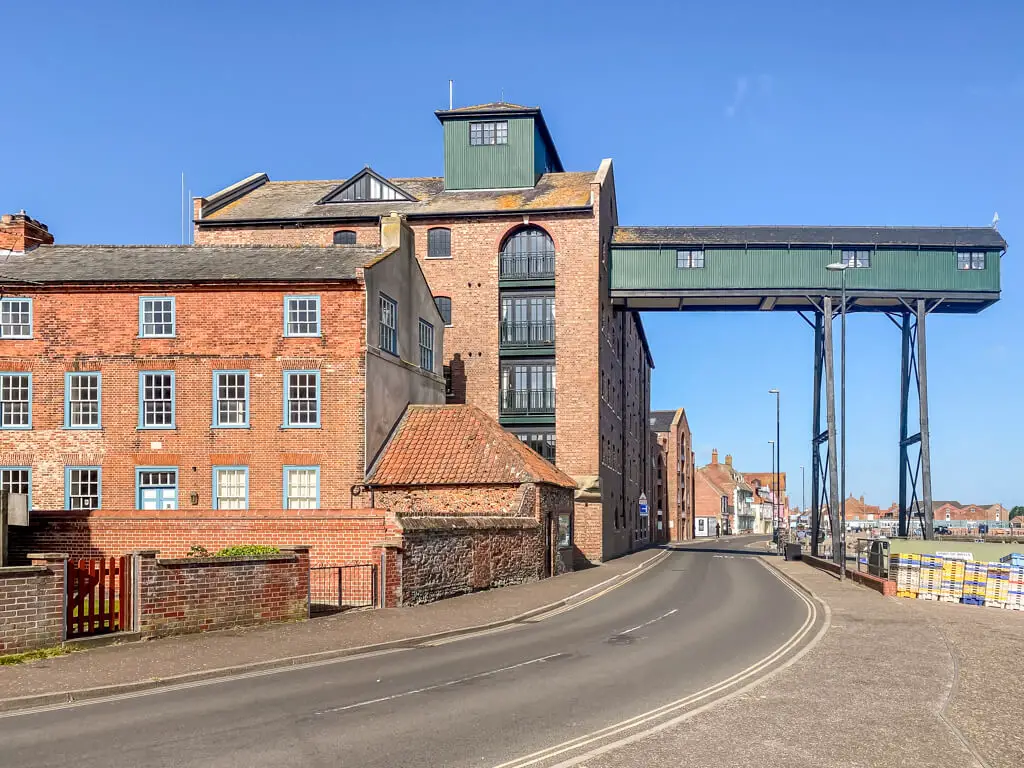 When I think of Wells-Next-the-Sea I think of the long row of colourful beach huts on stilts on the huge sandy beach. At low tide, there is plenty of space on the sand or you can wade in the calm water. You're welcome to bring a picnic or you can grab food at the Wells Beach Cafe by the car park.
The town of Wells-Next-the-Sea is actually about a mile from the beach by the harbour. If you don't want to drive, it's a scenic walk or there is a shuttle bus (new for 2022).
The quayside area has several historic buildings including the iconic granary building. During the summer months, you can see the striking sculpture called The Lifeboat Horse in the harbour. There are also boat and SUP tours if you want to see the area from the water.
Wells-Next-the-Sea is also a hotspot for the arts in North Norfolk. The town has several art galleries and the relatively new Wells Maltings, which is an arts, heritage and community centre inside a Grade-II listed Maltings building.
Just outside the town, you can catch a ride on the smallest public railway in the world. The famous Wells & Walsingham Light Railway goes to the beautiful village of Walsingham, a famous pilgrimage centre.
Read about more things to do in Wells-Next-The-Sea.
Find a place to stay in Wells-Next-The-Sea here.
Gorleston
Known officially as Gorleston-on-Sea, the town's main draw is its beautiful sandy beach that stretches two miles around the bay. Gorleston Beach is well suited for sandcastles, swimming, and other water sports.
Kids will also enjoy the Splashpad, amusements, and model yacht pond. While you are in the area, you can still see one of Banksy's murals from his 2021 Spraycation behind the seating area close to the model boat pond.
The Pavilion Theatre in Gorleston hosts live entertainment including plays, pantomimes, musicals and concerts here all year long. The performances take place in the original Edwardian building (that seats 300 people) where the theatre opened in the summer of 1901.
Read about more things to do in Gorleston.
Find a place to stay in Gorleston here.
Aylsham
Aylsham is a traditional market town, situated beside the River Bure, with historical buildings and a traditional market square. Just outside the town, you will find the National Trust's Blickling Estate, best known as the birthplace of Anne Boleyn, the second wife of Henry VIII.
The town was known for its linen and textiles in the 14th century before it went on to become a major wool and textile producing centre. It did especially well in the 18th century and its market place reflects the town's prosperity from the cloth trade from that era.
While there are plenty of shops, pubs and tearooms in the town centre, try to visit Aylsham on a Monday or Friday when the market takes place. You can also easily spend a whole day at Blickling Estate.
In addition to the Jacobean house, which is rumoured to be haunted by Anne Boleyn's ghost, there are the formal gardens and more than 4,600 acres of the estate to explore. We love this walk to see the highlights. National Trust members can visit for free.
RELATED: National Trust Properties in Norfolk
There is also a station in Aylsham for the Bure Valley Railway, a narrow-gauge steam railway which runs through the countryside to Wroxham. If you don't want to ride the train, you can walk or cycle on the 9-mile long Bure Valley Path which goes along the railway line.
Find a place to stay in Aylsham here.
Alternatively, you could book a holiday home on the Blickling Estate. Find out more here.
Thetford
While there is evidence of human activity around Thetford going back to prehistoric times, it was an influential place from Roman times up until the Dissolution of the Monasteries. The town is also the birthplace of one of the founding fathers of the United States of America, Thomas Paine.
When you go to Thetford, you can climb up the castle mound, which is the largest motte in England and the second-largest man made mound after only Silbury in Wiltshire, for panoramic views of the area. Also, check out the ruins of Thetford Priory, one of the largest and most important monasteries in East Anglia. Both are free to visit.
Thetford also has several museums, including the Dad's Army Museum and the Charles Burrell Museum. If you want to relax, you can enjoy a pint at The Bell or a show at The Carnegie Theatre.
You can combine your visit to Thetford with a trip to Grimes Graves (only open April – October), a prehistoric flint mine seven miles away. It's an English Heritage site, so members can visit for free. Get more information about English Heritage membership here.
Read about more things to do in Thetford.
Find a place to stay in Thetford here.
Other Towns in Norfolk
This is not a complete list of Norfolk towns. We just wanted to highlight our favourite towns to visit in Norfolk to help you prioritize. Other towns in Norfolk like Fakenham, Wymondham, Downham Market, North Walsham, Diss, Acle, Swaffham, Dereham, Harleston and Attleborough also have a lot to offer visitors.
Which Norfolk town are you going to visit next?
Disclosure: This post contains affiliate links. This means we will receive a small commission for some purchases made using links in our blog with no additional cost to you.  Please be assured we would not promote any product unless we believe that our readers will also benefit.  The commission does not influence the editorial content of this site.