We thought it would be nice to treat ourselves to an afternoon tea before we went to see the Cromer Pier Christmas Show, so we made plans to go to the Grove Hotel.
Read our full review of the Grove Afternoon Tea in Cromer to learn more about our experience.
Note: This post contains affiliate links.  As an Amazon Associate, we earn from qualifying purchases. Please see disclosure for more information.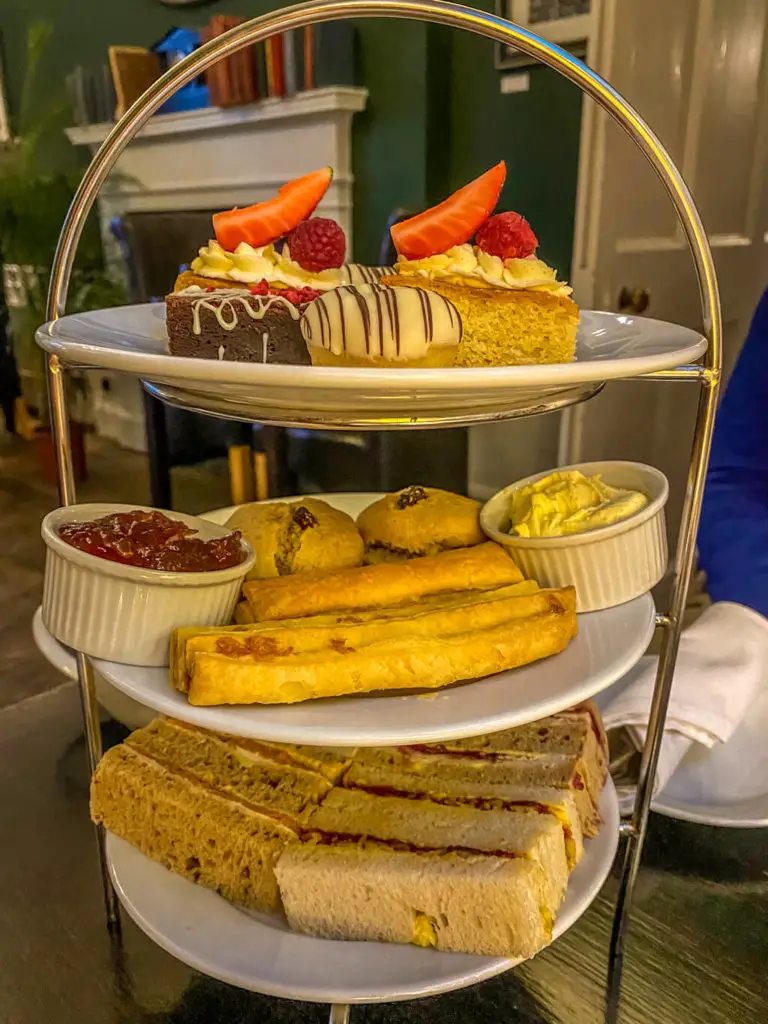 About The Grove Hotel in Cromer
There has been a house on the site of the Grove Hotel since at least 1747 when it was documented on a map. At that time, it included a two-storey cottage owned by Jacob Mountain, the father of Jacob Mountain who became the first Anglican Bishop of Quebec in 1793.
What had been a private holiday home was turned into a guest house in 1936 when Robert and Hilda Graveling took ownership and moved in with their family. When Robert passed away in 1978, his son John and his wife took over running the house. In 2010, they retired and passed the business to their five children – Richard, Chris, Elizabeth, Hannah, and Ruth – who continue to run the family business today.
The Grove offers a wide range of accommodation including en-suite guest bedrooms and suites in the main house, accessible ground floor rooms, self-catering cottages, and glamping tents. If you would like to stay at The Grove, you can read reviews and check the price and availability here.
The Grove Restaurant has earned two AA rosettes. Many ingredients used in the restaurant are fresh from The Grove's own fruit and vegetable gardens, orchard, or poly-tunnel. You can enjoy the delicious food in either the wood-panelled study or the original Georgian dining room.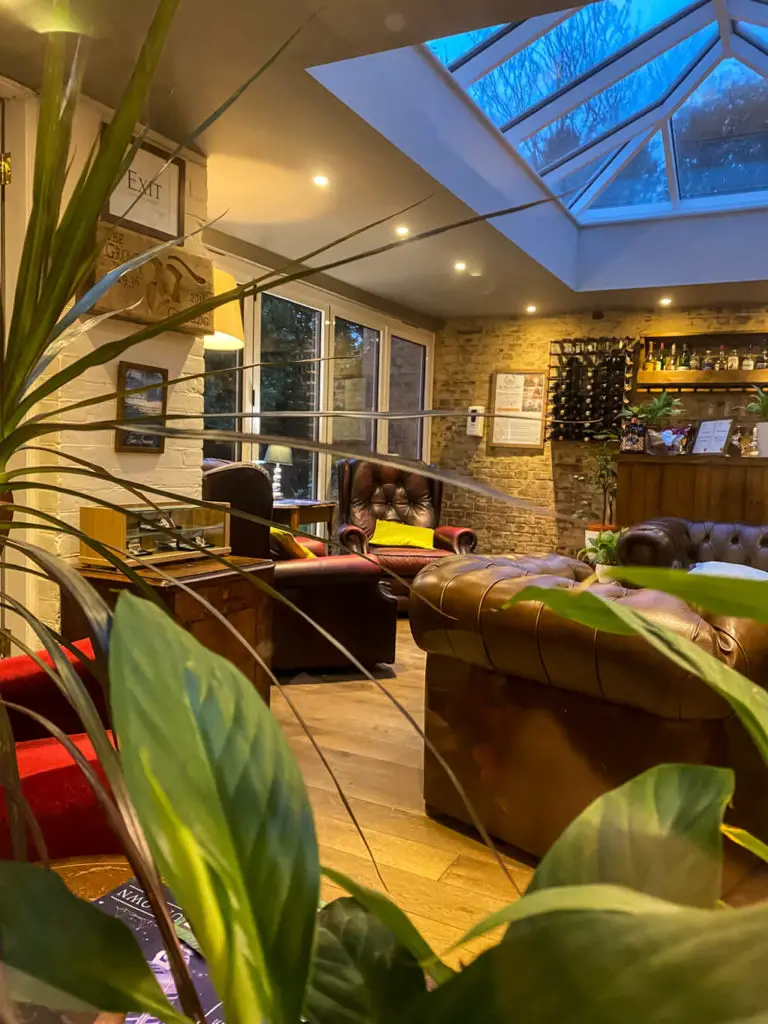 Afternoon Tea at The Grove
Afternoon tea is a special treat at The Grove Hotel. They offer three different options:
Traditional Afternoon Tea: Along with your pot of tea, you get sandwiches, scones with clotted cream and jam, and pastries served beautifully on a three-tiered platter.
Flowering Jasmine Afternoon Tea: To accompany your traditional Afternoon Tea, this includes a light and fruity tea with a special 'jasmine Pod', which opens up in your cup to become a beautiful scented flower.
Sparkling Afternoon Tea: As you might have guessed, this option includes a glass of Prosecco with your afternoon tea.
During our visit, we just had the traditional afternoon tea.
Atmosphere
As soon as you set foot inside The Grove Hotel, it's like you have gone back in time. With the period furniture, it feels like you are visiting an important historical figure at their home.
We were offered the choice to have our afternoon tea in the dining room, lounge, or the study. While we would have been happy with any of the options, we decided to go with the study.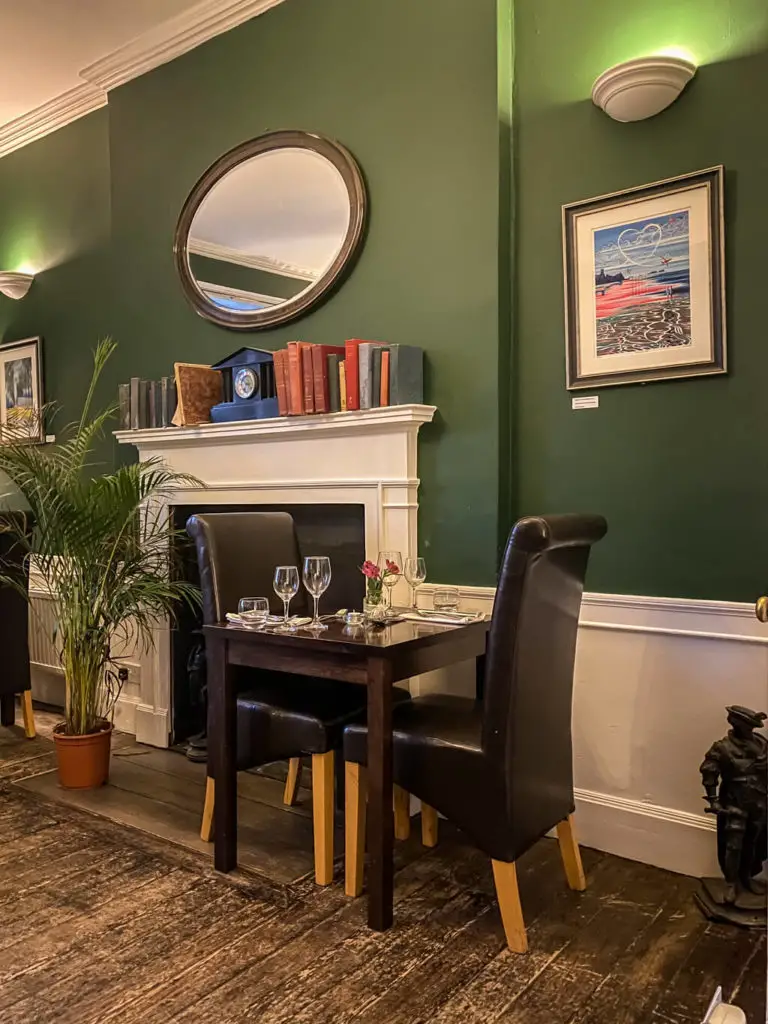 The room has a warmth to it with a fireplace and some books. From our table we had a view of the lounge which had an atrium, adding light and a sense of openness.
During our tea, there was fun music playing at just the right volume. Just loud enough to hear it without interfering with conversation. Our server was attentive and came to check on us periodically.
Food & Drink
The food served as part of afternoon tea changes with each season. When we were there in November the afternoon tea had a festive Christmas theme although officially their Christmas afternoon teas were not set to start for a few days.
For my tea, I chose Earl Grey and Russell opted for English Breakfast Tea. Both were excellent. Russell didn't even need to add milk to his as he enjoyed it black (which is quite unusual for him).
On the bottom level, there were four types of sandwiches, all of which were delicious. The turkey sandwich had cranberries in it making it festive. There was also a ham sandwich, cheese & pickle sandwich, and salmon & cream cheese sandwich with a hint of lemon.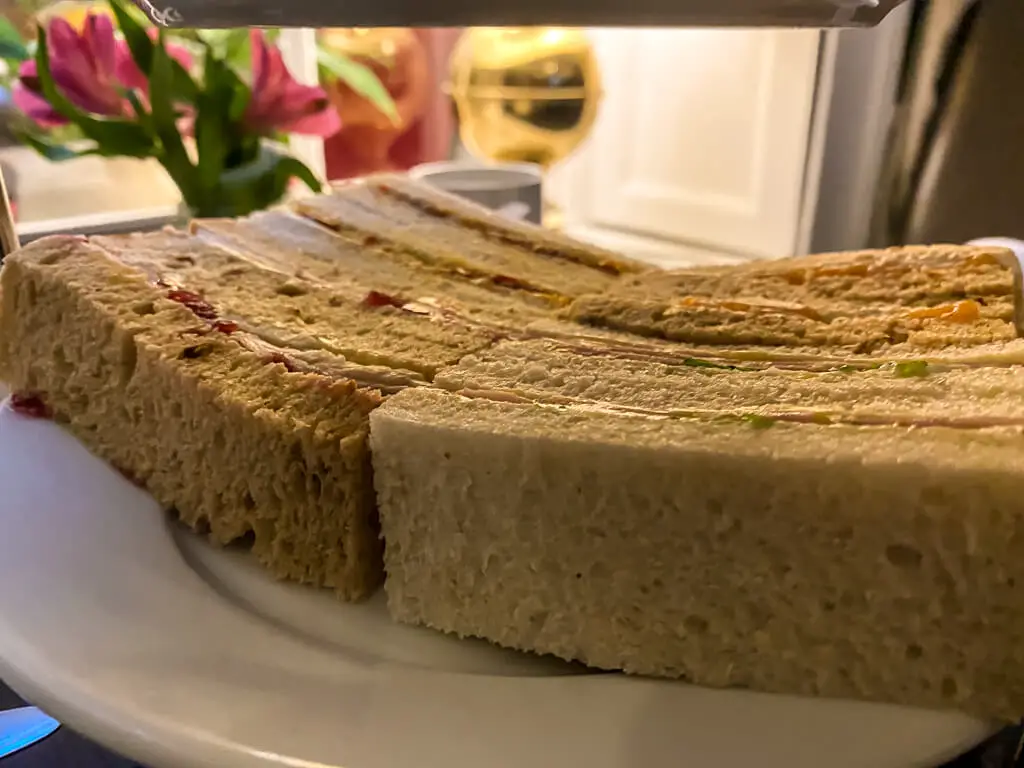 The next level had scones, but they weren't just fruit scones. They had a bit of cinnamon flavour and were served still warm. We also got cheese straws which were nice and buttery.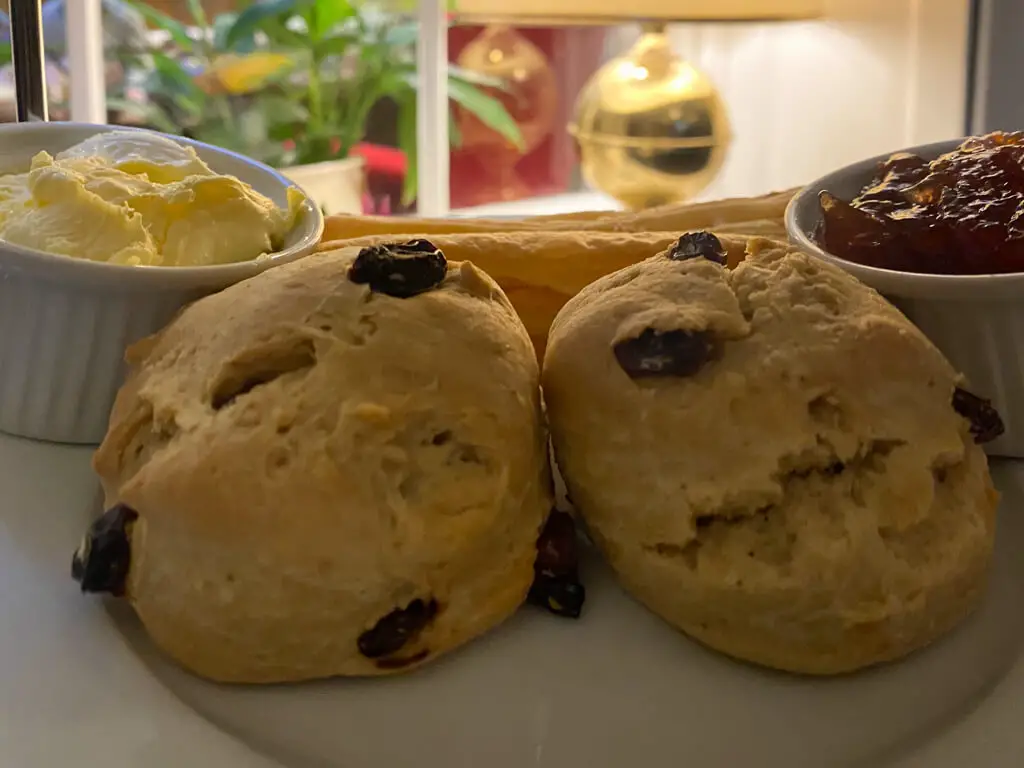 The pastries on top were almost too pretty to eat. My favourite was the profiteroles which were topped with a creamy white chocolate. The brownie was rich with freeze-dried raspberries for colour and a bit of tartness. There was also a spiced sponge cake with cream that was scrumptious.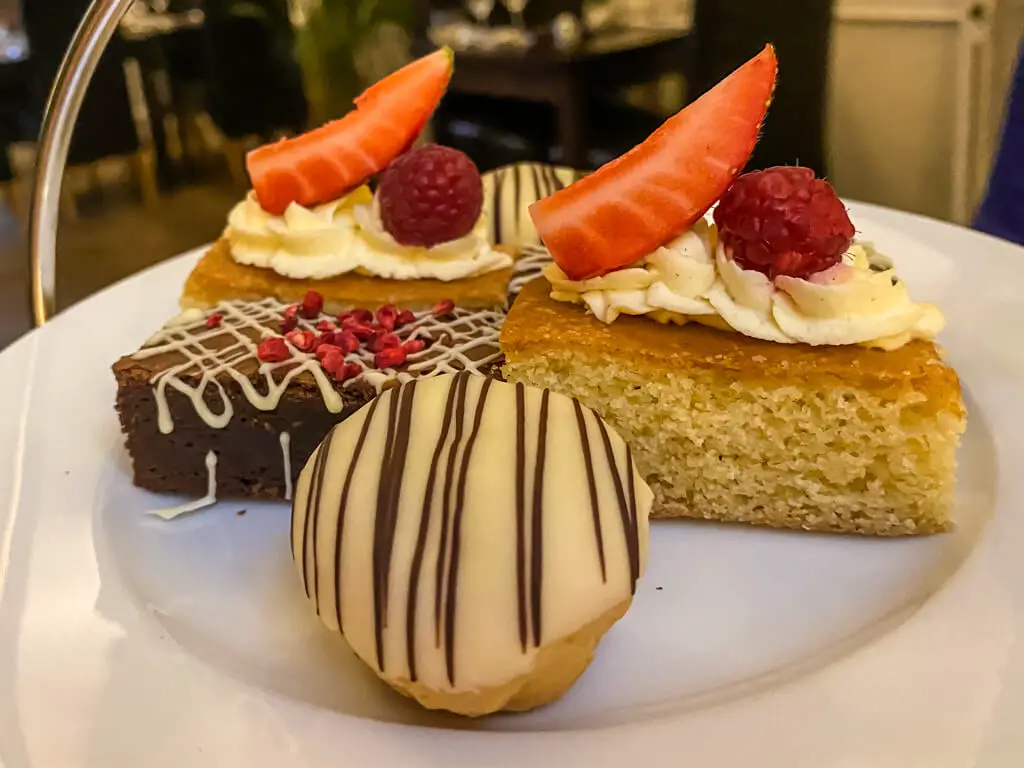 Everything was delicious so we finished it all. It was just the right amount to fill us up, but we didn't feel stuffed.
Price
We paid £16.50 per person for our afternoon teas at The Grove Hotel in November 2021. Given the quality of the food and the lovely atmosphere, this afternoon tea is reasonably priced.
They do also offer gift vouchers, which would make a lovely Norfolk-themed gift.
Overall Review of The Grove Afternoon Tea
Our afternoon tea at The Grove Hotel in Cromer exceeded our expectations. It is everything you could want in an afternoon tea – relaxing experience, tasty treats, and a cozy atmosphere – at a sensible price.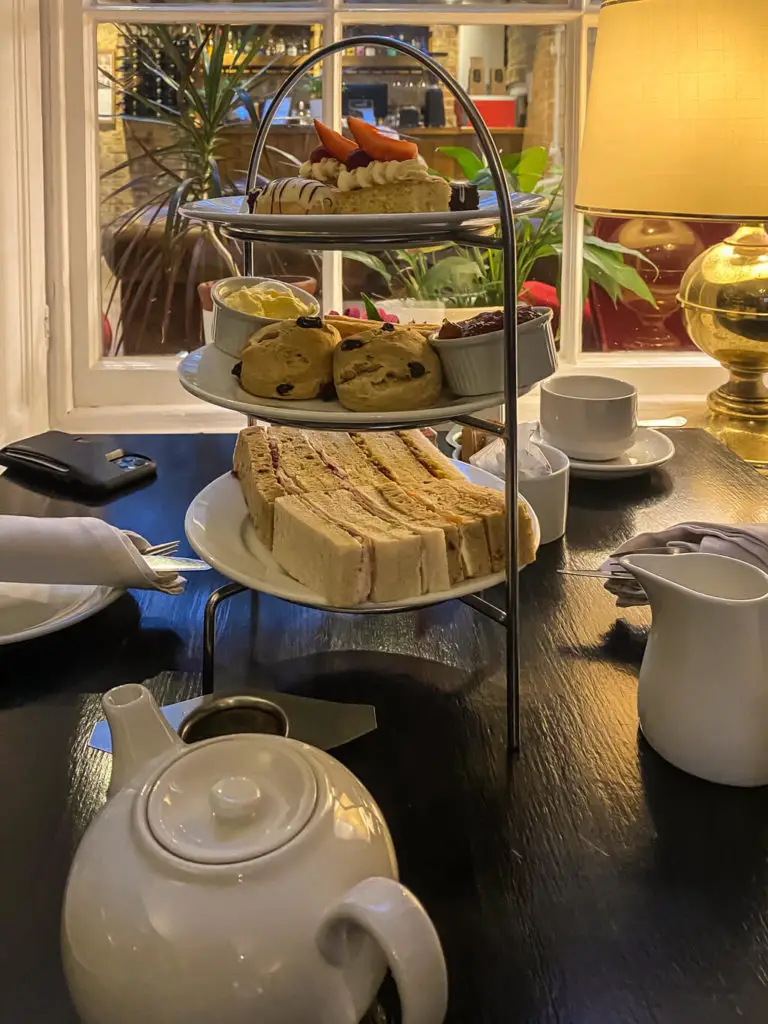 Grove Afternoon Tea FAQs
When is afternoon tea served at the Grove in Cromer?
Cromer's Grove Hotel serves afternoon tea daily from 14:00 to 16:00
Do you need to book the Grove Afternoon Tea in advance?
Afternoon tea at the Grove must be pre-booked at least 24 hours in advance. You can book parties up to four online here. If you have a larger party, you need to call.
Can the Grove accommodate vegetarian, vegan and gluten-free diets?
Yes, all dietary requirements can be catered for but you need to specify when you book.
Where do you park for the Grove?
There is a small car park by the hotel that is free for guests.
How do you get to the Grove Hotel?
You can either drive to the Grove Hotel or take public transport.
It will take about an hour to drive from Norwich. Just take the A140, which will turn into the A149. You will need to make a slight right on Station Road then turn left on Overstrand Road. The Grove Hotel will be on the right.
If you want to take public transport, the bus might be the best option. From the Norwich bus station, catch the X40 towards Sheringham. Get off at Oliver Court which is just a few minutes walk from the Grove. Total travel time is a little more than an hour.
You can also take the train but the Grove Hotel is about a mile from the Roughton Road station.
Disclosure: This post contains affiliate links. This means we will receive a small commission for some purchases made using links in our blog with no additional cost to you.  Please be assured we would not promote any product unless we believe that our readers will also benefit.  The commission does not influence the editorial content of this site.