Norfolk is known for its natural beauty, but there are some spots where gardeners have given Mother Nature a helping hand. You will be impressed when you visit one of the best gardens in Norfolk.
Let me share more about the top gardens you will want to see in Norfolk.
Be sure to sign up for our email newsletter here to keep up to date with what's happening in Norfolk.
Note: This post contains affiliate links.  As an Amazon Associate, we earn from qualifying purchases. Please see disclosure for more information.
Best Gardens in Norfolk
Gardens come in all shapes, sizes, and colours. They will also look quite different depending on the time of year that you visit. It's always a relaxing experience even if you aren't a gardener or plant expert.
Norfolk has its fair share of gardens, so we have only included our favourites in this post. Keep in mind some of these Norfolk Gardens are only open a few days a year.
East Ruston Old Vicarage Gardens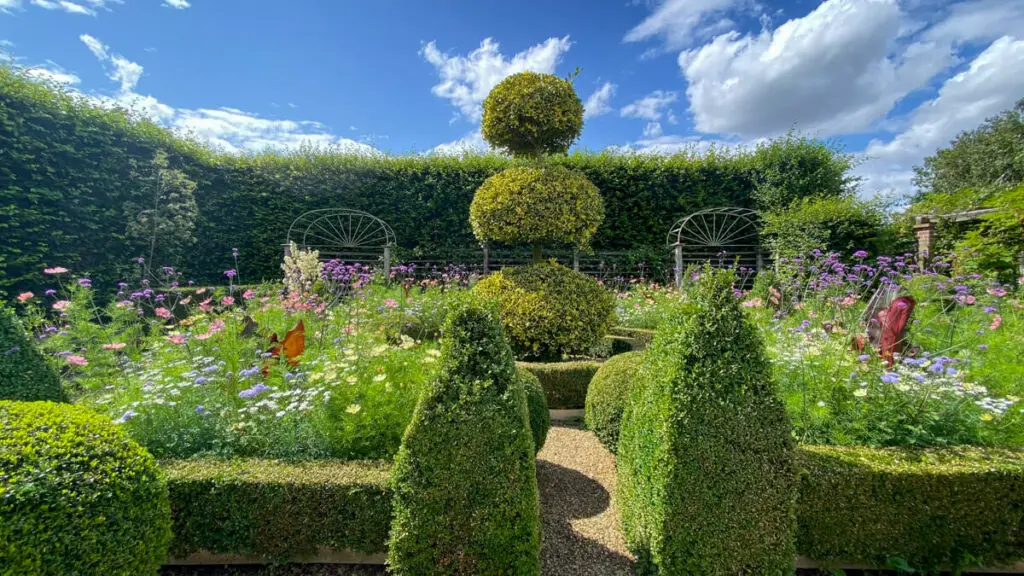 Especially during the spring you don't miss seeing this 32-acre privately-owned modern garden. It has many garden rooms with herbaceous borders, gravel gardens, sub-tropical gardens, a box parterre, sunken rose garden, Mediterranean garden, Desert Wash, a large woodland garden, and more.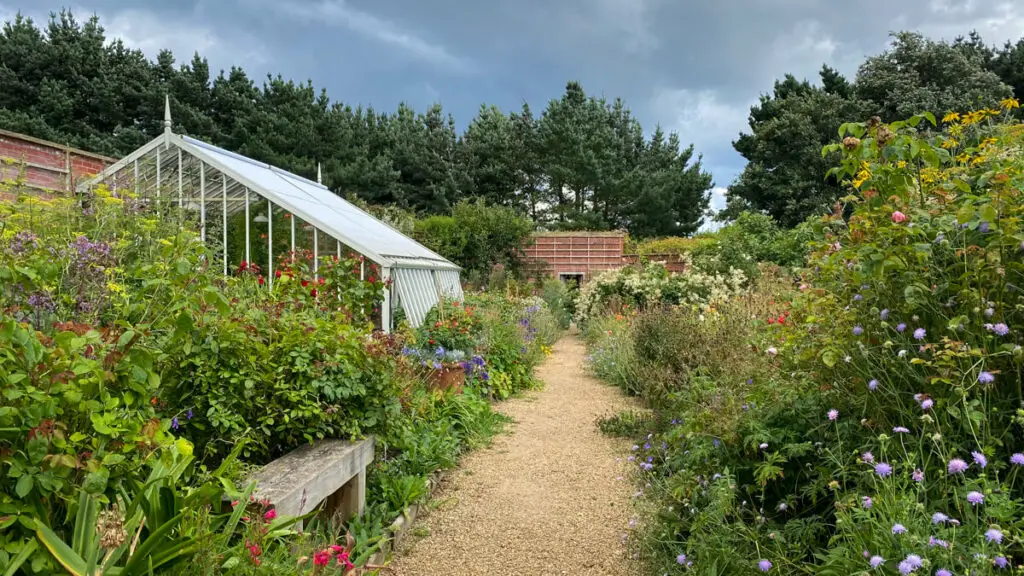 Alan Gray and his partner Graham bought the Vicarage in 1973 and at first only spent weekends here. They moved here on a permanent basis in 1986 and began to expand the garden by purchasing several plots of extra land in 1989.
As the years passed, they continued to improve the garden and push the boundaries with their planting. You can see the love that has gone into developing the Old Vicarage Gardens.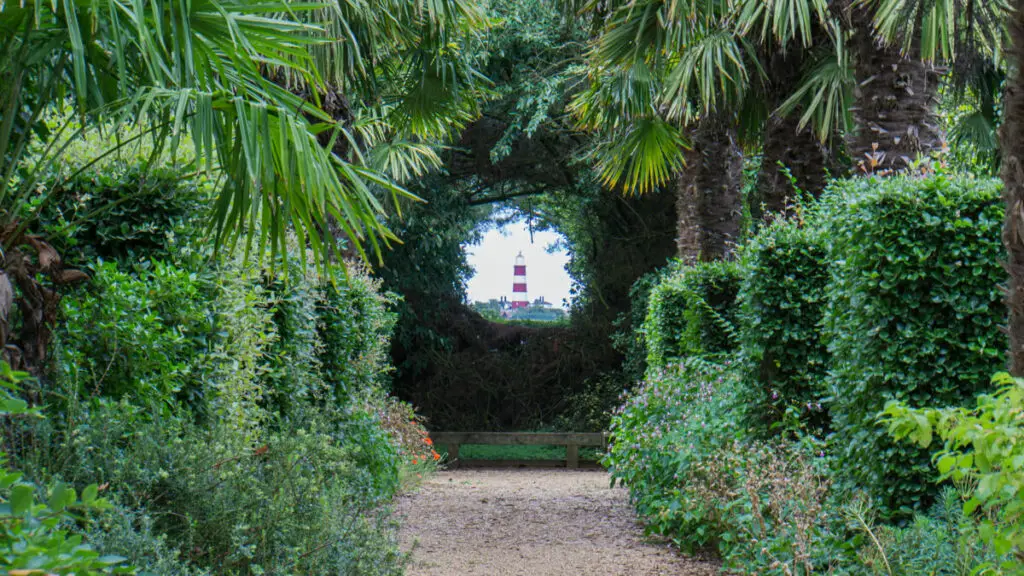 The garden and tea room are open from the beginning of March to the end of October. You do not need to prebook, but you should check the most up to date hours and admission prices here. Free on site parking is available.
See more of the Old Vicarage Gardens in our reel here.
Houghton Hall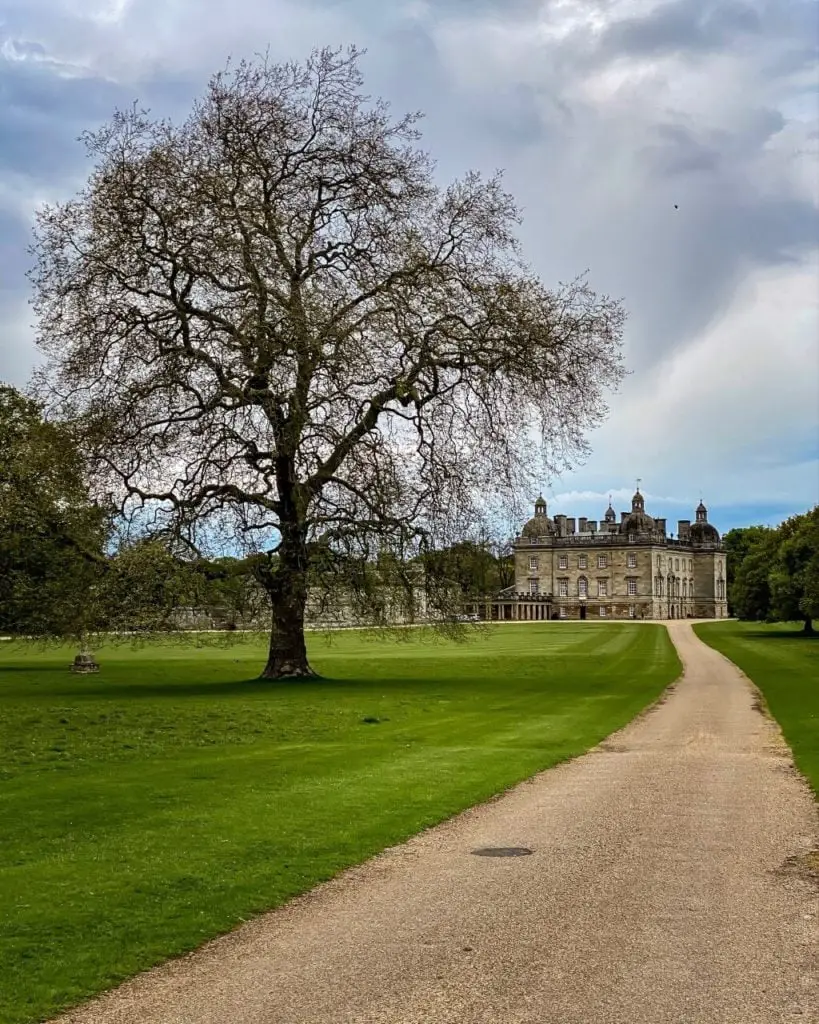 Houghton Hall was built in the early 18th century by Great Britain's first Prime Minister, Sir Robert Walpole. Designed by prominent Georgian architects Colen Campbell and James Gibbs, it is one of the finest examples of Palladian architecture in the country.
The estate passed to the Cholmondeley family at the end of the 18th Century and remains a family home. It has been open to the public since 1976. The grounds are lovely to walk around and you don't want to miss the award-winning five-acre walled garden or the sculpture collection.
The walled garden you see today was created by the present Lord Cholmondeley as a memorial to his grandmother, Lady Sybil Cholmondeley. It has a double-sided herbaceous border, an Italian garden, a formal rose parterre, fruit and vegetable gardens, a glasshouse, fountains, a rustic temple, antique statues, and contemporary sculptures.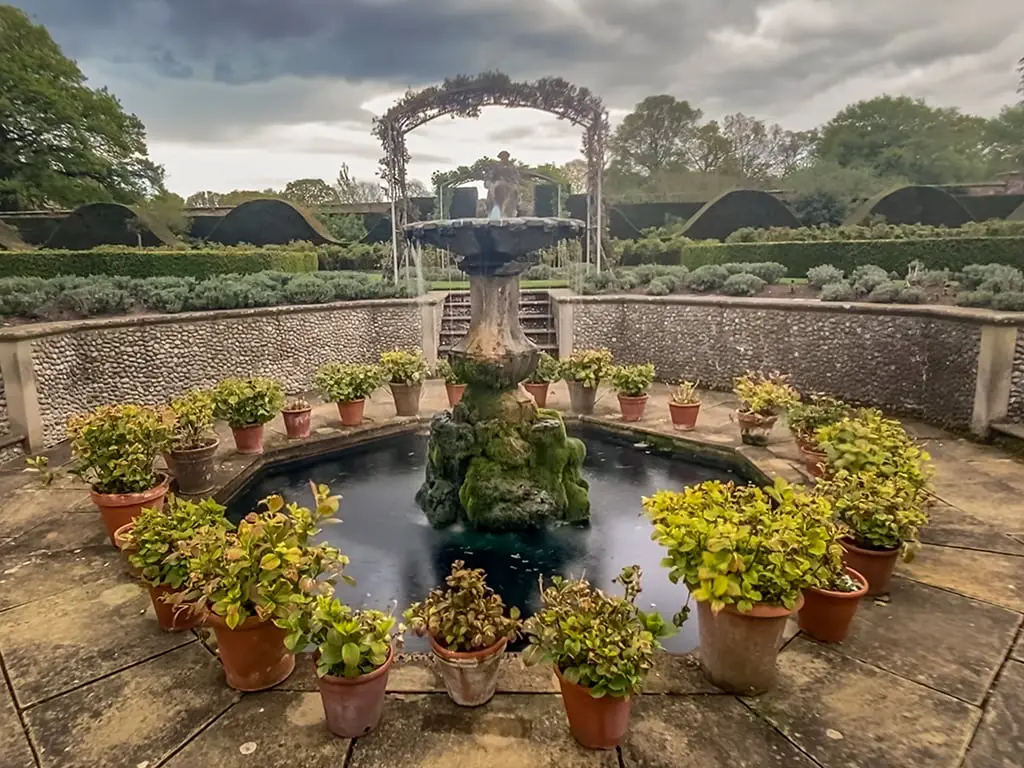 The walled garden is not the only place at Houghton to see sculptures. There are about a dozen scattered around the estate from artists like Henry Moore and Anish Kapoor. They often have special exhibitions for significant artists like they did for Tony Cragg and Chris Levine in 2021.
Check the most up to date opening times and admission prices here.
Felbrigg Hall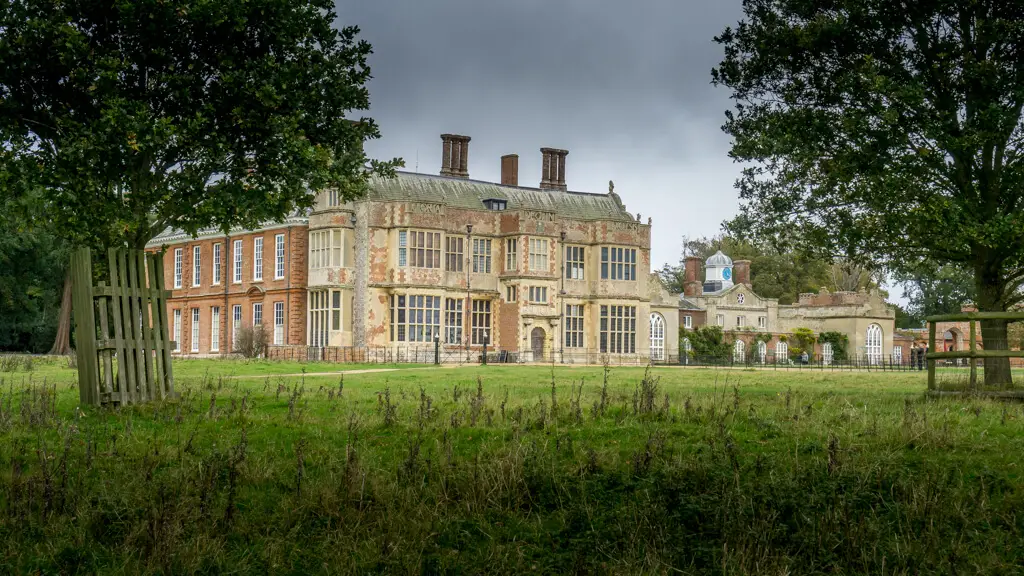 Felbrigg Estate has 520 acres of woods, rolling parkland, a lake, walking paths, and a grand hall. During the autumn, the woodland is a great spot to appreciate the leaves changing colours. You can tour the stately home, take a long walk around the grounds, and go inside the walled garden.
The walled garden at Felbrigg has a few special features that you don't want to miss. You can see one of the few octagonal working dovecotes in the country, dating back to the early 1750s. The double borders and herb beds have the sweet smell of lavender, sage and mint. I was also impressed with all the fruit trees trained against the walls.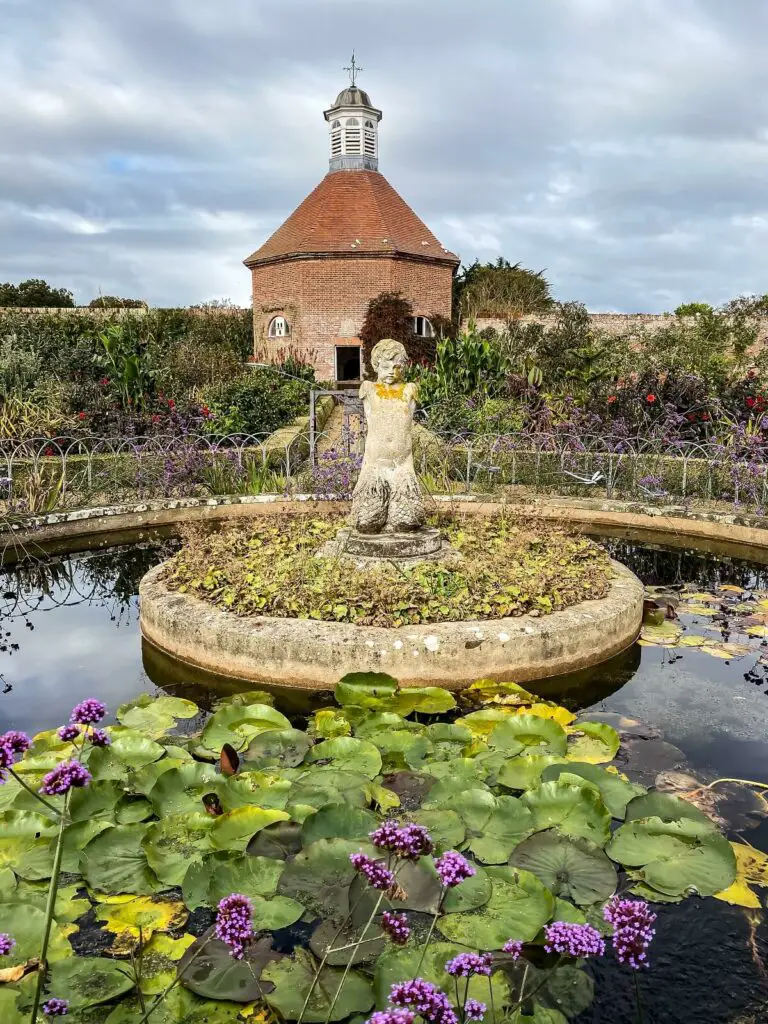 During the winter of 2021, the Felbrigg garden team added new climate resilient borders, benches, and winter-proof path so that the south lawn of the walled garden can be accessed and enjoyed all year. They have commissioned a sculpture of Bacchus, the Roman god of agriculture, wine and fertility for this area which will be re-named the Bacchus garden when it is in place.
Admission for non-members is £12 for adults and £6 for children, which includes entrance to both the Hall and the Walled Gardens. There is a £5 charge for the car park for non-members.
The Hall is closed on Thursdays and Fridays. The Walled Garden is open seven days a week.
There are also some historic buildings on the estate (like the Game Keeper's Cottage and the Mustard Pot Cottage) that have been converted to holiday homes by the National Trust. During your stay at one of these properties, you can visit any National Trust sites for free. Check out the options here.
Learn more about visiting here.
Sandringham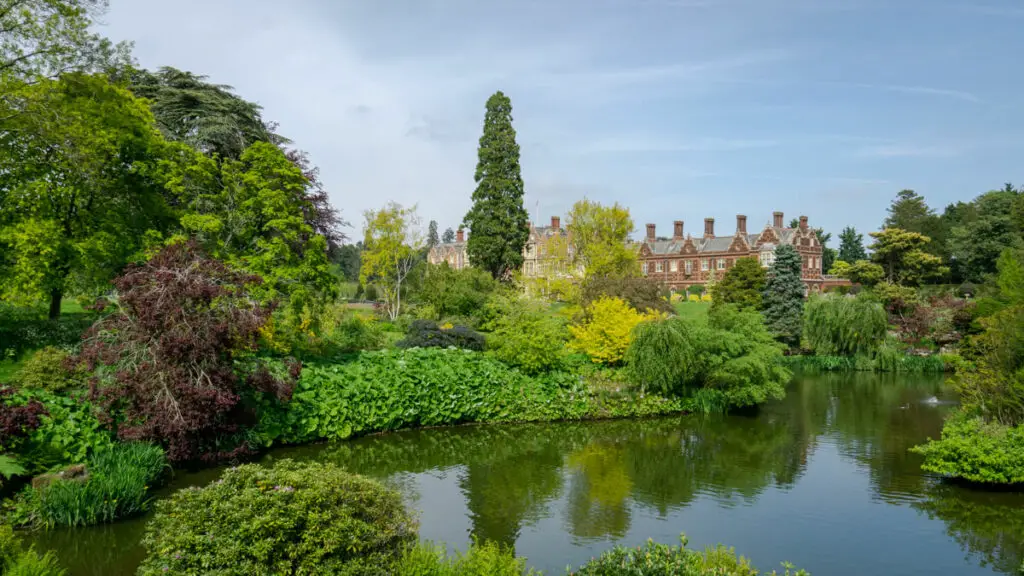 Sandringham House is one of the royal residences of Charles III. Unlike Buckingham Palace, Holyrood Palace, and Windsor Castle which are owned by the Crown, Sandringham (along with Balmoral Castle) is owned personally by the monarch.
The site has been occupied since Elizabethan times and has been owned by the Royal Family since Albert Edward, Prince of Wales, later King Edward VII acquired it in 1862. Queen Elizabeth II would typically spend about two months each winter on the Sandringham Estate, including Christmas (where the Royal Family would join her) and the anniversary of her father's death and of her own accession in early February.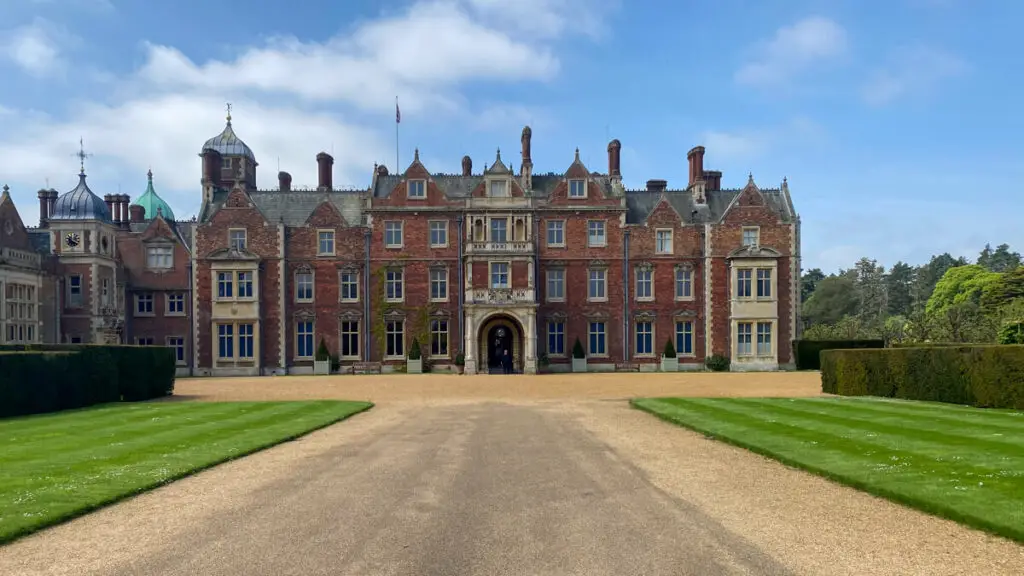 The Grade II listed house and grounds were opened to the public for the first time in 1977 to mark the Queen's Silver Jubilee. Today you can still tour the house and visit the gardens during the spring, summer, and autumn.
The gardens surrounding the house cover over 25 hectares. In this area, you can see the formal enclosed garden, a shady woodland walk, two ornamental lakes, a large lawn, and more.
They have a Veteran Oak tree near the upper lake that is believed to be over 800 years old. There is also an oak tree planted by Queen Victoria and a Giant Red Wood tree planted by Princess Christian Of Denmark.
In addition to the house and gardens, there is the 243 hectares Royal Park on the estate. It has some well-marked walking trails through the wood and a new Children's Adventure Play Area inspired by the Duchess of Cambridge's 2019 Chelsea Flower Show garden. You can visit Sandringham Royal Park for free, but there is a charge for parking.
During the Christmas season, you don't want to miss their light trail – Luminate Sandringham.
Get more information here.
Blickling Estate
Best known for being the birthplace of Anne Boyeln, Blickling Estate, just outside of the town of Aylsham, is one of the top attractions in Norfolk. While the Hall was built after Anne's time, there have been sightings of her ghost (and the ghost of her father) on May 19th, the anniversary of her execution.
While most people go to Blickling to see the Hall, the formal gardens and the rest of the estate are also worth exploring. There is over 4,600 acres to discover.
You don't want to miss the Parterre, Orangery, Temple, and Walled Garden in the formal gardens. If you want to see some of the other highlights around the estate (like the Mausoleum and Tower), you could do this walk. Keep in mind that during bluebell season you will want to modify this walk to include more of the Great Wood.
The best time to go to Blickling is May when the bluebells are out or during the holiday season as they do an amazing job with the Christmas lights.
For non-members, the admission charge is £14 for adults and £7 for children, and they will also have to pay £5 (coin only) for parking. Note that during peak times the car park can fill up. Also keep in mind that dogs, except assistance dogs, are not permitted in the house, East Wing or formal garden.
There are also some historic buildings on the estate (like the Blickling Tower) that have been converted to holiday homes by the National Trust. During your stay at one of these properties, you can visit any National Trust sites for free. Check out the options here.
Learn more about visiting here.
Gooderstone Water Gardens
What used to be a damp meadow has been turned into a serene water garden with a nature trail and tea room. It was restored in 2002 and now the six-acre garden also has a bird hide, bamboo grove, rustic roundhouse, 13 bridges, plenty of seating, mature trees, and plant sales.
Their Monet Pond does look like something right out of a painting, but I think my favourite section was the East Pond with its dramatic weeping willow. We also enjoyed the bird hide, although we didn't see any kingfishers.
The Goodertone Water Gardens are open daily all year. Admission is £8 for adults and accompanied children up to 16 years old are free. The tearoom opens from early March to the end of October when the weather is good.
Get more information here.
Stody Lodge Gardens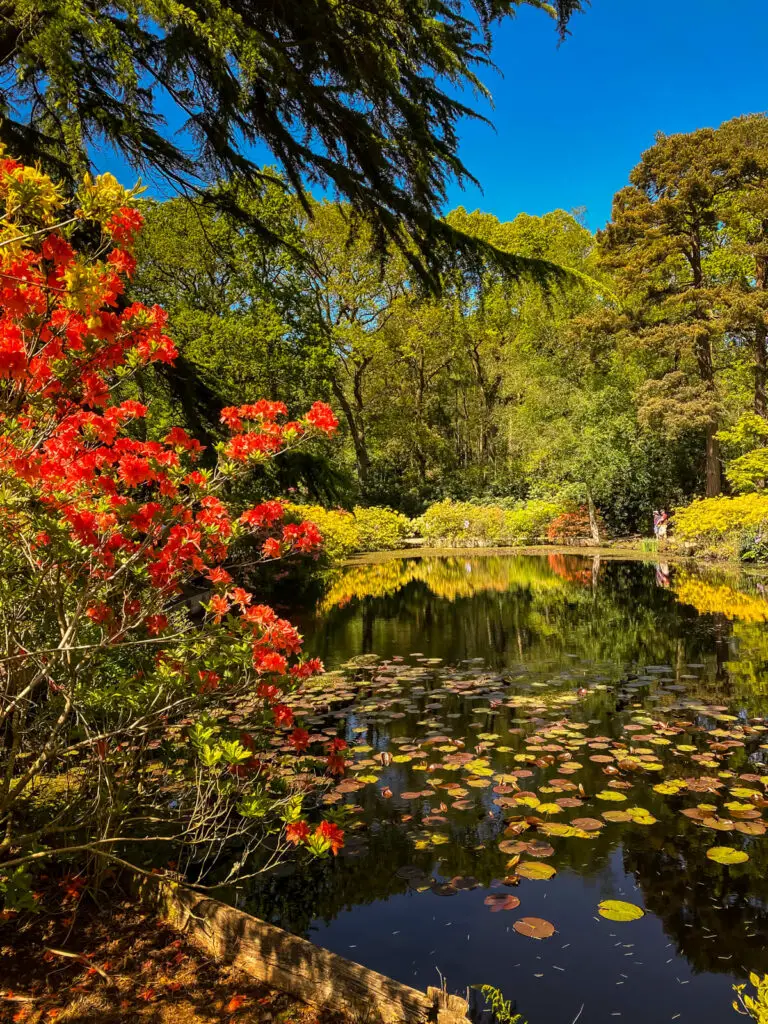 The Stody Lodge Estate was bought in 1932 by Lord Rothermore who founded the Daily Mail. Today it is now home to the second generation of the MacNicol family.
The gardens are known for its azaleas and rhododendrons. They now have a collection of 200 different varieties.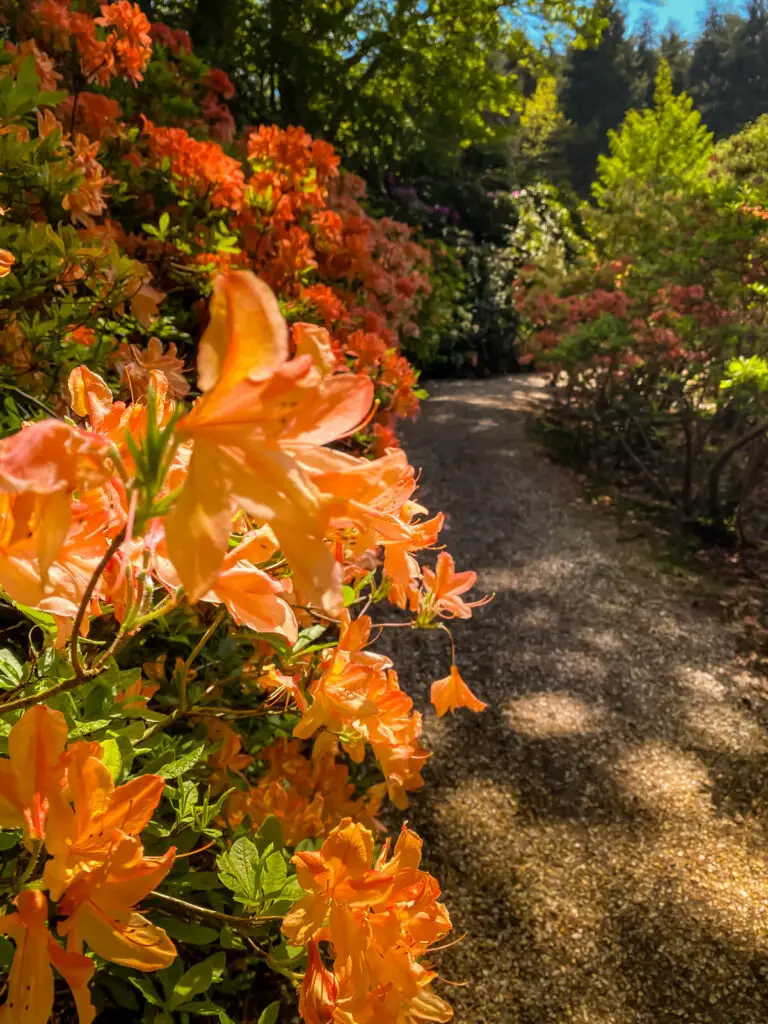 The main garden also features many camellias, magnolias, daffodils, bluebells, and lilies of the valley. It's small enough that you can easily walk around and see all of it.
The Azalea Garden is located across the road from the main garden. It was founded by Ernest Horsfall around 1900 and now there are estimated to be over 2,000 azaleas. Many believe its the largest single planting of Azalea mollis in the UK.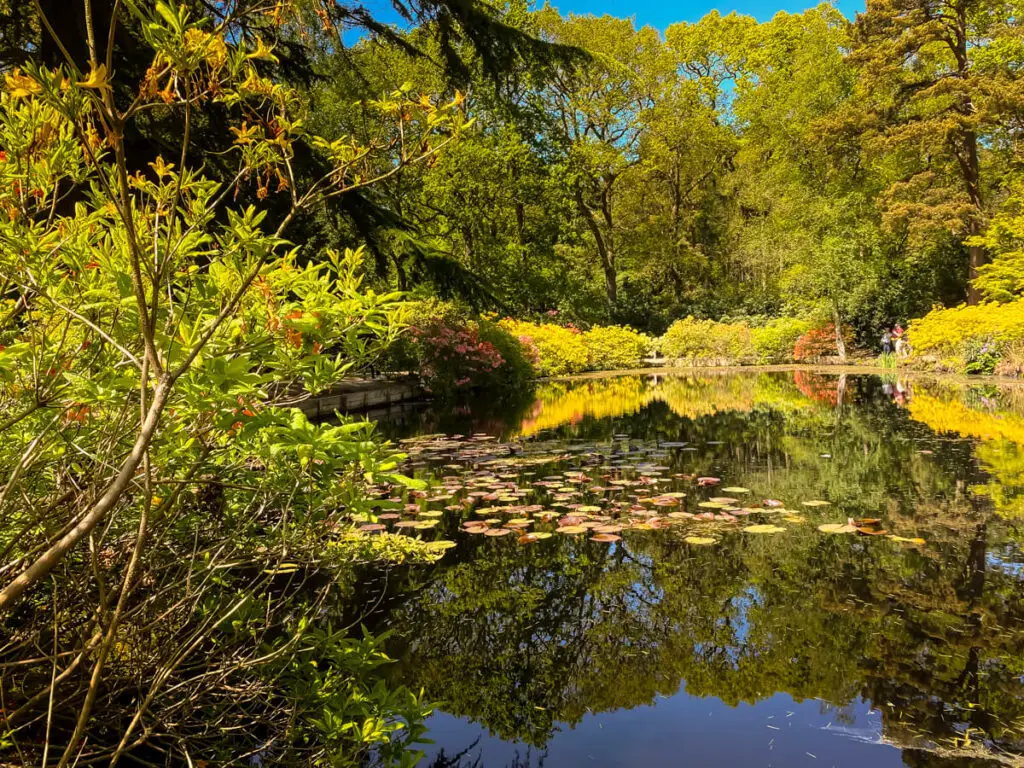 Stody Lodge Gardens is only open to the public for a few days each May when the blooms are at their peak. On select days they do charity teas.
Get more information here.
Sheringham Park
Sheringham Park is the grounds around Sheringham Hall, just south of the seaside town of Sheringham. While the Hall is privately owned and occupied, the park is cared for by the National Trust and open to the public.
The park is open year round, but the best time to visit is in May and June. The 80 or so species of rhododendrons and azaleas are in full bloom at this time of year, and the colours are breathtaking. In May, you will also be able to see bluebells.
The park has several walking trails that vary in difficulty and length. The main hard stoned path which goes right through the centre of the park is ideal for pushchairs and takes you by the rhododendrons and azaleas.
While there is no admission charge, if you are not a National Trust member you will have to pay £6.50 for parking. It can be a popular destination (especially when the flowers are blooming), so it's best to book in advance to avoid disappointment.
Learn more about visiting here.
Fairhaven Water Gardens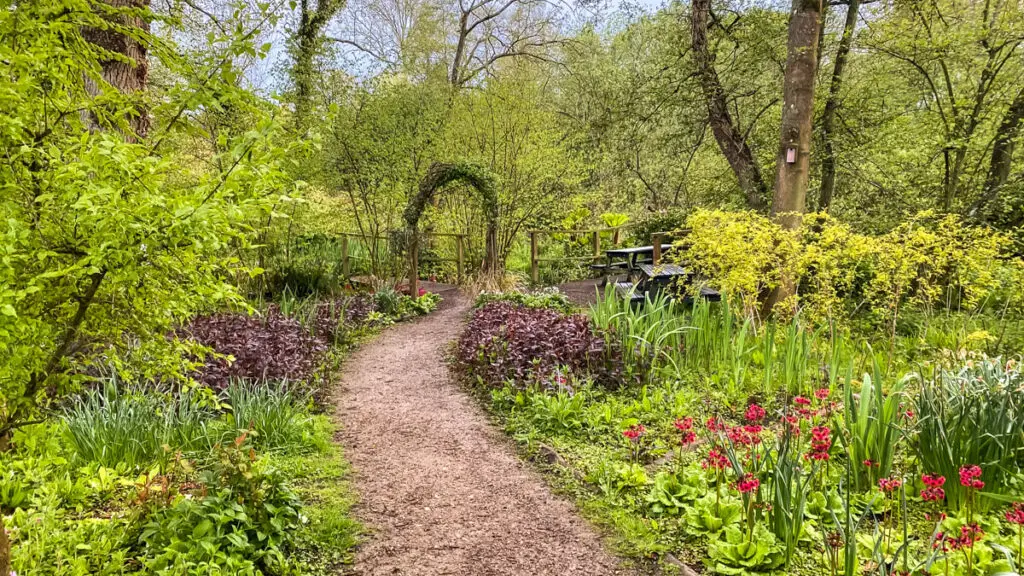 Fairhaven in South Walsham is 130 acres of cultivated, wild and natural plantings in the Norfolk Broads. They have almost 4 miles of woodland pathways and their own private broad.
During the summer you can go for a boat ride and it's a lovely place to walk any time of year. They also have a tearoom and gift shop.
Be sure to keep an eye out for their special events. In past years, we have enjoyed their Christmas Light Trail and Christmas Bauble Trail.
For best ticket prices, book your visit online in advance. Read our guide to plan your visit to Fairhaven Water Gardens.
Norwich Bishop's House Garden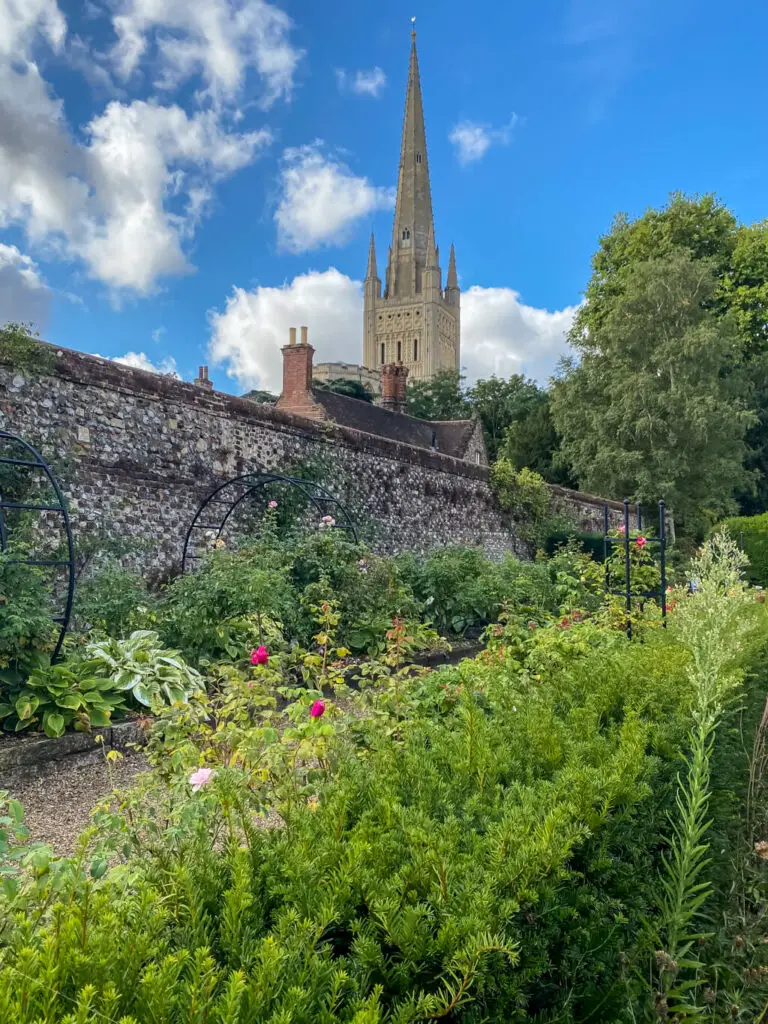 Hidden in the centre of Norwich is a lovely private garden for the Bishop with herbaceous borders, a woodland walk, a wildflower labyrinth, and much more. The gardens are only open to the public on select days for charity and Heritage Open Days.
Read more about visiting the Bishop's House Garden.
Plantation Garden in Norwich
Located just behind the Roman Catholic Cathedral, the Plantation Garden is a three-acre Grade II English Heritage registered garden. It was established over 100 years ago in an abandoned chalk quarry and is now maintained by volunteers.
The centrepiece is the huge gothic fountain. Around the fountain there are flower beds, an Italian terrace, "medieval terrace wall," woodlands, a rustic bridge, and a perfectly manicured lawn perfect for picnicking.
You will need to bring a picnic blanket (this fancy picnic basket comes with a blanket) and your own food as there are no facilities. They don't allow you to bring any alcohol though.
Admission to the Plantation Garden is £2 per adult.
Read more about the Plantation Garden in Norwich.
What is the best garden in Norfolk?
I don't think it's fair to choose one garden as the best in Norfolk because they are all so different. It also depends on the time of year you are visiting. You can't go wrong with any of the gardens on this list.
For me, it's hard to top the sight of the bluebells at Blickling, although the rhododendrons at Sheringham Park are lovely too. When it comes to walled gardens, I love Houghton.
What is your favourite garden in Norfolk?
Disclosure: This post contains affiliate links. This means we will receive a small commission for some purchases made using links in our blog with no additional cost to you.  Please be assured we would not promote any product unless we believe that our readers will also benefit.  The commission does not influence the editorial content of this site.