If you're looking for a charming and romantic destination for a getaway or date night, Norwich should definitely be on your list. This city is full of history, culture, and natural beauty, making it an ideal spot for couples to explore and create unforgettable memories together.
Whether you're a local or a visitor, there are plenty of romantic things to do in Norwich that will make your time here truly special. In this blog post, I'll be sharing some of my top recommendations for romantic activities, sights, and experiences that you and your significant other can enjoy in this fine city. So, get ready to fall in love with Norwich all over again!
Be sure to sign up for our email newsletter here so that you can find out about more things to do around Norfolk.
Note: This post contains affiliate links.  As an Amazon Associate, we earn from qualifying purchases. Please see disclosure for more information.
9 Romantic Things to Do in Norwich
Norwich has a lot to offer couples from charming spots, special dining experiences, and beautiful scenery. Bring your honey and enjoy our choices for things to do in Norwich for couples. Some of these ideas are free too!
#1 Do the Riverside Walk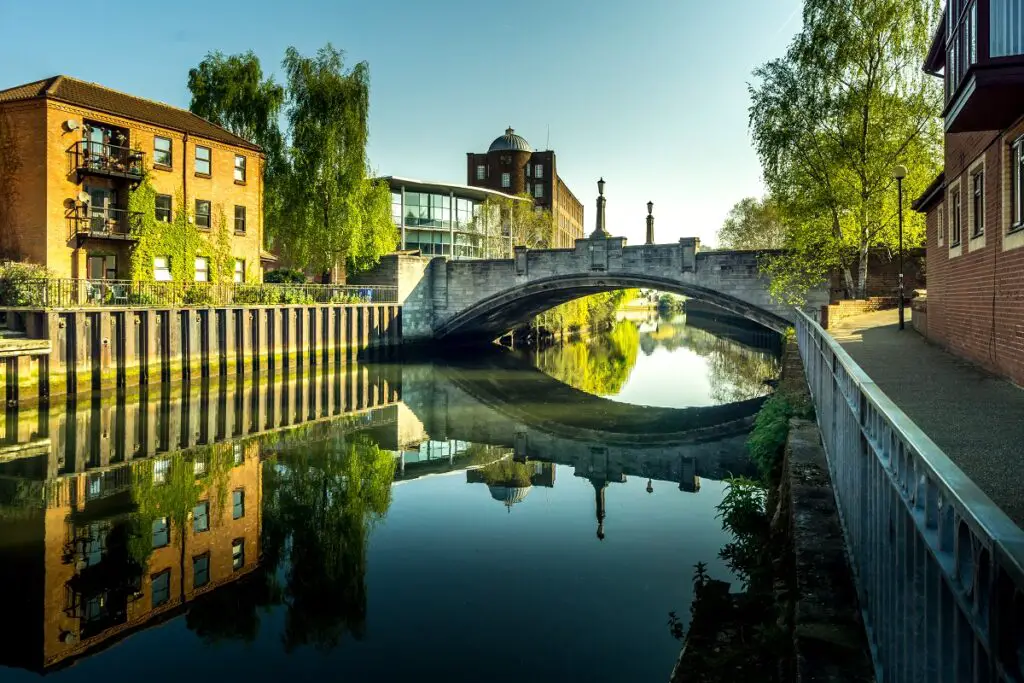 On a nice day, it's hard to beat taking a walk along the River Wensum in Norwich. Stroll hand in hand along the Riverside Walk enjoying each other's company and the lovely scenery.
You'll pass by historic landmarks like Pull's Ferry and Cow Tower, and get beautiful views of the Cathedral. The walk can be done in about an hour, but allow time to make some stops along the way. There are some benches along the river or you could grab a pint at a local riverside pub.
Read our Guide to the Norwich Riverside Walk.
Another alternative romantic walk is the circular path around Whitlingham Broad. The scenery is lovely and there are plenty of benches along the way to take in the views. It's located about 2 miles from the city centre.
#2 Picnic at the Plantation Garden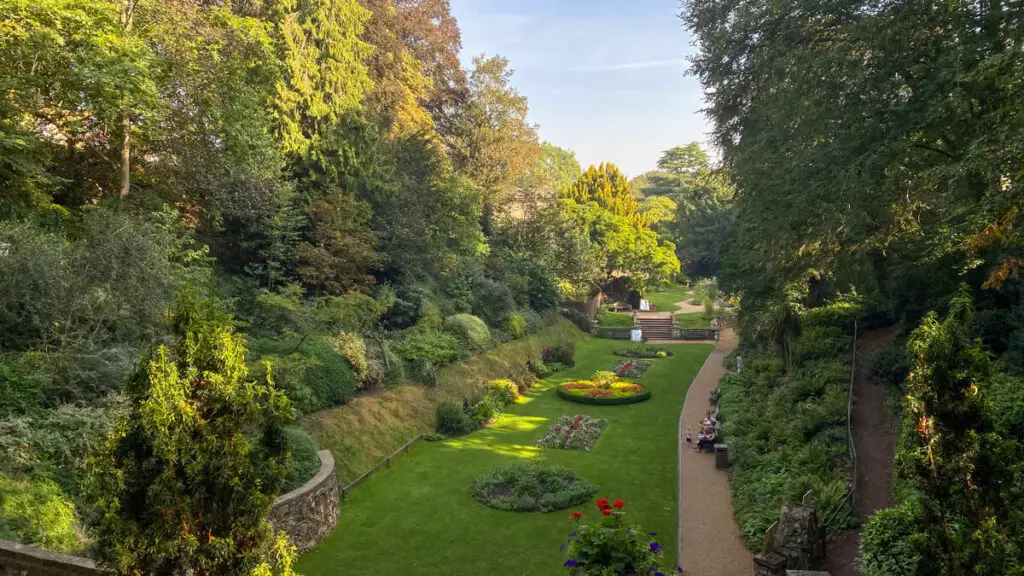 Picnics are a great way to bond with your sweetie. It gives you time to talk while enjoying nature and some delectable bites. The Plantation Garden is the best place to picnic in Norwich.
Located just behind the Roman Catholic Cathedral, the Plantation Garden is a three-acre Grade II English Heritage registered garden. It was established over 100 years ago in an abandoned chalk quarry and is now maintained by volunteers.
The centrepiece is the huge gothic fountain. Around the fountain there are flower beds, an Italian terrace, "medieval terrace wall," woodlands, a rustic bridge, and a perfectly manicured lawn perfect for picnicking.
You will need to bring a picnic blanket (this fancy picnic basket comes with a blanket) and your own food as there are no facilities. They don't allow you to bring any alcohol though.
Admission to the Plantation Garden is £2 per adult.
Read more about visiting the Plantation Garden in Norwich.
#3 See a Show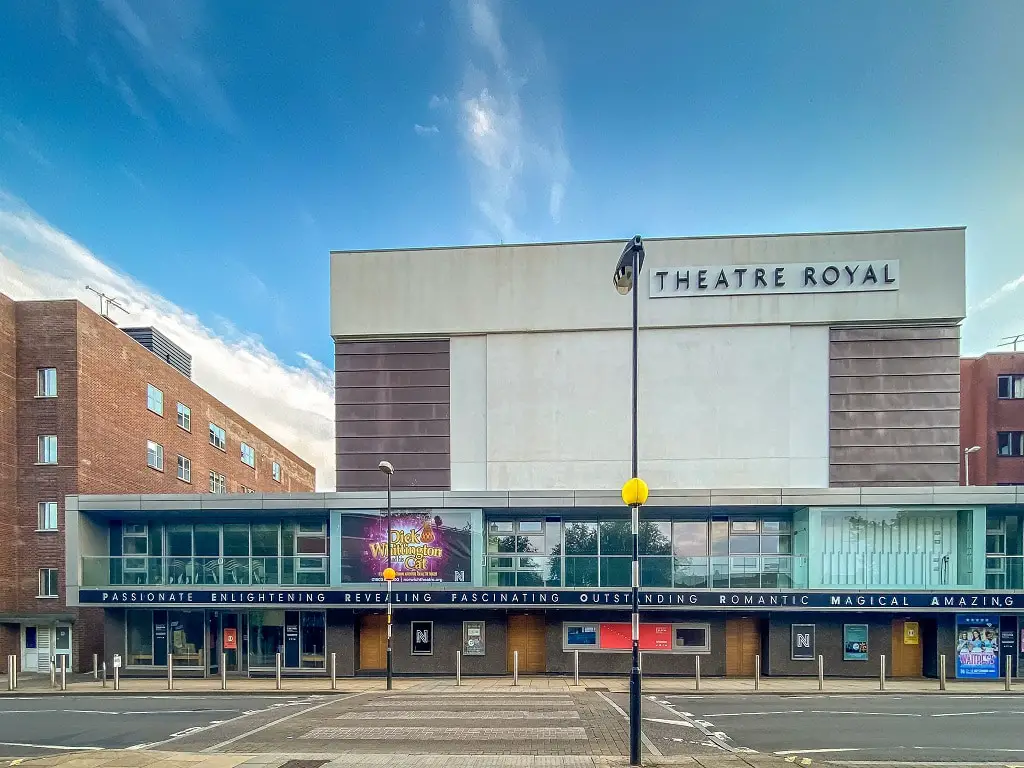 Norwich has a busy performing arts scene with several theatres. The most significant being Norwich Theatre Royal, which at more than 250 years old is one of the oldest in the country. The current building dates back to 1935, but was refurbished in 2007 so feels quite modern.
The team at Norwich Theatre Royal also runs Stage Two and the Norwich Playhouse. They regularly host touring productions and put on a Panto every Christmas. Check out the calendar for all three Norwich Theatre Royal locations here.
There is also the Maddermarket Theatre, which has been described by BBC Norfolk as the people's theatre. Find a listing of their upcoming shows here.
Learn about more theatres in Norwich.
#4 Enjoy Afternoon Tea
Afternoon tea makes for the ideal daytime date. It's designed to be enjoyed in a leisurely manner, so you can relax and enjoy every minute of it with your significant other.
When partaking in afternoon tea, it's almost like time stops. You savour a sip of tea along with your scone and other goodies. Look into the eyes of your date and whisper sweet nothings.
The best place to have a romantic afternoon tea in Norwich is the Assembly House. To make the experience even more special, get dressed up and splurge on a glass of Prosecco. If you want something a bit different, you could try their Beforenoon Tea.
We also love afternoon tea at the WinePress restaurant inside the historic Maids Head Hotel. When the weather is nice, you can sit in their beautiful courtyard. Read our review of the Maids Head afternoon tea to learn more.
#5 Have an Intimate Meal
How about a quaint candlelit dinner for two? You can enjoy each other's company while having a delicious meal and maybe a glass or two of wine. It's a splendid way to spend an evening in Norwich.
While there are plenty of excellent restaurants in Norwich, not all have the romantic atmosphere that you want. If you are looking for a restaurant for a special date night, consider Bishop's Dining Room & Wine Bar, Benedict's, Benoli, or Roger Hickman's Restaurant.
If you are willing to venture outside of the city, there are more charming options like the Dabbling Duck in Great Massingham, the White Horse in Brancaster, or Morston Hall near Holt.
#6 Do a Wine Tasting
Wine (especially red) is considered to be an aphrodisiac by many. The ethanol in the wine stimulates a primitive part of your brain called the hypothalamus, which regulates basic human functions, including body temperature, hormone levels, and sex drive.
If you want to do a wine tasting in Norwich, you can try the self-service option at the Wallow Wine Bar or go for a more traditional structured class at Norfolk Wine School.
#7 Paddle Down the River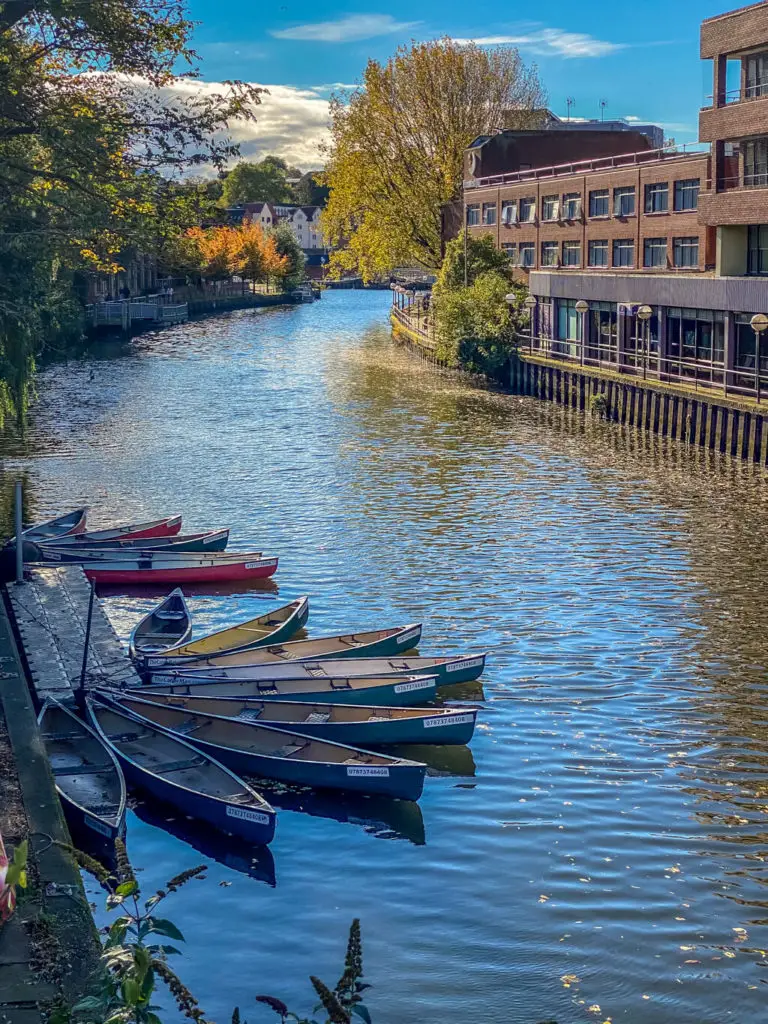 The River Wensum flows gently through the Norwich city centre so it's a popular spot for kayaks, canoes, paddleboards, and boats. Since the water is typically very calm you don't need to be experienced to go paddling, but you still need to take proper safety precautions like wearing a life vest.
It's a fantastic way to enjoy the scenery, spend time together, and burn a few calories at the same time. Depending on your preferences, you could each have your own vessel or get one that is big enough for the two of you.
If you don't have your own gear, there are a few places along the river where you can hire boats including Pub and Paddle and the Canoe Man.
#8 Watch the Sunset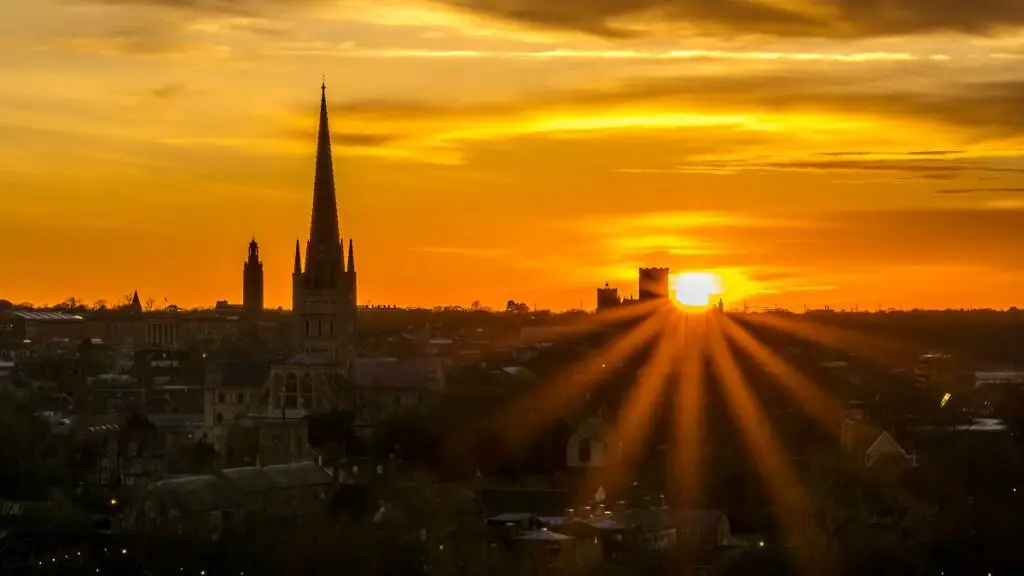 The beauty of sunsets never ceases to amaze me. The special light at sunset makes it romantic too. You just need to find the right spot to watch it from.
In Norwich, there are a few options. You could go to Kett's Heights or St. James Hill. If you want to enjoy a fancy cocktail while you watch the sunset the Rooftop Gardens is a good choice.
Read about more romantic places to watch the sunset in Norfolk.
#9 Have a Couples Massage
A couples massage is when two people get massages at the same time in a private room. The massages are performed on separate tables by two massage therapists. It is a shared experience where you can both relax and enjoy a treat together.
Not all spas have the facilities to do couple massages. If you want to have a couples massage in Norwich, Norfolk Beauty Rooms and Treat Norwich are options in the city centre.
Romantic Places to Stay in Norwich
You don't want to choose just any accommodations, for a romantic trip it needs to be special. If your plans are to mostly explore Norwich, it might be best to stay in the city centre so that you can walk to most places.
Assembly House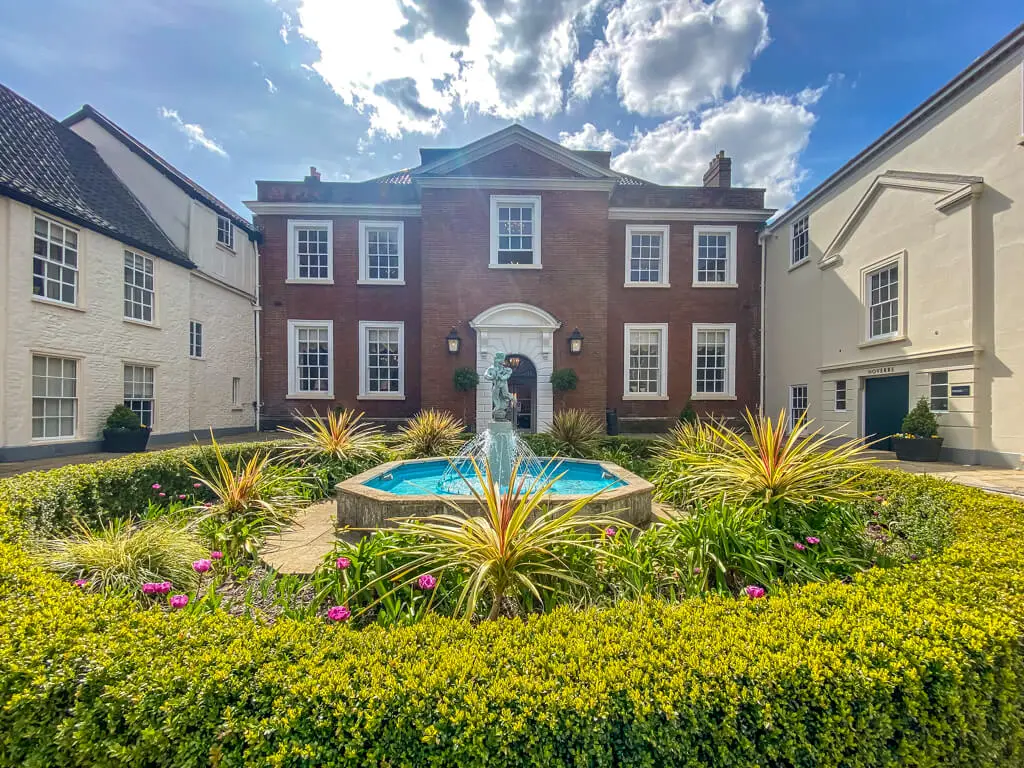 The most romantic place to stay in Norwich must be the Assembly House. It's a truly unique and historic guest house in the heart of Norwich. There are only 11 guest rooms – six have secret gardens and four have their own lounges.
Expect sparkling chandeliers, charming four-poster beds, walk-in showers, and roll top baths. These are luxurious rooms where no detail has been overlooked.
The Assembly House is also known for its dining experiences, from traditional English breakfasts to sophisticated afternoon tea. It's the home of The Richard Hughes Cookery School.
Read Tripadvisor reviews here.
Check price and availability for the Assembly House here.
Maids Head Hotel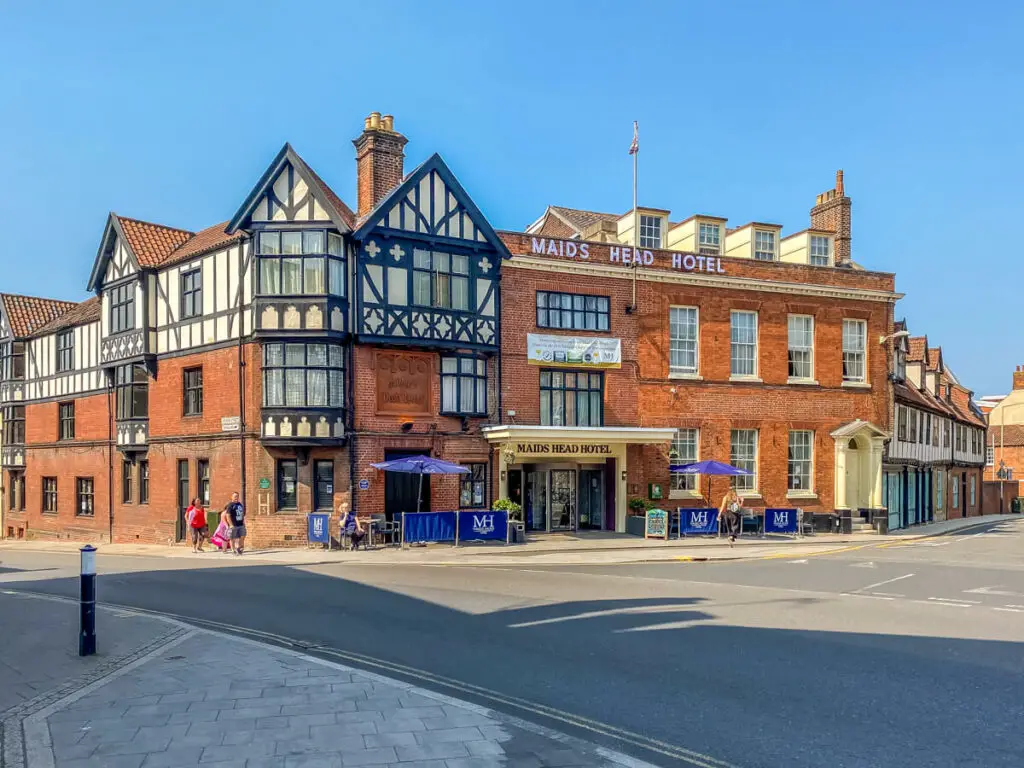 Dating back more than 800 years, the Maid's Head Hotel claims to be the oldest hotel in the UK. It's a Grade II listed building where it is believed Queen Elizabeth I attended a banquet. The hotel is also thought to be home to two harmless ghosts.
The suites and some of the period rooms feature luxurious roll top bathtubs. The rooms all have a flat screen TV and free wifi.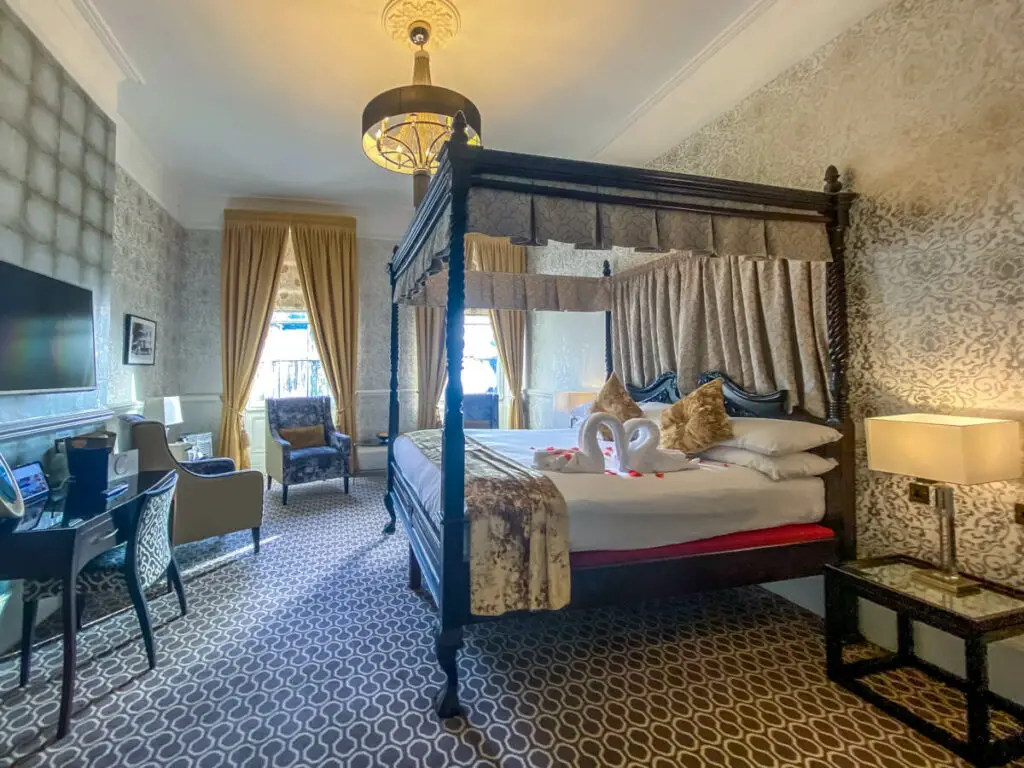 WinePress, a AA Rosette restaurant at the property, serves simply prepared food in stylish surroundings. You can also have afternoon tea at the restaurant or enjoy it in an armchair in their lounge or in their Courtyard. Additionally, they offer 40 wines by the glass, along with real ales and quality beers.
The hotel has an onsite beauty salon, Best Beauty. Guests of the hotel can also book a complimentary ride around Norwich in their vintage Bentley.
Located in Tombland right by Norwich Cathedral, it's a convenient base to explore Norwich. They offer free parking for their guests.
Read Tripadvisor reviews here.
Check price and availability here.
Get more ideas for places to stay in the Norwich city centre.
More Ideas for Your Romantic Trip to Norwich
While this list includes our favourite romantic things to do in Norwich, the city has even more to offer. You might also enjoy some of our other posts:
Fun Things to Do in Norwich for Adults
Things to Do in Norwich When it Rains
Disclosure: This post contains affiliate links. This means we will receive a small commission for some purchases made using links in our blog with no additional cost to you.  Please be assured we would not promote any product unless we believe that our readers will also benefit.  The commission does not influence the editorial content of this site.