If you are looking for something a bit different from your typical restaurant, you need to check out Junkyard Market. It is a must for foodies and street food aficionados.
Let me tell you more about what it is like to visit Junkyard Market in Norwich.
*Be sure to join our email list here to find out what's on in Norfolk each week.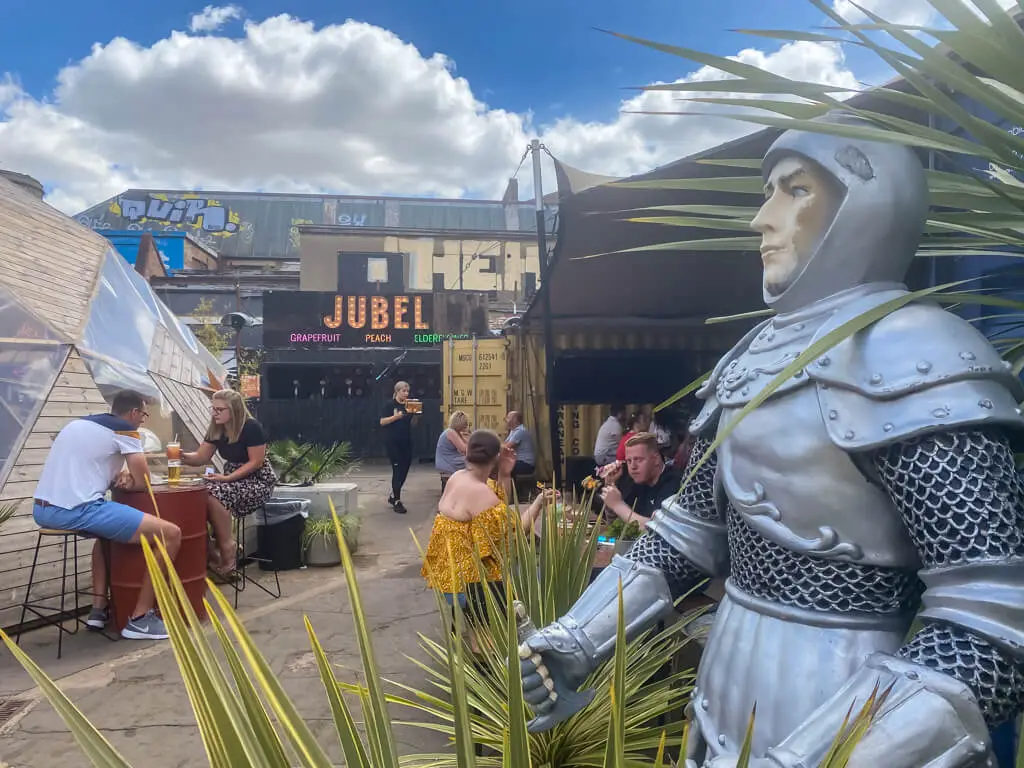 What is Junkyard Market?
The Junkyard Market is a place where you can enjoy street food and drinks from around the world in a colourful venue with fun music. The vendors at Junkyard Market change all the time so every visit is a different experience.
Our Experience at Junkyard Market
We visited Junkyard Market on a lovely summer afternoon. Once we arrived, we were allowed to choose our own table. While we had booked in advance, there seemed to be space for walk-ins (not sure that is always the case).
There are several different seating areas each with different personalities. You can choose to sit inside a tent or at a table outside either covered or in the sunshine.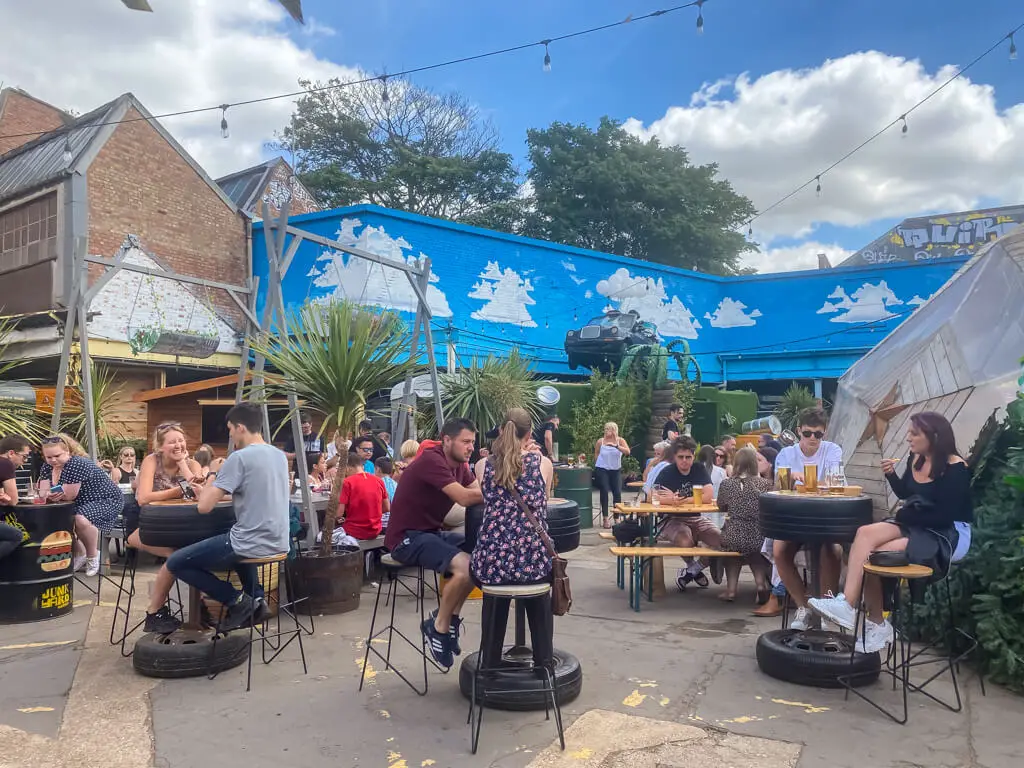 We picked a spot towards the back that was covered and took our seats. Music was playing but it wasn't so loud that we had to yell to have a conversation.
Once we were seated, we could take a look at the menu. There was a QR code on the table that you can scan to see the menu for the day.
You can see the vendors and the food they offer, along with prices and the wait time (if applicable). The drinks are listed at the bottom. They had a wide selection including cocktails, mocktails, soft drinks, wine by the glass or by the bottle, and even had hot drinks.
We decided to order a bunch of things and share so we could try as much as possible. Here are the items we ordered:
Pork tacos from El Cantador – It included pork belly in al pastor marinade with avocado crema, charred pineapple, white onion, and tajin on thin corn tortillas, served with a lime and hot sauce. Slightly messy but oh so worth it.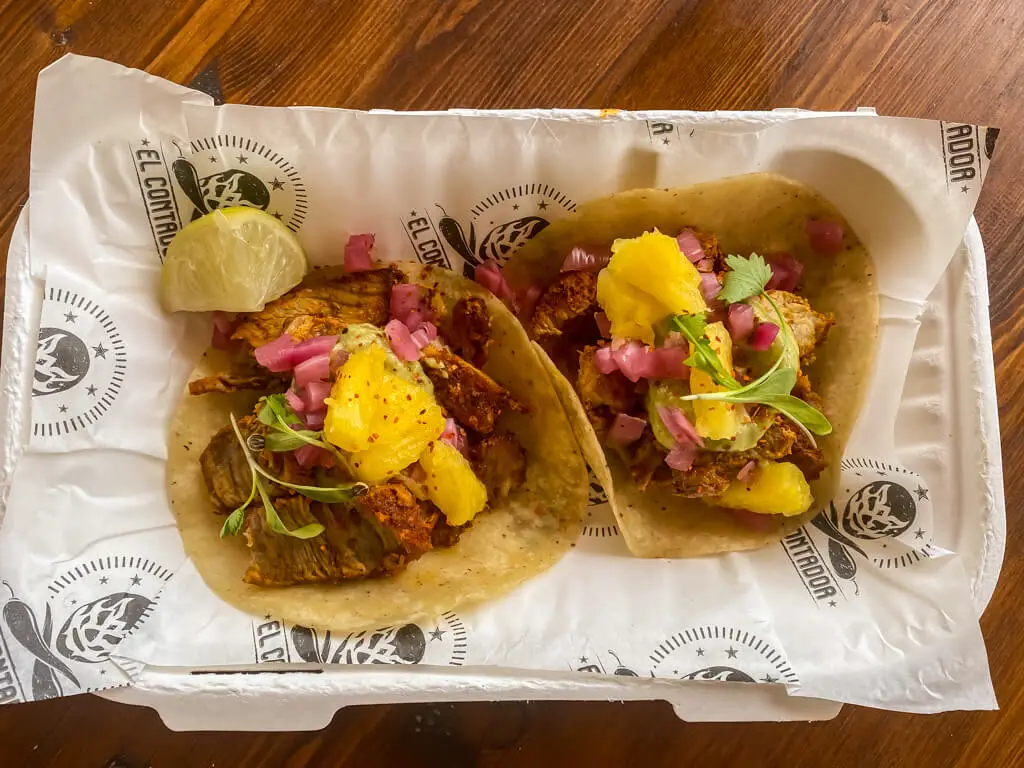 Cheese and Bacon Burger from One Tonne Burger Co – It was an aged patty, smoked streaky bacon, American Cheese, Onion jam on a seeded brioche bun. Overall we enjoyed the burger but I wish there would have been the option to have lettuce and tomato on it.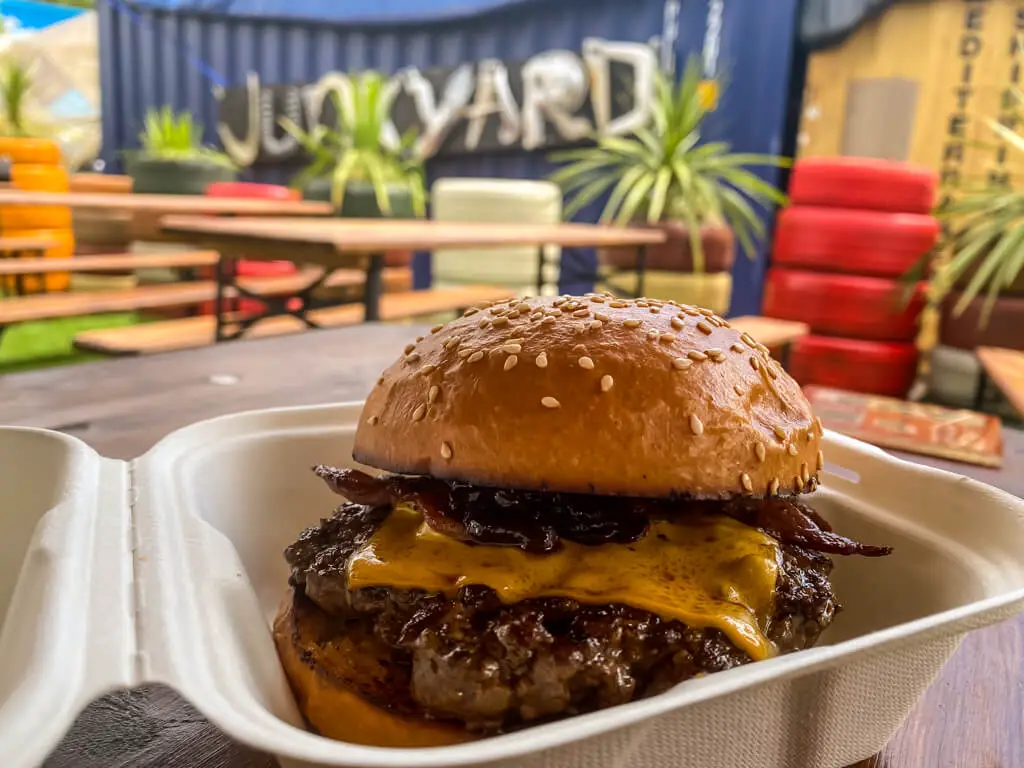 Meal deal from Phat Khao – This included veggie spring rolls with sweet chili sauce and Pad Thai. I had tried Phat Khao before at one of the Holkham Feast in the Park events and remembered how amazing it was. It was just as good at Junkyard Market.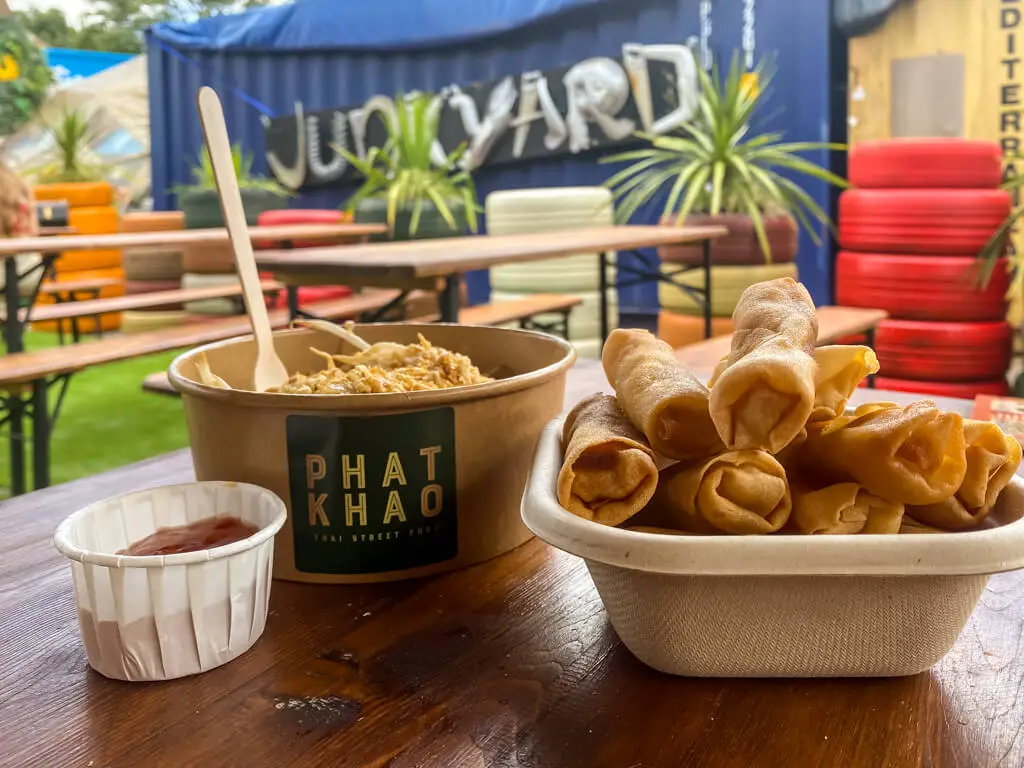 We enjoyed our afternoon at the Junkyard Market and will definitely be back to try more.
Junkyard Market Review
Overall, I love the Junkyard Market concept. What used to be an under-used space is now a fun way to try different and exciting food in a friendly atmosphere.
Each time you visit Junkyard Market it will be different as the vendors are always changing. They try to make sure that they have gluten-free, vegan, and vegetarian options. You can see who the vendors will be on Junkyard Market instagram
The variety of vendors is great for people like me that like to try new foods, but it may not be ideal for picky eaters or those that have dietary restrictions. It's helpful to be able to access the menu on your phone, but I would have liked to see pictures or have better descriptions in some cases.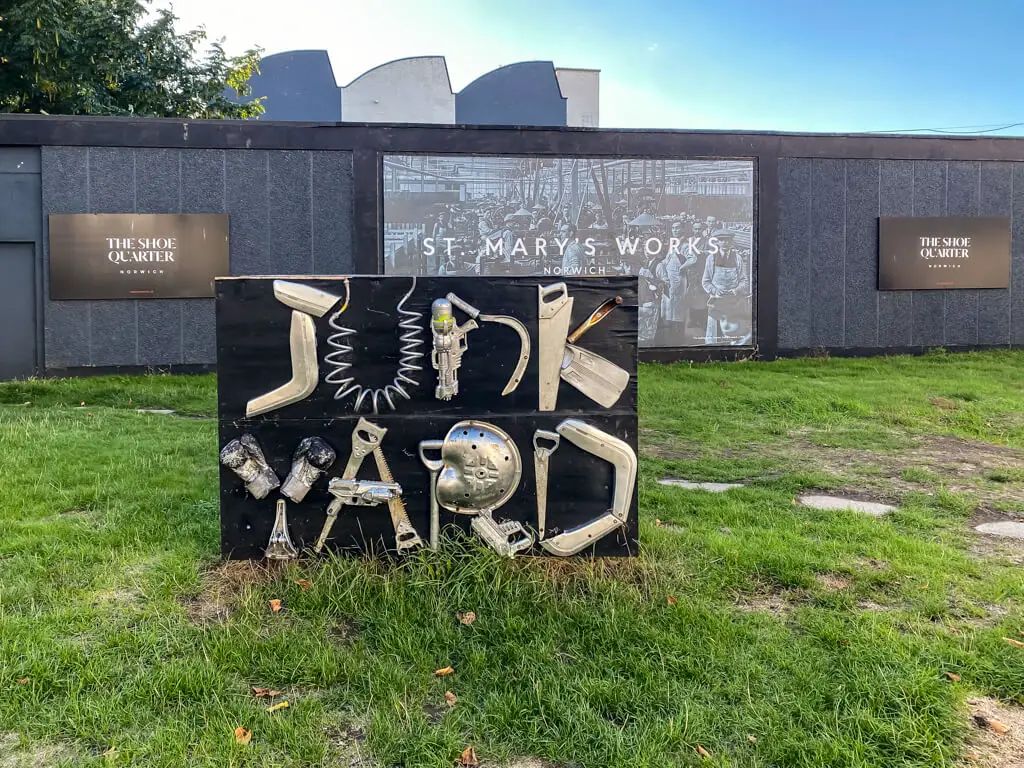 The way you are able to order and pay for your food through your phone is convenient. You don't have to flag down a server. It also makes it easier for large groups because everyone can order and pay separately.
The atmosphere is lively, so it's ideal for groups. When we were there the music was played at just the right volume, where we could hear it but it wasn't interfering with our conversations. Some evenings they may have djs or other performers.
I would say the prices were average to maybe a bit on the expensive end. We spent £45 including our drinks when we were there. Of course, it will vary depending on the vendors that are at Junkyard Market when you visit.
All things considered, we will be returning to try more of the food at Junkyard Market.
Junkyard Market FAQs
Where is Junkyard Market?
Junkyard Market takes place at St Mary's Works in Norwich. The postcode is NR3 1QA.
When is Junkyard Market open?
Junkyard Market is open every Friday, Saturday and Sunday. You can visit from 17:00 – 22:00 on
Fridays, 12:00 – 22:00 on Saturdays, and from 12:00 – 19:30 on Sundays.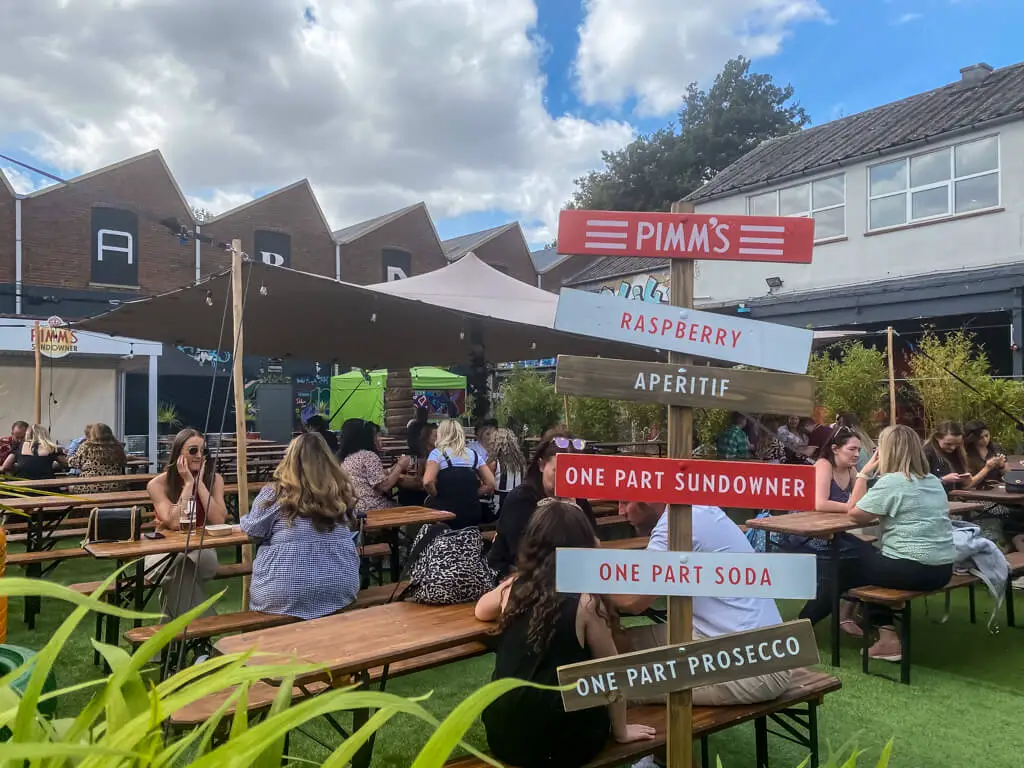 Can Junkyard Market cater to dietary requirements?
They try their best to make sure that they have vendors that offer gluten-free, vegan, and vegetarian options. You can see who the vendors will be on the Junkyard Market instagram account.
How long can you stay at Junkyard Market?
During busy periods, you can have the table for 2.5 hours but they will allow you to stay longer if they have availability.
Where can you park for Junkyard Market?
Your best bet for parking is the St. Andrew's multi-story car park just a five minute walk from Junkyard Market.
Is Junkyard Market good for kids?
Yes. Kids are welcome to enjoy Junkyard Market. Some vendors had child menu options and they sometimes have craft activities during the day on Saturday.
If you need more family-friendly ideas, check out our list of the best things to do in Norwich for kids.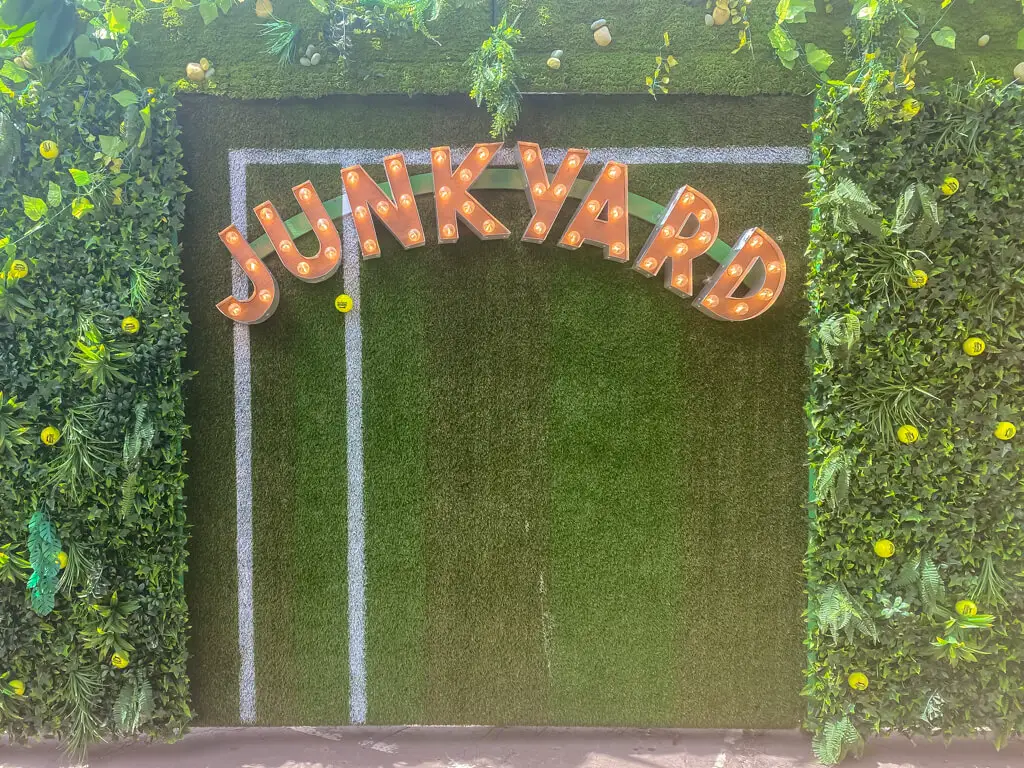 Is Junkyard Market dog-friendly?
Yes. They allow well-behaved dogs that are kept on a lead.
Does Junkyard Market have heaters?
Yes! During the colder months, all the tables are moved "inside" and they have state of the art heaters which ensure all the spaces are warm enough so that you are comfortable.

Does Junkyard Market accept credit cards?
Yes. They are a cashless venue so all payments need to be made by card.
Do you need to book Junkyard Market in advance?
It's best to book in advance to avoid disappointment. You can book online but you will need to provide your credit card details. No money is taken from your account at the time of the reservation, but they may charge £10 per booking if you do not attend on the day or cancel less than 24 hours before.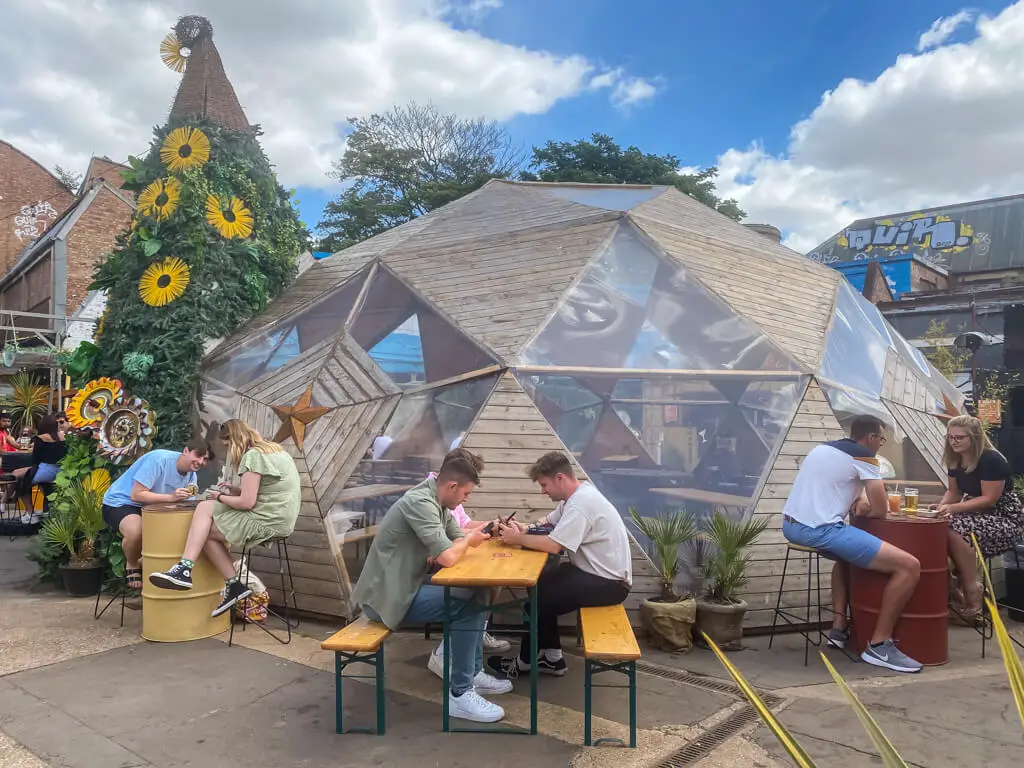 Is Junkyard Market worth visiting?
Yes. It is a fun atmosphere with a wide variety of good food. The vendors are always changing so it is always a bit different.