Norwich has plenty to offer visitors of all ages. It's ideal city for families to visit because there are so many kid-friendly things to do. Plus, not far away you have the lovely beaches of the North Norfolk Coast and the peaceful nature of The Broads National Park.
Let's not get ahead of ourselves though, first, lets take a look at the best things to do in Norwich with kids.
More photos coming soon.
Be sure to sign up for our email newsletter here to find out about the best events happening around Norfolk.
Note: This post contains affiliate links.  As an Amazon Associate, we earn from qualifying purchases. Please see disclosure for more information.
Best Things to Do in Norwich With Kids
There are plenty of family-friendly attractions in Norwich so you won't have any difficulty keeping the kids entertained. It's also nice that many of the options on this list are easy on your budget too.
#1 Visit Norwich Castle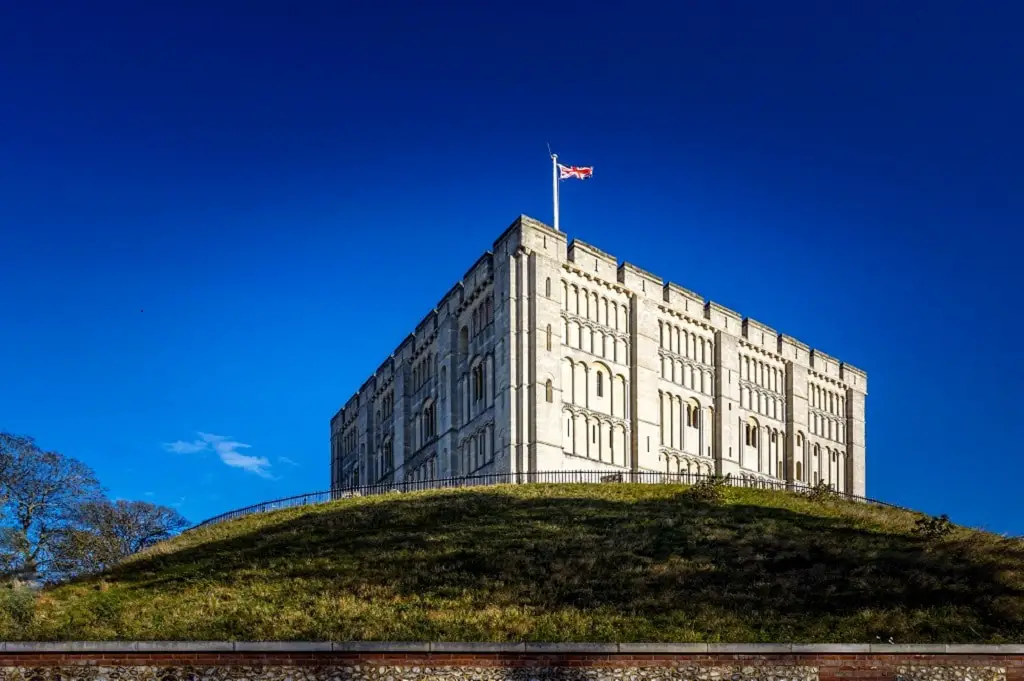 While Norwich Castle may not look like one of the castles from a fairy tale, it is still a fun place to take children. There are interactive displays that will teach them about the castle's history which goes all the way back to William the Conqueror. They can also take a tour of the dungeon and battlements.
There is an exhibition area located adjacent to the keep, showcasing an extensive collection of fine art, ranging from costume, textiles, jewellery, glass, ceramics, teapots, to silverware. In addition to that, you can explore fascinating displays featuring the history of Boudica and the Romans, Anglo-Saxons and Vikings, and Egyptians, as well as a Natural History Gallery.
Sometimes they also have special temporary exhibitions like The Last Voyage of the Gloucester. With such diverse and captivating galleries, there is something for everyone.
Note: Norwich Castle is currently undergoing a £13.5m project to transform the castle keep. The Norwich Castle: Royal Palace Reborn Project will cause some planned closures. Get more information here.
#2 Explore Whitlingham Country Park
Whitlingham Country Park is a peaceful haven just east of the city centre. We enjoy the 2-mile (approximately) walk around the larger lake (broad). It's ideal for kids as it's relatively flat and not too long.
Kids will also enjoy the water sports and wildlife watching. During the warmer months, you can rent a kayak, canoe, paddleboard, and more. There is a bird hide on the north side of the broad for birdwatching. It's also fun to do orienteering at Whitlingham, there is a map you can download for free here.
When the kids get hungry, there is a café by the car park with outdoor seating or you can bring your own food to have in the picnic area. While there is no admission charge to visit Whitlingham Country Park, there is a small charge for the car park. It goes towards the upkeep of this lovely spot.
Read our guide for more things to do in Whitlingham Country Park.
#3 Enjoy a Show at Norwich Puppet Theatre
The Norwich Puppet Theatre is not your typical live performance venue. Inside a converted medieval church, they host family-friendly original shows that play in Norwich before touring the UK and internationally. It's an excellent way to introduce children of all ages to the magic of theatre.
If your child is interested in learning more about theatre, crafts, and puppets, they also offer various activities, workshops and masterclasses. There are also adult events for time when you don't have the kids.
Check the schedule for the Norwich Puppet Theatre here.
#4 Paddle Down the Wensum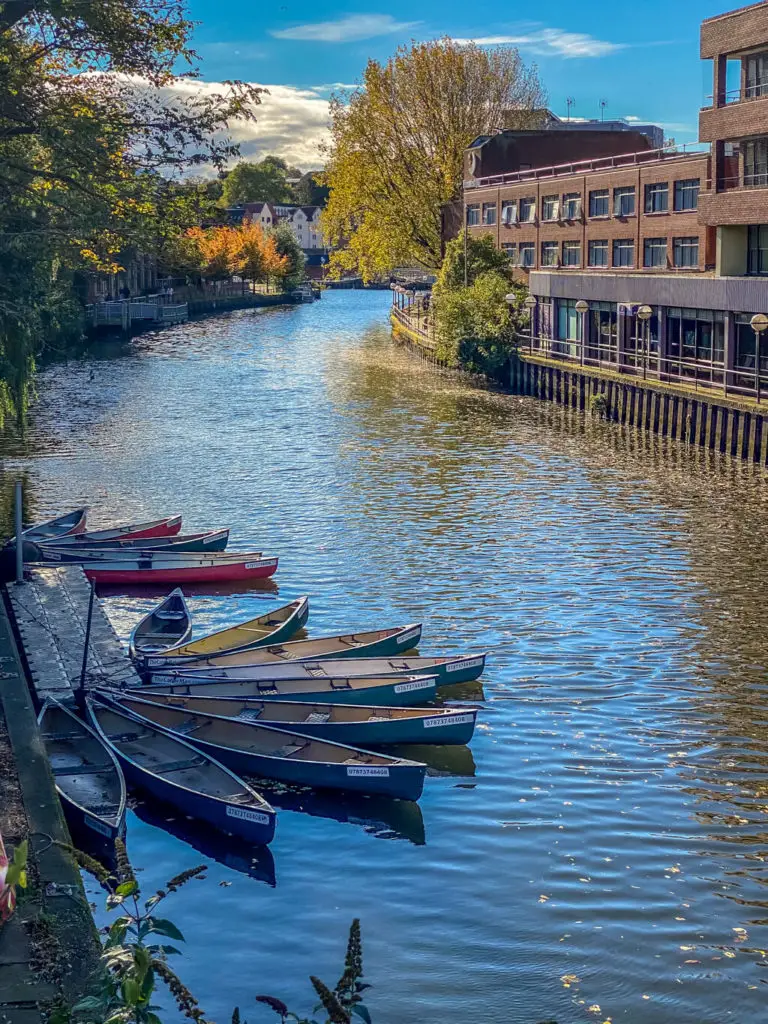 The River Wensum winds around the Norwich City centre. For the most part, the water is calm so it's ideal for beginner paddlers and kids, just be sure to follow safety guidelines and wear life vests. You can choose from kayaking, canoeing, or even stand up paddle boarding. It's a fantastic way to enjoy the scenery and get the kids to burn off some energy.
You can bring your own equipment or there a few places where you can hire boats including Pub and Paddle and the Canoe Man.
#5 Visit the City of Norwich Aviation Museum
Kids are fascinated by airplanes and the City of Norwich Aviation Museum (CNAM) is the prefect place for them to learn more. It was started by a group of aviation enthusiasts back in 1977 and it has grown into quite an interesting collection of planes.
You can see a massive Vulcan bomber and some aircraft which have flown from Norfolk airfields. There are exhibits where you can learn more about the local presence of the American 8th Army Air Force, the RAF Bomber Command, the role of women in aviation, and more.
Get more information about CNAM here.
#6 Go to Eaton Park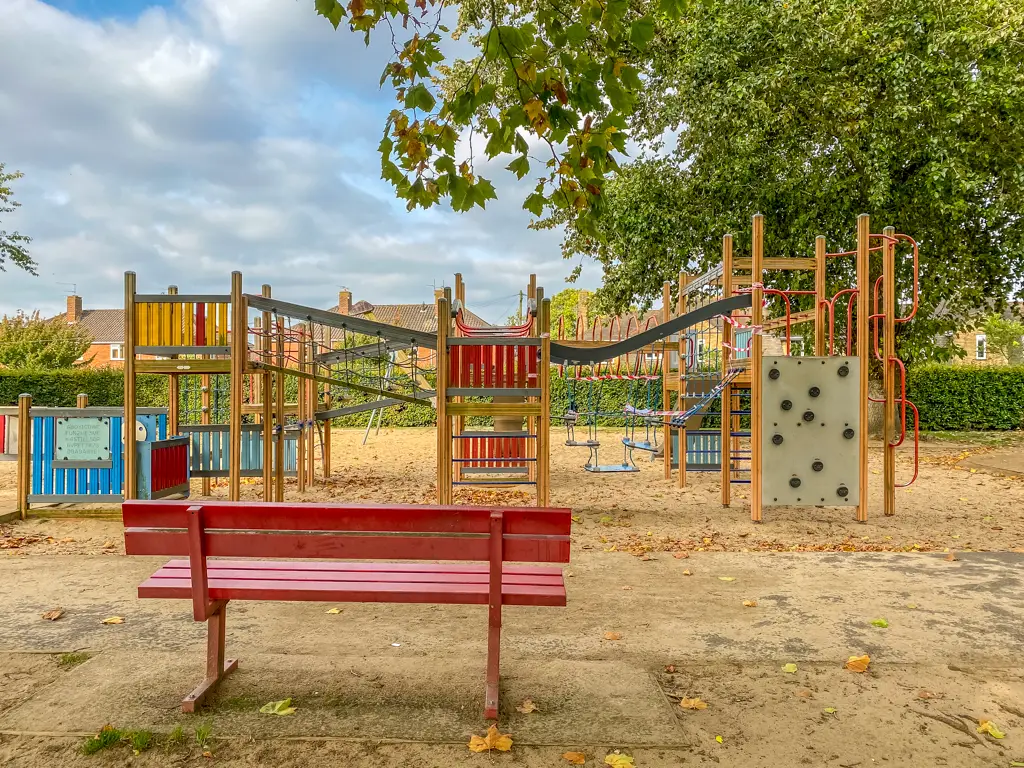 Eaton Park is 80 acres of greenspace with several attractions that kids will love. They have a crazy golf course, a miniature train, a skate park, a boat pond, a bandstand, and sporting facilities.
It is free to visit Eaton Park but there are charges for the different activities. In March 2023, they also introduced parking charges.
RELATED: Discover Norfolk Steam Railways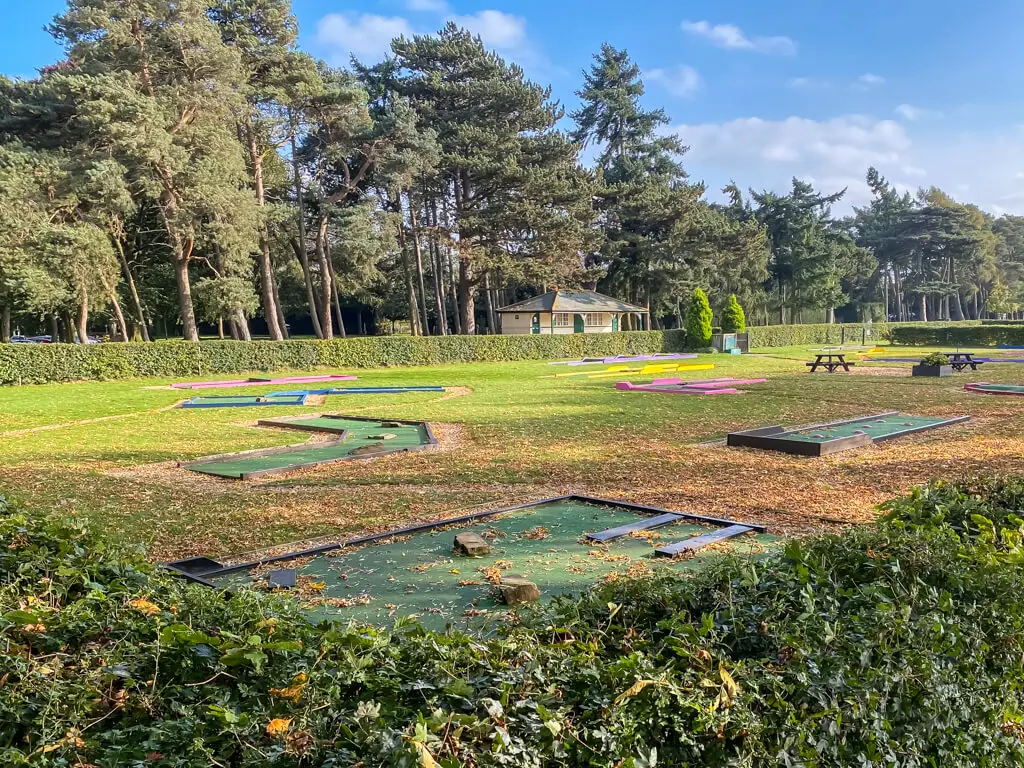 The Crazy Golf course has 18 holes and there is also a putting green. While they do require all children to be accompanied by an adult, if you don't want to play there is a free seating area available. Mini golf is good for kids' hand-eye coordination and they will even burn off a little energy. They will learn to be respectful of others and it is a good introduction to the game of golf. There is also a pitch and putt 18 hole course where you can play footgolf.
Eaton Park's miniature railway has two different lines to choose from. The Heritage Track is the original elevated track, which has parts dating back to the 1960s, and The Mainline is a longer ground level track introduced in 2006.
In 2020, they introduced an accessible carriage that can carry wheelchair users, assistance dogs used by blind people, prams, and pushchairs. It is run and maintained by unpaid volunteers. Check their operating schedule and special events here.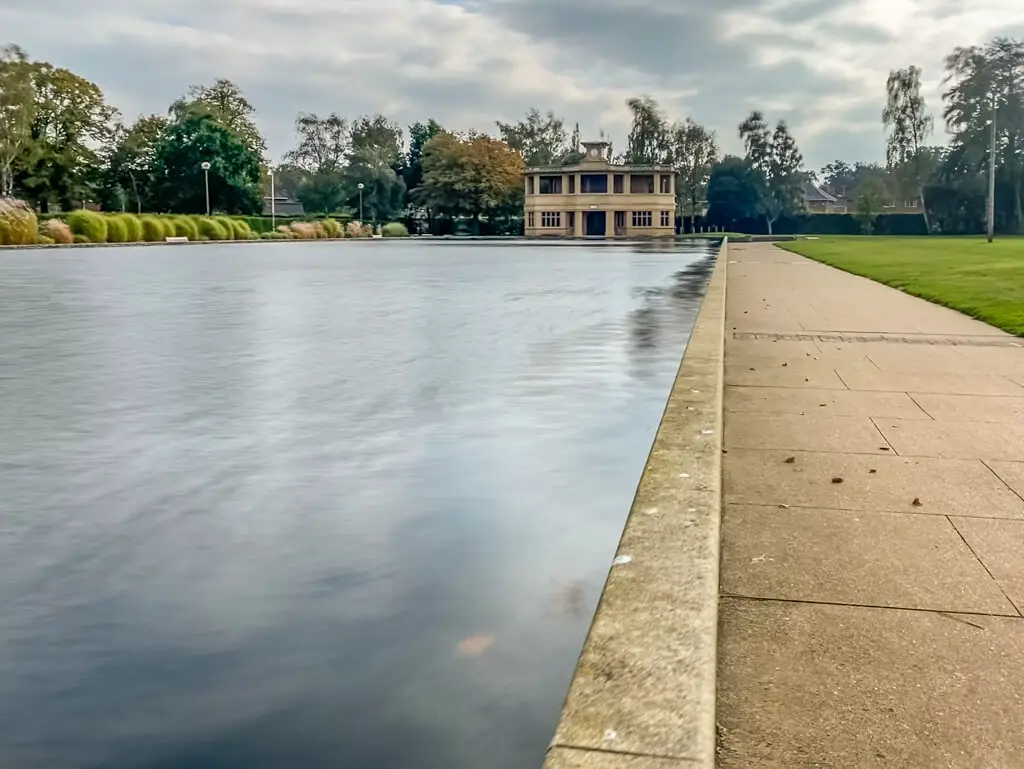 The boat pond in Eaton Park was built in 1928 and is thought to be one of the finest in Europe. It holds 960,000 gallons of fresh water. While it was first used for traditional 'vane' yachts, today you can see model boats of all kinds.
The Norwich Model Boat Club uses the ponds for its events. Even on events days, anyone can sail their model boat on the pond, as an area will always be left for public use.
You can play all types of sports at Eaton Park. They have tennis courts, table tennis tables, a basketball court, a petanque terraine, croquet greens, and a five-a-side football pitch. It's a great park for walking, running, or biking too.
Every Sunday at 9:00 am they have a free 2K Junior Parkrun for 4 to 14 year-olds. You need to register in advance, get more information here.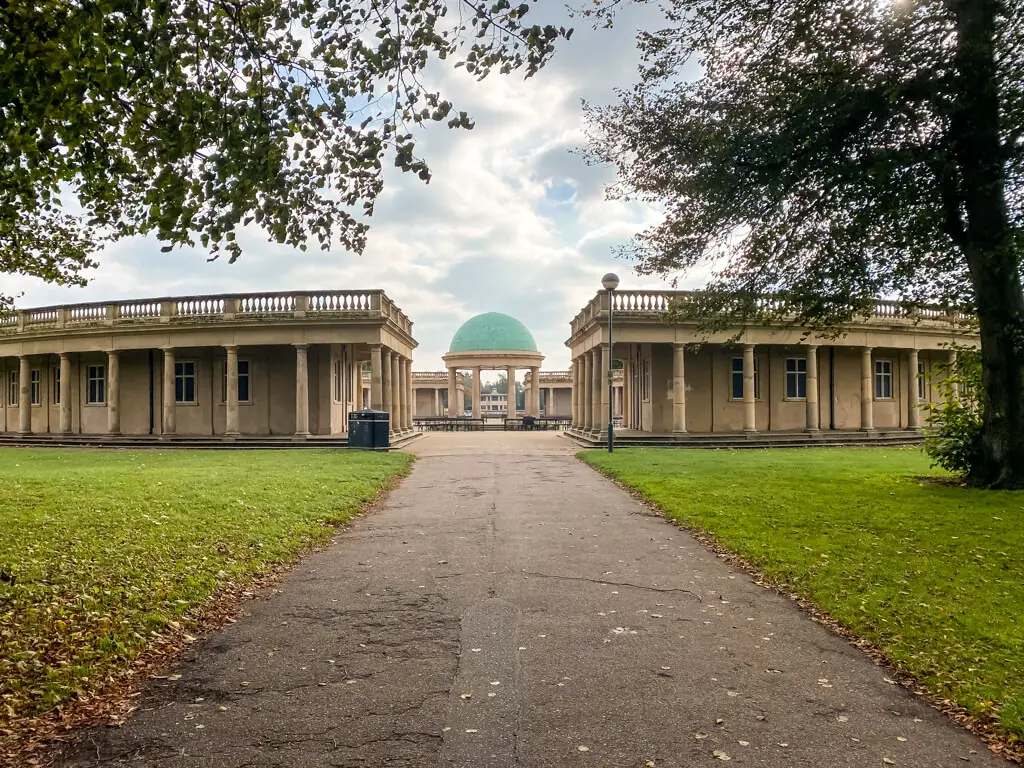 There is also the Eaton Park Café inside the Grade II listed rotunda that serves teas, coffees, sandwiches, snacks and local ice creams. They have plenty of seating indoors and in the garden behind.
#7 Go Skiing, Snowboarding, or Tubing
You might think it's not possible to do winter sports in Norwich. While it's not very often that Norwich gets snow, there is one place in the city that you can ski, snowboard, or go tubing all year long – the Norfolk Snowsports Club (previously called the Norfolk Ski Club). It was founded back in 1968 and has become one of the largest member run ski and snowboard clubs in the country.
The whole family can try (or practice) skiing, snowboarding, or tubing in a fun and safe environment. No prior experience is necessary as all sessions are conducted under the supervision of experienced instructors and helpers. Kids need to be 5 to ski, 6 to go tubing, and 8 for snowboarding. They do offer lessons too if you want to learn more.
When you need a break, check out their fully licensed bar (Alm Bar) where you can grab a drink and bite to eat. You can watch all the action or just relax.
Get more information about Norfolk Snowsports here. It's one of the more unusual things you can do in Norwich.
#8 Play Laser Tag
When you play Laser Tag it's like you've being transported into a video game. Players use infrared-emitting light guns to shoot at designated targets in the arena and on opposing players. Like a video game, a score is calculated and a winner is crowned.
It's a great family activity as anyone 5 years old or older can participate. It's a good workout too.
You can play Laser Tag in Norwich at Quasar. They also have a location in Great Yarmouth.
#9 Go Bowling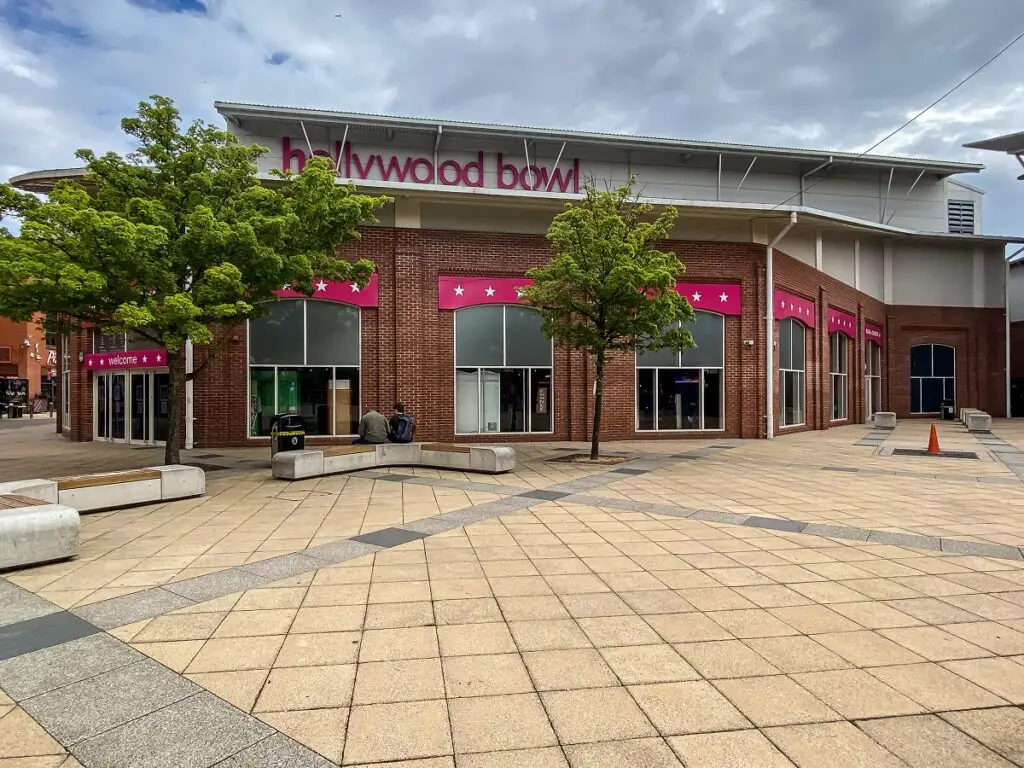 Bowling is another family-friendly game. You don't have to be a skilled bowler to have a good time. Most bowling alleys can add bumpers over the gutters so even younger kids can join in on the fun. If the kids get tired of bowling, some venues have arcade games to keep them entertained. When someone gets hungry or thirsty, they will bring the food and drinks to your lane.
There are three bowling alleys in Norwich. If you have young children, you might want to go to Superbowl UK since it also has a soft play centre. Alternatively, there is Hollywood Bowl or Bowling House. The lanes at Bowling House are shorter, so that might make it easier for some children.
It's best to book bowling in advance so that you don't have to wait for a lane. Check the websites before you go as they sometimes offer online only specials.
#10 Go Roller Skating
Roller skating was the cool thing to do back when I was young and it seems to be making a come back. If you want to go roller skating in Norwich head to Funky's. They have a large maple wood rink and a huge adventure play area.
This skating rink is perfect for all skill levels. The floor's surface is designed to aid all levels of skaters and there is a hand rail around the entire rink if you need it. At certain times, they have family-friendly Roller Discos with a live DJ and light shows.
The play area covers three floors. It has giant tunnels, slides, zip wires, cargo nets, ball pits. and more. It's designed for children ages 2 to 11 no taller than 150 cm. Parents must supervise all children using the adventure play area.
If you or the kids get hungry during your visit, they serve both hot and cold food. They even have some healthy options too.
Get more information about Funky's here.
#11 Go Rock Climbing
Kids aged 6 and up can go rock climbing in Norwich at the Highball Climbing Centre. It's a fun full-body workout that promotes strength and stamina. Rock-climbing requires concentration, problem-solving, and determination. It's actually calming because it requires focus.
You don't need any prior experience as novice adults and those under 18 must be supervised. There are trained members of the Highball that can help if you pre-book. If you are over 18 and a competent climber, you can complete a registration process to supervise other climbers.
All the climbing will work up an appetite, so you can get some food at Betacafe. They source their ingredients locally to make sure everything is fresh and have options for those that are gluten-free, vegetarian, vegan, or lactose intolerant.
Get more information about Highball Climbing Centre here.
#12 Go Trampolining
You would never think that jumping could be this much fun. Trampolining gyms let you bounce from trampoline to trampoline and even jump off the walls. Kids won't even realize they have gotten a great workout too.
In Norwich, you have two trampolining options – Gravity and High Altitude. Gravity also has rock-climbing and High Altitude has a soft play area for kids under five. Both have areas for adults to watch the kids jump where you can get snacks and drinks.
#13 Attend an Event at the Forum
Right next to St. Peter Mancroft, you will find one of the most modern building in Norwich, The Forum. Inside you will find the Norfolk and Norwich Millenium Library, a Pizza Express, and more.
They also hold all kinds of free events throughout the year. Some of the most popular ones for kids include:
Norwich Games Festival (now called the OLL Experience)
Norwich Science Festival
Where to Stay in Norwich with Kids
If you have to travel far to get to Norwich, you may want to spend a night or two. There are several hotels in the city centre that are ideal for families. The Premier Inn Duke Street offers family rooms and the Holiday Inn Norwich City lets kids stay and eat for free.
Read about more hotels in the Norwich city centre.
More Ideas for Kids In and Around Norwich
As you can see there are plenty of things for kids to do in Norwich. Some kids may also enjoy ideas from our blogs posts on the best things to do in Norwich, free things to do in Norwich, and things to do in Norwich when it rains.
If you are open to doing things outside of Norwich, you will have even more options. Check out our recommendations for things for kids to do in Norfolk. These options are all within a 90 minute drive. They might also enjoy some of our suggestions for things to do near Norwich.
What kind of things do you like to do with kids in Norwich?
Disclosure: This post contains affiliate links. This means we will receive a small commission for some purchases made using links in our blog with no additional cost to you.  Please be assured we would not promote any product unless we believe that our readers will also benefit.  The commission does not influence the editorial content of this site.