If you want to see seals in their natural habitat without having to take a boat ride, plan to visit Horsey Beach sometime between November and January. It's birthing season so you will be able to see moms and their pups on the sand in large numbers.
Seeing the Horsey Beach seals is a special experience that you won't soon forget. Let me tell you more about the seals at Horsey Beach and offer other helpful information for your visit.
*Be sure to join our email list here to keep up on the latest happenings in Norfolk.
Note: This post contains affiliate links.  As an Amazon Associate, we earn from qualifying purchases. Please see disclosure for more information.
About the Seals at Horsey Beach
At Horsey Beach, most of the seals you will see are grey seals, but they do have common seals there too. They like the flat beach, shallow water and high dunes as it makes for an ideal location for giving birth.
From late-October to January the grey seals flock to Horsey Beach so they can have their pups on the beach. The mothers will come ashore 24 hours before delivery.
The newly born seal pups with white fur can't go into the water right away. They have to stay on the beach close to their mothers for about three weeks until they moult. Then they can go into the sea.
If you are wondering how many seals there are at Horsey and how many births there have been, a team from Friends of Horsey Seals monitors it weekly from November to January. They post the results of their count of seals on Horsey and Winterton beaches on a board at Horsey and also send it to the Marine Mammal Unit at St Andrews University.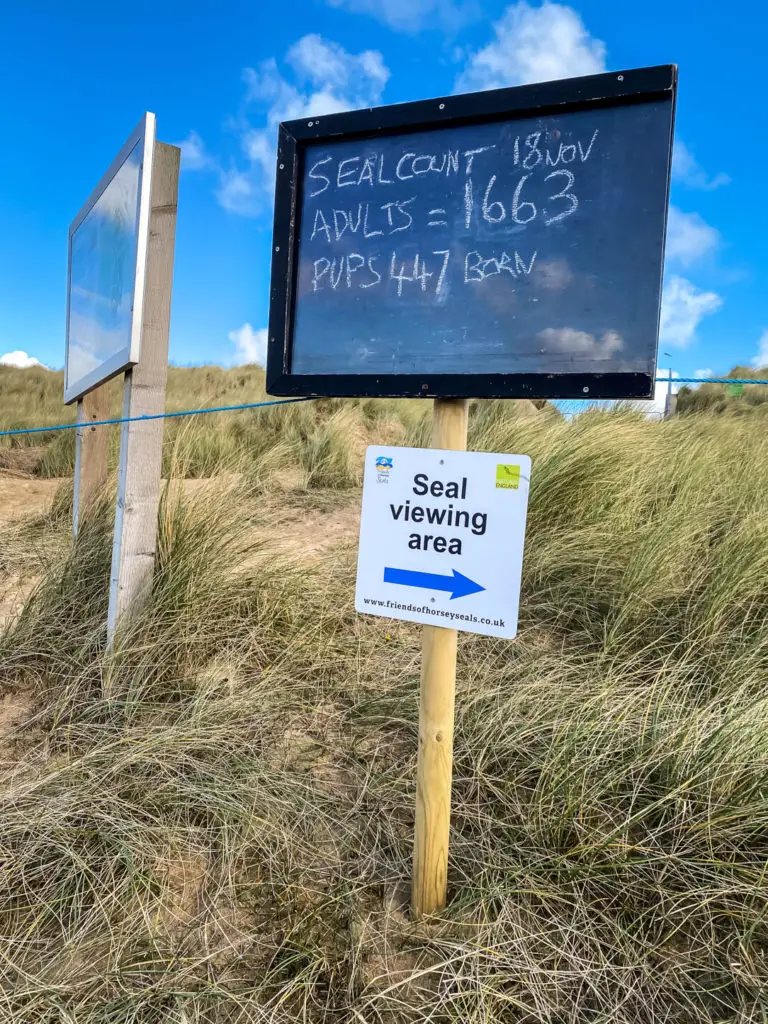 About Horsey Beach
Horsey Beach makes most people's list of the best beaches in Norfolk. Even if there weren't any seals it would be a special place to visit.
It's an unspoilt sandy beach with some of the largest sand dunes in East Anglia. These dunes are home to countless types of wildlife throughout the year.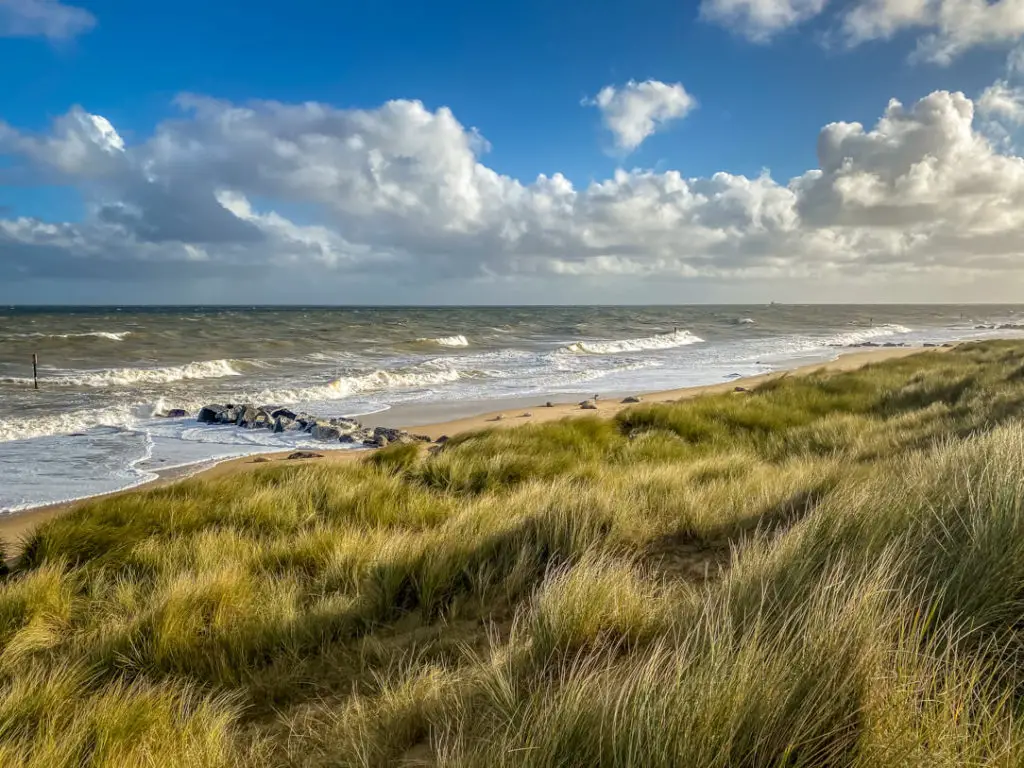 Keep in mind this is a more wild and remote beach. Other than the parking, there are no facilities even at the busiest times of the year.
Protocols to Follow When Around the Seals at Horsey Beach
It is important to remember that the seals are wild animals and can be dangerous. When you go to Horsey Beach to see the seals, there are a few things to keep in mind:
Don't get too close to the seals. Stay at least 20m (or the length of two buses) away. Never get between a seal and her pup, or a seal and the sea. If you want to take photos, you will want to have a zoom lens.
Don't feed the seals. The seals could easily become ill or even dependent on humans for food.
Don't bring flying rings of any kind to the beach. Young seals get the flying rings stuck on their necks and as they grow it stays there and cuts into their necks causing horrific injuries.
Make sure you keep dogs on short leads. Never allow a dog to run loose near a seal colony as this can cause distress. Also keep in mind that seals may occasionally stray from the beach on to paths or may hide in the dunes, so don't walk dogs without leads in these areas.
If you see a seal that is injured, in distress, or in need of emergency assistance call Friends of Horsey Seals on 07706 314514, British Marine Divers on 01825 765546, the RSPCA on 0300 1245 999, or Marine and Wildlife Rescue on 01692 650338 or Info@marineandwildliferescue.org.uk.
When can you see the seals at Horsey Beach?
You can see seals at Horsey Beach all year. From November to January, you will see more seals on the beach because they go there to give birth. Other times of the year, you may see them on the beach but it is more likely they will be swimming in the sea.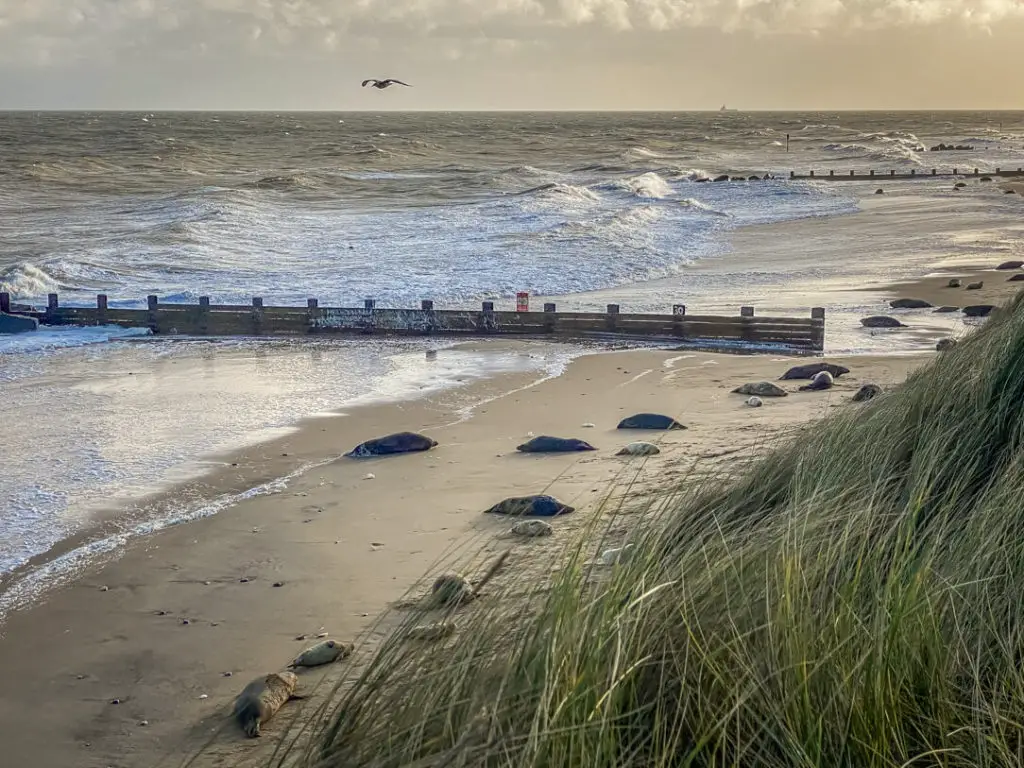 Visiting Horsey During Winter Pupping Season
When the seals start giving birth, it can be crowded at Horsey Beach. To protect the animals, you are not allowed to walk on the beach. There are two designated watching areas on the dunes.
From the car park, there will be signs and wardens to guide you towards the first viewpoint. Don't worry the paths are roped off and clearly marked, so it's easy to find your way. They will move the paths periodically so the worn areas of the dunes can recover.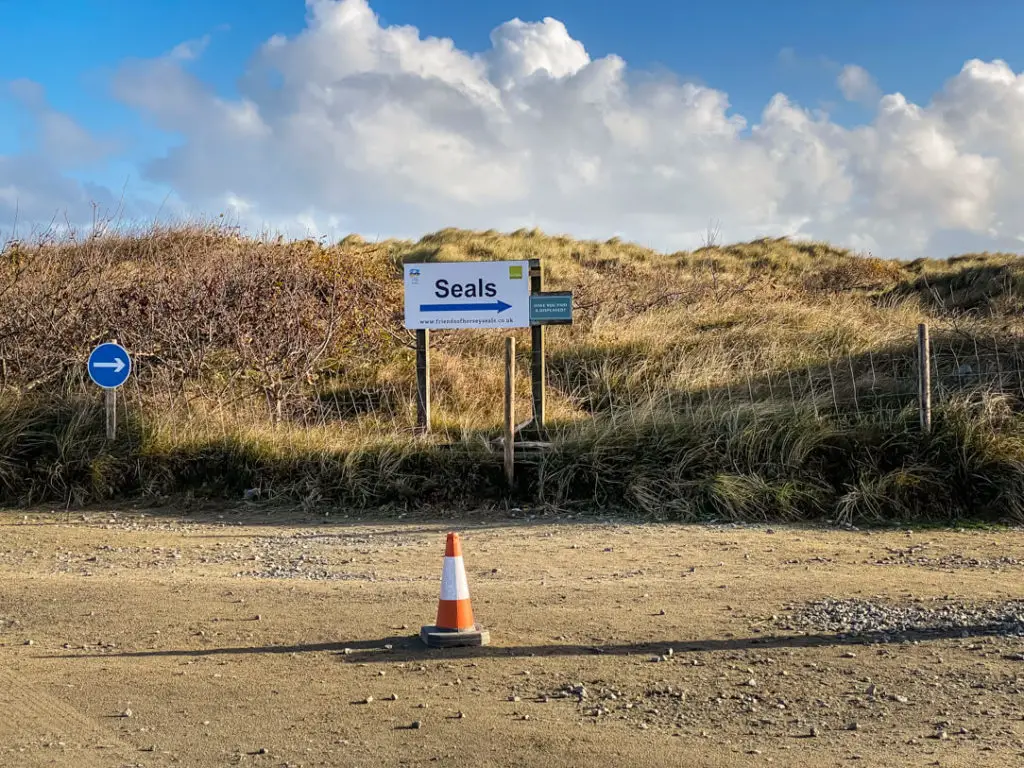 There are two different viewpoints. It's worth going to both of them, as you never know what you will see. Sometimes the seals can be quite close to the path or the viewing area, while other times they may be nearer to the water.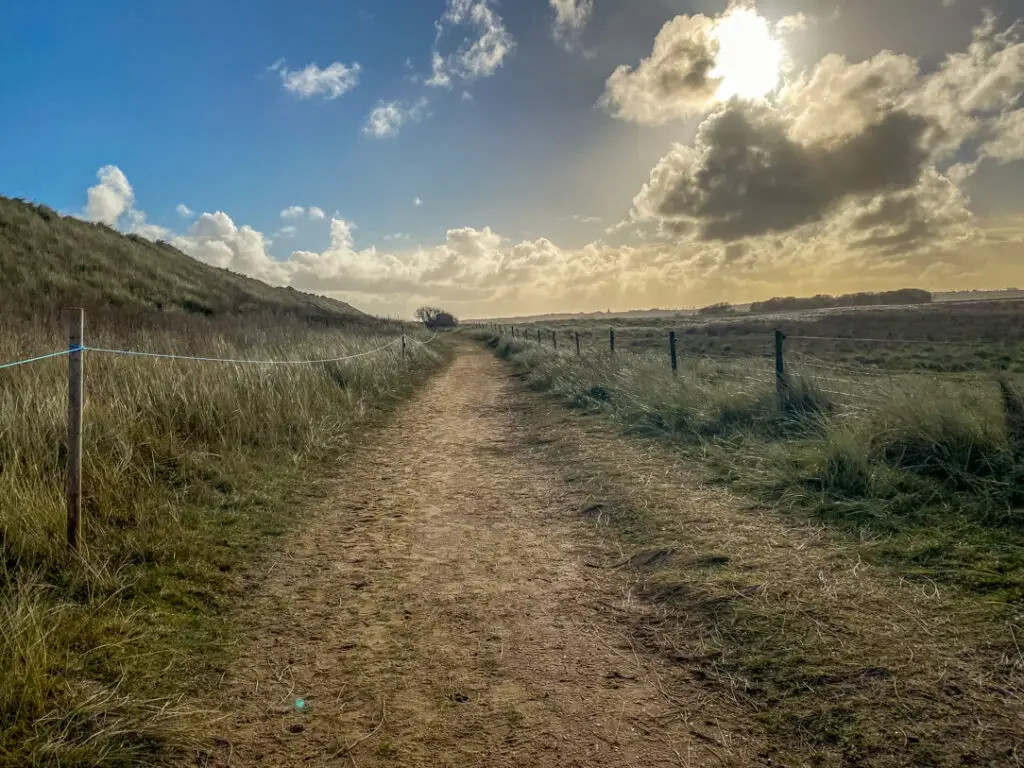 Walking from the first viewpoint to the second, you follow the Norfolk Coast Path which goes behind the dunes. You will see a World War II Pillbox and some fun informational signs where you can learn some interesting facts about the seals.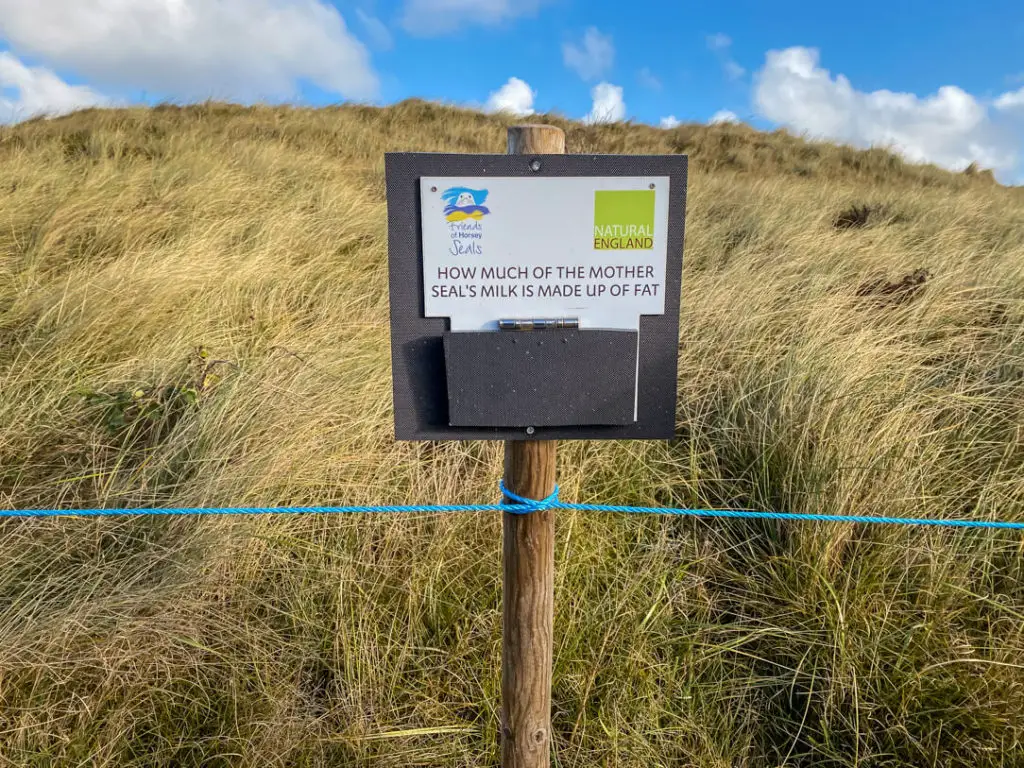 With the amount of births that take place on the beach it is even possible you might see one happen during your visit. We have not been that lucky (yet), although we have seen seal pups that are only a few hours old with the birthing sac.
When you go to Horsey Beach in the winter, make sure you dress for the weather. It can be quite windy and will probably feel colder than it actually is, so best to wear warm clothes.
While you probably won't need them, it might be a good idea to bring binoculars. You don't know how close the seals will be when you visit. It's also a good idea to bring a good zoom or long prime lens and tripod if you are hoping to get closeup shots.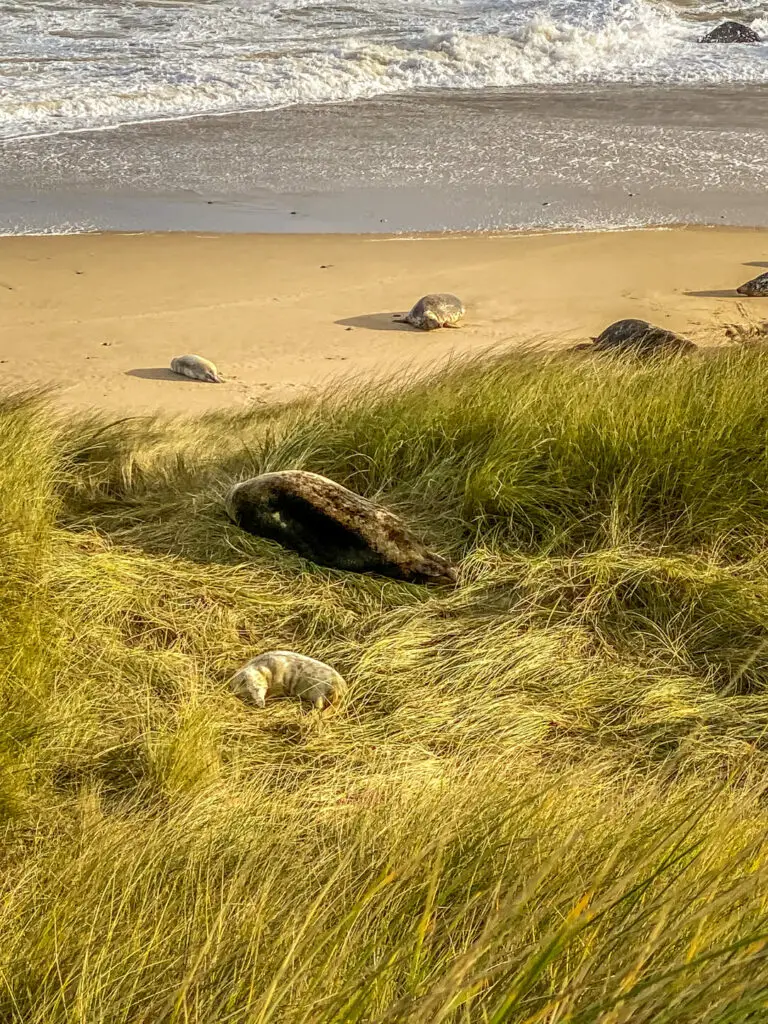 You can take as long as you want to see the seals at Horsey (unlike when you are on a boat to Blakeney Point). If you have any questions, just look around for one of the wardens and they will be happy to answer.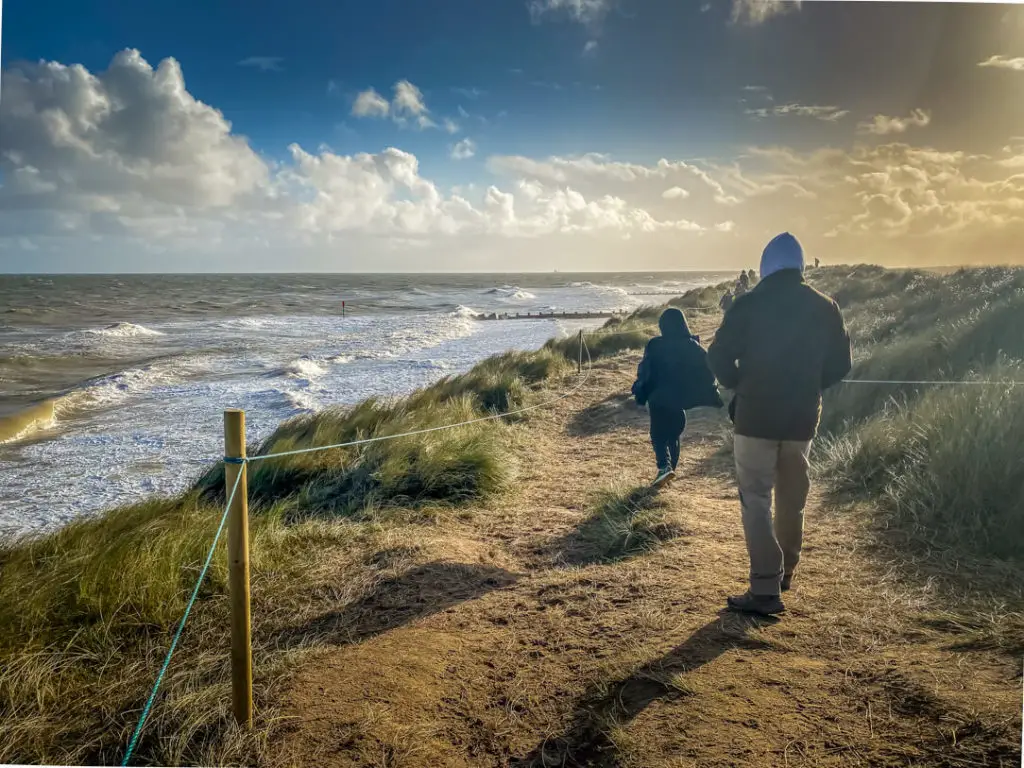 Seeing the seals at Horsey Beach has become quite popular. In recent years more than 100,000 visitors have gone to Horsey to see the seals during the pupping season. If you want to avoid the crowds, go early in the day and stay away during the school holidays.
Visiting Horsey Beach at Other Times of the Year
When it's not winter pupping season (i.e. February through October), Horsey Beach is not as busy. You still have a good chance of seeing seals, they may be swimming in the sea or lying on the beach.
During parts of February, you may see seals in large numbers lying in closely packed groups by the tideline. They have come to Horsey Beach to moult their old fur and grow a new coat, which helps to keep them warm and protected.
Unlike during the winter pupping season, you will be able to walk along the beach. Remember you still need to make sure you don't get too close to the seals and keep dogs on a short lead.
It's not a good idea to swim at Horsey Beach. Even if there aren't any seals in the water the current is usually pretty rough here and there are no lifeguards. If you want to go for a swim nearby, we recommend Sea Palling.
How to Get to Horsey Beach
Given Horsey's secluded location, it is not easily accessible by public transport so it is best to drive. I would allow about 45 minutes from Norwich.
To get to the car park, you need to turn right off the main road just after the Poppylands Tearoom (if you are coming from the south). The road is a little rough but it's not too far to the car park.
It's pay and display with a machine that does take credit cards. You have the option to pay £3.50 for up to 2 hours, £5 for 4 hours, or £7 for all day. Keep in mind the parking gates lock at 20:00. (Prices correct as of 6 November 2022.)
There is an overflow lot, which luckily we have never had to use. I have read that you need cash to pay for it.
Keep in mind the second viewing point is at least a 30 minute walk from the main car park. You need to allow time to see the seals and walk back to your car before your parking ticket runs out or the gates lock.
Alternatively, you could park a bit further away at the Horsey Windpump National Trust car park and do a circular walk that takes you by Horsey Beach (get detailed directions here). That car park is free for National Trust members (get more information about National Trust membership here).
Things to Do Near Horsey Beach
Horsey Beach may be in a remote location but there are still a few other things nearby that you can see while you are in the area.
Horsey Windpump
Horsey Windpump was working until it was hit by lightning in 1943 but has since been restored. It was reopened to the public in 2019 with a new winding cap and turning sails. During opening hours, you can climb to the top of this Grade II listed building and take in the views of the area.
Note: While the balcony may be currently closed, you will still be able to enjoy the views from inside the top of the windpump.
It's set in a serene location that is known for its internationally important wildlife, especially birds. You should also plan to explore the area and even do some birdwatching during your visit.
During the winter seal pupping season, Horsey Windpump has limited hours, so check here before you go. It's a National Trust property so non-members will need to pay £6.50 per adult and £3.50 per child in addition to parking charges.
St. Mary's Church Ruins, East Somerton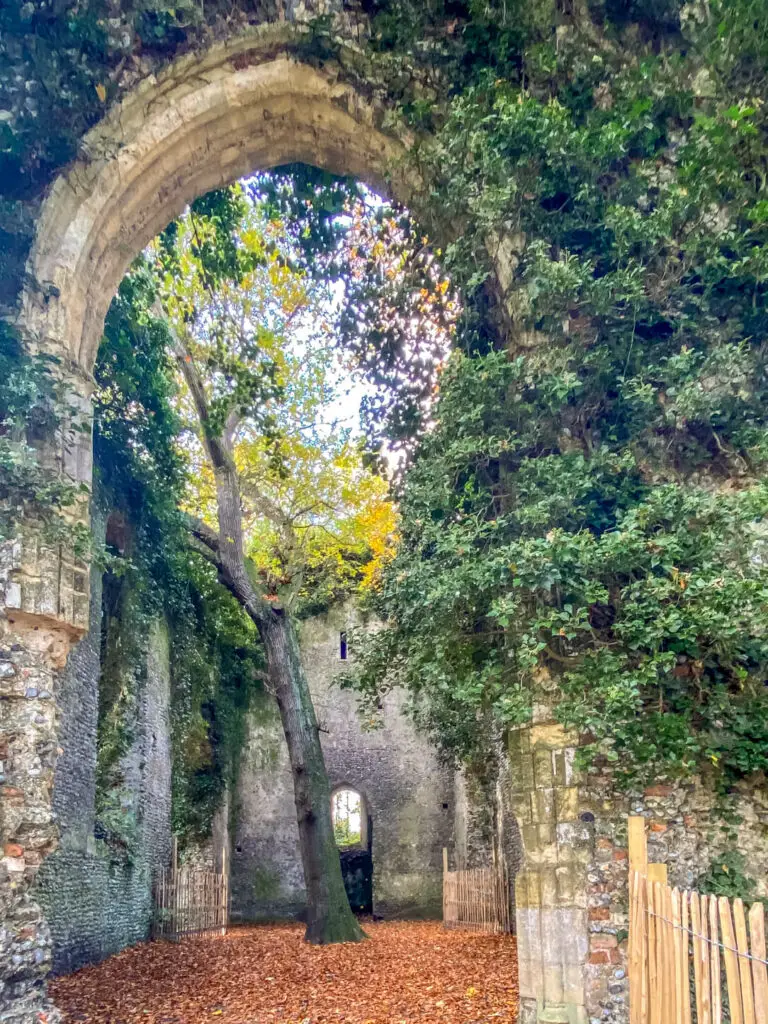 The picturesque (and allegedly haunted) ruins of the medieval church of St. Mary's in East Somerton are now hidden in the woods. It fell into disuse in the 17th-century after it became part of the larger West Somerton parish.
Only the 13th-century tower and the 15th-century nave still stand. The doorway is now just an arch and the church's windows no longer have any glass. You can look up and see the Norfolk sky. Nature has reclaimed the spot with vines wrapping around the church and a tree in the centre known as "The Witch's Leg."
This thin oak tree is said to be the work of a local witch, who was buried alive in the church during the height of England's witch trials. The buried witch cast a spell so that her wooden leg would sprout a tree to destroy the church above. If anyone walked around the tree three times, her spirit would be released. Ghostly monks haunt the church to make sure that no one releases the witch's spirit.
It's best to visit St. Mary's Church as part of the 5.3km signposted circular walk from nearby Winterton-on-Sea. When you've finished you can enjoy a coffee and if you're lucky maybe see a few seals.
Sea Palling Beach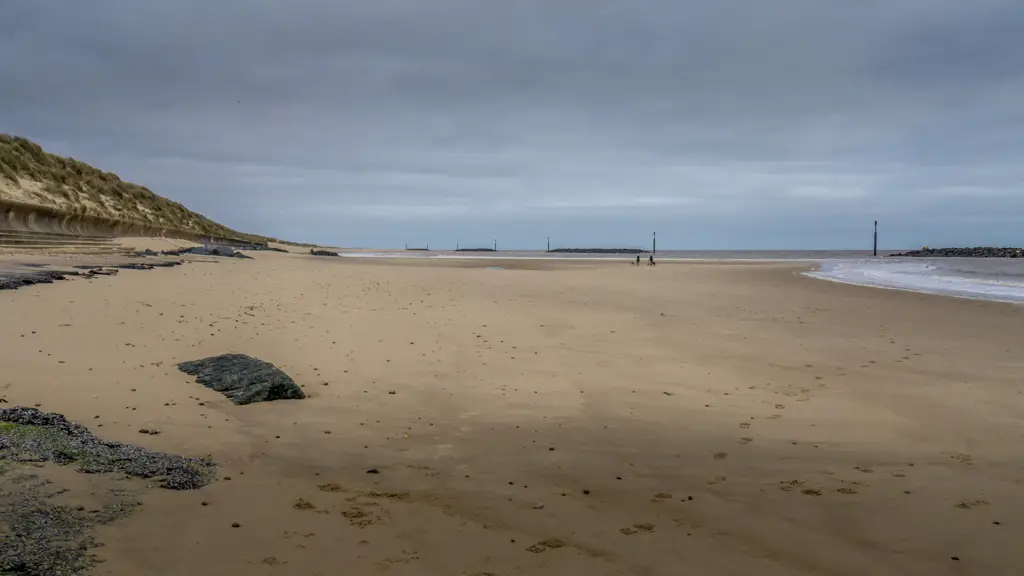 Sea Palling is a popular beach especially for families as the water is mostly calm and the sand is perfect for sandcastles. While there are no colourful beach huts, this blue flag beach has excellent facilities including a toilet, pub (the Reef's Bar), cafes, amusements, a fresh fish stall, and a fish & chips shop close to the beach.
It's a good beach for swimming and watersports like kayaking and standup paddleboards as the nine artificial offshore reefs created as part of a flood prevention scheme protect it from the rough seas. Also, if you are lucky, sometimes there are seals in the water around Sea Palling. While there are lifeguards on duty in the peak summer season and an Inshore Lifeboat right on the beach, keep in mind they only monitor the area between the flags.
Walkers can enjoy a six-mile circular walk which also takes you to the site of the medieval village of Eccles-Juxta-Mare which was lost to coastal erosion in the late 16th-century. Get the map here.
Dogs are banned on a good portion (look for the sign by the ramp) of Sea Palling beach from May 1 to September 30, and they must be on a lead if they are walked in the area during this time of year.
Caister Roman Fort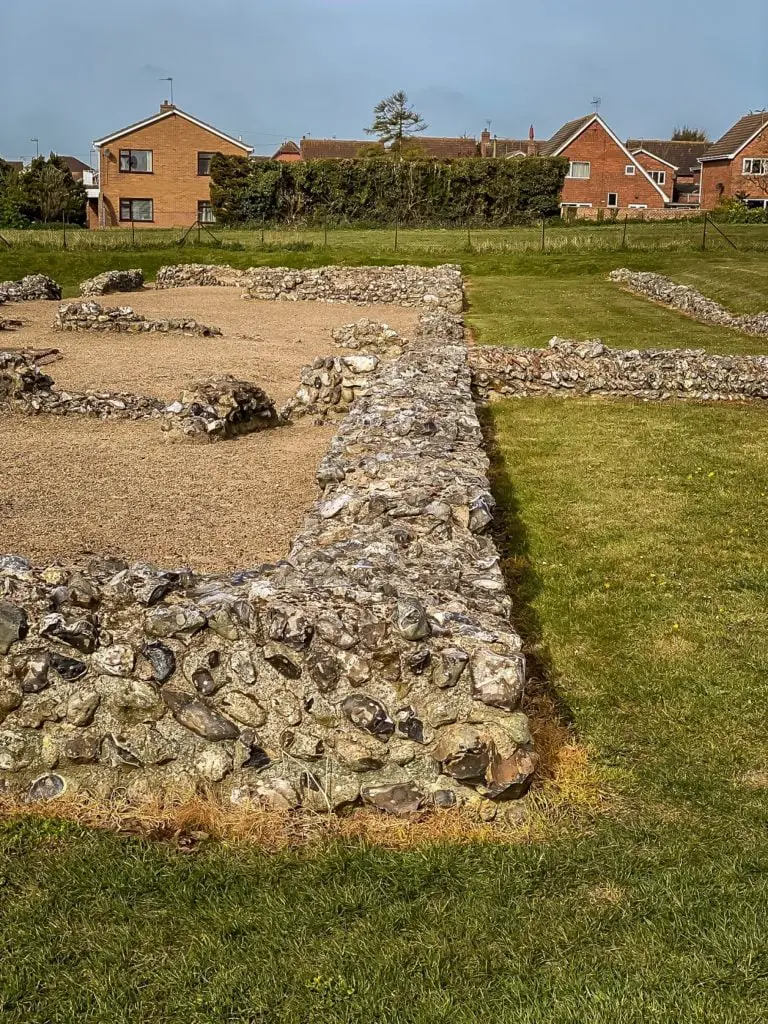 The Caister-on-Sea Roman Fort was built around 200 AD as a base for the Roman army and navy. It was part of a chain of coastal forts along what the Romans called as the 'Saxon Shore' that covered the coast from the Wash around to the east and down to the south.
The Caister site was occupied until the end of the 4th century, when the Romans left Britain, but was not discovered until excavations in 1951. Unfortunately, only a small portion of the Caister Fort is visible today, but it still gives you an idea of what the site would have been like in Roman times.
It is free to visit, learn more here.
Get more ideas for free things to do in Norfolk here.
Accomodation Near Horsey Beach
The area around Horsey Beach is perfect for a quiet holiday for nature lovers. As you might have guessed there are not any hotels close to Horsey Beach, but there are plenty of charming holiday homes to choose from.
The National Trust has converted a barn into three holiday cottages. They all have vaulted ceilings, wooden beams and exposed flint walls along with outdoor space. You also get free entrance to National Trust properties during your stay.
Check out 1 Horsey Barn here.
Check out 2 Horsey Barn here.
Check out 3 Horsey Barn here.
You can find more holiday home options here.
Horsey Beach Seals FAQs
How much does it cost to see the seals at Horsey Beach?
While there is no admission charge to see the seals or visit Horsey Beach, you will need to pay for parking. You can also make a donation to Friends of Horsey Seals to help with the good work they are doing to protect these amazing creatures.
How long does it take to see the seals at Horsey Beach?
It depends. If you only have 30 minutes, you can go to the first viewpoint, see the seals, and walk back to the car park. If you want to visit both viewing areas (highly recommended), I would probably allow at least 90 minutes, although you will probably want to stay and watch the seals for longer.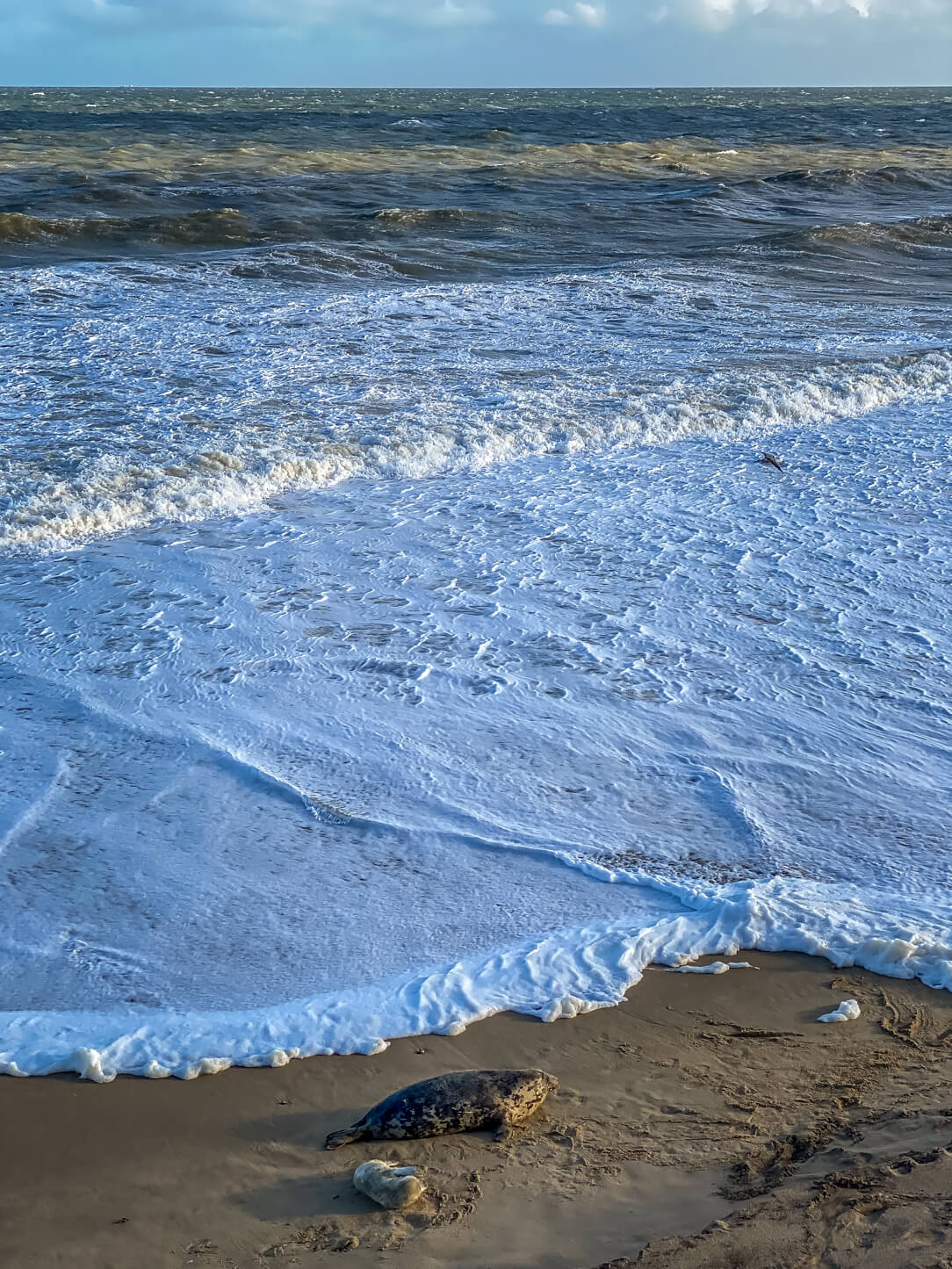 Are the Horsey Beach paths/viewing areas wheelchair accessible?
No.  The incline to get to the top of the dunes is steep and there are steps to the top of the second viewing area. The sand on the top is also soft.
Is Horsey Beach good for kids?
Yes. Kids will enjoy seeing the seals, but please make sure you keep a close eye on them and they stick to the path.

If you need more family-friendly ideas, check out our list of the best things to do with kids in Norfolk.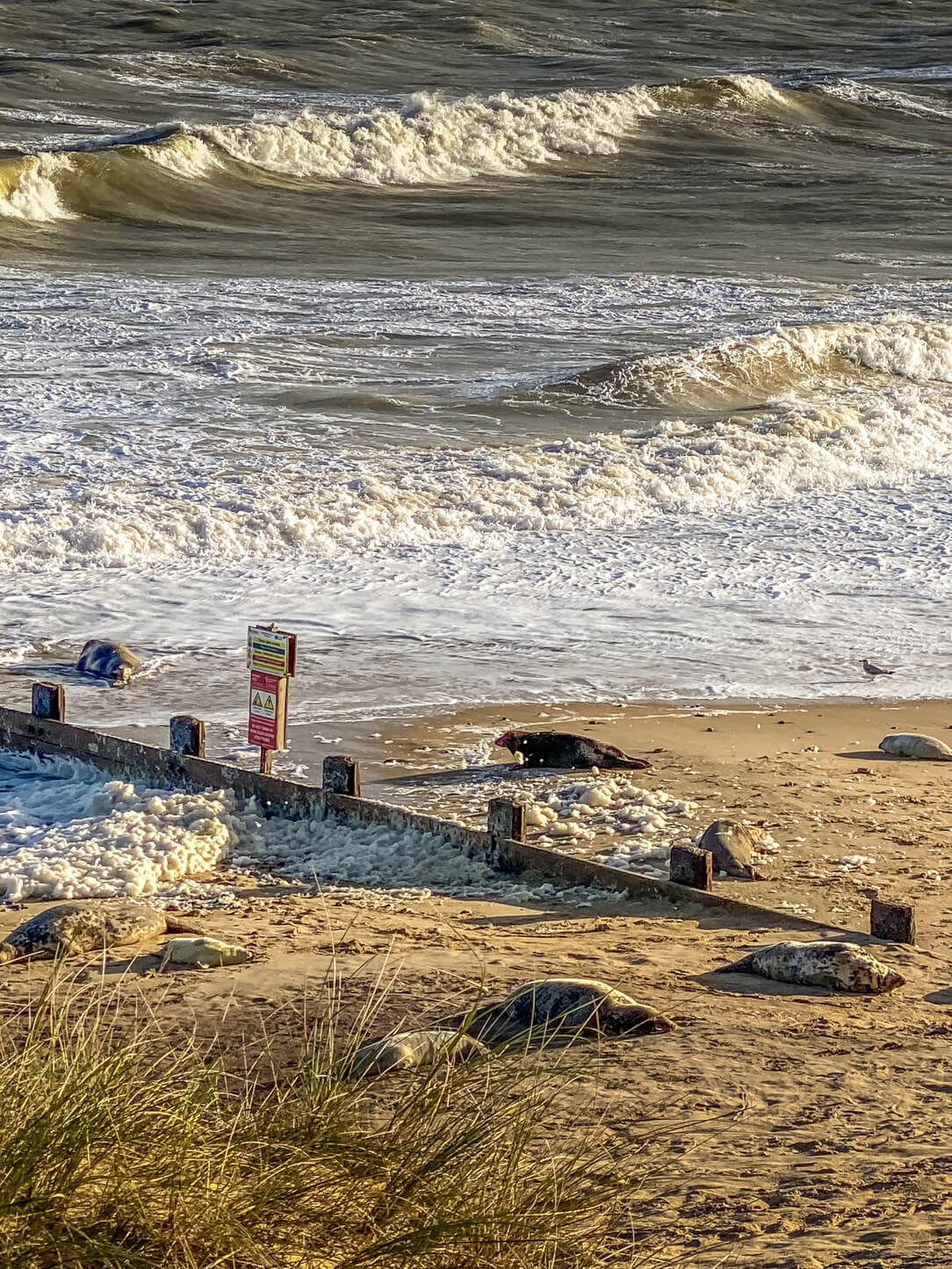 Can you bring dogs to Horsey Beach?
Officially, dogs are allowed at Horsey Beach, but it is best not to bring them (especially during the winter) as they will disturb the seals. If you do bring your dog, make sure to keep it on a close lead.
Where is the closest place by Horsey Beach to get some food?
There is the Poppylands Tea Room and Restaurant a short distance away on the main road.
Where are the closest public toilets to Horsey Beach?
There are public toilets at the Horsey Windpump car park which is about a 1.5 mile walk away. The car park there is free for National Trust members.
Is it worth going to Horsey Beach to see the seals?
Yes! Seeing the seals in their natural environment is something special. The Friends of Horsey Seals have done an excellent job to make it a fun experience for visitors while protecting the seals.
Disclosure: This post contains affiliate links. This means we will receive a small commission for some purchases made using links in our blog with no additional cost to you.  Please be assured we would not promote any product unless we believe that our readers will also benefit.  The commission does not influence the editorial content of this site.