Norwich may no longer be England's second city like it was during medieval times, but it still has plenty to offer visitors including a castle, cathedral, museums, and more. Whether you are a fan of history, art, shopping, sport, or nature there is something for you.
If you are tight on time, I'd recommend focusing on some of the city's top attractions. Let's learn more about the best things to do in Norwich.
More pictures coming soon.
17 Best Things to Do in Norwich
When you visit Norwich, there are certain things that you must do. It's interesting to learn about the city's history. You'll also want to experience some of the area's beauty and culture. Here are my recommendations for what to do in Norwich.
#1 Go Inside Norwich Cathedral
The #1 thing to do in Norwich must be visiting the Anglican Cathedral. With over 900 years of history, there is lots to discover. It's the most complete Norman Cathedral in England and one of the finest examples of Romanesque architecture in Europe.
Inside the Cathedral, take a few moments to look up at the medieval roof bosses, the most of any cathedral in the Christian world. Climb the narrow staircase to the Treasury to see a collection of gold and silver communion vessels from many parish churches. You can also pay tribute to Edith Cavell, Norwich's hometown heroine of World War I, who is buried at the Cathedral. Also, be sure to visit the Cloisters where you can walk the Labyrinth.
It is free to visit the Cathedral, but make a donation if you can. It is expensive to maintain the historic building.
**Now until 30 October 2021, you can visit Dippy at Norwich Cathedral. Dippy is a cast from a fossilised Diplodocus skeleton from the USA who has travelled to Norwich from his home at the London Museum of Natural History. While Dippy is the star of the show, there is lots more to see. There are also other dinosaurs-themed events around the city.
If you can't make it to Norwich Cathedral in person, take a virtual tour here.
#2 Wander Around Norwich Market
Founded in the 11th century, Norwich Market is one of the oldest and largest outdoor markets in the country. Today, there are 189 individual stalls offering a diverse array of food, crafts, flowers, services, and more at very reasonable prices. It's also fun to just browse around to see what the different merchants have to offer.
Norwich Market is located on Gentleman's Walk by St. Peter Mancroft, City Hall, and the Guildhall. You can't miss the colorful roofs of the stalls. It's best to visit the Market Monday to Saturday, as only a handful of stalls open on Sundays. (See individual market stalls opening hours here).
#3 Explore Norwich Castle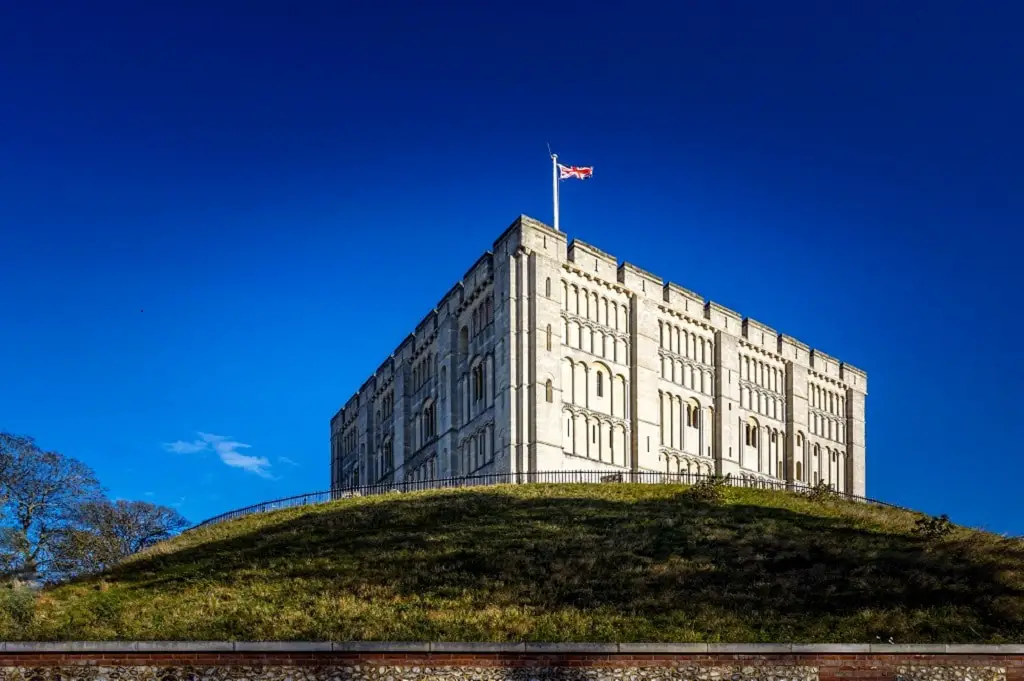 Norwich Castle was founded by William the Conqueror sometime around 1067. Before Henry II built Orford Castle in the mid-12th century, Norwich was the only major royal castle in East Anglia. Today only the castle keep remains and it has been a museum since 1895. It is a Grade I-listed building and a Scheduled Ancient Monument.
Inside the keep nothing remains of its medieval layout. You can explore the castle and learn about its history through interactive displays. They also offer tours of the dungeon and the battlements. It's one of the best attractions for kids in Norwich.
In the exhibition area next to the keep, they have a diverse collection of fine art, including costume, textiles, jewellery, glass, ceramics, teapots, and silverware. There are also displays about Boudica and the Romans, Anglo Saxons and Vikings, and Egyptians as well as a Natural History Gallery.
Note: Norwich Castle is currently undergoing a £13.5m project to transform the castle keep. The Norwich Castle: Royal Palace Reborn Project will cause some planned closures. Get more information here.
#4 Visit Sainsbury Centre for the Arts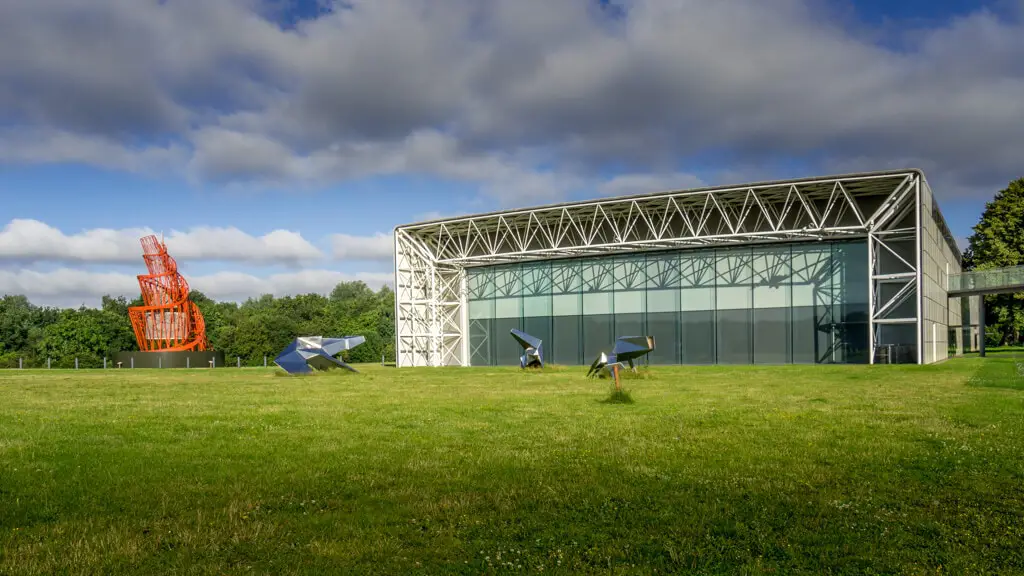 The Sainsbury Centre, located on the University of East Anglia (UEA) campus, is known both for it's architecture and the collection of artwork inside. It was one of the first major public buildings to be designed by the architects Norman Foster and Wendy Cheesman. You might recognize it from the movies Avengers: Age of Ultron and Ant-Man.
Opened in 1978, the museum is home to the Robert and Lisa Sainsbury Collection which includes artwork from different periods and cultures. You can see work from famous artists including Pablo Picasso, Edgar Degas, Francis Bacon, Jacob Epstein, Henry Moore, and Paul Gauguin. They also have special temporary exhibits – check to see what's on here.
It is free to see the permanent collection at the Sainsbury Centre and the sculpture trail. There are additional charges to see the special exhibitions like Leiko Ikemura: Usagi in Wonderland.
#5 See a Live Theatre Show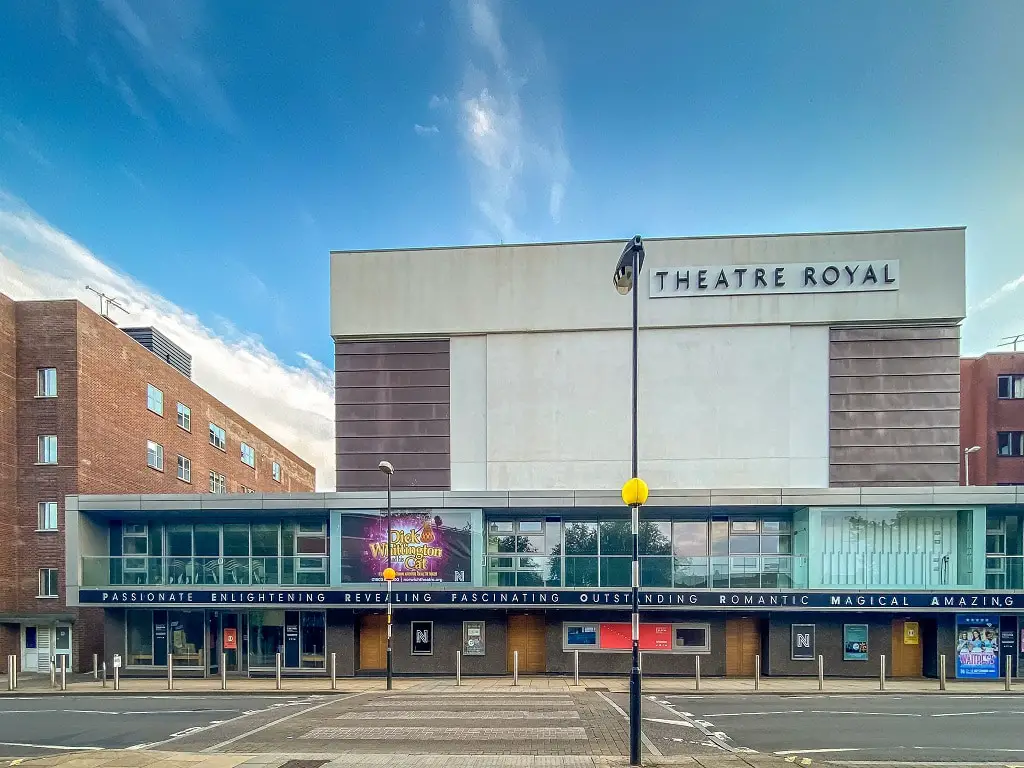 Norwich may not have the West End, but it does have the Norwich Theatre Royal. Now more than 250 years old, it's one of the oldest in the country. The current building dates back to 1935, but was refurbished in 2007 so feels quite modern. Now they have expanded to include the new 200-seat Stage Two and the Norwich Playhouse.
They regularly host touring productions and put on a Panto every Christmas. Check out the calendar for Norwich Theatre Royal here.
You might also like to check out the offerings at the Maddermarket Theatre, which has been described by BBC Norfolk as the people's theatre. Find a listing of their upcoming shows here.
#6 Go Shopping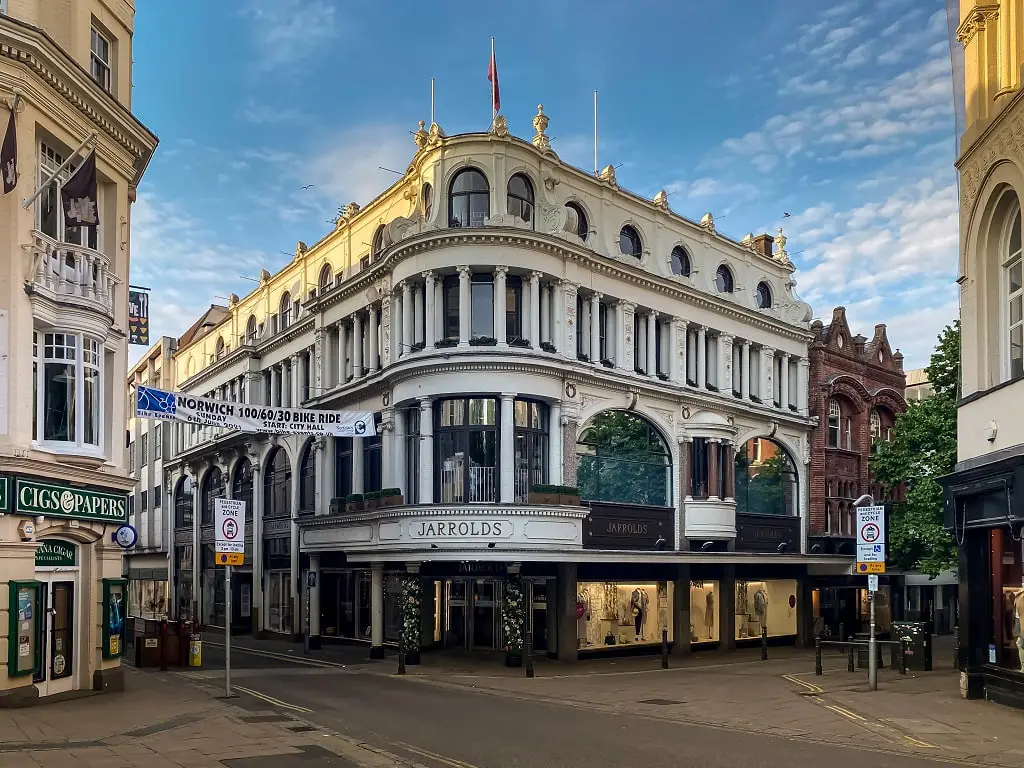 Norwich Market is not the only place to go shopping in the city centre. There are also lots of independent boutiques, a local department store (Jarrolds), two shopping malls (Chantry Place and Castle Mall), and more. When you go to Jarrold's be sure to go down to the basement where you will find some local food (and drink) specialities. Wherever you decide to shop, I don't think you will be disappointed with the options in Norwich.
#7 Stroll through the Norwich Lanes
The Norwich Lanes are a collection of narrow streets, alleyways, courtyards and open spaces that start just north of the Norwich City Hall. In this area, you can find well over 300 independent boutique retailers, cafès, restaurants, pubs and bars, an independent cinema, a community theatre (Maddermarket), two museums, art galleries, and live music venues.
The streets are mostly pedestrianised, so it's best to wander around the area on foot. You don't want to miss some of the finest medieval architecture anywhere in the UK.
#8 Go to Elm Hill
Elm Hill is considered the best preserved medieval street in England, so it's one of the places you have to go when you visit Norwich. You may recognize this cobbled street from the snowball fight scene in the Netflix film Jingle Jangle.
The street gets its name from the elm trees that were planted in early 16th century. Unfortunately, due to Dutch Elm disease there are no longer elm trees. While some believe that Elm Hill first came into being in the 13th century, the Briton Arms is the only building now standing in Elm Hill older than 1507. It survived the disastrous fire that destroyed over 700 houses in Norwich.
In addition, to the medieval architecture, you will also want to check out the fossilized keyboard. It was created as an art project in 1999 by Molly Sole who was a student at the Norwich School of Art and Design. The fossilized keyboard can be found at the corner of Princes Street and Elm Hill.
#9 Check Out Stranger's Hall Museum
Strangers' Hall is a Grade I listed building that has been converted into a museum about domestic history. Before it became a museum, it was a residence. Over the years, people from various walks of life have lived here including a solicitor, dance master, and several mayors of Norwich.
The oldest parts of the building date back to the fourteenth century but there have been many additions over the years. As you walk through the house, you can see the different rooms decorated in the different historical styles like the Medieval Undercroft, Regency Music Room, and Victorian Parlour. There is also a small but charming garden.
If you are not able to visit in person, you can take a video tour here.
#10 Enjoy an Afternoon Tea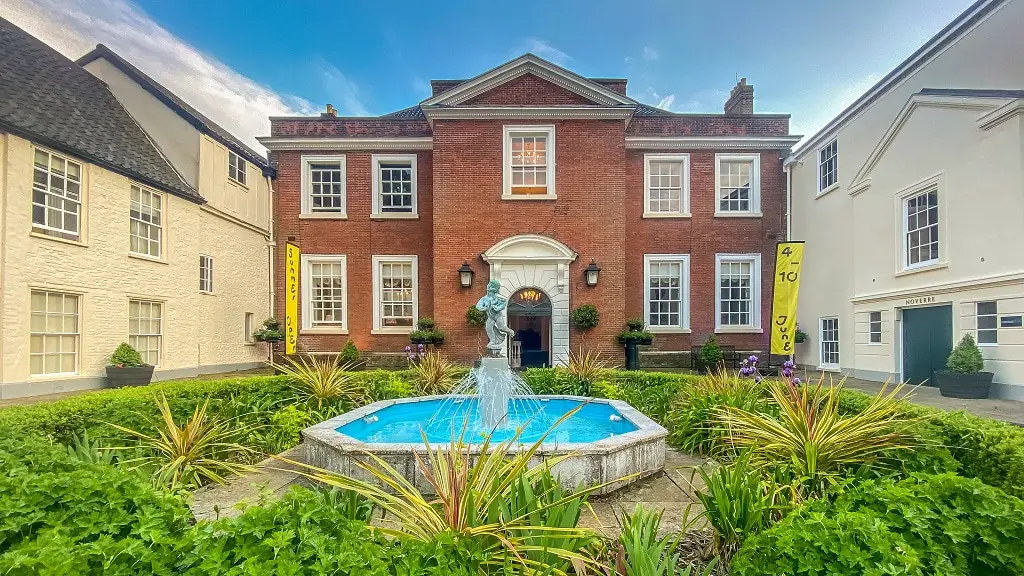 Afternoon tea is always a delight and there are several places that make it special in Norwich. If you want to treat yourself, book your afternoon tea at the Assembly House. The Grade I-listed building gets its name because it was the place for the elite to assemble for musical events, lectures, dances, theatre shows, and games. In 1805, it even hosted a Grand Ball to celebrate Lord Nelson's victory at the Cape of Trafalgar.
Some parts of the building date back to the 13th century, but the main halls were designed by Georgian architect Thomas Ivory in 1754. He made sure the Assembly House would impress even the most prestigious guests with a sweeping driveway, high ceilings, elaborate crystal chandeliers, and grand fireplaces.
In addition to their classic afternoon tea, they sometimes offer special themed afternoon teas. Previously, they've done Rainbow Unicorn Afternoon Tea, Halloween Frightful Fancies Tea, the Great British Garden Party Tea, the School of Magic Afternoon Tea, and more. During the holiday season, they serve a new Festive Afternoon Tea each year. They also have a smaller version of their classic afternoon tea for children 12 and younger.
#11 Go for a Walk
Norwich is a city best appreciated on foot. It has well-preserved medieval buildings along with some beautiful green spaces. There are a few walks not far from the city centre that I love and do frequently.
The Norwich Riverside Walk is a scenic trail that follows the River Wensum around the edge of the city centre. You get to see some historic landmarks including Pull's Ferry and Cow Tower and beautiful views of the Cathedral. The walk can be done in about an hour, but allow time to make some stops along the way and perhaps grab a pint at a local pub. Read our Guide to the Norwich Riverside Walk. (coming soon)
There are also some nice walking trails in Mousehold Heath just northeast of the city centre. It's 184 acres of heathland and woodland that is a designated Local Nature Reserve and County Wildlife Site.
A little further away is Whitlingham Country Park. The circular trail around the large broad is about two miles. You can stop at the bird hide along the way and appreciate the wildlife. There are also some lovely picnic spots.
#12 Paddle down the Wensum
If you don't feel like doing the Riverside Walk, you can paddle down the River Wensum instead. You can choose from kayaking, canoeing, or even stand up paddling boarding.
It's a fantastic way to enjoy the scenery and burn a few calories at the same time. The water is typically very calm so while you don't need to be very experienced, you still need to take proper safety precautions like wearing a life vest.
You can bring your own equipment or there a few places where you can hire boats including Pub and Paddle and the Canoe Man.
#13 Grab a Pint
Norwich used to boast that it had pubs for every day of the year. While this is no longer the case, there is no shortage of places to grab a pint in the city centre. Some serve some pretty tasty food as well. Our favourite pubs in the city centre are the Murderer's, Lamb Inn, and Adam & Eve. The Lamb Inn has a good-sized outdoor seating area.
If you want to try something local brewed, Woodforde's is the most popular brewery in Norfolk. Adnam's, located not too far away in Southwold in Suffolk is another tempting option.
Alternatively, those that prefer wine should check out the Wallow Wine Bar.
#14 Enjoy Views Over the City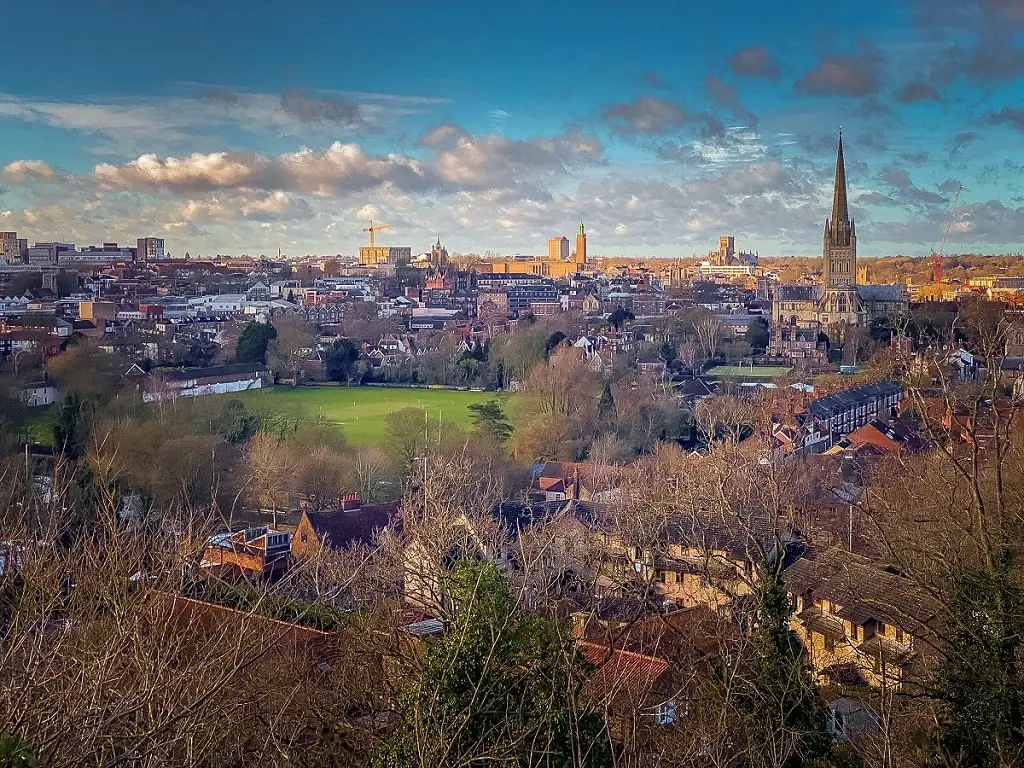 Norwich is also a scenic city from above. The steeple of the Cathedral, the City Hall, the Castle, and all the medieval church towers make for a unique skyline. There are a couple places that offer unimpeded views.
You can grab a cocktail and enjoy the scene at the Rooftop Gardens. If you don't mind a bit of a walk, there is a lookout point in Mousehold Heath by the prison. Alternatively, Kett's Heights offers a similar perspective but is a bit closer.
#15 Enjoy the Plantation Gardens
Just behind the Roman Catholic Cathedral, you will find a three-acre Grade II English Heritage registered garden. It was established over 100 years ago in an abandoned chalk quarry and now maintained by volunteers. Sometimes there are special events in the gardens.
The centrepiece is the huge gothic fountain. Around the fountain there are by flower beds, lawns, an Italianate terrace, "medieval terrace wall," woodlands, Victorian-style greenhouse, and a rustic bridge. There are a few paths to walk around and explore or you can just relax on the lawn.
Admission to the Planation Gardens is £2 per adult. Accompanied children under 16 years old are free.
#16 Get Some Food
Norwich has a wide range of delicious restaurants and eateries. If you are after a quick bite or something casual, there are some interesting options at the Norwich Market. Not too far away, there is the Grosvenor Fish Bar, which serves up some of the best fish & chips in Norwich.
Some of the other Norwich restaurants that we love are:
Gem of Norwich – Right across from the Norwich Train Station you will find this gem. They serve up delicious Turkish food.
Benoli – Get some amazing Italian food, including homemade pasta, at this restaurant at the bottom of Tifmber Hill.
Brick – This is the place to go for pizza in Norwich.
Merchant's of Spice – With two locations – Colegate in the city centre and also Thorpe St. Andrew – this is our go to for Indian food in Norwich.
The Bicycle Shop – A former bicycle shop has been turned into a quirky café. It's a lovely spot for brunch in Norwich.
#17 Cheer on Norwich City Football Club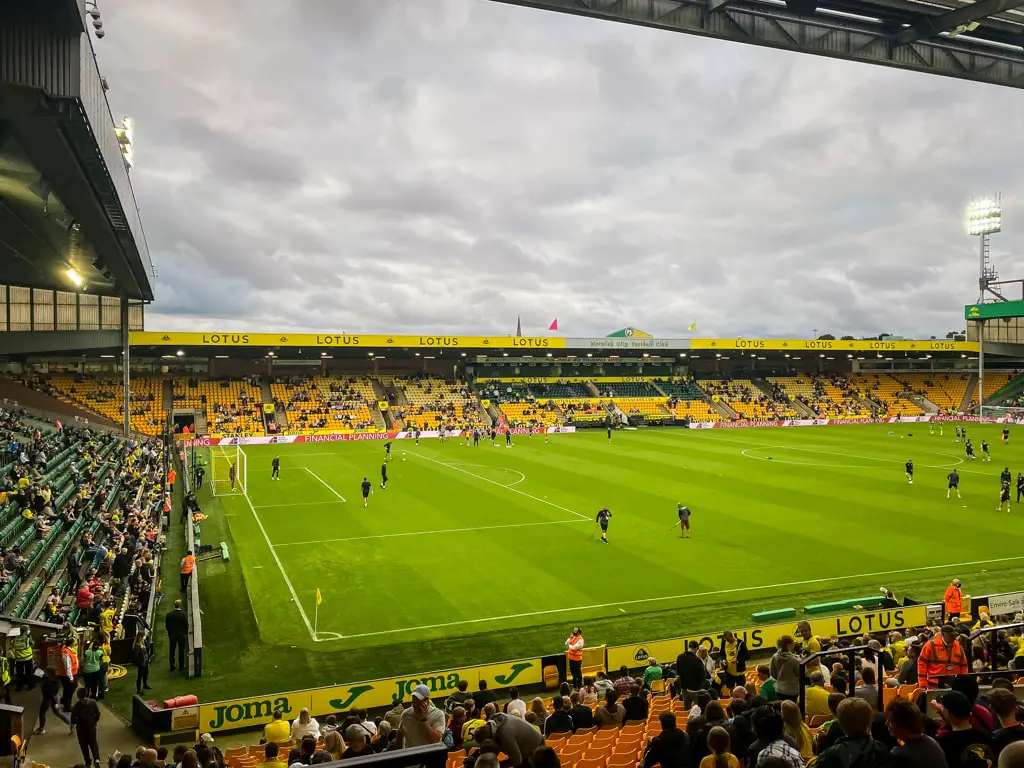 The Norwich City Football Club, nicknamed the Canaries, play their home games at Carrow Road. The majority of seats belong to season ticket holders so casual fans aren't guaranteed a seat. If you want to see a game at the stadium, it is advised to buy your tickets as much in advance as possible.
On certain days, you can take a tour of Carrow Road Stadium. You will get to see the pitch, tunnel, changing rooms, trophy room, dugouts, and more. Additionally, Delia Smith's, owner of NCFC and famous chef, has two restaurants at Carrow Road. There is the more casual Yellow's or the upscale Delia's Restaurant and Bar which are open on select days.
What to Do in Norwich England
As you can see there is a lot to do when you visit Norwich. The city has something to offer no matter what your interests. If you are interested in learning about more things to do in Norwich, check out these posts:
I should also mention that all these attractions are walking distance from the city centre so you won't need a car. In the case of the Sainsbury Centre there is a bus, if you don't want to do the long walk. If you did happen to drive from London to Norwich, it's best to either use a park & ride or car park for the day as it's difficult to drive in the city centre.