I never need an excuse to go to afternoon tea, but when I heard Byfords was doing a Festivi-Tea afternoon tea I wanted to try it. Learn more about what you can expect for afternoon tea at Byfords in this review.
Be sure to sign up for our email newsletter here to keep up to date with events in Norfolk.
Note: This post contains affiliate links.  As an Amazon Associate, we earn from qualifying purchases. Please see disclosure for more information.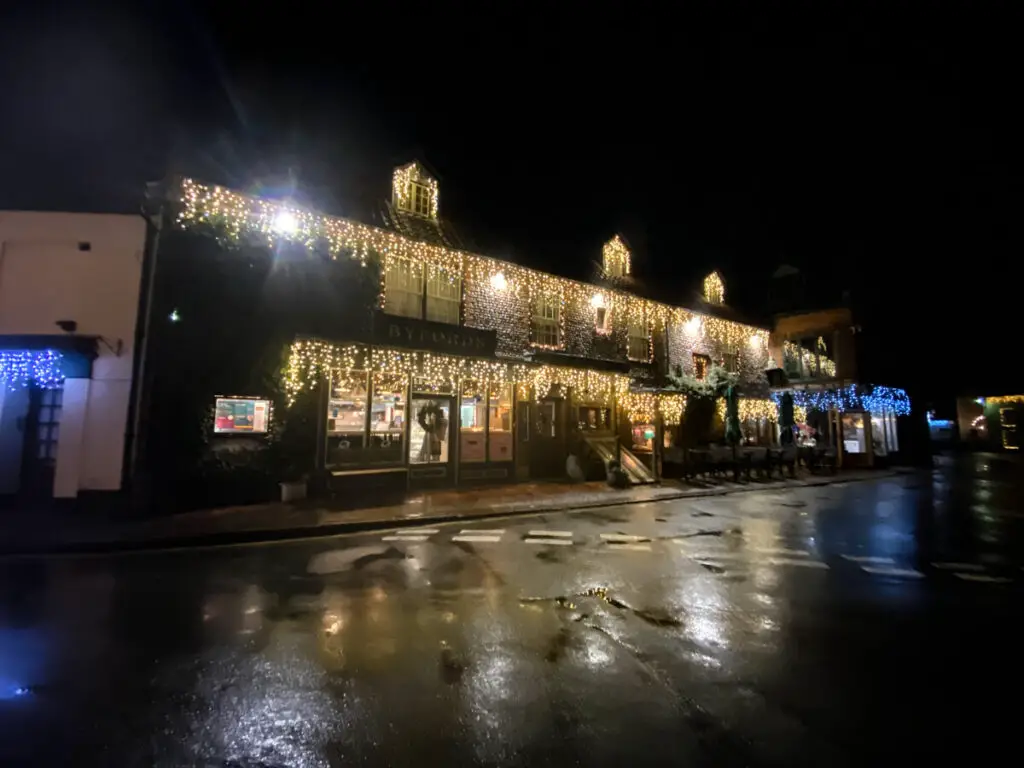 About Byfords in Holt
Byfords occupies the oldest building in the town of Holt a few miles from the North Norfolk Coast. It's a popular cafe, deli, bakery, and a 5-star gold award winning hotel with 16 refurbished bedrooms and an additional self-catering attic apartment.
They have family rooms and luxurious rooms perfect for a romantic break. All of the hotel bedrooms are offered on a bed and breakfast basis so that you can enjoy a delicious home cooked breakfast for every night you stay.
Read reviews about accommodations at Byfords on Tripadvisor here.
Check price and availability for stays at Byfords here.
Afternoon Tea at Byfords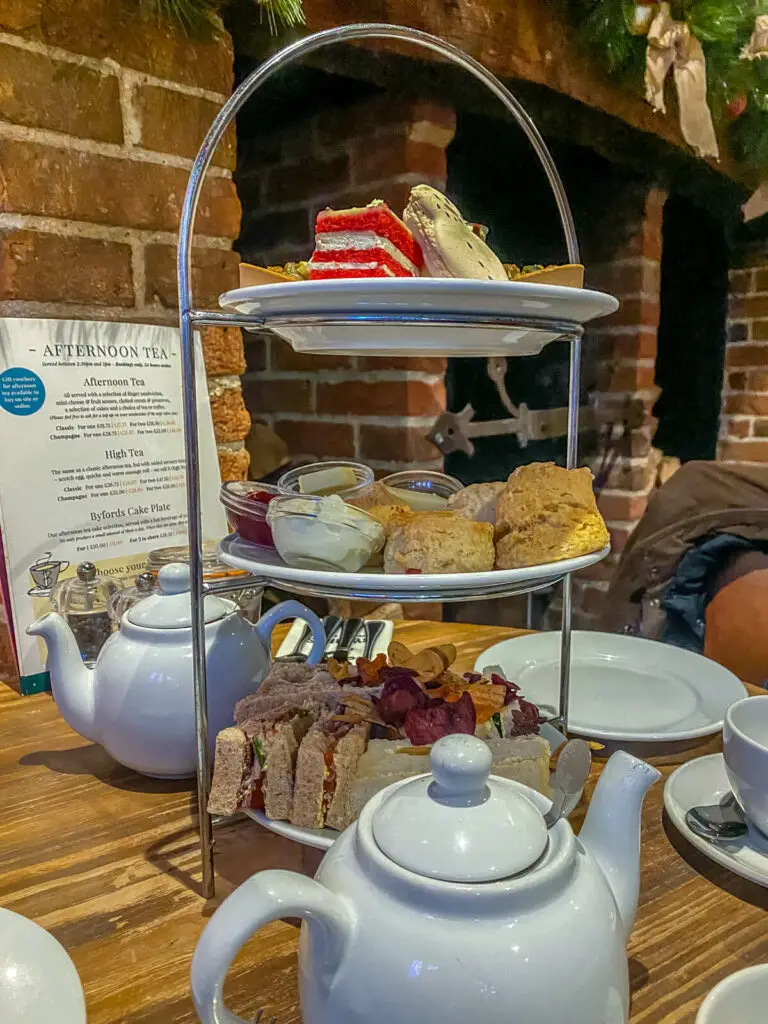 Byfords serves afternoon tea daily from 14:30 to 17:00. For special occasions (or big appetites), they also offer a high tea which includes savoury items (quiche, sausage roll, and Scotch egg) in addition to everything that comes with the afternoon tea. There is also the option to add champagne.
On the 1st Sunday of every month from 14:30 to 16:30, Byfords has their afternoon tea extravaganza. It includes a huge buffet filled with extravagant desserts, scones, and sweet treats plus you get all the sandwiches you can eat delivered straight to your table. There will also be several grazing dishes during intervals. Each month has a different theme.
Whichever afternoon tea experience you choose at Byfords you will need to book at least 24 in advance and pay a £10 deposit per person. You can do it all through Opentable here. During the warm weather, they do have tables for you to eat outside.
We decided to treat ourselves to high tea. Since we visited during the holiday season, we got to try their Festivi-Tea afternoon tea which was Christmas-themed. (They do also typically have a Halloween-themed afternoon tea during part of October).
If you are in a rush, they have a deli where you can purchase some of their delicious food to take away.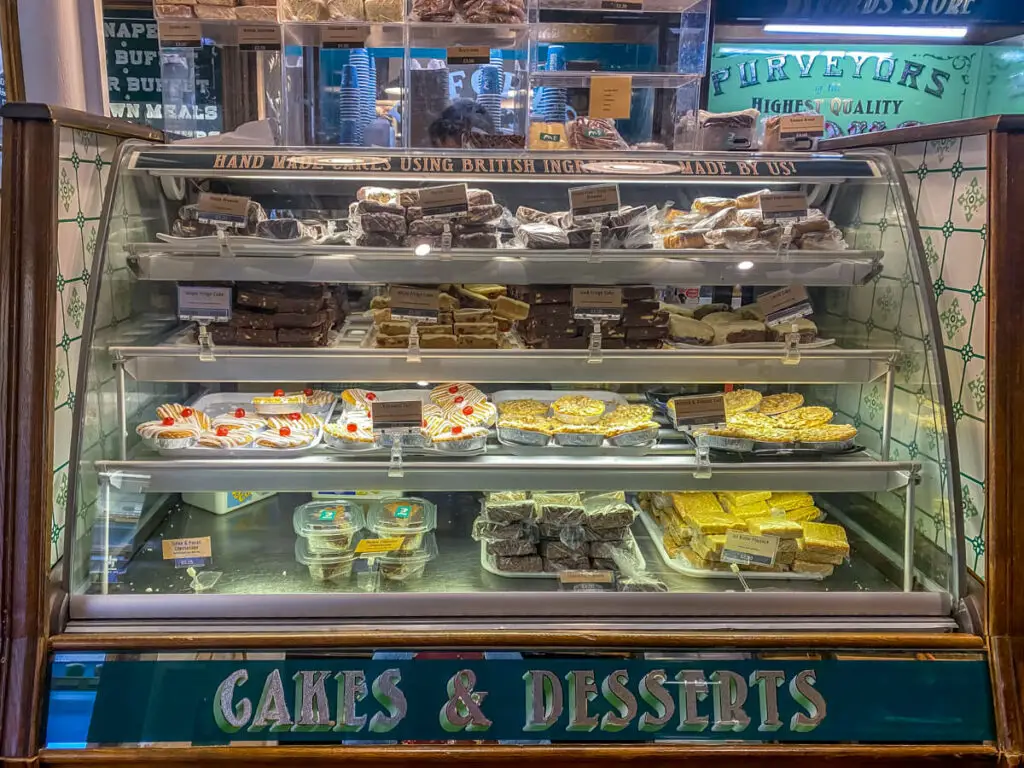 Atmosphere
When we arrived at Byfords the sun was just starting to go down so we got a glimpse of their pretty Christmas lights. Even without any special decorations, the historic building has character and charm.
To access the dining room, you walk through the deli which has all kinds of tempting goodies that you can buy to take home. I was excited to try some during our afternoon tea.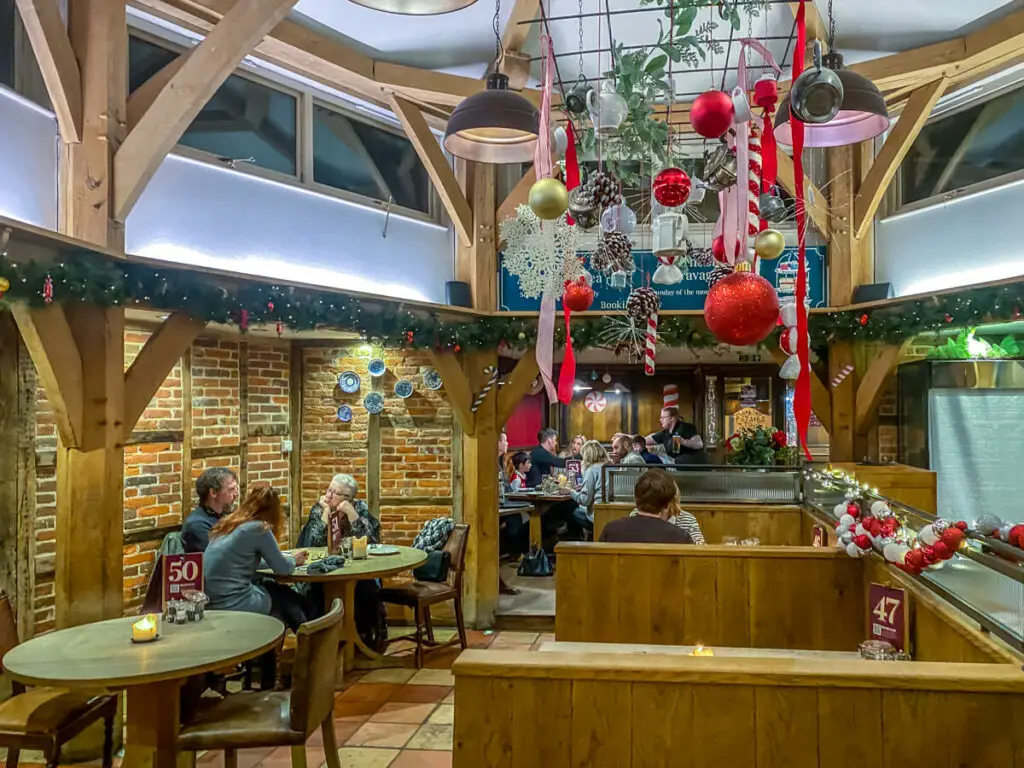 The dining room was also festively decorated. The rustic decor warmed me even though it was cold outside. Our table was right by an old fireplace.
We also enjoyed the music at Byfords. They played mostly what I describe as "ratpack" music and I frequently found myself singing along.
Teas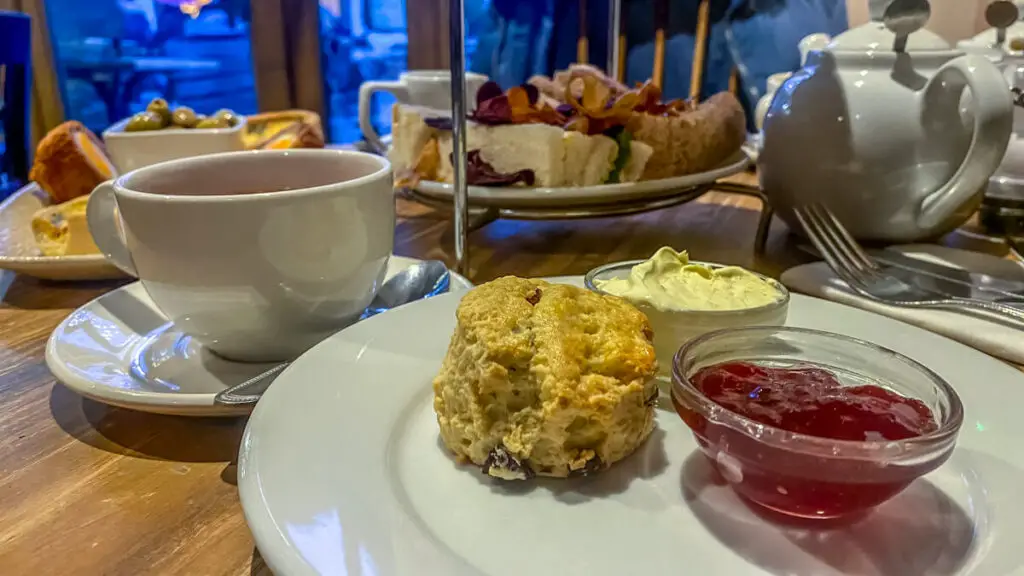 All of the afternoon teas at Byfords come with their loose leaf teas or coffees. You can add a glass of fizz for an additional charge.
They have 13 different teas to choose from and once you finish one pot you can get another one. I started with the green rooibos, which was a combination that I hadn't seen before. I got to try the last bit of it that they had and loved it. The different flavours were subtle and went together surprisingly well.
Russell had the Earl Grey and then the Assam. For my second pot, I had the mixed berry tisane. All the teas we had were lovely and it was nice to have such variety.
If you are a coffee person, you can choose from Americano, latte, flat white, cappuccino, mocha, cafetiere, or expresso.
Food
Byfords High Tea comes on a three-tiered stand with a platter of the savoury treats on the side. We decided to start with our savoury treats since they were served warm.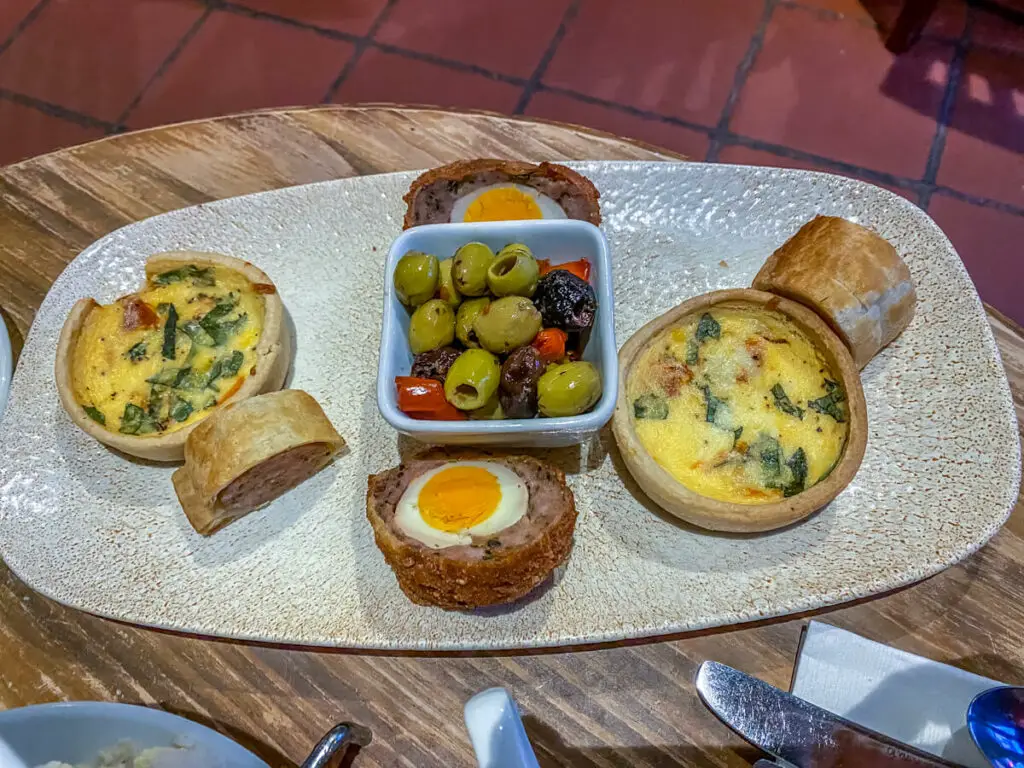 The sausage rolls were first. It was just the right balance between the meat and pastry which melted in my mouth. We each had half a Scotch egg which was crisp on the outside with the soft (but not runny) egg on the inside.
The quiche had sun-dried tomatoes in it which was a nice change from the typical bacon, broccoli, and spinach. It also went well with the bowl of assorted olives.
The sandwiches came with a bit of root vegetable crisps on top. We had four each and could ask for more if we wanted. (Spoiler: We had plenty of food so didn't need a second helping of sandwiches.)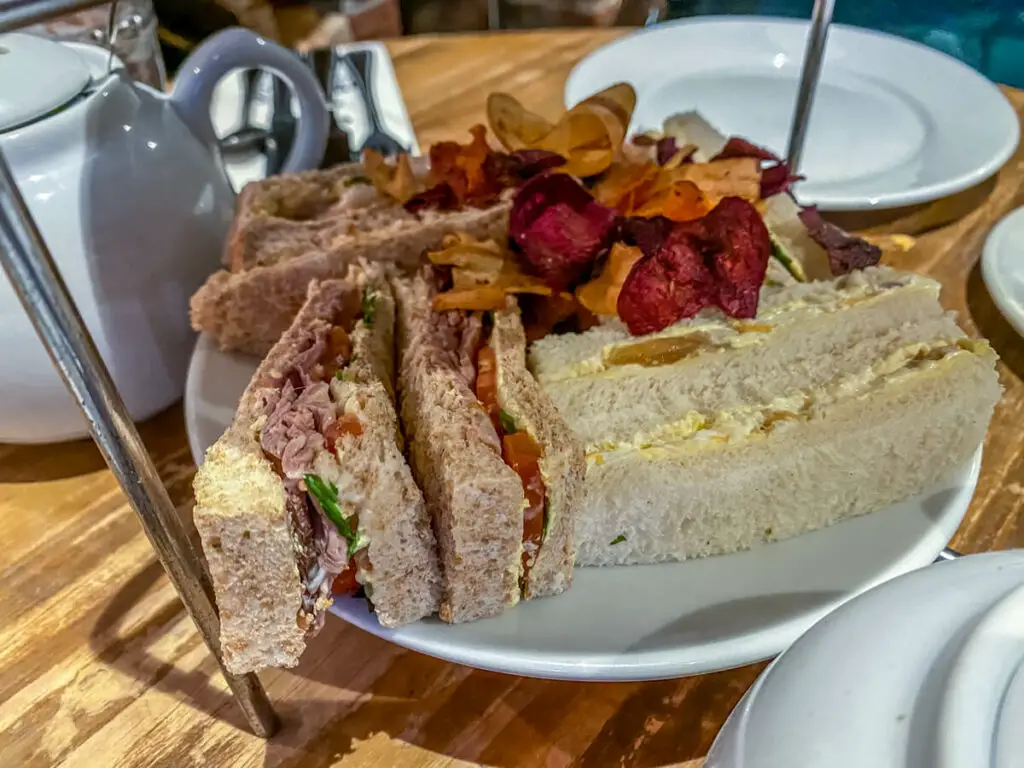 We began with the chicken and pesto sandwich which also had rocket. This might have been my favourite of the sandwiches because pesto isn't used on sandwiches (or other foods) enough.
There was also a roast beef and horseradish sandwich that also had tomatoes. The seafood salad sandwich had some good sized pieces of prawn in it. The cheese sandwich had three kinds of cheese and red onion.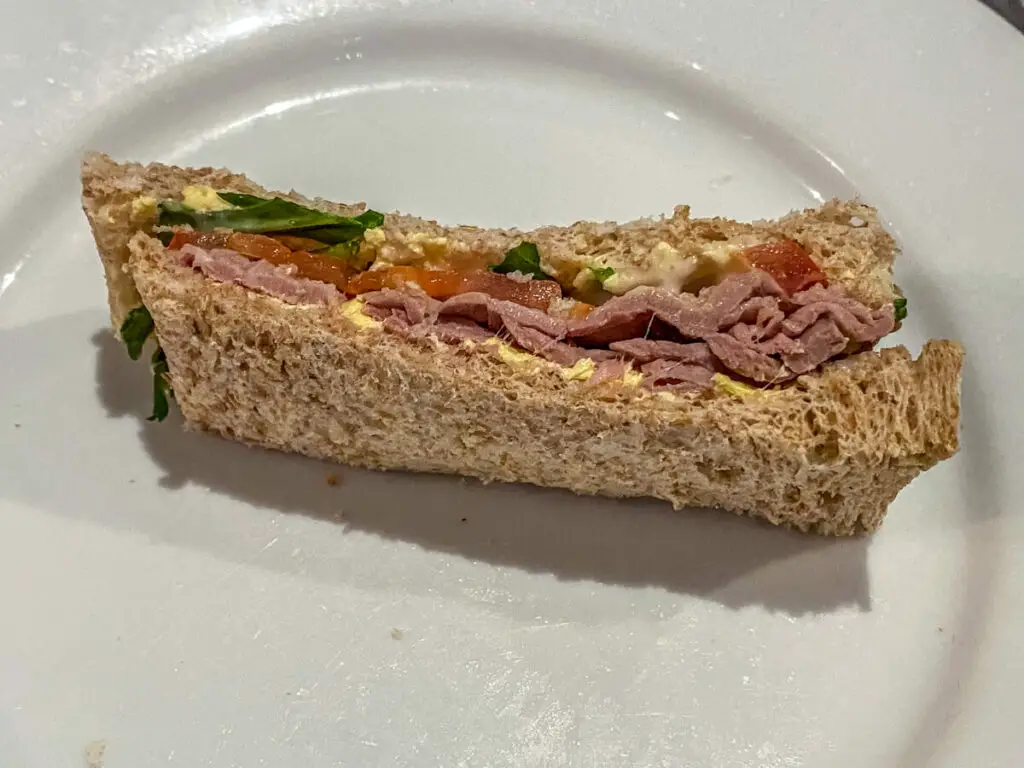 After our sandwiches, we were ready for the scones. We each had a cheese one and a fruit one. They provided butter for the cheese scones and jam and cream for the fruit one.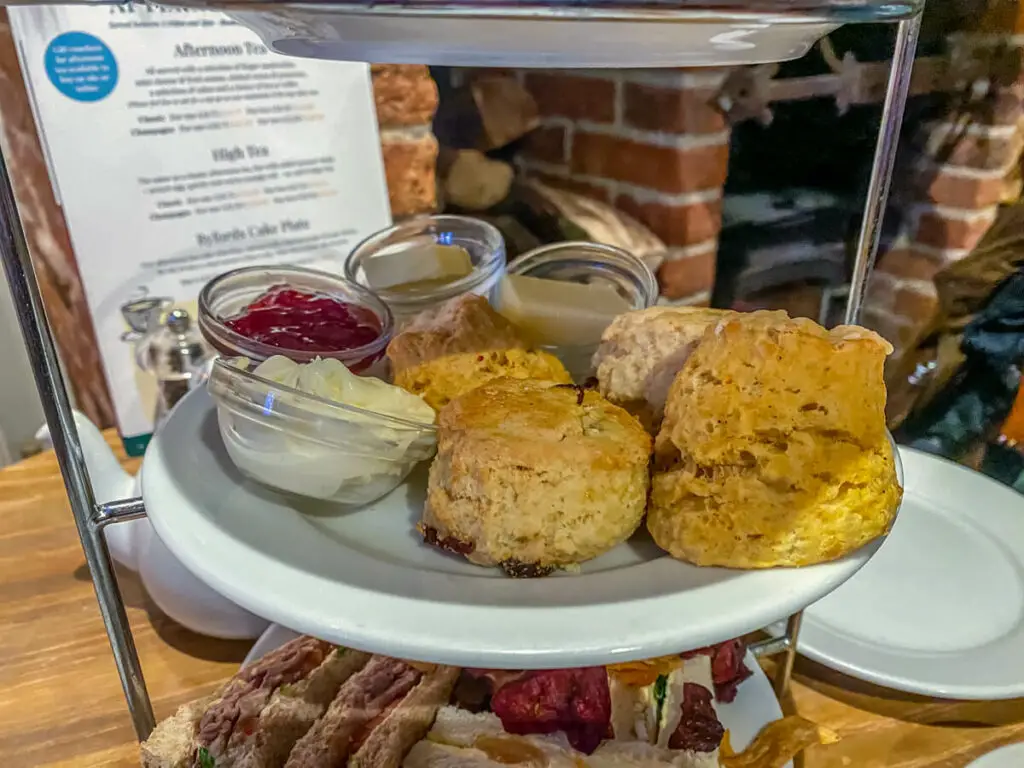 They may be smaller than other scones but they were still delicious! The cheese scone had a stronger cheese flavour than other ones that I have had. I first tried it with the cream and jam but quickly realized that butter was a better match. I asked for more cream and jam to go with the fruit scone and they were quite generous.
The desserts we had were all Christmas-themed. We had the nutcracker tart first which was kind of like a mini praline tart. It was delicious without being too sweet.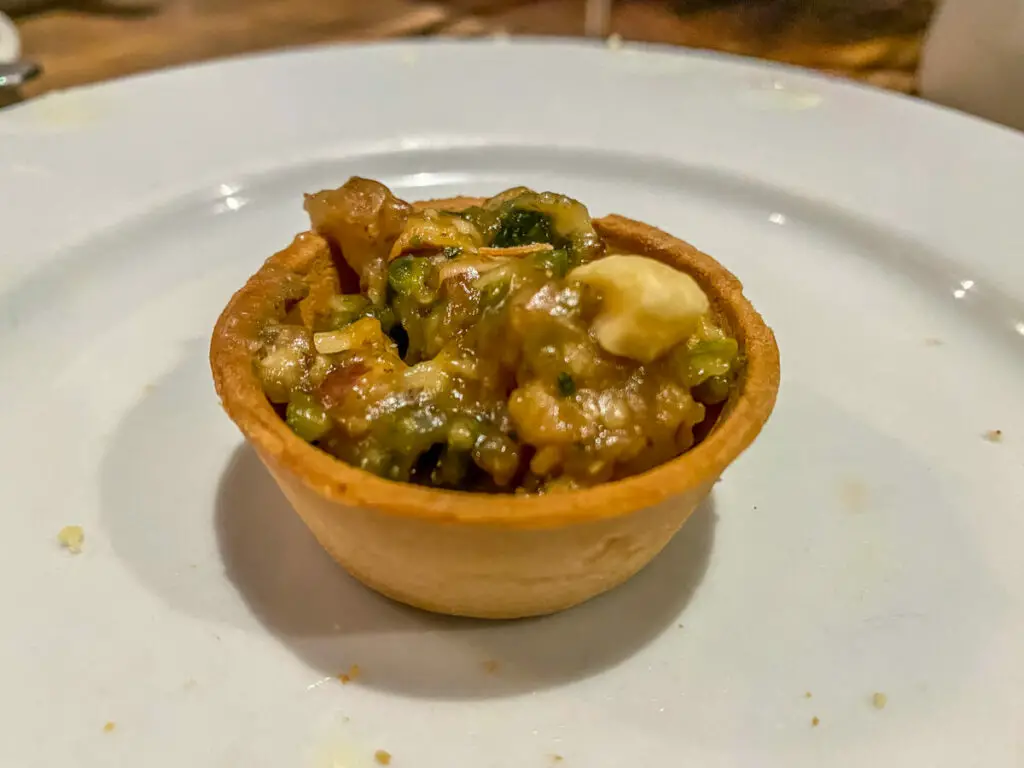 The white chocolate and peppermint candy cane opera cake was almost too pretty to eat. How they can make such thin layers of cake is beyond me. I also appreciated that the mint flavour was not overpowering.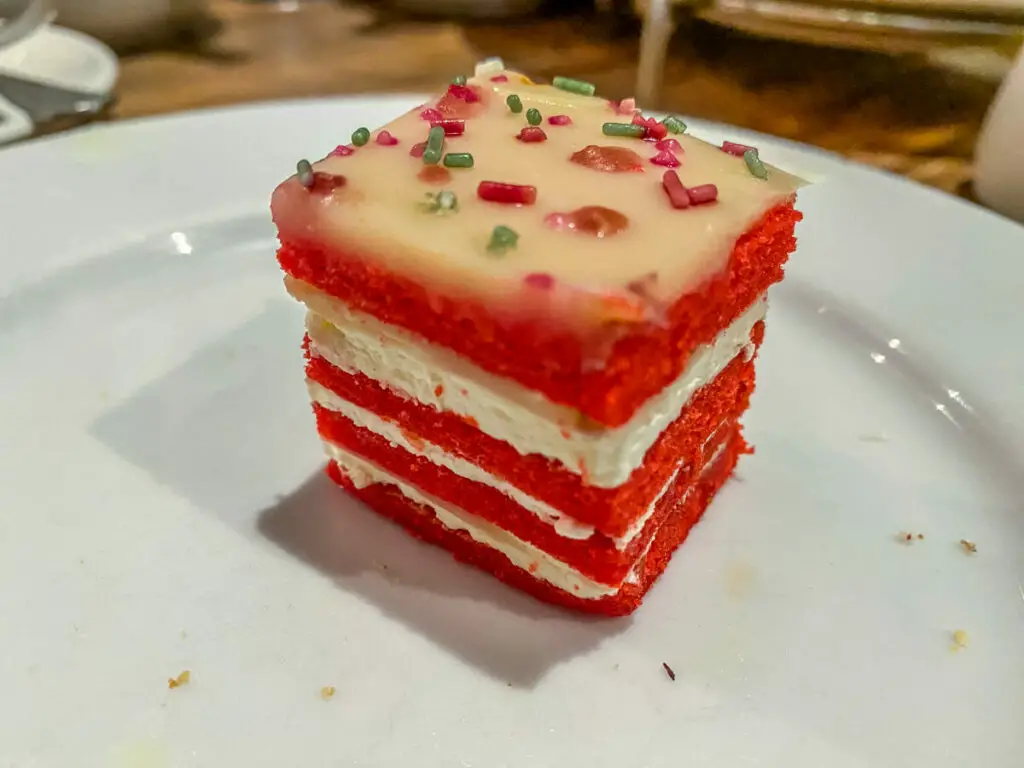 The macaroon was shaped and decorated like a snowman. Russell thought it was coconut flavoured but I wasn't so sure. It had a texture of coconut flakes but it tasted more like vanilla. I had to ask and found out it was tonka bean which I had never had before.
Next we had the sticky ginger cake with cream cheese frosting. The spice of the ginger is balanced out nicely with the sweet creaminess of the frosting.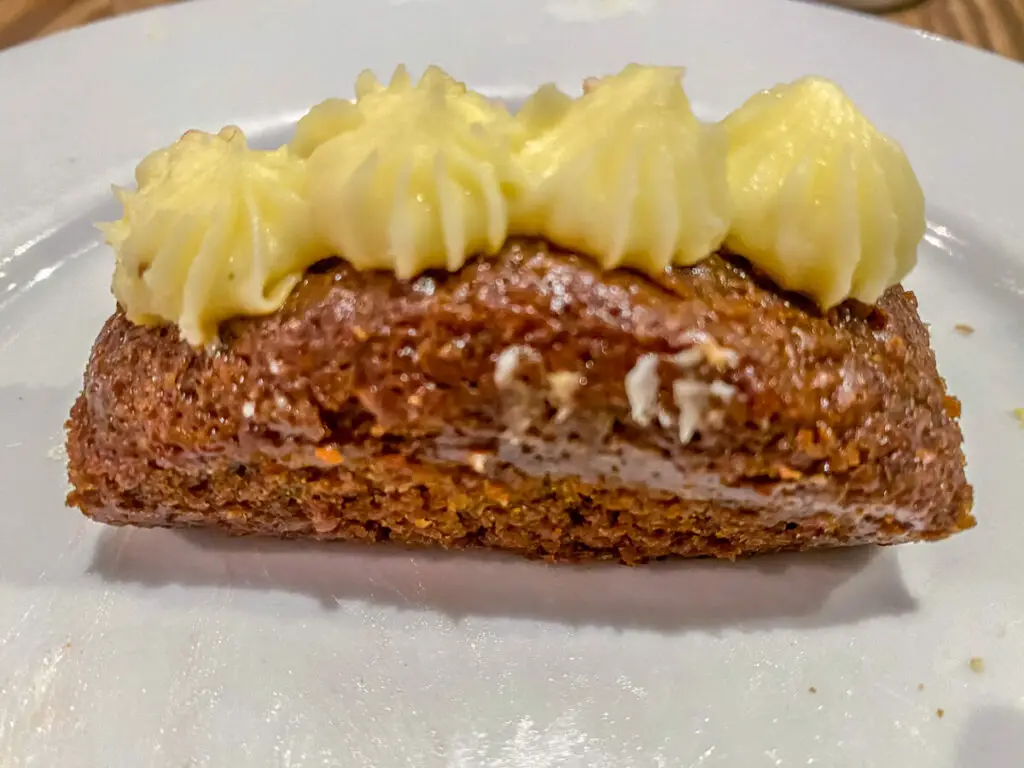 We saved the chocolate Baileys pot for last. It was a rich chocolate cream that was satisfying and lush. After all that, we felt satiated and enjoyed a bit more tea before we got our bill.
Price
The afternoon tea at Byfords is £19.75 for one while high tea is £26.75. You get a discount for ordering for more than one person and for being a Norfolk Passport member.
It may be slightly more expensive than some other afternoon teas in Norfolk, but I don't think it is overpriced. You do get a generous amount of food and it is all high quality.
They do also offer gift vouchers, which would make a lovely Norfolk-themed gift.
Overall Review of Byfords High Tea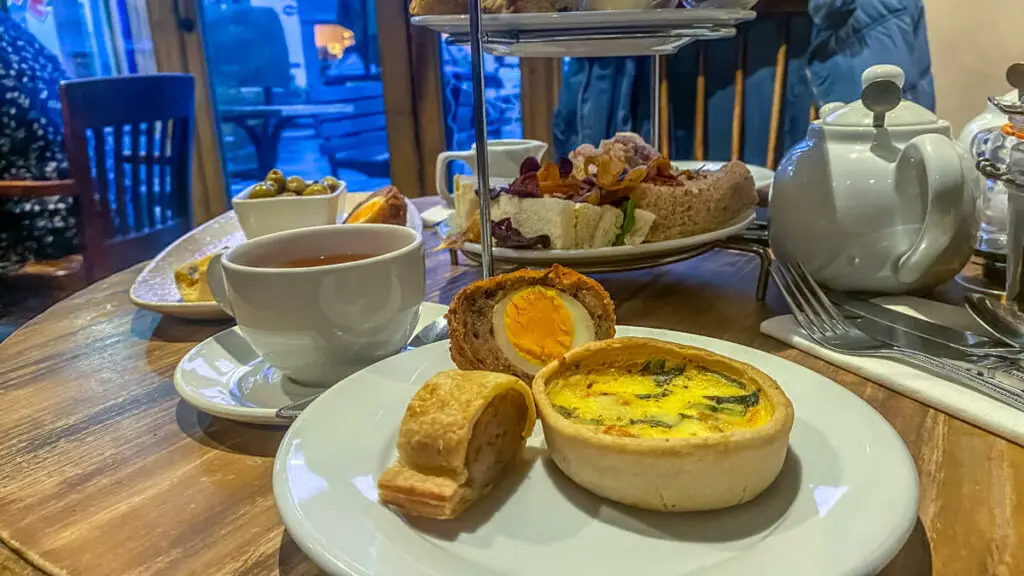 Byfords is definitely one of the best places to have afternoon tea in Norfolk. Everything about the high tea makes it feel special – the wide selection of teas, the delicious and plentiful food, the warm atmosphere.
The menu was well thought out and creative. I loved how they incorporated Christmas flavours into the sweets and did more than just your basic sandwiches.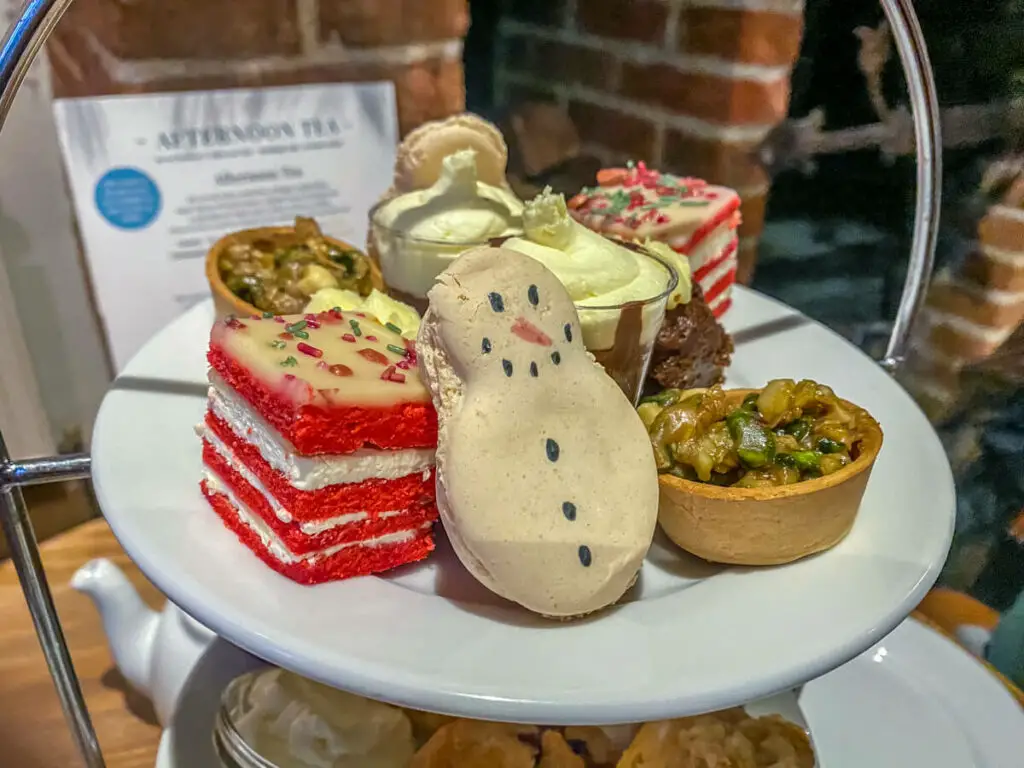 We left with smiles on our faces and plan on going back to Byfords soon.
Read more reviews of Byfords afternoon tea on Tripadvisor here.
Byfords Afternoon Tea FAQs
When is afternoon tea served at Byfords?
Afternoon tea is served daily from 14:30 to 17:00.
Do you need to book the Byfords Afternoon Tea in advance?
Yes. All afternoon teas need to be booked at least 24 hours in advance. You can do it through Opentable here.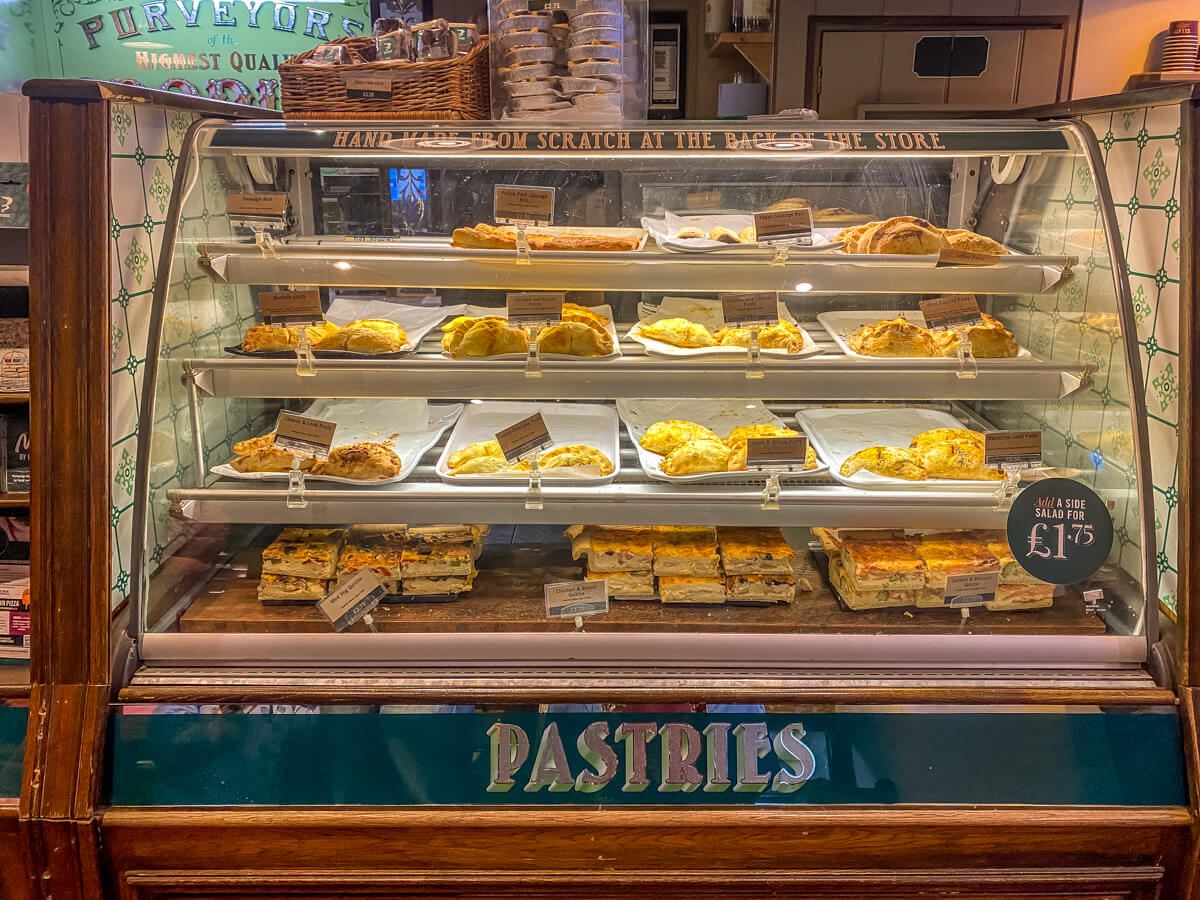 Can Byfords accommodate vegetarian, dairy-free and gluten-free diets?
Yes, they can do vegetarian, dairy-free, and gluten-free afternoon teas, but you must specify your requirements when you book.
How can you save money on afternoon tea at Byfords?
Norfolk Passport holders get a discount at Byfords but you need to bring your card or know your account number. If you are not a Norfolk Passport member, it is free to join here.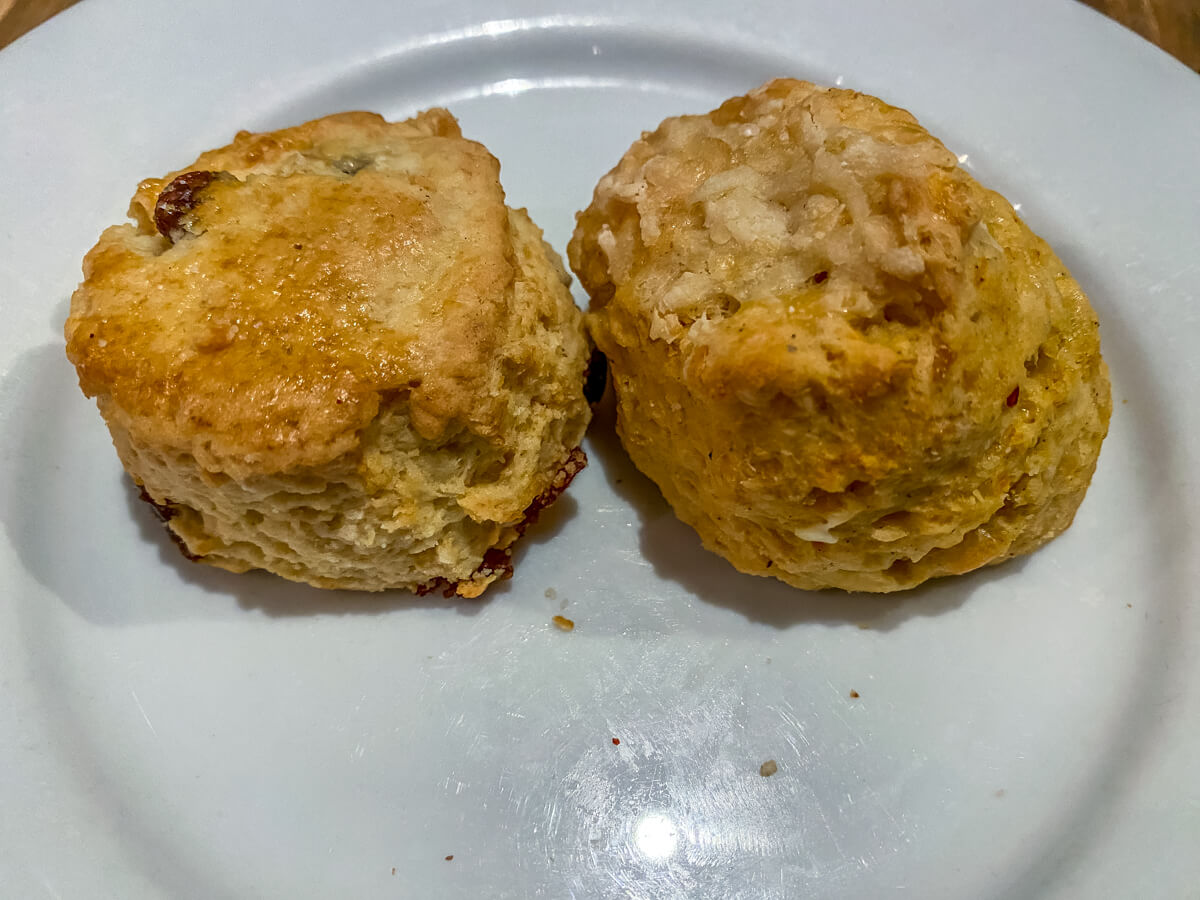 Is Byfords a good place to take kids for afternoon tea?
Yes, while they don't have a specific children's afternoon tea menu it is a relaxed atmosphere.
Where do you park for Byfords?
There are several pay and display car parks within a short walk. The closest may be the Albert St Car Park but you could also use the Church Street Car Park or the Budgens Car Park.
How do you get to Byfords in Holt?
Byfords is located just off the High Street in Holt. To get there you will have to either take a bus or drive as there is no train station.
From Norwich, there is the 45 bus, but it takes more than an hour with all the stops. Alternatively, if you want to drive, take the Holt Road/B1149 towards the coast which turns into the A148 right by the town.
From Sheringham, there is the 44 bus which takes less than 20 minutes.


Disclosure: This post contains affiliate links. This means we will receive a small commission for some purchases made using links in our blog with no additional cost to you.  Please be assured we would not promote any product unless we believe that our readers will also benefit.  The commission does not influence the editorial content of this site.