Everyone heads to the coast in North Norfolk, but you don't want to overlook the charming Georgian town of Holt located less than five miles inland. It offers some of the best shopping and food in the county, plus much more.
Let me share some of the best things to do in Holt along with other attractions in the area.
More photos coming soon!
Be sure to sign up for our email newsletter here to stay up to date with what's happening in the area.
Note: This post contains affiliate links.  As an Amazon Associate, we earn from qualifying purchases. Please see disclosure for more information.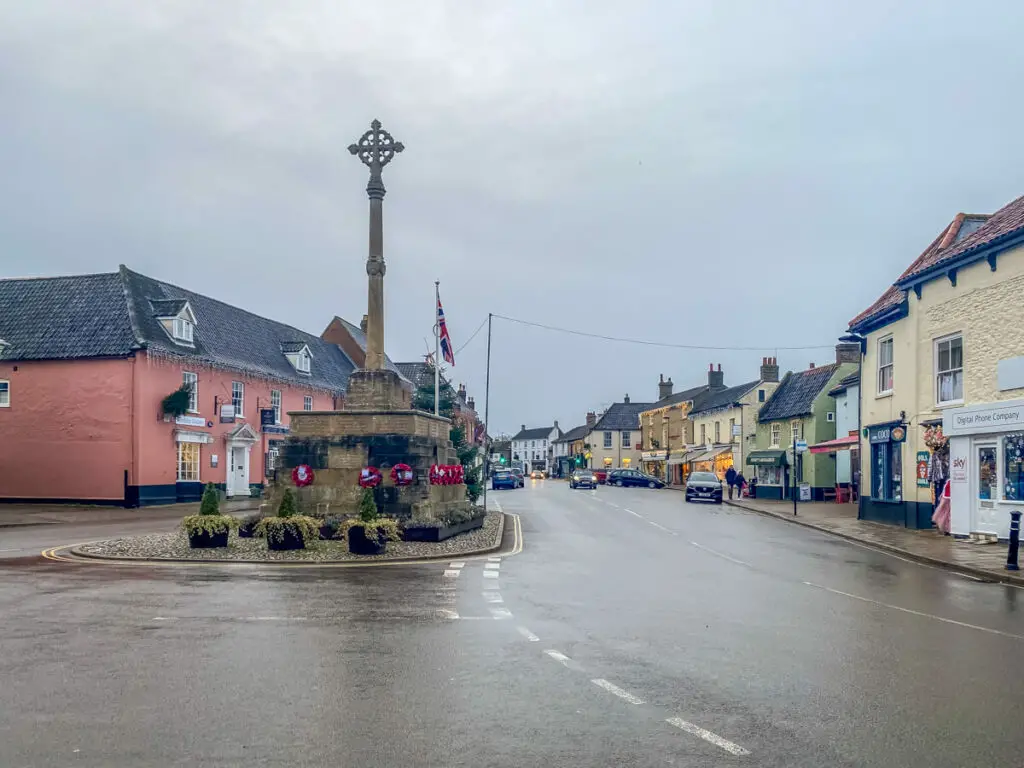 History of Holt
While much of what you see in Holt today is Georgian, the town dates back to Roman times. Peacock Lane was part of the Roman Road from Salthouse and Roman remains have been found in the area.
In the Domesday Book, Holt is mentioned as a settlement with 60 adult males, 90 sheep, 60 pigs, 1 carthorse, 5 mills, a port (Cley) and a market. It was a thriving community thanks to its location which was ideal for trading and close to natural springs.
Fast forward to 1st May 1708 when the Great Fire of Holt broke out in the market stalls. It destroyed the town and its wooden buildings in about three hours. Even the Church was left in ruin.
Over the next 100 years, the town was rebuilt using brick, stone and flint. This explains why the Market Place and High Street are predominantly Georgian.
The back lanes, streets and yards are mainly Victorian as they were built later. Many of the town's flint stone yards, which were originally small Victorians homes, have been transformed to shops and offices. The original local fire station was converted into a shop.
The town celebrated the 300th anniversary of the Great Fire of Holt in 2008.
Things to Do in Holt
Holt has its own unique charm that makes it popular with tourists and locals alike. It has a lot to offer visitors including some of the best Christmas lights in Norfolk (don't miss their Christmas Light Switch On) during the holiday season.
#1 Walk the Owl Trail
The Holt Owl Trail takes you on a tour of the most historic sites in the town centre. It gets its name from the ancient legend about local men who caught an owl. They put it in the Town Pound for "safe-keeping" but the owl flew away.
There are 24 pavement plaques with the picture of an owl that were installed in December 2017 as a project with Holt Town Council, Holt Chamber of Trade and the Holt Society. They mark spots like the War Memorial, Old Post Office, and Hanworth House.
Get more information (including a map) here.
#2 Browse the Art Galleries
If you enjoy art, there are several galleries to check out in Holt. It's fun to look at the art even if you don't find anything you want to buy.
The Gallery
The Gallery has exhibited artwork since 1972, making it the longest running gallery in Holt. This award-winning gallery in Lees Yard continues to evolve under the ownership and management of Adrian Hill FRSA.
It is a contemporary art space where you can see original artwork by some of the UK's leading artists and browse a comprehensive stock of art materials. They have a unique display system that supports a regular programme of themed, multi-artist exhibitions mixed with major solo shows.
Alongside The Gallery is Adrian Hill Fine Art, which opened in July 2013. It operates as a stand-alone gallery with a permanent representation structure exclusively for artists that are Members of the Royal Academy and other Royal Societies, Institutions, Federations.
Bircham Gallery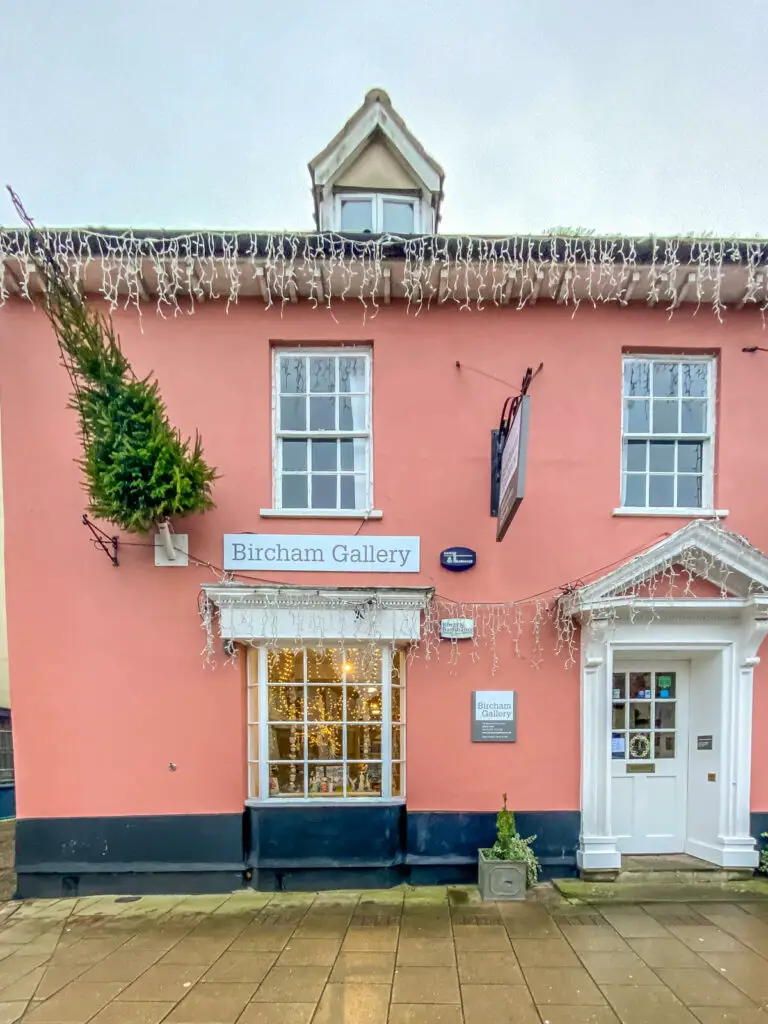 On the Market Place you can find the light and spacious Bircham art gallery. It has a large collection of art from East Anglia and beyond that includes the work of over 200 artists and craftspeople.
They offer a commissioning service and the flexibility to pay for the artwork with an interest free purchase scheme.
Utopia: The Unexpected Gallery
This gallery is an original concept in decorative interiors with antiques, flora, contemporary fine art paintings, drawings, unique lighting, and limited edition lampshades. Utopia also works to commission with private, corporate and retail clients.
#3 Go Inside St. Andrews Church
The parish church of St Andrew the Apostle was established in Holt in the 11th century making the site a place of worship for about 1,000 years. It is located at the end of Church Street, which is found behind the War Memorial, at the east end of what was the original Market Place.
The church suffered a lot of damage during the Great Fire of Holt. The whole roof was burned and all the lead melted. The lead fell on the stones and cracked them all in pieces. There were two bells which fell down.
Still, some medieval features did survive including the circular 12th-century font, decorated with unusual fleur-de-lys carvings, which is the oldest feature in the church. These medieval features mixed in with the Georgian and Victorian architecture make it worth stepping inside to explore.
#4 Check out the Bakers & Larners Food Hall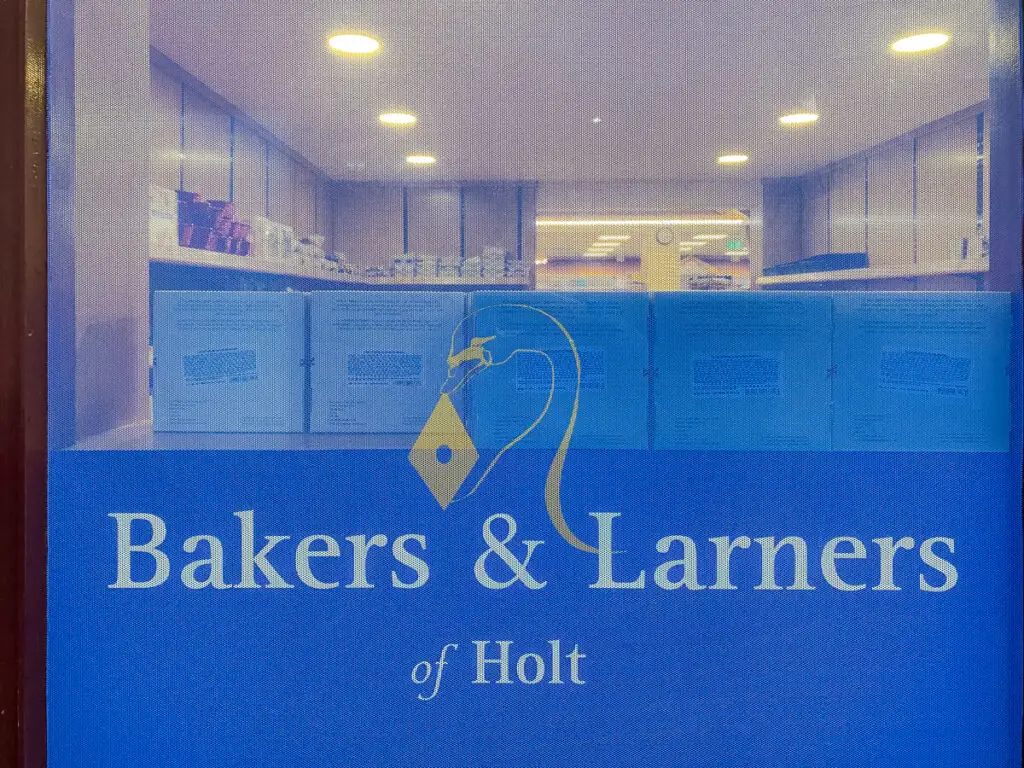 Foodies will be in heaven in this award winning food hall that has been described as the Fortnum and Mason of East Anglia. Bakers & Larners has over 5000 square feet of high quality foods to discover and it's been a family run business in Holt for over 240 years.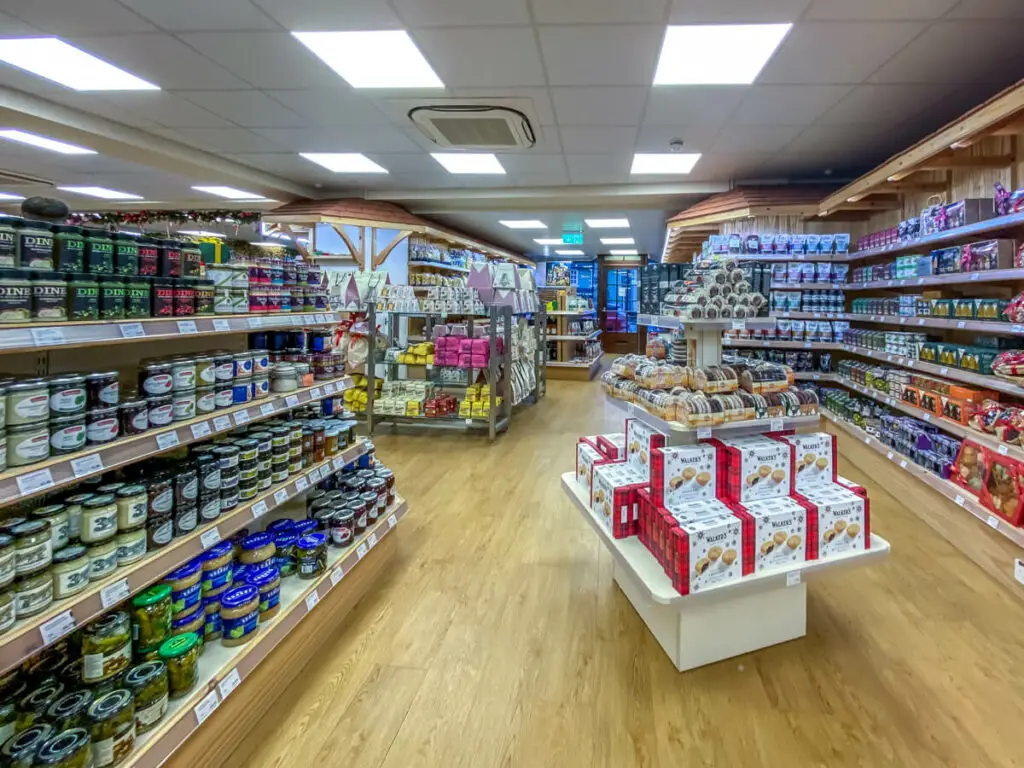 Their deli counter stocks over 120 cheeses including 26 English artisan cheeses. They still cook the roast ham on the premises every morning.
The shop is more than just food as it has acquired the name of the 'Exceptional Department Store.' They aim to offer an extensive range of quality products (not just the best sellers), backed up with great customer service.
#5 Enjoy Afternoon Tea
Holt may be one of the best places to have afternoon tea in Norfolk. Just remember it's best to book these at least 24 hours in advance to avoid disappointment.
Our favourite is the Folly Tearoom, located in Hopper's Yard. They serve some fantastic homemade cakes and have a diverse selection of teas to choose. Together with the vintage decor, it makes for an afternoon tea that is special.
Another popular option is Byford's, a Holt institution that is a café, deli, pub, restaurant, ice cream parlour and boutique hotel all in one. Their afternoon tea includes all of the classics and you can add savoury treats to celebrate special occasions.
Byford's also does a special afternoon tea buffet that they call the Afternoon Tea Extravaganza on the first Sunday of every month. They bring you sandwiches and then you can choose as many sweet treats from their spread of extravagant desserts as you can eat. You will also get the chance to try some different grazing dishes during intervals.
#6 Go Antiquing
There are several antique shops to check out when you are in Holt. You can start with Richard Scott Antiques and Mews Antiques Emporium on High Street. Then head to Owl Town Antiques on Chapel Yard.
Just outside the town of Holt there is the Holt Antiques & Interiors Centre which is the largest in North Norfolk. You can find a mix of antiques, interior decor, furniture, collectables, french, vintage and industrial items. They have convenient onsite parking.
#7 Have Fish & Chips
Just because Holt is not a seaside town doesn't mean that you can't find good fish & chips. You actually have a couple options to choose from. Our favourite is Holt Fish & Chips, but Eric's Fish & Chips is also very popular.
#8 Check out the Boutique Shops
Holt is a shopper's paradise, featuring numerous independent and boutique shops. You can discover a wide range of products, including fashion, accessories, home decor, artisanal crafts, and gourmet treats. It's a refreshing change from the mass-produced items found in larger retail chains.
You can easily spend an afternoon wandering around the town centre, exploring the offerings of various shops. Some of the noteworthy favourites include Follyology, Emma's Boutique, and Hidden Treasures of Holt. Each of these boutiques offers its own unique selection of items, ensuring an enjoyable shopping experience.
#9 Ride the North Norfolk Railway
About 1.5 miles from the town, you can catch the North Norfolk Railway. It's like a trip back in time. The 5.25 mile-long route has some pretty nice views of the landscape too. It's one of the best things to do with kids in Norfolk.
The Poppy Line as it is affectionately known has been running between Holt and Sheringham since 1976. The track was originally part of the Midland and Great Northern Joint Railway's Melton Constable to Cromer Beach branch line.
The Midland & Great Northern Joint Railways Preservation Society formed in April 1959, initially hoping to do other longer sections of railway, but when that proved impossible, they focused their attention on the 3 miles between Sheringham and Weybourne. In 1963 the Society formed the North Norfolk Railways Limited, to preserve, restore, and operate the line.
The North Norfolk Railways provides daily steam and diesel train service during February half-term and from April to October. They also have some special events like the Norfolk Lights Express, dining trains, behind the scenes tours, signalling experience days, and more. Get more information about the schedule and special events here.
The station in Holt has a small museum, and there is a shop and buffet selling souvenirs and light refreshments nearby. There is also an extensive miniature railway, run by North Norfolk Model Engineers.
If you don't want to walk all the way to the Holt North Norfolk Railway Station from the town centre there is the 44 bus (towards Sheringham) that will take you pretty close.
Things to Do Near Holt
The area around Holt includes several must-see attractions. It will be easier to explore the area if you have a car as these suggestions are not within easy walking distance.
Holt Country Park
A 100-acre section of mixed woodland just south of the town of Holt has been designated as Holt Country Park. It's definitely worth a visit especially for families, wildlife enthusiasts, and walkers. There are six different trails to choose from and plenty of opportunity to spot butterflies, dragonflies, and art.
They also have a lot of picnic tables and a kids play area.
It is free to visit Holt Country Park but there is a small charge for the car park.
Baconsthorpe Castle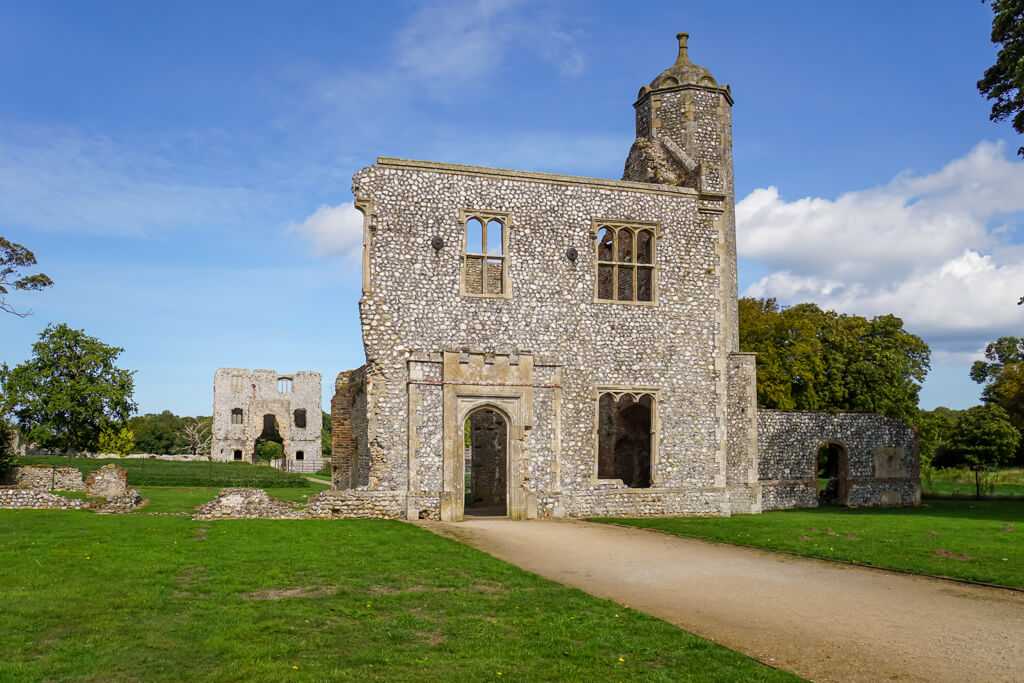 Baconsthorpe Castle was the moated and fortified 15th century manor house a few miles east of Holt where the Heydon family once lived. Over 200 years, this ambitious family built, then enlarged, and finally abandoned this castle which is now ruins.
It's free to visit and open any reasonable time during daylight hours. Pack a picnic as there are no facilities but plenty of space for kids to run around.
English Heritage looks after the property, so there is a small fee (£2) to use the car park if you are not a member. Read about more English Heritage sites in Norfolk or learn more about English Heritage membership here.
Get more information about visiting Baconsthorpe Castle here.
Sheringham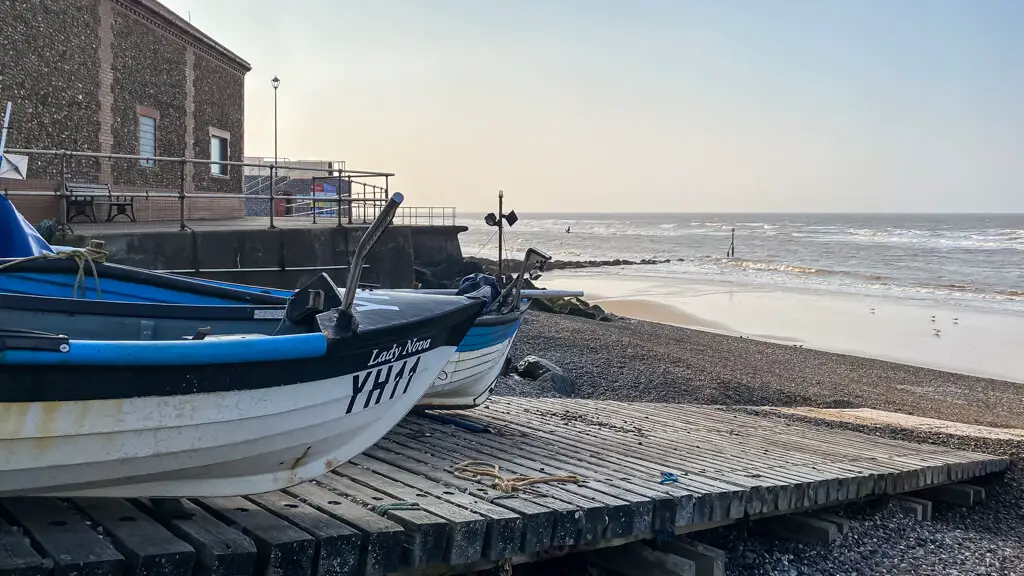 If you take the North Norfolk Railway (or drive) to Sheringham, you should allow time to see the town. It's the closest (mostly sandy) beach to Holt. There are also several museums, the Beeston Bump walk, a model boat pond, and more.
Cley-next-the-sea
Venture to Cley-next-the-Sea and uncover its rich history and natural beauty. Once a thriving medieval port and a smugglers' haven, Cley-next-the-Sea is now renowned for its nature reserve and iconic windmill.
Explore Norfolk Wildlife Trust's Cley Marshes, their oldest reserve, which seamlessly connects with Salthouse, forming a popular birdwatching site attracting over 110,000 annual visitors.
Capture the charm of Cley Windmill, a picturesque landmark converted into a guesthouse and wedding venue. Discover St. Margaret's Church, a 13th-century gem, and indulge in the village's delightful offerings like the smokehouse, bookshop, deli, and the George and the Dragon pub.
Blakeney
Blakeney is a pretty coastal village in an Area of Outstanding Natural Beauty. There are charming flint cottages that used to be homes for local fisherman, pubs, shops, and art galleries to check out. You also need to see the 14th century Guildhall and beautifully restored church.
It's also a popular area for walking too. Read about more things to do in Blakeney.
Note: Blakeney Quay is where you pick up tickets for Bishop's Boat Trips.
Morston Quay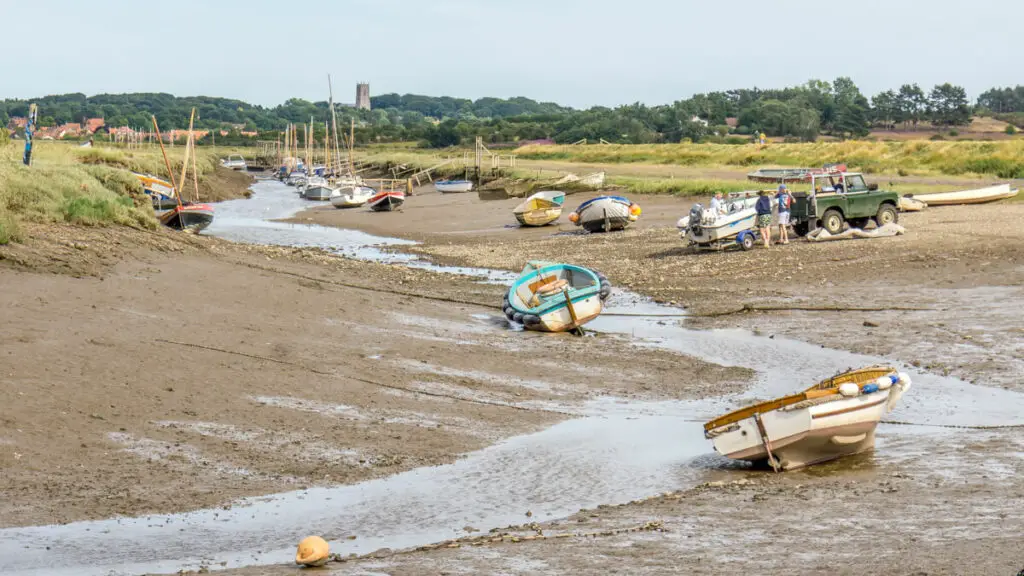 Morston Quay is where the boat trips (John Bean Boat Trips, Bishop's Boats, and more) to see the seals at Blakeney Boat start. You can also walk around to appreciate the scenery or go crabbing. There is a National Trust car park that members can use for free.
Muckleburgh Military Collection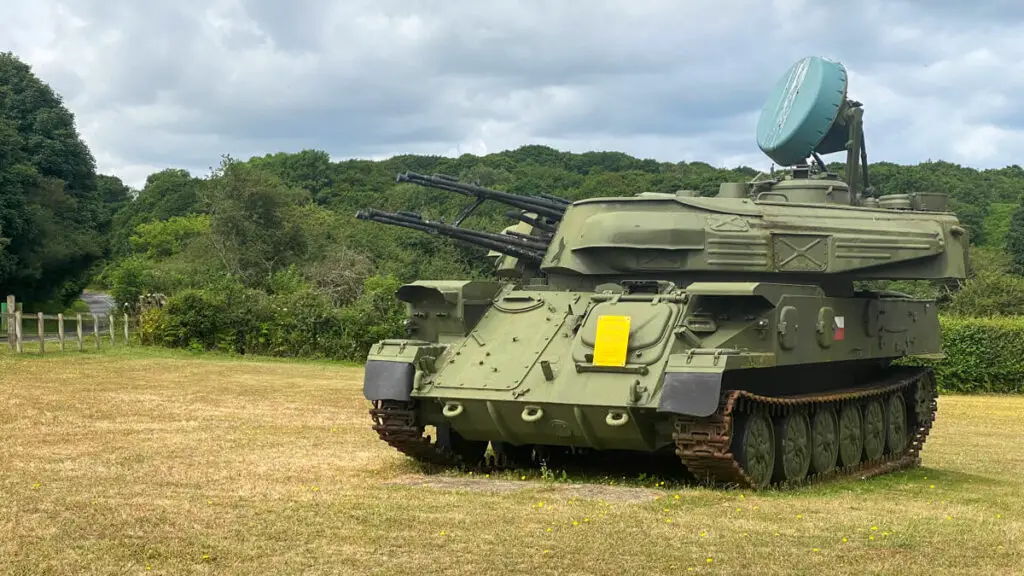 Those interested in military history must visit the Muckleburgh Military Collection at the former Royal Artillery Anti-Aircraft training camp in Weybourne. It was opened to the public in 1988 and is one of the largest privately owned military museums in the country.
You can see an extensive range of tanks and armoured cars that have been maintained in working condition along with the Suffolk and Norfolk Yeomanry collection of uniforms, weapons, photographs and documents. Their exhibitions cover artillery, machine guns, missiles, ships, land warfare models and more.
It's only open from early April to late October. The tank driving experience is not included in your admission. You need to book that in advance by posting the form that can be downloaded here.
Shell Museum
The Shell Museum, Glandford, is the oldest purpose-built museum in Norfolk and houses the finest seashell collection in the UK. The collection is more than just seashells as they also have fossils, birds' eggs, pottery, local archaeological finds and much more.
There is a small admission charge and the museum is only open from Easter Saturday until the end of October. It is always closed Sunday and Monday (except Bank Holidays).
How Long Should You Spend in Holt?
You can see much of Holt on a day trip. If you have more time, there is plenty to see in the area around the town Holt.
Is Holt Good for Kids?
Holt doesn't have many attractions designed specifically for kids, but kids of all ages will enjoy the North Norfolk Railway and some of the other nearby attractions (i.e. Holt Country Park). If you need more family-friendly ideas, check out our list of the best things to do in Norfolk with kids.
Where to Stay in Holt
With all the things to do in Holt and the surrounding area, it's an ideal spot to base yourself for exploring North Norfolk. The town of Holt has some lovely hotel options; these are our top picks.
Byfords
You can stay in what is believed to be Holt's oldest building which still has some of the original features like old wooden beams and antique furniture. The rooms at this Grade II listed property have private bathrooms, fresh flowers, free WiFi, and under-floor heating.
Byfords is also known for its afternoon teas. Their cafe and shop sell a range of delicious homemade food. In the morning, guests can enjoy award-winning bacon, free-range eggs, local Cley kippers, fresh homemade bread, croissants, Danish pastries, and more.
Read more reviews here.
Check price and availability here.
The Feathers
Just a stone's throw from the High Street, you will find another charming hotel, The Feathers. It is part of the Chestnut family of pubs (just like the Globe Inn in Wells-Next-the-Sea) and has a long tradition of warm hospitality.
At the inn, rooms include a desk, a flat-screen TV, free Wifi, closets, and a private bathroom. They also have family rooms and rooms that are dog-friendly.
The Feathers Holt has a restaurant, bar, and terrace. Guests can enjoy a continental or a buffet breakfast. During the winter, you can warm yourself in front of the log fire and there are tables on the outdoor terrace in the summer.
Read more reviews here.
Check price and availability here.
How to Get to Holt
Holt does not have a train station, so you will have to either take a bus or drive.
From Norwich, there is the 45 bus, but it takes more than an hour with all the stops. Alternatively, if you want to drive, take the Holt Road/B1149 towards the coast which turns into the A148 right by the town. There are several pay and display car parks in the town centre, we usually use the one on Church Street.
From Sheringham, there is the 44 bus which takes less than 20 minutes.
Is Holt Worth Visiting?
Yes. It is a pretty Norfolk town with lots to offer visitors, especially those who are shoppers, art lovers, and foodies.
Disclosure: This post contains affiliate links. This means we will receive a small commission for some purchases made using links in our blog with no additional cost to you.  Please be assured we would not promote any product unless we believe that our readers will also benefit.  The commission does not influence the editorial content of this site.