Every year, I look forward to the decorations and special events during the Christmas season. Whether you are looking for indoor or outdoor holiday events, have a tight budget (some events are free), or need to please a wide range of ages, there are some festive options in Norfolk.
It's probably not too early to start thinking about what you would like to do during Christmas in Norfolk. These events are popular and many sell out in advance.
Be sure to sign up for our email newsletter here to find out about more things to do in Norfolk throughout the year.
Note: This post contains affiliate links.  As an Amazon Associate, we earn from qualifying purchases. Please see disclosure for more information.
Christmas in Norfolk
Christmas is a special time of year in Norfolk. The celebrations start in November.
While there isn't a big Christmas market like in other cities around the UK, the shops are buzzing with activity and there are plenty of places to see Father Christmas. The sparkling decorations add a bit of magic to the air – check out these Christmas Light Switch Ons. Unfortunately, you won't be able to see the Tunnel of Light in Norwich this year.
Unfortunately, the weather may not always cooperate during this time of year. For outdoor Christmas events, you should be prepared for low temperatures and rain. There may be some snow, but usually not enough to last long. It gets dark early, which works well if you want the little ones to see the lights.
If you don't want to have to worry about the weather a Christmas show might be your best option. There are several pantos and other Christmas theatre shows in Norfolk.
Note: I will add details as events for the 2023 Christmas season are confirmed.
Luminate Sandringham
2023 Dates: 11 November – 24 December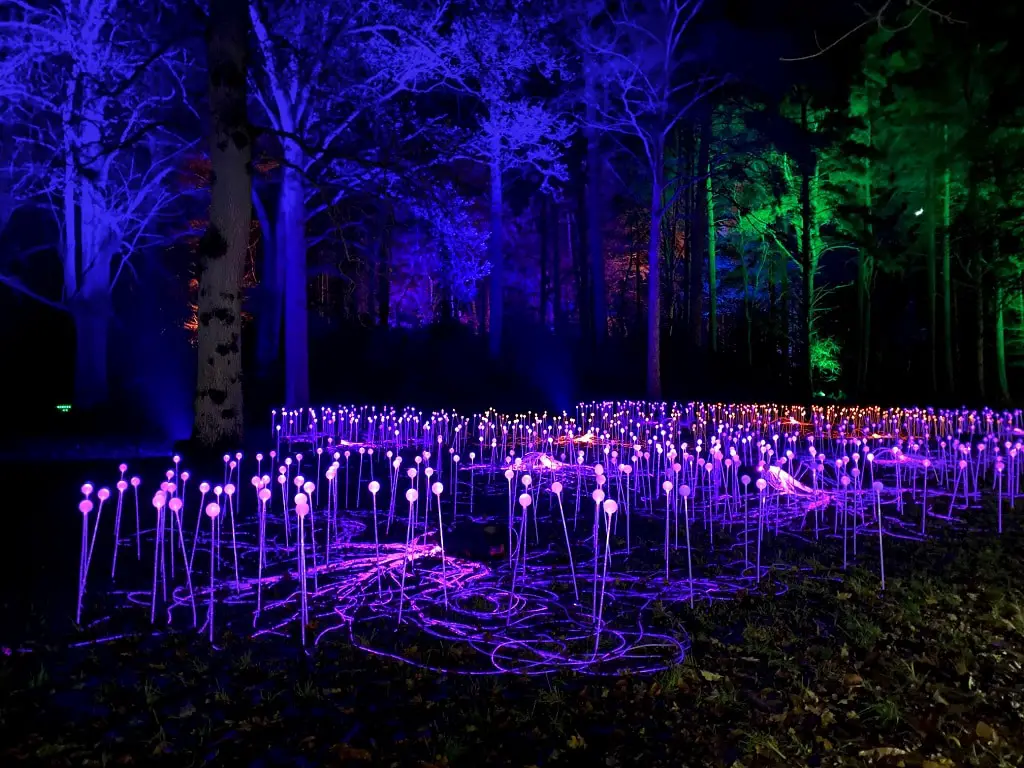 It's fitting that the place where the Royal Family usually spends Christmas has a wonderful light trail. The 1-mile long trail through Sandringham Country Park has special effects, music, and interactive installations in addition to the lights.
While Luminate Sandringham happens during the holiday season, it is not Christmas-themed. It is more of an enchanted forest experience with roasted marshmallows.
Read our 2020 Sandringham Luminate review. You can see a short video of our visit to Luminate in 2021 here.
Tickets must be pre-booked online in advance here. It is a bit cheaper if you can go Monday through Wednesday before 7th December. There is also the option to get a family ticket.
Blickling Estate Holiday Lights
2023 Dates: 2 – 17 December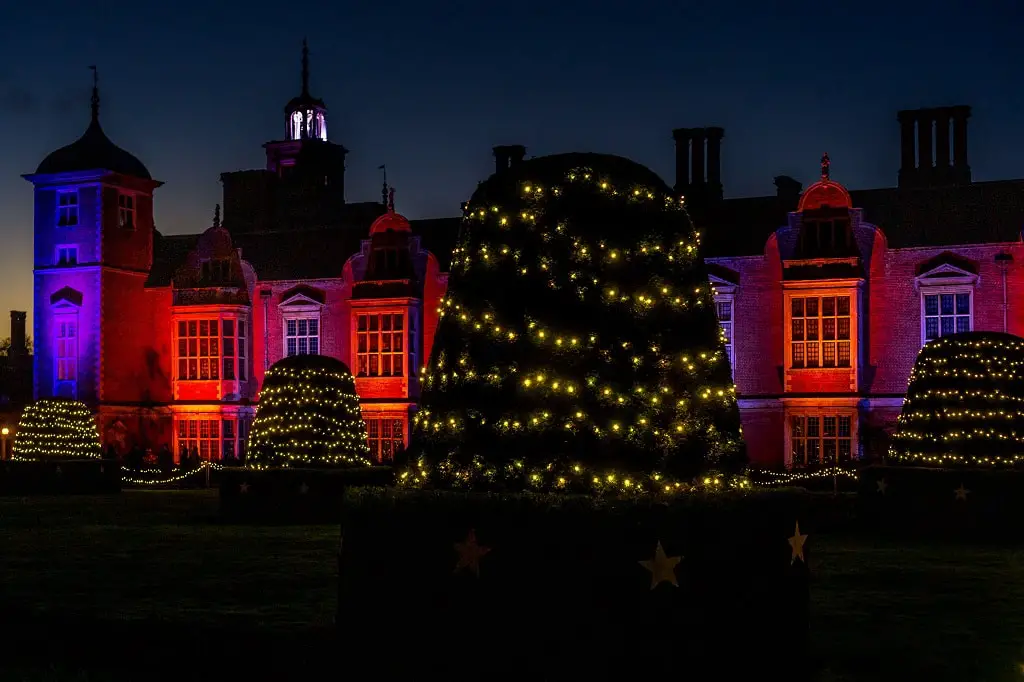 Blickling Hall, the birthplace of Anne Boleyn, does an excellent job with their holiday decorations. When you visit, you can walk around the gardens and see the lights in the parterre, on the trees and the House. Grab a cup of mulled wine or other Christmas treats to enjoy as you explore the grounds.
If you want to go to the Wild Winter After Dark at Blickling, be sure to book early, this is one of the most popular Christmas events in Norfolk. Keep in mind, the Hall will not be open during these evenings.
Admission costs are £16 adult, £10 children 5-17, and free under 5s, You can save a bit by getting one of their family tickets. Unfortunately there is no discount for National Trust members in 2023. Tickets must be booked in advance, even if you are a National Trust member. Get more details here.
During the day 2 December – 23 December (10:00 to 15:00, last entry 14:30) the Hall will be open so that you can see it decorated for the holidays. During this time, you just pay the regular admission price and National Trust members are free.
**You will also want to plan a trip to Blickling in the spring as it is one of the best places to see bluebells in Norfolk.
Thursford Christmas Spectacular
2023 Dates: 8 November – 23 December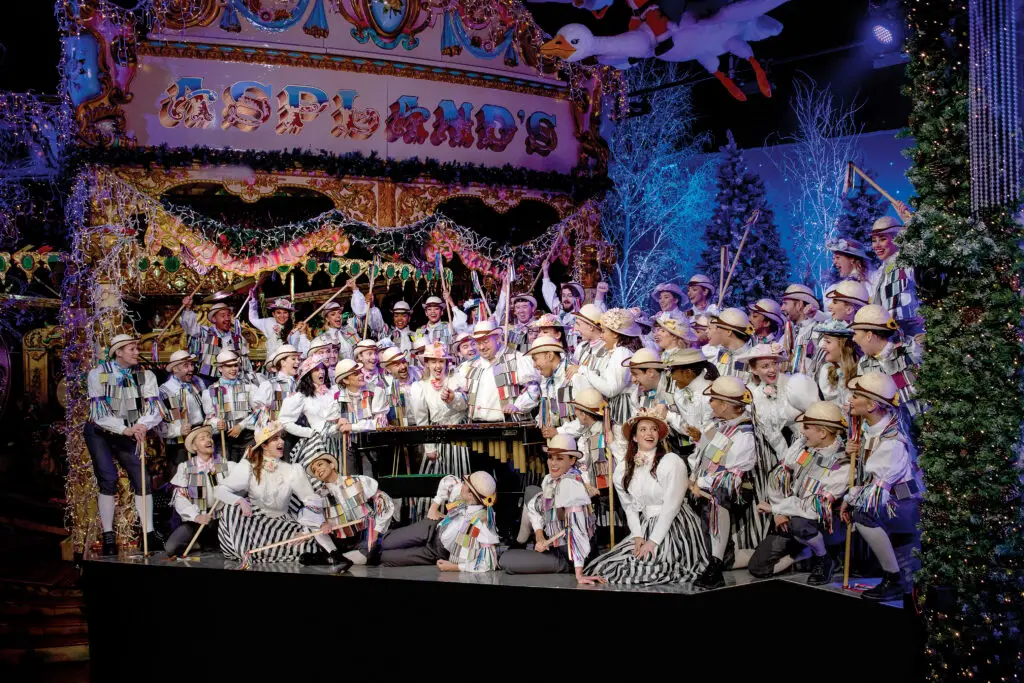 Thursford is a small village in North Norfolk that is home to the Thursford Collection, one of the world's most important steam and fairground museums. It also hosts popular summer and winter shows that attract visitors from around the UK.
To date, Thursford's Christmas Spectacular has entertained over 5.8 million making it the largest Christmas show in the country. Many of its 120 cast members have performed in London's West End.
The three-hour show combines non-stop singing, dancing, music, and humour. Expect to hear popular chart toppers along with traditional Christmas carols. The finale even includes white doves flying across the auditorium.
Prices start at £43 for weekday evenings and Sunday evening performances. There are shows at 14:00 and 19:00. Book tickets in advance here. **For a limited time, you can get tickets for select performances of the Thursford Spectacular on Groupon at 25% off. Find out more here.
Read our review of the Thursford Christmas Spectacular to learn more.
Norwich Theatre Royal Panto
2023 Dates: 9 December – 7 January 2024
An all-star cast will take to the Norwich Theatre Royal stage to perform the panto, Sleeping Beauty. It tells the story of how the Queen and Fairy work to save our Sleeping Beauty, with a prince in tow and despite the efforts of the Evil Fairy. 
You can expect all the traditional pantomime ingredients including energetic songs, a live band, magic, mesmerizing dance routines, slapstick comedy, and plenty of audience participation. The show is perfect for all ages and it's one of the best things to do in Norwich during Christmas.
Joe Tracini, who played Tommy the Cat in 2021's Dick Whittington Panto and Jack in 2022's Jack and the Beanstalk returns to play The Fairy. Norwich's favourite panto dame Richard Gauntlett is also back. It also features Beverley Callard as The Evil Fairy.
Prices start at £20.50 for under 18, students, and over 60, while adult tickets start at £25.50. Purchase tickets here.
Stay tuned for our review.
Cromer End of Pier Christmas Show
2023 Dates: 25 November – 30 December
The historic Cromer Pier is home to the Pavilion Theatre. While it hosts fantastic entertainment, like the famous Seaside Special, all year long, during the holiday season they have a special Christmas-themed show.
Olly Day is back as host. Expect a high-energy variety show with singing, dancing, comedy, and more. It's family-friendly too.
Read our review of the 2021 Cromer Pier Christmas Show.
Get more information on the times of the shows and buy tickets here.
*If you are in Cromer to see the Christmas show, be sure to also check out our recommendations for things to do in Cromer.
BeWILDermas
2023 Dates: Select dates from 2 -23 December
BeWILDermas is the brand-new Christmas event at BeWILDerwood with a Sparkly Light Trail and mini-panto. The Sparkly Light Trail allows you to explore new areas of BeWILDerwood while encountering whimsical snowmen, curious Christmas crackers, and more. The BeWILDermas Pantomime, is a ten-minute mini pantomime that unravels the mystery of Santa Claus's visit to the WILD woods and whether the unique characters of BeWILDerwood can save Christmas in time.
Tickets for this family-friendly, festive adventure are £15.50 per person and should be booked online in advance. There is limited availability, so early booking is recommended. When booking, you'll choose an arrival timeslot and the event itself lasts approximately 1 hour and 30 minutes.
Get more information and purchase tickets here.
Christmas Spectacular Circus and Water Show
2023 Dates: most days 9 December – 7 January 2024
The Hippodrome in Great Yarmouth was named one of the seven wonders of the British seaside by Historic England. (1) It was built in 1903 by the legendary circus showman George Gilbert and is the only surviving total circus building in Britain. Both Harry Houdini and Charlie Chaplin are believed to have performed here.
It's also just one of three circuses in the world to have a water feature, which was restored in 1981. Each show ends with the water spectacle where the rink sinks to reveal a swimming pool.
During the Christmas season, the circus is packed with the festive spirit. It has become one of the biggest Christmas productions in Europe. This year, Jack Jay and Ben Langley join an incredible international circus cast.
It's a family-friendly indoor show. Given the size of the small arena, there are no bad seats.
Buy tickets in advance here, they range from £14 to £43. Tickets for many performances are available for 25% off on Groupon here.
Norfolk Festive Gift & Food Show
2023 Dates: 10 – 12 November
The Norfolk Festive Gift & Food Show at the Norfolk Showground is the region's biggest festive shopping event, packed with Christmas gifts for all ages, entertainment, and delicious seasonal food and drink. There are hundreds of stalls inside the Main Exhibition Hall and some outdoors too. It's a holiday event that the whole family can enjoy.
Buy tickets early for the best price. There are options for timed entry tickets, afternoon-entry, or premium flexible tickets. Get more information and buy tickets here.
*If you need still need to shop for Christmas presents, check out our Norfolk gift suggestions.
Winter Wonderland at Norfolk Showground
2023 Dates:17 November – 3 January 2024
This winter extravaganza features an ice skating rink and much more. You can enjoy a whole host of rides, a visit with Father Christmas, and festive food and drinks. Ice skating should be booked in advance, it is not included in admission. Ride credits also need to be purchased separately.
Get more information and book here.
Fairhaven Water Garden Light Trail
2023 Dates: The Light Trail will be 30 November – 22 December, Every Thursday, Friday, Saturday and Sunday only.
It's lovely to walk around Fairhaven Water Gardens any time of year. Around Christmas they have light displays that make it festive and fun for both kids and adults.
If you like Christmas lights, the evening trail at Fairhaven Garden won't disappoint. It's much more affordable than other larger trails, but you will need to book in advance as it is popular.
Christmas Light Trail tickets need to be purchased in advance as the event will sell out. It is only £6 for adults, £3 for children, and free for those under 4. During Christmas week, admission will cost a few pounds more. Get tickets here.
North Norfolk Railway Christmas Lights Express
2023 Dates: Most days 10 November – 1 January 2024
The North Norfolk Railway runs a heritage trainline from Sheringham to Holt via Weybourne. During the holiday season, they offer a special evening train ride called the Christmas Lights Express. It's a fun holiday event for the whole family!
The buffet at Sheringham will be open so you can purchase hot and cold refreshments for the ride including alcohol, soft drinks, cakes and savoury snacks. The 5.25 mile-long route passes by beautifully lit festive displays and the train itself is covered in lights. There is also a soundtrack tailored for the experience. Once the train arrives in Holt, it will turn around and take you back to Sheringham.
You have the option to buy individual tickets (ranging from £22.50 to £30.00 per person depending on the date of travel) or a private compartment for up to six people. On most days, trains will depart at 17:00 and 19:30.
Check the schedule and get tickets here. This will sell out. Read our review of the Norfolk Lights Express here.
Holkham by Candlelight
2023 Dates: Select days 3 – 30 December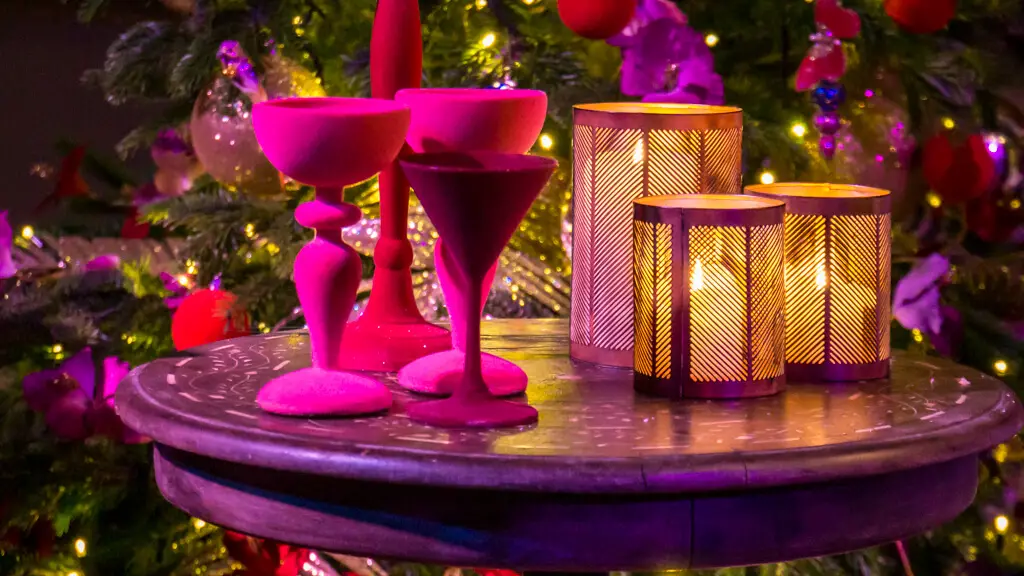 See Holkham Hall, home to the Earl of Leicester, all decorated for Christmas. You can tour the hall by candlelight to see the magnificent state rooms at their festive best. Lady Leicester and Christmas-connoisseur Catherine Zoll, has been working the entire year to get it all ready.
On certain days, they offer guided Holkham By Candlelight Tours that last around 45 minutes, while you can do a self-guided tour at your own pace on other days. It's recommended for ages 10 and over. You can also enjoy a glass of bubbly and mince pie in the Courtyard Café and check out the gift shop.
Read our review of 2021 Holkham By Candlelight to learn more.
The guided tours are £36 for adults, £18 for children, and under 2s free. Self-guided visits are £32 for adults, £16 for children (2-16), and under 2s free. Get tickets here.
Thursford Enchanted Journey of Light
2023 Dates: Most evenings 19 November – 24 December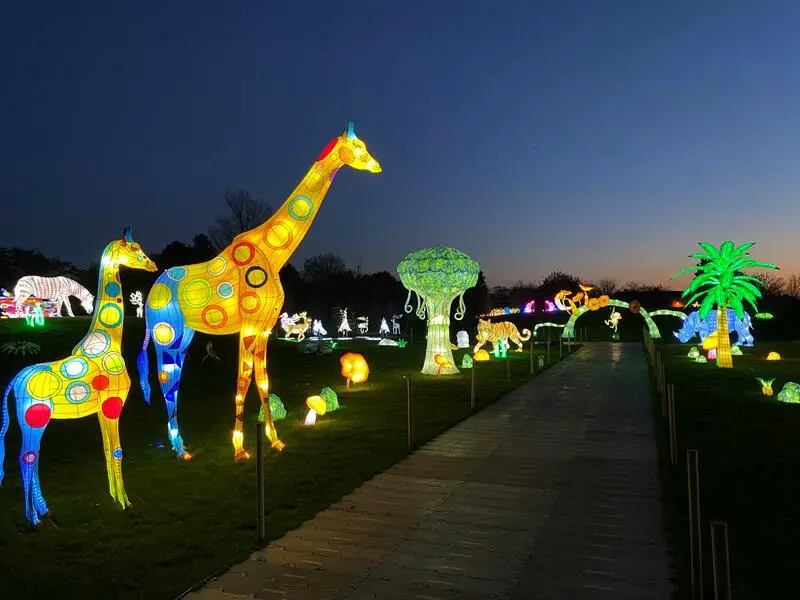 The Christmas Spectacular is not the only special event happening in Thursford during the holidays. There is also a light trail called the Enchanted Journey of Light which returns for its second year.
The journey takes you into the Fantasyland Building and passed the penguins and polar bears to the giant-sized teddy bears. You can see how the elves have loaded Santa's sleigh and watch them hard at work in the toy factory using the wondrous wrapping machine.
*Father Christmas is not at this event. If you want to do the Enchanted Journey and see Father Christmas you need to book through the Santa's Magical Journey Page here.
As you venture outside to the Lantern Light Extravaganza, there will be lots of new creatures for you to see in your journey from a fantasy underwater world to the wilds of the North Pole. Watch out for the naughty mushroom gnomes!
They will also have an outside bar, food, and a vintage funfair. Note that the funfair rides are not included in the admission price.
It's £22 per person, kids 2 and under are free. Get tickets here. Read our review of the Thursford Enchanted Journey of Light to learn more.
Polar Express at Mid-Norfolk Railway
When: Select days 11 November – 23 December
THE POLAR EXPRESS™ Train Ride is coming back to the Mid-Norfolk Railway with all the magic of the 2004 film re-created so you and your family can be feel like you are part this classic children's tale. You are encouraged to wear your pyjamas for this event. 
Your conductor will invite you aboard THE POLAR EXPRESS™ and before long, scenes from the film will come to life as dancing Chefs and Waiters arrive to serve cookies and hot chocolate. While you are enoying your treats you will listen to the Polar Express story.
Once you approach the North Pole, look out for Santa's sleigh, a bag of toys and a giant Christmas tree. When the train stops, Santa will join you on board for the return voyage.
Santa will present each passenger with their very own "First Gift of Christmas", a silver bell from his sleigh and everyone will sing Christmas Carols as the train heads back to Dereham Station. When you get off the train, you can check out the gift shop with exclusive Polar Express Merchandise.
Standard tickets start at £31.95, but prices vary by date. There is also the option to get premium tickets. Get more information and book tickets here.
Nutcracker Afternoon Tea at the Assembly House
2023 Dates: 1 November – 8 January 2023
This winter, the Assembly House will become the Land of Sweets. You can meet a giant Nutcracker and walk past a Christmas village of igloos as The Nutcracker Afternoon Tea.
The menu can be adapted for vegetarian, vegan, gluten-free and dairy-free diets with prior notice. They also offer a smaller portion for children.
You will need to book in advance. It can be done online here for parties less than 10 in the dining rooms. If you have a large party or want to dine in an igloo you need to phone.
Christmas Experience at Wroxham Barns
2023 Dates: Select days 25 November – 24 December
The popular Santa Experience at Wroxham Barns, just outside Wroxham, has been expanded and renamed the Christmas Experience. Tickets include almost three hours of Christmas-themed fun perfect for kids aged 2 to 10 plus unlimited play at the Fun Park and walks around Junior Farm either before or after your Christmas Experience.
*Get more ideas for things to do in Norfolk with kids here.
Children get the opportunity to spend quality time with Santa, Mrs Claus, and their Elves. They can go to Elf College and receive an Elf School Diploma Certificate and an Elf Hat to take home! There will also be a fun Christmas craft that the children can make and take home too.
At the real animal Nativity, they can see donkeys and other animals. They can visit Mrs Claus' Kitchen workshop to see how great (or not) she is at baking and decorate their own Gingerbread person to take home.
Then it will be time to meet Father Christmas for story time and Reindeer Food making. After that, they will head to the Christmas tree lined Snow Storm Barn and walk through a snowstorm (courtesy of snow machine). Finally they get to go to the Toy Shop to choose a gift. If you like, there is the option to also add Build a Teddy with the elves to make the day out even more memorable.
Prices from £23 for adults, £30 for kids over 2, and £10 for kids under 2. Purchase tickets here.
Bure Valley Railway Festive Express
2023 Dates: Select days 2 – 24 December
Take a one hour festive steam train ride. Grab refreshments and board the train at the Aylsham Station. You will get your own private heated compartment. The train will take you to the Brompton Station, which is decorated for the occasion.
It will turn around and take you back to Aylsham where Santa will be waiting in his sleigh. Each child will receive a personalized gift.
Ticket prices are £22 per person, but babies on your lap are free if they don't need refreshments or a present. Advanced booking is essential, get tickets here.
Christmas at Roarr Dinosaur Adventure
2023 Dates: Select days between 25 November and 23 December
There are two event options at Roarr Dinosaur Adventure – Dippy's Christmas Celebration during the day and Sparkle at Roarr at night. Whichever one you choose, advanced booking is essential, get tickets here.
Dippy's Christmas Celebration
ROARR! will be magically transformed into a winter wonderland offering a cornucopia of seasonal surprises and delightful activities bound to warm the hearts of even the grumpiest grinches.
As soon as you step into the Park, the festive spirit surrounds you. Imagine the air filled with seasonal melodies, towering Christmas trees adorned with oversized decorations, and, believe it or not, even dinosaurs getting into the holiday spirit!
With each admission ticket, daytime guests can revel in a range of attractions, including the candy cane trail, the Dippy and Friends Christmas Show, the synthetic ice skating rink, and gingerbread decorating with Mother Christmas. Please note that there is an additional charge for the meeting Father Christmas that should be booked separately.
Sparkle at Roarr
Once the sun goes down (at 16:30) the Sparkle event begins on specific dates, with complimentary access to the Park. Here, visitors can get in the holiday spirit by indulging in a range of activities such as workshops, the acclaimed Grotto Experience, and a synthetic ice skating rink. Dippy's Theatre will stay open well into the evening, featuring festive films to enjoy when the weather turns chilly. On select days, you can also browse through a delightful Christmas Market.
It's important to note that these activities are not included in the free entry and must be reserved separately. Also most ROARR! play activities and attractions will not be open.
Father Christmas at Church Farm Stow Bardolph
2023 Dates: Select days 30 November – 23 December
Meet Father Christmas and get entrance to the Farm. You can make it a full day of fun as you can check out the indoor and outdoor play areas, animal encounters, undercover petting pens, our animals in traditional nativity scenes, "snow time," and more.
There will also be a Christmas gift shop and mini festive market.
You must book a time slot in advance here. Adults are £11 and children prices start from £15.
Come and Sing Carols at Raynham Hall
2023 Dates: 23 December
Take a seat by the piano in the lovely Marble Hall at Raynham Hall to make Christmas music together. The sing-along will last about an hour and you will get mulled cider on entry and a mince pie to depart.  All are welcome, you can just enjoy the music if you like, there is no requirement to sing.
Tickets are £15.00 for adults and free for those under 18. Get more information and purchase tickets here.
Christmas Day Swim in Hunstanton
2023 Dates: 25 December
Come to Hunstanton in your fancy dress as there are prizes for best solo and group fancy dress. The swim procession will start at 11:00, don't forget your towels and warm drinks. You will need to arrive early and register if you plan on joining in the dip.
Get more information here.
More Seasonal Events in Norfolk
Be sure to check out our other event listings:
Best Halloween Events in Norfolk
Best Bonfire Night Events in Norfolk
Best New Year's Eve and New Year's Day Events in Norfolk
You might also enjoy our recommendations for things to do in Norfolk in the winter.