I read the book Animal Farm in school, and it was one of the few required reads that I enjoyed. When I heard it was coming to the Theatre Royal stage I was intrigued to see how they would be able to bring this story to life.
Keep reading for my review of Animal Farm at Norwich Theatre Royal to find out what I thought.
*We were invited to the press night to see the show so that we could share our experience with our readers.#
Want to find out about more shows happening in Norfolk? Sign up for our weekly email newsletter here.
Note: This post contains affiliate links.  As an Amazon Associate, we earn from qualifying purchases. Please see disclosure for more information.
About Animal Farm
Animal Farm is a satirical book written by George Orwell in 1945 that tells the story of a group of barnyard animals who rebel against their human farmer so that they can create a society where the animals can be equal, free, and happy. Unfortunately, the farm ends up under the dictatorship of a pig named Napoleon. It is an allegory of the Russian Revolution in 1917.
The book has been turned into a movie twice. In 1954, they made an animated version, and in 1999, they came out with a live action rendition. Now it has been brought to the stage by an award-winning creative team using detailed life-sized puppets to tell the story in a new way.
Toby Olie (whose credits include War Horse) and four-time Olivier award-winner Bunny Christie are responsible for the puppetry design. The show is directed by Robert Icke, whose version of 1984 (co-adapted and directed with Duncan Macmillan) was a smash-hit in the West End and on Broadway. Animal Farm is produced by the Children's Theatre Partnership.
Review of Animal Farm Play at Norwich Theatre Royal
While you may know the Animal Farm story, you have never seen it presented like this. The puppets bring it to life on stage in a way that is entertaining, visually enchanting, and thought-provoking.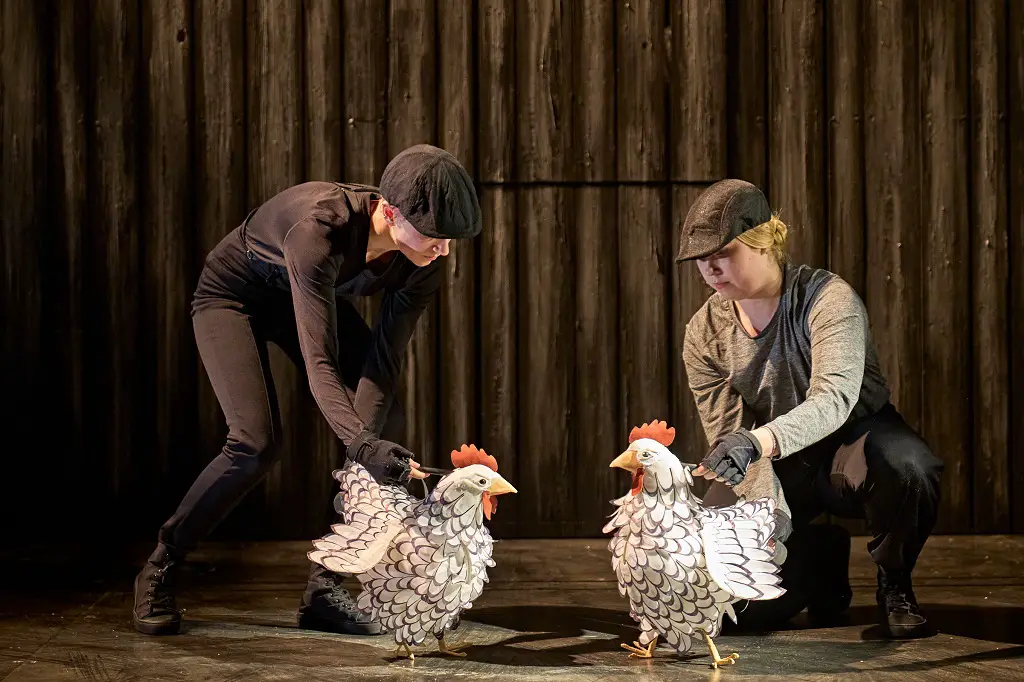 These are not your average life-size puppets. The details (like feathers on the birds) and scale make the animals instantly recognizable and believable. They were able to show emotion too.
You could see the personality in the animals as some that were the same type had different characteristics and movements. The key characters were easy to identify.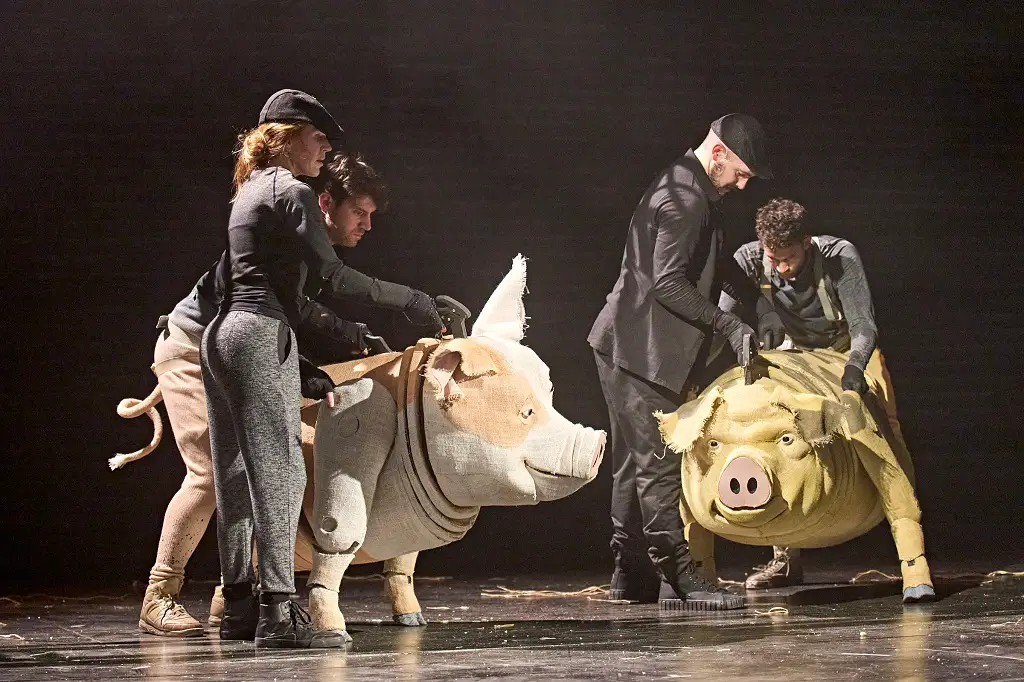 The puppeteers are not hidden, but you don't seem to notice them. It looked like these puppets were talking. In some cases, the puppeteer's legs were the animal's legs but it seemed like one unit. I can only imagine the level of rehearsals and skills that it takes to pull this off!
Right from the start, the music and sound effects added drama and tension without being intrusive to the show. Some of the fight scenes were played out in slow motion, almost like someone had pushed a button on the remote control. The choreography was throughout the play was brilliant and and the set movements were polished.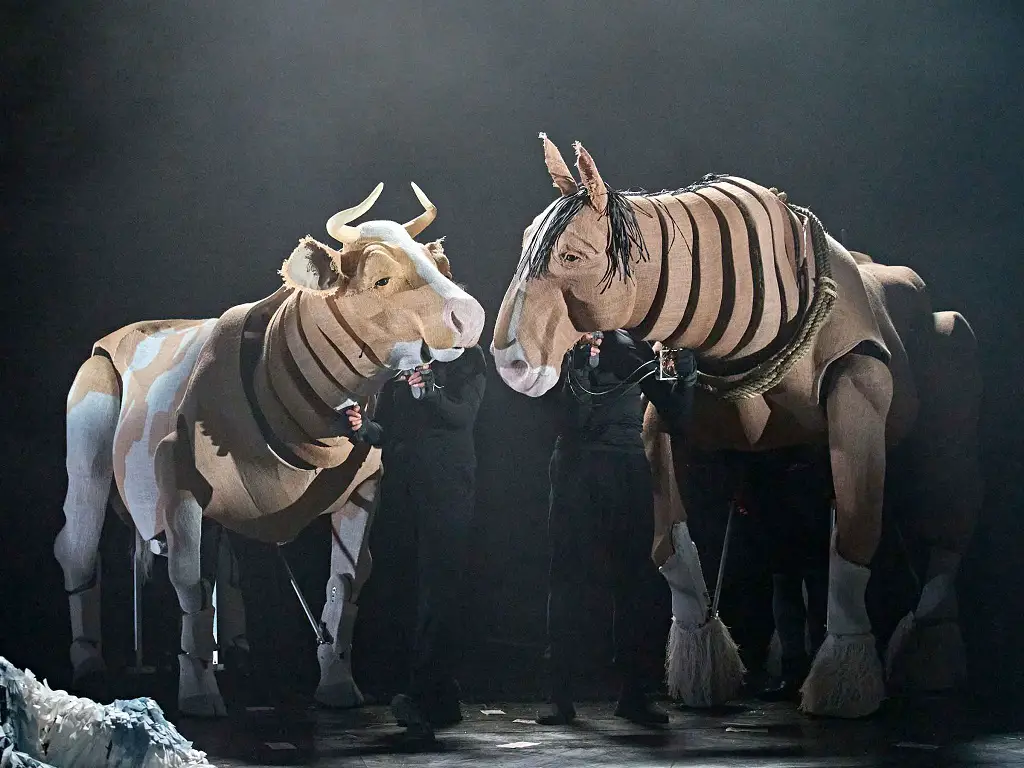 The monochromatic and austere set helped keep the focus on the puppets. The minimalist design of the stage also contrasted with the detailed design of the colourful puppets.
The Animal Farm story will give you some things to think about. It was a fast-paced play which kept the audience's attention. Maybe a short pause at key moments (like the climax of Boxer's story) to take the emotion in could have made the show more powerful.
All this comes together to show Animal Farm in a new way that retains all the potency and impact of George Orwell's original story. His allegory on communism, a cult of personality, and the old truth that power corrupts remain just as relevant today as when he first wrote the book. This production is a fitting testament to his vision.
*If you enjoyed the puppets in Animal Farm, be sure to also go see Life of Pi, you will love it.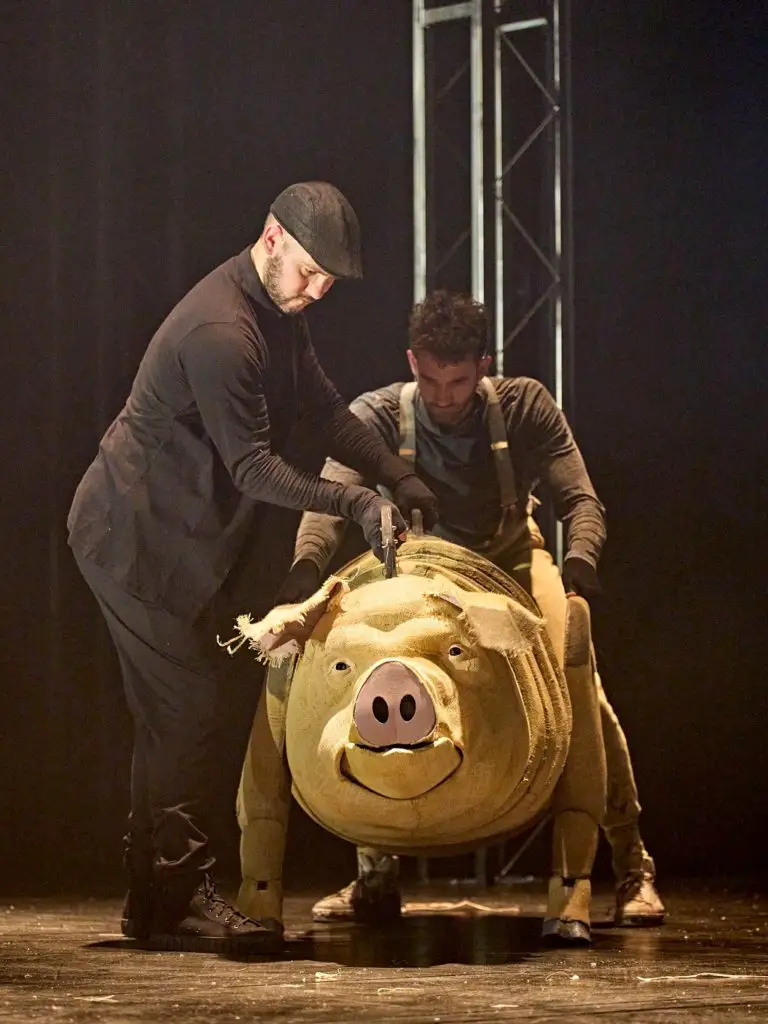 Animal Farm FAQs
When can you see Animal Farm at the Norwich Theatre Royal?
It is on from 9 – 12 March 2022.
How much are tickets for Animal Farm?
Full-price tickets start at £20.50, but this show is part of the Love Your Local Theatre campaign, you can use code LOVE22 to get 2 for 1 tickets! Get tickets here.
Is Animal Farm suitable for kids?
As the play features puppets, you may assume that the show is appropriate for young children, but the age recommendation is 11 and up as there is some strong language. If you need more family-friendly ideas, check out our list of the best things to do in Norwich with kids.
How long is a performance of Animal Farm?
It lasts about 90 minutes with no interval.
Do you need to have read the book to enjoy Animal Farm at Norwich Theatre Royal?
No. It's not a complex story, so people who have not read the book can follow.
Is food and drink available at Norwich Theatre Royal?
The bars have food and snacks, including local ice cream available for purchase. The Circle Bar offers sandwiches and cakes, too.
How do you get to Norwich Theatre Royal?
Norwich Theatre Royal is easy to get to as it is located on Theatre Street (next to the Assembly House) in the Norwich city centre. It's about a 7 minute walk from the Norwich Bus Station or a 20 minute walk from the Norwich Train Station
Where should you park for Norwich Theatre Royal?
You could use any car park in Norwich city centre, but The Forum and Chantry Place car parks are the most convenient for Norwich Theatre Royal. Alternatively, you could use the Park & Ride as it's a short walk from the Norwich Bus Station.
Disclosure: This post contains affiliate links. This means we will receive a small commission for some purchases made using links in our blog with no additional cost to you.  Please be assured we would not promote any product unless we believe that our readers will also benefit.  The commission does not influence the editorial content of this site.