Hunstanton has earned the nickname "Sunny Hunny" as it is one of the most popular destinations on the North Norfolk coast for families. It's known for its beach, unique striped cliffs, and lively promenade.
If you are planning to visit Hunstanton, you are going to have a fantastic time. In this guide we will share more about the history, the best things to do in Hunstanton, and more.
Want to keep up with all the events happening around Norfolk each week? Sign up for our email newsletter here.
Note: This post contains affiliate links.  As an Amazon Associate, we earn from qualifying purchases. Please see disclosure for more information.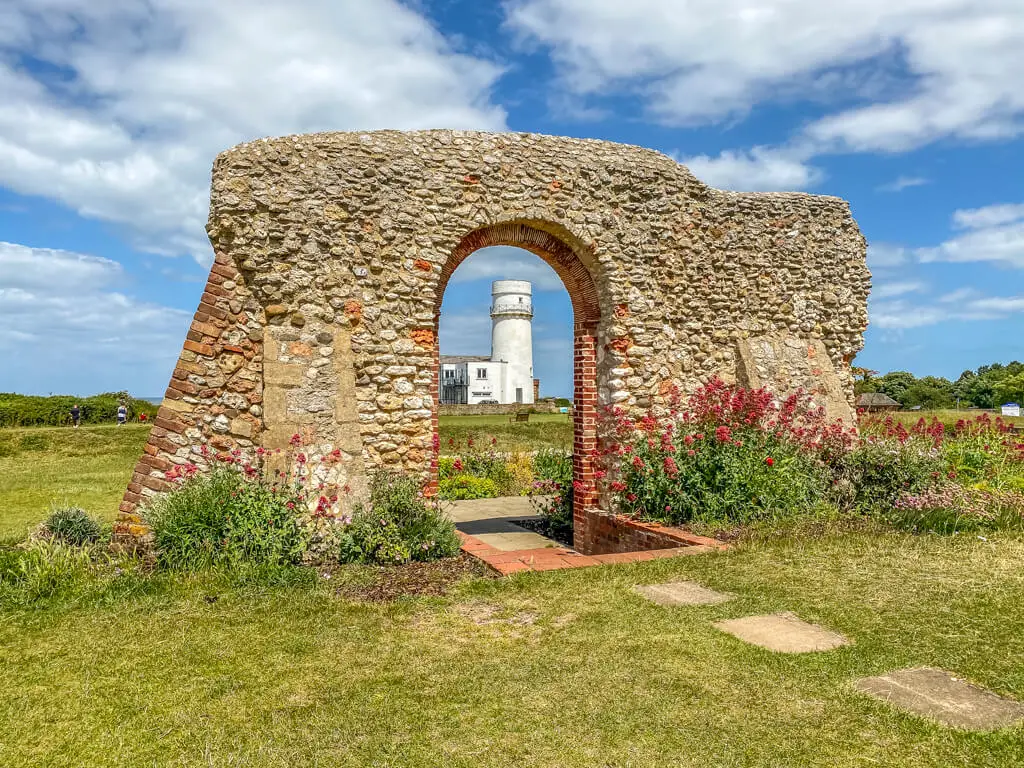 History of Hunstanton
Evidence suggests that there were settlements in Hunstanton dating all the way back to the late-Neolithic or early Bronze Age! We also know that in 855 AD, St Edmund, the last of the Wuffinga dynasty which had ruled the Kingdom of East Anglia for over 200 years, landed in Hunstanton.
The Hunstanton we know today began to take shape as a Victorian resort back in the mid 19th-century. By 1840, there was nothing to speak of between Old Hunstanton and Heacham. With the popularity of seaside vacations on the rise, a man called Henry Styleman Le Strange had the vision to turn the undeveloped area into a coastal holiday village in 1845.
Le Strange wanted to name the new village 'St. Edmunds' to celebrate the town's connection to the martyr. The town grew quickly and became known as Hunstanton St Edmund's. In 1893 the council renamed the town 'New Hunstanton' but you can still see its ties to St Edmund on several road names.
The first building, the Golden Lion Hotel, was finished in 1846. Then construction remained slow until the Great Eastern Counties Railway decided to build the line from King's Lynn to Hunstanton. Unfortunately, it opened in 1862, the same year Le Strange died.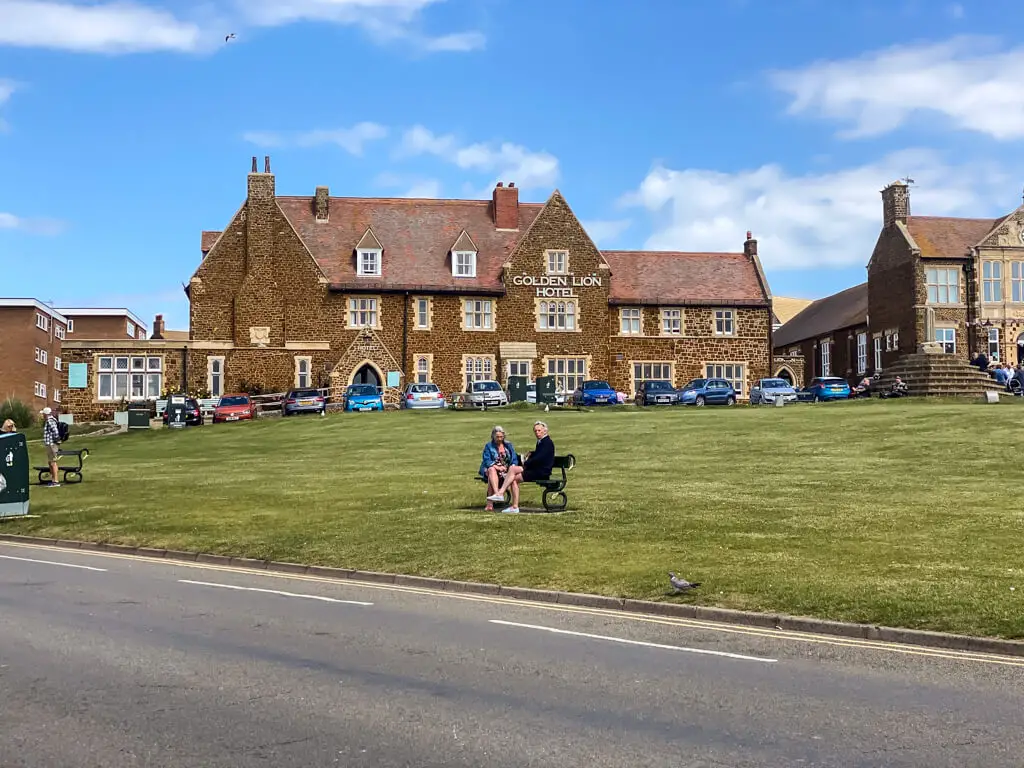 Le Strange's son Hamon took over and expanded beyond the original planned coastal village and turned it into a Victorian seaside resort. The pier, another hotel, and many terraced houses were built.
As the coastal town grew, so did its popularity. It attracted famous visitors like H G Wells and P G Wodehouse. By 1936, Searle's Leisure Resort had opened as a small caravan and camping ground. Over the years, Hunstanton has continued to modernise itself and remain a favourite holiday destination for many.
Things to Do in Hunstanton
Whether you need to entertain the kids or want to have some grown-up fun, there are plenty of options in Hunstanton. These are our top picks for things to do in Old and New Hunstanton. Keep in mind many attractions are only open during the summer and school holidays.
#1 Hang Out at the Beach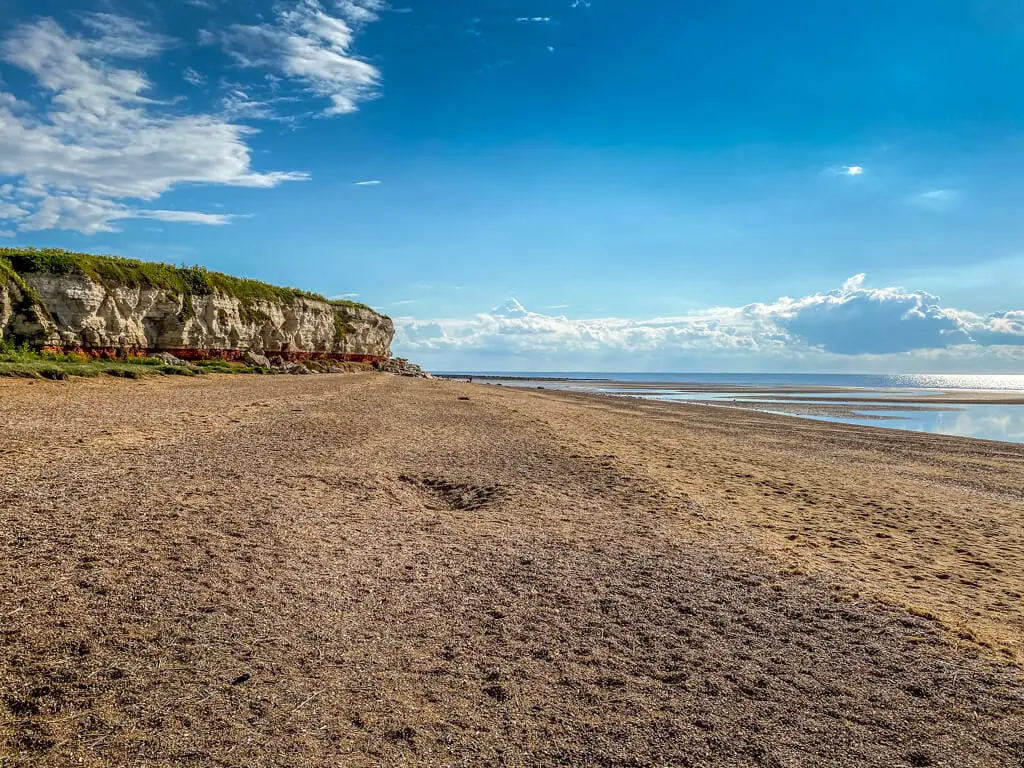 Both Old Hunstanton and New Hunstanton (sometimes just referred to as Hunstanton) have huge sandy beaches when the tide is out that are perfect for wading, tide-pooling, sandcastles, watersports and more.
While both beaches are excellent, they are quite different. Hunstanton beach has a promenade next to it and is more crowded. Old Hunstanton has cliffs, dunes, and beach huts.
It's easy to visit both Hunstanton beaches, since they are only about a mile apart. If you don't want to walk, there is a train (high-season only) that runs from the Searles Leisure Resort in Hunstanton to the Lighthouse in Old Hunstanton.
You don't need to worry about bringing food along when you go to Hunstanton. There are plenty of stands along the promenade to grab a bite. In Old Hunstanton, there is the Beach Café.
If you are bringing your dog, Old Hunstanton allows dogs all year, but there are some restrictions at New Hunstanton beach during the summer months. Dogs are not permitted from the power boat ramp (near Searles) to the northern end of the Promenade from 10th April until 31st October. You need to keep dogs on a lead on the Promenade, the Green, and the Esplanade Gardens.
#2 Go to the Sea Life Centre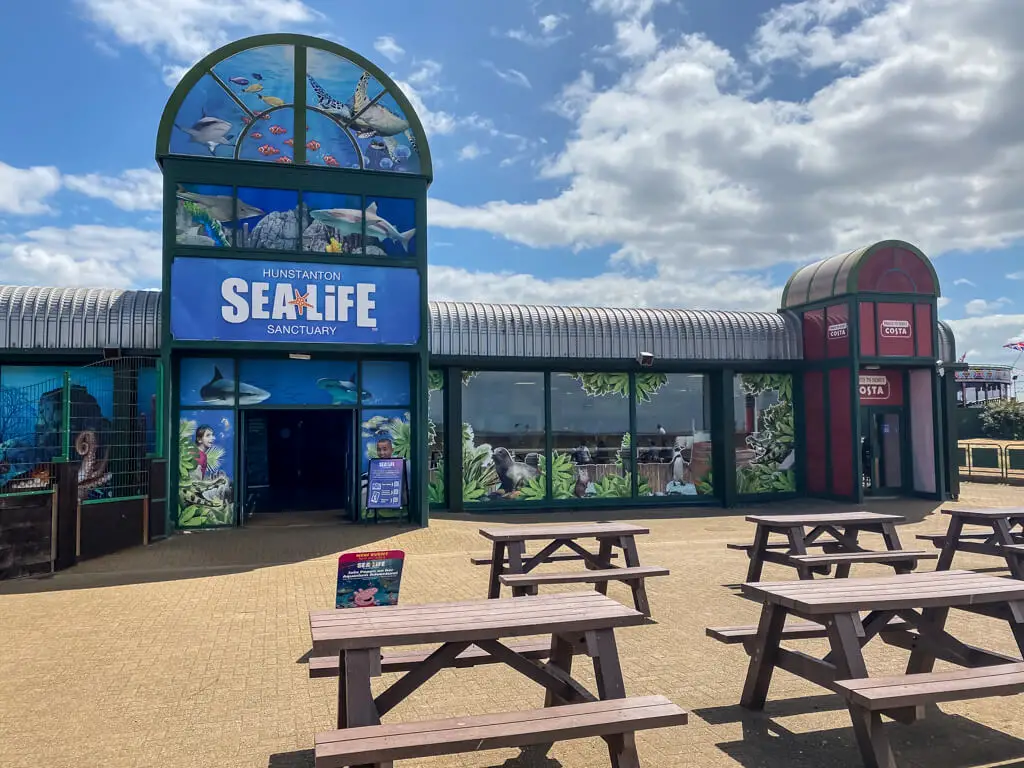 If you or the kids are interested in learning more about life in the sea, go to the Sea Life Centre in Hunstanton. It's an aquarium that aims to educate and entertain their visitors. You can have close encounters with sea life, from shrimps and starfish, to seahorses and stingrays.
One of the special features of the Hunstanton Sea Life Centre is the seal hospital. Since they opened the hospital in 1989 they have helped more than 750 seals. Visitors can see how they rehabilitate common and grey seals.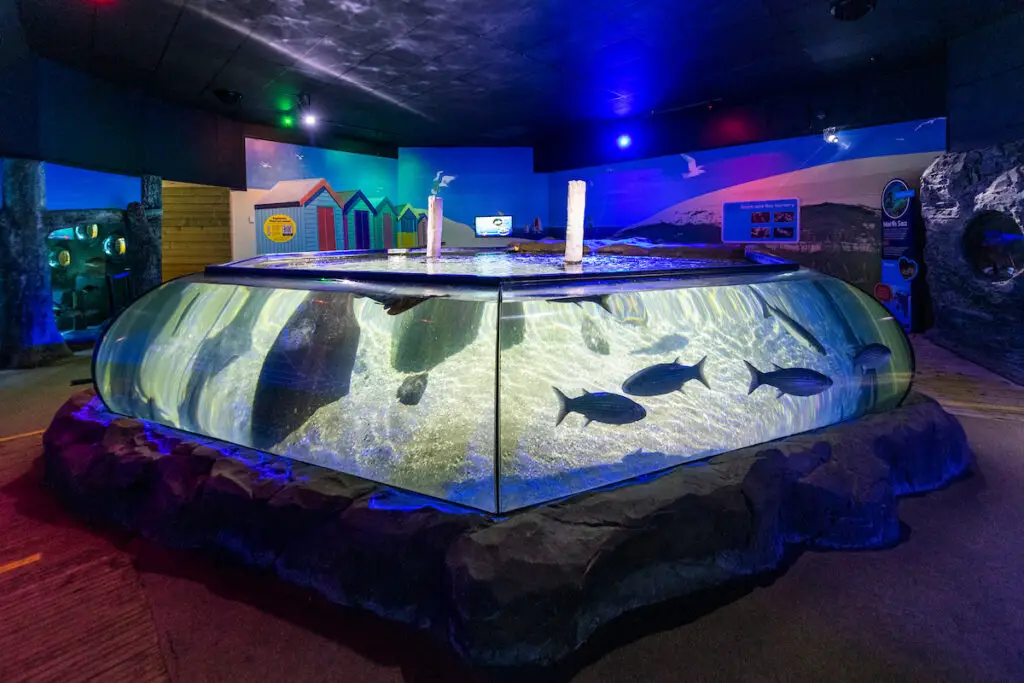 In 2022, they added Otter Creek. It's an outdoor area where you can get up close and personal with the resident Asian Short-Clawed Otters.
Learn more about visiting the Sea Life Centre in Hunstanton here. You can save money if you buy your tickets in advance online.
There is also a location in Great Yarmouth, but it does not have a seal hospital, you can find out about it here.
#3 Take a Seal Tour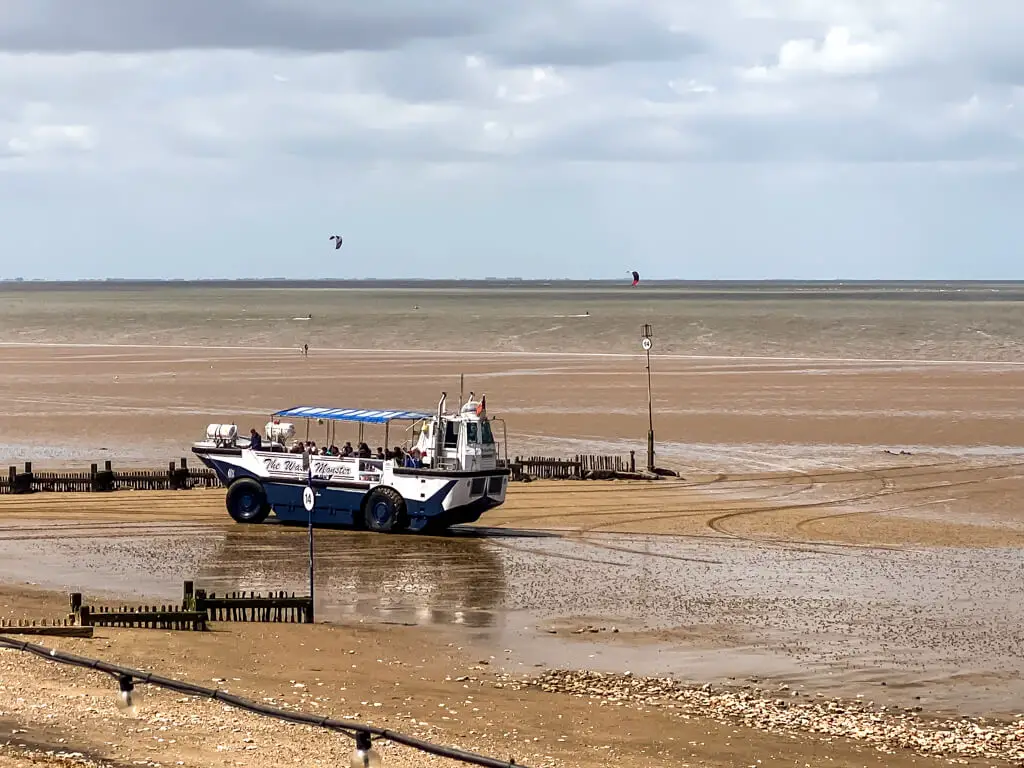 Hunstanton is one of the best places in Norfolk to see seals because it has one of the largest colonies of common seals in the UK. It is estimated that over 3000 seals live around the shallow tidal sandbanks in the Wash.
A unique amphibious vehicle, called Wizzy the Wash Monster, will take you to see the seals when the tide is low. It was originally designed for use by American Marines in Vietnam as a landing craft. These seal safaris last about an hour.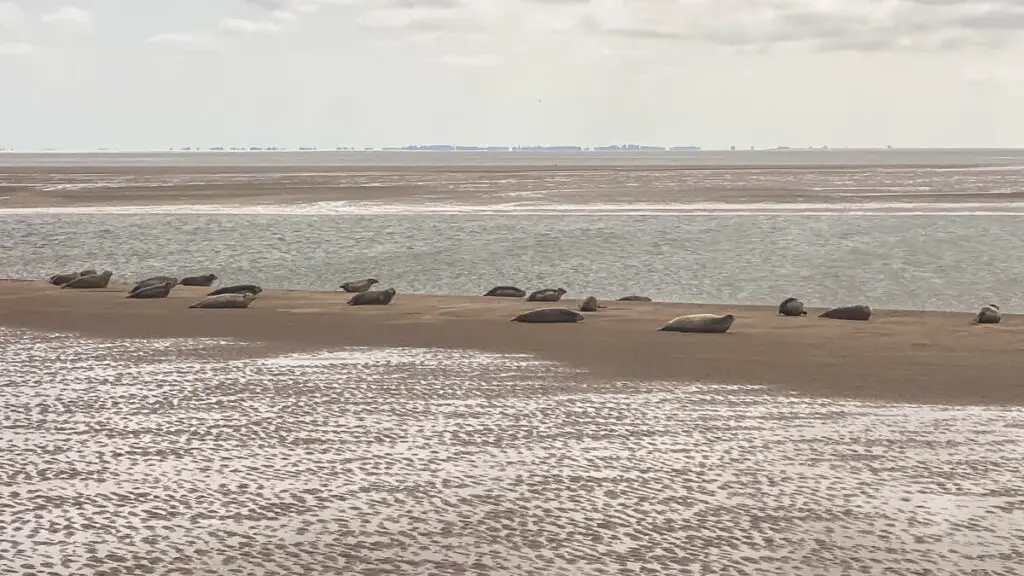 Alternatively you can go on the Wash Monster for a 30 minute coastal cruise. They offer several different routes, so you might see the Lighthouse, the cliffs, the Sheraton shipwreck, or sandbanks.
You can find the Wash Monster on the promenade. Book in advance as seats are limited and don't forget to bring your camera. Binoculars are available onboard.
Get more information about Searles Sea tours here.
Learn more about seeing the seals in Hunstanton.
#4 Enjoy the Fun Fair and Seaside Amusements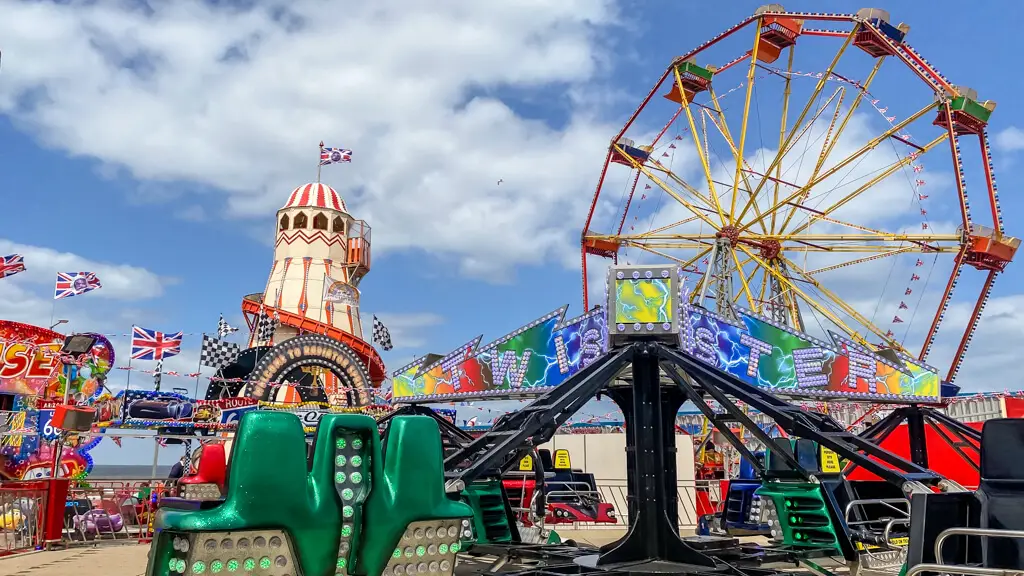 Right next to the SeaLife Centre you will find Rainbow Park. They have a wide variety of fun rides and arcade games for both kids and adults, plus food and drinks stands.
The rides are run by independent operators so you pay for each ride as you go. The prices for each ride range from £2 – £3. They also have the latest selection of arcade games along with prize winning fruit machines, classic penny fall machines, and grabbing cranes.
There ae also various other entertainment arcades around the town incuding the Pier Family Entertainment, Fabulous Showboat, and Thomas No. 1 Bingo.
Get more information here.
#5 See the Lighthouse, Ruins of St. Edmund's Chapel, and More on the Wolf Trail
The Hunstanton Wolf Trail is a fun way to discover more about the story of St Edmund's arrival in Hunstanton, his time ruling East Anglia, martyrdom at the hands of the Vikings, and the legendary appearance of a wolf to guard over his severed head. You will also see some of the town's landmarks – St. Edmund's Chapel and the Hunstanton Lighthouse.
St. Edmund's Chapel dates back to 1272 and was built to celebrate St. Edmund's visit in 855. All that remains is basically the south doorway.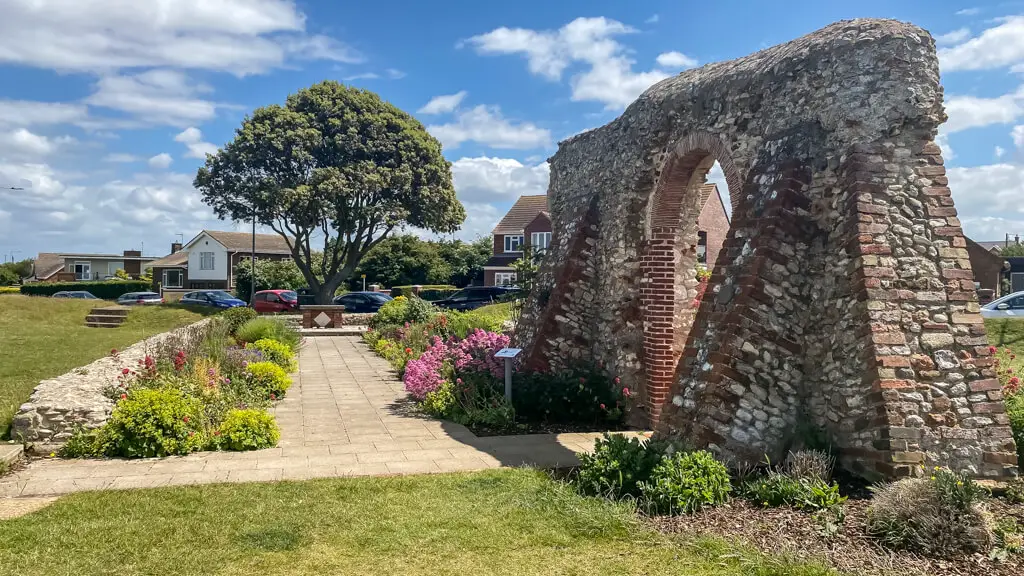 Just past the ruins of the chapel is the Hunstanton Lighthouse, which is now a holiday home. Since 1666, there has been a lighthouse on this site to warn ships of dangerous sandbanks in the Wash. The current building dates back to the 1840s.
Download the leaflet with more information about the trail here.
#6 Visit the Shipwreck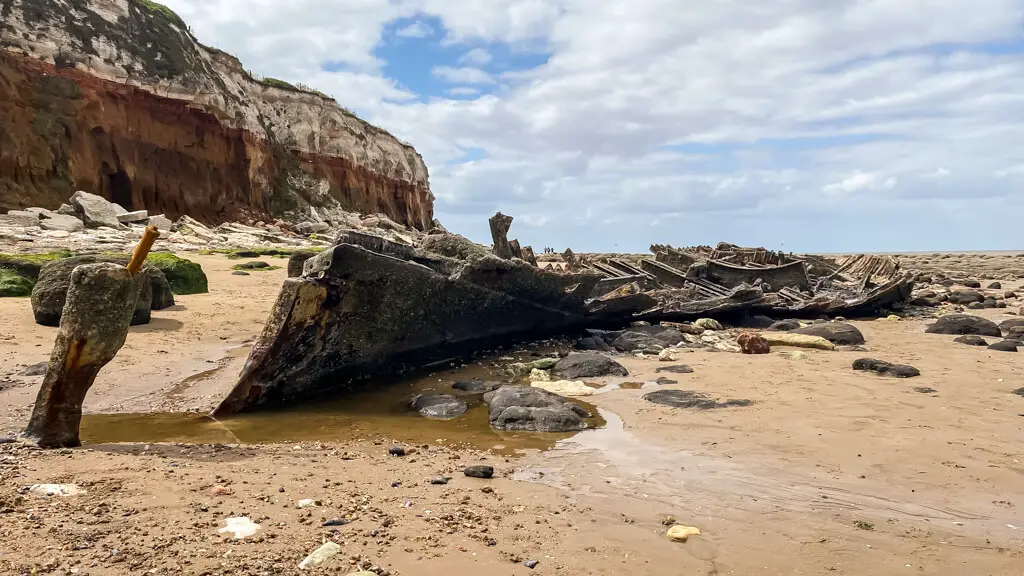 During low tide, the shipwreck of the S T Sheraton is visible below the lighthouse. The ship was built in 1907 by Cook, Welton and Gemmell Ltd of Beverley, near Hull. Now all that remains is the rusty rib-cage.
She was a tough and sturdy ship constructed of steel and designed to handle the rough conditions of the North Sea. While the 130 foot long S T Sheraton started out as a fishing boat, she served in both world wars.
#7 Try Some Water Sports
Hunstanton is an ideal place to learn kitesurfing and windsurfing because of the wide open beaches, shallow water, and cross onshore winds. You can also try a stand up paddle board or kayak.
There are several places along the promenade where you can hire the equipment and/or book a lesson.
#8 Play Golf (Crazy Golf, Foot Golf, or Golf)
You will find several golfing options in Hunstanton so there is something for all skill levels.
Along the promenade you will find putting and crazy golf on the north end. On the south end there is BlackBeard's Adventure Golf which is an 18-hole pirate and Aztec themed course.
On the Cliff Top, there is a nine-hole Pitch and Putt course along with a Foot Golf course. Both are enjoyable for the whole family.
Searles Resort has a nine-hole links style golf course. It has three par-3s, five par-4s, and one par-5 hole, so it's fun for beginners and still challenging for more experienced golfers. They also have a driving range.
#9 Go Roller Skating or Sliding at Oasis Alive
Oasis Alive is a sports centre located on the promenade with a few unique features. It has an outdoor roller-skating rink that's open during the summer and school holidays when it is warm enough. They also have an indoor soft play area and a large water slide in the swimming pool.
Get more details here.
#10 See a Show at Princess Theatre
You can watch a show in the same place Diana, Princess of Wales, took her two sons to see the pantomime "Cinderella" in December 1988. It was named after her when it re-opened in 1981 after a refurbishment.
When it originally opened as the Capitol Cinema in 1932, it was designed to be both a cinema and theatre. It closed in the late 1960's, and re-opened as The Kingsley Centre in 1974 for a short time. Then it became a bingo hall, which eventually closed and was not used until the local Council purchased it in 1981.
Today when you visit, you can enjoy a newly refurbished wine bar with extended sun terrace where you can enjoy a refreshing hot or cold beverage, cocktail, or a glass of fizz along with the shows.
Click here to check the calendar.
#11 Visit the Boston Square Sensory Park
This quaint park was designed with disabled visitors in mind.   It will stimulate your senses of sight, hearing, smell, and touch.
#12 Enjoy Lawn Bowling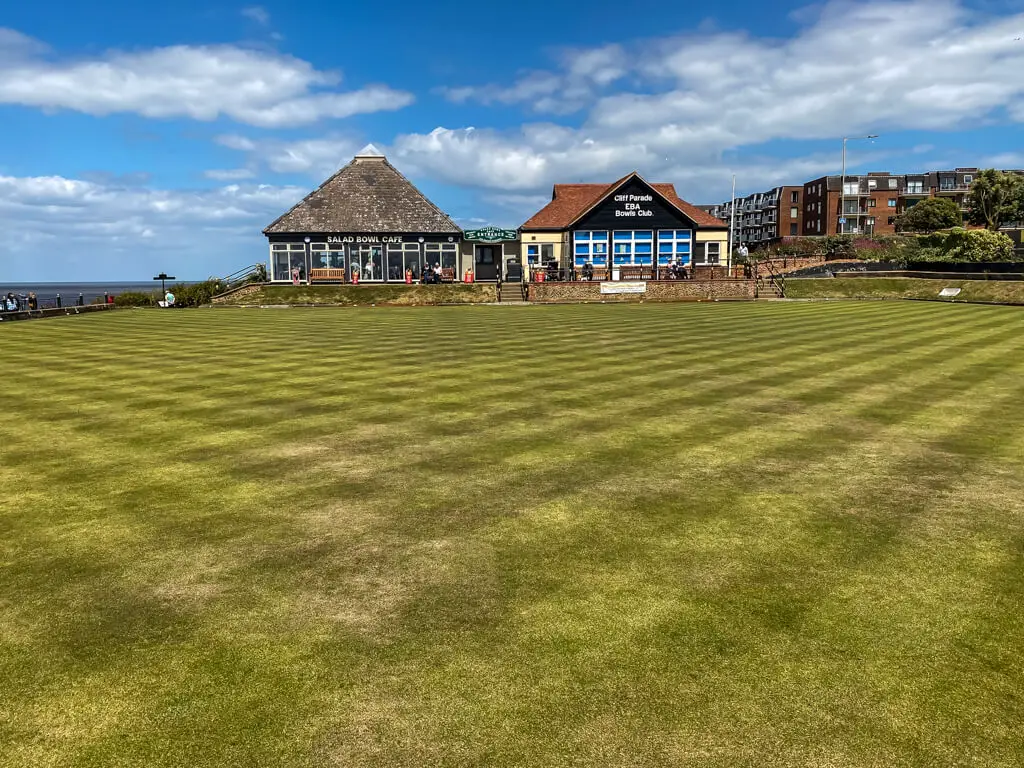 Hunstanton's lawn bowling green is located at the north end of the promenade and you can take in views of the beach while you bowl.  You can book and hire equipment at the crazy golf pavilion (from 1st of May). 
#13 Go Shopping
The Hunstanton town centre has over 100 shops to explore.  You will also find many stalls selling souvenirs by the seafront.  If you are looking for a bargain don't miss the market held on the Southend Car Park on Sundays and Bank Holiday Mondays all year.
#14 Walk (Some of) the Norfolk Coast Path
The Norfolk Coast Path runs 83 miles from the bowling green in Hunstanton to Hopton-on-Sea. Look for the black and white National Trail acorns which will show you the way.
You can walk as much (or as little) of the path as you like, then take the Coasthopper bus, which stops at every village along the Norfolk Coast, back to Hunstanton. It's about 4 miles to Holme-next-the-Sea and about 5 miles to Thornham.
You can get more information about the route from OS Maps here or get more details in this comprehensive guidebook.
#15 Watch the Sunset
Since Hunstanton faces west across the Wash, it is one of the few places on the east coast of England where you can watch the sun set over the sea. When the weather is nice, grab a spot on the beach and wait for the show. Sometimes the best things in life are free.
Read about more special places to watch the sunset in Norfolk.
#16 Eat Fish & Chips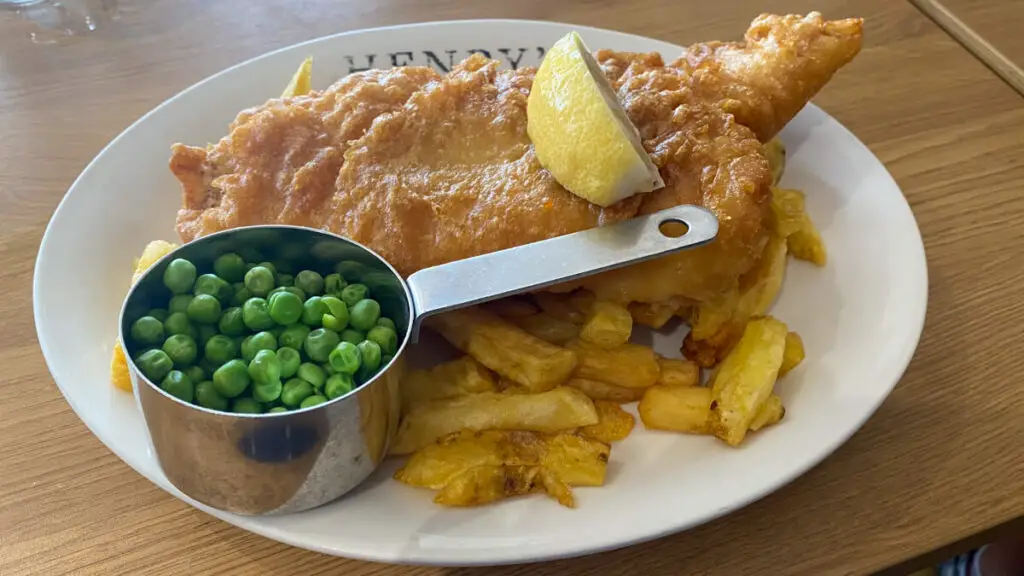 Henry's of Hunstanton has quickly established itself as a go-to destination for exceptional fish & chips. Despite opening its doors as recently as 2019, this esteemed establishment was awarded the prestigious title of the third best fish & chips in the country by the National Federation of Fish Friers in 2023.
Their menu features classic favourites such as battered cod, haddock, and plaice, all cooked to perfection with a golden and crispy batter. Coeliacs, vegans, and vegetarians are not forgotten, as Henry's offers gluten-free batter and vegetable oil chips, ensuring a delightful experience for everyone.
When visiting Hunstanton, a trip to Henry's for lunch is an absolute must. Situated in a prime location, you can enjoy your fish & chips with views overlooking the Green and the Wash. Whether you opt for indoor seating or choose to have your meal on the terrace, it will be a delicious and memorable dining experience.
Things to Do Near Hunstanton
While there is plenty to keep you busy for at least a few days in Hunstanton, there are also a few other places nearby that you might want to add to your itinerary.
Sandringham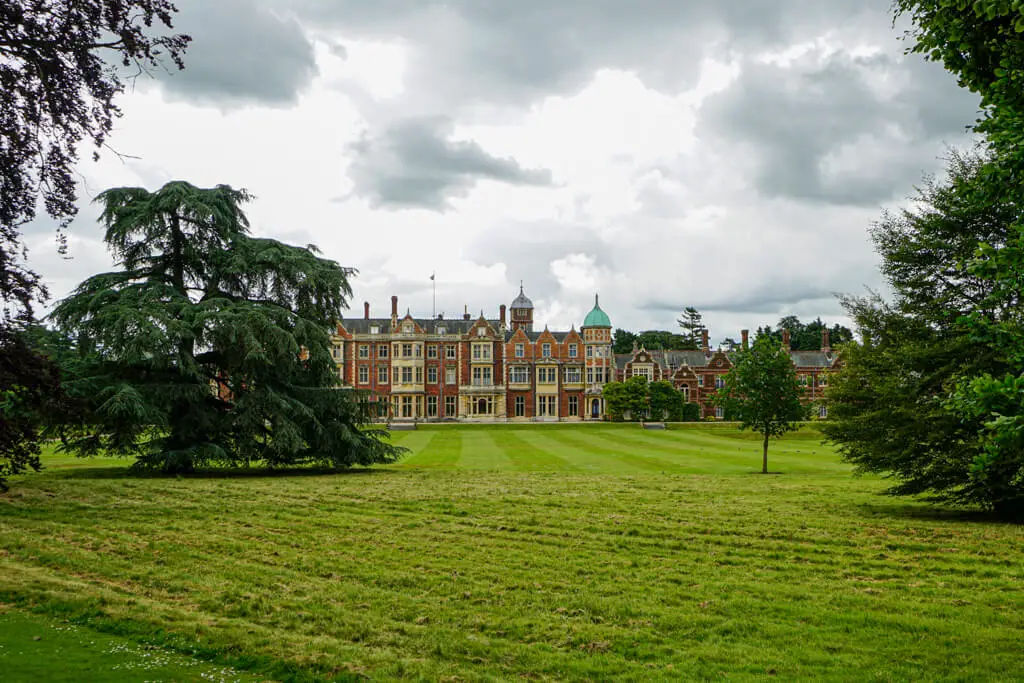 Sandringham is the beloved country retreat for King Charles III. During the spring, summer, and autumn, you can tour the house where the Royal Family spends Christmas and visit the gardens.
The Royal Park includes almost 243 hectares with some well-marked walking trails. There is also a new Children's Adventure Play Area inspired by the Duchess of Cambridge's 2019 Chelsea Flower Show garden.
Get more information here.
RSPB Snettisham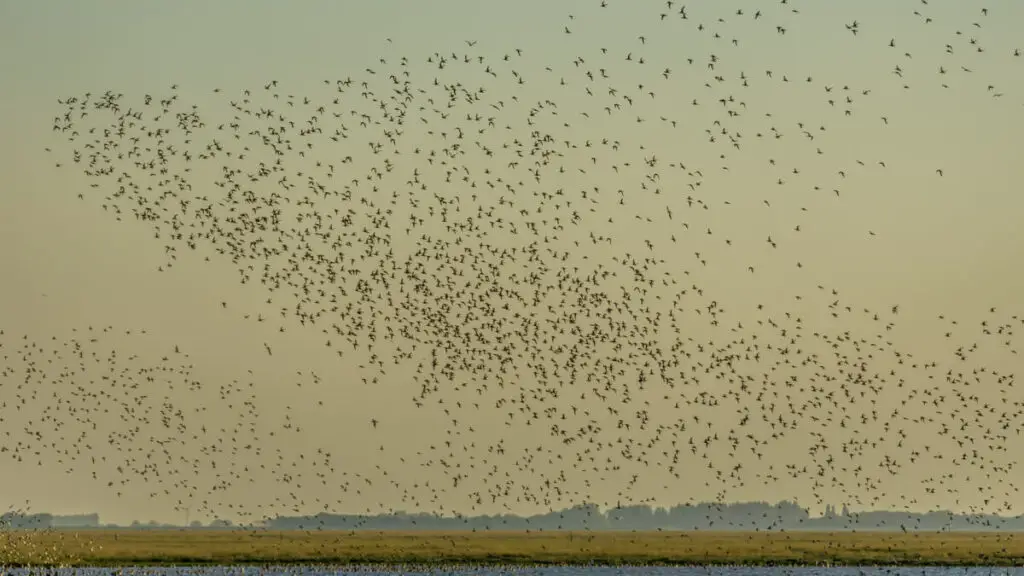 RSPB Snettisham is a bird-watchers paradise as it is an important area providing refuge for large numbers of wildfowl and wading birds. Even if you are not a bird-watching expert, you will appreciate the spectacles of nature on display and enjoy exploring the reserve.
They have three walking trails where you can see the saltmarsh, lagoons, and mudflats.  There are also four wildlife observation hides which provide views across the lagoons. One of these hides also offers views over the Wash.
The wildlife you will see will vary depending on the timing of your visit. During the winter, you can see pink-footed geese (sometimes up to 40,000) as they take flight in close V-shaped formations at dawn.
During a biggest high tides, you can see knot, dunlin, and oystercatchers take to the air together in what is called the Snettisham Spectacular. It's arguably one of the best wildlife events that happens in the UK.
Get more information here.
Castle Rising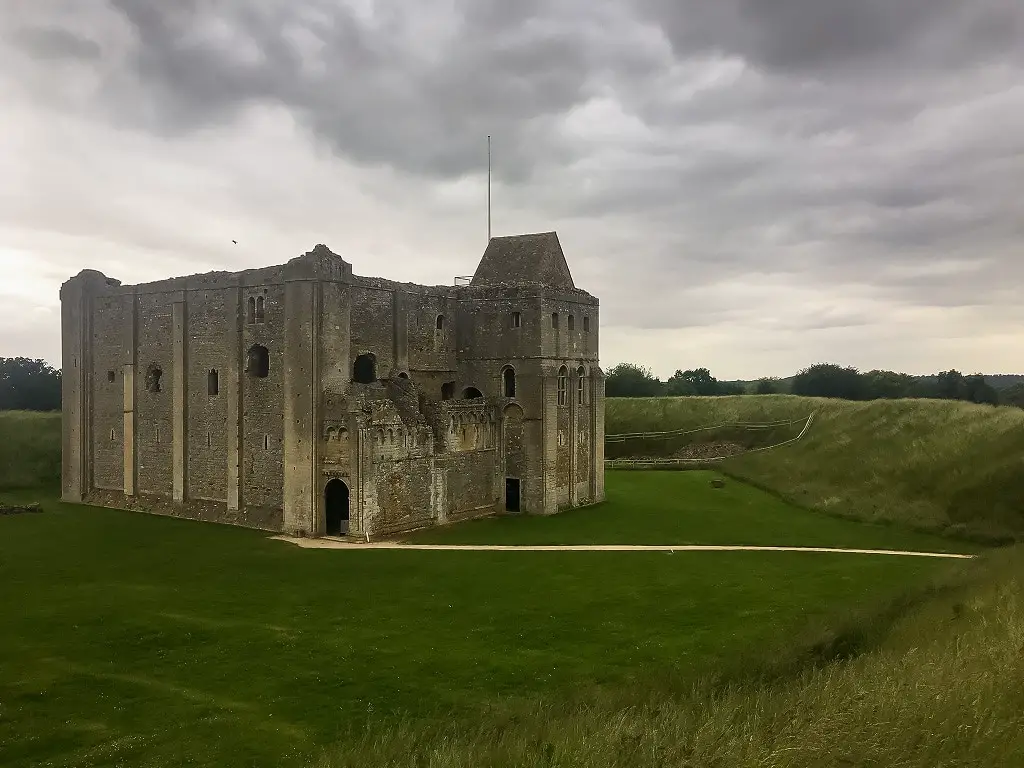 Castle Rising Castle is one of the most famous 12th-century castles in England because the stone keep is mostly intact and it is surrounded by massive earthworks. In the 14th century, Queen Isabella, widow (and alleged murderess) of Edward II lived here. Some say her ghost still haunts the castle.
English Heritage members can visit for free. Get more information about English Heritage membership here.
Get more information about visiting Castle Rising here or read about other English Heritage properties in Norfolk.
RSPB Titchwell Marsh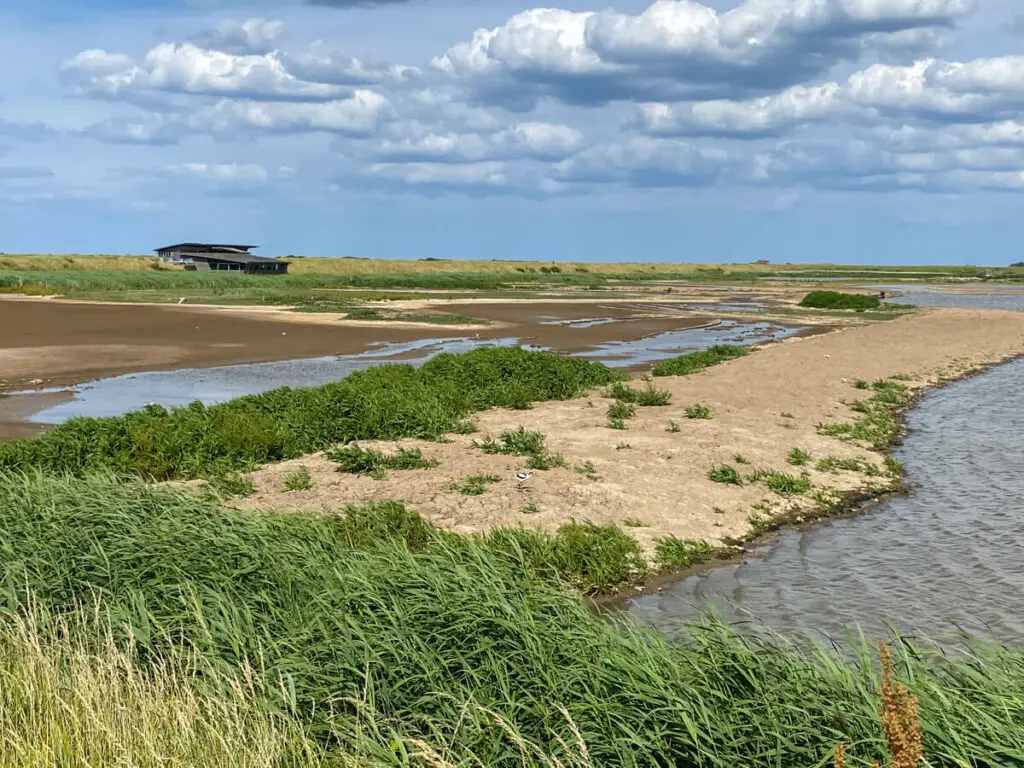 Just outside the village of Titchwell, you will find another RSPB reserve which was used as a tank firing range during the Second World War. Titchwell Marsh has both fresh water and salt habitats so you can see a wide variety of birds.
There are two main paths and four different bird hides. You can also enjoy the beach which is just a half mile walk from the entrance. In addition to the wildlife on the beach you can also see remains of tanks and another building at low tide.
RSPB members can visit for free or its £5 per adult and £2.50 for children.
Get more information here.
Norfolk Lavender
Discover Norfolk Lavender, England's premier lavender farm since 1932. You can tour the lavender distillery, explore the herb garden, shop for lavender products, and find rare lavenders in the Plant Centre. Then, relax in the tearooms and stroll through the blooming lavender beds.
While they are open year-round, you should visit during summer when the lavender is in bloom for the best experience.
Get more information here.
More North Norfolk Coast Beaches
Hunstanton is not the only beach on the Norfolk Coast. There are other nice beaches near Hunstanton that you could also visit including Heacham and Snettisham. If you don't mind traveling a little farther, we love Holkham and Wells-Next-the-Sea.
How Long Should You Spend in Hunstanton?
It's up to you. Hunstanton makes a fun day trip or long weekend away. There are also a slew of attractions within a short drive if you have more time.
How Do You Get to Hunstanton
If you want to explore more of Norfolk during your stay in Hunstanton, you might want to drive so that you will have a car. It will give you more flexibility.
For those that don't want to drive, you can take the train to King's Lynn then transfer to the 34 bus which will take you to Hunstanton. Once in Hunstanton, everything is walkable and there is the Searles train during the peak season. You can also easily visit other coastal towns with the Coasthopper bus.
Where to Stay in Hunstanton
Since Hunstanton was a purposely-built resort it probably won't surprise you that there are a lot of options for accommodations. To choose the right one for you, think about the type of holiday you are after and your budget.
Searles Leisure Resort
Searles Leisure Resort is a holiday seaside resort where you can stay in touring and camping pitches, holiday homes, or luxury lodges. They have 10 food and drink outlets, indoor pool, fitness studio, plenty of fun activities and entertainment, and more.
Read reviews here.
Caley Hall Hotel
If you don't need the entertainment or activities, you might like the Caley Hall Hotel. It has 38 en-suite bedrooms, an AA rosette awarded restaurant, bar and lounge, and outdoor patios. It's only a ten-minute walk from the beach!
Read reviews here and check availability and prices here.
Gate Lodge Guest House
Another option, a little closer to the main beach, you should consider is the Gate Lodge Guest House. All of their upper bedrooms have sea views and the two ground floor bedrooms overlook the garden. Guests rave about their breakfast too.
Read reviews here and check availability and prices here.
Is Hunstanton a good place to take the kids?
Yes. Pretty much all the activities in Hunstanton are family-friendly and the town has a casual atmosphere. Kids will especially enjoy the beach, the Wash Monsters, Sealife Centre, and the amusements.
For more ideas, check out our list of things to do in Norfolk with kids.
Is Hunstanton worth visiting?
Yes, Hunstanton is worth a visit just for the beaches, where you can relax and enjoy the golden sands. It's a great destination for families as well, with plenty of attractions that kids will love. From amusement arcades to fairground rides, there's something to keep everyone entertained. So, whether you're looking for a day of beach relaxation or family fun, Hunstanton has it all!
Disclosure: This post contains affiliate links. This means we will receive a small commission for some purchases made using links in our blog with no additional cost to you.  Please be assured we would not promote any product unless we believe that our readers will also benefit.  The commission does not influence the editorial content of this site.