The Maltsters in Ranworth has a seafood platter for two that costs £49 on their menu. It is cheaper than the popular seafood platter at the Brancaster White Horse, so would it be as good?
Find out in our review of the seafood platter at The Maltsters. Is it worth it?
UPDATE: As of February 2023, the seafood platter is not on The Maltsters menu. I am hoping they bring it back in the summer! Check the latest menu here.
Note: This post contains affiliate links.  As an Amazon Associate, we earn from qualifying purchases. Please see disclosure for more information.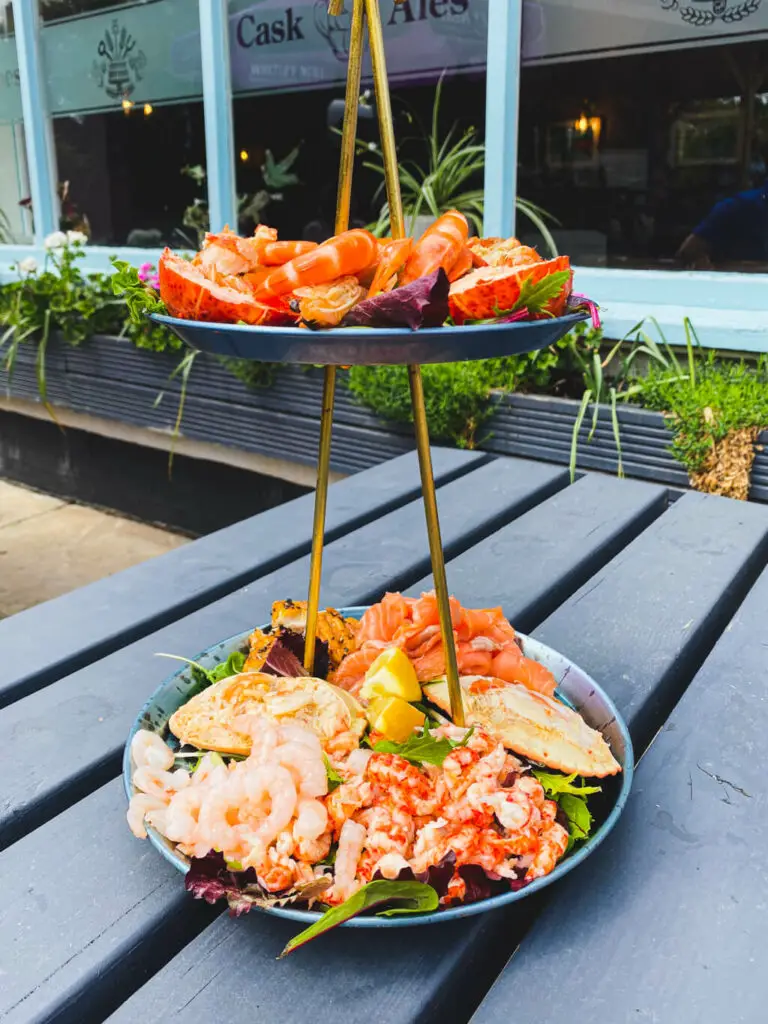 About The Maltsters
The Maltsters is a pub and restaurant close to Malthouse Broad at Ranworth. Its hospitable staff, good food, and large terrace and garden make it one of the best pubs in the Norfolk Broads.
The atmosphere at the Maltsters is quite relaxed. You order at the bar and they bring your food and drink to you. It's a family-friendly spot with dogs welcome inside and out.
They also have a luxurious three bedroom AirBnB above the pub if you want to stay in the area. See it here.
About The Maltsters Seafood Platter
The Maltsters Seafood Platter for two is a selection of fresh seafood served on a tiered tray like you would normally see at afternoon tea. It also comes with fresh artisan bread.
Most of the seafood is steamed and the focus is on freshness. There are seven different types of seafood and artisan bread included:
Whole Fresh Lobster – It was the centrepiece of the platter. The lobster was sliced in half but still in its shell. Ours also included lobster roe. While many people might have been thrilled to have the roe, for me it was a little extra effort to remove.
Crevettes – You get a handful of extra-large prawns served shell on with the head and tail still intact. They are definitely worth the extra effort to peel.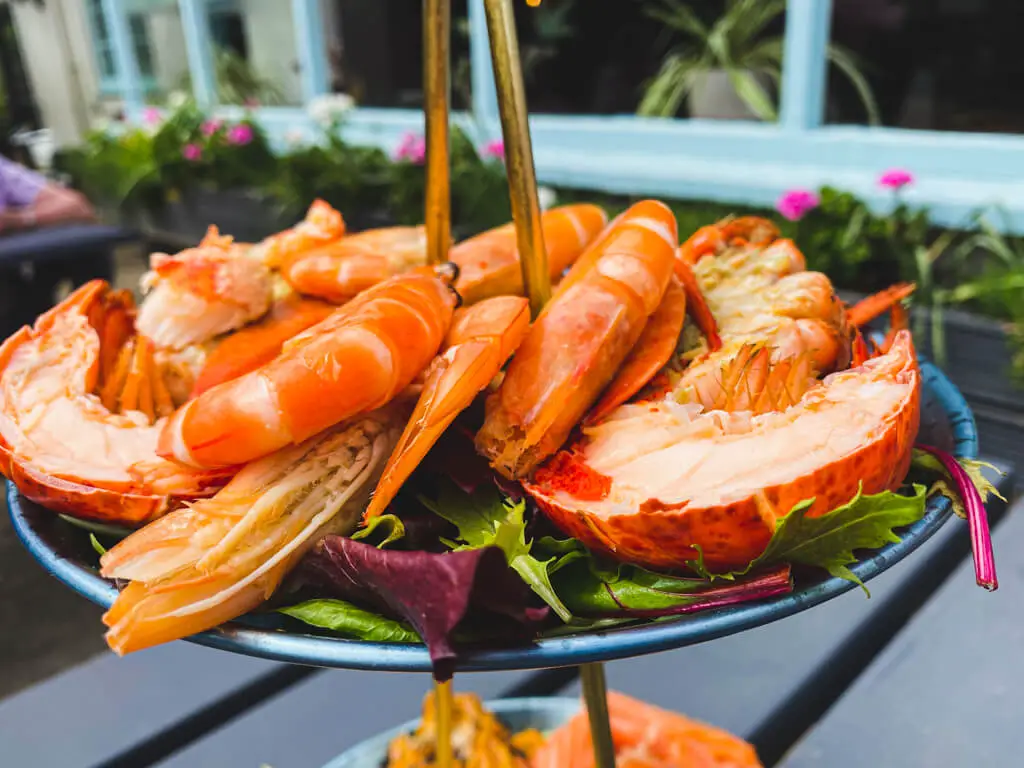 Pile of Steamed Prawns – A generous helping of fresh prawns that were already shelled making them easy to eat.
Two Dressed Cromer Crabs – White and brown meat classically presented in the crab shell. Personally, I preferred the sweet white meat. The brown meat, which has an almost pate-like consistency, was a bit rich.
Smoked Salmon – A substantial portion of smoked salmon, which I enjoyed with the bread and butter.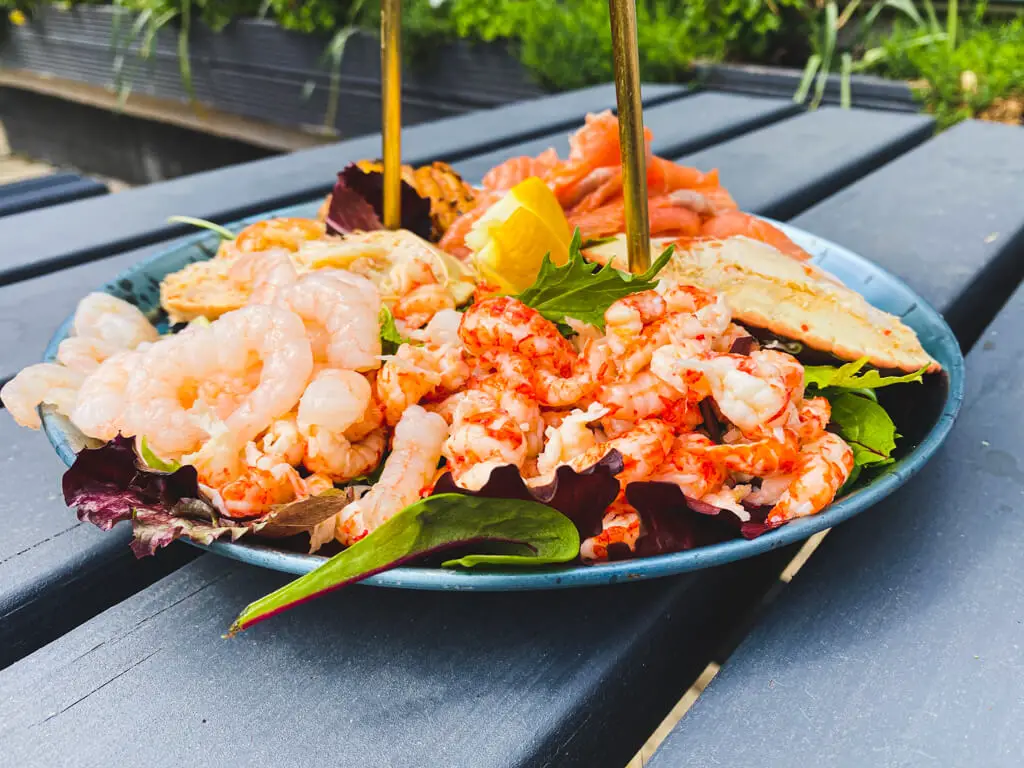 Crayfish – These sweet little guys I could eat like candy, especially since they are already peeled.
Smoked Mackerel – I enjoyed the depth of flavour with the smoked mackerel. It might have been my favourite part of the platter.
Artisan Bread – Fresh crusty bread served with a butter that I think had a bit of garlic in it.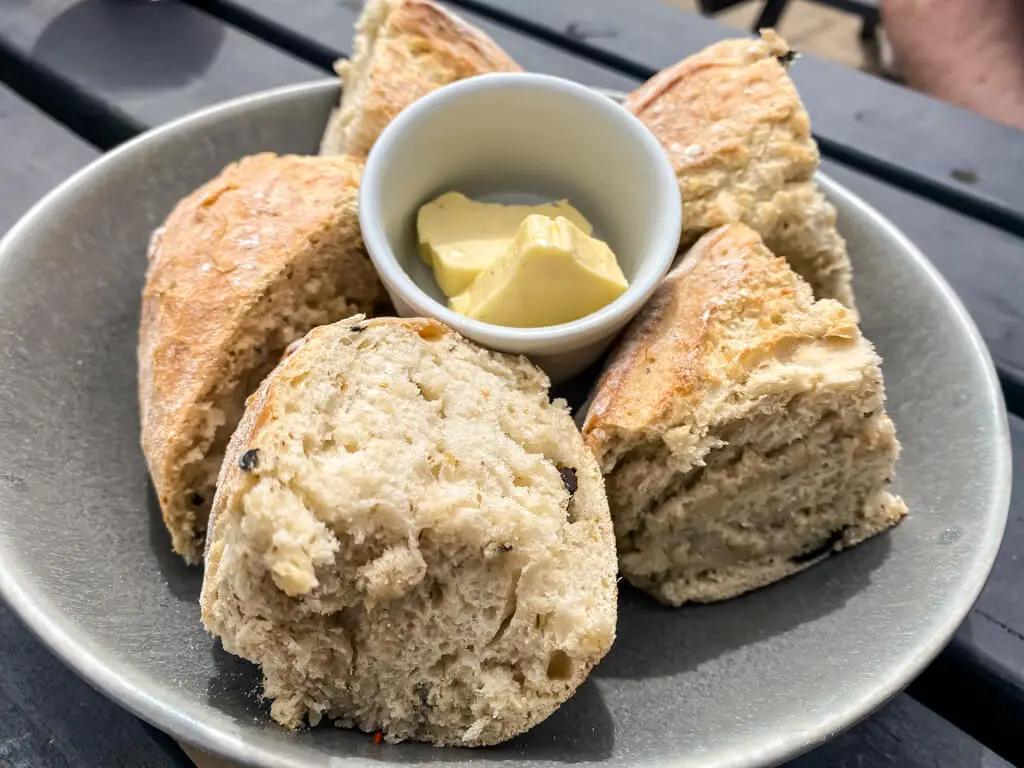 The platter also comes with some lemon wedges to enhance the flavour of the seafood. I would have liked some cocktail sauce to go with the crevettes and prawns but they didn't have any.
It's the right amount of food for two people. We didn't order anything else, so we were able to finish it without feeling stuffed.
Is The Maltsters Seafood Platter Worth It?
For £49, I do think you get your money's worth with this platter. While there may not be any fancy preparation, it is simply fresh seafood that is good quality. You won't need to order any side dishes or starters and the amount of food on the platter is enough for two people.
The seafood platter at the White Horse in Brancaster, one of the top luxury hotels in Norfolk by the sea, has even more food and is more extravagant, but then again it is significantly more expensive. There is a seafood platter at The Globe Inn in Wells-Next-the-Sea that is another option.
Other Menu Items
The seafood platter is not the only thing on the Maltsters menu, in fact, it is a pretty new addition. They also serve traditional pub fare along with a few other special items that are worth highlighting. Note that their menu does change frequently.
I saw a number of people order their picnic board which includes ham, cheddar, pork pie, sausage roll, scotch egg, and artisan bread. It looked impressive, so I might have to try that next time.
During the spring and summer months, Milson's Pizza Den is open on the Maltster's Terrace. It is named after their dog who loved to eat pizza. You can get a made-to-order pizza for takeaway or to eat at the Maltsters.
You can find the full menu here. Note that the menu changes regularly.
Overall Review of The Maltsters
It's easy to see why The Maltsters is a popular spot. This traditional pub has a large outdoor space not far from the water. The atmosphere is relaxed and the food is delicious.
Especially when the weather is pleasant, The Maltsters is an ideal spot to spend a few hours (or more) in the Norfolk Broads. If only you could make a reservation and order from your table. At peak times, you may need to wait.
Read more reviews of The Maltsters on Tripadvisor here.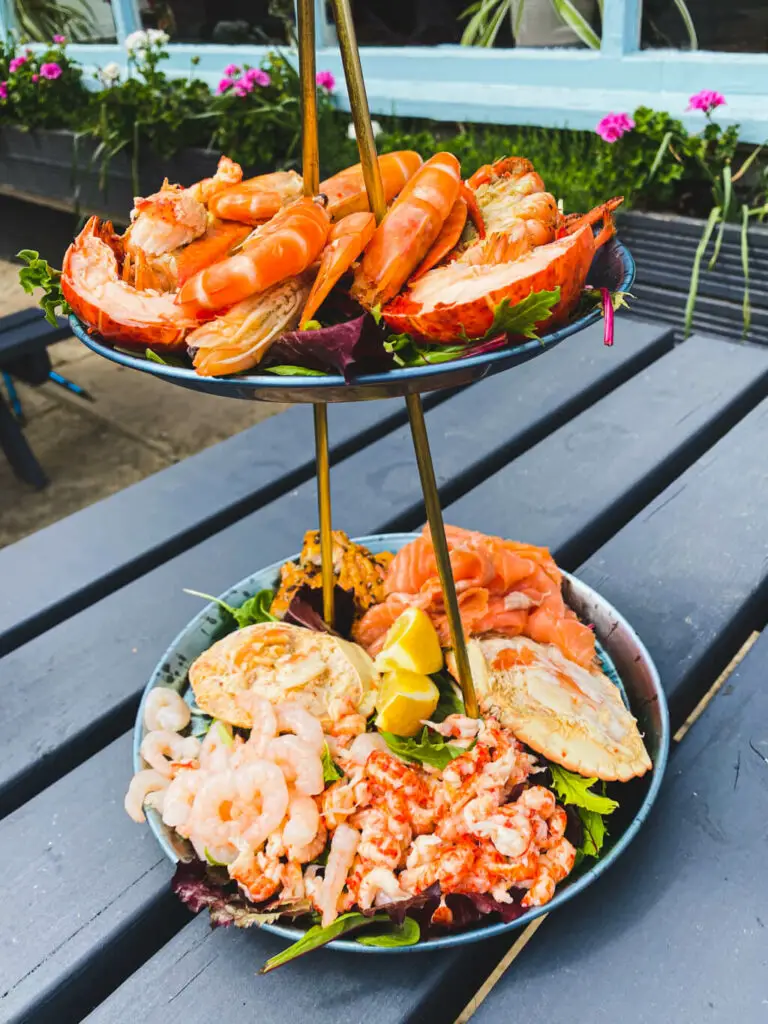 The Maltsters FAQs
Do you need a reservation to eat at The Maltsters?
No. They actually only take bookings for parties of 10 or more.
Does The Maltsters have gluten – free options available?
Yes. When a gluten-free option is available it is noted with a GF on the menu. The seafood platter can be made gluten-free.
How do you get to The Maltsters?
In most cases it will be easiest to drive to The Maltsters in Ranworth. They have a free car park.

There are also moorings nearby at Ranworth Staithe, but they are often full.

If you want to take public transport, the 71A bus which runs from Acle to Wroxham does stop by The Maltsters. There is no direct bus from Norwich.

Ranworth does not have a train station.
Where do you park for The Maltsters?
There is a small car park for The Maltsters across the street. It is free for customers.
Disclosure: This post contains affiliate links. This means we will receive a small commission for some purchases made using links in our blog with no additional cost to you.  Please be assured we would not promote any product unless we believe that our readers will also benefit.  The commission does not influence the editorial content of this site.