The Norfolk Broads is the perfect place for a peaceful and relaxing holiday, but don't worry it won't be boring. The area delivers more than just the beautiful scenery, like watersports, boating, walks, cycling, birdwatching, to name a few.
In this post, we will share our recommendations for the best things to do on the Norfolk Broads.
Be sure to sign up for our newsletter here so you can find out about more things to do in Norfolk each week.
Note: This post contains affiliate links.  As an Amazon Associate, we earn from qualifying purchases. Please see disclosure for more information.
About the Norfolk Broads
Here are a few facts to give you a bit of perspective on why the Broads are special:
It is one of 10 national parks in England and the only one with a city (Norwich) in it.

The Norfolk Broads, also referred to as The Broads, does cross the border to Suffolk.

There are over 125 miles of lock-free waterways.
It is home to over a quarter of the rarest plants and animals in the UK.
The Broads is Britain's largest protected wetland and third largest inland waterway.
History of the Norfolk Broads
The Broads are man-made waterways created by peat digging. The practice of peat digging started back in the 12th century when much of the area had been cleared of its woodland for fuel and building materials.
The pits began to fill with water as the sea levels rose which made peat digging difficult and transformed the landscape into a wetland by the 14th century. By the 16th century, these waterways became important channels for commerce. The wool, weaving, and agricultural products from Norwich needed to be transported to Great Yarmouth to be exported throughout the world.
The area has also been used to harvest reed and sedge for centuries. The industry was in decline because of the strenuous nature of the work and tough competition from cheap imported reed. After measures to rejuvenate the industry, the area of fen managed commercially increased from 200 to 400 hectares, which is about a quarter of the Broads fenland.
How Long Should You Spend in The Broads?
As long as you can. A week can be easily filled with activities. If you only have a day, you can still get a taste of the area, but a few days gives you time to see more.
Where to Stay in the Norfolk Broads
If you are traveling to visit the Broads, it might be best to book a place to stay so you can spend more than just a day exploring the area. You can find a wide range of accommodations in the Norfolk Broads from boats to holiday homes to hotels, but if you want to treat yourself there is one place that stands out from the rest.
Norfolk Mead Hotel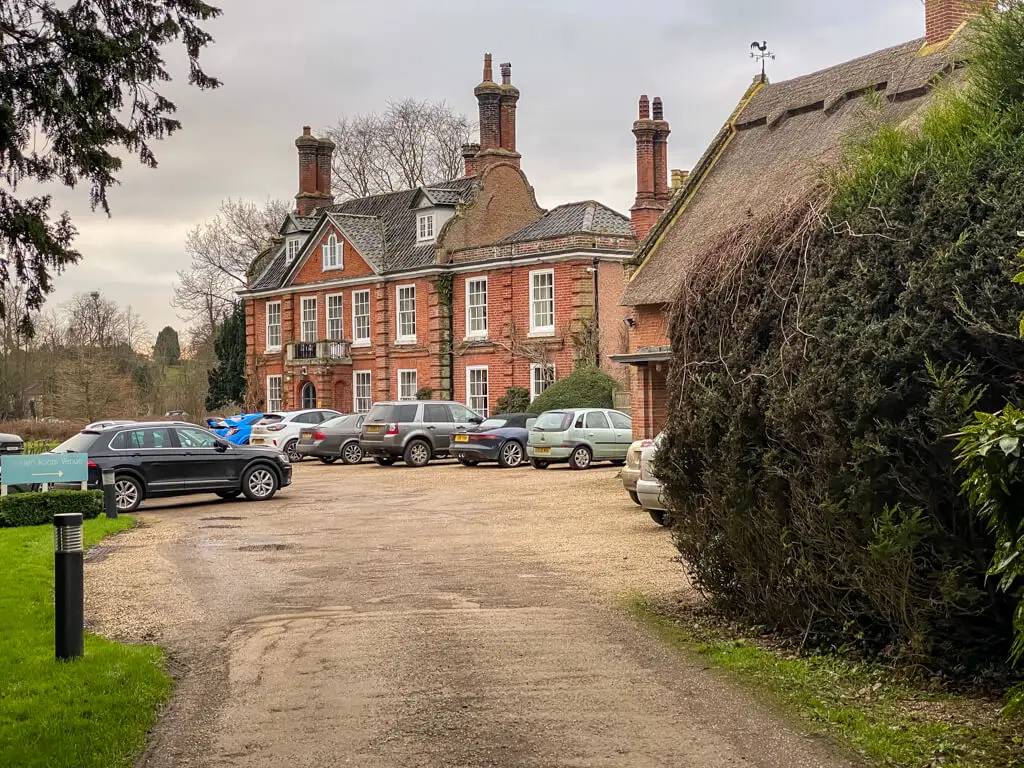 Located just eight miles from Norwich in the village of Coltishall, the Norfolk Mead offers elegant rooms, spa treatments, and a contemporary venue space inside a quintessentially English walled garden.
The hotel has free Wi-Fi and parking, attractive grounds featuring a private lake, and an award-winning restaurant. All the rooms feature an en suite bath or shower with complimentary toiletries, as well as a flat-screen TV, iPod dock and tea and coffee facilities.
Read reviews for the Norfolk Mead Hotel here.
Check price and availability for the Norfolk Mead here.
Find more lodging options in the Broads here.
Best Things to Do in the Norfolk Broads
The Norfolk Broads offers a wide range of activities and attractions suitable for all ages and activity levels. These are our choices for the top things to do when you visit the Broads.
#1 Hire a Boat
The calm water of the Broads makes it ideal for boating and paddlesports even for those that have not done it before. If you want to do the driving/paddling yourself, you also have several options depending on what type of watercraft you prefer and the location.
We had such a fun time when we had a picnic boat to explore the Broads. On board we had our own small kitchen and bathroom plus space for the whole family. It was easy for us to maneuver.
You can hire boats from Herbert Woods, Richardson's, Norfolk Broads Direct, Barnes Brinkcraft, and more. Most offer day boats as well as cruisers that you can sleep in.
If you don't mind doing the paddling, you can hire a kayak, canoe, or paddleboard. Here are a few places you can do it:
Whitlingham Great Broad
At the west end of the Great Broad, you will find Whitlingham Adventure where you can hire different watercraft including paddleboards, canoes, kayaks, or a katakanu that can hold six people. You will need to book in advance. Get more information here.
Hickling
Norfolk Outdoor Adventures offers Standup Paddleboards (SUPs) and kayaks. They include all the equipment you will need. Get more information here.
Wroxham
TheCanoeMan offers canoes, kayaks, and SUPs that you can hire by the King's Head in Wroxham. Get more information here.
Note: If you don't want to drive to the Broads to get your boat, you can take the train to the Hoveton & Wroxham Station from Norwich. Several boat companies are within walking distance of the station.
#2 Take a Broads Boat Tour
If you don't want to worry about navigating or other tasks involved with having your own vessel, there are several Norfolk Broads boat tours that you can take. You can enjoy the scenery while someone else does all the work.
Broads Tours
Broads Tours has several boats that will take you to see more of the Broads from Wroxham. Your skipper will provide full commentary explaining the origins of the Broads, showing points of interest along the way, and pointing out local water birds.
Southern Comfort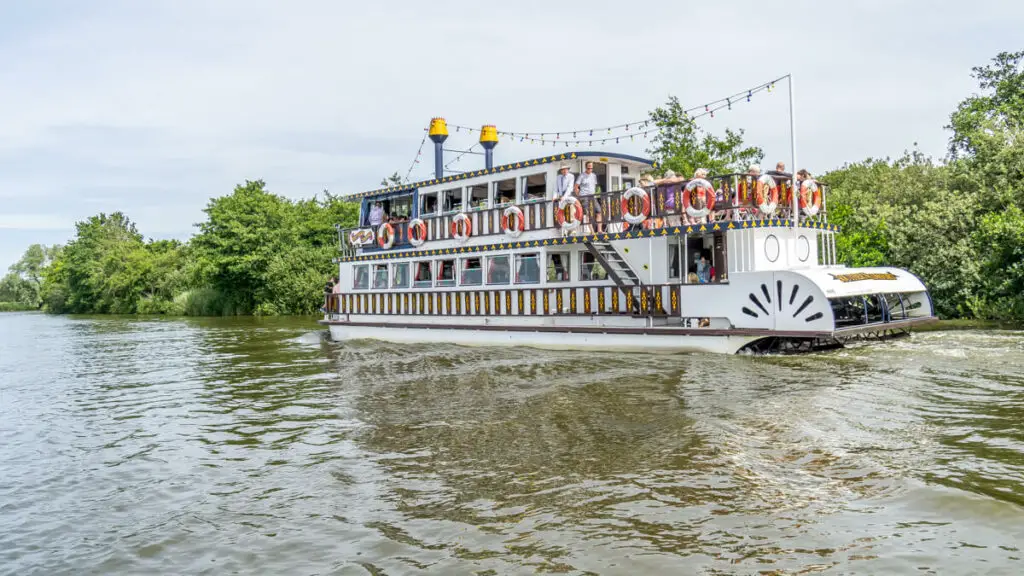 Ride on a luxury river cruiser, named the Southern Comfort, from Horning along the River Bure to Ranworth Broad and back. This double-deck paddle boat purpose built for the Broads can hold up to 100 passengers. Narration will provide more information as you pass by old thatched houses, windmills, and Norfolk reed beds.
Broads Authority
From April to October, Broads Authority runs small boat trips at each of its three visitor hubs (Hoveton, How Hill, and Ranworth). These tours focus on wildlife and last about an hour. We enjoyed the one at How Hill.
#3 Go for a Walk
The Broads National Park is also a lovely area for a walk. You won't have to worry about steep climbs but you will still have stunning views across the countryside. It's so peaceful and you won't have to worry about crowds.
Note that during the winter months or when it has been rainy, the paths in the area will be muddy (some may even close), so you will need waterproof footwear.
Some of the best places to go for a walk in the Norfolk Broads are:
Whitlingham Country Park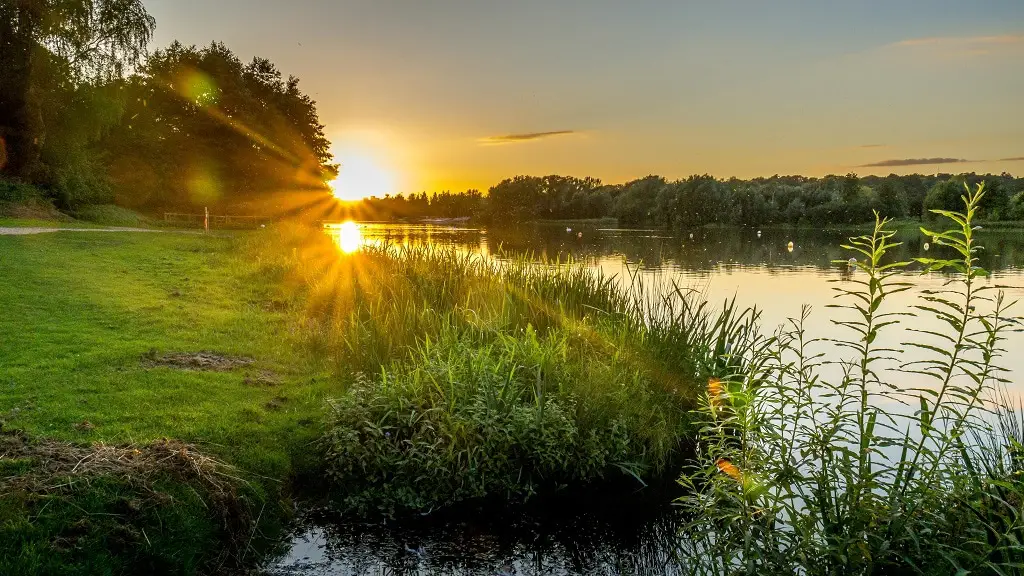 We frequently enjoy the 2-mile (approximately) walk around Whitlingham Great Broad just east of the city centre. It's mostly flat so it's ideal for all fitness levels.
How Hill
The How Hill Nature Walk is about 1.25 miles long and takes about an hour depending on how long you stop in the bird hide. It's perfect for kids as the route is marked with signs that have pictures of animals.
Tickets for the How Hill Nature Walk are £2.50 for adults and £1.50 for children. This includes the guide booklet with information about the plants and wildlife you will find along the nature trail.
If you want to do more, there is the How Hill to St. Benets Abbey Circular Walk. Get the map here.
Horsey Estate
Starting from the Horsey Windpump, you can do a 4.5 mile circular walk to see the mere, reed-beds, marshes, drainage mills, and wildlife in the National Trust's Horsey Estate. Note the car park by the Horsey Windpump is free for National Trust members. Get detailed instructions for the walk here.
Longer Trails
If you enjoy long-distance walks, the Weavers Way, Wherryman's Way, and Angles Way all pass through the Broads.
#4 Go Bird-watching
Norfolk has plenty of opportunities for wildlife spotting. While you probably won't see any seals in the Broads, you are almost guaranteed to see some interesting birds (i.e. more than pigeons and gulls). Keep in mind what you see will vary by season.
Ranworth Broad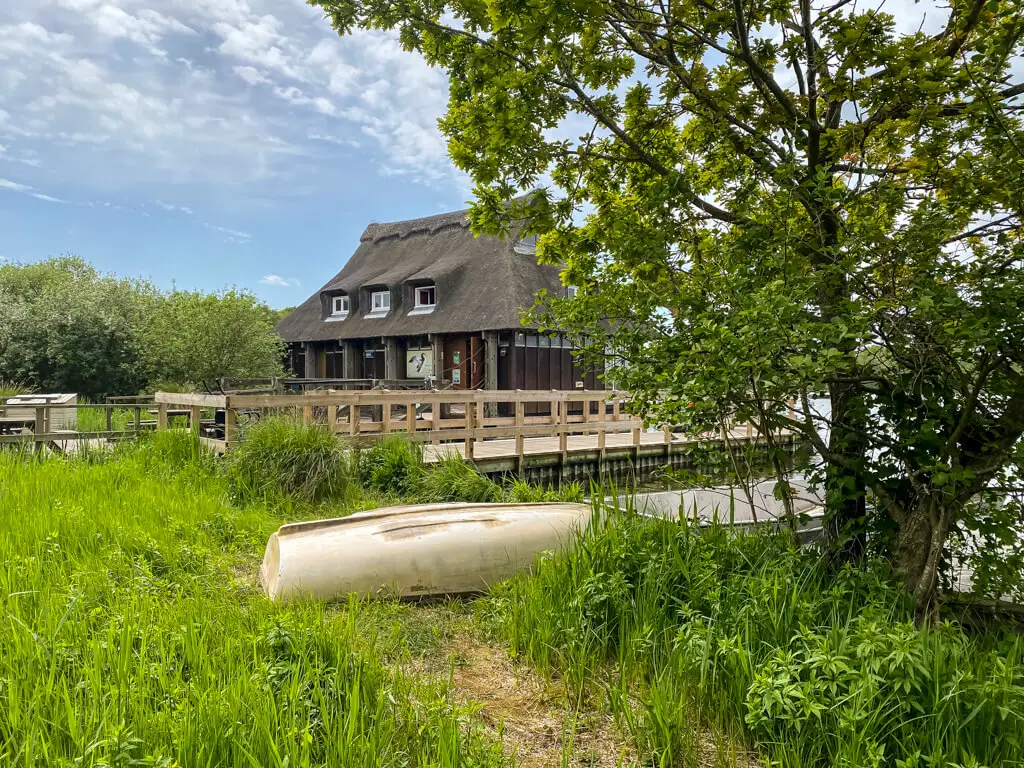 Walk along the boardwalk to get to the floating wildlife centre where you can watch the birds around Ranworth Broad. From here, you might see ducks, great crested grebes, kingfishers, cormorants, marsh harriers, common terns, and more. While the nature reserve is open all year, the Visitor's Centre is only open from the end of March through October.
NWT Barton Broad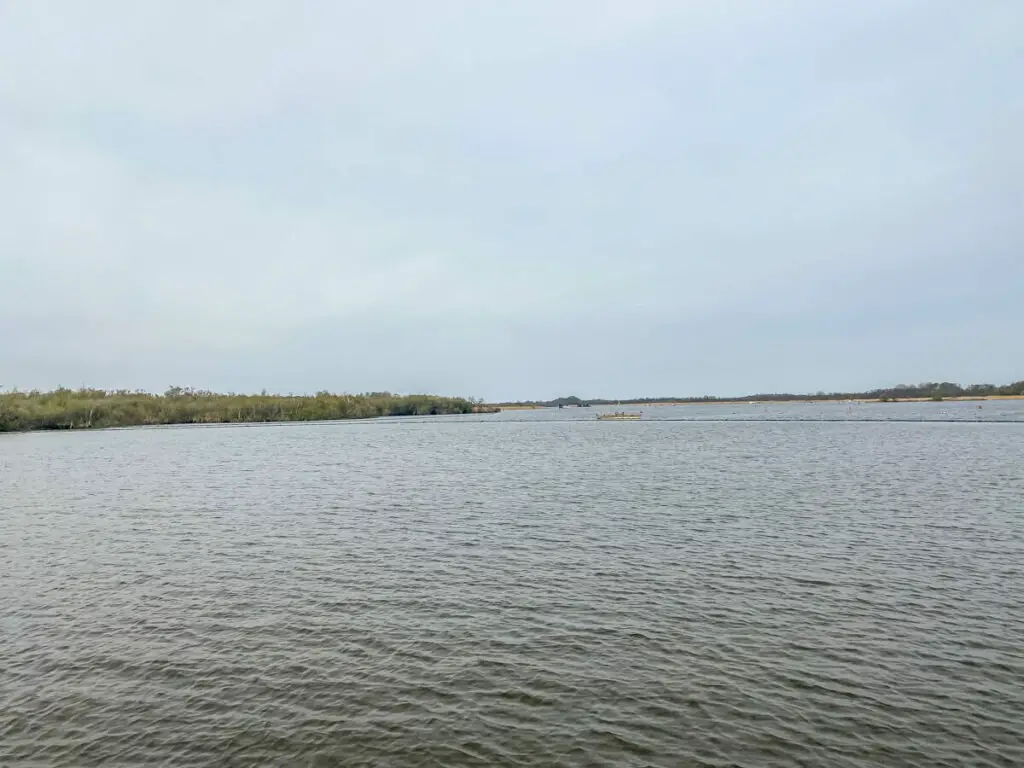 Norfolk's second largest broad has a wooden boardwalk that will take you to a viewing platform. The boardwalk, built in 2003, is quite impressive considering it is sitting on top of 10 metres of mud!
From the viewing platform you can sit, relax, and watch the wildlife (mostly birds, butterflies, and dragonflies). What you see will vary by season and there is a detailed information board to help you with identification. It's a good idea to bring your binoculars as it is a large area.
There is a free car park a 1.2 kilometre walk from the boardwalk. They also have a toliet block there. Disabled visitors can use the car park right by the boardwalk.
Read our guide to the Barton Broad walk.
RSPB Strumpshaw Fen
Enjoy almost five miles of nature trails through reedbeds, meadows, and woodlands in the Yare Valley. You can watch kingfishers, bitterns, marsh harriers and more from three viewing hides. They have hot drinks and snacks for sale at reception and there are plenty of picnic tables.
RSPB Buckenham Marshes
Not too far from Strumpshaw Fen, you will find the Buckenham Marshes reserve alongside the River Yare. The marshland is home to huge flocks of wildfowl in the winter. There is a large viewing hide where you can look for birds of prey, including barn owls, marsh harriers, kestrels, and peregrine falcons.
Martham Broad and Marshes
At Martham Broad and Marshes there are actually two shallow Broads bisected by the navigable River Thurne, as well as surrounding fen, reedbed, and marsh. You may be able to see several species of breeding birds including bittern, bearded tit, common tern, Cetti's warbler, and marsh harrier. It's popular with wintering ducks and geese, too.
#5 Enjoy a Bike Ride
The Broads is the perfect place for cyclists of all levels. Most rides will consist of cycling on winding lanes through the quiet countryside without much change in elevation.
Choose one of 16 circular routes of The Broads By Bike network. There are links to nature reserves, quaint villages, riverside walks, traditional windpumps, boat trips, and other attractions.
Get more information about The Broads by Bike network rides here.
#6 Visit a Museum
In addition to all the outdoor attractions in the Norfolk Broads, there are a few that are indoor. These are ideal for rainy days or when the weather is not to your liking.
Museum of the Broads
You can learn more about how people have used the land and the waterways for food, transport and leisure from Roman times to the holiday makers, sailors, and environmentalists of today at the Museum of the Broads. There are exhibits in five different buildings, and they also offer boat trips. The electric boat, called the Marsh Harrier, which operates on Tuesdays and Sundays, has a roof making it weather-proof.
Get more information here.
Radar Museum
Just a short walk (or drive) from the charming village of Horning, you will find RAF Neatishead which has been turned into the Radar Museum. It tells the history of radar from the Second World War to the Cold War.
You will want to allow 2-4 hours to see it as it is one of the largest museums in North Norfolk with 23 exhibition rooms and over 10,000 display items.
Get more information here.
#7 See Historic Ruins
While you are enjoying nature in the Broads, you should also take some time to appreciate the history. There are a few historic ruins that should be included in your Norfolk Broads itinerary.
St. Benet's Abbey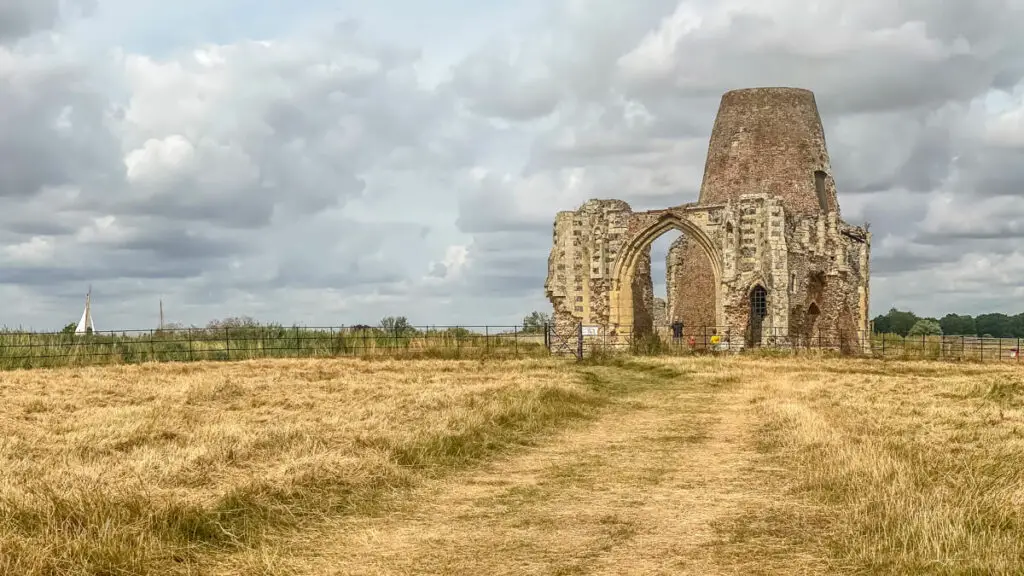 You can visit the ruins of a Benedictine abbey called St Benet's at Holme on the banks of the River Bure, near Ludham, for free. It was the only monastery that was not officially closed as part of Henry VIII's dissolution of the monasteries.
The Abbey struggled to survive and it wasn't long after the dissolution of the monasteries that the buildings vanished, including its centrepiece church. What you see today looks different than your typical abbey ruins as the 14th-century gatehouse has an18th-century mill built over it.
Burgh Castle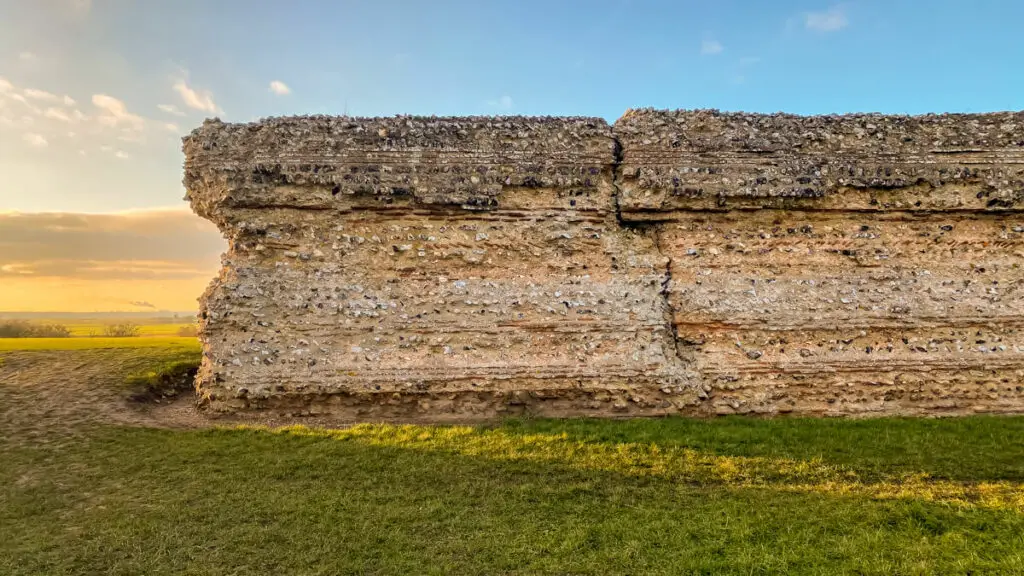 The late 3rd century fort called Burgh Castle was built as part of the Roman network of coastal defences, and probably abandoned just over a hundred years later. While one wall collapsed into the marshes a long time ago, you can still see the three remaining stone walls which stand almost to their original height.
There is an easy 1-mile circular walk which will take you to the ruins and offers panoramic views over Breydon Water. Find out more about the Burgh Castle circular walk here.
It is free to visit Burgh Castle, one of the best preserved Roman monuments in Britain.
St. Olaves Priory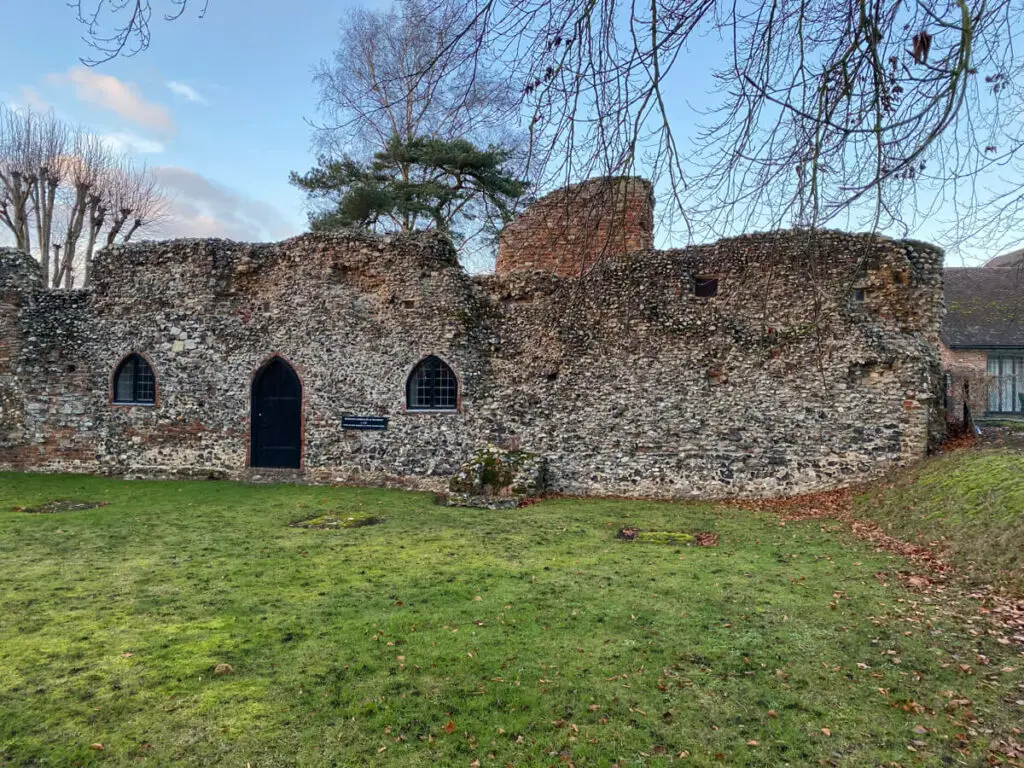 The now ruined St Olave's Priory near Great Yarmouth was founded by Roger Fitz Osbert around 1216 and named after the patron saint of Norway. This Augustinian priory was dissolved by Henry VII in 1537 and then purchased by Sir Henry Jerringham who built a three storey mansion just north of cloisters which incorporated monastic remains.
Today, you can still see part of the church, cloister, and refectory undercroft. A bit north, you may be able to see some remains from Jerringham's house.
While it is free to visit St. Olaves Priory, which is an English Heritage site, there is no car park for the site. Visitors can use the left-hand side of the car park at the neighbouring Priory Farm Restaurant then it's a short walk to the ruins.
#8 Take a Train Ride
Another way to see the Broads is by train. No one has to worry about driving or navigating, so everyone can just sit back, relax, and enjoy the view.
Bure Valley Railway
The Bure Valley Railway is Norfolk's longest narrow gauge steam railway. It runs between the market towns of Aylsham and Wroxham, where you can hop off and walk back along the track or take a return trip. The 18-mile round trip follows the meandering River Bure through the countryside, meadowland, and ancient pasture.
Barton House Railway
Barton House Railway is a miniature ride-on railway located that goes along the River Bure in Wroxham. The whole family will enjoy travelling back in time to the golden age of steam trains with two ride-on railways, a working full-size signalling system, and authentic tickets.
#9 Explore inside a Windpump or Windmill
You can't go very far in the Broads without seeing a Windpump or Windmill. These structures were built to help local millers grind corn and to provide power for water pumps on the Broads. Some are actually open to the public so that you can peek inside and learn more.
Horsey Windpump
Horsey windpump was working until it was hit by lightning in 1943 but has since been restored. It was reopened to the public in 2019 with a new winding cap and turning sails. During opening hours, you can climb to the top of this Grade II listed building and take in the views of the area.
It is a National Trust site, so members can visit for free. Get more information here.
Thurne Windmill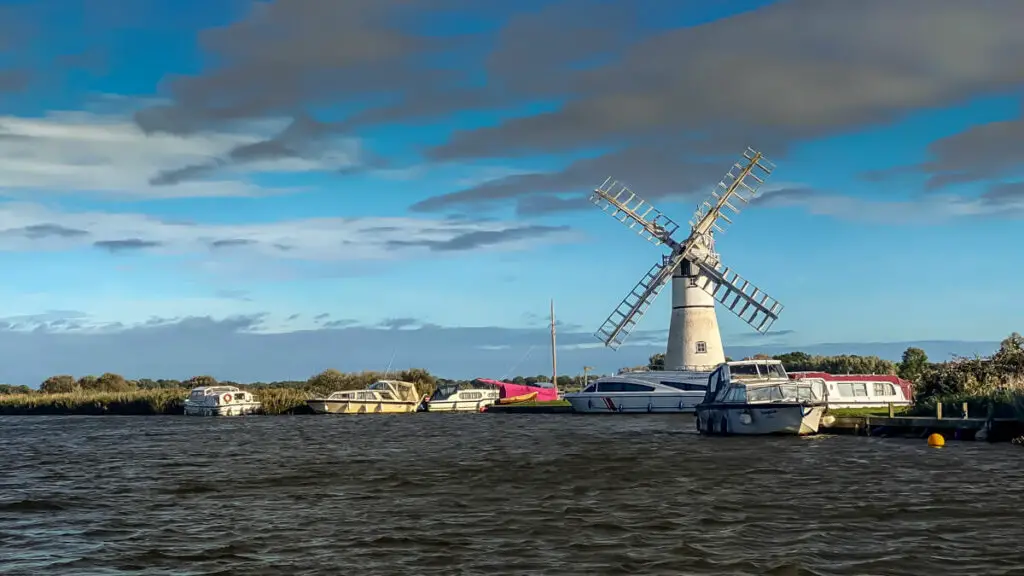 The Thurne Windmill may be one of the most photogenic windmills in the Norfolk Broads. It was built in 1820 but stopped working in 1936. In 1950, it was restored to its former glory and is still working. While it is only open to the public a few days a year, you can still get a nice picture even if you can't go inside.
#10 Go Inside Ranworth Church and Climb the Tower
Norfolk has the greatest concentration of medieval churches in the world and one that you'll want to visit is St. Helens in Ranworth, also known as the Cathedral of the Broads. This church dates back to the 14th and 15th centuries.
Inside you can see one of the finest medieval rood screens in England and a 15th century illuminated manuscript (kept in a case for protection). If the weather is pleasant, you must climb the 89 steps and 2 ladders inside the church tower. It's hard work and a little tight at times, but worth it for the views!
Get more info here.
#11 Relax at a Pub
After a day of exploring the Broads, you have earned your pint, so why not relax at one of the charming pubs. There are many with outdoor seating and some with views of the water, so you can watch the boats go by. Some of the most popular pubs in the Broads include the Maltsters in Ranworth, Acle Bridge Inn, and the New Inn in Horning.
Read reviews of the Maltsters in Ranworth.
Read reviews of the Acle Bridge Inn.
Read reviews of the New Inn in Horning.
#12 Visit a Brewery
The Norfolk Broads are home to a few breweries, the best known being Woodforde's Brewery, nestled in the picturesque village of Woodbastwick. With a rich heritage dating back nearly four decades, Woodforde's has established itself as one of the foremost cask ale breweries in the UK, earning numerous accolades, including CAMRA's 'Champion Beer of Britain' awards.
One of the highlights of a visit to Woodforde's Brewery is their captivating tour experience. Led by experienced guides, you'll get an insider's look at the fascinating brewing process, starting at the mash tuns where the magic begins.
Discover the secrets behind Woodforde's award-winning 'Wherry' pint as you unravel the brewing techniques and traditions that make their beers truly exceptional. The tour culminates in a delightful tasting session, allowing you to enjoy the distinct character of Woodforde's brews first-hand.
RELATED: Brewery Tours in Norfolk
But the experience doesn't end there. After the tour, make sure to explore the Woodforde's Brewery shop, where you can take home your favourite brews. As a special treat, everyone on the tour receives a generous 10% discount on purchases in the shop.
To complete your Woodforde's Brewery adventure, indulge in the warm hospitality of The Fur & Feather, their brewery tap located nearby. This charming pub, with its thatched roof and inviting atmosphere, offers a perfect setting to relax and enjoy a hearty meal paired with your preferred Woodforde's tipple.
Get more information and book a Woodforde's Brewery tour here.
#13 Have a Picnic
The peaceful setting of the Broads makes it the perfect place for a picnic, whether it's a large family gathering or a romantic meal for two. There are countless spots where you could picnic, but these are a few of my favourites.
Wroxham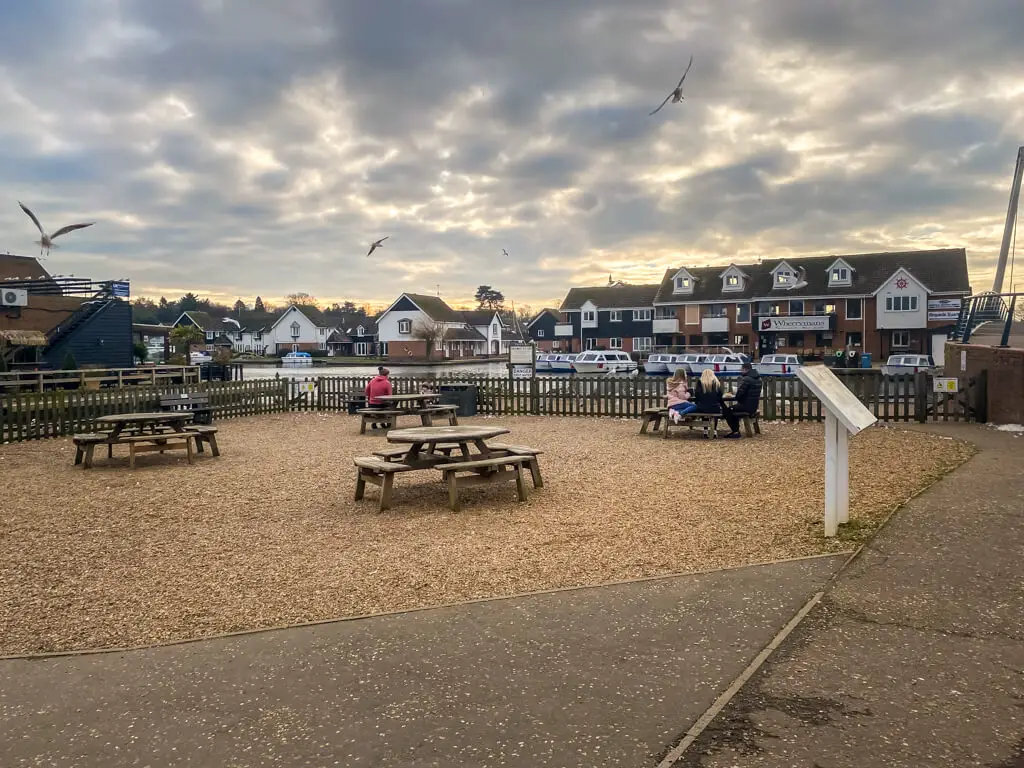 There is a designated picnic area quayside in Wroxham (east side of the bridge). You can bring your own food or pick up some fish and chips from the shop nearby. Just keep an eye on the birds as some might try to come after your lunch.
Potter Heigham
Follow the footpath by the Potter Heigham Bridge to find a well equipped picnic spot overlooking the River Thurne. It has picnic tables and BBQ pads.
Coltishall Common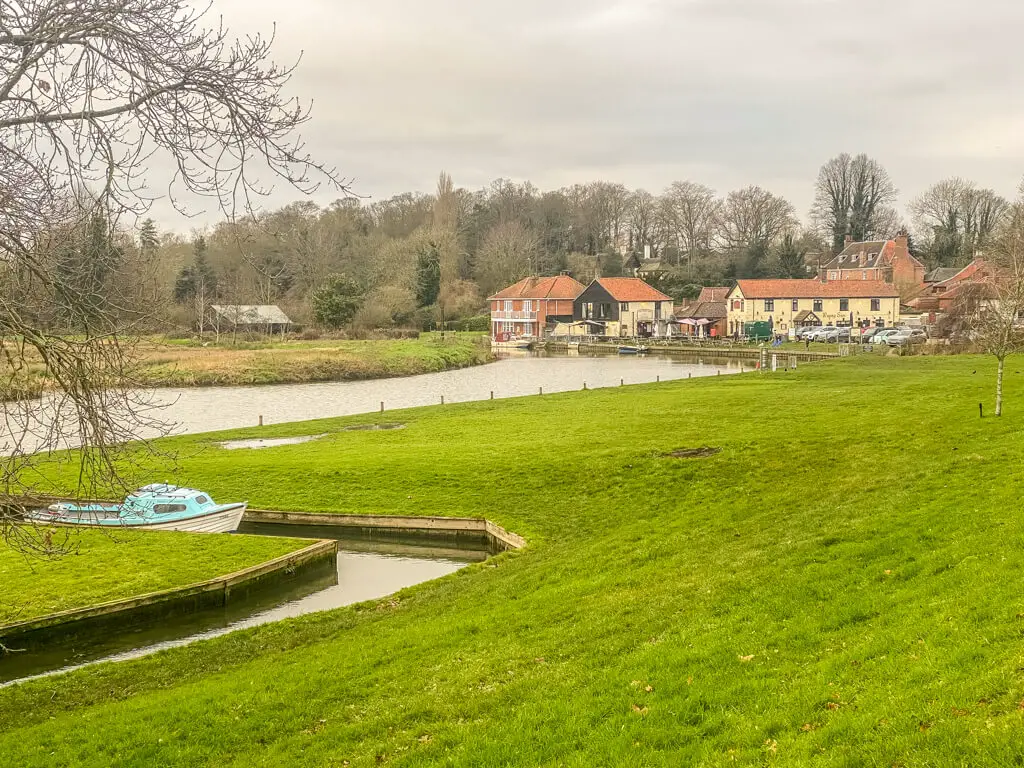 While there are no picnic tables, this grassy area has a lovely view of the River Bure. There is also space to moor your boat.
Whitlingham
Whitlingham Country Park has several picnic areas, although none are right by the water. Still, with all the things to do at Whitlingham, you will have a fun afternoon.
Are the Norfolk Broads Worth Visiting?
Yes. You will have fun while appreciating nature. The options of things to do are almost endless, but you can also just slow down and relax. It's a great escape from city life.
Disclosure: This post contains affiliate links. This means we will receive a small commission for some purchases made using links in our blog with no additional cost to you.  Please be assured we would not promote any product unless we believe that our readers will also benefit.  The commission does not influence the editorial content of this site.