Wells-Next-The-Sea may be best known for its beach huts, but there are many more reasons to visit this charming seaside town. It's a lovely place to spend a day (or more) with or without the kids.
Let me share more about the best things to do in Wells-Next-The-Sea and what makes this town special.
Be sure to sign up for our email newsletter here to keep up to date with what's happening in Norfolk.
Note: This post contains affiliate links.  As an Amazon Associate, we earn from qualifying purchases. Please see disclosure for more information.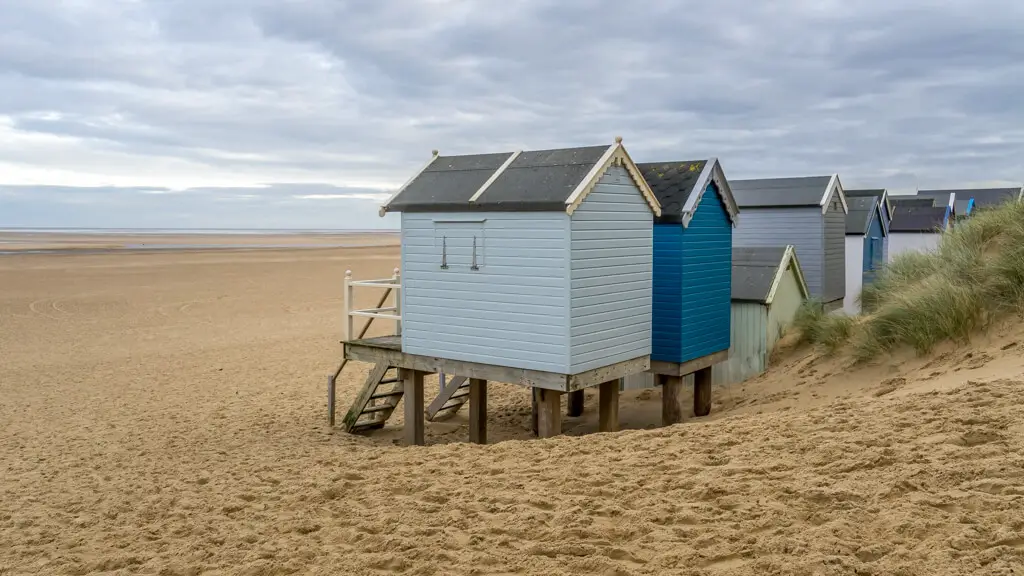 History of Wells-Next-The-Sea
In the Domesday book, Wells-Next-The-Sea is mentioned as Guella which comes from the Anglian word Wella meaning spring as at one time there were more than 180 rising through the chalk of the area. Over the years, the name became Wells, then Next-The-Sea was added in the 14th-century to distinguish it from other places with the same name.
In December 1857, the Wells and Fakenham Railway opened and the terminus was given the name of Wells-on-Sea. Almost a hundred years later in 1956, the Wells Urban District Council voted to readopt the name Wells-next-the-Sea, and it has been the official name ever since.
Over the centuries, Wells-Next-The-Sea has been a fishing and commercial port, ship building hub, and a nationally important producer of malt. The introduction of the railway in 1857 hurt the harbour trade but it revived briefly after the Second World War for the import of fertilizer and animal feed. Tourism has helped fill the economic void.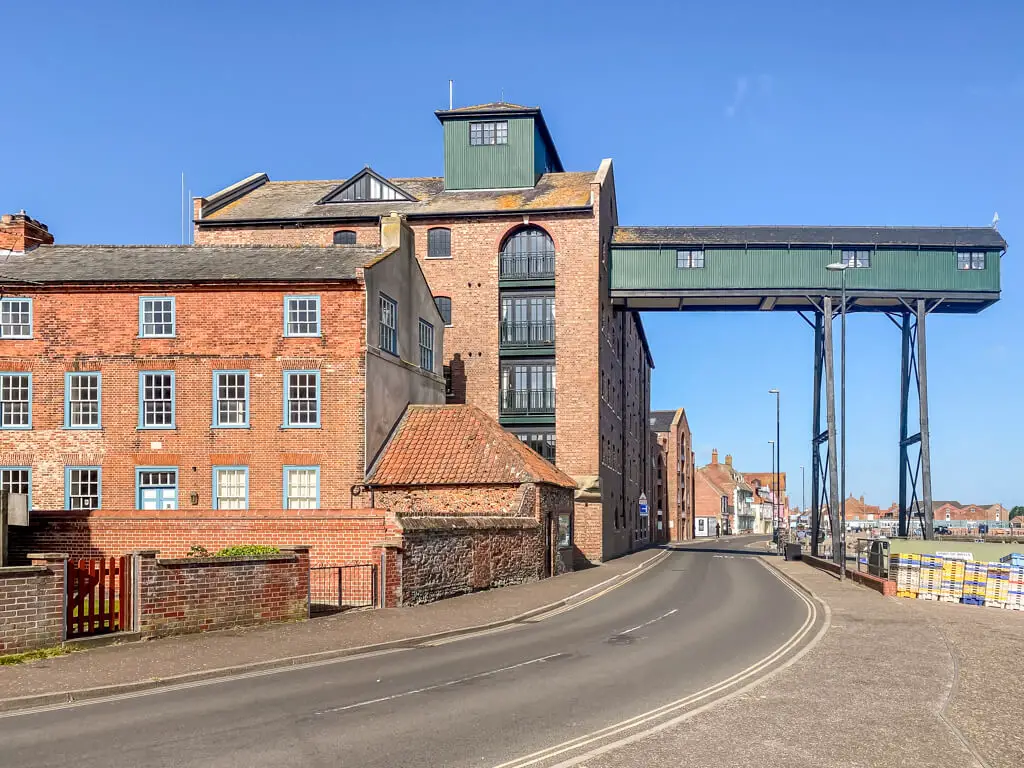 You can still see evidence of the town's history today. For example, in the harbour there is a large granary building with its distinctive overhanging gantry which was built in 1903 and has since been converted into luxury flats. Some of the town's buildings are hundreds of years old, including former coaching inns and public houses.
Best Things to Do in Wells-Next-The-Sea
One of the reasons that Wells is such a popular place to visit is that there are plenty of things to do for all ages. It is home to one of the best beaches in Norfolk and much more.
#1 Enjoy the Beach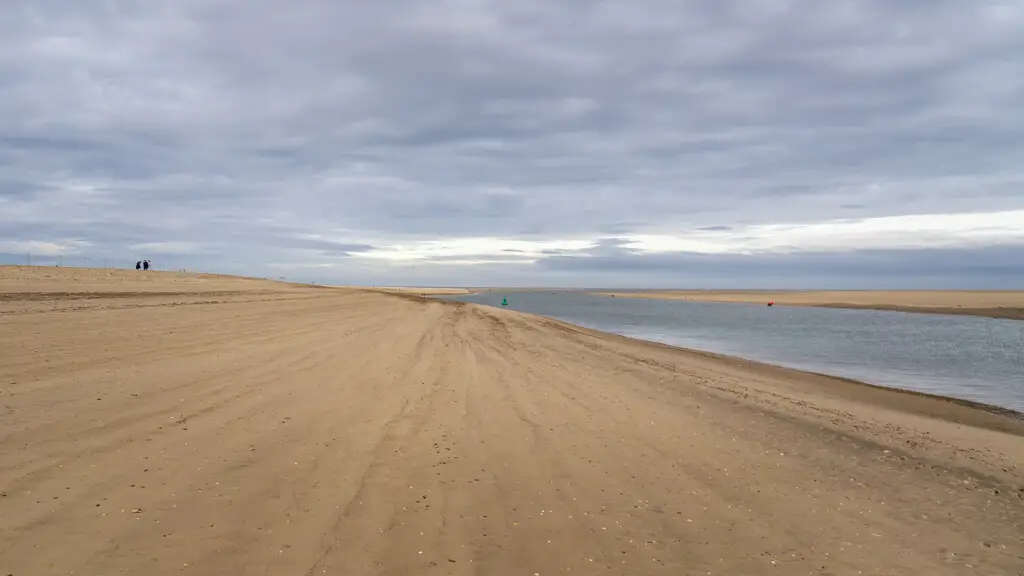 While the beach is about a mile away from the town of Wells-Next-The-Sea, you will be glad you made the effort to get there. It has soft sand and calm water.
There is a car park by the beach. Alternatively you can walk from the town along the raised path and enjoy the views over the marshes or take the Wells Harbour Railway.
UPDATE: The railway was dismantled and removed November 15, 2021. Holkham Estate, who owns the land, introduced an environmentally-friendly bus for the 2022 visitor season.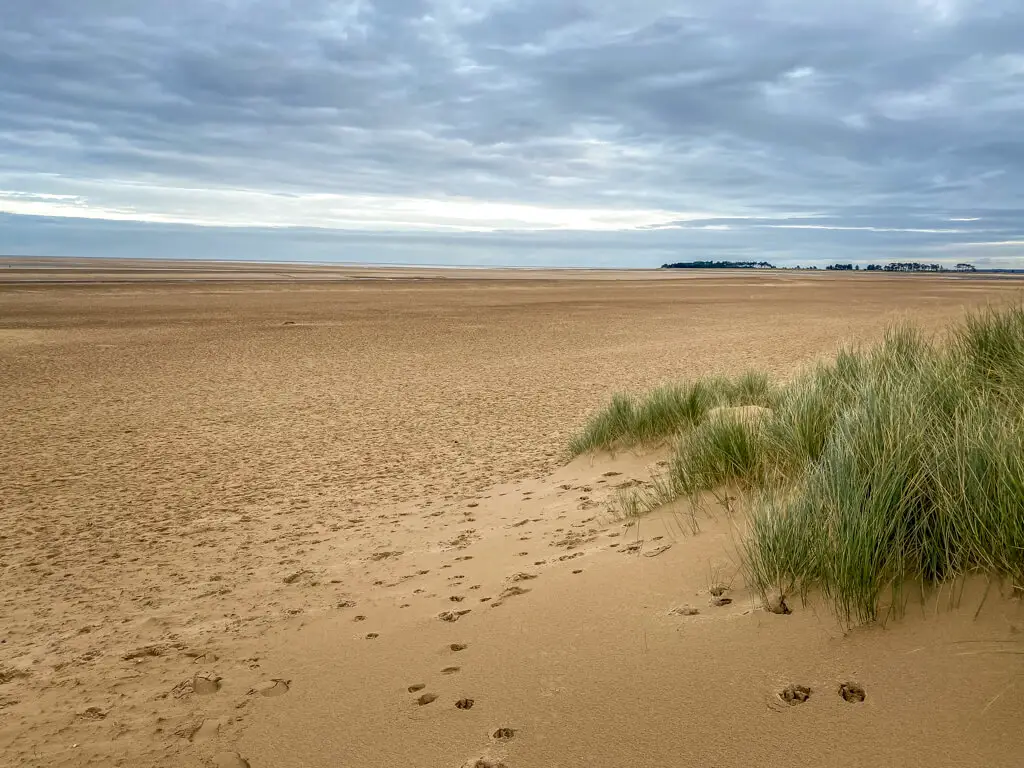 If possible, try to time your visit for low tide when the beach will be huge. Even if there are a lot of people, you will still be able to find some space to spread out and have a picnic or even make sandcastles.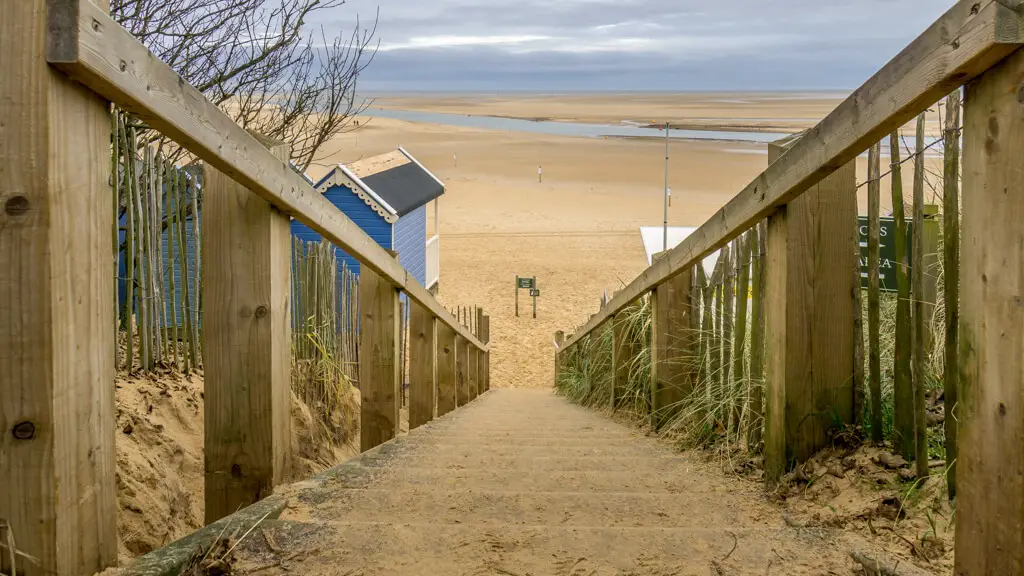 The size of the beach also makes it a popular dog spot. Keep in mind that the section closest to the lifeboat is dog-free all year. If you bring your dog, you will need to enter the beach via the stairs over the dunes and keep to the left.
You do need to be careful about the tide as it comes in quite quickly and you don't want to be cut off from the beach. Always heed the siren and follow the instructions of the beach supervisor.
When you need some refreshments, there is the Beach Cafe by the car park. They offer a good selection of food and drinks which you can get to takeaway or enjoy in their indoor or outdoor seating areas.
There are also shower and toilet facilities by the entrance to the car park.
#2 Check out the Beach Huts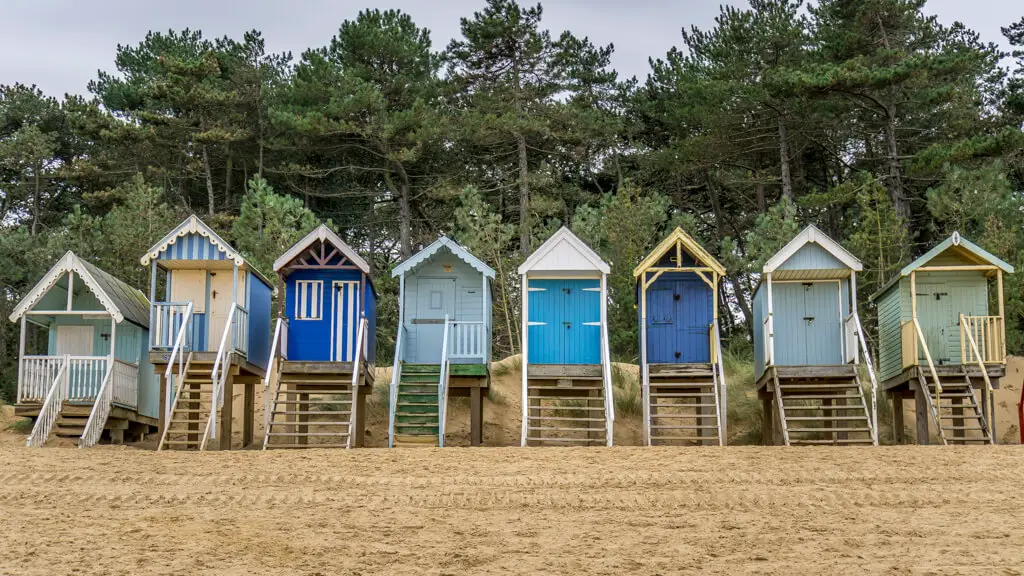 Wells is the best place to see beach huts on the North Norfolk Coast. Since there is no promenade by Wells beach, the beach huts are on stilts along the back of the sand with the trees behind them.
It's fun to walk by them and look at the names. Some are very creative or funny like Whit's End, Salty Dog, and Passing Wind. I also think there is more variety in the design and decoration of the beach huts in Wells compared to other beaches.
If you want to make your time at the Wells beach extra special, there are some beach huts that can be hired for the day. Keep in mind you can not stay overnight in the beach huts and they don't have water, electric or gas supply.
Get more information here.
#3 Go on the Wells to Walsingham Railway (closed during the winter)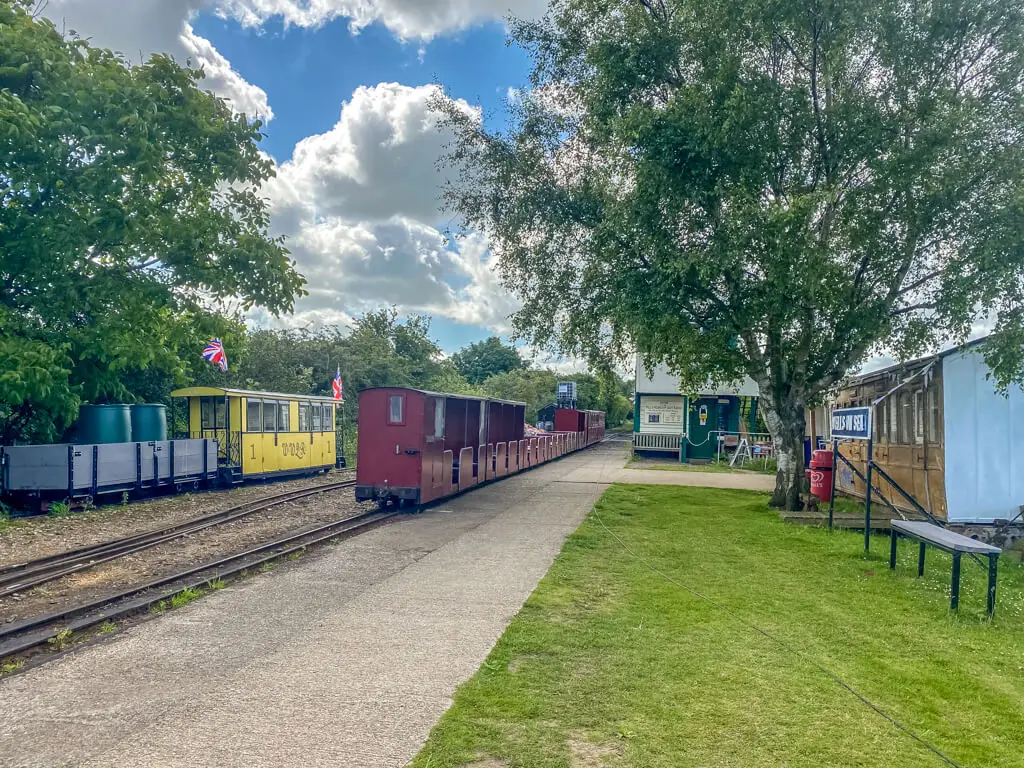 You can ride on the smallest public railway in the world. The famous Wells & Walsingham Light Railway goes between Wells-next-the-Sea and the beautiful village of Walsingham, a famous pilgrimage centre.
Begin your travel at either end of the line. There is no need to book in advance as they operate on a first come first served basis via a queuing system. As long as they are not too busy, dogs can come along too.
Choose an enclosed 'all weather', covered or open carriage. Climb aboard, sit back and enjoy a half-hour trip through beautiful countryside passing by a hill-fort and a real ghost platform on either a diesel or steam-operated train.
Adult return tickets are £9.50, while children return tickets are £7.50 except for those 4 and under who are free (2022 season prices). When you ride the train, you can park for £2.50 and you can leave your car there while visiting Wells.
If you are hungry, snacks are available from the Signal Box Café which gets its name because it was a redundant signal box that was moved from Swainsthorpe to Wells Station. The ground floor has been converted into a tearoom and shop. They also have a play area for kids to enjoy before or after riding on the train.
Note that the Railway closes during the winter months for maintenance. Get more information here.
Get more ideas for things to do with kids in Norfolk here.
#4 Take a Boat Tour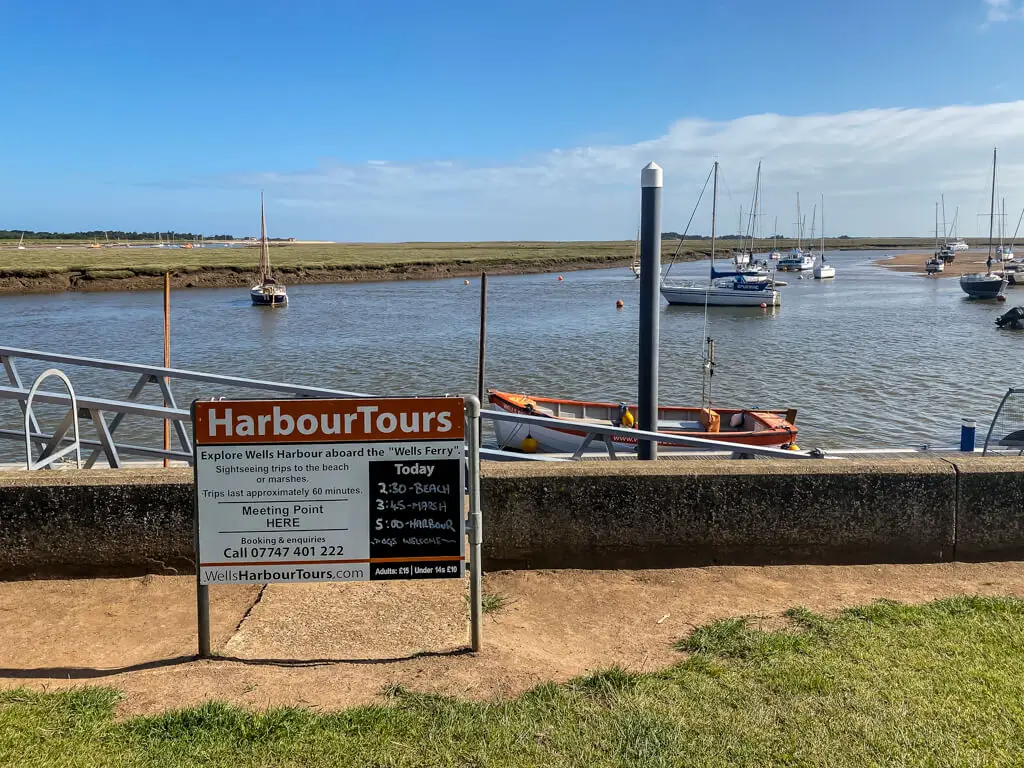 It could be fun to get out on the water. Wells Harbour Tours has several options including One Hour Beach Trip, One Hour Marsh Trip, 30 Minute Mini Trip, One Hour Harbour Trip, Sunset Tour (approximately one hour), and private charter.
These boat trips leave from the small jetty by East Quay.
Get more information here.
#5 See the RNLI lifeboat station
There has been a lifeboat stationed at Wells for over a hundred and fifty years. In 1880, it was launched to help several vessels including the Ocean Queen under difficult conditions. There is a memorial by the Harbour Offices for the 11 crew members that lost their lives after being hit by a huge wave during the rescue.
While the first RNLI lifeboat station was built in 1869, the one you see today has a modern exterior. While it has been extended and altered over the years, much of the inside is from the building constructed in 1895.
Unlike many other RNLI boathouses, there is no separate viewing gallery. The building is barely large enough to house the boats and other required equipment. Visitors will get to see behind-the-scenes but they do need to take extra care as they move around and make sure that small children are closely supervised.
There is also a small gift shop for information and souvenirs but it only opens when there is a public event. If the crew and station officers at the boathouse are not too busy during your visit, they are happy to answer questions.
The RNLI boathouse is located on a sand and shingle spit just over a mile north of the town near the beach. There are two active lifeboats at Wells Lifeboat Station: Doris M Mann of Ampthill, Mersey Class Lifeboat and Peter Wilcox D Class lifeboat.
The boathouse is open Monday to Friday from 9:00 to 17:30 and occasionally on the weekends when there are crew training exercises.
#6 See the Lifeboat Horse (May to September)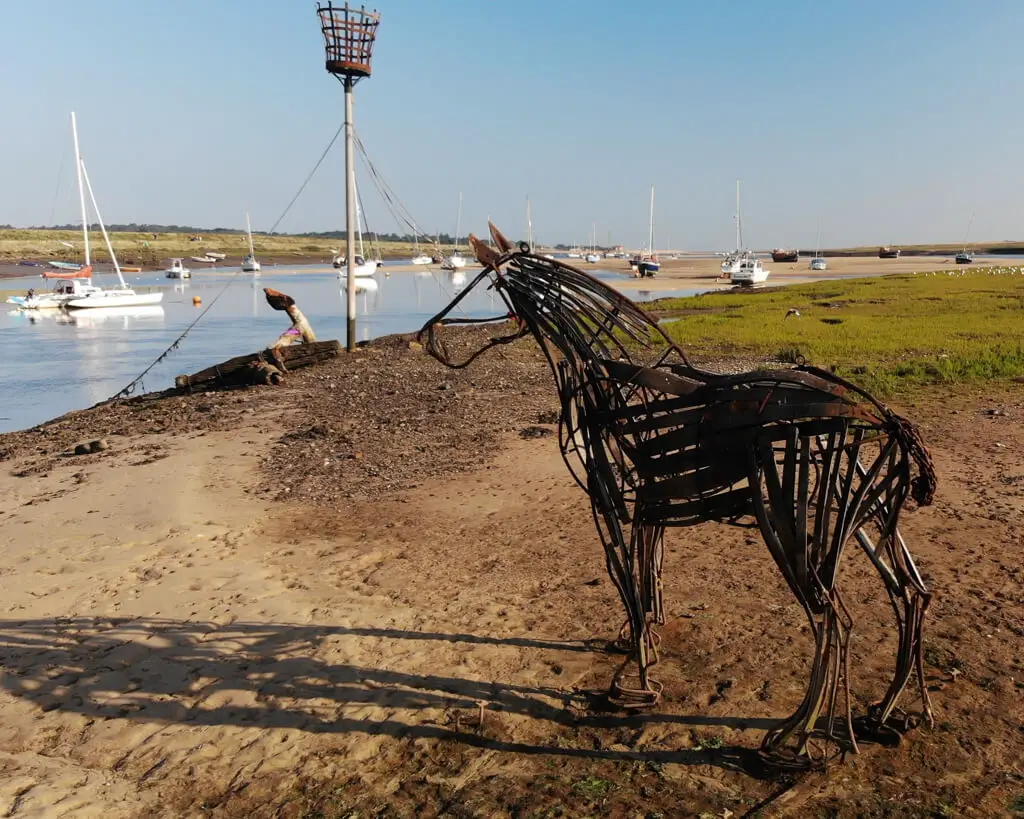 The Lifeboat Horse is a striking sculpture made from steel bars and whisky barrels by the artist Rachael Long as a tribute to the horses that once pulled the town's lifeboat from the quay to Holkham Gap. It stands on the harbour sand. You should try to see it at different times during your visit. At low tide, it is fully visible and at high tide it is partly submerged like it is swimming in the sea.
Originally, the sculpture was to be a temporary installation but everyone liked it so much that they raised £15,000 required to reinstall it. The Lifeboat Horse goes into storage from October to protect it from the winter weather and is returned to its home in the harbour in May.
#7 Check out Wells Maltings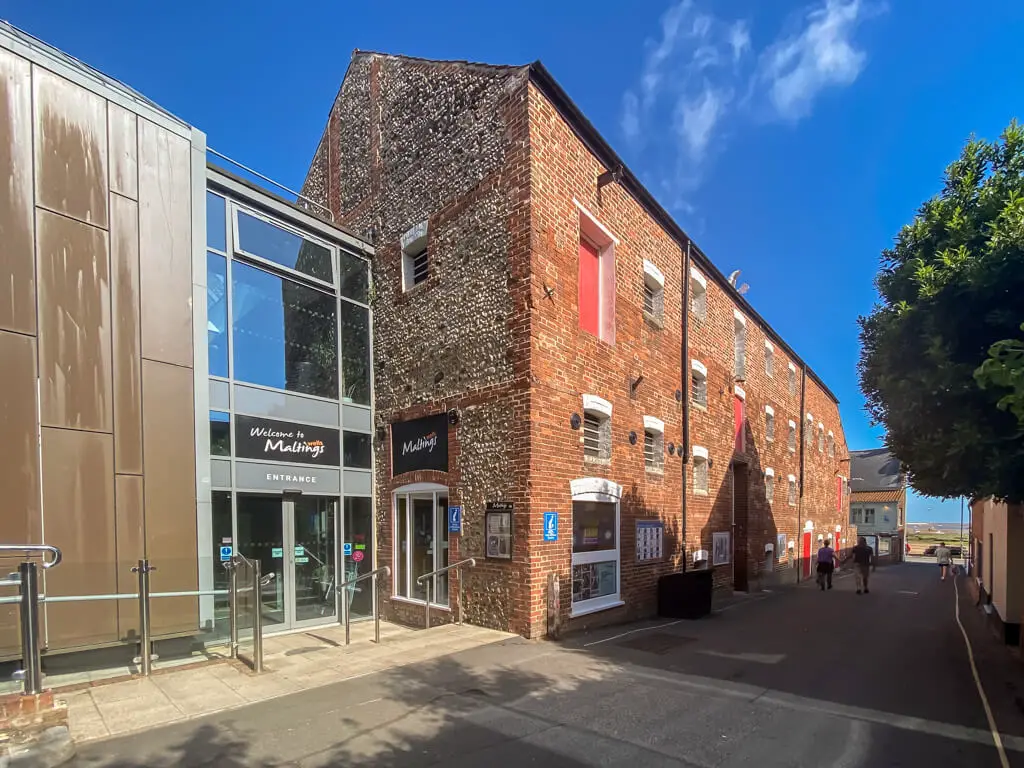 Wells Maltings is an arts, heritage and community centre which opened its doors to the public back in July 2018. The original Grade II-listed Maltings building was restored, repaired, and transformed into a sustainable, exciting, year-round attraction for locals and visitors alike.
It includes a state-of-the-art theatre/cinema, Heritage Centre, Visitor Information Centre, café and bar, a modern art gallery, along with some community spaces. You can enjoy films, onscreen theatre, live music, drama, dance, comedy, poetry, art, informative talks, and more.
There is always something happening at Wells Maltings. Check the calendar here.
#8 Taste Some Cider (Easter to October Only)
Enjoy a cider tasting at the Whin Hill Norfolk Cider shop. Grab a seat in their courtyard or garden and try some of the 11 different ciders, perry, apple juices, cider vinegar, fruit flavoured spirits, and apple spirit (brandy) that they make. There is also fresh honey made by the bees in their orchard.
The shop, located right by the Stearmans Yard Car Park, is only open from Easter through until the end of October, but the hours do vary. Check here to confirm times.
#9 Browse the Art Galleries
Wells Maltings is not the only place to see art in Wells Next the Sea. If you enjoy art, there are several galleries to check out in the town.
Gallery Plus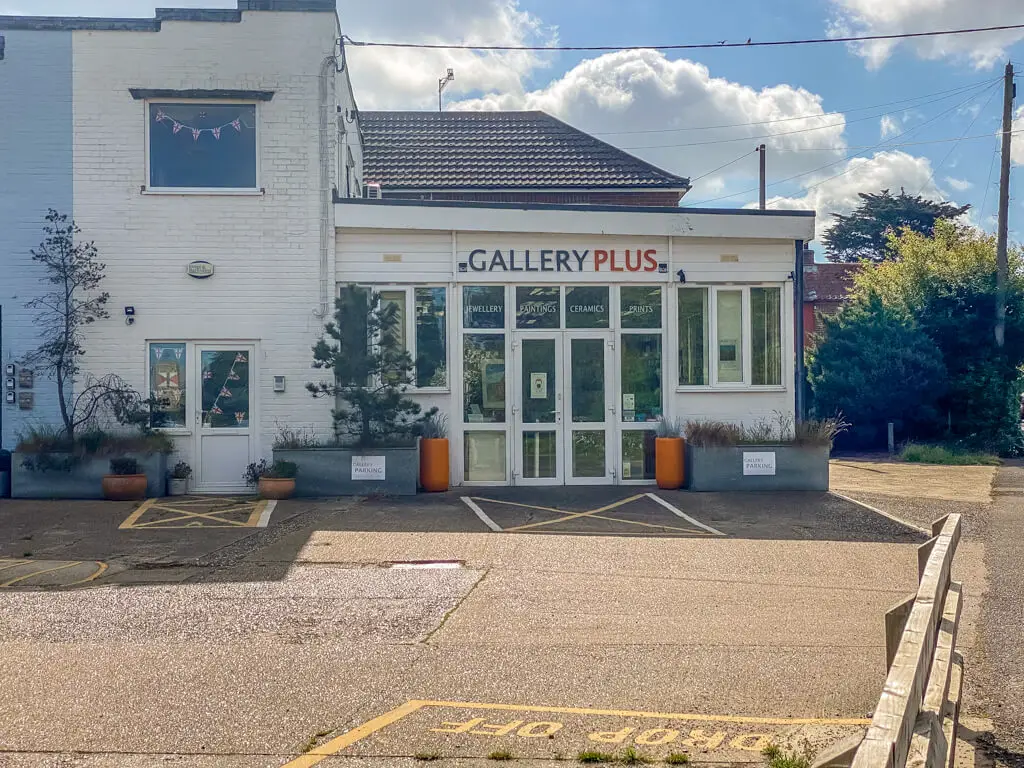 Inside this bright and airy exhibition space, there is an ongoing show of original paintings and prints, ceramics, glassware, sculpture, and jewellery by popular artists and makers from around the country. It is also home to the Open Studio of local artist Trevor Woods.
Get more information here.
Quay Art Gallery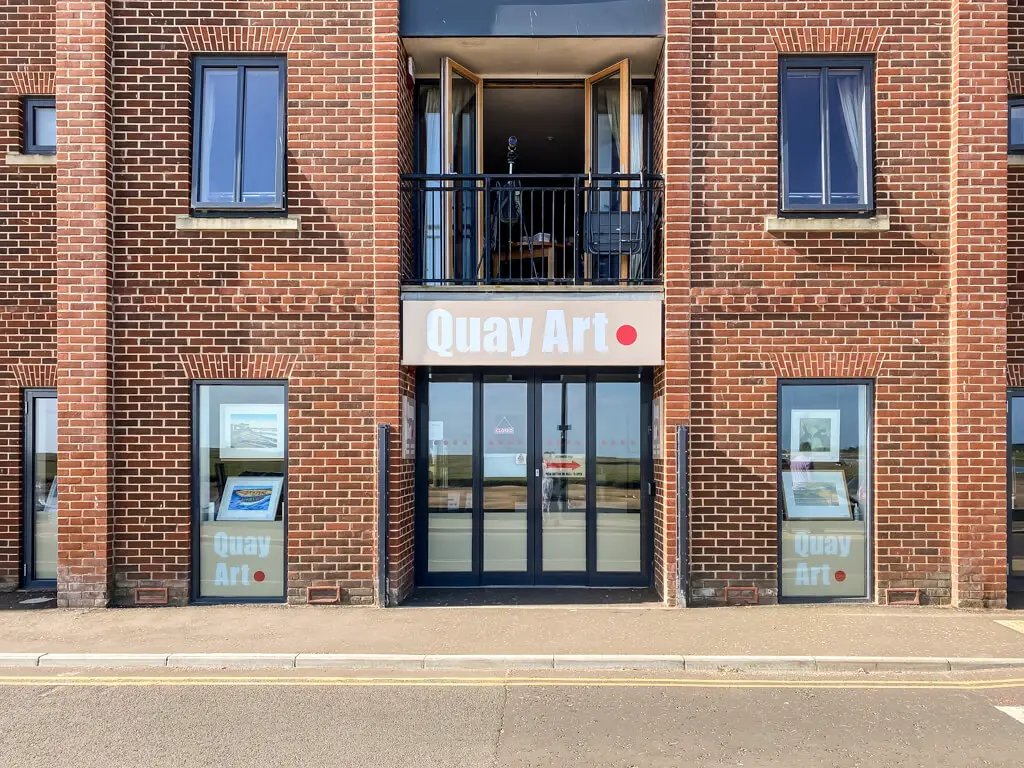 This is a printmaker's gallery that also has original, contemporary coastal paintings, studio ceramics, fused and kiln-formed glass, wildlife sculpture, and artisan jewellery. All the artwork is inspired by the coast and countryside. They also have a location in Blakeney.
Get more information here.
The Staithe Gallery
You can find an ever changing array of paintings, prints, and mult-media pieces along with handmade bespoke furniture by David Roger Burton, using the reclaimed timbers from HMS Victory and Cutty Sark.
Get more information here.
#10 Go for a Scenic Walk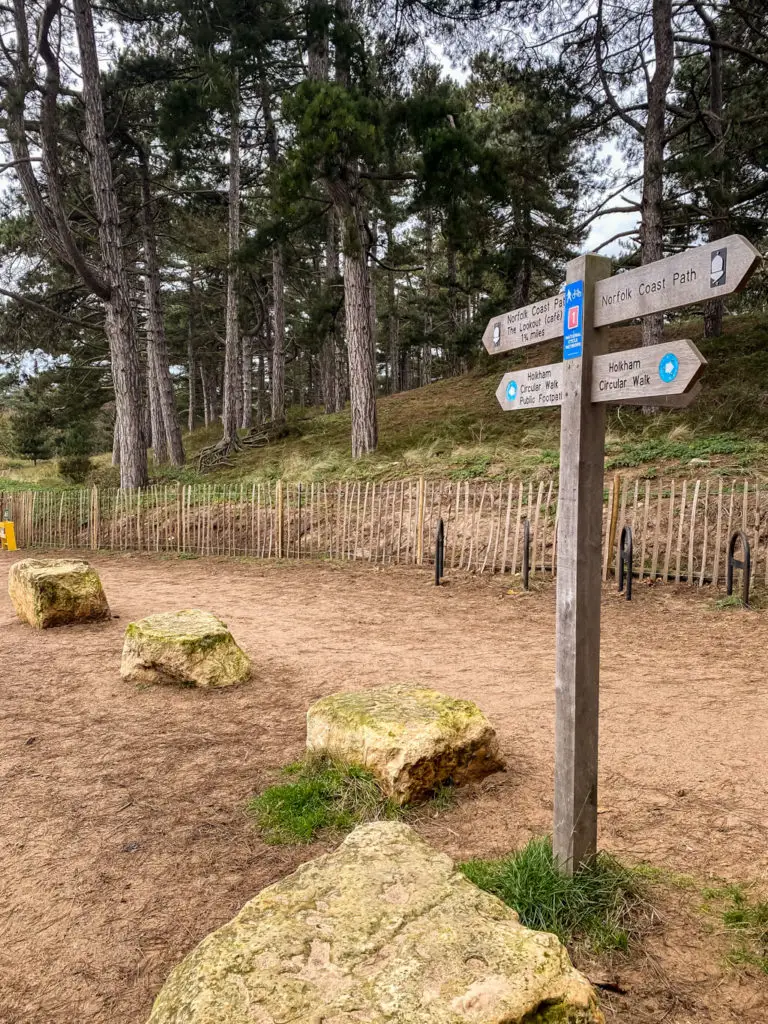 Wells lies directly on the Norfolk Coast Path, an 85-mile signposted trail running from Hunstanton to Hopton-on-Sea. You can walk along this National Trail for as long as you like (or have time for). Then, catch the Coasthopper bus from any of the villages back to Wells.
Alternatively, you could do the Holkham circular walk from Wells. It's about 7 miles long but it's mostly flat. You can stop at the Victoria Inn about halfway if you need a break. Get the map here.
If you want to do more of the Norfolk Coast Path, you can find more information about the route from OS Maps here or get more details in this comprehensive guidebook.
#11 Eat Fish & Chips
If you enjoy fish & chips by the seaside (or quayside), Wells has two popular chippys to choose from. French's fish and chips shop on the Quay is an institution, established in 1923. Nearby, there is Platten's which opened in 1966. Grab your fish & chips and enjoy it next to the harbour with the smell of the sea.
#12 Do a SUP tour
Explore the creeks and salt marshes of Wells-Next-the-Sea on a 2-3 hour guided stand up paddle boarding tour with North Norfolk Paddle Boards. To do the tour, you need to have some SUP experience and be at least 14 years old.
If you are looking to learn paddleboarding, they also offer lessons. 
Get more information here.
#13 Go Crabbing
While Cromer is probably the best place to go crabbing on the North Norfolk Coast, I have seen people successfully crabbing in Wells Harbour. I don't think there are any places in Wells selling crabbing equipment so you will need to bring your own. That would include a bucket, net, string, and some bait. You can use raw bacon, squid, or mackerel.
#14 Have Fun in the Amusements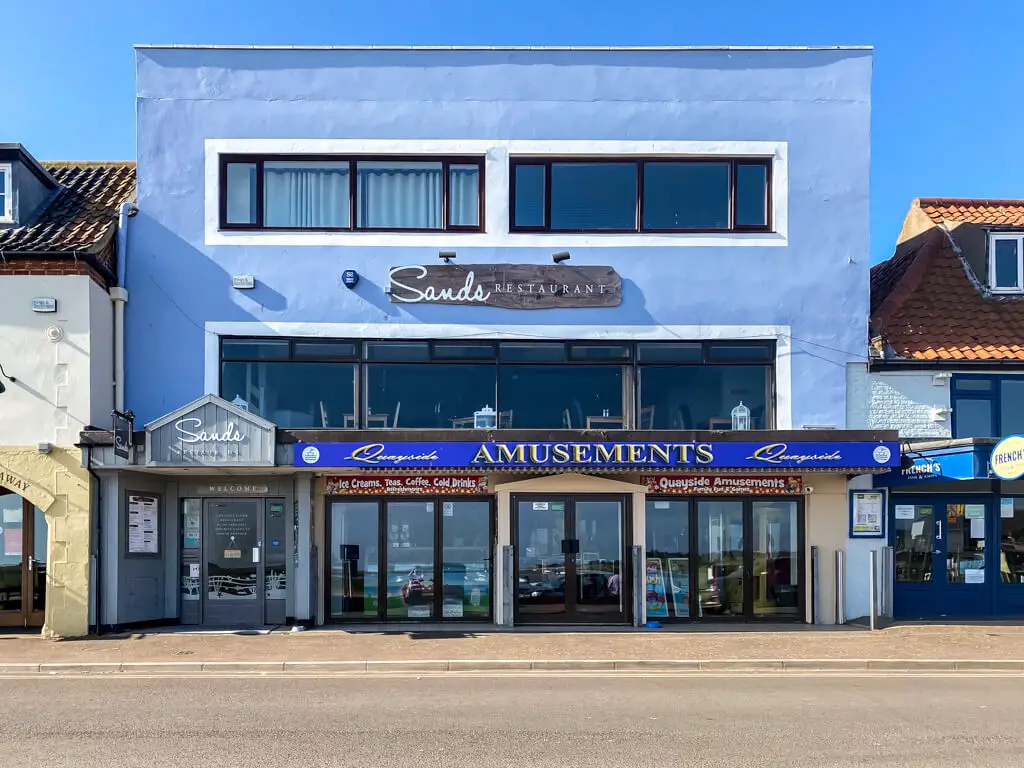 Like many other seaside towns, Wells-Next-The-Sea has amusements which you can find near the Quayside area. With all the different games, you can keep kids (of all ages) entertained for hours. If you are lucky, you might even win a prize.
#15 Peek inside St Nicholas Church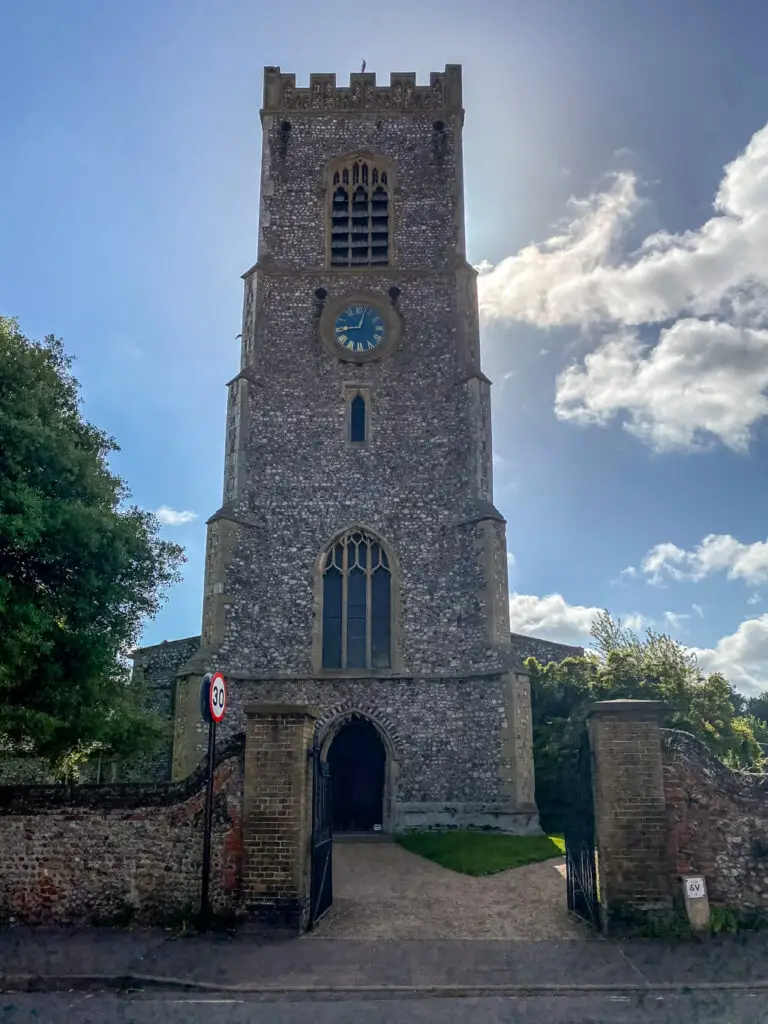 The historic church at the far end of the town was originally built in the 13th century. It was rebuilt on its present footprint in the 15th century, though most of what you see now is Victorian as it had to be rebuilt again after a fire in 1879 caused by a lightning strike.
Inside the Grade II listed Parish Church of St. Nicholas you will find one of the largest chancels in Norfolk, 19th century glass, and statues of St. Nicholas. As of 2021, it was on the Historic England's 'Heritage At Risk Register', but was awarded funding from the National Lottery Heritage Fund in October 2021. Expect restoration work to be ongoing for a bit.
Annual Events in Wells-Next-The Sea
While Wells is lovely to visit any time of year, you might want to make note of these special events when the town will be buzzing.
Wells Carnival
This is the big event in Wells held for a week around the end of July or beginning of August. It includes a Carnival day procession, Quay market, Historic Lifeboat Festival, parade, sandcastle competition, crabbing competition, live music, beach party, and much more! It ends with the annual Lifeboat Service on the Quay.
Get more information here
North Norfolk Triathalon
Each year there is an Olympic distance open water triathlon that starts and finishes at Wells Quay. The swim takes place in Wells Harbour with the support of the RNLI, the bike ride takes in local villages, and the run goes along the North Norfolk Coast Path and the beach. Typically held in September, but dependent on the tides.
Get more information here.
Wells Christmastide Festival
Typically in early December, the Christmastide festival includes a Christmas Craft fair in the Maltings, Christmas Tree festival, living nativity, Christmas Carols, and fireworks announcing the arrival of Father Christmas by sea.
Get more information here.
*If you are looking for more holiday events, check out our list of the best Christmas events in Norfolk.
Places to Visit Near Wells
Wells is not the only attraction on this part of the North Norfolk Coast. If you are in the area, there are a few more places that you should also visit.
Holkham Park & Holkham Beach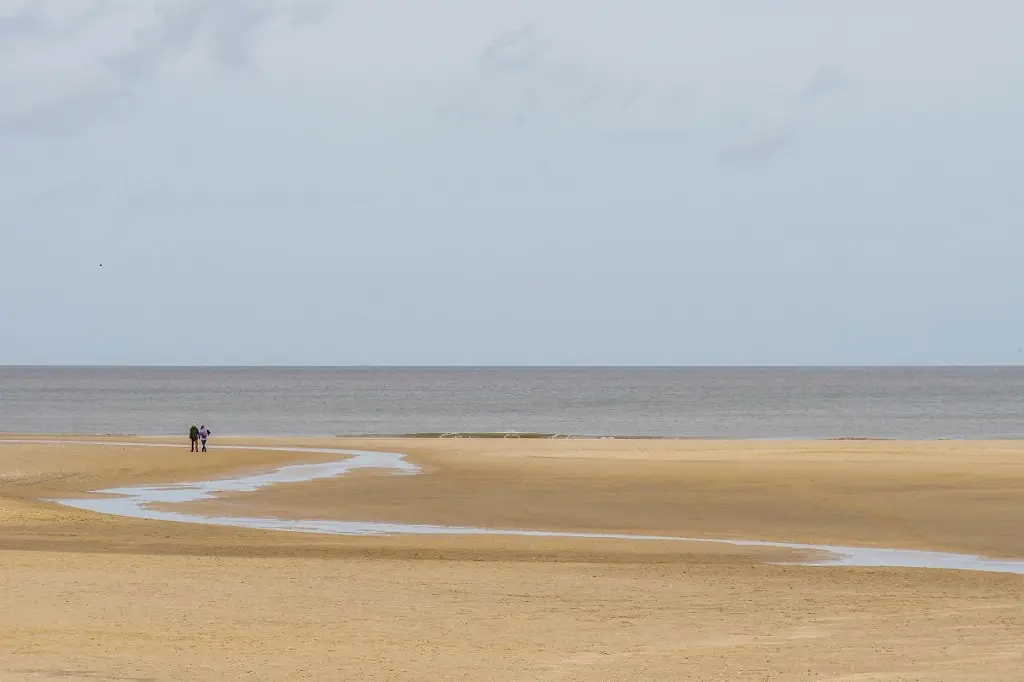 Just a few miles from Wells, you will find Holkham. Like Wells, it is one of the best beaches in Norfolk. The sand seems never ending and it's also a good spot for wildlife. Read about more things to do at Holkham Beach.
Holkham Park is also worth exploring. In addition to Holkham Hall, you can also see the walled garden, playground, lake, temple, and more. There are several waymarked walks.
If you visit during the Christmas season, you could do one of the Holkham Hall Candlelight tours, but you will need to book in advance.
'Dark Hedges' of Norfolk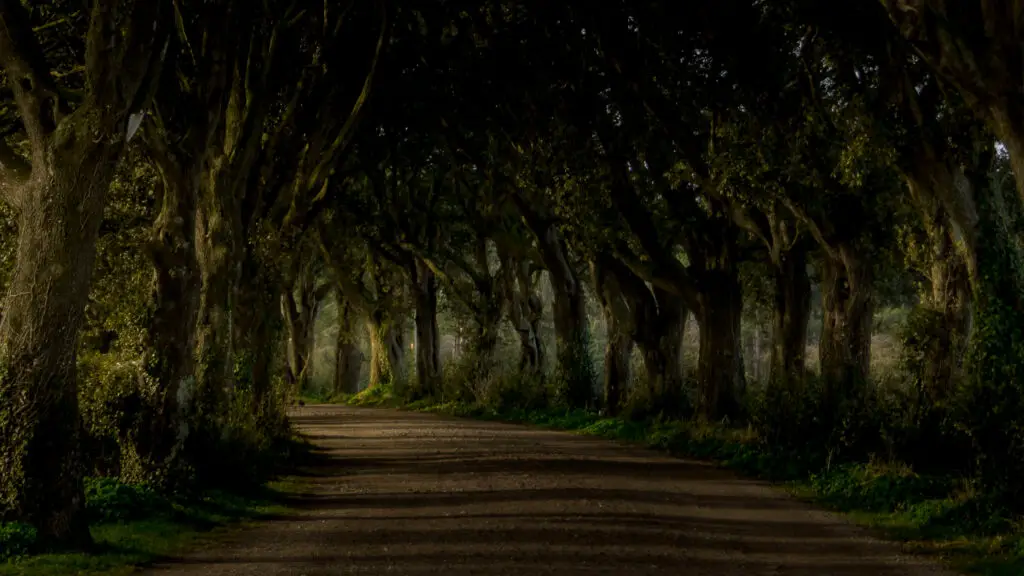 We've got a look-alike version of the famous Dark Hedges in Northern Ireland right here in Norfolk. It's tucked away on a small road off the A149, between Wells-next-the-Sea and Holkham.
The Dark Hedges in County Antrim has become a huge tourist attraction since it appeared in the TV series "Game of Thrones." The Norfolk version is not well known, so you can enjoy it without the crowds.
Warham Iron Age Hillfort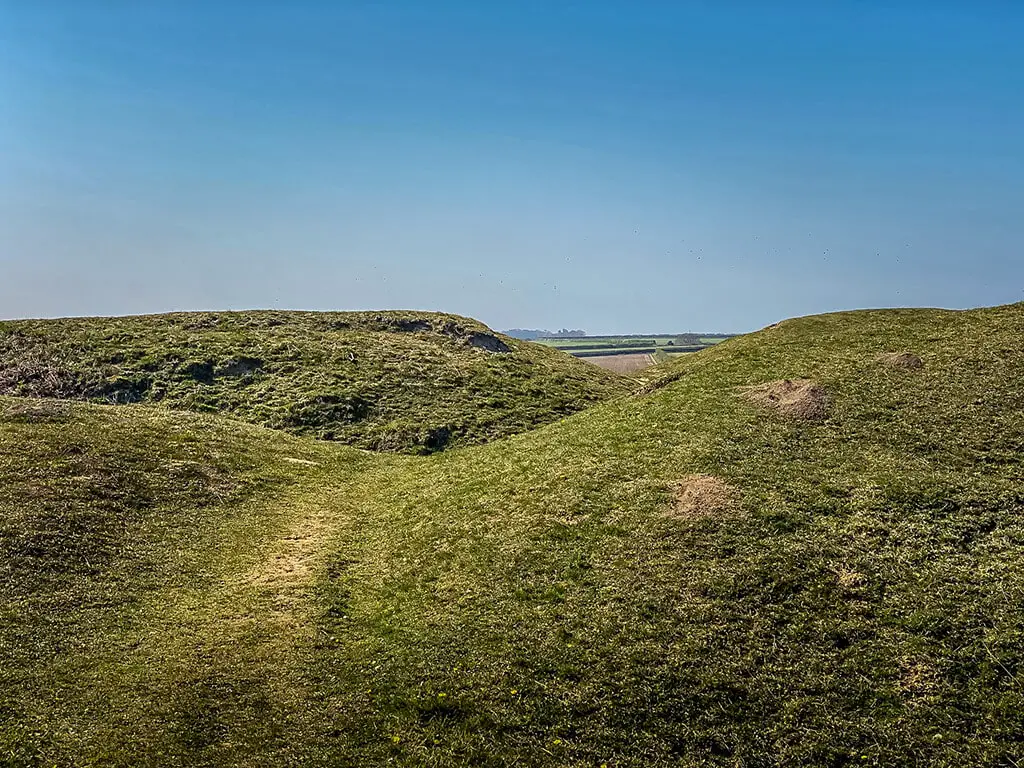 The earthworks that make up Warham Camp Iron Age Hill Fort were built over 2000 years ago by the Iceni Tribe. There were two huge circular banks and ditches encompassing 1.5 hectares by a bend in the River Stiffkey (pronounced Stewkey).
Today, the earthworks are no longer quite a full circle. Still, you can walk on what is left and take in some breathtaking views of the countryside.
It is free to visit. Get more information about going to Warham Camp.
Binham Priory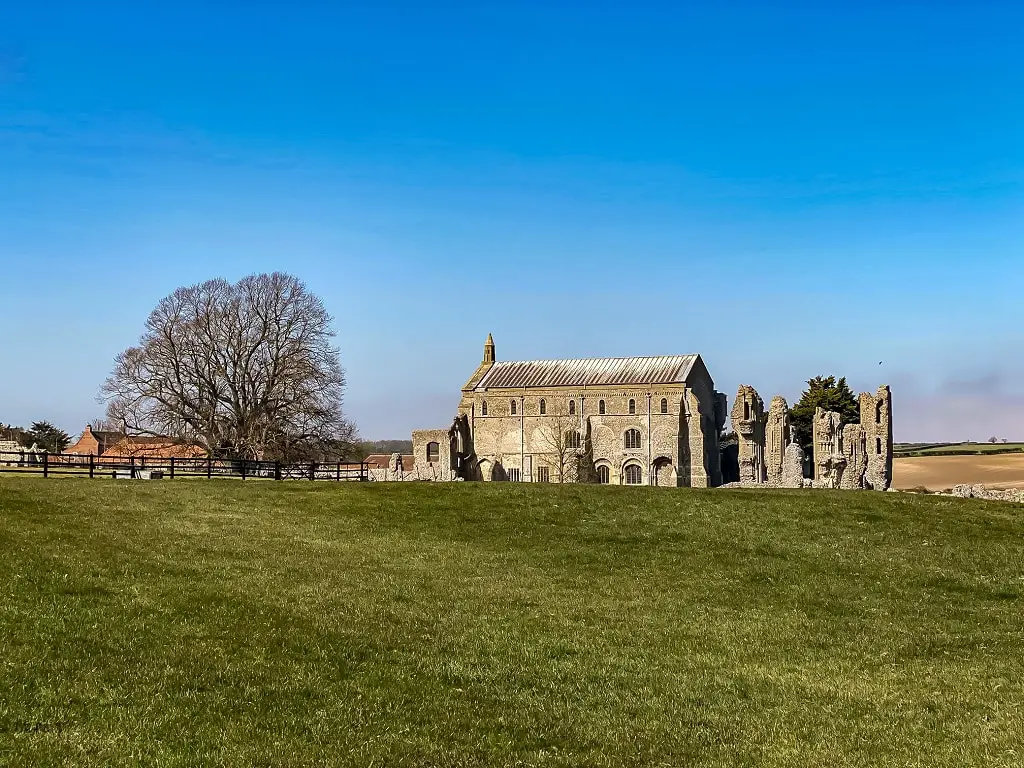 Binham Priory has been a continuous place of worship for more than 800 years. It may have been closed and partially dismantled during the dissolution of the monasteries, but the nave continued on as the Binham parish church.
You'll want to explore the ruins of the priory and go inside the parish church. It's also a lovely spot for a picnic.
Learn more about visiting here.
Walsingham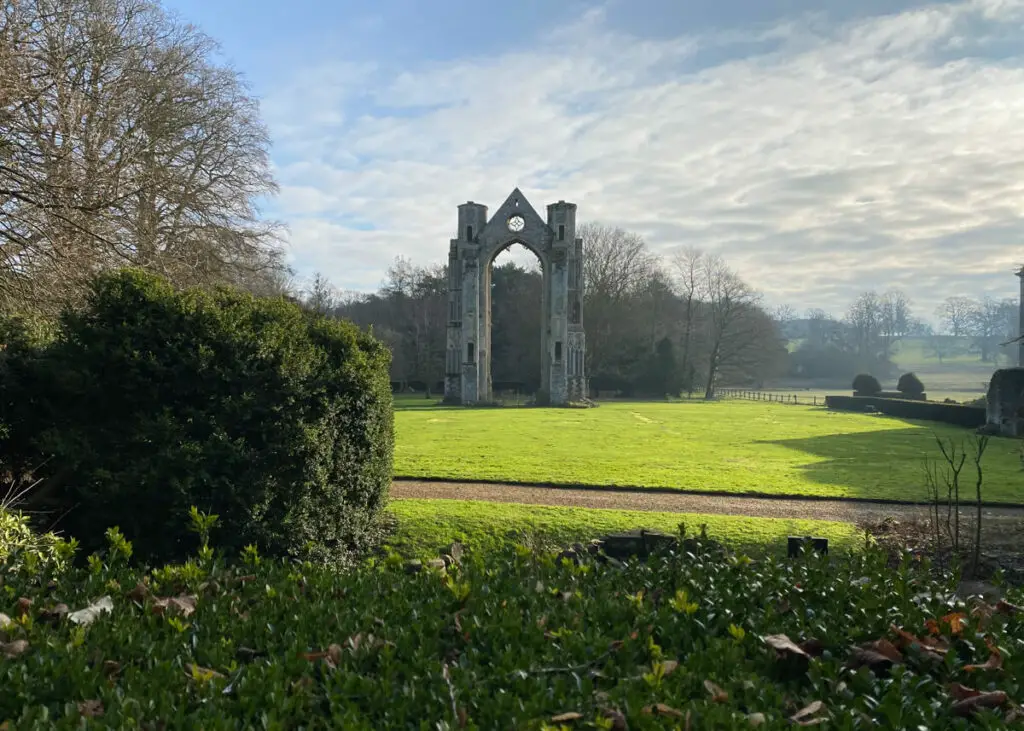 Walsingham is actually made up of two villages – Little Walsingham and Great Walsingham. It has been a pilgrimage site since the 11th century when Richeldis de Faverches, a Saxon noblewoman, had visions of the Virgin Mary who requested that a replica of the Holy House at Nazareth be built at Walsingham.
It became 'England's Nazareth' and one of Europe's most important pilgrimage places in the Middle Ages. You can visit the Anglican Chapel (Our Lady of Walsingham), the Roman Catholic Basilica (The Slipper Chapel), and the ruins of Walsingham Abbey. Pilgrims still visit today, mostly from Easter to the end of October.
During the winter months (late January and February), it is one of the best places to see snowdrops in Norfolk.
Scolt Head Island
Discover the untouched beauty of Scolt Head Island, a pristine nature reserve just off the coast from Burnham Overy Staithe. Reach this hidden gem by kayak, paddleboard, or stroll during low tide. Alternatively, hop on a ferry during the tourist season around high tide. While there are no facilities, you'll be enchanted by the clear waters, sandy dunes, salt marsh, and abundant birdlife. Keep your eyes peeled for seals too.
Read our Scolt Head Island Guide for more information.
How to Get to Wells-Next-The-Sea
The best way to get to Wells-Next-The-Sea is to drive. It takes about an hour from Norwich. You should take the Fakenham Road (A1067) to A148 to B1105. If you want to go to the car park at the beach use what3words ///ticket.economics.keen or in the town ///dried.newsprint.besotted.
While the only train that goes to Wells is the Wells Walsingham Light Railway, there are bus options if you want to take public transport. Unfortunately there are no direct buses from Norwich. You would need to take a bus (or train) to Sheringham and then get on the Coasthopper Bus to Wells. That will take around two hours.
Where to Stay in Wells-Next-The-Sea
There are plenty of charming places to stay in Wells if you want to extend your visit longer than just one day. Like other towns on the North Norfolk coast the best options will book in advance especially during the summer months. Here are our top picks:
Bang in Wells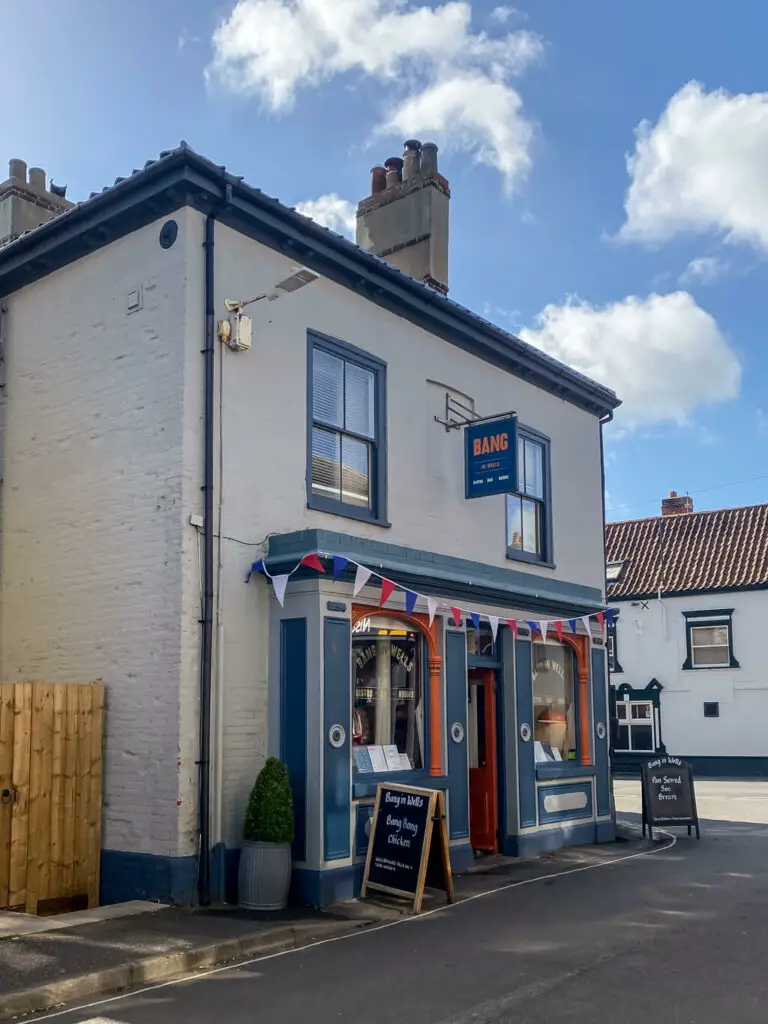 Located in the heart of the town, this inn features four well-appointed en suite guest rooms with free Wifi, flat screen TVs, fridges, and tea and coffee making facilities. Room rates stay the same all year round and dogs are very welcome.
Check reviews, price, and availability here.
Arch House Bed & Breakfast
Stay in a distinguished Grade II Listed Bed & Breakfast, just a five minute walk from the town centre. The en suite rooms are equipped with a flat-screen TV, a hair dryer, free Wifi, and tea and coffee making facilities and biscuits. They have ground floor rooms for those with reduced mobility, a family suite, a guest garden, and a free car park.
Check reviews, price, and availability here.
The Globe Inn Hotel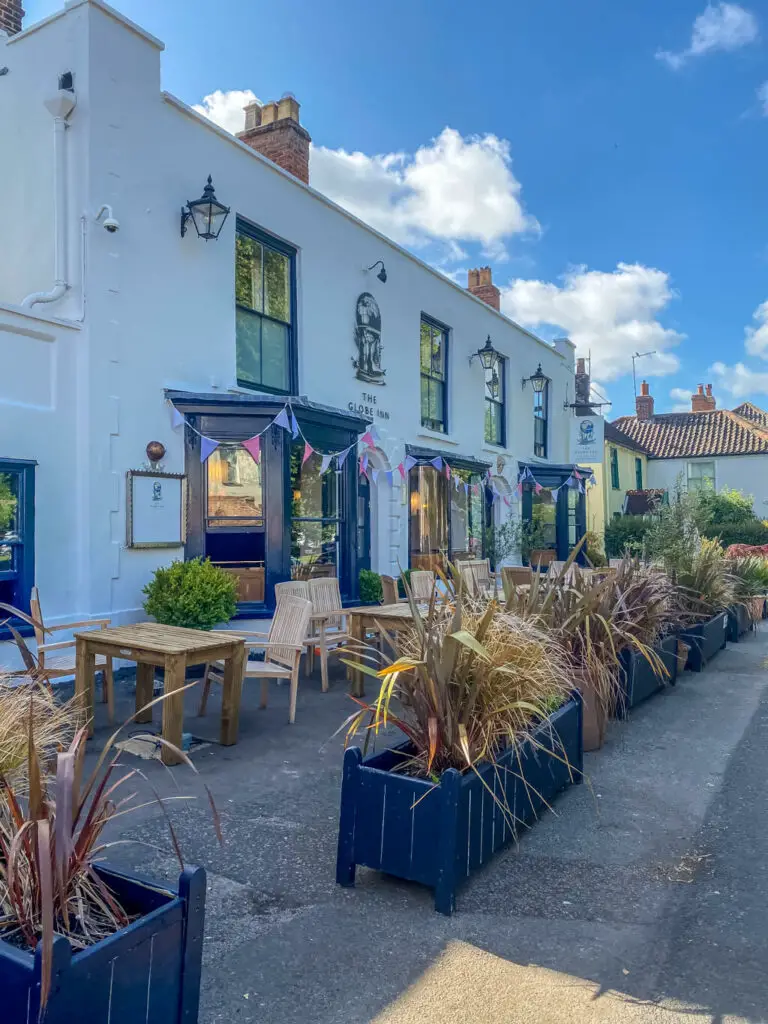 Overlooking a pretty Georgian square, you will find the recently refurbished The Globe Inn. It has been accredited with 4 stars, earned a silver award from Enjoy England, and approved by the Visit England Cyclists Welcome, Walkers Welcome and Welcome Pets schemes.
The hotel has 19 rooms and a sun-filled courtyard for alfresco dining. They recently introduced a special Coastal Platter for seafood lovers.
Check reviews, price, and availability here.
Is Wells-Next-The-Sea Worth Visiting?
Yes! The beach alone makes it worth the trip, but the town also has a lot to offer. It makes for a great day out or weekend away.
Disclosure: This post contains affiliate links. This means we will receive a small commission for some purchases made using links in our blog with no additional cost to you.  Please be assured we would not promote any product unless we believe that our readers will also benefit.  The commission does not influence the editorial content of this site.