Cirque Alfonse is not your traditional circus company. Their latest show has come to Norwich as a part of the 2022 Norfolk and Norwich Festival. Keep reading for our review of Barbu.
*We were invited to see the show so that we could share our experience with our readers.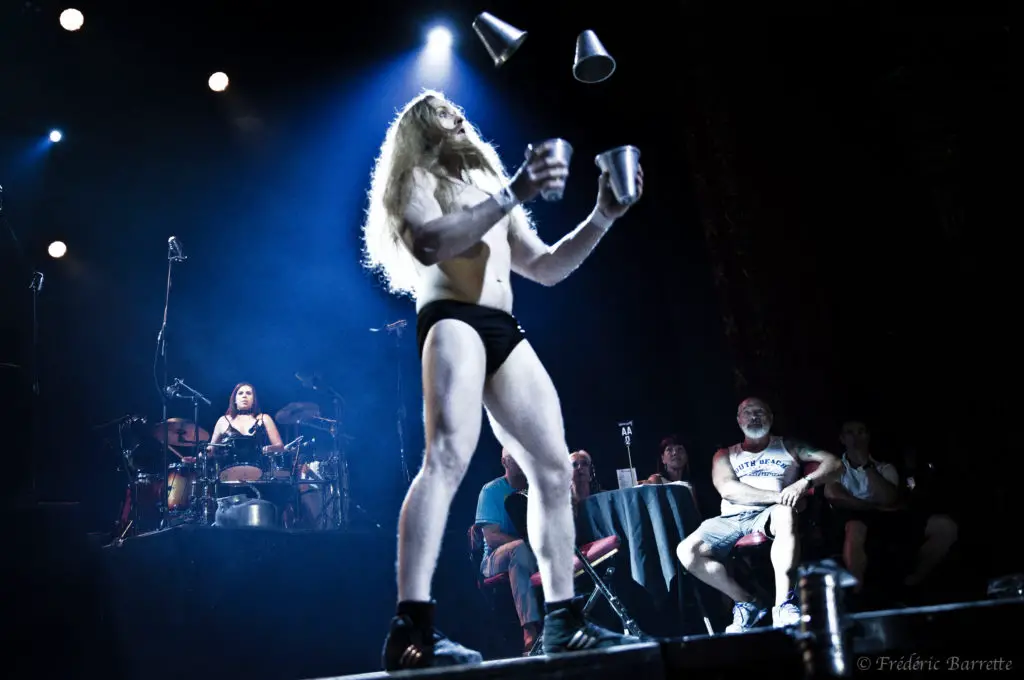 About Cirque Alfonse
Cirque Alfonse is a circus company from Saint-Alphonse-Rodriguez in the province of Quebec, Canada. It is made up of a team of professional acrobats graduated from the École nationale de cirque de Montréal, as well as a professional dancer, an ex-skiing champion and three talented musicians.
These young performers use their creativity to mix art with circus techniques and traditional Quebec folklore. They first came together in 2005 and launched their first show, La Brunante, in 2006. Four years later they started their second show called Timber! Then, in 2012, their third show BARBU foire electro trad premiered.
What to Expect at Barbu
This is not your typical circus. It's not meant for kids (the age recommendation is 12 and up).
The show takes place in a small tent. Every seat is a good seat. The stage is small so you will always feel close to the action, sometimes a bit too close. Occasionally, I felt like the performers or props might fall into the audience.
They have an electro-funk band on stage performing the music. Every act is choreographed to the music. At times you will be dancing in your seat and/or clapping to the beat.
It is quite sultry. For a good portion of the show, the performers aren't wearing much clothing and there is some brief nudity. There is a lot of seductive dancing including some involving a pole.
There is audience participation. In fact, I was part of the show! One of the performers came up to me, took my cup that still had a bit of my cocktail in it and drank some. Then he threw it on the floor. I was a bit shell-shocked.
It lasts about 70 minutes without an interval. The action is nonstop, I don't know how the performers were able to do it.
Barbu Review
Barbu is not like any other circus I have seen. It was laugh out loud funny and politically incorrect at times with stunts that left me amazed.
The acrobatics were awe-inspiring. They did things I didn't think were physically possible with style and a sense of humour. The props they used were clever and different.
I have no idea how they did the magic trick. When they brought out the big box, I thought they were going to do the trick where they saw the lady in half. I don't want to spoil things for you, so I will just say the trick they did was even more remarkable.
My favourite part of the show was when the two women did what I will refer to as a strong woman act. I have seen similar things done by two men or by a man and a woman, but never two women. They definitely showed everyone how strong (and flexible) women can be.
Barbu is a show that you could see several times and still be astounded. You don't want to miss this show because who knows when you will see anything like it again.
Other Things to Know About Barbu at the Norfolk & Norwich Festival
This is a ticketed event. At the time of writing, there were only limited tickets left for their remaining performances. Tickets range from £7.50 to £26.00. If you don't have a ticket, you need to get it ASAP here!
Performances take place inside the Adnams Spiegeltent in Chapelfield Gardens (renamed the Festival Gardens during the Norfolk & Norwich Festival). It is open seating. The audience is allowed inside the tent about 15 minutes before the performance.
The Festival Bar is right outside the Adnams Spiegeltent. They do not allow you to bring any of your own alcohol (they were searching bags). You can purchase drinks and take them inside the tent for the show. I recommend the Garden Gin Cocktail, it has a mix of lime, elderflower, cucumber, mint, and gin. They only accept cards (i.e. no cash).
There is some food available to purchase in the Festival Bar area too. They have pizza and also food from Namaste, a popular vegetarian restaurant in Norwich.
As I mentioned, this is not a circus for kids. If you are looking for a more kid-friendly circus, make plans to go to the Hippodrome in Great Yarmouth. You might also want to check out our recommendations for things to do in Norwich with kids.