If you need to escape from the stress of daily life, head to the idyllic village of Ranworth less than 10 miles from Norwich in the Norfolk Broads. Whether you're a nature lover, history buff, or simply seeking a peaceful retreat, Ranworth offers something for everyone.
From panoramic views atop the historic St. Helen's Church tower to meandering along the boardwalk amidst lush woodland, there's plenty to explore. In this post, we'll take a closer look at some of the best things to do in Ranworth, so you can make the most of your visit.
Be sure to sign up for our email newsletter here so that you can find out about exciting events happening around Norfolk.
Note: This post contains affiliate links.  As an Amazon Associate, we earn from qualifying purchases. Please see disclosure for more information.
About Ranworth
Ranworth is one of the most popular villages to visit in the Norfolk Broads because of its natural beauty, wildlife, and cultural heritage. Located in the parish of Woodbastwick, it's adjacent to Malthouse and Ranworth Broads.
Although not much is known about its early history, we do know that it dates back to at least the Norman period since it was mentioned in the Domesday Book of 1086. The village's parish church, St. Helen's, which dates to the 14th and 15th centuries, is home to several medieval treasures.
Visitors to the Ranworth can also enjoy a variety of amenities, including a village store, post office, tea room, wildlife centre, and pub. In addition, the surrounding countryside offers beautiful walking and cycling trails.
Things to Do in Ranworth
Ranworth has some special attractions waiting to be discovered. Let's take a closer look at the top things to do.
#1 Visit St. Helen's Church
St. Helen's Church, also known as the "Cathedral of the Broads," dates back to the 14th and 15th-century. It is a Grade I listed building and still an active parish church.
The church is known for its impressive tower, which stands around 30 metres tall and offers panoramic views of the surrounding area. The climb to the top involves ascending 89 steps and 2 ladders, but the stunning views make it well worth the effort.
You will also want to take some time to see some of the treasures inside St. Helen's Church. The painted rood screen, which dates back to the late 15th century, is widely considered to be one of the finest in England, and they also have an impressive illuminated manuscript.
The Ranworth rood screen, with intricately designed panels of the Twelve Apostles, once served as a division between the chancel and the nave. One of the things that sets it apart from other screens is its unique extensions on each side of the chancel arch. It's part of the highly regarded Norwich or Ranworth School of panel painting, which comprises a group of twelve exquisite rood screens stretching from Thornham near King's Lynn to Southwold in Suffolk.
Their 15th-century illuminated antiphoner of the Sarum Rite, known as the Ranworth Antiphoner, was commissioned for St. Helen's Church and produced at Langley Abbey . It comprises 285 pages of writing and illustrations, with daily services in medieval Latin and 19 miniatures, and is stored in a protective case.
St. Helen's Church is free to visit and open year-round. Find out more here.
#2 Walk the Boardwalk
Like Barton Broad, Ranworth has a boardwalk that makes for a pleasant walk. The 750-meter-long path winds its way through lush woodland towards Ranworth Broad Floating Wildlife Centre. The boardwalk is well-maintained, flat, and easy to navigate, making it suitable for people of all fitness levels.
Be sure to keep an eye out for the local wildlife as you stroll along the footpath. The boardwalk weaves through lush woodland and reedbed habitats, full of plants and birds commonly found in wooded areas. Listen carefully for the distinctive song of the Cetti's warbler, and keep your eyes peeled for swallowtails, Norfolk hawkers, and various dragonflies.
RELATED: Best Walks in the Norfolk Broads
#3 Visit the Floating Broads Wildlife Centre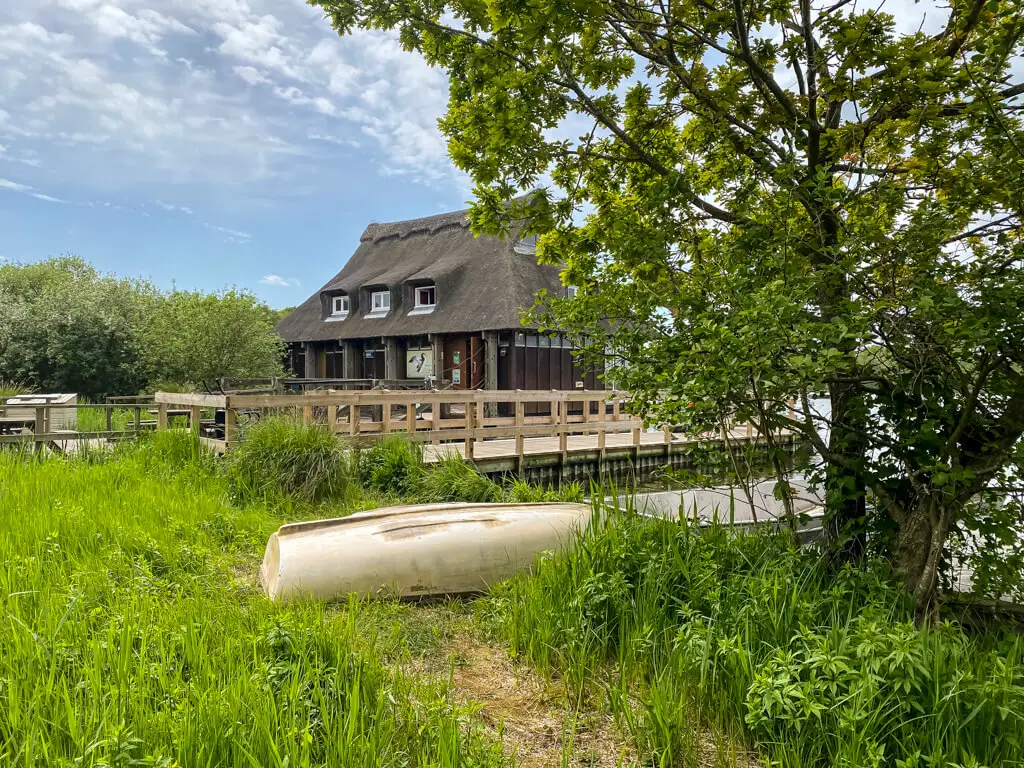 The Ranworth Broad Visitor Centre, also known as the Floating Broads Wildlife Centre, is located at the end of the boardwalk. This unique building floats on the water and offers uninterrupted views of the broad and its surroundings making it perfect for birdwatching.
Inside, visitors can find a wealth of information about the Broads, the local habitat, and the diverse wildlife that inhabits it. Additionally, the gift shop offers a great selection of souvenirs and gifts to take home.
The first floor of the Ranworth Broad Visitor Centre provides a unique experience akin to being inside a bird hide, complete with ample seating and large windows that offer splendid views of birds in their natural habitat. As you gaze across the water, you may notice cormorants perched on the skeletal branches of dead trees, while marsh harriers gracefully soar above. Additionally, right in front of the Visitor Centre, you can observe the nesting behaviour of common terns.
The great crested grebes are a constant presence throughout the year, but their plumage becomes even more captivating during the summer months. Witnessing the swift and agile flight of kingfishers is a rare yet exhilarating occurrence.
It is free to visit the Ranworth Broad Visitor Centre, but it is only open April through October. From June to August you can take a ferry from Ranworth Staithe to the Visitor Centre.
The rest of the reserve is open all year. During the winter season, you can still see numerous duck species, including wigeon, gadwall, teal, shoveler, and pochard in the area.
#4 Take a Boat Ride
Discover the beauty of Ranworth with three different boat tours organized by the Norfolk Wildlife Trust (NWT). These tours offer a fantastic way to explore the area's natural wonders. It is recommended to book your spot in advance, and NWT members can enjoy exclusive discounts.
You can embark on a 40-minute boat ride aboard the Damselfly, a 12-seater vessel. Journey through the broad and its intricate channels, while immersing yourself in the abundant wildlife. Along the way, you'll catch sight of the sunken wherries, remnants of World War II defences against German seaplanes.
If you have more time, you can experience the serene Cockshoot Broad Water Trail, a scenic trip along the River Bure within the Bure Marshes National Nature Reserve. Admire the secluded and tranquil Cockshoot Broad, where water lilies and fascinating damselflies and dragonflies await. Explore the boardwalk and visit the bird hide, where the elusive osprey occasionally makes an appearance. This boat tour offers a unique opportunity to access this hidden wildlife haven.
For a magical experience, join the Evening Water Trail to St Benet's Abbey. This guided two-hour journey from Ranworth to St Benet's Abbey showcases the stunning landscape as the setting sun casts its enchanting spell. Immerse yourself in the beauty and tranquility of this unique environment.
No matter which boat tour you choose, you'll have an unforgettable adventure, witnessing the remarkable natural beauty and wildlife of Ranworth. Find out more included current prices and schedules here.
#5 Check out the Pub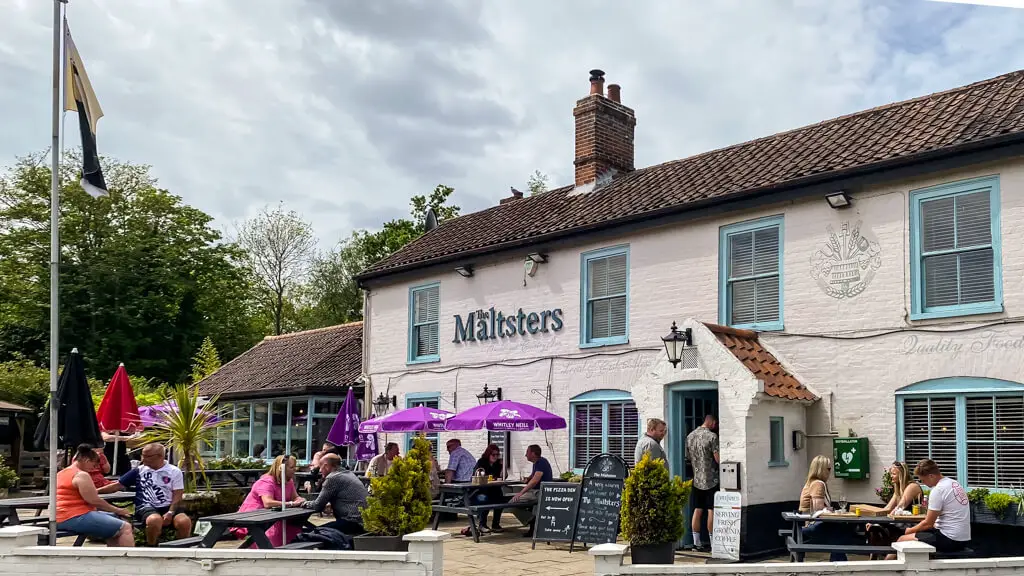 The Maltsters Pub is an enchanting and historic establishment that guarantees an unforgettable visit. Nestled within a 400-year-old building adorned with traditional décor and furnishings, this pub radiates a warm and welcoming ambiance, instantly making visitors feel at ease.
With a remarkable assortment of locally crafted beers and ciders, beer enthusiasts are in for a treat that will undoubtedly excite their taste buds. Moreover, the pub's menu features classic pub fare made from locally sourced ingredients, offering a delightful taste of the region's cuisine. Back in 2022, they served a tasty seafood platter (which will hopefully be back on the menu at some point).
As you enjoy your delicious food and drinks, make sure to take advantage of the wonderful outdoor space at The Maltsters when the weather is nice. Even though it's not right by the water, you'll still get to soak in some lovely views of the surrounding area. When spring and summer roll around, don't miss out on the offerings of Milson's Pizza Den, right there at the pub!
Things to Do Near Ranworth
If you are visiting Ranworth, you might also want to take advantage and see some of the other attractions that are nearby. All the ideas listed here are only a 15 minute drive or less away.
If you are willing to drive a little bit further BeWILDerwood and Horning are about a 20 minute drive from Ranworth.
Fairhaven Water Gardens
Fairhaven Water Gardens in South Walsham offers 130 acres of landscaped gardens, wild and natural plantings, with nearly four miles of woodland pathways to explore. Don't miss their private broad, perfect for a picnic by the water or boat trip in the summer.
To ensure the best ticket prices, be sure to book your visit online in advance. Check out our guide to visiting Fairhaven Water Gardens for more information.
Wroxham and Hoveton
Wroxham is known as the 'Capital of the Norfolk Broads' and Hoveton sits just on the other side of the River Bure. Together, they make for a fun family day out where you can take a stroll along the river, watch the boats go by (or hire your own), and check out other popular attractions.
If you're planning to visit, you can get more information about things to do in Hoveton and Wroxham here.
Woodforde's Brewery
Woodforde's in Woodbastwick is a renowned cask ale brewery. With award-winning beers and a 90-minute brewery tour, you can explore their brewing process and learn about their history. The tour ends with a tasting session at The Fur and Feather, their brewery tap. Don't forget to visit their shop for a 10% discount on purchases. And if you're hungry, enjoy home-cooked dishes at The Fur and Feather pub paired with your favourite Woodforde's brew.
How to Get to Ranworth
Getting to Ranworth is most convenient by car. Simply head north on the B1140 from the A47, and then make a right turn onto Ranworth Church Road. This will lead you to your destination.
For those who prefer public transportation, Acle and Salhouse Railway Stations are both located around 5 miles away from Ranworth. From either station, you have the option of taking a bus or cycling to reach your desired location. Alternatively, if you don't want to take the train from Norwich, there is a bus service available that can take you directly to Acle.
Where to Park in Ranworth
When visiting Ranworth, you have several parking options to choose from. There is a designated Norfolk Wildlife Trust car park, signposted for your convenience. Additionally, if you're planning to visit The Maltsters pub, they offer parking specifically for their patrons. Please note that disabled parking is limited and can be found off Broad Road.
Where Can You Moor in Ranworth?
Ranworth Staithe is a highly sought-after mooring spot regardless of the time of day, so it may be difficult to find a vacant spot. It has a designated area for day boats. The mooring is stern-on and due to the crosswind across the staithe, it can be a bit challenging. Facilities at the staithe include water, electric hookups, and a refuse disposal point.
How long should you spend in Ranworth?
You can definitely get a good taste of the village of Ranworth in just one day, but trust me, you'll want to stay longer and explore everything else this area has to offer. There's so much more to see and experience beyond Ranworth, and by giving yourself extra time, you'll uncover amazing hidden gems that will make your trip even more memorable.
Where to Stay in Ranworth
In terms of accommodation, Ranworth might not have a ton of options, but what it lacks in quantity, it makes up for in quality. You have the option of staying in the cozy AirBnb located above The Maltsters Pub, which offers a unique and convenient experience. Alternatively, there are other delightful holiday homes available in the village, each with its own charm. Take a look at the various options available here and find the perfect accommodation that suits your preferences.
Is Ranworth Worth Visiting?
Absolutely! Ranworth is a must-visit destination for anyone looking to experience the natural beauty, unique wildlife, and rich cultural heritage of the Norfolk Broads.
Disclosure: This post contains affiliate links. This means we will receive a small commission for some purchases made using links in our blog with no additional cost to you.  Please be assured we would not promote any product unless we believe that our readers will also benefit.  The commission does not influence the editorial content of this site.