It's hard to believe there are more than 2,000 known Iron Age hill forts in Britain. In Norfolk, the best preserved one is the Warham Camp Iron Age Hill Fort. Warham Camp is in the North Norfolk countryside and not visible from any road. While it may not be as big as Maiden Castle in Dorset, it is still definitely worth a visit.
Let me share our experience at Warham Camp and some helpful information so that you can plan your own visit.
Archaeological work is taking place at Warham Camp now through September, we recommended waiting until after this work is complete to visit.
Be sure to sign up for our email newsletter here so that you can stay up to date with what's happening in Norfolk.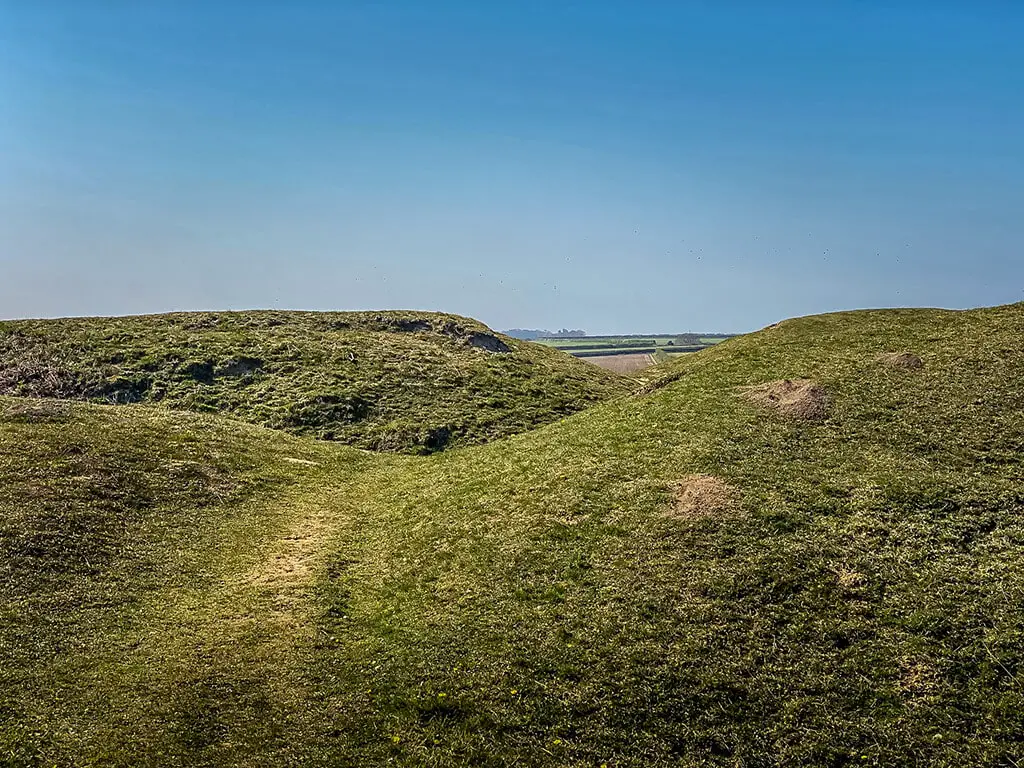 What is a Hill Fort?
A hillfort is a fortified refuge or defended settlement located on a rise in elevation for defensive advantage. The forts were surrounded by earthworks like walls and ditches to prevent enemy attacks. Most date back to the Bronze Age or Iron Age, and some were used in the post-Roman period.
About Warham Camp
Warham Camp is an Iron Age Hill Fort near the town of Warham in Norfolk, England. It is a Scheduled Ancient Monument and a Site of Special Scientific Interest.
Warham Camp Hill Fort History
The earthworks that make up Warham Camp were built over 2000 years ago by the the Iceni Tribe. There were two huge circular banks and ditches encompassing 1.5 hectares by a bend in the River Stiffkey (pronounced Stewkey).
No one is sure of its precise use but it could have been a fortress residence for the elite, centre for local trading, meeting place, refuge in time of conflict, or a religious centre.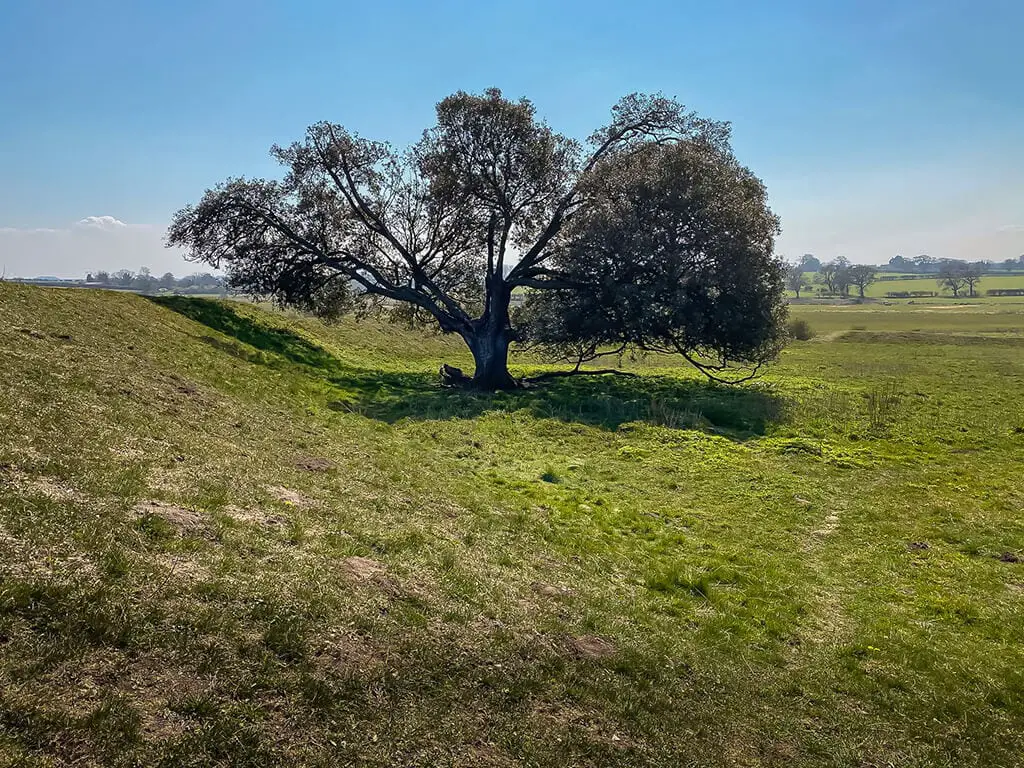 Today, the earthworks are no longer quite a full circle. In the 1700s, the area was levelled when the course of the river straightened. What is believed to be the only original entrance is gone, and two new entrances were created in the 1890s.
In 1914 and 1959, there were excavations of the site. They learned that the ditches were two metres deeper than they are today. Additionally, the remains of a wooden palisade and walkway was discovered on top of the inner bank. It would have provided a protected path with views of the countryside.
Lots of different types of pottery have been found on the site and surrounding areas. Some of the fragments date to sometime between 200 BC and 100 AD, while some were from Roman times. Pieces of roof and flue tiles have also been discovered, signaling there may have been an important building inside the enclosure during Roman times.
Note: If you want to learn more about the Iceni tribe, you can visit their capital, Venta Icenorum, just south of Norwich.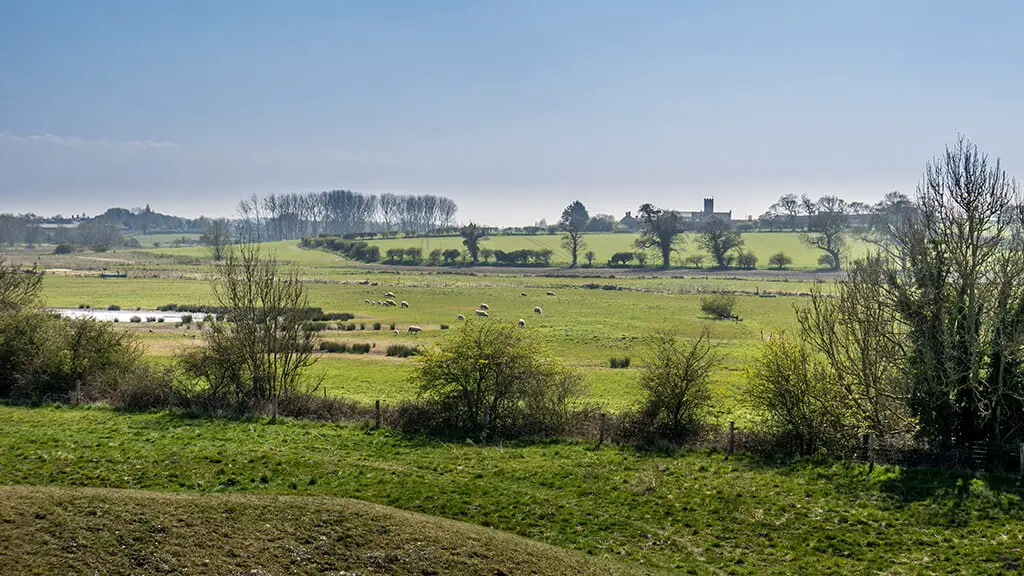 Our Visit to the Warham Camp Iron Age Hill Fort
We didn't expect much when we went to Warham Camp since we couldn't find much information online. We had been to Maiden Castle, but we knew not to expect something so big. It's a bit hard to see on photos because you can't get a good perspective to tell the heights of the walls or the depth of the ditches.
As we approached the site, we saw a car parked on the side of the road and knew that must be the spot. We parked close to that car then made the short walk, through two gates, to the field where Warham Camp is located. As soon as we saw it, we were both amazed. The earthworks were much larger than we expected.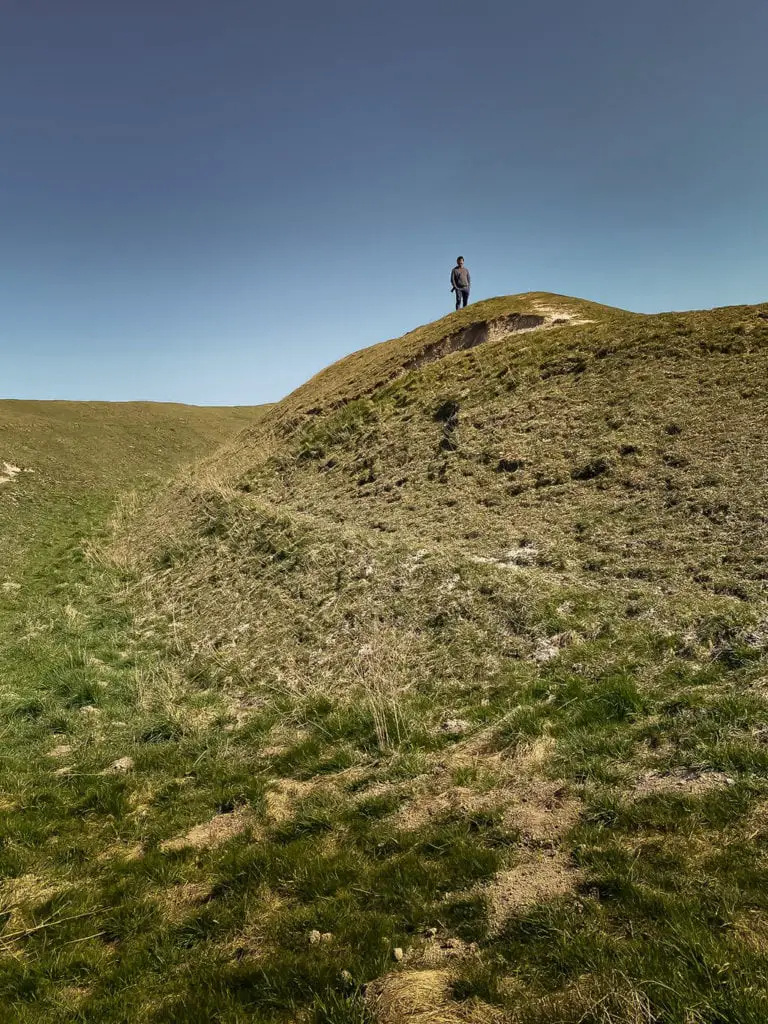 At first, I wasn't sure how to enter the hillfort as the ditches and banks were steep, so we decided to walk around it to the left. It wasn't long before we found one of the entrances. We walked through to the inner bank, climbed up, and took in the countryside views. The chalk in the banks provided a stark contrast to the green grass. From that point, we could see the entire site, but we still wanted to walk around it.
In addition to the earthworks, we were also impressed by the large holly oak tree in the middle. While it's definitely at least a few hundred years old, it's funny to think it's a relatively new addition to the site. It could be nice to have a picnic near the tree. Depending on the time of year that you visit, you may also see wildflowers and butterflies.
After we walked around the whole site, we headed back to the car a bit amazed that Warham Camp is not more famous!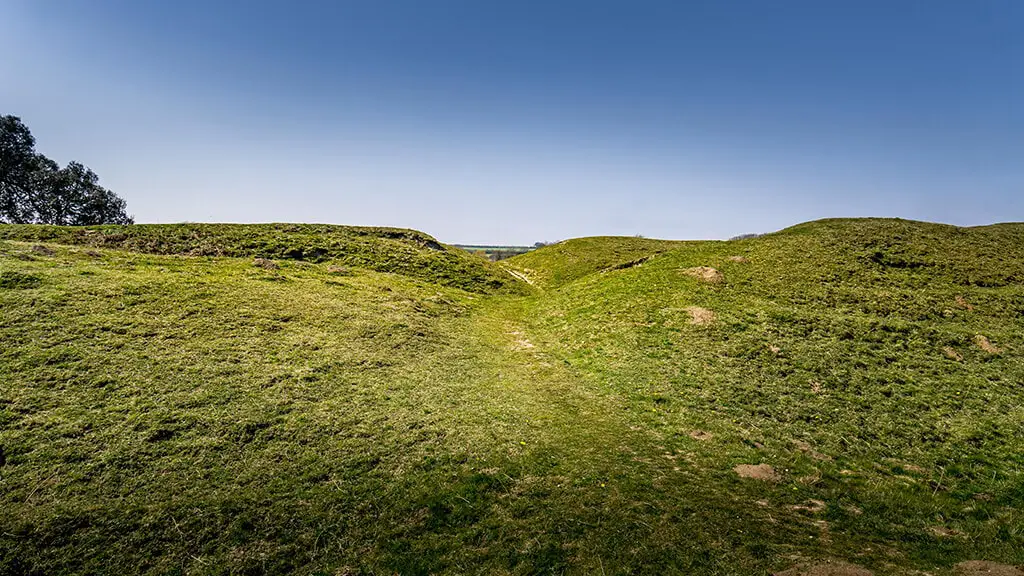 Warham Camp FAQs
How much is it to visit Warham Camp?
Warham Camp is free to visit. You can find more ideas for budget-friendly attractions in our post about the best free things to do in Norfolk.
What are the opening hours for Warham Camp?
You can access the field where Warham Camp is located at any time. Don't attempt to go when it is dark as it would be hard to navigate the walls and ditches.
How long does it take to visit Warham Camp?
It doesn't take long to visit Warham Camp. It's a short walk from the car to the site. It took us about 30 minutes to walk around the site and take it all the views. While we enjoyed it, you don't have to walk all the way around as you can get a good view of the site by climbing on top of one of the walls. Alternatively, you could stay longer and picnic, just bring your own supplies.
Are there any facilities at Warham Camp?
No. There are no toilets or other facilities.
Is Warham Camp good for kids?
Yes. Kids will have fun running around the area and climbing the walls. You will need to watch over them though as the paths on top of the banks are not very wide and its a bit steep down to the ditches.
How do you get to Warham Camp?
The best way to get to Warham Camp is to drive. It takes about an hour from Norwich close to the village or Warham. You can put "Warham Camp Iron Age Fort" into Google Maps and it will take you there. It's off of a single track road, there is gate and a sign but you won't be able to see the earthworks from the road.

If you had to you could take public transportation, but that would take about 3 hours. Catch the X29 bus from Tombland (Stop CM). Then at Oak Street you need to change to the 36 bus to King's Lynn. Get off at Buddell's Lane and it's about a 1.3 mile walk to the hill fort.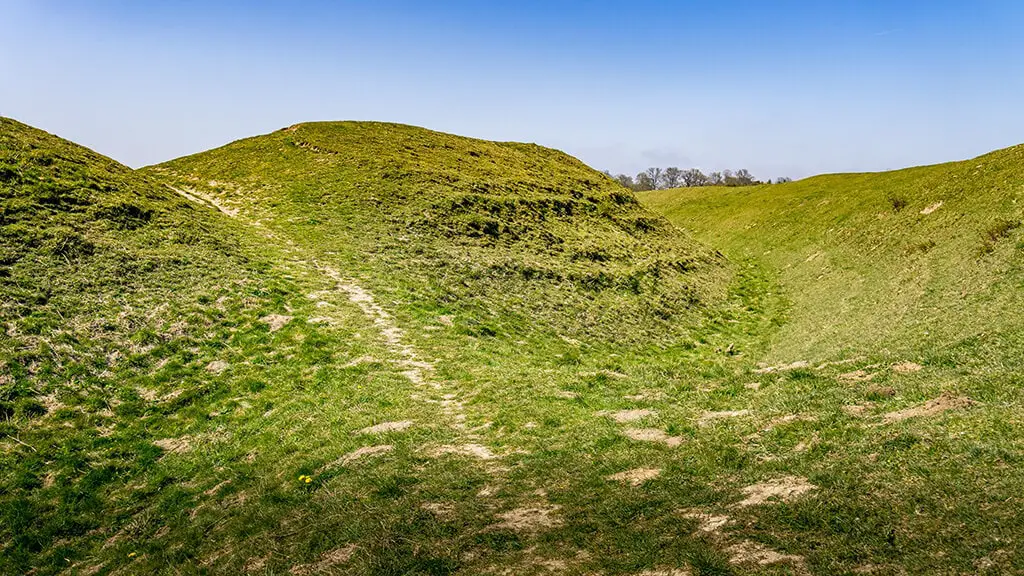 Where do you park for Warham Camp?
There is space for a couple cars on the side of the single track road that leads to Warham Camp.
Is Warham Camp accessible?
Unfortunately, no. When we visited the gate to the path leading to the hill fort was unlocked, so you didn't have to use the turnstile, but the walk from the road to the field with the hillfort is on a dirt track. The entrance to the field has a turnstile, and the gate was locked. If the second gate happened to be unlocked, the field is uneven and the paths are narrow and steep at times.
Are dogs allowed at Warham Camp?
I didn't see anything saying they weren't allowed. If you do bring your dog, please be sure to clean up after it.
Are metal detectors allowed at Warham Camp?
No. It is illegal to use a metal detector here because it is a Schedule Ancient Monument and Site of Special Scientific Interest
Other Hill Forts in Norfolk
Warham Camp is not the only hill fort in Norfolk. There are hill forts in Holkham, South Creake, Narborough, Tasburgh, and Bloodgate. Stay tuned for more information on these sites.
Things to Do Near Warham Camp
After you have seen Warham Camp there a few other places close by that you should visit.
Binham Priory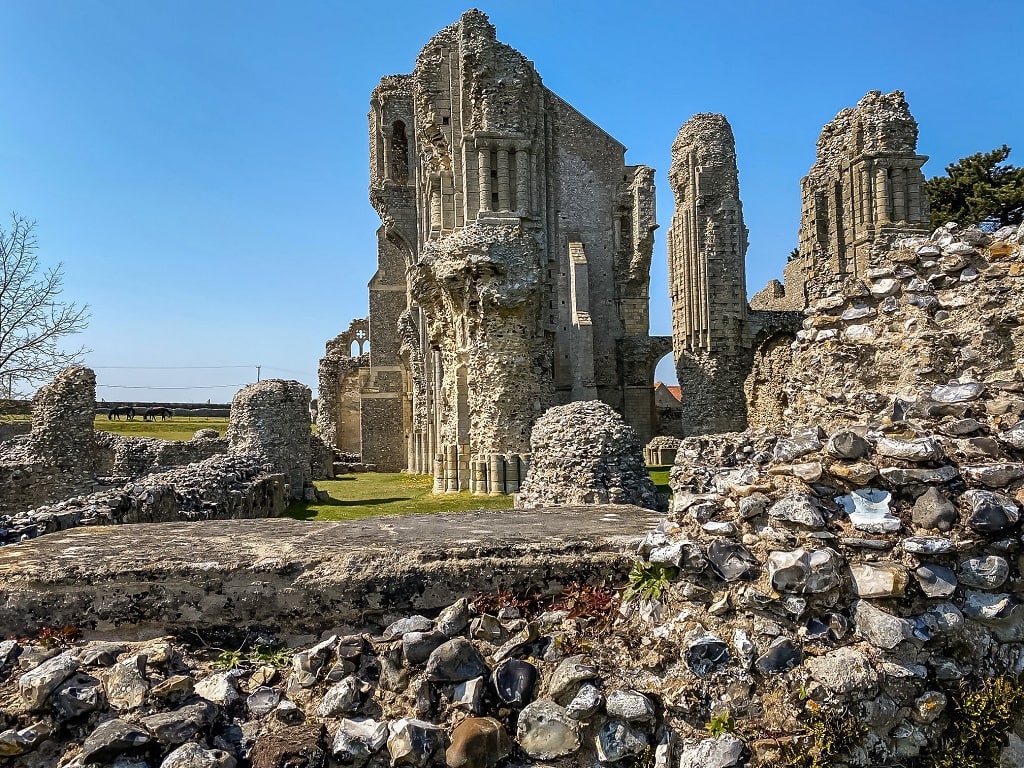 Binham Priory is one of the most complete and impressive monastic ruins in Norfolk. It was founded in 1091 by a nephew of William the Conqueror. The nave of the priory church, is now the parish church. Read our guide to visiting Binham Priory.
Well-Next-The-Sea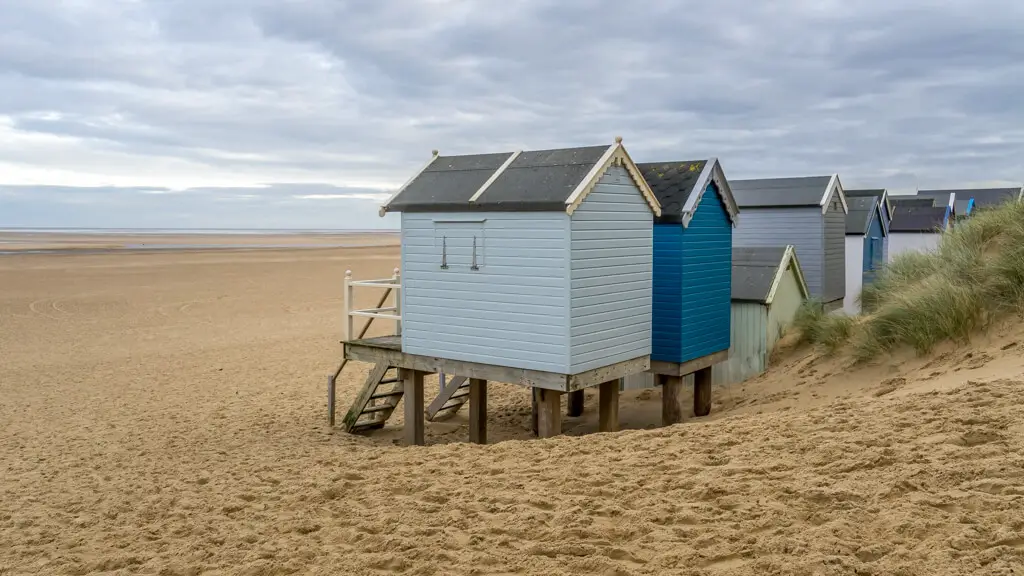 Wells is a charming seaside town, best known for its colourful beach huts. At low tide, this beach is huge – you can walk a mile or so out! It's one of the best Norfolk beaches.
Check out our guide to the best things to do in Wells-Next-The-Sea.