When you think of beach huts in Norfolk, the first place that probably comes to mind is Wells-Next-the-Sea, but there are actually several different beaches where you can find these cute colourful buildings.
Whether you want to hire a beach hut, photograph a beach hut, or just check out their playful names, I will tell you more about all the places to find beach huts in Norfolk.
Be sure to also sign up for our newsletter here to stay up to date with what's happening in Norfolk.
Note: This post contains affiliate links.  As an Amazon Associate, we earn from qualifying purchases. Please see disclosure for more information.
What Are Beach Huts?
A beach hut (sometimes called a beach box or bathing box) is a small, usually wooden and coloured, shed-like building that sits above the high tide mark on certain beaches mainly in the UK and Australia.
They provide shelter from the sun and wind. You get privacy if you want to change into or out of your swimming costume and it can be a safe place to store belongings.
In most cases, you don't get many modern conveniences. Some beach huts may have gas or in rare cases electricity so that you can make food and hot drinks. Don't expect any toilets or showers.
History of Beach Huts
Beach huts are not a modern invention. The first beach huts are believed to have been in Felixstowe in Suffolk in the late 19th century. Today the UK is estimated to have 20,000 beach huts.
Before there were beach huts, the Victorians used wheeled bathing machines to preserve their modesty. The bather would hire the hut on the dry beach and use it to change into their swimming outfit. A horse would pull the bathing machine to the water's edge, so that the bather could step out into the water respectably.
These bathing machines were popular with the Royal Family. George III is known to have used a bathing machine in Weymouth in Dorset in 1789. A band hidden in a bathing machine nearby started to play 'God Save the King' when he got in the water.
Queen Victoria had one at Osbourne House on the Isle of Wight in the 1840s. After she died, the machine was used as a chicken coop, then it was restored in the 1950s and finally returned to Osborne Beach in 2012. A cute children's book was written about it.
For a time during the early 20th century, beach huts were considered holiday homes for the working class but by the 1930s the view had changed again. George V and Queen Mary enjoyed the day at a beach hut in Sussex, while other famous people, like the Spencer family and Laurence Olivier, were known to own beach huts.
All UK beaches were closed during World War II and when they reopened in the late 1940s and 1950s the British beach holiday became popular again along with beach huts. There was a similar trend during the Covid pandemic when more Brits vacationed domestically and the beaches were popular destinations.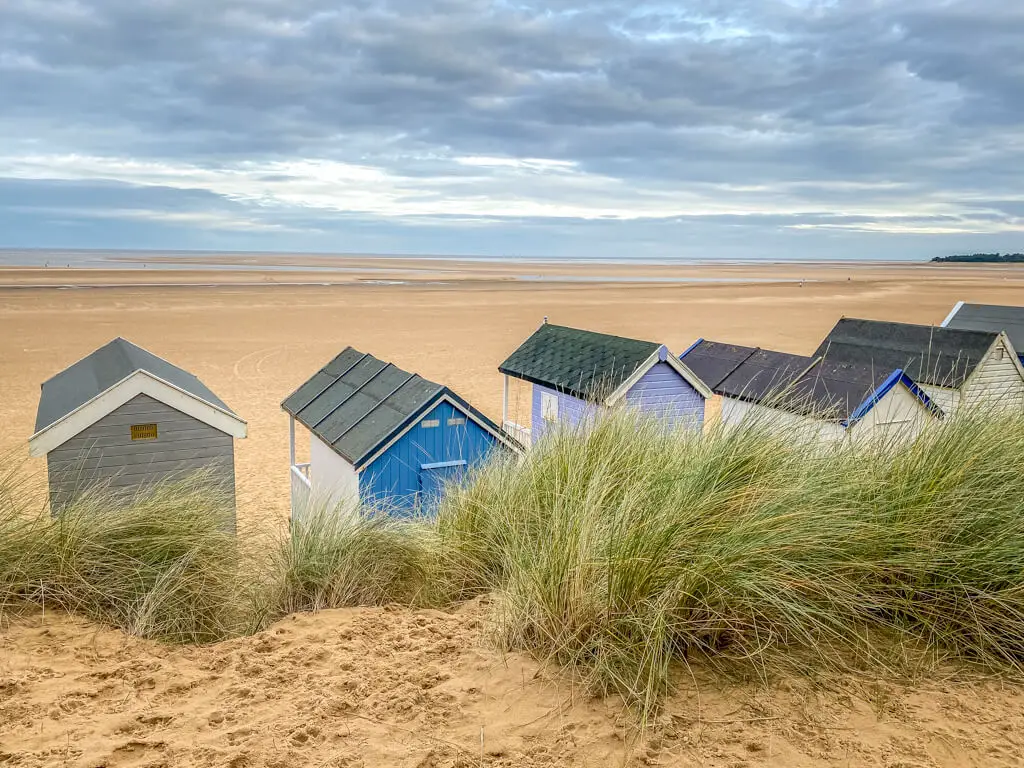 Things to Know Before Hiring a Beach Hut
Whether it's your first time to hire a beach hut in Norfolk or your 50th, there are a few things to keep in mind.
You will need to book your beach hut in advance (in most cases), especially during the summer holidays.
Beach huts in Norfolk are for day use only. You cannot spend the night.
Don't expect to have your own bathroom. You will need to use the public facilities.
If you plan on bringing your dog, be sure to double check any dog restrictions for the beach as well as specific rules for the beach hut.
Remember the beach hut is wooden, so flames can be a fire risk. Don't light fires in or near the beach hut and be careful with gas.
Be prepared to take all your rubbish with you at the end of the day.
Be respectful of your neighbours. Don't play loud music or have a big party. Also, make sure your stuff does not encroach on other people's space.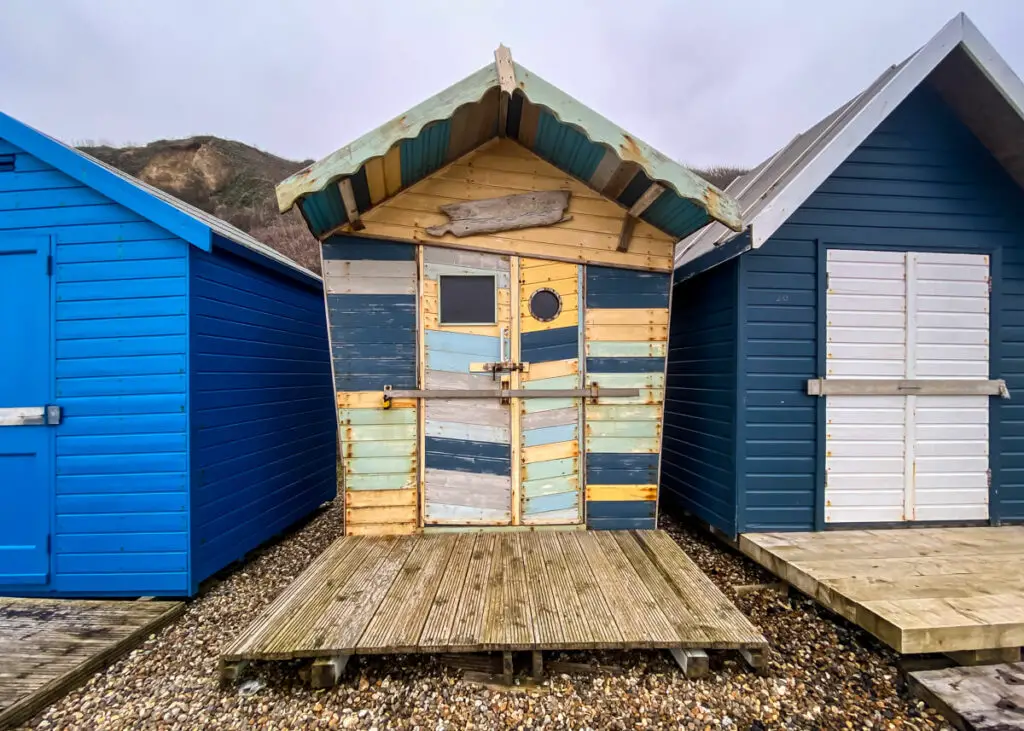 How Much Does it Cost to Hire a Beach Hut in Norfolk?
The cost of hiring a beach hut in Norfolk varies quite a bit depending on the time of year, where it is located, and whether it is privately owned.
The most expensive time to hire a beach huts is during the summer holidays when the kids are out of school. During this period, North Norfolk council-owned beach huts run £210 for one week (in 2023).
Privately-owned beach huts tend to be more expensive as they sometimes have more amenities. That being said, many are available for daily hire so you don't have to pay for time when you might not be able to use it.
If you are looking for a cheaper option, consider going to Great Yarmouth where Munchies restaurant has beach huts for £18 a day or £80 a week including free deck chairs.
Beach Huts in Norfolk
Not all beaches in Norfolk have beach huts, so you will need to know where to go. Let me tell you more about the different beaches with beach huts in Norfolk.
Wells-Next-The-Sea Beach Huts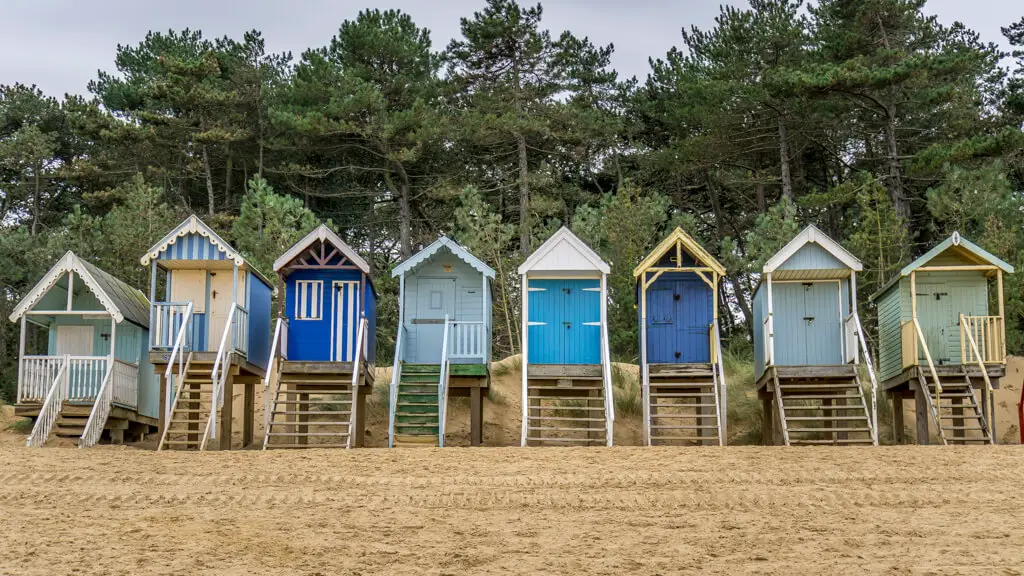 The 200 or so brightly coloured beach huts on stilts that stand on the back of the sand at Wells-Next-the-Sea beach are all privately owned. No two are the same, they each have their own character as you can see by the names.
Many are available for weekly or daily hire either directly or through third-party sites. If you are interested, you can check out the options on thehappyhuts.co.uk, beachhuts.com or beachhuts4hire.co.uk.
When you hire a privately-owned beach hut, it usually comes with more than the council owned ones. Depending on the owner, they may provide chairs, a table, a windbreak, a hammock, a gas stove, kettle, and even tea/coffee.
Remember the beach huts still won't have bathrooms, water, or electricity. You don't have to go too far for water as you can find drinking water taps in the Beach car park and by the lifeguard hut, beach hut #41, and beach hut #138.
If you are bringing your dog, remember not all beach huts are on the dog-friendly side of Wells-Next-the-Sea beach. It's best to confirm where the beach hut is located before booking.
Also, all the beach huts in Wells-Next-the-Sea are on stilts over the sand. You will need to walk across the sand and go up a few steps to access, which may be difficult for those with mobility restrictions.
The beach has a reasonably-sized pay and display car park, but if you don't arrive early it may fill up. By the car park there are public toilets and the Wells Beach Cafe.
The seaside town of Wells-Next-the-Sea is about a mile from the beach. You can find additional car parks here. There is a bus that goes between the bus and the town or you can just walk it.
Mundesley Beach Huts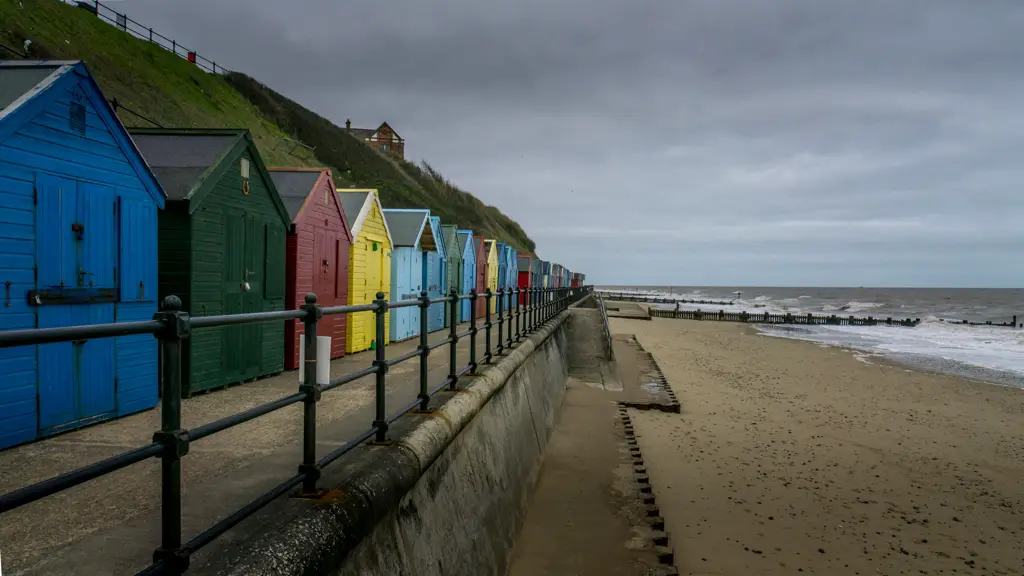 A row of colourful beach huts line the promenade of Mundesley Beach. From here, you are not far from the water even at low tide.
The family can enjoy the soft sand or go for a swim. It's a blue flag beach so you can feel comfortable that it is clean. Plus they have RNLI lifeguards on duty from May to September 10:00 – 18:00 every day.
Dog owners might want to choose a different beach because dogs are not allowed on the Promenade section of the beach from the beginning of May to the end of September.
Many of the charming beach huts in Mundesley are privately owned, and the demand for ownership is so high that there's typically a decade-long waiting list to secure one. Unfortunately, it's quite rare to find privately-owned beach huts available for short-term hire.
However, if you're looking for a more immediate beach hut experience, there is a brighter option. Approximately six beach huts in Mundesley are under the ownership of the North Norfolk District Council. These council-owned beach huts are available for weekly hire here, with availability typically spanning from late May to late September. It's important to plan ahead and secure your reservation in advance to ensure you can enjoy this coastal gem.
If you don't want to bring your own food, there is Lucy's on the Beach. You can order food to takeaway or sit in the cafe with views of the beach.
The closest parking is the pay and display Beach car park at the top of the cliffs across the road from the green. There are toilets on the promenade and by the car park.
Keep in mind you can not drive on the ramp that leads to the beach huts. This means you will have to carry all your supplies down and then of course back up when you are done.
Cromer Beach Huts
Cromer may be best known for its pier and crabs, but it also has some beach huts. You can find these council-owned beach huts on both the west and east sides of the promenade.
They can be hired for the week from the end of May to the end of September through the North Norfolk District Council here. Cromer also has chalets, which are not quite as cute but allow overnight stays, that can be hired through the same link.
These beach huts don't have facilities or electricity and only come with the very basics – table, chairs, a drying line, a dustpan and brush. You will need to supply everything else.
Toilets can be found close to the west beach huts and on the pier. Drinking water is available close to both the west and east beach huts.
The beach huts on the west side do allow for limited car access to unload your supplies, but then you must move the car to one of the other Cromer car parks. For the east beach huts, it will be a bit of a walk.
While the beach huts in Cromer may not offer a lot of amenities, the town itself does. Of course there is the blue flag beach, but there are plenty of other things to do and see in Cromer including crabbing, museums, a historic church, tasty food, and more.
Sheringham Beach Huts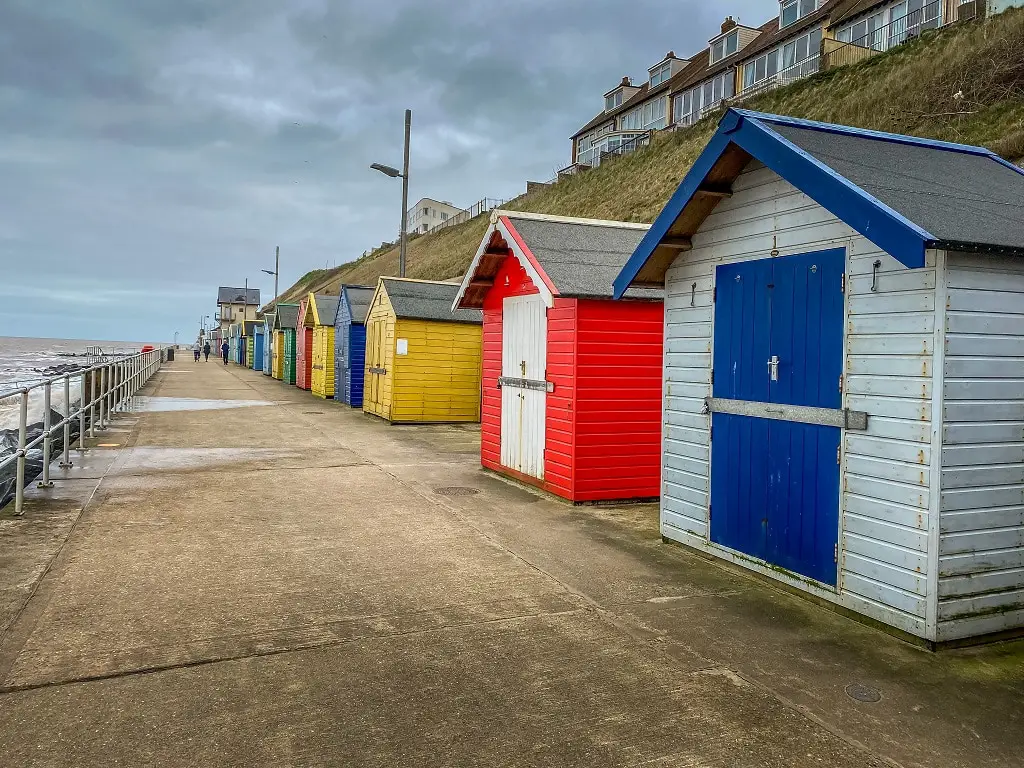 Like Cromer, Sheringham has council-owned beach huts on its promenade. There are some towards the eastern end of the promenade and a few more a bit west.
They can be hired for the week from the end of May to the end of September through the North Norfolk District Council here. Sheringham also has chalets, which are not quite as cute but allow overnight stays, that can be hired through the same link.
These beach huts don't have facilities or electricity and only come with the very basics – table, chairs, a drying line, a dustpan and brush. You will need to supply everything else.
The beach huts on the east side have toilets close by on the promenade. For the western beach huts, the closest bathrooms will be at the top of the Esplanade. Both blocks of beach huts have drinking water available nearby. The eastern beach huts have a coffee shop right by them.
There is limited access for cars to unload, but then cars must be moved to a car park. The Cliff Road long stay car park might be your best option.
Sheringham Beach has been awarded a blue flag, so you can feel comfortable that it is clean. The West Beach has lifeguards from the end of April to early September. The East Beach has lifeguards from the beginning of July to the beginning of September.
Read about more things to do in Sheringham.
Old Hunstanton Beach Huts
A bit further north from the famous Hunstanton striped cliffs, you can find dunes, a cafe, and colourful beach huts. While you are still walking distance from the main Hunstanton Beach and promenade, this area is much quieter.
It's also one of the most dog-friendly beaches in Norfolk. There are no dog restrictions and there is plenty of room for them to run around.
All the beach huts at Old Hunstanton are privately owned, so if you want to hire one, your best bet is to check a third-party site like Beachhuts.com or Beachhuts4hire.co.uk. There are also a couple on the Norfolk Holiday Homes site here. Prices will vary depending on the season and location.
Alternatively you can book your beach hut along with your holiday home on Norfolk Hideaways here or Snaptrip here.
The beach huts here tend to be larger than those on other Norfolk beaches and in some cases better equipped. Since they are privately owned, what you get will vary. Some have gas stoves and water standpipes nearby.
The closest car park to the Old Hunstanton beach huts is the Sea Lane Car Park. You can pay for the parking on an app. There are public toilets just a stone's throw from the car park.
RELATED: Best Things to do in Hunstanton
Heacham North Beach Huts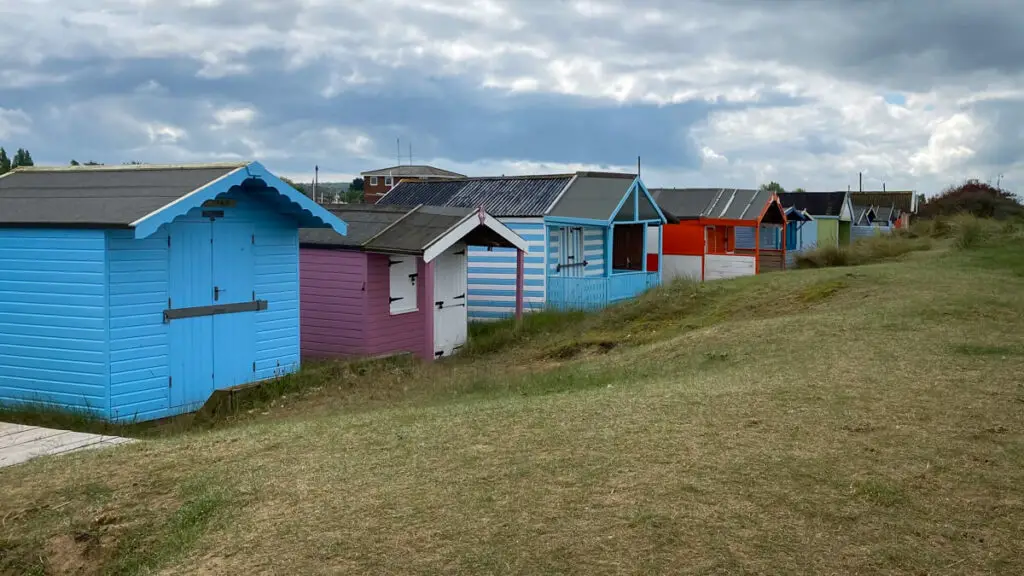 Heacham North Beach is a large sandy beach (when the tide is out) with a wide concrete promenade. The colourful beach huts are located between the large pay and display car park and the beach with a number of sandy paths between the huts leading to the promenade.
The promenade is popular with joggers, cyclists, buggy-pushers, dog walkers, and wheelchair users. There are the rows of parallel steps leading down to the beach which make good seats when you want to take a break.
This beach near King's Lynn is one of the few west facing beaches in the area making it a good sunset watching spot. There are also lots of facilities including the Silver Sands pub, fish and chips shop, ice cream shop, burger bar, and public toilets.
The beach huts here are all privately owned. You may be able to find one for hire on a third-party site like Beachhuts.com or Beachhuts4hire.co.uk.
Be sure to also check out our list of things to do in Heacham to make the most of your visit.
Great Yarmouth Beach Huts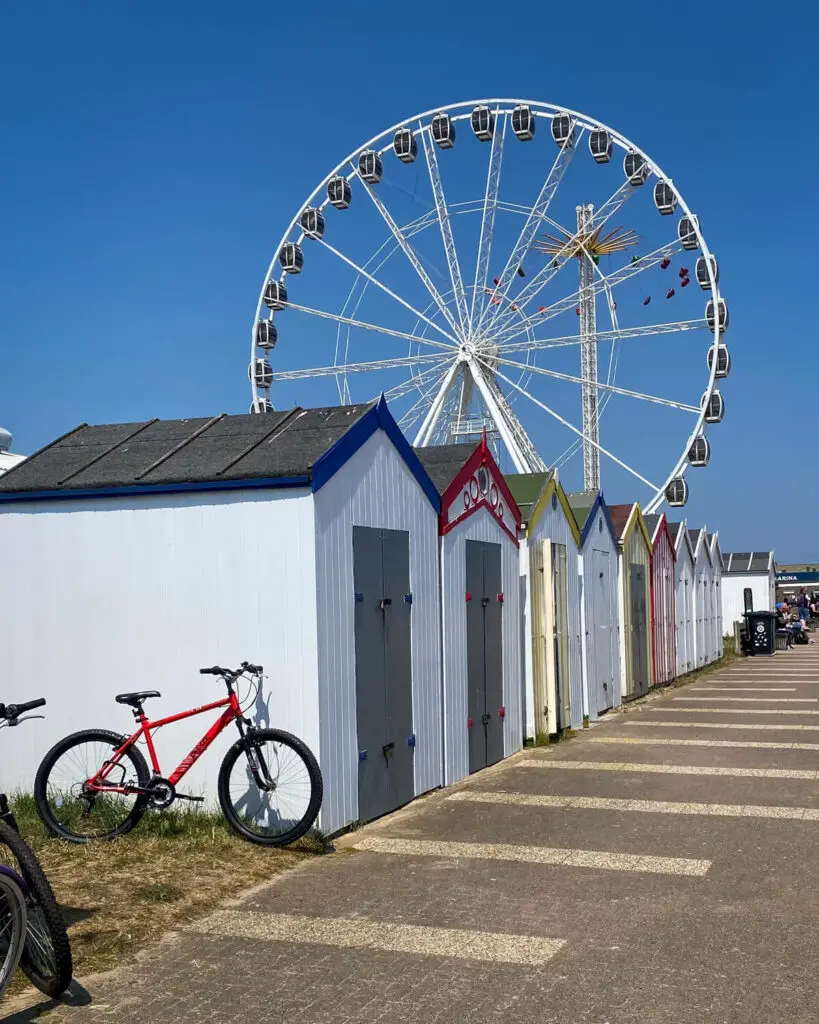 Great Yarmouth is one of the few places that you can hire a beach hut the same day you want to use it. That's nice because you don't have to plan ahead but also a bit stressful since it's not confirmed in advance.
There are about 20 beach huts located on the Great Yarmouth, promenade next to the Beach House cafe which is behind the Sea Life Centre. To hire these huts, you need to just ask at the kiosk, but you will need to get there early.
Since these beach huts are located on the promenade be prepared for lots of people to be walking by. It is close to lots of eateries and attractions in Great Yarmouth, but at low tide, the sea feels a bit far away. Still, it might be your best option, if you want to hire a beach hut in Norfolk and haven't been able to book one in advance.
A bit further north behind the boating lake, Munchies Cafe has beach huts to hire for £18 a day or £80 a week and includes free deck chairs. You can book these huts by calling or contacting them through their website here.
Note: The council has plans to add more beach huts north of the bowling greens and car parks in North Drive.
Gorleston Beach Huts
The town of Gorleston has a large sandy beach just south of Great Yarmouth. Their beach huts owned by the Great Yarmouth Borough Council are located on the southern end of the Lower Esplanade.
It's a quiet part of Gorleston beach where you can relax and enjoy the view from inside the hut or its veranda. The beach huts come equipped with a table and two chairs and there is an amenity block with washbasins and toilets that only beach hut visitors can use.
Unfortunately these beach huts can only be hired annually from the beginning of April to the end of the following March and can only be used from 8:00 to sunset. They are not practical for those that planning a short trip to Gorleston. Find out more here.
Overstrand Beach Huts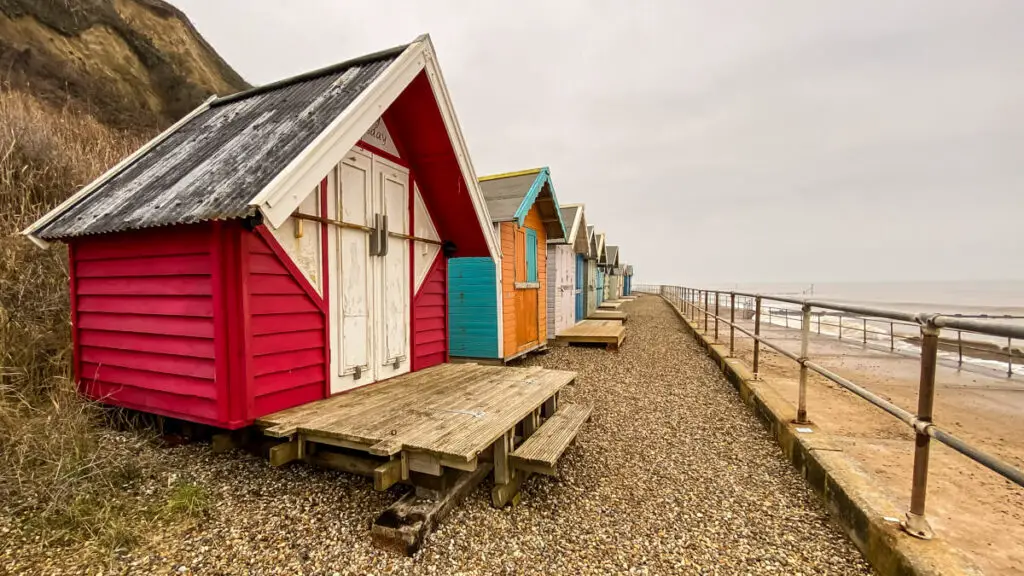 Overstand Beach often gets overshadowed by its neighbour, Cromer, but it has plenty to offer. It's a beautiful sandy beach at low tide backed by a promenade. Next to the promenade a bit east of the ramp to the car park, you will find a row of beach huts.
Unfortunately, these beach huts are only available on a five-year lease from North Norfolk District Council. You have to provide your own beach hut to given specifications. If you are interested, you will need to join the waiting list. Get more information here.
Scratby Beach Huts
Atop the Scratby Beach cliff, a handful of charming beach huts command an enviable view. However, to protect them from coastal erosion, there are plans to relocate them further inland, and possibly add more in the future.
While these huts boast a beautiful vista and are conveniently located just a few steps away from a free car park, they do require a bit of a walk down to the beach.
It's worth noting that these beach huts are privately owned and not available for short-term rentals at present.
Disclosure: This post contains affiliate links. This means we will receive a small commission for some purchases made using links in our blog with no additional cost to you.  Please be assured we would not promote any product unless we believe that our readers will also benefit.  The commission does not influence the editorial content of this site.