If you have a tight budget when you visit Norfolk, it's not a problem. Some of the best things to do in Norfolk are actually free! You can have a fantastic time without spending money on attractions.
I have plenty of ideas for free things to do in Norfolk!
More photos coming soon.
Be sure to sign up for our email newsletter here to get more inspiration for things to do in Norfolk.
Note: This post contains affiliate links.  As an Amazon Associate, we earn from qualifying purchases. Please see disclosure for more information.
Free Things to Do in Norfolk
I have already covered the best free things to do in Norwich, so this post will focus on the areas in Norfolk outside of Norwich. You can explore the beautiful countryside and coastline, learn a bit of the history, and have a great time.
#1 Go to Beach
Norfolk is known for it's beaches, for good reason. It has 90 miles of unspoiled coastline. The beaches here are clean, family-friendly, and free to visit. The issue you are going to have is choosing which one to go to! Here are a few of my favorite:
Wells-Next-the-Sea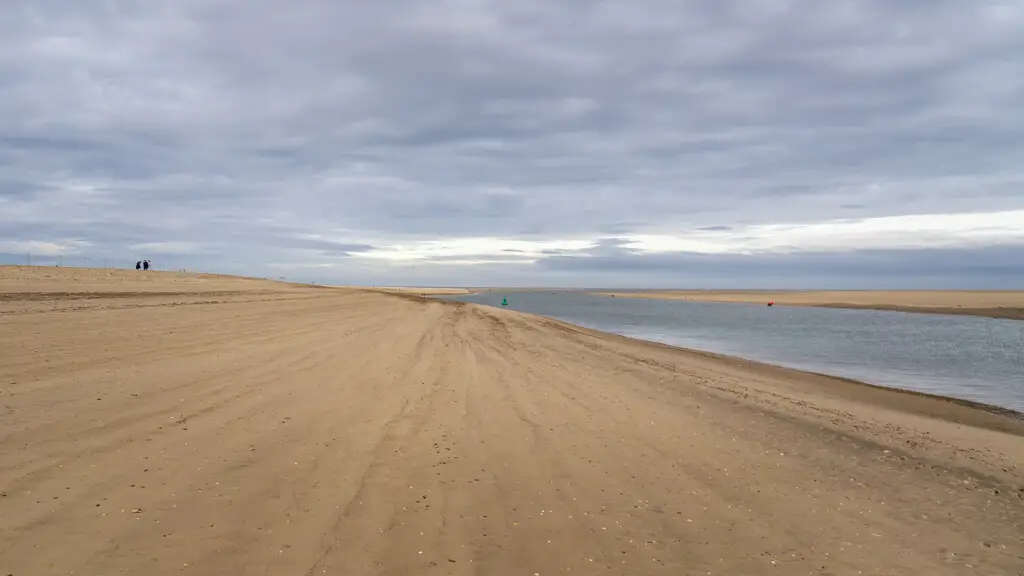 While it may be best known for its beach huts, it's also a great beach to relax in the sand and enjoy the shallow water. At low tide, you can walk out a mile or so. Just be careful as the tide does come in quick. If you plan on going to the Wells Beach also check out our guide to Wells-Next-The-Sea for more ideas of things to do nearby.
Mundesley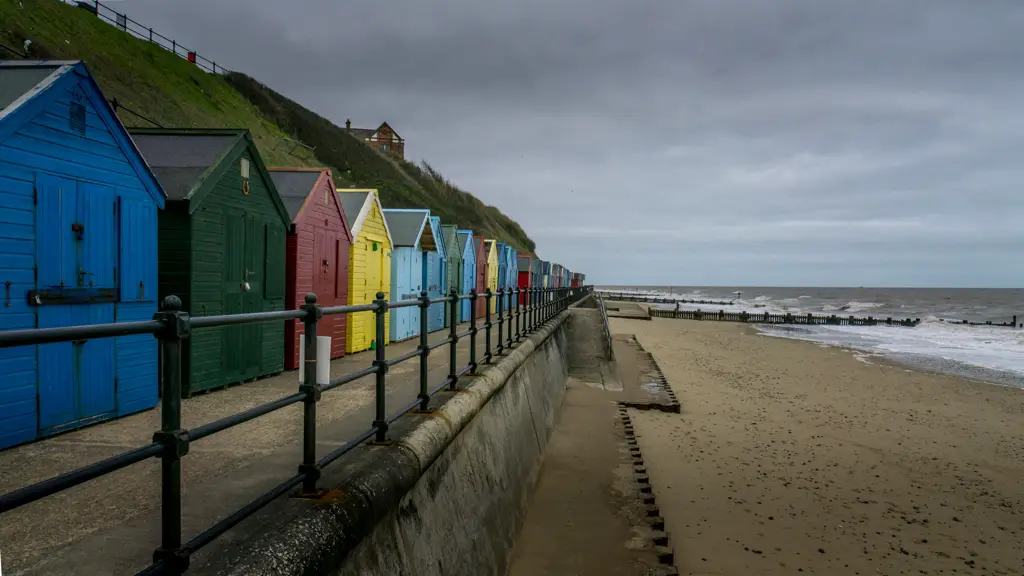 This long and sandy beach is a great place to swim at low tide. There is a promenade lined with colourful beach huts and lots of amenities (including parking) close by. It's also a great beach for fishing year round.
Sea Palling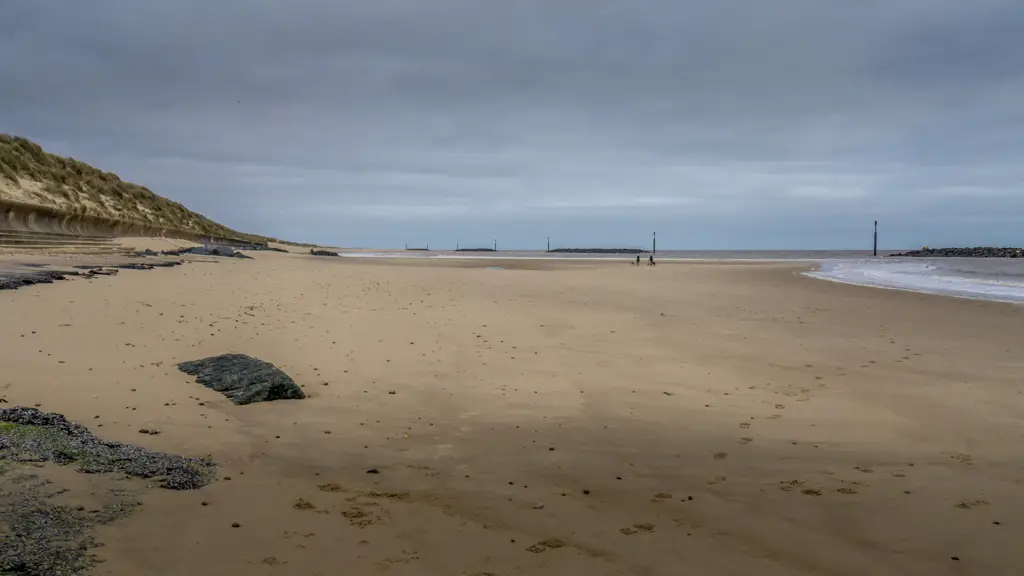 In the short walk from the car park to the beach, there are amusements, toilets, and a few food options all right there. The water is calmer than other nearby beaches thanks to stone reefs just offshore that protect against coastal erosion.
Cromer*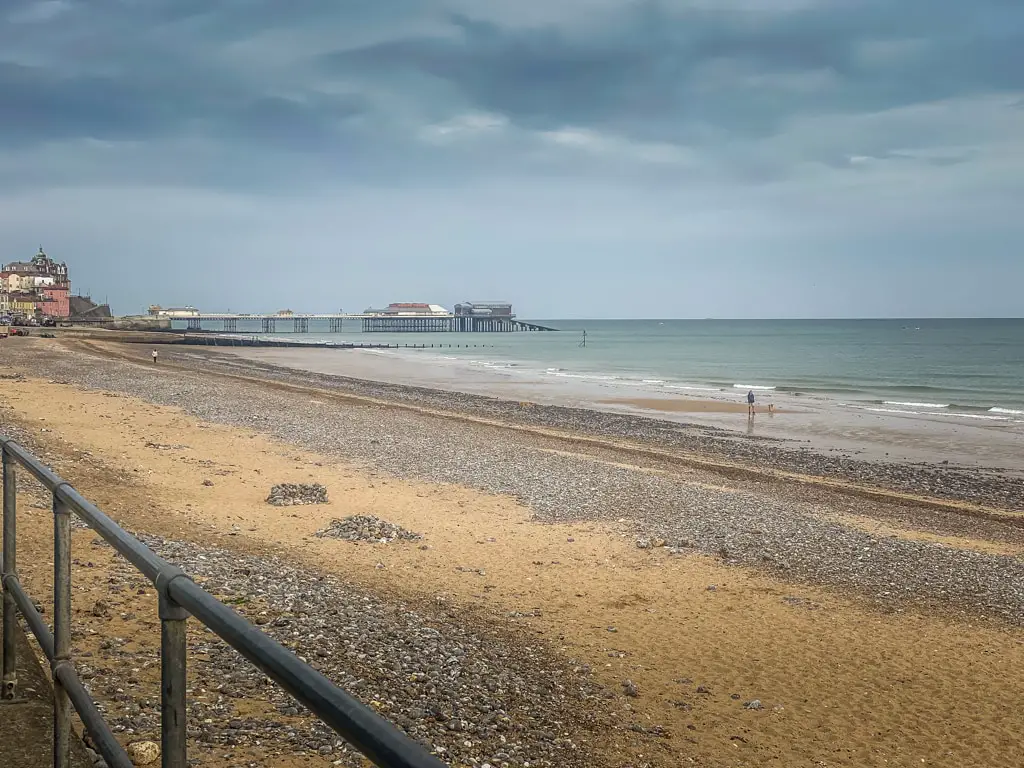 This beach is one of the most popular in Norfolk because it is sandy and flat with lots of amenities available. There are beach huts, amusements, ice cream shops, fish & chips, and toilets all just steps away. The Victorian Pier is perfect for crabbing (more info below).
Sheringham*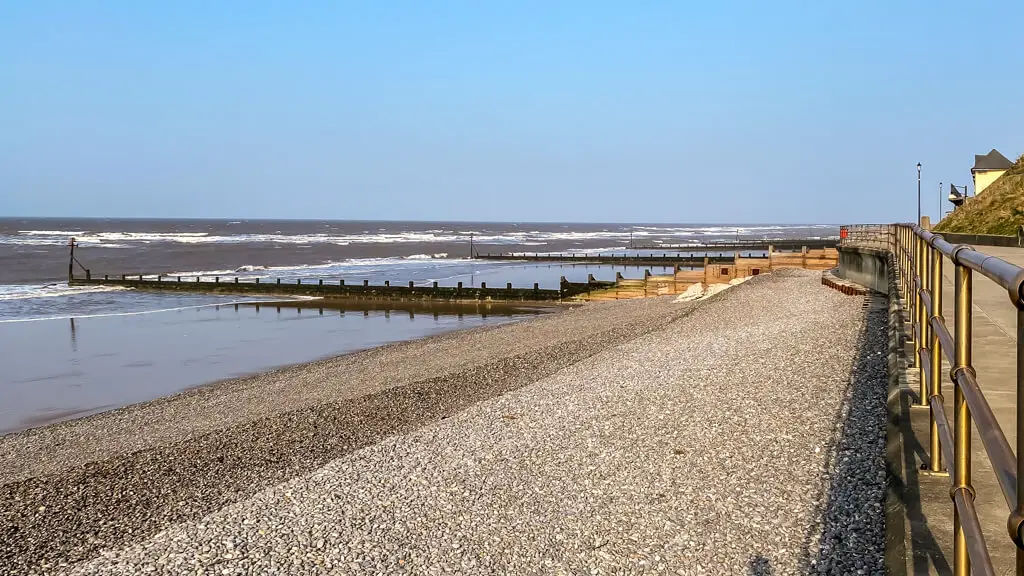 Walk down the High Street in Sheringham, and you will reach the promenade (with beach huts of course!) overlooking the beach. It is made up of sand, shingle and cobbles and can look quite different depending on tides and currents.
When the tide is in the beach is a bit rocky, with lots of pebbles, but when the tide is out, there is plenty of sand to build sand castles. If you plan on going, be sure to check out our Sheringham guide for to more ideas for things to do nearby.
The beaches noted with a * were all blue flag award winning beaches. This means these beaches have met a number of stringent environmental, educational, safety (i.e. lifeguards), and accessibility criteria.
Note that you will need to pay a small fee for parking and many Norfolk beaches have restrictions for dogs during the summer months.
#2 Take a Scenic Walk
One of the best ways to appreciate the natural beauty of the county is to go for a walk. There are several long distance trails in Norfolk, the longest being the Norfolk Coast Path.
If you are looking for a walk you can do in a few hours there are also plenty of options. While some park and nature areas charge admission, there are plenty of places that you can visit for free (and also have free parking). Some of my favourites include:
High Ash Farm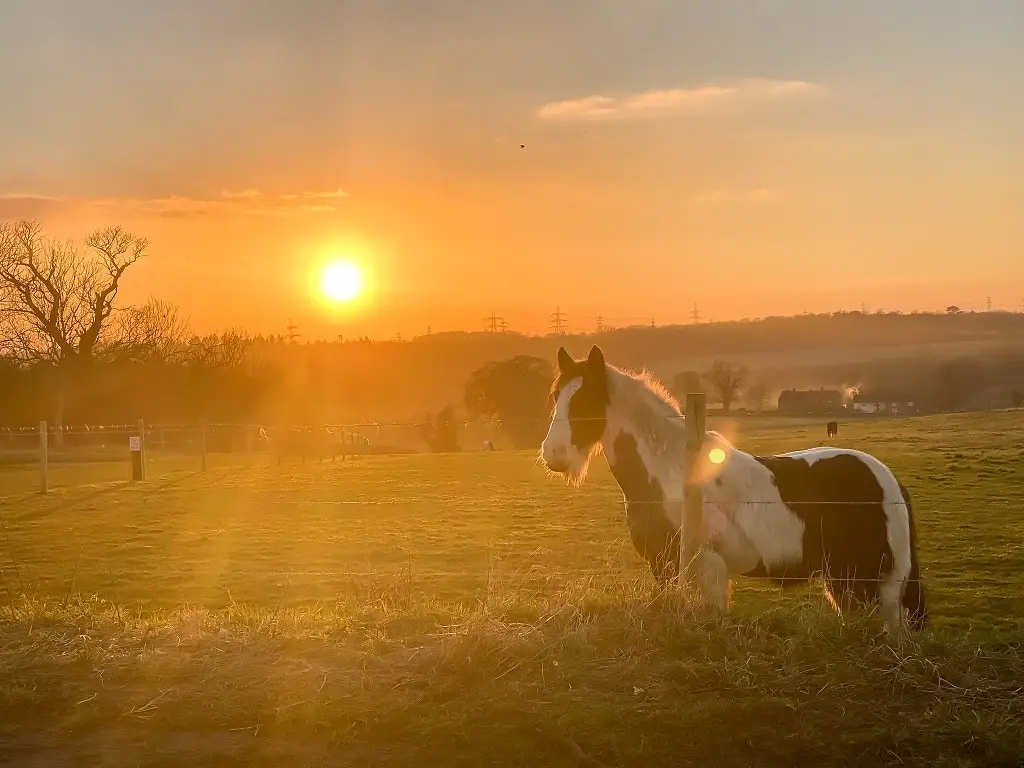 This farm is a haven for wildlife as half the farm has been set aside for wildlife crops. You can explore over 5 miles of tracks that are open to the public including a section of Boudicca's Way. All the paths are grass and wide enough for at least three people to walk side by side.
Wayland Wood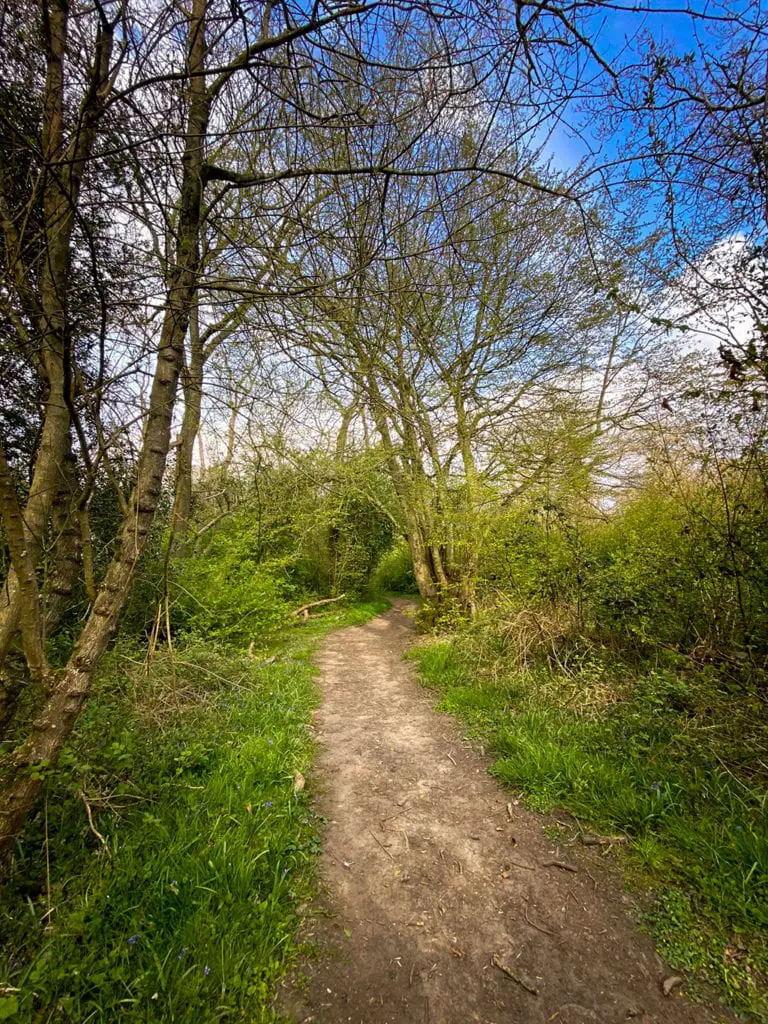 Best known as the place where the Babes in the Wood story took place, this woodland is a lovely place to walk especially during the spring when the bluebells and orchids bloom. Learn more in our guide to Wayland Wood.
Bacton Wood
The 113-hectare Bacton Wood (sometimes called Witton Wood) is just a few miles northeast of North Walsham. There are three different walking routes ranging from 1.3 miles to 2.5 miles to choose from. You can see over 30 species of trees (including an old Sesssile oak tree), a conifer plantation, a bronze age burial ground, a pond, and an ancient pot boiling site in the woods.
Mystical Woods
Located just off the NDR, it's fun to wander in this small woodland. There are no marked routes, so just choose a path and see where it leads. Don't worry you can't get too lost, it's not a very big area.
Broadland Country Park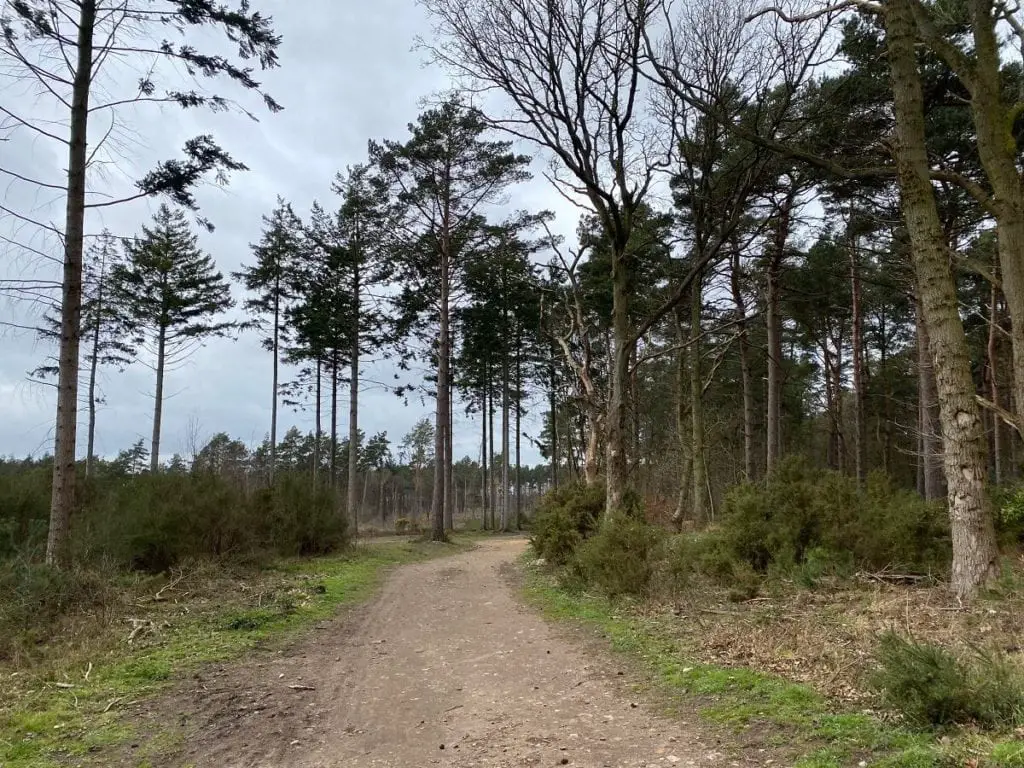 Opened in 2021, this new park is a great place for the family to go for a woodland walk or bike ride. It has circular trails that are easy and not too long. You might be able to spot some wildlife too.
Read more about Broadland Country Park.
Pretty Corner Woods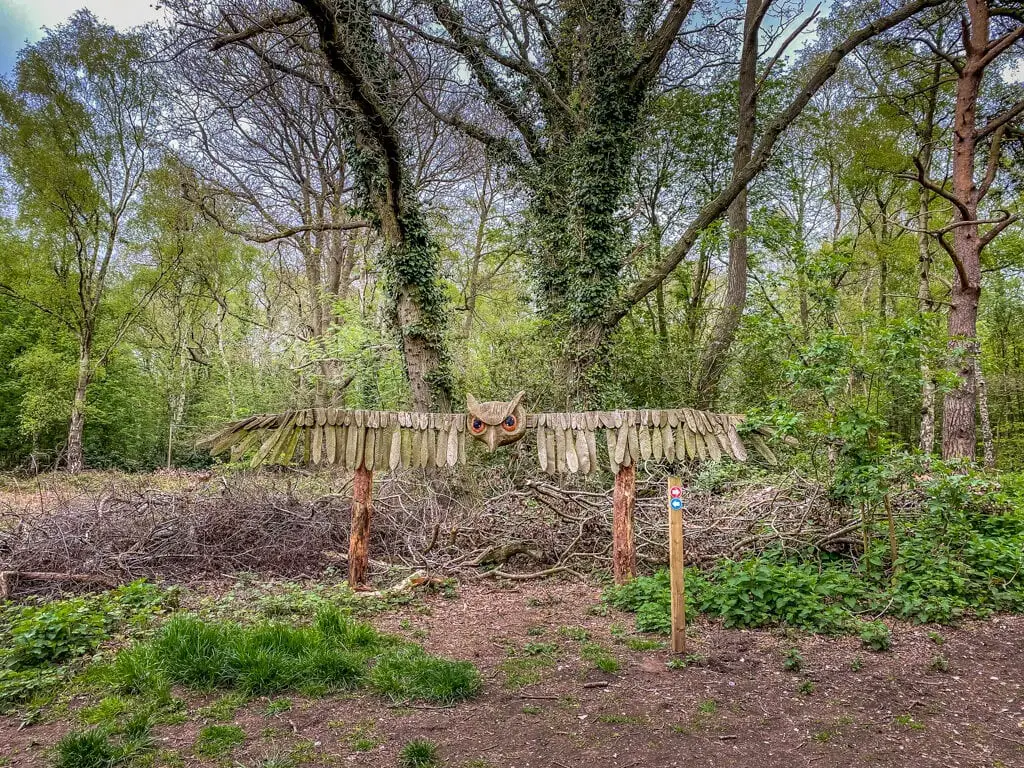 This woodland area near Sheringham has more elevation changes than many others in Norfolk. There are some steep climbs and at one point we caught a glimpse of the North Sea. They also have a tea room for refreshments after your walk. Read our guide to visiting Pretty Corner Woods.
*If you are interesting in see the bluebells in the spring months, check out our list of the best places to see bluebells in Norfolk.
#3 Visit some of the Historic Churches
Norfolk has more medieval churches than anyway else in the world and most (if not all) don't charge any admission. It's definitely not possible to visit all the historic churches in Norfolk, so here are a few you can start with:
King's Lynn Minster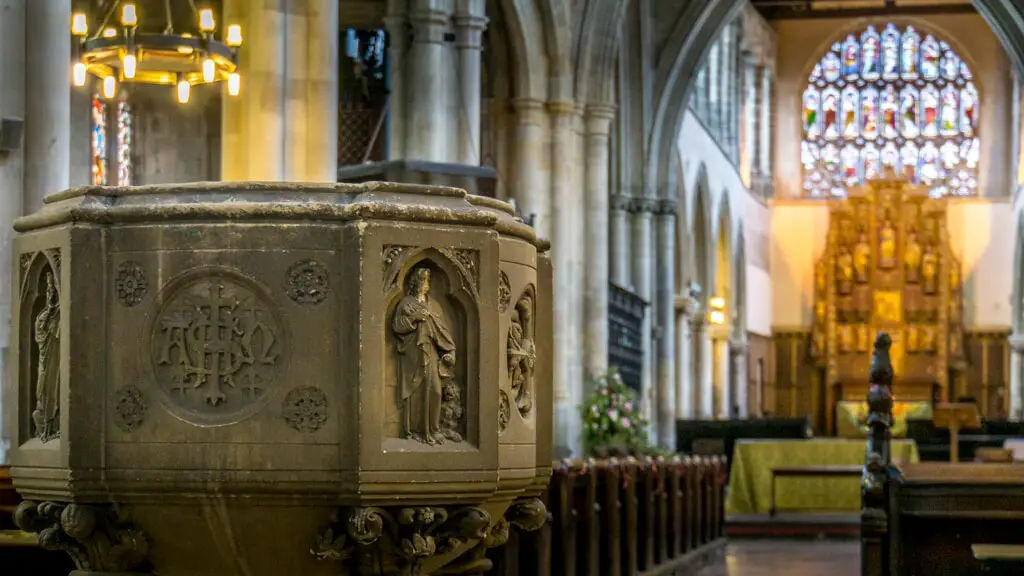 Located in the historic Saturday Market Place in King's Lynn, this church was founded as St. Margaret's over 900 years ago and granted Minster status in 2011. Inside you will want to check out the beautiful reredos behind the altar, the sixteen late 14th-century misericords, and a large collection of brasses.
Church of St. Peter and St. Paul in Cromer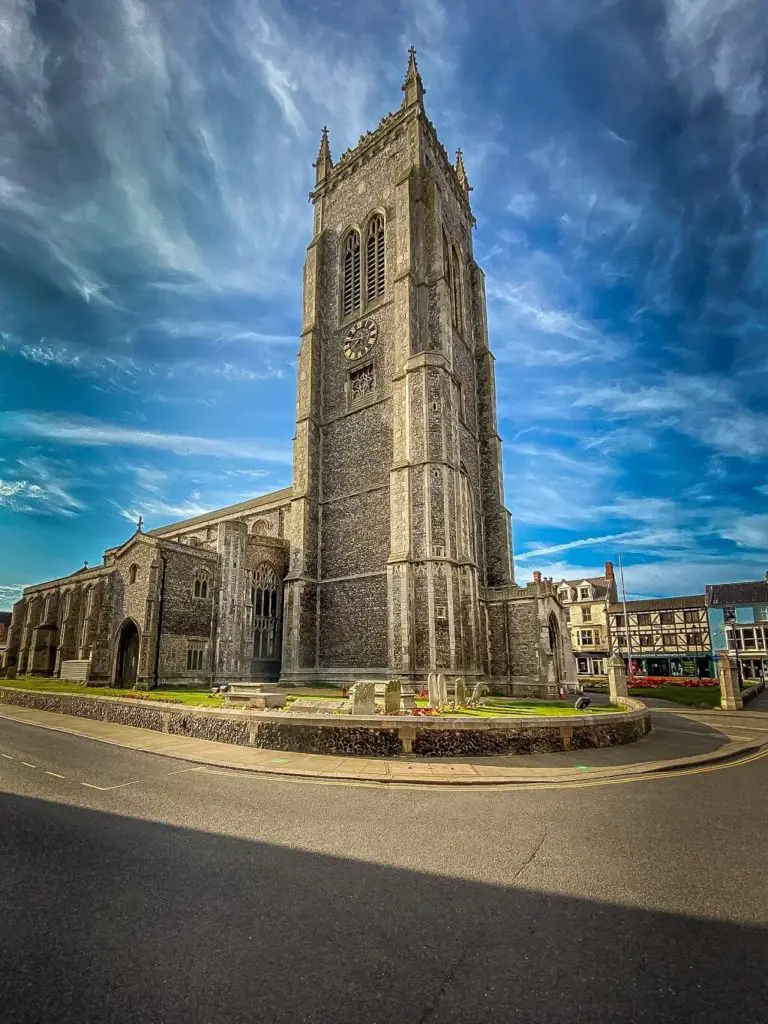 The Cromer Parish church has the tallest bell tower in Norfolk at 160 feet high, but unfortunately, you can't climb it anymore because it is the home of a pair of peregrine falcons. Still, it's worth going inside to see the stained glass, angel ceiling, and organ from Bath Abbey.
This church, nicknamed the Cathedral of the Broads, dates back to the 14th and 15th centuries. While it is hard work, you should climb the 89 steps and 2 ladders inside the church tower for some of the best views of the area. Inside the church, you don't want to miss one of the finest medieval rood screens in England and a 15th century illuminated manuscript (kept in a case for protection). Get more info here.
St. Mary Magdalene in Sandringham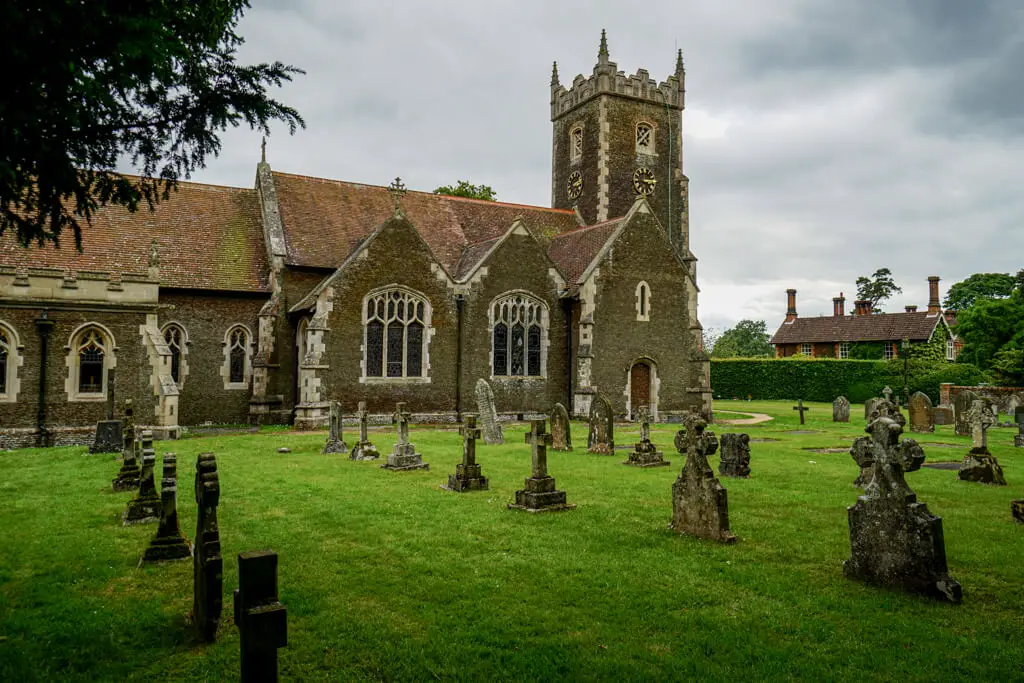 When the Royal Family is in Sandringham, this is the church where they attend services including on Christmas morning. You can also see many memorials to various members of the Royal family inside. The church was built in the 16th century as the Sandringham Parish church and is considered to be one of the finest carrstone buildings.
The Anglican Shrine to Our Lady of Walsingham in Little Walsingham
The original shrine here was founded in 1061, destroyed by Henry VIII in 1538, and then restored in 1922. It has been a place of pilgrimage since Lady Richeldis built a Holy House after her vision of the Virgin Mary in 1061.
Inside the Anglican Shrine of Our Lady of Walsingham, you can see a replica of the Holy House and several small chapels for prayer. You can also taste the holy water. Learn more here.
Wymondham Abbey
Wymondham Abbey, a living testament to the town's heritage for over 900 years. Its twin towers are unmistakable landmarks that have withstood the test of time. Initially home to a modest number of Benedictine monks, it grew in influence and later saw transformation following the Dissolution.
Despite the changes, Wymondham Abbey has retained its distinctive character, featuring a captivating Norman nave, a magnificent 15th-century angel roof, and an exquisite north-aisle roof.
While much of the monastic history has faded, the Abbey remains a vibrant place of worship and a cherished site of pilgrimage. It welcomes visitors seeking spiritual reflection and those eager to explore its rich history and remarkable architecture. This enduring sanctuary celebrates faith, history, and the enduring sense of community in Wymondham.
You can take a virtual tour and learn more here.
#4 Go to a Castle
It can be expensive to visit some castles (i.e. Caister Castle) but there are a few in Norfolk that are free. While these Norfolk castles may not be as historic or large as some other castles, they are still interesting places to visit.
Baconsthorpe Castle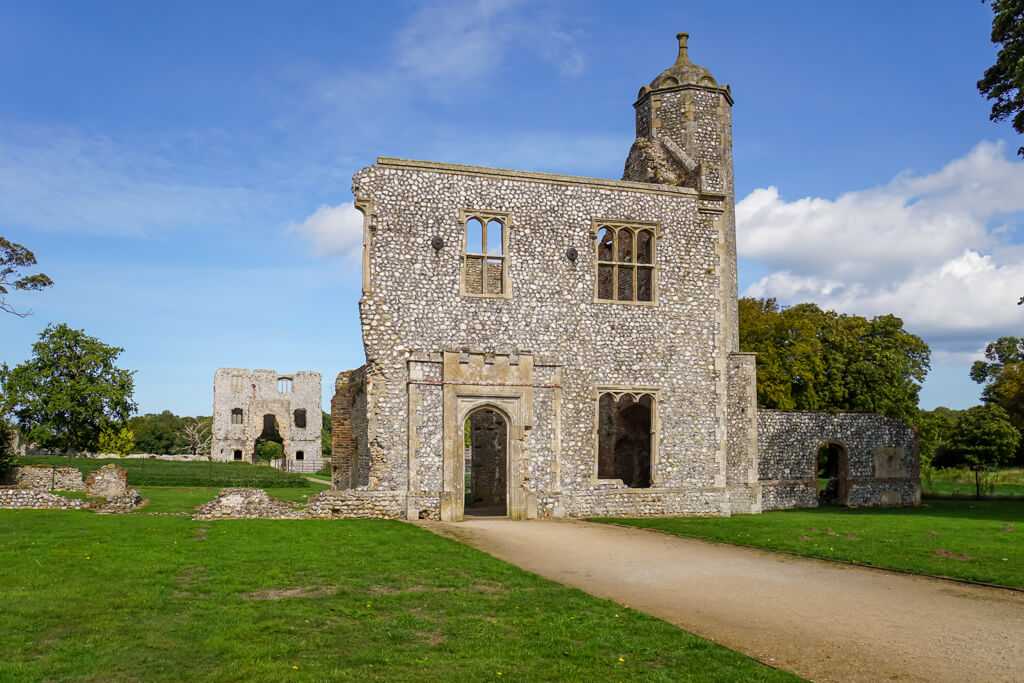 The moated and fortified 15th century manor house where the Heydon family once lived is now just ruins. It's interesting to walk around and learn a bit about the history.
You might want to pack a picnic as there are no facilities, but it's only a few miles from the town of Holt. It's free to visit. English Heritage looks after the property, so there is a small fee to use the car park if you are not a member.
Get more information about English Heritage membership here. Find out more about visiting Baconsthorpe Castle here.
Thetford Castle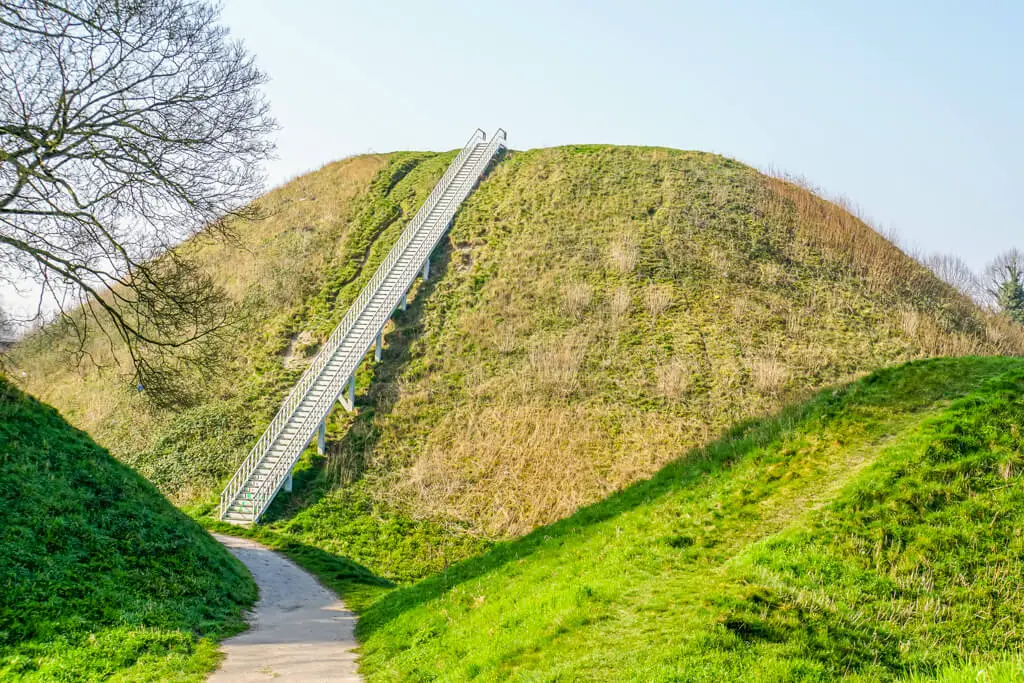 Most of this motte and bailey castle was destroyed by Henry II in 1173, but the huge motte, the second largest man-made mound in England, remains intact in the middle of a local park. Climb the stairs to the top and enjoy lovely views of the area.
Castle Acre Castle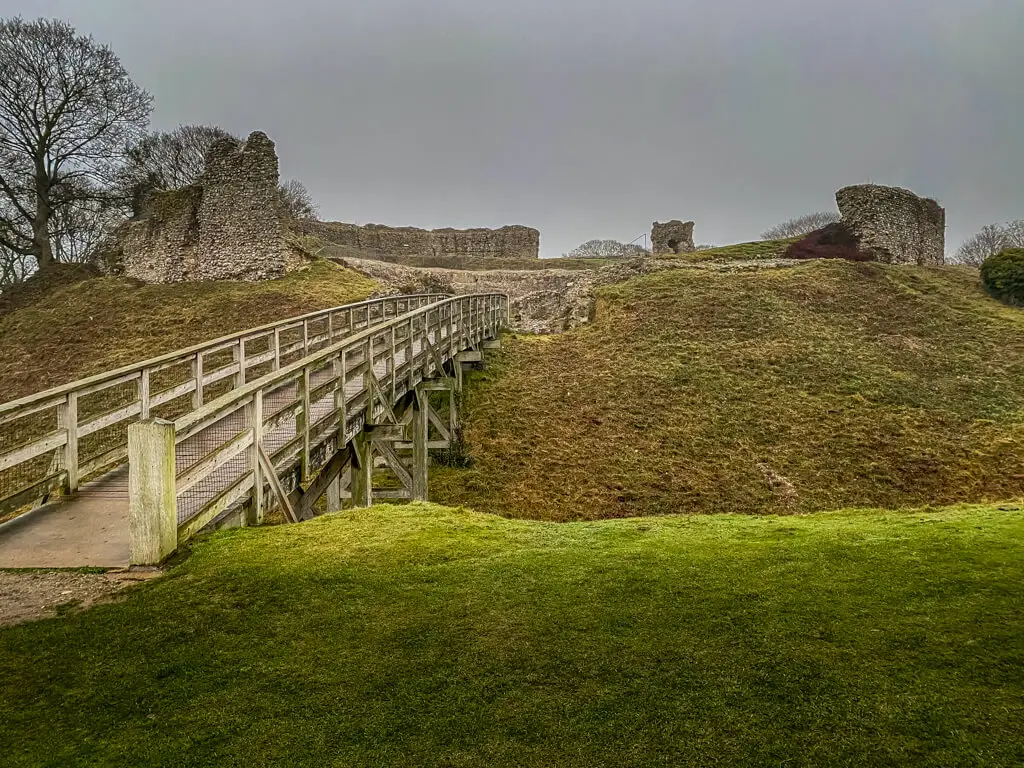 This motte and bailey castle founded soon after the Battle of Hastings by the first William de Warenne, a close associate of William the Conqueror. The main road into the Castle Acre village still runs through the Bailey Gate, which is one of two stone gatehouses added to the massive earthwork defences around 1200.
Castle Acre Castle is an English Heritage site that is free for everyone to visit but non-members will have to pay for parking. English Heritage members can also visit the nearby Castle Acre Priory for free.
Get more information about English Heritage Membership here. All English Heritage sites in Norfolk are free for members.
#5 See Roman Ruins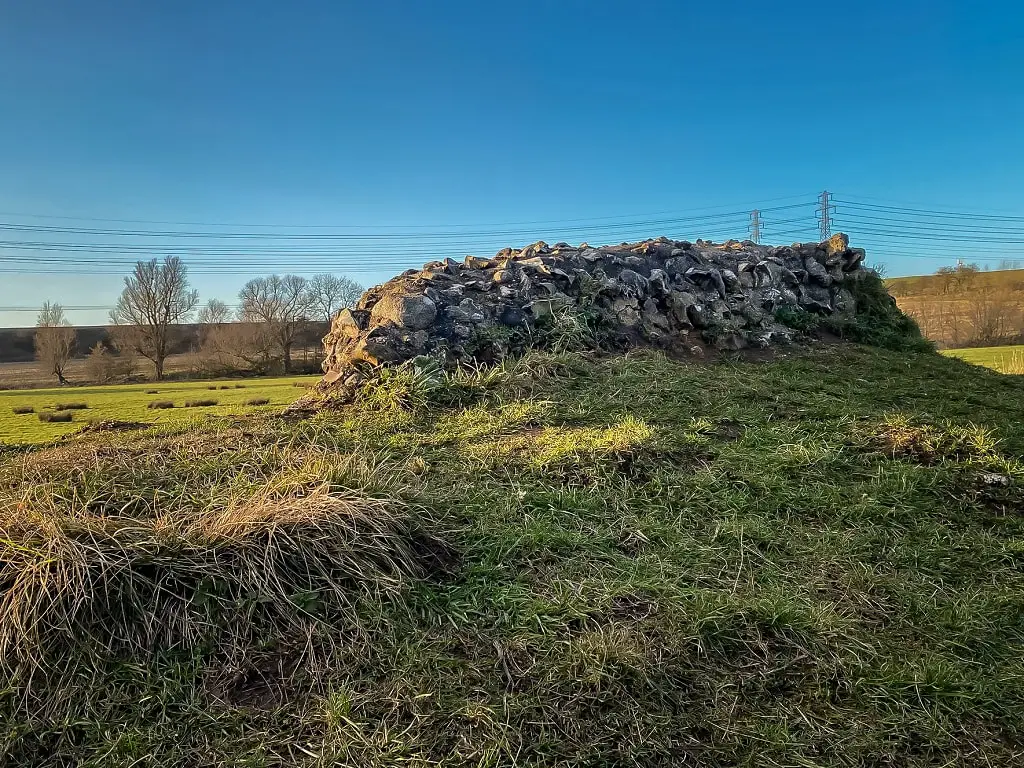 Norfolk is full of history. If you are interested in learning more about what life was like during Roman times, it's worthwhile to visit the site of one of the Roman towns in Norfolk. The most significant one is Venta Icenorum located near the modern Caistor St. Edmund.
You can also visit Burgh Castle and the Caister-on-Sea Roman Fort. All three sites are free to visit, but Burgh Castle implemented a parking charge in June 2022.
#6 Explore Other Historic Places
Norfolk has so much history! It's more than just castles, churches, and Roman ruins. Here are a few more ideas for things to do in Norfolk for those that want to learn more:
St. George's Guildhall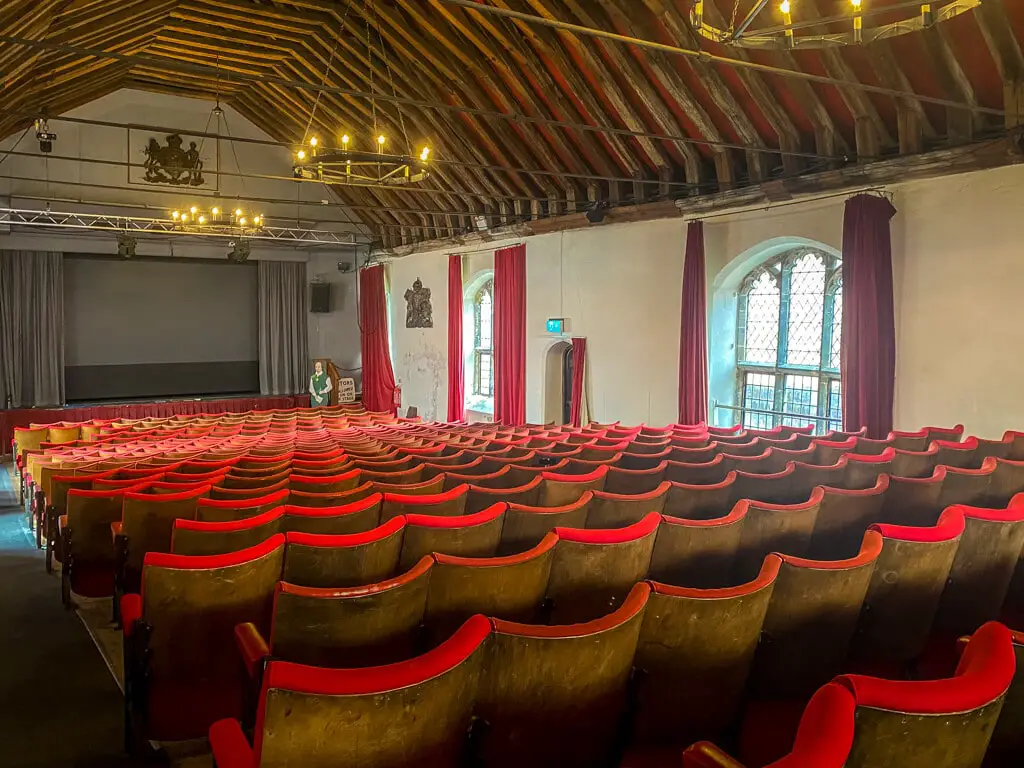 This guildhall in King's Lynn is the only surviving theatre where Shakespeare performed. It's worth a visit inside to see the elaborate roof, the leaning walls, and to test out the acoustics. Get more information about it here.
Thetford Priory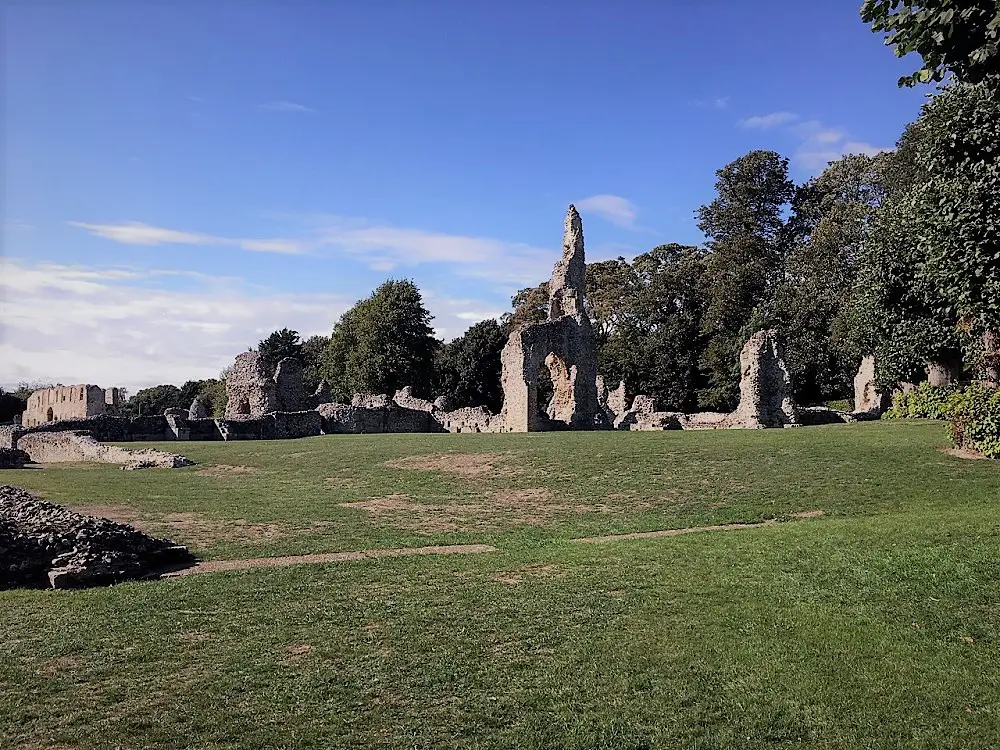 Founded in the early 12th century, the Priory of Our Lady of Thetford was one of the largest and most important monasteries in East Anglia. It was the burial place of the Earls and Dukes of Norfolk for 400 years, and was one of the last monasteries to be suppressed when it surrendered to Henry VIII's commissioners in 1540.
There is a small car park near the entrance that is free. Find out more about visiting here.
St. Benet's Abbey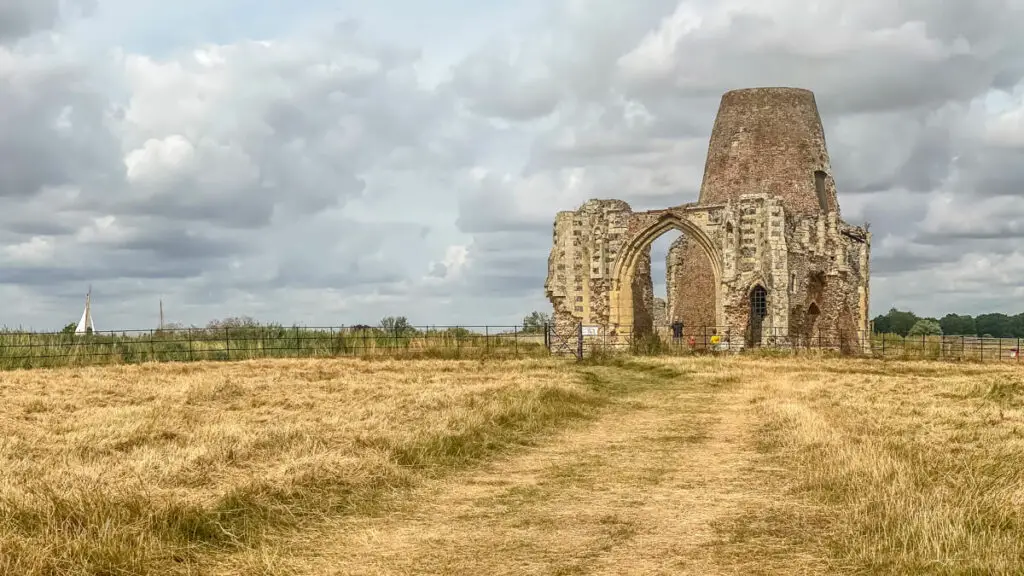 The history of St. Benet's Abbey is a bit of a mystery. Founded during Anglo-Saxon times, it was the only monastery not officially closed when Henry VIII shut down monasteries across England, but shortly after that most of its buildings disappeared including the centrepiece church. You can still see the ruins of the gatehouse and more.
Binham Priory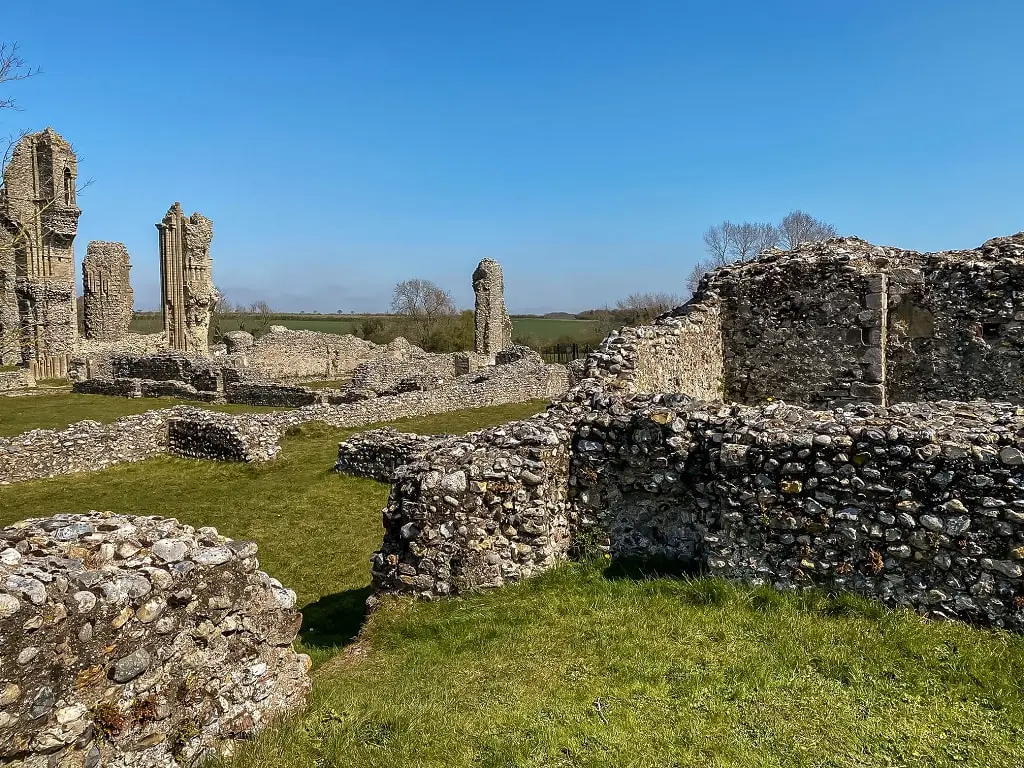 Binham Priory is one of the most complete and impressive monastic ruins in Norfolk. This Benedictine priory dates back to 1091 and the nave is still the parish church. Read more about visiting Binham Priory.
Warham Camp Hill Fort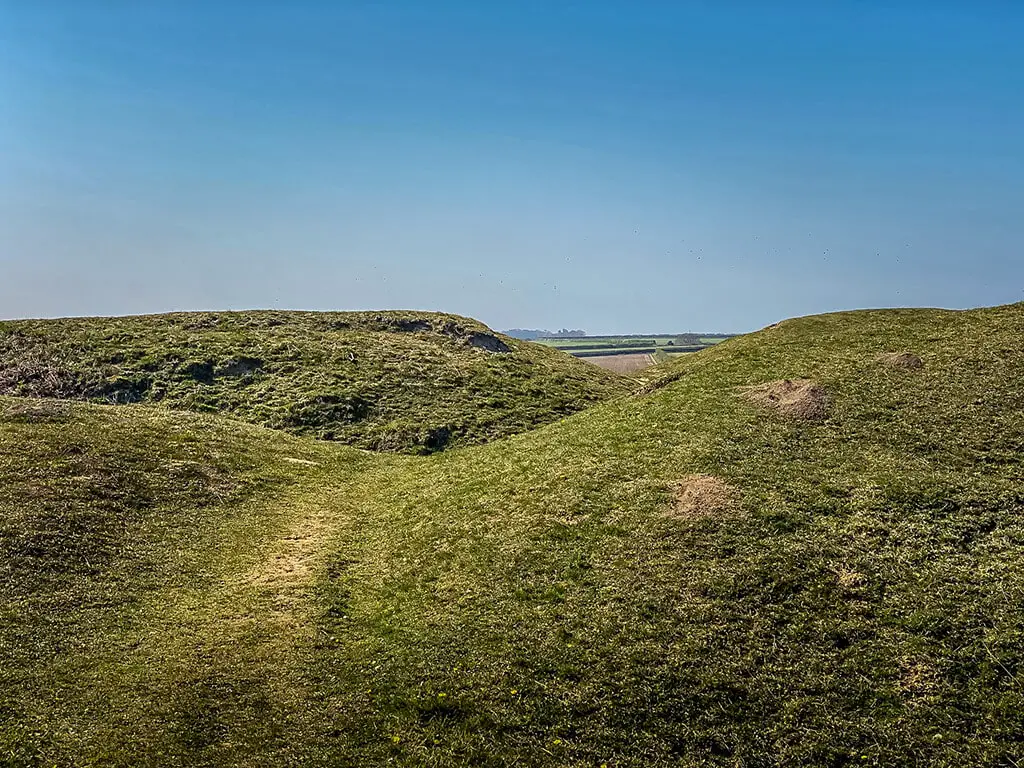 Warham Camp is the best preserved iron-age hill fort in Norfolk. It's a bit off the beaten track, but definitely worth a visit. The earthworks are impressive, and the views aren't too bad either. Read our guide to visiting the Warham Camp Hill Fort.
#7 Check out a Museum
Museums can be entertaining and educational. You don't have to worry about the weather, you can visit museums all year long. While some museums charge admission, there are several in Norfolk that are free. These museums are worth checking out:
Henry Blogg Museum in Cromer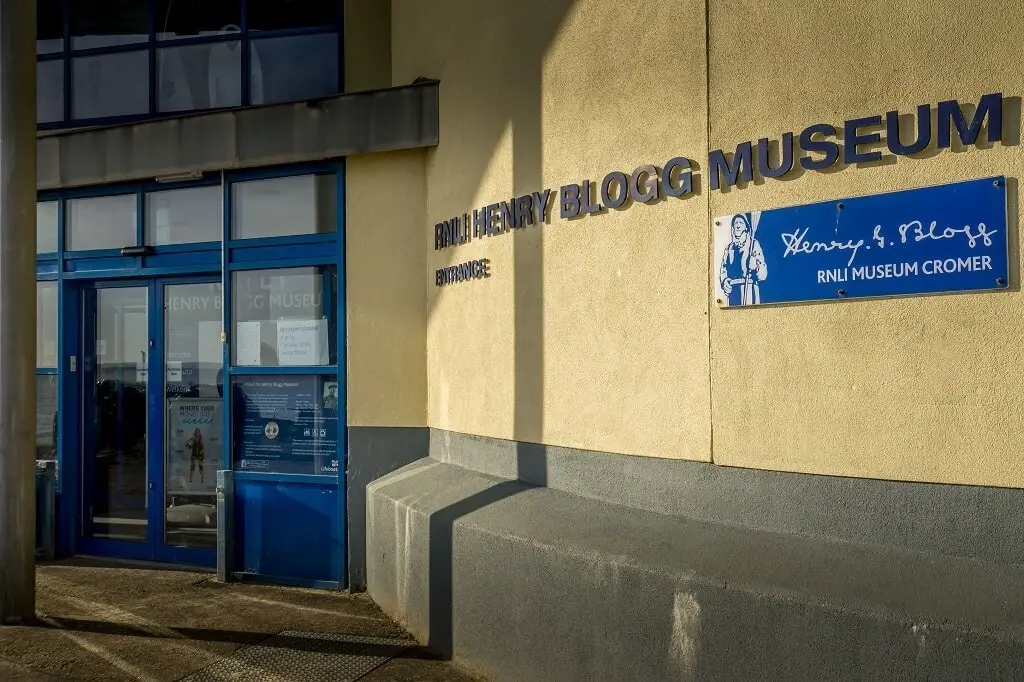 This museum tells the inspirational story of the most decorated lifeboatman in the history of the Royal National Lifeboat Institution (RNLI), Coxswain Henry Blogg. He served on the lifeboat for 53 years and saved 873 lives from the North Sea. Many of the displays are interactive, so it's a good museum for kids, too.
Fakenham Museum of Gas and Local History
Located inside the only surviving town gasworks in England and Wales, where they used to manufacture gas from coal, this museum provides insight into our cultural, social, and industrial heritage with displays of lighting, heating, cooking and domestic devices, complete with equipment used in the day-to-day running of the plant when it was still operational.
Diss Museum
Since 1993, the Diss Museum has been based in the Diss Market Place in a building called The Shambles, which used to house two butchers' shops. It has a variety of exhibits about the history of the town and area. While the displays are frequently changed, you can always see the Old Rectory Doll's House, old photos and jottings, from the Memory Bank.
Dad's Army Museum in Thetford
It is fitting that the museum dedicated to one of the most enduring comedy shows ever is in Thetford, where you can see filming locations and learn more about Dad's Army.
Seething Control Tower Museum
You can visit a restored World War II air traffic control tower at the Seething Airfield in South Norfolk, England. The Seething Control Tower Museum serves as a memorial to everyone who served at this airfield from 1943 to 1945.
#8 Go on the Lookout for Wildlife
Norfolk is a haven for wildlife lovers. It is home to many different kinds of animals from birds to seals to damselflies and more. You don't have to go to an expensive zoo to see them either. There are many places in Norfolk where you can see wildlife for free.
Horsey Beach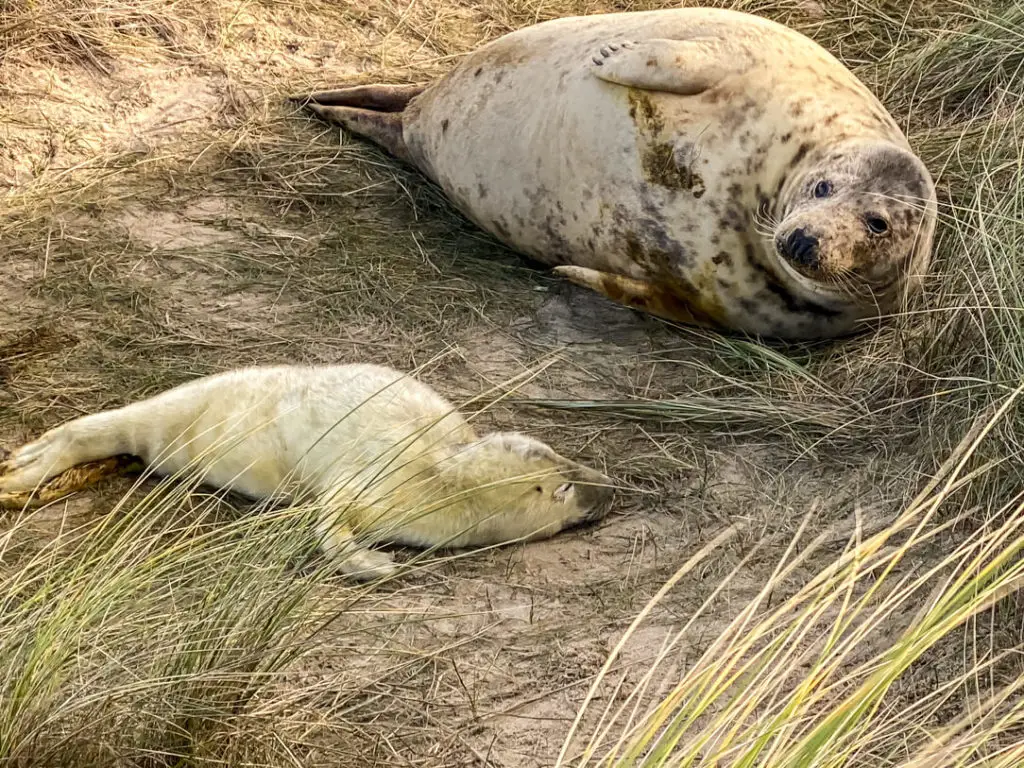 During the winter, this is the best place to see seals in Norfolk. It's not unusual to see babies as the seals come to the beach to have their young. Read more about seeing the seals at Horsey Beach.
Buckenham Marshes
You can see thousands of rooks, crows, ducks, and geese during the winter at this RSPB reserve. Time your visit for sunset when there will be a lot of activity. You won't even have to pay for parking.
Get more information here.
Upton Broad and Marshes
This reserve is home to some of Norfolk's rarest wildlife including the swallowtail butterflies (and 22 other species), Norfolk hawker dragonflies (and 20 other species), otters, and water voles. Expect the paths to be muddy all year.
Get more information here.
Barton Broad
Take a scenic walk on the boardwalk (which sits on 10 metres of liquid mud!) through the reserve to a viewing platform over the second largest of Norfolk's broads. It's a great spot for birdwatching. You may also be able to see butterflies and dragonflies.
It's free to use the car park which is a 1.2 kilometre walk from the boardwalk. They also have a toliet block there. Disabled visitors can use the car park right by the boardwalk.
Read our guide to the Barton Broad circular walk.
RSPB Snettisham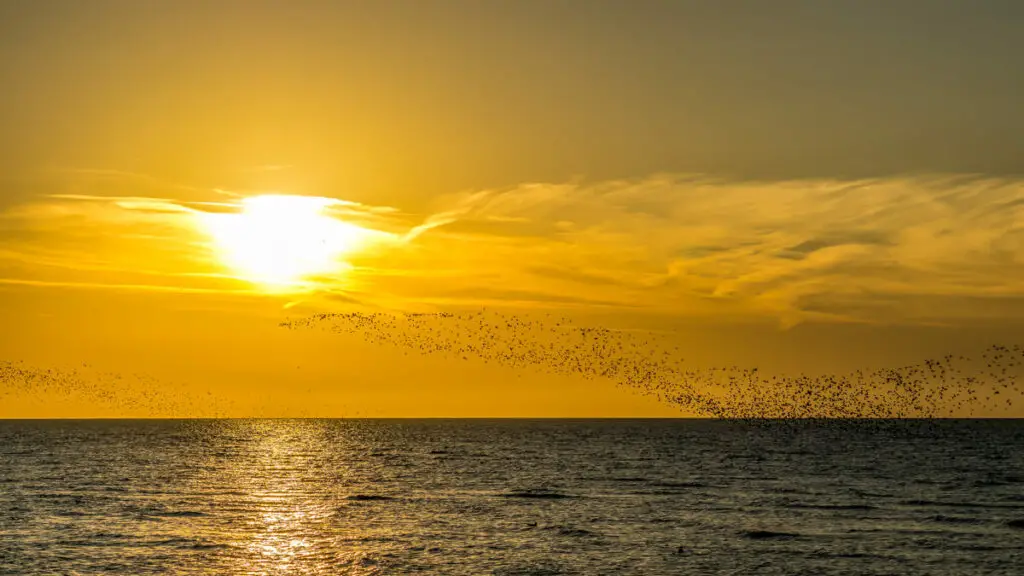 For birdwatchers, you will want to try and time your visit to catch the Snettisham Spectacular, when tens of thousands of knots take to the sky during the high tide, or to see the pink-footed geese leave their roost at sunrise in the winter. If you go at another time you can still enjoy the observation hides that offer panoramic views across the saline lagoons, salt marsh, and mudflats that make up The Wash.
While admission is free, parking costs £3 per car if you are not a RSPB member.
Get more details here.
#9 Catch the Sunset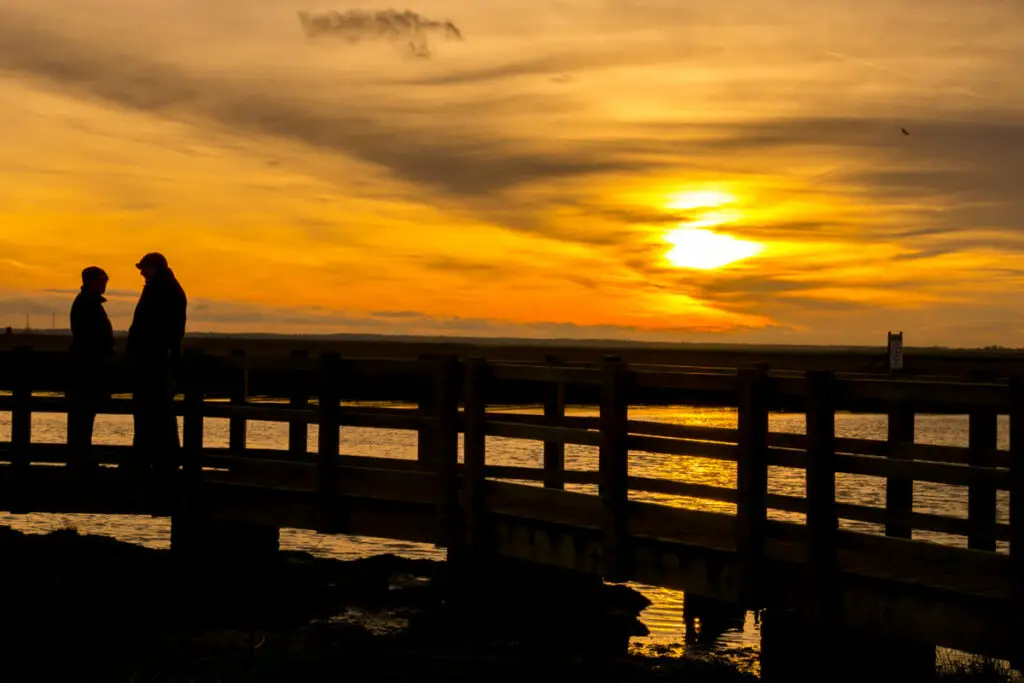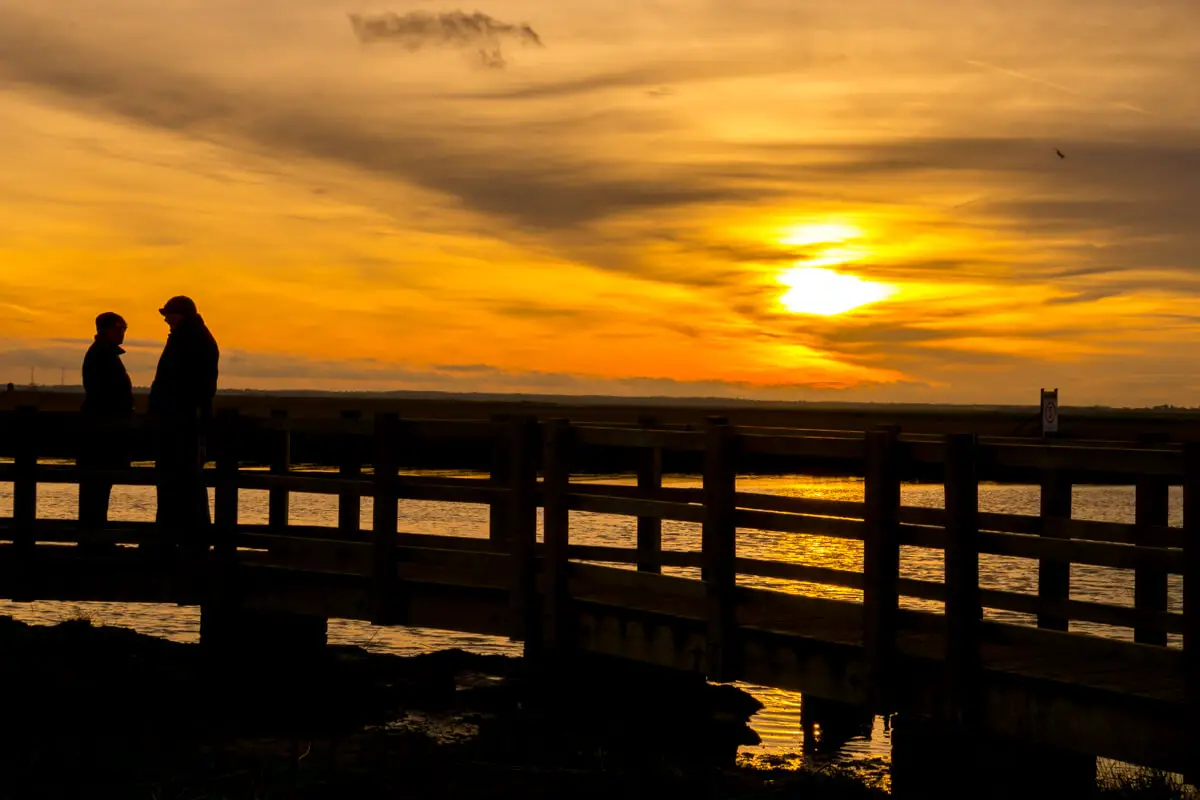 Norfolk may not be the first place you think of for sunset-watching since it is on the east coast of England. Well, prepare to be pleasantly surprised because Norfolk boasts some of the most breathtaking sunset views over the water. And let's not forget Norfolk's claim to fame – those expansive big skies that seem to stretch on forever, giving the setting sun a huge canvas to paint.
Read about the best places to see the sunset in Norfolk. Whichever one you choose it won't cost you anything.
#10 Go to a Festival
Throughout the year, the county hosts many festivals. There are also several carnivals in the summer. While some do charge admission, there are some that are free too.
Norfolk & Norwich Festival
This is the area's biggest annual festival held every May. There are a wide range of events (like art exhibitions, live performances, the garden party, etc) across many venues. Some of these events are free, but you may still need to book a ticket in advance.
Get details about the 2022 Norfolk & Norwich Festival and 2023 Norfolk & Norwich Festival.
Heritage Open Days
Heritage Open Days (HODs) is England's largest festival of history and culture. It's your chance to visit some of Norfolk's best venues, organisations, private homes, and gardens for free.
For some places, this is the only time they open to the public. The festival takes place annually in September, and you will need to book in advance for many of the events.
Read about the 2023 Norfolk Heritage Open Days.
Disclosure: This post contains affiliate links. This means we will receive a small commission for some purchases made using links in our blog with no additional cost to you.  Please be assured we would not promote any product unless we believe that our readers will also benefit.  The commission does not influence the editorial content of this site.