Typically you only expect to see light trails during the the Christmas season, so I was pleasantly surprised to hear that there was going to be one in the spring at the Raveningham Centre. Since we had enjoyed the sculpture trail they do every summer, I was excited to check out Woodland Lumiere 2021.
Let me share our experience at Raveningham Woodland Lumiere 2021, so that you can know what to expect.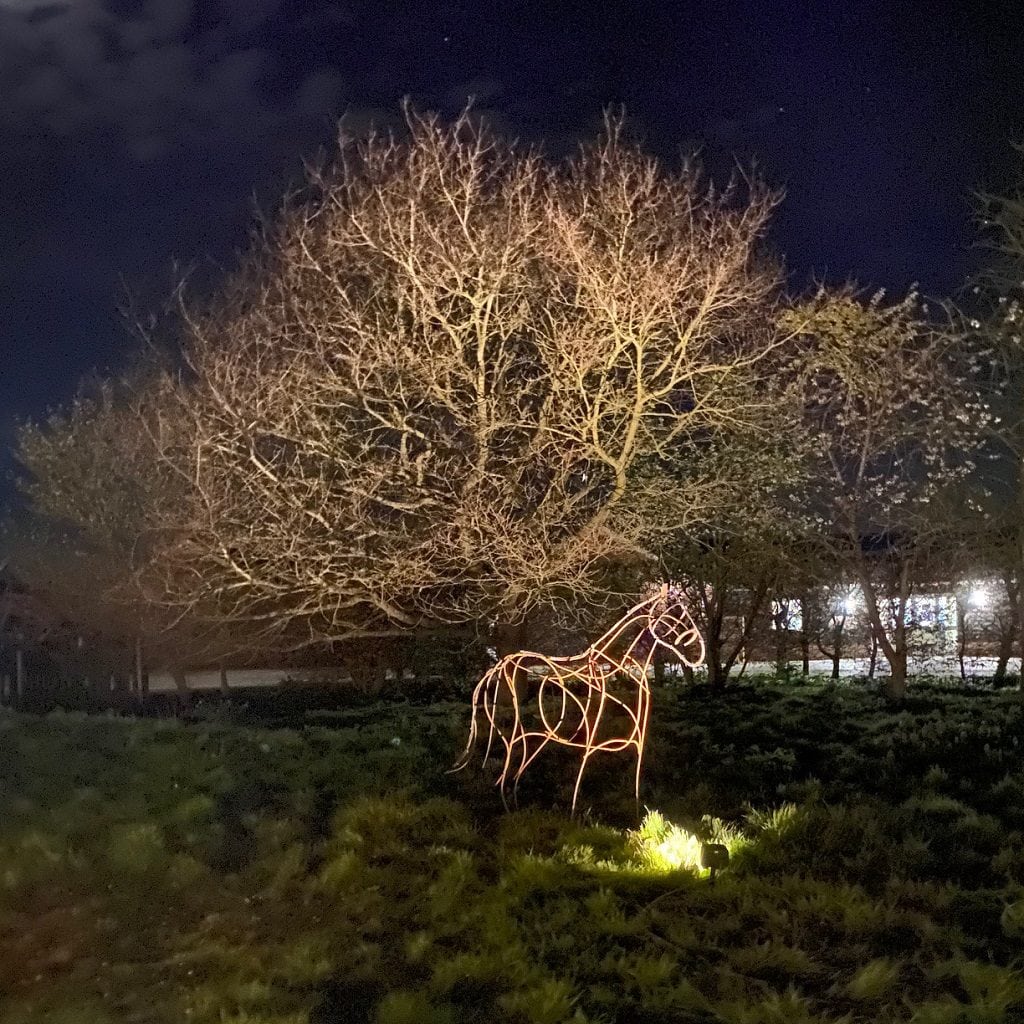 What is Woodland Lumiere?
The ladies at the ticket counter summed it up best. Woodland Lumiere is an immersive experience.
As you walk along the light trail through the woods, you are surrounded by artwork, music, film, and even poetry. All of the installations are from a group of local artists and makers who have been working in their studios during the lockdown.
If Woodland Lumiere interests you, then be sure to also check out our review of Luminate Sandringham and Fire on the Water.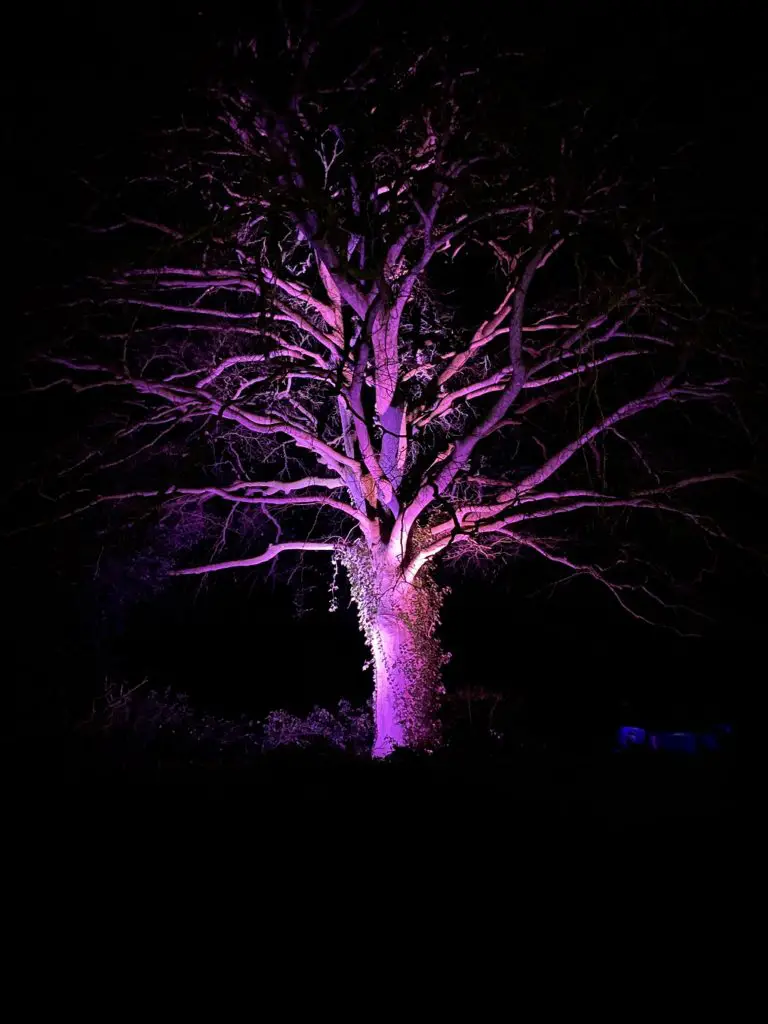 Our Visit to Raveningham Woodland Lumiere
We visited the Raveningham Light trail on the first weekend it was open. Luckily, it wasn't raining or too cold.
There were no lines, we were able to check in right away and then start the trail. The music and the lights were inviting us into the woods.
It wasn't long until we stopped to take pictures. In addition to the lights there were art installations. Many (but not all) seemed quite appropriately to have a nature or wildlife theme.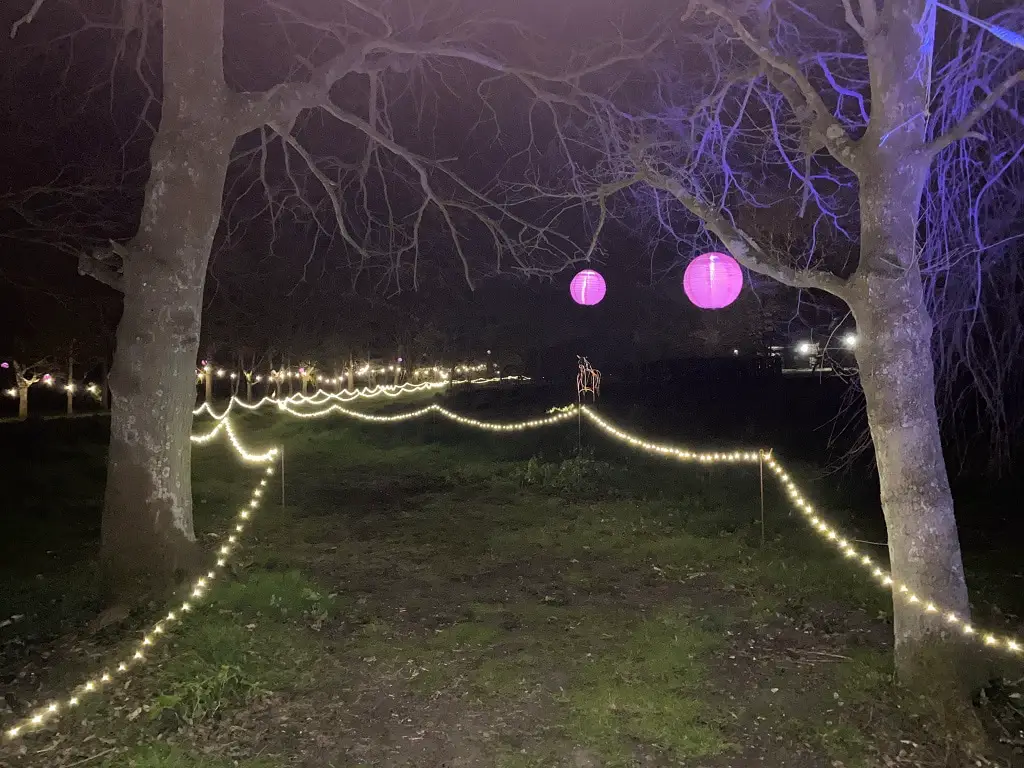 A little further on, we heard a man's voice. At first I thought it was other guests but then I figured out it was a speaker that was part of the art on the trail. We stood and listened for a bit and then continued on. There was another spot later on where we could hear a woman's voice reciting a poem.
One of the installations that fit well with the nature theme was the giant moths. Some were so colourful, I thought they could be butterflies. At the same time, there were many smaller moths that almost blended into the bushes but would sparkle if the light hit them right.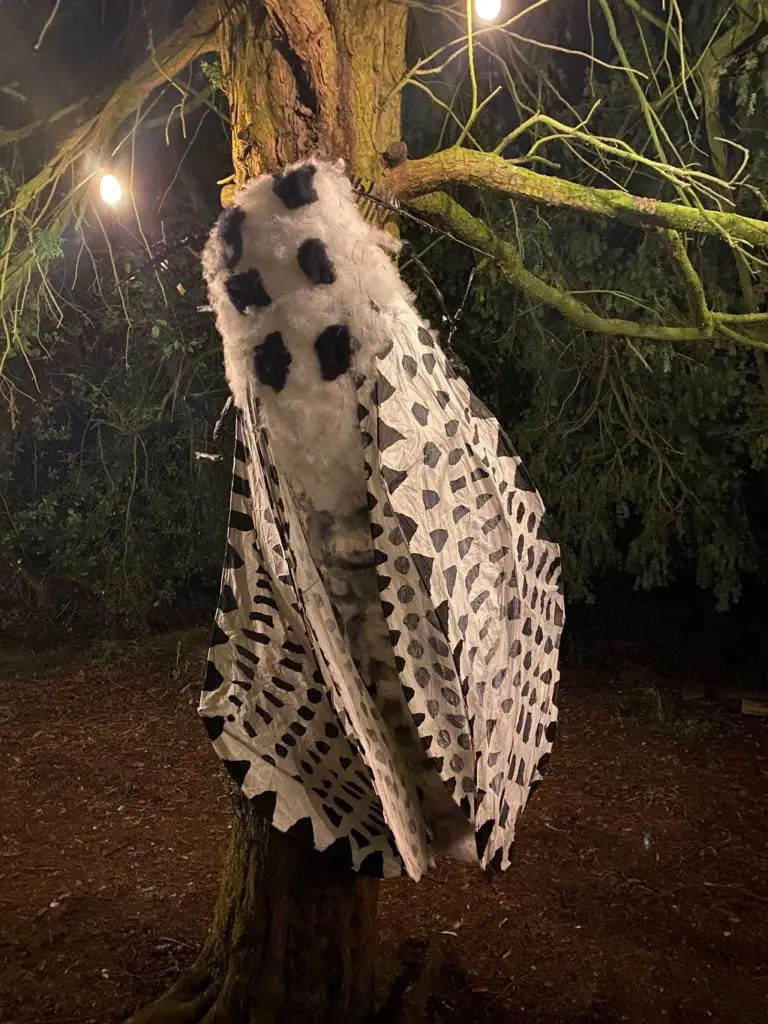 Time flies when you are having fun and before we knew it we had reached the end of the light trail. It was fitting that the last installation was quite dramatic with video projected on the side of one of the buildings. We were so captivated that we almost missed the large tree nearby that was brilliantly lit in purple – see the photo at the top of this post.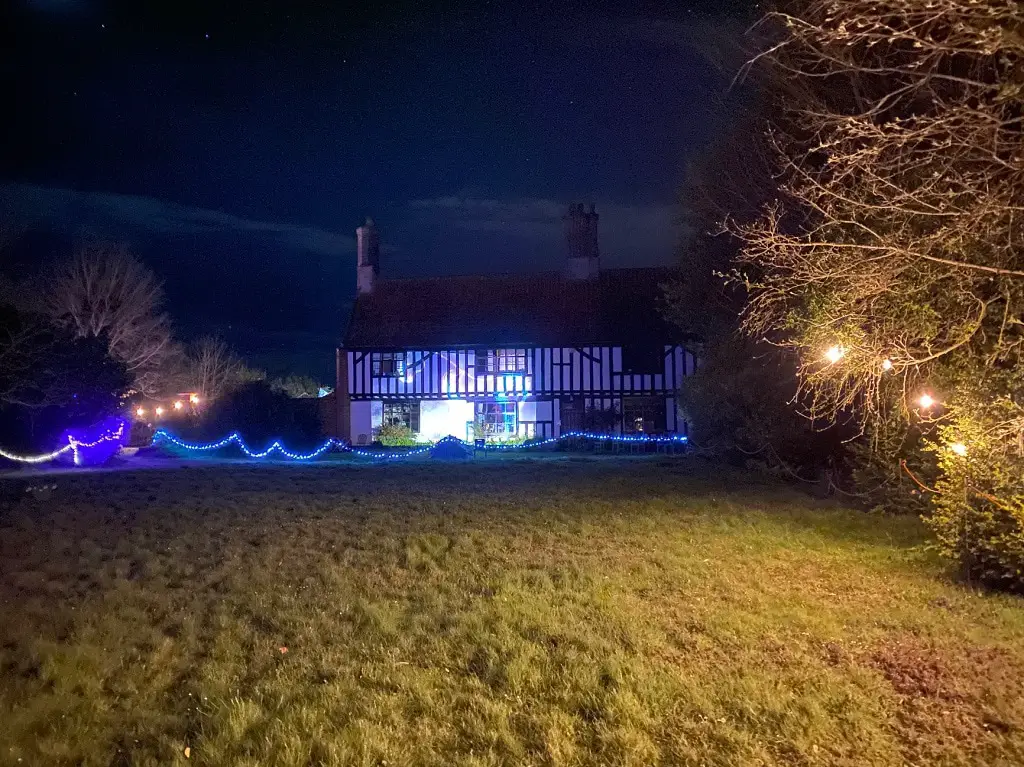 Raveningham Woodland Lumiere Review
We definitely enjoyed our visit and would return if the event comes back in future years. It was well-organized and the staff was friendly. The trail was well-lit and easy to follow too. It was so peaceful that we felt like we had the whole trail to ourselves.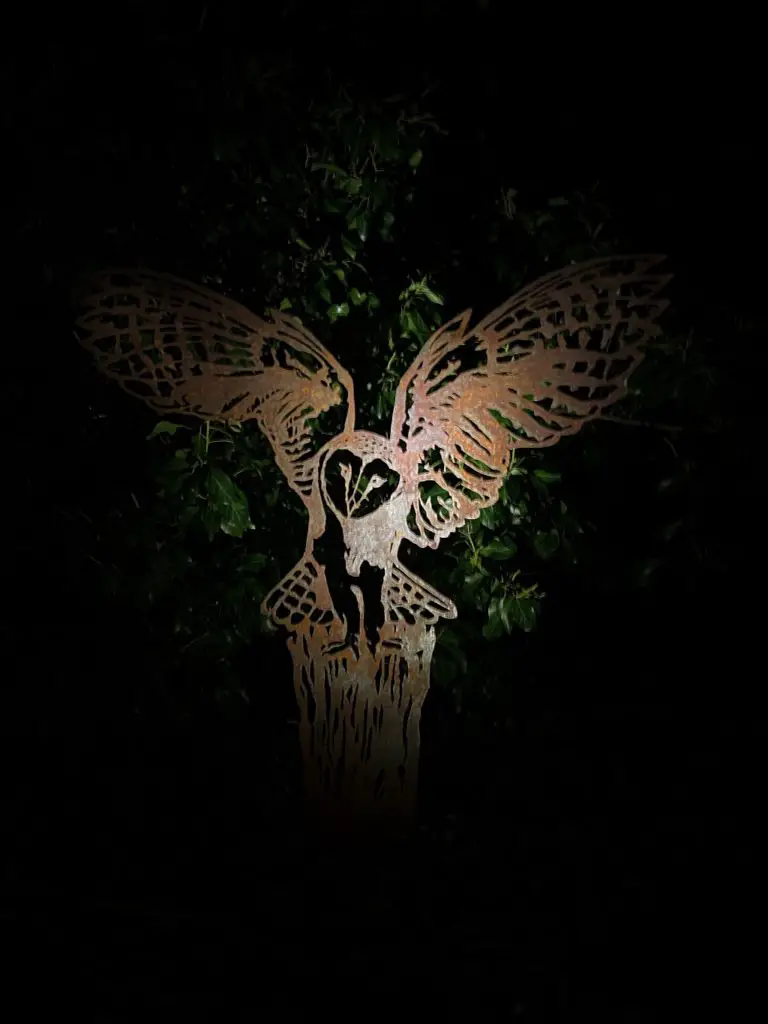 The artwork was impressive, interesting, and a bit unpredictable. I liked that it wasn't just lights, they used other materials as well. I recognized some of the pieces from the summer sculpture trail. The music and other audio effects added to the experience. You could tell a lot of thought went into the installations.
*You might also like to read our review of the 2021 Raveningham Sculpture Trail.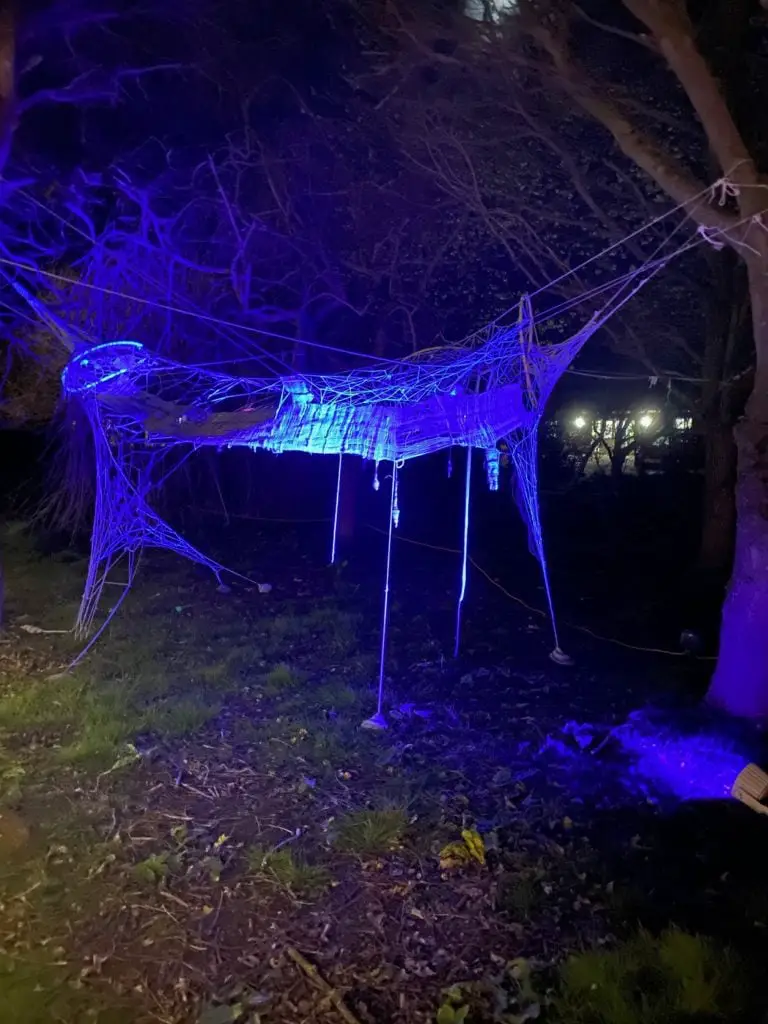 I just wish I would have had more information about the artists and installations. When we visited Raveningham Centre for the summer sculpture trail we got a pamphlet with information about each piece.
A similar pamphlet for the Woodland Lumiere would have been nice, although it may have been difficult to read in the dark. There is some information about the artwork on their website, but it is limited.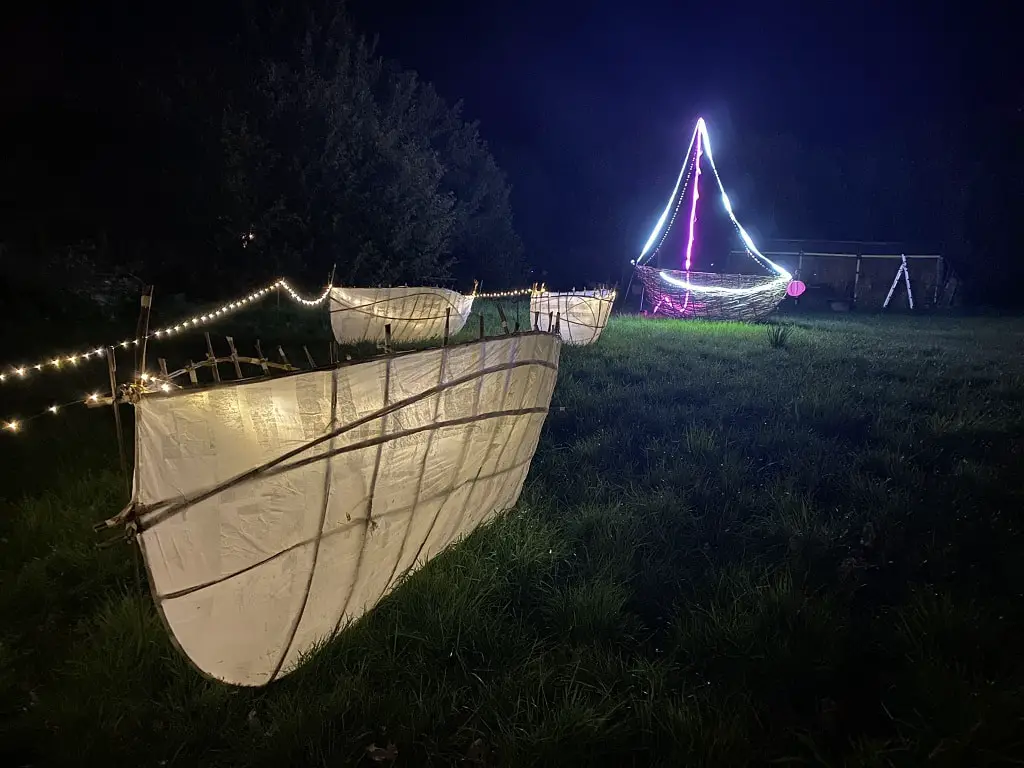 Woodland Lumiere FAQs
When is Woodland Lumiere 2021?
The Raveningham Light Trail runs from 14th April to 9th May 2021. It is open from 19:30 – 22:00 each night.
Is Woodland Lumiere good for kids?
Yes. While there are no fictional characters or kids themes, the light trail still has a magical feel for kids. It's also nice that there is no admission charge for those under 18.

Also, check out our recommendations for the best things to do with kids in Norfolk to get more ideas.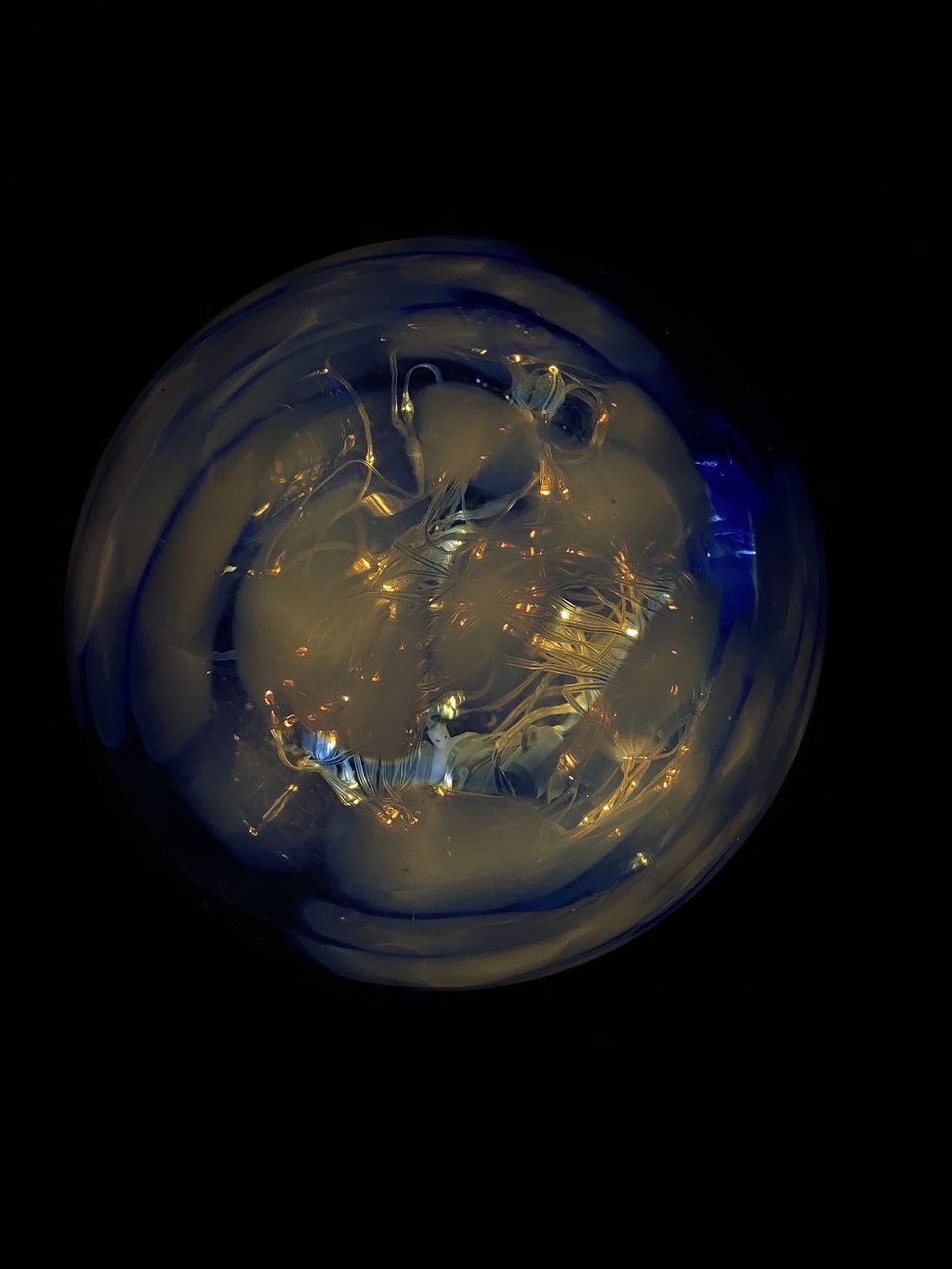 How long does it take to visit Woodland Lumiere?
We spent about 30 minutes on the trail. As we stopped for a few pictures, it might not take you as long.
How do you get tickets for Woodland Lumiere?
You need to make a reservation for a specific entry time slot in advance here for £6. It covers the entry for one adult and is non-refundable. This reservation is good for up to six people. You just pay for the additional adults when you arrive. They do accept credit cards.

As you may expect, the event has been quite popular so reservations for the weekends went fast. They mention on their website that if you are having trouble finding a timeslot or would like to know of any last minute slots that become available, you can email them.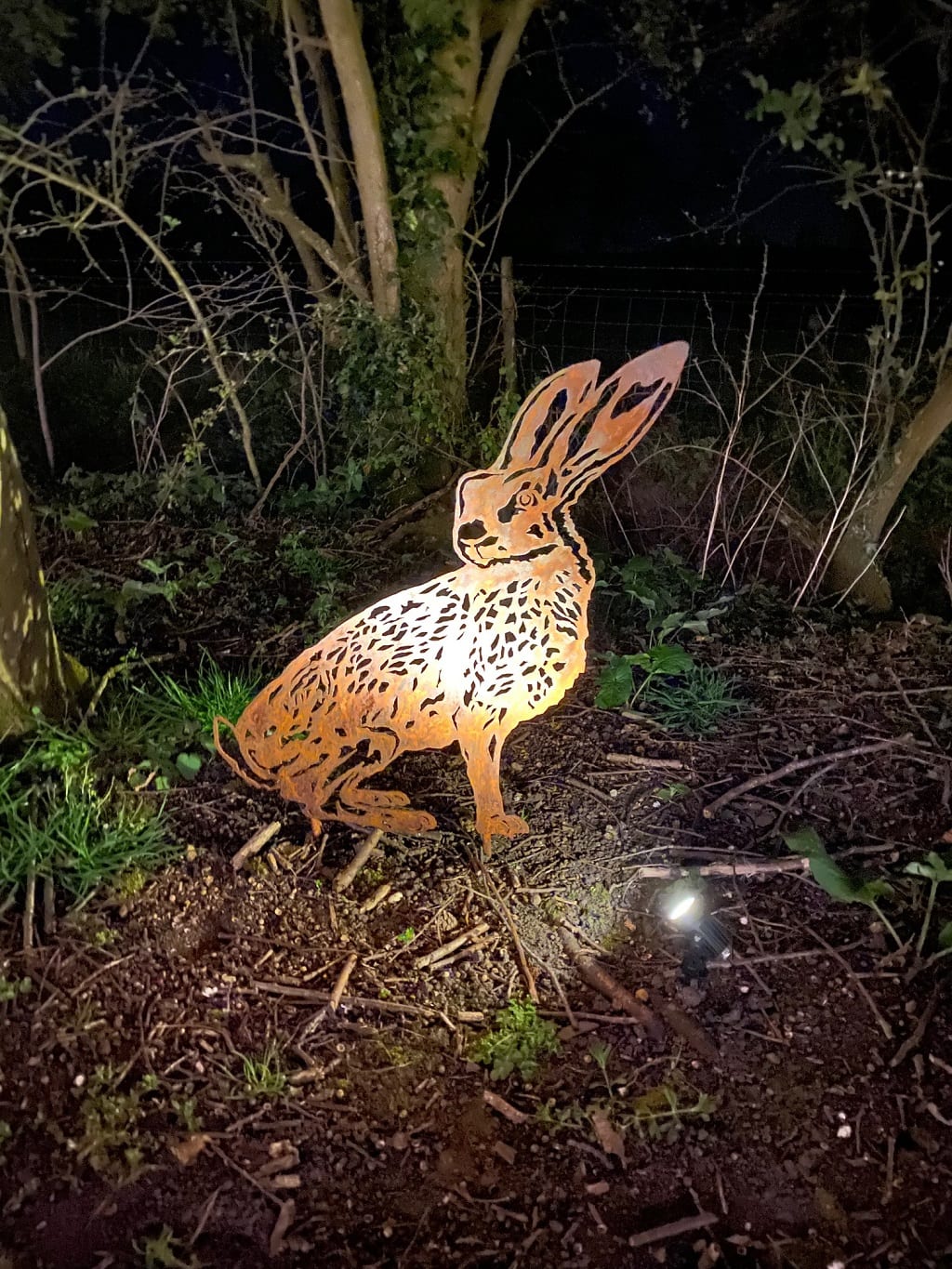 How do you get to Woodland Lumiere?
We did get a bit lost going to Woodland Lumiere. It is held at the Raveningham Centre, the post code is NR14 6NU. This area is rural, the roads are small and at night it is quite dark. The signs are not easy to see. If you don't get lost, it's less than a 30-minute drive from the Norwich city centre.

To make things worse, instead of putting the post code in the sat nav, I mistakenly put in Raveningham Gardens, a place known for its snowdrops. This took us to a place a little more than a mile away. It was clearly closed, so I realized the error and found the way to get us to the right place. We were only a few minutes late and the staff was very understanding.
Are there toilets at Woodland Lumiere at the Raveningham Centre?
Yes, by the car park.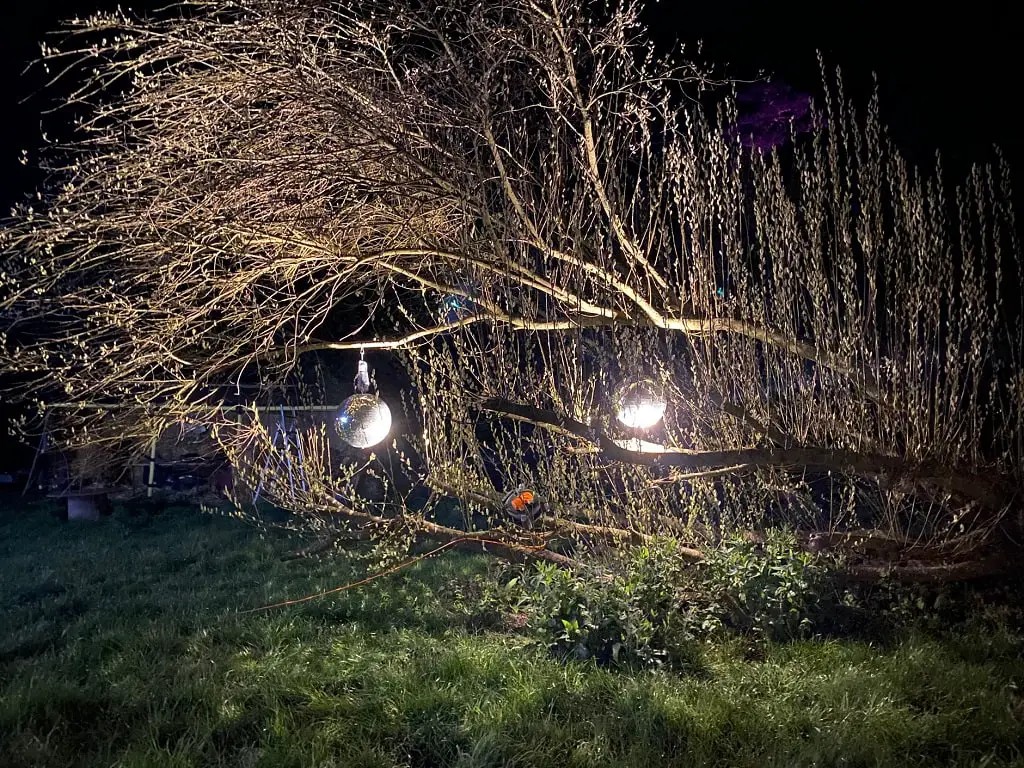 Is there food at Raveningham Centre?
The Ravenous Cafe is open from 19:30 – 22:00. They serve hot drinks, soup, and snacks. There is outdoor seating available.
Are dogs allowed at Woodland Lumiere?
Yes, if they are well-behaved and kept on a lead.
Is there a charge for parking at Raveningham Woodland Lumiere?
Parking is available at the Raveningham Centre for free.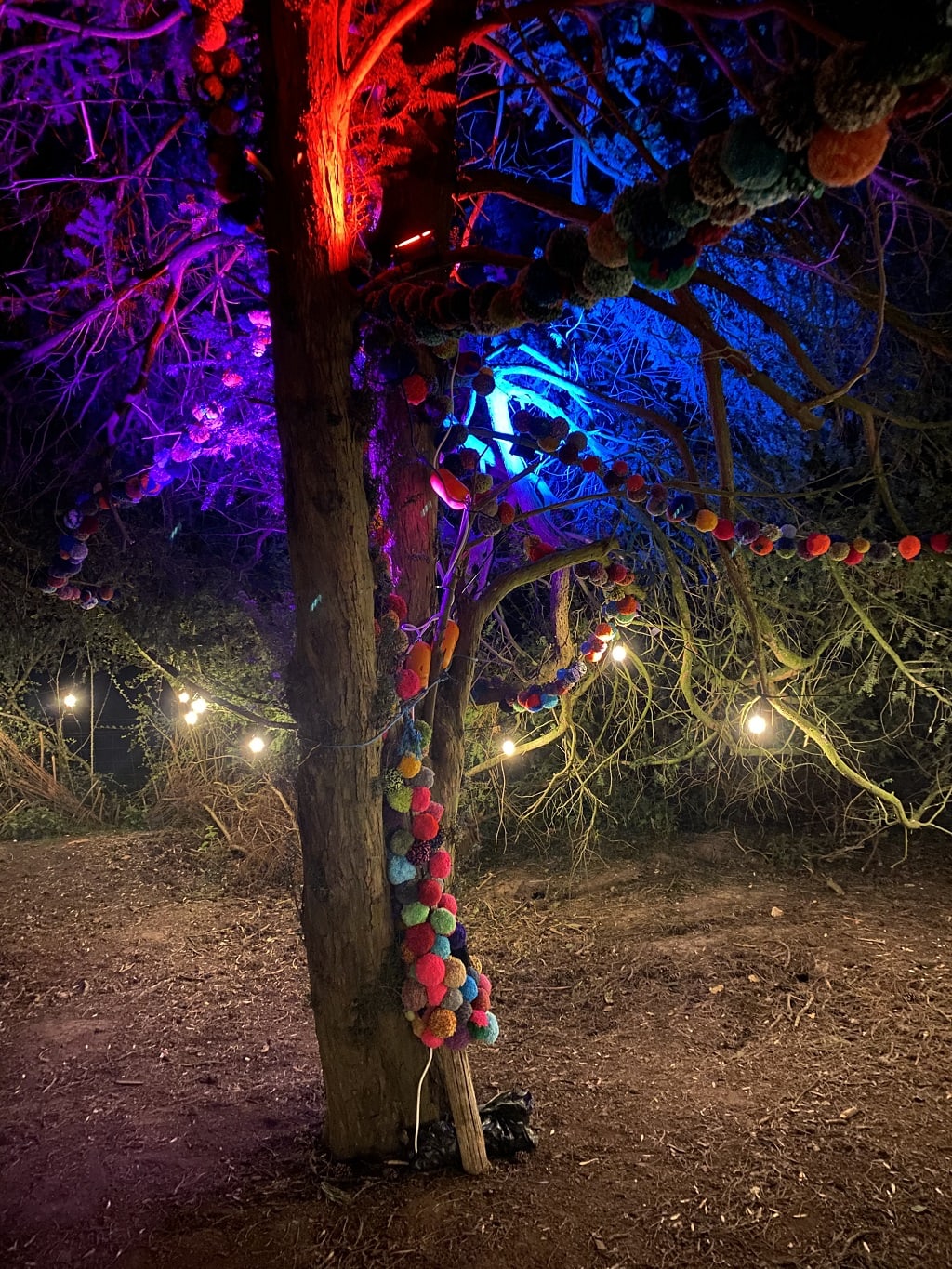 Is photography allowed at the Raveningham light trail?
There are no restrictions on photography. Keep in mind it will be dark so you will need gear that works for night photography.
Is the Raveningham Woodland Lumiere worth it?
Yes. We thought it was good value for the price especially for families since kids are free. It is a unique event that many people will find interesting and fun.
Is Raveningham Woodland Lumiere happening in 2022?
Yes. It is will be 26th February to 26th March. You can see a video from out visit here.