According to most food critics, Benedicts is one of the best (if not THE best) restaurants in Norwich. We finally decided to check it out and wanted to share our review of Benedicts so that you can decide if you want to try it too.
About Benedicts
Benedicts is a contemporary British Restaurant with classic values and 3AA Rosettes. It was opened in June 2015 by Chef Richard Bainbridge and his wife, Katja.
After Christmas 2021, they closed for six weeks for a renovation. They removed a wall, redid the floor, added new bricks and a chandelier, plus totally redid the ladies bathroom.
Richard grew up in Hellesdon, just outside of Norwich, and got his start working at Morston Hall at age 16. He continued to develop his culinary skills by working for Gunter Seeger in New York, Kevin Thornton in Dublin, and Michel Roux Senior at the 3 Michelin Starred Waterside Inn before returning to Morston Hall as head chef.
You may have seen Richard Bainbridge on TV. He has appeared on BBC's Great British Menu four times, where he won a place at the banquet in the 2015 series and returned as a veteran judge in 2017. He's also been on several foodie panels shows like Saturday Kitchen and featured in an episode of the Food Network UK's My Greatest Dishes.
The Food
For dinner at Benedicts, you get to choose between a 5 or 8-course menu which changes seasonally (sometimes every 4-5 weeks). There were two choices for the main course, but the rest of the meal was set. They also have vegetarian menus.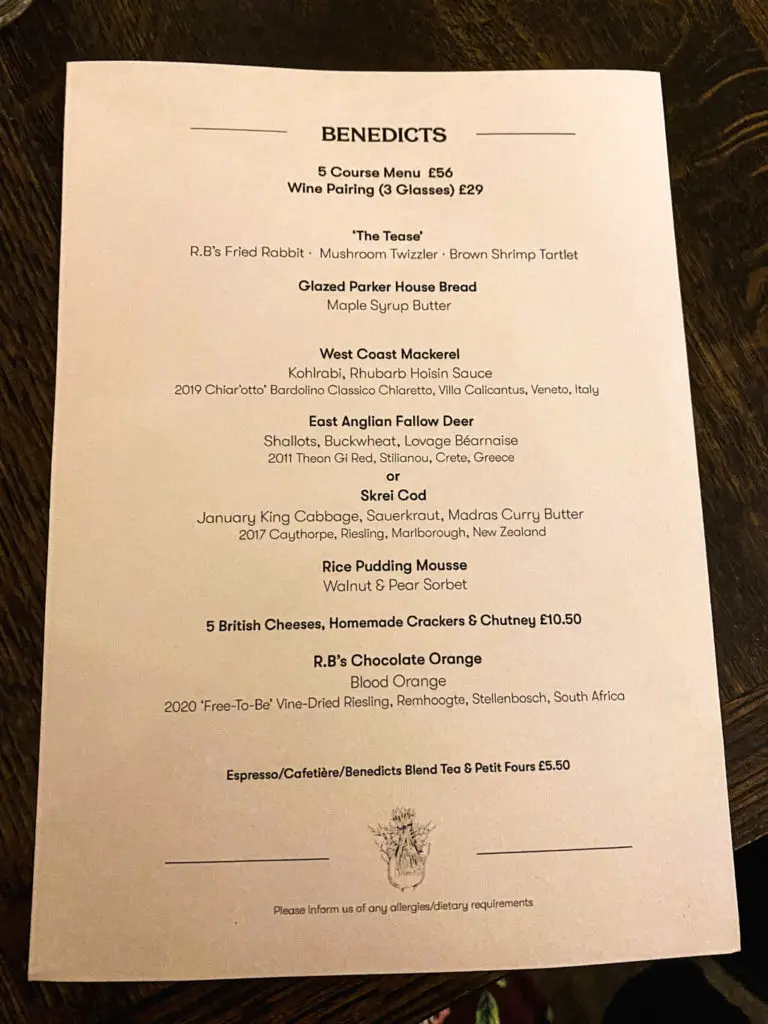 We decided to do the 5-course menu and each had a different main course. Depending on how we were feeling we could add a cheese course and coffee and petit fours.
Course 1 – 'The Tease' and Glazed Parker House Bread
The meal started out with 'The Tease' which was a selection of three small dishes: R.B. Fried Rabbit, Mushroom Twizzler, and Brown Shrimp Tartlet.
I started with the fried rabbit which was served with a thick brown sauce that I think might have had some sriracha. It was crisp without being greasy. If you haven't tried rabbit before, it is a bit like chicken.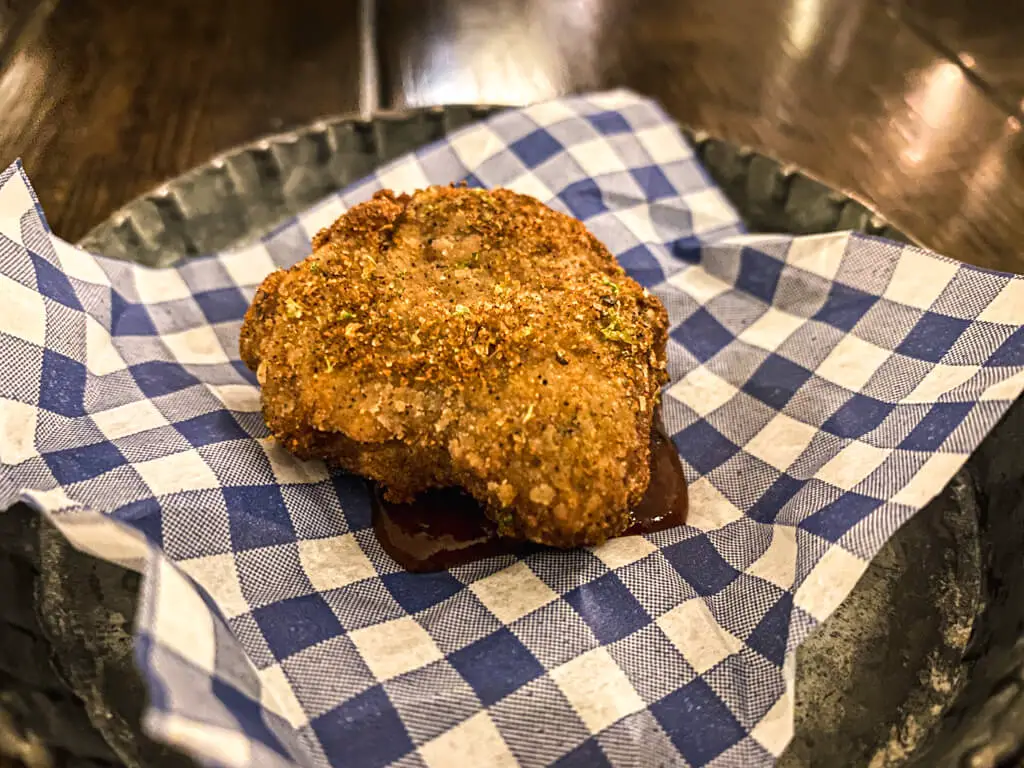 Then I tried the brown shrimp tart which was Russell's favourite of the three dishes. It had a lot of little shrimps inside a small pastry shell.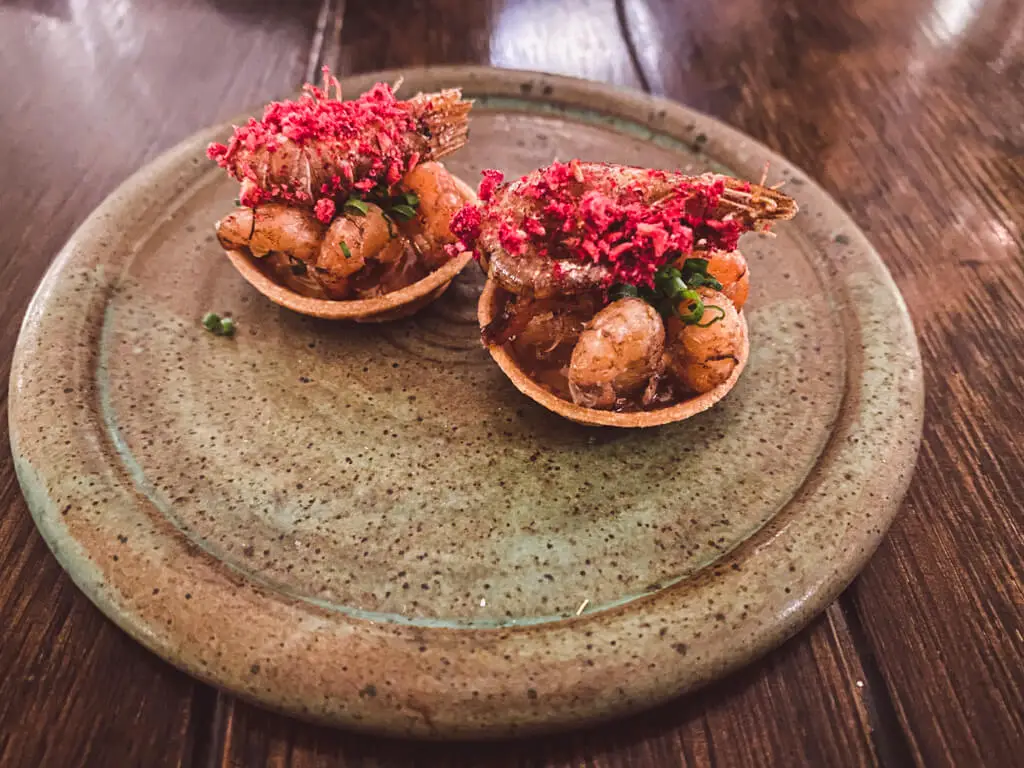 I liked the mushroom twizzler the most. The butter pastry and mushroom together were almost like eating truffle butter.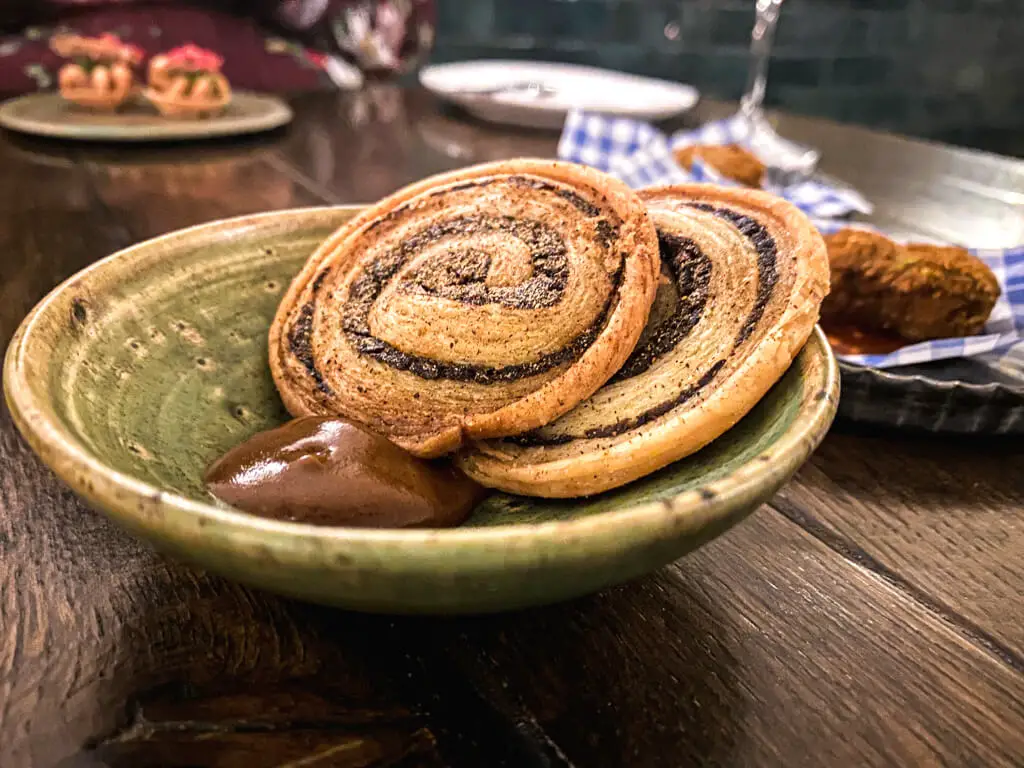 After we had finished 'The Tease,' they brought out the glazed parker house bread which might have been some of the best bread I have ever eaten. It was served warm, with maple syrup butter which was artistically presented on the plate like a ribbon. Each bite melted in my mouth.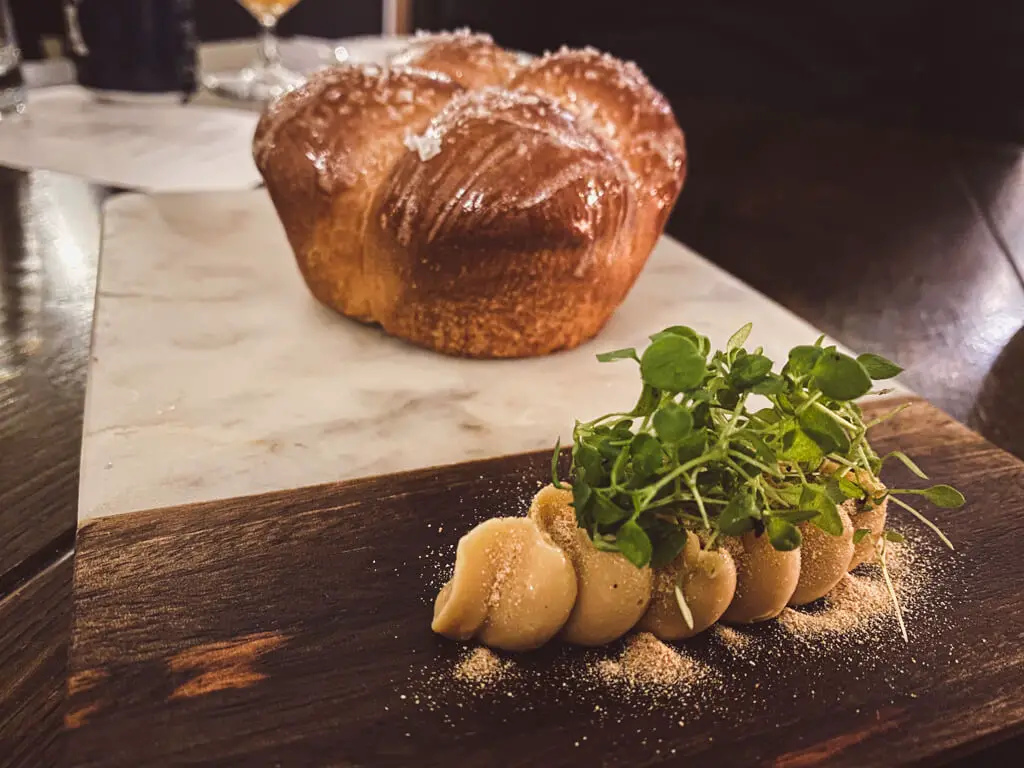 Course 2 – West Coast Mackerel
The next course was West Coast Mackerel which was served with Kohlrabi (a German turnip) and Rhubarb Hoisin Sauce. It was light and refreshing.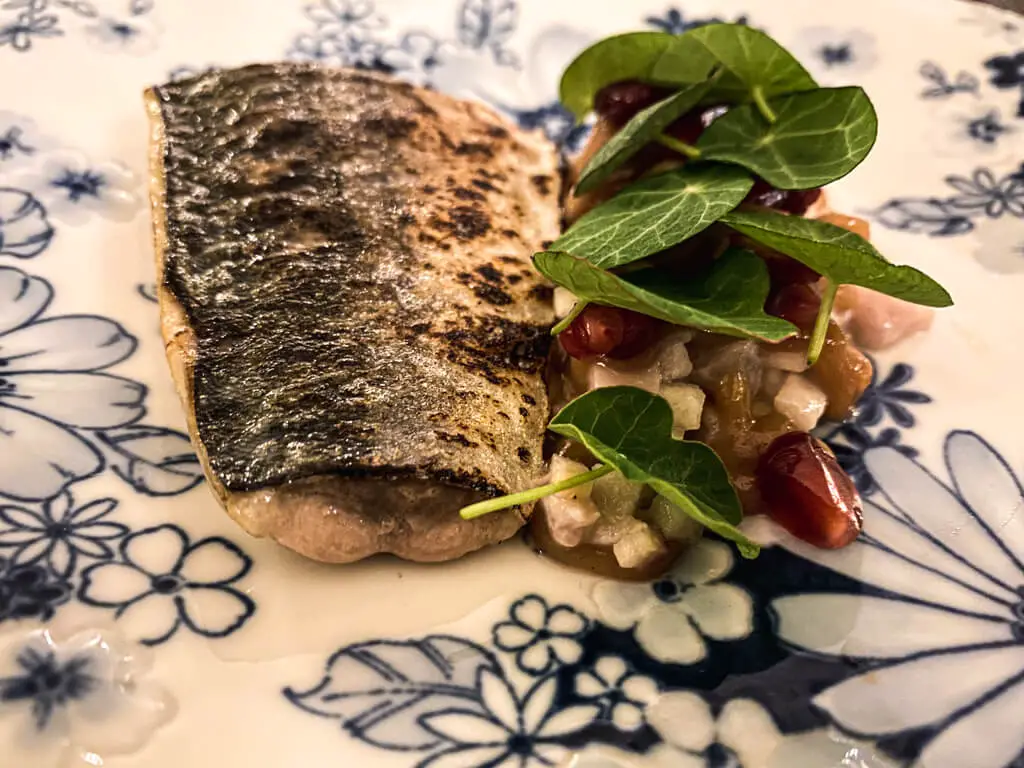 Course 3 – Main Course: East Anglian Fallow Deer or Skrel Cod
Since there were two choices for the main course, we each selected one so that we would be able to try both. Russell had the deer and I had the cod. Both dishes were impeccable.
I prefered the cod dish. The thing that stood out to me on the cod dish was the masala cabbage it was served with. I had no idea that cabbage could taste that good. Plus, the cod was cooked to perfection.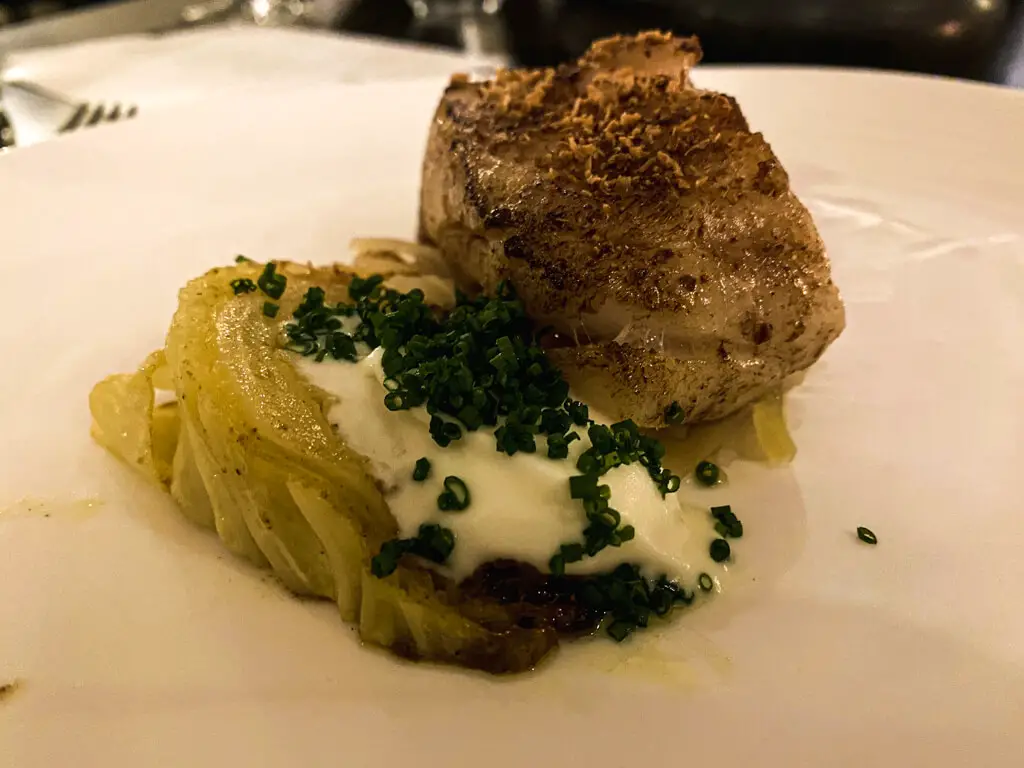 Russell was partial to the deer. The meat was tender, full of flavour, cooked perfectly and presented well. Russell said the chef's skill and respect for the deer as an ingredient came through on the plate. it was some of the nicest deer he had eaten.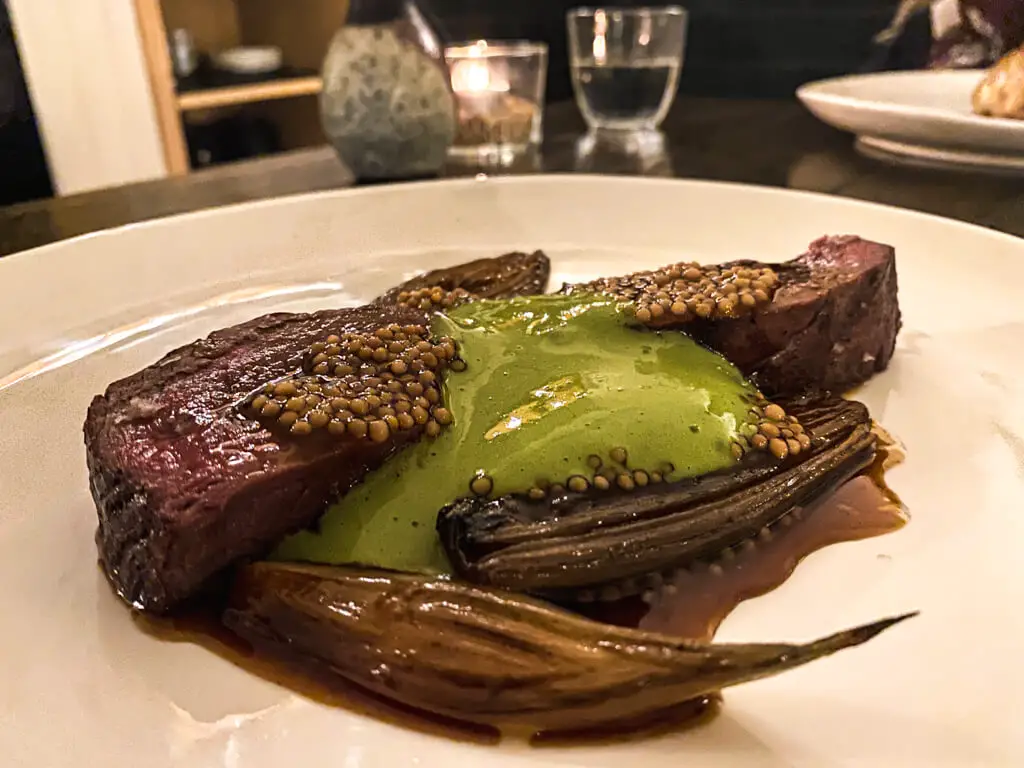 The main course was also served with roasted vegetable fritters which complimented both dishes nicely. They were crispy on the outside and creamy on the inside, artistically presented with edible flowers.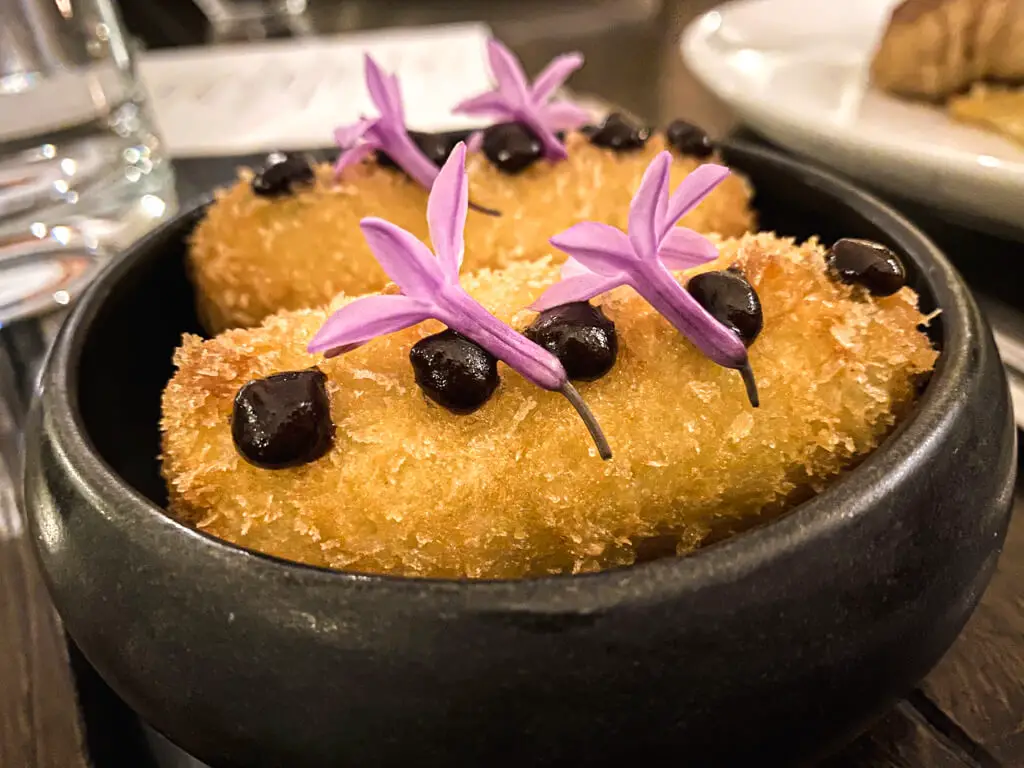 Cheese Course
We decided to add the optional cheese course for £10.50. It's not like we needed more food, but we both enjoy cheese so opted to share one. While it is listed on the menu as just before the last course, it was served to us after the main course.
The cheese plate came with five cheeses, chutney, a few chilled grapes, and crackers. For me the highlight was the Stinky Bishop cheese, which I had not tasted before. While it is known as one of the best British cheeses, I had been hesitant to try it because of its famous smell. Since the cheese was allowed to sit out for a bit, the smell wasn't too pungent.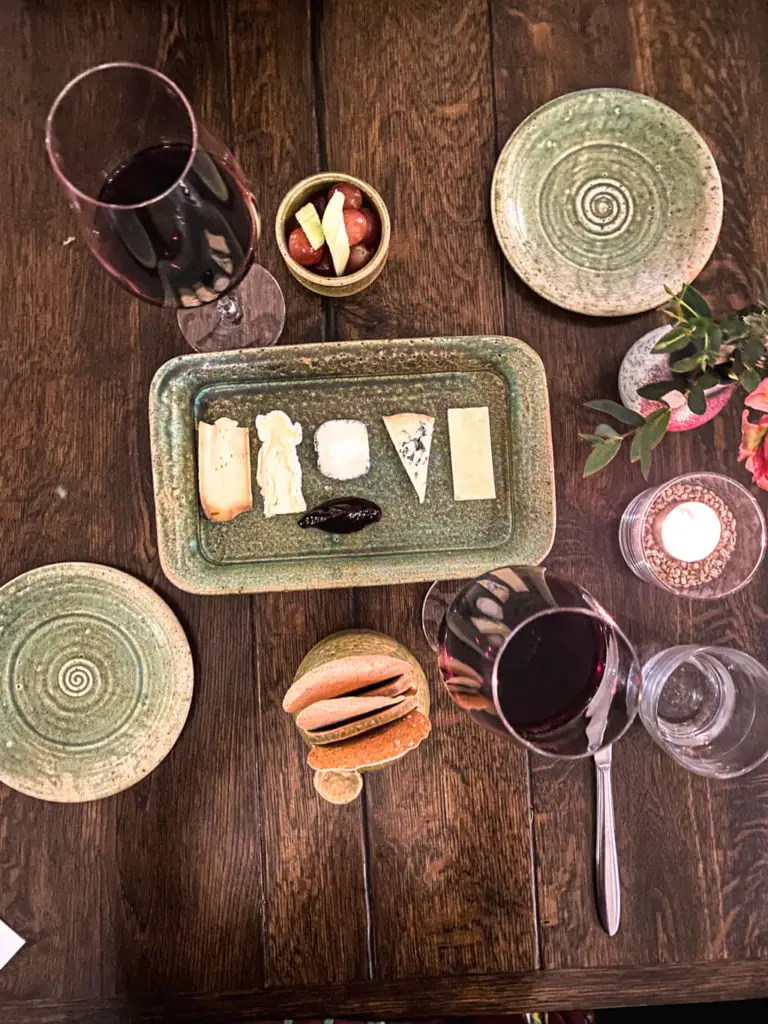 I should also mention that the crackers were quite special. They were thin, almost like a cross between a cracker and a crisp. Each plate comes with three, but you might want to order more.
Course 4 – Rice Pudding Mousse
To be honest, I wasn't that excited to have a rice pudding mousse, but this dish blew me away. It is served with a walnut and pear sorbet. I have never had a sorbet that was as creamy as this one (we had to confirm it was dairy-free).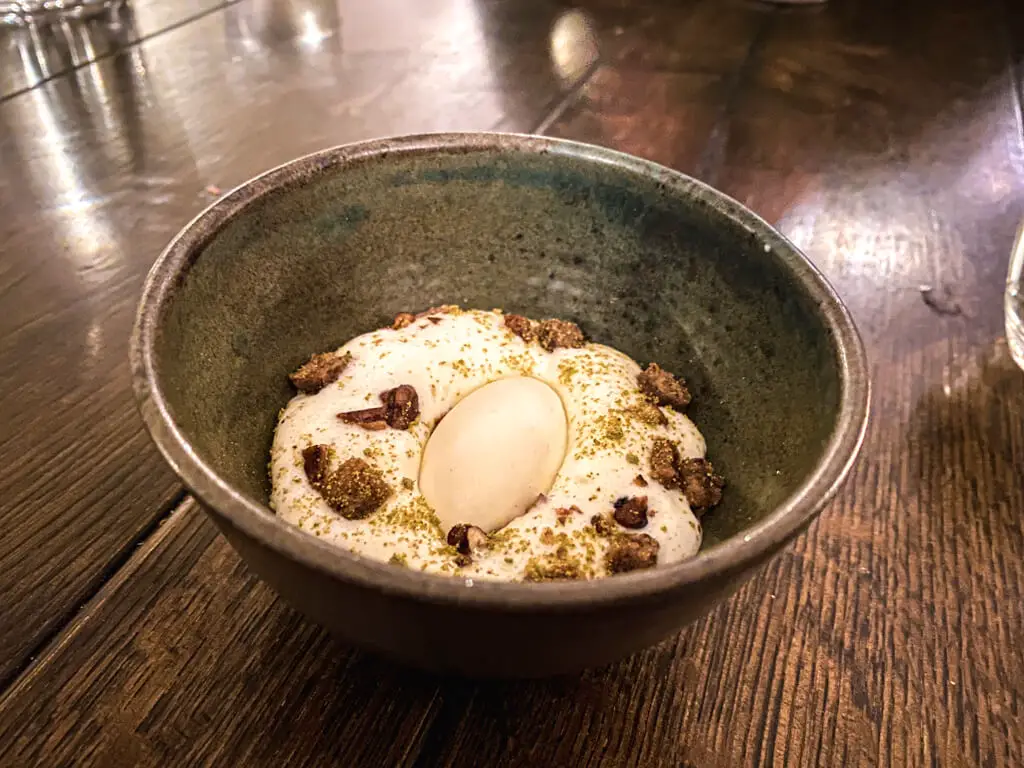 Course 5 – R. B. Chocolate Orange
Chocolate and orange have become quite a classic combination, but I never had it quite like this. First of all, the presentation was almost too pretty to eat. It was like a work of art!
The tart orange flavour cut the intensity of the luscious chocolate. The crisp chocolate bits underneath the ball added some texture. If you like chocolate, you will love this dessert.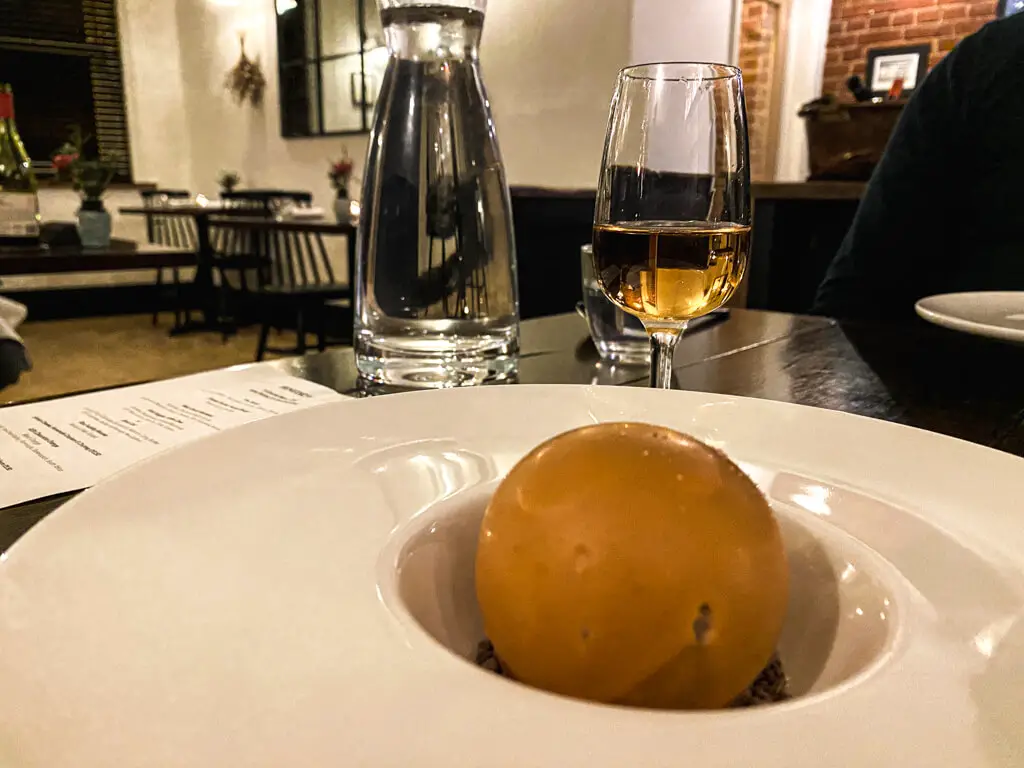 Coffee and Petit Fours
To end our meal, we decided to have the coffee and petit fours. The bite-sized treats tasted just as good as they looked. The coffee was the perfect way to end our extraordinary meal.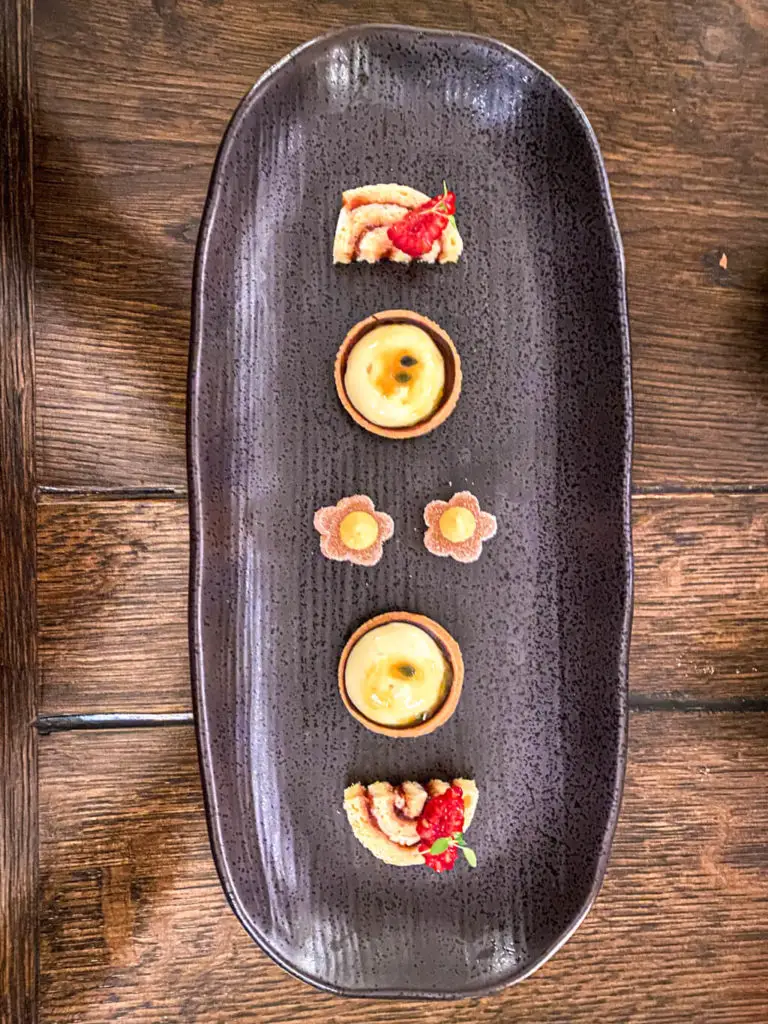 Drinks
Benedicts offers a diverse options of both alcoholic and non-alcoholic drinks. In addition to a wine pairing for the fixed menu, they have a long wine, beer, and cocktail list that you can order from.
We decided to start with a drink before our meal. I had the blood orange martini, while Russell had the R. Bainbridge Handcrafted Session IPA brewed in Suffolk.
My blood orange martini was presented in a Champagne coupe with a bit of orange peel. I could smell the fresh citrus before the glass got very close to my nose. The martini was tart, refreshing, and easy to drink.
Russell was very pleased with his beer. It was light, refreshing and with a bit of a citrus tange. He said the description of 'session' beer was very apt – he could happily have several of those!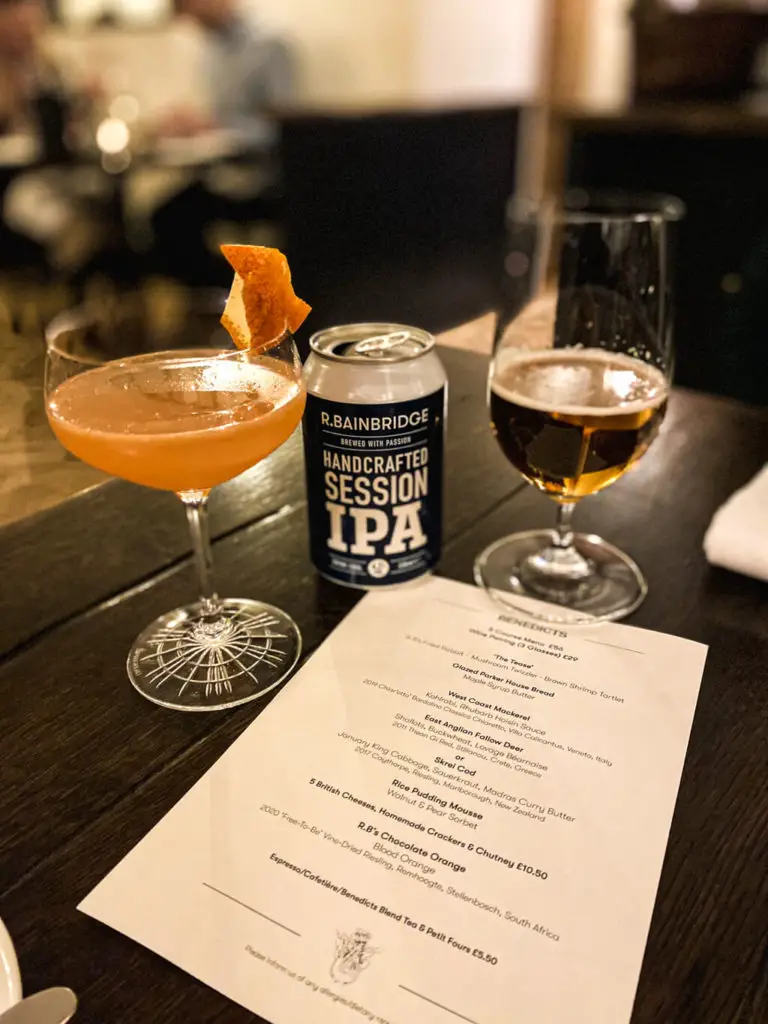 To accompany our meal, Russell decided to have the wine pairing, while I decided to choose my own wine by the glass. Each wine from the pairing went perfectly with the food course, although they weren't wines we would have chosen.
I went with one of my favourite wines, an Albariño from Spain. While it was delicious, it didn't go as well with the food as Russell's wine pairing.
*If you enjoy wine, you should also check out The Wallow Wine Bar in Norwich.
Service
The team at Benedicts worked together to make sure we were enjoying ourselves. They were friendly and knowledgeable about the food and wine. The pace of the meal was just right as we never felt rushed or like we were waiting too long.
Overall Review
Our meal at Benedicts is one that I won't soon forget. All the dishes were special, and there were several that rank among the best things I have ever eaten.
Some people may not like that the menu options are limited, but keep an open mind. Some of the dishes that I might not have chosen on my own surprised me (i.e. rice pudding mouse and masala cabbage).
If you are looking for a high-end dining experience, Benedicts will live up to your expectations.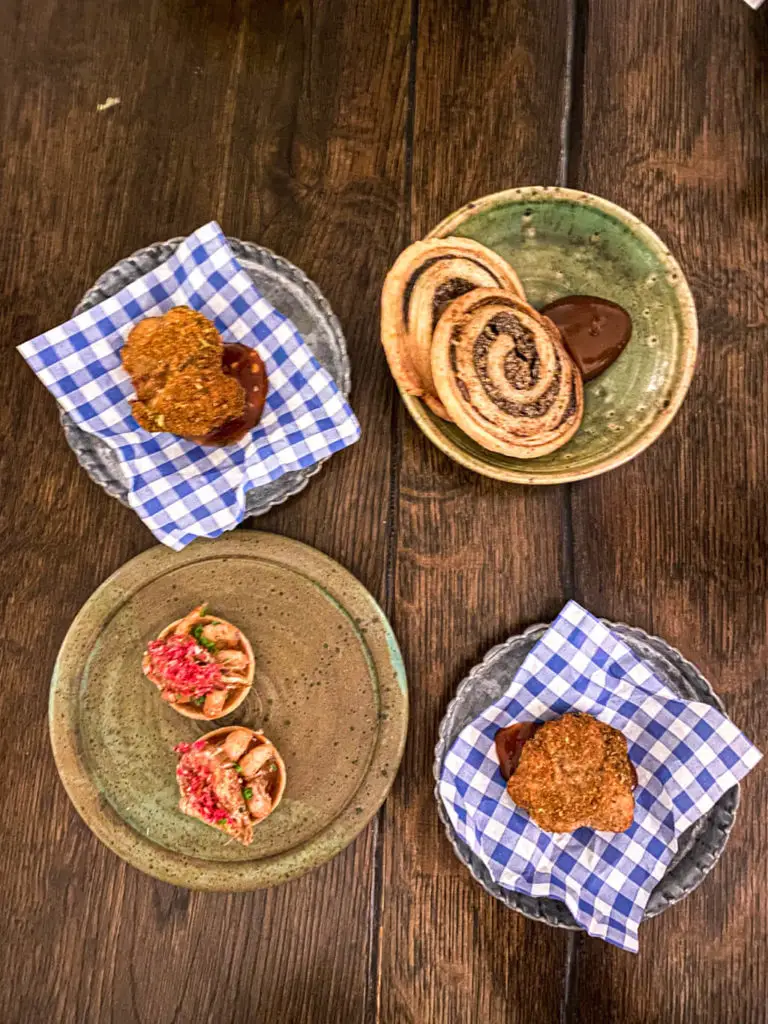 Is Benedicts Worth It?
If you're a foodie and want to celebrate a special occasion then I do think Benedicts is worth it. The dishes are unique and the service is top-notch. For me, even though I thoroughly enjoyed the food and experience, it's hard to justify the price for an everyday meal.
Don't go to Benedicts if you are looking for a basic steak and potatoes meal. It is fine dining, so also don't expect to be in and out quickly.
How to Save Money at Benedicts
If you want to experience Benedicts but keep the cost down, you can visit for lunch when they have a special fixed menu for £28 per person. While this may be more expensive than your average midday meal, it's much cheaper than having an evening meal at Benedicts.
Another option could be to try their RB Dine at Home option. While you wouldn't have the same experience as visiting Benedicts, you can at least have the food and enjoy it in the privacy of your own home.
Those on a budget might also want to pass on the alcoholic drinks, as they can add a considerable amount to the bill.
Benedicts FAQ
Here you will find answers to some of your questions about dining at Benedicts.
Do you need to book Benedicts in advance?
We recommend booking in advance. It's not a very big restaurant and it is popular. You may get lucky
Can they cater to dietary requirements (i.e. vegan, gluten-free, dairy-free)?
They always have a gluten free, vegetarian, and pescatarian menu available. Vegan and/or dairy free menus require 24 hour notice as these menus are specially prepared.
Is Benedicts good for kids?
On their website, Benedicts says that they love welcoming kids and can share a children's menu on request.
When we dined at Benedicts, there weren't any children. While there are some kids that may appreciate the sophisticated food, I don't think many children would enjoy a long meal like what you would want to have at Benedicts. To me, Benedicts is better suited for a romantic meal for two than a family one.
Does Benedicts serve lunch?
Yes. They have a special lunch menu that is £28 per person.
Where is Benedicts located?
Benedicts is located at 9 St. Benedicts Street in the Norwich city centre.
Where should you park for Benedicts?
If you are driving to Benedicts, the closest car parks are Duke's Wharf Car Park and St. Andrew's Car Park.