If you appreciate history, the town of Thetford has more than its fair share. You can easily spend a day visiting the attractions here or if you have more time check out the local area.
In this post, you can find out more about the history and the best things to do in Thetford and the surrounding area.
Be sure to sign up for our email list here to keep up with the latest happenings in Norfolk.
Note: This post contains affiliate links.  As an Amazon Associate, we earn from qualifying purchases. Please see disclosure for more information.
Where does the name Thetford come from?
No one is sure about the origin of the name Thetford. Since the settlement was an important crossing of the River Little Ouse, the name may have come from the Anglo-Saxon word Theodford or people'sford.
History of Thetford
There is evidence of human activity around Thetford going back to prehistoric times. During the Mesolithic period (about 9500–4000 BC), we know that hunter-gatherers were foraging in the densely wooded landscape in this area, and a number of Mesolithic flint tools have been found at Grime's Graves.
During the late Iron Age and early Roman period, Thetford became an important place for the Iceni tribe. An iron age fort was built on Icknield Way where Thetford Castle is today.
Thetford remained an influential place during the Saxon period when it was a regular battle site between locals and the Viking invaders. It became one of the largest towns in early medieval England with 20 churches.
The town continued to prosper during Edward the Confessor's reign (1042–1066). Shortly after the Norman Conquest, Thetford Castle was built on the ruins of the iron age fort on Castle Hill either by Ralph Guader, Earl of East Anglia, or Roger Bigod, his successor.
The population of Thetford was thought to have grown to between 4000 and 4500 people according to The Domesday Book of 1086, making it the sixth largest town in Britain at the time.
In 1104, Bigod, who also built Framlingham Castle in Suffolk, founded the Cluniac Priory of St Mary, now just called Thetford Priory. The priory grew rapidly and in 1107 it was moved to a larger site on the other side of the river where the ruins remain today.
In 1527, Henry VII sent Thomas Boleyn, Anne's father, and a Commission to Thetford. The report from the Commission said that the town had fallen into "great ruin and decay" and money due to the King had been wasted. The Dissolution of the Monasteries caused more problems for the town and Thetford Priory was closed in 1540.
Elizabeth I granted a Charter of Incorporation to the town in 1574. A governing body was set up to improve the town's main streets, houses, and shops. Four years later, she visited to see how the redevelopment was going and held a Privy Council meeting at Sir Edward Clere's Place House, now Nunnery Place.
During World War I, the area around Thetford was an important military training area where some trial tests for tanks took place. Over 700 men from the town fought in the war and over 100 lost their lives. A memorial was erected and after World War II another 45 names were added.
After the Second World War, Thetford's population was only about 5000 people, so the borough council worked with the London County Council to relocate Londoners and several businesses to Thetford and increase the population. Thanks to this program, the population of Thetford grew faster than any other town in Norwich and reached around 21,000 people by the late 1980s.
Things to do in Thetford
When you visit Thetford, it's mostly about the history. You should also take advantage of some of the other tourist attractions in the area. First, let's take a look at the best things to do in Thetford, then we will cover more suggestions nearby.
#1 Visit Thetford Priory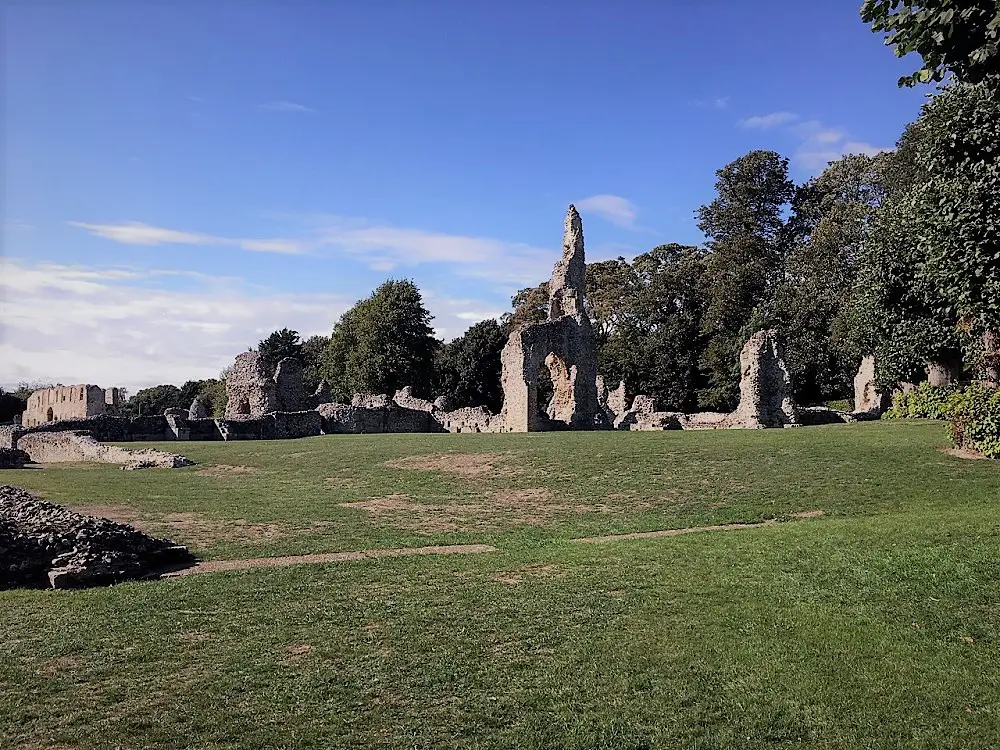 During Medieval times, the Priory of Our Lady of Thetford was one of the largest and most important monasteries in East Anglia. It was founded in the early 12th century and for 400 years it was the burial place of the Earls and Dukes of Norfolk. Thetford Priory was one of the last monasteries to be suppressed when it surrendered to Henry VIII's commissioners in 1540.
Now an English Heritage site, you can visit the ruins of the priory for free. The lower walls of the church and cloister, the shell of the prior's lodging, and an almost complete 14th century gatehouse still stand.
I should also mention that there have been several sightings of ghostly monks at the priory, it is one of the most haunted places in Norfolk.
#2 Climb up Thetford Castle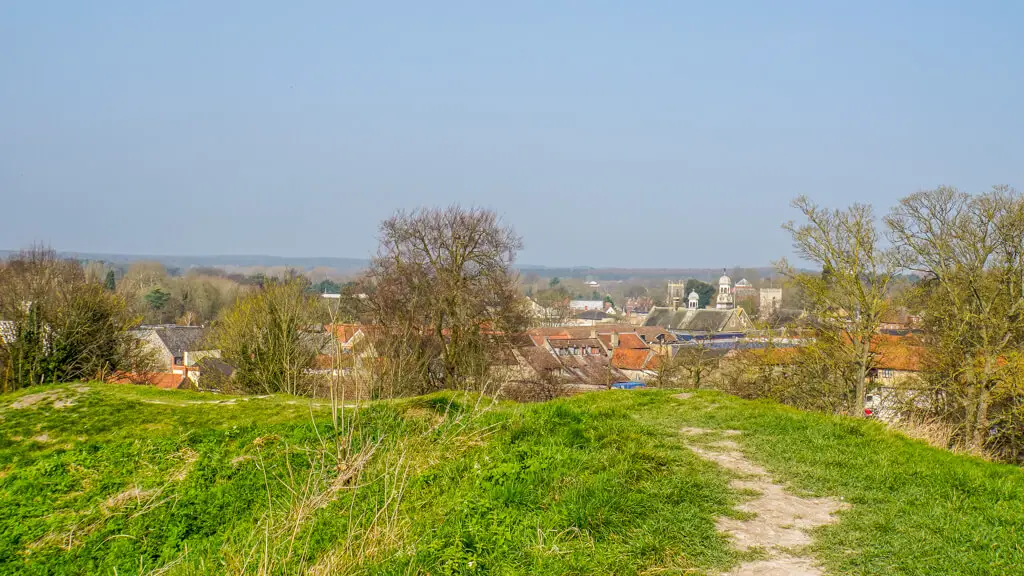 You will want to visit Castle Park to see what's left of Thetford Castle. It may not be your picture-perfect castle, but you can get some panoramic views of the area from the top.
It takes a bit of imagination to picture what Thetford Castle looked like in its prime as only the partial remains of a Norman motte and bailey fortification have survived. Still, it is the largest motte in England and the second-largest man made mound after only Silbury in Wiltshire.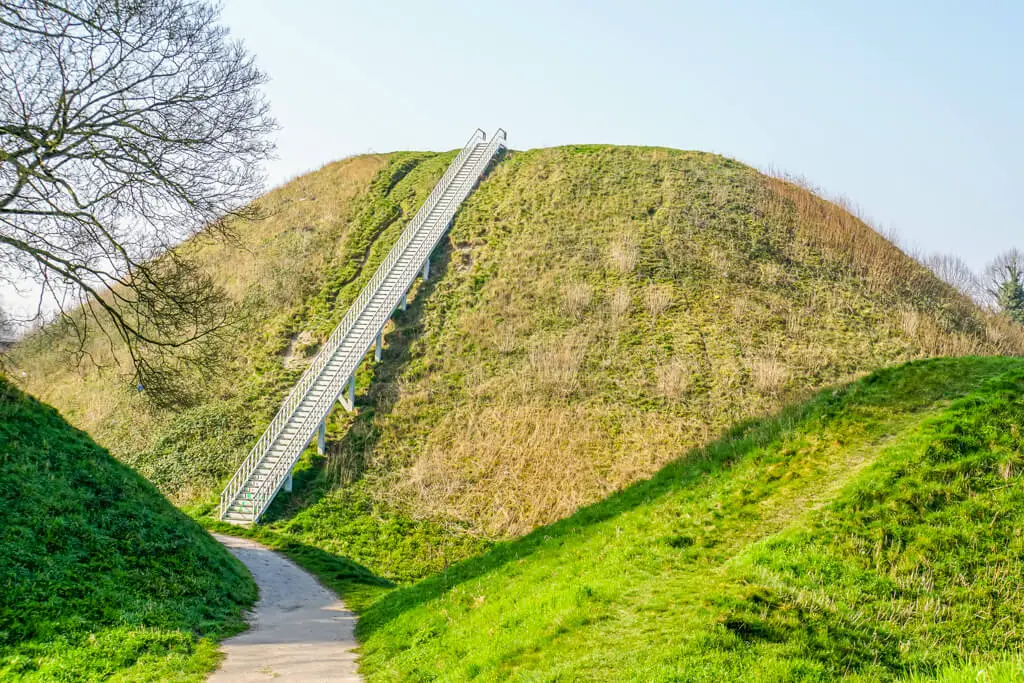 The imposing mound was erected on top of an earlier Iron Age hillfort created around 500 BC and is surrounded by extensive earthwork defences, including twin ditches of considerable height and depth. Archaeologists found a bronze 'terret" (a fitting for a horse's harness) which they think may have been used on an Iceni battle chariot about 2000 years ago.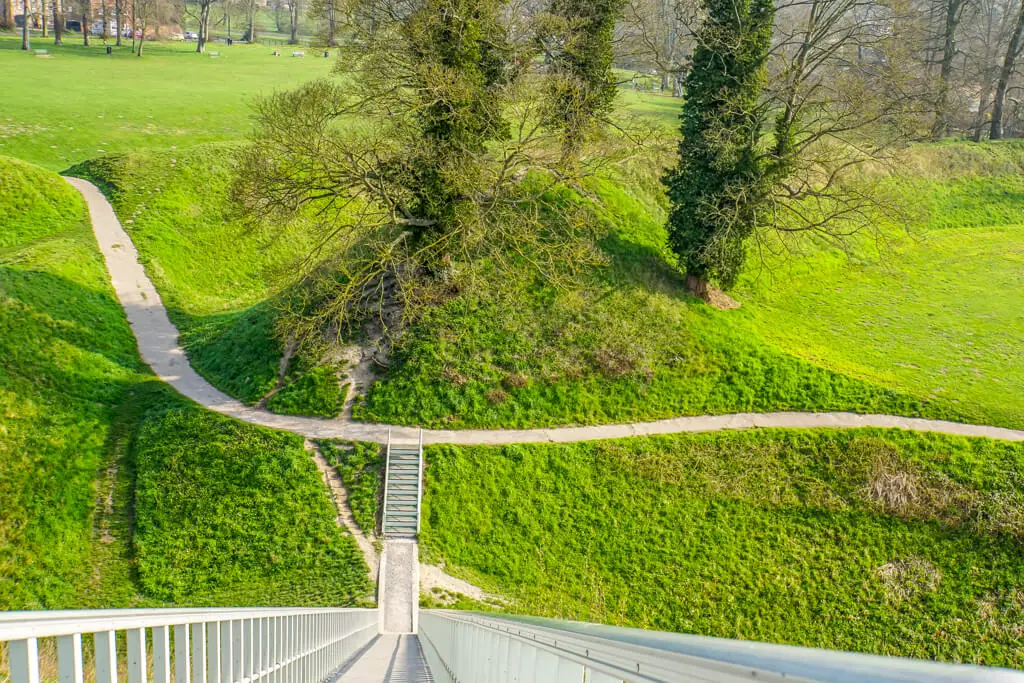 Unlike Silbury, you can climb to the top of the Thetford Castle mound thanks to a fibreglass staircase that the local council had installed in 2017. While some people may say the staircase is an 'eyesore' and 'archaeological sacrilege,' it will protect the motte from erosion.
*You might also enjoy reading about the most impressive castles in Norfolk.
#3 Discover More About the Town's History at the Ancient House Museum
Inside the atmospheric crooked building that is home to the Ancient House Museum you can learn more about the story of Thetford and the Brecks.
Meet local people from Thetford's past, including the American founding father Thomas Paine, the Sikh hero Maharajah Duleep Singh, rabbit warreners, railway workers, and more. It's a multimedia experience with audio guides, films, and animations.
Don't miss the re-planted garden or the brand new museum shop in its oak pavilion. You will want to book your tickets in advance here and plan on about an hour and a half for a visit.
Get reviews of the Ancient House Museum here.
#4 Learn about Charles Burrell Works at the Charles Burrell Museum 
This steam museum, housed in Burrells original paint shop, tells the story of the Charles Burrell Works. At its peak, the company built high-quality traction engines, agricultural machinery, steam trucks, wagons, and tram engines that were exported to many countries around the world.
Back in 1770 Burrell Works began as a forge in Thetford repairing and making small agricultural tools. By the early 1800's they were advertising chaff engines, drill rolls and machines. It grew into a huge operation (employing 350 people) that was thriving until the internal combustion engine took over from steam power.
It is free to visit the Charles Burrell Museum where you can see classic steam-powered engines, agricultural machinery, and recreated scenes from the factory's machine shop and foundry. Allow about two hours to see the museum.
Read reviews of the Charles Burrell Museum here.
#5 Go Behind the Scenes at the Dad's Army Museum
Dad's Army is a popular British television sitcom about the UK's Home Guard during the Second World War. It was originally broadcast on BBC1 from 1968 to 1977, but there have also been two feature films (one released in 1971 and then one in 2016 starring Catherine Zeta-Jones), a stage show, a radio version based on the television scripts, and is still shown internationally.
The show was set in the fictional town of Walmington on Sea, but most of it was filmed in and around Thetford. You can visit The Dad's Army Museum to learn more about the television show. The museum also runs walking and coach tours exploring filming locations around Thetford.
*You can see some of the different Dad's Army movies and shows here.
It is free to visit the Dad's Army Museum, but they do close over the winter. Get more information here.
#6 Say Hi to Thomas Paine
Thomas Paine is considered one of the founding fathers of the United States as he wrote Common Sense which inspired the colonists to declare their independence from England. He was born in Thetford and lived there before emigrating to the American colonies
While you can't actually say hi to Thomas Paine, you can visit his statue. The statue of Paine, sculpted by Sir Charles Thomas Wheeler, stands on King Street and also displays some of his most famous quotes.
#7 Visit the Church of the Holy Sepulchre
The Church of the Holy Sepulchre was a medieval monastic house. It is the only surviving remains in England of a priory of canons of the Holy Sepulchre, who aided pilgrims to Christ's tomb. The ruined nave of their 14th or 15th-century church was later used as a barn. It is Grade I listed and free to visit.
#8 See a show at the Carnegie
The Carnegie is a diverse, vibrant, multi-functional venue that hosts a wide-range of events including local and touring theatre shows, concerts, fitness classes, celebratory parties, and conferences. They recently celebrated their 50th anniversary but are always working to improve and update their facilities.
Learn more about the Carnegie here.
#9 Enjoy a Pint at a Historic Pub
It is always nice to end a busy day of sightseeing with a relaxing visit to a traditional English pub. In the Thetford town centre, there is The Bell which dates back to the 16th century. They serve a hearty selection of pub classics, along with real ale or if you prefer, fine wine.
Things to Do Near Thetford
In addition to the activities mentioned above, there are plenty of things to do near Thetford including a few more English Heritage sites.
Thetford Forest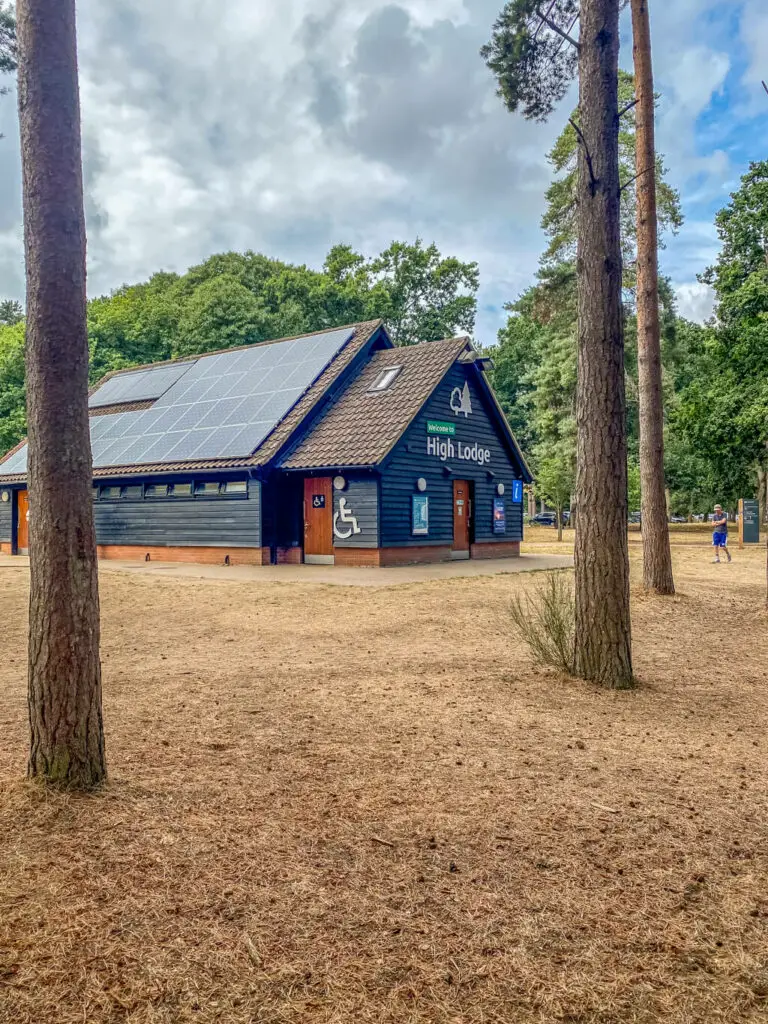 With 18,730 hectares of pines, heathland and broadleaves, Thetford Forest is the UK's largest man made lowland forest. You can easily spend a whole day here walking, cycling, picnicking, and visiting several popular attractions like Go Ape, High Lodge, and Lynford Arboretum.
Grimes Graves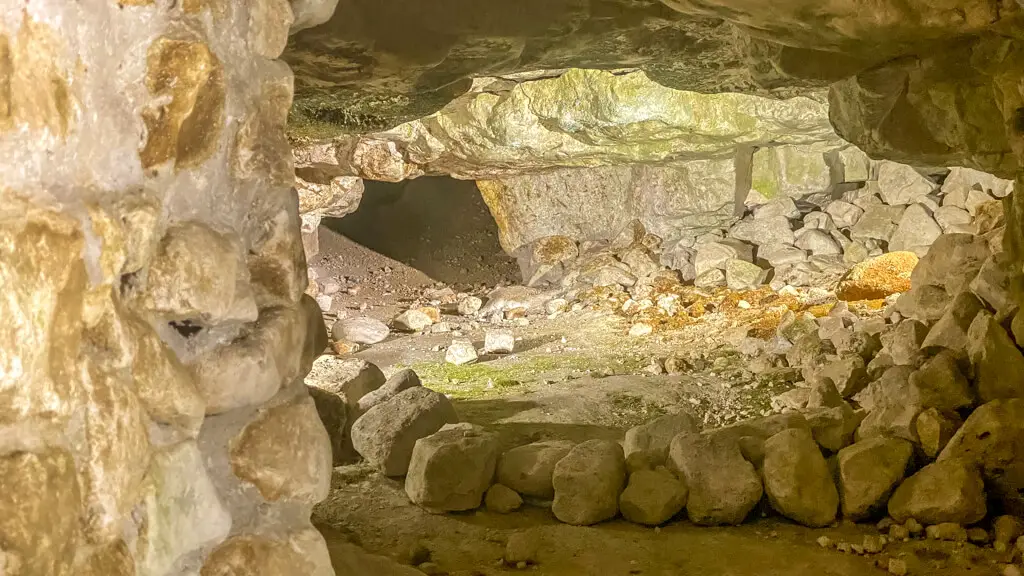 Despite the name Grime's Graves does not have anything to do with death. It is the only Neolithic flint mine open to visitors in Britain.
The site contains around 400 pits. You can climb nine metres down a ladder into one of the excavated shafts to see the jet-black flint. There is also a small exhibition at the Visitor's Centre that tells more about the history of the site.
While the flint mines were dug over 5,000 years ago, they were not identified until an excavation in 1870. It was first named Grim's Graves by the Anglo-Saxons and is also a Site of Special Scientific Interest as it is a habitat for rare plants and fauna.
You should book your visit in advance. Please note that children under 7 years of age are not allowed into the mine shaft and everyone needs to wear sensible flat shoes.
It is an English Heritage site, so members can visit for free. Get information about membership here. For non-members, the charge is 6.90 for adults and 4.10 for kids (aged 4-17). The site is only open from April to October.
Read more about visiting Grimes Graves.
Snetterton
The world famous Snetterton Racing circuit is less than 20 minutes drive away.  It hosts motorsport events including British Touring Cars, Superbikes, F3, Supertrucks, and more.
Wayland Wood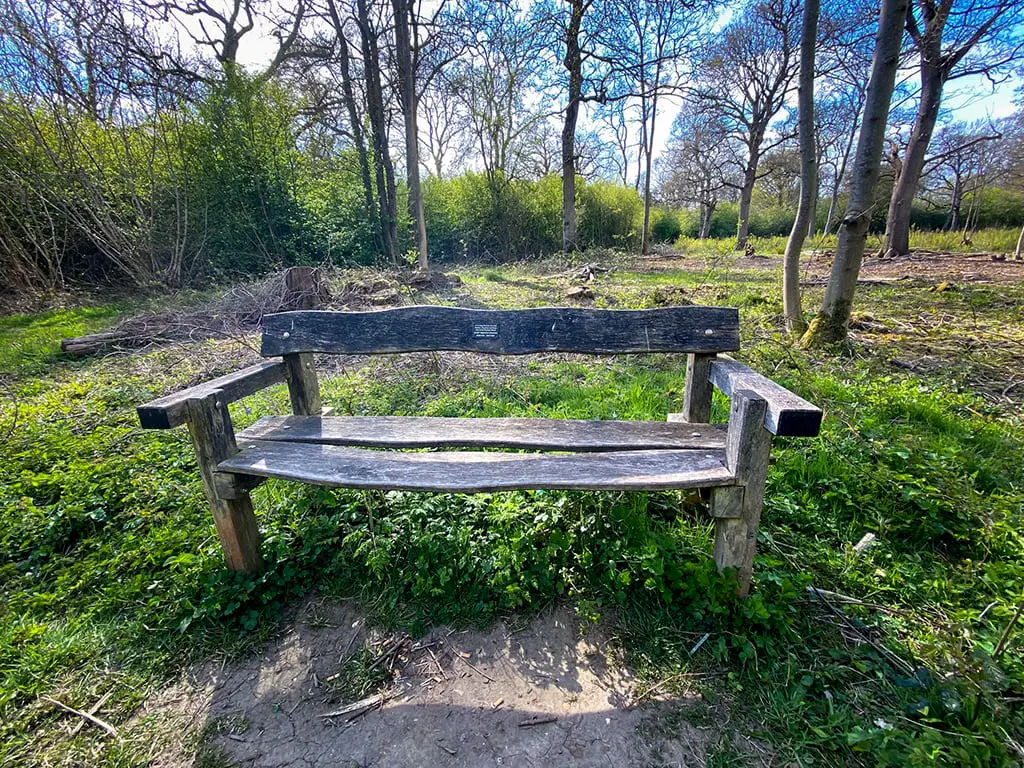 Wayland Wood may be best known as the setting for the Babes in the Wood children's tale, but don't let that scare you away. It is free to visit and there is a short circular walk through the woods. During the spring, it's one of the best places to see bluebells in Norfolk.
Read our guide to Wayland Wood here.
Where to Stay in Thetford
With all there is to do in and around Thetford, you will want to make your visit longer than just a day. We have a few recommendations for places to stay.
The Thomas Paine Hotel
You can stay at the birthplace of Thomas Paine, the author of Common Sense and The Rights of Man. It's been recently refurbished to offer a new level of comfort and service. The Thomas Paine Hotel is conveniently located in the town centre within walking distance of many attractions.
Read reviews of the Thomas Paine Hotel here.
Check price and availability for the Thomas Paine Hotel here.
The Bell
If you are looking for a more budget friendly option, the Bell Hotel may be a bit dated but it is also located right in the town centre. All the rooms have a flat screen TV and a desk, plus there is free WiFi. The cast of Dad's Army stayed at the Bell Hotel during filming.
Read reviews of The Bell Hotel here.
Check price and availability for the Bell Hotel here.
Is Thetford a good place to visit with kids?
Yes. Most of the attractions are either kid-friendly or outdoors with space for kids to run around. It's a great place for children to learn more about history. If you need more family-friendly ideas, check out our list of things to do with kids in Norfolk.
How do you get to Thetford
Thetford is located about 30 miles southwest of Norwich off the A11. It's about a 40 minute drive.
Alternatively, Greater Anglia provides regular train service. You will want to get your tickets in advance to get the best price. Check schedule and pricing here.
There are also a few bus companies that provide service, but it will take longer than the train and is not much cheaper.
Is Thetford Worth Visiting?
Yes. The history in Thetford alone makes it worth a visit. There are also many other things to do in the area.
Disclosure: This post contains affiliate links. This means we will receive a small commission for some purchases made using links in our blog with no additional cost to you.  Please be assured we would not promote any product unless we believe that our readers will also benefit.  The commission does not influence the editorial content of this site.