While we don't consider ourselves wine experts, we do enjoy drinking good quality wines. When I heard about the Wallow, a self-service wine bar, I wasn't quite sure how that would work, but I had high expectations. We visited for the first time recently, and I was impressed.
Let me share my review of the Wallow Wine Bar in Norwich.
If you want to find out about events happening in Norfolk, sign up for our email newsletter here.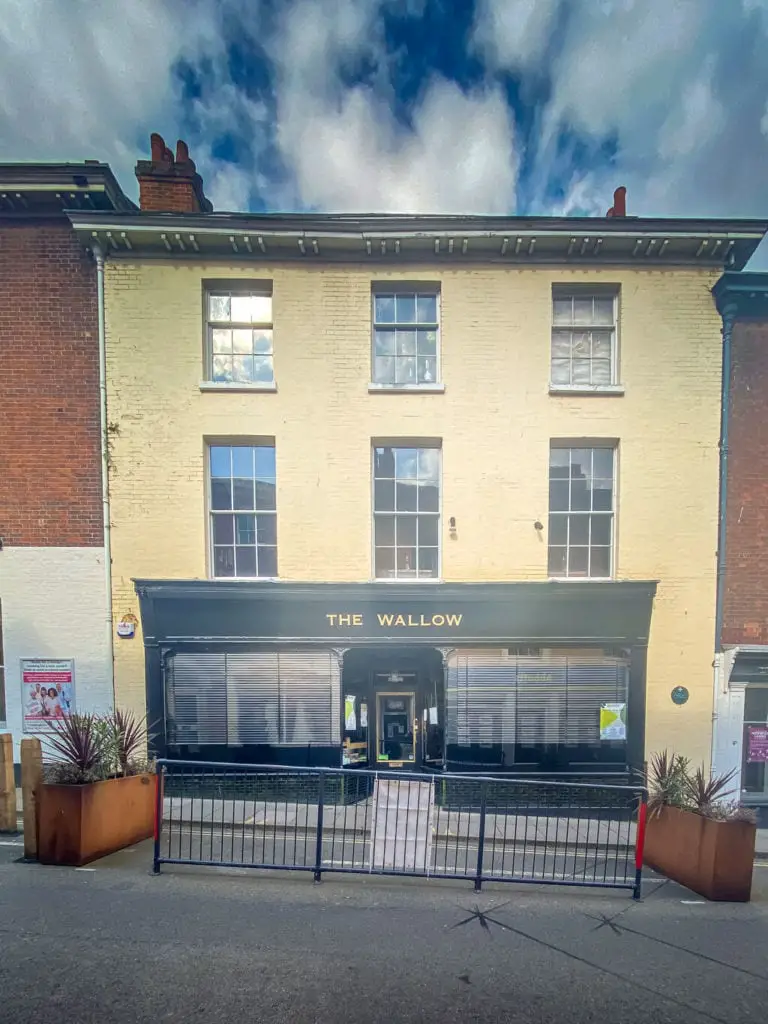 About Wallow Wine Bar
The Wallow is a self-service wine bar. They have over 50 hand-selected wines in six different dispenser machines across three floors. The wine dispensers are named after the characters from the sitcom Friends.
You get a glass and select a wine. Insert a Wallow card to pay, select the amount of wine you want, and the machine will pour it into your glass. (Be careful to hold your glass in the right spot to avoid spills.)
Along with the wine, Wallow also serves food and other beverages.
*Interesting Fact: The building housing the Wallow is built on the spot where St. Crowche's Church once stood. It was built before 1272 and demolished in1551.
The Wine
Wallow has more than 50 different wines from all around the world including reds, whites, and rose. While they don't have any sparkling wines in the self-service machines, they do have a selection of champagnes and Proseccos that you can order by the glass or bottle.
You can choose whether you want a tasting, small glass (125ml), large glass (175ml), or bottle. We had mostly tastings so we could try as many different wines as possible. You could also have a tasting and make sure you like the wine before committing to a larger size.
On the menu, you can see the names, grapes, and origins for the wines in the dispensers. The menu also shows which dispenser you can find each wine in along with the price for 125 ml, 175 ml, and a bottle. The price for a tasting is displayed on the machine. Next to the dispensers, there are tasting notes that provide more information. (Note: The Joey dispenser downstairs was not listed on the menu, but had information about the wines next to it)
I should also mention they do have a full bar and non-alcoholic beverages for those that don't want to drink wine. They can choose from a selection of coffee, tea (from teapigs), soft drinks, juices, liquors, beer, and cider.
The Food
The Wallow serves a variety of light bites that pair perfectly with wines. You can order dishes individually or try one of their Wallow boards. They have boards for vegans and vegetarians as well as an option to just have a cheese platter.
We ordered the Wallow board for two. It was more generous than I had expected and artistically presented. The platter had a nice mix of antipasti, cured meat, fish, cheese, chutneys, and crackers. You can get more complimentary crackers if you like. While everything on the platter was excellent, I think the pate was my favourite.
From 12:00 to 17:00, they also serve a range of toasted sandwiches that are prepared to order.
The Ambience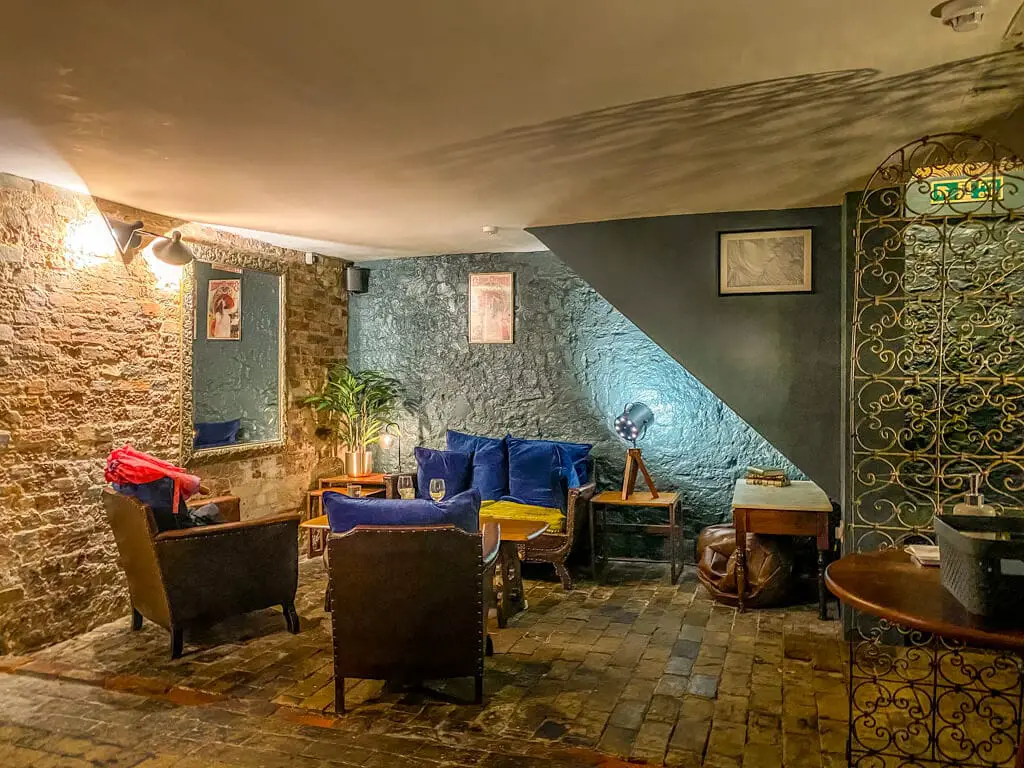 I would described the ambience of the Wallow as classy yet chilled. They have many vintage pieces throughout the establishment that give it character. While we sat at a table with chairs, there were also some tables with sofa setting.
The lighting was low but not to the point you couldn't see what you were eating or drinking. It was quiet enough to have a conversation without having to raise your voice. Making it a perfect spot for a night out with that special someone or a small group of friends.
*Get more ideas for fun things for adults to do in Norwich.
Price
I think Wallow Wine bar is good value for the quality of wine and food you get.
They offer a wide range of price points on the wine. Most of the tastings are around £1 each, depending on the specific wine. We ended up spending about £30 on wine and tasted more different ones than I can count.
The Wallow Board we had was £22.95. It was more food than I expected as we didn't need to order any other dishes. I have paid more for boards that are just cheese and meats, but this one had all kinds of little bites that were all delicious.
Overall Review of the Wallow Wine Bar in Norwich
We had a lovely evening at the Wallow Wine Bar and hope to return again soon. I loved the concept that you could serve yourself wine. It made it feel more relaxed than your typical wine tasting. The food was excellent and the staff was friendly and attentive.
If you enjoy wine, then the Wallow is a must! Even if you are not big on wine, I think you would still enjoy it. The Wallow is one of the best places in Norwich to spend an evening.
Alternatively, if you are looking for a more structured wine tasting, check out our Norfolk Wine School review.
*Get more ideas for things to do in Norwich at night here.
Wallow Wine Bar FAQs
What Covid safety measures are in place?
Inside Wallow masks are optional and there are several hand sanitizer stations. The tables are spaced out nicely so it doesn't feel crowded. While staff does come to your table to check on you, the wine is self-service and you can order at the bar.
Does Wallow Wine Bar have outdoor seating?
Yes, there is an area outside in the front, where they can have a few tables, if the weather cooperates.
What is a Wallow Card?
A wallow is a pre-paid card that you insert into the dispensers to pay for the wine. You can add more money to it at any time at the bar, but you can not get cash back. Any excess money left on the card is valid for one year. When we visited, I wasn't sure how much to put on the card, so they held my credit card at the bar and I just paid for the amount on my Wallow Card at the end of our visit.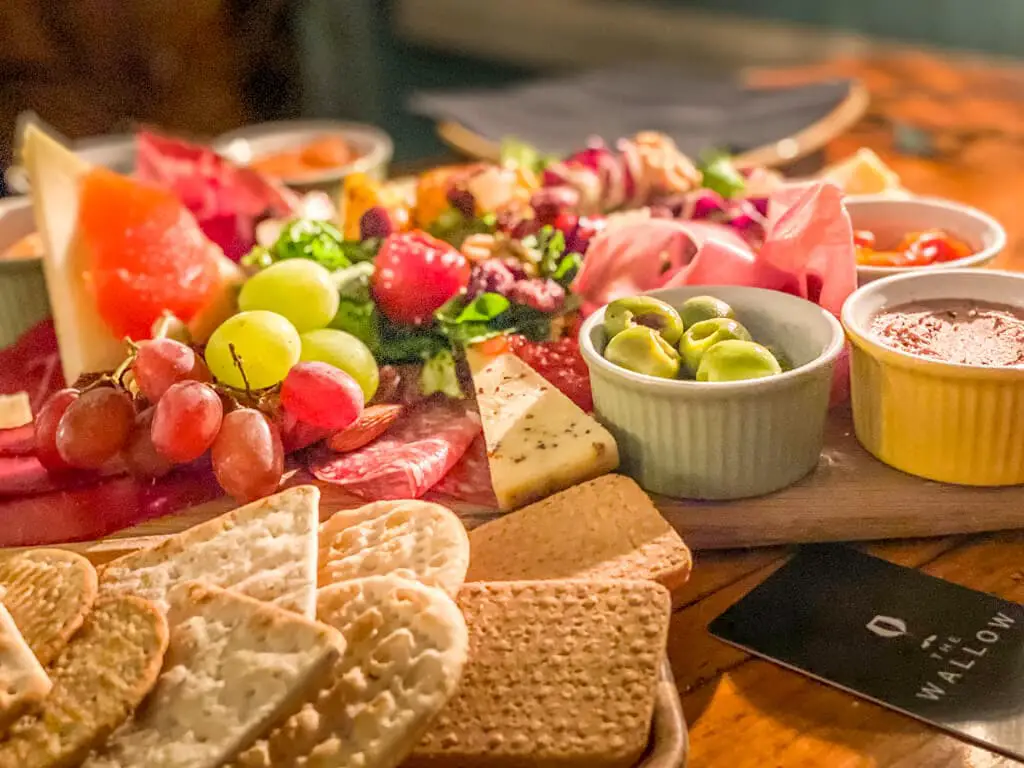 Does Wallow Wine Bar offer discounts or specials?
They have a Wine Wednesday Special. You get 25% off all wine using your Wallow Wine card from 17:00 to 21:00 every Wednesday.
How do you get to Wallow Wine Bar?
The Wallow is located at 36 Exchange Street, close to the intersection with St. Andrews Street in the Norwich city centre. It's about a 10 minute walk from the Norwich Bus Station or a 14 minute walk from the Norwich Train Station.
What are the opening hours for the Wallow?
The Wallow is open Monday through Thursday from 12:00 to 23:00, Friday and Saturday from 12:00 to 00:00, and Sunday from 12:00 to 18:00.
Where can you park for Wallow Wine Bar?
The closest car park to the Wallow is St. Andrews. It's about a two-minute walk away.
Is Wallow Wine Bar available for private parties?
Yes. When we visited the top floor had a private party but other guest were allowed to go upstairs to get wine. Another night when I had tried to get a reservation, the whole venue was booked for a private party.
Is Wallow good for kids?
No. As the focus is wine, this is more a date night type place rather than a place for families to go out to dinner.