Who is ready for a night out on the town in Norwich? Whether you're in the mood for an elegant, sophisticated evening or seeking some lively and spirited entertainment, this city has it all.
Allow me to be your guide to plan a memorable night out. Here are my recommendations for the best things to do in Norwich at night.
Be sure to sign up for our email newsletter here to find out more about what's happening around Norfolk.
Note: This post contains affiliate links.  As an Amazon Associate, we earn from qualifying purchases. Please see disclosure for more information.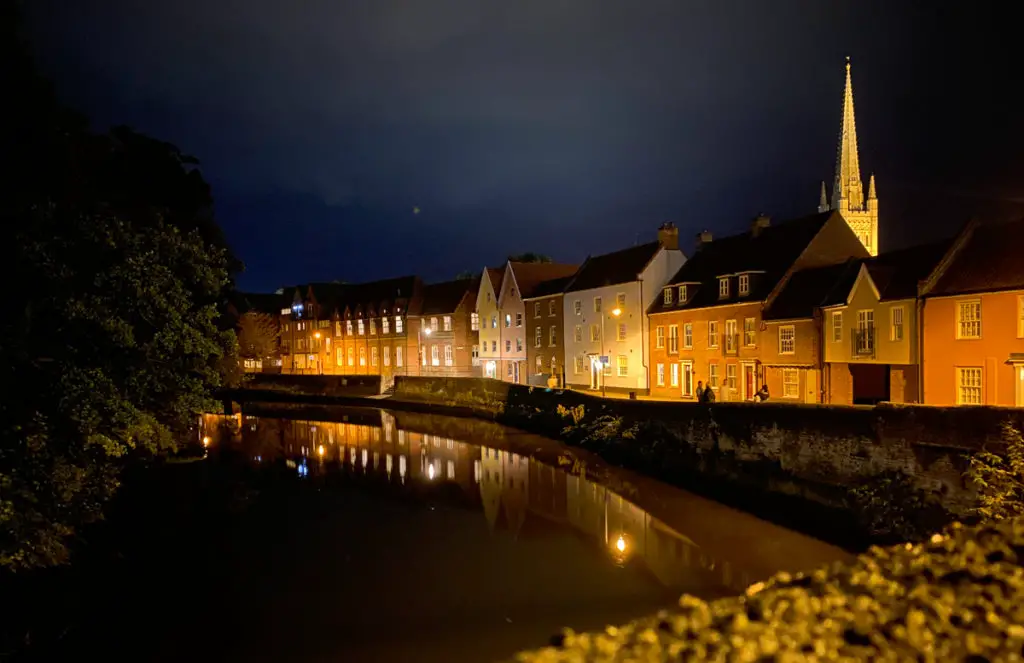 12 Things to Do at Night in Norwich
During the day, the city centre is bustling with activity. When the shops close in Norwich, some areas become quiet. Don't let this fool you, there is still plenty happening in Norwich at night. Here are some ideas to help you plan your night out in Norwich.
If you don't want to go home at the end of the night, you can check out our list of the best hotels in the Norwich city centre.
#1 Dine Out
If you want to have an enjoyable meal out, there are plenty of restaurants to choose from in Norwich. The dining scene is quite diverse offering a wide range of cuisines and price points.
For a special occasion, you could try Roger Hickman's, Bishop's, or Benedicts. If you are looking for something more casual, we love Benoli, Gem of Norwich, Brick (for the best pizza), the Yard, xo Kitchen, Spice Valley, and Merchant's of Spice, but there are many other enticing options.
Popular restaurants do book up especially on the weekends, so it best to make a reservation in advance if you can.
#2 Go on a Ghost Tour
Learn about Norwich's spooky side and visit some of the most haunted spots in the city on a tour with Norwich Ghost Walks. They have been thrilling guest with tales of lost spirits and poltergeists who are still seen and heard to this day.
Norwich Ghost Walks offer two different tours each lasting two hours. One is the Elm Hill Walk and the other is the River Walk. Both start and end at the Adam and Eve Pub and cost £10 per person.
Get more information about Norwich Ghost Walks here.
#3 Catch a Live Music Performance
Music lovers are a bit spoilt for choice in Norwich as there are several live music venues. You don't have to wait for a big concert at Carrow Road, you can find live music most nights if you know where to go.
Some of the top places to go for live music in Norwich are the Waterfront, LCR on the University of East Anglia campus, Epic Studios, and the Brickmakers (just a £5-£7 taxi ride from the city centre).
Additionally, during the Norfolk & Norwich Festival (held annually in May) and the Lord Mayor's Weekend (held annually in July), there are even more options.
#4 See a Show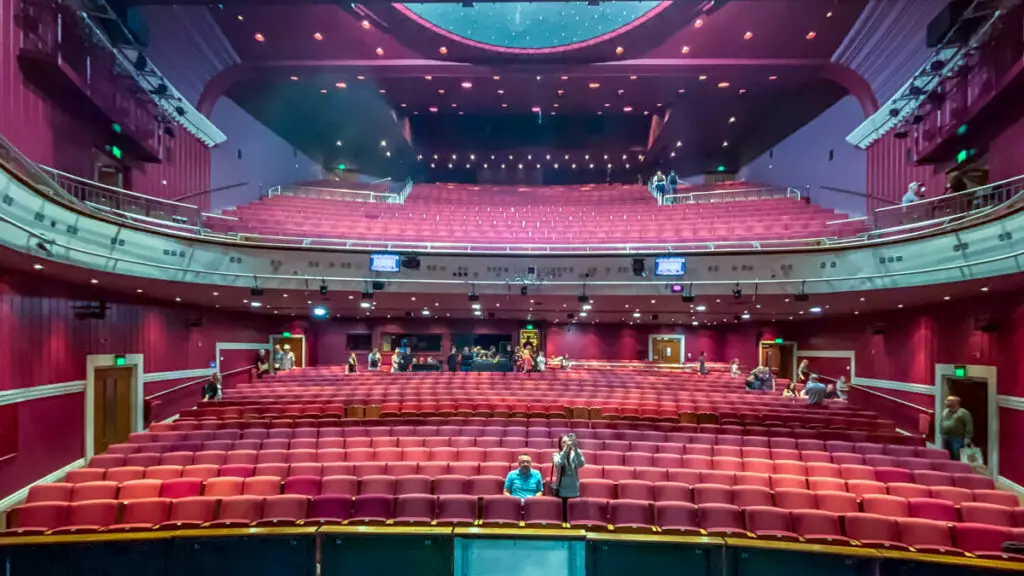 A live theatre production could be a lovely way to spend an evening in Norwich. We are lucky to have several amazing theatre venues in Norwich.
The biggest theatre in the city is Norwich Theatre Royal. Now more than 250 years old, it's one of the oldest in the country. The current building dates back to 1935, but was refurbished in 2007 so feels quite modern. Check out the calendar for Norwich Theatre Royal here.
You might also like to check out the offerings at the Maddermarket Theatre, which has been described by BBC Norfolk as the people's theatre. Find a listing of their upcoming shows here.
#5 Go Bowling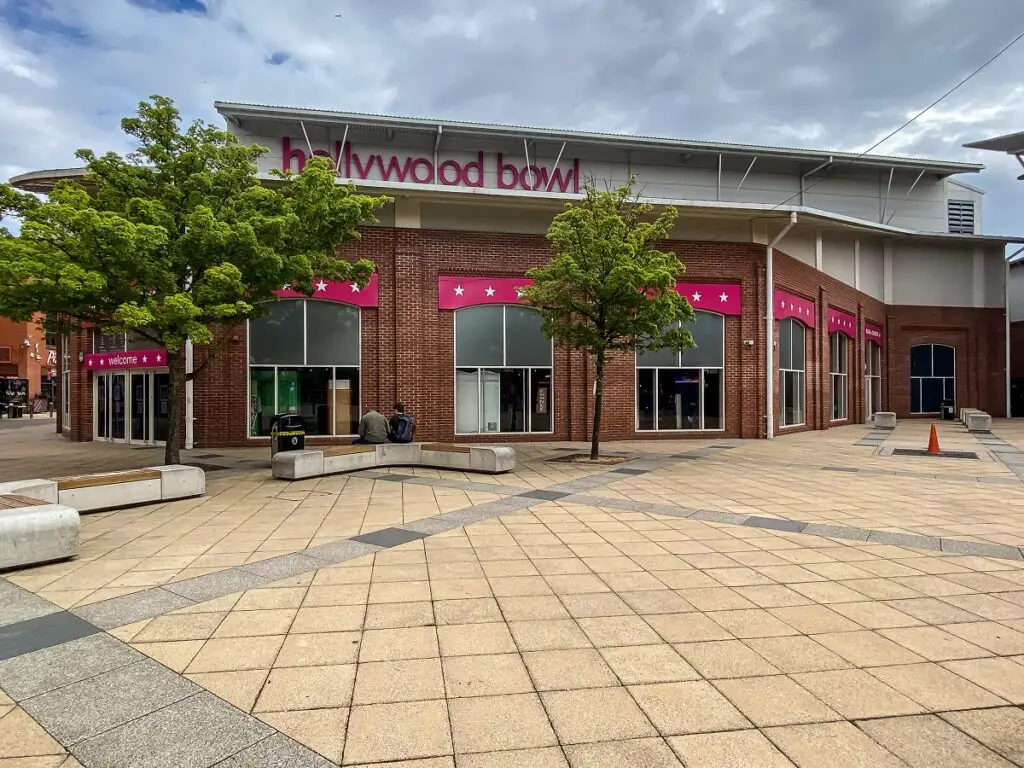 Bowling is a fun activity for groups, couples, friends, and families. You don't even have to be a skilled bowler to have a good time. Alternatively, you could make it a competitive evening.
Most bowling alleys can add bumpers over the gutters so even younger kids can join in on the fun. If anyone gets hungry or thirsty, they will bring the food and drinks to your lane. When the kids (or adults) get tired of bowling, some venues have arcade games to keep everyone entertained.
There are three bowling alleys in Norwich. If you have young children, you might want to go to Superbowl UK since it also has a soft play centre. Alternatively, there is Hollywood Bowl or Bowling House.
While the lanes at Bowling House are shorter than others, it does also have a private karaoke room. Join their membership program to get the best deal.
It's best to book bowling in advance so that you don't have to wait for a lane. Check the websites before you go as they sometimes offer online only specials.
#6 Catch a Movie
While it is easy to watch a movie at home, there is something special about going to the cinema. Norwich has one of the oldest independent movie venues in England. A grade I-listed 16th-century merchants house is now home to Cinema City.
Cinema City only has three screens but it offers a wide range of genres, including mainstream and family movies, documentaries and foreign language films. It also has its own Bar & Restaurant. Get more information about Cinema City here.
If you want to see the latest blockbuster, you can go to Odeon in Riverside or the Vue at Castle Quarter.
#7 Do a Wine Tasting
A wine bar is a civilised place to spend an evening. It's always nice to discover new wines and polish the palette.
You can do you own wine tasting at the Wallow Wine Bar. They have over 50 different wines and it is all self-service. It's a relaxed experience where you choose the wines and control the pace. If you need some food, their Wallow board is excellent with a variety of cheeses, meats, fish, antipasti, and more. Read our full review of the Wallow Wine Bar.
If you would like a more traditional wine bar, you can try the Wine Cellar or the Last Wine Bar. Alternatively, you could do a more formal tasting with Norfolk Wine School.
#8 Have a Pint (or More)
Norwich may not have as many pubs as it used to, but fear not – there are still plenty of great options to choose from! And if you're looking for some delicious pub grub, you won't be disappointed.
Our top picks in the city centre include the Murderer's, the Lamb Inn, and Adam & Eve. The Lamb Inn even boasts a spacious outdoor seating area perfect for soaking up some sun while enjoying a pint. And if you're looking for a pint with a view, there are some lovely pubs along the River Wensum too.
#9 Enjoy a Cocktail
Maybe you prefer a cocktail? The city boasts several fantastic cocktail bars, each with its unique vibe and delicious drinks.
If you're looking to enjoy a cocktail on a rooftop, head to Gonzo's Tea Room or the Rooftop Gardens. Mr Postles' Apothecary, Chambers Cocktail Company, and Tipsy Jar are other popular options in the city centre, each offering their own twist on classic cocktails.
#10 Dance the Night Away
You can definitely let your hair down and dance in Norwich. Just make your way to Prince of Wales Road and there are a range of nightclubs to choose from including: Mercy Nightclub, Mantra Club & Lounge, Mojo's Bar & Nightclub and Loft NR1 Gay Nightclub. The University of East Anglia students keep things lively.
#11 Play Laser Tag
If you are looking for a exhilarating and fun night out, try laser tag. It's like you've being transported into a video game. Players use infrared-emitting light guns to shoot at designated targets in the arena and on opposing players. Like a video game, a score is calculated and a winner is crowned.
It's a great family activity as anyone 5 years old or older can participate. Alternatively, it could work for hen and stag parties too.
You can play Laser Tag in Norwich at Quasar.
#12 Try an Escape Room
An escape room could be a fun night out for groups. It's part adventure, part intriguing storyline with a mix of puzzles and riddles. Your team needs to work together to solve them to escape.
If you want to do an escape room in Norwich check out Escape Hunt at Chantry Place or Cryptic Escape (two locations – Tombland or Rose Lane). For a futuristic twist, try the Norwich VR Escape Room.
How to Spend a Night Out in Norwich
As you can see, Norwich has a lot to offer even at night.
For me, the perfect night out would be a nice meal followed by some live music. Alternatively, some cocktails and then a show. You might prefer going to the pub and then an escape room.
Whatever type of night out you are looking for you can find it in Norwich.
More Things to Do in Norwich
If you have more time in Norwich, be sure to check out our other guides including:
Best Free Things to Do in Norwich
Best Things to Do in Norwich When it Rains
Fun Things to Do in Norwich for Adults
Romantic Things to Do in Norwich
Disclosure: This post contains affiliate links. This means we will receive a small commission for some purchases made using links in our blog with no additional cost to you.  Please be assured we would not promote any product unless we believe that our readers will also benefit.  The commission does not influence the editorial content of this site.