We never need a reason to go for afternoon tea as it is always a wonderful treat. So when I heard about the special afternoon tea menu at the historic Maids Head Hotel in Norwich to mark King Charles III's Coronation, I knew it would be the perfect way to celebrate.
In this review, I will share more about our experience so that you can decide if you want to have afternoon tea at the Maids Head Hotel.
Don't miss out on all the fun things happening around Norfolk! Sign up for our email newsletter here.
Note: This post contains affiliate links.  As an Amazon Associate, we earn from qualifying purchases. Please see disclosure for more information.
About the Maids Head Hotel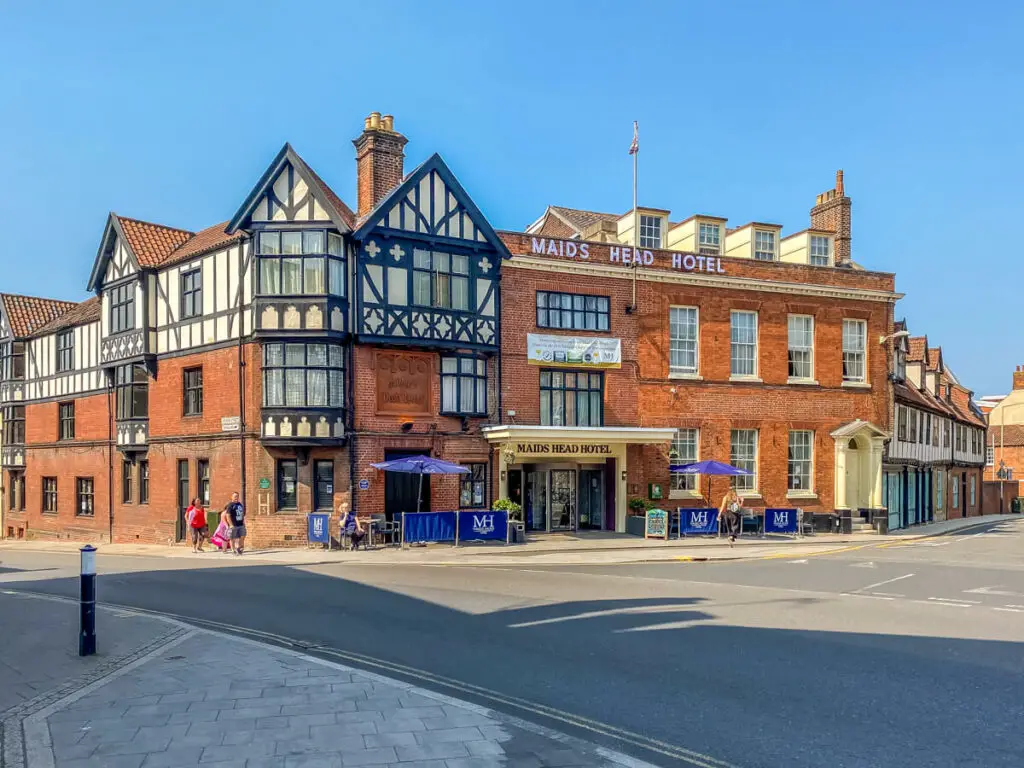 Stepping into the Maids Head Hotel feels like stepping back in time – this establishment dates back over 800 years, making it one of the oldest hotels in the UK. The site has been used for hospitality since the 1090s, when the first Norman Bishop of Norwich established his palace here.
The hotel is a Grade II listed building that exudes historic charm, and it is said that Queen Elizabeth I may have attended a banquet on the site, adding to its intrigue and mystique. Legend also has it that the hotel is haunted by two friendly ghosts.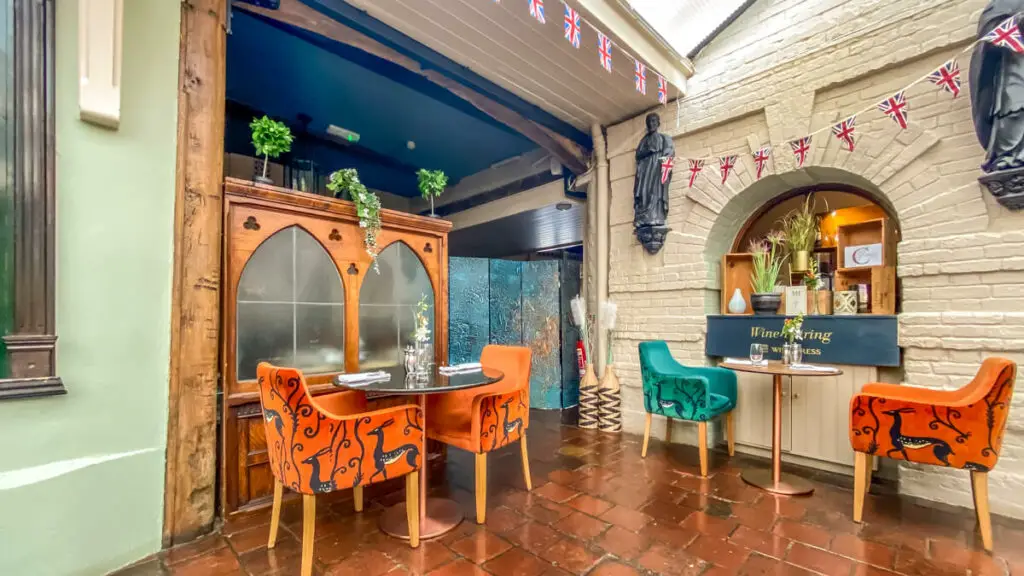 The Maids Head is more than just a historic landmark – it's a hub of culinary excellence, home to the AA Rosette-winning WinePress restaurant. Here, guests can indulge in simply prepared, beautifully presented dishes, served in an elegant and stylish atmosphere. The WinePress also boasts an impressive wine list, with over 40 options available by the glass, as well as a selection of real ales and quality beers.
All in all, the Maids Head Hotel is one of the best places to stay in Norwich city centre, offering a unique blend of history, character, and gastronomy. You can book a stay at the Maids Head here.
Afternoon Tea at the Maids Head
Indulging in afternoon tea at the Maids Head Hotel is an experience not to be missed. From the moment you're seated, you're greeted with a feast for the senses.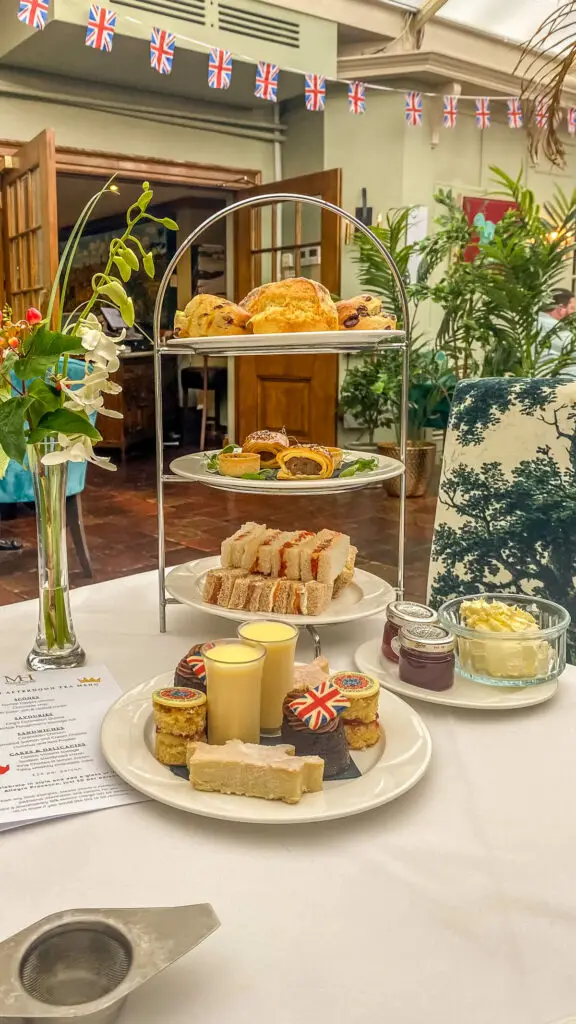 The three-tiered cake stand is brimming with savoury finger sandwiches, fluffy scones with clotted cream and jam, and an array of delicate pastries and cakes that are almost too beautiful to eat. And that's not all – the tea service also includes a selection of loose-leaf teas.
It's not just the food that makes afternoon tea at the Maids Head Hotel so special. You can enjoy your tea in one of the hotel's charming lounges, where you can sink into an armchair and relax amidst the elegant decor.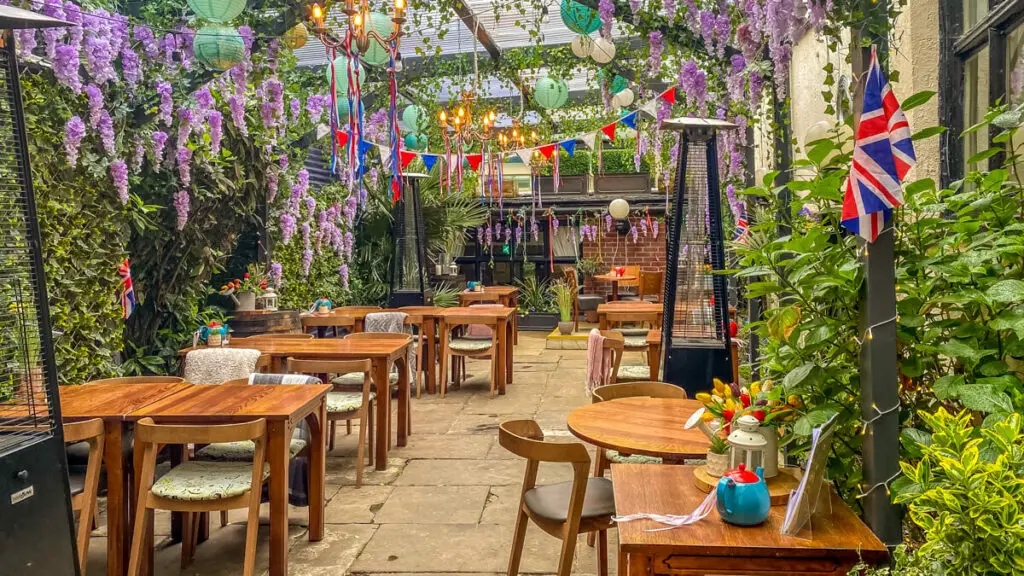 Alternatively, you can savour your tea in the courtyard on a sunny day, or in the historic WinePress Restaurant. With afternoon tea served seven days a week, there's always a perfect time to treat yourself to this delightful experience.
Atmosphere
We were delighted to secure a table in the elegant WinePress restaurant for our afternoon tea at the Maids Head Hotel. Despite arriving towards the end of the afternoon tea service, the restaurant was still buzzing with a warm and inviting atmosphere.
As we settled into our table for four, we couldn't help but admire the charming décor that blended traditional elements with modern touches. From the striking artwork on the walls to the colourful accents throughout, the restaurant exuded a stylish yet cosy ambiance.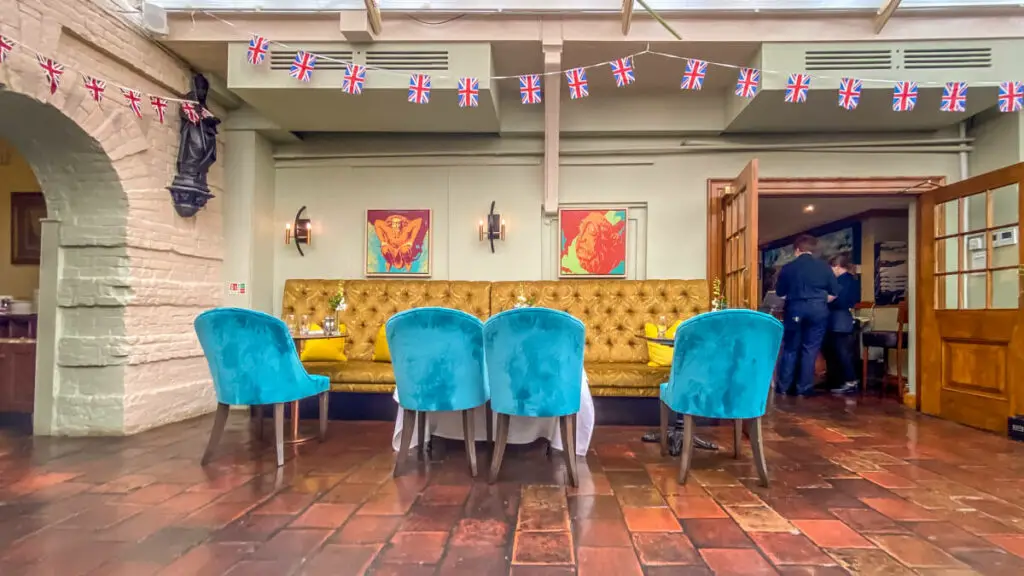 Our seating arrangement was perfect for the occasion – with plenty of space for the multiple tiers of sandwiches, scones, and sweet treats that arrived shortly after we sat down. The chairs were padded and comfortable, allowing us to relax and enjoy the experience to the fullest.
As we savoured our tea and treats, the restaurant gradually grew quieter, and we found ourselves enjoying the peaceful ambiance and each other's company. It was the perfect setting for a lovely afternoon tea, and we felt truly pampered throughout our time in the restaurant.
Tea
The tea selection at the Maids Head Hotel is diverse with 11 options to choose from, all sourced locally from Coffee Express of North Walsham. While classic English breakfast tea and earl grey are staples on the menu, we couldn't resist exploring some of the more exotic offerings.
Russell, opted for the Formosa Oolong, a nuanced blend that conjured up notes of speculoos biscuit, molasses, and orchids, Meanwhile, I selected the Assam Tippy, a black tea that boasted a rich, malty flavour with a hint of sweetness.
We both got our own personal teapot, complete with strainer, filled to the brim with our chosen brews. From the first sip, we knew we were in for a treat. In fact, we enjoyed our tea so much that we couldn't resist a refill.
Food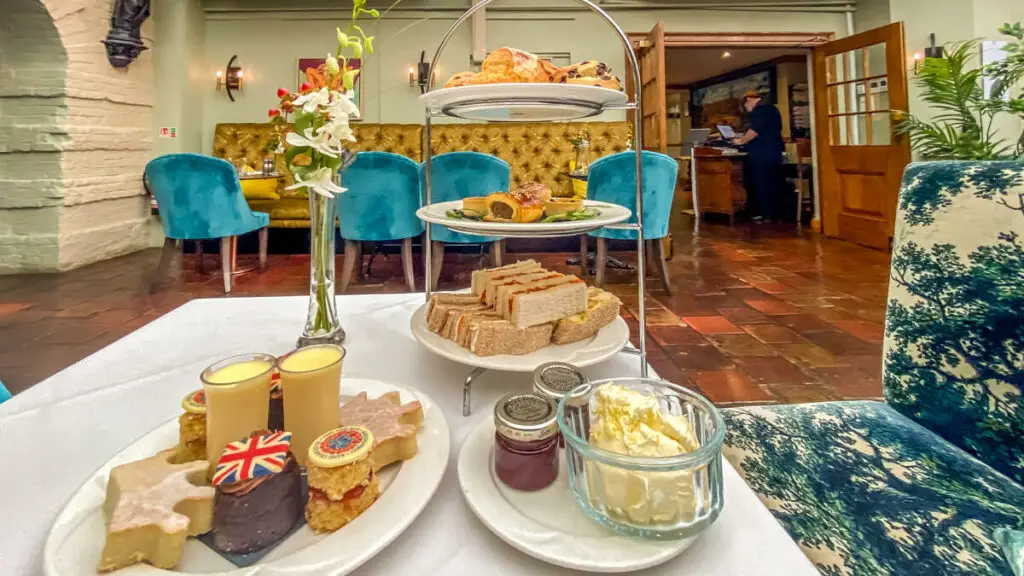 If you're planning to visit the Maids Head Hotel for afternoon tea, make sure to come with an empty stomach! The sheer amount of food is impressive; it's not just the typical three-tiered cake stand, the cakes and sweets are served on a separate plate.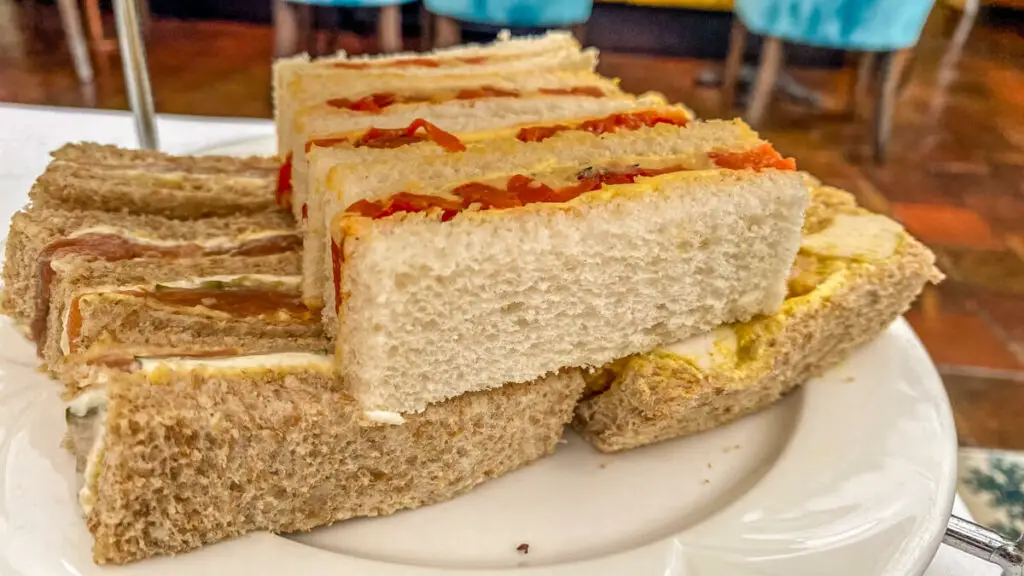 We kicked off our feast with three different sandwiches: Coronation Chicken, Smoked Salmon and Cream Cheese, and Hummus and Red Pepper. Each of us enjoyed two finger sandwiches of each type, but my personal favourite was the Coronation Chicken, which had generous chunks of tender chicken.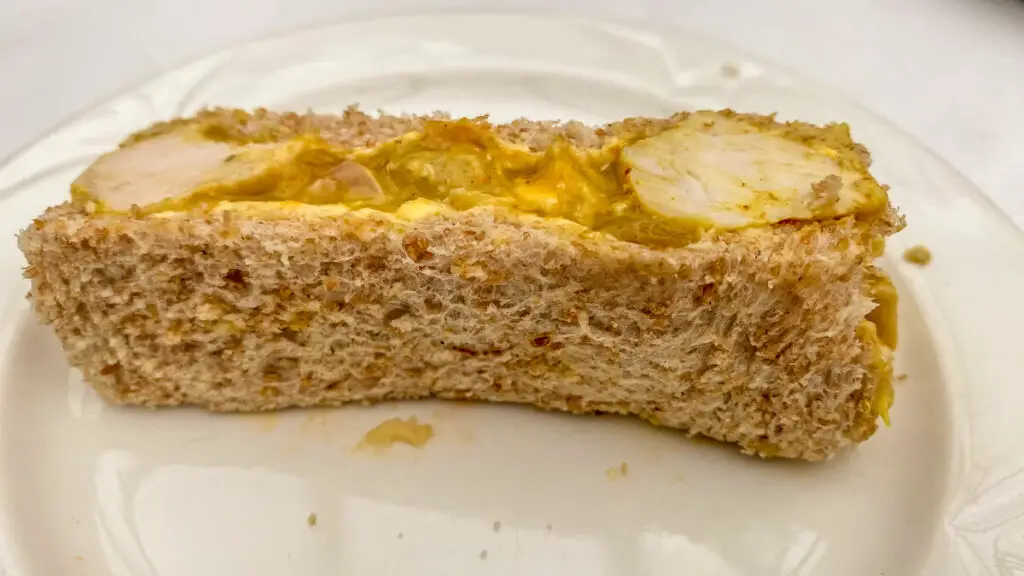 Next came the savouries. The King's Coronation Quiche was better than the one I'd made at home, with a flakier pastry and more robust flavour. The Norfolk Ploughman's Sausage Roll was buttery and delicious.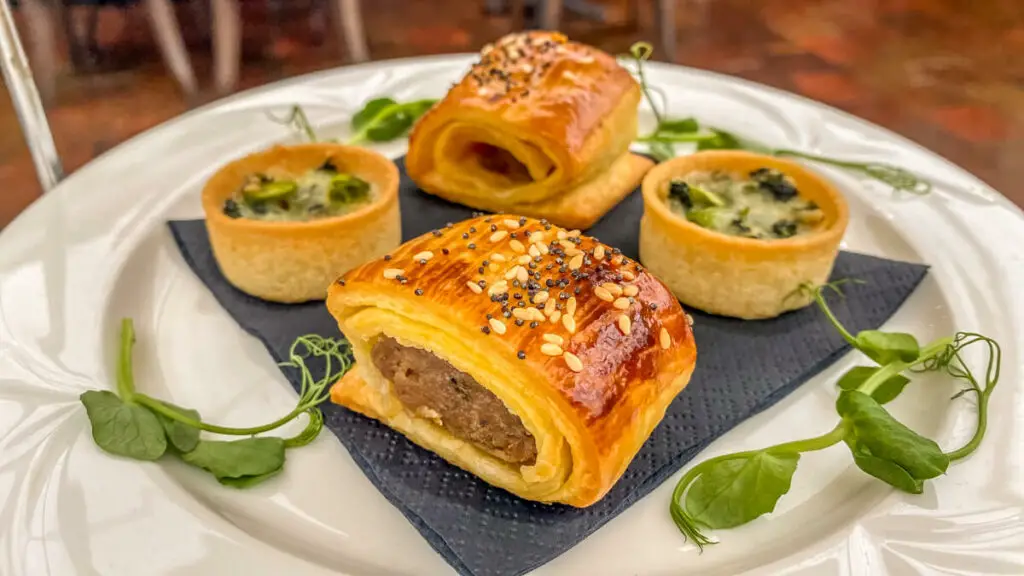 As a scone enthusiast, I was excited to try what the Maids Head had to offer. Instead of the usual plain or fruit scone, we were treated to a Norfolk Dapple Cheese Scone, complete with melted cheese on top, and a chocolate chip scone. Both were mouth-watering, and we didn't even need the butter, jam, and clotted cream that came with them.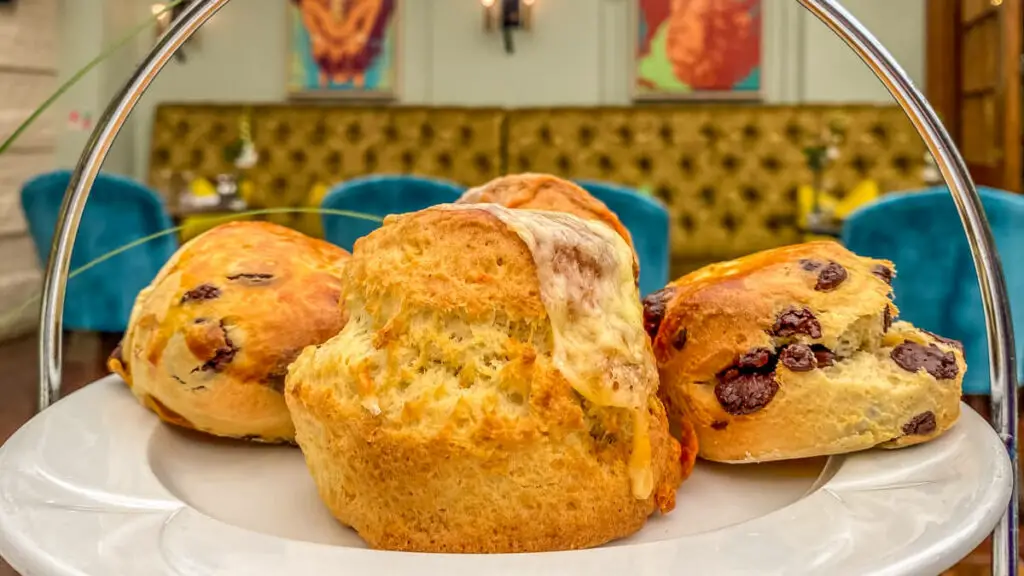 Though we were feeling rather full at this point, we couldn't resist the plate of desserts. The Scottish Shortbread Crown was a perfect thematic touch, thicker and richer than typical shortbread. The King Charles III Lemon Cream was velvety and indulgent, while the Classic Victoria Sponge was sweet and moist. We ended the meal on a high note with the Tipsy Whiskey Chocolate Cake.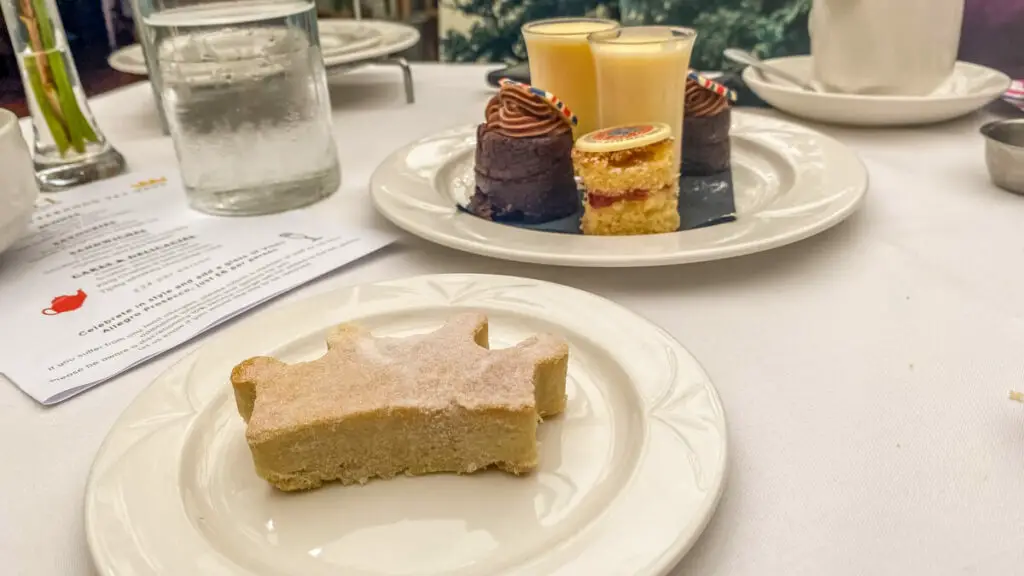 Price
At just £24 per person, the special coronation afternoon tea at the Maids Head Hotel is a fantastic value for anyone looking to indulge in this quintessentially British tradition. It's the same price point as the hotel's classic afternoon tea. They do add a 10% service charge, but you can ask for it to be removed.
If you're looking to add a touch of glamour to your experience, you can opt for a glass of prosecco for just £6 more. Since we had already sipped on some bubbles while watching the coronation ceremony, we opted to stick with our tea and enjoy the delectable treats on offer.
Overall Review of Afternoon Tea at the Maids Head Hotel
We were thoroughly impressed with our experience at the Maids Head Hotel. It was the perfect way to celebrate a special occasion like the Coronation.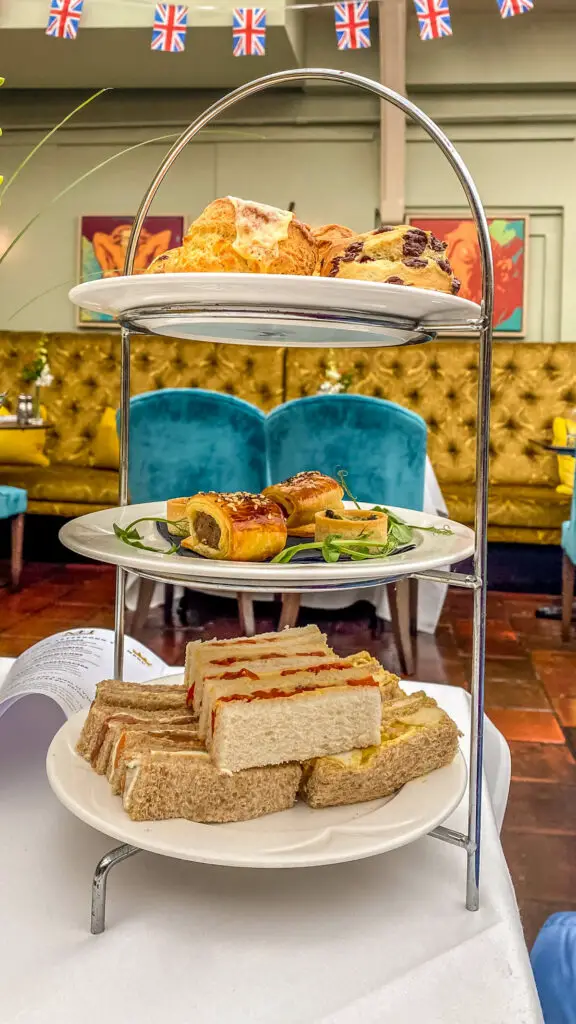 The variety of sandwiches, savouries, and desserts were all exquisite and uniquely flavoured, making it a standout experience compared to other traditional afternoon teas. The tea was of excellent quality, and we appreciated the selection of different flavours to choose from.
The atmosphere was elegant and sophisticated, fitting for the hotel's historic charm. Overall, we highly recommend the Maids Head for one of the best afternoon teas in Norwich.
Maids Head Hotel Afternoon Tea FAQs
When is afternoon tea served at the Maids Head in Norwich?
Their afternoon tea is served Monday to Saturday from 12:00 – 16:00 and on Sunday from 14:00 – 16:00.
How do you book the Maids Head Hotel Afternoon Tea?
You can book a table for afternoon tea at the Maids Head by phone (+441603272010) or online here.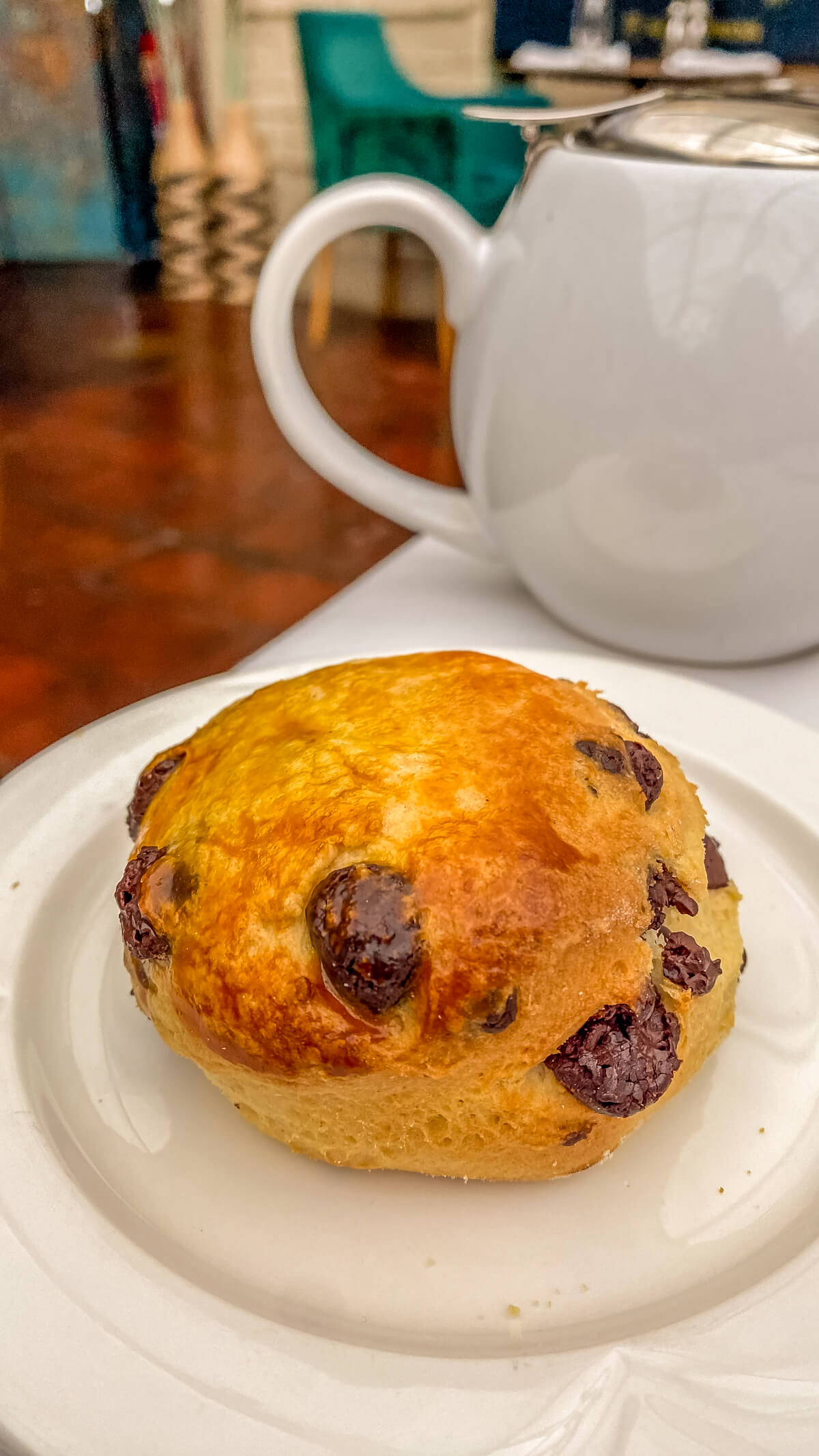 Can the Maids Head accommodate vegetarian, dairy-free and gluten-free diets?
If you have any dietary requirements or food allergies, you can inform a staff member and they will provide additional information and options for you.
Is the Maids Head Hotel a good place to take kids for afternoon tea?
The hotel does offer a special children's afternoon tea option, which is a thoughtful touch for families. However, parents should be aware that the ambiance is geared more towards adults, with an emphasis on relaxation and indulgence. So while little ones are certainly welcome, it may be worth considering whether the setting is the right fit for your family.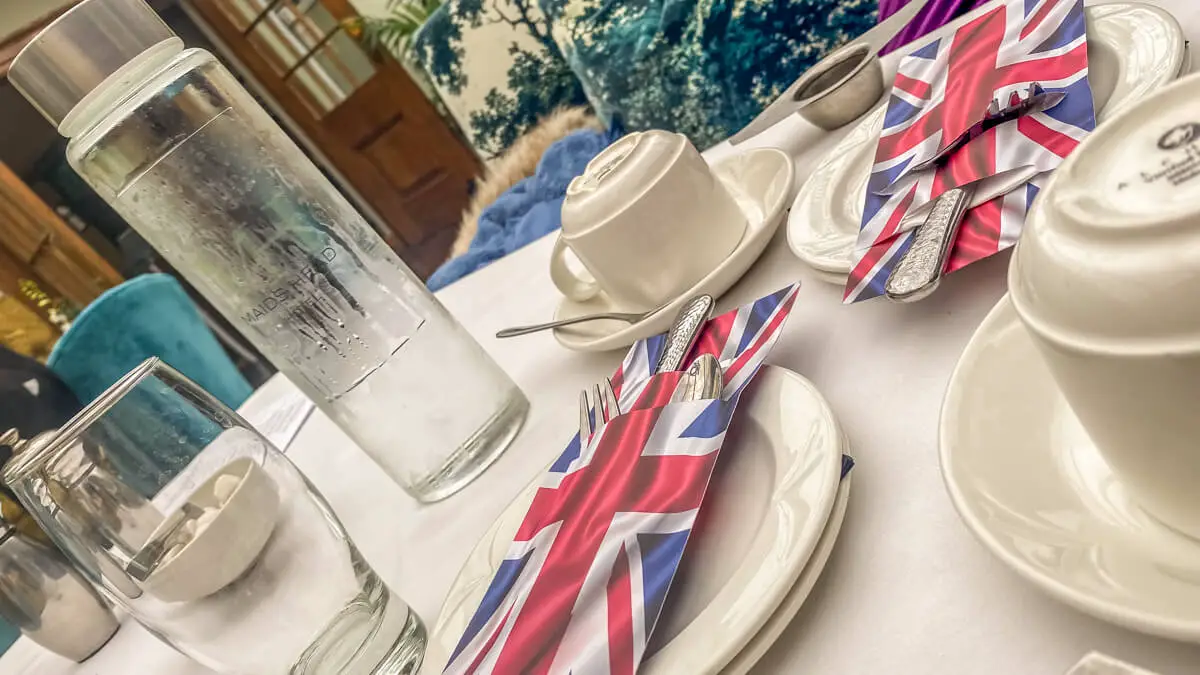 Where do you park for the Maids Head Hotel?
The closest car park is the Monastery Car Park which is only a 3 minute walk away.
How do you get to the Maids Head Hotel in Norwich?
The Maids Head Hotel is located in Norwich city centre on Tombland right by Norwich Cathedral. It's only a 12 minute walk from the Norwich train station or a 15 minute walk from Norwich Bus Station.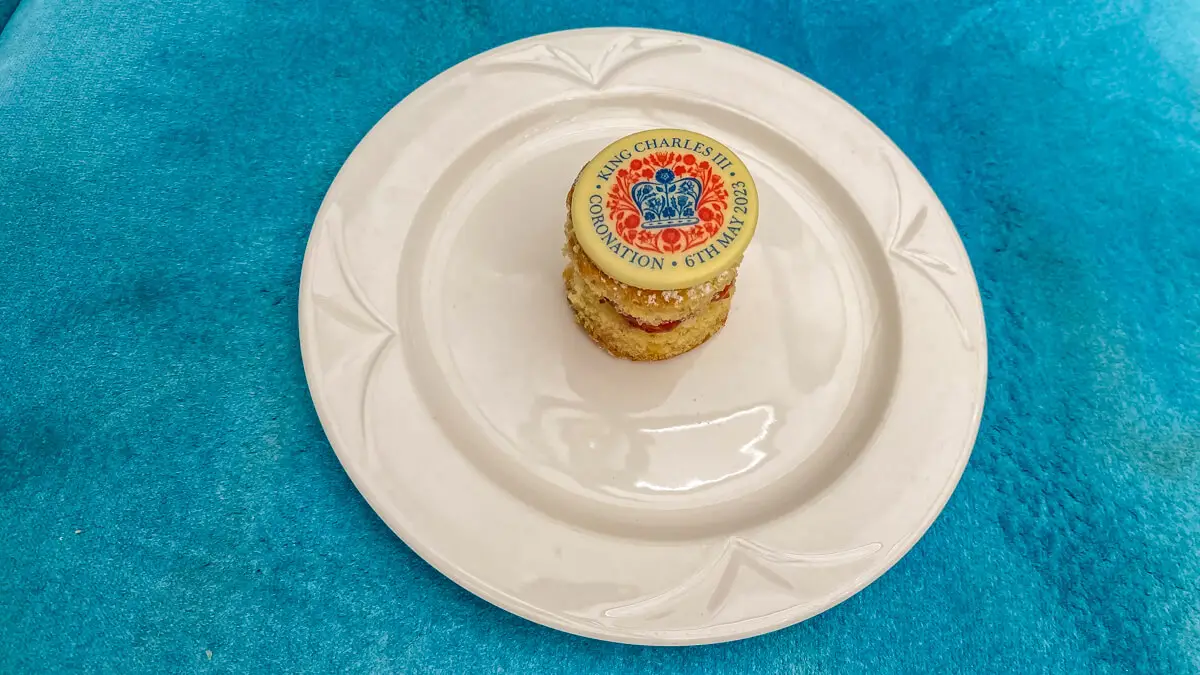 Disclosure: This post contains affiliate links. This means we will receive a small commission for some purchases made using links in our blog with no additional cost to you.  Please be assured we would not promote any product unless we believe that our readers will also benefit.  The commission does not influence the editorial content of this site.