If you're in search of an uplifting and family-friendly musical experience, look no further than the beloved classic, "Annie," gracing the stage at Norwich Theatre Royal. With the incomparable Craig Revel Horwood taking on the iconic role of Miss Hannigan, this production promises to be a delightful treat for all ages.
As a devoted fan of "Annie" since my own childhood, I couldn't wait to relive the magic of this heart-warming tale. In this review, I will tell you more about the 2023 UK Tour of "Annie." and why you need to see it before it leaves Norwich.
*We were invited to the press night to see the show so that we could share our experience with our readers. All photos in this post were provided by Norwich Theatre.
Note: This post contains affiliate links.  As an Amazon Associate, we earn from qualifying purchases. Please see disclosure for more information.
Be sure to sign up for our email newsletter here so that we can let you know about other shows like this and more happening in Norfolk.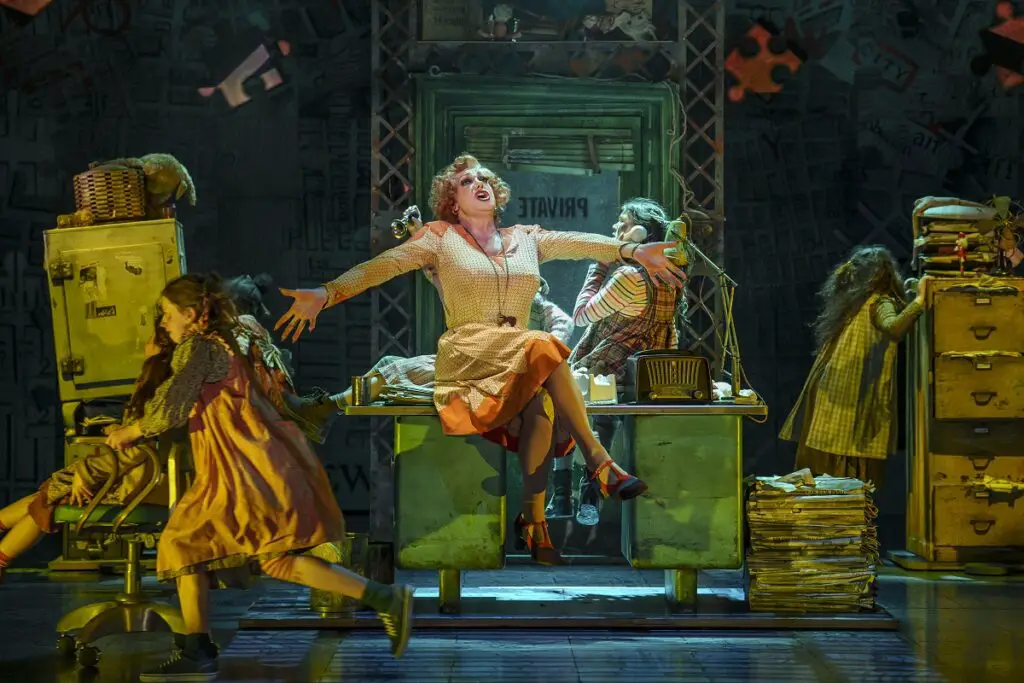 About Annie
"Annie" is a beloved musical that tells the heart-warming story of an optimistic and spirited orphan girl named Annie. Set in New York City during the Great Depression, the musical follows Annie's quest to find her parents, who left her at the doorstep of the Municipal Girls Orphanage as a baby with only half of a locket and a note promising their eventual return.
The orphanage is run by the mean-spirited Miss Hannigan, who doesn't care about any of the orphans. Despite the harsh conditions, Annie maintains her hopeful outlook on life and dreams of a better tomorrow, often singing the iconic song "Tomorrow" to uplift her spirits and those of her fellow orphans.
One day, Annie's luck changes when the wealthy businessman Oliver Warbucks invites her to his mansion for Christmas. At first, Warbucks is distant, but he soon warms up to Annie's charm and innocence. He becomes fond of her and offers to help her find her parents, promising a huge reward to anyone who can provide information leading to their discovery.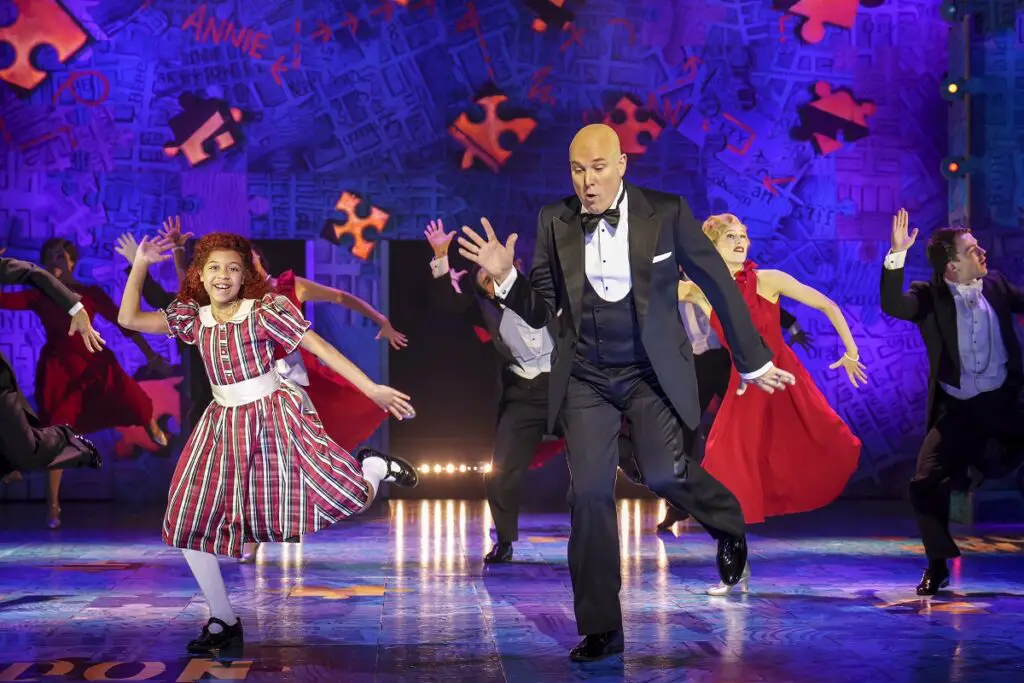 As Annie and Warbucks embark on a search for her parents, they encounter various challenges and adventures, while also touching the lives of those around them. Along the way, they learn valuable lessons about love, compassion, and the true meaning of family.
Review of "Annie" at Norwich Theatre Royal
Since "Annie" is one of my favourite musicals I couldn't wait to see this show. I had high expectations and was curious to see how Craig Revel Horwood would do as Miss Hannigan.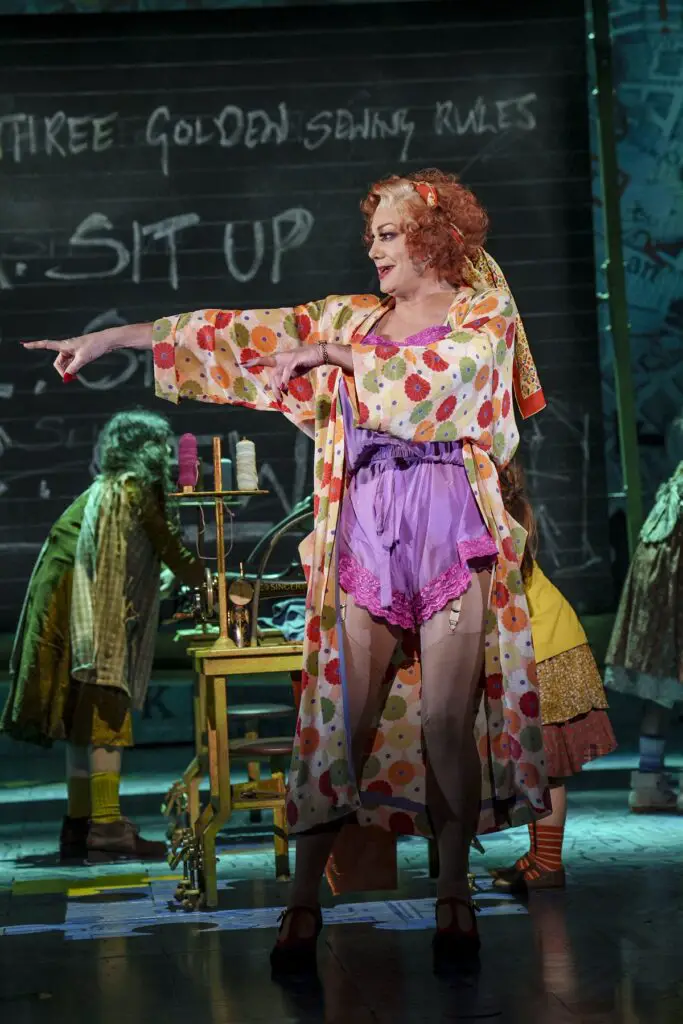 Well, Craig Revel Horwood brought the character to life in a way probably only he can. His impeccable comedic timing, experience as a Panto villain, and dancing skills breathe new life into this iconic character, and the fact that he even does his own makeup is the cherry on top of this captivating performance.
The entire cast is a stellar ensemble that will leave you mesmerized. Alex Bourne's portrayal of Oliver Warbucks will tug at your heartstrings as you witness the powerful emotional journey of his growing affection for Annie. And speaking of Annie, Sharangi Gnanavarathan's professional stage debut is a revelation, as she exudes confidence and energy, truly embodying the spirit of the classic movie's beloved character.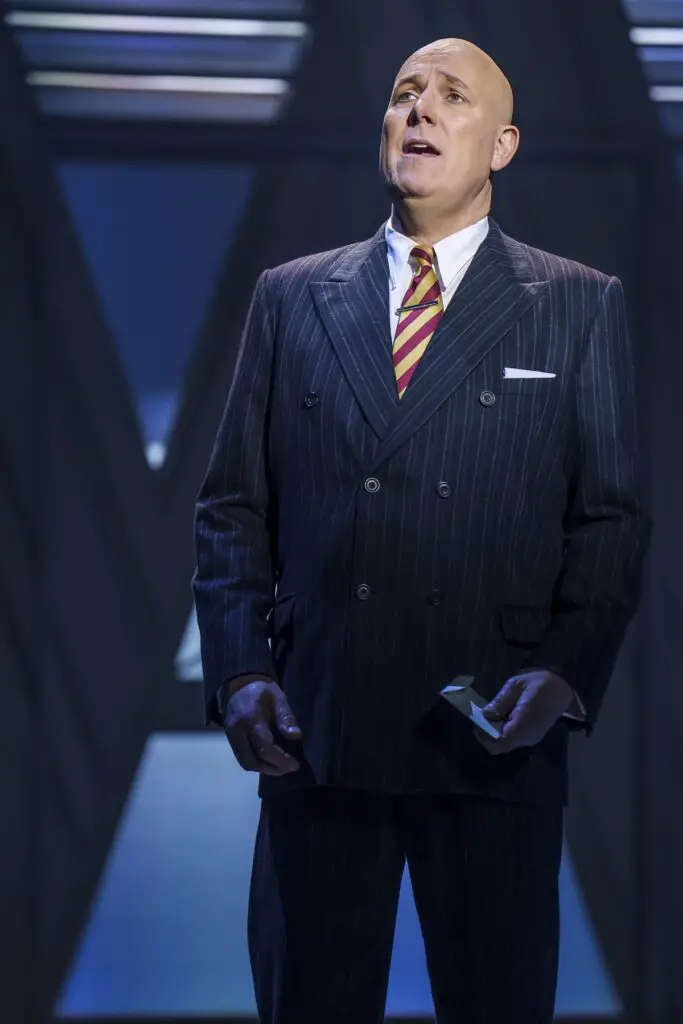 The young orphans are a bundle of talent, leaving the audience in awe with their adorable performances. And who can forget Sandy, played by Amber an 8 year-old labradoodle, who steals the show with her well-trained and endearing presence on stage?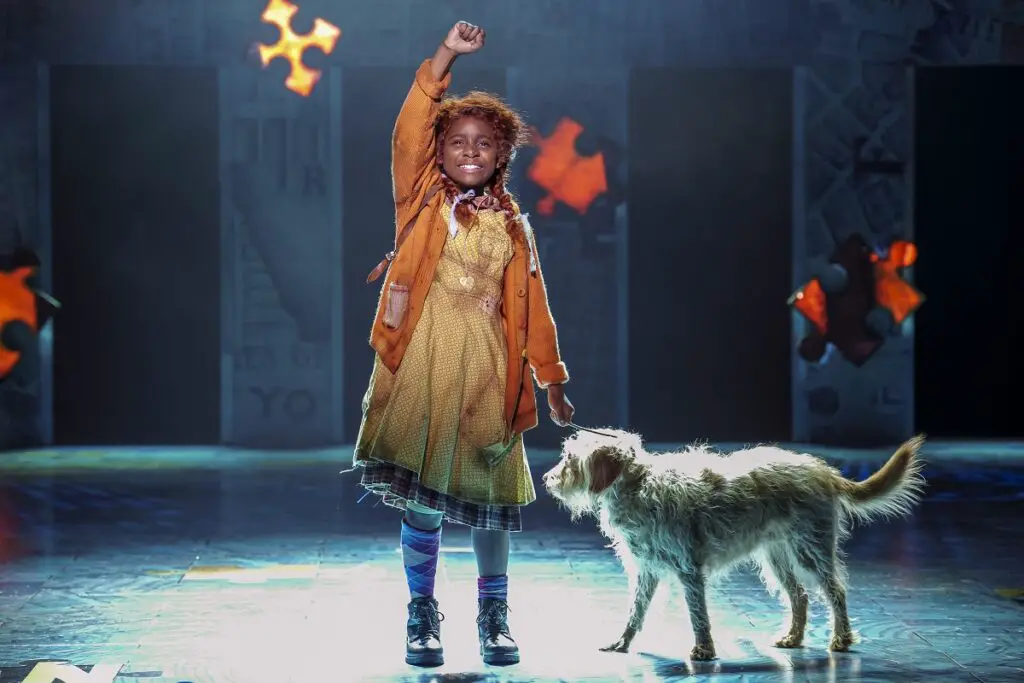 Now, let's talk about the fantastic supporting cast that adds an extra layer of brilliance to the show. Amelia Adams as Grace Farrell, Oliver Warbucks' private secretary, deserves special mention for her exceptional vocal skills.
Paul French's portrayal of Rooster, Miss Hannigan's brother, is nothing short of electrifying. His infectious energy and great stage presence create an unforgettable character that oozes charisma. French's chemistry with Craig Revel Horwood as Miss Hannigan is palpable, making their scenes together an absolute delight to watch.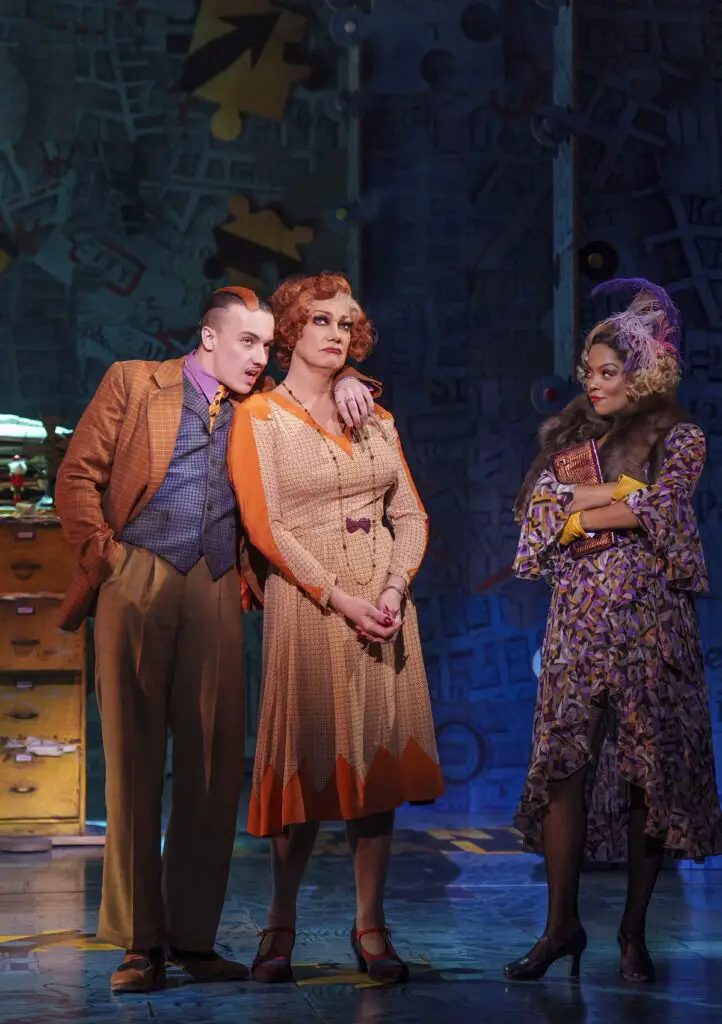 The show is a feast for the eyes and ears. The vibrant set and colourful costumes create a visually stunning experience, while the clever use of puzzle pieces as a nod to the missing piece of Annie's locket adds a delightful touch of symbolism.
Let's not forget the dancing, which is nothing short of fantastic! With energy and fun radiating from the stage, the dance numbers, especially those featuring the orphans, will have you tapping your feet and clapping along in delight.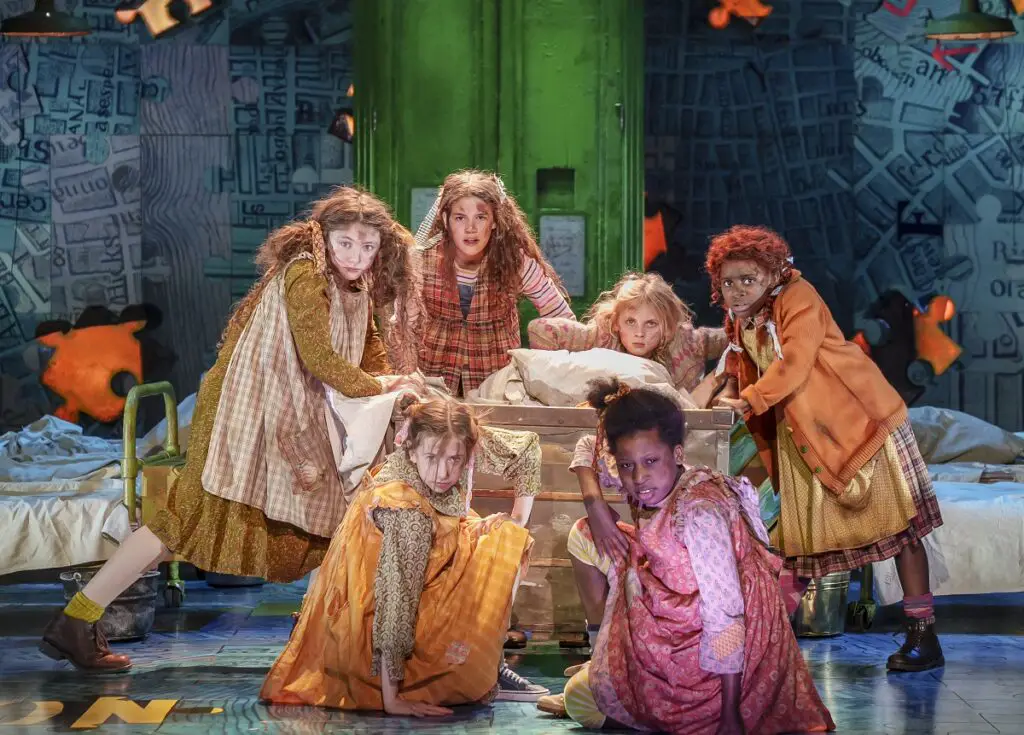 Now, you might be wondering, "Is this just a copy of the classic movie?" No! This production brings fresh elements (like a man playing Miss Hannagan), new songs, and storyline changes, but still stays true to the essence of "Annie."
The show is a triumphant celebration of the beloved classic, delivering a fun-filled night out for the whole family. It'll tug at your heart, make you laugh, and leave you humming the unforgettable songs for days to come. Don't miss your chance to experience the enchanting magic of "Annie" in Norwich.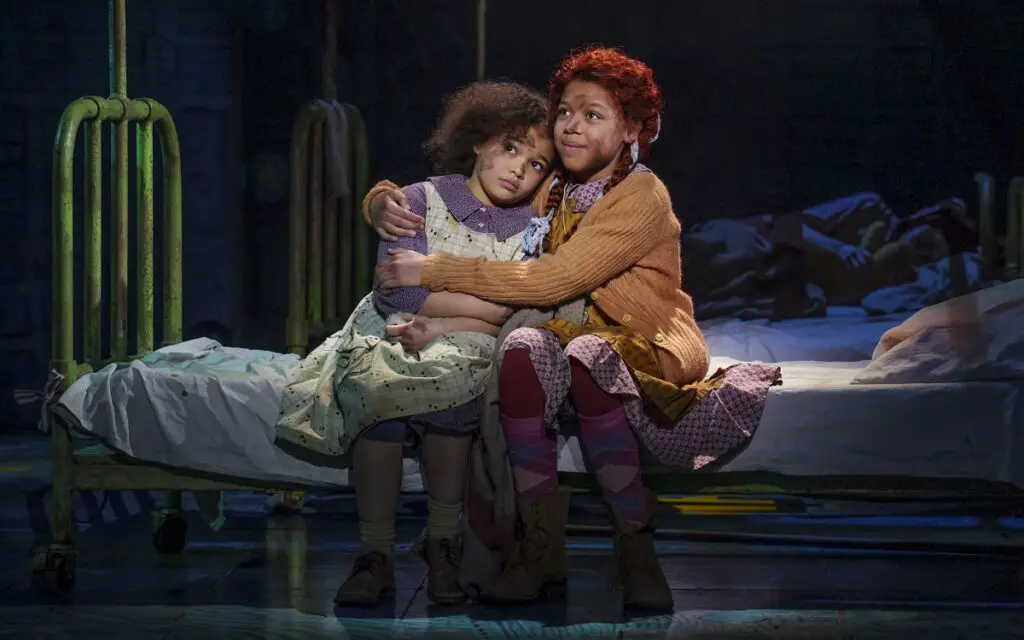 Note: "Annie" features different child actors, so the cast may vary for each performance.
"Annie" FAQs
When can you see "Annie" at the Norwich Theatre Royal?
There will be performances 1 – 5 August 2023.
How much are tickets for "Annie"?
Tickets range from £10 – £39. Check availability here.
Is food and drink available at Norwich Theatre Royal?
You can have a pre-show meal in the Prelude Restaurant. Before the show and during the interval, snacks and drinks can be purchased at Cafe Royal or the Circle or Stalls Bar. We recommend ordering your interval drinks at the bar before the show starts.
Is Annie suitable for kids?
Yes, the show is recommended for ages 5 and up. Kids will love the story and the music. If you need more family-friendly ideas, check out our list of things to do in Norwich with kids.
How long is a performance of Annie?
The show runs approximately 2 hours and 20 minutes including the interval.
How do you get to Norwich Theatre Royal?
Norwich Theatre Royal is easy to get to as it is located on Theatre Street (next to the Assembly House) in the Norwich city centre. It's about a 7 minute walk from the Norwich Bus Station or a 20 minute walk from the Norwich Train Station.
Where should you park for Norwich Theatre Royal?
You could use any car park in Norwich city centre, but The Forum and Chantry car parks are the closest ones to Norwich Theatre Royal. Alternatively, you could use the Park and Ride as it's a short walk from the Norwich Bus Station.

Disclosure: This post contains affiliate links. This means we will receive a small commission for some purchases made using links in our blog with no additional cost to you.  Please be assured we would not promote any product unless we believe that our readers will also benefit.  The commission does not influence the editorial content of this site.