We are lucky to have many choices when it comes to Christmas-themed theatre in Norfolk. You can choose from pantos, Christmas variety shows, Christmas musicals, and more.
You don't have to travel to London to see quality Christmas theatre! Head to Norwich or one of many towns and villages in Norfolk with theatres. Just be sure to book these shows before they sell out.
Be sure to sign up for our email newsletter here to keep up to date with the latest events in Norfolk.
Note: This post contains affiliate links.  As an Amazon Associate, we earn from qualifying purchases. Please see disclosure for more information.
Pantos in Norfolk
Pantomimes are embedded in British culture and a "must" for many British families during Christmas. You are pretty much guaranteed a good time and lots of laughs. It's something that the whole family can enjoy (although there are a few adult-only pantos – like Robin Good from 2021- too which are at the very bottom of this blog post).
Most of the theatres in Norwich and around Norfolk produce a new panto each year.
Sleeping Beauty at Norwich Theatre Royal
When: 9 December – 7 January 2024
An all-star cast will take to the Norwich Theatre Royal stage to perform the panto, Sleeping Beauty. It tells the story of how the Queen and Fairy work to save our Sleeping Beauty, with a prince in tow and despite the efforts of the Evil Fairy. 
You can expect all the traditional pantomime ingredients including energetic songs, a live band, magic, mesmerizing dance routines, slapstick comedy, and plenty of audience participation. The show is perfect for all ages and it's one of the best things to do in Norwich during Christmas.
Joe Tracini, who played Tommy the Cat in 2021's Dick Whittington Panto and Jack in 2022's Jack and the Beanstalk returns to play The Fairy. Norwich's favourite panto dame Richard Gauntlett is also back. It also features Beverley Callard as The Evil Fairy.
Purchase tickets here.
Stay tuned for our review.
The Wizard of Oz at Maddermarket Theatre in Norwich
When: 15 – 30 December
When a tornado sweeps Dorothy's house away and deposits it in a distant land, she unwittingly emerges as an unexpected saviour to the Munchkin community. Embarking on a grand adventure to find her way back home, she encounters enigmatic sorcery and spine-chilling illusions that will challenge her determination and compel her companions to face their deepest anxieties.
This compassionate adaptation breathes new life into the cherished tale we hold dear, rekindling the intricate nuances and mysterious aspects of L. Frank Baum's fantastical vision.
Get more information and purchase here.
Dick Whittington and His Cat at the Corn Exchange in King's Lynn
When: 9 – 31 December
From the bustling streets of London to an extraordinary voyage across the seven seas all the way to Morocco, come along with Dick Whittington, his agile cat, and a zany ensemble of characters on an unforgettable journey of a lifetime.
*If you are in King's Lynn to see the Panto, be sure to also check out our recommendations for things to do in King's Lynn.
Get more details and purchase tickets here.
Dick Whittington – the Traditional Family Pantomime at Gorleston Pavilion Theatre
When: 7 December – 6 January 2024
This brand new production, crafted by an entirely new creative team, transports you on a interesting expedition along London's streets alongside Dick, his feline companion Tommy, and the mischievous panto dame, Sarah the Cook.
*If you are in Gorleston to see the Panto, be sure to also check out our recommendations for things to do in Gorleston.
Get more information and buy tickets here.
Cinderella : The Pantomime at Sheringham Little Theatre
When: 15 December – 2 January
Polish your pumpkins, brush off your gowns, and join Prince Charming as he hosts the grandest Christmas celebration of the year in his quest for true love.
Can he find his soulmate before the clock chimes midnight? Will the uproarious Ugly Sisters, Beeston and Bump, steal his heart? Will Cinderella's wicked stepmother, the Baroness of Blakeney, lock her away? Or will the Fairy Godmother and Buttons ensure a happily ever after for all?
From the same team that delighted you with last year's sold-out hit, Snow White, comes the most lovely fairy tale brought to life with stunning costumes, catchy tunes, dazzling dancers, side-splitting comedy, and plenty of opportunities for audience participation.
*If you are in Sheringham to see the Panto, be sure to also check out our recommendations for things to do in Sheringham.
Get more information and buy tickets here.
Robin Hood at St. George's Theatre in Great Yarmouth
When: 15 – 31 December
Presented by the same team that whisked you away to Neverland last year, be sure not to miss the ultimate pantomime adventure – Robin Hood.
Step into the world of this arrow-slinging hero, Robin Hood, as he endeavours to win the heart of the beautiful Maid Marion. Can Robin and his loyal Merry Crew outsmart the wicked Sheriff of Nottingham and Guy of Gorleston?
Robin Hood boasts all the essential elements of a classic pantomime: an exceptional cast, uproarious humour, dazzling dancers, beloved songs, loads of audience participation, special effects, and a plethora of boos and hisses that everyone in the family can relish.
Get more information and buy tickets here.
Treasure Island at The Carnegie in Thetford
When: 19, 20, 26, 27 January 2024
Prepare to embark on the journey of a lifetime! Long John Silver and his formidable crew might believe they're on the brink of treasure, but they've underestimated the resourceful women of the Smuggler's Cove Women's Institute! Brimming with merriment, custard pies, melodies, and mirth, this expedition leads to a delightful pandemonium you certainly won't want to overlook!
Get more information here.
Cinderella at Dereham Memorial Hall
When: 27 December – 1 January 2024
Dereham Theatre Company is producing their annual award winning family pantomime, Cinderella. Enjoy this classic fairy tale with all lots of laughs and of course, audience participation.
Get tickets here.
Beauty and the Beast at Fakenham Community Centre
When: 5 – 9 December
The Fakenham and District Light Operatic Society (FADLOS) is excited to present the traditional panto Beauty and the Beast. Get ready to laugh so hard your sides will ache.
Purchase here.
Jack and the Beanstalk at the Norwich Puppet Theatre
When: 9 December – 31 December
If you're seeking a festive delight this Christmas, make your way to Norwich Puppet Theatre for a spellbinding puppet pantomime rendition of 'Jack and the Beanstalk.'
Last year, the accomplished writer, director, and puppeteer, Mark Mander, enchanted audiences with a sensational version of Cinderella using graceful string puppets. This time, in a captivating departure, Mark has opted for traditional glove puppets to breathe life into Jack's remarkable adventures.
Glove puppets excel in physical comedy, making them a perfect fit for a pantomime! Their slapstick humor aligns beautifully with the epic tale of Jack and the Beanstalk, and this year's team of puppeteers includes one of the nation's most skilled glove puppeteers, Ronnie Le Drew. Ronnie is renowned as the puppeteer behind Zippy from Rainbow, and he has also worked alongside one of the most famous glove puppets in the country – the beloved Sooty, ensuring Jack is in capable hands!
'Jack and the Beanstalk' showcases exquisite multimedia miniature sets, sparkling costumes, and some of the finest puppetry talent in the United Kingdom. The side-splitting comedy is suitable for the entire family, so come cheer on Jack and his loyal companion, Pat the cow. What awaits at the summit of the beanstalk? A magical pantomime, of course!
Prepare to be enchanted, thrilled, and entertained by this extraordinary puppet pantomime designed to captivate audiences from ages 4 to 104!
Get more information here.
Jack & the Beanstalk at the Princess Theatre in Hunstanton
When: 2 December – 1 January 2024
Fee Fi Fo Fum, a colossal Giant has been sighted in Hunstanton! Join in the exhilarating journey as Jack sets off on an epic adventure across both land and sky. With engaging audience involvement, dazzling costumes, and an abundance of laughter, this pantomime is an absolute must-see for all ages!
*If you are in Hunstanton to see the Panto, be sure to also check out our recommendations for things to do in Hunstanton.
Get more information and purchase tickets here.
Other Christmas Theatre Shows in Norfolk
Pantos aren't the only type of shows to see in Norfolk for Christmas. There are also some variety shows and musicals.
Thursford Christmas Spectacular
When: 8 November – 23 December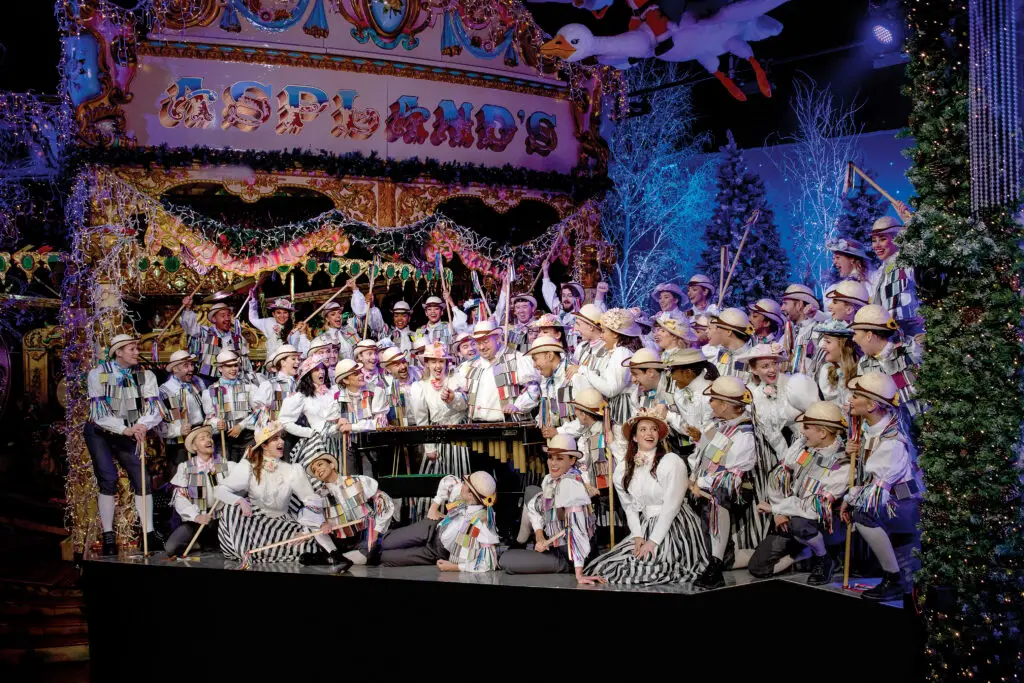 Thursford is a small village in North Norfolk that is home to the Thursford Collection, one of the world's most important steam and fairground museums. It also hosts popular summer and winter shows that attract visitors from around the UK.
To date, Thursford's Christmas Spectacular has entertained over 5.8 million making it the largest Christmas show in the country. Many of its 120 cast members have performed in London's West End.
The three-hour show combines non-stop singing, dancing, music, and humour. Expect to hear popular chart toppers along with traditional Christmas carols. The finale even includes white doves flying across the auditorium.
Prices start at £43 for weekday evenings and Sunday evening performances. There are shows at 14:00 and 19:00. Book tickets in advance here. **For a limited time, you can get tickets for select performances of the Thursford Spectacular on Groupon at 25% off. Find out more here.
Read our review of the Thursford Christmas Spectacular to learn more.
Cromer End of Pier Christmas Show
When: 25 November – 30 December
The historic Cromer Pier is home to the Pavilion Theatre. While it hosts fantastic entertainment, like the famous Seaside Special, all year long, during the holiday season they have a special Christmas-themed show.
Olly Day is back as host. Expect a high-energy variety show with singing, dancing, comedy, and more. It's family-friendly too.
Read our review of the 2021 Cromer Pier Christmas Show.
Get more information on the times of the shows and buy tickets here.
*If you are in Cromer to see the Christmas show, be sure to also check out our recommendations for things to do in Cromer.
Christmas Spectacular Circus and Water Show
When: most days 9 December – 7 January 2024
The Hippodrome in Great Yarmouth was named one of the seven wonders of the British seaside by Historic England. (1) It was built in 1903 by the legendary circus showman George Gilbert and is the only surviving total circus building in Britain. Both Harry Houdini and Charlie Chaplin are believed to have performed here.
It's also just one of three circuses in the world to have a water feature, which was restored in 1981. Each show ends with the water spectacle where the rink sinks to reveal a swimming pool.
During the Christmas season, the circus is packed with the festive spirit. It has become one of the biggest Christmas productions in Europe. This year, Jack Jay and Ben Langley join an incredible international circus cast.
It's a family-friendly indoor show. Given the size of the small arena, there are no bad seats.
Buy tickets in advance here, they range from £14 to £43. Tickets for most shows are available on Groupon for 25% off here.
Christmas at the Movies by Candlelight Concerts at The Halls in Norwich
When: 21 December
Unwrap the ultimate holiday treat with this Christmas Movies Concert! Go on a festive journey through beloved Christmas films, including "White Christmas," "Love Actually," and "Home Alone." They'll also feature holiday hits from "Elf," "The Polar Express," and "It's a Wonderful Life." Gather your loved ones, put on your festive sweaters, and enjoy a heart-warming night of music and laughter.
Get discounted tickets through Groupon here.
A Christmas Carol in Concert at The Halls in Norwich
When: 8 December
Enjoy a unique reinterpretation of Dickens' heart-warming story employs a wide array of both traditional and contemporary instruments, along with authentic musical arrangements, infusing it with a rich tapestry of warmth, humour, and enchantment.
Modern minstrels Green Matthews transport the beloved holiday journey back to the cozy Victorian hearth, creating a vivid and evocative portrait of Dickens' era.
Featuring Chris Green (vocals, guitar, mandocello, piano), Sophie Matthews (vocals, flute, English border bagpipes), and special guest Jude Rees (vocals, oboe, melodeon), this enchanting ensemble weaves a magical blend of new lyrics, timeless English midwinter folk tunes, and carol melodies to beautifully depict the transformation of the flint-hearted Ebenezer Scrooge into the very embodiment of the Christmas spirit – warm-hearted, generous, and loving.
Get more details and purchase here.
A Christmas Carol with a Twist at Gorleston Pavilion Theatre
When: 25 – 26 November
The show is set in an aged, dilapidated theatre, where the preparations for a Christmas Production are in full swing. This show operates on a tight budget, thanks to the penny-pinching owner, Carol Christmas. She is a heartless miser who despises everything about Christmas and is, in every sense, a thoroughly unlikable character.
As Christmas Eve unfolds, Carol finds herself alone in the empty theatre, when a ghostly figure appears – her former business partner, Jane Marley. Jane warns her that unless she changes her ways, she will face eternity in hell. Marley tells her to expect three spirits, the first of whom will arrive at the stroke of one.
These spirits take Carol on a journey through her past, from her humble beginnings when she was left in a cardboard box on the steps of a church, to her struggles in childhood trying to fit in, and the mistreatment of those around her in the present. They also provide a grim glimpse into her future if she continues on her current path.
With the accompaniment of festive Christmas music and lively dance routines spanning the decades of her life, 'A Christmas Carol – With a Twist' serves as a poignant reminder that Christmas and all of us should be filled with joy and triumph.
Get more information and purchase here.
A Christmas Cracker at Maddermarket Theatre in Norwich
When: 4 – 5 December
An enchanting Christmas Afternoon of Words and Music awaits! Join in a delightful listening experience featuring beloved Christmas songs and cherished carols.
The program will also include Christmas readings and poems, ranging from light-hearted and humorous to more contemplative and moving pieces.
Refreshments are included in your ticket price, and so you be sure to let them know if you have any specific dietary needs or require special access arrangements.
Get more information and purchase here.
Sheringham and Cromer Choral Society: Carols at the Sheringham Little Theatre
When: 10 December
You can join in with the massed choir of Sheringham & Cromer Choral Society as they sing your favourite Christmas Carols and songs. There will also be some pieces sung just by the choir ranging from classical to arrangements of pop songs, and poetry with a seasonal flavour.
Get more information and book here.
Tennessee Country Christmas Show at the Princess Theatre in Hunstanton
When: 19 November
For the very first time, prepare to experience a 'Tennessee Country Christmas' right here in the UK. Expect special renditions of Christmas classics with a delightful country flair, featuring some of the biggest hits from our beloved Country Superstars. The stage comes alive with digital Christmas scenes and vibrant costumes, immersing you in the magic of the holiday season.
Join the likes of Dolly Parton, Kenny Rogers, Johnny Cash, Patsy Cline, Garth Brooks, and some unexpected guest performers for a memorable Country Christmas. Even Frosty the Snowman and Santa Claus will make a special appearance, adding to the charm of 'Tennessee Country Christmas.' The entire event is hosted by the number one Dolly Parton tribute artist, Sarah Jayne.
It's going to be a heart-warming and merry Christmas journey all the way from the Smoky Mountains, presented by the same production team behind the hit sensation, 'Country Superstars.'"
Get more information and purchase here.
Adult Pantos in Norfolk
Beauty and the Big Beast – Adult Panto at the Princess Theatre in Hunstanton
When: 11 November
Sweeping across the UK and marking two decades of entertaining audiences on the road, the Market Theatre Company is back to irreverently transform yet another beloved fairy tale.
Can this intrepid trio of actors manage to maintain their composure and deliver an entirely adult rendition of Beauty and the Beast with nothing more than a bare minimum of props and costumes?
Prepare for another night of rapid, farcical hilarity and risqué double entendres, tailored exclusively for an adult audience. Not suitable for those under 16.
Get more information and purchase tickets here.
Sinderella at Maddermarket Theatre in Norwich
When: 3 – 13 January 2024
Get ready to go 'all the way to the ball!' (It's quite a feat if you manage it…) The Adult Panto crew returns after their sold-out success with 'Big Dick and His Pussy,' presenting the most outrageously risqué panto yet – 'Sinderella!'
This iconic tale of transformation from rags to riches will be hilariously reimagined in an adults-only production running for two weeks in January! With a twist on the classic 'he's behind you' call, join a fantastic cast of comedians for a night you'll remember long after the curtain falls.
Get more information and purchase here.
Snow White and the Seven Inches Adult Panto at Norwich Puppet Theatre
When: 18 – 20 January 2024
Mirror, Mirror on the wall… an adult pantomime is set to grace the stage at the Norwich Puppet Theatre! Are you feeling a bit grumpy? (Or maybe one of the other six individuals they can't mention due to copyright…)
Well, you needn't be, because who says pantomime is exclusively for children? Join Snow White and a riotous ensemble for a night of delightfully risqué fairy tale amusement! Brace yourself for outrageous hilarity, cheeky melodies, and the complete seven inches of 'Now That's Panto!'s latest production, 'Snow White And The Seven Inches'.
Get more information and buy tickets here.
More Christmas Fun
If you are looking for more ways to celebrate the holiday season, be sure to check out these posts.
Where to See Father Christmas in Norfolk
Christmas Light Switch Ons in Norfolk
Disclosure: This post contains affiliate links. This means we will receive a small commission for some purchases made using links in our blog with no additional cost to you.  Please be assured we would not promote any product unless we believe that our readers will also benefit.  The commission does not influence the editorial content of this site.