Within the realm of beloved love stories, Jane Austen's "Pride and Prejudice" reigns supreme, capturing hearts across generations with its timeless charm. While there have been a remarkable 17 movie and film adaptations plus various stage productions to its name, this tale of romance has found new life on stage thanks to Isobel McArthur's hilarious production "Pride and Prejudice* (*sort of)".
Featuring an all-female cast, modern language, and an infusion of classic songs, "Pride and Prejudice* (*sort of)" embraces the challenge of doing justice to the revered classic. Join me on this theatrical journey as I share my experience of watching the show at Norwich Theatre Royal during its UK tour. So, let the curtain rise as we delve into this review of "Pride and Prejudice* (*sort of)" and discover if it manages to pay homage to the original.
*We were invited to the press night to see the show so that we could share our experience with our readers. All photos in this post were provided by Norwich Theatre and taken by Mihaela Bodlovic.
Note: This post contains affiliate links.  As an Amazon Associate, we earn from qualifying purchases. Please see disclosure for more information.
Be sure to sign up for our email newsletter here so that we can let you know about other shows like this and more happening in Norfolk.
About Pride and Prejudice* (*sort of)
"Pride and Prejudice" is a classic novel written by Jane Austen that follows the lives of the Bennet sisters in 19th-century England. It explores themes of love, marriage, and societal expectations through the witty and spirited protagonist, Elizabeth Bennet, as she navigates her relationships with the proud Mr. Darcy and other suitors.
Isobel McArthur has crafted a remarkable and daring reinterpretation of Jane Austen's beloved tale, earning the prestigious 2022 Laurence Olivier Award for Best Comedy. Pride and Prejudice* (*sort of) is irreverent yet endearing adaptation delves into the intertwined themes of love, wealth, and the power of voice, as rivalries unfold and hearts are at stake.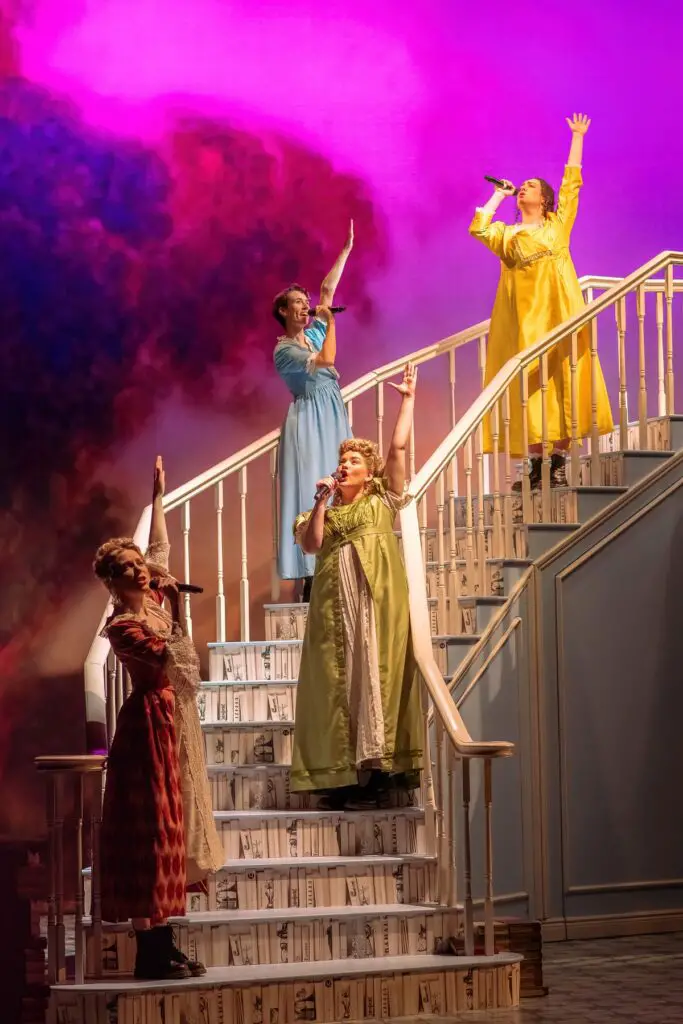 With an exceptional all-female ensemble of five, each portraying a range of characters from both the servant and gentry classes, the story is ingeniously retold from the perspective of the servants. Enhanced by a captivating selection of pop classics like "Young Hearts Run Free," "Will You Love Me Tomorrow," and "You're So Vain," the musical immerses audiences in a unique and unforgettable experience.
Review of Pride and Prejudice (sort of) at Norwich Theatre Royal
As I stepped into the theatre, I couldn't help but wonder how the iconic tale of "Pride and Prejudice" could be effectively portrayed by a cast consisting of only five women. Would the story be difficult to follow, could they stay true to the book and how would the pivotal role of Mr. Darcy be brought to life by a female performer?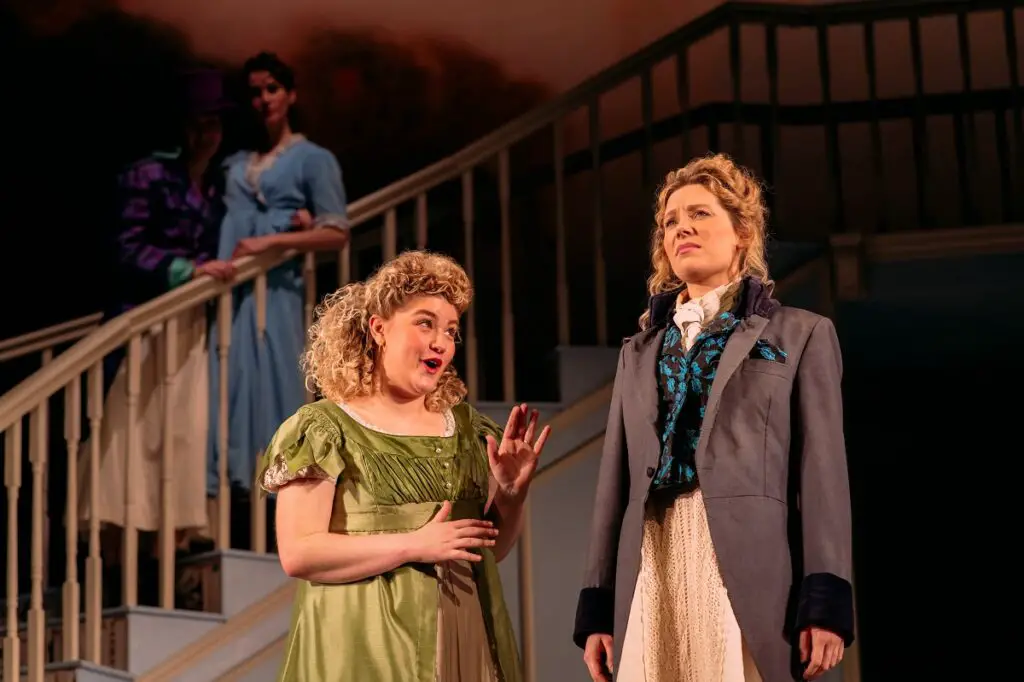 Little did I know that Emmy Stonelake, Dannie Harris, Lucy Gray, Leah Jamieson, and Megan Louise Wilson were about to quell any doubts that I had. The show serves as a powerful reminder of the remarkable progress women have made.
The sheer talent and versatility of this small ensemble cast were on full display as they effortlessly depicted a multitude of characters from "Pride and Prejudice." Not only did they portray multiple roles in the story, but they also sang, played instruments, quickly changed costumes, and even moved the sets.
To witness the same actress portraying both Mrs. Bennet and Mr. Darcy was a delightful surprise. When one actress played both Charles and Caroline Bingley, it made for a hilarious joke about family resemblance.
Before the official curtain time, the show began with an introduction to the servants, who would also serve as narrators. This clever addition gave a glimpse of the comedic brilliance to come and provided a spotlight to those often overlooked in a story centred around class dynamics. It was an unexpected and refreshing perspective.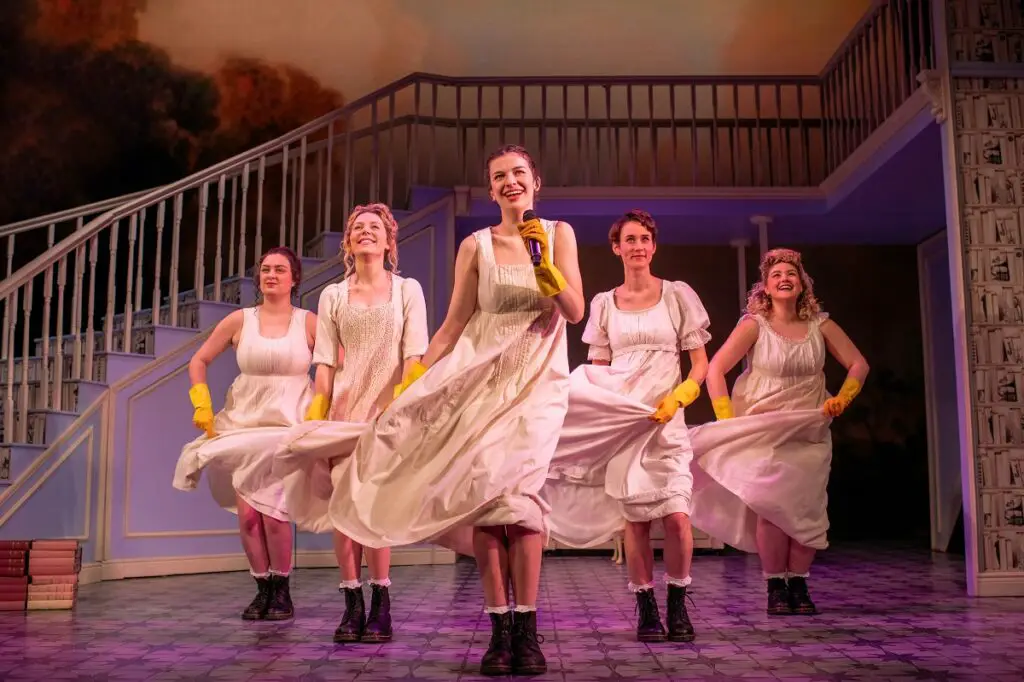 Every aspect of the show, from the script to the creative direction, was filled with cleverness, creativity, and extravagant humour, while remaining faithful to Jane Austen's beloved novel. The iconic lake scene involving Mr. Darcy was playfully mocked, evoking uncontrollable laughter from the audience.
The modernized language of "Pride and Prejudice* (*sort of)" made it accessible and easier to follow, particularly for those who may not be familiar with the classic story or prefer a more contemporary speech style. It paired well with the modern songs that had the audience dancing in their seats.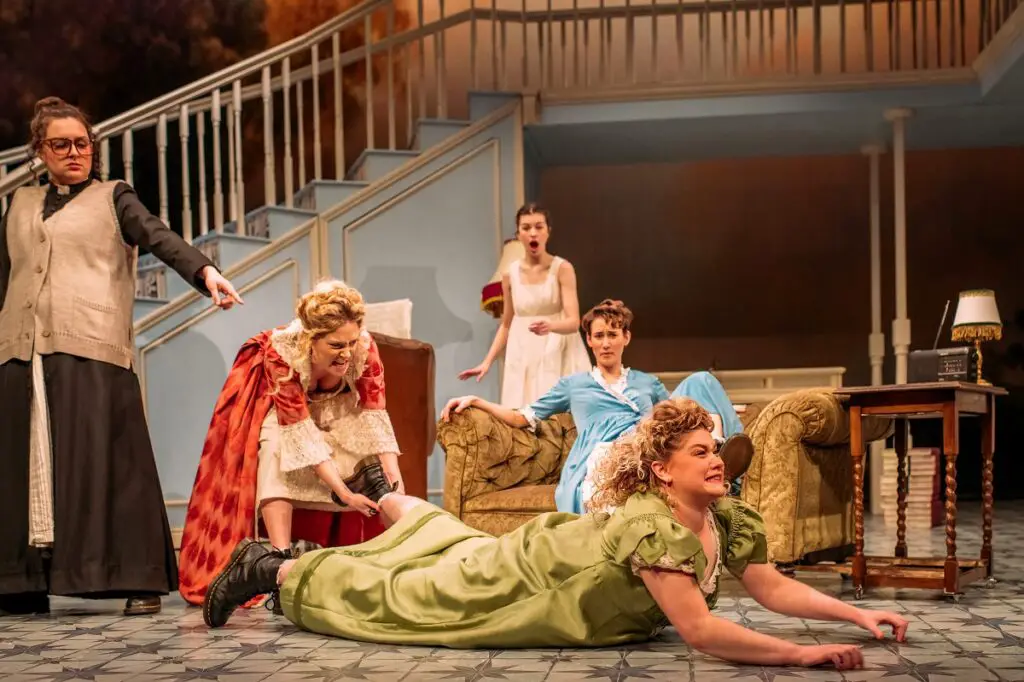 "Pride and Prejudice* (*sort of)" not only told the story with only five talented actresses, but it surpassed all expectations. The thunderous standing ovation from the audience spoke volumes, reaffirming the unanimous agreement that this theatrical triumph was worthy of the highest acclaim.
Prepare to be swept away by this captivating production, where laughter, music, and the extraordinary talent of the all-female cast converge. Don't miss your chance to experience the sheer brilliance of 'Pride and Prejudice* (*sort of)' live on stage. Grab your tickets for an unforgettable evening of entertainment!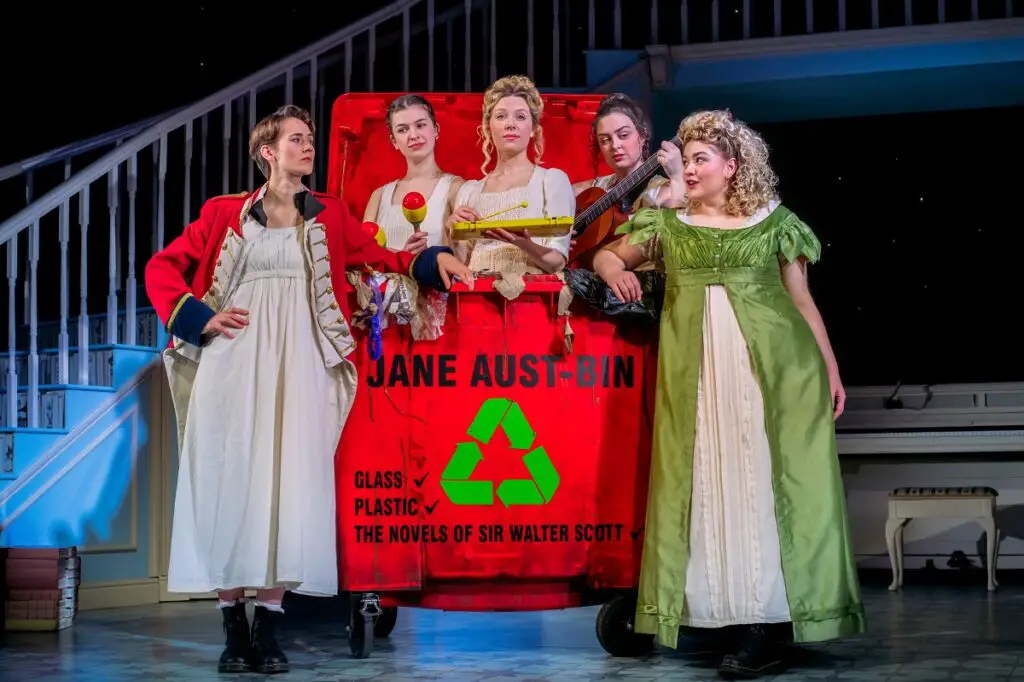 Pride and Prejudice* (*sort of) FAQs
When can you see Pride and Prejudice* (*sort of) at the Norwich Theatre Royal?
There will be performances 19 – 24 June 2023.
Will you enjoy Pride and Prejudice* (*sort of) if you haven't read the book or seen the film/miniseries?
Yes, although, I think you may miss out on some of the humour if you are not familiar with the classic story.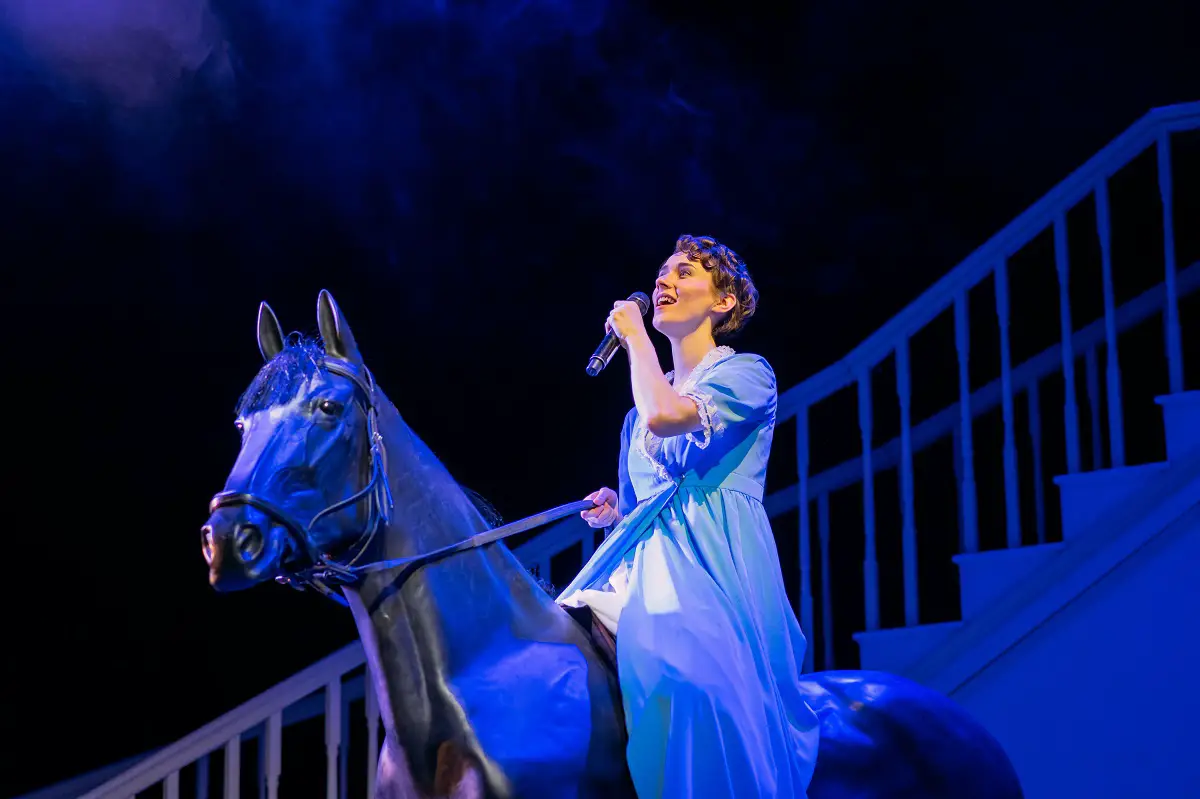 How much are tickets for Pride and Prejudice* (*sort of)?
Tickets range from £10 – £39.50. Check availability here.
Is Pride and Prejudice* (*sort of) suitable for kids?
It is recommended for ages 12 and up as it uses adult language and humour. If you need family-friendly ideas, check out our list of things to do in Norwich with kids.
How long is a performance of Pride and Prejudice* (*sort of)?
The show runs 2 hours and 30 minutes including a 15 minute interval.
Is food and drink available at Norwich Theatre Royal?
You can have a pre-show meal in the Prelude Restaurant. Before the show and during the interval, snacks and drinks can be purchased at Cafe Royal or the Circle or Stalls Bar. We recommend ordering your interval drinks at the bar before the show starts.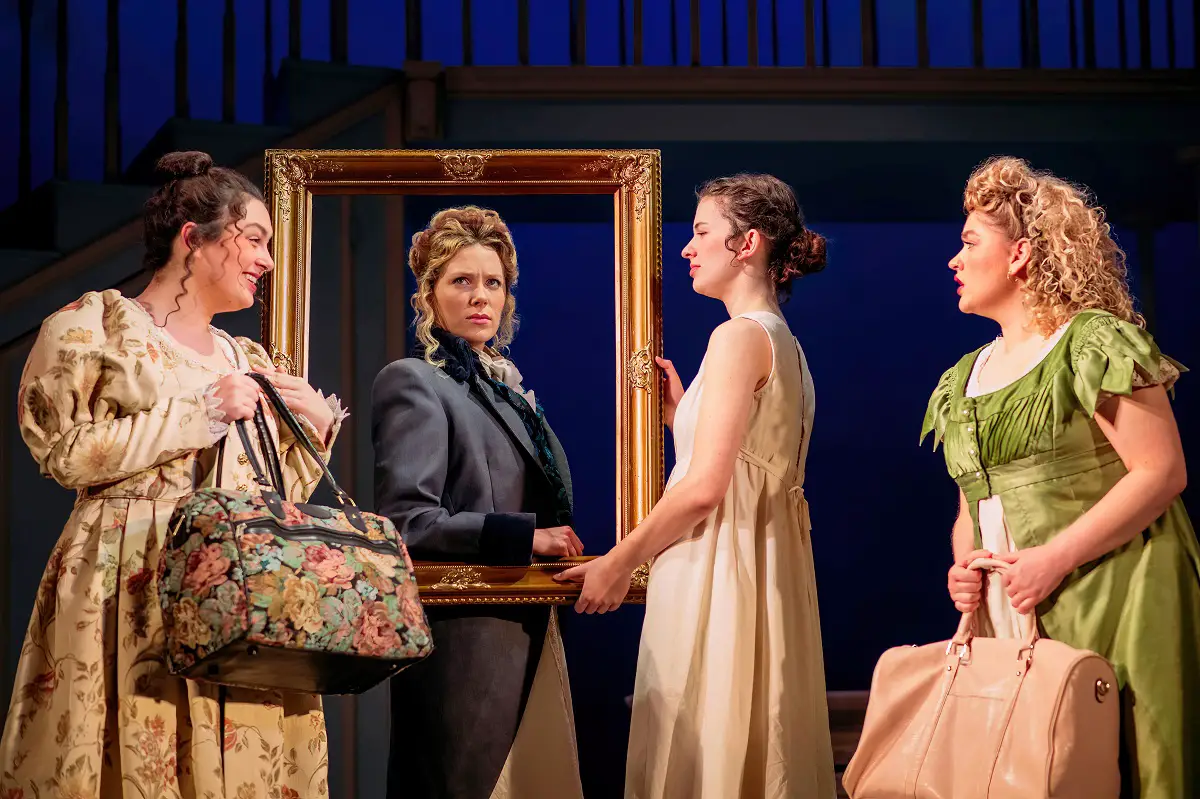 How do you get to Norwich Theatre Royal?
Norwich Theatre Royal is easy to get to as it is located on Theatre Street (next to the Assembly House) in the Norwich city centre. It's about a 7 minute walk from the Norwich Bus Station or a 20 minute walk from the Norwich Train Station.
Where should you park for Norwich Theatre Royal?
You could use any car park in Norwich city centre, but The Forum and Chantry car parks are the closest ones to Norwich Theatre Royal. Alternatively, you could use the Park and Ride as it's a short walk from the Norwich Bus Station.

Disclosure: This post contains affiliate links. This means we will receive a small commission for some purchases made using links in our blog with no additional cost to you.  Please be assured we would not promote any product unless we believe that our readers will also benefit.  The commission does not influence the editorial content of this site.