Are you ready to embark on a coastal adventure while staying close to the historic city of Norwich? If you're seeking sun, sand, and a refreshing sea breeze, you'll be pleased to discover a collection of beautiful beaches located within an hour's drive from Norwich. These picturesque seaside destinations offer the perfect escape from the city, allowing you to unwind, relax, and soak up the natural beauty of the Norfolk coastline.
Join us as we embark on a journey to uncover the top ten beaches near Norwich. Each destination has its own unique character and allure. Let's dive in and discover the hidden treasures that await along the Norfolk coast, just a stone's throw away from the cultural hub of Norwich.
Be sure to sign up for our email newsletter here, so that we can tell you more about things to do around Norfolk.
Note: This post contains affiliate links.  As an Amazon Associate, we earn from qualifying purchases. Please see disclosure for more information.
Best Beaches Near Norwich
From popular resort towns to tranquil hidden gems, the beaches within an easy reach of Norwich cater to a range of preferences. Whether you're yearning for a family-friendly beach with amusement arcades and lively attractions or a secluded stretch of shoreline where you can lose yourself in the sound of crashing waves, there's a coastal spot waiting to be explored within a short drive.
Allow me to share the inside scoop on our choices for top beach destinations near Norwich, so you choose the one that suits you best and plan your next beach day trip. Don't forget your sun cream!
RELATED: Best Beaches in Norfolk
Gorleston-on-sea Beach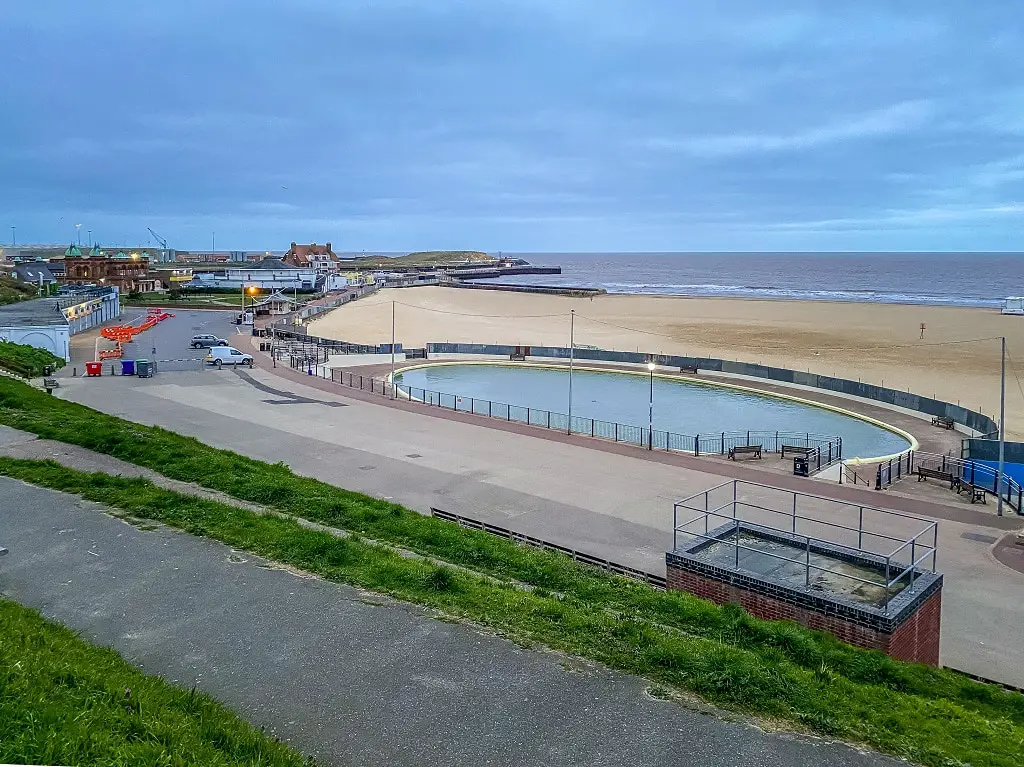 Approximate Driving Time: 35 minutes
Situated just south of the bustling town of Great Yarmouth, Gorleston Beach offers a serene and less crowded alternative for beachgoers. With its pristine sands and inviting waters, this hidden gem boasts a charm that even caught the attention of filmmakers, as it served as a backdrop for a concert scene in the movie Yesterday.
Stretching over two miles, Gorleston-on-Sea Beach presents a picturesque bay adorned with clean, golden sands, perfect for building sandcastles, flying kites, and enjoying leisurely picnics during low tide. Deckchairs and windbreakers are also available for hire, ensuring your utmost comfort.
The beach is a haven for various recreational activities such as fishing, sailing, swimming, bodyboarding, and even surfing. With RNLI lifeguards patrolling the area daily from May to mid September between 10:00 and 18:00, you can indulge in water sports or simply relax with peace of mind.
Adjacent to the beach, a delightful promenade stretches for nearly a mile, offering scenic strolls and ample seating on benches to pause and admire the views. Children will delight in the wet play area known as the Splashpad, while a charming pond, built back in 1927, beckons visitors to sail model boats.
Halfway along the promenade, you'll find a cozy café, while the town end boasts a variety of cafes, bars, and a charming gift shop. During the summer months, the bandstand becomes a hub of musical entertainment, hosting a diverse range of performances by talented musicians on Sunday afternoons. Public and disabled toilets are conveniently available on the beach as well.
Please note that dogs are not permitted on the main section of the beach between 1 May and 30 September. However, south of the tennis courts, they are welcome throughout the year, with the reminder to always clean up after your furry companions.
Adding to its allure, Gorleston offers free parking options for visitors. You can conveniently park in the car park by the Gorleston Pavilion Theatre or opt for the midway car park along the beach. Additionally, some roadside parking is available to accommodate your needs.
Great Yarmouth Beach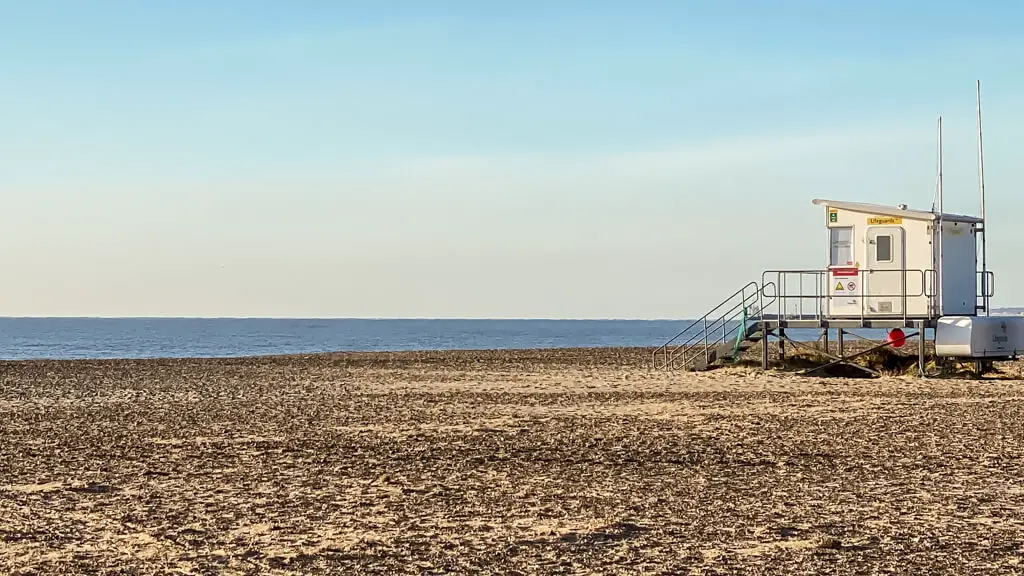 Approximate Driving Time: 30 minutes
Central Beach in Great Yarmouth stretches along the scenic Marine Parade from Britannia Pier to Wellington Pier. Please be aware that Great Yarmouth's Central Beach can become quite bustling during the peak season, reflecting its popularity among visitors.
This expansive sandy beach offers a perfect playground for visitors of all ages. The clear waters are ideal for swimming, and for added safety, lifeguards are on duty from April to September, ensuring a worry-free seaside experience.
Families will particularly enjoy Great Yarmouth's Central Beach, as it features a lively promenade brimming with shops, cafes, and more. Take a leisurely stroll along the promenade, indulging in retail therapy or savouring delicious treats. There are also a lot of attractions for kids in the town.
For a unique experience, consider renting one of the charming beach huts located by the Sea Life Centre. Simply inquire at the nearby cafe for availability. Additionally, public and disabled toilets are conveniently provided for the comfort of beachgoers.
Marine Parade offers various paid parking options, making it easy to access the beach. Some parking areas are equipped with ramps, ensuring convenient disabled access. Alternatively, it's a short 30-minute train ride from Norwich. Check train ticket prices here.
Remember, if you are accompanied by your furry friends, kindly note that dogs are not permitted on the Central Beach itself between 1 May and 30 September. Nevertheless, they are more than welcome to enjoy the coastal delights either to the north or south of the piers.
Caister-on-Sea Beach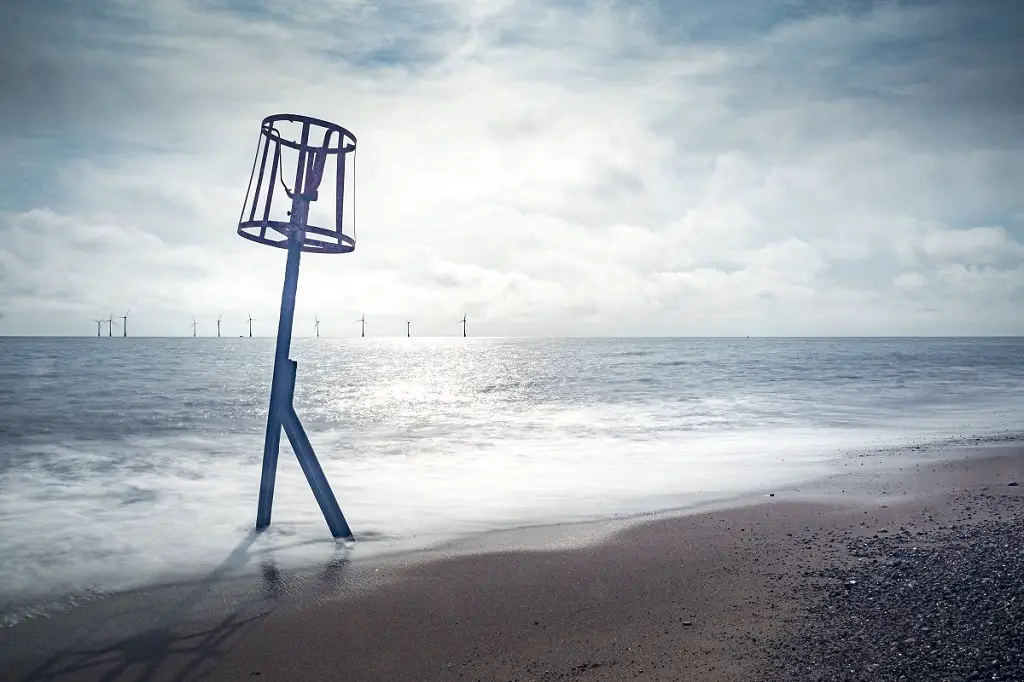 Approximate Driving Time: 30 minutes
While Caister-on-Sea may not have the same fame as some other beaches in the area, that's what makes it extra special. Escape the hustle and bustle and discover a tranquil haven just a short distance from Norwich.
Caister-on-Sea Beach offers a serene and peaceful atmosphere, perfect for those seeking a little R&R away from the crowds. Picture-perfect dunes enhance the natural beauty, creating a postcard-worthy backdrop. And don't forget the incredible view of the Scroby Sands Wind Farm just off the coast! The beach itself features soft sands, with delightful pebbles scattered here and there.
The beach is home to the Caister Lifeboat Experience, a must-visit attraction for families. Climb aboard a vintage lifeboat, try on a lifeboat waterproof kit, and learn about thrilling life-saving rescues. Make sure to check the current opening hours here.
Another thing that sets Caister-on-Sea Beach apart is its dog-friendly status. That's right—there are no restrictions on furry friends, even during the summer months. It's the perfect spot for pet owners wanting to enjoy a day out with their beloved pups.
When it comes to parking, Caister-on-Sea has a convenient pay and display car park right by the beach. Just a friendly reminder: the car park only accepts coins, so make sure to have some change handy unless you visit during the winter when it is free.
And here's a bonus tip: while you're at Caister-on-Sea Beach, take a leisurely stroll to the nearby Caister Roman Fort. It's just a 15 minute walk away, and you can explore these fascinating Roman ruins free of charge. It's a historical delight right on the doorstep of your beach adventure!
Winterton Beach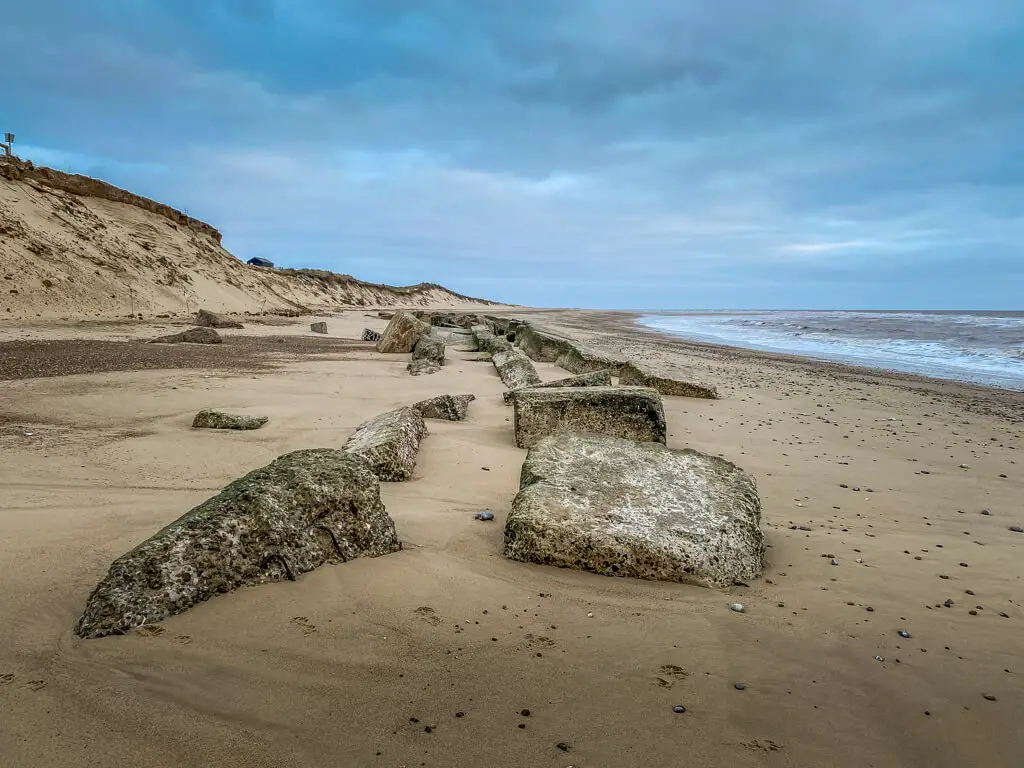 Approximate Driving Time: 35 minutes
Nestled near the idyllic village of Winterton on Sea, Winterton Beach beckons as a captivating destination along the Norfolk coast. Unlike some nearby beaches, like Hemsby and Great Yarmouth, Winterton Beach retains its peaceful allure without succumbing to overcrowding. With its vast expanses of soft sand, this beach offers visitors the perfect escape from the bustling crowds.
During the summer months, Winterton Beach generously provides ample space for visitors to unwind and enjoy the coastal scenery without the need to arrive early in the morning. Regardless of the tide, the beach's wide expanse ensures that there is always plenty of room to find your own piece of shoreline paradise.
What truly sets Winterton Beach apart are the sprawling dunes that embrace the coastline. These dunes, designated as an Area of Outstanding Natural Beauty and a Site of Special Scientific Interest, offer a welcome respite from the busier spots along the Norfolk coast. They harbour a rich diversity of plants and animals, making them of international significance.
Wander along the numerous paths that wind through the dunes, or let your eyes wander as far as they can see, all the way to neighbouring Horsey Beach. It's an ideal playground for dog walkers too, as there are no restrictions on four-legged companions.
Getting to Winterton Beach is convenient, with a grassy car park situated atop the cliff, allowing for easy access to the sandy shores with just a short walk. Unfortunately, the iconic Dunes Café, which once overlooked the beach, had to be demolished in December 2020 due to coastal erosion. While there may occasionally be a food truck in the area, it's best to come prepared with your own provisions to fully enjoy your time on the beach.
In recent years, Winterton Beach has gained popularity as a prime spot for seal watching. During the winter months, the seal colony from nearby Horsey expands to include Winterton, offering visitors the chance to witness these remarkable creatures in their natural habitat.
Whether bobbing their heads in the water or basking on the sand, seals can be spotted year-round, even during the summer months. For an unforgettable experience, consider embarking on a walk from Winterton to Horsey Beach, where you'll have the opportunity to witness even more seals tending to their pups—an awe-inspiring sight that will stay with you long after your visit.
RELATED: Beaches near Great Yarmouth
Horsey Beach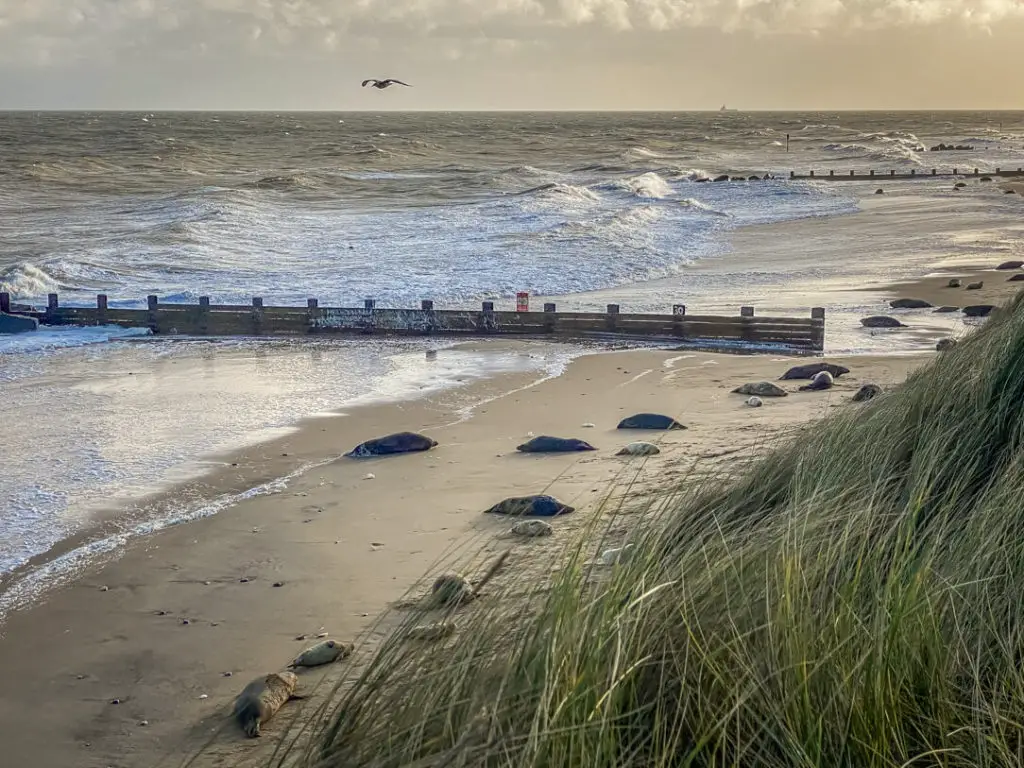 Approximate Driving Time: 40 minutes
Horsey Beach offers a secluded haven where nature reigns supreme just a short drive from Norwich. With its untouched stretch of sandy shoreline and vast sand dunes, Horsey Beach showcases the unspoiled beauty of East Anglia and serves as a sanctuary for a diverse array of wildlife throughout the year.
One of Horsey's primary attractions is its thriving seal population. While seals can be spotted at various times of the year, the best time to witness their captivating presence is between November and January, when they gather ashore to give birth. During this time, parts of the beach are closed to visitors to protect the seals.
As you walk along the designated viewing area, you'll be treated to the heartwarming sight of these adorable creatures dotting the beach. It's important to remember to keep a safe distance of at least 10 meters, as the seals are wild animals and are protective of their young. Caution is crucial, as seals may bite if they feel threatened.
While dogs are technically allowed on the beach, it is best to avoid bringing them, especially during the winter months, to prevent disturbing the seals. If you do decide to bring your four-legged friend, it is essential to keep them on a short lead to ensure the safety of all.
As Horsey Beach lacks amenities, it is recommended to bring your own picnic supplies to enjoy a delightful seaside feast. Alternatively, you can find Poppylands Tea Room and Restaurant conveniently located nearby on the main road, providing a delightful dining option.
Please note that the road leading to the pay and display car park may be a bit bumpy, but rest assured, the parking machine accepts credit cards for your convenience. It is important to plan your visit accordingly, as the parking gates lock at 20:00.
Sea Palling Beach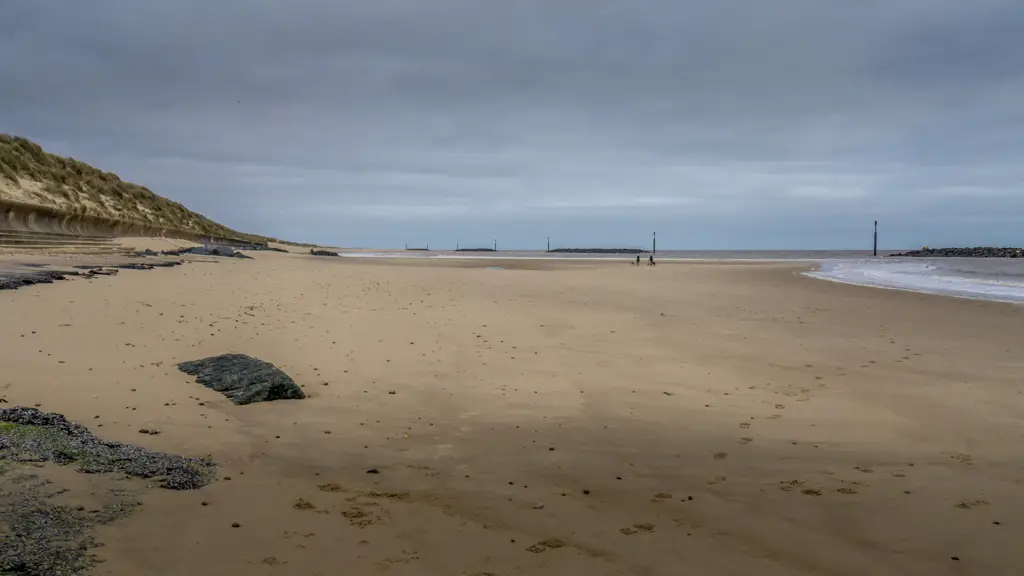 Approximate Driving Time: 40 minutes
Sea Palling Beach offers a serene and idyllic escape for families seeking a seaside retreat. With its calm waters and pristine sands, this blue flag beach is a cherished destination along the coast.
While the absence of vibrant beach huts may be notable, Sea Palling Beach compensates with its exceptional facilities, ensuring a memorable day of enjoyment by the sea. From convenient access to toilets and a welcoming pub to charming cafes, exciting amusements, a fresh fish stall, and a beachside fish & chips shop, this beach has everything you need for a delightful coastal experience.
Sea Palling Beach is not only perfect for leisurely swimming but also provides an ideal setting for thrilling watersports such as kayaking and stand-up paddleboarding. Thanks to a flood prevention scheme, which introduced nine artificial offshore reefs, the beach enjoys protection from turbulent waters, creating a safe haven for aquatic adventures.
Keep a lookout for the occasional presence of seals, adding a touch of natural wonder to your beach excursion. During the peak summer season, the beach is carefully watched over by diligent lifeguards, ensuring your safety within designated swimming areas.
While an overflow car park is available nearby, arriving early is advisable, particularly during busy periods when the beach sees a surge in visitors. It's worth noting that phone signals in the area can be unreliable, so it's prudent to download the "parking operations app" by Mi Permit before your arrival, streamlining the payment process. Additionally, queues at the parking machine can be lengthy, so being prepared in advance will save you time.
Access to the beach is facilitated by a paved ramp, although slightly steep, offering a convenient path across the sand dunes that frame the shoreline. In certain areas, stairs provide an alternative option.
Along the dunes, at the rear of the beach, you'll discover steps that serve as both walkways and comfortable seating areas. Take advantage of these vantage points to soak up the lively atmosphere and observe fellow beachgoers. It's important to exercise caution and heed warning signs, as rocks between the steps and sandy beach can be slippery and should be avoided.
During the period between May 1 and September 30, it's important to be aware that dogs are not permitted in a significant section of Sea Palling Beach. Please respect the designated signs located near the ramp. If you plan to walk your furry friends during this time, remember to keep them on a lead, adhering to the regulations and preserving the harmony of the beach environment.
Mundesley Beach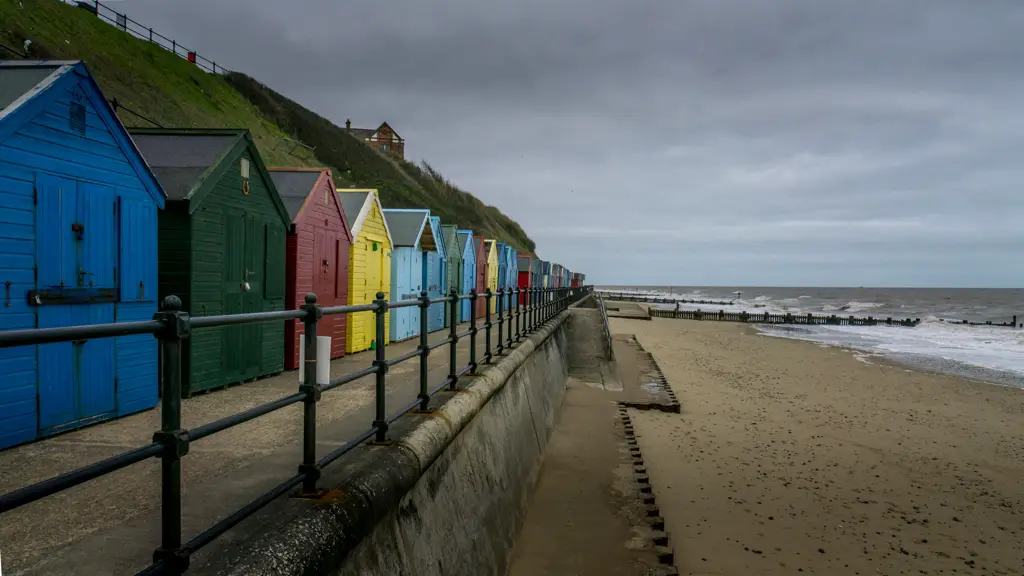 Approximate Driving Time: 45 minutes
With its delightful promenade and colourful beach huts adorning the shoreline, Mundesley Beach offers a quintessential seaside experience. Although the beach may appear narrow, particularly at high tide, its soft sand and calm waters make it an ideal destination for swimming and a delightful spot for the whole family to enjoy.
From May to September, the beach is overseen by dedicated RNLI Lifeguards, ensuring your safety as you take a refreshing dip or simply bask in the surrounding natural splendour. Mundesley Beach also provides an excellent setting for leisurely coastal walks, allowing you to explore the scenic surroundings and revel in the tranquil atmosphere.
Access to the beach is facilitated by a steep paved path leading to an elevated promenade, followed by a series of steps that descend onto the sand. It's important to exercise caution near the cliff edges, as erosion can be a concern. To help mitigate the natural drift of sand, groynes are strategically placed along the beach, preserving its pristine allure.
Beyond the promenade, a charming cliff top garden area awaits your exploration. Here, you'll discover a small hut that houses the world's smallest maritime museum—a testament to the rich maritime heritage of the region. Additionally, a poignant clifftop memorial pays tribute to the courageous Bomb Disposal teams that cleared the Norfolk coast of landmines following the Second World War.
Between May and September, dog owners should be mindful that there are restrictions in place, with dogs limited to a designated dog-friendly zone. Moreover, if walking your furry companion on the promenade during this period, they must be kept on a lead.
While Mundesley may not boast the same level of commercialization as larger seaside towns like Cromer or Sheringham, it still offers a range of amenities to enhance your visit. Just across the street from the gardens and promenade, a convenient pay-and-display car park awaits, ensuring easy access to the beach. Moreover, a fish and chips shop and several other food options can be found within a short walk.
Overstrand Beach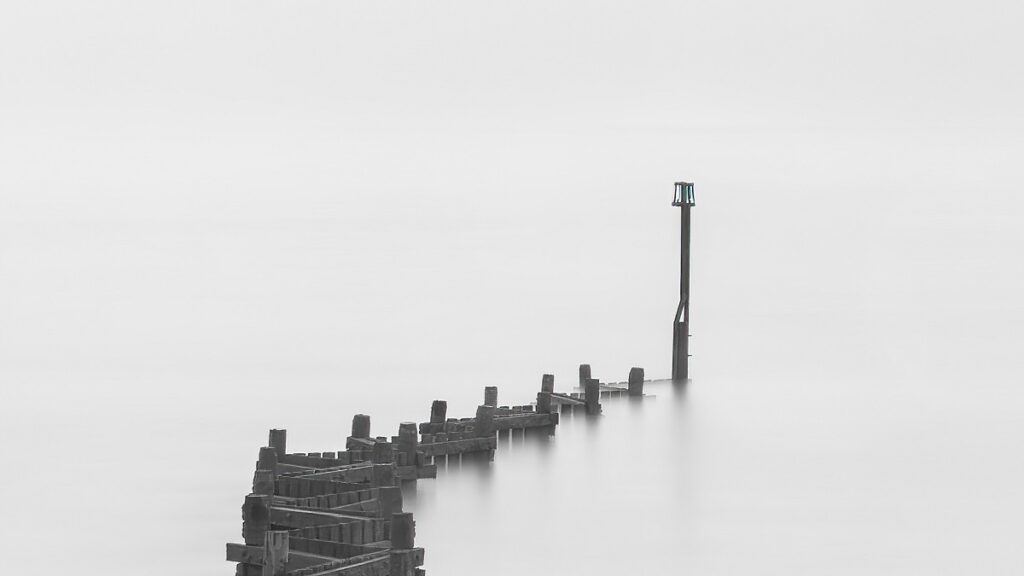 Approximate Driving Time: 50 minutes
Nestled to the southeast of Cromer, Overstrand Beach offers a wide expanse of sandy shoreline during low tide, making it an ideal spot for sun-soaked relaxation and building sandcastles. However, it's important to note that at high tide, the water reaches the sea wall, so checking the tide tables before your visit is advisable.
Compared to its bustling neighbour, Cromer, Overstrand Beach provides a quieter atmosphere, making it a popular choice for various activities, including swimming and surfing. Please be aware that there is no lifeguard service, so exercise caution when enjoying the water.
Vehicular access to the beach is not available, but there is a convenient car park with public toilets located on the cliffs above the beach. Access to the beach is granted via a long, steeping sloping path.
Within the village of Overstrand, you'll find charming cafes, a welcoming pub, and a village shop, offering delightful options for refreshments and local amenities. Just a short distance away in Sidestrand, you can explore the fascinating parish church, which was strategically relocated from its original cliff-top position in the 19th century to safeguard it from coastal erosion, leaving behind its tower as a testament to the past.
Next to the promenade, slightly east of the car park ramp, a row of beach huts adds a touch of charm to the seaside. Please note that these beach huts are available for a five-year lease through the North Norfolk District Council.
Dogs are warmly welcomed on the beach and promenade for most of the year. However, from May 1st to September 30th, they are not permitted on the main beach, promenade, or access slopes, so plan your visit accordingly if you're accompanied by furry friends.
Cromer Beach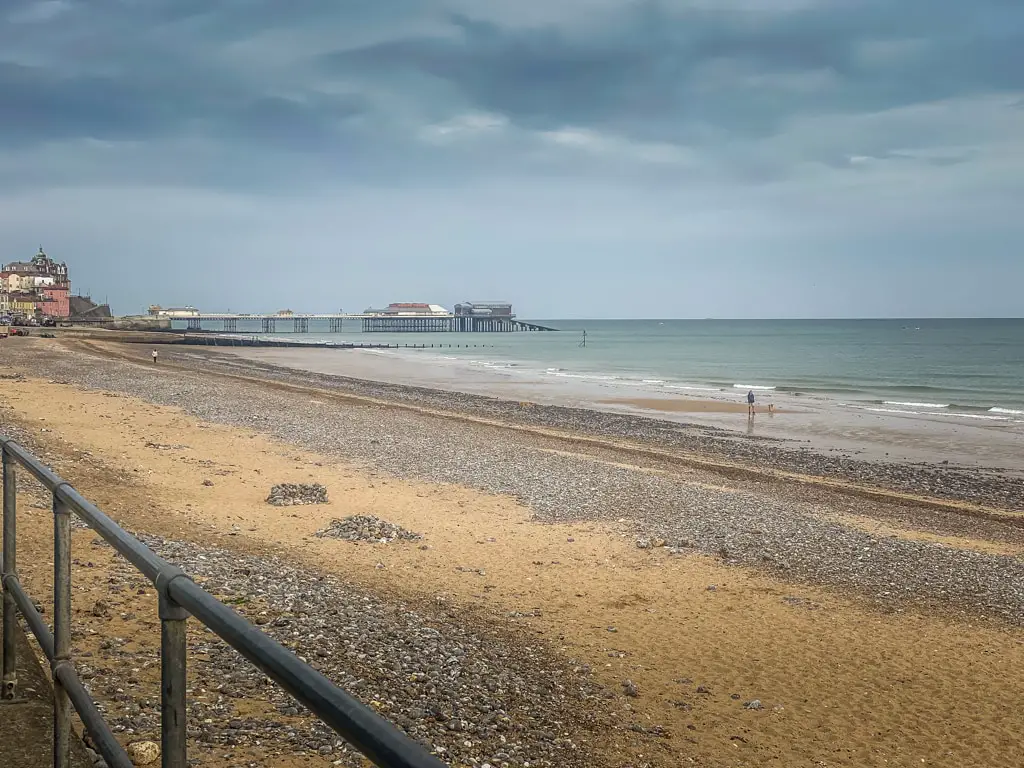 Approximate Driving Time: 50 minutes
Cromer Beach is expansive sand and shingle blue-flag award winning beach that has long been a favourite among families, offering a plethora of activities to suit all ages. From sandcastle building and swimming to surfing and rock pooling, Cromer Beach provides endless entertainment.
The iconic pier is centre stage on Cromer Beach. It's a popular spot for crabbing for those special Cromer crabs and offers excellent facilities. In addition to toilets, food and drinks options, and a gift shop, the pier is home to the Pavilion Theatre, where the renowned Cromer Pier Show takes place.
The beach caters to various interests, with amusement options for children and the popular No 1 Cromer Fish & Chips shop located to the west of the pier. With RNLI lifeguards keeping a watchful eye during the summer months, visitors can enjoy the coastal delights with peace of mind.
Colourful beach huts are also available for hire on both ends of the beach, providing a delightful place to relax and soak up the seaside atmosphere. You will need to book in advance through the North Norfolk District Council here. Please note that overnight stays in the huts are not permitted.
From May to September, dogs are not allowed on the beach and must be on a lead on the seaside promenade. However, during the offseason, Cromer embraces a more dog-friendly atmosphere, allowing furry companions to enjoy the beach alongside their owners.
If you have travelled to Cromer by car, there are several pay and display car parks along the top of the cliff, just west of the town centre. Additionally, it is easily accessible by public transportation, with train and bus services connecting Norwich to Cromer. Check the train schedule here and get information for the bus here.
Sheringham Beach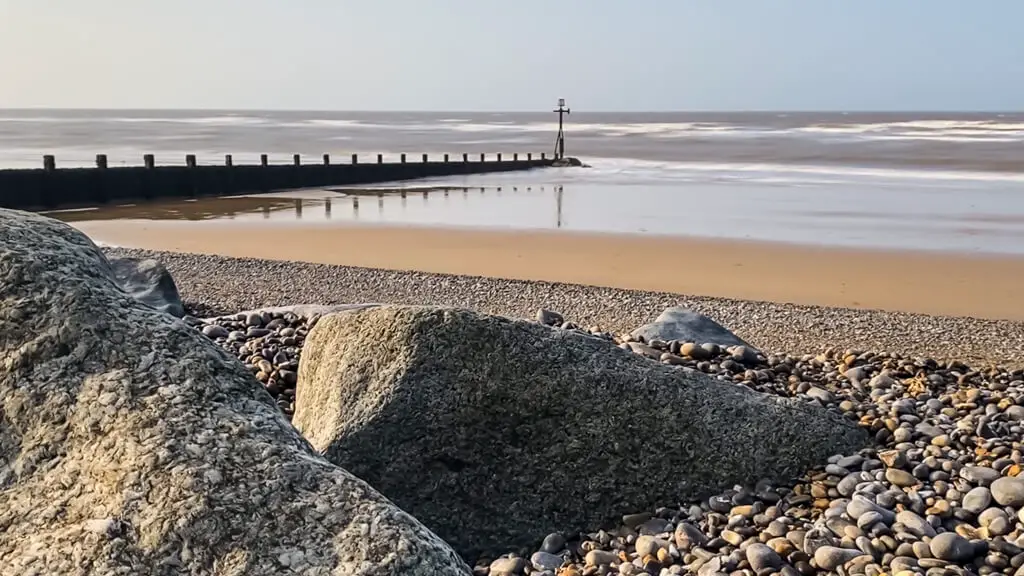 Approximate Driving Time: 55 minutes
Nestled along the North Norfolk coastline, Sheringham Beach offers a unique blend of sand, shingle, and cobbles, creating a visually dynamic seascape that transforms with the ebb and flow of tides and currents. At high tide, the beach reveals a rocky terrain adorned with an abundance of pebbles, while at low tide, a vast expanse of sand emerges, inviting visitors to indulge in the timeless joy of sandcastle building. Explore the fascinating world of rock pools nestled amidst the boulders, unveiling hidden marine treasures.
Dominating the picturesque promenade behind the blue flag beach, an enchanting row of colorful beach huts captures the eye. These charming havens can be rented for a week, providing a delightful base for enjoying the beach from mid-April to mid-October. Please note that overnight stays in the beach huts are not permitted.
During the peak season, from May to September, the beach is meticulously monitored by two teams of RNLI Lifeguards stationed on the East and West promenade, ensuring a safe and enjoyable experience for all. For dog owners, a designated dog-free zone is clearly marked on the Beach Information Board at the entrance, but dogs can be walked on the promenade while kept on a lead.
Sheringham Beach boasts convenient amenities, including public toilets and showers. Along the lively promenade, you'll find a selection of inviting cafes, where you can enjoy delicious treats and refreshing beverages. As you explore further, keep an eye out for captivating street art that adds an extra touch of vibrancy to the seaside ambience. The beach's proximity to the town allows for easy access to a variety of restaurants and pubs, where you can further indulge in the local culinary delights.
Reaching Sheringham Beach is a breeze, with multiple options available. If you prefer to drive, several car parks are scattered throughout the town, with the largest one conveniently located near the North Norfolk Railway Station. While debit cards are accepted for parking payments, please note that there is a minimum charge of £3.00. For shorter visits of an hour or less, it is advisable to have cash (£1.50) on hand.
Alternatively, public transportation offers a convenient and scenic way to reach Sheringham. Both train and bus services connect Norwich to Sheringham, allowing you to enjoy a leisurely journey while admiring the coastal vistas. Accessing the beach is made easy with a ramp located at the end of Beach Road.
For a truly unique arrival experience, consider taking the steam train from nearby Holt to Sheringham via the North Norfolk Railway. The Holt station, situated approximately a mile north of the town, can be reached by bus from the town centre.
While Sheringham Beach undoubtedly steals the limelight, the town itself boasts a range of captivating attractions that are well worth exploring. Immerse yourself in the local charm and discover the hidden gems that make Sheringham a beloved destination. Be sure to check out our suggestions for an unforgettable experience in Sheringham.
Disclosure: This post contains affiliate links. This means we will receive a small commission for some purchases made using links in our blog with no additional cost to you.  Please be assured we would not promote any product unless we believe that our readers will also benefit.  The commission does not influence the editorial content of this site.