Embark on a captivating journey into the heart of Norfolk's rich agricultural heritage and beyond at the remarkable Royal Norfolk Show. This annual extravaganza offers a unique opportunity to immerse yourself in the very best that Norfolk has to offer, all conveniently showcased in one extraordinary event.
After visiting the Royal Norfolk Show in 2023, I thought I would give you the inside scoop including event highlights and helpful tips. You'll be ready to make the most of the next Royal Norfolk Show.
*We were given press tickets to the Royal Norfolk Show so that we could share our experience with our readers.
Sign up for our email newsletter here to find out about more exciting events happening around Norfolk.
Note: This post contains affiliate links.  As an Amazon Associate, we earn from qualifying purchases. Please see disclosure for more information.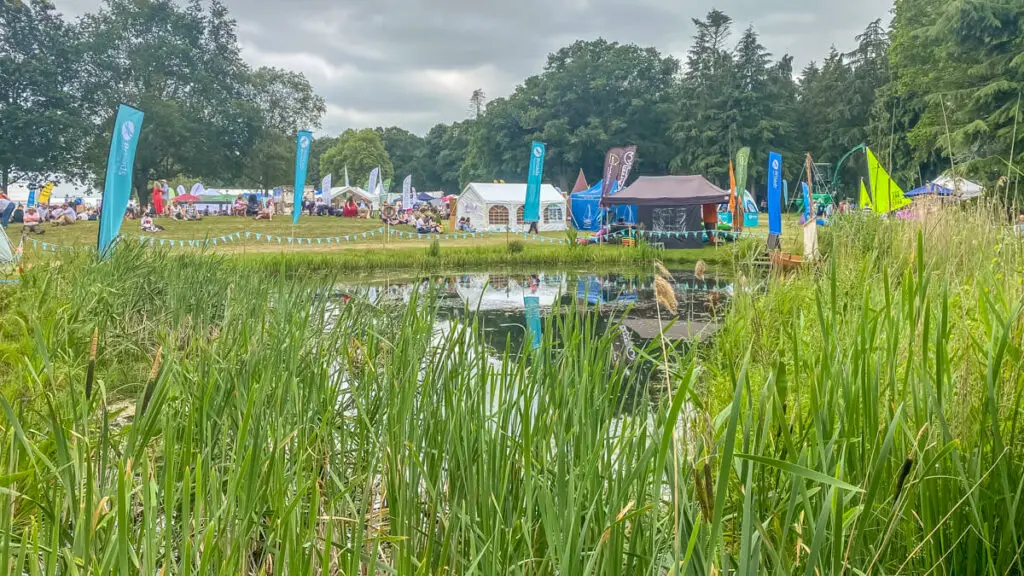 What is the Royal Norfolk Show?
The Royal Norfolk Show stands as the premier two-day agricultural exhibition in the country. You will be amazed by the sheer scale of the show, boasting an impressive lineup of 700 trade stands and over 3,000 animals. With an action-packed schedule of entertainment in the Grand Ring, boredom is simply out of the question.
Food enthusiasts will be in for a treat, as the Royal Norfolk Show offers Norfolk's most extensive food and drink experience. Prepare to embark on a culinary adventure, where you'll have the opportunity to discover a wide range of delectable local products and meet the passionate makers behind these culinary delights.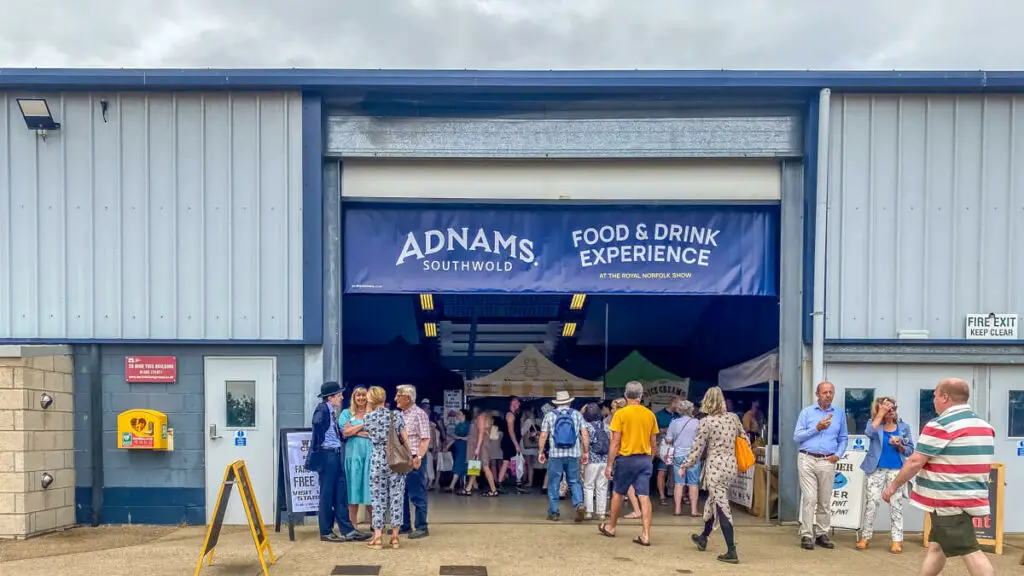 But wait, there's more! The Royal Norfolk Show transcends the boundaries of agriculture and gastronomy, offering a kaleidoscope of attractions designed to captivate visitors of all ages and interests. Whether you seek the thrill of fun fair rides, the joy of shopping for unique treasures, the excitement of demonstrations, or the intrigue of exhibits, this extraordinary event has something to enchant and entertain every attendee.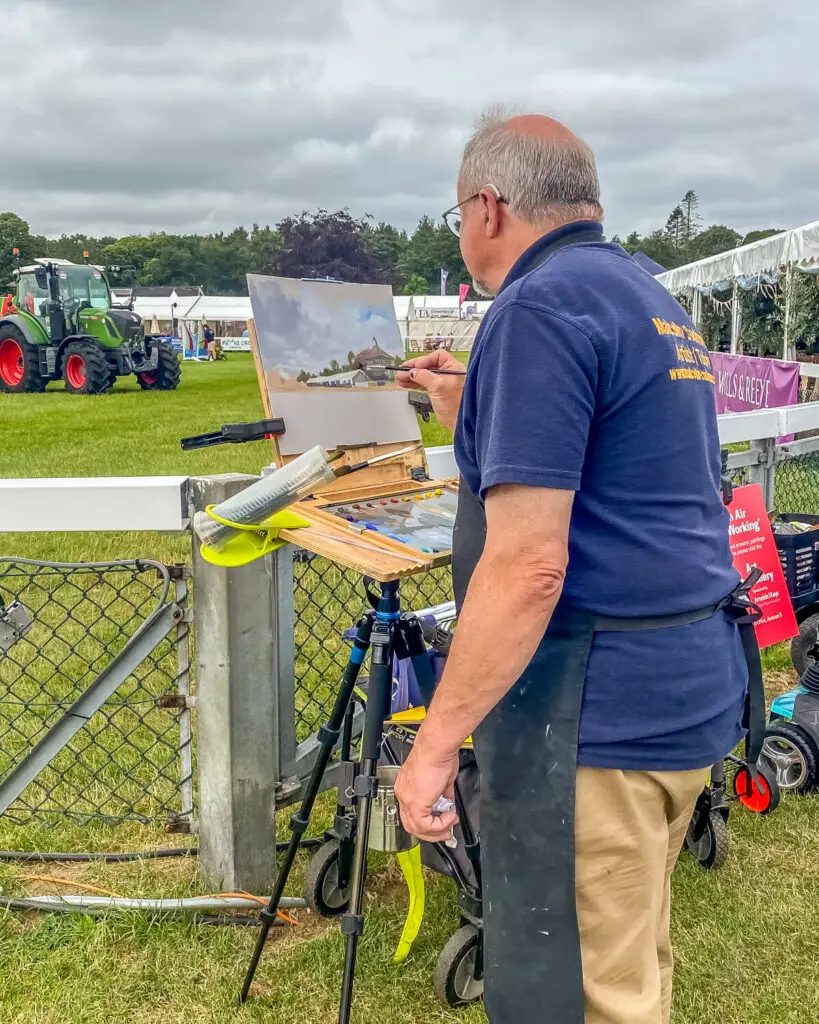 Who Should Go to the Royal Norfolk Show?
It's not surprising given the size of the show that there is something for everyone. While it undoubtedly holds a huge appeal for agriculture enthusiasts, there are many attractions that extend far beyond that realm.
Food lovers will find themselves in gastronomic paradise within the Food Hall, where they can indulge in a delightful journey through an array of local products, savouring the flavours of Norfolk.
For the young ones, the show is an absolute delight. The funfair rides and captivating animals are sure to ignite their sense of wonder, creating cherished memories that will last a lifetime.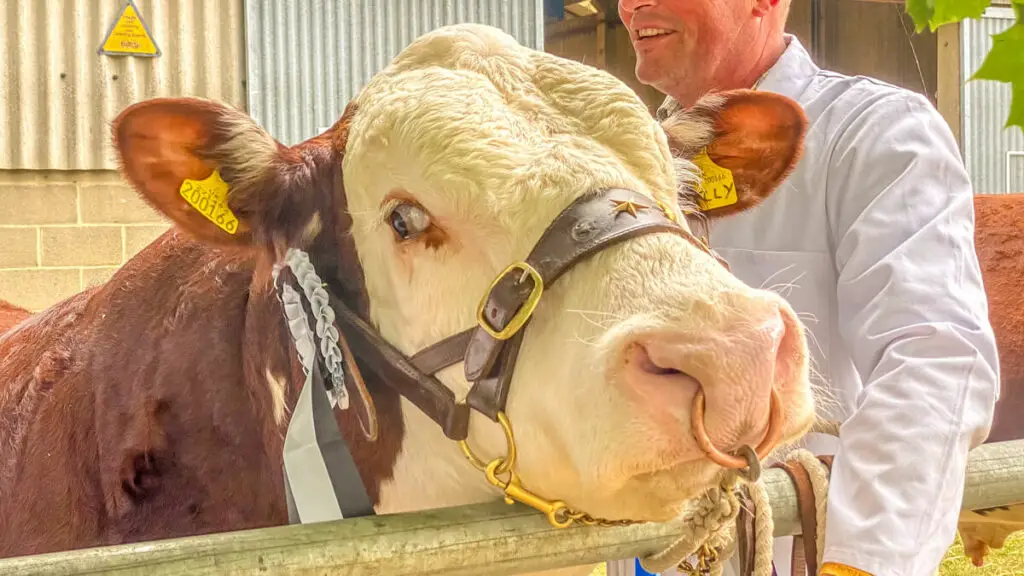 It's also a paradise for avid shoppers! You will enjoy exploring the grounds in search of deals and unique finds, almost like a treasure hunt.
If you are interested in art, you will appreciate seeing the work of many local artists. The art gallery is full of paintings, sculptures, and more. You can even purchase work that catches your eye.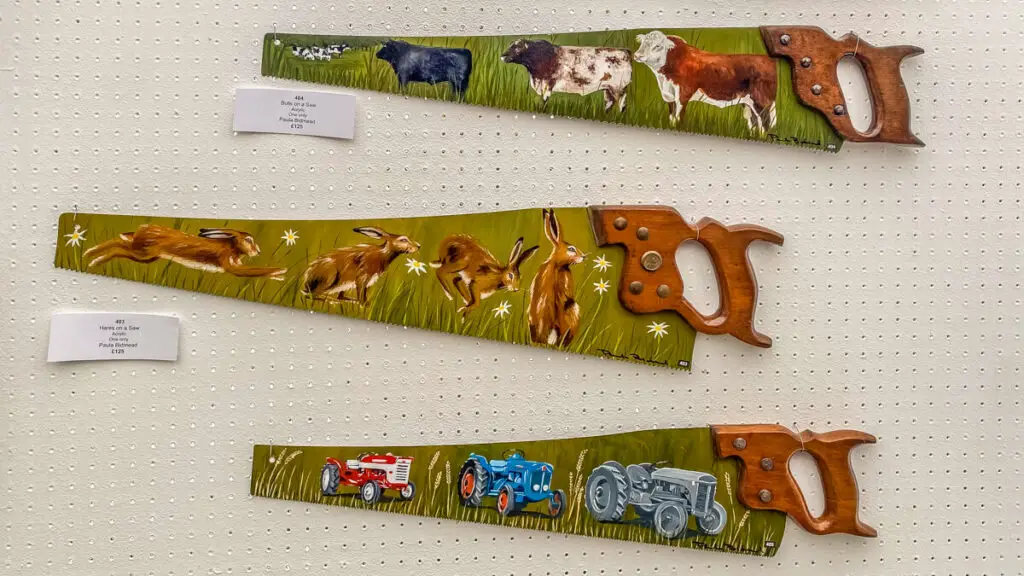 Music enthusiasts can also enjoy plenty of entertainment. There are multiple stages where you can catch some live performances and let the music transport you to another dimension. From catchy tunes that will make you want to dance to heartfelt melodies that will give you all the feels, there's something for every music aficionado out there.
The Royal Norfolk Show has something for everyone, transcending boundaries and providing an immersive experience that caters to diverse interests. Regardless of your passion or age, this exceptional event is bound to leave a lasting impression, making it an unmissable affair for all.
Royal Norfolk Show Highlights
While it's impossible to experience everything at the Royal Norfolk Show, there are certain highlights that are an absolute must-see. Let me share personal favourites from my visit:
One of the most adorable and inspiring spectacles was the Shetland Pony Derby. Witnessing these little ponies and their jockeys in action was an absolute delight that left me with a huge smile.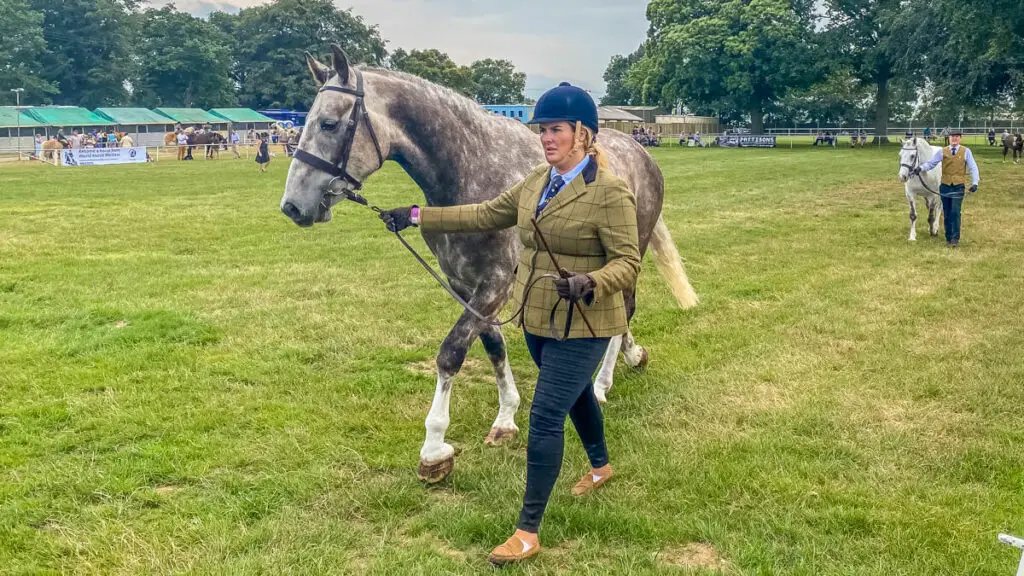 Show Jumping was a spectacle to behold. Watching these magnificent horses showcase their agility and grace as they soared over obstacles was truly impressive and left me in awe of their abilities.
The Military Bands performance was nothing short of mesmerizing. The precision and skill displayed by the musicians were truly awe-inspiring, creating a captivating atmosphere that resonated with every beat.
Exploring the Art Gallery was a treat for the eyes and soul. The immense talent showcased through local scenes and artistic pieces tempted me to bring a few of them home as cherished mementos.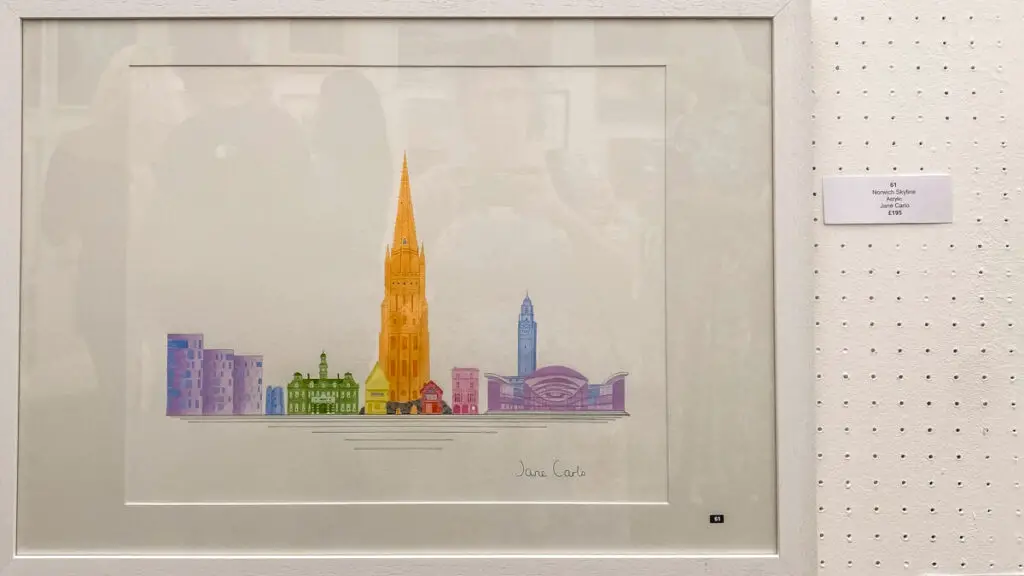 The Garden Village provided a serene escape, with stunning flower arrangements and a variety of plants to admire. It was a peaceful oasis amidst the bustling showgrounds.
For the farm machinery enthusiasts, there was even a chance to sit in a few tractors and marvel at the technological wonders of the agricultural world.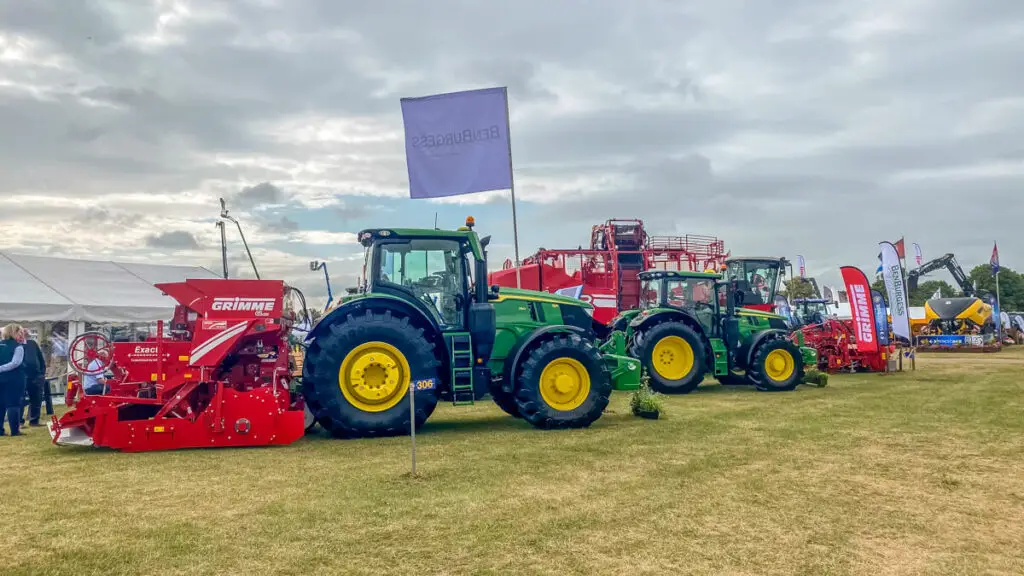 Shopping at the Royal Norfolk Show was a treasure trove of temptation. From exquisite art pieces to unique house décor items, fashionable clothes, and mouthwatering food, there was something to entice every visitor.
The Fun Fair was an absolute blast for the whole family. With thrilling rides like the Ferris wheel and dodgems, it was an exhilarating experience that filled the air with laughter and excitement.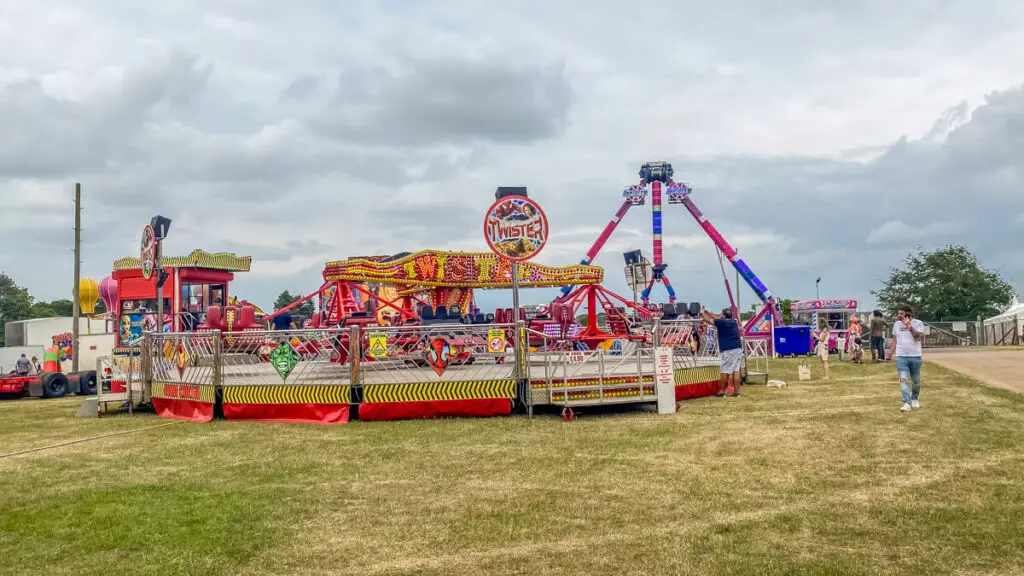 The Food Hall was a haven for foodies, offering a vast array of delicious treats and drinks. Chatting with the passionate makers behind these culinary delights added an extra level of enjoyment to the experience.
And if you're lucky, you may even catch a glimpse of royalty. In 2022, Princess Anne attended the Royal Norfolk Show and in 2023 Prince William made a surprise visit, adding an element of excitement and prestige.
These are just a few of the wonders that await at the Royal Norfolk Show. With so much more to discover, it's an event that promises an unforgettable experience for every visitor.
Helpful Tips for Visiting the Royal Norfolk Show
Here are some friendly tips to help you enjoy your visit to the Royal Norfolk Show:
First things first, make sure to purchase your ticket online to enjoy the perk of free parking. It's a great way to save some extra cash and make your day hassle-free.
Keep in mind that traffic will be heavy, so allow yourself ample time to reach the Norfolk Showground. No one wants to be stuck in a jam when there's so much fun to be had!
Early birds catch the most excitement! Arriving early ensures that you have plenty of time to explore all the amazing attractions before the crowds arrive.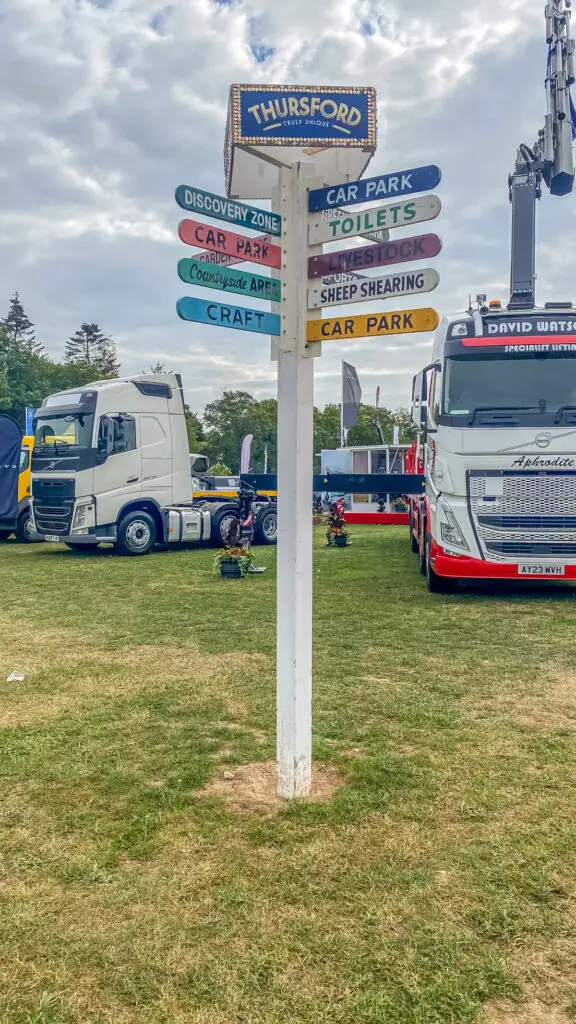 Be prepared to get your steps in because there's plenty to see and do. Wear comfortable shoes and embrace the adventure as you stroll around the Norfolk Showground.
The show is mostly outdoors, so dress comfortably and prepare for the weather. Don't forget your sun cream to keep you protected throughout the day. If there is rain in the forecast, bring your wellies and brolly.
Staying hydrated is key! Remember to bring a reusable water bottle to keep yourself refreshed as you enjoy all the fantastic displays and activities. There are stations where you can get a free refill.
Don't forget to bring a trusty reusable bag with you! It's not just for the eco-conscious, but also a practical choice to help you carry all the wonderful goodies and treasures you'll be picking up throughout the day.
To make the most of your day, check the schedule for the stages online in advance. Planning your day around the shows and performances you don't want to miss will ensure you have an action-packed itinerary.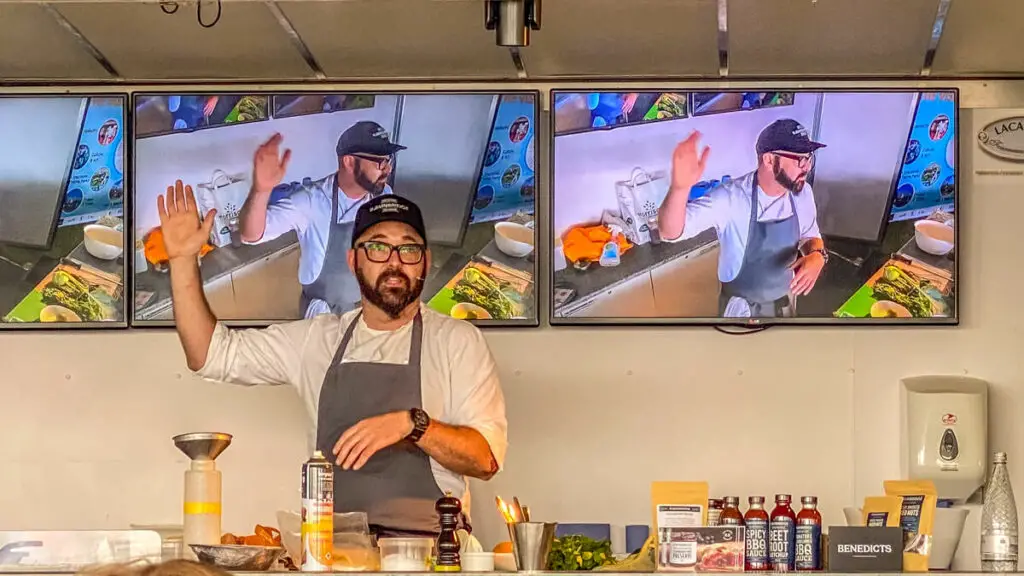 While many vendors accept credit cards, it's a good idea to have some cash on hand. You never know when you might come across a vendor who only accepts cash, and the nearest cash machine is located at Longwater Sainsbury's.
The Royal Norfolk Show is an all-day affair, so come prepared to soak up the experience from morning till evening. Pace yourself, take breaks when needed, and relish every moment.
If you're looking for a more exclusive experience, consider joining the Royal Norfolk Agricultural Association. Membership grants you free entrance to both days of the show and access to the Members' Pavilion and Norfolk Lounge, where you can enjoy views of the Grand Ring. Just remember to dress appropriately for the occasion!
With these tips in mind, you're all set for an incredible day at the Royal Norfolk Show. Enjoy the festivities, make unforgettable memories, and embrace the vibrant atmosphere of this extraordinary event!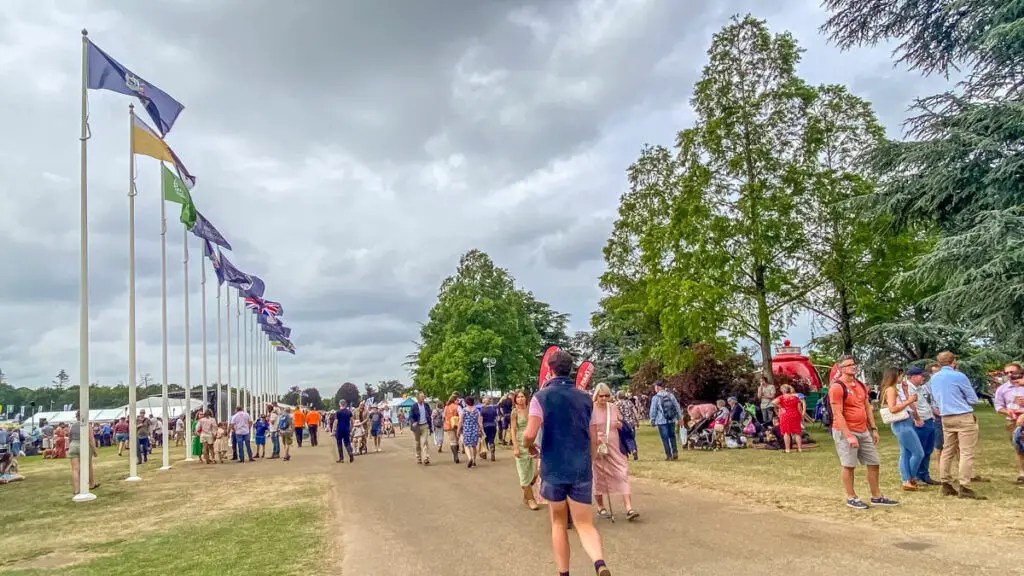 Royal Norfolk Show FAQs
When and where does the Royal Norfolk Show take place?
The Royal Norfolk Show typically takes place during the last week of June at the Norfolk Showground. The dates for 2023 are 28 – 29 June.
How much are tickets to the Royal Norfolk Show?
For 2023, a one-day adult ticket is priced at £29. Bringing the little ones? Children aged 5 to 13 can join in on the fun for just £13, making it an affordable outing for the whole family. While children under the age of five get in absolutely free, creating a fantastic opportunity to introduce them to the wonders of the show.
There are also discounted ticket prices for specific groups. If you're over 65, have a disability, or are a carer accompanying a disabled ticket holder, you can enjoy special reduced rates.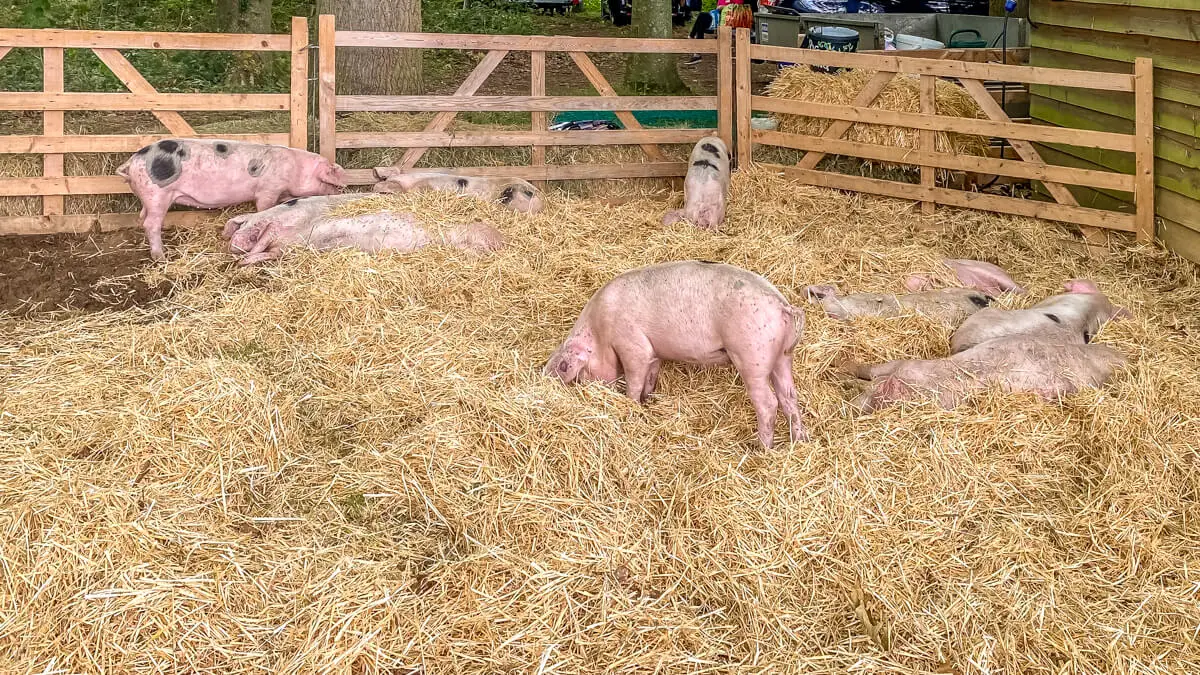 How can I purchase tickets for the Royal Norfolk Show?
You can buy tickets through the website here.
What are the opening hours of the show?
The Royal Norfolk Show opens its gates at 7:00 on both days of the event with the trade stands opening at 8:00. However, it's important to note that the last entry is at 19:00 on Day 1 and 17:00 on Day 2.
Can you recommend a place to stay near the Royal Norfolk Show?
Yes, you could stay at the Premier Inn A47 West. It's affordable and basically right across the street from the Norfolk Showground where the Royal Norfolk Show takes place. Find out more here.
Is parking available at the Royal Norfolk Show?
Yes. Parking for one car is included with your ticket if you purchase online.
Can you take public transport to the Royal Norfolk Show?
Hop aboard the convenient shuttle bus service run by Konectbus departing from Norwich Bus Station, which runs every 20 minutes, taking you directly to the Royal Norfolk Showground. For the first day of the show, there are even later evening buses available for your convenience.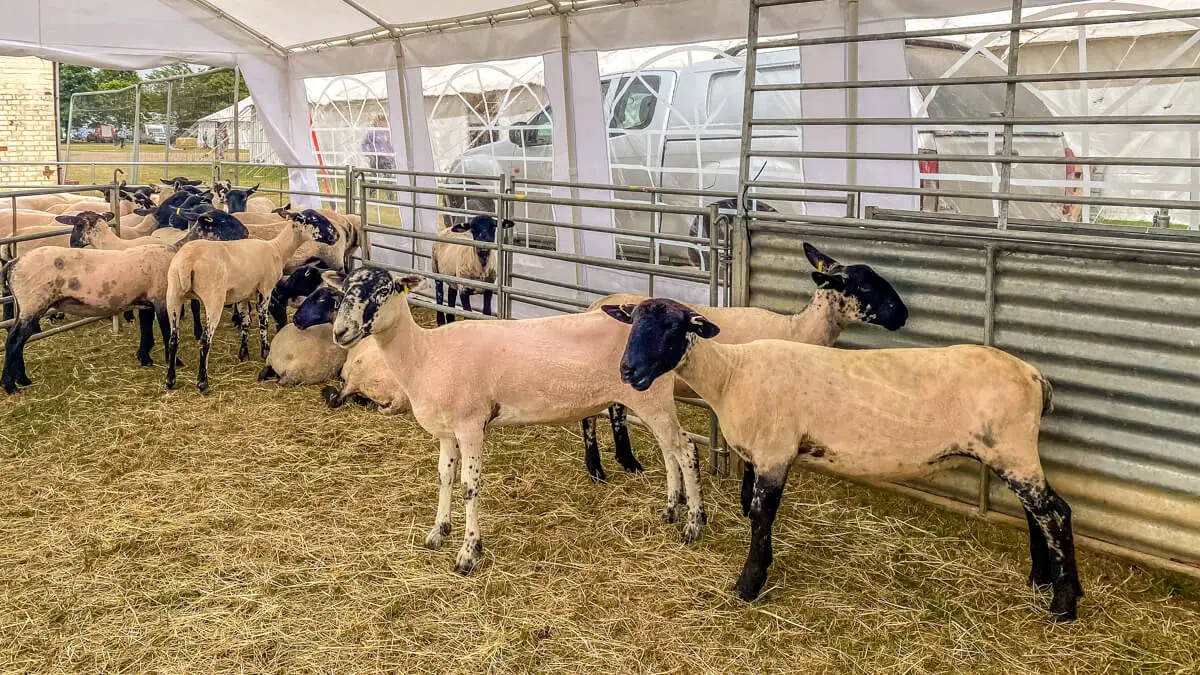 Can I bring my dog to the Royal Norfolk Show?
Yes, as long as they are kept on a lead at all times and their litter is disposed of in the designated bins provided. However, we kindly ask that dogs, with the exception of guide dogs, do not enter any eating areas or areas dedicated to food and drink. This includes the Adnams Food and Drink Hall and the Flavours Food Hub.
You and your furry friend are more than welcome to explore the animal areas and enjoy the delightful company of various animals. Please note, though, that dogs are not allowed inside livestock marquees or buildings.
For the safety and well-being of your furry companion, please do not leave dogs unattended in cars. It's important to prioritize their comfort and safety during your visit.

Is there a schedule or program of events available in advance?
Yes, you can find the lineup here.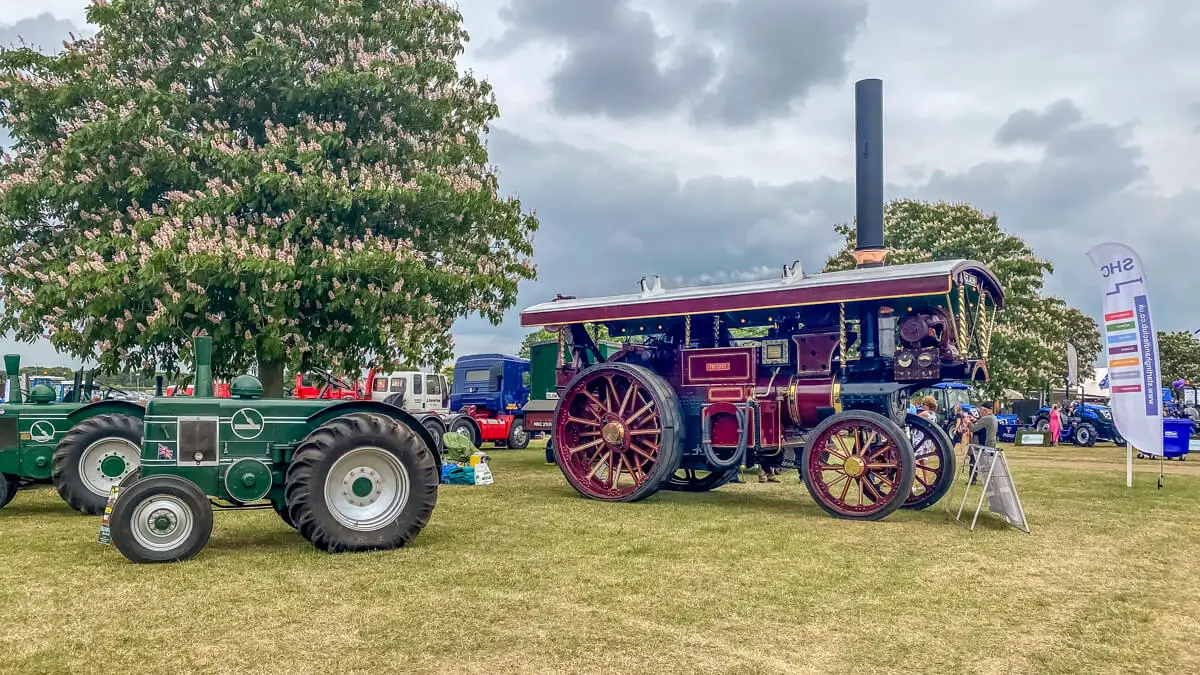 Are there food and beverage options available at the show?
Yes, there are many food and beverage vendors. You will be able to find options for most dietary restrictions. One of the food areas is run by Junkyard Market.
Are there facilities for people with disabilities or special needs?
Yes, they have blue badge parking, disabled toilets, and a viewing platform for wheelchair users at the Grand Ring. Read more about accessibility at the Royal Norfolk Show here.
Are there activities or attractions specifically designed for children?
Yes, there are attractions and activities for all ages. There are many school groups that attend the Royal Norfolk Show. It's a good place to learn more about animals and agriculture.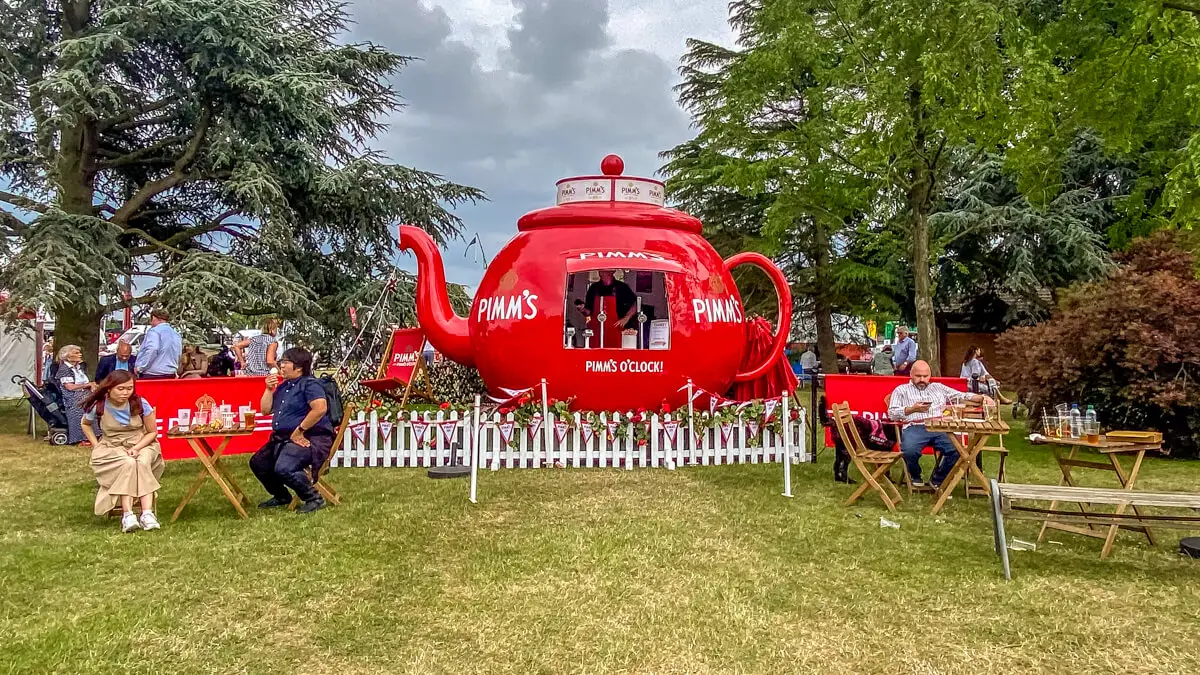 What should you wear to the Royal Norfolk Show?
You can embrace your personal style at the Royal Norfolk Show! The great thing is, you can wear whatever makes you feel most comfortable and confident. Whether you prefer a laid-back and casual look or want to seize the opportunity to dress to impress, the choice is entirely yours.
During my visit, I noticed a wonderful mix of fashion choices. Some attendees rocked a casual and relaxed vibe, while others went all out, channelling their inner race-day fashionistas. It added to the vibrant atmosphere of the show.
It's important to note that there is no strict dress code for most areas of the event. However, do keep in mind that certain sections are reserved exclusively for members, and they may have specific dress requirements. Apart from those designated areas, you have the freedom to express yourself through your attire.
Are there cash machines available on-site at the Royal Norfolk Show?
In 2023, they did not have cash machines at the Royal Norfolk Show, but all the vendors I interacted with accepted credit cards. Still, it is a good idea to come prepared with cash as the nearest cash machine is at the Longwater Sainsbury's.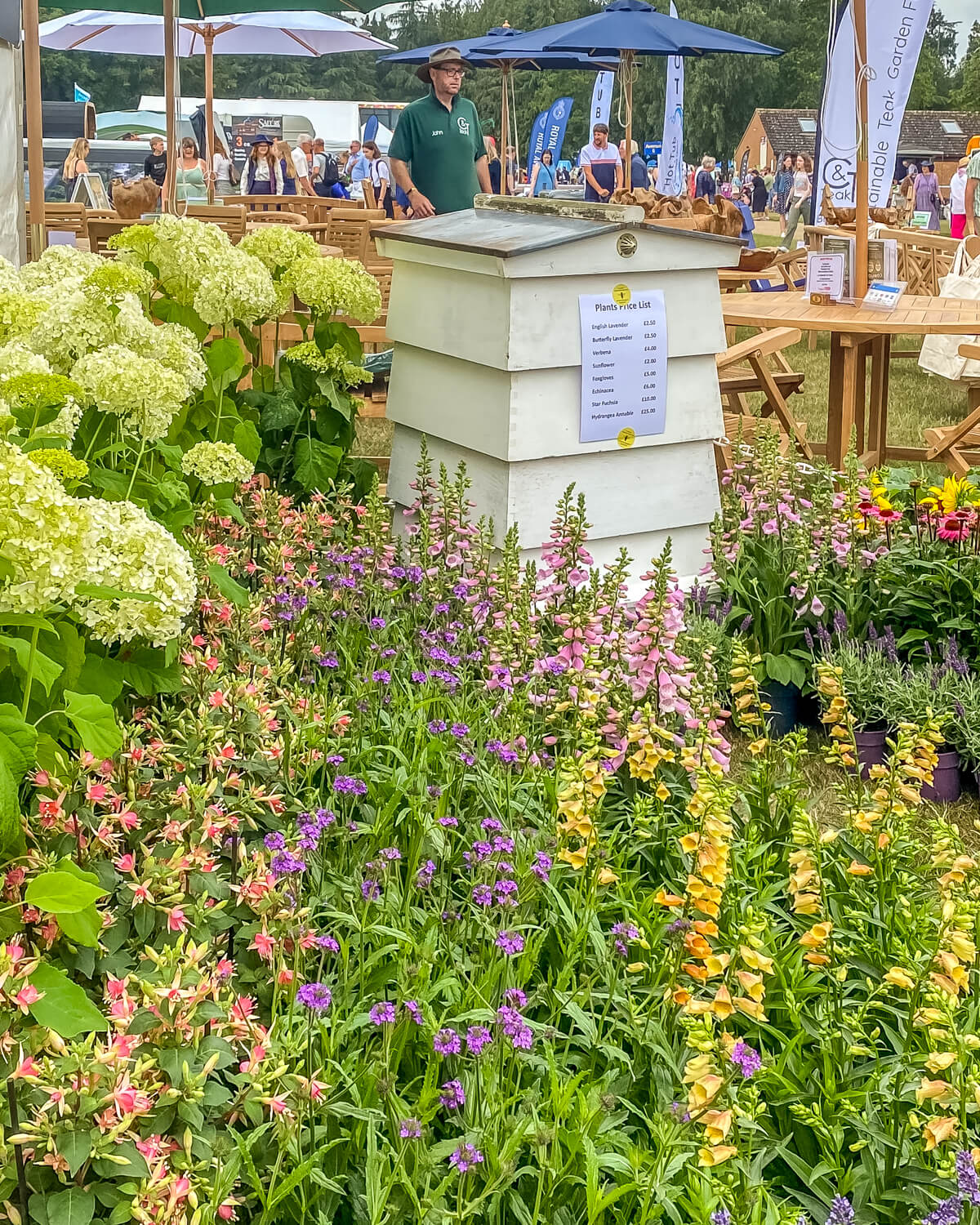 Can I bring my own food and drinks to the show?
Yes, but part of the fun of the show is trying all the food.
Is there a discount code or other ways to save money on Royal Norfolk Show tickets?
There is no discount code, but you may be able to save money by buying a family ticket (good for two adults and up to three children), a two-day ticket, or a ticket that allows you to come on the second day after 16:00.
Disclosure: This post contains affiliate links. This means we will receive a small commission for some purchases made using links in our blog with no additional cost to you.  Please be assured we would not promote any product unless we believe that our readers will also benefit.  The commission does not influence the editorial content of this site.