The beautiful natural scenery is one of the main things that brings people to Norfolk. It's a wonderful place to relax and enjoy the great outdoors except when the weather doesn't cooperate. Unfortunately, we need rain to keep everything green and lush. When it rains, it's not as much fun to be outside.
What should you do when the weather forecast is not looking good? Don't worry there are plenty of things to do in Norfolk when it rains. We already wrote about the best things to do in Norwich when it rains, so in this post, we will share more indoor attractions in other parts of the county that you can enjoy.
More photos coming soon.
Be sure to sign up for our emails here so that you don't miss our weekly newsletters with more ideas for things to do in Norfolk.
Note: This post contains affiliate links.  As an Amazon Associate, we earn from qualifying purchases. Please see disclosure for more information.
Things to Do on a Rainy Day in Norfolk
It can be disappointing when the weather forecast is for rain and you had planned on enjoying the lovely Norfolk beaches or The Broads National Park, but not all is lost. We have some suggestions for things to do in Norfolk when it is raining.
Remember it's a good idea to plan ahead if possible and some of these things to do require advance booking.
#1 Check out the Museums
While the most famous museums may be in Norwich, there are quite a few interesting museums around the county of Norfolk that are worth visiting. Some of my favourites are:
Lynn Museum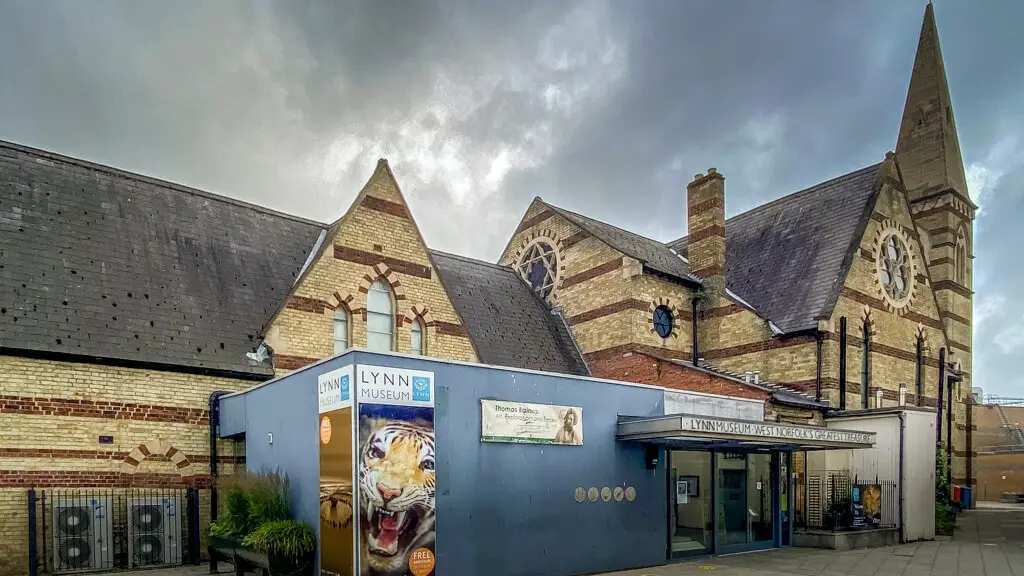 Inside the former Union Baptist Chapel and schoolroom next to the King's Lynn's bus station, you will find an interesting museum with many diverse artifacts, artwork from prominent local artists, and interactive features to entertain the whole family.
It may be best known for its Seahenge display where you can see the remains of a unique timber circle dating back over 4,000 years to the Early Bronze Age. The henge was discovered at Holme Beach in 1998.
Get more information here.
Elizabethan House Museum
in Great Yarmouth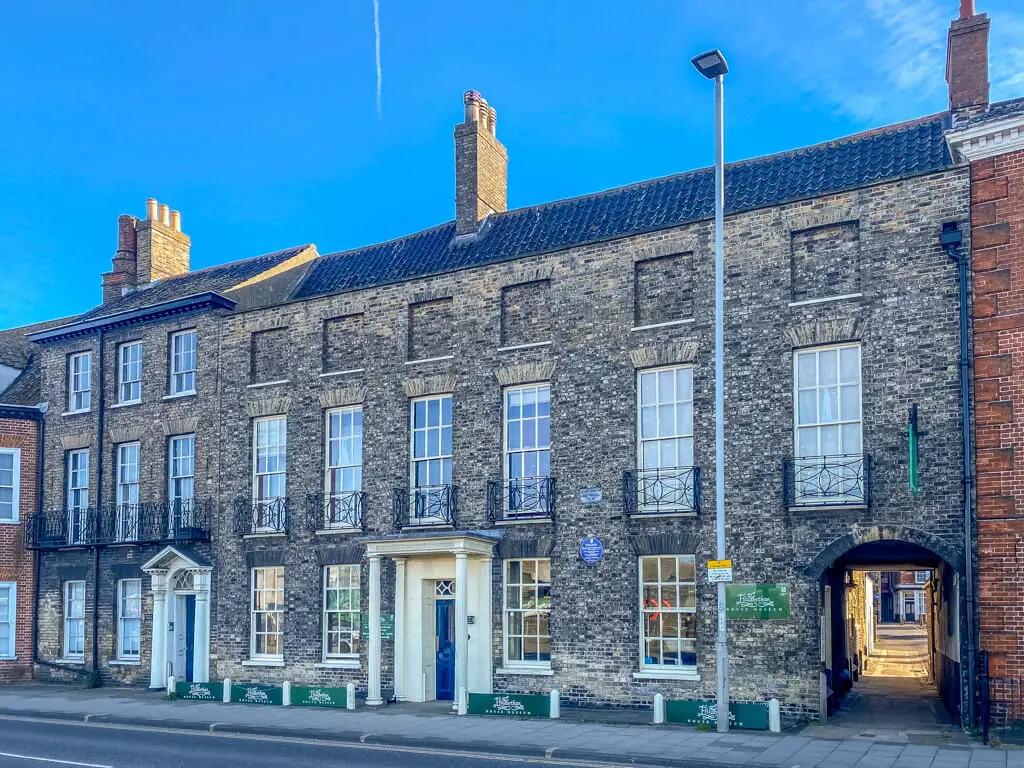 You can visit a historic house that Oliver Cromwell was said to have visited frequently. It was also a regular meeting place for Parliamentarians during the Civil War, and where the fate of Charles I was allegedly decided.
Inside you can get hands on with the Elizabethan past by trying on replica costumes and learn more about life for its Victorian inhabitants. On special event days, you may see the range in the kitchen being fired up or talk to a costumed characters roaming the house.
While it is run by Norfolk Museums, it is a National Trust property, so members can visit for free. Get more information about National Trust Membership here and more information about the museum here.
Museum of the Broads
See how people have used the land and the waterways for food, transport and leisure from Roman times to the holiday makers, sailors, and environmentalists of today in exhibits in five different buildings. The museum also offers boat trips. The electric boat, called the Marsh Harrier, which operates on Tuesdays and Sundays, has a roof making it weather-proof.
Get more information here.
Time and Tide Museum in Great Yarmouth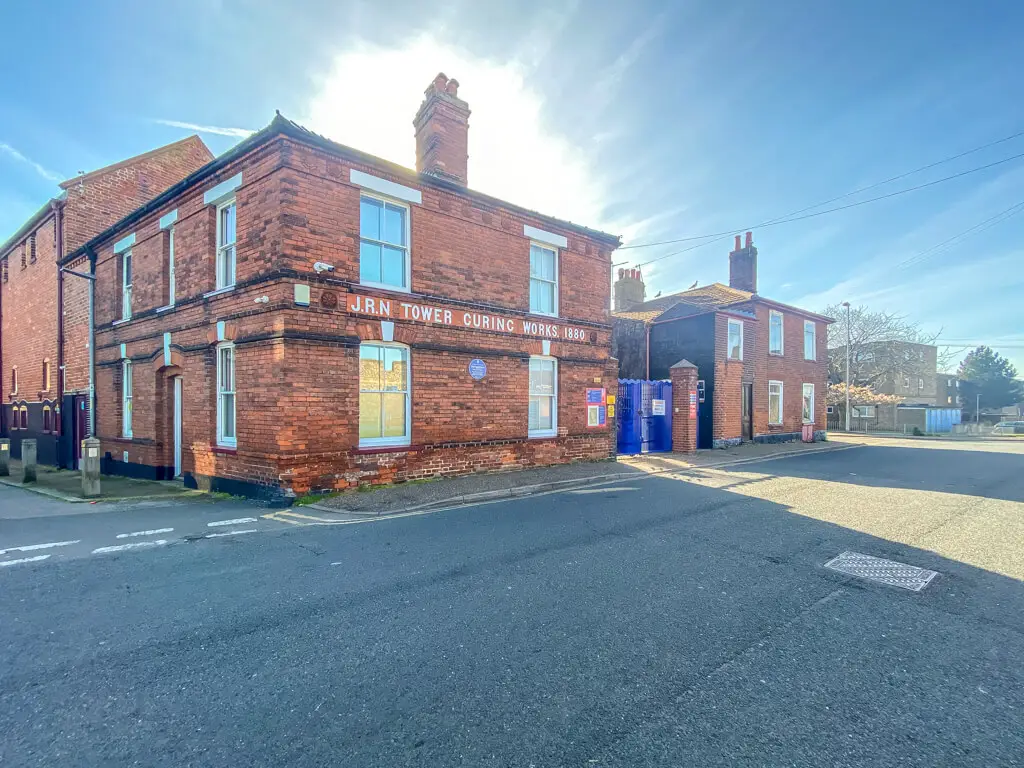 Inside one of the UK's best preserved Victorian Herring curing works, you can learn the story of Great Yarmouth from its ice age origins to the present day. It focuses on the rich maritime and fishing heritage through hands on displays, films, audio guides and children's activities.
Get more information here.
Sheringham Museum at the Mo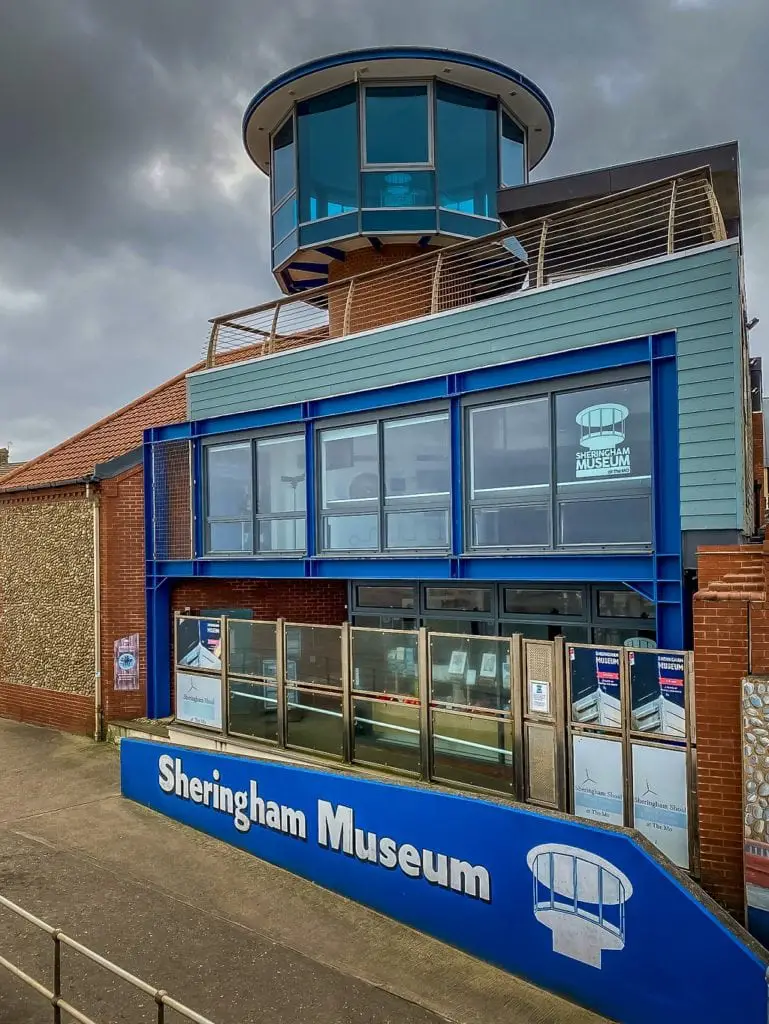 Learn about the history of the town of Sheringham and see a few lifeboats. There is also a viewing gallery where you can look out over the town, sea, and countryside.
Get more information here. Also check out our post for more recommendations for things to do in Sheringham.
Henry Blogg Museum in Cromer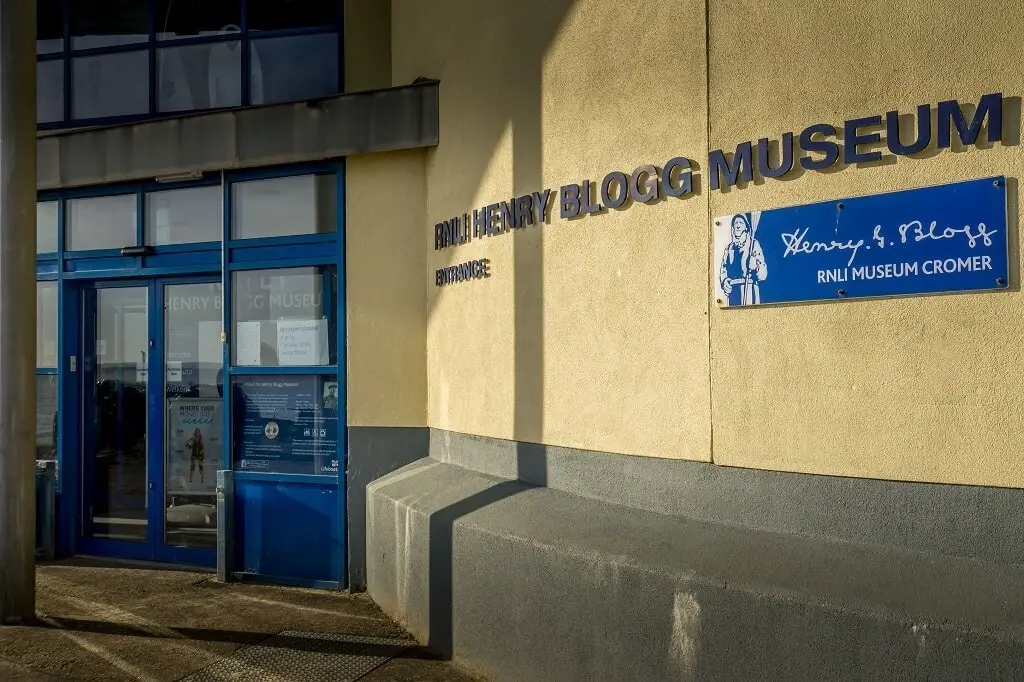 Learn the inspirational story of the most decorated lifeboatman in the history of the Royal National Lifeboat Institution (RNLI), Coxswain Henry Blogg. He served on the lifeboat for 53 years and saved 873 lives from the North Sea.
Many of the exhibits are interactive, so it's great for kids too. Admission is free.
Get more information here.
#2 Enjoy the Theatre
Norwich is not the only place to see theatre in Norfolk. There are actually several other theatres that offer quality entertainment too.
Cromer Pier Pavilion Theatre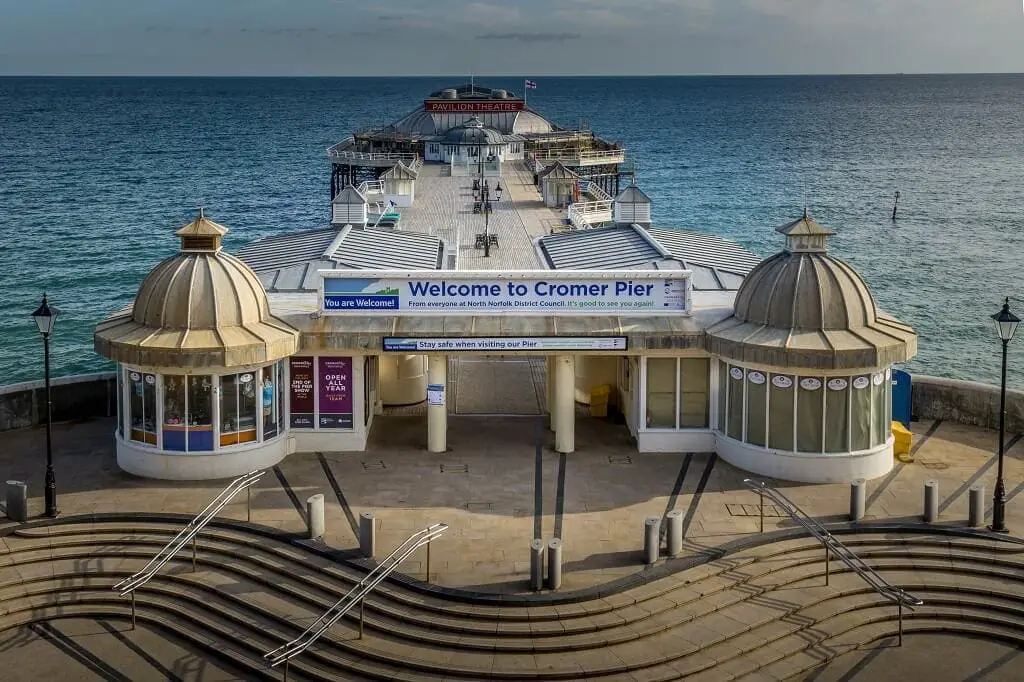 It's home to the last surviving "end of the pier" show in Europe. The show follows the traditional variety format with song, dance, music, and comedy which was been running for more than 40 seasons. They also have a popular Christmas show. Read my 2021 Cromer Pier Show review.
Click here to check the calendar. Also check out our guide for more ideas of things to do in Cromer.
Sheringham Little Theatre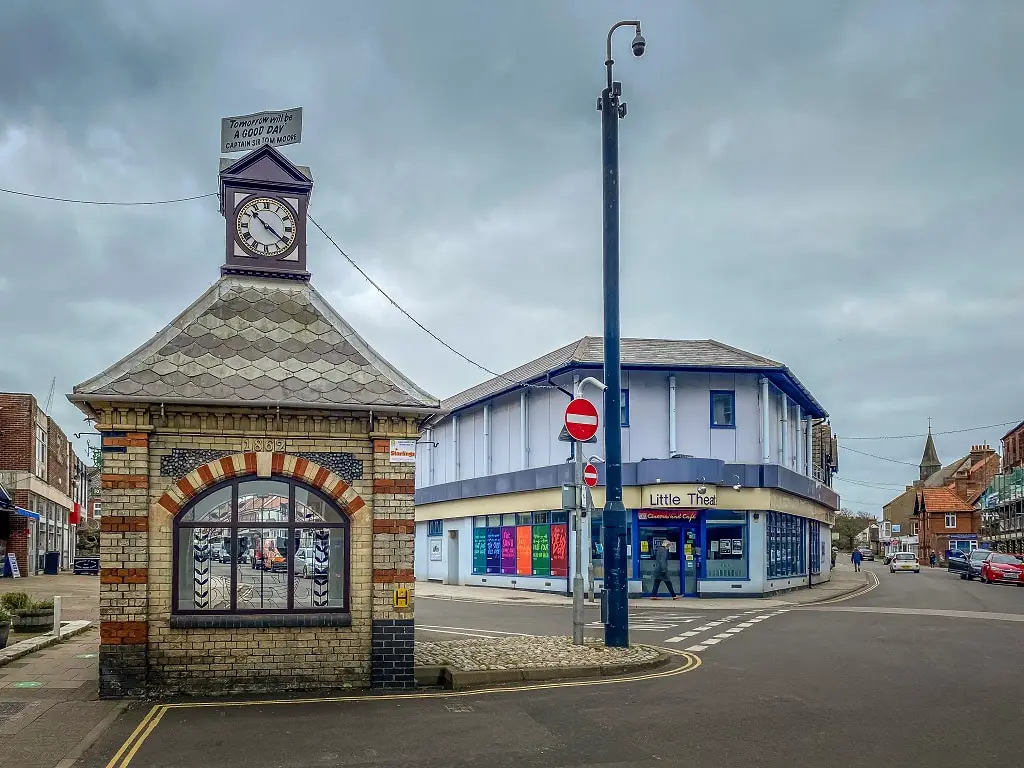 Since 1960, the Little Theatre on the High Street in Sheringham has been hosting plays, film screenings, cultural events, art exhibitions, and children's activities.
Click here to check the calendar.
Gorleston Pavilion Theatre
You can see live shows and music including plays, pantomimes, musicals and concerts in Gorleston all year long. The performances take place in the original Edwardian building (that seats 300 people) where the theatre opened in the summer of 1901.
Click here to check the calendar.
Britannia Pier Theatre in Great Yarmouth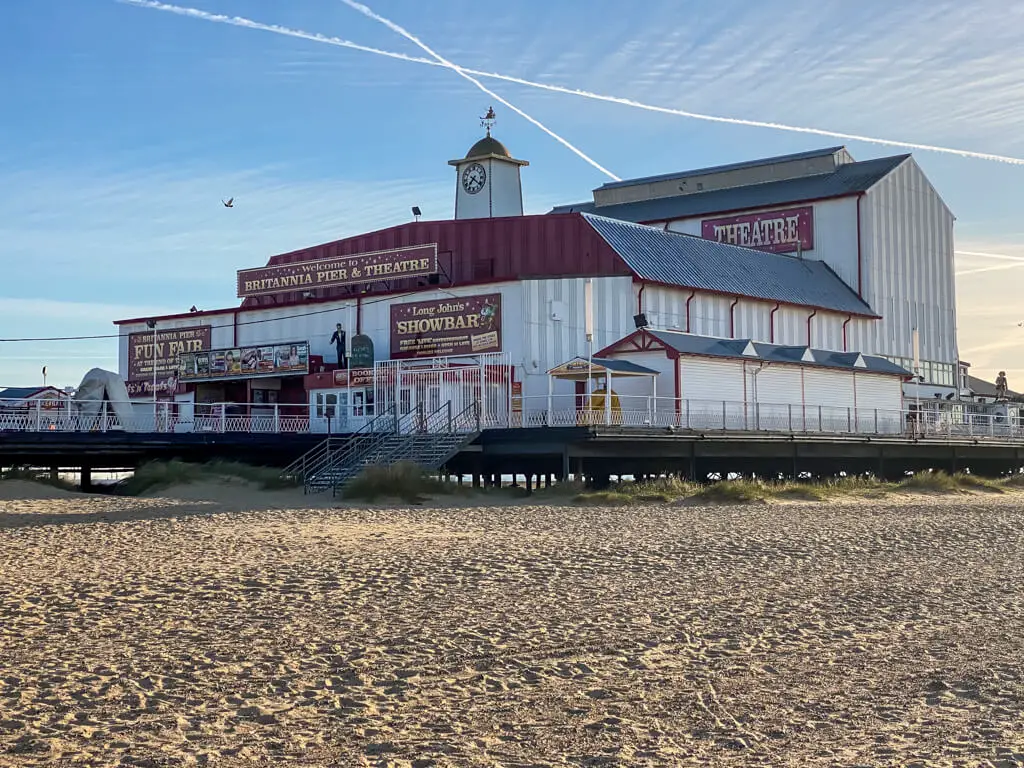 They have a fantastic selection of shows every summer, featuring stand up comedians, live music, and more.
Click here to check the calendar.
St. George's Theatre in Great Yarmouth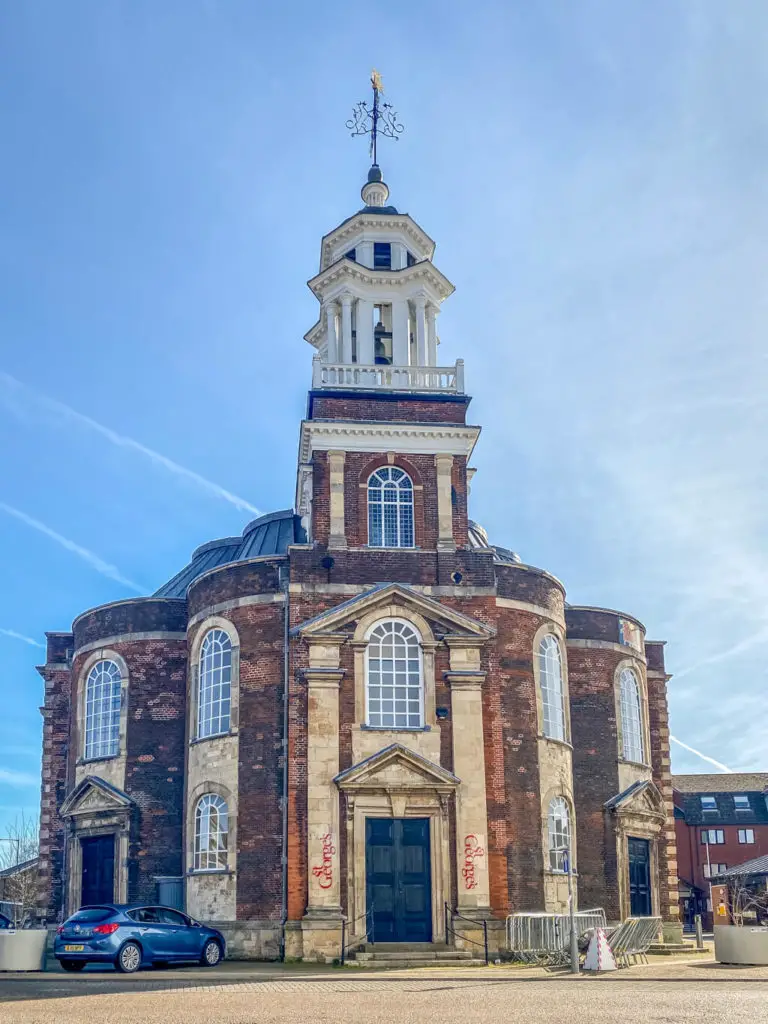 Inside one of the finest examples of baroque church architecture outside London, you will find St. George's Theatre. It was a Grade I church that fell into repair and narrowly escaped demolition. Now it's a unique venue to see live theatre. They also offer behind the scenes tours and cream tea.
Click here to check the calendar.
Corn Exchange Theatre in King's Lynn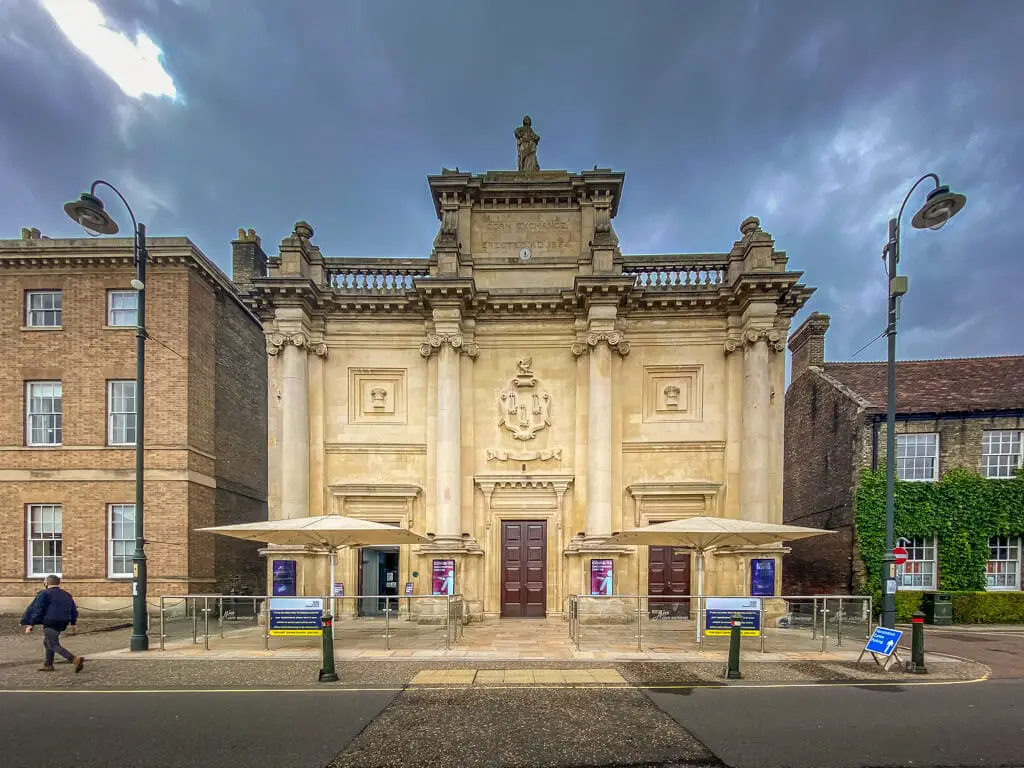 This versatile modern venue inside the transformed Grade II listed building hosts theatre, comedy, touring musicals, and concerts. There is also an onsite coffee shop.
Click here to check the calendar.
Westacre Theatre near Swaffham
Inside a converted Chapel, the theatre offers a year-round programme of in-house productions, visiting companies, concerts, workshops, cinema screenings, and other events for up to 80 people.
Click here to check the calendar.
The Auden Theatre in Holt
Within the Gresham's Senior School grounds, there is a theatre that offers a intimate and versatile space for both school shows and professional performances.
Click here to check the calendar. Note that they have not had any show since before the pandemic, but I am hopeful they will start up again.
The Corn Hall in Diss
What was once a corn exchange (Grade II listed building) has been transformed into a thriving arts venue offering a wide range of quality entertainment and art gallery displays.
Click here to check the calendar.
Princess Theatre in Hunstanton
Originally opened as the Capitol Cinema in 1932, it was designed to be both a cinema and theatre. It closed in the late 1960's, and re-opened as The Kingsley Centre in 1974 for a short time. Then it became a bingo hall, which eventually closed and was not used until the local Council purchased it in 1981.
It was refurbished and re-opened in 1981 as the Princess Theatre named after Diana, Princess of Wales, who visited the theatre with her two sons to see the pantomime "Cinderella" in December 1988. There is also a newly refurbished wine bar with a sea view extended sun terrace where you can enjoy a refreshing hot or cold beverage, cocktail, or a glass of fizz.
Click here to check the calendar.
#3 Ride the Heritage Railways
When you ride an historic train, it's like you've gone back in time. It's one of the best things to do in Norfolk with kids, because everyone will have fun and enjoy the views of the countryside too. In Norfolk you have quite a few to choose from:
North Norfolk Railway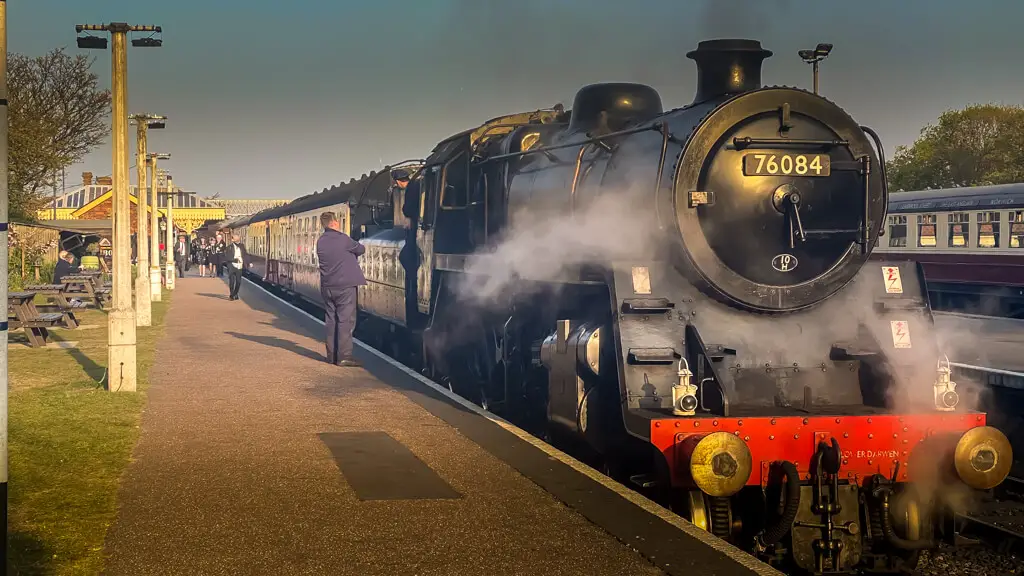 Also known as the Poppy Line, this is one of England's most scenic heritage railways. Either a steam or diesel train will take you from Sheringham to Holt and back. They also have dining trains and other special events.
Get more information here.
Bure Valley Railway
Take a nine-mile train ride through the Norfolk Broads. This narrow gauge steam railway starts at Aylsham and takes you to Wroxham. It goes along the Bure Valley Path so if the weather is not too bad you could walk or cycle one-way and then take the train back.
Get more information here.
Mid-Norfolk Railway
This is the longest heritage railway in East Anglia running between Wymondham and Dereham. From March to December there is a steam locomotive running the 11-mile long route, and they also have special events like a special Christmas train where kids can meet Father Christmas on board.
Get more information here.
Wells & Walsingham Light Railway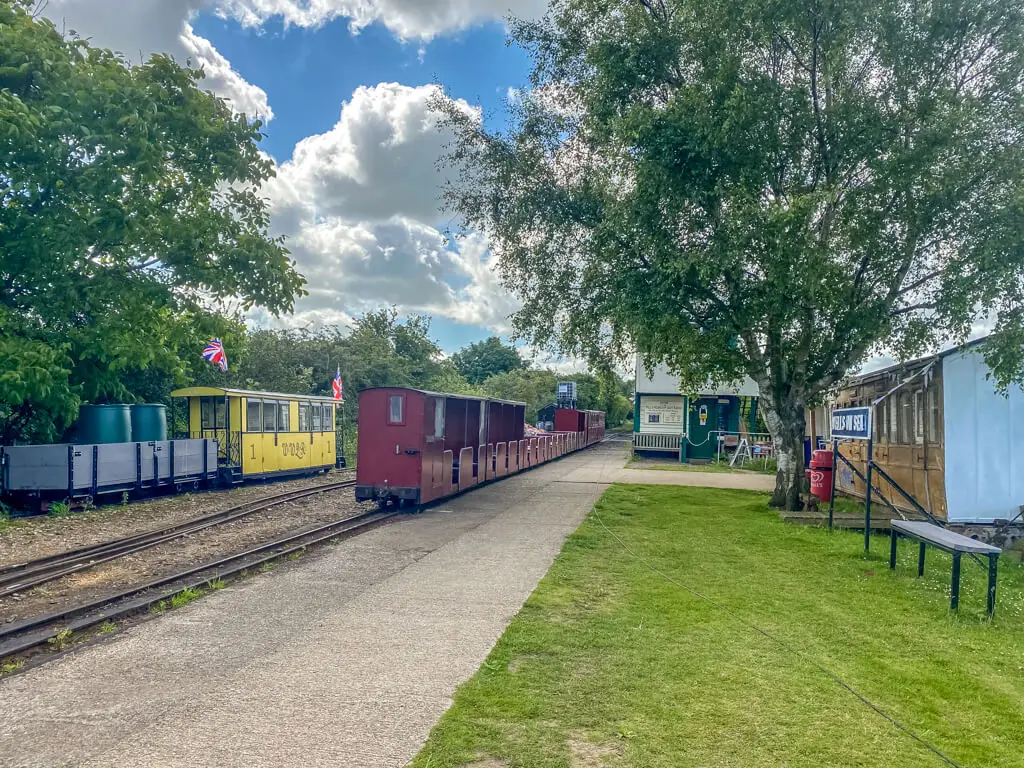 You will feel like a kid on the longest 10-and-a-quarter-inch narrow gauge steam railway in the world. The vintage loco travels along a four-mile stretch of what used to be the Great Eastern Railway from Wells-Next-The-Sea to Walsingham. The train has enclosed, open and covered carriages available.
Get more information here.
*Keep in mind, if the weather is extreme, these trains may not be able to run.
#4 Go to a Sea Life Centre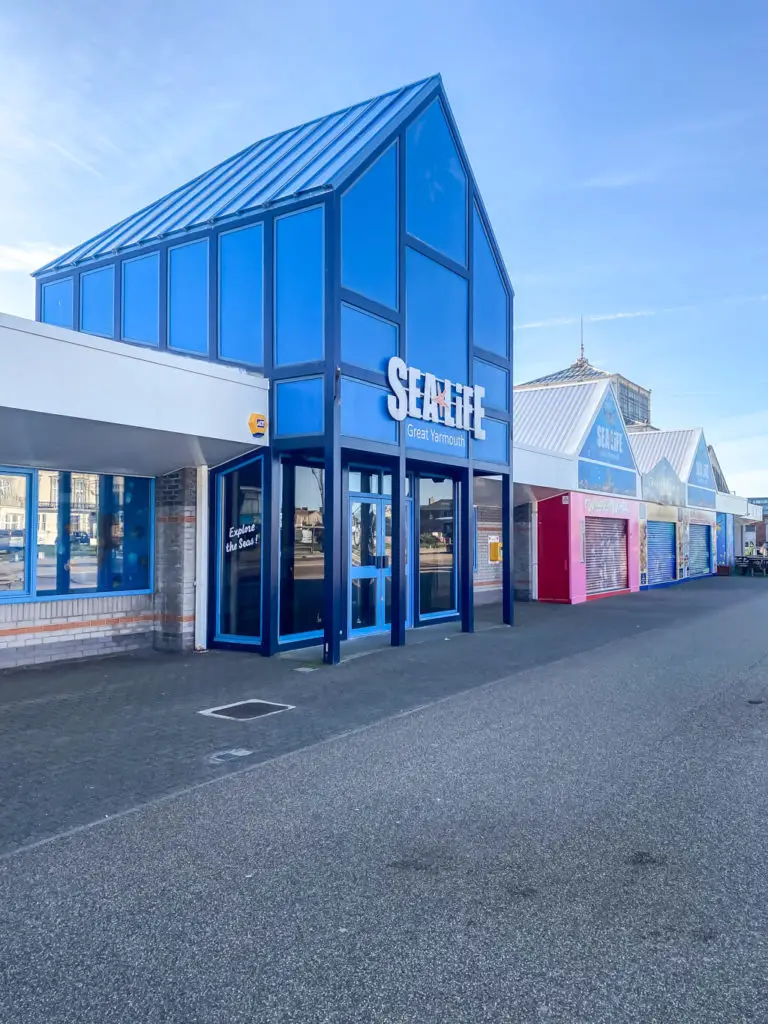 If you or the kids are interested in learning more about life in the sea, a visit to one of the Sea Life Centres in Norfolk is a must. They are aquariums that aim to educate and entertain their visitors. You can have close encounters with sealife, from shrimps and starfish, to seahorses and stingrays.
There are two locations in Norfolk – Great Yarmouth and Hunstanton. The Hunstanton location has a seal hospital where you can see how they rehabilitate common and grey seals. Since they opened the hospital in 1989 they have helped more than 750 seals.
Learn more about the Sea Life Centre in Hunstanton here and Great Yarmouth here.
#5 Go to the Circus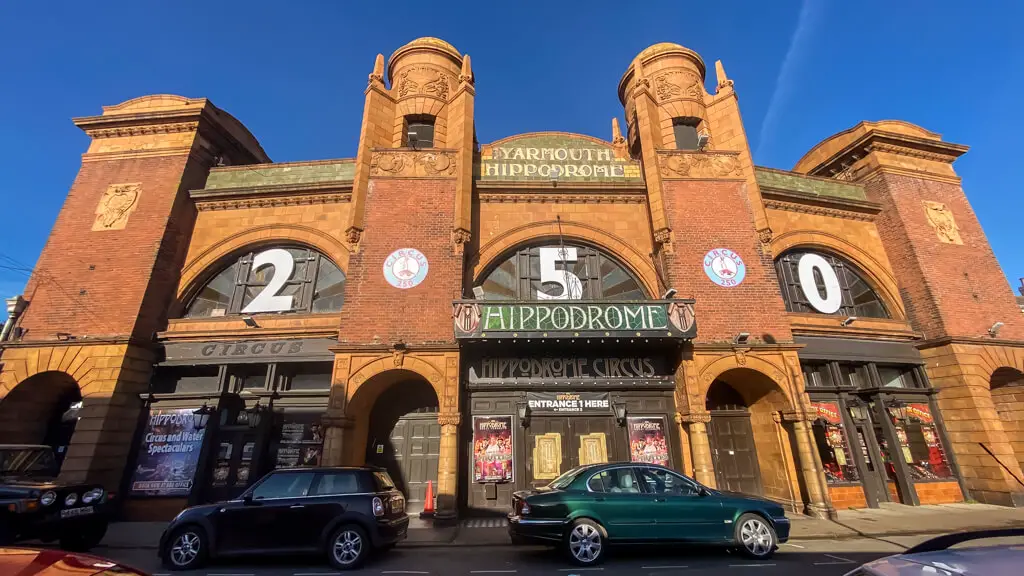 A circus is wonderful family-friendly entertainment because both kids and adults will enjoy it. The performers know how to work a audience and put everyone in a good mood. The show is visually appealing and the stunts will leave you in awe.
In many places, the circus might only come and visit once or twice a year if you are lucky. In Great Yarmouth, the circus is at the Hippodrome throughout the year.
The Hippodrome in Great Yarmouth was named one of the seven wonders of the British seaside by Historic England. (1) Built in 1903 by the legendary circus showman George Gilbert it is the only surviving total circus building in Britain.
Over the building's history, it has also hosted political rallies and even been used as a military practice shooting range in addition to the circus. Harry Houdini and Charlie Chaplin, are both thought to have performed at Hippodrome.
The history of the building is not the only thing that makes seeing the circus at the Hippodrome special. Each show ends with the water spectacle where the rink sinks to reveal a swimming pool. The Hippodrome is just one of three circuses in the world to have this feature, which was restored in 1981.
It's an intimate arena, so there are no bad seats. Check the schedule for circus shows at the Hippodrome here.
After the show, you can check out the Hippodrome's Back Stage Museum by Peter Jay. It's been featured on Salvage Hunters with Drew Pritchard, BBC's Antiques Road trip, and BBC's Flog It. They have over a hundred years of circus memorabilia on display. You can see old props, vintage microphones, classic posters, costumes, photos and more. Get the behind the scenes scoop on the circus.
*In October, they have a spooky-themed show which is one of the best Halloween events in Norfolk.
#6 Go Inside the Churches
With over 650 historic churches still standing, Norfolk has the greatest concentration of churches in the world. You can step inside to get out of the rain and you will be impressed with the architecture, history, and treasures you will discover. Since it's not possible to see all of them, here are a few of my favourites:
King's Lynn Minster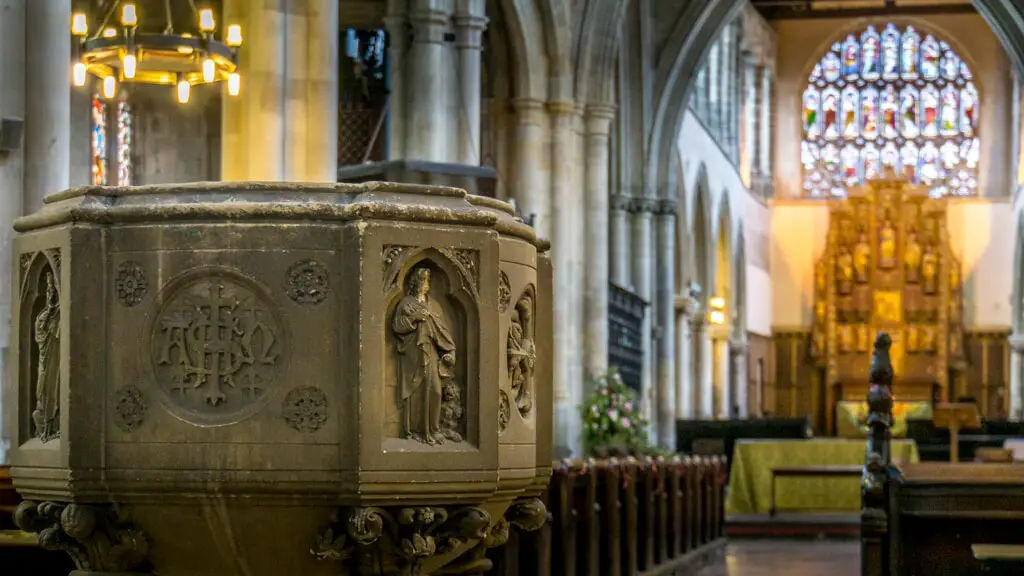 Founded as St. Margaret's over 900 years ago, this church was granted Minster status in 2011. Inside you will want to check out the beautiful reredos behind the altar, the sixteen late 14th century misericords, and a large collection of brasses.
Church of St. Peter and St. Paul in Cromer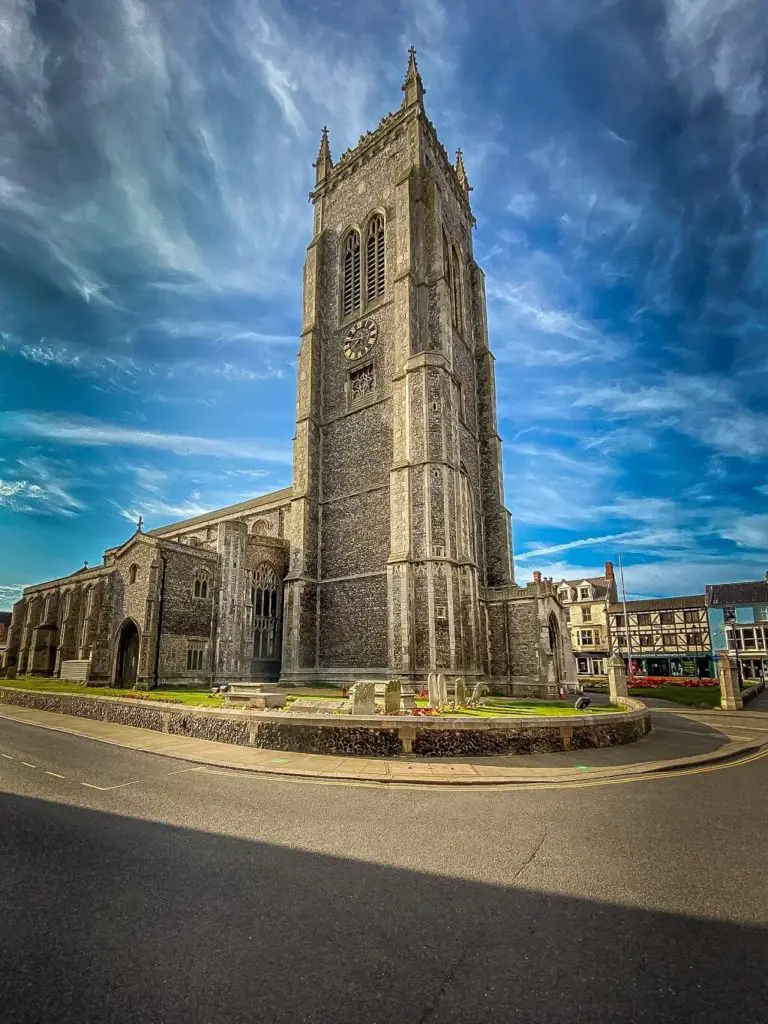 This church has the tallest bell tower in Norfolk at 160 feet high. You aren't allowed to climb it anymore as it is now the home to a pair of peregrine falcons. Step inside to admire the stained glass, angel ceiling, and organ from Bath Abbey.
Also known as the Cathedral of the Broads, this church dates back to the 14th and 15th centuries. Inside you can see one of the finest medieval rood screens in England and a 15th century illuminated manuscript (kept in a case for protection).
If the weather is not too bad, you must climb the 89 steps and 2 ladders inside the church tower. It's hard work and a little tight at times, but worth it for the views!
Get more info here.
St Mary Magdalene in Sandringham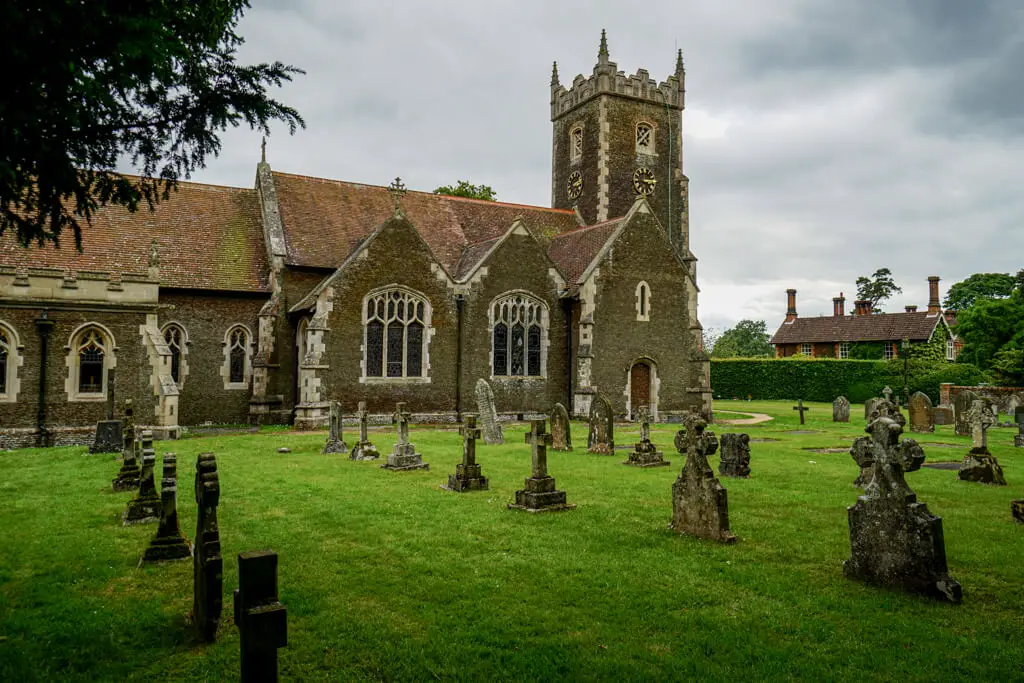 Originally built as a Sandringham parish church, now it is best known as the church when the Royal Family goes for the service on Christmas morning (and other times when they are at Sandringham). There are also many memorials to various members of the Royal family inside. The church was built in the 16th century and is considered to be one of the finest carrstone buildings.
The Anglican Shrine to Our Lady of Walsingham in Little Walsingham
While this church was built in 1922, it was restoring the shrine founded in 1061 and destroyed by Henry VIII in 1538. It contains a replica of the Holy House that Lady Richeldis built after her vision of the Virgin Mary. Inside the Anglican Shrine of Our Lady of Walsingham, there are several small chapels for prayer in addition to the Holy House. You can also taste the holy water.
Learn more here.
Wymondham Abbey
Wymondham Abbey, a living testament to the town's heritage for over 900 years. Its twin towers are unmistakable landmarks that have withstood the test of time. Initially home to a modest number of Benedictine monks, it grew in influence and later saw transformation following the Dissolution.
Despite the changes, Wymondham Abbey has retained its distinctive character, featuring a captivating Norman nave, a magnificent 15th-century angel roof, and an exquisite north-aisle roof.
While much of the monastic history has faded, the Abbey remains a vibrant place of worship and a cherished site of pilgrimage. It welcomes visitors seeking spiritual reflection and those eager to explore its rich history and remarkable architecture. This enduring sanctuary celebrates faith, history, and the enduring sense of community in Wymondham.
You can take a virtual tour and learn more here.
If you are looking for more budget-friendly ideas, be sure to check out our list of the best free things to do in Norfolk.
#7 Treat Yourself to Afternoon Tea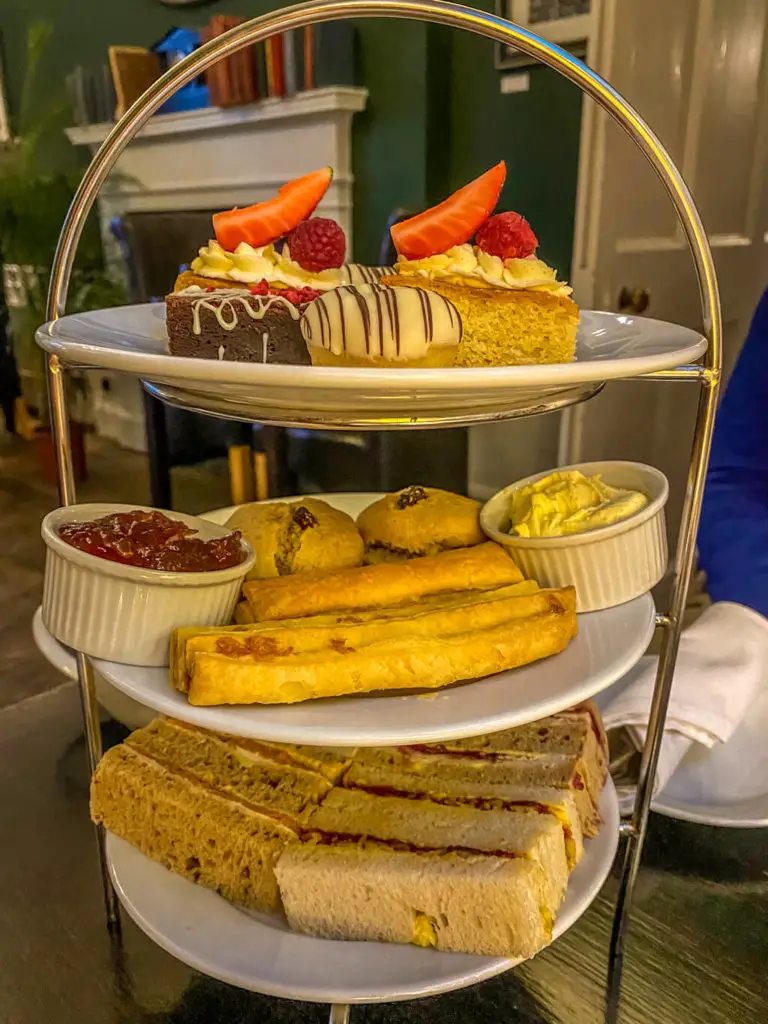 It's hard to think of a more civilized way to spend a few hours than enjoying an afternoon tea. These are some of the best places for afternoon tea in Norfolk (outside of Norwich):
Keep in mind, many places require 24 hours notice if you want to have afternoon tea.
#8 Pamper Yourself at the Spa
You won't even realize it's raining outside, when you are inside enjoying a spa treatment. There are some excellent spas in Norfolk that offer all kinds of treatments including various types of massages, facials, and more.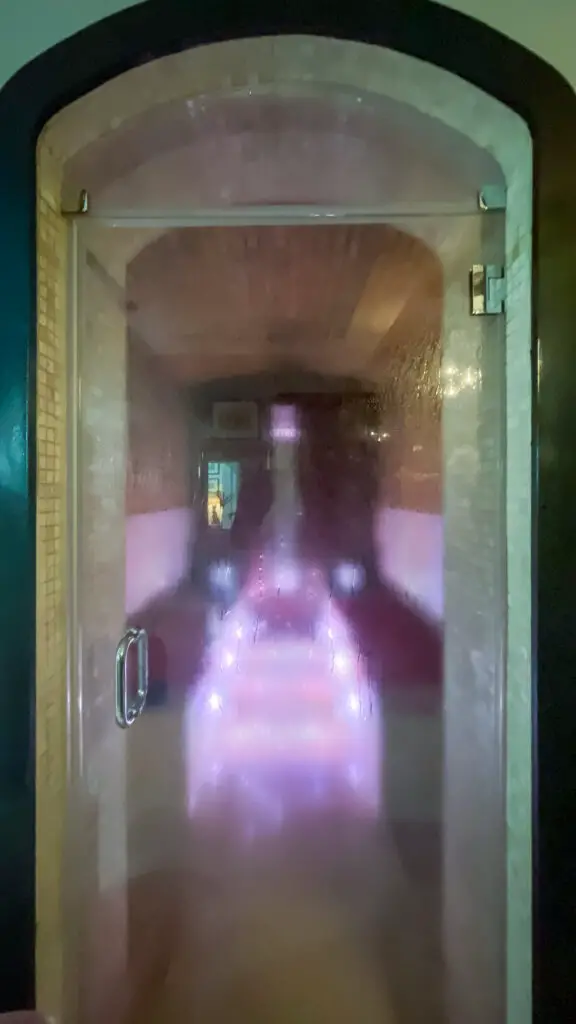 At the Old Post Office in Harleston, they have turned an old bank vault into a hammam spa. It will make your skin feel softer, help you destress, strengthen your immune system, improve your sleep, and more. After your treatment you can enjoy an afternoon tea. Read about our visit to The Old Post Office.
The Pigs, located in the charming village of Edgefield near Holt, is a luxurious spa that provides a wide array of tempting treatments. Guests can also enjoy the spa's serene garden, complete with a relaxing hot tub. The spa prides itself on using high-quality natural ingredients in their treatments, including their signature handmade PIGSPA products and Neal's Yard Remedies.
Remember you will need to book spa appointments in advance.
#9 Play Adventure Golf Indoors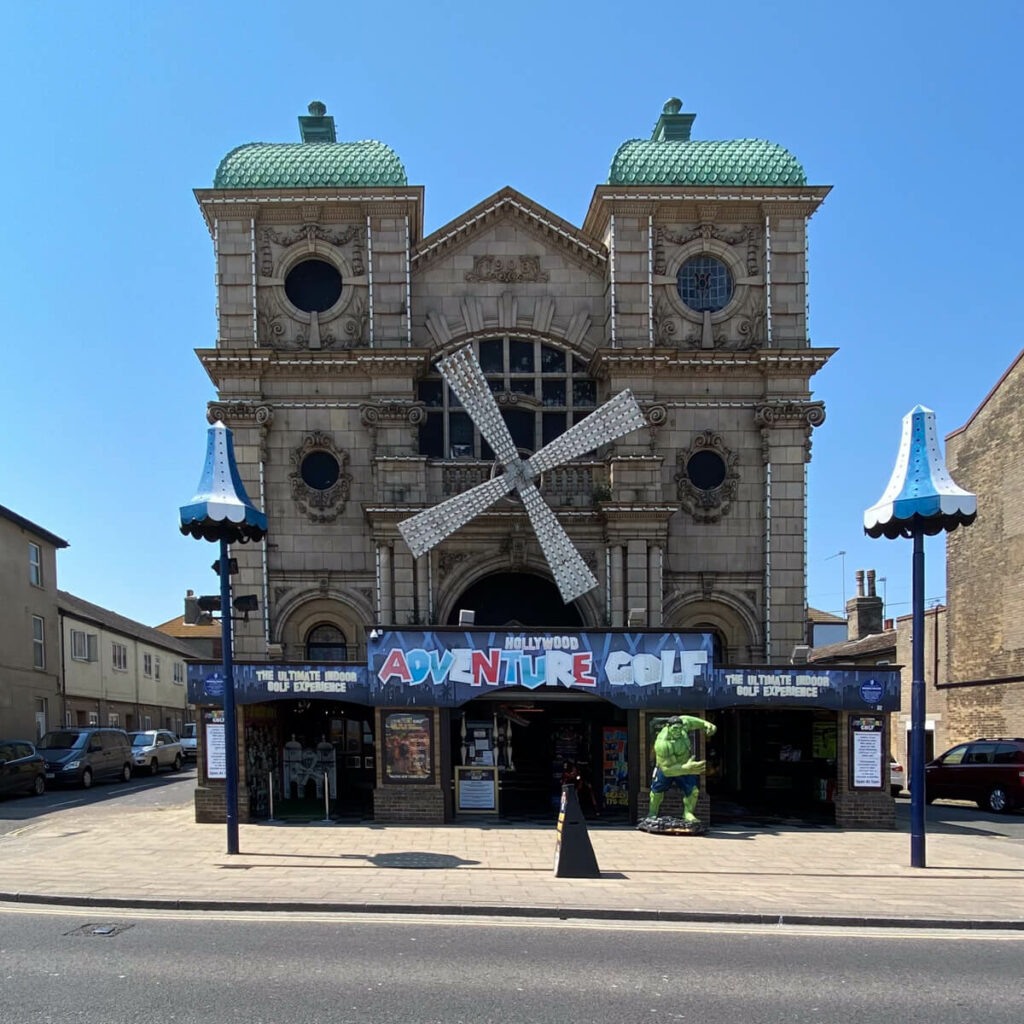 Located in the historic Windmill Theatre building in Great Yarmouth, Windmill Adventure Golf offers a one-of-a-kind crazy golf experience. With its impressive size, it is considered the largest indoor golf venue in the UK, making it the perfect destination for days when the weather doesn't cooperate.
Whether you're a child or an adult, adventure golf is an exciting activity for all ages. The course is filled with fascinating cinema and theatre memorabilia that will take you on a journey through the history of these art forms.
What to Do in Norfolk When it Rains
While many of the top attractions in Norfolk are outdoors, try not to fret if there is rain in the forecast. There are plenty of things to do indoors so your time will not be wasted.
What do you like to do in Norfolk on a rainy day?
---
Disclosure: This post contains affiliate links. This means we will receive a small commission for some purchases made using links in our blog with no additional cost to you.  Please be assured we would not promote any product unless we believe that our readers will also benefit.  The commission does not influence the editorial content of this site.