Discover the hidden treasures of Heacham, a charming village that offers a delightful experience for visitors. With its rich history, this destination in the Norfolk coast has something special in store for everyone. Whether you're a nature lover, history enthusiast, or simply seeking a tranquil getaway, Heacham has a variety of activities and attractions to explore.
Join us as we embark on a journey to uncover the best things to do in Heacham, ensuring you make the most of your time in the area.
Join our email newsletter here so that we can keep you up to date with what's happening around Norfolk.
Note: This post contains affiliate links.  As an Amazon Associate, we earn from qualifying purchases. Please see disclosure for more information.
Where is Heacham Located?
Heacham is situated on the shores of The Wash, a large bay and estuary in the North Sea. It is located in Norfolk between Hunstanton and Snettisham.
History of Heacham
Heacham has a rich history that spans thousands of years. The area boasts archaeological evidence of human settlement dating back 5,000 years, with discoveries from the Neolithic, Bronze Age, Roman, and Saxon periods found within the Parish.
The village itself dates back to the 5th century, influenced by the Anglo-Saxon invasion. The name Heacham was likely derived from the Hitch River and the Old English word "ham," meaning "homestead" or "enclosure."
You will notice a young dark-skinned woman in fashionable Elizabethan costume on the Heacham village sign.  This represents Pocahontas, the Native American princess who married John Rolfe in 1614 in Jamestown, Virginia. Rolfe, an English settler credited with introducing tobacco cultivation in Virginia, resided in Heacham Hall in England.
The railway line between King's Lynn and Hunstanton, opened in 1862, and Heacham's popularity as a Victorian seaside resort started to rise. Although Heacham did not receive as much early investment as the neighbouring town of Hunstanton, it has developed into a holiday destination in its own right, particularly with the rise of self-catering holidays since the Second World War.
Things to do in Heacham
Heacham may be small, but it offers a delightful experience for visitors. With scenic walks, beaches, and historical landmarks, this village has something for everyone. Join me as we explore the best things to do in Heacham.
#1 Visit Norfolk Lavender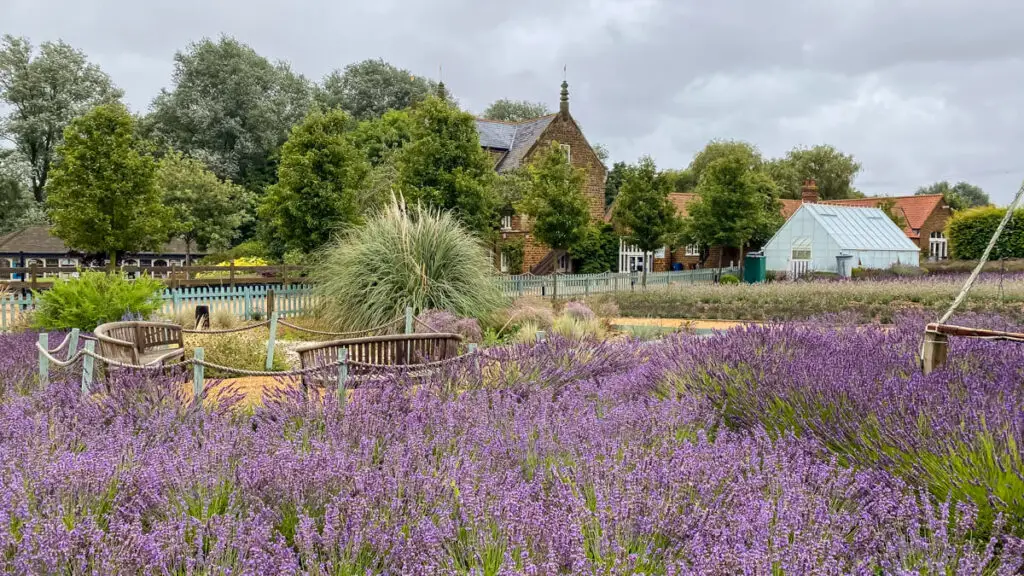 Discover Norfolk Lavender, England's premier lavender farm since 1932. With nearly 100 acres of cultivation, the farm offers public tours of its lavender distillery, where you can learn about the history, harvesting, and distillation processes.
While you are at Norfolk Lavender you can also explore the herb garden, shop for lavender products and unique gifts in the Lavender Gift Shop, and find rare lavenders and other plants in the Plant Centre. Relax in the tearooms with tempting treats, and stroll through the revitalized grounds showcasing lavender beds and diverse plants.
Open year-round, the best time to visit is during the summer season when the lavender bursts into full bloom, filling the air with their relaxing fragrance.
Get more information here.
#2 Visit the Beach
If you are looking to enjoy the beach in Heacham, you're in luck because this village has not one, but two beaches – North and South!
Let's start with Heacham South Beach. It has a charming rugged feel and tends to be less crowded. You'll find a cozy café and convenient toilets nearby. The beach itself has a mix of sand and shingle, with low dunes offering lovely views of Norfolk's marshes and landscapes.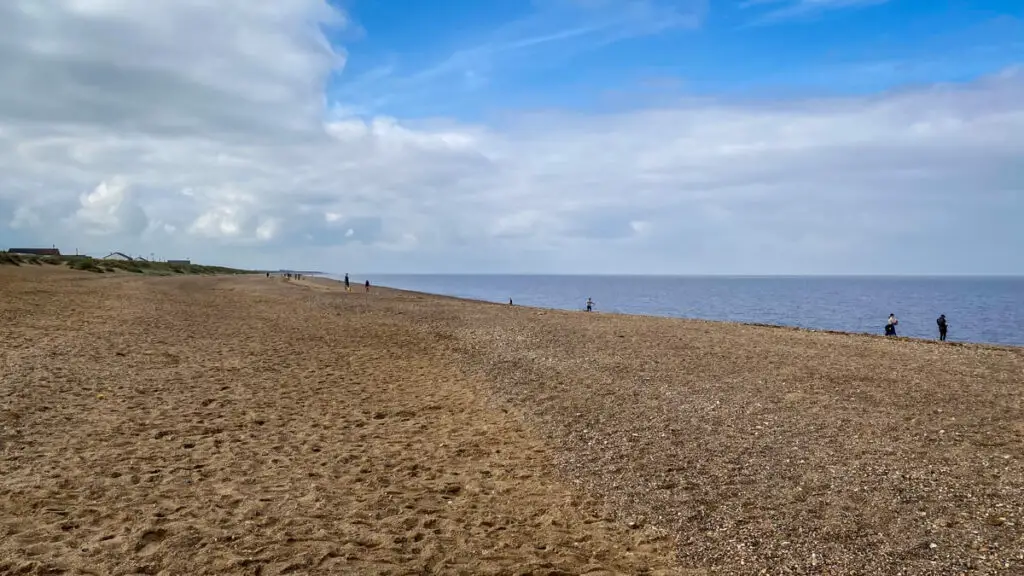 When it comes to the water, it's relatively calm and shallow, but keep in mind there are no lifeguards around. As the tide goes out, you'll have stretches of firm sand just below the line of stones. Oh, and dog lovers, rejoice! Your furry friends are welcome here, though they need to be on a leash during nesting season (April to the end of August).
Now, let's move on to Heacham North Beach. This one is more popular, thanks to its promenade and additional facilities. When hunger strikes, you'll have plenty of dining options nearby. The beach is also dog-friendly with no restrictions.
The promenade at Heacham North Beach is a lively hub. You'll spot joggers, cyclists, buggy-pushers, dog walkers, and even wheelchair users enjoying its wide and smooth surface. And if you prefer a chill spot, grab a seat on the steps leading down to the beach.
When the tide retreats, get ready to explore the beach with its groynes and ample sand. Just beware, you might end up with sandy or even muddy feet! And if nature calls, don't worry, there's a public toilet block close by.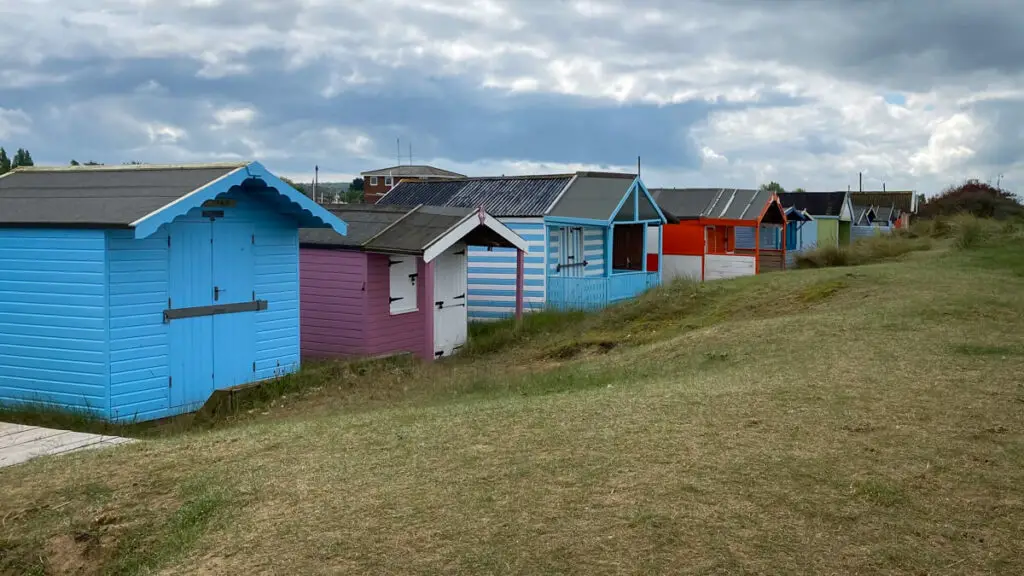 Lastly, don't miss the beach huts between the car park and the beach. They add a delightful touch of colour to the scenery.
#3 Go to the Pub
When it comes to pubs, Heacham has a few great options to choose from. Whether you're seeking a cosy and friendly place to relax, live entertainment, or a tasty dining experience, there is something for everyone. Let's dive into the pub scene and discover what each one has to offer.
First up is the Bushel & Strike Pub. This charming establishment is known for its warm and friendly atmosphere. Nestled in the heart of the Heacham, it exudes a quaint and characteristic charm. You can enjoy your drinks and conversations in their outdoor seating area, perfect for soaking up the lovely surroundings.
If you're up for some lively entertainment, the Fox & Hounds is the place to be. This pub hosts live music events, Pub Quiz nights, and pool competitions, ensuring there's never a dull moment. Keep in mind that if you plan on visiting, they prefer cash payments over card transactions.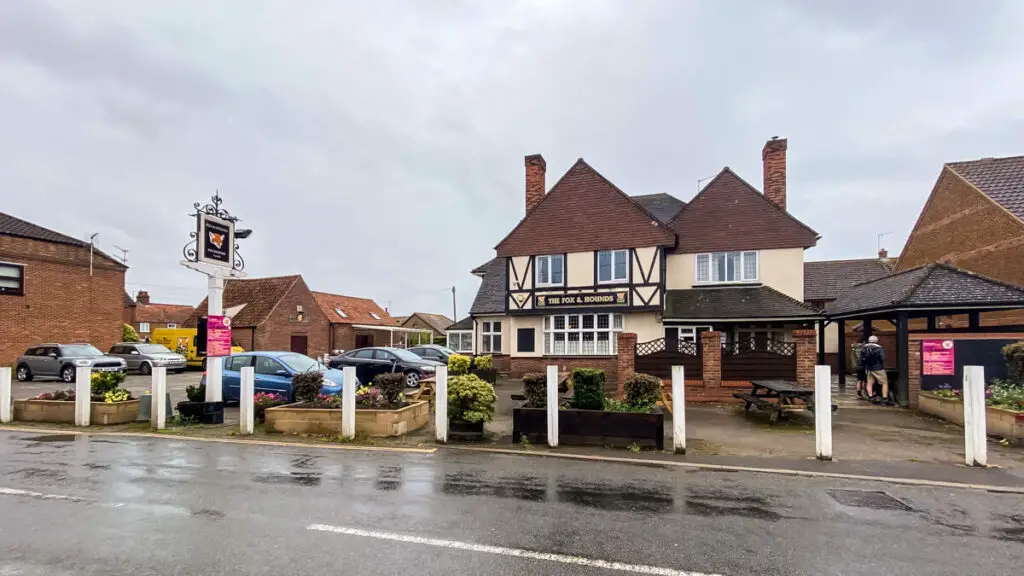 Lastly, we have the West Norfolk Pub, a beloved establishment that has been in the Lake family for nearly three decades. Throughout the years, they have taken pride in serving delicious home-cooked country pub cuisine and offering a wide range of beverages to suit every taste. Whether you're a regular or a first-time visitor, they strive to ensure that you thoroughly enjoy your experience at their pub.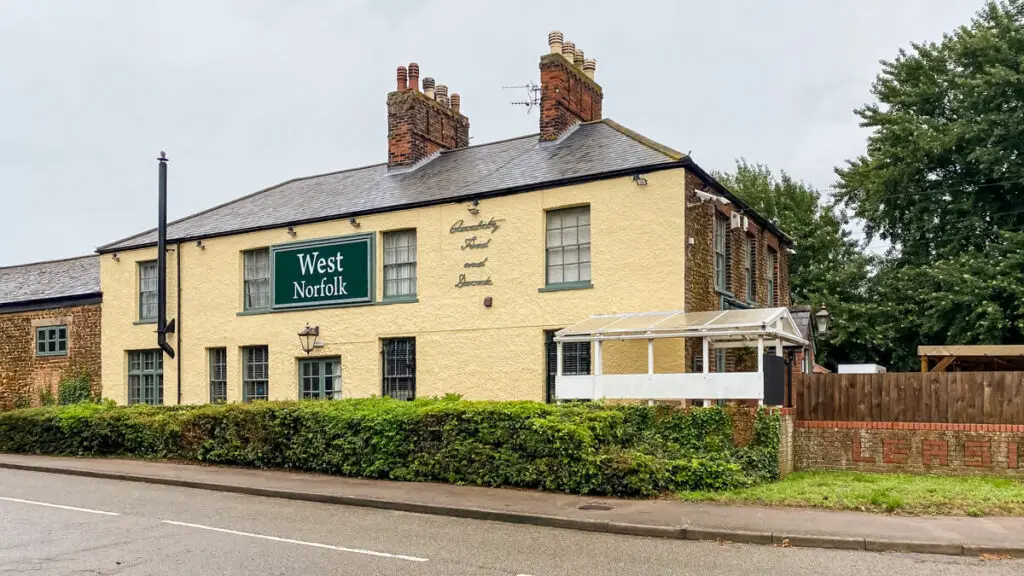 So, grab a drink, mingle with the locals, and create lasting memories in this delightful coastal village.
#4 Play Golf
Experience the ultimate golfing experience at Heacham Manor Golf Club. Their 18-hole championship golf course offers panoramic views and a challenging yet rewarding layout.
The course boasts a delightful combination of 'links' style front nine and parkland back nine. The undulating landscape and thriving shrubs on the front nine add to the challenge, while the parkland setting with native trees and shrubs on the back nine complements the course's unique character. Keep an eye out for the 'signature hole,' the par-three seventh, with its picturesque lake backdrop.
Heacham Manor Golf Course caters to players of all abilities, offering four sets of tee positions. From the championship tee stretching over 6,700 yards to the junior tees at around 4,500 yards, there's a suitable challenge for everyone.
Enhance your golfing journey with their luxurious amenities, including the fully-equipped clubhouse, The Pavilion. Here, you'll find a golf shop, a stunning terrace bar on the first floor with course views, and a restaurant led by the same AA Rosette kitchen team as the renowned Mulberry Restaurant.
Find out more about it here.
#5 Visit St. Mary's Church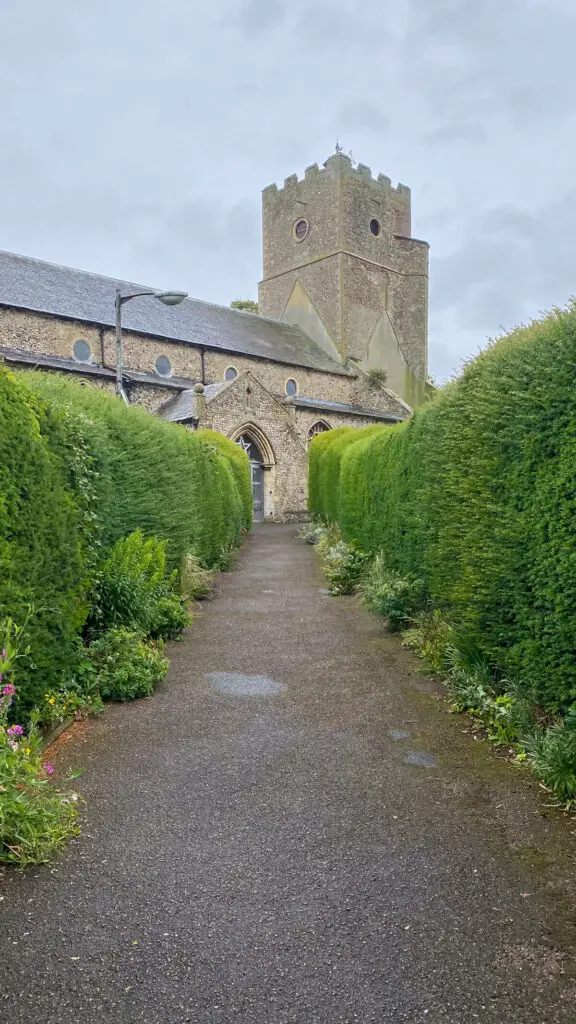 St. Mary's Church in Heacham is an interesting destination for history and architecture enthusiasts. Dating back to the 13th century, the church showcases intriguing architectural features and holds a special connection to Pocahontas through her marriage to local squire John Rolfe.
Notably, the church was the site of an important meeting held in 1795, where locals appealed for fair flour prices during the Napoleonic Wars and Enclosure Acts. A plaque commemorating this meeting can be found at the junction of Lynn Road and Hunstanton Road.
The church's rugged silhouette reflects the changes it has undergone over the centuries. While the transepts have been lost over time, the surviving elements include the nave, a shortened chancel, and a central tower. Enormous buttresses, particularly on the north side, provide support to the tower.
The spacious nave features blue chairs, replacing Victorian pews, and near the east end of the south aisle, you'll find rows of choir stalls. The church's windows display a blend of modern and medieval stained glass.
Other notable features include the remaining rood screen behind the altar and a tall stone monument dedicated to Dr. Robert Redmayne, Chancellor of the Diocese and Mayor of King's Lynn. He married Dorothy, the mother of the John Rolfe who married Pocahontas.
One cannot miss the memorial for Pocahontas, located opposite a plaque dedicated to her husband, John Rolfe. While she was buried Gravesend, Kent, her grave's exact location remains unknown due to a fire. Her legacy lives on through this memorial in Heacham.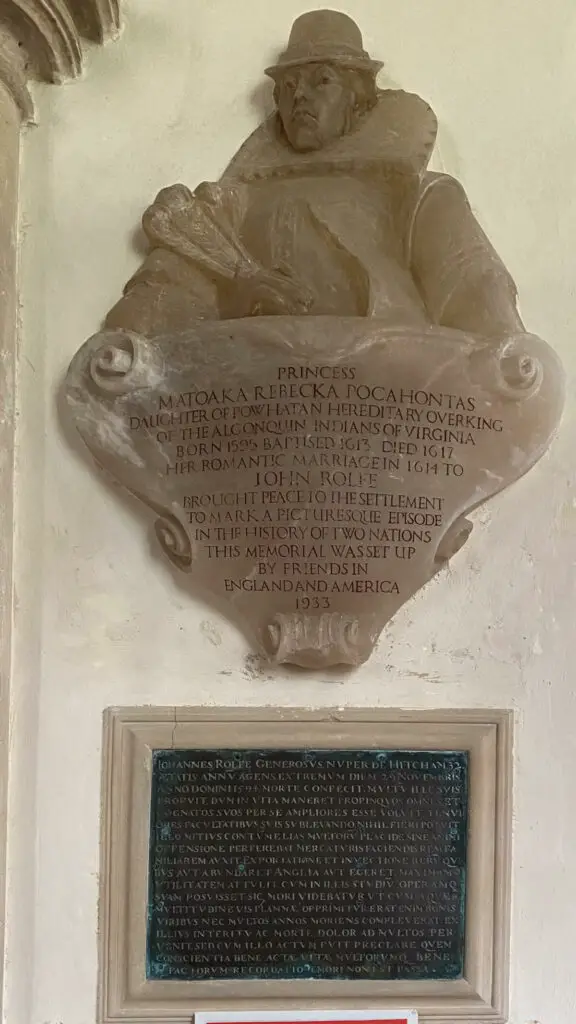 The north chapel contains additional memorials to the Rolfe Family, adorned with their distinctive coat of arms. The south transept, now used as a vestry, houses an altar with a modern reredos depicting the Eleven Apostles surrounding the Risen Christ.
#6 Go for a Walk
Heacham, despite not being directly on the Norfolk Coast Path, offers wonderful opportunities for scenic walks and exploration. Whether you prefer coastal views or picturesque countryside, Heacham has a variety of walking routes to satisfy your wanderlust. Let's get into a few recommendations for exploring the area by foot.
Heacham Circular Walk: This 7-kilometre route takes you from Heacham South Beach to the southern tip of Hunstanton and back. Along the way, you'll encounter landmarks like Mercedes Gleitze's commemorative plaque, the Jubilee Bridge, and a monument honouring the victims of the 1953 East Coast Floods.
Heacham to Hunstanton Walk: Embark on a 3.6-kilometre walk from Heacham North Beach to Hunstanton along the concrete promenade overlooking the Wash. As you stroll, you'll witness the ever-changing scenery of beach, rockpools, and mudflats, where you can observe a range of activities, from waders to windsurfers.
Elizabeth Way: Introduced as part of the Platinum Jubilee celebrations, the Elizabeth Way invites you to follow parts of the former railway line from Hunstanton to King's Lynn. This 25.4-kilometre walk leads you through the picturesque landscapes of Norfolk, where you may spot seals, gulls, and various wildlife along the shore, as well as diverse creatures in heaths, hedgerows, woods, and wetlands. The route also takes you by Sandringham and concludes at The Walks, a historic park in King's Lynn.
#7 Catch the Sunset
Since the beaches at Heacham are on the east banks of The Wash, they are among the few beaches in eastern England where the sun sets over the sea instead of over the land. 
Find your ideal spot along the promenade steps, sit back, and let nature's grandeur unfold before your eyes. Prepare to be mesmerized as you indulge in the serene beauty of the sun setting over the tranquil waters. Don't forget your camera!
Read about more amazing sunset spots in Norfolk.
Things to Do Near Heacham
Don't limit your exploration to just Heacham! The surrounding area is brimming with special spots that are well worth a visit. Expand your horizons and consider checking out these nearby gems less than a 30 minute drive away.
Hunstanton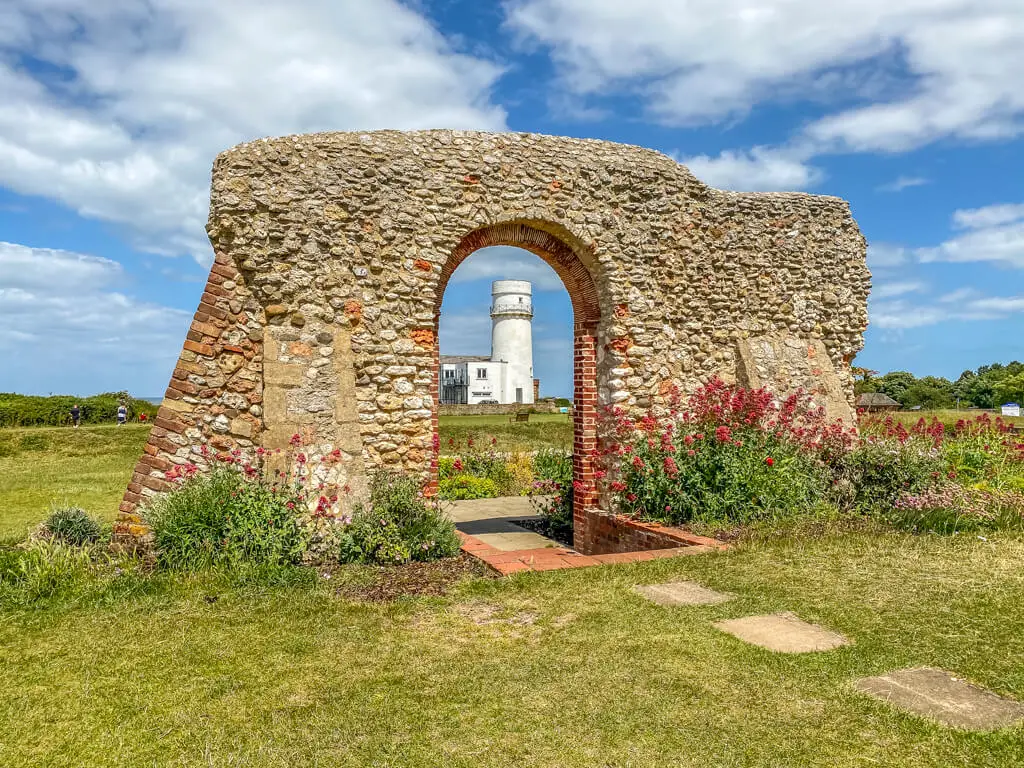 Hunstanton, much like Heacham, has its roots as a Victorian resort. Today it's become one of the best seaside destinations for families with kids in Norfolk.
The beach is huge when the tide is out so it's perfect for kids to play in the sand, wade in the shallow water, or go rockpooling. Old Hunstanton beach has unique striped cliffs, while New Hunstanton has a promenade full of activity.
The promenade has a funfair (with big ferris wheel and helter-skelter), amusements, crazy golf, and food stalls. There is also the Sea Life Centre which has a seal sanctuary and the Wash Monsters, unique amphibious vehicles, that can take you for a ride.
RELATED: How to See the Seals in Hunstanton
You'll want to make the walk up the cliff to see the Old Hunstanton Lighthouse and ruins of St. Edmund's chapel. Try to time it for sunset as Hunstanton is west facing making it the one of the only places in Norfolk where you can watch the sun go down over the water.
Read about more things to do in Hunstanton.
RSPB Snettisham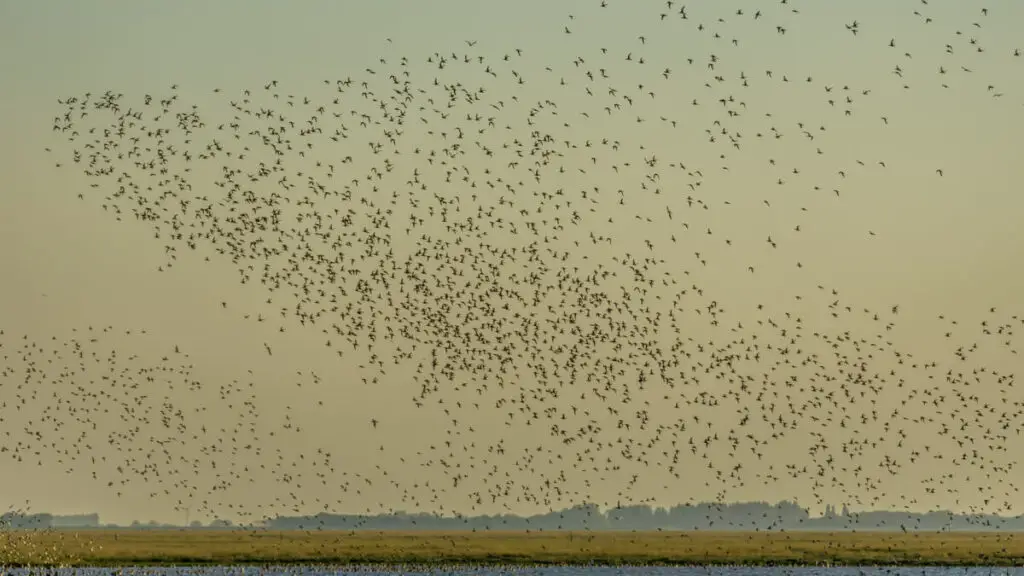 RSPB Snettisham is a bird-watchers paradise as it is an important area providing refuge for large numbers of wildfowl and wading birds. Even if you are not a bird-watching expert, you will appreciate the spectacles of nature on display and enjoy exploring the reserve.
They have three walking trails where you can see the saltmarsh, lagoons, and mudflats.  There are also four wildlife observation hides which provide views across the lagoons. One of these hides also offers views over the Wash.
The wildlife you will see will vary depending on when you visit. During the winter, you can see pink-footed geese (sometimes up to 40,000) as they take flight in close V-shaped formations at dawn.
During the biggest high tides, you can see knot, dunlin, and oystercatchers take to the air together in what is called the Snettisham Spectacular. It's arguably one of the most significant wildlife events that happens in the UK.
Get more information here.
Castle Rising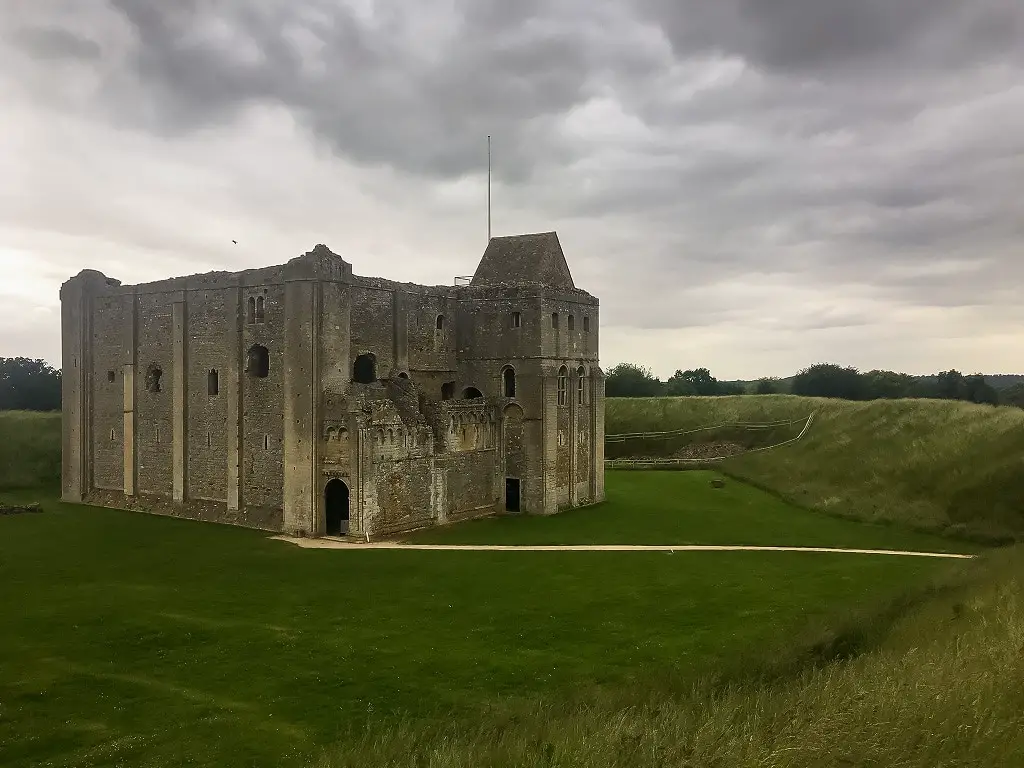 Castle Rising Castle stands as one of England's renowned 12th-century castles, with its remarkably intact stone keep and imposing earthworks. Notably, it was the residence of Queen Isabella, the widow of Edward II, in the 14th century. Legends speak of her ghost haunting these historic walls to this day.
English Heritage members can visit for free. Get more information about English Heritage membership here.
Get more information about visiting Castle Rising here or read about other English Heritage properties in Norfolk.
Sandringham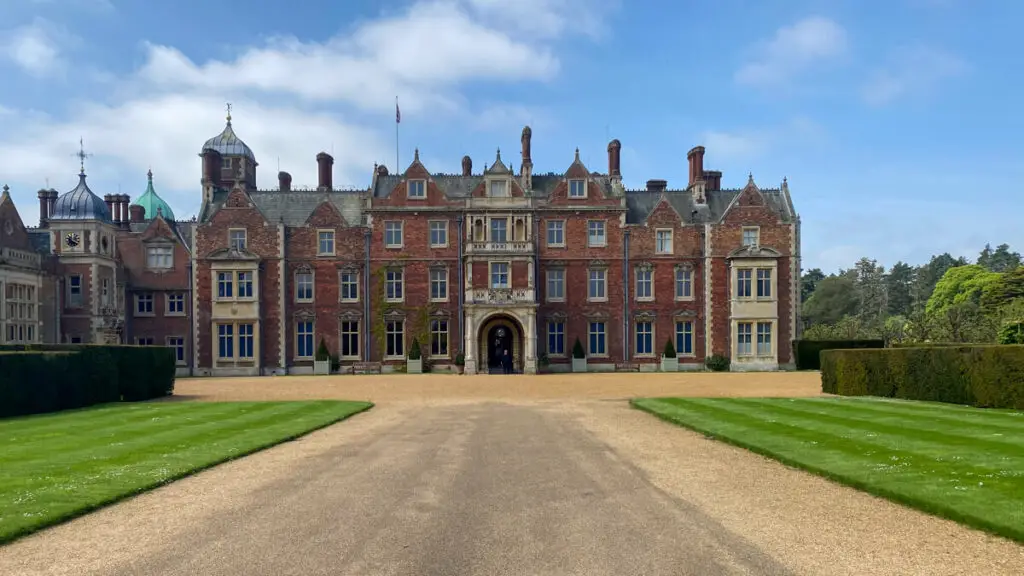 Sandringham is the beloved country retreat for King Charles III and the place where the Royal Family spends Christmas. During the spring, summer, and autumn, you can tour the house and visit the gardens.
Across the road from the stately home, you will find the Royal Park which is free to visit (although you do have to pay for parking). It includes almost 243 hectares with some well-marked walking trails. There is also a new Children's Adventure Play Area inspired by the Princess of Wales's 2019 Chelsea Flower Show garden.
Get more information here.
RSPB Titchwell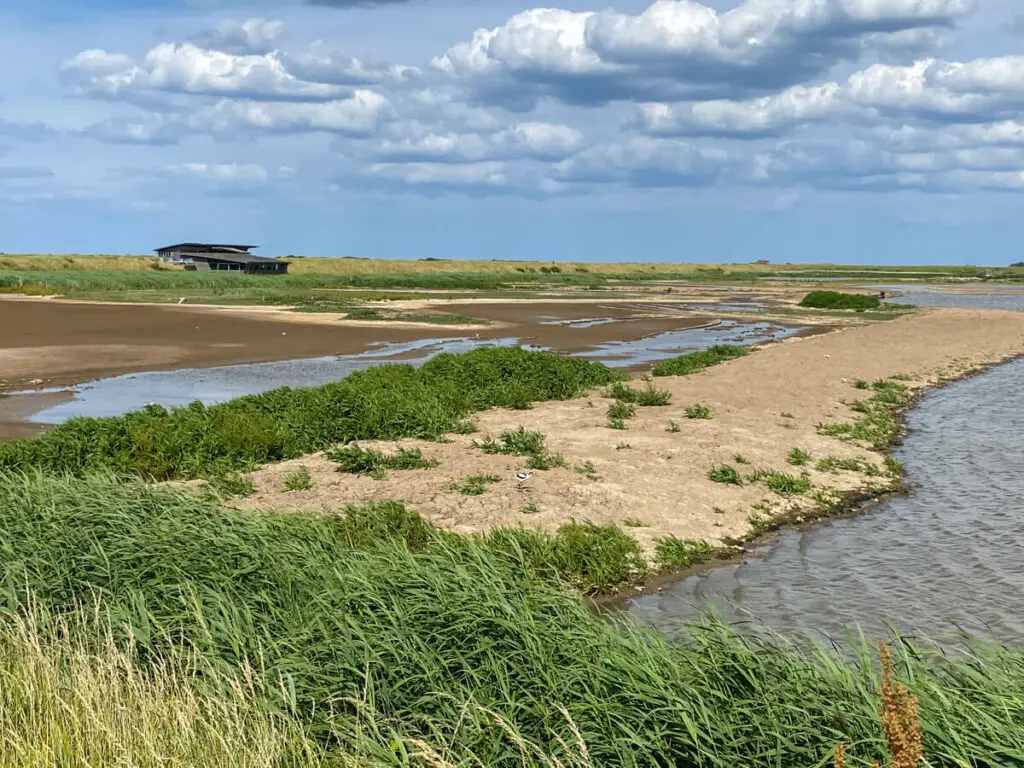 A short distance from the village of Titchwell lies the remarkable Titchwell Marsh, an RSPB reserve with a unique history. Once a tank firing range during the Second World War, it now thrives as a haven for birds, offering a blend of fresh water and salt habitats.
Embark on one of the two main paths and discover four bird hides, providing ideal vantage points to observe the diverse avian species that inhabit the marsh. Additionally, take a leisurely half-mile stroll to reach the beach, where you can immerse yourself in the beauty of the shoreline and encounter intriguing remnants of tanks and other structures during low tide.
RSPB members can visit for free. Get more information here.
King's Lynn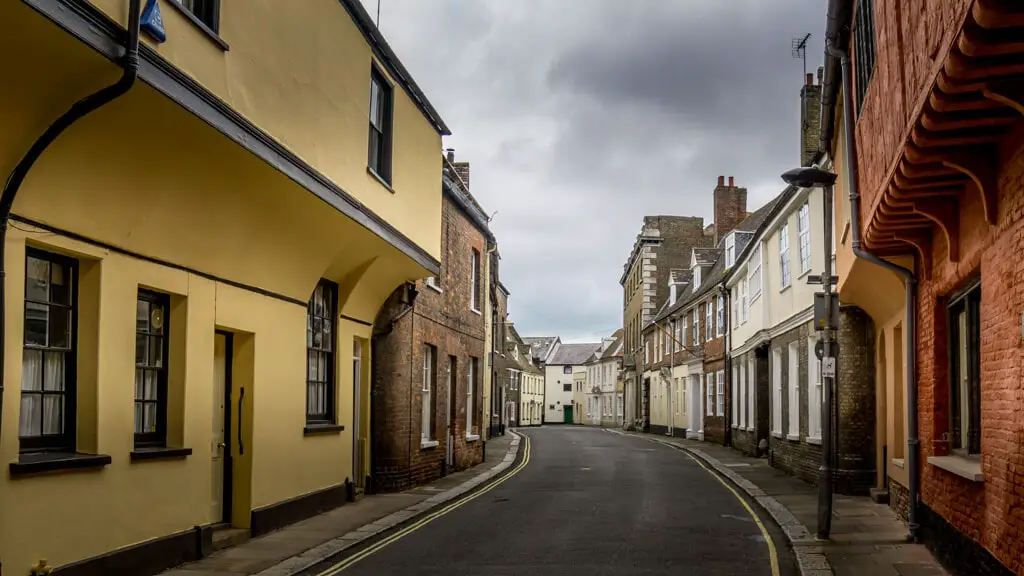 King's Lynn is a well-preserved historic town boasting 481 listed buildings. Its unparalleled medieval architecture sets it apart, making it a captivating destination.
Explore St. George's Guildhall, where Shakespeare once performed, and visit the Lynn Museum to see the Seahenge display. Don't miss the impressive King's Lynn Minster and the renowned St. Nicholas Chapel with its stunning angel roof. Immerse yourself in the rich history of King's Lynn, a town that truly showcases its architectural heritage.
Read about more things to do in King's Lynn.
How to Get to Heacham
Unfortunately, there are no direct public transport options from Norwich to Heacham, so it's best to drive if you can. It takes a little more than an hour. You take the A1067 to the A148 to the B1454.
From King's Lynn you can catch the 34 bus and be in Heacham in about 45 minutes.
Where Can You Park in Heacham
Heacham has two car parks, one by each beach. You can pay with coins or with an app on your phone. Parking charges don't apply during the winter months (1 November – 28 February).
How Long Should You Spend in Heacham?
A day trip can be sufficient to experience the village, visit the lavender farm, stroll along the beaches, and enjoy the sunset. However, if you want to immerse yourself in the relaxing seaside atmosphere and fully enjoy all that Heacham has to offer, staying for a couple of days or even a weekend is ideal. This will give you more time to explore the surrounding area, indulge in local cuisine, and fully unwind in this charming coastal destination.
Where to Stay in Heacham
Indulge in a luxurious getaway at Heacham Manor, a captivating Grade II listed country house on the edge of Heacham. Dating back to 1680, this exquisite hotel has been welcoming guests since 2009.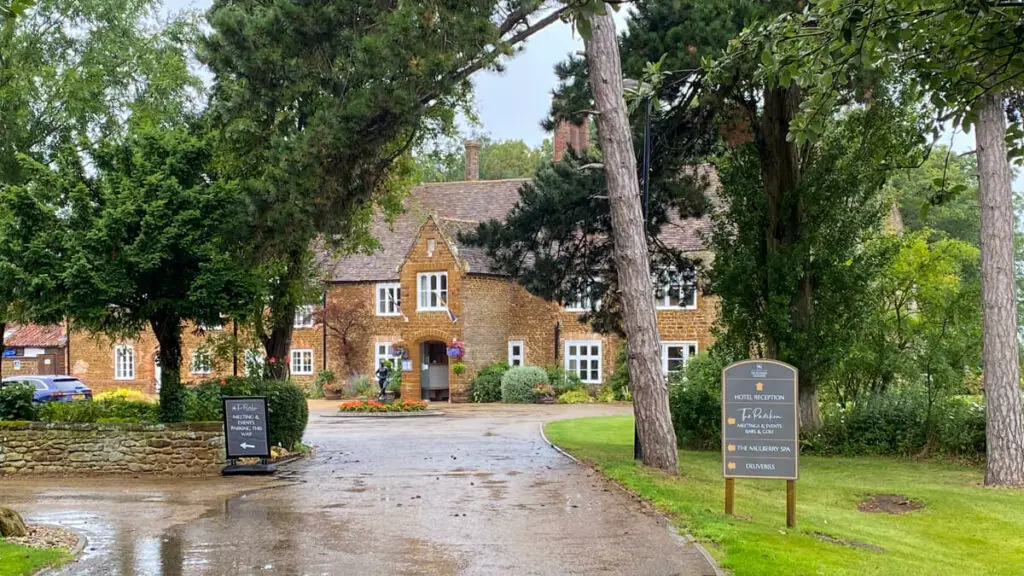 Immerse yourself in comfort with a choice of rooms in the Manor House, the Pavilion, or a converted barn nestled within the picturesque grounds. Benefit from convenient amenities including free parking and WiFi throughout the hotel.
Each beautifully appointed bedroom at Heacham Manor boasts an en suite with a bathtub and/or shower. Enjoy modern comforts such as a flat-screen TV and tea/coffee making facilities. Most rooms offer scenic views of the grounds, creating a serene ambiance for relaxation.
Treat your taste buds to a culinary experience at the on-site Mulberry Restaurant, showcasing delectable dishes crafted with local produce. From a delightful full English breakfast to indulgent Afternoon Tea and satisfying Sunday lunches, the restaurant caters to all palates. Unwind in the hotel's inviting lounge or on the terrace bar, soaking in the tranquil atmosphere.
Read Tripadvisor reviews for Heacham Manor here.
Check price and availability for Heacham Manor here.
For those seeking an alternative accommodation option, Heacham also offers a selection of charming holiday homes. Explore the possibilities and discover your ideal retreat here.
Is Heacham Worth Visiting?
Yes, Heacham is worth visiting. It has a rich history, beautiful beaches, and the renowned Norfolk Lavender farm, offering a unique and enjoyable experience for visitors.
Disclosure: This post contains affiliate links. This means we will receive a small commission for some purchases made using links in our blog with no additional cost to you.  Please be assured we would not promote any product unless we believe that our readers will also benefit.  The commission does not influence the editorial content of this site.