Blakeney Point is one of the best places to see seals in Norfolk, but the only way to get there is by boat. It's not a problem because there are several companies that run boat tours.
We recently did a boat trip to see the seals with Bishop's Boats and thought I would share our experience. Keep reading for my Bishop's Boat Tour Review.
Note: This post contains affiliate links.  As an Amazon Associate, we earn from qualifying purchases. Please see disclosure for more information.
About Bishop's Boats
Bishop's Boat is a local family-run business that has been taking people to see Blakeney Point for more than 65 years. They have two traditional purpose built clinker construction wooden boats and one smaller boat.
Colin Bishop established the business in 1965 and his son Paul and his wife, Elspeth, took over when he retired in 2002. Paul's brother, Gary, does all of the design work including the website.
In the begining, the boats ran only from Blakeney Quay to Blakeney Point. Over the years, demand and the siltation of the harbour led to a gradual migration to Morston quay and many more seal trips. With the new small boat, some trips can now also depart from Blakeney Quay depending on the tides.
While all trips go to the seals, they do not land on Blakeney Point. This helps to protect the natural environment of the reserve and allows for extra time at the seal and tern colony.
When you go with Bishop's Boats they guarantee you will see seals. In the very unlikely event that you do not see any seals, they will offer you a free seal trip another day or 50% refund.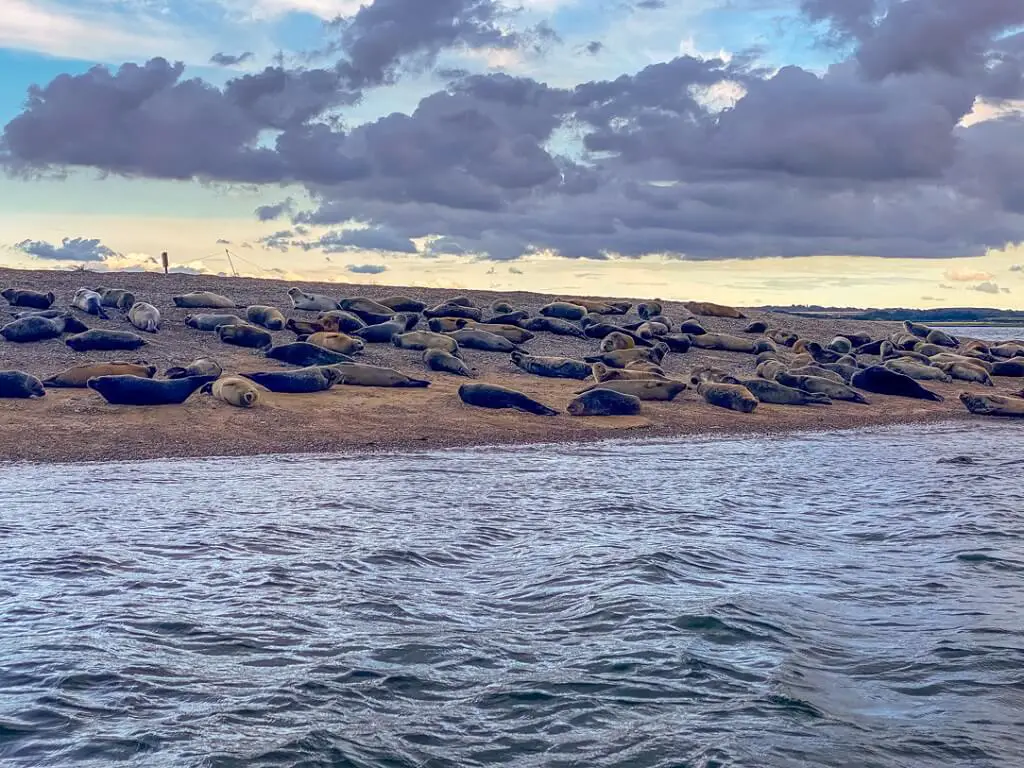 Booking the Seal Boat Trip
If you are interested in doing a boat trip to see the seals, you need to book in advance. With Bishop's, you need to call (01263 740753) to make the reservation as there is no way to do it online or by email. No payment is required until the day of the tour. They do ask that you give them at least two hours notice if you need to cancel or change a booking.
At least 30 minutes before your sailing time, you need to pay for and collect your tickets from Blakeney Quay (postcode NR25 7NE). Make sure you allow time for traffic. You won't need to park, there will be a member of Bishop's staff close to the road. Keep in mind that they only accept cash.
Our Experience with Bishop's Boats
Since it was a summer weekend, we decided to allow plenty of time to drive from Norwich to Blakeney. When we left, it was pouring rain in Norwich, so we called to make sure the boat was still running. The lady I spoke to was surprised we were even asking the question as it was blue skies there.
Traffic wasn't bad so we arrived at Blakeney Quay early. I spotted a sign for Bishop's Boats right away and found the man to pay for the tickets. Since we had a bit of time we decided to park and walk around the area. The sun was shining as it was a gorgeous day in Blakeney.
Note: There is no short stay parking in Blakeney – it cost us £6. You don't have to park to get the tickets, stop next to the parking lot where you see the sign and the Bishop's staff will come to you.
After our short walk, it was time to head to Morston Quay where we would board the boat. It's about a five-minute drive. The parking lot there is owned by the National Trust. We used our membership card in the machine to get free parking. For non-members the parking charge is £6 for the day. (Learn more about the benefits of National Trust membership here.)
It's a five to ten minute walk to the Bishop's Boat dock depending on where you park and how fast you walk. I was a little worried I had passed it as it was further down than I expected. I crossed over the bridge and then I saw a group of people waiting and the Bishop Boat sign. No boat though.
We got to the dock 15 minutes before our tour was scheduled to leave, so I wasn't too worried that the boat wasn't there. Then it was time for our tour to start but we were still waiting for the boat to arrive. I knew we were in the right place because there were many others waiting too.
The boats (there were two) arrived about 15 minutes after the scheduled time. The passengers returning from their tours quickly got off and we got ready to board. The crowd that was waiting organised itself into a queue for each boat.
Boarding the boat was not difficult as it's not a leap or even a big step from the dock to the boat. When you get on the boat you step onto the seats, and it's a bigger step down from there than the initial one to get on the boat. (Note: As a part of coronavirus precautions, the crew is not supposed to assist passengers getting on.)
We grabbed seats towards the front of the boat. It doesn't matter where you sit on the boat as they will make sure that everyone gets a chance to see the seals.
Once everyone was seated we were off. As we moved away from the dock, there was a safety briefing and overview of the tour. While we didn't have to wear life jackets, they explained where they were. They also told us that when we got to the area where we could see seals they would circle around so everyone could see them.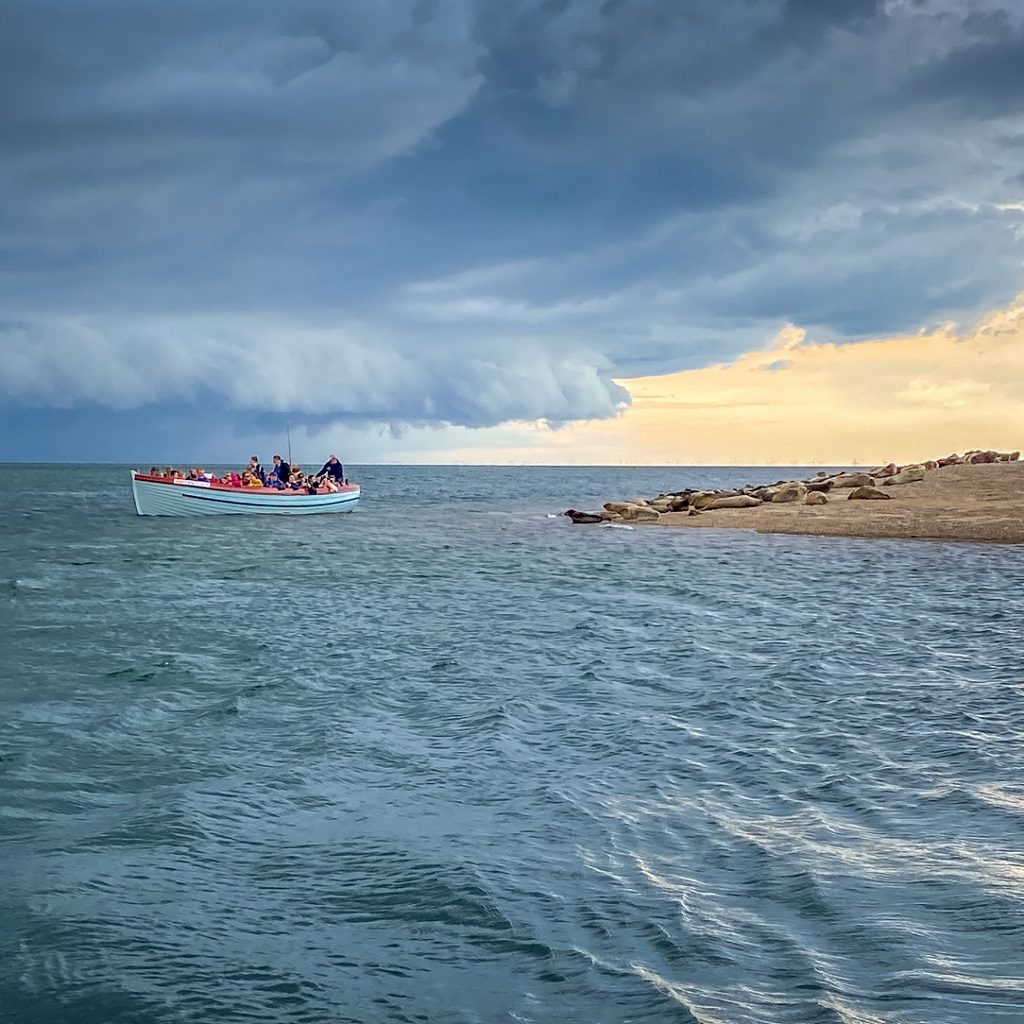 The water was calm as we headed out towards Blakeney Point, but we could see a storm brewing in the distance. Since it was sunny when we parked the car, we didn't bring our jackets or any rain gear. I hoped those dark clouds wouldn't get any closer.
It wasn't much longer until we spotted a seal swimming in the water not too far away. Then we made a turn and could see a whole colony of seals on the beach. We saw common seals and grey seals, some were pups. The boat did three circles so that everyone on the boat had a chance to see them.
On the last circle back to see the seals, we started to feel the raindrops. Then it started pouring. It wasn't long until we were soaked. All we could do was laugh.
The ride back was surprisingly smooth considering we were going right through a storm. The rain did stop a few minutes before we got back to the dock.
Overall Review of Bishop's Boats
We enjoyed our trip to see the seals at Blakeney Point with Bishop's Boats in spite of the rain. Learn from our lesson and make sure you bring rain gear with you.
It was exciting to see so many seals and I liked that we circled back so that everyone had a fair chance to see them. The ride was smooth even when we were going through a storm.
The boat may have been a little later than advertised but that didn't stop us from having a lovely time. We still had plenty of time to see the seals.
Keep in mind that this is not a luxury boat tour. There is no snack bar and no narration (although the crew was happy to answer questions). The seals are the stars of the show.
Bishop Boats FAQs
How much are the Bishop Boat trips?
Bishop Boat tours are £20 for adults and £10 for children 14 and under. It is free for any kids under 2.
Is a Bishop's Boat tour worth it?
I do think £20 for adults (£10 for children 14 and under, free for kids under 2) is a bit pricey for a one hour boat tour, but that is the going rate. We had fun on our trip and saw lots of seals, which wouldn't have been possible without a boat. It's nice that Bishop Boats offers a guarantee that you will see seals (if you don't you get another boat ride or 50% refund).
When do the Bishop Boat tours run?
Bishop's does seal boat tours from April to October. The times change daily based on the tides, so it's best to check the timetable here.
How long are the Bishop Boat trips?
The boat trips last around an hour.
Are Bishop's seal tours good for kids?
Yes. Kids will enjoy being out on a boat and seeing the seals. (If you need more ideas for the whole family, check out our list of things to do in Norfolk with kids.)
Are dogs allowed on Bishop's Boats?
They do allow well-behaved dogs.
Is there food or drink sold on the boat?
No, but there is a refreshment kiosk at Morston Quay.
Are there toilets on the boat?
No, but you can find separate ladies and gents toilets and an accessible toilet at Morston Quay.
Will the seal boat trip go ahead if it is bad weather?
The boat tours operate as long as it is safe to do so. It would have to be extreme weather to cancel or delay a tour. You should be prepared to be on an open boat in the rain.
What do you need to bring when you go on a Bishop's Boat tour?
You don't have to bring anything beside the paper ticket you will pick up at Blakeney Quay. It's a good idea to wear/bring waterproof clothing. You might also want to bring a camera, binoculars, and sun cream.
Disclosure: This post contains affiliate links. This means we will receive a small commission for some purchases made using links in our blog with no additional cost to you.  Please be assured we would not promote any product unless we believe that our readers will also benefit.  The commission does not influence the editorial content of this site.