While Norfolk has some of the best weather in the UK, it still has its fair share of rainy days. I hate to let the weather dictate my plans but there are some things that are just not fun when it rains. If you can find an indoor activity or attraction that will be ideal.
Don't worry there are plenty of things to do in Norwich in the rain.
More pictures coming soon!
Be sure to sign up for our email newsletter here, so we can tell you about more things to do around Norfolk.
Note: This post contains affiliate links.  As an Amazon Associate, we earn from qualifying purchases. Please see disclosure for more information.
Things to Do on a Rainy Day in Norwich England
When it rains, you probably want to stay inside as much as possible. It's not the best time to enjoy the natural beauty of Norfolk. Instead take advantage of some of the fun and interesting indoor attractions during bad weather. Here are a few ideas for how to spend a rainy day in Norwich.
#1 Explore the Inside of Norwich Cathedral
Even on a sunny day, it's worth spending some time inside Norwich Cathedral. Built over 900 years ago, it's the most complete Norman Cathedral in England and one of the finest examples of Romanesque architecture in Europe.
The ceiling is so intricate, you'll want the opportunity to use the mirror to look up at the medieval roof bosses, the most of any cathedral in the Christian world. Towards the back of the Cathedral, you will find a narrow staircase leading to the Treasury where you can see a collection of gold and silver communion vessels from many parish churches.
Don't miss the Cloisters either, the largest of their kind in the country. While it may be too muddy or wet to walk the Labyrinth, you can still appreciate the intricate stonework and more medieval bosses.
It is free to visit the Cathedral, but make a donation if you can. It is expensive to maintain the historic building.
If you can't make it to Norwich Cathedral in person, take a virtual tour here.
#2 See the Treasures Inside Norwich Castle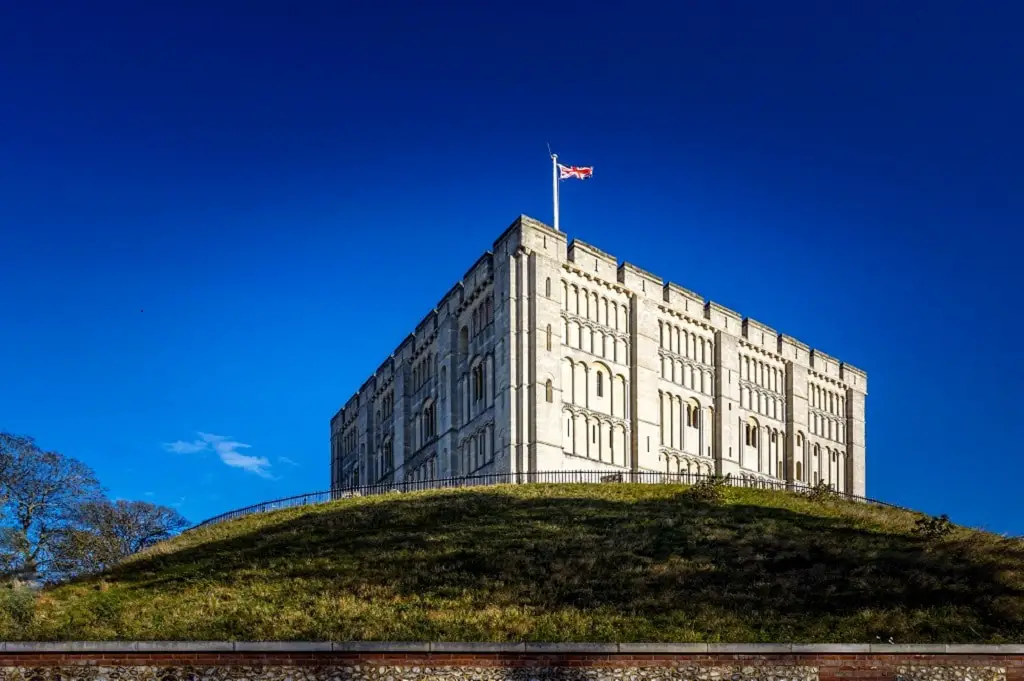 Norwich Castle, a Grade I-listed building and Scheduled Ancient Monument, dates back to the times of William the Conqueror. It was founded sometime around 1067 and was the only major royal castle in East Anglia until Orford Castle was built in Suffolk by Henry II in the mid-12th century. Now the only part of the castle still standing is the keep which was transformed into a museum in 1895.
The medieval layout inside the keep is no longer there. Instead you will find interactive displays that explain more about the castle and its history. You can also take a tour of the dungeon and the battlements.
Next to the keep, there is an exhibition area where you can see a diverse collection of fine art, including costume, textiles, jewellery, glass, ceramics, teapots, and silverware. There are also displays about Boudica and the Romans, Anglo Saxons and Vikings, and Egyptians as well as a Natural History Gallery.
Note: Norwich Castle is currently undergoing a major project called "Norwich Castle: Royal Palace Reborn" to transform the castle keep. This will cause some planned closures. Get more information here.
#3 Sainsbury Centre for the Arts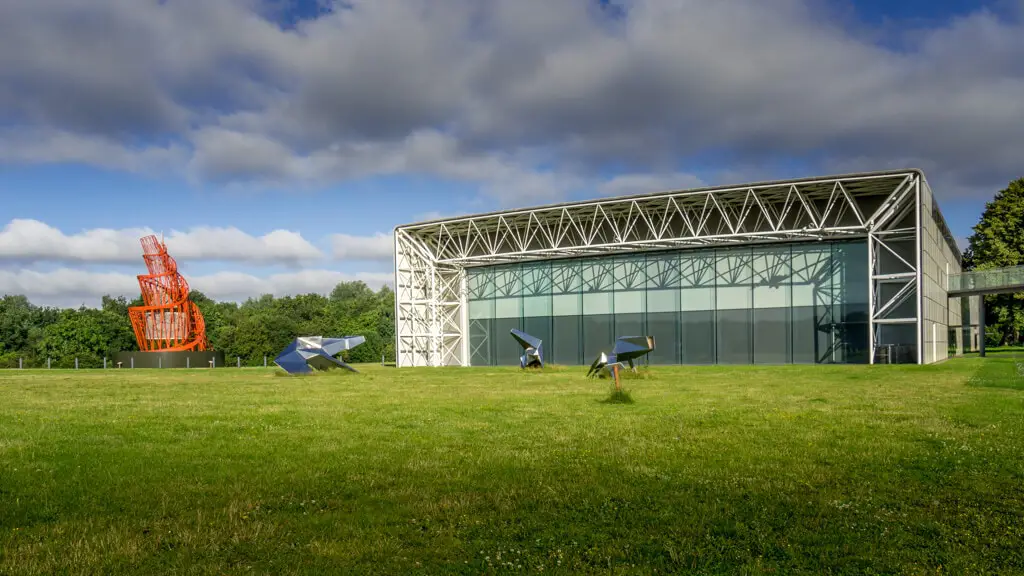 Art museums are perfect for rainy days. Just a bit west of the city centre on the University of East Anglia (UEA) campus, the Sainsbury Centre for the Arts is home to the Robert and Lisa Sainsbury Collection. The artwork is quite diverse covering different time periods, cultures, and artists including Pablo Picasso, Edgar Degas, Francis Bacon, Jacob Epstein, Henry Moore, and Paul Gauguin.
They also have special temporary exhibits that change periodically, so there is always something new to see. Check to see what's on here. You can also read our review of the the Leiko Ikemura: Usagi in Wonderland exhibition to get an idea of what to expect.
In addition to the collection of artwork inside, the museum is known for it's architecture. It was one of the first major public buildings to be designed by the architects Norman Foster and Wendy Cheesman and has appeared in the movies Avengers: Age of Ultron and Ant-Man.
It is free to see the permanent collection at the Sainsbury Centre, but there are additional charges to see the special exhibitions. They also have an outdoor sculpture trail which is best when the weather is pleasant.
#4 Treat Yourself to an Afternoon Tea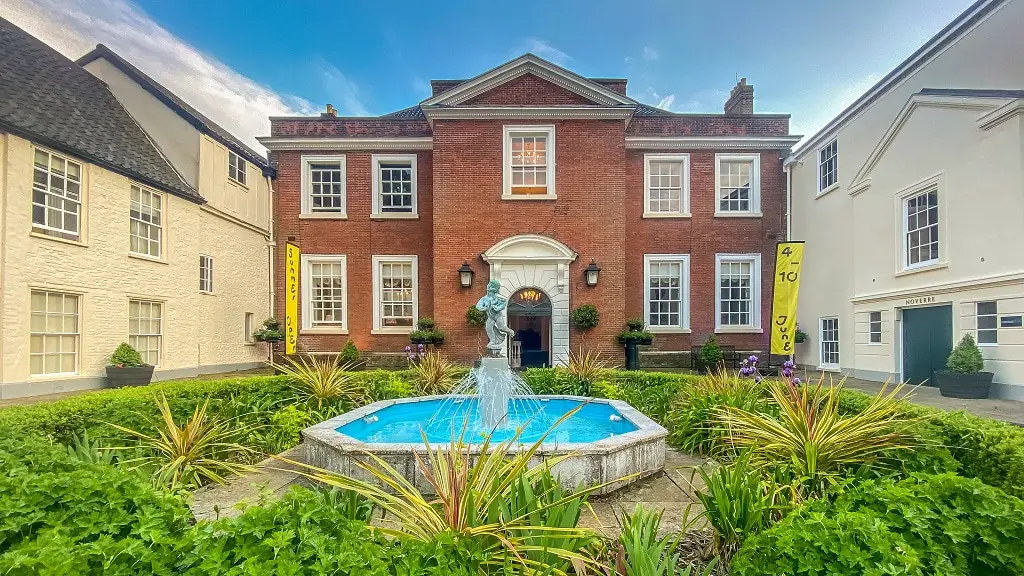 When you delight in afternoon tea, you won't even mind the rain outside. In Norwich, the Assembly House is THE place to go. It's a Grade I-listed building that used to be the place for the elite to assemble for musical events, lectures, dances, theatre shows, and games. In 1805, it even hosted a Grand Ball to celebrate Lord Nelson's victory at the Cape of Trafalgar.
While parts of the ornate building date back to the 13th century, the main halls were designed by Georgian architect Thomas Ivory in 1754. The sweeping driveway, high ceilings, elaborate crystal chandeliers, and grand fireplaces were all intended to impress even the most sophisticated guests.
The Assembly house is known for their creatively themed afternoon teas. Previously, they've done Rainbow Unicorn Afternoon Tea, Halloween Frightful Fancies Tea, the Great British Garden Party Tea, Alice and Wonderland, the School of Magic Afternoon Tea, and more.
They also have special afternoon teas on certain holidays like Mother's Day. Each year they have a new Festive Afternoon Tea each Christmas season. They also have a smaller version of their afternoon teas for children 12 and younger.
#5 Go to a Pub
When you are inside a pub with your pint, the rain won't bother you! While Norwich used to boast that it had pubs for every day of the year, there are still plenty of places to grab a pint in the city centre.
Our favourite pubs in the city centre are the Murderer's, Lamb Inn, and Adam & Eve. While you are there, you could also enjoy a delicious meal. (When the weather is better, you should also check out some of the riverside pubs in Norwich.)
Since you are in Norwich, you should try some of the local beverages. Woodforde's is the most popular brewery in Norfolk. Adnam's, located not too far away in Southwold in Suffolk is another tempting option.
*Get more ideas for fun things to do in Norwich here.
#6 Go to the Theatre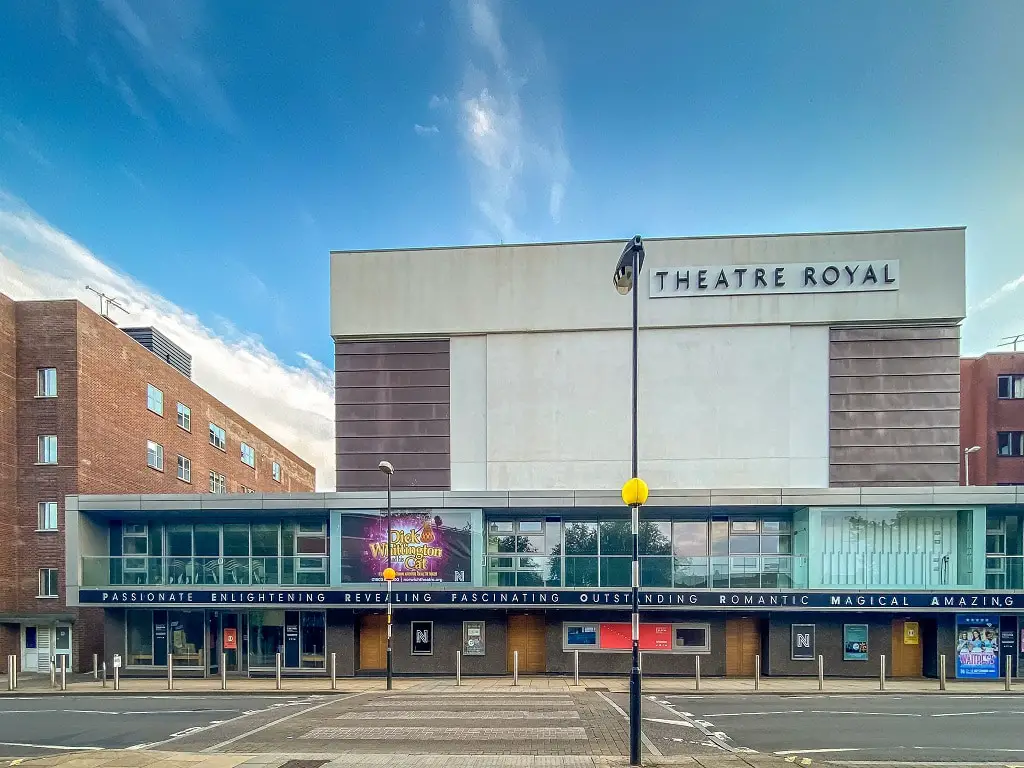 Norwich has one of the oldest theatres in the country, the Norwich Theatre Royal. It was established more than 250 years ago. While the current building dates back to 1935, it feels quite modern as it was refurbished in 2007. It's the perfect place to live theatre inside while the rain is coming down.
Check out the calendar for Norwich Theatre Royal here.
Families should check out the Norwich Puppet Theatre. They host family-friendly original shows that play in the converted medieval church in Norwich before touring the UK and internationally. Additionally, they offers various activities, workshops and masterclasses to learn more about theatre and crafts. While you may think of it as a place to go in Norwich with kids, they have adult events too.
Check the schedule for the Norwich Puppet Theatre here.
Learn about more theatres in Norwich here.
#7 Check out other Churches in Norwich
The Norwich Cathedral is not the only church in town. In fact, it was once said that Norwich had a church for every Sunday (there were actually 57 within the city walls, so they weren't kidding). While many have been repurposed or are no longer still standing, there are a few that are worth stepping inside.
St. Peter Mancroft – This is the largest medieval parish church left in Norwich. Inside you can see two organs, a medieval tapestry, stained glass, and more.
St. Giles – It's hammer-beam nave roof is stunning with carved angels holding heraldic shields with the arms of both England and France. There are also five mace stands set on the ends of pews that were used to hold maces of office by mayors resident in the parish.
Cathedral of St. John the Baptist (aka the Roman Catholic Cathedral) – They offer tours on Saturdays during the summer months. Some will allow you to climb the stairs of the tower. Get more information here.
Another time, when the weather is better, you could do this 2.5 mile medieval churches walk.
#8 Go Shopping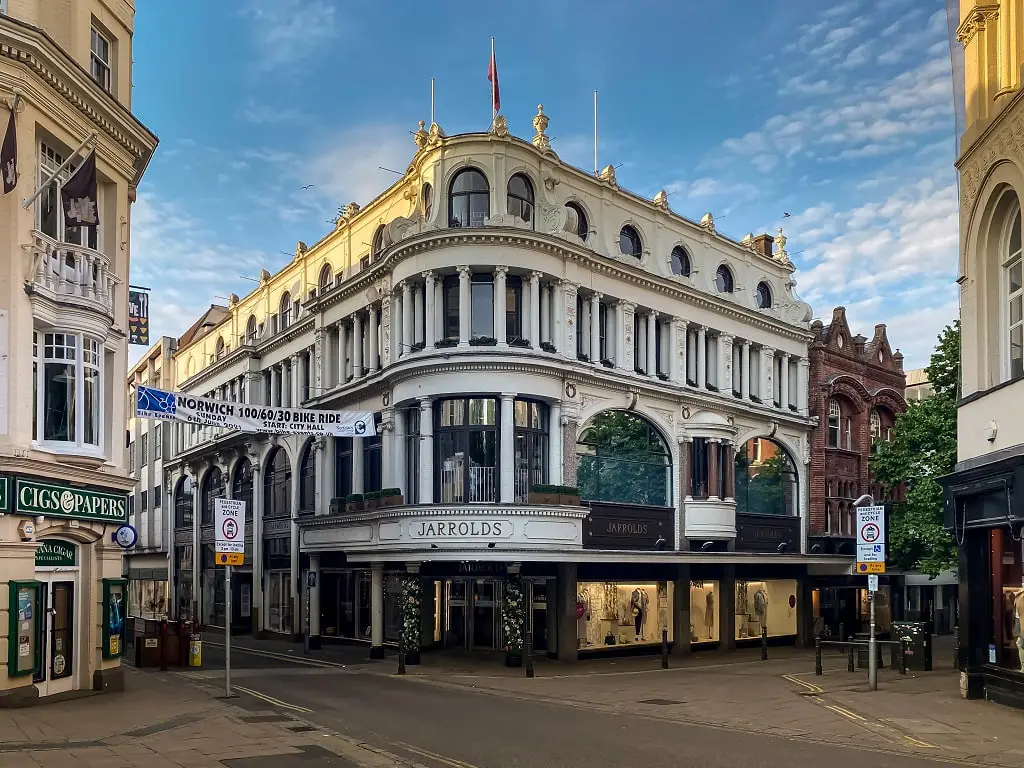 Norwich has an impressive range of shopping options for a city its size. It has two indoor shopping malls – Castle Mall and Chantry Place. There is also a large M&S and Jarrold's, a local department store in the city centre. The Jarrold's basement has some unique local food (and drink) specialties.
Norwich Market has almost 200 different stalls full of a diverse range of products. It one of the oldest and largest outdoor markets in the country, but the stalls and aisles are covered. Nearby, the Norwich Lanes are full of charming independent shops (and restaurants).
#9 Check Out Stranger's Hall Museum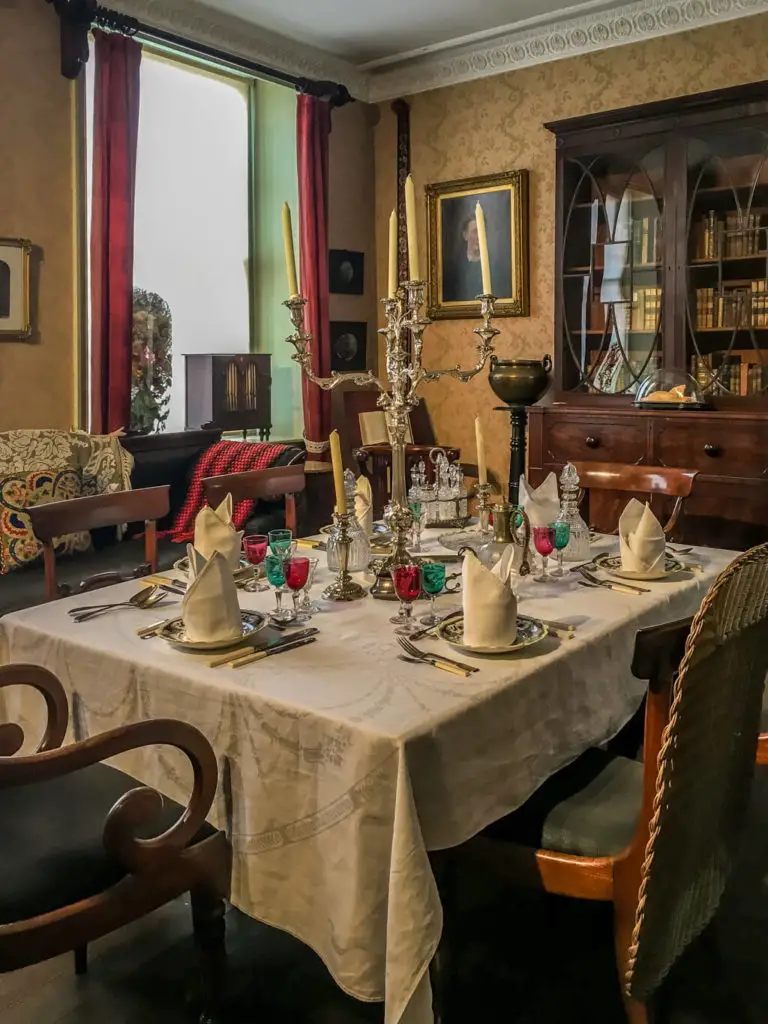 Strangers' Hall is a Grade I listed building that has been converted into a museum of domestic history. Before it became a museum it was a residence. Over the years, people from various walks of life have lived here including a solicitor, dance master, and several mayors of Norwich.
The oldest parts of the building date back to the fourteenth century but there have been many additions over the years. As you walk through the house, you can see the different rooms decorated in the different historical styles like the Medieval Undercroft, Regency Music Room, and Victorian Parlour. If there is a break in the rain, you can also check out the small but charming garden.
If you are not able to visit in person, you can take a video tour here.
#10 Visit the Museum of Norwich at the Bridewell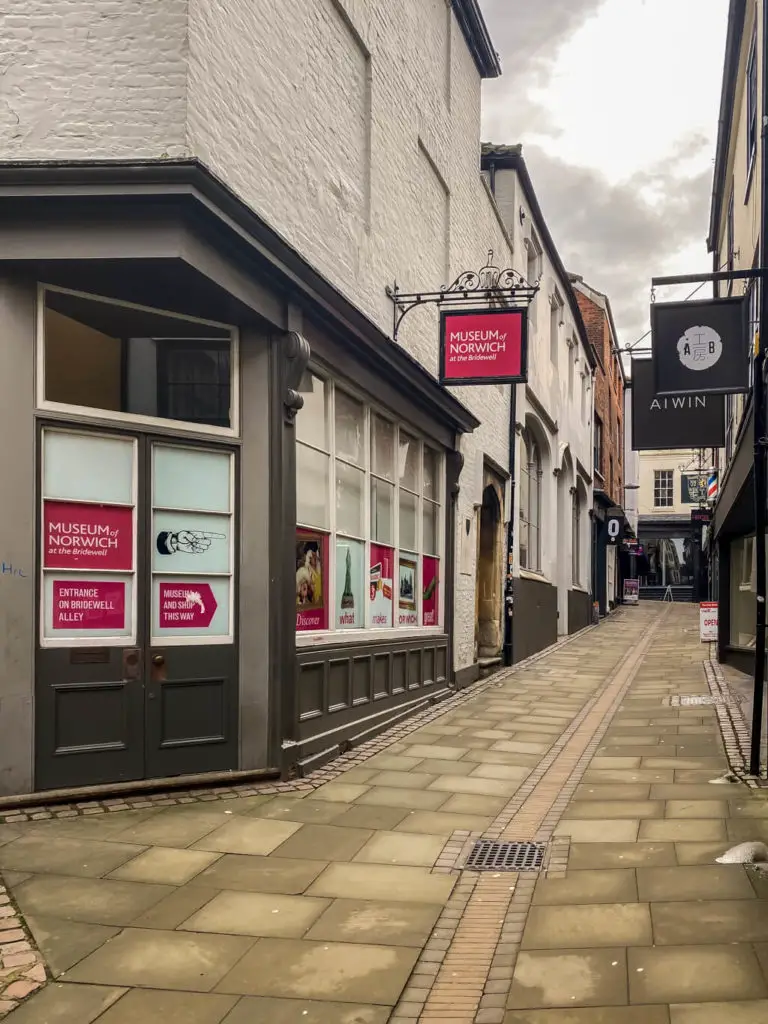 In addition to all the independent shops and restaurants in the Norwich Lanes, you will also find the Museum of Norwich at the Bridewell. Inside this small museum you can learn more about the history of Norwich and its people.
One of their treasures is a first edition of The Revelations of Divine Love, the first book published in English that was written by a woman, Julian of Norwich. Also don't miss the pharmacy exhibit. Some displays are interactive, so it's great for kids.
Learn more about the Bridewell Museum here.
#11 Go Bowling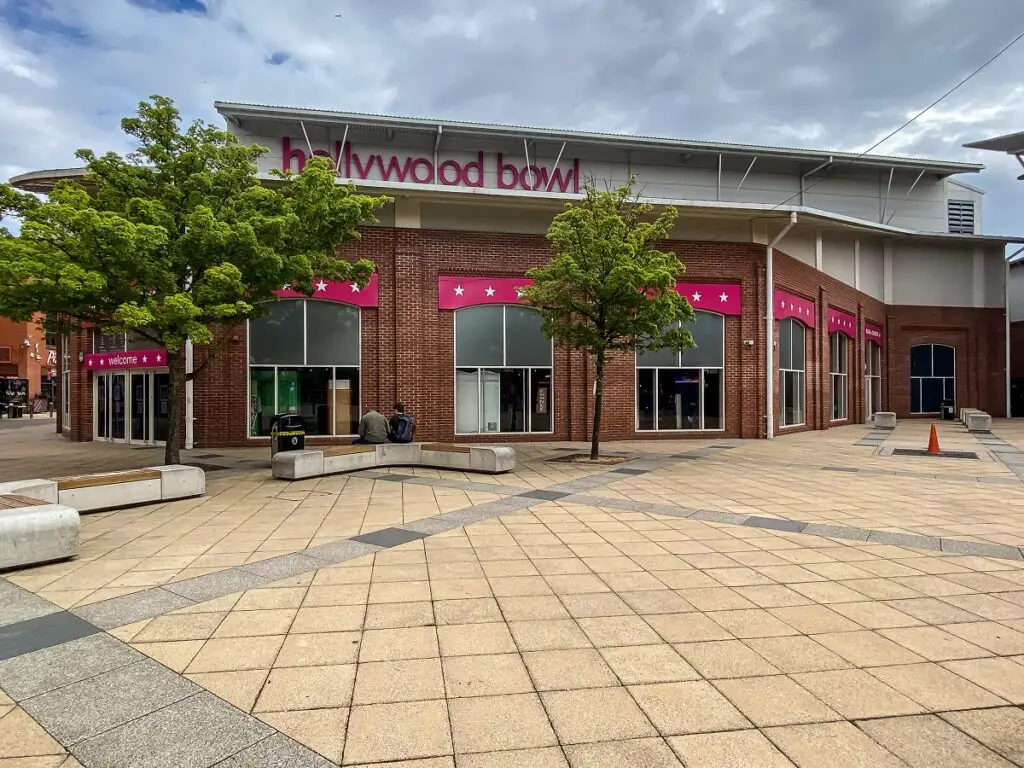 Bowling is always a fun bad weather activity. You don't have to be a skilled bowler to have a good time. It's great for groups of friends or families. Most bowling alleys can add bumpers over the gutters so even younger kids can get in on the fun. They also have arcade games if the kids get tired of bowling. If you get hungry or thirsty, they will bring the food and drinks to your lane.
There are several bowling alleys in Norwich:
Superbowl UK (Also has a soft play centre for the little ones)
Bowling House (Best option for food and cocktails. They also have a private karaoke room. Be sure to check out their membership program which offers great value)
It's best to book bowling in advance. Check the websites before you go as they sometimes offer online only specials.
#12 Play Laser Tag
Going to play Laser Tag is like being transported into a video game. Anyone about 5 years old and older will enjoy it and it can be a good workout too. Players use infrared-emitting light guns to shoot at designated targets in the arena and on opposing players. Like a video game, a score is calculated and a winner is crowned.
You can play Laser Tag in Norwich at Quasar.
#13 Try an Escape Room
An escape room is part adventure, part intriguing storyline with a mix of puzzles and riddles. Your group needs to work together to solve them to escape. It will be challenging and fun at the same time.
If you want to do an escape room in Norwich check out Escape Hunt at Chantry Place or Cryptic Escape (two locations – Tombland or Rose Lane). For a futuristic twist, try the Norwich VR (virtual reality) Escape Room. Alternatively, inside Castle Quarter, you can do a free roam or pod based virtual escape room at Vector VR – learn more about it here.
#14 Go to the Arcade
Retro Replay inside Castle Quarter (formerly known as Castle Mall) is an arcade and gaming lounge. They have over 80 classic arcade machines including Space Invaders, Double Dragon, Time Crisis, Afterburner and 20 retro console setups with an extensive library that's constantly growing.
Instead of paying for each game that you play, they charge an entry fee. You just pay once and then can play as much as you like. They give you a wristband so you can leave and come back the same day.
#15 Play Indoor Miniature Golf
The weather doesn't have to stop you from playing a game of mini-golf when there are indoor courses.
Head to Putt Putt Noodle at Castle Quarter where you can choose from three Asian-themed nine-hole courses. We had fun playing the Cherry Blossom course, but there are also the Crouching Tiger and Dragon Quest ones.
In addition to the golf, Putt Putt Noodle also offers Asian street food and speciality cocktails.
Alternatively, just upstairs from Putt Putt Noodle, Boom Battle Bar has what they call a crazier golf course.
Norwich's newest indoor mini golf option is Mulligan's in Riverside. We enjoyed their course because the design of the course is quite creative. In addition to the crazy golf, they also offer electro-darts, shuffleboard, ping pong, pool & an epic bar.
#16 Go Skateboarding Inside a Church
After years of sitting empty, St Peter Parmentergate Church on King Street has been turned into a skate park and skate shop. Yes, you can go skateboarding inside the nave of the church and they also have a store with all kinds of skateboarding gear.
Get more information and book your two hour session here. If you want to learn to skateboard, they plan on offering lessons for all ages soon.
What to Do in Norwich When It Is Raining
As you can see there are plenty of things to do in Norwich when it rains. From the Cathedral to museums to shopping and more. The rain does not have to stop you from having a fun time. If you need more ideas, you might also like to consider these things to do in Norfolk when it is raining.
How do you like to spend a rainy day in Norwich?
Be sure to sign up for our email list here to keep up to date with what's happening in Norfolk.
Disclosure: This post contains affiliate links. This means we will receive a small commission for some purchases made using links in our blog with no additional cost to you.  Please be assured we would not promote any product unless we believe that our readers will also benefit.  The commission does not influence the editorial content of this site.