The North Norfolk Coast is a seal lover's paradise! If you're eager to catch a glimpse of these adorable creatures, you've come to the right place. In this post, I'll reveal the best places in Norfolk to see seals, along with some insider tips to ensure you have the ultimate seal-spotting adventure.
Note: This post contains affiliate links.  As an Amazon Associate, we earn from qualifying purchases. Please see disclosure for more information.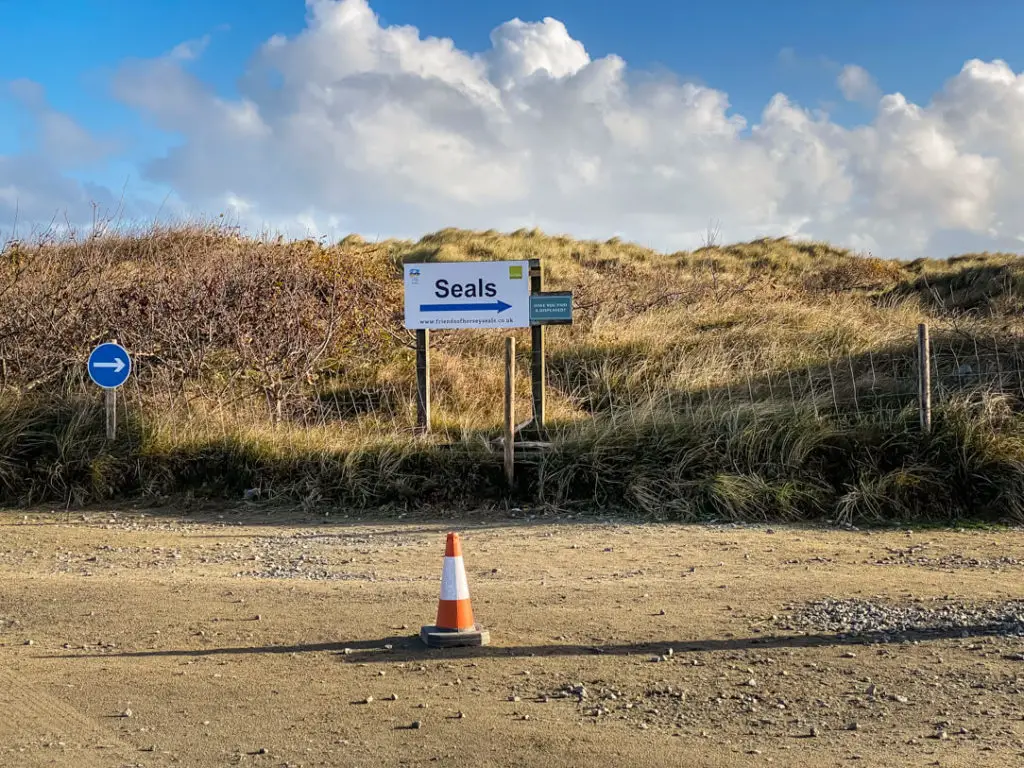 Important Information for Seal Spotting in Norfolk
It is important to remember that the seals are wild animals and can be dangerous. When you go to see the seals, there are a few things to keep in mind:
Don't get too close to the seals. Stay at least 20m (or the length of two buses) away. Never get between a seal and her pup, or a seal and the sea. If you want to take photos, you will want to have a zoom lens.
Don't feed the seals. The seals could easily become ill or even dependent on humans for food.
Don't bring flying rings of any kind to the beach. Young seals get the flying rings stuck on their necks and as they grow it stays there and cuts into their necks causing horrific injuries.
Make sure you keep dogs on short leads. Never allow a dog to run loose near a seal colony as this can cause distress. Also keep in mind that seals may occasionally stray from the beach on to paths or may hide in the dunes, so don't walk dogs without leads in these areas.
If you see a seal that is injured, in distress, or in need of emergency assistance call British Marine Divers on 01825 765546, the RSPCA on 0300 1245 999, Friends of Horsey Seals on 07706 314514 or Marine and Wildlife Rescue on 01692 650338 or Info@marineandwildliferescue.org.uk.
Best Places to See Seals in Norfolk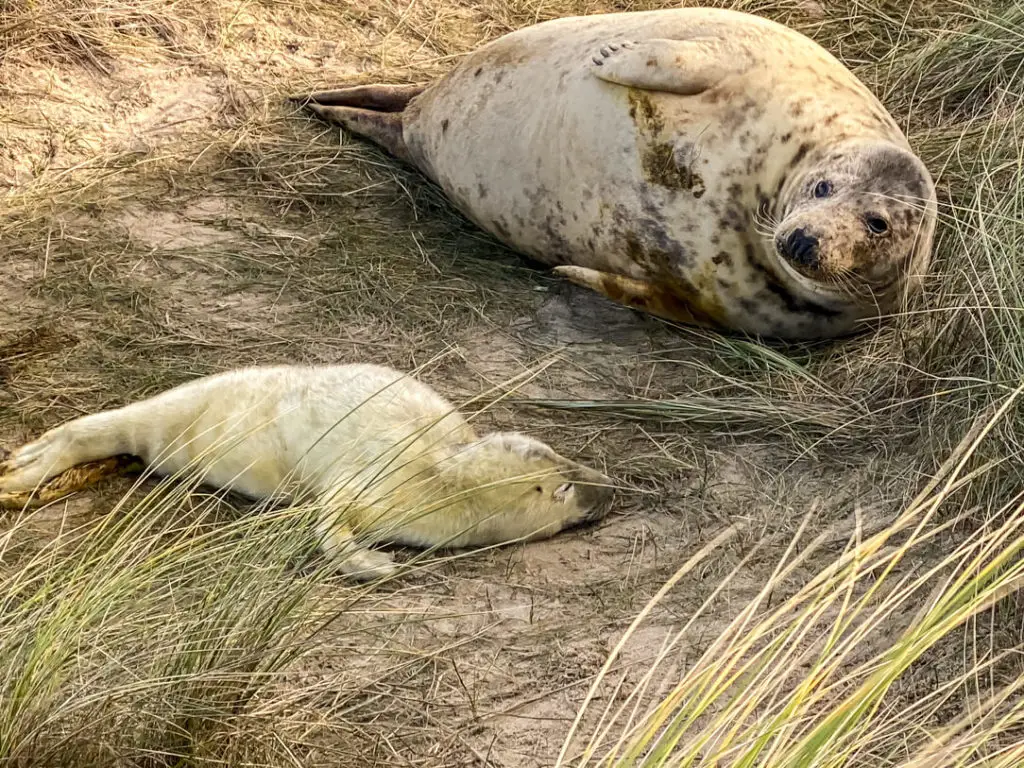 If you want to see seals in Norfolk, you need to know where to go. Some spots you can drive to, while others require a boat. You may see the seals swimming in the sea or relaxing on the beach.
Here are a few places to see seals in Norfolk, listed in order of probability of seeing seals (from highest to lowest). It's fun and educational for the whole family.
*Get more ideas for things to do in Norfolk with kids.
#1 Blakeney Point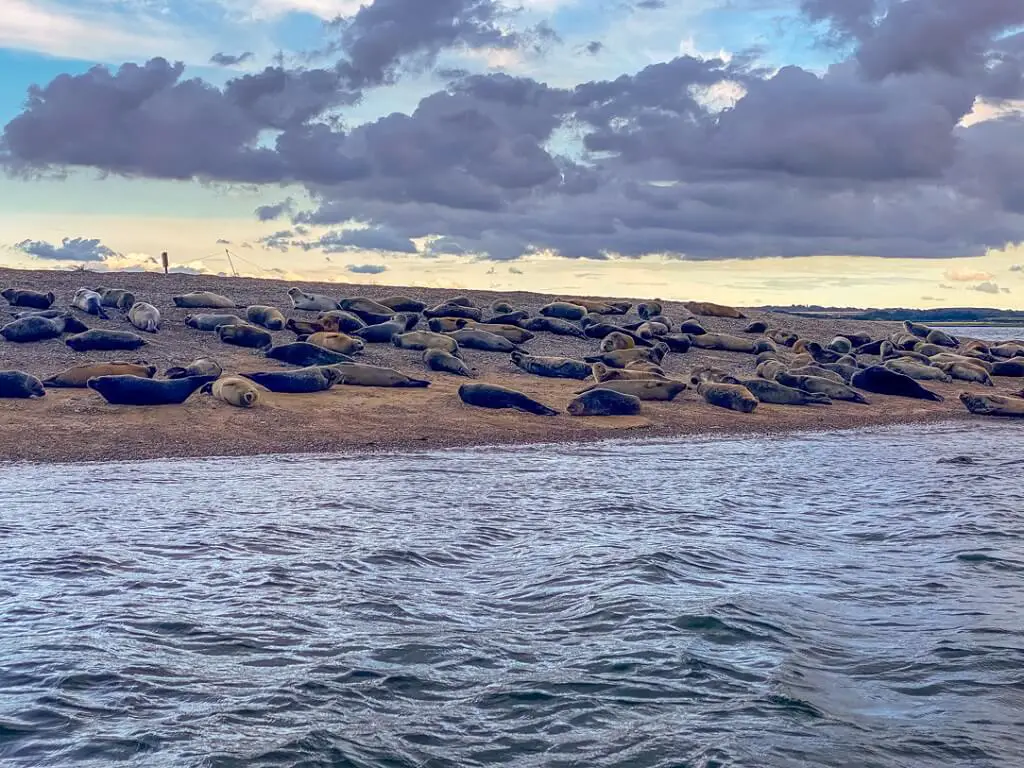 Blakeney Point is the home to the largest colony of grey and common seals in England. Since 1912, it has been a nature reserve run by the National Trust. Over 3,000 pups are born here each year!
You can see seals lying on the beach and swimming around in the water. In the summer from June to August, common seals have their young, while the grey seals have their pups between November and January.
It's also a popular spot for bird watching. During the summer months, you are likely to see Sandwich and Little Terns. In April, Common and Arctic Terns as they begin to arrive from West Africa.
In the winter, you can watch the duck and geese,including teals, pintail ducks, and pink-footed geese, fly overhead. On the sands you might also see oyster catchers, dunlins, ringed plovers and turnstones.
The only way to get to Blakeney Point is to take a boat trip. There are several companies that provide seal tours from Morston Quay, including Bishop's Boats and John Bean Boat Trips.
The boat trips take about an hour and pass by the seals several times so that everyone gets a good view.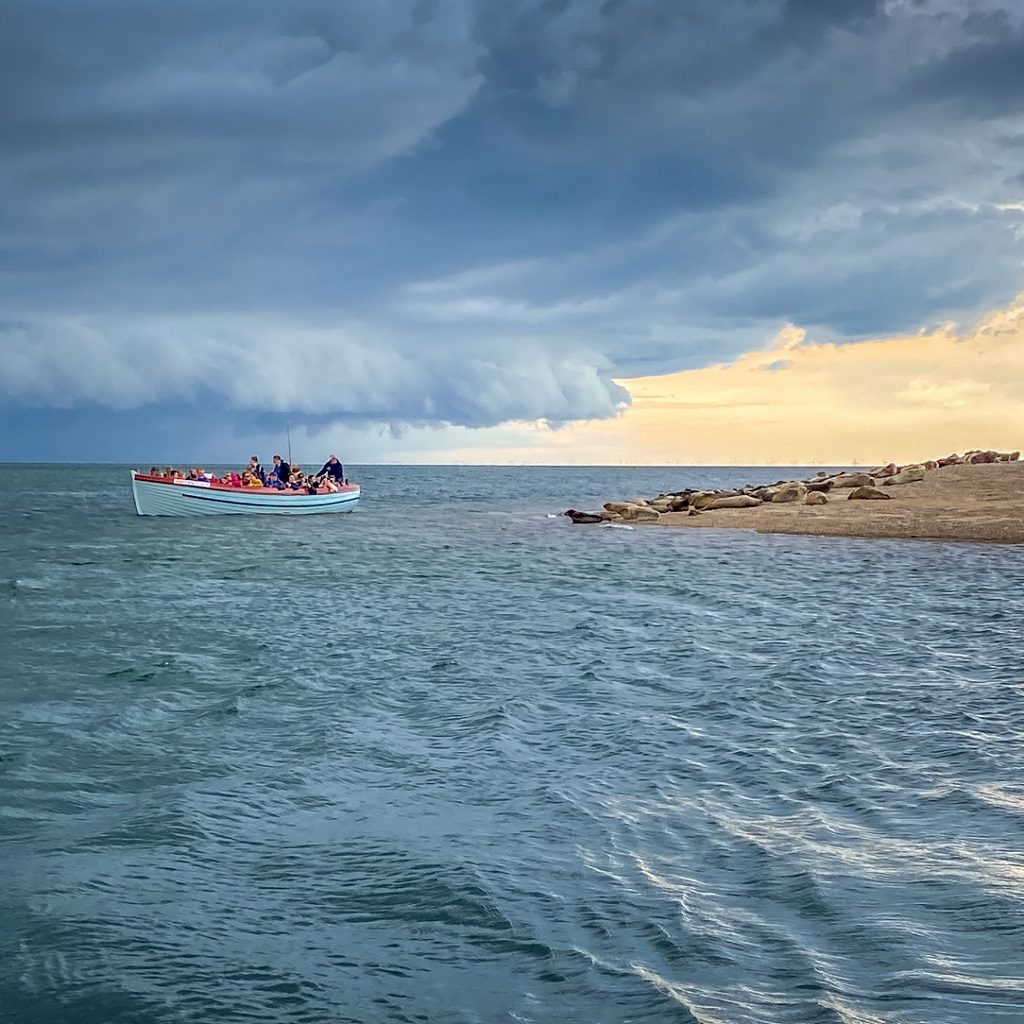 During the summer months, it's important to allow plenty of time for potential traffic, finding a space in the car park at Morston Quay, and walking to the dock in time for your trip. Car parking is free for all National Trust members or £6 all day for non-members.
The seal trips are very popular, so you must book in advance. The tour schedule varies according to the tide, but not all the providers offer tours in the winter months. Make sure you dress for the weather (it will be colder on the boat) and bring your camera for your seal watching trip.
#2 Horsey Beach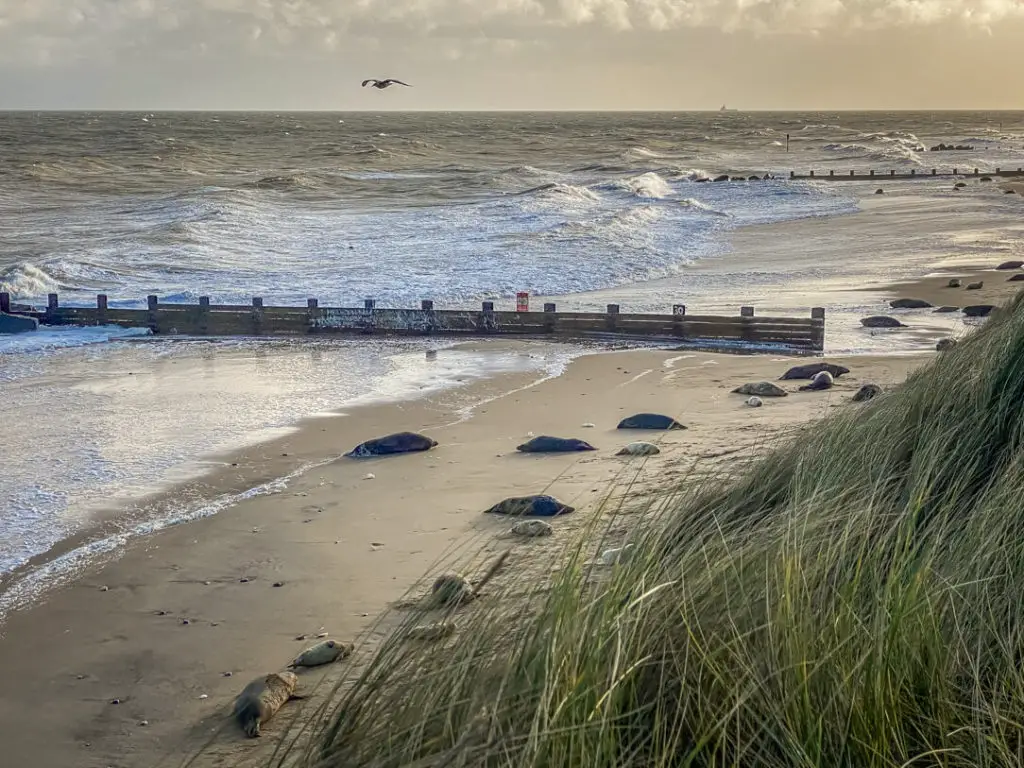 If you want to see the seals in their natural habitat without taking a boat ride, Horsey Beach (also called Horsey Gap) is going to be your best bet. It's one of the more wild beaches on the Norfolk coast, as there are no facilities, but there are plenty of seals in the winter months.
The seals come to Horsey Beach in late October through February to have their pups. Throughout the rest of the year, you can see the seals swimming around in the waters off the beach and at times resting on the sand.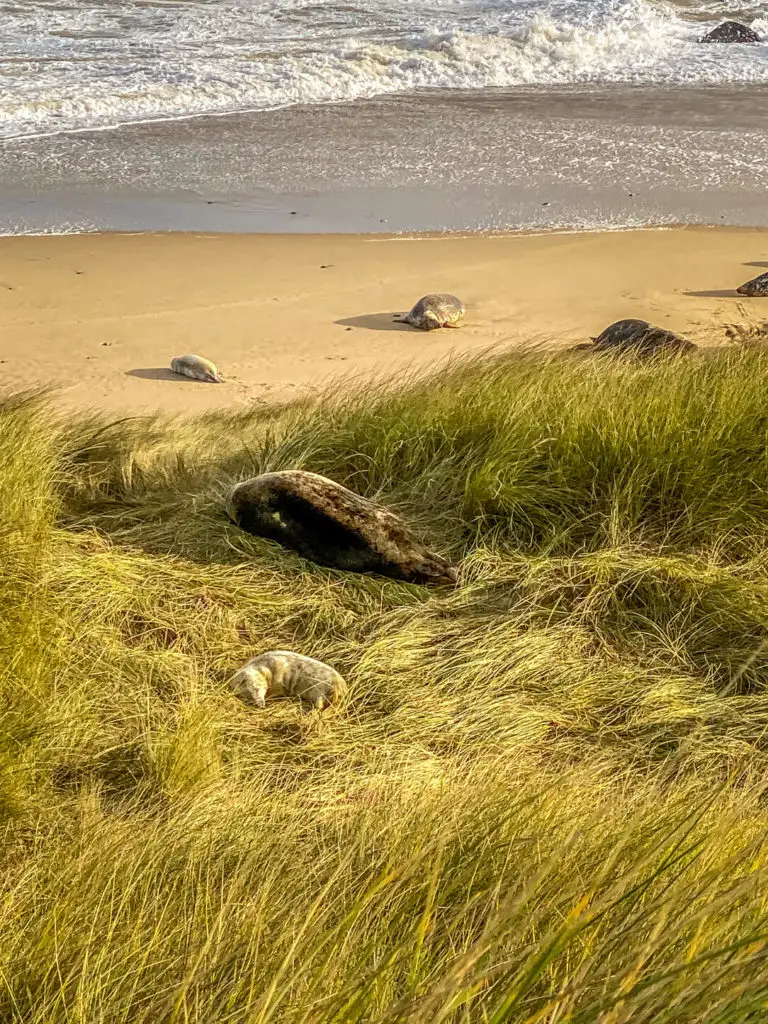 Mothers come ashore 24 hours before giving birth. If you are lucky, you might even be able to see a birth. The newly born white seal pups can't go into the water right away. They have to stay on the beach close to their mothers for about three weeks until they moult. Then they can go into the sea.
If you are wondering how many seals there are at Horsey and how many births there have been, a team from Friends of Horsey Seals monitors it weekly from November to January. They post the results of their count of seals on Horsey and Winterton beaches on a board at Horsey and also send it to the Marine Mammal Unit at St Andrews University.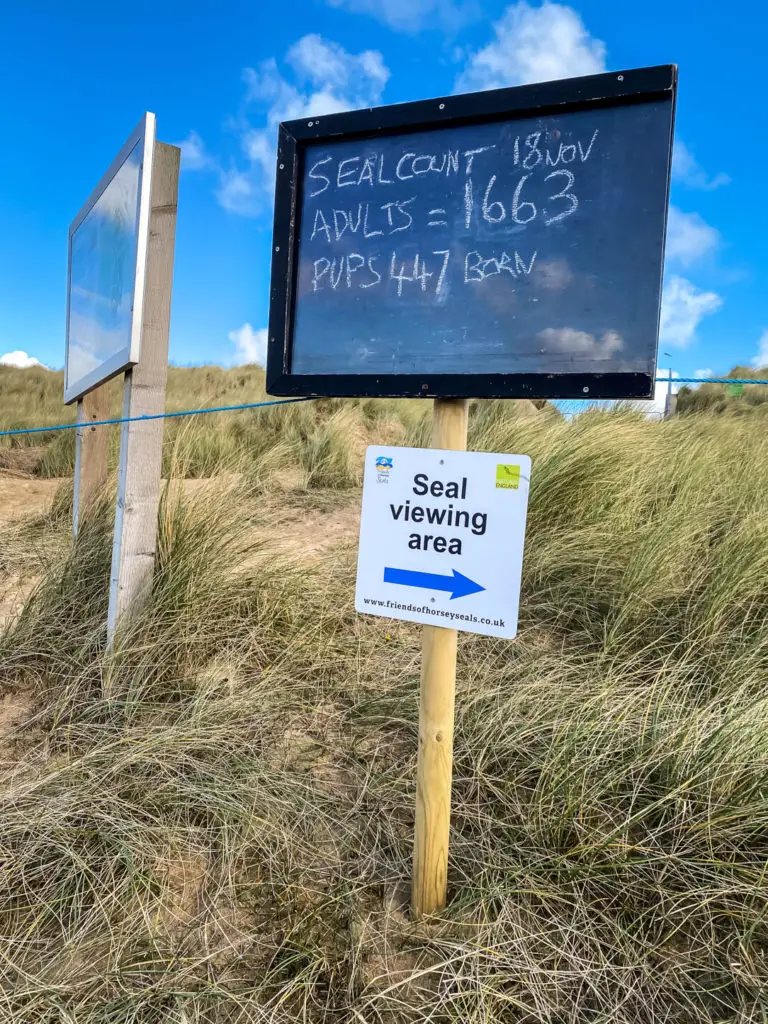 During the winter months, parts of the beach will be closed off to protect the seals. Wardens are around to make sure everything is ok. They are also happy to answer any questions you may have.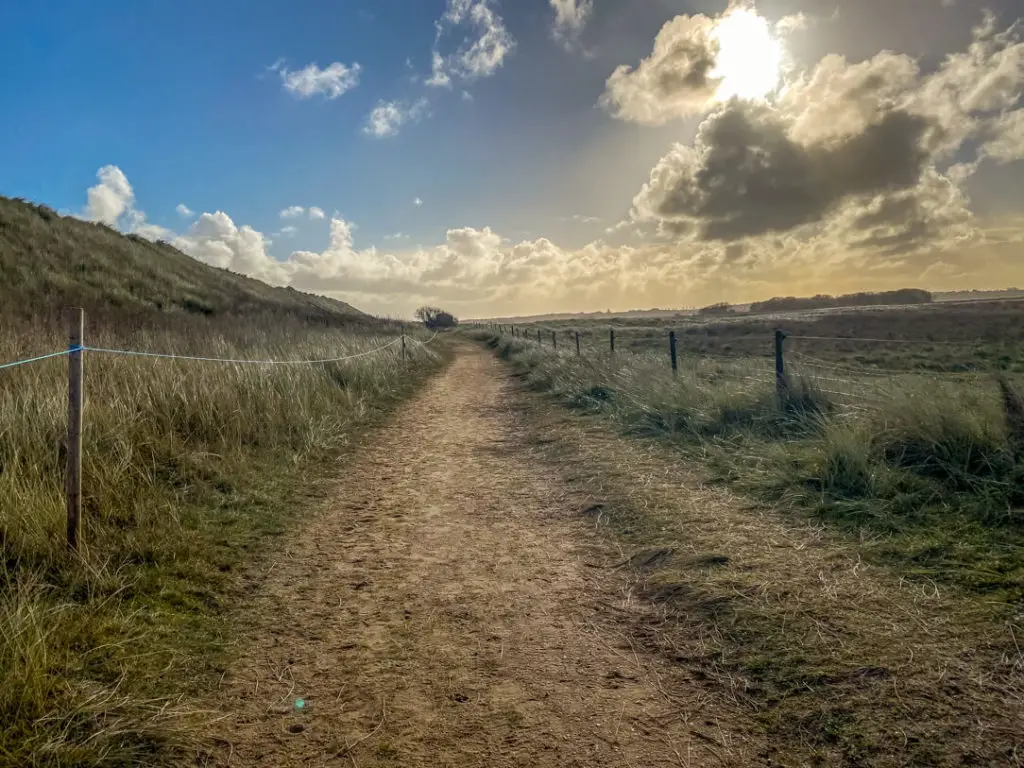 You can walk along the Norfolk Coast Path to see several seal viewing areas. Along the path, there are some fun seal trivia questions so you can learn more about these fascinating creatures.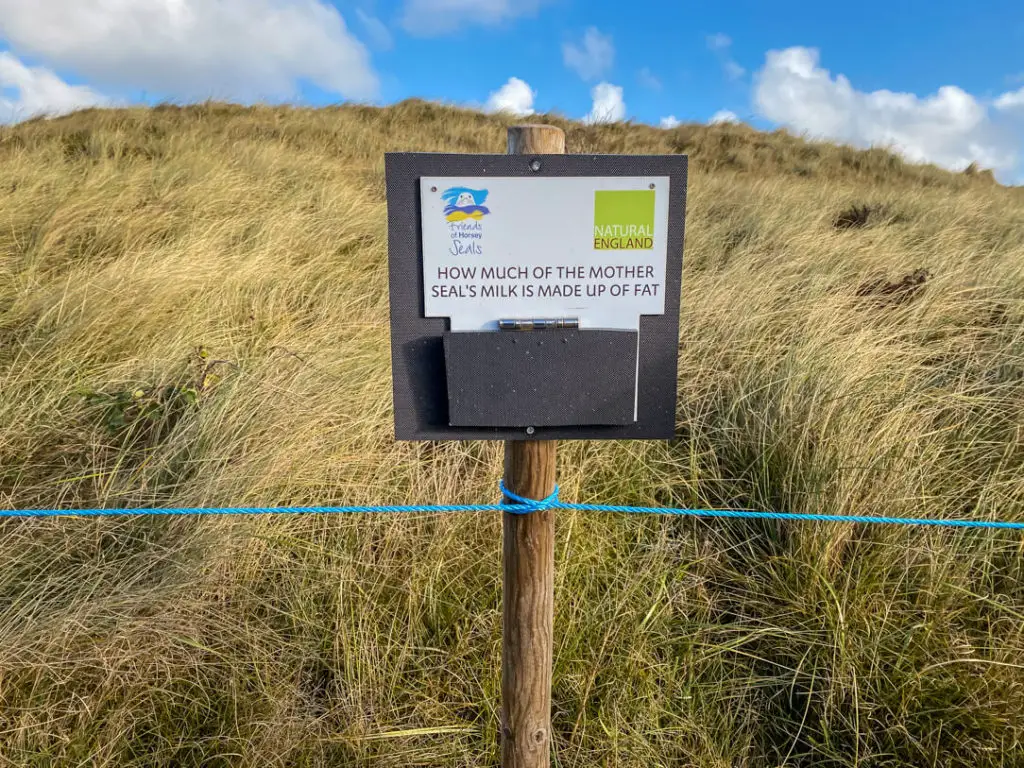 If you plan on staying at Horsey Beach for a while, you will want to bring your own picnic. Alternatively, there is the Poppylands Tea Room and Restaurant not too far away on the main road.
Horsey can get crowded during the winter months, but at other times it's pretty quiet. While there is no admission charge to see the seals or visit Horsey Beach, you will need to pay for parking. You can also make a donation to Friends of Horsey Seals to help with the good work they are doing to protect these amazing creatures.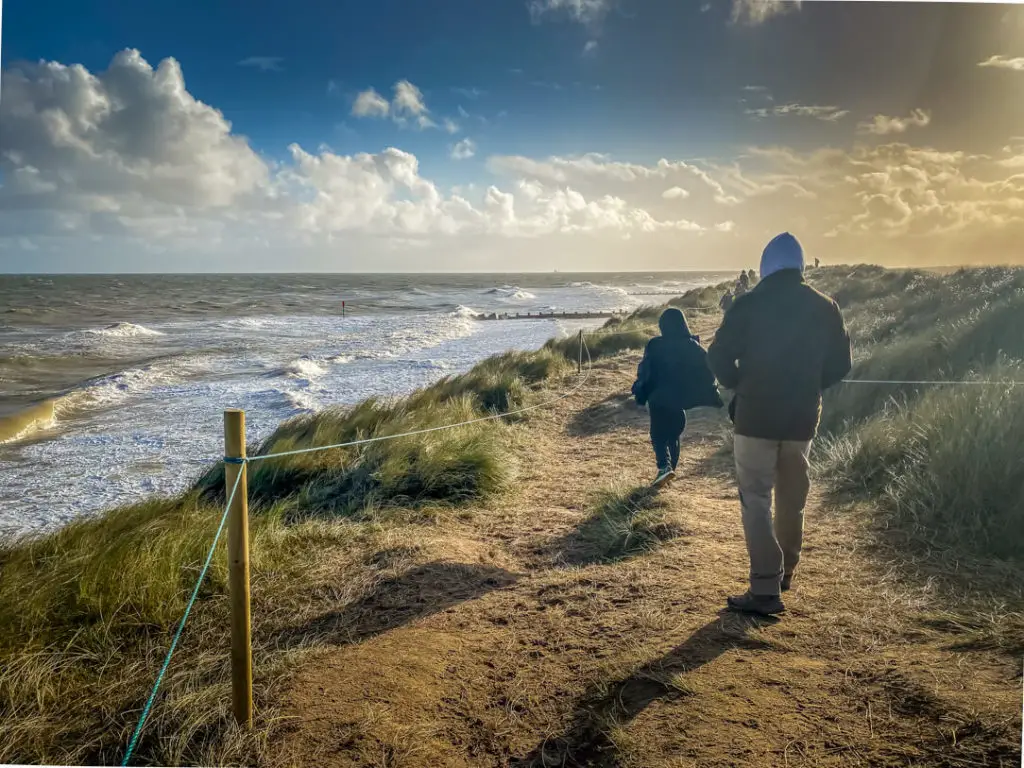 The road leading to the pay and display car park is a bit rough. The machine does take credit cards. You have the option to pay £3 for up to 2 hours or £5 for all day. Keep in mind the parking gates lock at 20:00.
Read more about seeing the Horsey Beach seals.
#3 Hunstanton Sea Life Centre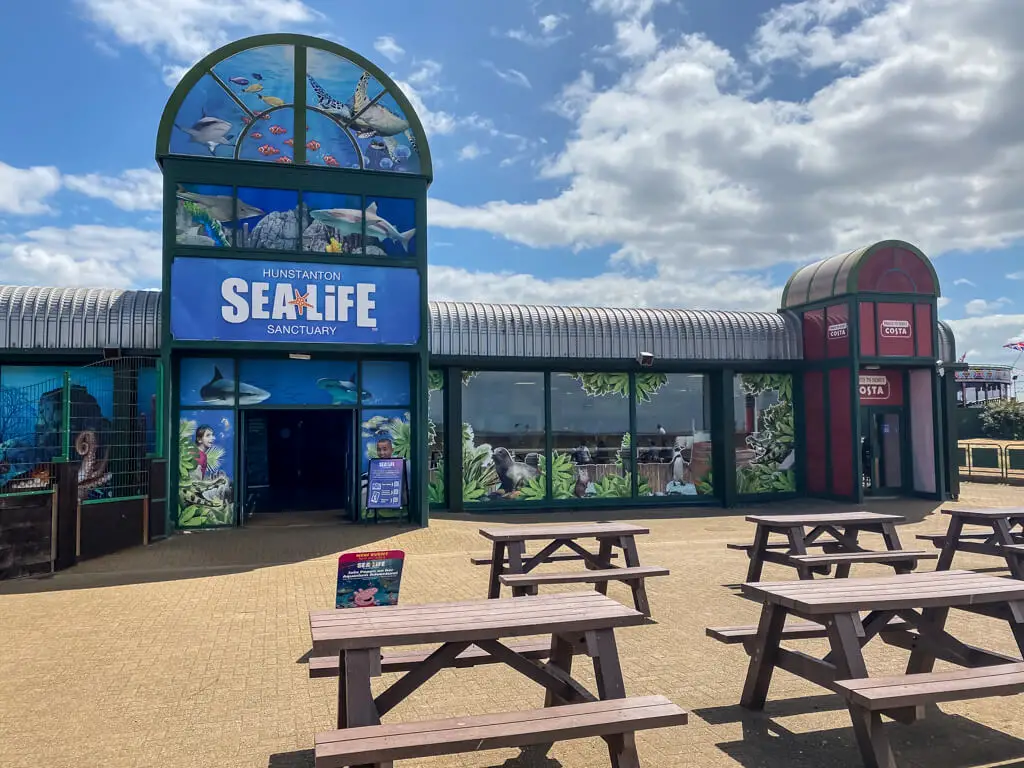 The Hunstanton Sea Life Centre is more than just your typical aquarium. They also have a seal hospital and recovery centre.
Some seals arrive at the hospital in very bad condition, sometimes close to death. The dedicated veterinary team works around the clock to do everything possible to stabilise the seal´s condition so that they can eventually be returned to sea.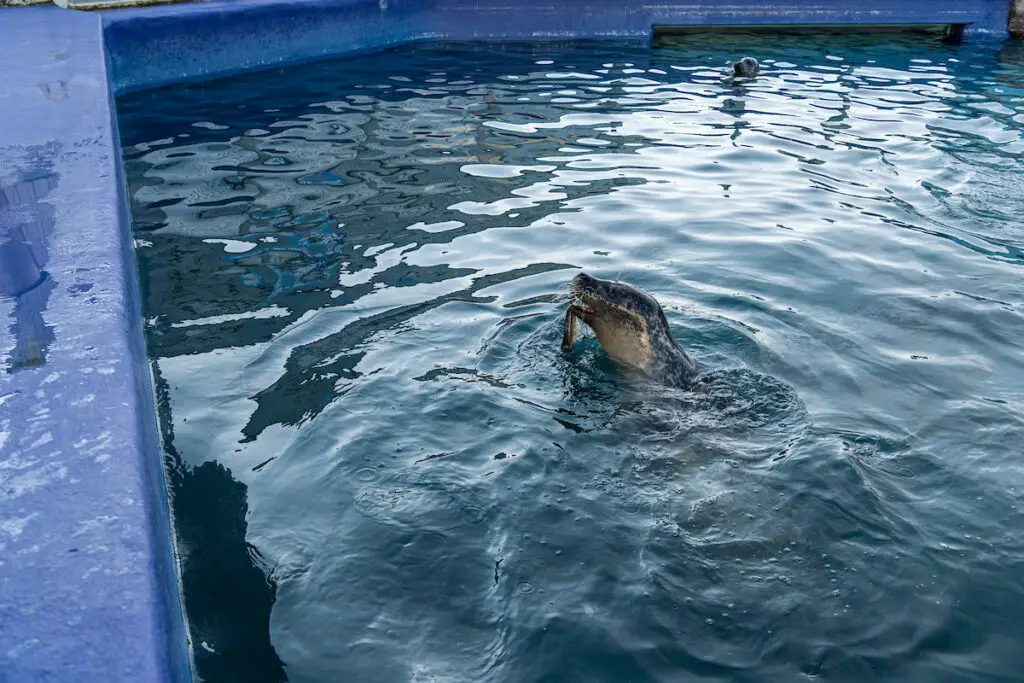 At times, they offer talks where you can learn about each resident seal and find out why they live here while joining them for breakfast! You can save money on your admission by booking online in advance here.
Read Tripadvisor reviews of the Hunstanton Sea Life Centre here.
RELATED: How to See the Seals in Hunstanton
#4 Hunstanton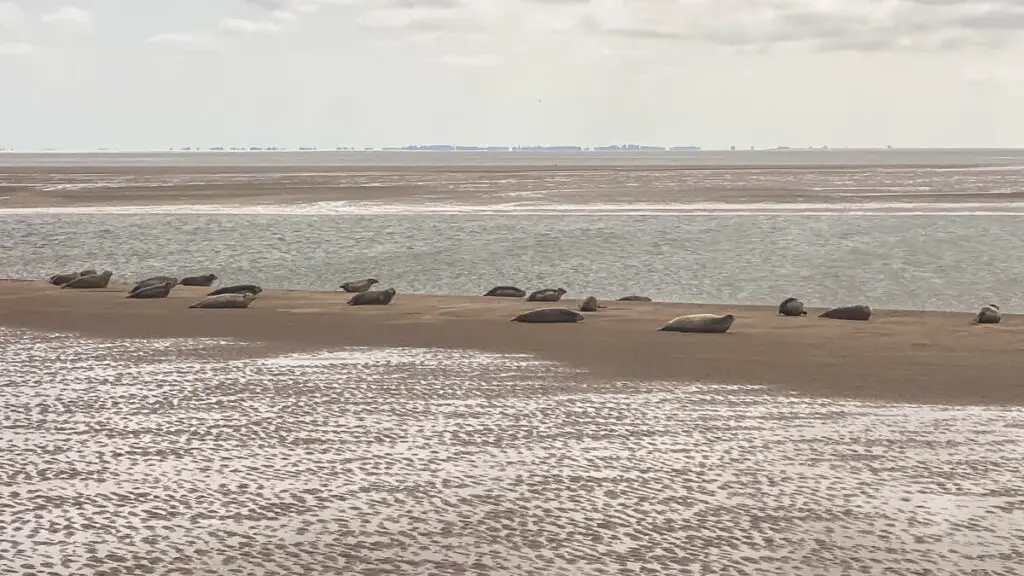 You can also see seals in the wild at Hunstanton. They don't normally hang out on the beach though, so your best bet is going to be taking a boat tour to the sandbanks in The Wash where you can find them. These seal safaris run April through the end of October when the tide is low.
The Seal Safari Tour starts by the Hunstanton promenade where you will board your amphibious vessel, Wizzy The Wash Monster. You will travel across The Wash out to one of the sandbanks that are used by the common seals. There are currently over 3,000 common seals in The Wash, making it one of the largest colonies of common seals in the UK, possibly the world.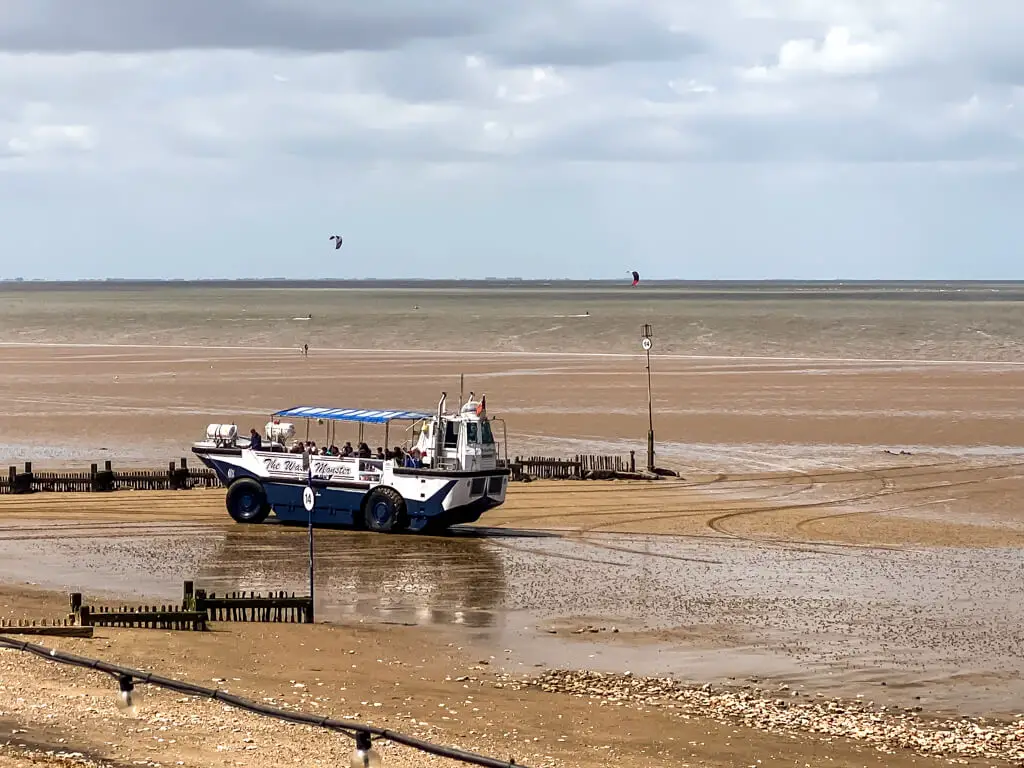 The boat tours to see the seals in The Wash last about one hour. It's best to book in advance as seats are limited. Get more information about the Hunstanton seal tours here.
Read Tripadvisor reviews for Searles Tours here.
#5 Winterton Beach
Located just to the south of Horsey Beach, you will find Winterton Beach. Like Horsey, it is backed by sand dunes, but they have had issues with coastal erosion. Some areas may be roped off to prevent further problems, so please follow guidelines for your own safety.
This beach has become a popular place to see seals. In the winter months, the Horsey seal colony has spread out to Winterton. Even in the summer months you'll see seals swimming in the sea or sunbathing by the groynes. If you don't see enough seals at Winterton you can always walk along the beach to Horsey.
Seals are not the only wildlife you can see at Winterton Beach. The dunes are home to the rare Natterjack Toad and a popular spot for breeding and overwintering birds.
Winterton has a grassy car park at the top of the beach, so you don't have to walk far to reach the sand. Attendants will help direct you and collect parking fees (£1.50 per hour or £7.00 for the day). Toilet facilities are right by the car park too. Keep in mind, they will close the car park for severe weather.
There was a lovely café (called Dunes) on the cliff overlooking the beach, but unfortunately, it has had to be knocked down in 2020 because of coastal erosion. Now, there is an Airstream serving coffee and cakes. It's also only a short walk to the Winterton-on-Sea village where there are a few more cafe options.
#6 Waxham Beach
On the other side of Horsey Beach from Winterton, you will find Waxham Beach. It's another option for seal watching in Norfolk. You may see some seals here that have ventured from the Horsey colony.
It's less known than either Horsey or Winterton, as there is no official parking. You have to park on the side of the road and walk to the beach.
To find Waxham beach, turn off the main coastal road just before Waxham Barn (coming from either way). That will take you to a small lane where you'll find cars parked on the side of the road.
Park where you can find space and then walk to the beach from there. It's not very far but you do have to go on a sandy path that is a little steep. For your best chance of seeing seals, turn right when you get to the beach.
Note that there won't be any facilities at Waxham beach.
#7 Scolt Head Island
Scolt Head Island is a pristine nature reserve just off the coast from Burnham Overy Staithe. While it's mostly known for its bird population, you can see seals there too.
To increase your chances of spotting these playful creatures, you may need to walk a bit from the ferry drop-off point, to areas with no people. Take a stroll along the pristine beach and keep your eyes open.
Reach this hidden gem by kayak, paddleboard, or stroll during low tide. Alternatively, hop on a ferry during the tourist season around high tide.
Read our guide for visiting Scolt Head Island.
#8 River Wensum
It may not be the best place to see seals in Norfolk, but I am including it on the list because seals have been spotted in the River Wensum close to the Norwich city centre. I was lucky to see one once when I was doing the Riverside Walk, but wasn't able to snap a photo fast enough.
You never know when you will see seals (or other wildlife) in Norfolk, so always keep your eyes open!
Norfolk Seals FAQs
What type of seals do you find in Norfolk?
You can see both grey seals and common seals in Norfolk.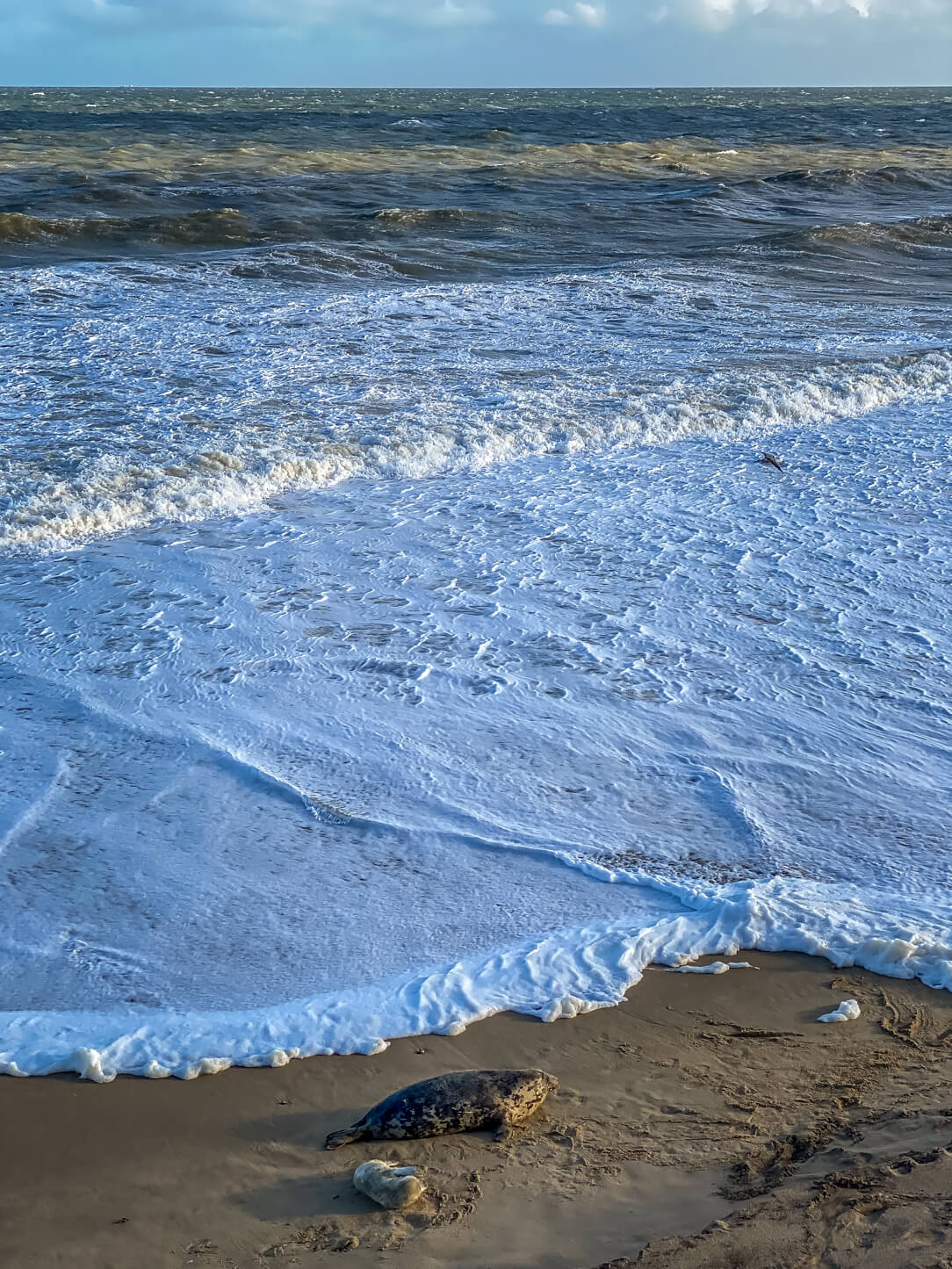 How can you tell the difference between grey and common seals?
Grey seals are bigger and have speckles on their coats and longer pointed heads with parallel nostrils. Common seals have faces that are more rounded with 'v' shaped nostrils.
What time of year is best to see seals in Norfolk?
If you want to see the seals at Blakeney Point, it's best during the summer months as more boats are running and the weather is warmer. At Horsey, the peak seal season is during the winter months, when they come to the beach to give birth.
Seal Watching in Norfolk
As you can see, there are many places where you can see the seals in Norfolk. The location of the seals may vary across the seasons but you should be able to see them most of the year. Please be respectful and safe whenever you go.
Have you seen any seals in Norfolk?
Disclosure: This post contains affiliate links. This means we will receive a small commission for some purchases made using links in our blog with no additional cost to you.  Please be assured we would not promote any product unless we believe that our readers will also benefit.  The commission does not influence the editorial content of this site.