The National Trust looks after historic houses, castles, parks, coastline, gardens, works of art, and much more. In Norfolk they own and care for some of our most treasured attractions.
Let me share more about the 12 National Trust properties in Norfolk and why you might want to think about becoming a member.
Be sure to sign up for our email list here to stay up to date with the latest happenings in Norfolk.
Note: This post contains affiliate links.  As an Amazon Associate, we earn from qualifying purchases. Please see disclosure for more information.
About the National Trust
The National Trust is Europe's largest conservation charity with millions of members. Their staff and volunteers work hard to care for more than 500 properties around the country.
It was founded in 1895 by Octavia Hill, Robert Hunter and Hardwicke Rawnsley who pledged to preserve our historical and natural places. Their goal was not only to save important sites, but to open them up for everyone to enjoy.
Read about some interesting facts about the National Trust here.
How many National Trust Properties are there in Norfolk?
There are twelve National Trust sites in Norfolk. Of these, seven are free to visit and five charge admission.
Is a National Trust Membership Worth it?
Yes. With a National Trust Membership you get free access to more than 500 properties around the country including 12 in Norfolk. Some of the sites in Norfolk you will want to visit again and again. For examples, we typically visit Blickling at least twice a year (for bluebells and Christmas).
Don't just think about what you will save in admission charges, as you save on parking too. Additionally, you can feel good that your money is going towards the care of these precious sites.
Get more information about National Trust membership here.
Are Norfolk National Trust sites good for kids?
Yes. All the places on this list are family-friendly and make for a lovely day out.
Free National Trust Sites in Norfolk
Fortunately there are a few of the Norfolk National Trust sites which are free to visit. In some cases, you may need to pay for parking if you are not a National Trust member.
Don't write off these places because there is no admission charge. They are all still worth visiting.
*If you are looking for more budget-friendly ideas, check out our list of free things to do in Norfolk.
Sheringham Park
Sheringham Park is the grounds around Sheringham Hall, just south of the town of Sheringham. While the Hall is privately owned and occupied, the park is open to the public.
A short walk from the car park, you will find the Wood Farm Barn, where there is a visitor centre, refreshment kiosk, and exhibition area. Here you can learn more about the history of Sheringham Park including the Upcher family who owned it, the life and work of the landscape architect Humphrey Repton, and wildlife in the park.
The park is open year round, but the best time to visit is in May and June. The 80 or so species of rhododendrons and azaleas are in full bloom at this time of year, and the colours are breathtaking. In May, you will also be able to see bluebells.
The park has several walking trails that vary in difficulty and length. The main hard stoned path which goes right through the centre of the park is ideal for pushchairs and takes you by the rhododendrons and azaleas.
If you're looking for more of a challenge head up to the Gazebo, a viewing platform hidden away in the middle of a wood.  Then take a stroll down the gentle path to the temple which stands above Sheringham Hall. 
While there is no admission charge, if you are not a National Trust member you will have to pay £6.50 for parking. It can be a popular destination (especially when the flowers are blooming), so it's best to book in advance to avoid disappointment.
Learn more about visiting here.
Brancaster Estate
When you visit Brancaster Estate you can enjoy the large sandy beach, saltmarshes, and even a Scheduled Ancient Monument – Branodunum. It's also home to a wide variety of wildlife. This 3.8 mile walk allows you to see the highlights.
If you enjoy birdwatching, be sure to also venture over to RSPB Titchwell which is close by. It's also near one of our favourite restaurants, The White Horse in Brancaster Staithe, but if you want to go there be sure to book in advance.
Learn more about visiting here.
Morston Quay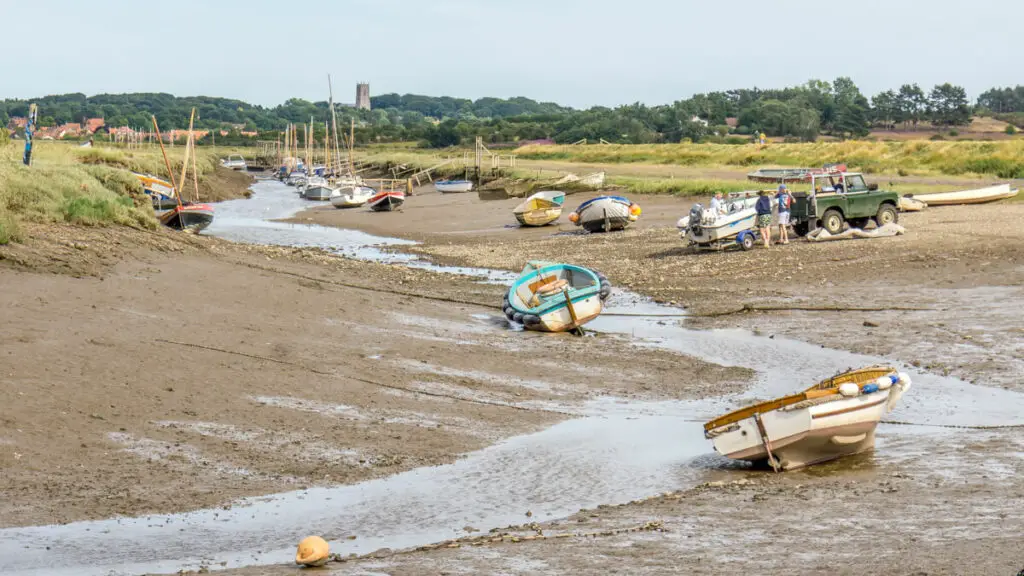 Morston Quay is situated just within the shelter of Blakeney Point. The area only fills up with water for a few hours around high tide.
Most people head to Morston Quay to catch the boats to see the seals at Blakeney Point which are provided by private operators Beans, John Bean Boat Trips, Temples, Bishops, and Ptarmigan. Additionally, you could kayak, paddleboard, canoe, go crabbing, bird watch, or just go for a walk.
The visitor welcome building is now home to a second-hand bookshop and refreshment kiosk. They have outdoor seating so you can relax and take in the views.
If you are not a National Trust member there is a £6 charge to use the car park for the day even if you just come to take a boat trip.
Learn more about visiting here.
Blakeney National Nature Reserve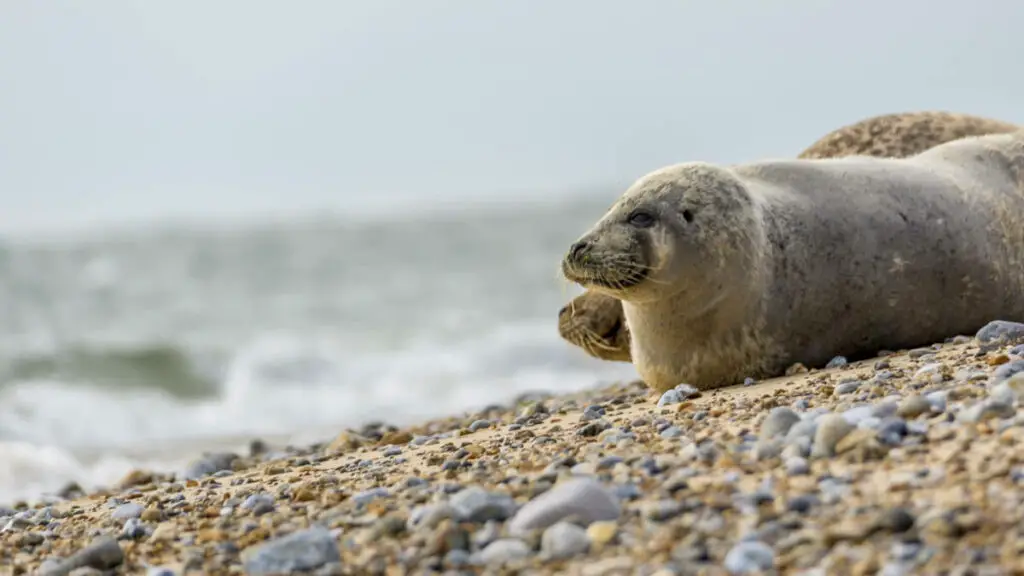 This internationally important nature reserve is famous for its tern colony as well as its seals. It is made up of Blakeney Point, Stiffkey Saltmarshes, and the Cley Marshes Nature Reserve which together stretch for six and half miles.
The best way to see the wildlife on Blakeney Point is to take one of the boat trips from Morston Quay. You are not allowed to access some areas and there are dog restrictions as well from the beginning of April to 15 August each year to protect the wildlife. If you have a dog, walking on Cley Beach during this period might be better.
It is possible to stay overnight on the edge of the Blakeney National Nature Reserve. The National Trust has converted an old windmill into Blakeney Lodge. When you stay at this holiday cottage, you get free entrance to all National Trust properties. Find out more about it here.
Learn more about visiting here.
St. George's Guildhall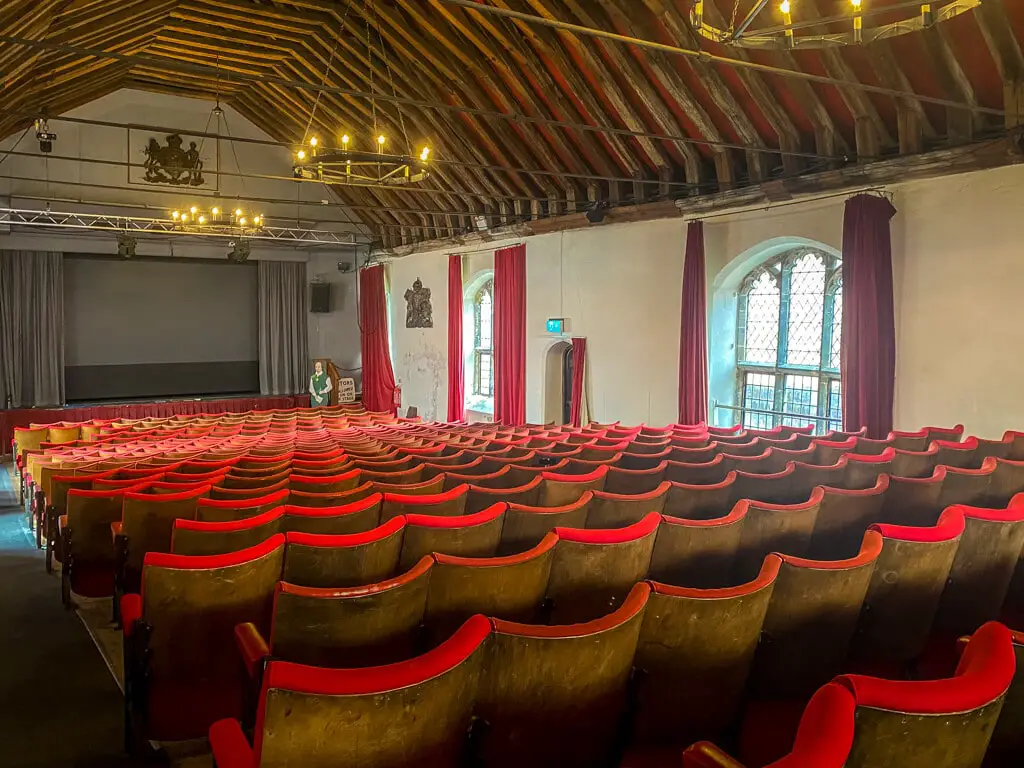 King's Lynn is home to England's largest surviving medieval Guildhall and Britain's oldest working theatre. If that's not enough to make it noteworthy, St. George's Guildhall is the only theatre in the world that can claim that Shakespeare performed there.
The Grade I listed Guildhall is owned by the National Trust and leased by the Borough Council for use as a public venue for music, the arts, and lectures. It is staffed by volunteers and they aim to have it open to visitors 10:00 – 14:00.
Learn more about visiting here.
Darrow Wood
Darrow Wood is a small, hedge-enclosed, lightly wooded pasture field where you can see a number of earthworks (including a small motte and bailey castle) hidden amongst the trees. While experts have known about this area for more than a century, they don't know who made the earthworks or when or why they were built.
Unfortunately there is no official parking nearby.
Learn more about visiting here.
West Runton And Beeston Regis Heath
This National Trust site is more than just your average heath. There are woods (eight different tree species), flowers, wildlife (birds, bees, and butterflies), and also some impressive coastal views.
It's a lovely place for a walk along, or up and down, the hills of North Norfolk. Don't miss the signs of a Napoleonic signal station close to the car park.
Learn more about visiting here.
Top National Trust Properties in Norfolk
The most popular National Trust sites in Norfolk do charge an admission, but they are all free if you are a National Trust member. Get more information about membership here.
Oxburgh Hall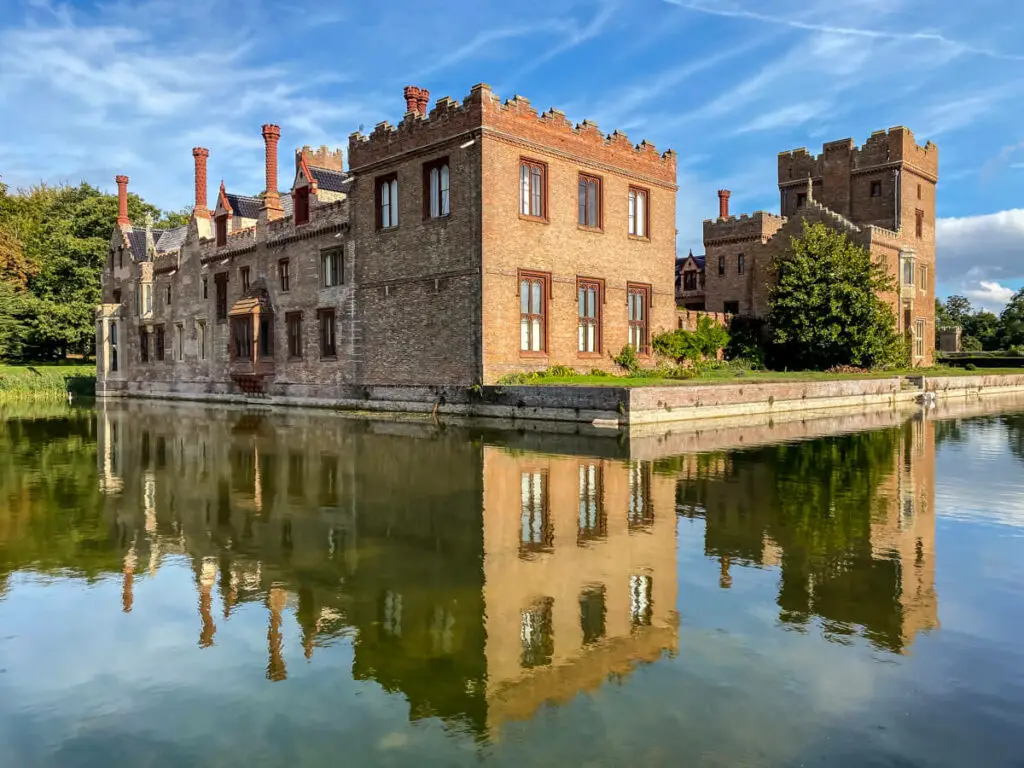 The Bedingham family built Oxburgh Hall in 1482 as a statement of power and it's been their home ever since (they still live in the private apartments). The imposing red brick manor house with a tranquil moat reveals the family's story of Catholic faith and endurance.
They are almost done with a hugh £6 million conservation project and have found some interesting new artefacts (like a medieval prayer book) that are now on display. Inside that Hall you can learn more about the 6th Baronet who created much of what you see today, from the Victorian Gothic interiors to the elaborate architectural additions that reveal a romantic view of Oxburgh's medieval past.
You will also want to explore the gardens which include the Parterre, kitchen garden, orchard, herbaceous border, woodland, open meadows, and more. In late winter/early spring Oxburgh is a good spot to see snowdrops.
Admission for non-members is £8.50 for adults and £4.25 for children. While dogs on a short lead are welcome in the gardens, parkland, bookshop and tea room, only assistance dogs are allowed in the Hall.
The Oxburgh Chapel Lodge on the grounds of Oxburgh Hall has been converted to a holiday home by the National Trust. When you stay there, you can visit any National Trust sites for free. Find out more about it here.
Learn more about visiting here.
Blickling Estate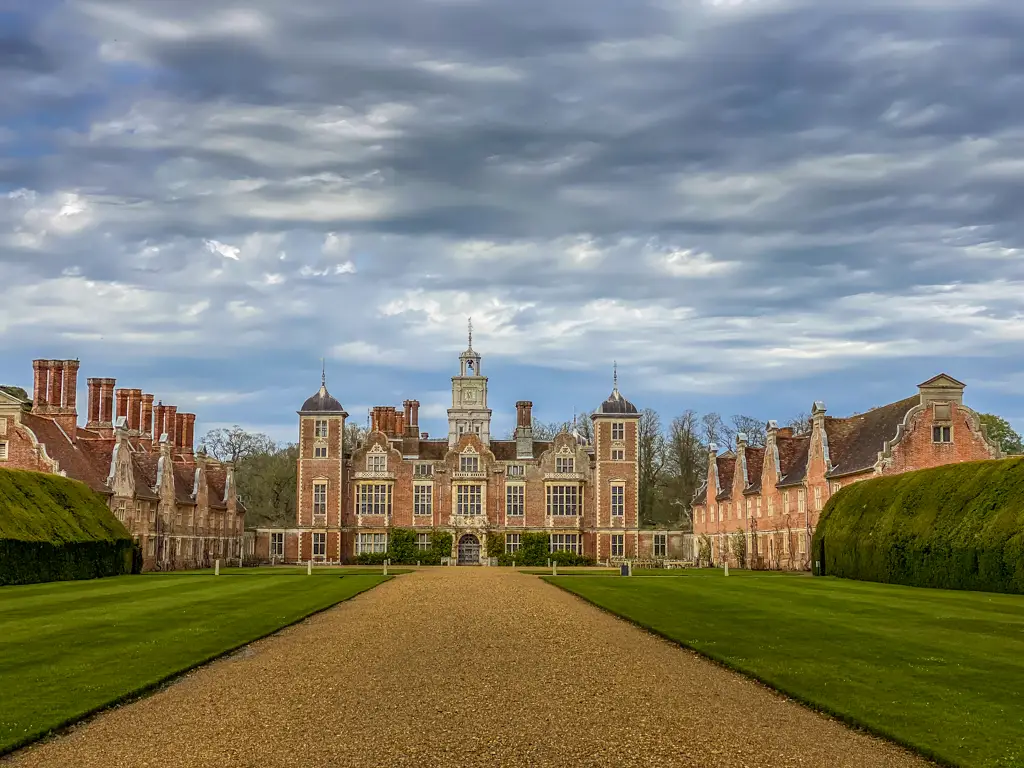 Best known for being the birthplace of Anne Boyeln, Blickling Estate, just outside of Aylsham, is one of the top attractions in Norfolk. While the Hall was built after Anne's time, there have been sightings of her ghost (and the ghost of her father) on May 19th, the anniversary of her execution.
The best time to go to Blickling is May when the bluebells are out or during the holiday season as they do an amazing job with the Christmas decorations. When you visit, you must go inside the Hall, appreciate the gardens, and go for a walk around the estate – there is over 4,600 acres to explore.
The library is the most memorable room inside Blickling Hall as it contains one of the most historically significant collections of manuscripts and books in England. In the formal gardens, you don't want to miss the Parterre, Orangery, Temple, and Walled Garden.
If you want to see some of the other highlights around the estate (like the Mausoleum and Tower), you could do this walk. Keep in mind that during bluebell season you will want to modify this walk to include more of the Great Wood.
For non-members, the admission charge is £14 for adults and £7 for children, and they will also have to pay £5 (coin only) for parking. Note that during peak times the car park can fill up. Also keep in mind that dogs, except assistance dogs, are not permitted in the house, East Wing or formal garden.
There are also some historic buildings on the estate (like the Blickling Tower) that have been converted to holiday homes by the National Trust. During your stay at one of these properties, you can visit any National Trust sites for free. Check out the options here.
Learn more about visiting here.
Horsey Windpump
Horsey Windpump was working until it was hit by lightning in 1943 but has since been restored. It was reopened to the public in 2019 with a new winding cap and turning sails. During opening hours, you can climb to the top of this Grade II listed building and take in the views of the area.
Note: While the balcony may be currently closed, you will still be able to enjoy the views from inside the top of the windpump.
It's set in a serene location that is known for its internationally important wildlife, especially birds. You should also plan to explore the area and even do some bird watching during your visit. There is a circular walk that will also take you by Horsey Beach, which is one of the best places to see seals in Norfolk. Get detailed directions here.
During the low season, the windpump is usually only open on the weekends. Admission for non-members is £6.50. Non-members will also have to pay for parking – £3 for two hours, £4 for four hours, or £6 for all day.
Learn more about visiting here.
Elizabethan House Museum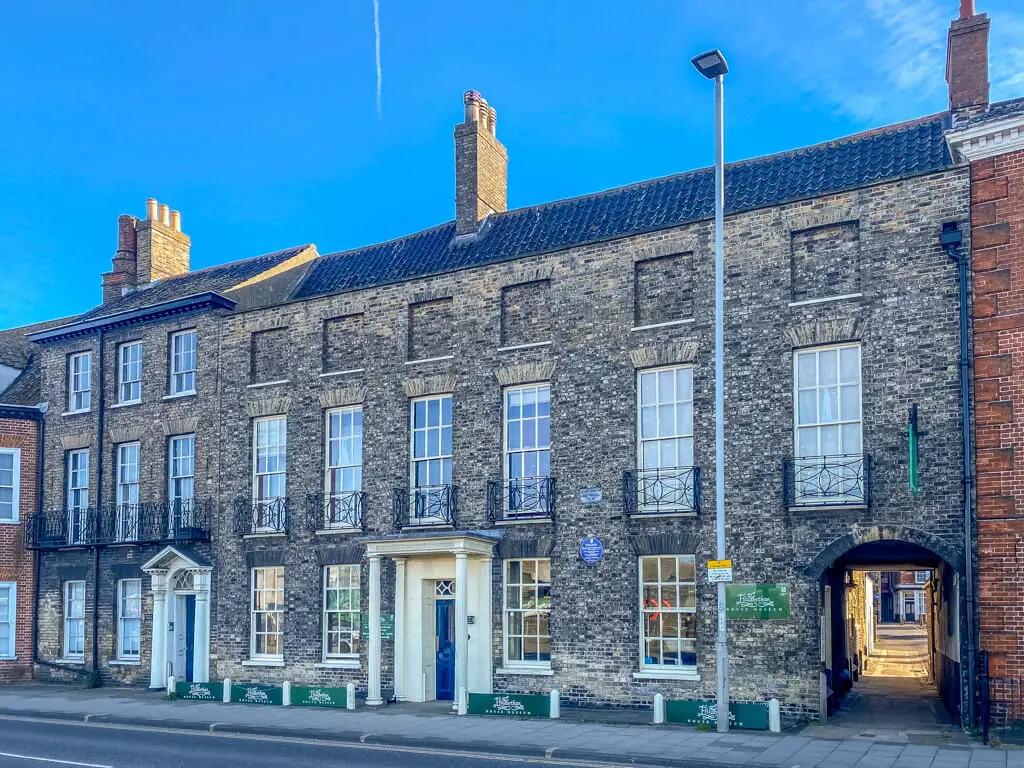 The Elizabethan House Museum is a fun place to learn about the Elizabethan past and its Victorian inhabitants. You can try on replica costumes. On special event days, you may see the range in the kitchen being fired up or talk to costumed characters roaming the house.
It is set inside a historic 16th century house that Oliver Cromwell visited frequently. The house was also a regular meeting place for Parliamentarians during the Civil War, and where the fate of Charles I was allegedly decided.
The museum is only open from April through October. It is closed on Saturdays. There is a pay and display car park at the rear of the museum, operated by Borough Council that can be used during weekends.
Admission for non-members is £6.20 for adults. One hour before closing you can get a twilight ticket for £2.
Learn more about visiting here.
Felbrigg Hall, Gardens, and Estate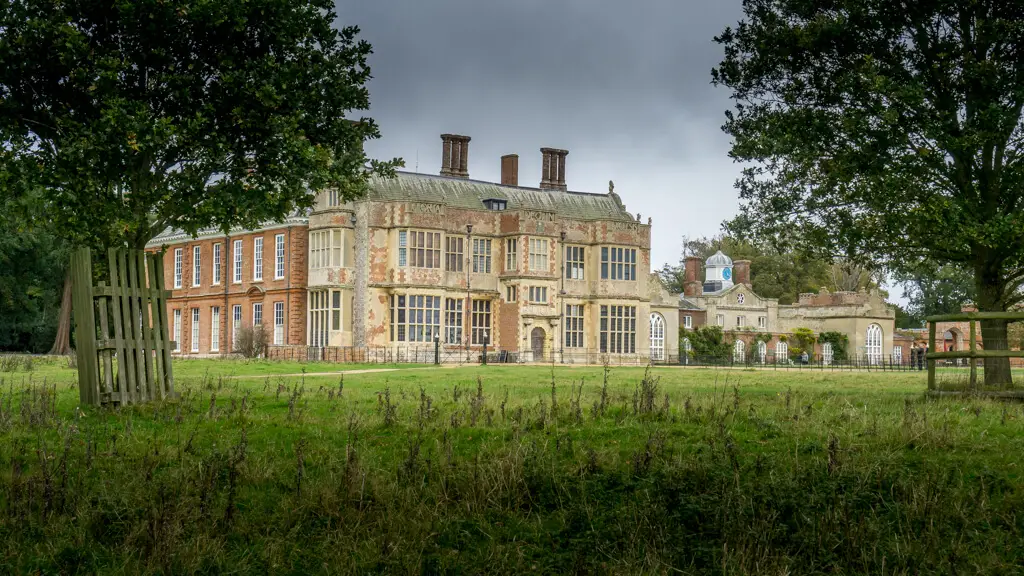 Felbrigg Estate has 520 acres of woods, rolling parkland, a lake, walking paths, and a grand hall. During the autumn, the woodland is a great spot to appreciate the leaves changing colours. You can tour the stately home and go inside the walled garden.
Admission for non-members is £12 for adults and £6 for children, which includes entrance to both the Hall and the Walled Gardens. There is a £5 charge for the carpark for non-members.
The Hall is closed on Thursdays and Fridays. The Walled Garden is open seven days a week.
There are also some historic buildings on the estate (like the Game Keeper's Cottage and the Mustard Pot Cottage) that have been converted to holiday homes by the National Trust. During your stay at one of these properties, you can visit any National Trust sites for free. Check out the options here.
Learn more about visiting here.
Disclosure: This post contains affiliate links. This means we will receive a small commission for some purchases made using links in our blog with no additional cost to you.  Please be assured we would not promote any product unless we believe that our readers will also benefit.  The commission does not influence the editorial content of this site.