When we first saw photos of street art that looked like Banksy's work, I thought it was a clever publicity stunt that was part of the bid for Great Yarmouth, Gorleston, and Lowestoft to become a City of Culture in 2025. Once Banksy confirmed that the artwork was in fact his, I needed to see them for myself.
In this guide, I will share more information about Banksy's work in Norfolk and Suffolk including what they look like and exactly how to find them (including the what3words location).
Note: This post contains affiliate links.  As an Amazon Associate, we earn from qualifying purchases. Please see disclosure for more information.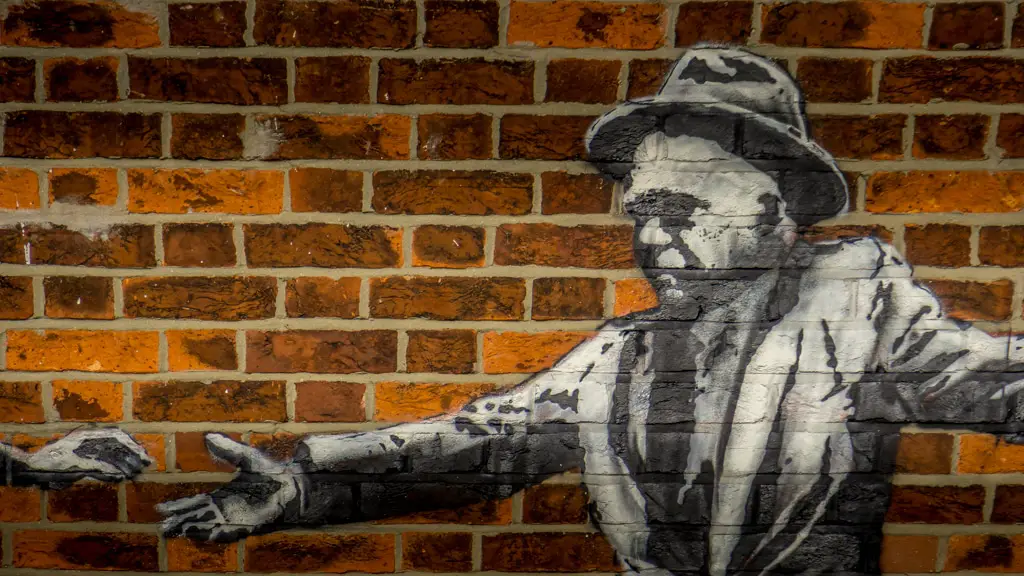 About Banksy
Banksy is arguably the most famous street artist of all time, yet his true identity remains a mystery. Anonymity is important to him because graffiti is illegal in many places.
He creates satirical street art and subversive epigrams that combine dark humour with graffiti using a distinctive stenciling technique. His artwork has appeared on streets, walls, and bridges throughout the world. Banksy reportedly lived in Easton, Bristol during the late 1990s, before moving to London around 2000.
Read more about Banksy here.
Where to Find Banksy's Art in Norfolk (and Suffolk)
During Summer 2021, Banksy took what he is calling his Great British Spraycation to East Anglia. During that time he created 10 works of art. Unfortunately some can no longer be seen.
I have included the what3words location or if you prefer I have created a map that you can download here.
Banksys in Norfolk
Banksy visited Cromer, Great Yarmouth, and King's Lynn in Norfolk. We were able to see three of the five pieces of art that Banksy created.
Cromer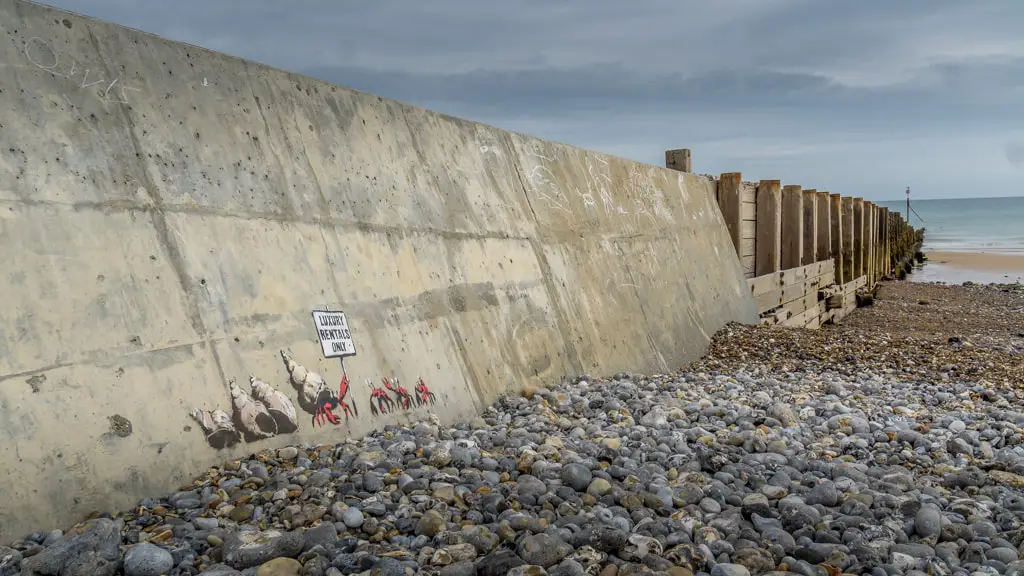 Cromer, located on the North Norfolk Coast, has one small mural in Cromer by Banksy. It's a group of Hermit Crabs holding a sign that says "Luxury Rentals Only." Given that the painting is located right by the beach huts, he may be referring to how expensive they are or pointing out how second homes drive up housing prices.
*Get more ideas for things to do in Cromer here.
How to Find It: To get to the Banksy in Cromer you need to walk along the beach all the way east past the beach huts, go down the ramp and then turn around and you will see it on the sea wall that runs perpendicular to the water.
what3words: ///button.beaker.consonant
Great Yarmouth
Banksy created two pieces of art in Great Yarmouth. They are about a 1/2 mile apart.
Admiralty Road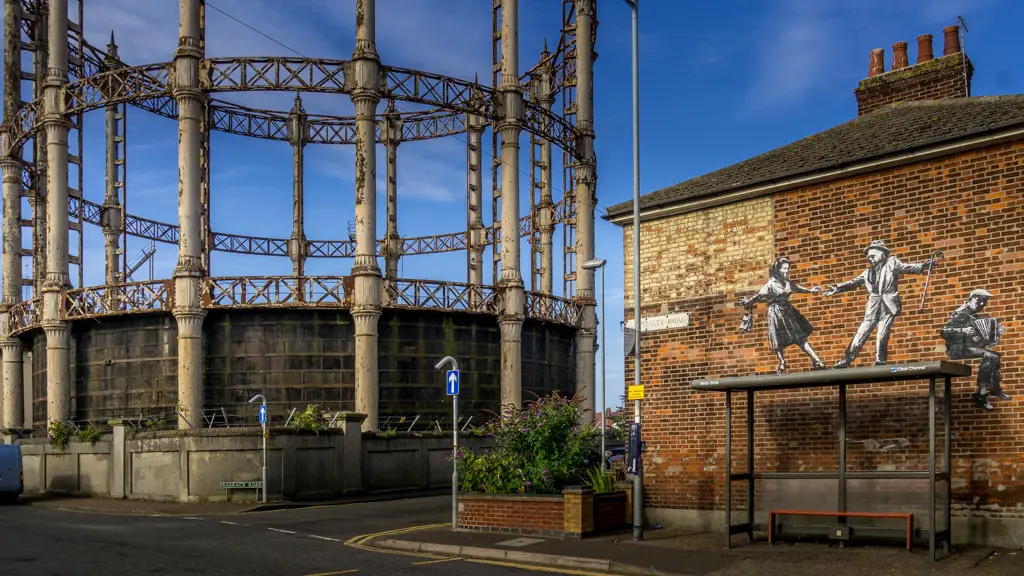 The Banksy on Admiralty Road uses the bus stop as the stage for a dancing couple and an accordian player.
How to Find it: It's easy to spot the Banksy at the bus stop on Admiralty Road (nearest cross street is Barrack Road). The mural is under a protective screen.
what3words: ///dull.lands.finds
Merrivale Model Village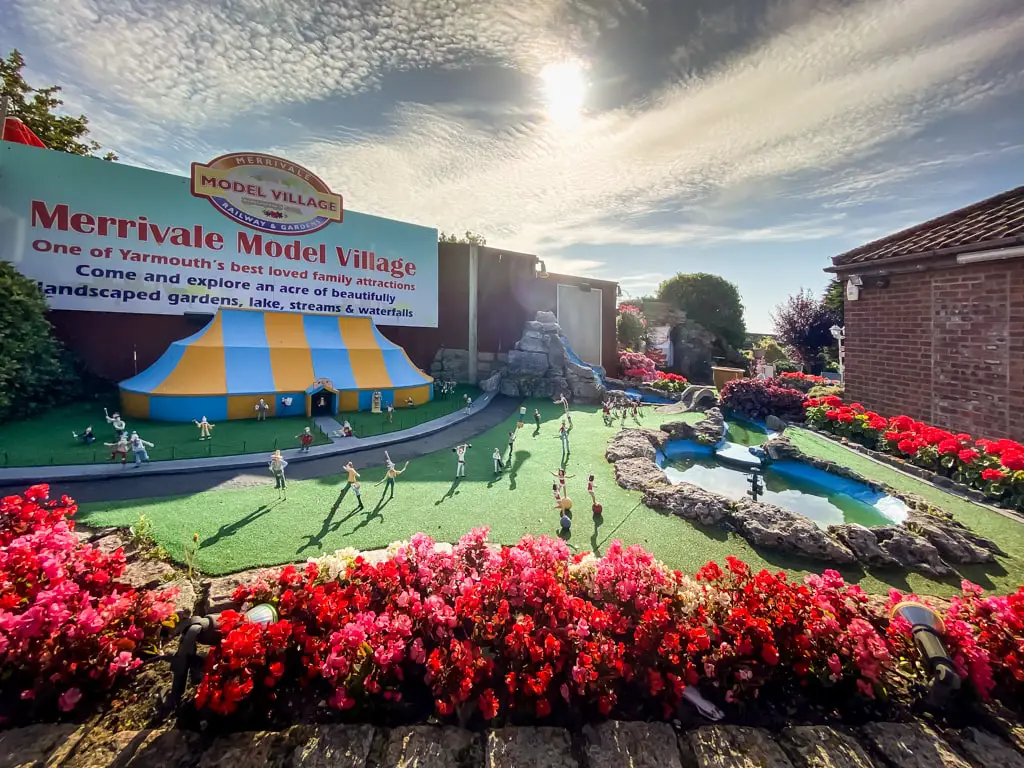 Banksy secretly placed a miniature stable inside the Merrival Model Village. It has Banksy's name and a tagline: "Go big or go home" written on it. On the side, you can see a rat standing on a cartwheel propped against the wall.
In addition to the model village, Merrivale also has an old penny arcade, crazy golf, and a traditional tearoom. Get more information about visiting Merrival Model Village here.
How to Find it: This piece of art is no longer on public view. The Banksy stable was sold at auction to a private bidder in January 2022, but there is a 1-to-12 scale 'Spraycation trail' at the Merrival Model Village that you can see.
what3words: ///gross.tower.ranks
Gorleston
While Banksy did two paintings in Gorleston by the sea front, only one remains.
Before we could get a picture of the painting of two children clinging on to a flying inflatable dinghy being pumped up by an adult who was distracted by their drink, someone painted over it. We could see the area of fresh paint on the wall by the Gorleston model pond.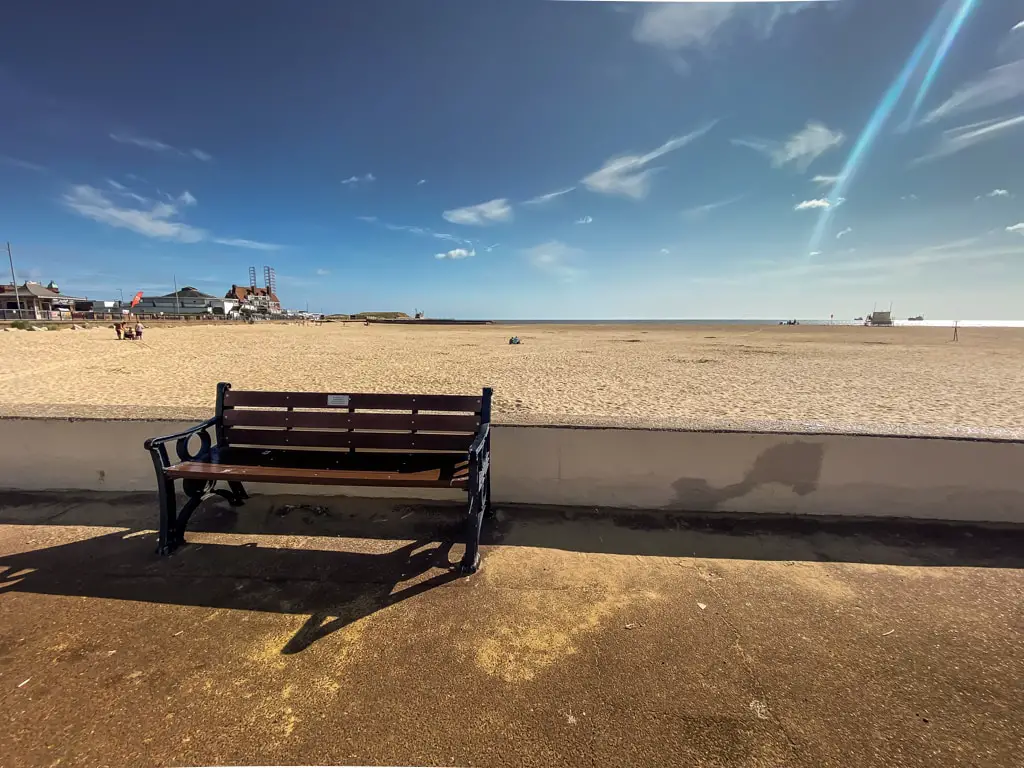 According to a spokesperson from the Great Yarmouth Borough Council it was removed in light of the tragic fatality of a child in 2018 which involved an inflatable not far from the yacht pond at Gorleston.
UPDATE: The section of the wall where the dinghy mural was painted has been removed. It will eventually be moved to somewhere else in the town where people can see it for free.
A little further back from the beach, you can still see the mural painted behind the seating area. Originally it was just an arcade-style claw above the bench. Later, six teddy bears were stencilled beneath it, along with the words "Banksy Collaboration Emo."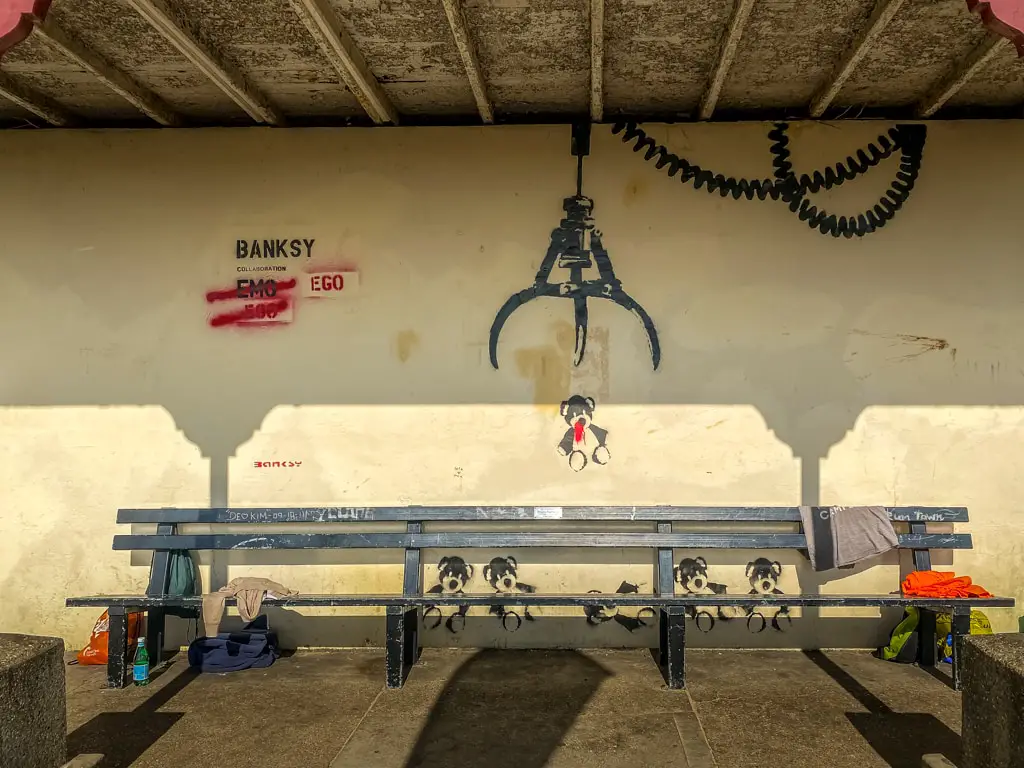 Emo (Emo Raphiel Astoria) is a well-known Great Yarmouth street artist who has also had street art in New Orleans, New York and Mauritius, to name but a few. He works mainly with paints, stencils, and printing, and likes to add gold leaf and diamond dust embellishments.
The work has since been defaced. You can see red paint covering up EMO and next to it the word EGO. There is also some red paint on one of the teddy bears. On 14 August 2021, workers were spotted putting clear material over the mural to protect it.
How to Find it: The claw can be found behind the covered bench which is just past Dimascio's Ice Cream on the Gorleston-on-Sea seafront.
what3words: ///adjuster.unicorns.signed
King's Lynn
Banksy added a tongue and an ice cream made from part of a traffic cone and some expanding foam filler to a statue of Frederick Savage, steam engineer and former mayor of King's Lynn, which has been standing for more than 100 years.
We weren't able to see the Banksy in King's Lynn because before Banksy confirmed that it was his, people complained and the council had it removed.
How to Find it: The Federick Savage statue is located in Guanock Place but Banksy's work is no longer there.
Banksys in Suffolk
You don't have to cross too far over the border to see Banksy's art in Suffolk. There are three in Lowestoft and one in Oulton Broad.
Lowestoft
There are three Banksys in Lowestoft. Two are in the town centre and one is by the beach.
Katwijk Way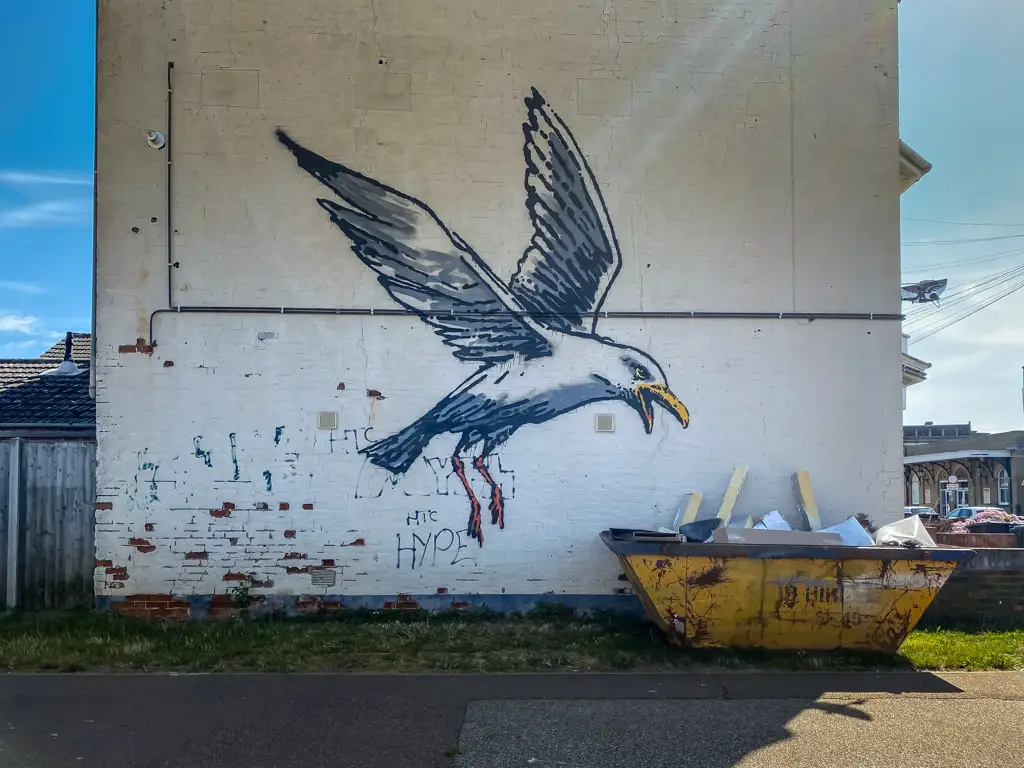 Not too far from the Lowestoft train station, you can see the huge seagull Banksy painted on the side of a building. The gull is swooping down to eat some chips, which is actually trash, from a skip.
UPDATE: The mural is still in place, but now has a protective screen. The skip has been removed.
How to Find it: You can see the seagull mural on the building on Katwijk Way close to Denmark Road.
what3words: ///pipe.ladder.pets
London Road North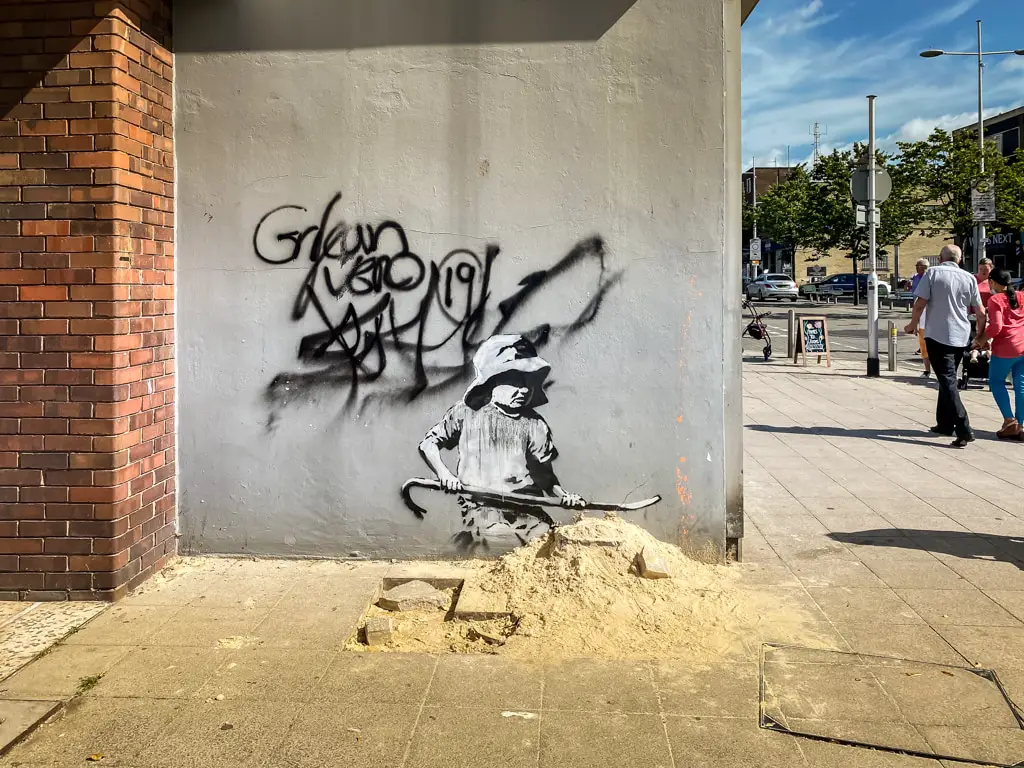 On the side of a building on what is basically Lowestoft's High Street, Banksy painted a child with a crowbar now sometimes called "Sandcastle Girl". Next to the mural a paving slab has been lifted and there is a pile of sand. This used to be a sandcastle.
UPDATE: In November 2021, the owner of the building confirmed that the Banksy artwork would be removed. It later came out that it was removed to be put up for auction in the US. In the end it was sold privately for somewhere around £2 million. In December 2021, the building owners asked local artist Greater Than, who is from Hopton in Norfolk, to recreate the mural, which he did inside a vending machine.
How to Find it: You can no longer see the Banksy mural at 127 London Road North. It will be at the Moyse Hall Museum in Bury St. Edmunds as part of the Mutiny in Colour exhibition from 3 June to 1 October 2023. Then it will move to Newmarket and Haverhill.
Bottom of Links Hill, North Beach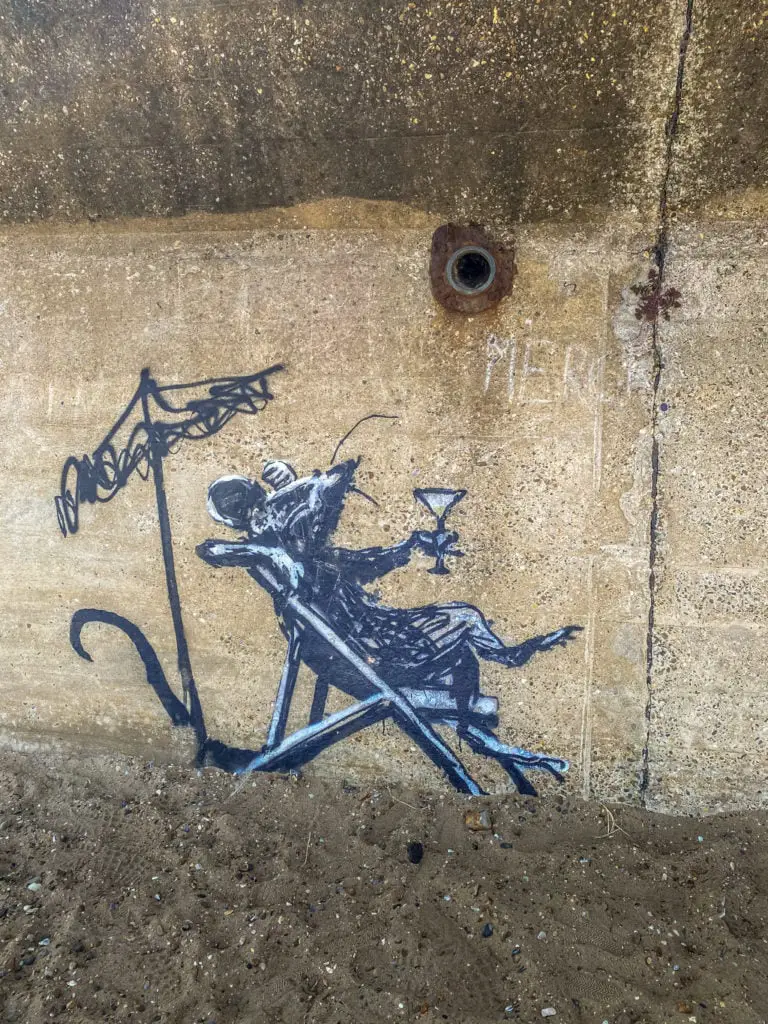 Banksy painted a rat leaning back in a deckchair drinking a cocktail under a beach umbrella on the wall at the North Beach in Lowestoft. It looks like the martini glass will be refilled by the pipe that drips waste water above it.
How to Find it: Drive down Links Road to the North Beach in Lowestoft. You will need to get out of the car and walk to the beach. The mural is on the north facing wall, towards the east end.
UPDATE: Unfortunately on 15 August, it was reported that this Banksy was defaced and covered up with white spray paint.
what3words: ///cases.guess.ending
Oulton Broad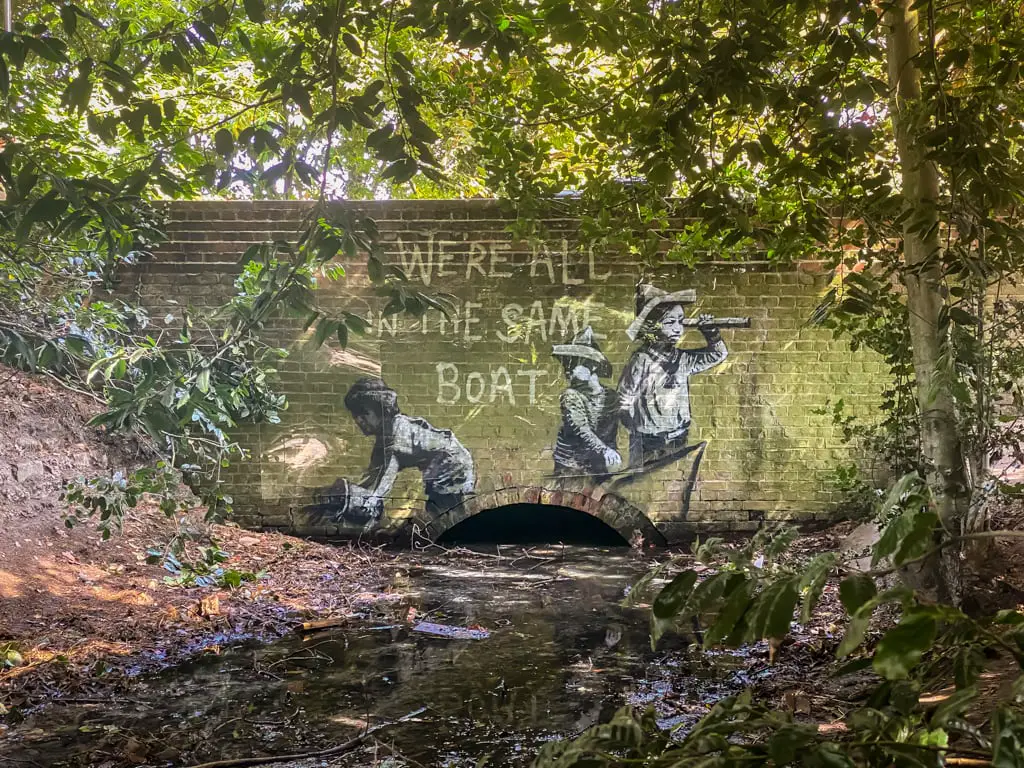 You can find another Banksy inside Nicholas Everitt Park in Oulton Broad. It's a painting of three children near what was a boat structure and the tagline "We're all in the same boat".
The metal piece that was the boat was removed by the Council over flooding fears as it was blocking a drain and rain was forecast. A clear plastic sheet was also put over the painting to protect it.
At first, the Council promised to put the 'boat' back once they managed to think of a way of preserving both the artwork and the drainage. Recently, they have been discussing putting it in a museum (possibly the Lowestoft Museum).
UPDATE: While the boat has not been returned, the artwork is still there under a protective UV-stabilised polycarbonate screen.
How to Find it: Enter Nicholas Everitt Park from the small car park off Bridge Road. It's not too deep into the park where the main path has a bridge over a small stream. Go to the left side and you will see it.
what3words: ///supporter.text.dining
*If you like urban art, also check out our guide to street art in Norwich.
Disclosure: This post contains affiliate links. This means we will receive a small commission for some purchases made using links in our blog with no additional cost to you.  Please be assured we would not promote any product unless we believe that our readers will also benefit.  The commission does not influence the editorial content of this site.