Dippy, the Natural History Museum's iconic Diplodocus cast, has been traveling around the UK since 2018. He will make one last stop on his tour at Norwich Cathedral.
This post contains everything you need to know about seeing Dippy on Tour at Norwich Cathedral.
Note: This post contains affiliate links.  As an Amazon Associate, we earn from qualifying purchases. Please see disclosure for more information.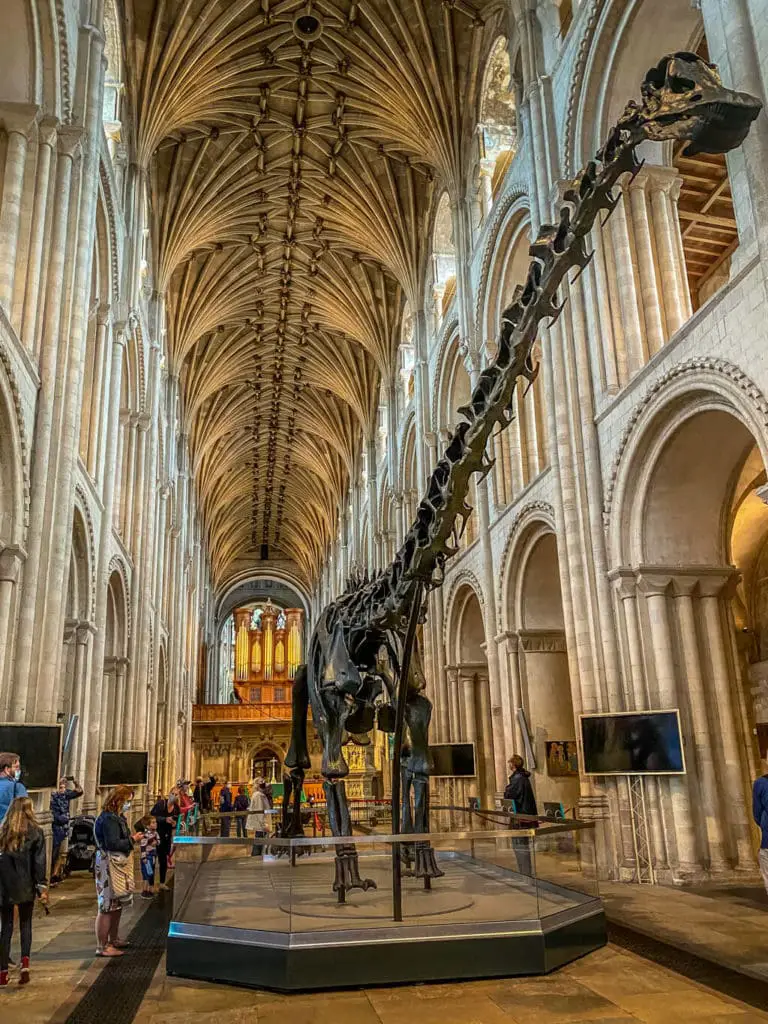 About Dippy
Dippy is a cast from a fossilised Diplodocus skeleton that was discovered in Wyoming in 1898. While there are nine other similar casts around the world, Dippy was the first to be made and put on public display.
The genus Diplodocus was first described in 1878 by Othniel Charles Marsh, but these bones were determined to be a new species, and named Diplodocus carnegii. It gets its name from Andrew Carnegie, a Scottish-American businessman, who acquired it for the new Carnegie Museum of Natural History in Pittsburgh.
King Edward VII, who was a trustee of the British Museum, saw a sketch of the bones and convinced Carnegie to donate a cast to the Natural History Museum in London. Carnegie spent £2,000 for the casting in plaster of paris, copying the original fossil bones held by the Carnegie Museum, and Dippy was born.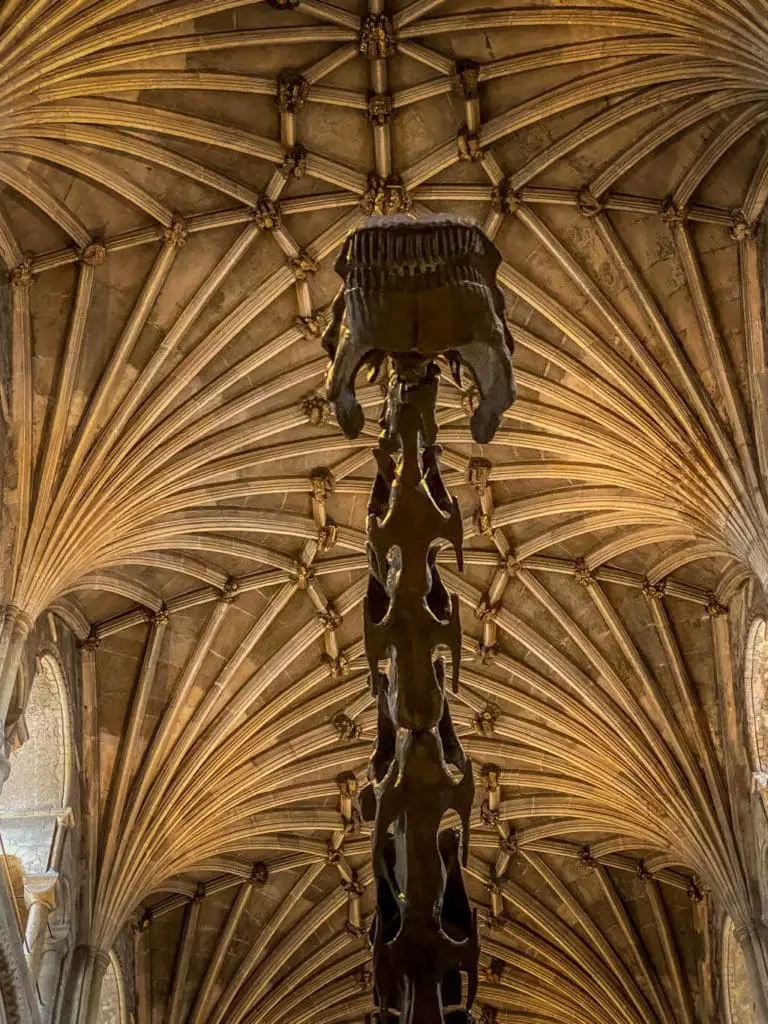 In 1905, Dippy started his time at the Natural History Museum in the Reptile Gallery (now Human Biology), as he was too big for the Fossil Reptile Gallery (now Creepy Crawlies). In 1979, the Dippy moved to the grand Hintze Hall, where he remained until 2017.
In early 2017, after 112 years on display at the museum, Dippy was removed to prepare for his national tour and replaced by the skeleton of a young blue whale suspended from the ceiling. The 25-metre-long whale, called "Hope", had been stranded on sandbanks at the mouth of Wexford Harbour, Ireland in 1891. Its skeleton had been displayed in the Large Mammals Hall (originally the New Whale Hall) since 1934.
Dippy underwent a few changes before starting his tour around the country. He got new front 'hands' that were anatomically correct to replace the original ones which were actually back feet. The old 'hands' remain in the Museum's collection.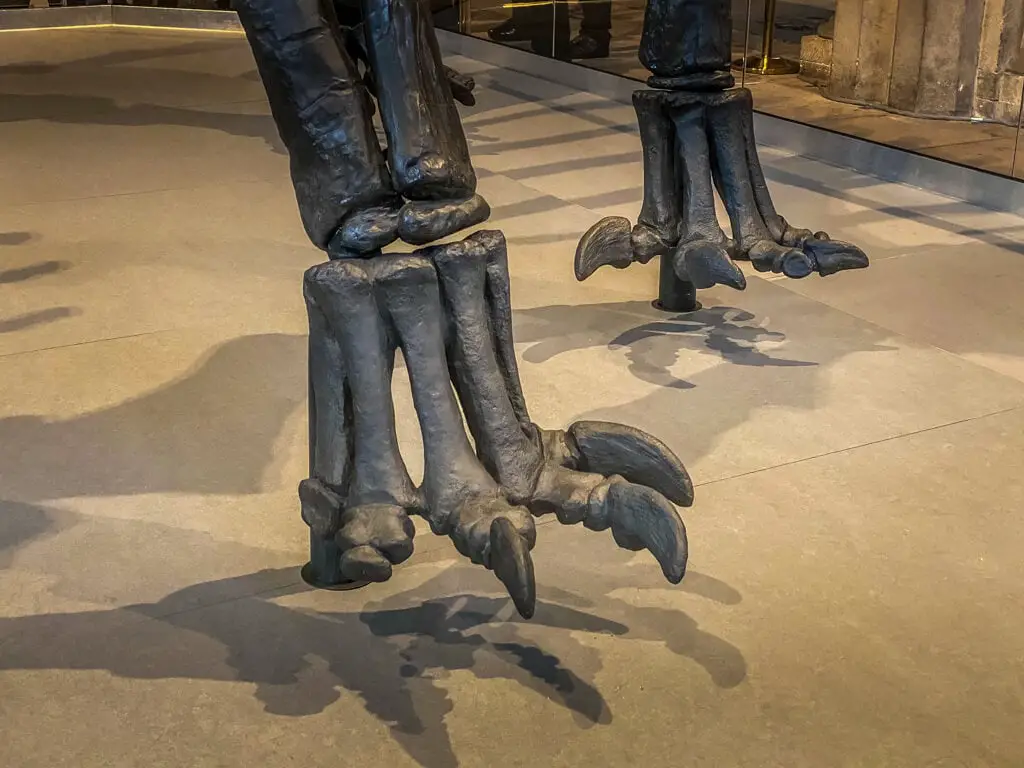 There also needed to be a different way to support Dippy's long neck and tail. The arc of metal connected to the floor and the cables hanging from the ceiling used inside the Museum would not work on tour. The metal rods already inside his neck and tail were strengthened. The tail now holds itself up and there is an additional upright support for the neck.
About Norwich Cathedral
Even without Dippy, Norwich Cathedral is one of the things that you must see when you visit Norwich.
Construction on Norwich Cathedral began in 1096 and the cathedral was completed between 1121 and 1145, making it about 900 years old. It is the most complete Norman Cathedral in England and one of the finest examples of Romanesque architecture in Europe.
The cathedral close is one of the largest in Europe and has more people living within it than any other close. It also has the most medieval roof bosses of any cathedral in the Christian world. The cloisters and the spire (96 metres tall) are only surpassed by Salisbury Cathedral in England.
Seeing Dippy at Norwich Cathedral
When you come to see Dippy at Norwich Cathedral, you need use the "Dark" Entrance to the Cloisters. If you are not sure where that is just follow Dippy's blue footprints on the ground. There may be a queue to enter but it moves at a reasonable pace, so don't let that deter you.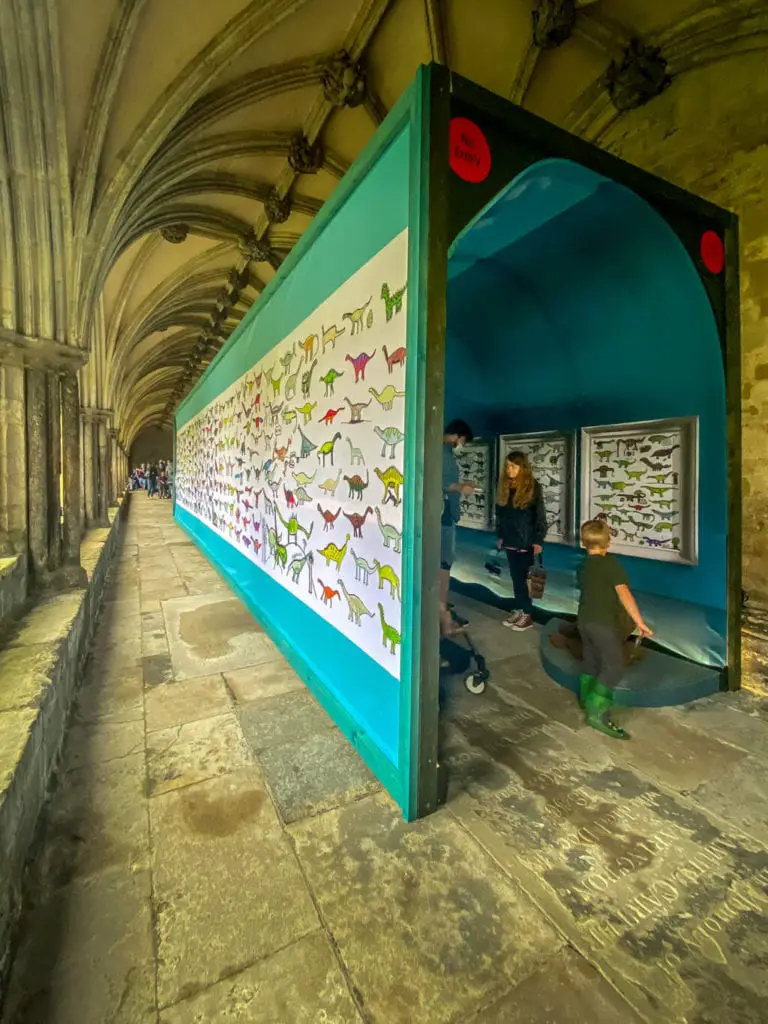 Once inside you first pass through the Time Tunnel created by Norwich school along with other local schools. It has drawings of dinosaurs along with some interesting information conveyed in a child-friendly way. For example, they had different footprints stacked one on top of the other to make it easy to compare the different sizes.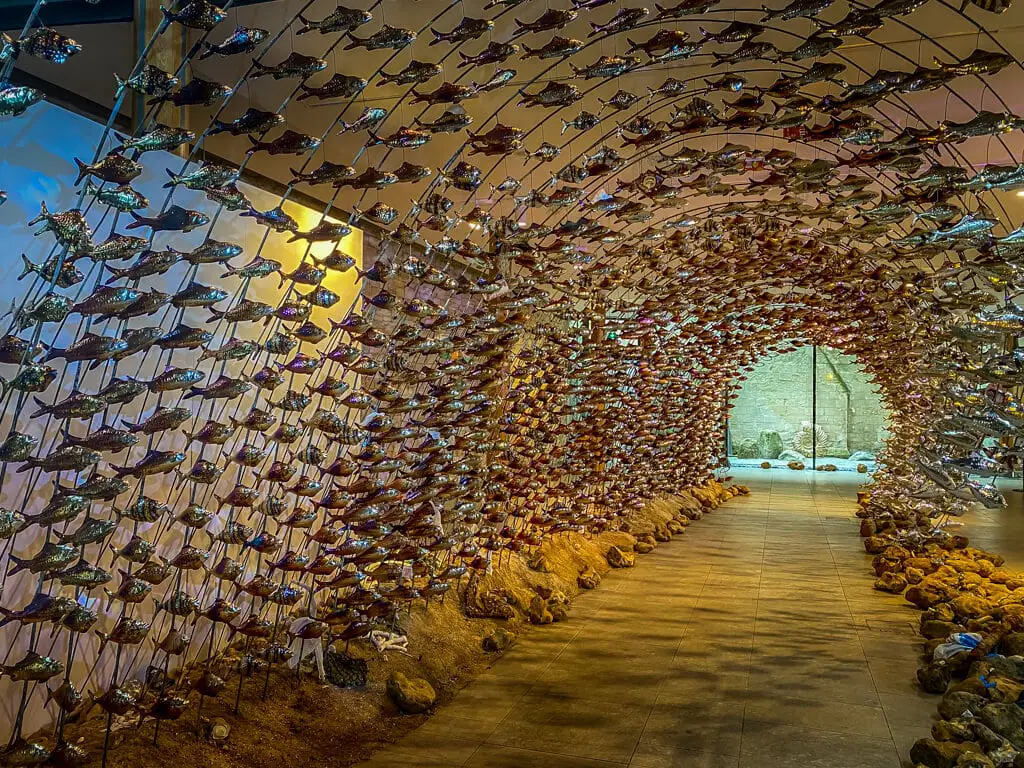 Moving inside to the Hostry, you can learn more about fossils courtesy of the Norfolk Museum Service and see the striking wave sculpture. The Wave with Fish sculpture entitled "Your Waves Go Over Me" is by local artist, Mark Reed. The installation is a meditation of life on earth from Dippy's time to now showing our dependence on water. You can purchase the fish to take home here when the exhibition is over as an effort to recycle the display and also help Norwich Cathedral charities.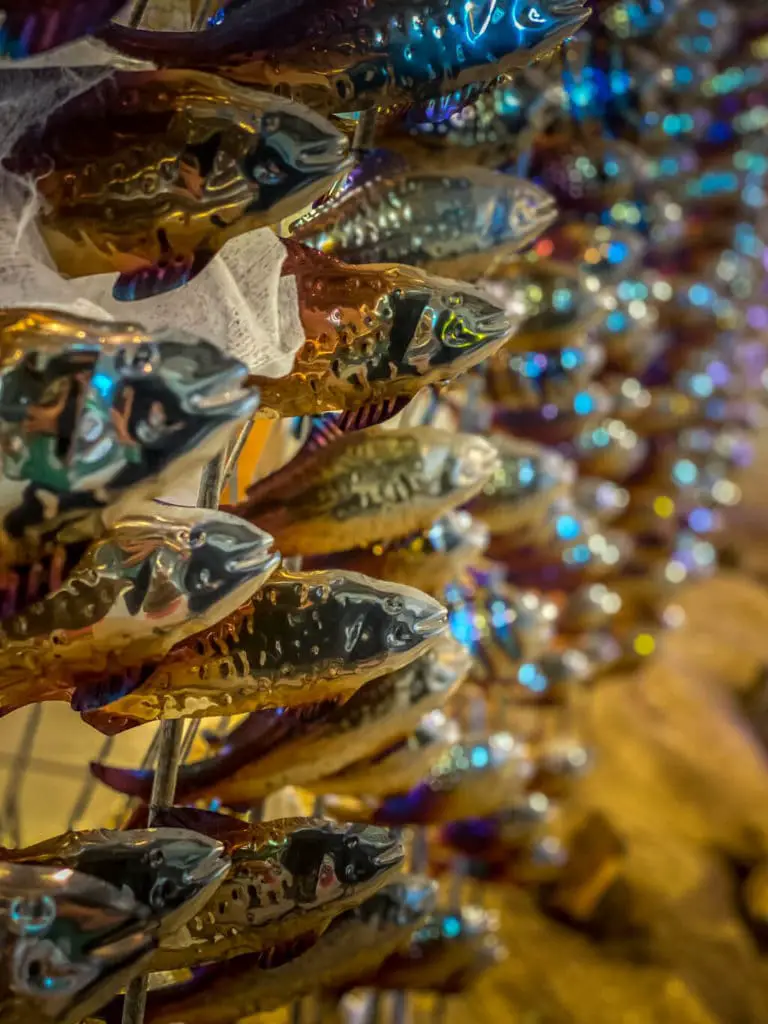 You pass by the information desk where there is a exhibit on the history of Norwich Cathedral and then walk out to the Nave where you can see Dippy. It is quite striking how he fills the area. While the area close to his feet is roped off, you can walk under his neck and tail.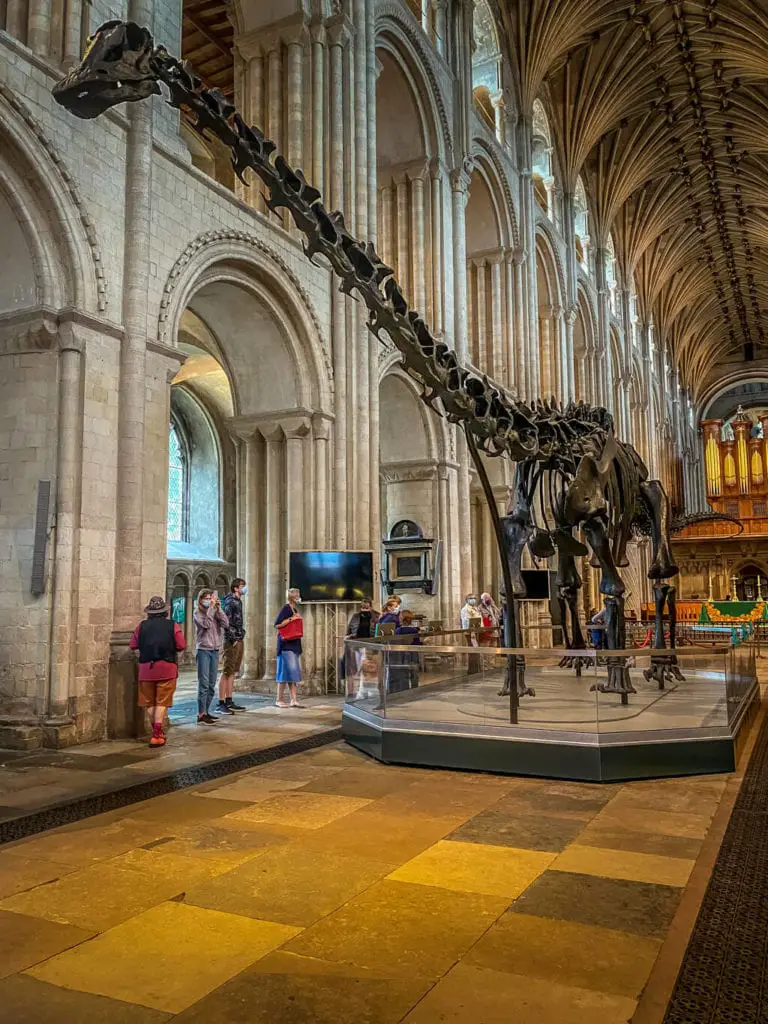 There are also Dippy footprints around the Nave. Each one has some interesting facts about other types of dinosaurs as well as about Norwich Cathedral. It's also a sign that there is a little dinosaur hiding nearby (usually up high).
In front of Dippy, there are some panels by Rebecca Osborne that highlight the issues of climate change and food sustainability, some of the Dippy tour themes. They are presented in almost a comic book style making these subjects more kid-friendly.
Off to the side, you will find an area with young writer's musings about Dippy and Norwich Cathedral. They were asked to consider the meeting of the historic Norwich Cathedral and the prehistoric Dippy. I found the poems and introspections they shared insightful and entertaining.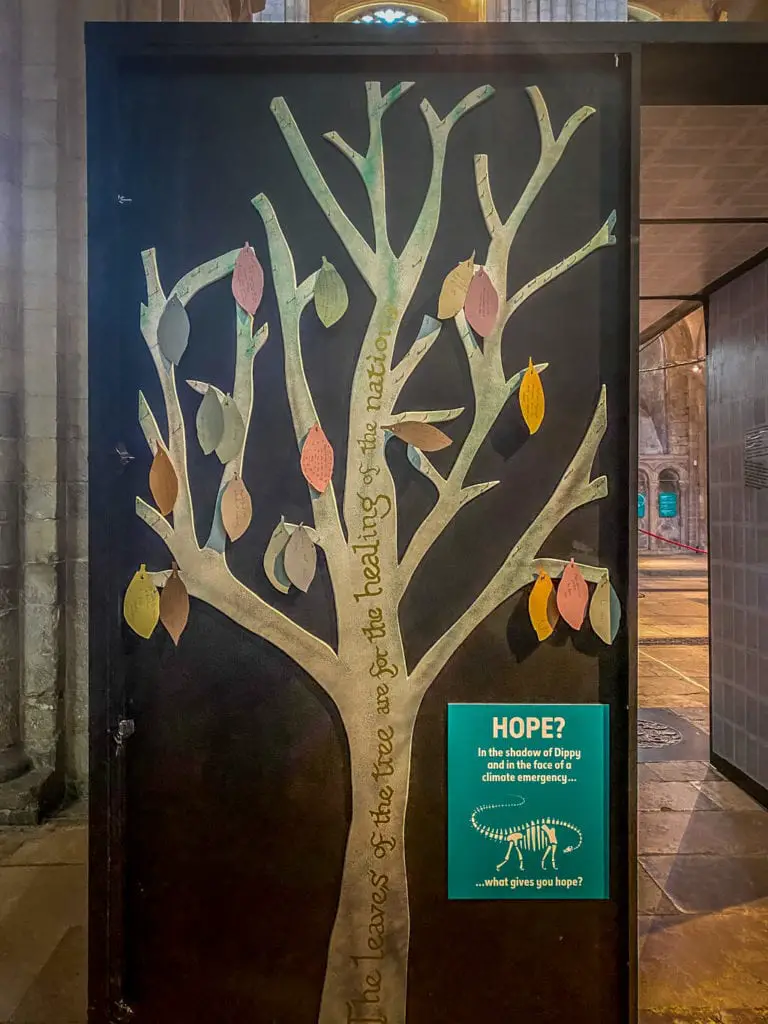 Further down the far aisle, there is the reflection zone. Here they want you to think about the world today and what you can do to protect it for the future. They have paper leaves where you can write down what you plan to do and hang them on the tree of hope.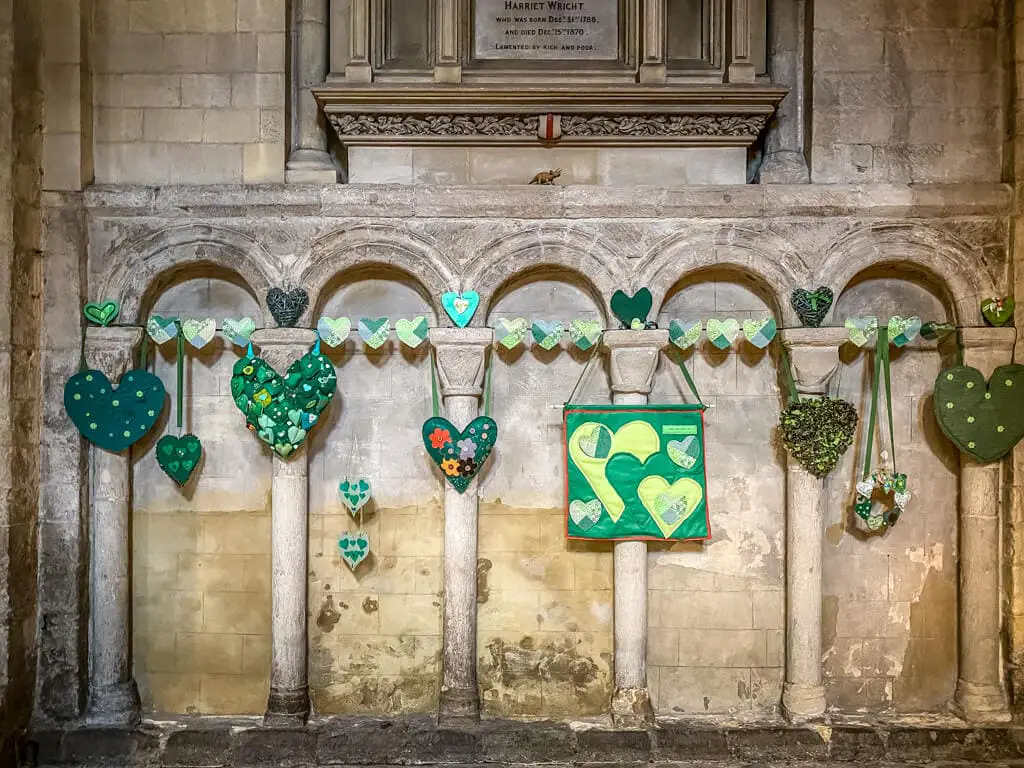 After the Reflection Zone, there is a display of Green Hearts made by Norfolk Women's Institute members to show their love for the planet. Next, you can admire the peace globe and reflect on the world. If you like, you can light a candle. Lastly, there is the gift shop with all kinds of dinosaur souvenirs.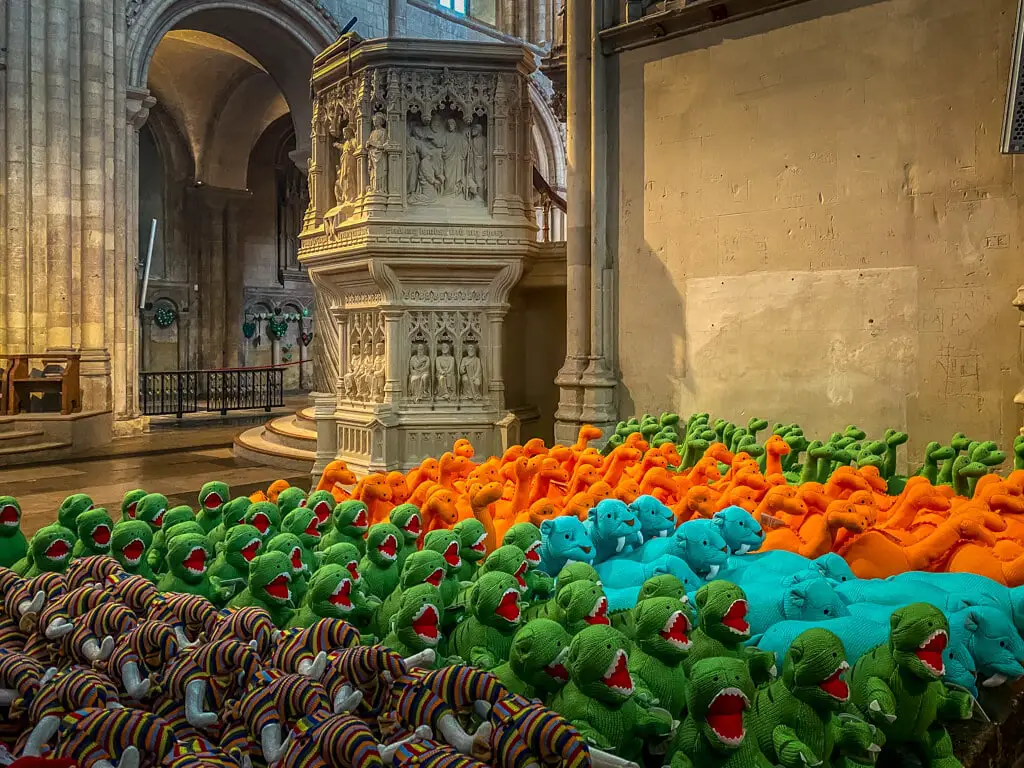 If you want to see the East End of the Cathedral, there is an entrance on your left after exiting the Cloisters. This section of the Cathedral is open for visitors as well as those wanting quiet reflection or individual prayer.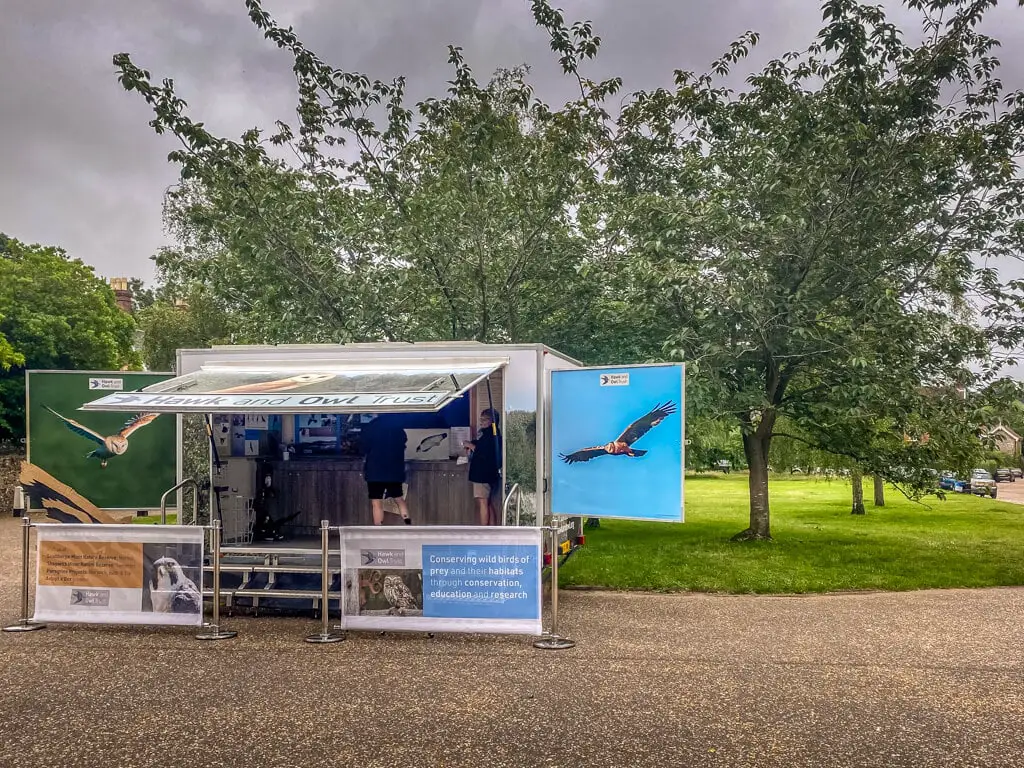 Outside the Cathedral, the Hawk and Owl Trust have a booth set up where you can learn more about the work they do in the area. They also have a telescope set up so that you can see the peregrine falcons that live in the spire of Norwich Cathedral.
Dippy on Tour at Norwich Cathedral Review
I think Norwich Cathedral has done an excellent job with the Dippy exhibition. It is educational with some important themes but fun too. Both kids and adults will enjoy it. They had plenty of volunteers to keep things running smoothly and answer any questions. I definitely learned a few things.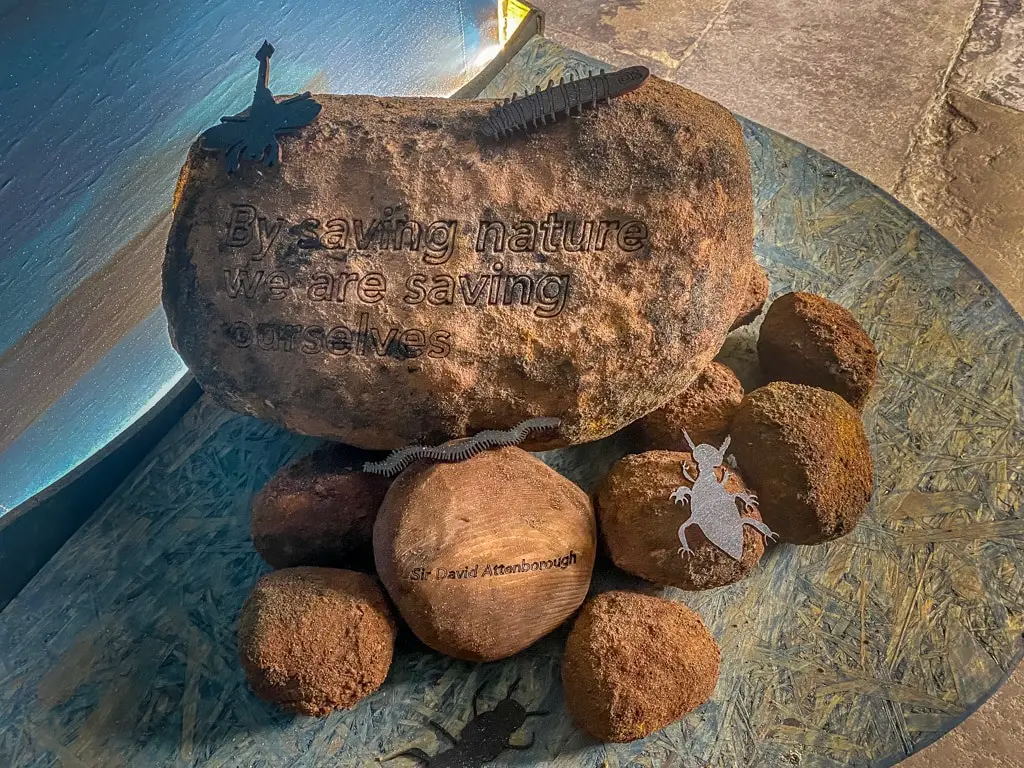 Note: If you are looking for more kid-friendly attractions, check out our list of the best things to do in Norwich with kids.
Dippy at Norwich Cathedral FAQs
When will Dippy be at Norwich Cathedral?
The Dippy on Tour exhibition runs from Tuesday 13 July 2021 until Saturday 30 October 2021.
What are the opening hours for Dippy at Norwich Cathedral?
Opening times will be 10:00 – 16:00 Monday to Friday and 9:30 to 17:30 on Saturdays. Beginning 30 July 2021, people will also be able to visit Dippy every Friday evening from 19:00 until 21:00. Note over the course of Dippy's stay there are a few times the hours will be different due to other events so please double check here before visiting.
For Dippy's last week (October 25, 26, 28, 29 and 30) there will also be a special Dippy at Night display for 19:00 to 21:30.
How much does it cost to see Dippy at Norwich Cathedral?
It is free to see Dippy at Norwich Cathedral, but donations are welcome to support the upkeep of the building. Read about more free things to do in Norwich.
Do you need to book tickets in advance to see Dippy at Norwich Cathedral?
No. You do not need to book your visit to see Dippy in advance unless you are visiting in a group larger than six. Keep in mind you may need to queue at peak times.
Will there be guided tours of Dippy at Norwich Cathedral?
Yes. Experienced Cathedral guides will lead tours Monday to Saturday at 11:00 and 14:00. The one-hour-long tour will cover the history of Norwich Cathedral and its Cloister and you will also be able to see Dippy! Tickets are £3 per person and as numbers are limited should be booked in advance here.
Is there food for purchase at for the Dippy exhibition at Norwich Cathedral?
Yes, in addition to the Refectory Cafe, there is a small food station in the Cloisters. Outside the Cathedral in the close several local businesses had food stalls.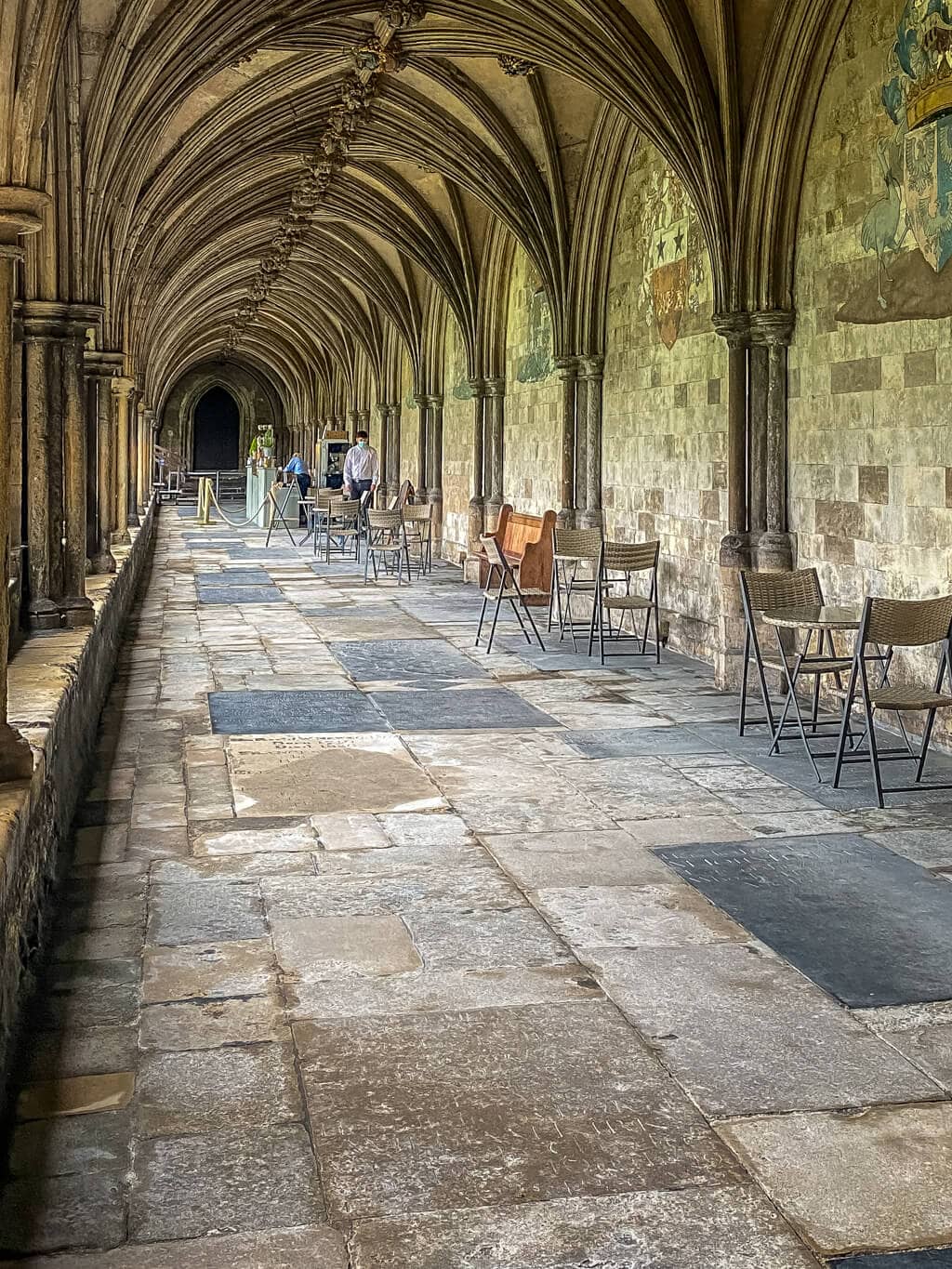 Is the Dippy at Norwich Cathedral exhibition accessible?
Yes. It is fully wheelchair accessible.
How do you get to Norwich Cathedral?
From the Norwich train station it is about a 12-minute walk to Norwich Cathedral. If you plan on driving, the closest car parks are Rose Lane and St. Helen's Wharf. You can also do park and ride, then it's a 15-minute walk from Norwich Bus Station to the Cathedral.
Other Special Dinosaur-Themed Events in Norwich
Norwich is so excited to be hosting Dippy, there are a few more dinosaur related events to celebrate the occasion.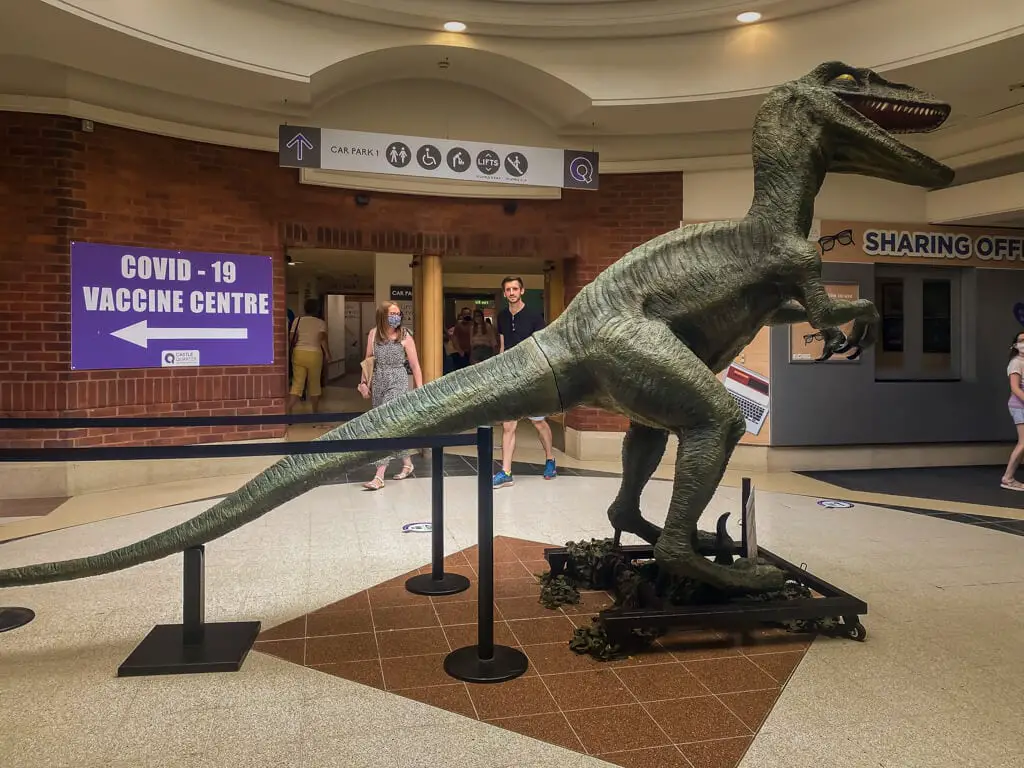 Dinosaur City Food Trail
Select local restaurants, cafes, and bars will be offering special Jurassic-themed menus and dinosaur colouring sheets for kids from 12th July to 22nd August 2021. Look for neon dinosaur signs in the windows of participating businesses.
GoGo Discover Trex Sculpture Trail
The 2021 GoGoDiscover charity sculpture trail is delivered by the local children's charity Break, in partnership with Wild in Art. It includes 21 large Tyrannosaurus-Rex sculptures that have been decorated by local and national artists and sponsored by businesses from across the region.
You can find these special T-rex sculptures around the Norwich city centre from 12th July to 11th September 2021. These GoGo dinosaurs will return in the Summer 2022 along with Steppe Mammoth sculpture that will be all around Norfolk as a not to Norfolk's deep history coast.
Read about the 2022 GoGoDiscover Trail here.
Brick Dinos at the Forum
The Forum is hosting a family-friendly exhibition featuring dinosaurs (and other prehistoric creatures) created from LEGO® bricks! It was developed by artist Warren Elsmore in conjunction with palaeontologists so the displays are education as well as entertaining.
Brick Dinos is free to visit but you do need to book a ticket in advance here. It is open daily from 10:00 to 17:00 starting 19 July to 30th August 2021.
Disclosure: This post contains affiliate links. This means we will receive a small commission for some purchases made using links in our blog with no additional cost to you.  Please be assured we would not promote any product unless we believe that our readers will also benefit.  The commission does not influence the editorial content of this site.