The GoGoDiscover T-Rexes from 2021 are back in Norwich for the 2022 GoGoDiscover Trail. In 2022, there will be additional T-rexes in Norwich and also Steppe Mammoths around the county for a total of 79 large sculptures.
Let me share more about the 2022 Norfolk GoGoDiscover T-Rex and Steppe Mammoth Trail.
Make sure you join our email newsletter here, so we can keep you up to date with what's happening in Norfolk.
Note: This post contains affiliate links.  As an Amazon Associate, we earn from qualifying purchases. Please see disclosure for more information.
About GoGoDiscover Sculpture Trails
GoGoDiscover Sculpture Trails are the result of a collaboration between Wild in Art and the charity Break. Break works to change the lives of young people across East Anglia by offering support for young people in care and moving on, children and young people with disabilities, families in need, and children at risk. 
The project aims to connect businesses, artists, and communities through the power of creativity. The art trails improve quality of life of the area and provide a platform for amateur and professional artists to showcase their work. It also encourages explorers of all ages to have fun experiencing art in a non-traditional setting and learn more about Norfolk, while also raising vital money for vulnerable children and young people across the region.
The Mammoth is a new figure for GoGoDiscover Sculpture trails in Norfolk. They celebrate the Deep History Coast and Norfolk being home to the discovery of the largest and oldest mammoth ever found in Britain. Previously, there have been t-rexes, gorillas, dragons, and hares.
*Kids will love this sculpture trail. If you need more ideas to entertain the kids, check out our recommendations for the best things to do in Norwich with kids and the best things to do in Norfolk with kids.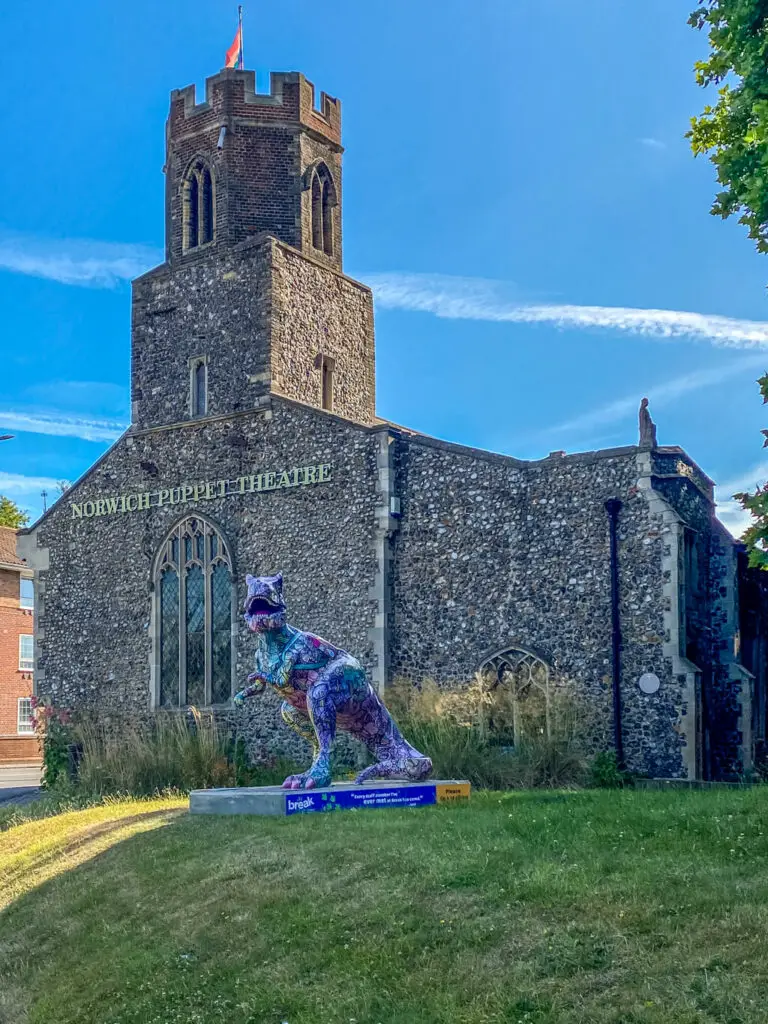 2022 GoGoDiscover T-Rex and Steppe Mammoth Trail
The 2020 GoGoDiscover Trail in Norfolk includes 55 T-Rexes (21 returning from 2021) and 24 Steppe Mammals. There are also 100 small T-rexes called Breakasaurus (which are not listed on any map).
You can see these sculptures around Norfolk from Monday 27th June until Saturday 10th September 2022. Keep in mind that the sculptures that are indoors can only be seen when the venue is open.
While the trail is free, if you enjoyed the sculptures, you can donate to Break via the website or by text. Text GGD to 70085 to donate £3. Texts cost £3, plus one standard rate message.
You can download the GoGoDiscover app here and earn rewards by entering the app codes found on the base of each sculpture.
*Note: Numbers in this post correspond to the GoGoDiscover map and the what3words refer to the coordinates from the app.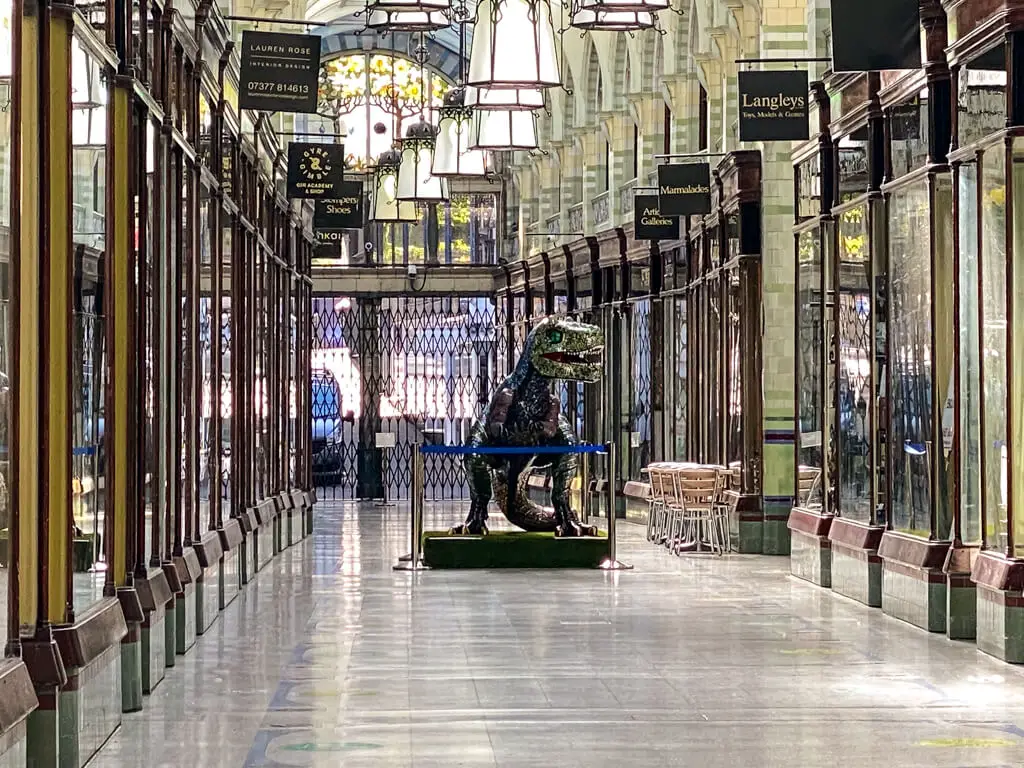 Tips for Seeing the 2022 GoGoDiscover Trails
Before you head out to see the sculpture trail, I have a few tips that might make things easier.
Don't try to see all the sculptures in one day. There are way too many.
Plan on walking to see the T-Rexes in Norwich. Norwich is not a very car-friendly city and parking is not easy in some areas. Some of the sculptures are inside places so you won't be able to just drive by.
Don't climb on the sculptures. Treat them with respect so they remain in good condition for everyone to see.
You don't have to see the sculptures in numerical order. Feel free to make your own route.
Take lots of photos! If you want to share on social media the official hashtag is #GoGoDiscover.
The GoGoDiscover T-Rexes in Norwich
There are 55 T-rexes scattered around the Norwich city centre. While 21 are back from last year, they have moved to different spots. Here I will share a little more about each sculpture and how to find them.
You can download a map of the 2022 T-rex city trail here.
#1 Doug the Dino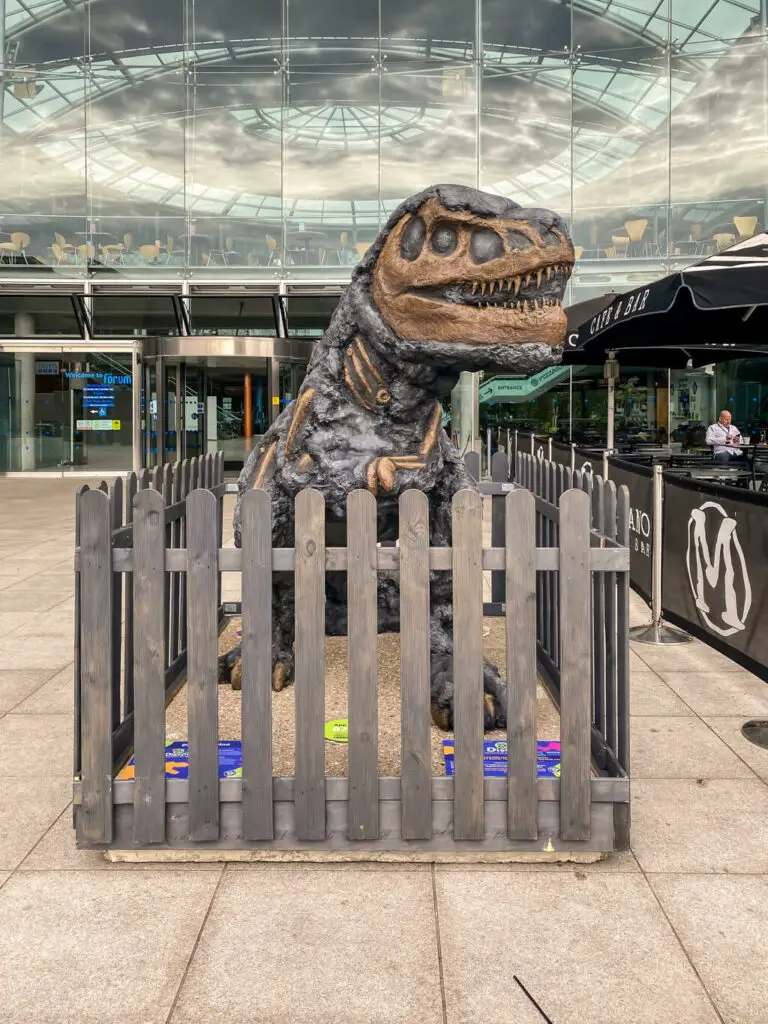 Doug the Dino is intended to show what skeletons and fossils would look like when discovered in rock. If you go close, you will notice some ammonites and other fossils in addition to the skeleton.
You can find Doug the Dino right outside the Forum.
What3Words:///zones.rips.grades
#2 Prideasaurus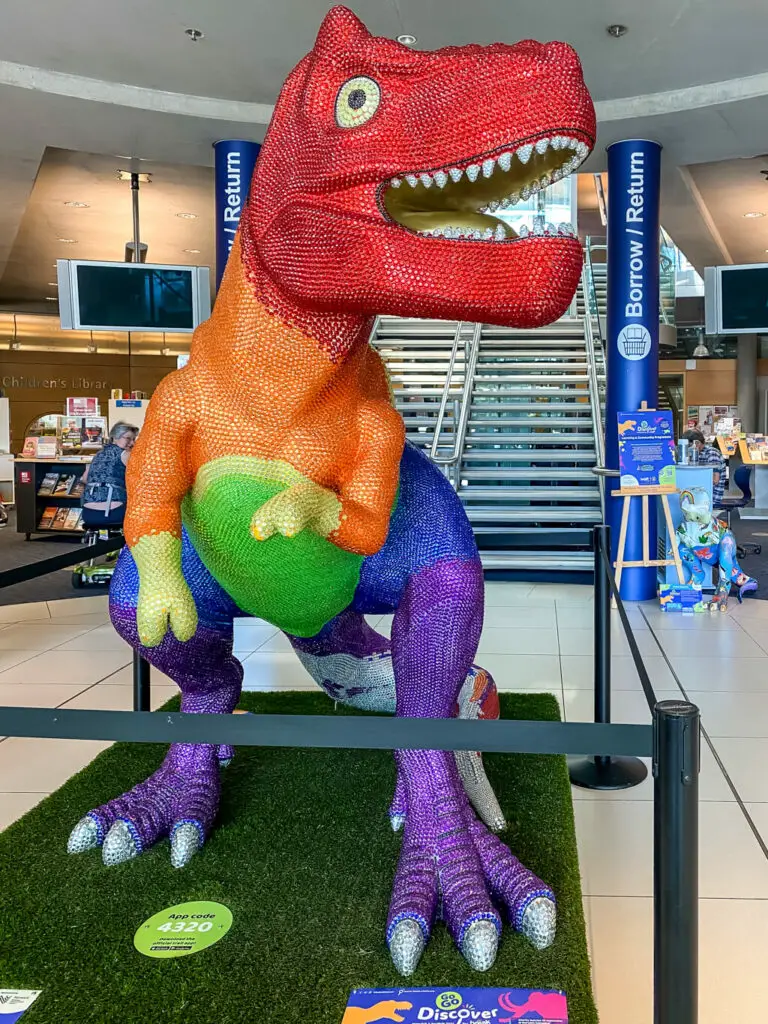 This dazzling rainbow dinosaur features 50,000 colourful sparkling gems that were all applied by hand. While rainbows have come to known as a symbol of support for the NHS, given its name, this sculpture is for LGBTQ+ community.
He/She has been moved from its spot last year in front of the forum to inside the Millenium Library.
What3Words:///vets.pure.jacket
#3 Shredasaurus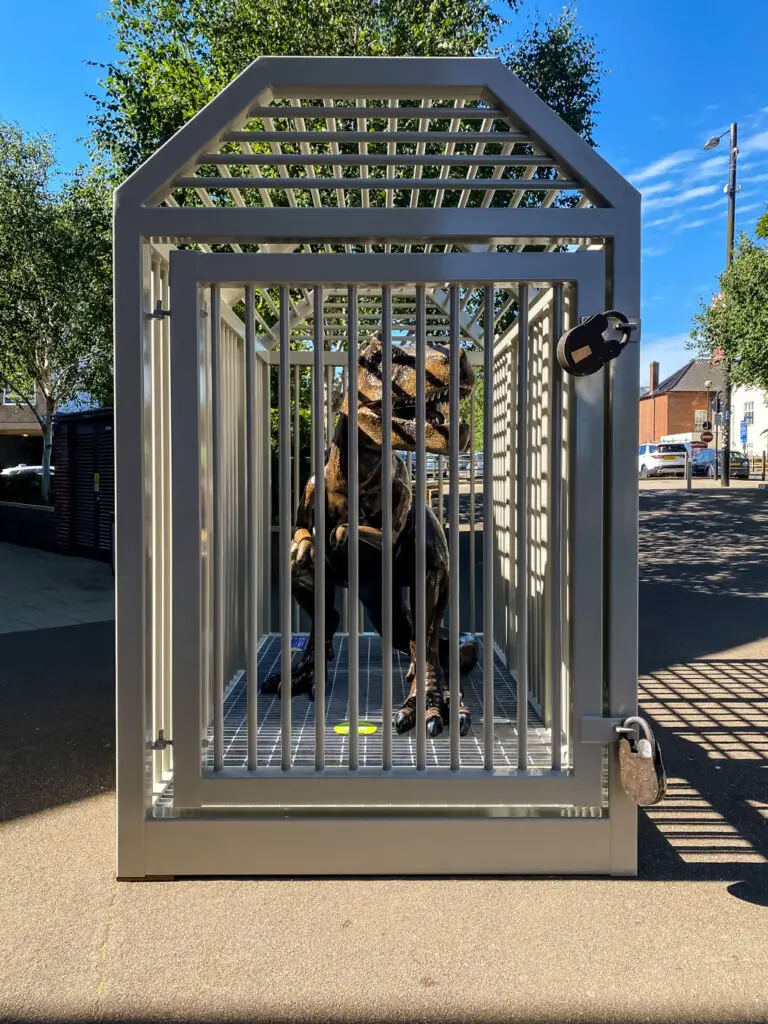 This somewhat realistic looking T-rex is trapped inside a giant cage a bit like the one from Jurassic Park. I don't think he will be escaping as the locks look secure to me.
The cage holding Shredasaurus can be found on Millenium Plain close to Theatre Street.
What3Words:///yoga.jumped.likes
#4 Sirdavidsaurus rex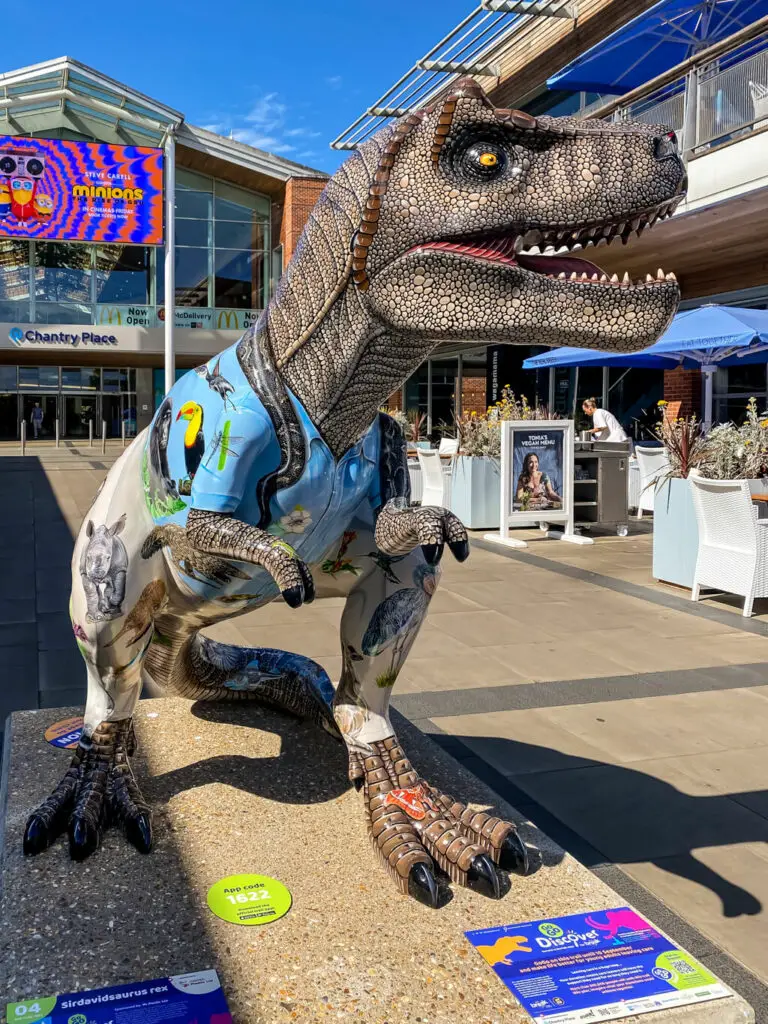 A fitting tribute to Sir David Attenborough, there are all kinds of animals painted on the T-rex including a snake around his neck. The scales look like pebbles.
You can find Sirdavidsaurus rex by The Real Greek restaurant by Chantry Place.
What3Words:///dwell.snow.actors
#5 T-RAFFE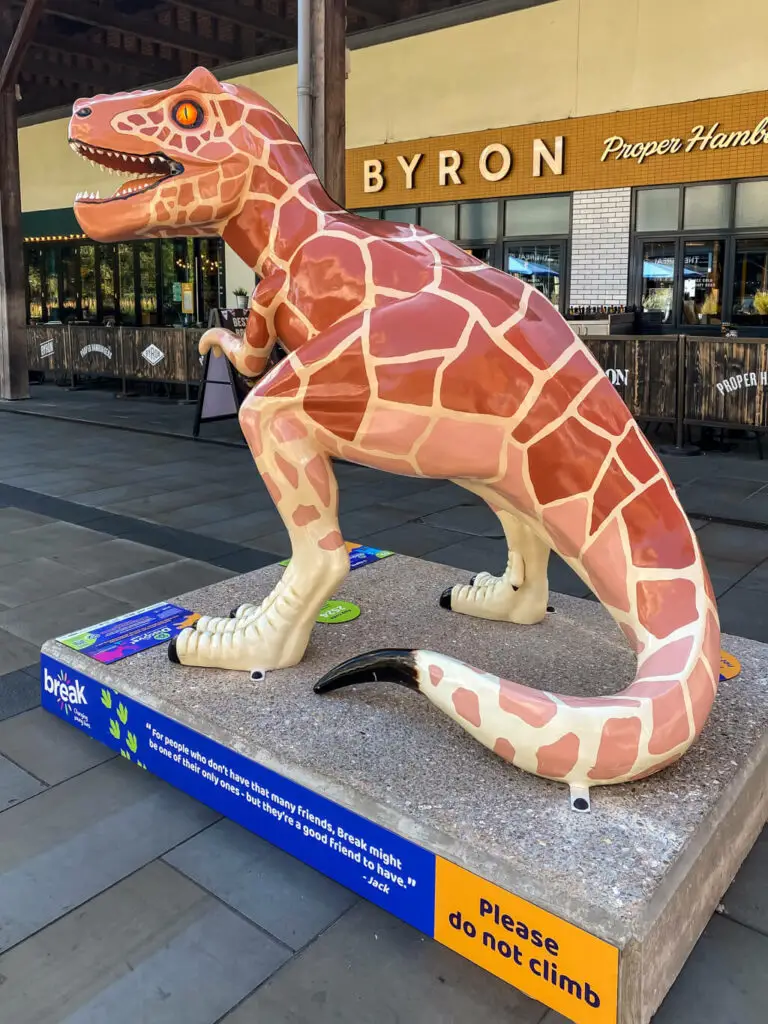 When you cross a giraffe and Tyrannosaurus rex you get T-RAFFE. It has the coat pattern like a giraffe but the neck and body of a T-rex.
T-RAFFE stands tall outside the Bryon Burger by Chantry Place.
What3Words: ///keep.freed.truly
#6 The Golden King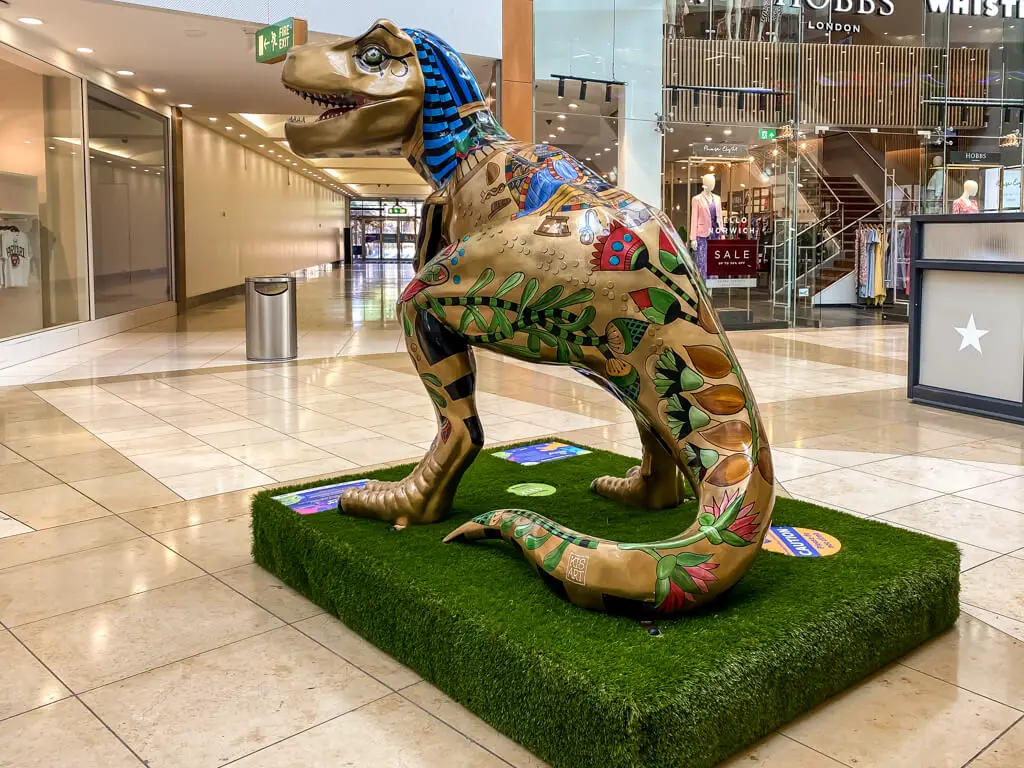 It's obvious that this T-Rex is inspired by Egyptian Pharaohs as it is reminiscent of a mummy. If you look closely you can see hidden messages in hieroglyphics and braille.
You can find The Golden King on the upper ground floor of Chantry Place by H&M.
What3Words:///loaded.memory.outer
#7 T-Wrecks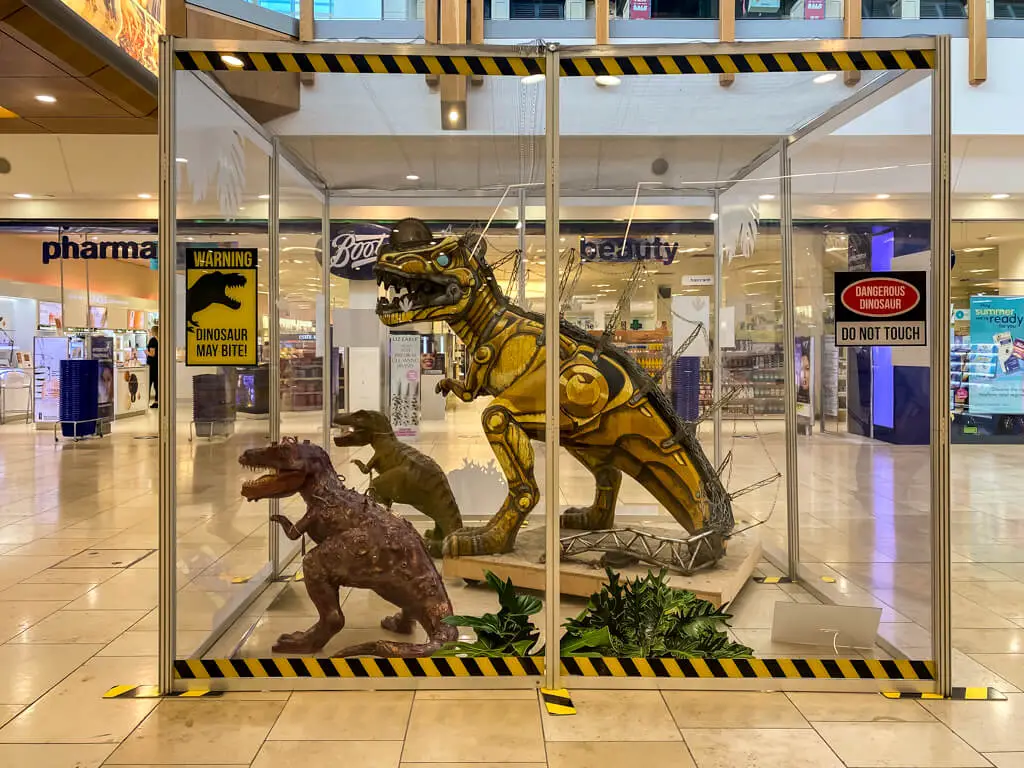 Behind a plastic cage and warning signs, you can see T-Wrecks, who is back from 2021, but this time with two babies. With its turquoise eyes, it looks like it is possessed and dangerous. It gives the impression of being a robot or some sort of machine with all the chains and metal on it.
You can find it on the lower level (Ground Level if you enter from St. Stephen's Street) of Chantry Place near Boots.
What3Words: ///recal.vocal.dream
#8 Paintasaurus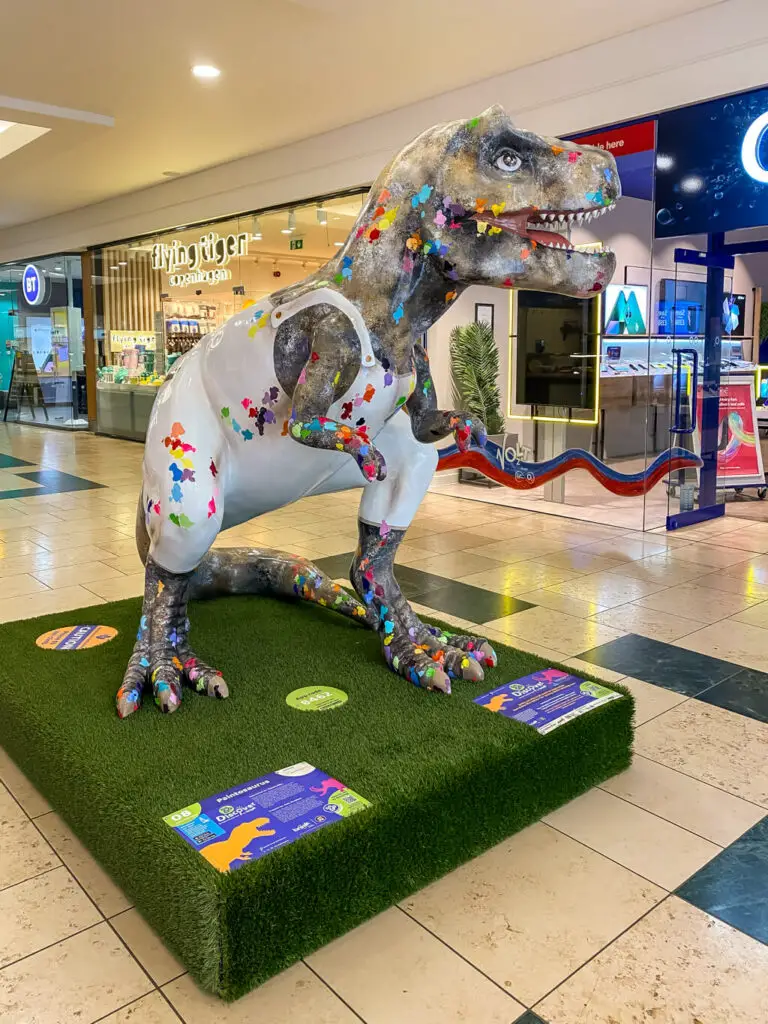 Paintasaurus has his overalls on, but has made quite a mess with colourful paint blobs everywhere.
This T-Rex is on the lower ground floor of Chantry Place next to the O2 store which is close to the St. Stephens Street entrance.
What3Words: ///copper.item.pass
#9 Afternoon Tea-Rex
I've never seen a server balance a three-tiered tray with afternoon treats on it's head, but Afternoon Tea-Rex has it all under control. Of course, you can't have an afternoon tea, without tea, so it also has a tray with teapots and cups. This T-rex, who returns from 2021, has an outfit that matches the tea towel and a cherry on its back. On its thigh there is an interesting painting of a volcano with teapots pouring out their tea.
You can find it in the Dining Terrace at Chantry Place along with a few of the smaller sculptures.
What3Words:///post.thing.lungs
#10 Yoodle-Saurus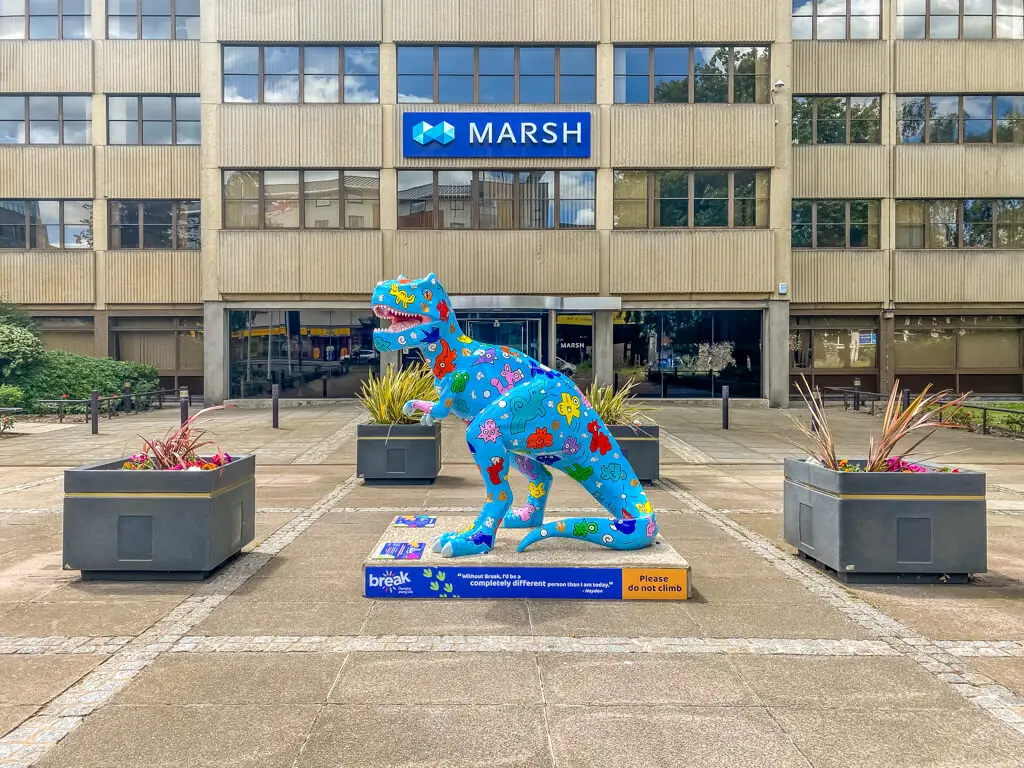 I didn't recognize the images on this colourful T-Rex. The artist calls the quirky characters on it Yoodles. They help with anxiety and let imaginations run free.
Yoodle-Saurus stands outside the Marsh building on Queens Road.
What3Words: ///yard.steep.hats
#11 Dino-snore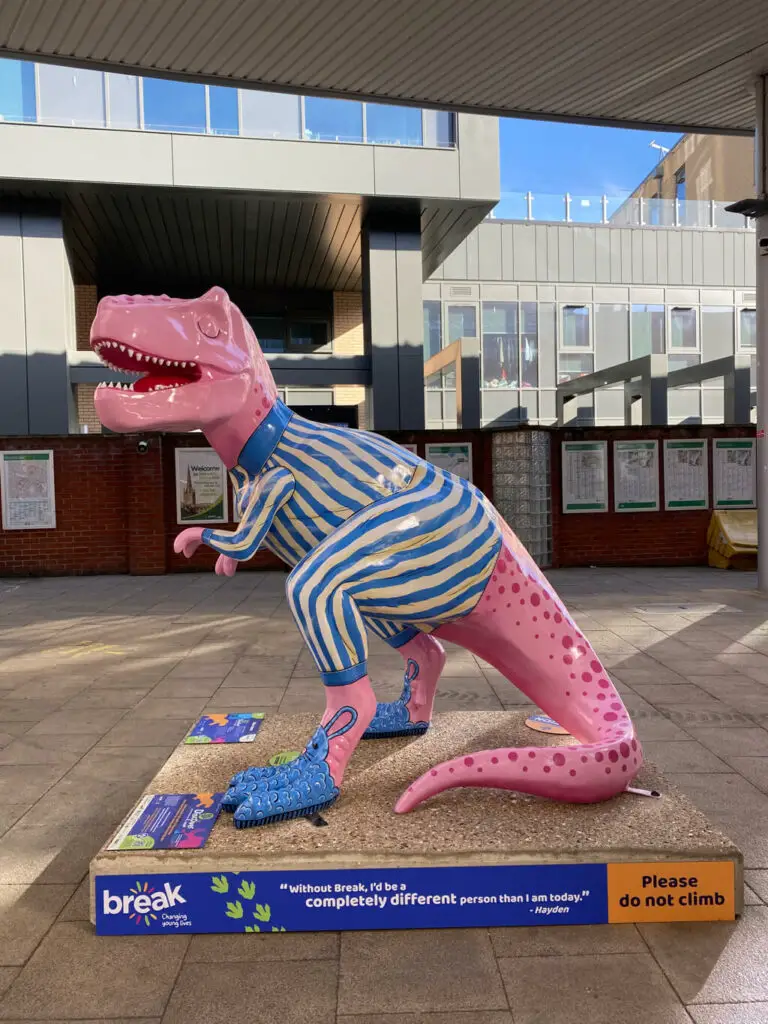 Dino-snore is all ready for bed in his blue and white striped pajamas and rabbit slippers. He might actually be asleep already since his eyes are closed.
You can find it in the Norwich Bus Station.
What3Words:///doctor.cars.cotton
#12 Knappleraptor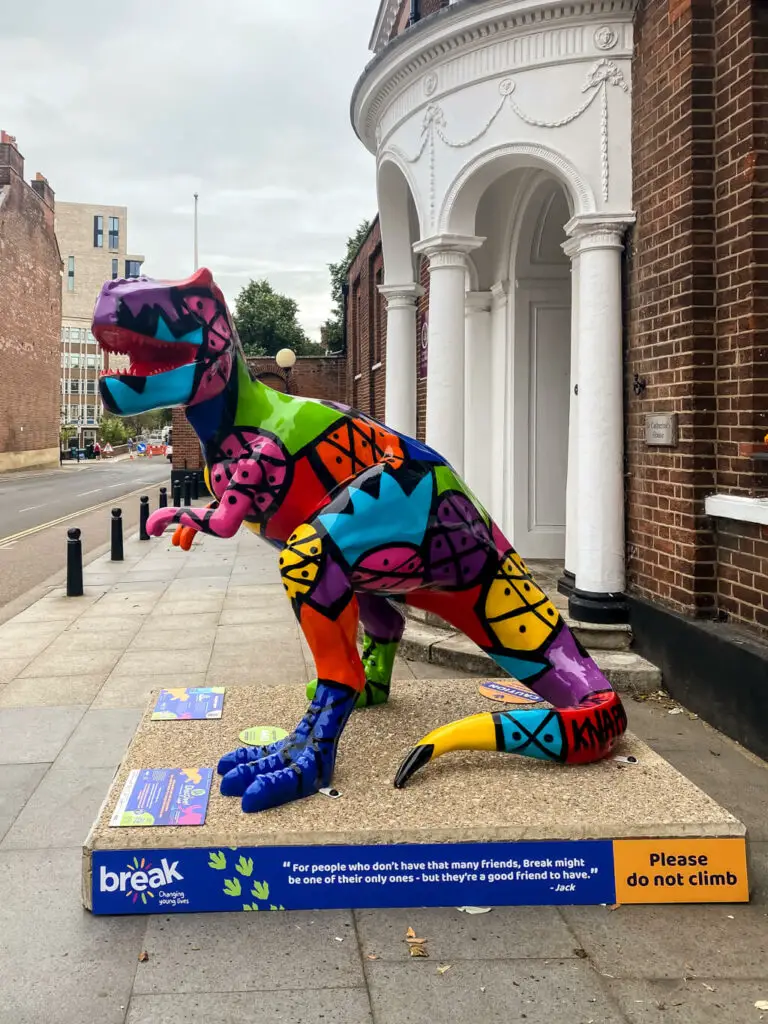 This T-rex is covered in Knapples which is the signature tag for local street artist Knapple. You may have seen the tag in other places around Norwich including the St. Stephen Street underpass.
Knappleraptor is located on All Saints Green in front of the Clapham & Collinge Solicitors office.
What3Words:///gifts.minds.song
#13 T-Birds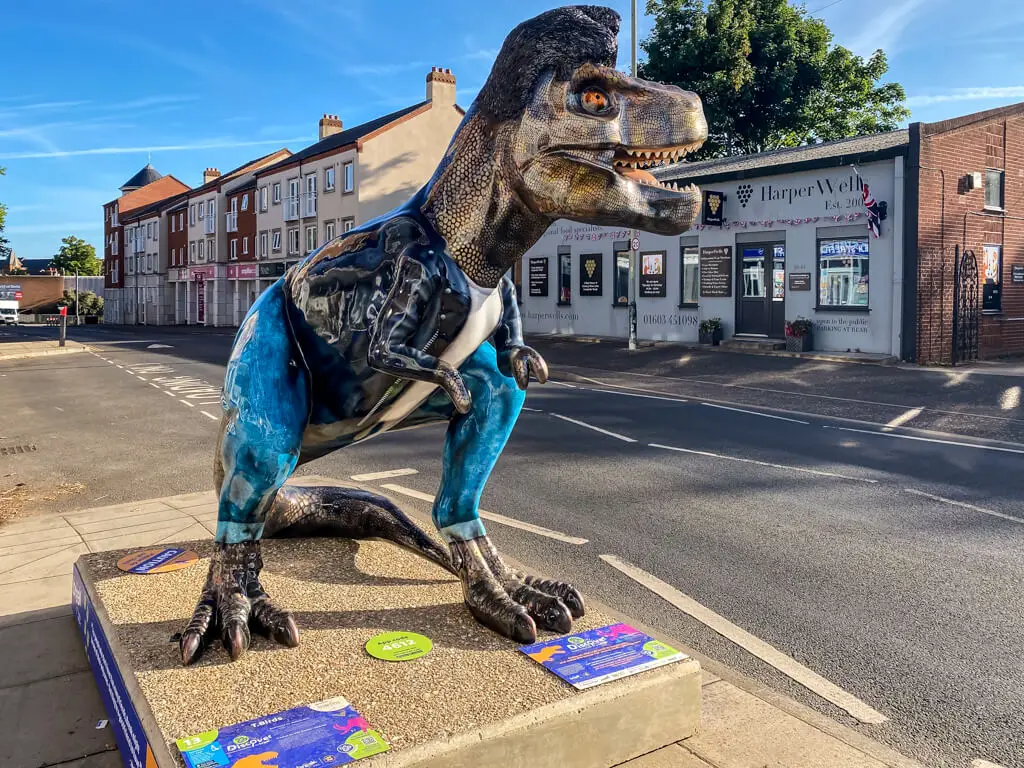 As I walked toward the T-Bird sculpture, I wonder what was on top of his head. Once I got closer I realized it was his 50s hairdo an ode to the movie Grease.
You can find T-Birds on Ber Street outside Martin's Hi-Fi.
What3Words:///admit.onions.mobile
#14 Feline-osaur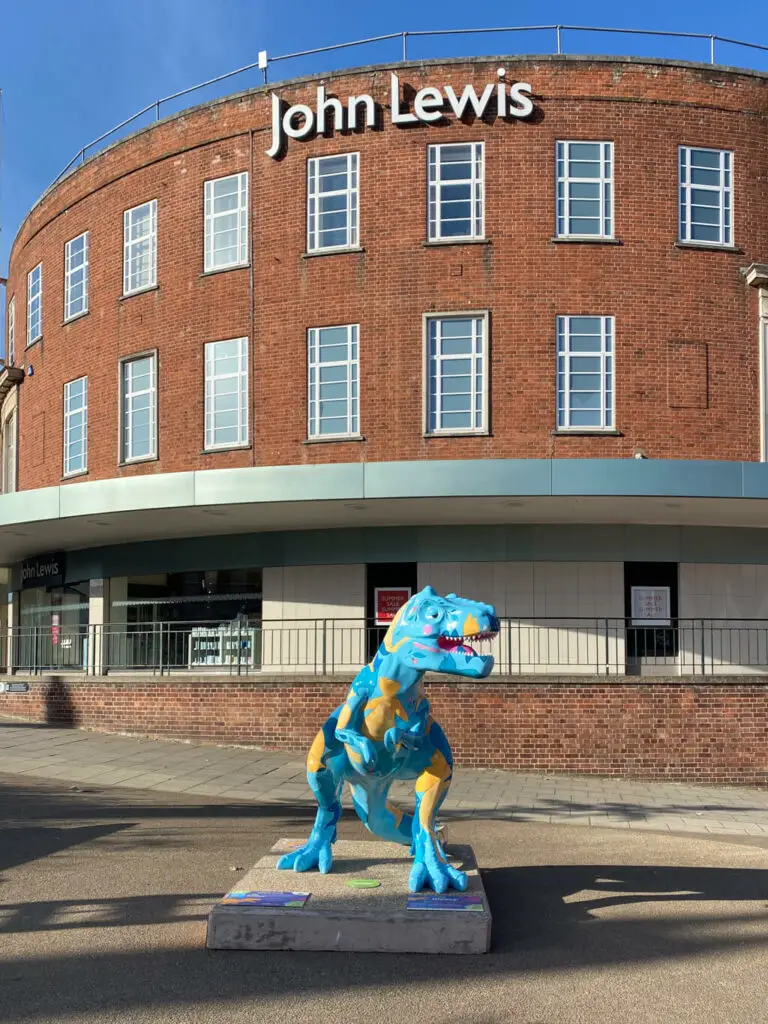 Cat lovers will appreciate Feline-osaur. It has yellow and blue cats all over it which sort of remind me of the cats from the mural on Bedford Street and St. Andrew's Hill.
This T-rex sculpture is located on All Saints Green in front of John Lewis.
What3Words: ///spoil.slides.hobby
#15 T-Pot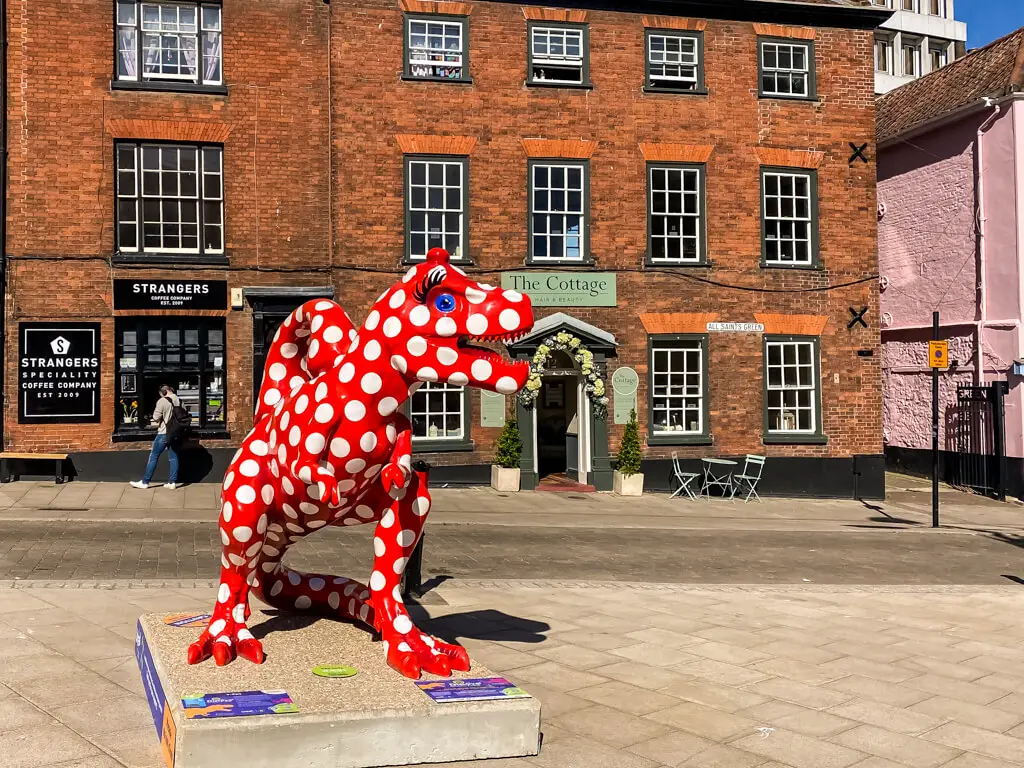 This Tyrannosaurus from 2021 has a handle on its back and a lid as a hat to make it look like a teapot. The bright polka-dotted pattern and long eyelashes make me think this one is a female dinosaur.
While T-Pot was by Chantry Place last year, it has been moved to All Saints Green by Strangers Coffee and The Cottage.
What3Words: ///itself.lively.easy
#16 Prospectosaurus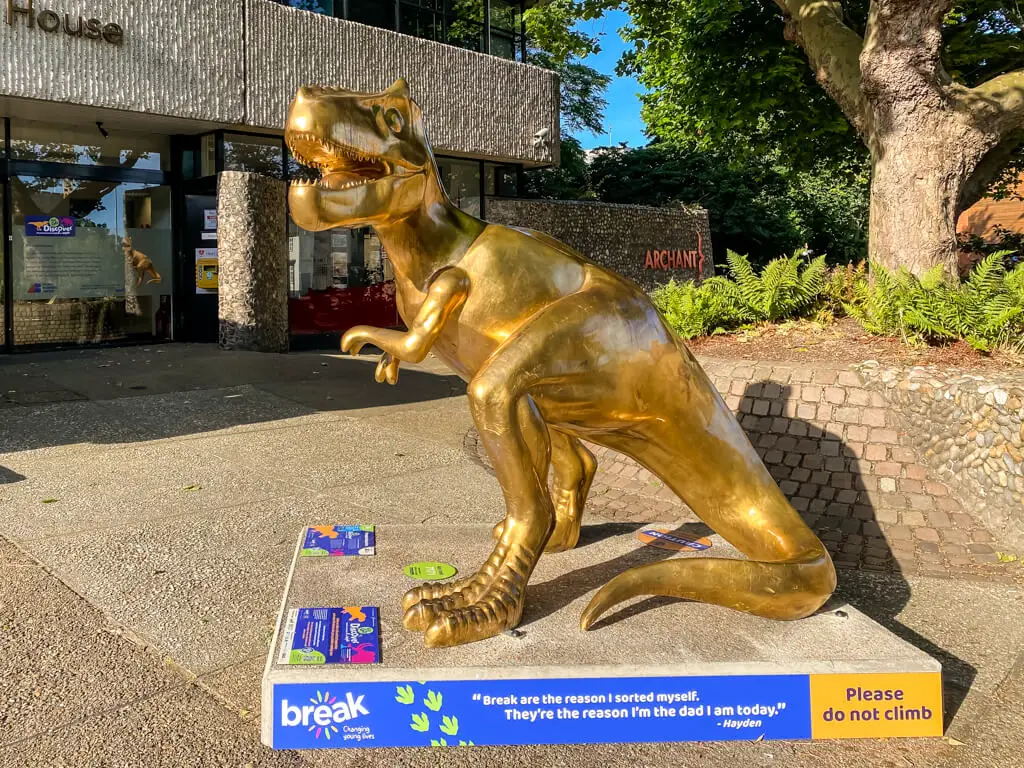 This dinosaur gets it name from the building it stands in front of, but it also seems fitting that it is a gold colour. The artist, Daniel Bland, uses a special technique to make it look older.
Prospectosaurus is located close to the front door of Prospect House.
What3Words:///path.chill.task
#17 Rex_Machina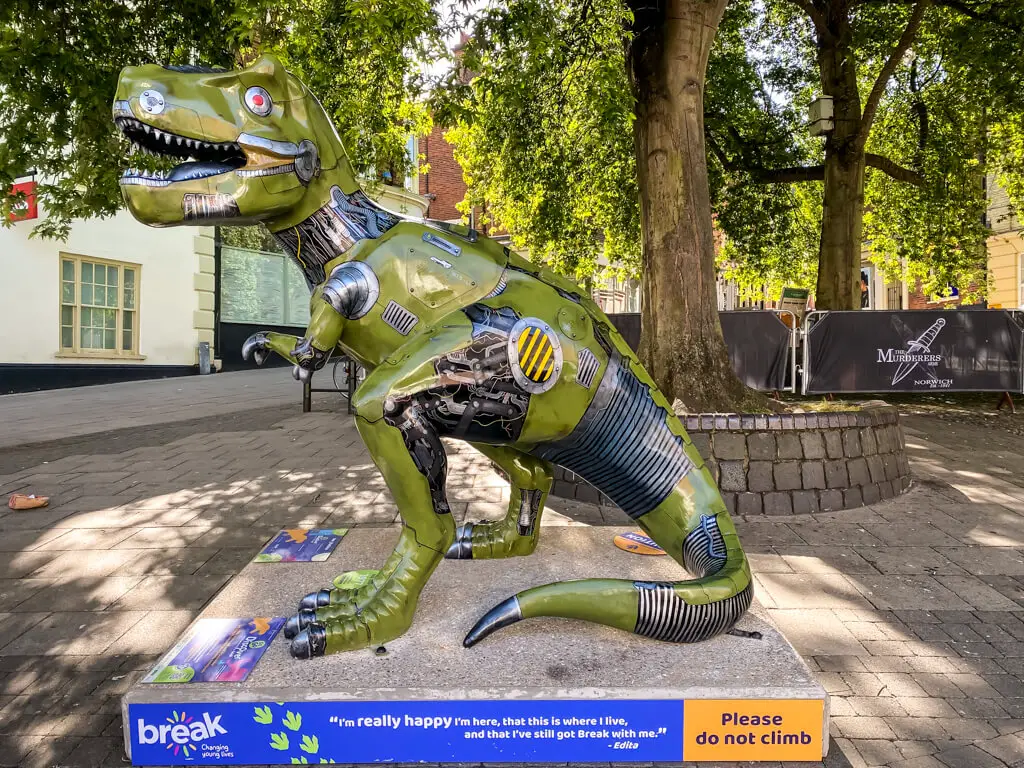 If you want to know what a T-rex could look like as a space age battle robot, then check out Rex_Machina. The blend of the ancient with the future is fun.
You can find Rex_Machina at the bottom of Orford Hill.
What3Words:///unfair.begin.orange
#18 Dino Hunter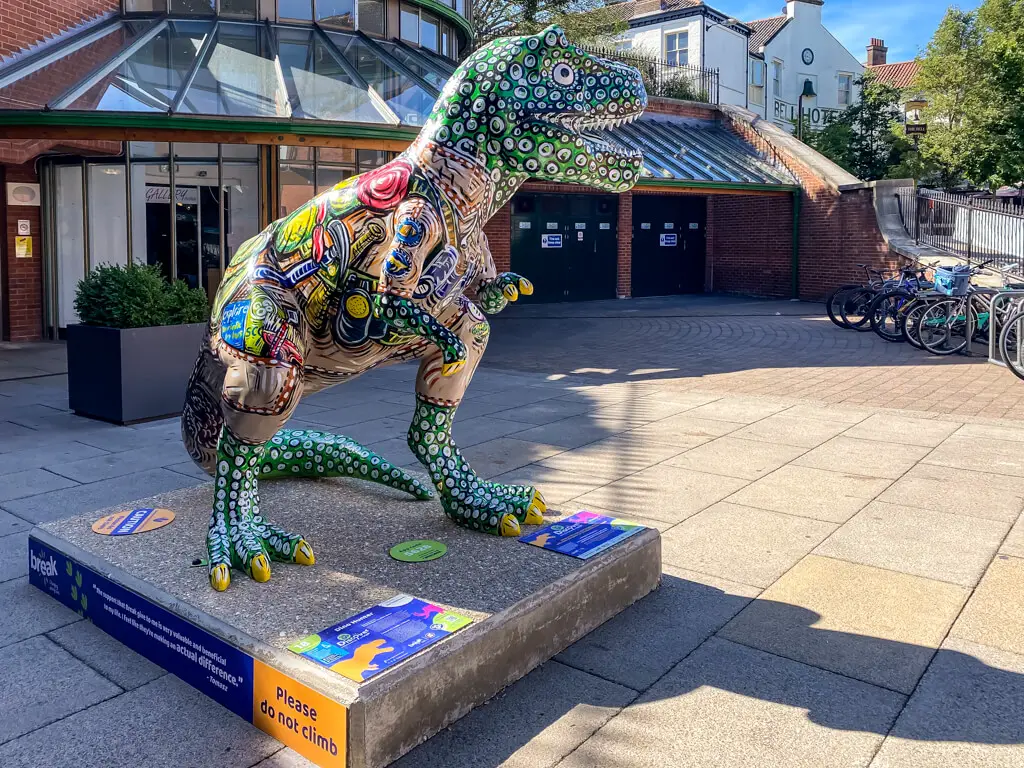 This T-Rex, returning from 2021, seems to be a mix of a tourist and someone on the search for dinosaurs or maybe just a dinosaur hunter in the city-centre. It has fossil hunting tools, a Norwich bus map, camera, binoculars, and more.
This year you can see Dino Hunter at the Castle Meadow entrance to Castle Quarter by PURE Electric.
What3Words: ///lend.chemistry.rings
#19 SNAP!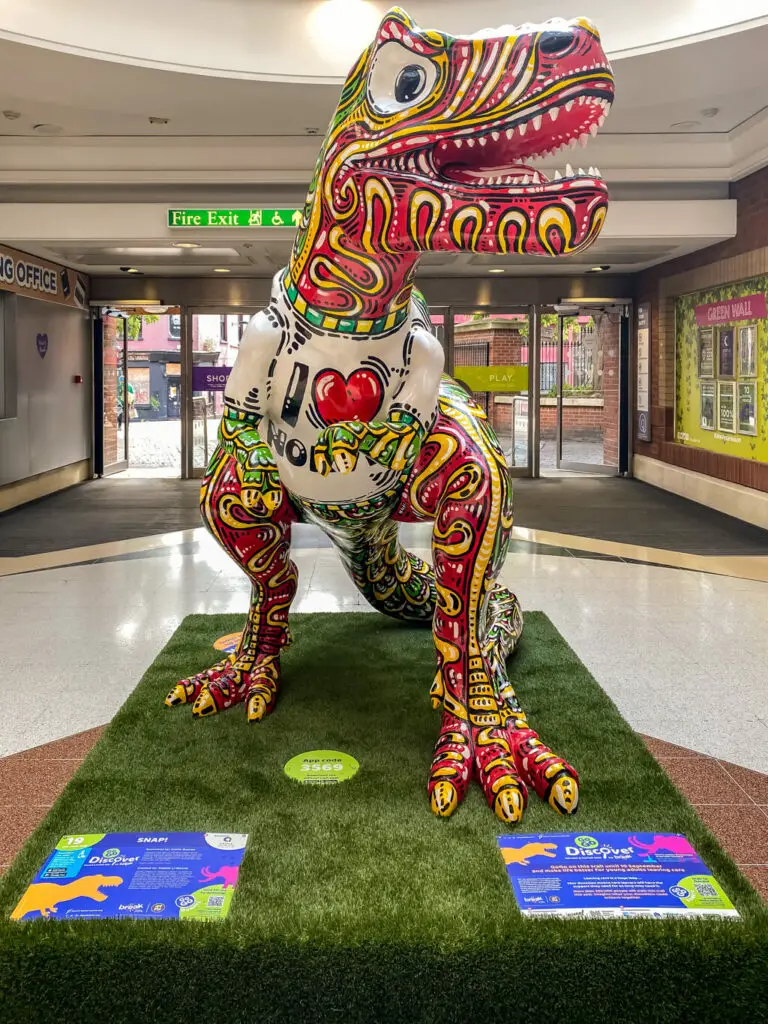 The name of this T-Rex back from 2021 comes from the snapdragon used at annual Guild Day procession and painted in the mural on Red Lion Street (get more information about the street art in Norwich here). It is also wearing an "I heart Norwich" shirt.
It's moved to a different location in Castle Quarter this year on Level 2 by the Cattle Market Entrance.
What3Words: ///create.fund.audit
#20 Tigrasaurus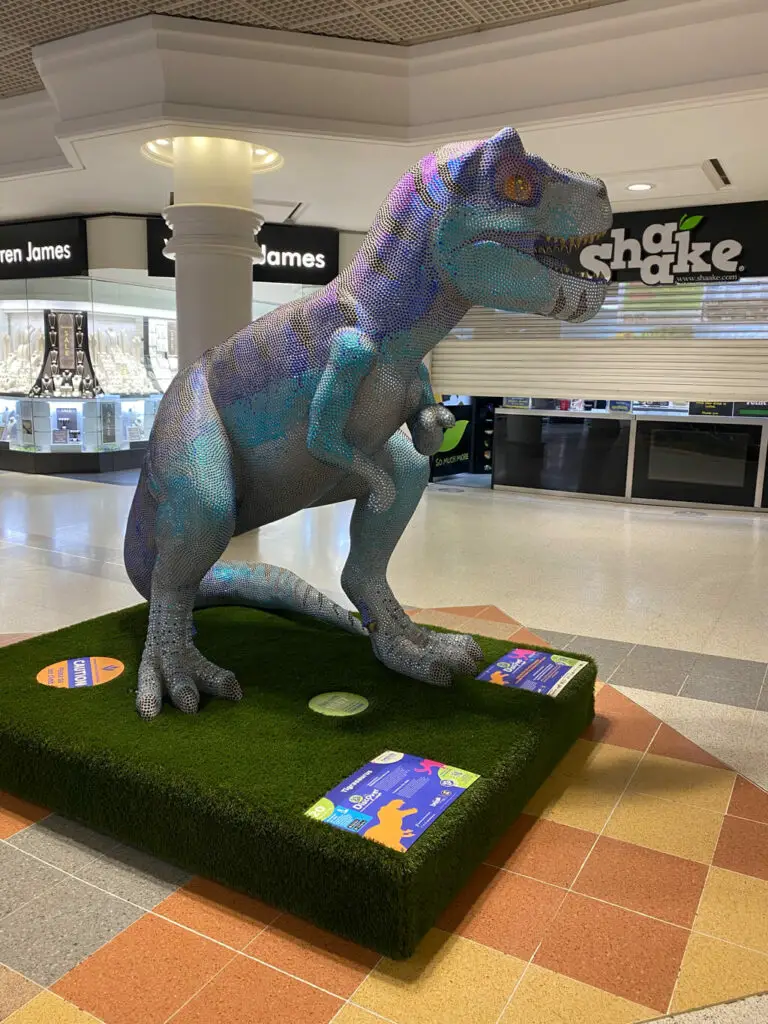 The distinctive pattern of a tiger is visible on Tigrasaurus, who returns from 2021, but it's not the traditional colours. It's pastel with a bit of silver and lots of sparkles. The eyes and teeth have a bit of a gold shine.
You can find Tigrasaurus on Level 1 inside Castle Quarter by the Shaake store.
What3Words: ///mouth.tins.direct
#21 Origamisaurus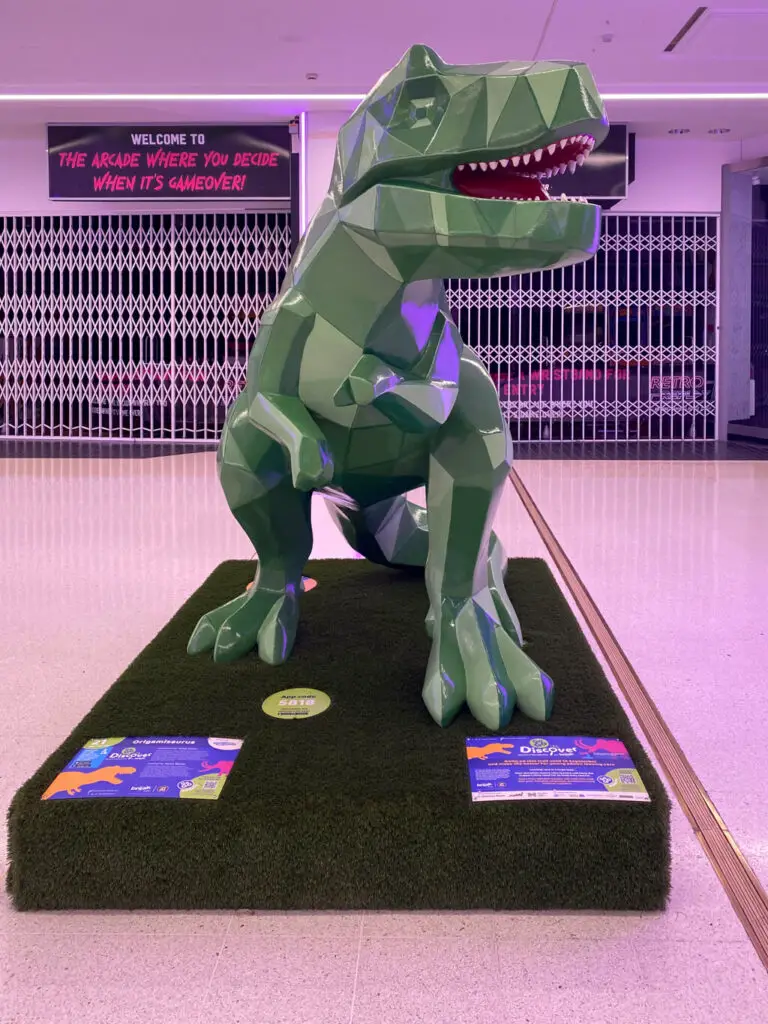 This T-rex is a bit modular to represent what a large origami dinosaur might look like. It's a solid green colour, but I wish it would have had other origami designs on it.
Origamisaurus is inside Castle Quarter on Level 1 by Retro Replay.
What3Words: ///wings.cans.skip
#22 Its-coming-right-tosaurus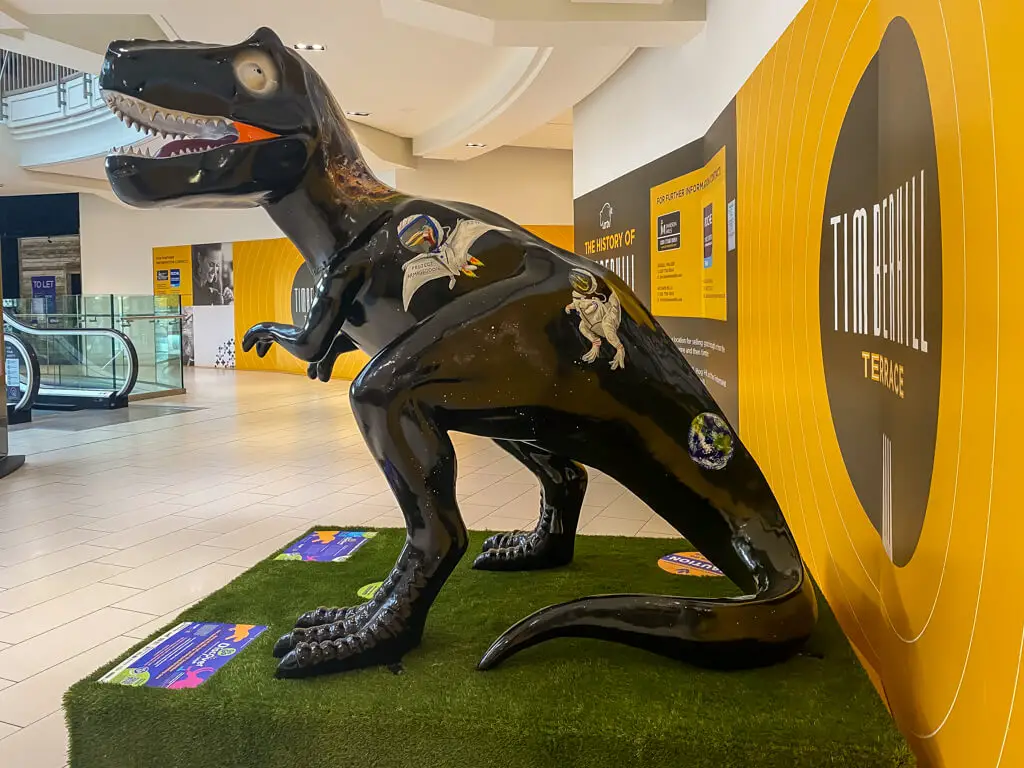 Inspired by the movie Armageddon, this T-rex shows dinosaur astronauts worrying when they see a comet headed towards Earth. It's a fun cross between the movie and history.
You can find it on Castle Quarter Level 4 by the Cocina Restaurant.
What3Words: ///needed.beam.unless
#23 Roary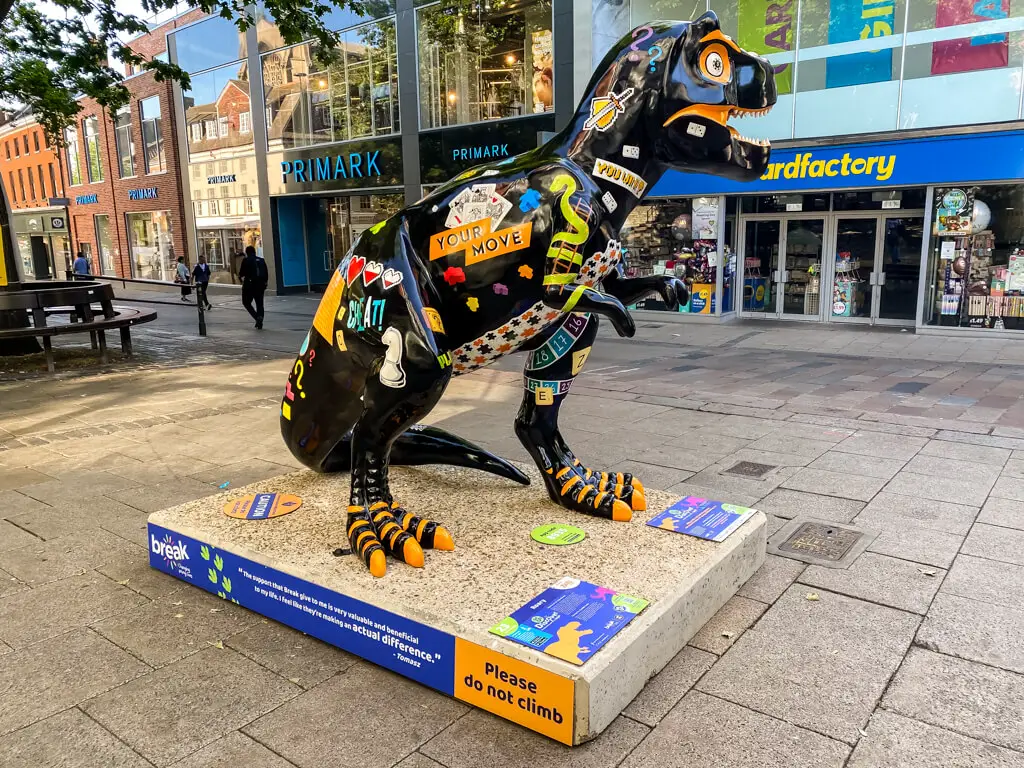 If you like classic games, this is the T-Rex for you. It's covered with images of cards, chess, puzzles, and there are even words hidden in the word search on Roary's back.
Roary is located at Haymarket.
What3Words: ///older.above.foods
UPDATE: When I walked by on 3 July Roary had moved slightly (although I am not sure if this is permanent) – use What3Words ///wants.brikc.wants.
#24 Doodling Dino
As you might expect this T-rex is covered in doodles. Look closer and you will see the sketches have a Norfolk-theme. For example, there are the beach huts from Wells-Next-the-Sea, Happisburgh Lighthouse, Cromer crabs, and more.
Doodling Dino is on Gentleman's Walk in front of Norwich Market.
What3Words: ///insect.groups.areas
#25 Arcadia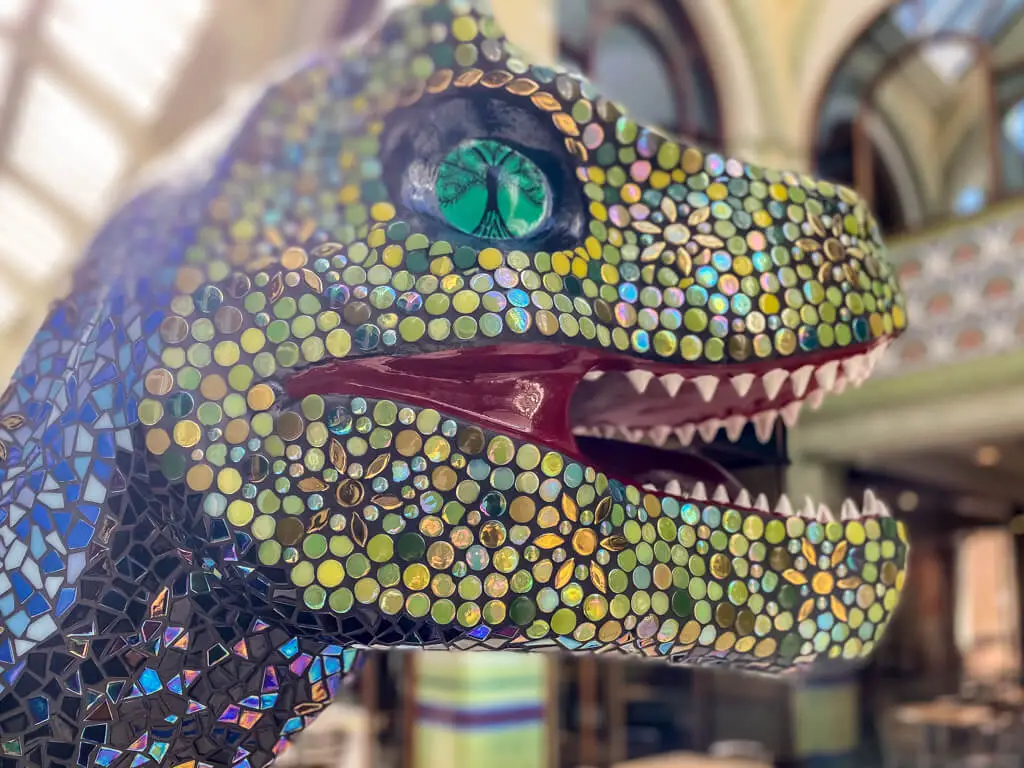 Arcadia is a mosaic intended to show how a seed grows into a tree. It is inspired by the architecture, tilework, and colours of the Royal Arcade.
You can find it by the Gyre & Gimble Gin Academy in the Royal Arcade.
What3Words: ///wiped.landed.grant
#26 Daddy of all Dinosaurs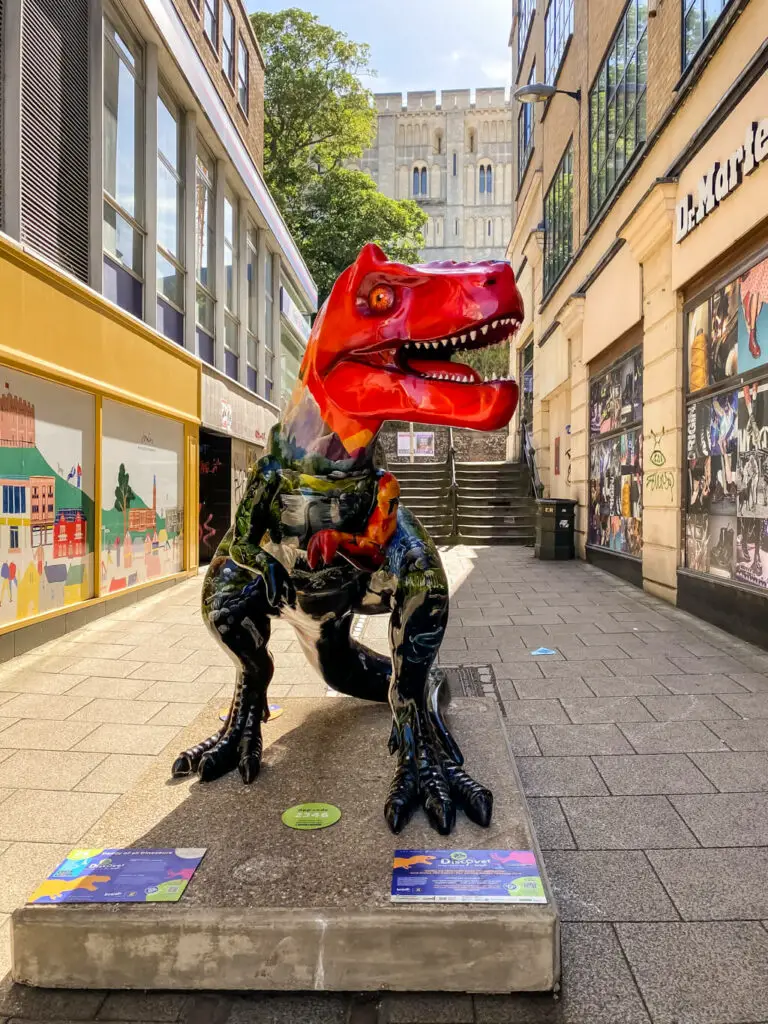 This sculpture has prehistoric creatures of all types painted in a jungle scene on the body with a red head. There are also dinosaur eggs hidden amongst the design of this T-Rex.
Daddy of all Dinosaurs can be found in Davey Place by Dr. Martens.
What3Words: ///when.dine.kicks
#27 Lava Land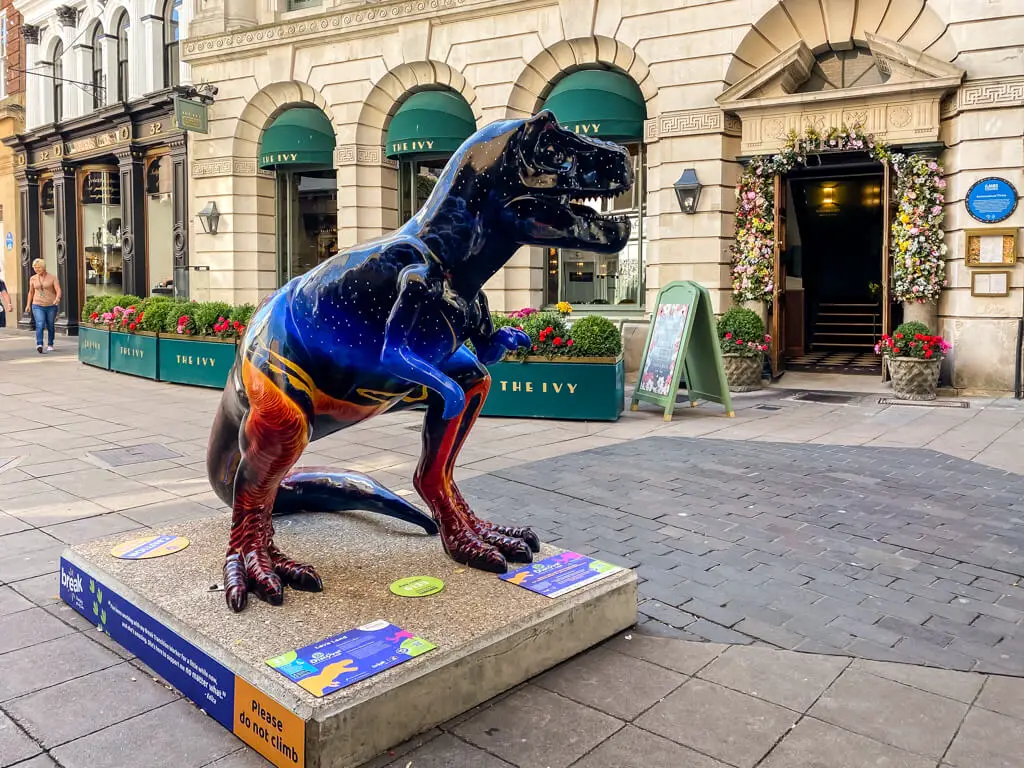 This T-Rex sparkles and almost glows with colourful lava. You can see the volcano on its back and lava all over the lower section. The top part is dark so the sparkles look like stars.
It's back in the same spot on London Street by The Ivy.
What3Words: ///bats.cars.meant
#28 Ontheballasaurus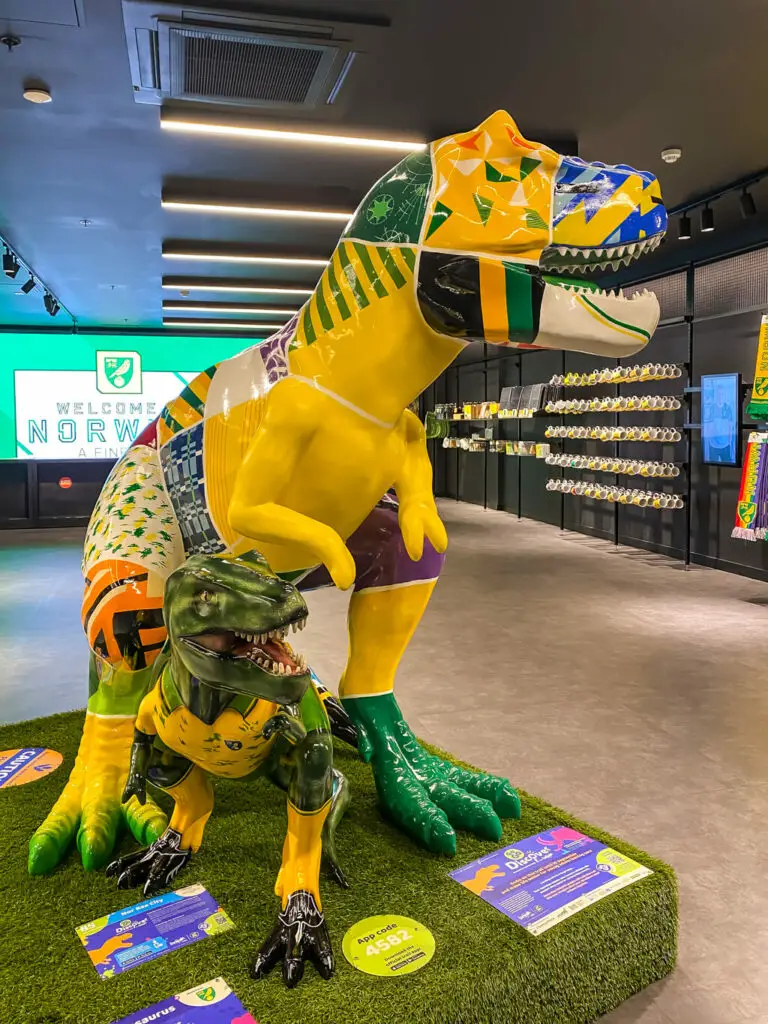 Norwich City Football Club fans will love this T-rex. It has a patchwork design with the team's kits from previous years. There is also a small NCFC-themed T-rex.
You can find Ontheballasaurus on the lower level of Jarrold Sport in Norwich City Fan Hub on London Street.
What3Words: ///mouse.violin.office
#29 Rex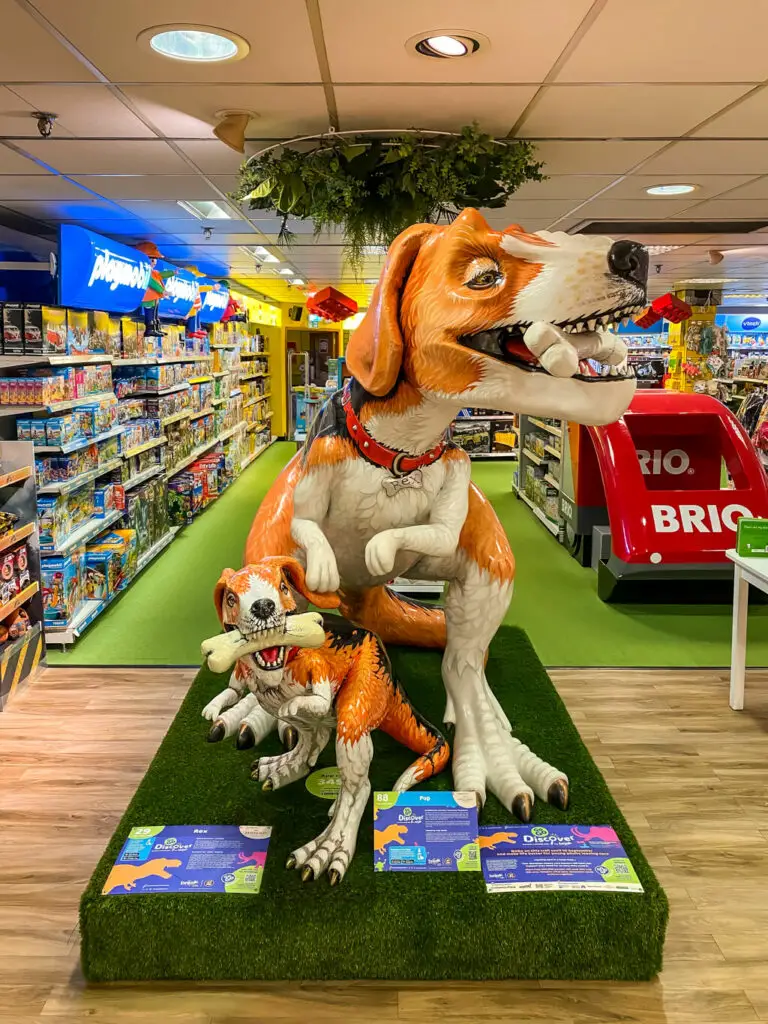 If you were to cross a dog with a T-rex, then you would get something looking like Rex. He looks content with a large bone in his mouth and stylish with his bright red collar. This year he has a mini me with him.
Rex can be found inside the Jarrold's toy section which is on the 3rd floor.
What3Words: ///pans.vague.fantastic
#30 Tyrannosaurus Mesh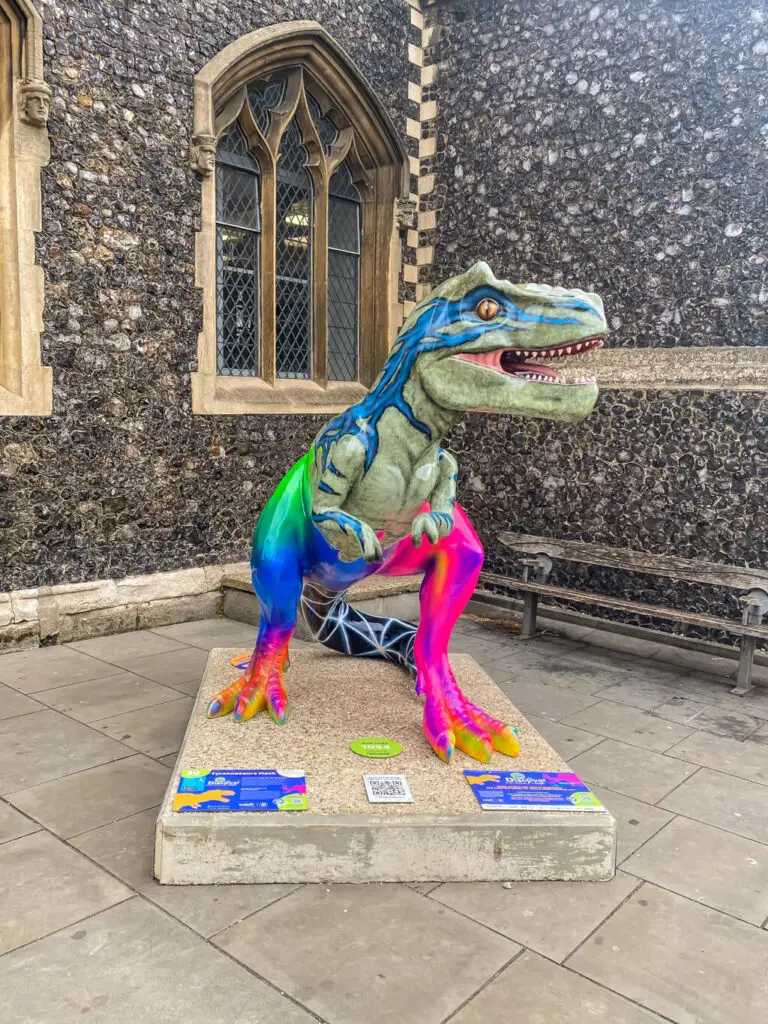 This sculpture is a collaboration between two artist and is a bit of a mesh of creative styles that don't seem to quite go together, but maybe it's just me.
You can see Tyrannosaurus Mesh next to the Guildhall.
What3Words: ///salads.spend.format
#31 Automotosaurus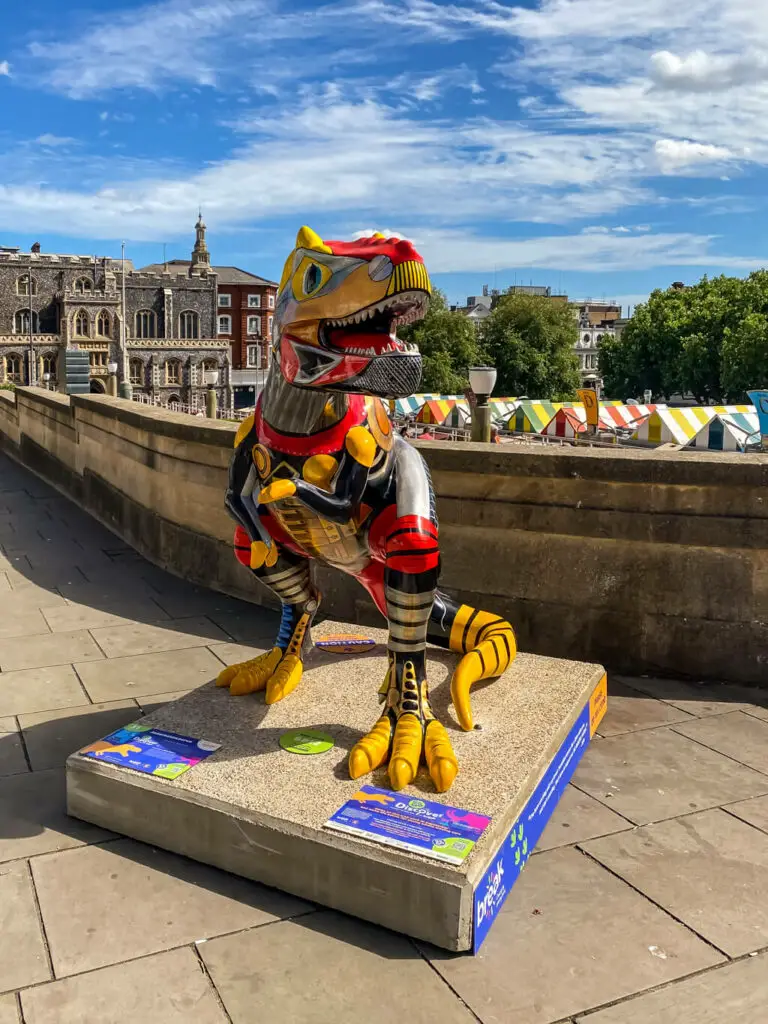 This T-Rex also has a robotic theme with bold colours. It has gears painted on that look like they might have come from a car, but also double as the dinosaurs bones.
It has moved from it's spot on Bishop's Bridge in 2021 to St. Peter's Street this year.
What3Words: ///wiping.scouts.prone
#32 Dino-Charge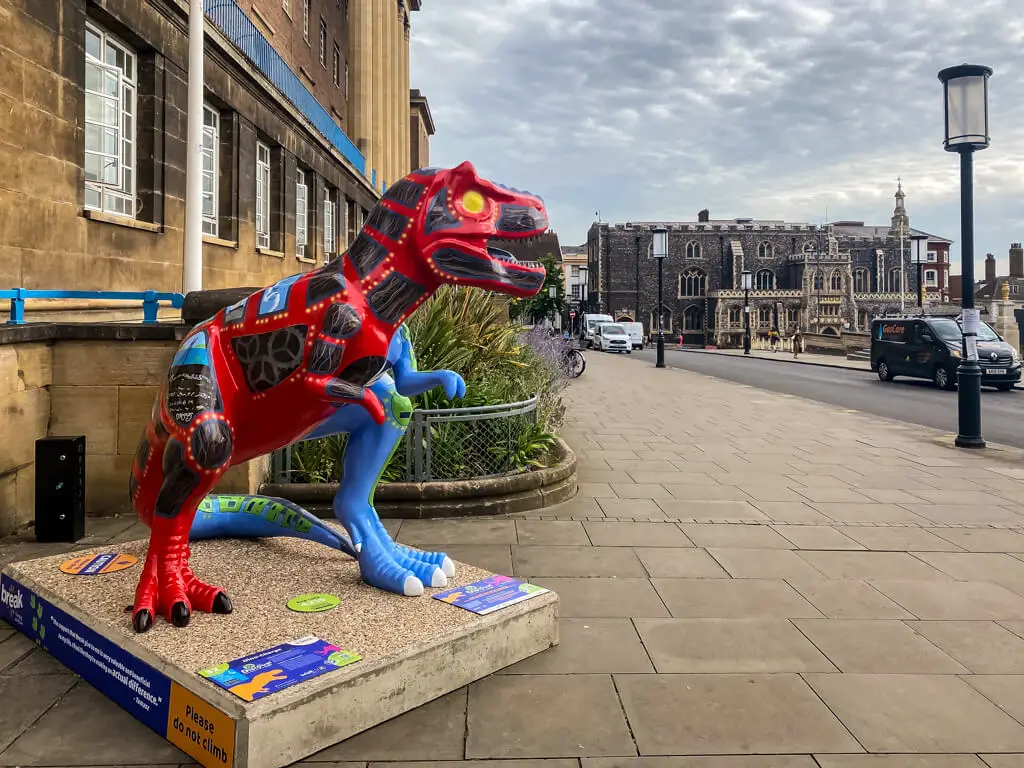 Half red and half blue, this T-rex symbolizes how the energy mix is changing. The red side is for the more traditional electric energy while the blue is for more green options like wind.
Dino-Charge is on the other St. Peter's Street from Automotosaurus, next to City Hall.
What3Words: ///settle.never.fence
#33 Do you think they saurus?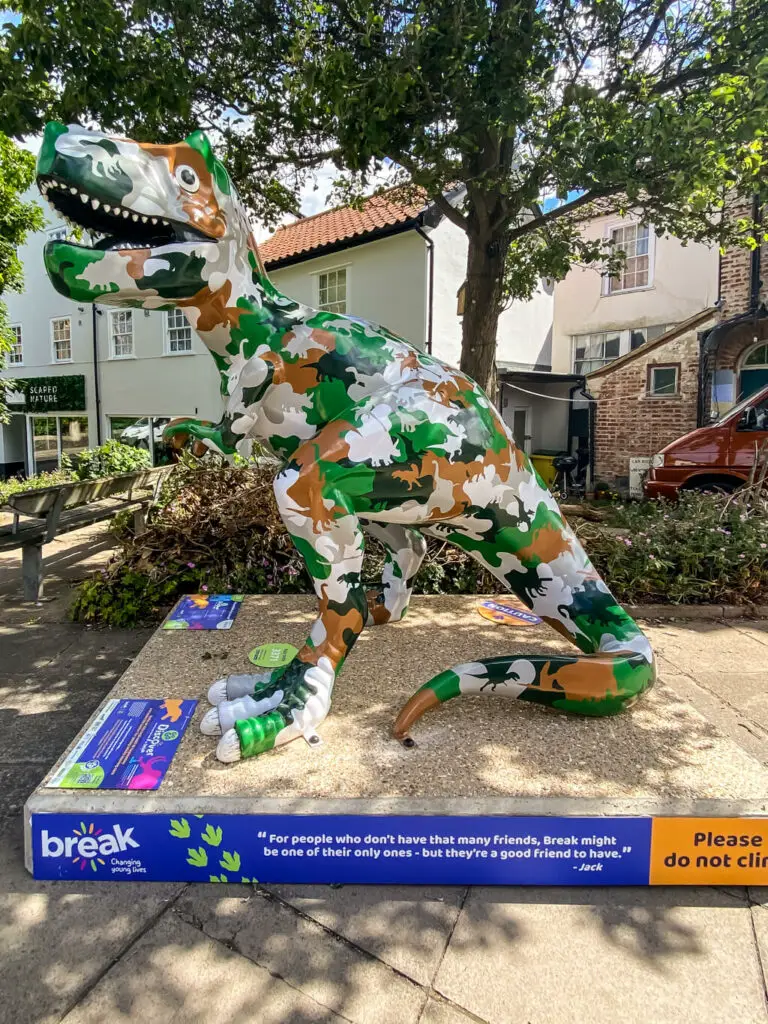 Covered in camouflage, it makes sense that this sculpture is called Do you think they saurus. Take a closer look and you will notice that the camouflage is made up of different dinosaur shapes.
You might have seen it George's Street near Friars Quay in 2021 but it has been moved to Bethel Street near St. Giles Street for 2022.
What3Words: ///slices.clean.soak
#34 Fabulosaur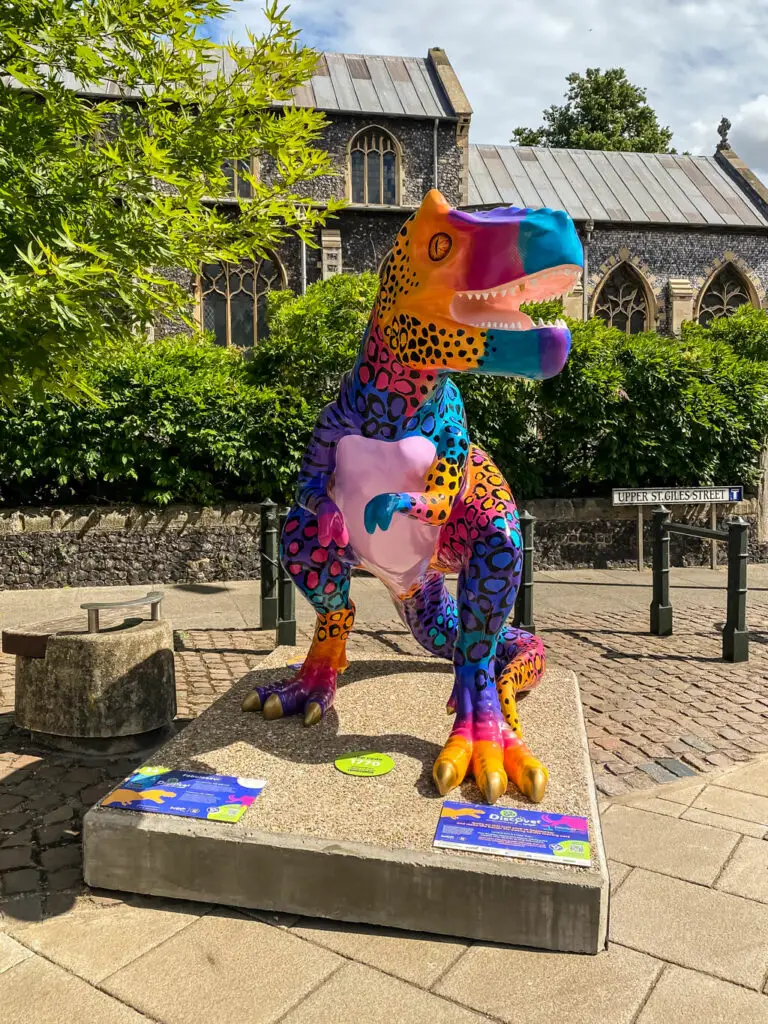 Fabulosaur is a brightly coloured T-rex that celebrates diversity. You can see different animal patterns on the body but it works well.
You can find it on Cleveland Road by St. Giles Church.
What3Words: ///bottle.darker.match
#35 Hawker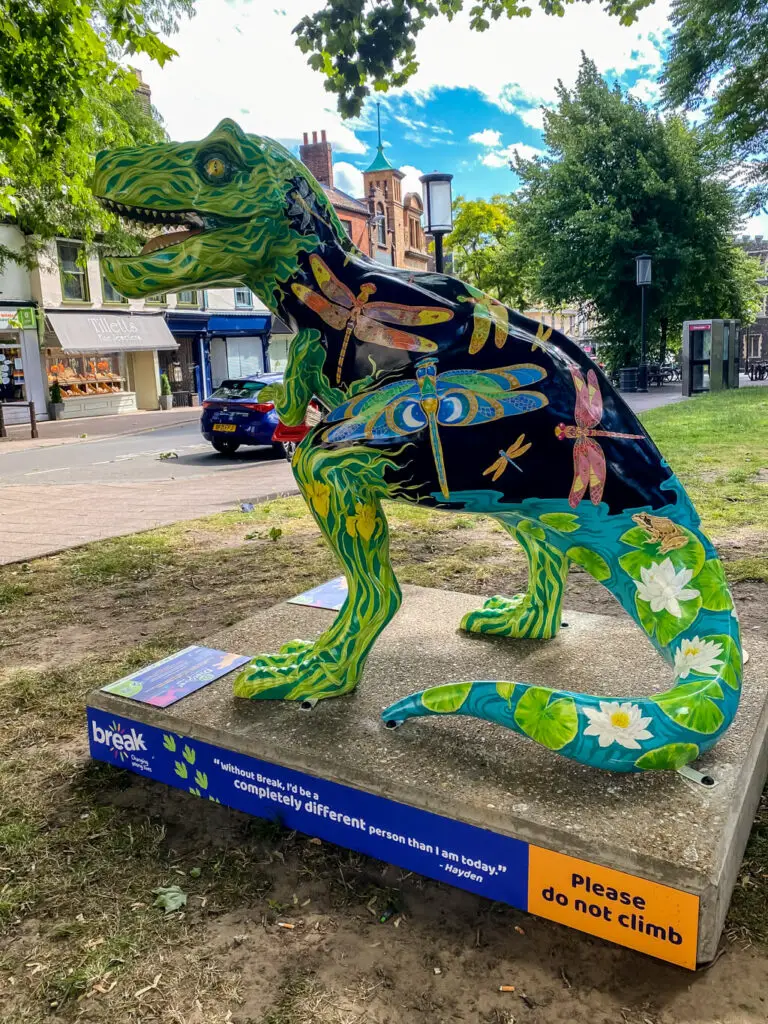 This sculpture plays tribute to the dragonflies and damselflies that you will spot all around Norfolk. There are several painted on its body and even one on its tongue. Its tail is covered with lily pads and its face and front legs have flag irises.
While it was on All Saints Green last year, for 2022 it has been moved to St. Giles Street across from Prelude Records.
What3Words: ///bolts.filled.dine
#36 Change Gonna Come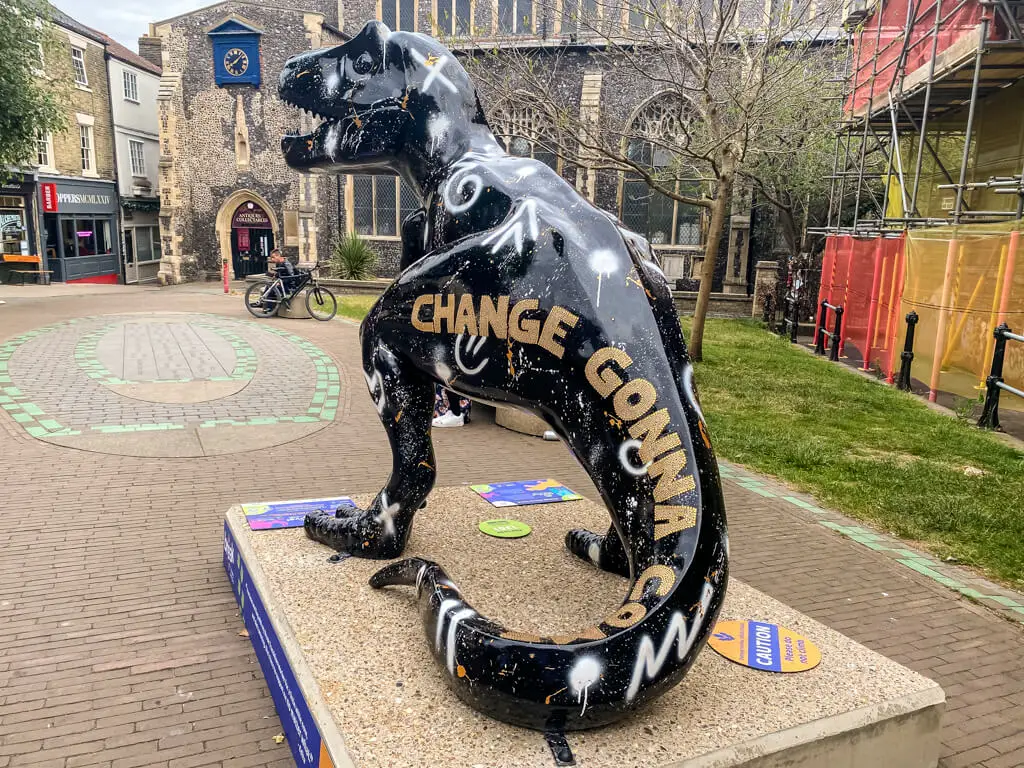 This T-Rex is inspired by the song "A Change is Gonna Come' by Sam Cooke. It's an important message that's also written on the sculpture in sparkling letters.
Change Gonna Come is located by St. Gregory's Alley.
What3Words: //deny.cling.bleak
#37 Neon Waves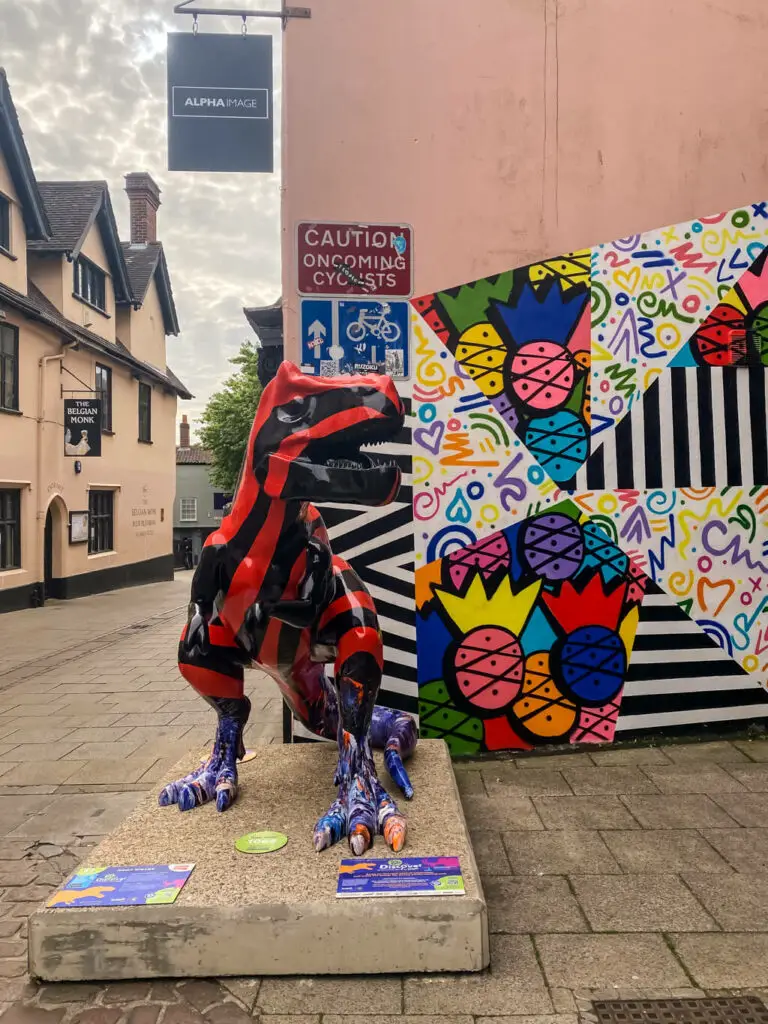 This bright T-rex fits in next to the street art wall. It has a red and black striped body with feet that look like they have been drip painted.
Neon Waves is located on Pottergate acroos from Head in the Clouds.
What3Words: ///blog.foil.cycle
#38 Doctasaurus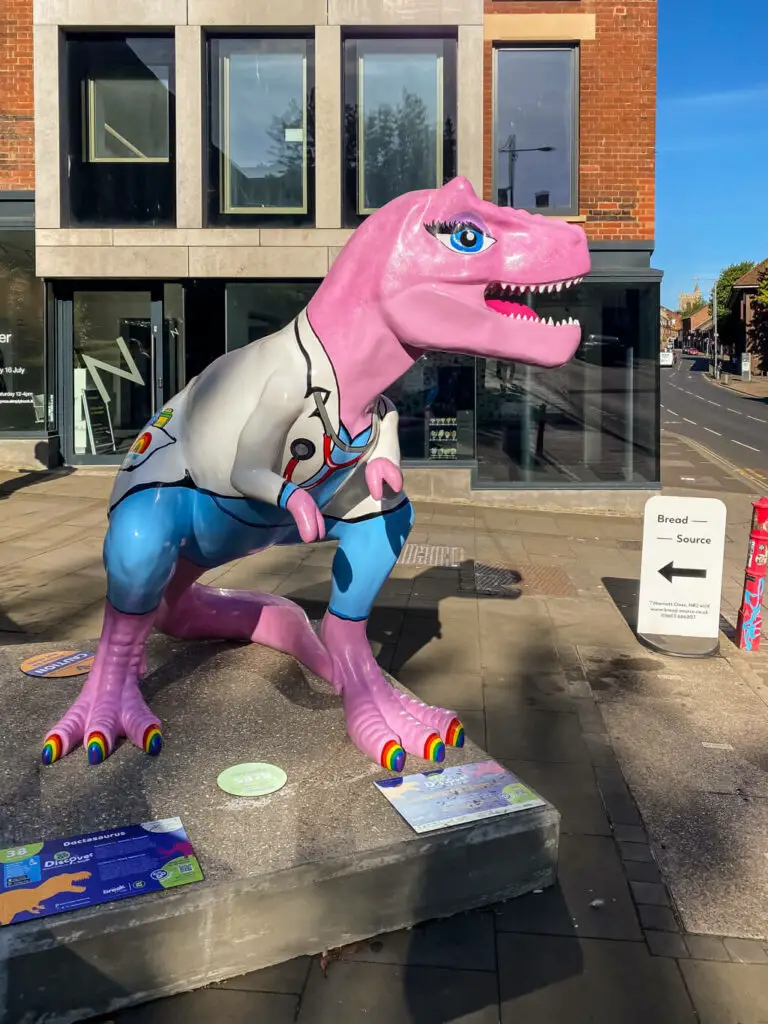 After all that the NHS has done for us (especially during the pandemic), it's fitting that one of the T-rexes is a doctor. A rainbow with the words "Thank You" is painted on the pocket, which holds gel and a facemask. The toenails are also rainbow colours.
It's moved from All Saints Green where it was in 2021 to St. Andrews Street close to Bridewell Alley in 2022.
What3Words: ///void.skill.aware
#39 Hulkasaurus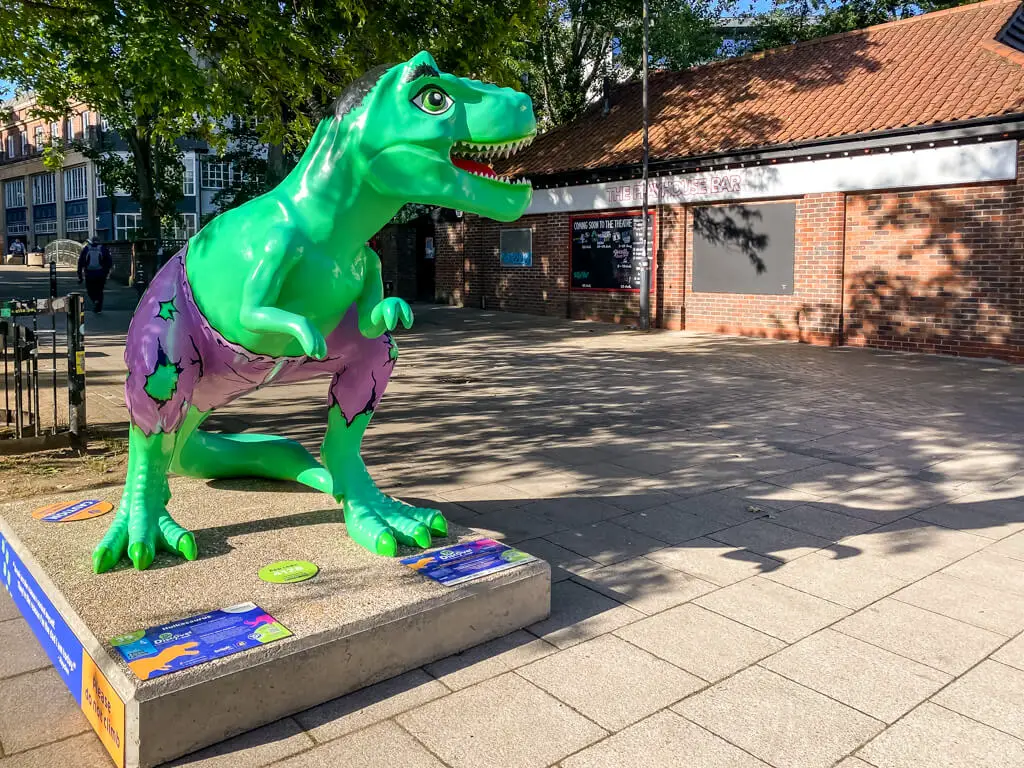 The Incredible Hulk is a Marvel comic book character that is a green-skinned muscular humanoid that is the alter ego of Dr. Robert Bruce Banner. The Tyrannosaurus-Rex version may not look as mean, but it still has the ripped purple shorts.
Last year, Hulkasaurus stood on Haymarket, but for this year you can find him on St. Georges Street near The Playhouse.
What3Words: ///august.went.crest
#40 The Junkasaurus Rex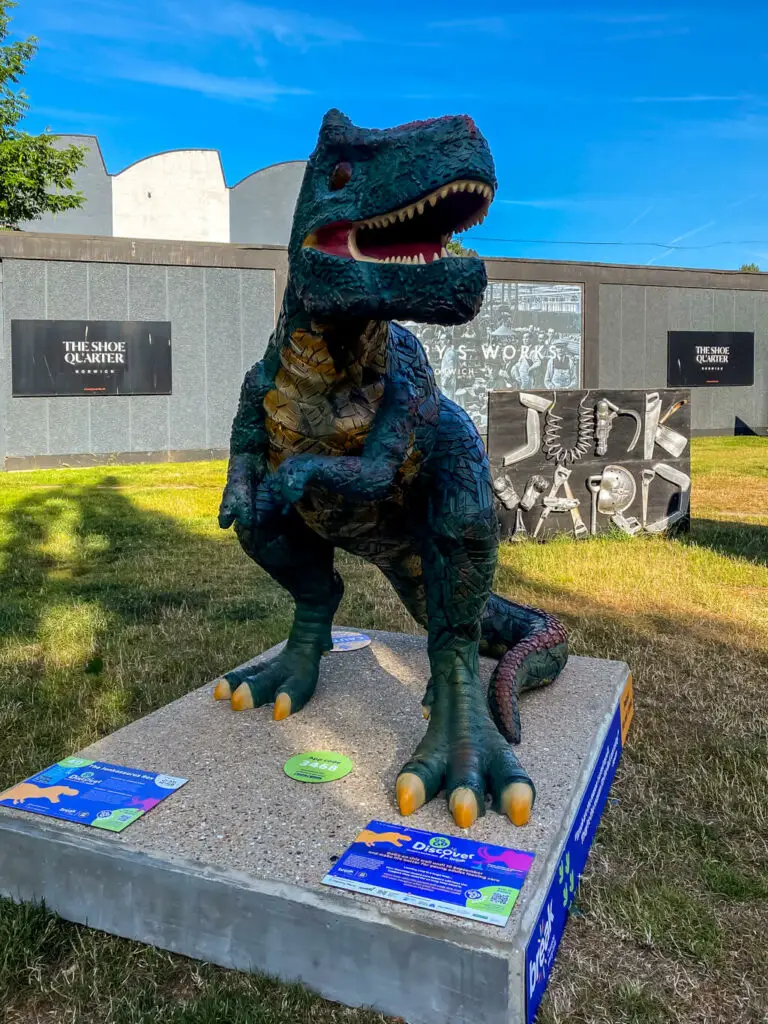 This sculpture looks like what you would expect a T-rex to look like until you get closer. Then you can see that it is covered with tyres which provides an interesting almost scale like texture for the skin.
You can find it by the Junkyard Market at St. Mary's Works, just like last year. This time though it has a mammoth friend – Bolt-ic.
What3Words: ///treat.milky.invent
#41 Cactusaurus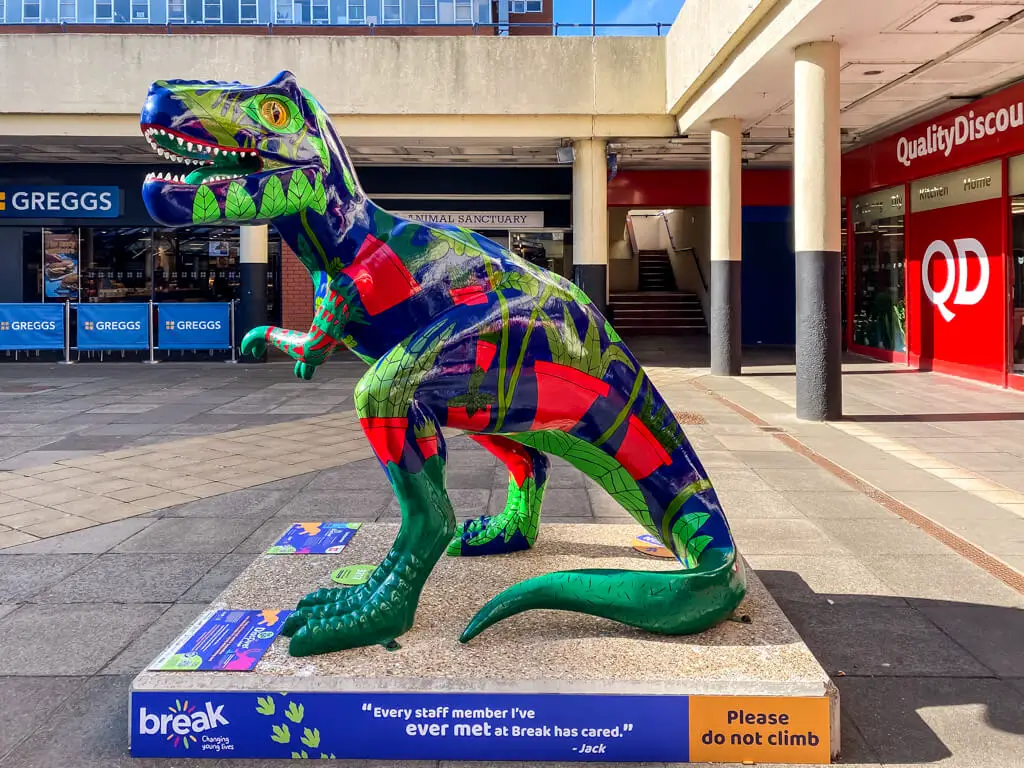 Cactusaurus is blue with various succulents painted on, some in bright red pots. It is a vibrant testimonial of the benefits of bringing plants to urban areas.
You can find this T-rex inside Anglia Square close to QualityDiscounts.com.
What3Words: ///noted.state.spill
#42 Big Teeth and a Bigger Heart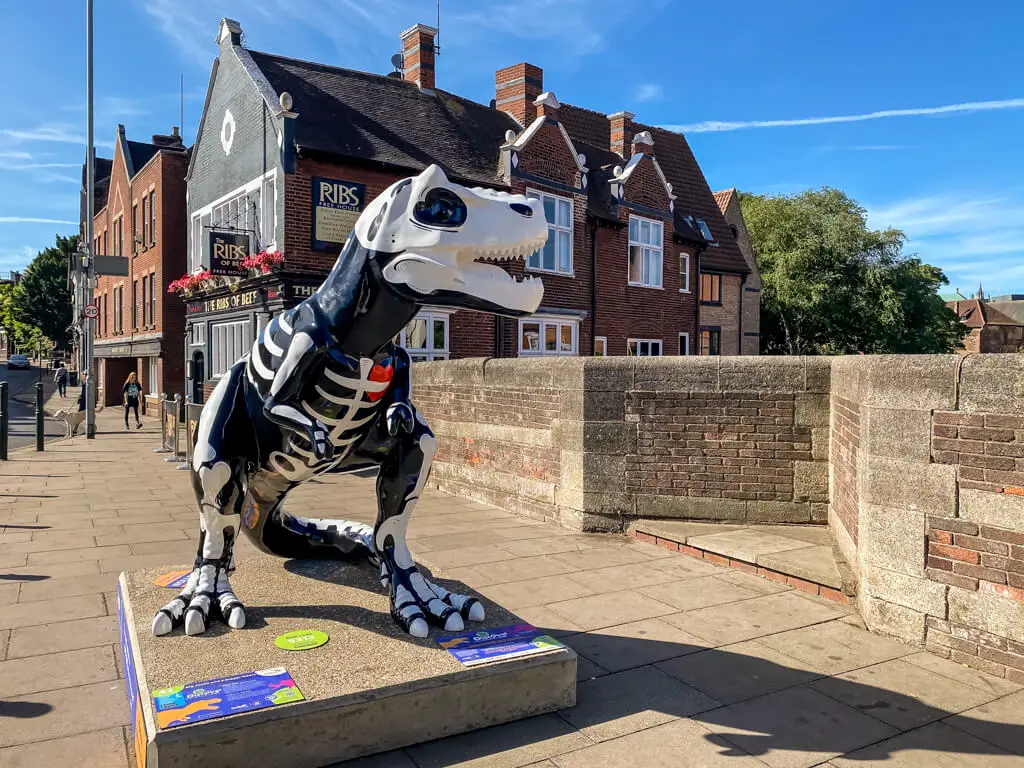 You can see the skeleton of the T-rex and also its big red heart. It's a reminder that we should never judge a book by its cover.
Big Teeth and a Bigger Heart is located on Fye Bridge.
What3Words: ///mirror.manage.steep
#43 Lost Holmes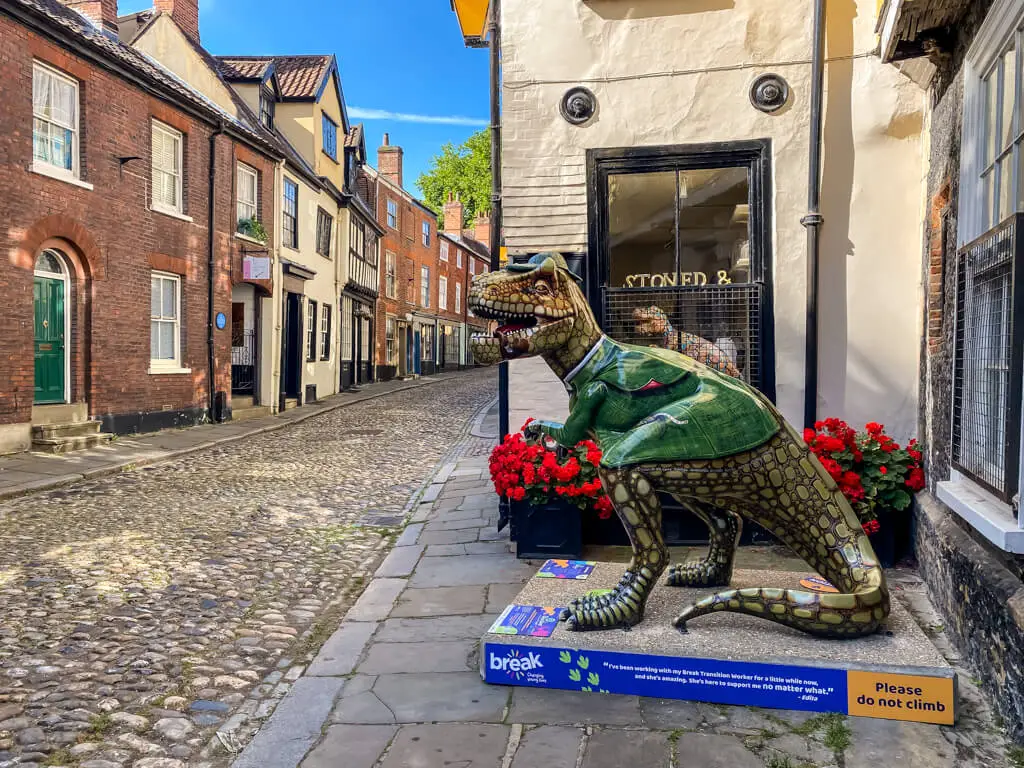 When you take inspiration from Arthur Conan-Doyle, 'Lost Worlds' and 'Sherlock', you get something like Lost Holmes, one of my favourite T-rexes from last year. He has a cute deerstalker cap and a magnifying glass that actually works. Be sure to also read some of the quotes written on this T-Rex.
Lost Holmes has been moved from his 2021 spot in the Lower Cathedral Close to Elm Hill by Stoned & Hammered for 2022.
What3Words: ///takes.ports.guilty
#44 DinAshore!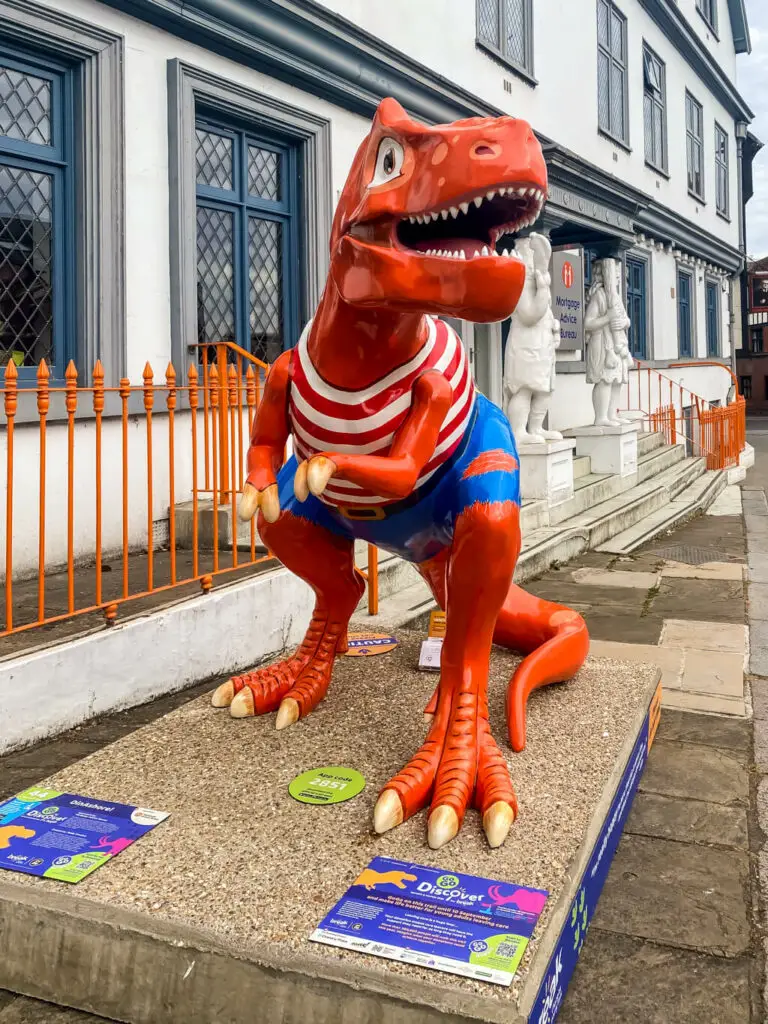 This T-Rex is dressed up as a pirate with a striped shirt, eye patch, and skull and cross bones. Its name is a bit of a play on words.
You can find it in Tombland in front of the Samson and Hercules House, one of the most haunted buildings in Norwich.
What3Words: ///sushi.tend.spices
#45 Poptart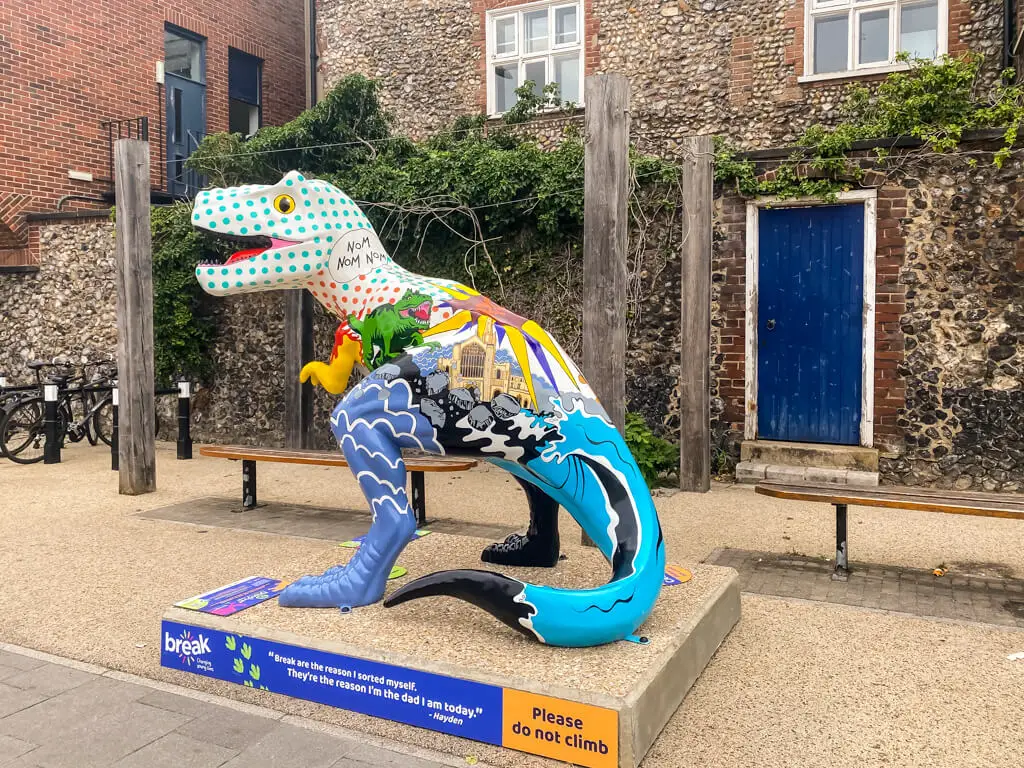 If you like the pop art, style you will love this T-rex. You can see local scenes like Tombland, Quayside, and Norwich Cathedral incorporating dinosaurs.
Poptart is located in Tombland close to the Erpingham Gate.
What3Words: ///onions.rank.hopes
#46 Mr T+Rex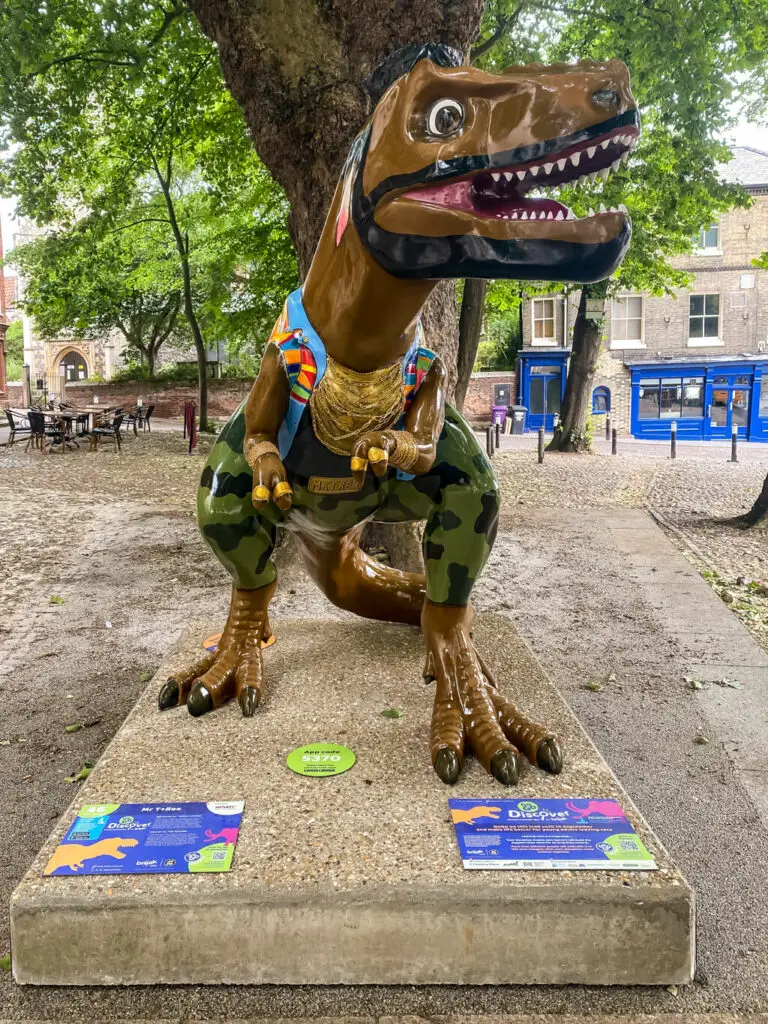 I was impressed with how much this T-rex looks like Mr. T, the 80s icon from the A-Team. He has the iconic demin jacket, lots of gold chains, mohawk, and camoflauge trousers.
You can find it Tombland near Shiki Japanese Restaurant.
What3Words: ///slope.charmingly.vibes
#47 Eyela the T.spex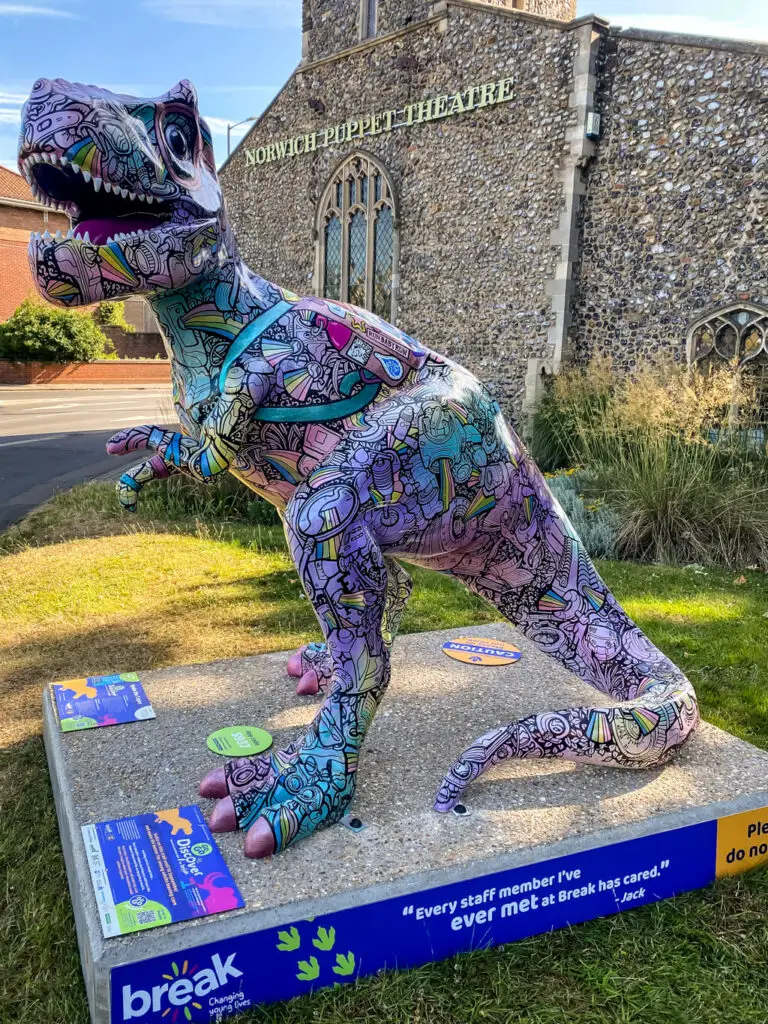 You might guess from the name of this sculpture returning from 2021 that it has an eye doctor theme. There is a lot of detail and many rainbows, so look closely and you can see eyeglasses, an eye chart, and other equipment you might see at an optician.
Eyela has moved from its spot on Fye Bridge to in front of the Norwich Puppet Theatre.
What3Words: ///mobile.lamp.sunk
#48 Teo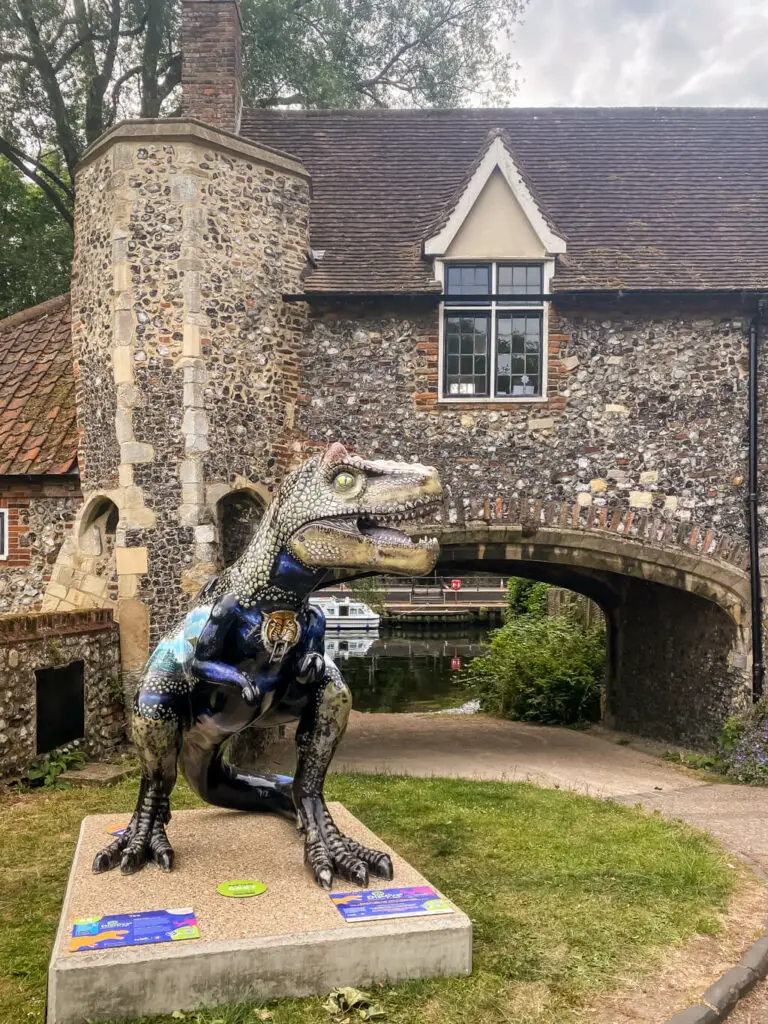 The name of this T-Rex means gift and it is supposed to raise awareness of the fragility of our world. It is a gift that we are able to live upon this planet. Several recently extinct creatures are painted on the sculpture along with 20 ammonites for you to find.
You can find this T-rex next to Pulls Ferry by the Riverside walking path.
What3Words: ///dress.silver.hulk
#49 B-Rex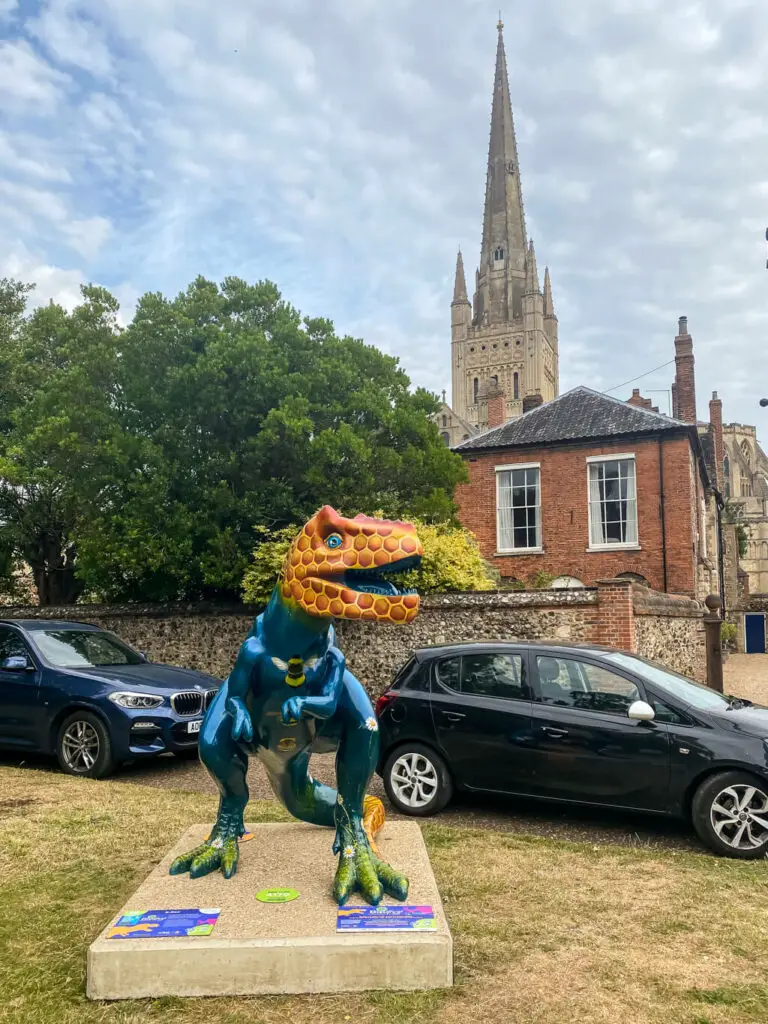 The first thing that caught my eye when I saw this sculpture in 2021 was the sunflower. Then, I noticed the bees and realized that's where it gets its name. The honeycomb on the head and tail was a creative way to make the skin look rough and keep within the theme.
It has moved from its location by the Forum last year to the Norwich Cathedral Lower Close Lawn in 2022.
What3Words: ///lamps.backed.entry
#50 Perry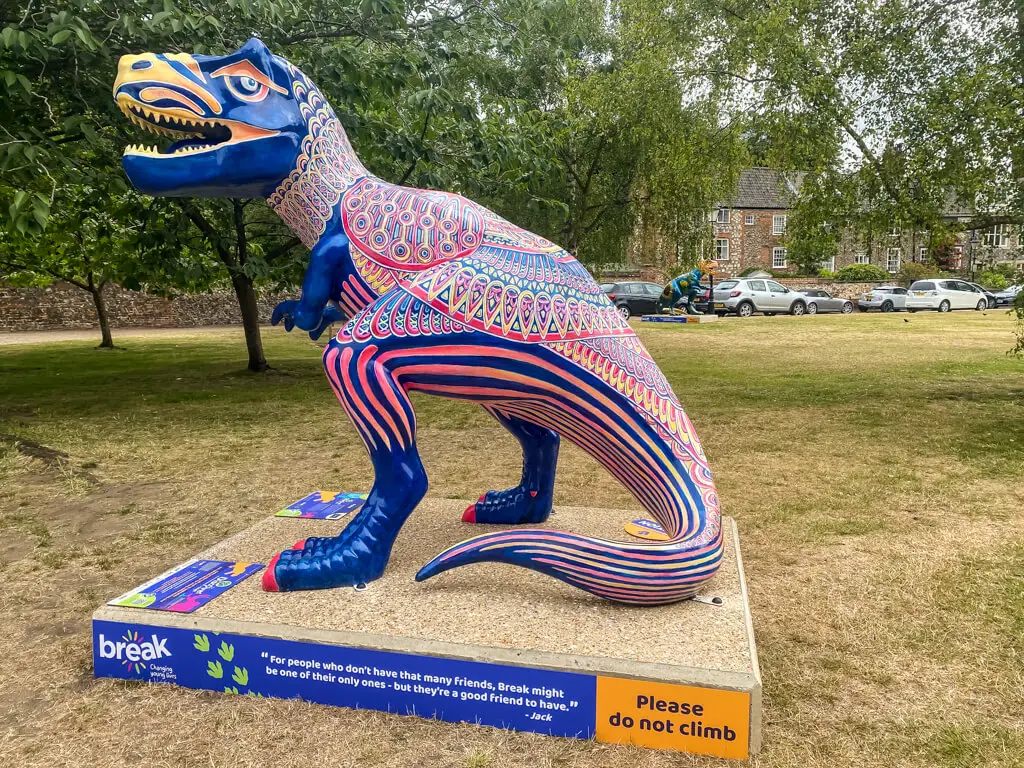 Perry is covered in intricate patterns that are inspired by the architecture of Norwich Cathedral. There is also a tribute to the peregrine falcons that nest in the tower.
You can find this T-Rex in the Lower Close Lawn of Norwich Cathedral not too far from B-Rex.
What3Words: ///grace.chop.relay
#51 Dime-a-saurus rex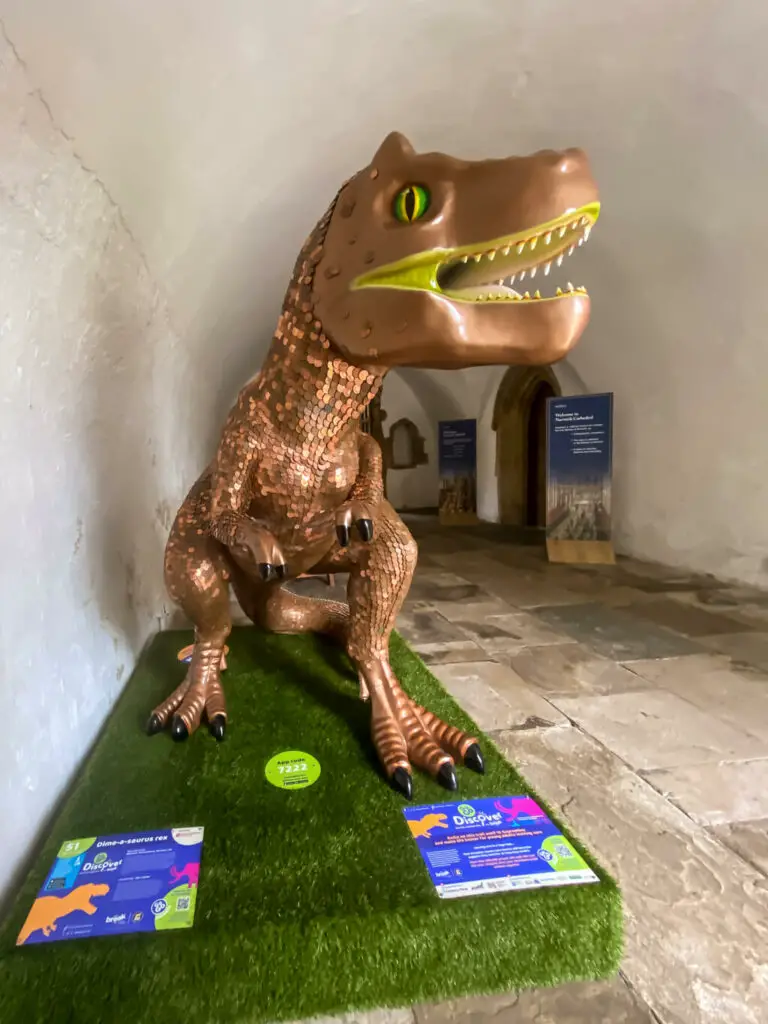 Covered in coins, this T-rex represents the power of donations to Break no matter how small. The different shades of the coins give the sculpture more character.
Dime-a-saurus rex is located just inside the Dark Entry of Norwich Cathedral (the one you used to see Dippy when he was here). It's a missed opportunity to show off the more scenic parts of the Cathedral.
What3Words: ///puddles.copies.puzzle
#52 "Forget Me Not"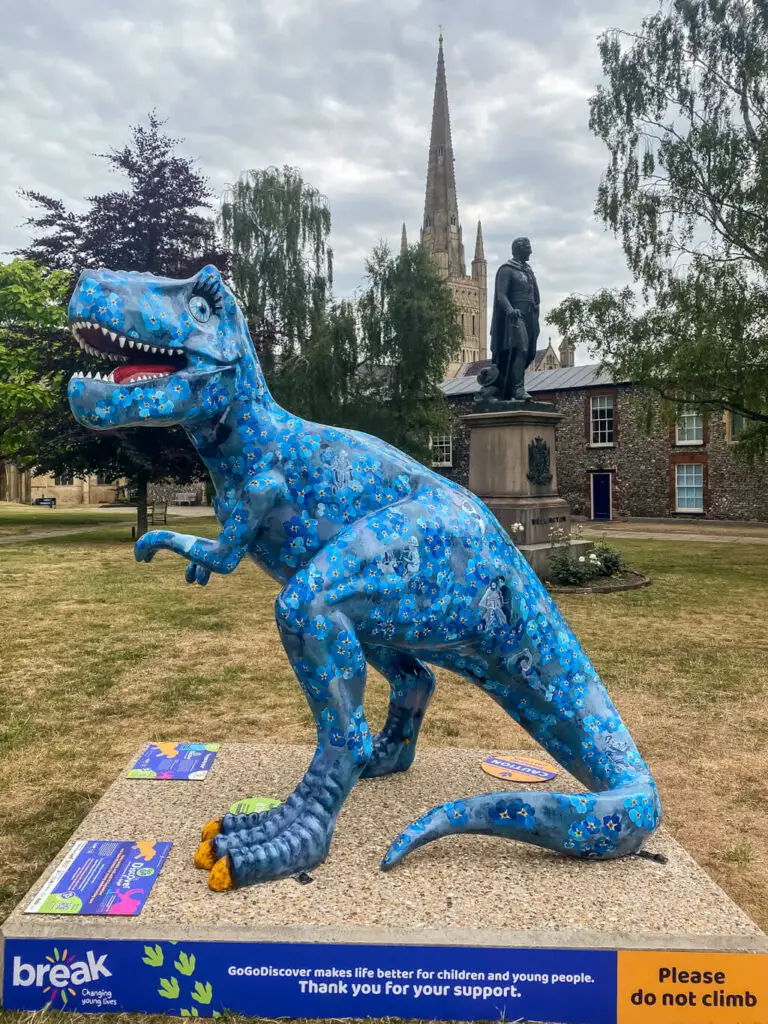 Forget me not is the name of the pretty little blue flower that covers this T-rex. It's the symbol for Dementia Awareness, so there are also special memories hidden among the flowers.
You can find it in the Norwich Cathedral Upper Close Lawn by the Duke of Wellington Statue.
What3Words: ///agent.native.long
#53 Tyra-Norvy-Saurus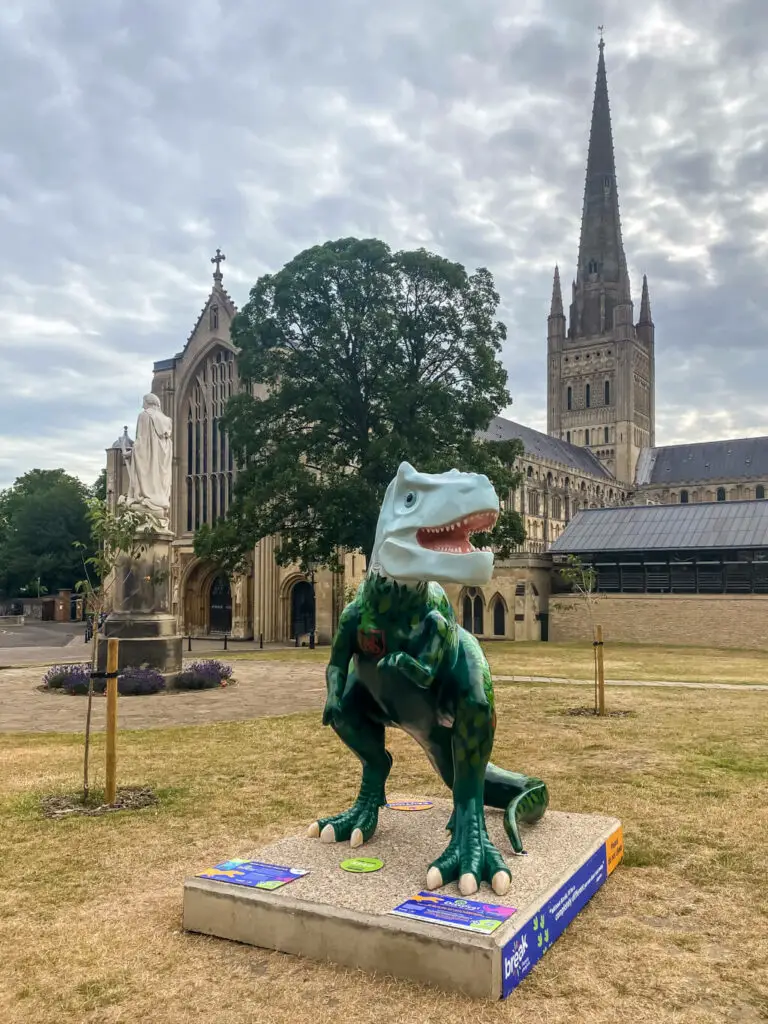 Standing proud just inside the Erpingham Gate, the T-Rex is covered in things that you might find around the Cathedral Close. Kids will enjoy spotting the items mixed in with the greenery painted on the sculpture which returns from 2021.
Tyra-Norvy-Saurus is located in the Norwich Cathedral Upper Close Lawn near the Lord Nelson statue.
What3Words: ///filled.bolt.juices
#54 60 Million Years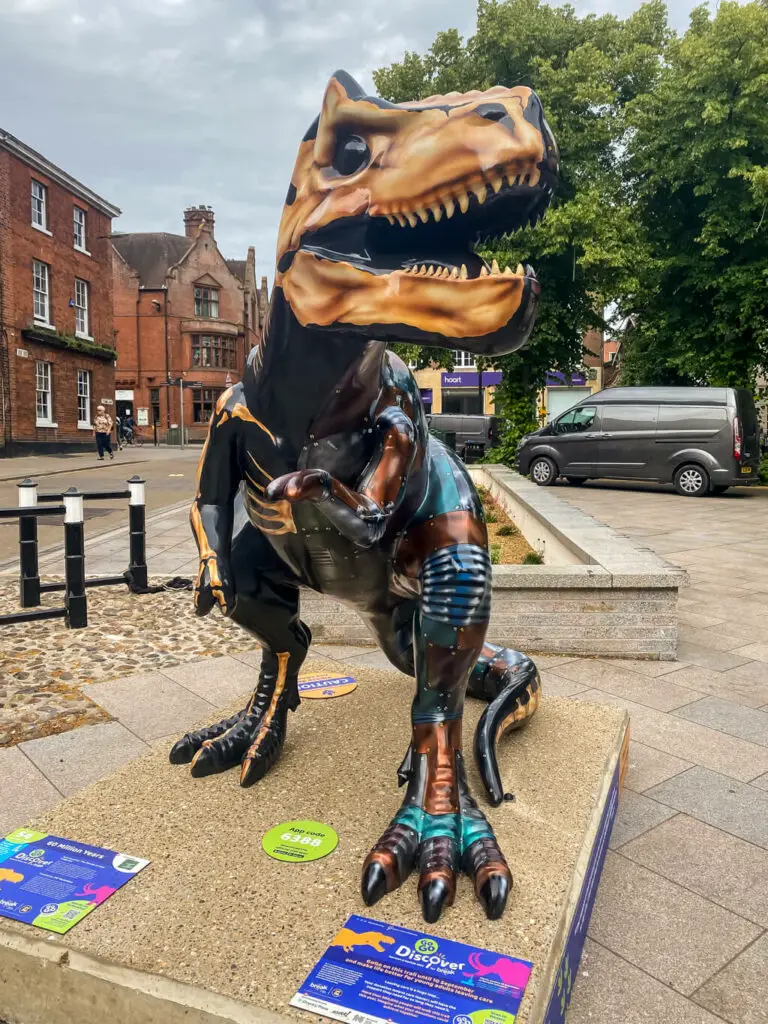 You'll want to make sure to see 60 Million Years from both sides. One side is the skeleton of a T-Rex while the other is a robot version. It shows the progress that has happened over time.
He has moved from Orford Hill in 2021 to Tombland close to Zizzi's.
What3Words: ///fear.strut.sports
#55 Where's Rexy?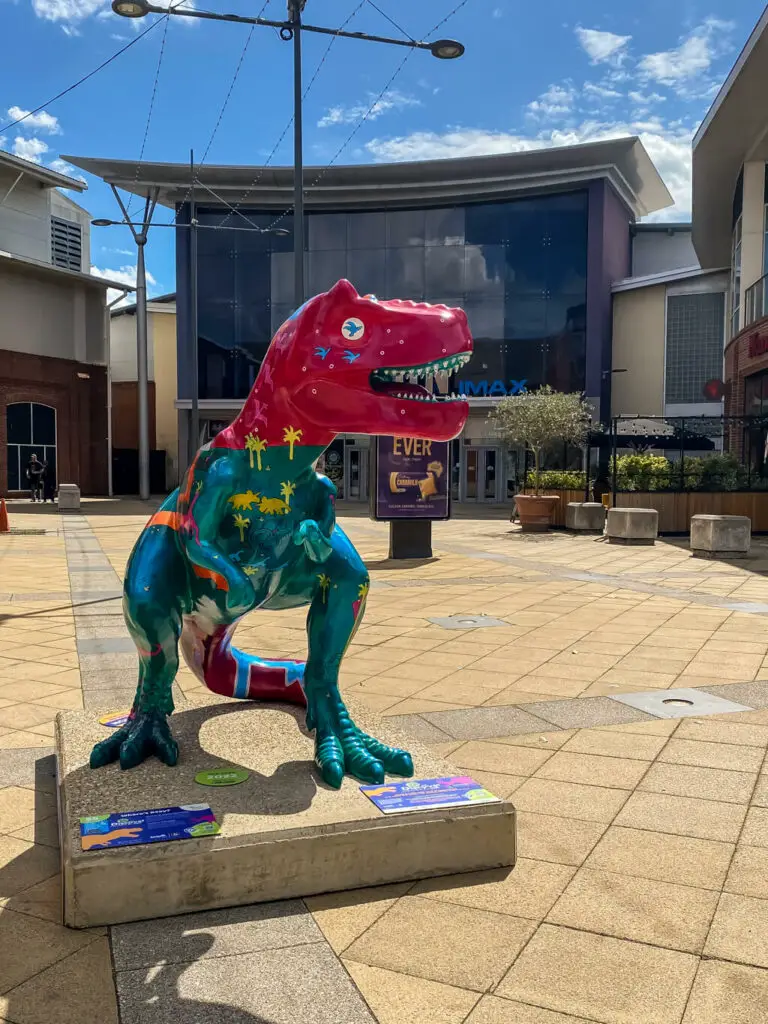 If you look closely, you can find Rexy on this sculpture that was also part of the 2021 trail. It's a play on Where's Wally, the children's puzzle books, with a brightly-coloured tropical theme with palm trees. Also, don't miss the eyes which have pterodactyls as its pupils.
It is back in its spot by Odeon in Riverside.
What3Words: ///oils.wakes.composers
The GoGoDiscover Steppe Mammoths Around Norfolk
The 2022 GoGoDiscover trail has 24 Steppe Mammoths which are located around the county (including a few in Norwich). Here I will share a little more about each sculpture and how to find them (more information coming soon, once I have visited them).
You can download a map of the Mammoth county trail here.
#56 Mammoth the Match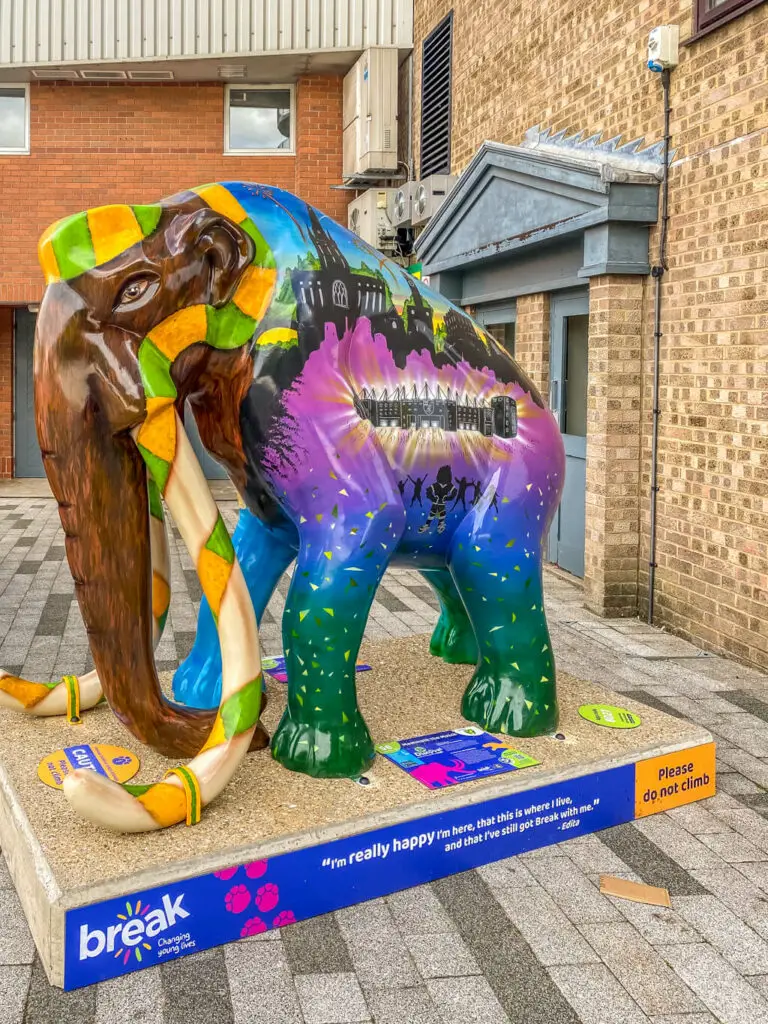 This is another sculpture that Norwich City fans will love. He is wearing a green and yellow hat and scarf, and his body features scenes from around the county to show the team's community ethos. Look closely on his back leg and you will be the canaries being brought over by the strangers in 16th century.
You can find this mammoth by Carrow Road, the home of Norwich City.
What3Words:///souk.forum.fetch
#57 The Copper Mammoth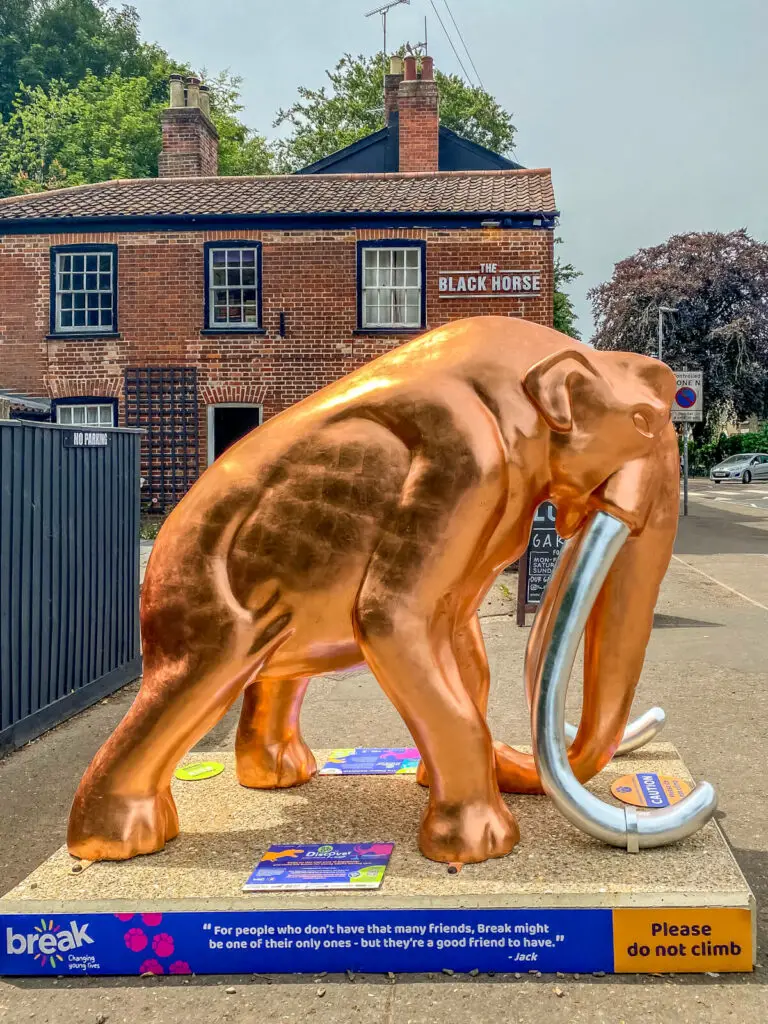 Appropriately named, this mammoth is painted a copper colour that looks like it is solid cast metal. It's made by the same artisit as Prospectosaurus.
See this mammoth at The Black Horse on Earlham Road.
What3Words:///once.fries.spun
#58 Greatole Mammoth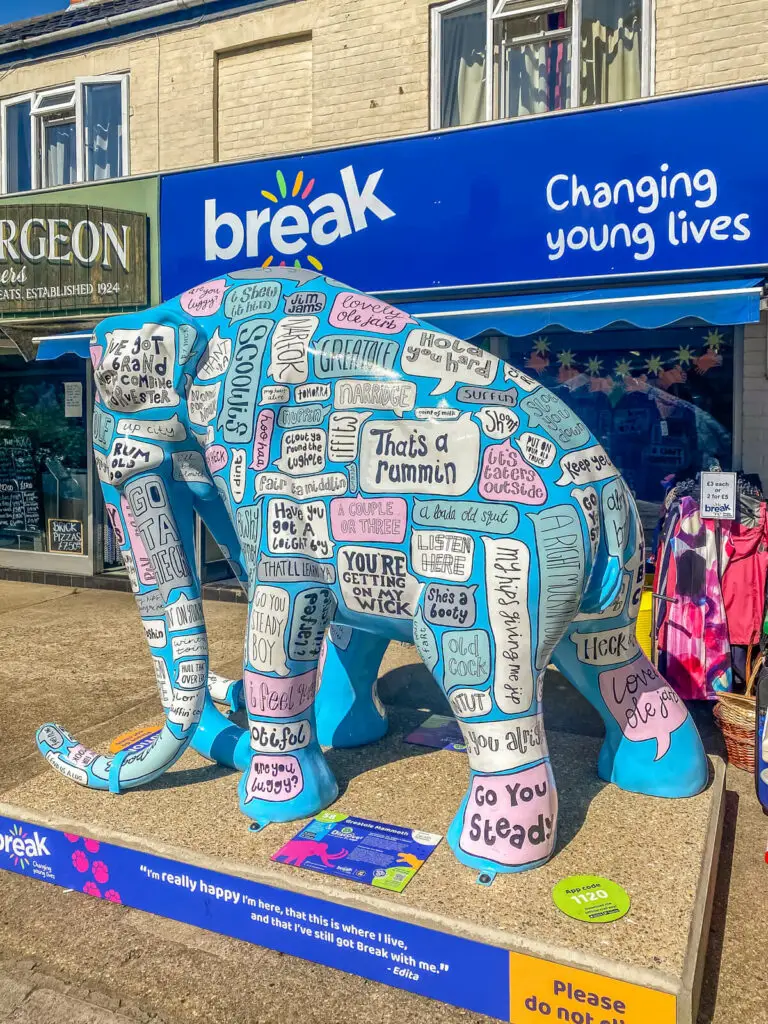 Covered in quote clouds with famous Norfolk sayings, this mammoth reminds us of the unique spirit in the county. See how many of the phrases you like to say.
You can find this sculpture by the Break shop on Unthank Road.
What3Words:///debit.drew.club
#59 There's No Planet B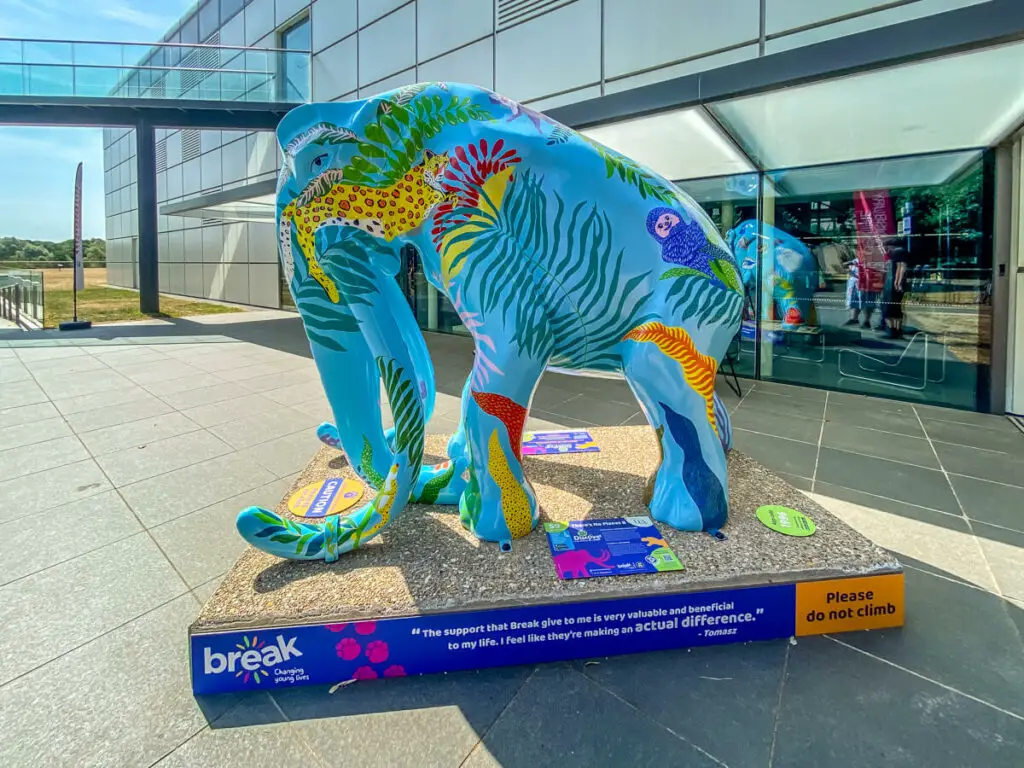 This mammoth is a colourful reminder that we need to do what we can to fight climate change and animal extinction. It is covered with animals that are in danger of becoming extinct and/or live in habitats that are at risk.
There's No Planet B is right outside the main entrance to the Sainsbury Centre for the Arts at the UEA.
What3Words:///fine.veal.inches
#60 Mow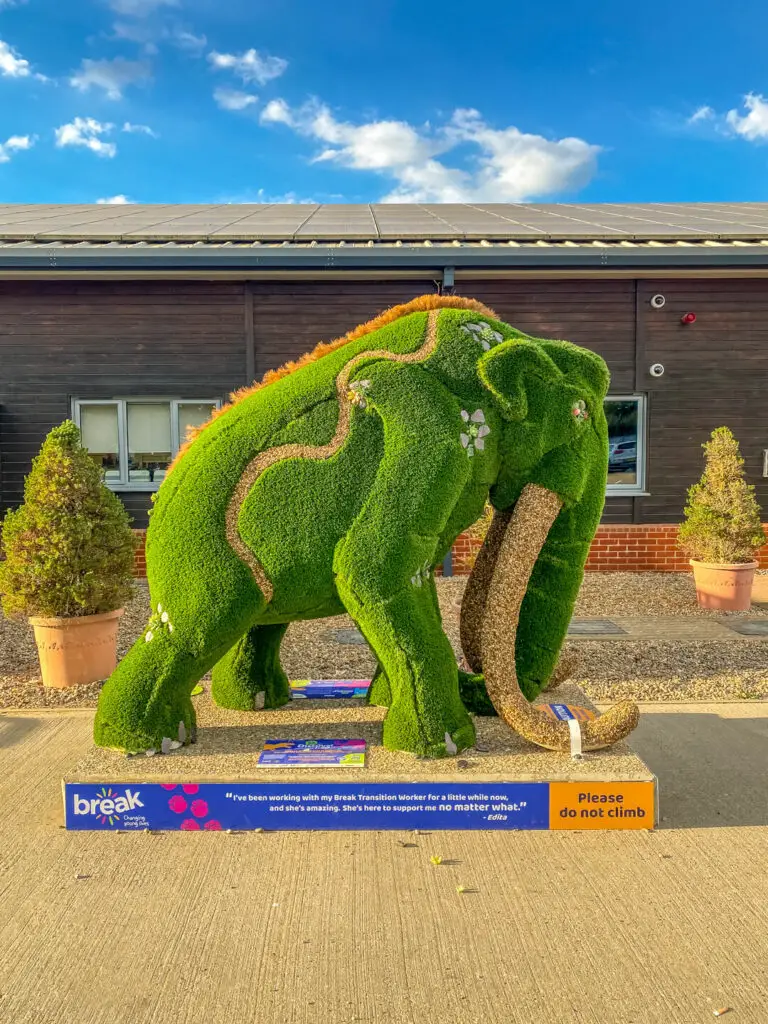 Instead of paint, Mow is covered in artificial grass with stones for details like the tusks and toes. The materials used were provided by the sponsor, Longwater Contruction Supplies.
You can find this sculpture at Norwich Family Golf Centre in Easton.
What3Words:///clerk.bibs.perfurmed
#61 Buzz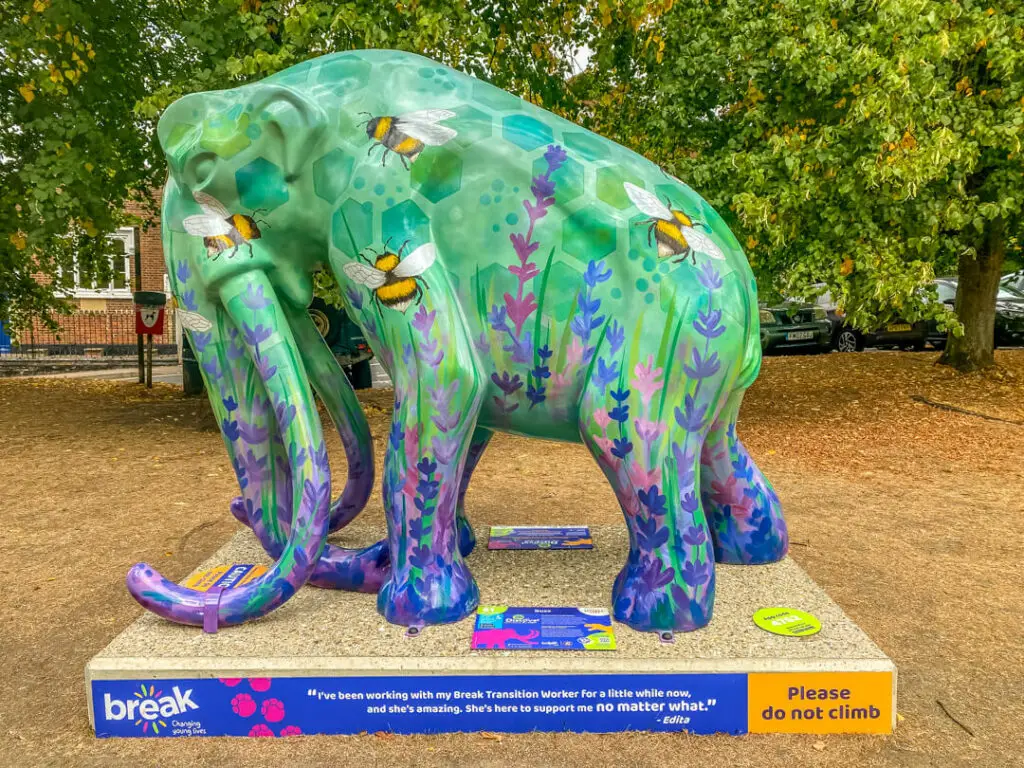 Like B-Rex, Buzz aims to show the importance of bees in our ecosystem with large bumble bees. It also plays tribute to the lavender fields in Norfolk.
Buzz is located on Fairland Green in Wymondham.
What3Words:///headsets.inkjet.lobster
#62 The Really Woolly Mammoth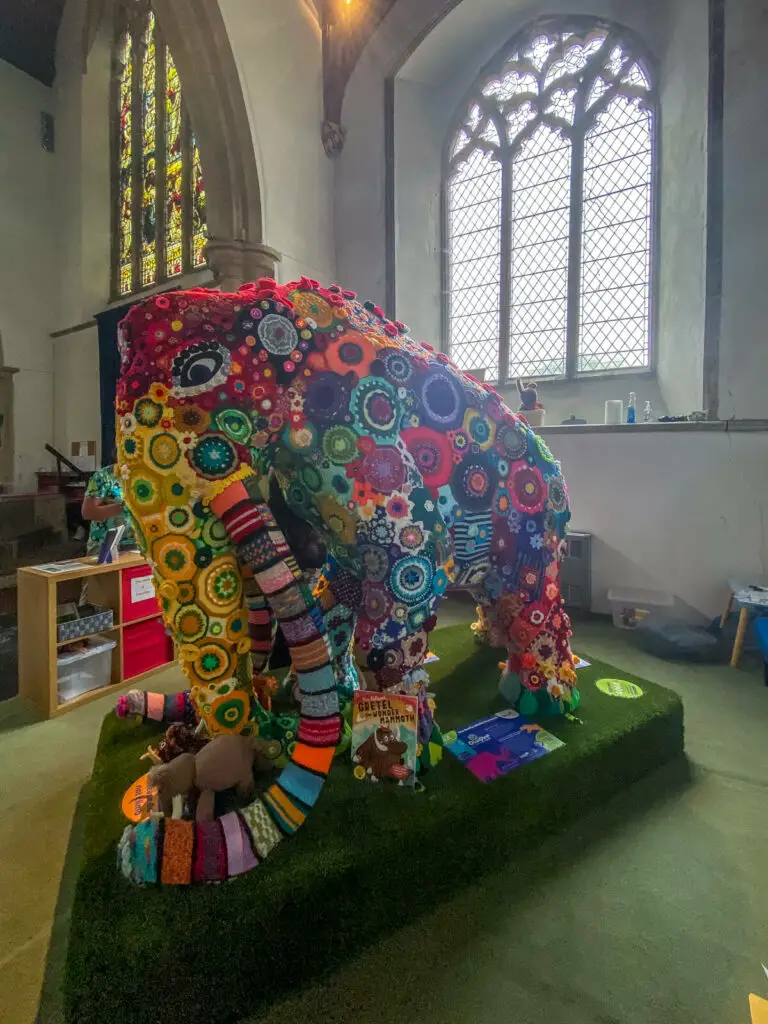 Instead of paint, this mammoth is covered in wool. It's like a beautifully knitted quilt that you need to see close up to truly appreciate. I can't imagine how much time went into creating this piece of art.
You can see this sculpture inside St. Nicholas Paris Church in Dereham.
What3Words:///provider.thinnest.spine
#63 Big Top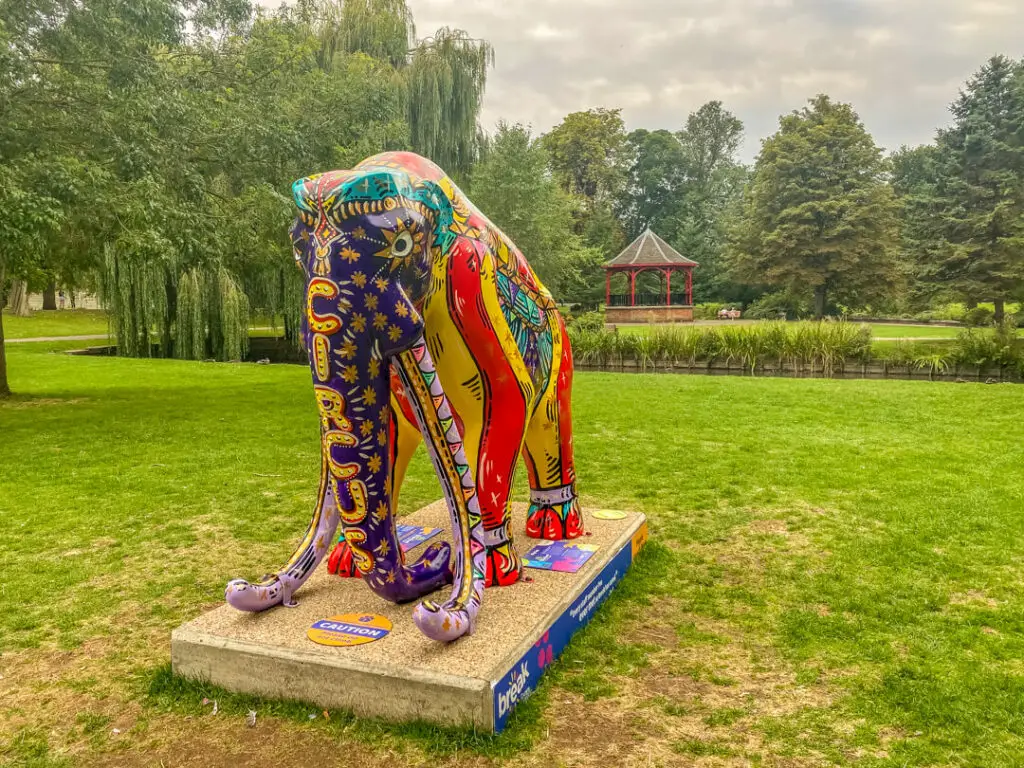 You can tell this mammoth celebrates the circus by looking at the word written on his trunk. The bold colours make it stand out against the green grass of The Walks.
Big Top is located at The Walks in King's Lynn.
What3Words:///nets.crew.smashes
#64 Feeding Frenzy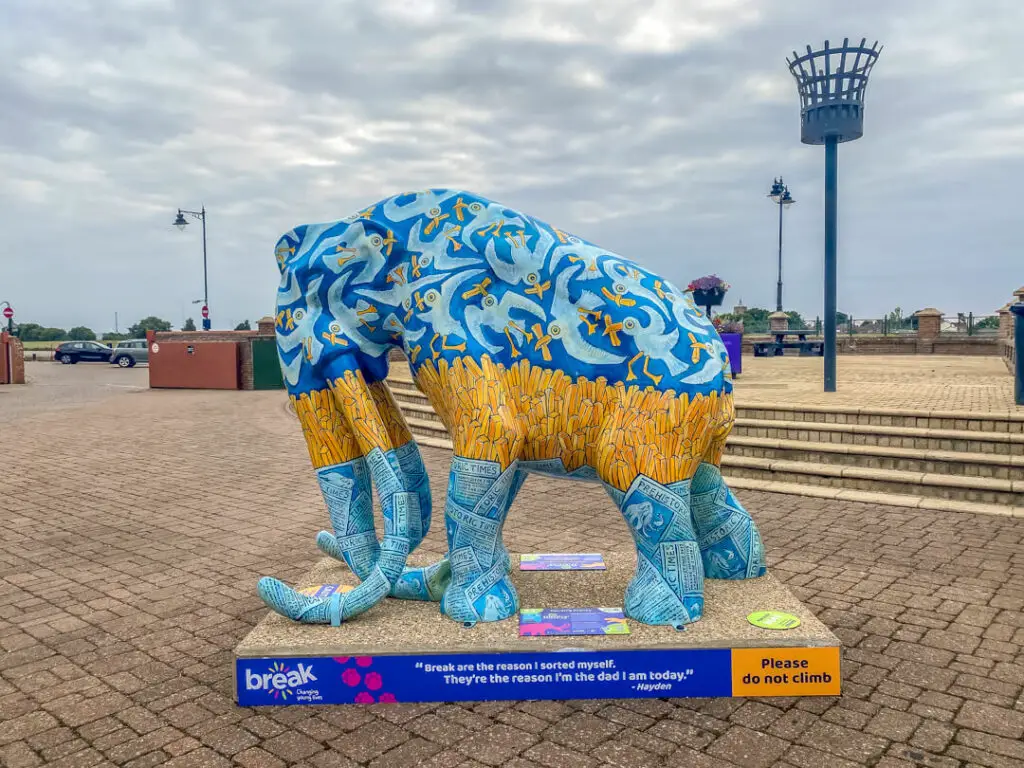 If you have had fish & chips sitting out by the seaside on the Norfolk coast, this mammoth probably brings back memories of how you had to protect your food from the seagulls. The newspaper on Feeding Frenzy's feet, trunk, and tusks remind us of the old days when that was what fish & chips was served in.
You can find this sculpture in King's Staithe Square in King's Lynn.
What3Words:///kings.reef.wake
#65 Quercus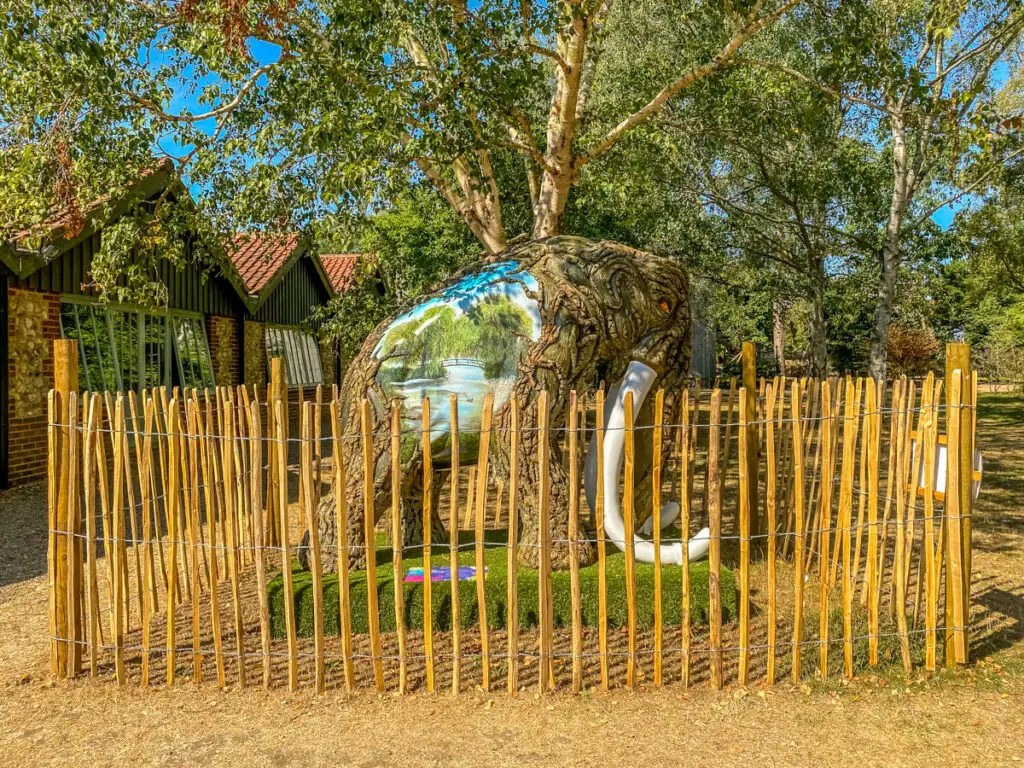 The name Quercus means oak in Latin. This mammoth has skin that looks like bark and a pretty nature scenes painted on his sides.
See this mammoth in the Courtyard at Pensthorpe. Note: You do not have to purchase admission to Pensthorpe to see Quercus.
What3Words:///ultra.chiefs.last
#66 Orion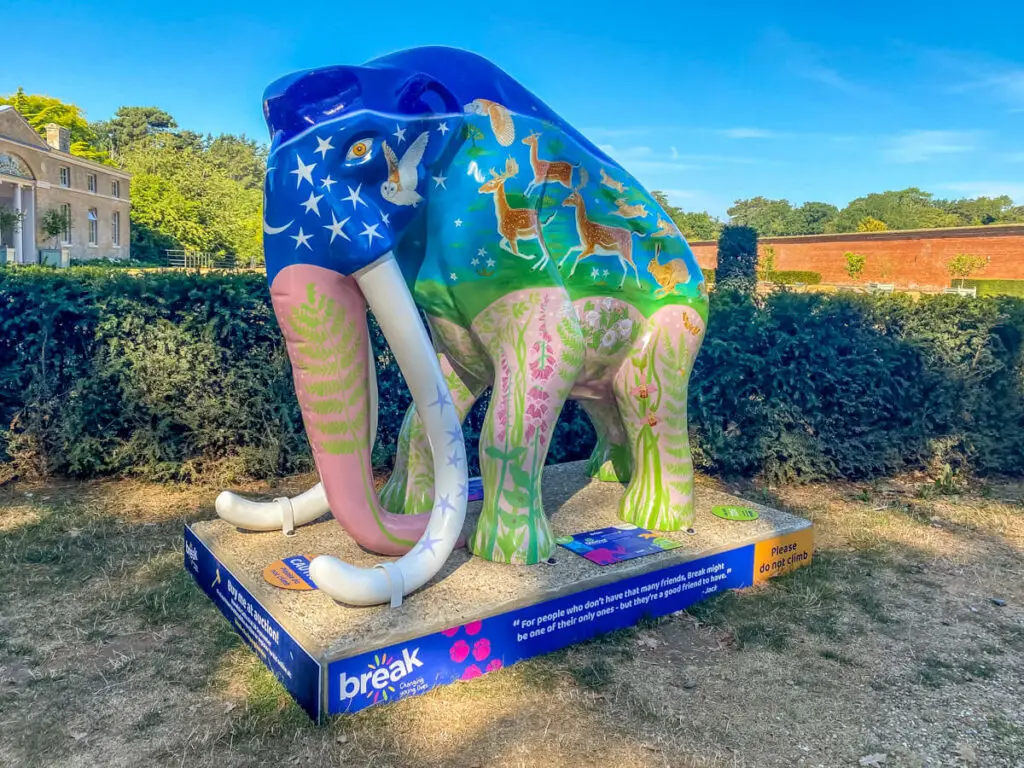 Orion plays tribute to North Norfolk's Dark Sky Discovery Status along with the nature and wildlife you can find at Holkham. It's created by the same artist as the T-rex Hawker.
You can see Orion at Holkham Park just outside the entrance to the Walled Garden. It's about a 15 minute walk from the main Holkham car park (which costs £5).
What3Words:///remains.saddens.shin
#67 Pearl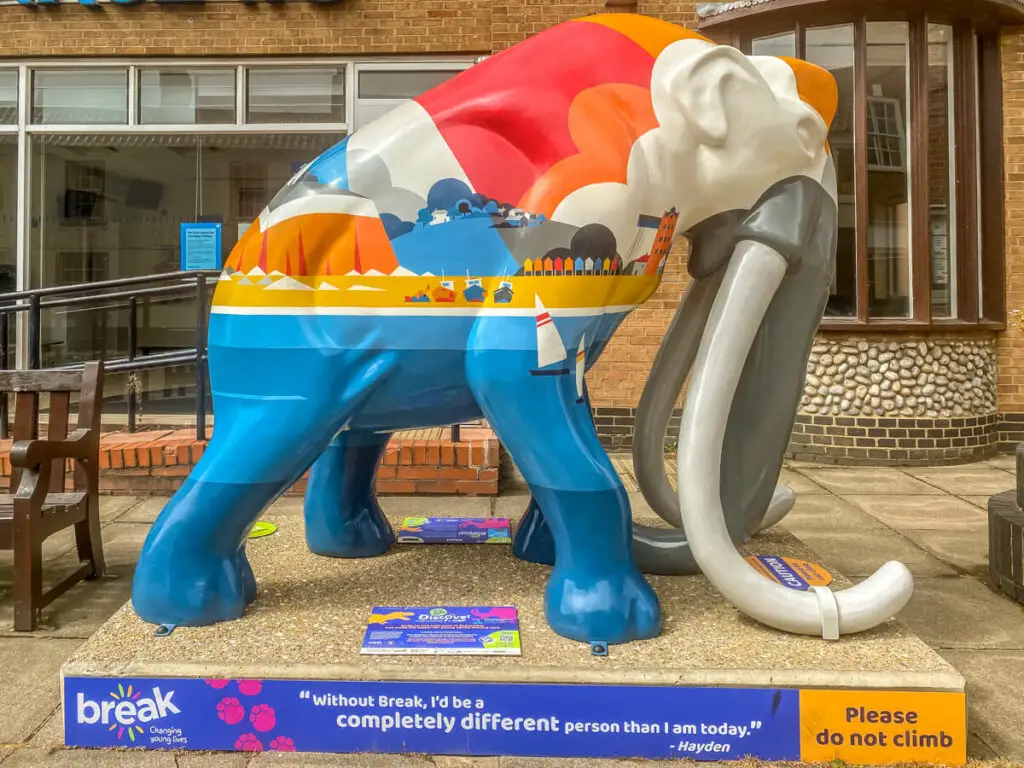 Named in honour of the 30th anniversary of Norfolk Cottages, this mammoth is painted in bold colours with a contemporary style. You can see some of the most iconic North Norfolk locations like Happisburgh Lighthouse, the North Norfolk Railway, and the Granary building in Wells-Next-the-Sea.
Pearl is located on the High Street in Holt in front of Barclays.
What3Words:///newly.point.trickles
#68 Steppe by Steppe
Steppe by Steppe is a mammoth that has become fossilised into a monolithic rock face. There are brave climbers making there way up Steppe by Steppe. Don't miss the flowers on its bottom.
You can find this sculpture at Holt Country Park by the car park.
What3Words:///diverting.single.laugh
#69 Margaret's Mammoth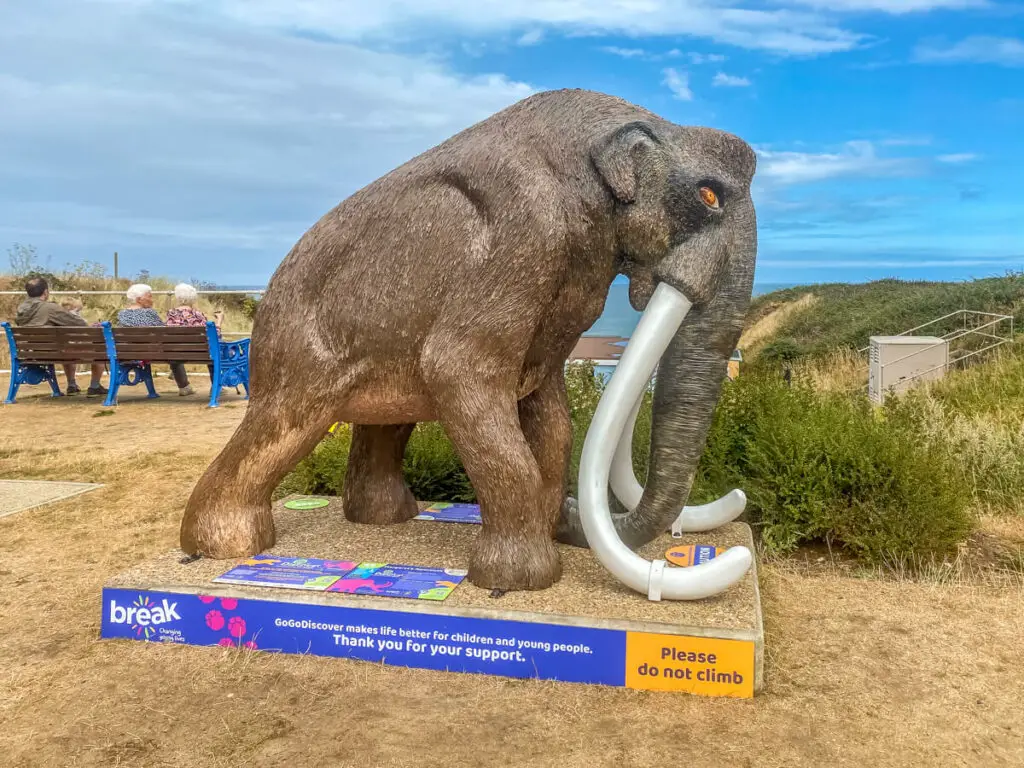 This mammoth is named after Margaret Hems, a local West Runton resident, who discovered the first bone of what would be the most complete Steppe Mammoth skeleton ever found in Britain in 1990. It has a textured surface that gives it a realistic look.
Margaret's Mammoth is located at the Deep History Coast Point in West Runton near the car park for the beach.
What3Words:///mailing.ejects.emulated
#70 Mammoth on Holiday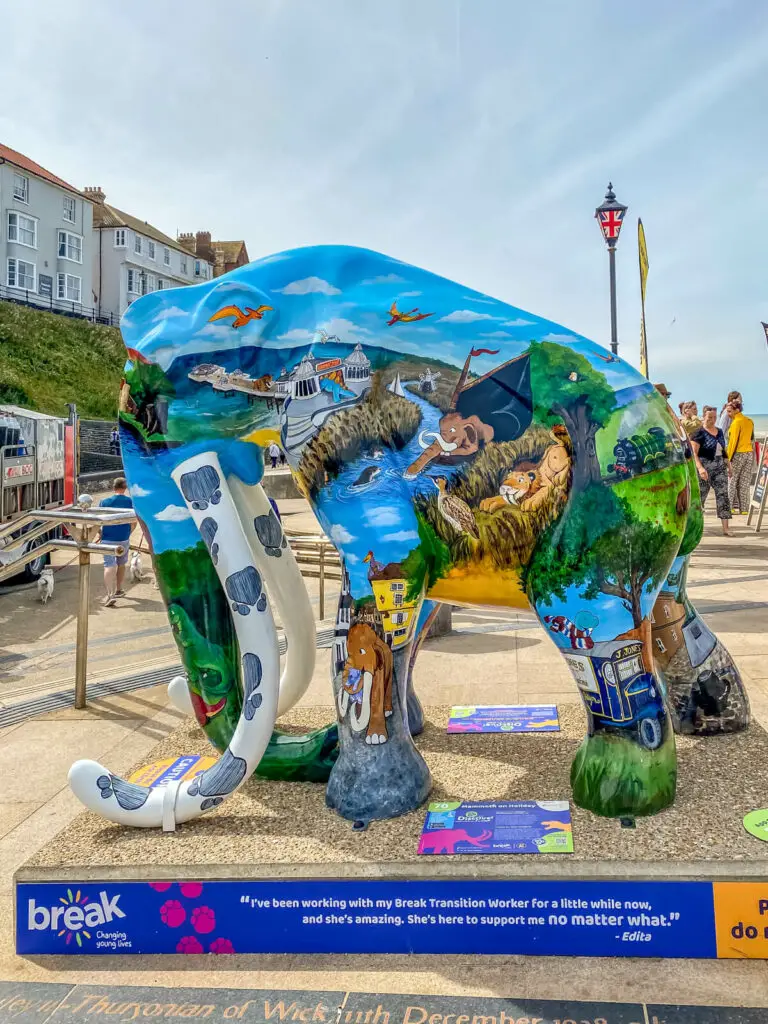 Mammoth on Holiday depicts some of the places and things you might see when visiting Norfolk on Holidays. The footprints on the tusks are a cute touch.
You can see this sculpture on the famous pier in the seaside town of Cromer.
What3Words:///gentlemen.sheilds.packet
#71 Lumi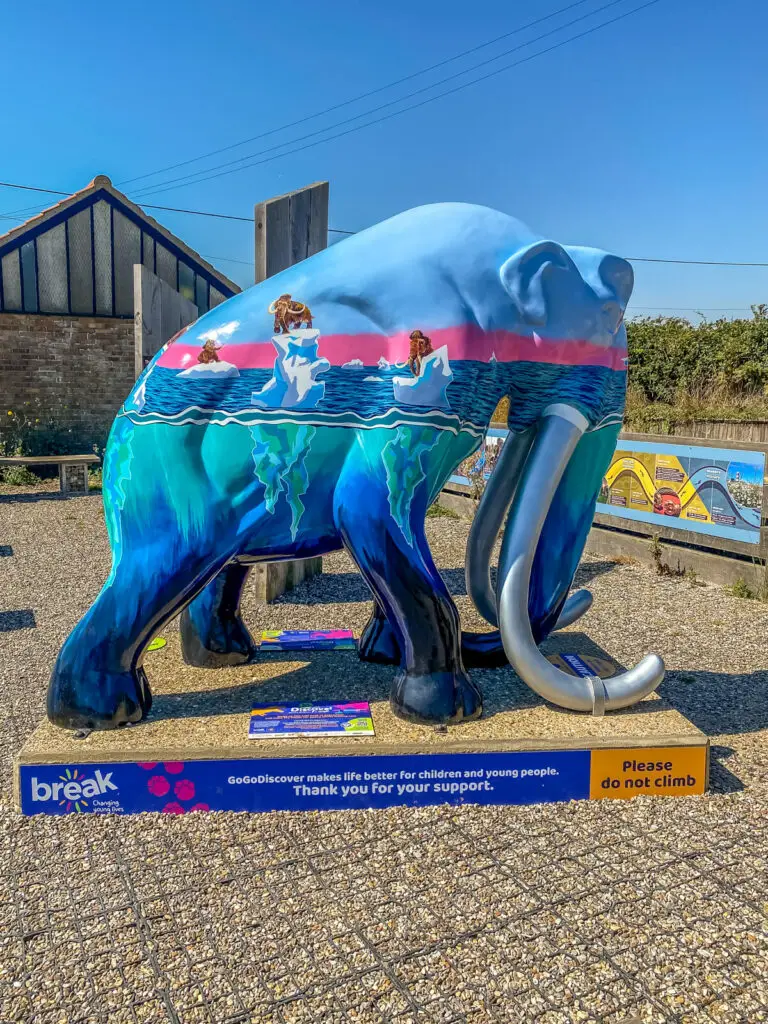 It's name means snow in Finnish and it has mammoths standing on icebergs painted on it. The message is that climate change is causing the ice cap to melt and leading to extinction of species like the mammoth.
Lumi is located at the Deep History Coast Point in Cart Gap.
What3Words: ///hopes.mega.curtain
#72 At the Sealside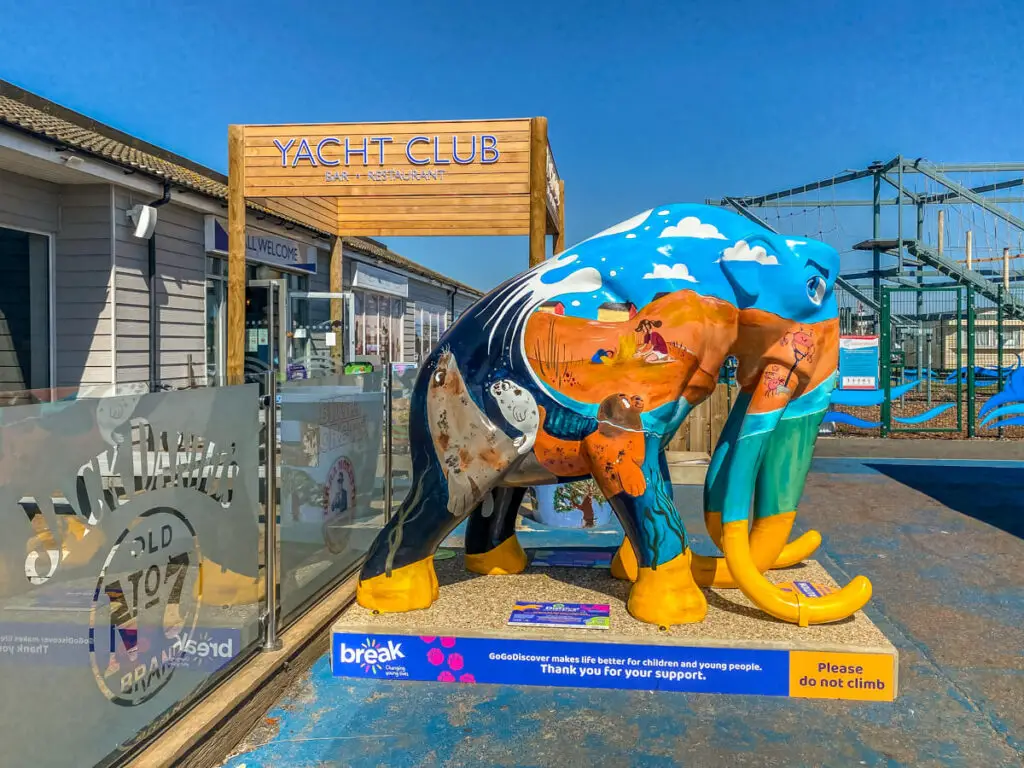 The Norfolk Coast is known for its big skies, sandy beaches, and seals. These features are all captured artistically on the Mammoth, At the Sealside.
You can find this Mammoth at the Yacht Club entrance to the Hemsby Beach Holiday Park close to Holiday Hare (from the Hare GoGoDiscover Trail).
What3Words: ///thatched.duet.sculpting
#73 YUUKI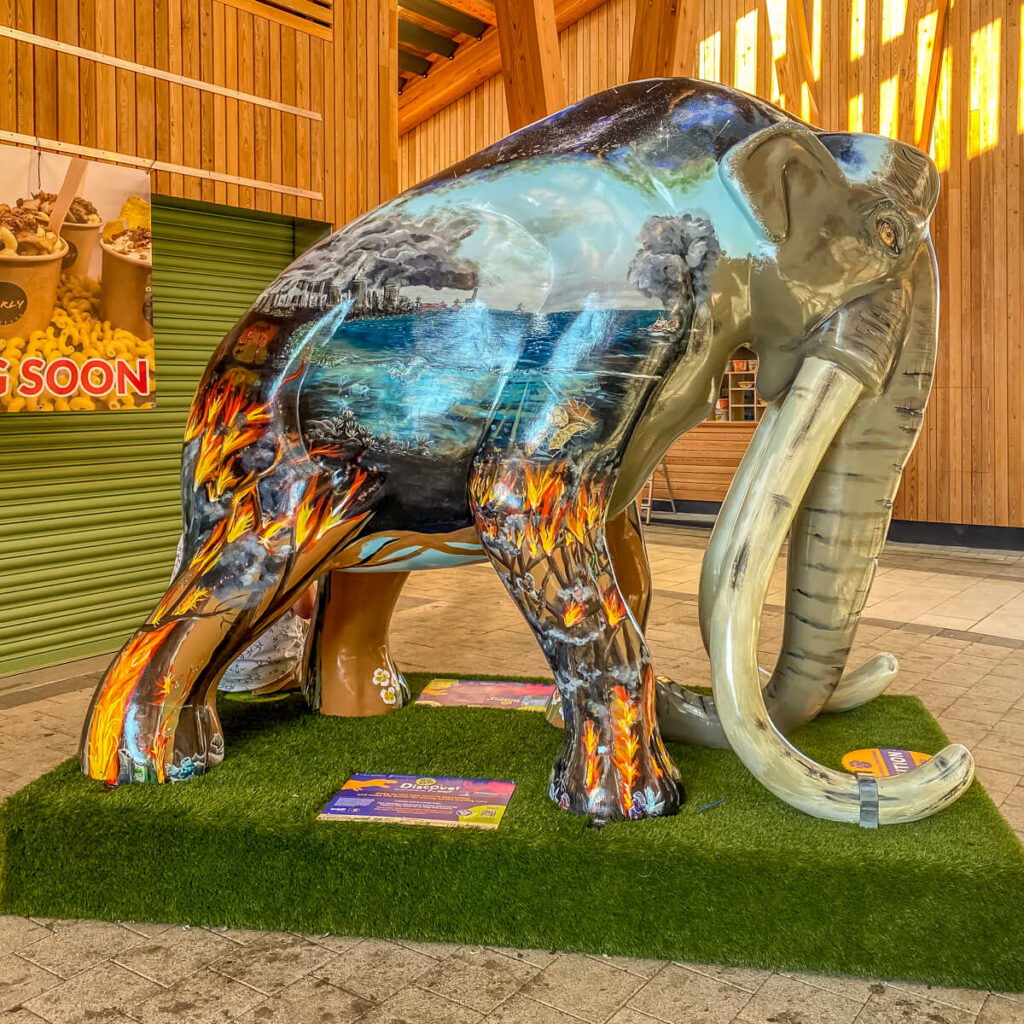 Yuuki means courage in Japanese. There are two contrasting sides to this mammoth – one sad polluted one and another positive and sustainable one. It is quite dramatic and I also loved how realistic the eyes look on this sculpture.
See YUUKI inside the Market Place in Great Yarmouth.
What3Words: ///pencil.slower.push
#74 Mae the Mammoth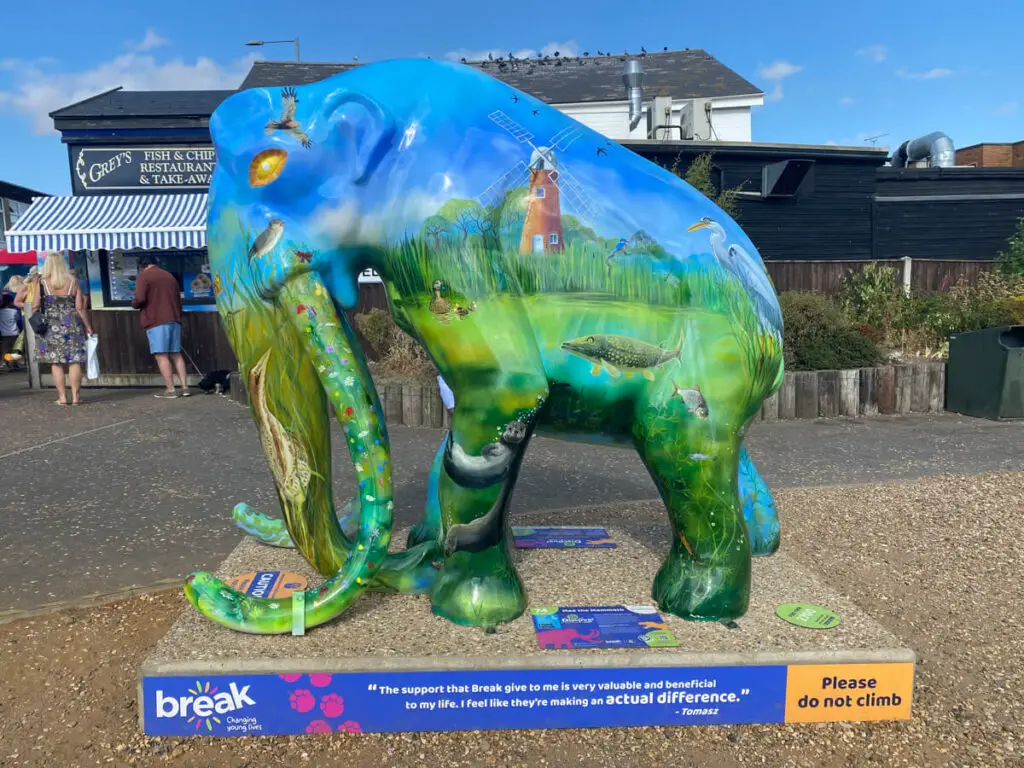 This mammoth gets its name from one of its creators, Mae Sullivan, a 16-year-old that won an EDP competition. It features images of things that best depict Norfolk like seals, the Happisburgh lighthouse, and the Hunstanton cliffs.
Mae the Mammoth is located at Granary Staithe in Hoveton by Wroxham Bridge.
What3Words: ///armrests.parting.fenced
#75 Ziggy Startusk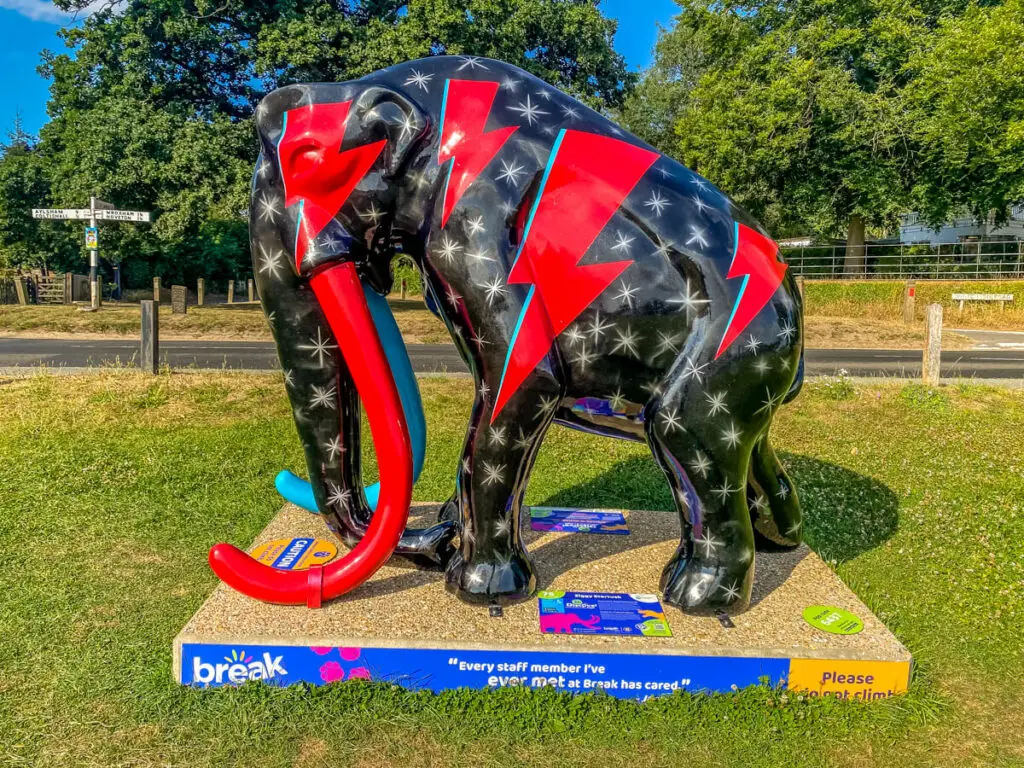 Ziggy Startusk is an alien mammoth superstar that comes from Mars. He is covered in large lightning bolts and stars.
You can find this sculpture in Coltishall Common by Wroxham Road.
What3Words: ///stray.extent.target
#76 Into the Wild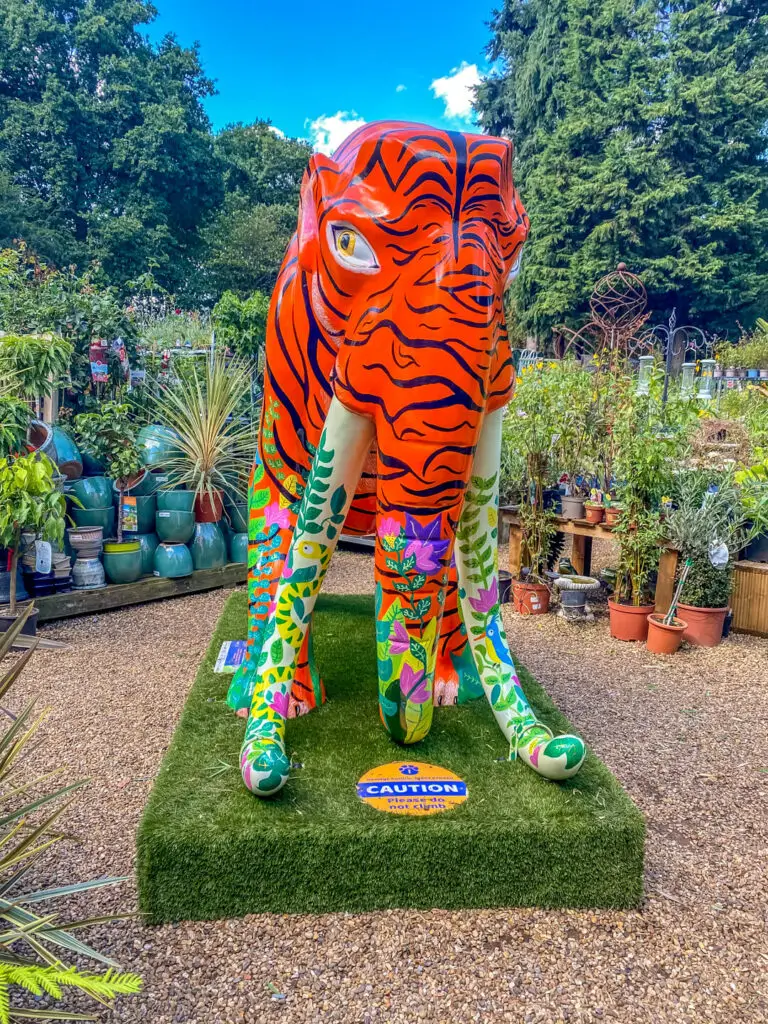 This mammoth is inspired by tigers. It has the tiger pattern of black stripes on orange along with flowers and other animals painted on its legs, trunk, and tusks.
Into the Wild is located inside the Thorpe Plant Centre. (You have to walk through some of the plants to get to it.)
What3Words: ///opera.grape.pots
#77 Elio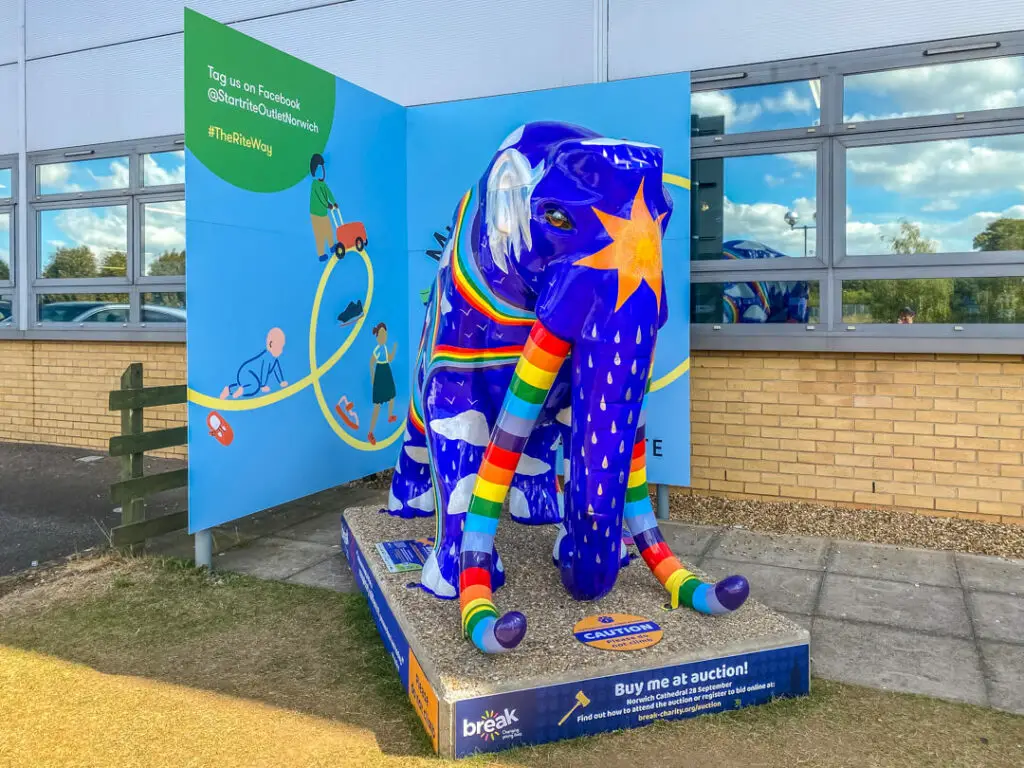 The rainbows are what stand out on this mammoth, but if you look closer there are clouds, rain, and the sun too on the blue background. My favourite part is the rainbow tusks.
Head to the Broadland Business Park (North) where you will find Elio outside Start-Rite Shoes.
What3Words: ///report.sizes.views
#78 Lost Watson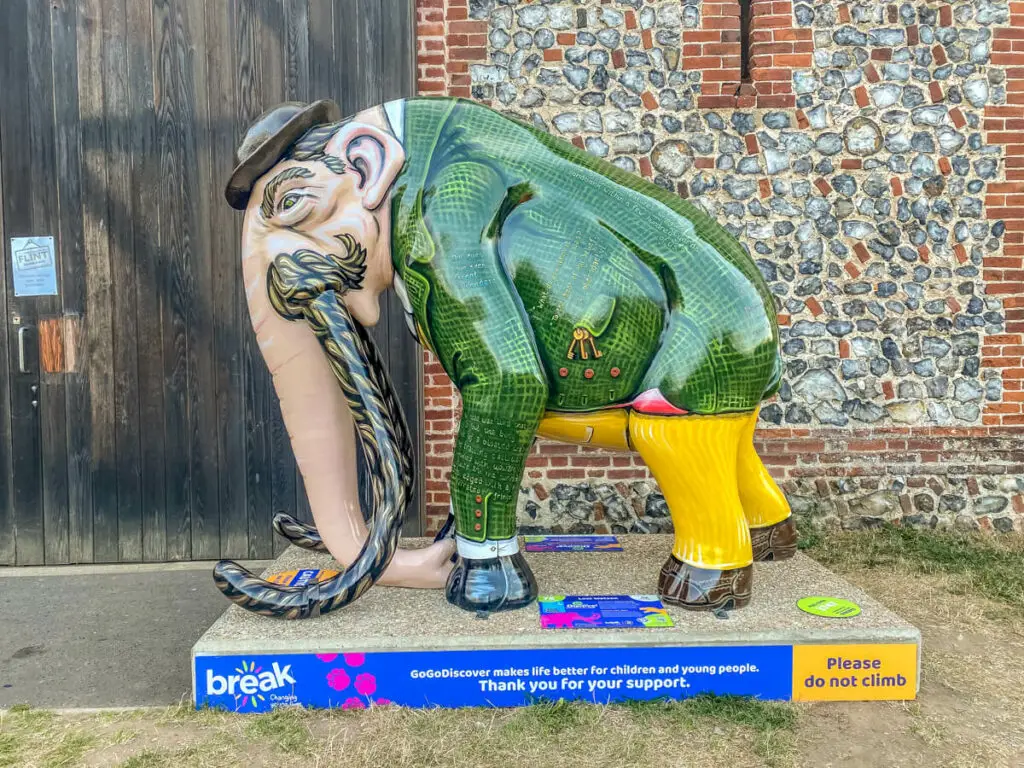 Created by the same artist as the T-rex Lost Holmes, this mammoth is Watson from Arthur Conan Doyle's Sherlock Holmes books. Look closely and there are quotes from the books.
Lost Watson stands by the Whitlingham Country Park Visitor Centre.
What3Words: ///film.caller.beyond
#79 Bolt-ic the Mammoth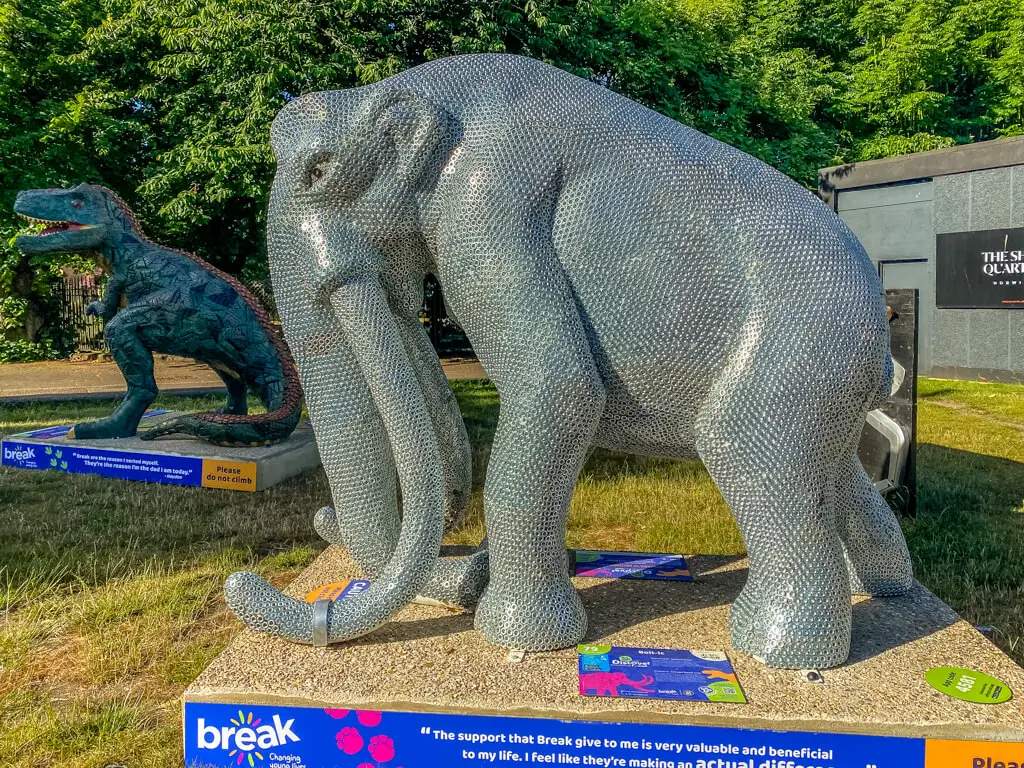 From a distance, Bolt-ic just looks like a shiny silver mammoth, closer up you see where it gets its name as it is covered with bolts that have been upcycled.
You can find Bolt-ic outside the Junkyard Market in Norwich right next to The Junkasaurus Rex.
What3Words: ///simply.boats.field
Disclosure: This post contains affiliate links. This means we will receive a small commission for some purchases made using links in our blog with no additional cost to you.  Please be assured we would not promote any product unless we believe that our readers will also benefit.  The commission does not influence the editorial content of this site.