For 15 nights, the Venetian Waterways will be glowing as part of the Fire on the Water event put on by the producers of the Out There Festival and Great Yarmouth Borough Council. We were given press tickets for the opening night so that we could share our Fire on the Water review.
Be sure to sign up for our email newsletter here to keep up to date with the latest events in Norfolk.
What is Fire on the Water?
Fire on the Water is a light trail with fire artwork. You walk on a circular path through the Venetian Waterways that passes by fire installations and sculptures.
It's the work of over 30 artists and suppliers including Paka, Susannah Fraser & Bob Percy from Luminous Tales, shadow puppet and light installation artists based in Norwich, Gorilla Circus, and a fire sculpture fabrication company based in Wisbech in Cambridgeshire.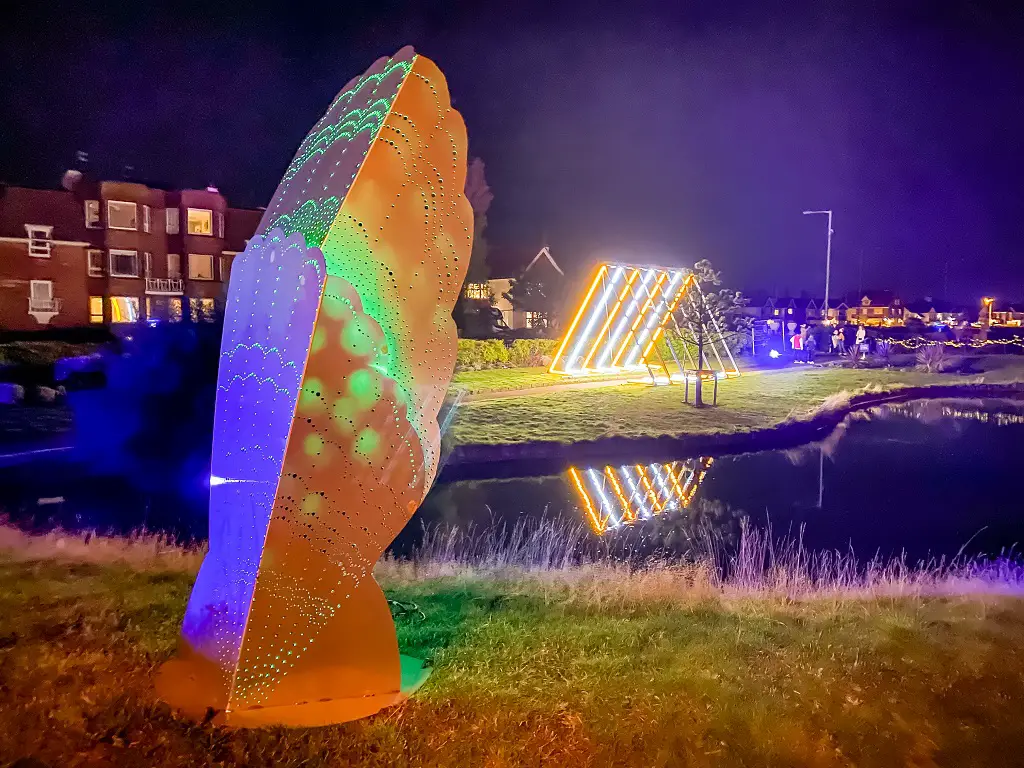 Our Experience at Fire on the Water
As we approached the Venetian Waterways I could see a growing crowd. We joined the queue about 20 minutes before our scheduled entry and were let in about 15 minutes later. After a quick safety briefing, we crossed the bridge and embarked on our Fire on the Water Journey.
I could see fire and coloured lights ahead, but I didn't expect there to be as much creativity as there was. Of course there were torches and small bonfires, but there were also sculptures that used fire too. It was fitting that they were playing fire themed songs like "Ring of Fire" by Johnny Cash and "Come on Baby, Light my Fire" by The Doors.
Buildings in the Venetian Waterways housed projections which were fun to watch. Some of the fire artwork moved and gave performances as you walked by. One installation reminded me of a juggler with fire.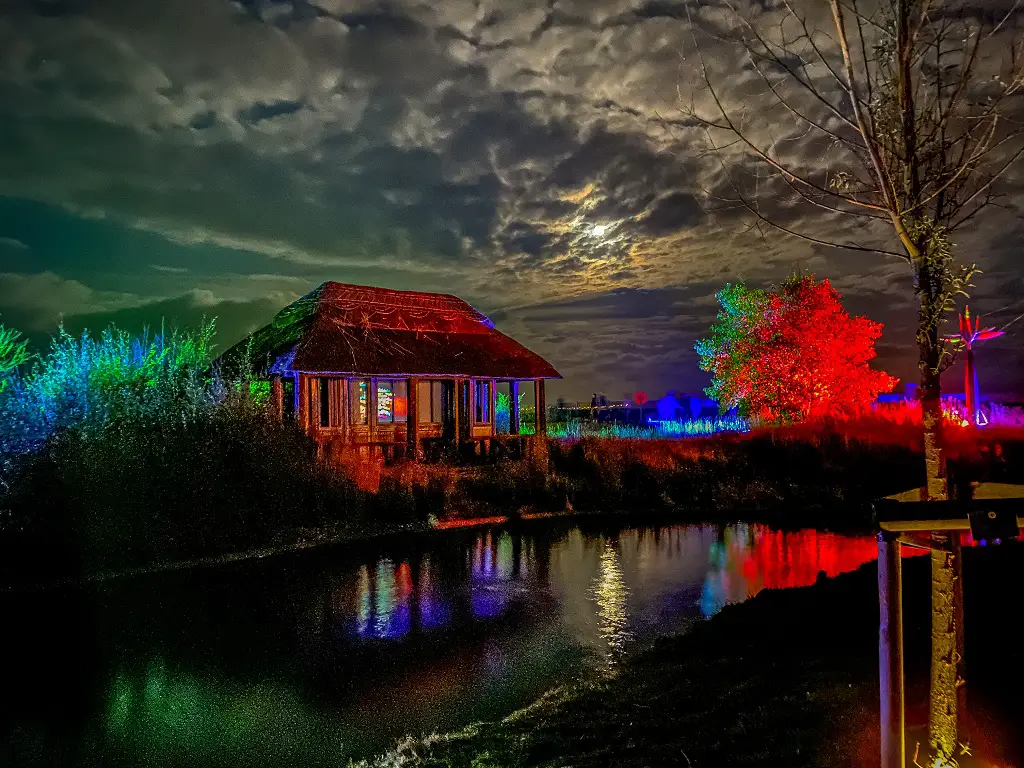 When we walked back to the exit, we looked back at the artwork where we had walked before. From this angle, we could make out pictures and words that we had thought were just abstract designs when viewed from the other side.
Just before the exit, there were a few fire pits. Staff members were handing out marshmallows to roast. It was the perfect way to end a lovely evening.
Fire on the Water Review
The art that we saw at Fire on the Water was unique and at times unexpected. Each section of the trail was different which made it intriguing. It is more than just fire art.
The event was well-organized with plenty of staff to make sure everything was running smoothly. While there had been a lot of people at the queue to get in, inside the Venetian Waterways it never felt crowded.
Fire on the Water is a fun evening out for all ages and affordably priced. It's too bad it's only around for 15 nights. Maybe it will become an annual event in Great Yarmouth?
Fire on the Water 2022 and Beyond
Fire on the Water took place from Saturday 22nd October through to Saturday 29th October 2022, on the Central Beach in Great Yarmouth. Check out a short video of the highlights for Fire on The Water – Beach Edition here.
The event will not be taking place in 2023, but hopefully will be back in 2024!
If you enjoyed Fire on the Water, be sure to also check out Chris Levine Light Art at Houghton Hall and Luminate Sandringham.
Fire on the Water FAQs
When does Fire on the Water take place?
Fire on the Water runs from 21 October to 6 November 2021. For 2022, it is scheduled for 22 – 29 October. It will not be held in 2023, but I hope it will be back for 2024.
How much does it cost to see Fire on the Water?
A ticket to Fire on the Water admits up to 6 people and costs £6. There are timed-entry slots, but unfortunately they are now sold out.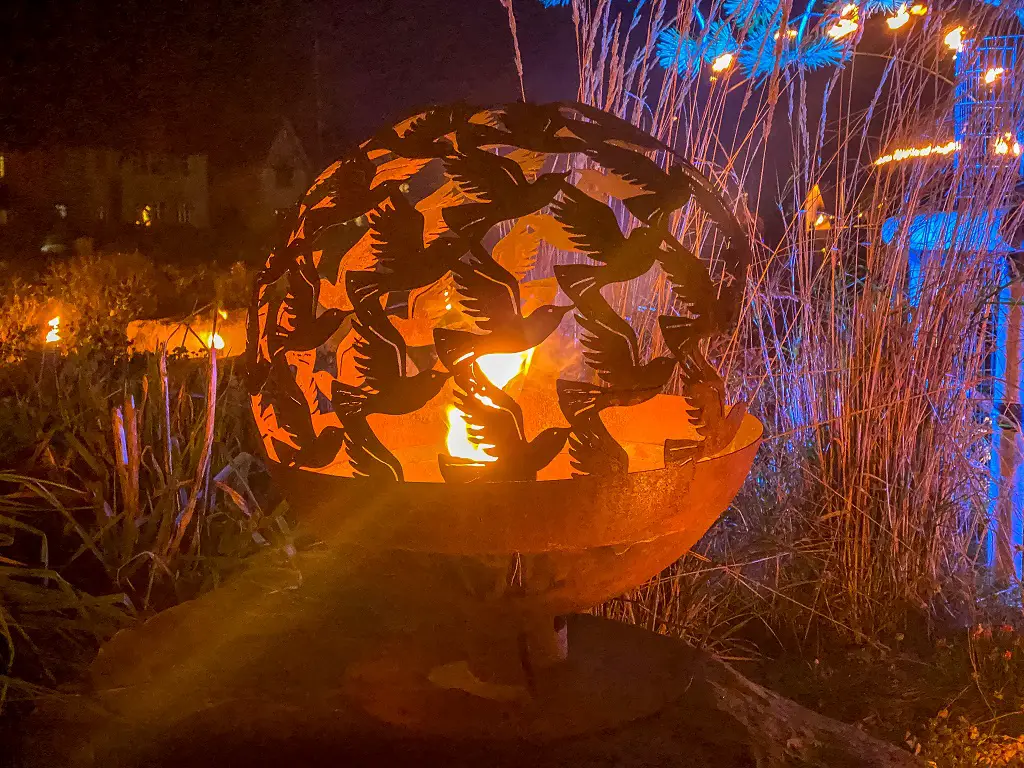 How long does it take to see Fire on the Water?
I would allow around an hour to walk through Fire on the Water.
How long is the walk through Fire on the Water?
It's a little more than 3/4 of a mile to walk through Fire on the Water.
Is Fire on the Water good for kids?
Yes. Kids will enjoy the displays just as much as adults, just be sure you keep a close watch and make sure they know not to touch the fire. Read about more ideas for things to do in Norfolk with kids.
Is there food and drink available for purchase at Fire on the Water?
Yes. There is a stand selling cookies at the entrance and Cafe Amici inside the Venetian Waterways serving sausage rolls, cakes, warm drinks, and more.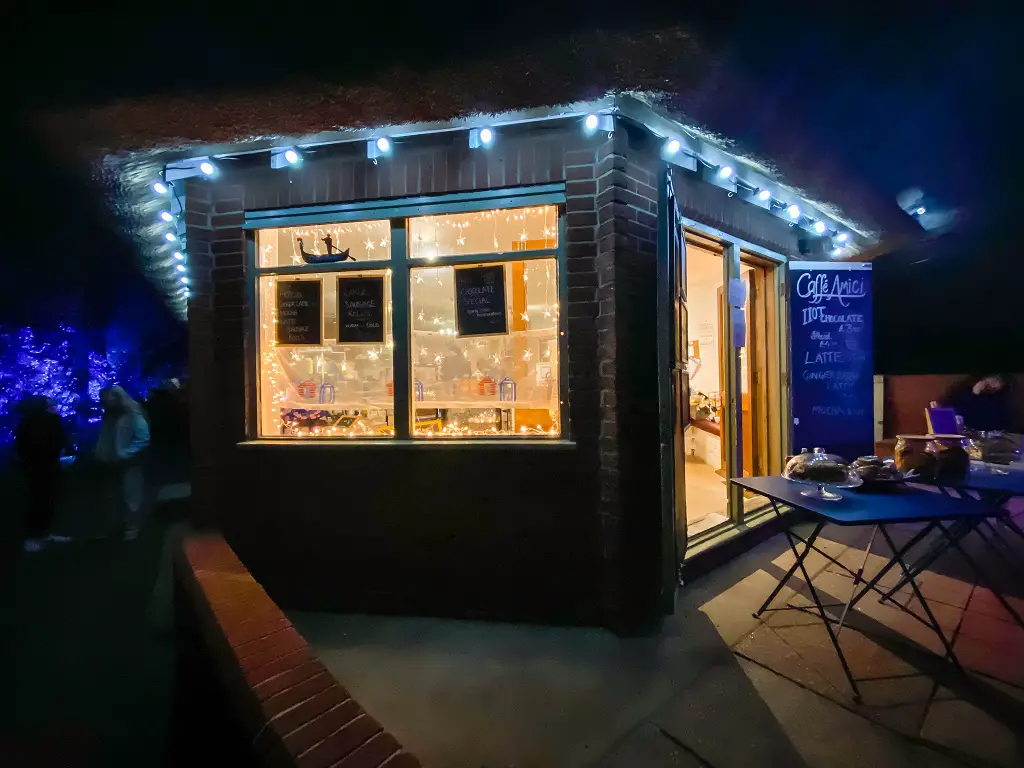 Is Fire on the Water accessible?
Yes. While there are a few steps along the main route, there is an alternative accessible path.
How do you get to Fire on the Water?
The Venetian Waterways are located just north of the Golden Mile. From Norwich, it is about a 40 minute drive or it is about a 20 minute walk from the Great Yarmouth Railway station.
Where do you park to go to Fire on the Water?
You can park at the North Drive car park. It costs £6.