Winter is considered the low season in Norfolk, but that doesn't mean there isn't anything to do. It can actually be a good time to explore since there will be less tourists around. Let me share the best things to do in Norfolk in the winter.
Note: This post contains affiliate links.  As an Amazon Associate, we earn from qualifying purchases. Please see disclosure for more information.
Winter in Norfolk
Compared to many other places in Europe, the winters in Norfolk are not as cold. From December to February the average daytime temperatures are between 6°C and 8°C.
While it may rain, snow (especially anything measurable) is not as common. The winds can be strong and make it feel a lot colder than the actual temperature. If you are travelling to Norfolk during the winter, be sure to pack your cold weather gear.
10 Things to do in Norfolk in the Winter
You don't have to stay inside the whole winter in Norfolk. When the weather allows, it's nice to get out and enjoy nature. On those dreary days, you can opt for an indoor attraction.
This list includes both outdoor and indoor things to do in the winter in Norfolk.
Be sure to join our email list here to keep up to date with what's on in Norfolk.
#1 See the Seals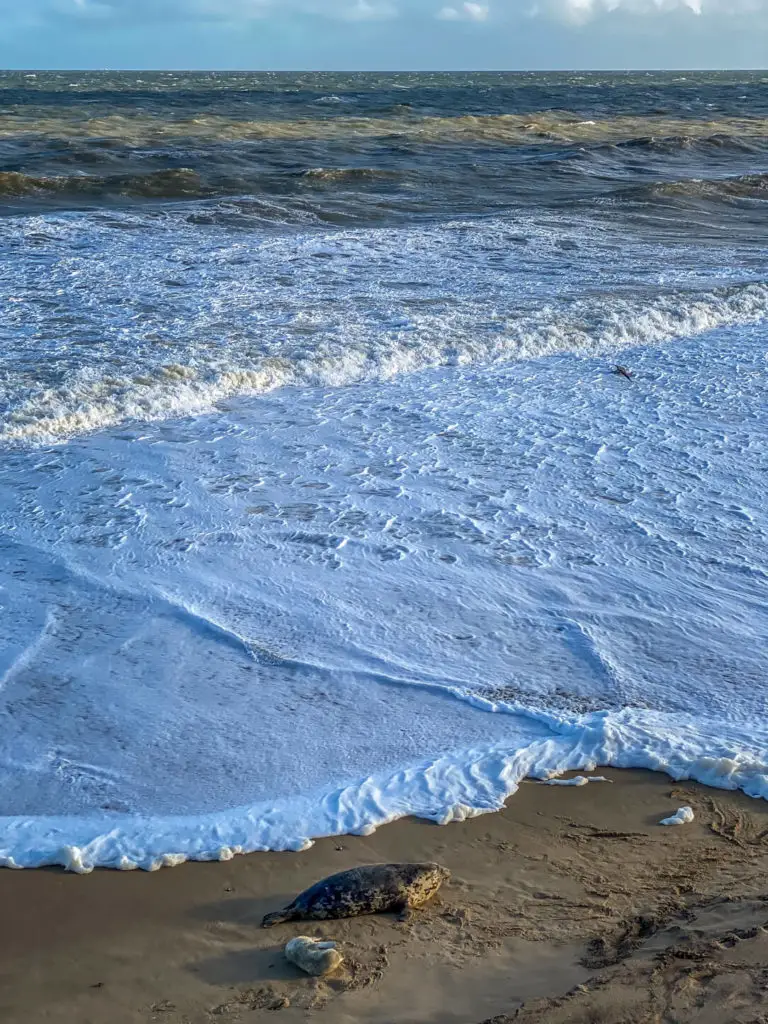 Winter is one of the best times to see seals on the Norfolk coast as many come to the area to give birth on the beach. From late October to February, you are almost guaranteed to see seals at Horsey Beach.
Horsey Beach is an unspoilt sandy beach with some of the largest sand dunes in East Anglia. There are no facilities, so bring your own food and drink if you plan to stay for a while.
It's such a special experience to see these amazing animals in their natural habitat, but you need to remember they are wild animals and can be dangerous. Be sure to keep a safe distance and keep dogs on short leads.
Get more information in our guide to seeing seals in Norfolk.
#2 Check Out the Indoor Museums
Norfolk may be best known for its outdoor attractions, but it also has some excellent museums. These museums could be the ideal option on a rainy day in Norfolk.
In Norwich, you must visit the Sainsbury Centre if you enjoy art. It is free to see the impressive permanent collection which includes artists like Pablo Picasso, Edgar Degas, Francis Bacon, Jacob Epstein, Henry Moore, and Paul Gauguin, plus works from around the world.
Inside Norwich Castle you will find a museum that has art as part of its diverse collection. There are also displays about Boudica and the Romans, Anglo Saxons and Vikings, and Egyptians as well as a Natural History Gallery. If you want to learn more about the history and culture of Norwich, you should also check out the Museum of Norwich at the Bridewell and Stranger's Hall.
Some of the best museums around the county include:
Lynn Museum – You can see the remains of Seahenge, a unique timber circle dating back over 4,000 years, and more at this museum in King's Lynn. Admission is free from 1 October to 31 March. Get more information here.
Tide and Time Museum – Learn the story of Great Yarmouth rich maritime and fishing history from its ice age origins to the present day inside one of the UK's best preserved Victorian Herring curing works. Get more information here.
Note that some museums may close or have reduced hours in the winter.
#3 See the Snowdrops
When you start seeing snowdrops, you know that spring is around the corner. While you can see these beautiful white flowers as early as the end of January, you need to know where to go.
Walsingham Abbey near Wells-Next-The-Sea in North Norfolk is one of the best places in England to see snowdrops. You can see the abbey ruins and then enjoy a peaceful walk through the surrounding meadows and woods carpeted with snowdrops.
Other spots in Norfolk known for their snowdrops include Sheringham Park, Blickling Estate, and Oxburgh Hall.
#4 Go Bird Watching
Norfolk is a bird-lovers paradise all year round as there are a wealth of nature reserves. Rare birds visit the area because of its close proximity to mainland Europe and abundance of food. During the winter, they come from very cold areas and enjoy the milder climate here.
Some of the birds you can see in Norfolk in the winter include ducks (Smews, Goosanders, Scoters, Red-Breasted Mergansers, Wigeons, Tufties, Goldeneyes and Mallards), geese (Pink-Footed Geese, Brent Geese, Greylag, Canadian Geese, and Egyptian Geese), snow buntings, bearded tits, starlings, and more. You may even be able to catch the starlings putting on a show (murmuration).
If you are open to getting up early, head to Snettisham on The Wash where you can watch the geese leave their overnight roost as the sun comes up. It will be worth the effort.
There is also the option to watch the birds come together at sunset. At the Hickling Broad Nature Reserve, you can see lots of marsh harriers and even some common cranes near Stubb Mill. RSPB Strumpshaw Fen is another good bird watching spot during the winter. At the RSPB Buckenham Marshes, there are thousands of rooks and crows.
#5 Catch a Show
If you enjoy live theatre, there are always plenty of shows on around the county. During the winter, there are also several Christmas-themed shows to get you in the holiday spirit.
The most famous Christmas show in Norfolk is the Thursford Christmas Spectacular. The Cromer Pier Show has a Christmas edition too. There are also several pantomimes, including one at the Norwich Theatre Royal. At the Hippodrome in Great Yarmouth, you can see a Christmas-themed circus in December.
#6 Visit a Sea Life Centre
For those that are interested in learning more about life in the sea, a visit to a Sea Life Centre is a must. These aquariums aim to educate and entertain their visitors. You can have close encounters with sea life, from shrimps and starfish, to seahorses and stingrays.
There are two Sea Life Centres located in Norfolk – one in Great Yarmouth and the other in Hunstanton. The Hunstanton location has a seal hospital where you can see how they rehabilitate common and grey seals. Since they opened the hospital in 1989 they have helped more than 750 seals.
Learn more about the Sea Life Centres here.
#7 Go Shopping
The winter is a good time to go shopping as you can take advantage of the Christmas and New Year's sales.
If you want to go shopping in Norfolk, Norwich has the best options. There are two indoor shopping malls – Castle Quarter and Chantry Place – and several department stores all in a small area. You won't have to spend much time outdoors.
Also during the holiday season there are lots of Christmas markets that pop up. The largest one is typically held in November at the Norfolk Showground, but there are ones in December at the Forum, Holkham Hall, Creake Abbey, in the town of Swaffham, and more.
#8 Enjoy Afternoon Tea
Afternoon Tea is a treat any time of year, but during the winter, the hot tea will warm you from the inside out. You can take your time and enjoy this treasured tradition.
There are plenty of places that serve a lovely afternoon tea in Norfolk. Some of the most popular options include Byford's in Holt, the Norfolk Mead Hotel in Coltishall, The Grove in Cromer, and the Cliff Hotel in Gorleston. We think the best afternoon tea in Norwich is the Assembly House.
#9 Go Stargazing
The North Norfolk Coast doesn't have much industrial activity which means less pollutants and more clarity of the night sky. There are actually two places – Wiveton Downs and Kelling Heath Holiday Park – which have been awared Dark Sky Discovery Site status. That means they are away from light polution, have good sightlines of the sky, and have good public access.
Stargazing is the best in the winter because you have the chance to see the northern lights, or aurora borealis. Even if you are not lucky enough to see the northern lights, you should be able to see the seven stars of the Orion constellation and the Milky Way with the naked eye at the Dark Sky Discovery Sites in Norfolk.
Just be sure to wrap up warm and bring your binoculars.
#10 Experience Winter Events in Norfolk
The winter season is full of events that should not be missed. Of course there are the Christmas and New Year's events, but that's just the beginning.
In January, you can still catch some of the Christmas events along with celebrating New Year's Day. In February, there is the King's Lynn Mart, Love Light Norwich (every other year), and Raveningham Woodland Lumiere.
Disclosure: This post contains affiliate links. This means we will receive a small commission for some purchases made using links in our blog with no additional cost to you.  Please be assured we would not promote any product unless we believe that our readers will also benefit.  The commission does not influence the editorial content of this site.