Get ready for a Christmas tradition with a royal touch! While the Royal Family celebrates Christmas at Sandringham, our family has a special tradition of our own – a visit to Sandringham for the magical Luminate light trail.
Our adventure began in 2020 when Luminate first started, and since then, we've been hooked, going back for more every year. Join us as we review the excitement of our first visit and share how Luminate has stepped up its game, getting bigger and better with each passing Christmas.
If you are interested in going to the 2023 trail, tickets are available now here!
Note: For 2023, we were invited to the press preview, but we will also be going again later in the season. That's how much we love this event.
Be sure to sign up for our email newsletter here, so you can find out about other fun events like this.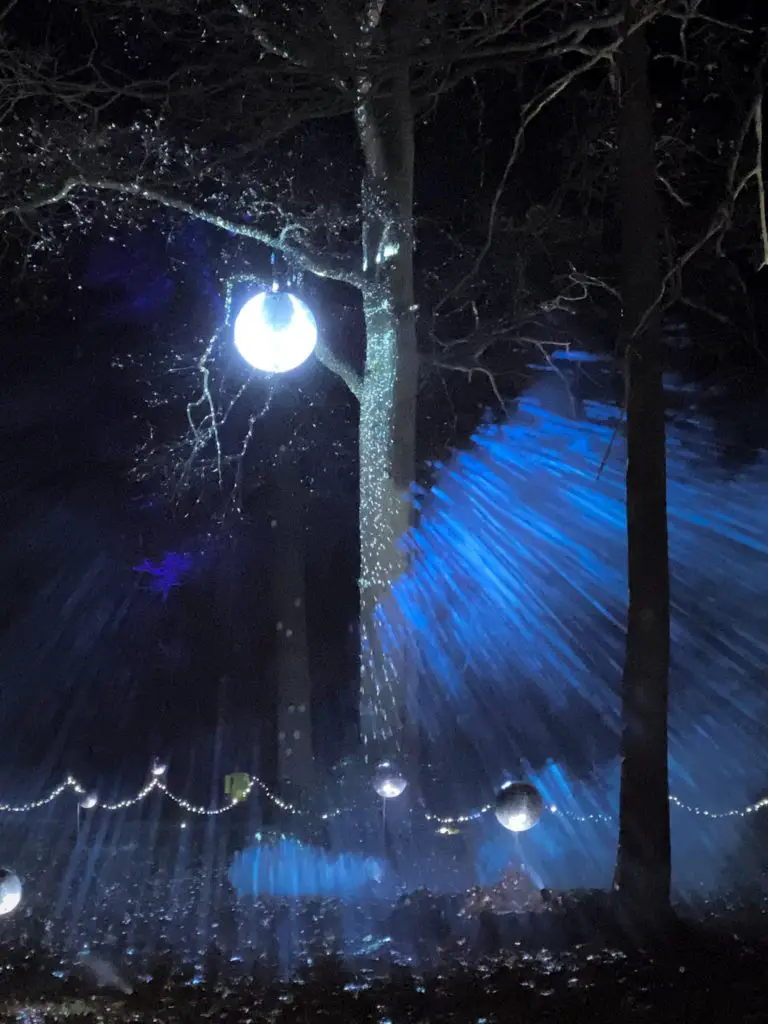 What is Luminate Sandringham?
Luminate is a 1-mile long winter light trail through the Country Park at Sandringham Estate. In addition to the lights, there are special effects, music, and interactive installations. It's more of an enchanted experience as the decorations don't have a traditional Christmas theme.
*Read about more Christmas events in Norfolk.
About Sandringham
Sandringham is home to a Grade II stately home that is one of the royal residences of King Charles III. Queen Elizabeth II would spend about two months each winter here, including the anniversary of her father's death and of her own accession in early February. It has been a long standing tradition that the Royal Family celebrate Christmas at Sandringham.
Note: Luminate takes places in Sandringham Royal Park, so it does not pass by Sandringham House.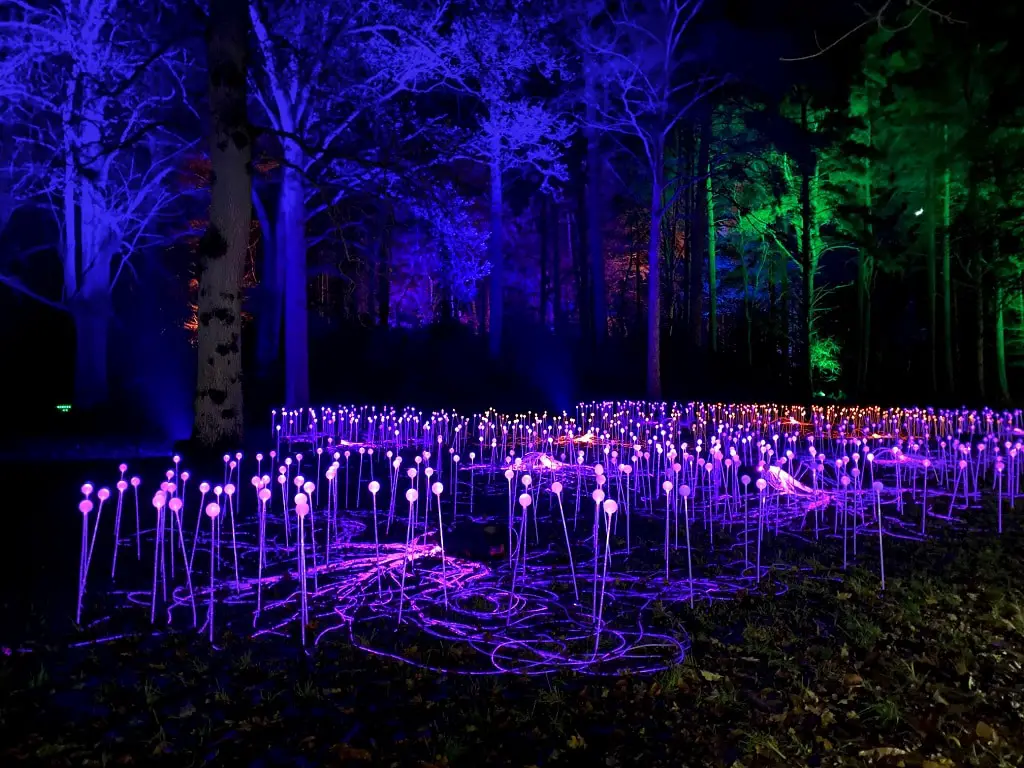 Visiting Sandringham Luminate
We booked our time-entry tickets to Luminate over a month in advance as I knew it would be a popular event. I hoped the weather would cooperate. When the day finally came it was chilly, but no rain was forecasted. If we bundled up, it should be fine.
When we arrived at Sandringham we were directed to park and then made the short walk to the entrance. Since we had a few minutes before our time window, we went to the courtyard to use the bathrooms and grab some hot drinks. I was impressed that there were a few food trucks and the café and gift shop were open as well.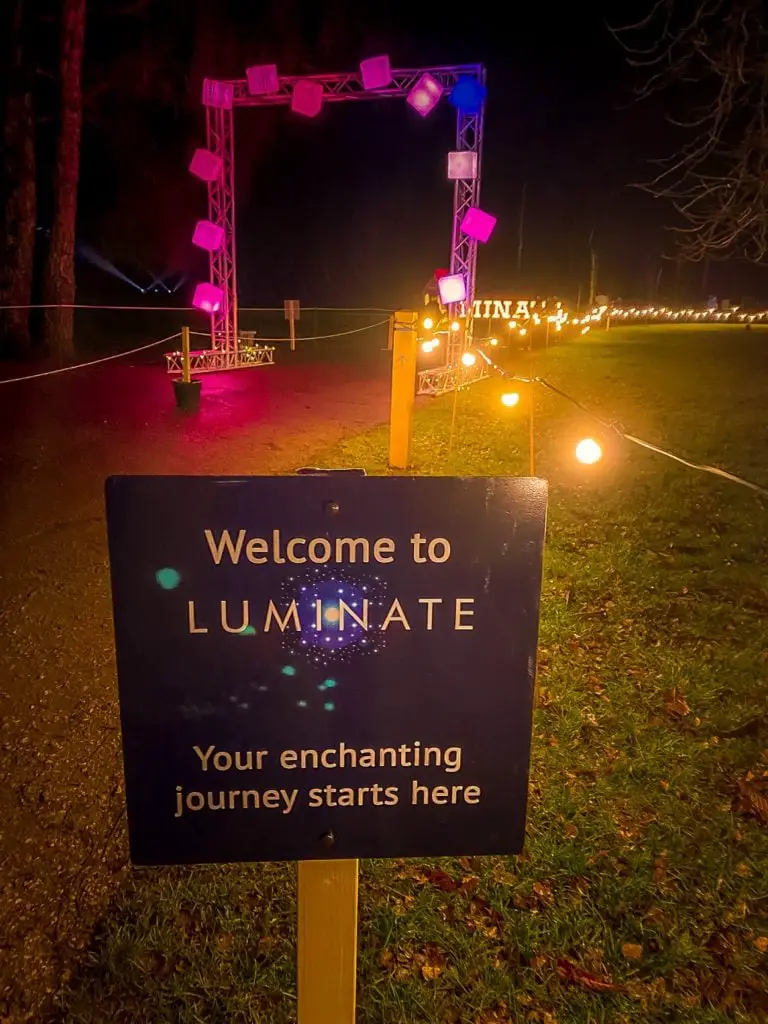 With our hot drinks in hand, we headed to the start of the trail to check in. I showed my order number on my phone and they gave us tags and pencils for the wishing tree. We put them in our pockets and moved on.
The trail started with giant lit up letters spelling out Luminate so we knew we were in the right place. Then the bear sculpture (here all year) came to life to welcome us.
We continued further into the woods and there were more light displays and even a spot to take a selfie. There was a short wait for us to go inside the colorful igloo, but it was worth it. The kids loved stepping on the circles and seeing them light up.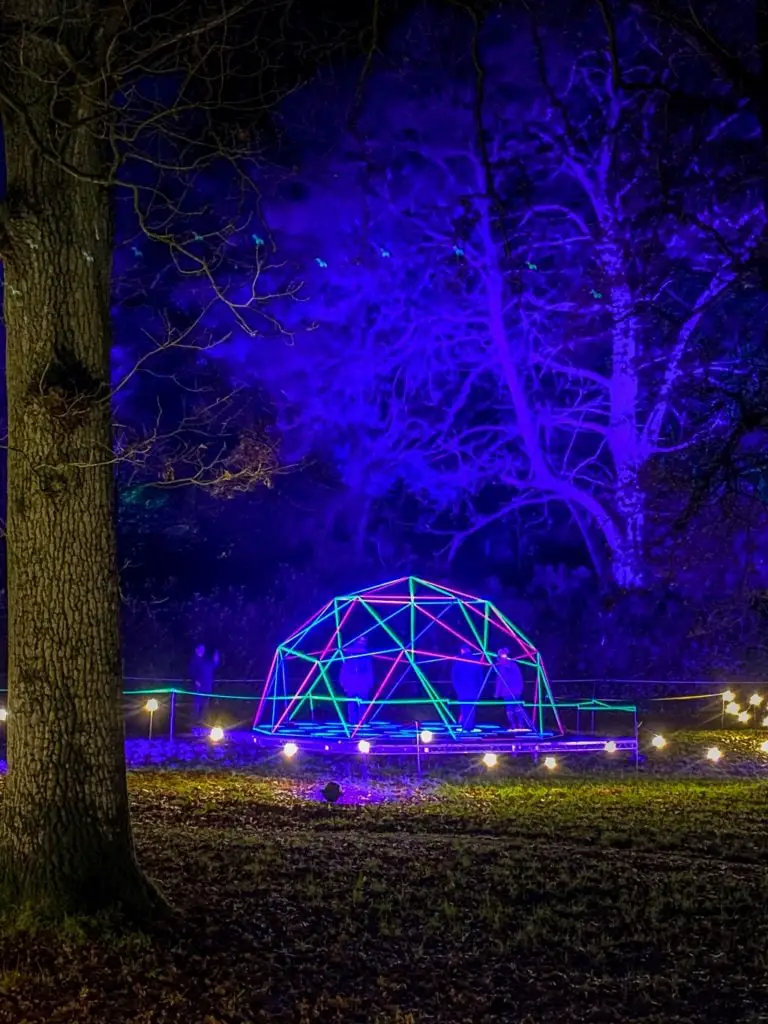 When we turned the corner, the displays got more impressive. First, a field of lights, then a section with a disco ball that was absolutely magical. It's hard for pictures to do it justice.
Up next it was time to roast marshmallows. These weren't just any marshmallows but the largest I think I have ever come across. They were very tasty too. It was fun to roast them over the fire pits that were set up. At this pit stop, you could also get mulled wine or other warm beverages.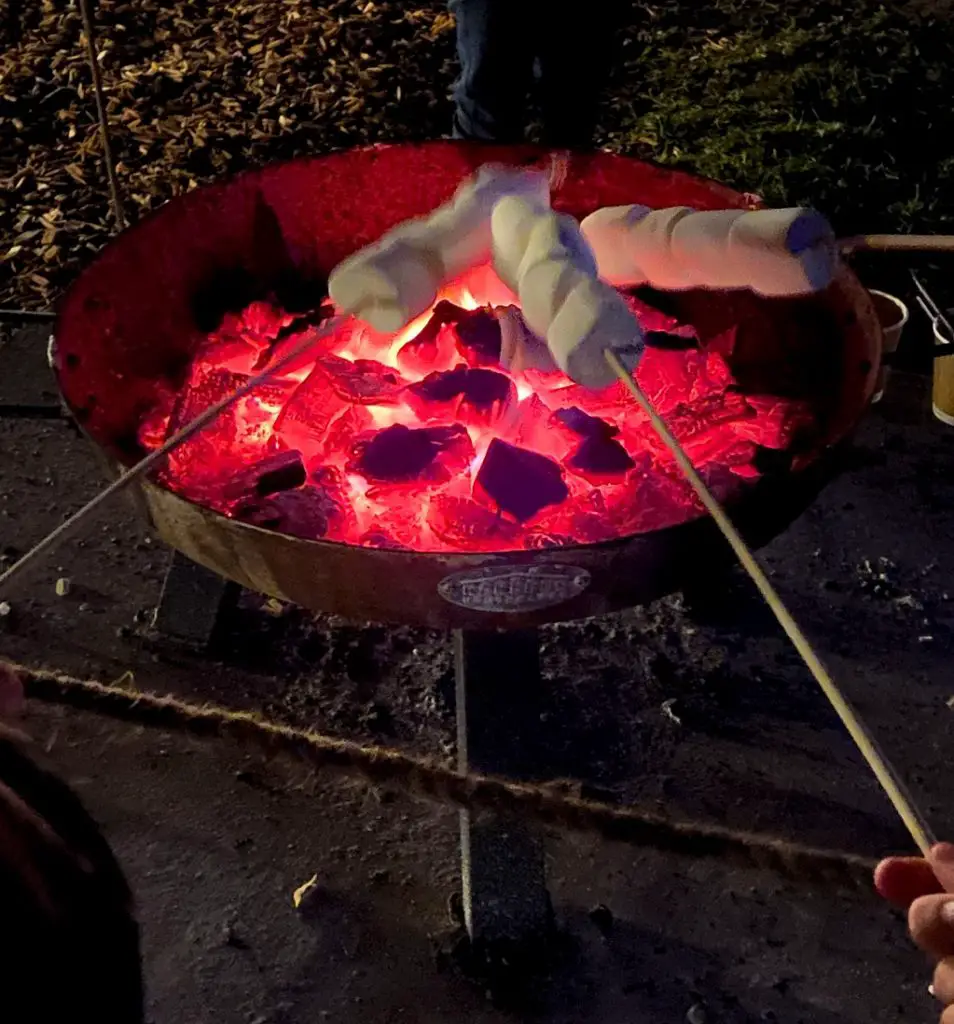 Tip: Mulled wine does not pair well with roasted marshmallows.
After eating what we could of the marshmallows, we carried on. We made it through the maze, then it was time to search for faires. It didn't take long before we spotted our first one, a realistic hologram that made me smile. There were several more all just as magical.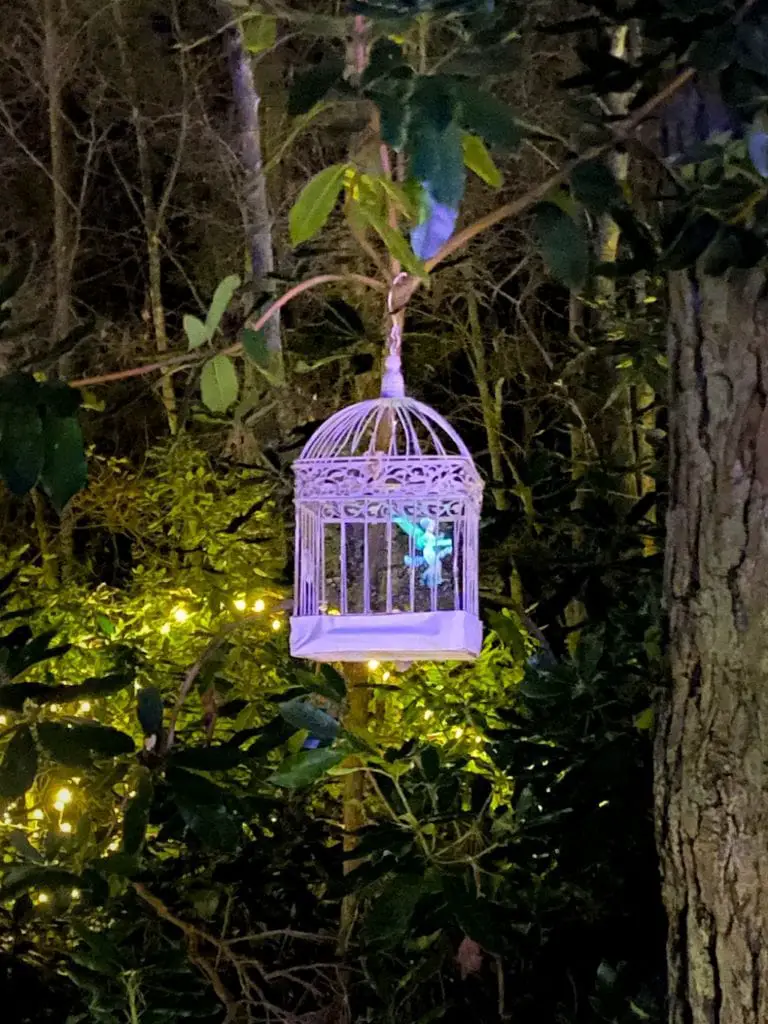 Then it was time for us to make our wishes. We wrote them down on the tags we were given at the start and then tied them to the wishing tree. It was interesting to read what other people wished for too.
The last part of Luminate had more lights and a talking tree. Those are just some of the highlights of the Luminate trail at Sandringham. You need to visit yourself to see it all.
Sandringham Luminate Review
Visiting Luminate was definitely one of the highlights of our year. The displays were creative and the atmosphere was magical. It was definitely different than the typical Christmas light trail.
The kids enjoyed it just as much as the adults. There were interactive installations so it kept the children engaged. They also had fun roasting marshmallows.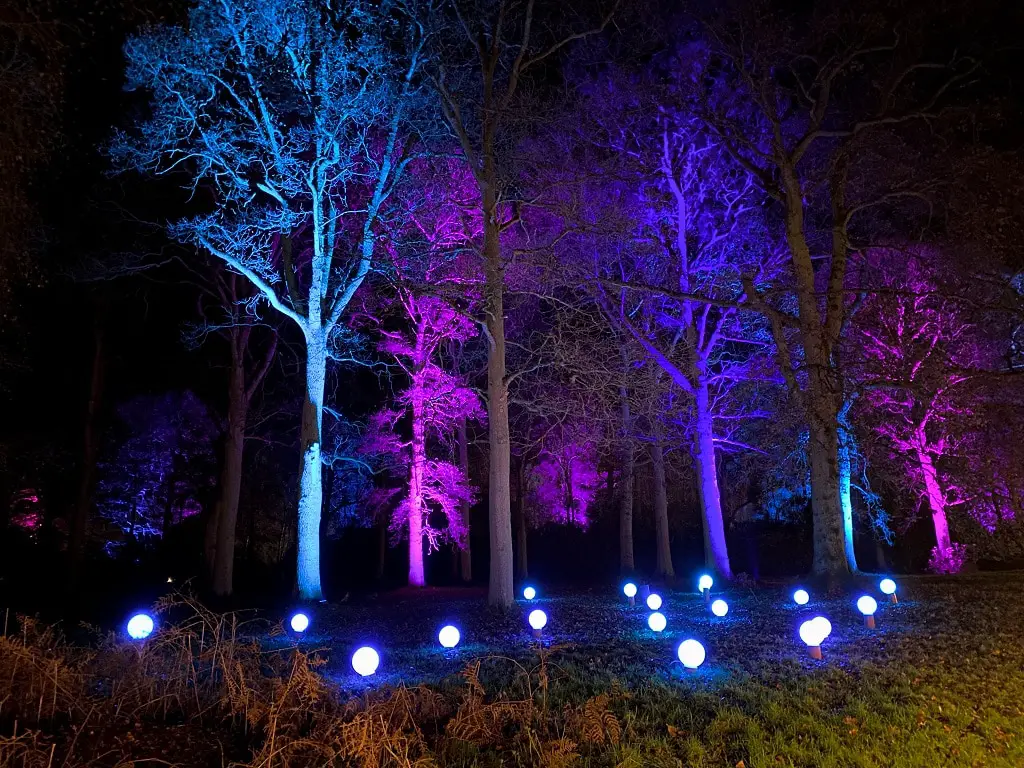 The staff did an excellent job at keeping things moving and making sure guests followed the rules. The trail was well-marked with white lights so you don't have to worry about getting lost. It felt very safe.
We enjoyed it so much that we returned in 2021 and 2022! Keep reading to learn more about those events. Sandringham Luminate has become a part of our family holiday traditions.
If you enjoy events like this, be sure to check out the Raveningham Woodland Lumiere and Chris Levine at Houghton Hall. There is also the Thursford Journey of Light.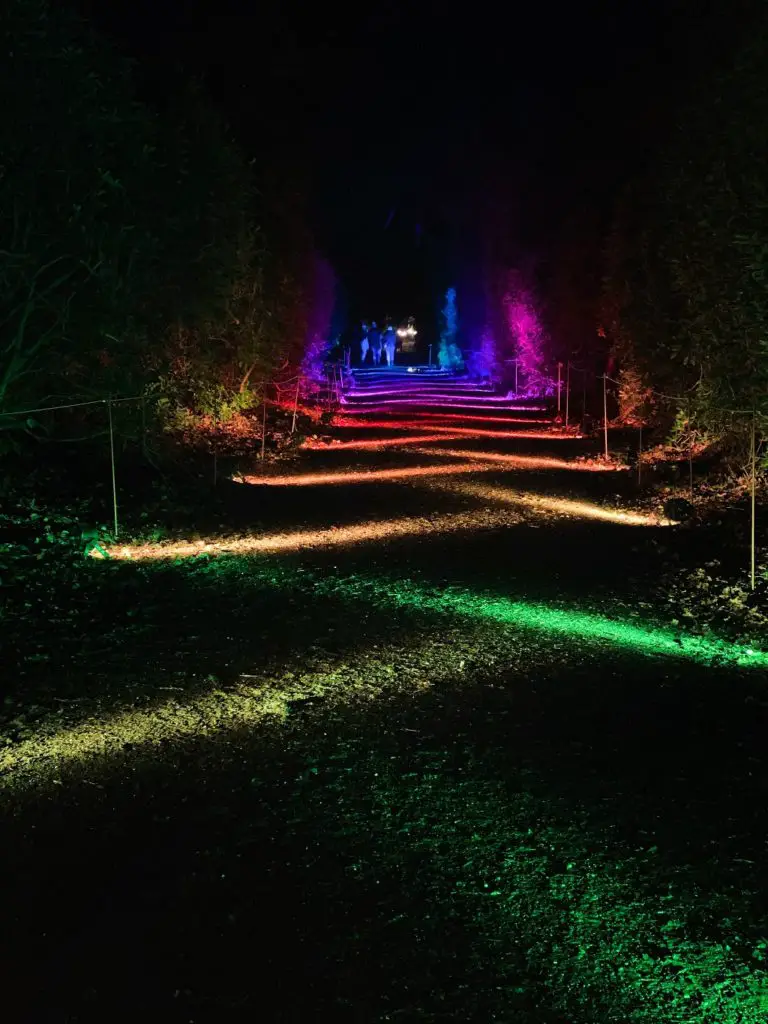 New for Sandringham Luminate 2021
The 2021 event featured a small fun fair in addition to the light trail. They had a ferris wheel, carousel, and swing ride in the courtyard area by the food vendors.
The 2021 trail did feature several new installations and also a few favourites from last year (like the fairies). If you enjoyed Luminate in 2020, you will also enjoy the event this year.
We also noticed that this year, they only gave us two marshmallows compared to four last year. It's a more reasonable portion as I don't think many people finished their marshmallows last year.
You can see a video of our night at Luminate here.
The whole family enjoyed the experience again and would love to visit Luminate again.
Our Visit to Sandringham Luminate 2022
We debated about going for a third year in a row, but the kids would have been crushed. It's their favourite event of the year.
I didn't book as far in advance as usual, so I had no choice but to book the last available time slot. This ended up being a blessing in disguise. We took our time and with no time slots after us, we felt like we had the trail to ourselves.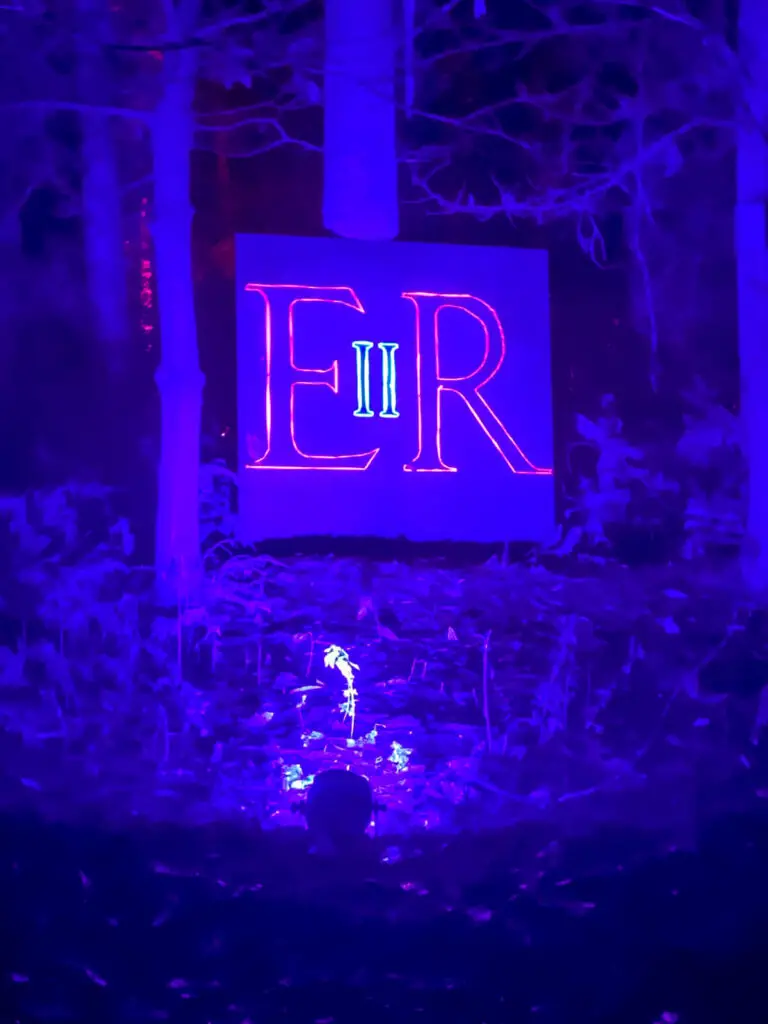 We were happy to see some of our favourites back for this year including the fairies and the wishing tree. They also had several new installations which had us in awe. There were also a couple touching tributes to Queen Elizabeth II.
The vintage fun fair was back but by the time we finished enjoying the trail it was a bit late, so we just headed home. For 2022, they added portable bathrooms right before you get to the section for roasting marshmallows.
Luminate in 2023
We were excited to be invited to the press night for Luminate 2023. In addition to the wonderful light trail we were treated to dancers from Parallel Dance Studios that beautifully complemented the displays.
This year Luminate added a brand-new Christmas Tree maze, offering an extra dose of festive fun. While there is a small additional fee for the maze, it's intentionally crafted to be a simple and delightful adventure, perfect for young children.
The familiar favourites make a triumphant return, but not exactly like we have seen them in previous years. The cherished Make a Wish tree stands tall, ready to collect dreams and wishes from visitors. Dancing fairies add a sprinkle of magic to the atmosphere, and the glitterball continues to cast its mesmerizing glow. For those who have a fondness for roasting marshmallows, this timeless activity is back too.
For those nostalgic about the Tunnel of Light in Norwich, Luminate has a special surprise. Its version has lots of vibrant colours and mesmerising animations too.
Sandringham Luminate FAQs
If you plan to visit Luminate, there are a few things that you should know.
Do you need a ticket in advance for Luminate Sandringham?
You must buy timed tickets in advance here. Tickets are a bit more expensive Thursday through Sunday. Family tickets will save you a few pounds.
What are the dates for Luminate Sandringham 2023?
It will run from 11 November to 24 December.
Where do you park for Luminate Sandringham?
You can park by the Sandringham Visitor Centre. Parking is included with your ticket.

Are there toilets at Sandringham Luminate?
There are toilets by the café so go before you start and at the end if needed. For 2022, they added portable bathrooms about half way through the trail.

What should you wear for Sandringham Luminate?
Dress for the weather. It's the winter and it's dark so it will most likely be cold. If there is the chance of rain, be prepared for that as the trail will still go on.

What happens at Sandringham Luminate if it rains?
The trail goes on unless it is extreme weather. Two out of the three years we have gone it has rained, and we still have had a lovely time.
How long is the Sandringham Luminate trail?
The trail is a mile long and well lit. We spent two hours at Luminate. You can go through it faster but I would allow at least an hour.
Is Luminate Sandringham good for kids?
Yes, the event is definitely family-friendly. Kids will love the light displays and have fun roasting marshmallows too. If you need more ideas for the family, be sure to check out our list of things to do in Norfolk with kids.
Can you see the Sandringham House on the trail?
No. The trail does not go by the House or in the Sandringham Gardens. It is in Sandringham Royal Park.
Is there food and drinks available for purchase at Sandringham Luminate?
Yes. In addition to the pitstop on the trail where you can get marshmallows and drinks. There is also the café and a few food and beverage vendors at the beginning of the trail. Credit cards are accepted.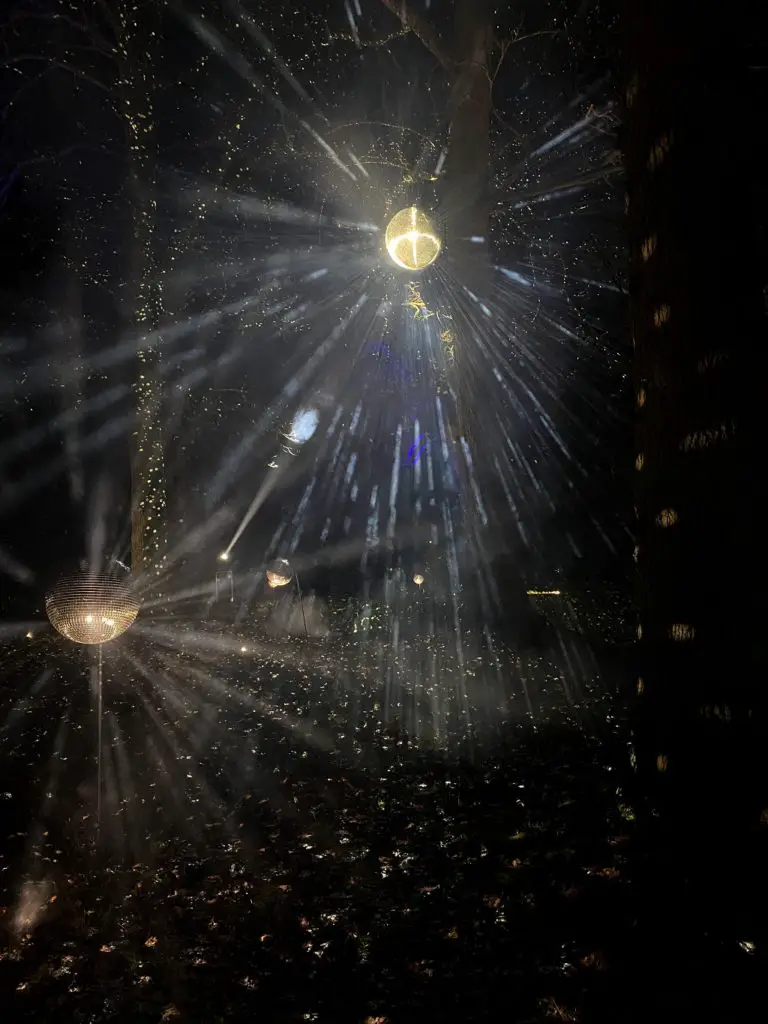 Is Sandringham Luminate Worth It?
The tickets to Sandringham Luminate are expensive, so I definitely thought twice before booking. We could see other Christmas decorations on display around Norfolk for free.
Looking back, I am glad that we decided to go ahead and visit Luminate at Sandringham. We had so much fun and the decorations were quite different to what I have seen at other displays. The event was well-organized and it never felt crowded. Both kids and adults had a fun night.