Houghton Hall's latest contemporary art exhibition features Chris Levine. Unlike the summer exhibitions, this one takes place in the evenings as much of the artwork uses lights and lasers. We attended the press preview and wanted to share our experience so that you can decide if you would like to go too.
Note: This post contains affiliate links.  As an Amazon Associate, we earn from qualifying purchases. Please see disclosure for more information.
About Houghton Hall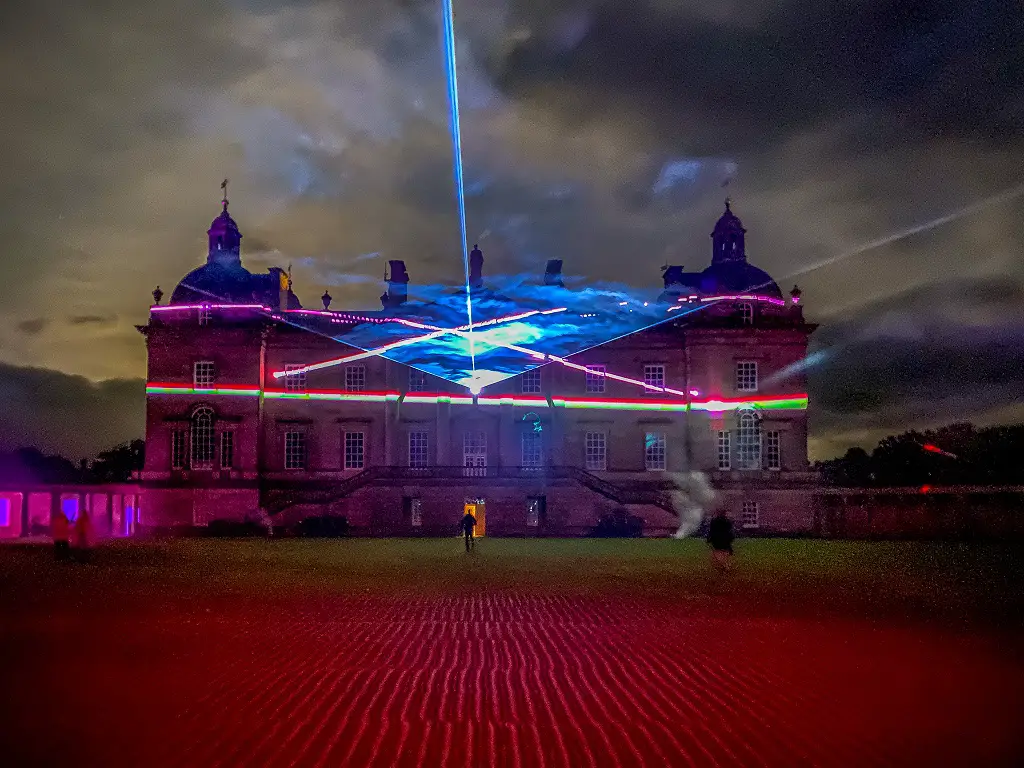 Even without a special art exhibition, Houghton Hall is worth visiting. Houghton Hall was built in the early 18th century by Great Britain's first Prime Minister, Sir Robert Walpole. It was designed by prominent Georgian architects Colen Campbell and James Gibbs.
The estate passed to the Cholmondeley family at the end of the 18th Century and remains a family home. It's one of the finest examples of Palladian architecture in the country and has been open to the public since 1976.
Art Exhibitions at Houghton Hall
In recent years, Houghton Hall has started a tradition of holding modern art exhibitions for well-known artists during the summer and early autumn. It began with James Turrell in 2015, then Richard Long in 2017, Damien Hirst in 2018, Henry Moore in 2019, Anish Kapoor in 2020, and Tony Cragg in 2021.
The Chris Levine exhibition is the first autumn/winter show that Houghton Hall has done. It makes sense because the outdoor installations need to be seen when it is dark.
*Keep up to date with what's happening in Norfolk by signing up for our email list here.
About Chris Levine
Chris Levine is a UK-based light artist. He uses different technologies to reveal the ways light is fundamental to human experience. Levine likes to use light, sound, and geometry to create a space where consciousness and the physical realm overlap.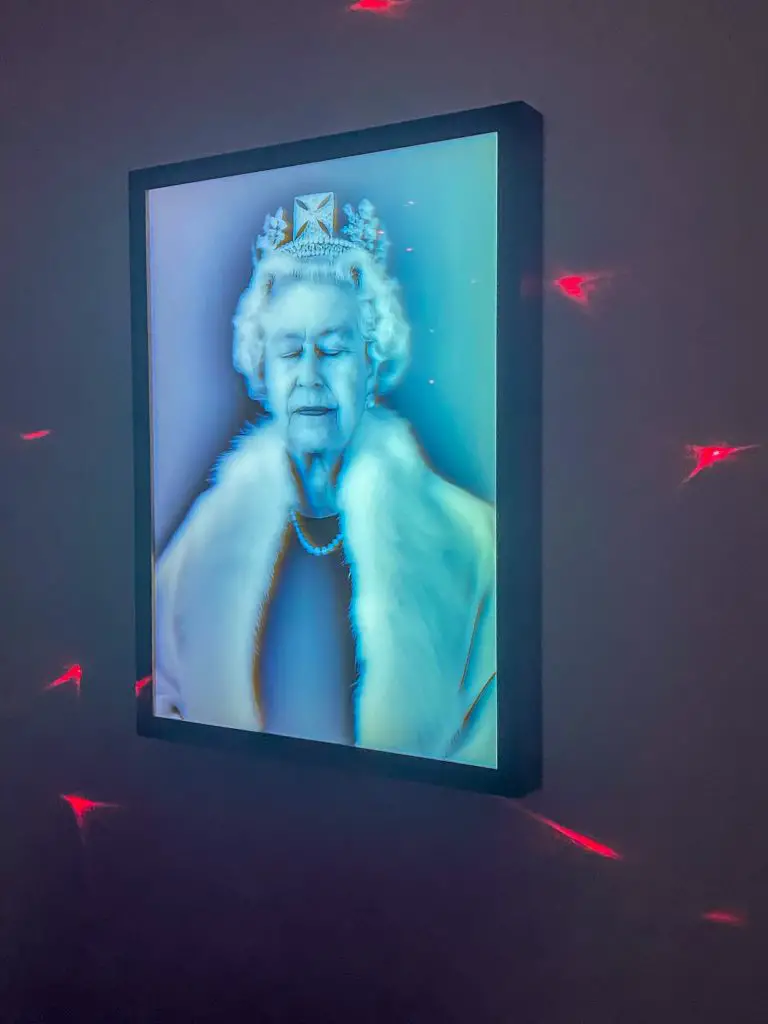 Also known for his portraits, he has five works in the permanent collection of the National Portrait Gallery in London. The museum describes his image of Queen Elizabeth II called Lightness of Being as the most evocative image of a royal by any artist. His portrait of Banksy sold for 10 times the estimate at Sotheby's.
Chris Levine at Houghton Hall
At the exhibition, called 528 Hz Love Frequency, you will see a collection of Chris Levine's light and portrait works. 528 Hz, sometimes called the love frequency, is the middle note on an ancient scale that has been used to soothe and heal the human soul. A South American shaman was used to survey the estate for hidden energy to help determine the placement of the artwork.
The Molecule of Light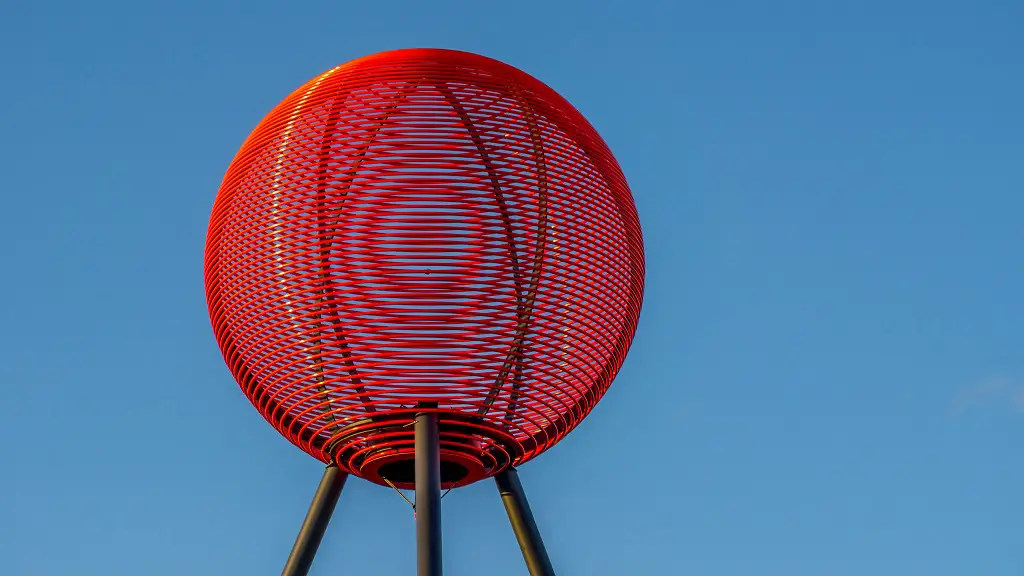 The first thing you will notice when you come to Houghton Hall to see Levine's exhibition is the Molecule of Light. It stands 25 metres tall on the lawn in front of the house. On top of the tripod-like structure sits a 6.5 ton ball with a meteorite inside.
The Molecule is designed to produce a moire effect on the surface if you look up at it while walking around. Lasers have been installed on the house and at strategic points around the estate, which create abstract moving light patterns on the Molecule, the house and gardens.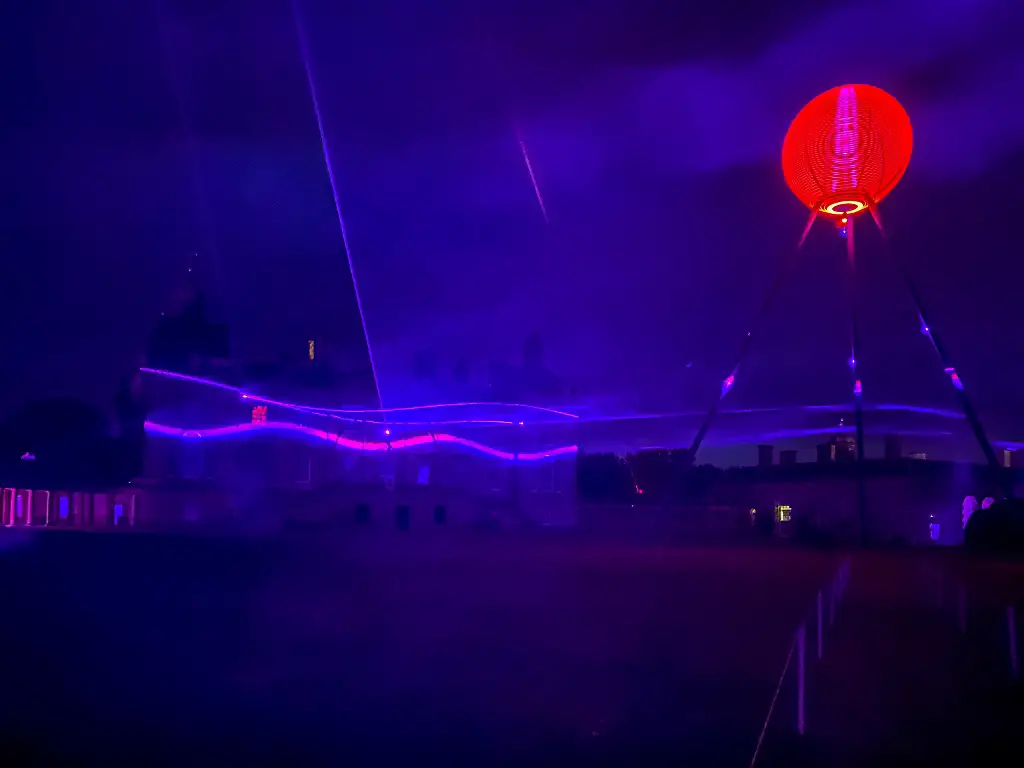 Smoke machines ensure the beams of light are visible, as well as creating more patterns in the light. One laser is aimed directly at the meteorite at the centre of the Molecule, and there is another aimed from the Molecule up at the North Star.
The sculpture also emits a constant note, pitched at the 528 Hz frequency. Stand directly under the center of it and you may even get a natural high. The overall effect is to transform the landscape into an almost otherworldly scene with a strangely calming, and almost reverential atmosphere.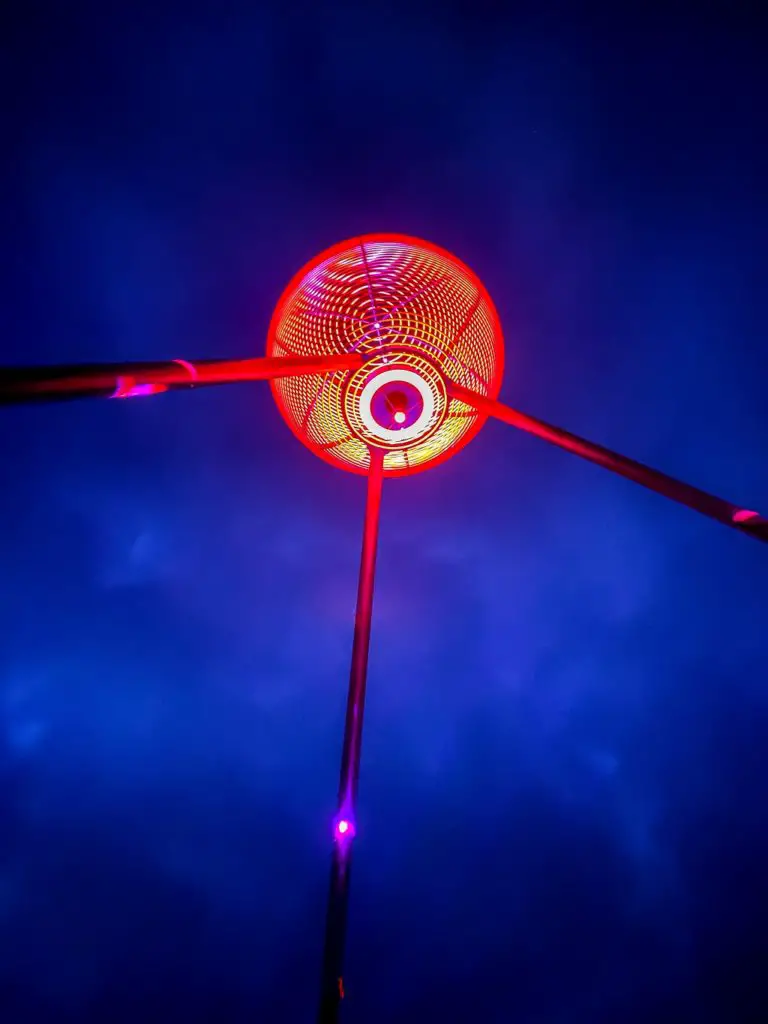 While the Molecule of Light may be the first piece you see, I would encourage you to look back at it throughout your time at Houghton Hall. Not only will the laser patterns vary, but changes in wind and light levels will impact the work. It could look quite different at the beginning and end of your visit.
South Wing Gallery
In the South Wing Gallery, you will see a collection of Levine's most famous portraits shown together for the first time. Along the side walls there are the quasi-holographic portraits of the Queen, Banksy, Grace Jones, Andrew Cox, Kate Moss, and Sir Ranulph Fiennes. They were all asked to focus on a specific point so Levine could capture them without distraction. Levine created an ultraviolet cross for the Queen to concentrate on.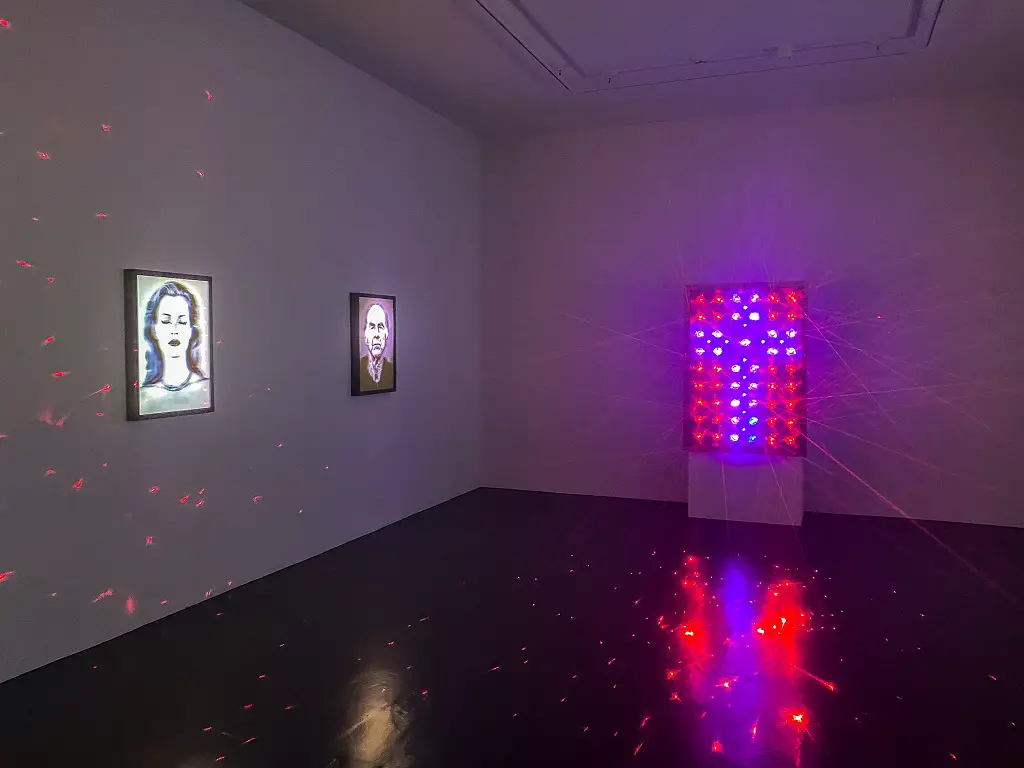 On the back wall of the South Wing Gallery, there is a lighted cross, called LIGHT at the end of the tunnel, which is actually a matrix of lasers directed through a crystal crucifix that transmits lasers around the room. It was originally commissioned in 2010 by the Genesis Foundation for Holy Trinity Church in London and later adapted for Durham Cathedral.
Colonnade
In the Colonnade, there is a series of what looks like framed abstract prints on the wall. As you walk through, you can see some blue light moving on the wall in the room at the end. Don't hurry past these exhibitis though.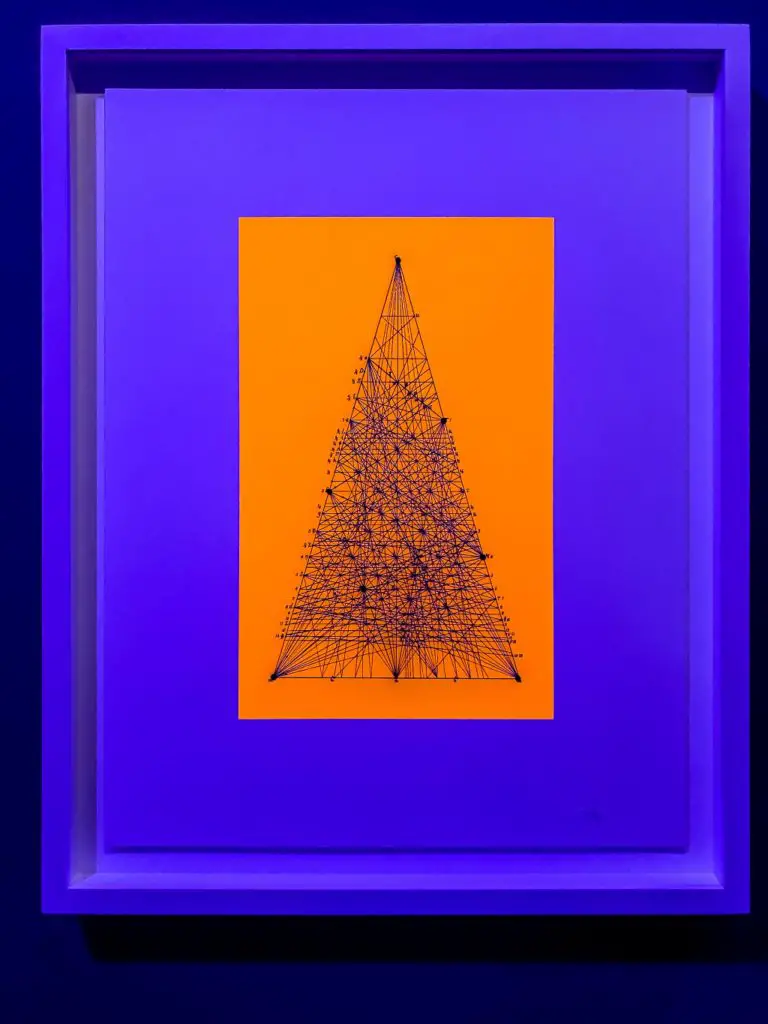 Some of them were made by shining a laser through crystals to show the light pattern it would create. These patterns were etched into a sheet of paper using a laser. Illuminated by blacklight, the paper almost seems to glow. There is also a series of luminous screen prints that are dusted with crystals.
Down the hall, there is a small room that radiates blue light. Inside, you will see four thin white lines made by light and a plinth with a blue orb that seems to float inside a transparent cube. The overall experience feels a bit hypnotic.
The four white lines of light produce an interesting effect. When you look straight at them, they are simple vertical lines. As you turn to look away, you notice something that wasn't there before: an image suspended in the air beside each one.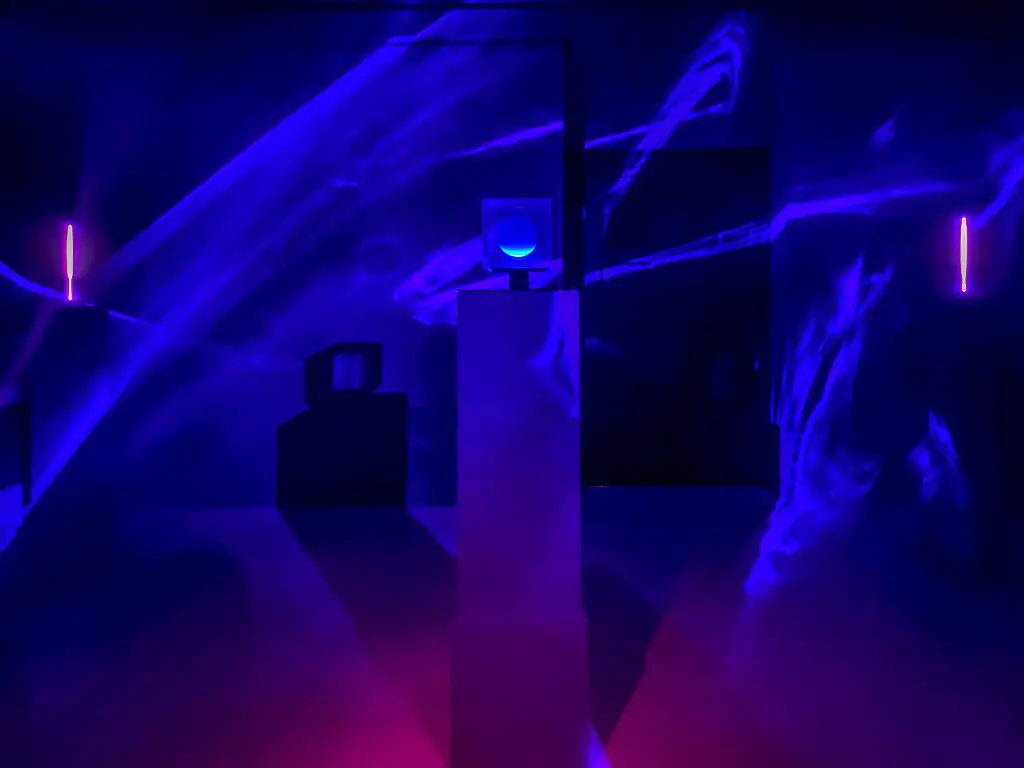 The image changes over time. Sometimes they are platonic solids, sometimes a self-portrait of Chris Levine. When I saw it for the first time it took me a while to figure out how to see it again. The image is transitory, only appearing for a brief flash as you turn your head or look away. If you try to look more closely at it, it disappears.
Because the images are only visible to each person as they interact with the light, everyone's experience of the artwork is unique to them, but the sense of wonder is common to all. During our visit the reactions of everyone in the room showed that everybody was having an experience that was both shared and individual at the same time. The juxtaposition of these fragile, momentary images with the sculpture in the middle of the room and the blue light dancing on the walls reminds you that art is not just about how you experience it – it should be fun!
North Wing Courtyard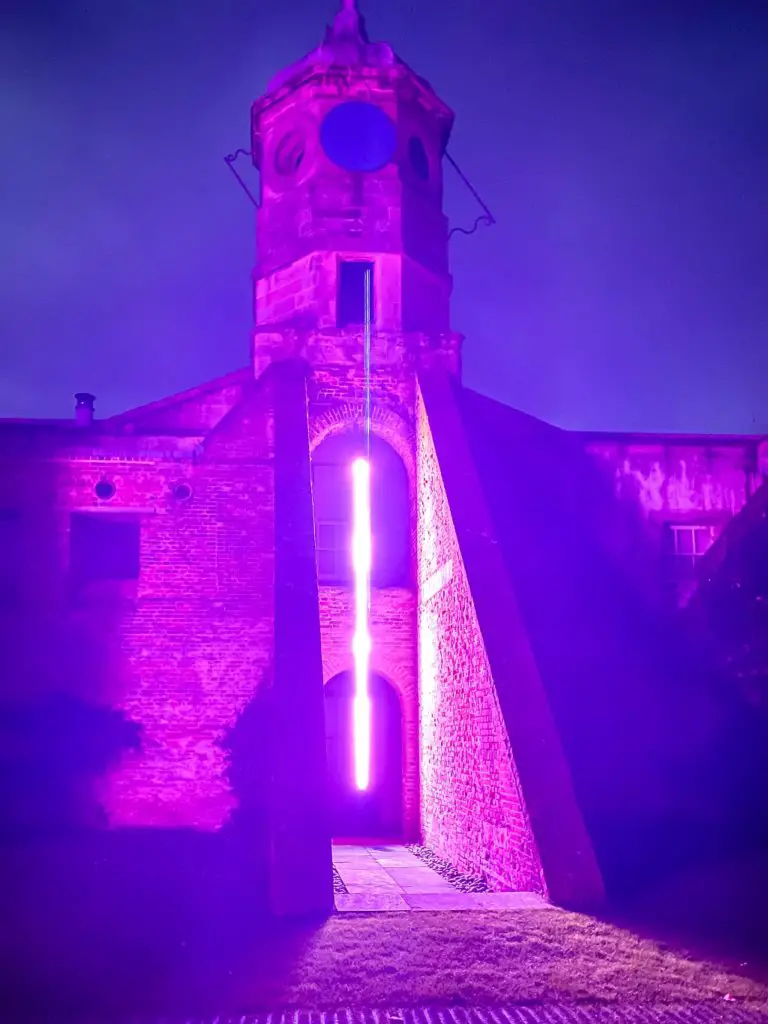 Perfectly placed between two buttresses and over arched doorways in the North Wing Courtyard is the Arch Angel. At first look, it appears to be a long white line of light. Similar to the self-portrait, turn slightly away from it and the magic happens – you will see different geometric shapes including Metatron's Cube.
The Roundel
Walking around the lawn, more laser beams are visible, coming from behind the trees and hedges just north of the lawn. At first I thought this was part of the lasers for the Molecule, but there was a path directing us toward the source. As you follow the light, you see a red square cross emerge and below it a VW van. When I saw this, it was so unexpected that I just had to smile.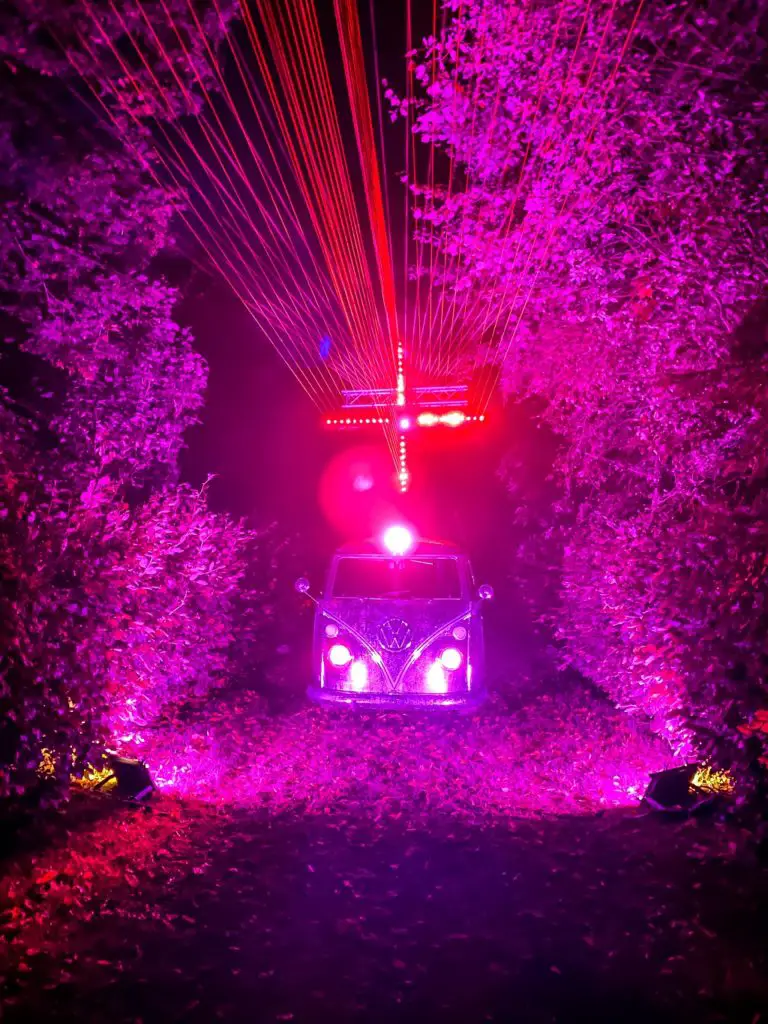 The long corridor of light leading to the cross is almost reminiscent of religious iconography and I was reminded that Levine looks to include a spiritual element in his work. Then I turned around and saw that the lasers that had led me here were now moving in a wave. It was mesmerizing.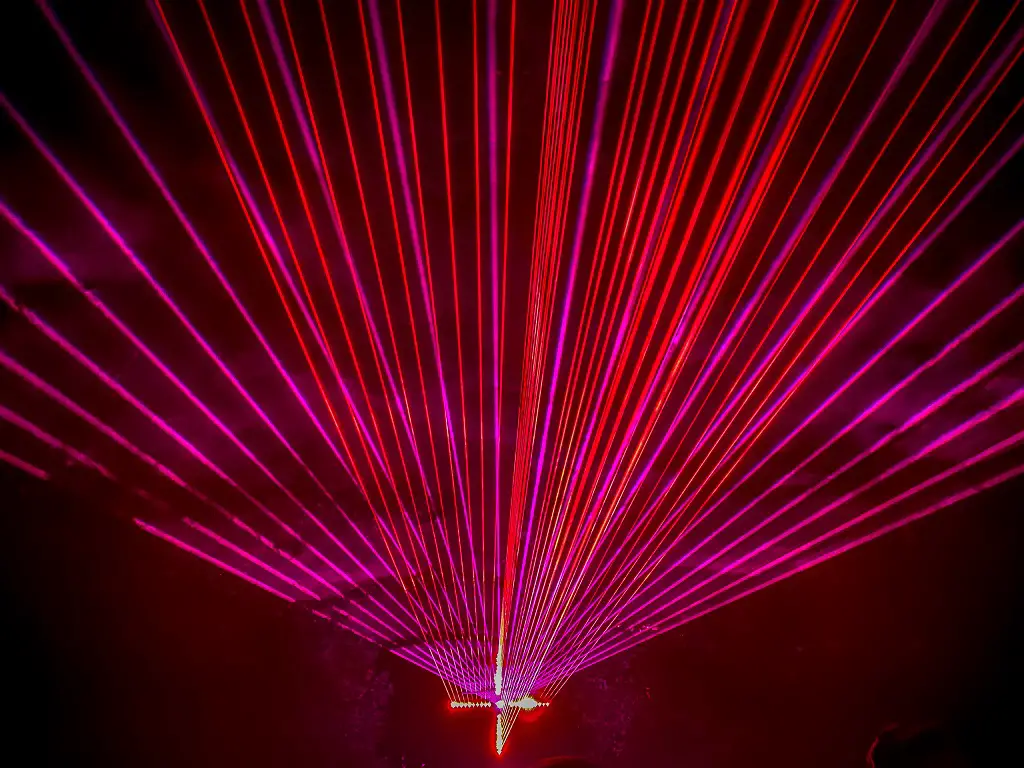 Chris Levine at Houghton Hall Review
Words and two-dimensional photos can not do justice to this art exhibition. It's one of the best art shows I have ever been to and something that you must experience for yourself.
Most of the exhibition takes place outside, but you don't have to worry about getting lost in the dark at Houghton. There are well marked paths that are lined to make it easy to walk around at night.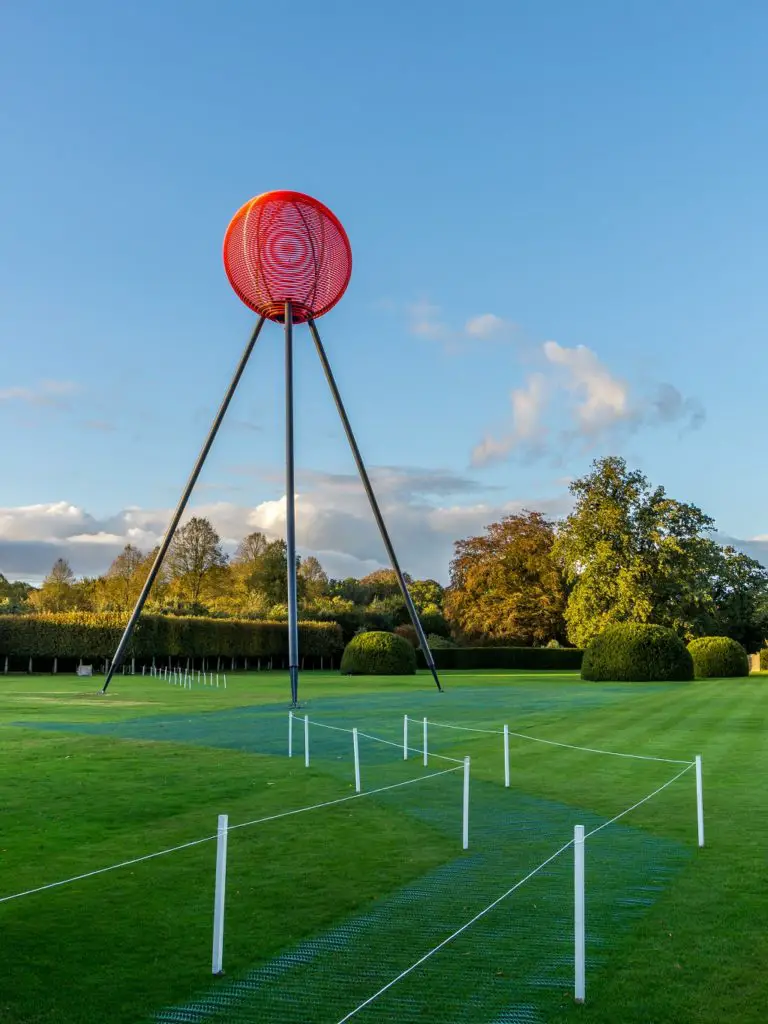 Visually the work is captivating, but this art is more than just something to look at and admire. With the sound, it's more of an immersive installation that makes you feel relaxed and excited at the same time. You think about the deeper meaning of the works while wondering how Levine made the magic happen. When you turn around and look at the art again, you see something new and unexpected.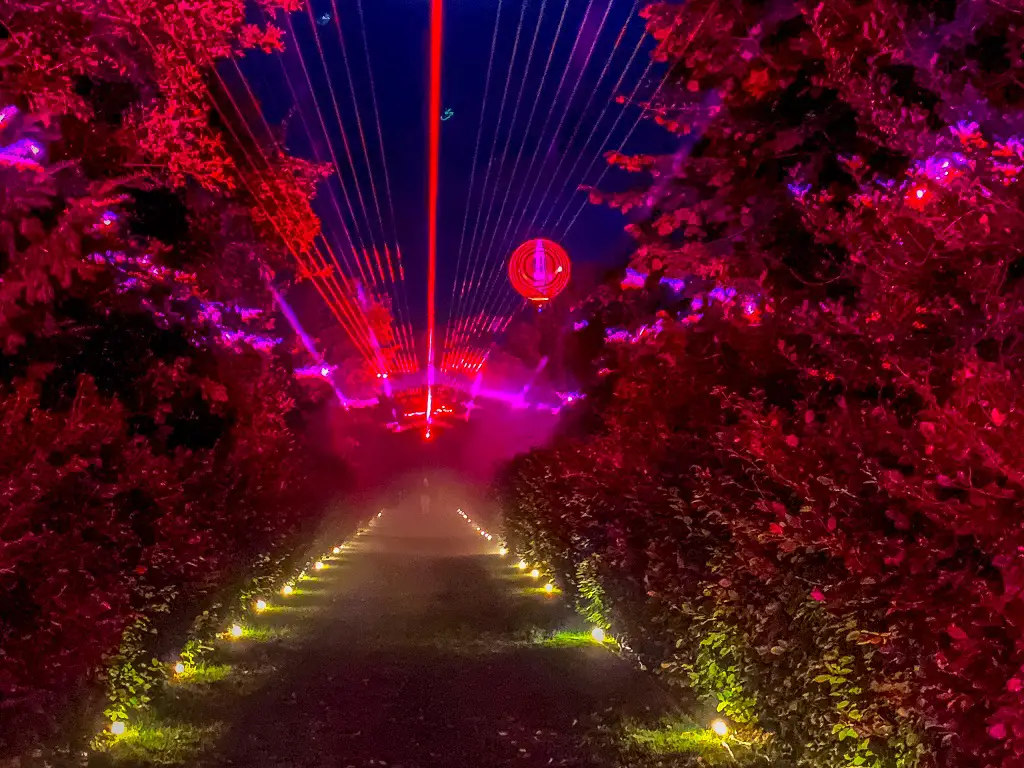 Chris Levine curated the exhibition himself. His team and the staff at Houghton Hall deserve high praise for not only putting together such a special event but being able to install it in only a few weeks.
Chris Levine at Houghton Hall FAQs
dWhat are the dates for the Chris Levine exhibition at Houghton Hall?
The exhibition is open Thursdays, Fridays, and Saturdays from 16:30 to 21:00 from 22 October through December 23.
How much are tickets for the Chris Levine exhibition at Houghton Hall?
Tickets are £18 per adult. Children under 18 are free. Purchase your tickets online in advance here.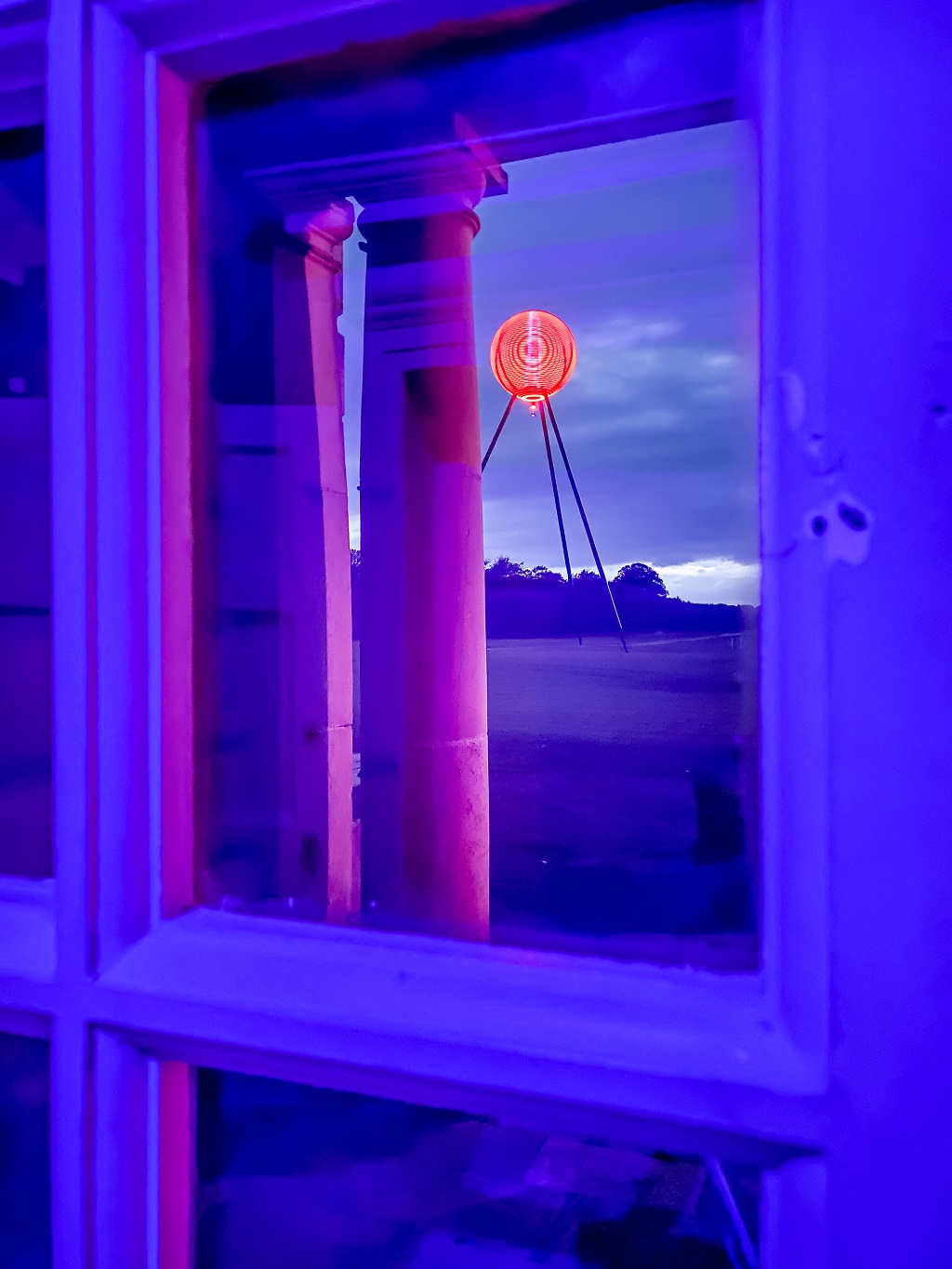 How long does it take to see the Chris Levine exhibition at Houghton Hall?
I would recommend allowing around 90 minutes for your visit. You will want some time to experience the art. Some installations change (especially the Molecule of Light) and look different over time.
Is the Chris Levine exhibition at Houghton Hall good for kids?
Yes. I think the lights will mesmerize kids as well as adults, plus it's nice that all kids are admitted free. If you need more family-friendly ideas, check out our list of things to do in Norfolk with kids.
Will there be food or drinks available for purchase during Chris Levine's exhibition at Houghton Hall?
Yes, the Stables Cafe will be open serving food and drinks and there will also be a pop up on the West Lawn serving hot drinks and snacks.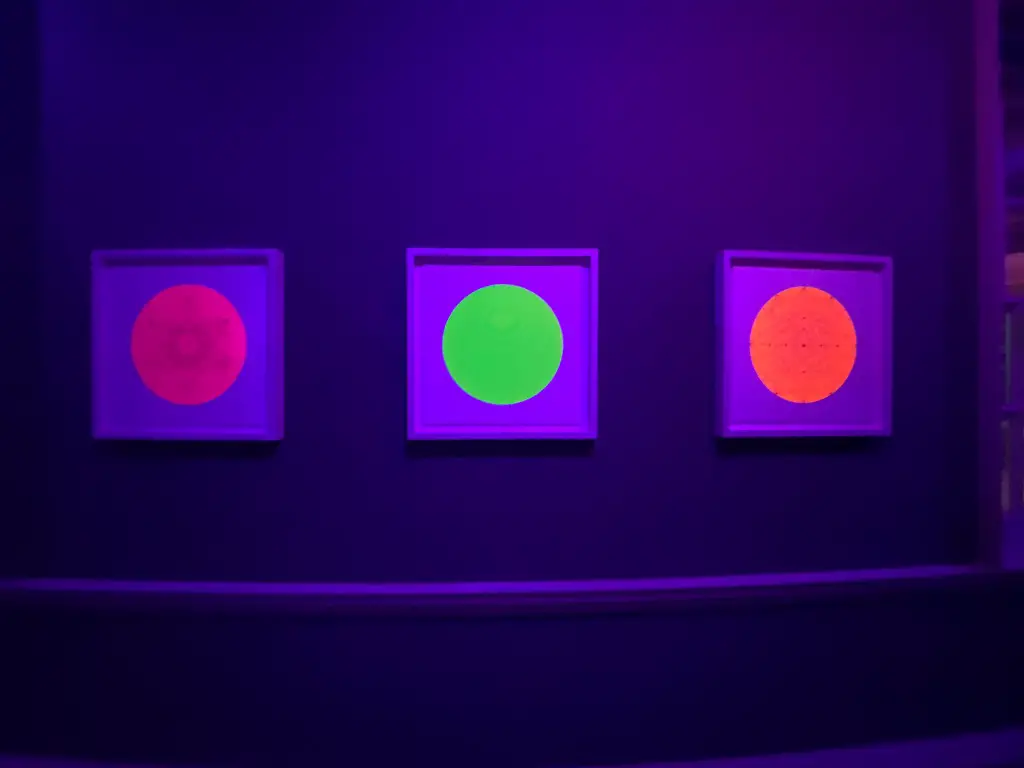 Will Houghton Hall's Walled Garden be open during Chris Levine 528 Hz Love Frequency?
No since the event takes place during the evenings when it is dark, the Walled Garden will not be open.
How do you get to Houghton Hall?
You will need to drive to Houghton Hall which will take around an hour from Norwich. Use post code PE31 6TY. It's located off the A148 which runs from Fakenham to King's Lynn, just look for the brown tourist signs. There aren't any public transportation options close by.
If you want to come by train, the nearest train station is King's Lynn which is 14 miles away. From there, you could take a taxi.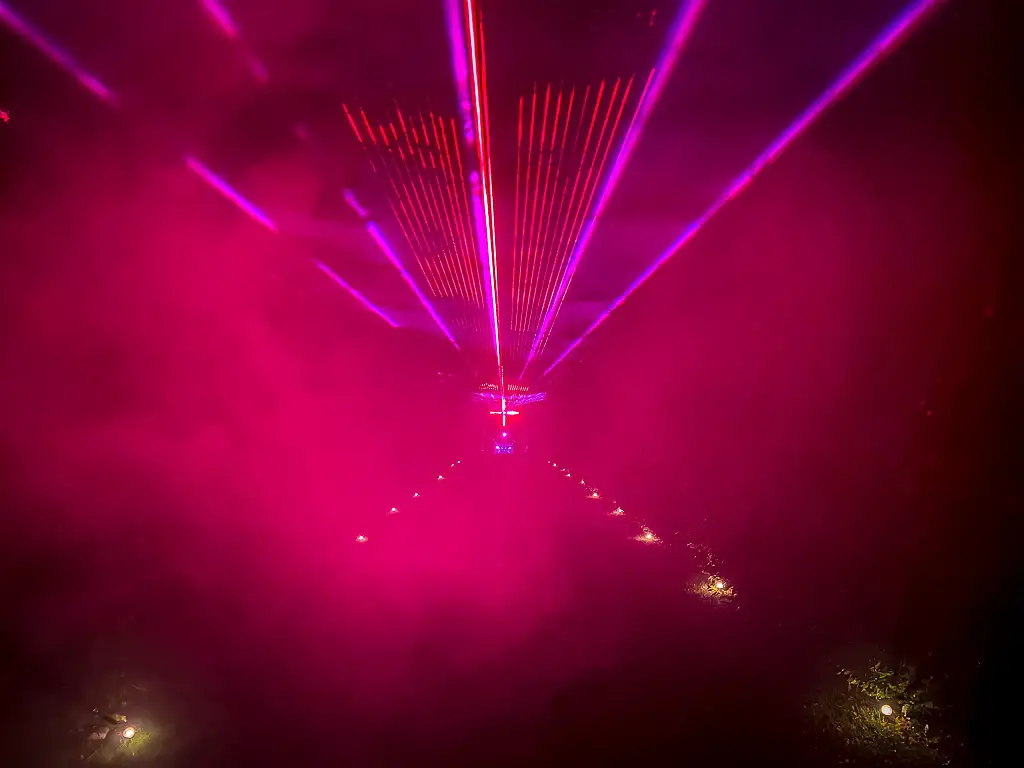 More Things to Do Near Houghton Hall
While you are in the area to see the exhibition at Houghton Hall, you could also visit some other attractions (including some of the best castles in Norfolk) nearby.
Sandringham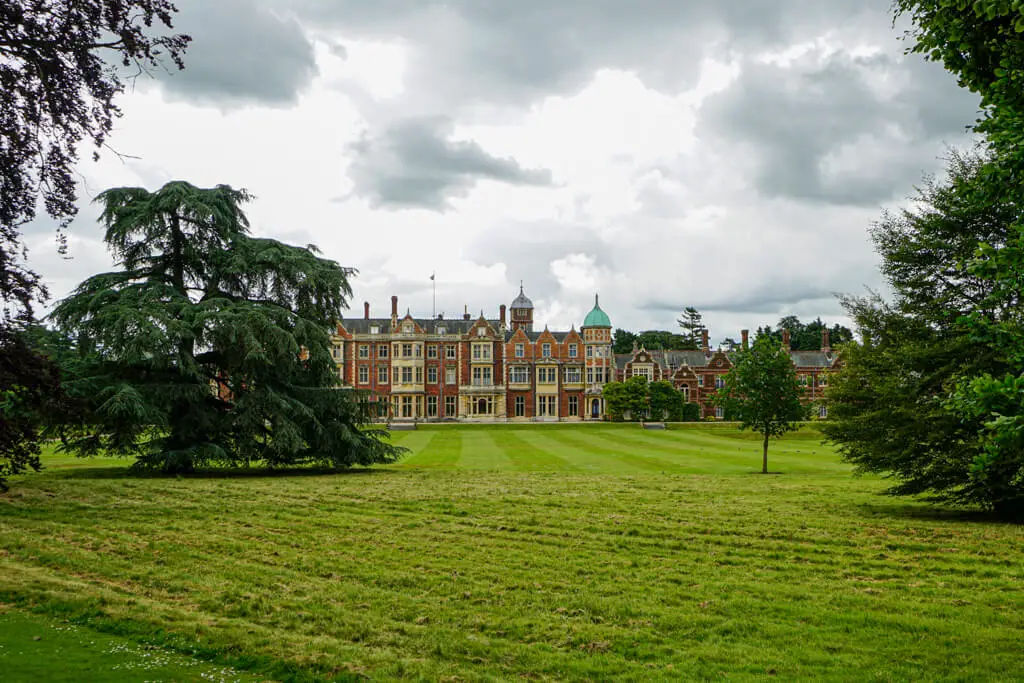 Sandringham is the beloved country retreat for Queen Elizabeth II. While the house is closed for the winter, you can still visit the Royal Park.
It's also nice to go for a walk in the Royal Park which includes almost 243 hectares. There is also a new Children's Adventure Play Area inspired by the Duchess of Cambridge's 2019 Chelsea Flower Show garden. Get more information here.
From mid November to mid December, it is home to a light trail called Luminate. In addition to the lights, there are special effects, music, interactive installations, and a fun fair. You can read our review of Sandringham Luminate for more information.
Castle Acre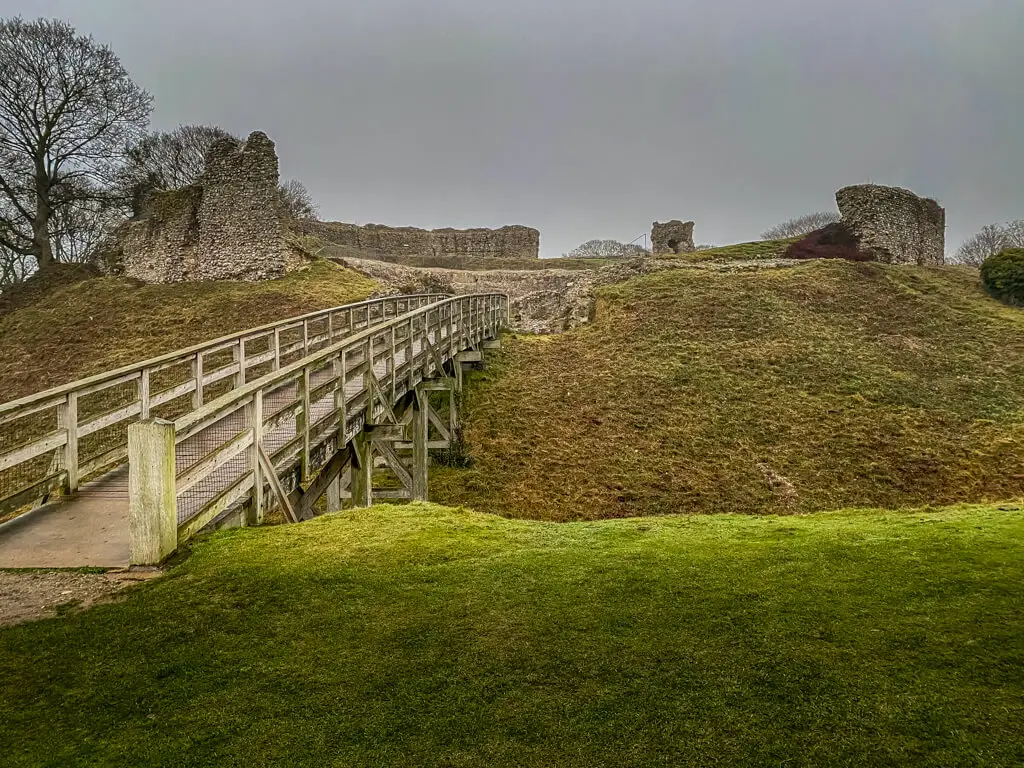 Castle Acre is a small village home to ruins of a castle and priory. The main road into the village still runs through the Bailey Gate, which is one of two stone gatehouses added to the massive earthwork defences around 1200.
The motte and bailey castle was founded soon after the Battle of Hastings by William de Warenne, a close associate of William the Conqueror. The Castle Acre Priory was the home of England's first Cluniac order of monks.
Both the Castle and Priory are English Heritage sites so free for members. Non-members can visit the Castle for free but will need to pay for parking and admission to the Priory. Get more information about English Heritage membership here.
Get more information about visiting Castle Acre Castle and Priory here.
Castle Rising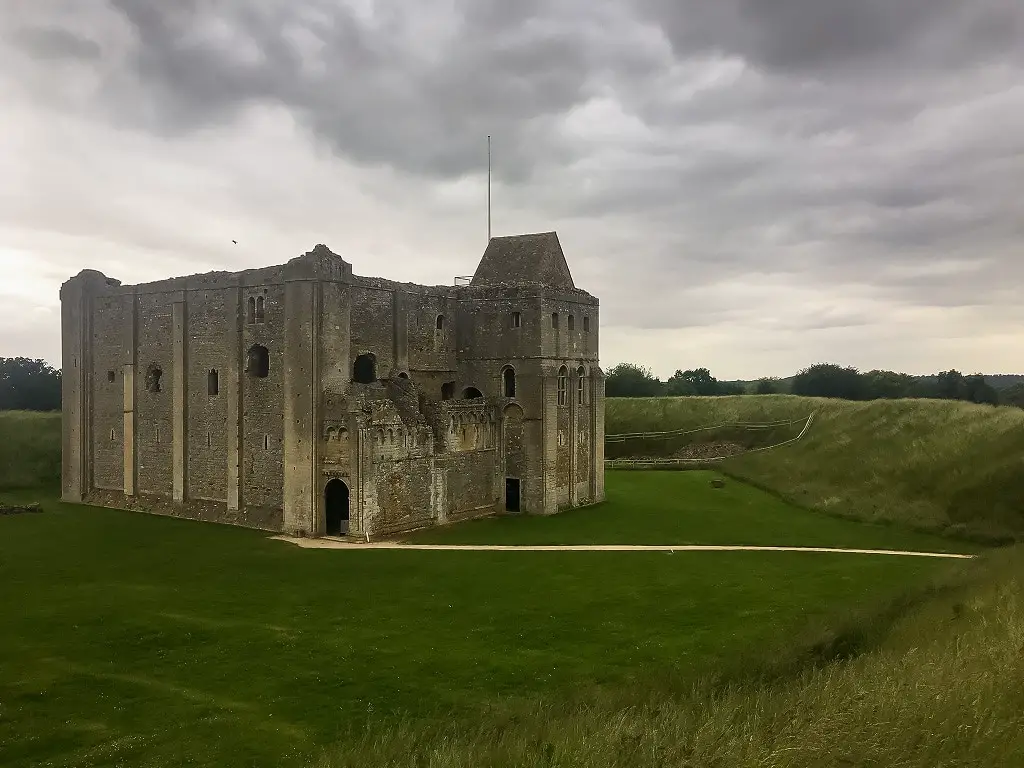 Castle Rising Castle is one of the most famous 12th-century castles in England because the stone keep is mostly intact and it is surrounded by massive earthworks. In the 14th century, it was the luxurious residence of Queen Isabella, widow (and alleged murderess) of Edward II. English Heritage members can visit for free. Get more information about English Heritage membership here.
Get more information about visiting Castle Rising here.
King's Lynn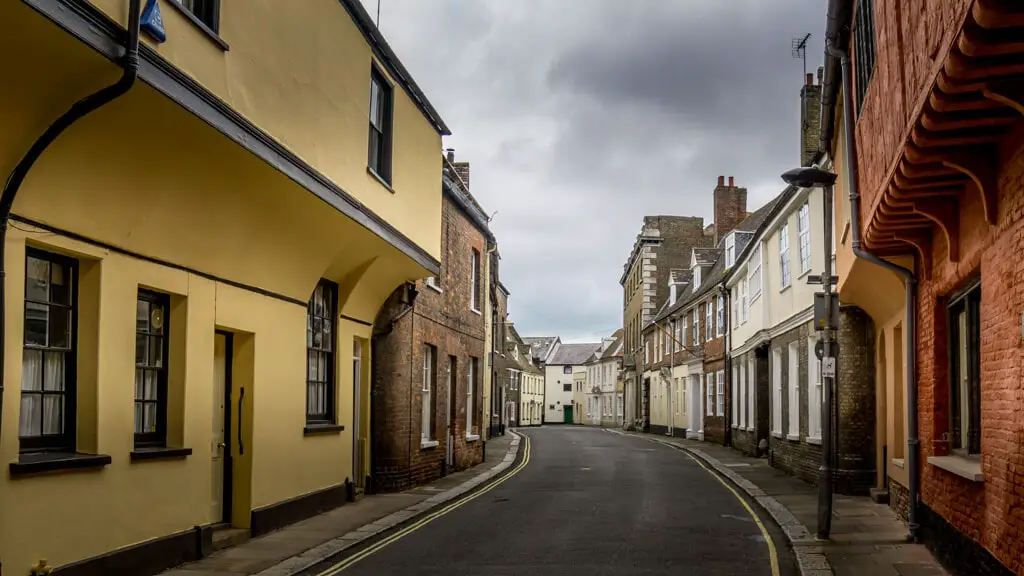 About a 30-minute drive away, you will find the historic town of King's Lynn, which used to be one of the most powerful ports in England. It has charming medieval architecture, historic churches, lovely parks, museums, theatre, and more.
Read more about the best things to do in King's Lynn.
Places to Stay Near Houghton Hall
If you are coming to Norfolk to see the Chris Levine exhibition at Houghton Hall, you might want to stay nearby. That way you will have more time to explore. Even though Houghton Hall is located in a rural area, there are some lovely accommodation options only a few miles away.
Ffolkes Arms Hotel – About a 10 minute drive from Houghton Hall, you will find this charming 300 year old inn. They have 24 en suite rooms, a restaurant, indoor games room, and children's playground. Check the price and availability here.
The Pig Shed Motel – Don't let the name fool you, the rooms here are luxurious. Built in 2018, this eco-friendly motel is great value. It's located about 2 miles from the Castle Acre Castle. Check the price and availability here.
Titchwell Manor – If you want to stay a bit closer to the North Norfolk Coast, this Victorian farmhouse turned luxury boutique hotel would be ideal. It was included on The Times Top 100 Best Places to Stay in 2019. Some rooms have an enclosed private terrace with a wooden hot tub. Check the price and availability here.
Places to Eat Near Houghton Hall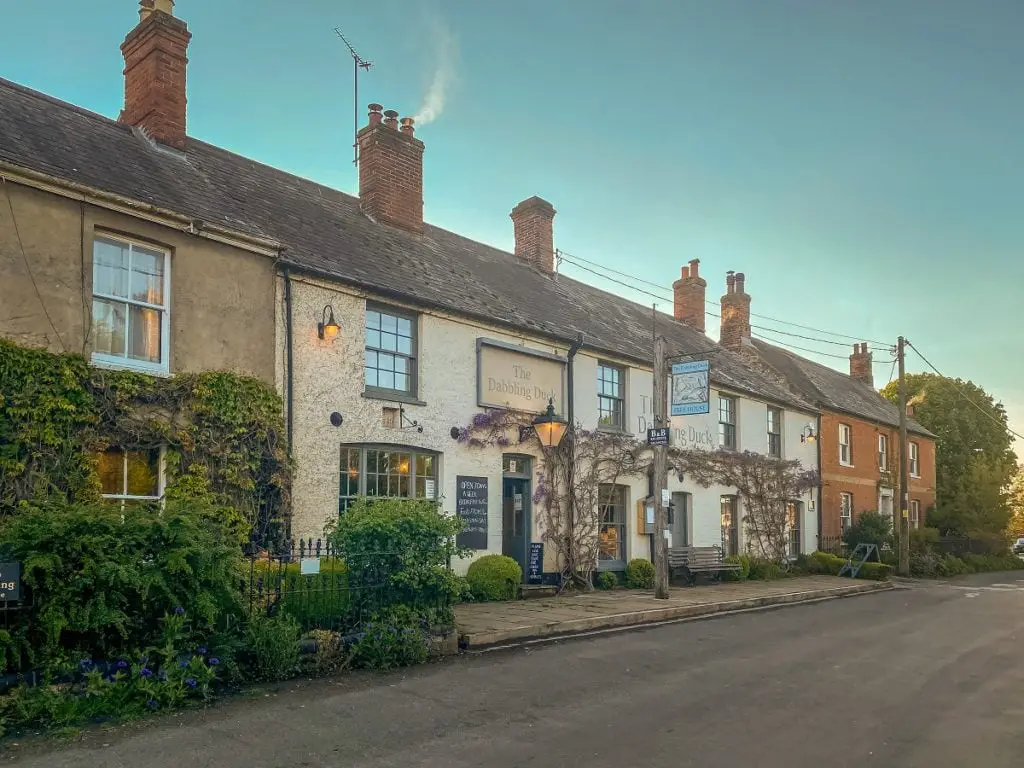 One of our favourite pubs, which serves excellent food, is the Dabbling Duck in Great Massingham. It's only about a 10 minute drive away. Read my review of the Dabbling Duck here.
Other popular options include the Rose & Crown in Harpley and the Three Horseshoes in Roydon.
Disclosure: This post contains affiliate links. This means we will receive a small commission for some purchases made using links in our blog with no additional cost to you.  Please be assured we would not promote any product unless we believe that our readers will also benefit.  The commission does not influence the editorial content of this site.