The Grayson Perry: The Pre-Therapy Years exhibition explores some of the artist's earliest works (1982-1994). His unique pottery from this period has been brought together after a public appeal in 2018 by Perry and the Holburne Museum in Bath, where this exhibition first opened in January 2020.
You can see Perry's art at the Sainsbury Centre in Norwich now until 30 January 2022. Let me share what you can expect at Grayson Perry: The Pre-Therapy Years.
Note: We were offered press tickets for the Grayson Perry exhibit at the Sainsbury Centre. Images of Grayson Perry's work were provided by their press office.
Note: This post contains affiliate links.  As an Amazon Associate, we earn from qualifying purchases. Please see disclosure for more information.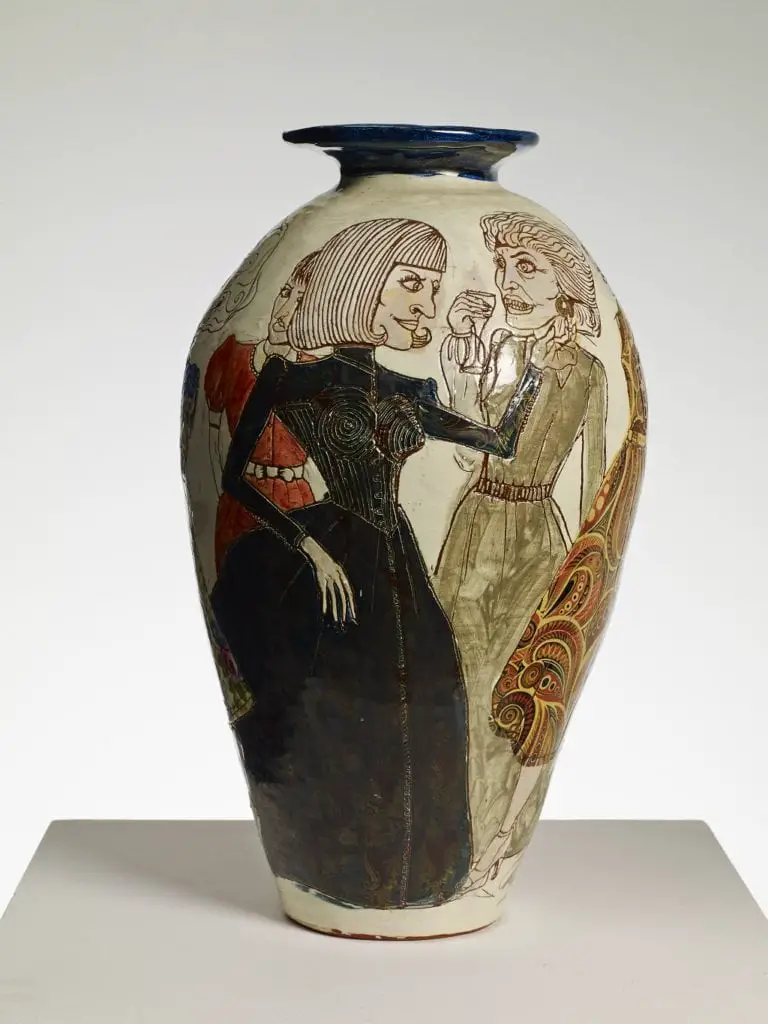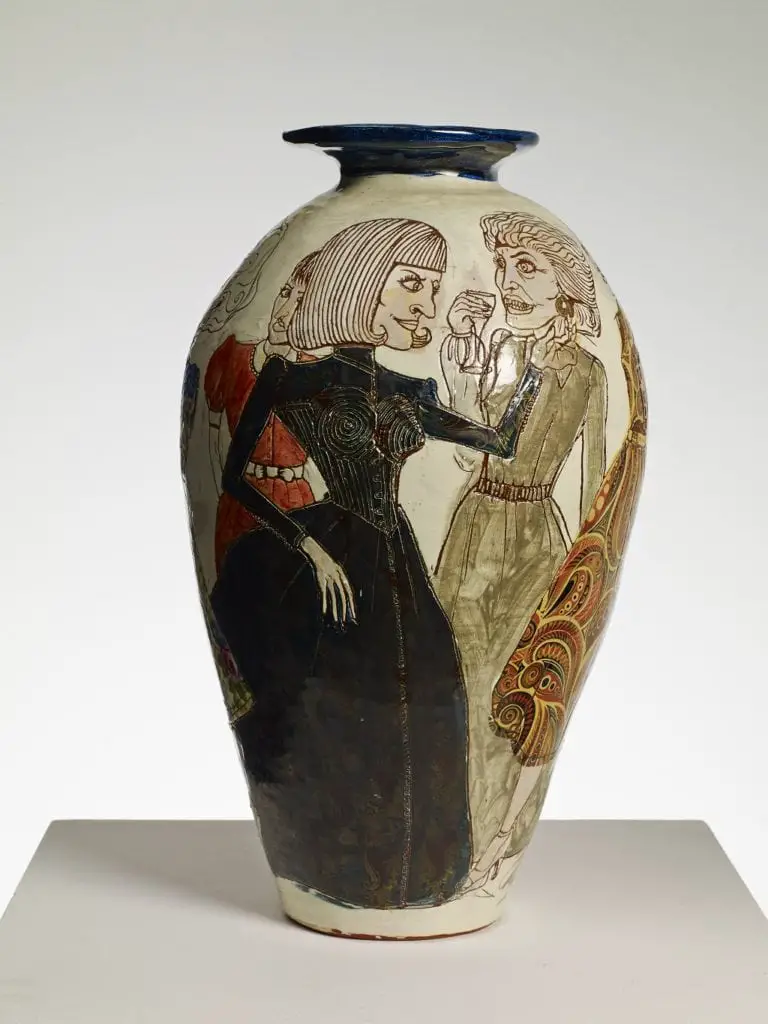 About Grayson Perry
Grayson Perry CBE RA is a contemporary English artist, writer, and broadcaster who has quite the reputation. Some would even say he is a national treasure because of his distinctive style.
As an artist, he is best known for his pottery, collages, and tapestries, but he also ventured into film-making for a bit. He likes to explore the themes of gender, identity, and social class in his art and has not been shy about sharing his thoughts as a social commentator on television and in print.
He grew up in Essex which became a subject in some of his work. His connection is apparent by maps of significant places in Essex and motifs that he associated with the county. He takes pride in the contrast between Essex and the picturesque English countryside.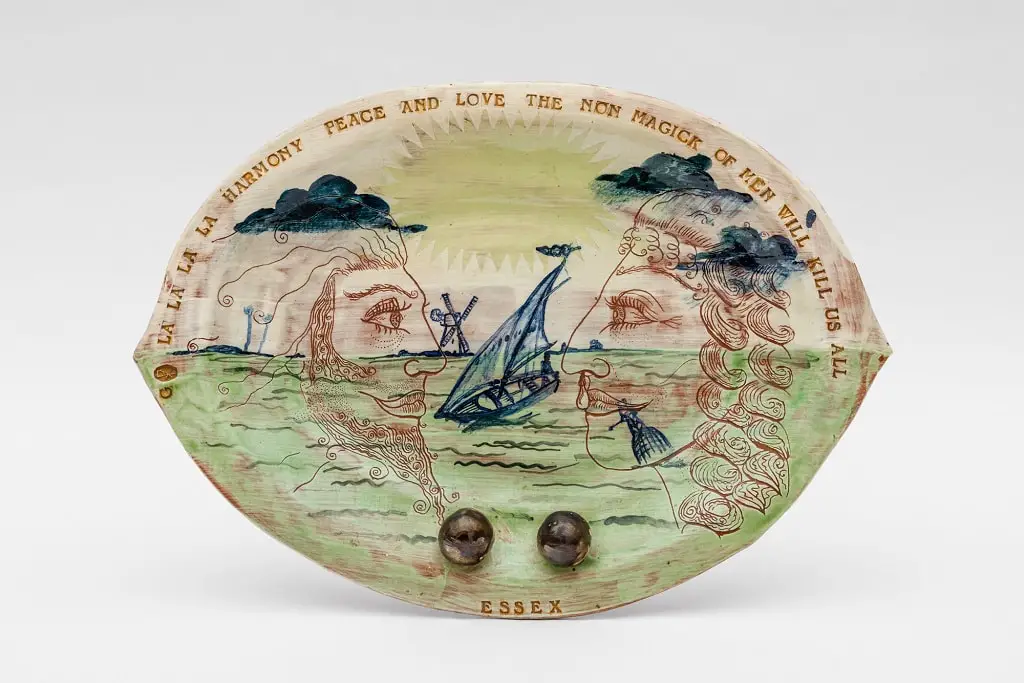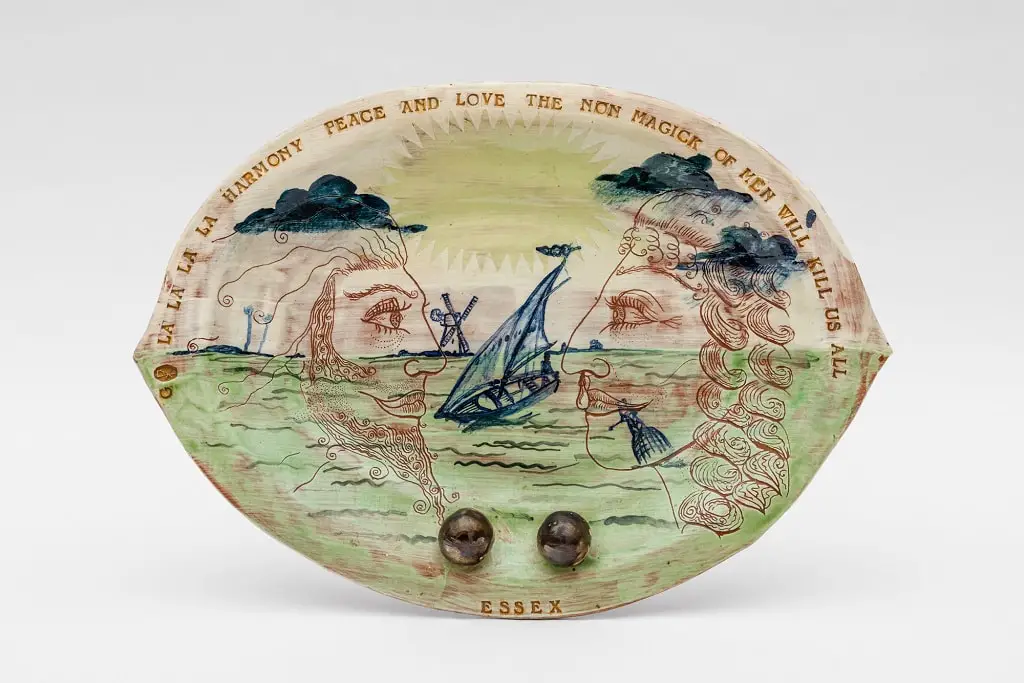 Perry's childhood was a difficult one. His parents divorced and he moved between them. Perry claimed that his stepfather was abusive and became estranged from his mother.
From an early age he started cross-dressing and still frequently appears in public dressed as a woman, his female alter-ego, "Claire." She is a stylish woman who embodies aspects of Princess Diana, Margaret Thatcher, and a typical office girl. You will see Clare in some of his artwork.
Since 2010, he has been living in north London with his wife, the author and psychotherapist Philippa Perry. The couple has one daughter, Florence, born in 1992.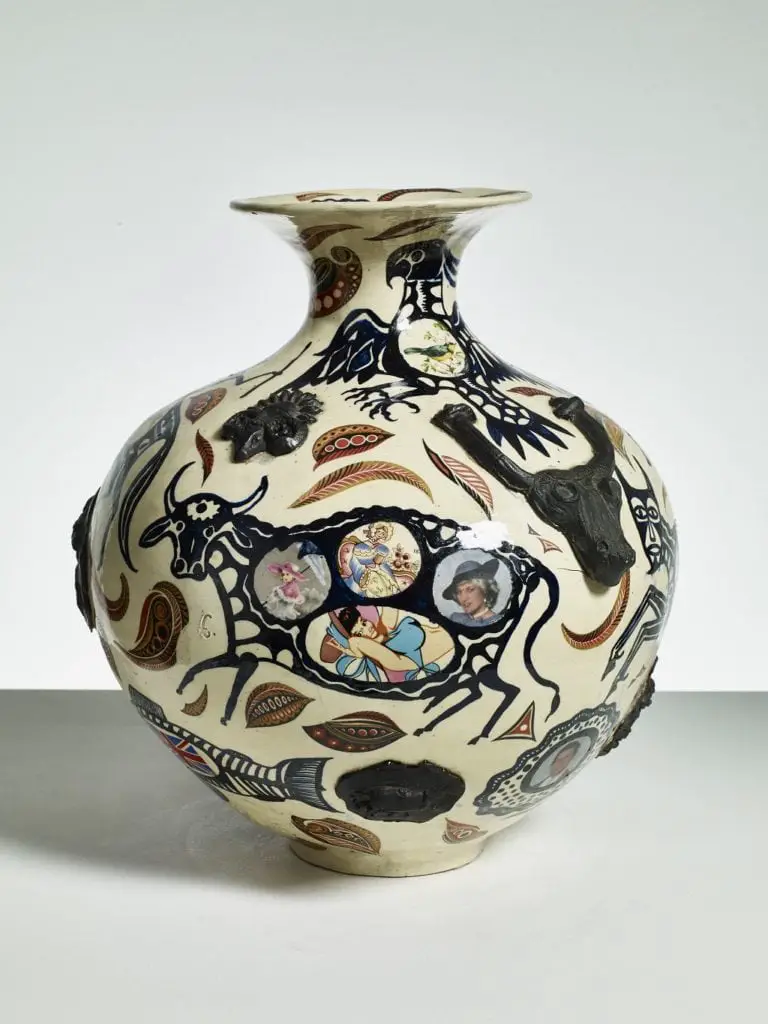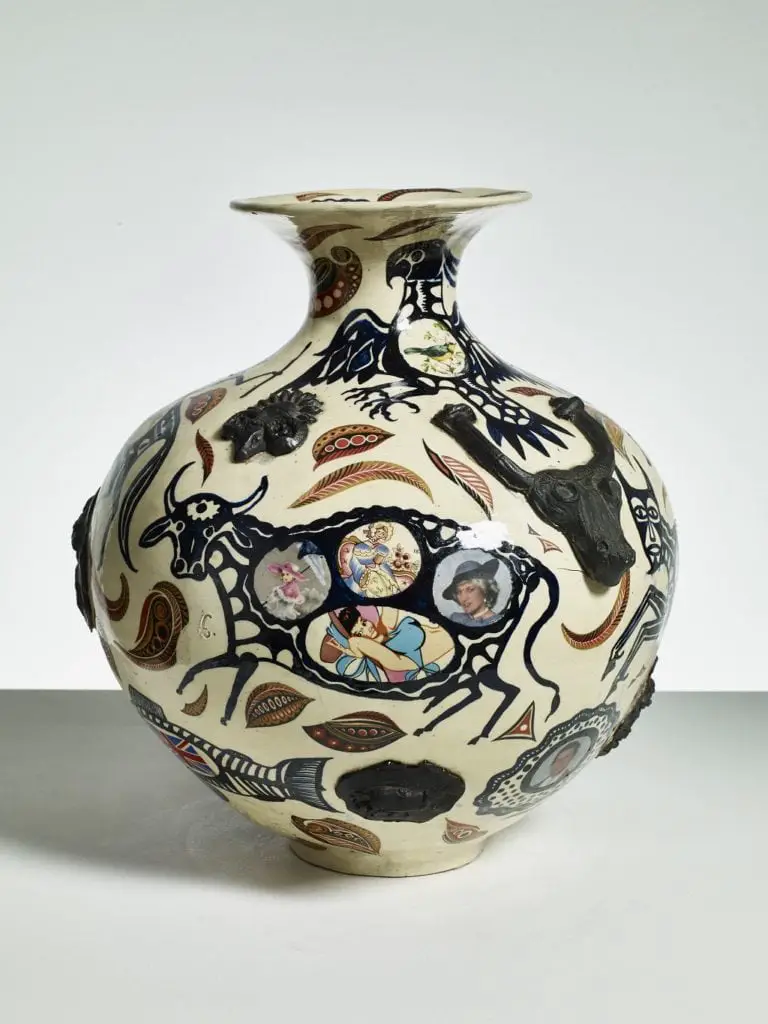 What to Expect at the Grayson Perry: The Pre-Therapy Years Exhibition
The Grayson Perry: The Pre-Therapy Years exhibition includes his earliest works made from 1982-1994. Most of what you will see is pottery (both clay and glazed ceramic plates and vases) that he has drawn or painted on. There were also some sketchbooks, a wooden shed-like sculpture, and films.
Through his work, he explores social themes like gender and class with a bit of satire. Some pieces are intentionally shocking. A few of my favourites were:
Sketchbooks: I enjoyed getting a glimpse into what was like a diary for Perry. It was like a behind-the-scenes tour into his thinking at the time.
Newsreader: It was interesting to see the image of a female role model for Perry. The woman is based on Sue Lawley and her hair and eyes are quite striking.
Untitled True Blue: This Toby Jug shows what Perry saw as values during Margaret Thatcher's time as Prime Minister. Have things changed?
Self-Portrait Cracked and Whipped: This plate has an upside-down self-portrait along with self-mocking text. The crack and warping were not intentional.
Sales Pitch: The words written on this vase is its sales pitch. It shows Perry's sense of humour and creativity.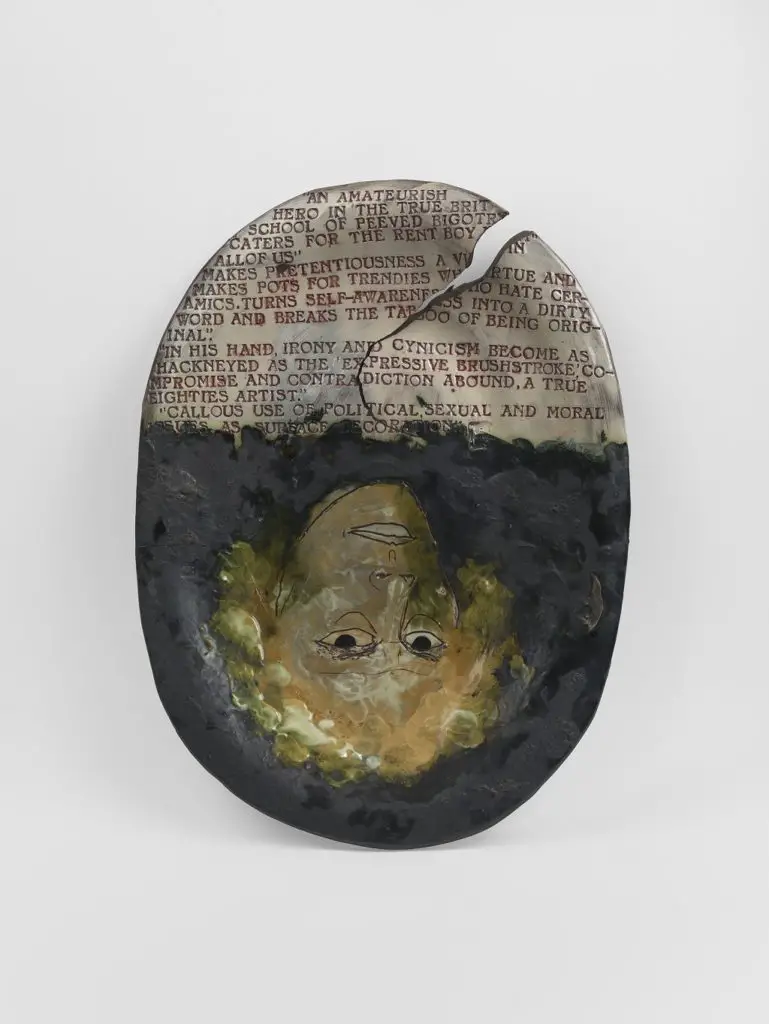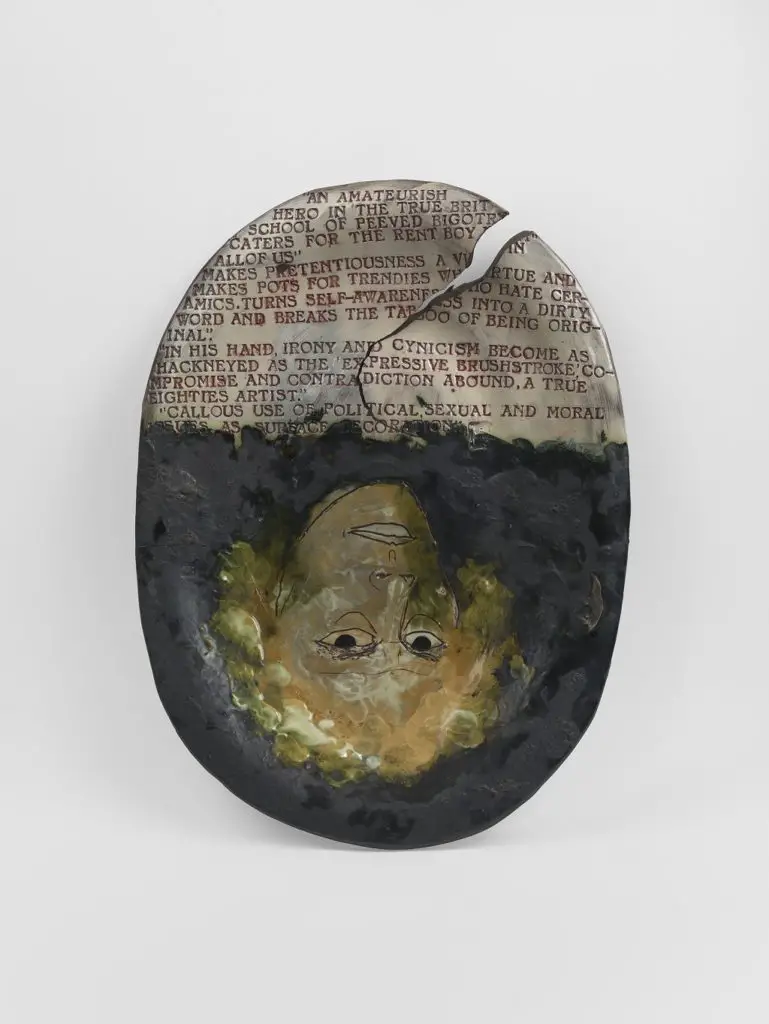 Grayson Perry: The Pre-Therapy Years Review
While everyone may not appreciate Grayson Perry's style, no one can doubt his artistic talent and creativity. You should come with an open mind as he's not afraid of tackling taboo or controversial subjects. There are graphic sexual and violent images, so this is not an exhibition suitable for young children.
The majority of the works on display are pottery, which makes sense as that is what Perry is best known for. Still, the exhibition does not feel monotonous as you will find a broad range in the styles and subject matters.
In some instances the art may at first look like something made by a child, but after a closer look it has more depth and meaning. This is an exhibition where you need to take your time to look at the details and read the accompanying notes. You can almost feel some of the pain that Perry went through growing up especially when reading his commentary.
It's a thought-provoking exhibition that may make you feel like you are outside your comfort zone, and that's not a bad thing.
If you are interested in learning more about Grayson Perry and his work during the Pre-Therapy Years, you can check out this book. It includes an essay by the artist where he looks back on that time of his life.
Keep up to date with the latest happenings in Norfolk by signing up for our weekly email list here.
More to See at the Sainsbury Centre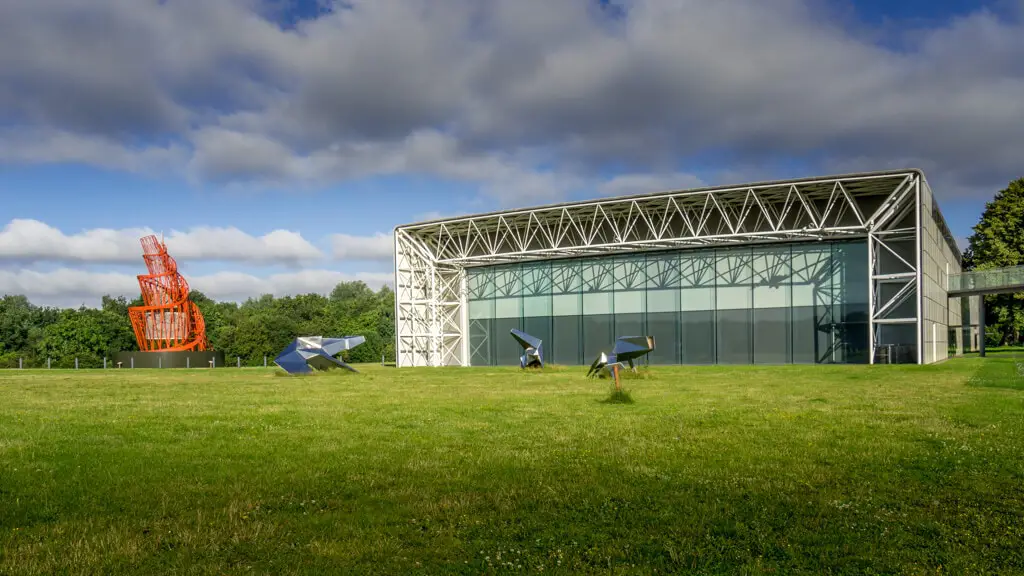 The Sainsbury Centre was founded in 1973 and makes our list of the best things to do in Norwich. Sir Robert and Lady Sainsbury donated more than 300 pieces of their art collection to the museum, and over the years the museum's collection has grown to several thousand works dating from prehistory to present day.
The museum is housed inside one of the first major public buildings designed by Norman Foster on the campus of the University of East Anglia in Norwich. The building was also used as a filming location for the Avengers Headquarters in several scenes of the 2015 motion pictures Avengers: Age of Ultron.
When you come to see the Grayson Perry: The Pre-Therapy Years exhibition, allow a bit of extra time to see more of what the Sainsbury Centre has to offer. In addition to their permanent collection and sculpture trail, there may be other special exhibitions that you can see during your visit.
Permanent Collection
The Sainsbury Centre has quite a diverse permanent collection. You can see work from famous modern European artists including Pablo Picasso, Edgar Degas, Francis Bacon, Jacob Epstein, Henry Moore, and Paul Gauguin.  There are also major holdings from Oceania, Africa, North and South America, and Asia. The ancient Mediterranean cultures of Egypt, Greece, and Rome as well as Medieval Europe are also well-represented in the collection.
It is free to see the permanent collection at the Sainsbury Centre. You do not need a ticket.
Sculpture Park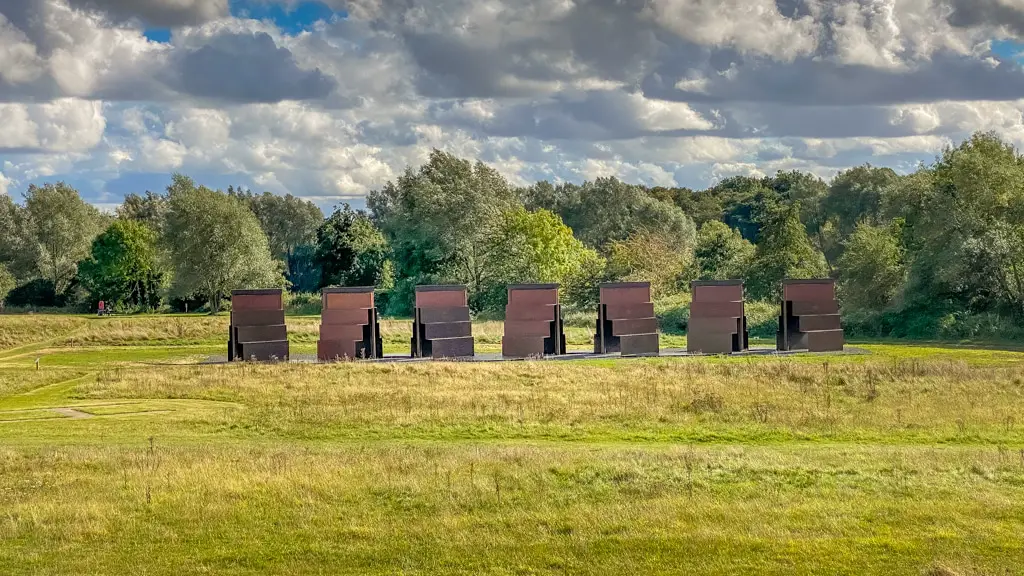 The area around the Sainsbury Centre is home to over 20 sculptures from some of today's most important sculptors like Henry Moore, Antony Gormley, and Elisabeth Frink. In October 2021, a new sculpture, Goodwood Steps, by Anthony Caro was added and soon a new bronze sculpture by Leiko Ikemura called Usagi Kannon (translates to Rabbit Bodhisattva of Mercy) will also join the trail.
It is free to visit the Sculpture Park, download a map here.
Leiko Ikemura: Usagi in Wonderland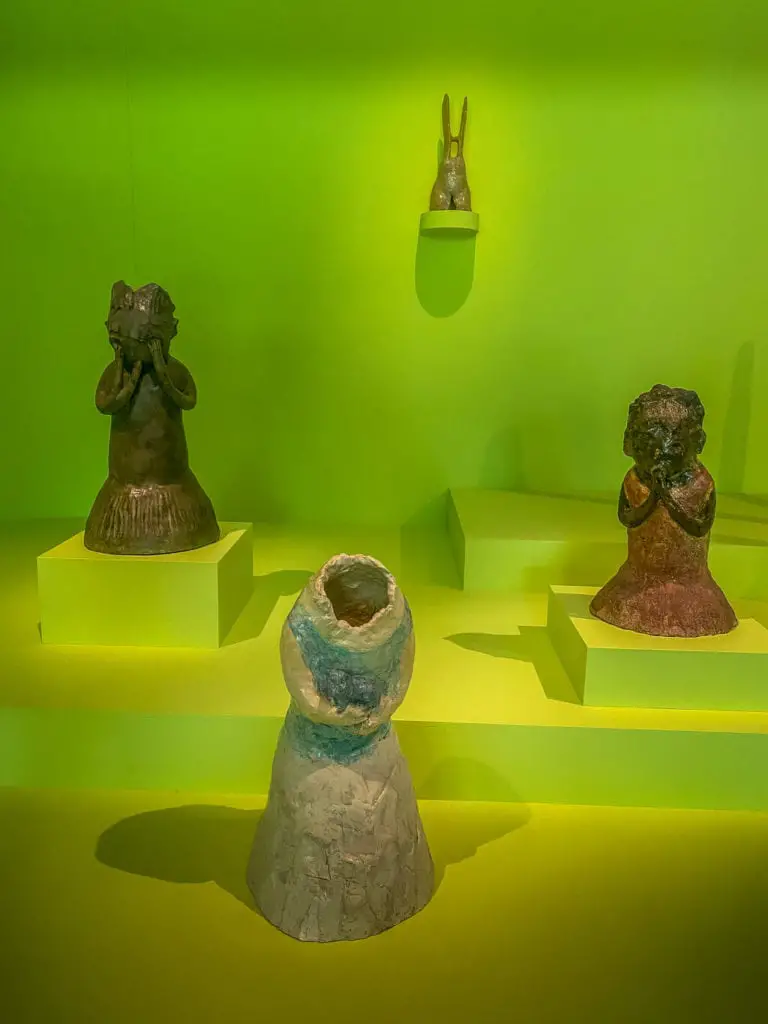 This show, scheduled to run through 12 December 2021, is Ikemura's first exhibition in the United Kingdom. The Usagi in Wonderland exhibition includes 50 works done over the last three decades. There are paintings, sculptures, drawings, and photos all selected by the artist. The display has been developed in collaboration with the Sainsbury Institute for the Study of Japanese Arts and Cultures as part of the Japan – UK Season of Culture.
Tickets for Leiko Ikemura: Usagi in Wonderland are £8 or £7 concessions and can be purchased here.
Rhythm and Geometry: Constructivist Art in Britain since 1951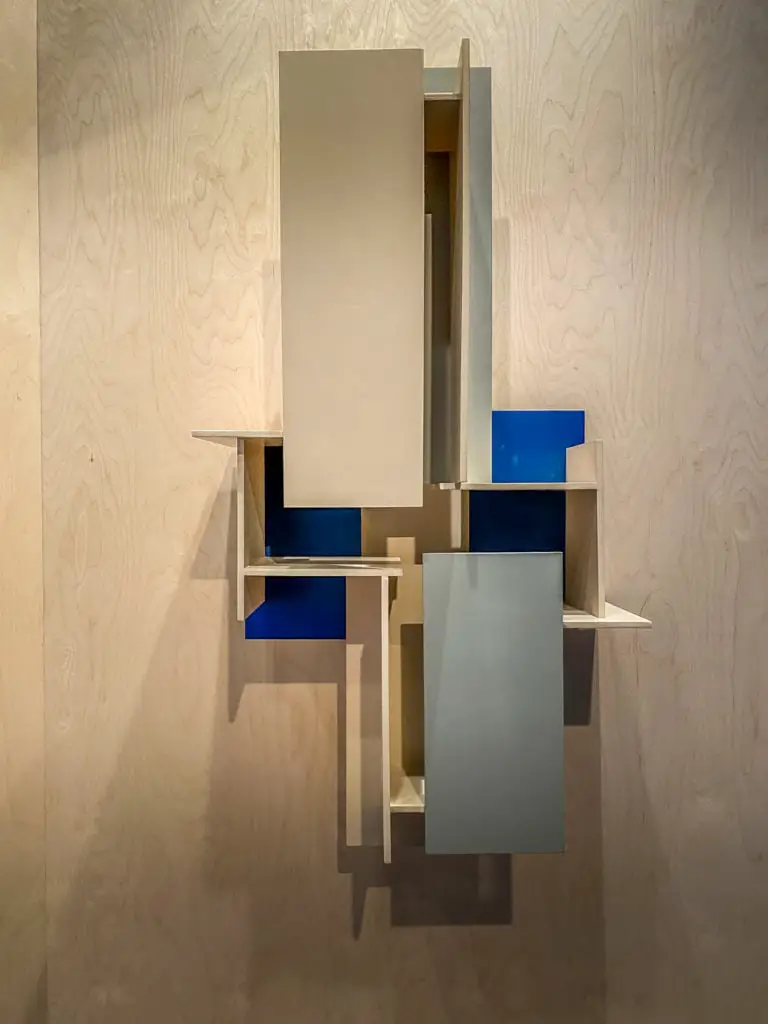 This free exhibition, scheduled to run until 30 January 2022 (now extended until 17 July 2022), celebrates abstract and constructed art made and shown in Britain from 1951 to the present day. It includes around 120 pieces of art, mostly from the Sainsbury Centre's own collection, incorporates sculptures, reliefs, mobiles, paintings, drawings, and prints.
As part of the show, you can also see Rana Begum's immersive large-scale installation No. 670 Mesh (2016) near the reception desk. Some of the other notable artists you can expect to see include include Robert Adams, Yaacov Agam, Anthony Caro, Lygia Clark, Natalie Dower, Adrian Heath, Anthony Hill, Michael Kidner, Kenneth Martin, Mary Martin, François Morellet, Victor Pasmore, Jean Spencer, Takis, Mary Webb, Stephen Willats, Victor Vasarely, Gillian Wise and Li Yuan-Chia.
It's fitting to see this exhibit at the Sainsbury Centre as it works well with the Brutalist constructions of the University of East Anglia Campus and the smaller scale reconstruction of the Monument to the Third International in the Sculpture Park. More commonly referred to as Tatlin's Tower, because it was designed by Vladimir Tatlin, an important artist in the Constructivist movement. The monument (which was never built due to financial and practical issues) would have been 400 metres tall.
Tickets to the Rhythm and Geometry exhibition are free, but you will need a ticket. Book it online here.
Grayson Perry: The Pre-Therapy Years FAQs
What are the dates for the Grayson Perry: The Pre-Therapy Years exhibition at the Sainsbury Centre?
The exhibition runs from 19 September 2021 to 30 January 2022.
How long does it take to see the Grayson Perry Exhibition at the Sainsbury Centre?
If you plan on reading all the notes at the exhibition, it might take an hour.
How much are tickets for Grayson Perry: The Pre-Therapy Years?
Tickets are £12 or £11 for concessions. Full-time students, those under 18, and Art Fund members receive 50% off. It is free for Sainsbury Centre members as well as University of East Anglia and Norwich University of the Arts members.
Do you need to book tickets for Grayson Perry: The Pre-Therapy Years in advance?
It's not required, but probably a good idea to book ahead here to avoid disappointment. Only limited walk-in tickets will be available.
Is the Grayson Perry: The Pre-Therapy Years suitable for children?
This exhibition is not for young children as many of the works tackle adult themes. For family-friendly ideas, check out our recommendation for things to do in Norwich with kids.
How do you get to the Sainsbury Centre?
The Sainsbury Centre is located on the University of East Anglia Campus just west of the Norwich city centre. There are several buses that serve the campus, but the 25 network Norwich bus takes you the closest. If you would like to drive, they do offer limited free parking with a parking permit that can be requested at the front desk.
Disclosure: This post contains affiliate links. This means we will receive a small commission for some purchases made using links in our blog with no additional cost to you.  Please be assured we would not promote any product unless we believe that our readers will also benefit.  The commission does not influence the editorial content of this site.