Halloween in England may not be an official bank holiday, but that doesn't mean it's not something to celebrate. It's easy to get in the Halloween spirit when you are in Norfolk. Just get yourself to one (or more) of the best Halloween events in Norfolk.
*Bookmark this page as we will update it as we learn about more Halloween events.
Halloween Events in Norfolk
Halloween events come in all shapes and sizes. Some are aimed at kids and families, while others may be more scary and better suited for adults. Whatever type of Halloween event you are looking for, you should find it on this list.
Be sure to sign up for our email list here to keep up to date with what's happening in Norfolk.
Best Halloween Events for Kids in Norfolk
Kids love Halloween – the costumes, sweets, and pumpkins. Most of the Halloween events in Norfolk are family-friendly and not too scary. Adults will like some of these Halloween events as much as kids do. They make a great Halloween day out in Norfolk.
*Read about more things to do in Norfolk with kids.
Glorious Glowing Lantern Parade at BeWILDerwood
You start the adventure at Hazel's Hideaway where you can make your own Boggle Bindle Lantern to help light up the woods. Then after dusk, venture deep into the woods lit by Slitherigrubs in lanterns and spot the wonderful creatures of BeWILDerwood. Costumes are welcome.
2021 Dates: 16th – 17th and 23rd – 31st October
Pricing and Ticket Information: You will need to buy an evening time slot to attend this event which costs £10 each (under 92 cm, wheelchair users and carers are free!) If you want to also visit BeWILDerwood during the day you need to make a separate booking. Get details here.
Wicked Wildlife Trail at Pensthorpe Park
Discover the grim and gruesome side of nature on the Wicked Wildlife trail around Pensthorpe Park. This year they also have more fun activities including pumpkin carving, a mini pumpkin trail, craft activities, and junior wildlife tours.
Those that are looking for something a little spooky, should book a slot for the Hootz Haunted House. The WildRootz indoor and outdoor play areas will be decorated for added Halloween fun!
2021 Dates: 23 Oct 2021 – 31 Oct 2021
Pricing and Ticket Information: Adult tickets are £12.95, senior (60+) tickets are £11.95 and child tickets (3-16) are £11.95. Pumpkin Carving is an additional £3 per child and must be booked separately online in advance. You also need to make sure to book your timed entry ticket to Hootz Haunted House in advance of your visit. Get details here.
Halloween Spooktacular at the Hippodrome in Great Yarmouth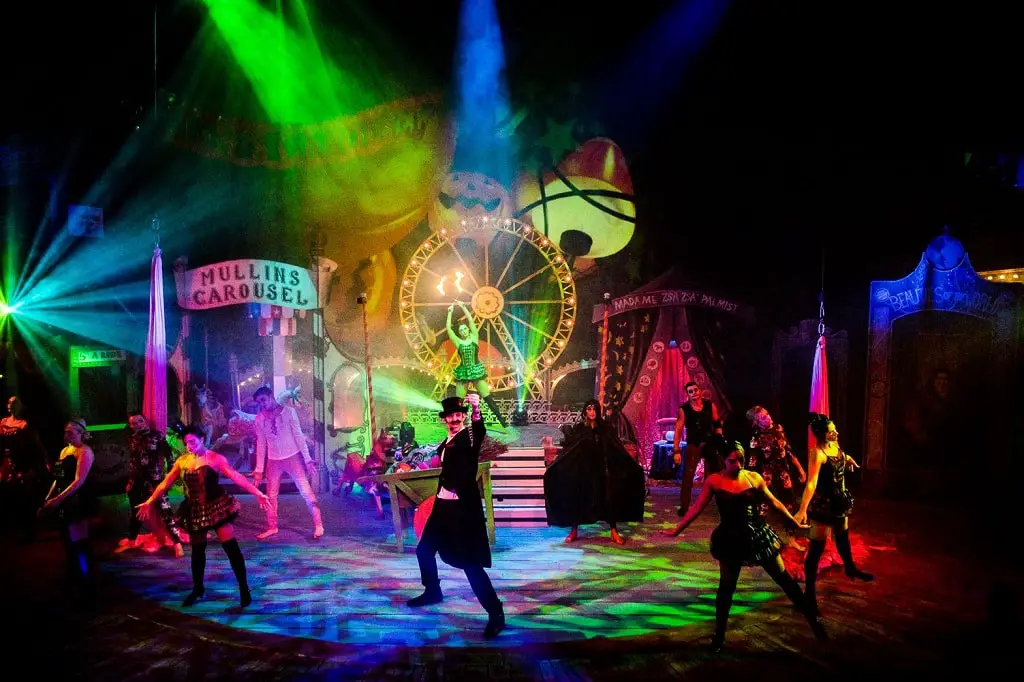 The Hippodrome is home to the Circus, but during the Halloween season it transforms so not everything is as it seems. Jack Jay and Johnny Mac go on a spooky adventure to try and save the cast from evil and mysterious characters who are up to no good.
It's a family-friendly indoor show and everyone is encouraged to come in costumes. While you are in Great Yarmouth, you could also check out Fire on the Water.
2021 Dates: 22 to 31 October
Pricing and Ticket Information: You will need to book in advance here. Tickets start at £12 for children up to 14 years old and £16 for adults.
Pumpkin Festival at Wroxham Barns
Visit Wroxham Barns near Wroxham and Hoveton during the Pumpkin Festival and each child gets a pumpkin from their pumpkin patch and can carve it in their barn. You can also attend Wilma The Witch's potion school and enjoy all the fun of the Junior Farm and the all-new Fun Park.
In the Junior Farm, you can meet friendly animals including chickens, donkeys, pigs, ponies, turkeys, ducks, alpacas, goats, lambs, and more. There is also a brand new den building area, tree platform walkway, and guinea pig village.
At the Fun Park, you will find an 18 hole mini golf, Wroxham Barns train, pirate ship, toyset ride, go-karts, water wars, sand play, jumping frogs, and more. It's all included with unlimited play!
2021 Dates: 22nd to 31st October 2021
Pricing and Ticket Information: Tickets are £13.99 for children 2 years and older (including a pumpkin), under 2 years old is £ £2.50 (including a pumpkin), and adults are £12.99 (not including a pumpkin). Get details here.
Real Halloween in Bradmoor Woods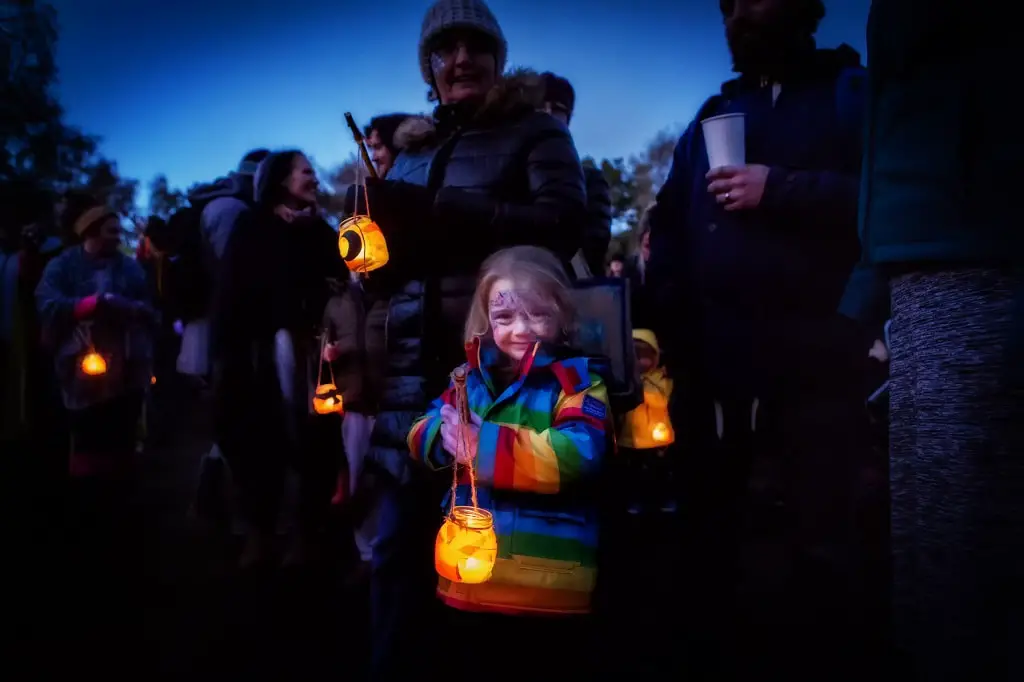 Set in a magical woodland glade deep in the Norfolk countryside, The Real Halloween is a true celebration of Autumn. It has music, log fires, traditional games, nature workshops, face painting, story-telling, and food and drink. There is also a candle-lit parade of lantern animals.
Home-made (plastic free) fancy dress is encouraged but not compulsory!
2021 Dates: 30 and 31 October
Pricing and Ticket Information: Tickets are £8.50 per person for the whole day (under 3s are free most activities are designed for 3 and up). Select activities have an additional charge of £1 – £3. Parking is free. Get more details and purchase tickets here.
The Monster Club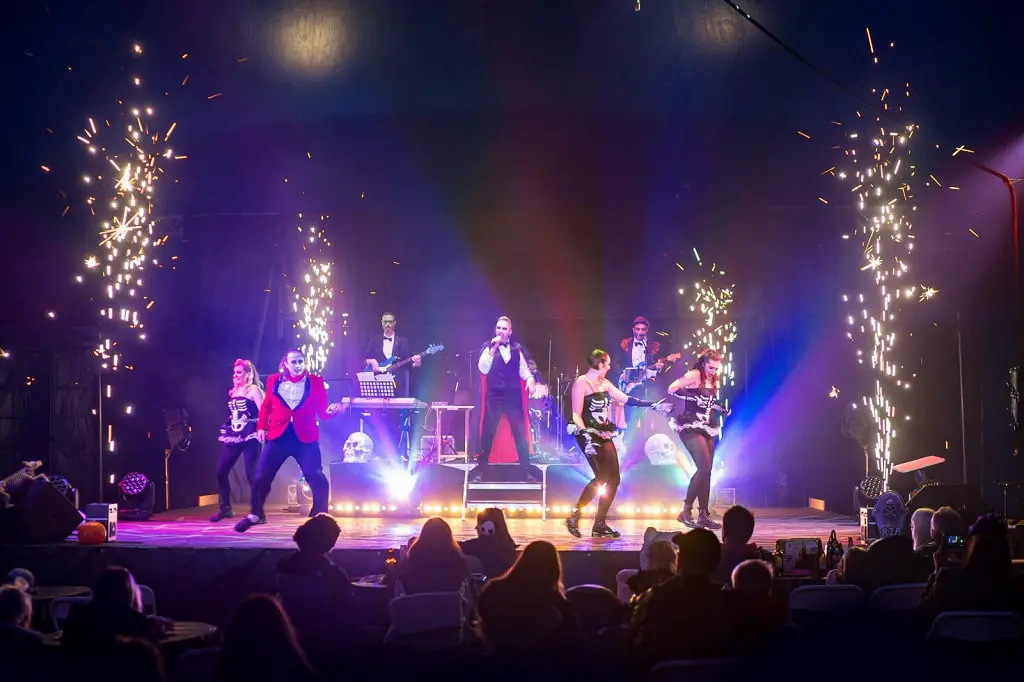 This family-friendly Halloween themed show is full of live music, circus acts, dance, and comedy. It's hosted by Friedrich Fright in the haunted big top at the Wensum Valley Hotel in Taverham.
The show lasts 75 minutes and is suitable for ages 2 and up.
2021 Dates: 23-24 and 27-31 October
Pricing and Ticket Information: Children aged 2-16 are £9, adults are £11, and concessions are £10. Get the details here.
Haunted Deepdate: The Wild Ride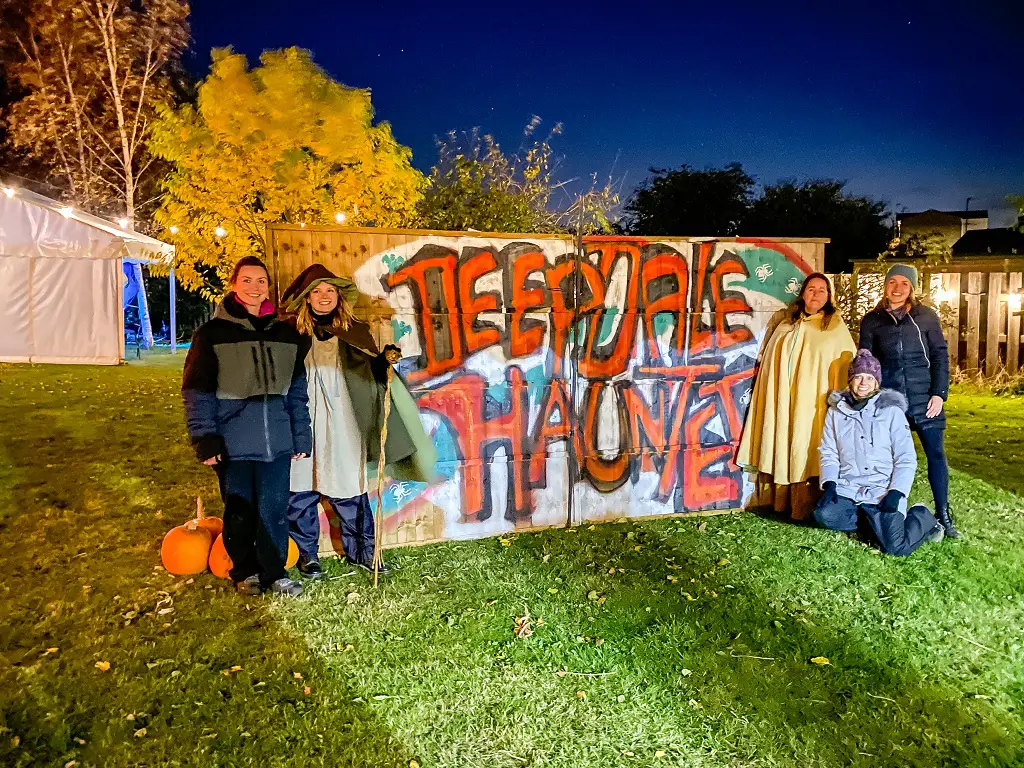 The Slow Theatre Company presents an exciting outdoor spooky, enchanted theatrical happening! It's an outdoor performance that uses storytelling, music and movement to share the tales of myths and ghosts of Norfolk.
The experience takes 1.5 hours. It is recommended that children are 6 or older for entry times prior to 15:30. From 15:30 to 19:15 they should be at least 11 years old (with the exception of the adult only performances).
We attended a press night on 21 October. Read our Haunted Deepdate: The Wild Ride Review.
2021 Dates: 22 – 31 October, note there are adult only performances on Saturday 23rd, Sunday 24th, Saturday 30th, Sunday 31st evenings at 19:15.
Pricing and Ticket Information: Tickets for adults are £13 and children (16 and under) are £9.50. There is also the option to get a family ticket (2 adults and 2 children) for £40. Get details here.
Fairground Frights at the Pleasure Beach in Great Yarmouth
There will be five nights of fear at the popular amusement park. Watch out for blood-thirsty live actors roaming the park and some rides will have spooky guests too.
They will also have a live DJ, ghostly projections on the Scenic Railway, and face painting. On the first night, there will also be a free fireworks display.
Unfortunately, this event is not recommended for children under 10.
2021 Dates: Wednesday 27th October 2021 to Sunday 31st October 2021. Each night will begins at 17:00 and ends at 20:00. Get there early to maximise your time..
Pricing and Ticket information: Tickets are £19.50 per person. The capacity will be limited so it's best to book in advance here.
Pumpkin House in Thursford
The Pumpkin House is the creation of husband and wife team Henry and Victoria Cushing on their family farm in North Norfolk. It is handmade out of wood and decorated with over 1,000 pumpkins. To reach the Pumpkin House, you walk through a wooded trail decorated with pumpkins and scarecrows.
They will also be selling a range of halloween decorations along with pumpkins. Additionally, there will be a pop up cafe site selling hot drinks, homemade cakes, and pumpkin soup.
2021 Dates: 22 – 31 October
Pricing and Ticket Information: It is free to visit the Pumpkin House, see the vintage farm machinery, and go on the wooded walk. You don't need to book in advance and there is plenty of free parking. If you purchase a pumpkin, the standard size is £4.50 and includes a free leaflet all about pumpkins. There are also separate charges for the hay bale maze, Hay Play, and cafe. Get more details here.
Ghost Trains from North Norfolk Railway
Climb aboard an historic steam train in Sheringham for an evening journey to the remote Edwardian station at Weybourne. An experienced guide will take you on an after dark tour of the station to seek out all things supernatural and share stories about local apparitions, ghosts, and mysterious sightings.
You are encouraged to come in fancy dress as a witch, wizard, ghost, ghoul, zombie or monster to add to the spooky atmosphere. The Old Luggage Office buffet at Sheringham Station will be open so you can pick up a warm soup, hot tea, or a homemade snack to fortify you ahead of the ride.
The experience will last about 1 hour and 45 minutes.
2021 Dates: 30 – 31 October. Note that the late train on 31 October is adults only.
Pricing and Ticket Information: Tickets for the family-friendly trains are £12 per person and the adults only train are £16 per person. Get details and purchase tickets here.
Best Halloween Events for Adults in Norfolk
Some Halloween events are too scary for young children, but that doesn't mean you can't enjoy them. Find someone to watch the kids and get your friends together for a spooky night out.
Alternatively, you could check out the most haunted places in Norwich.
Primevil Scare at Roarr Dinosaur Adventure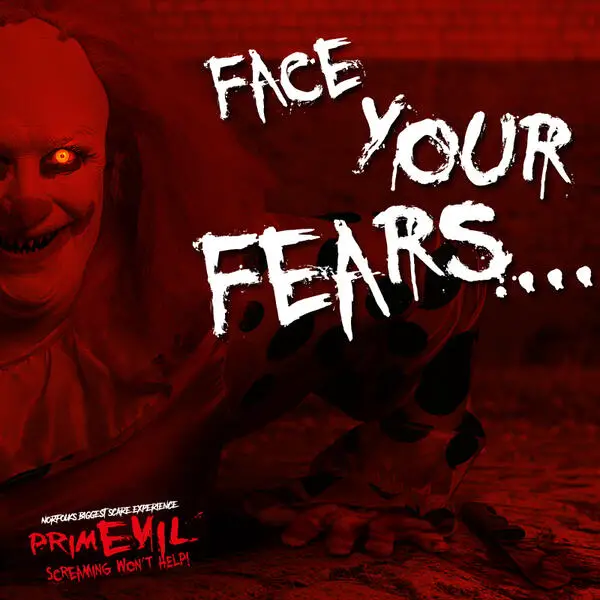 This event is back for its 12th year of fear! There will be five terrifying haunts full of scares and twists and turns, street performing actors, and plenty of entertainment. They will have a licensed bar and street food vendors too.
Primevil Scare is not suitable for those under 12. Also note that strobe and flashing lights are used.
2021 Dates: 8-31 October.
Pricing and Ticket Information: Ticket prices vary depending on the date you go, booking online will also help you save on the event. There is also the option to get VIP or fast-track tickets. Get the details and book in advance here.
Nightmares in Norfolk
This is an intense horror attraction. Travel through a large scare maze that features live actors. You will come face to face with zombies, demons and even your friendly neighbourhood ghostbusters. It is recommended for those 13 and up due to mature themes.
2021 Dates: 27-30 October. The 26th of October is the Family Fun Night where there will be pumpkin carving, trick or treating and access to Mr Smileys & Ghostbusters.
Pricing and Ticket Information: The horror maze is £15 per person. Get the details and book in advance here.
Halloween House of Horrors Afternoon Tea at the Assembly House
The Assembly House is one of the best places to have afternoon tea in Norwich. On the days leading up to Halloween, they offer a special-themed version of their classic tea where the delicate cakes and pastries are all specially designed for the occassion.
The menu can be adapted for vegetarians, vegans, and those that are dairy or gluten-free.
2021 Dates: 14 -31 October
Pricing and Ticket Information: This special spooky afternoon tea is £23.95 per person (or £47 for two). Children under 12 can get a smaller version for £14.95. You will need to book in advance. Get more details here.
Halloween Events Near Norfolk
Norfolk is not the only place with fun Halloween events. There are some Halloween events that make the drive out of Norfolk worth it.
Undley Farms Pumpkin Patch and Maize Maze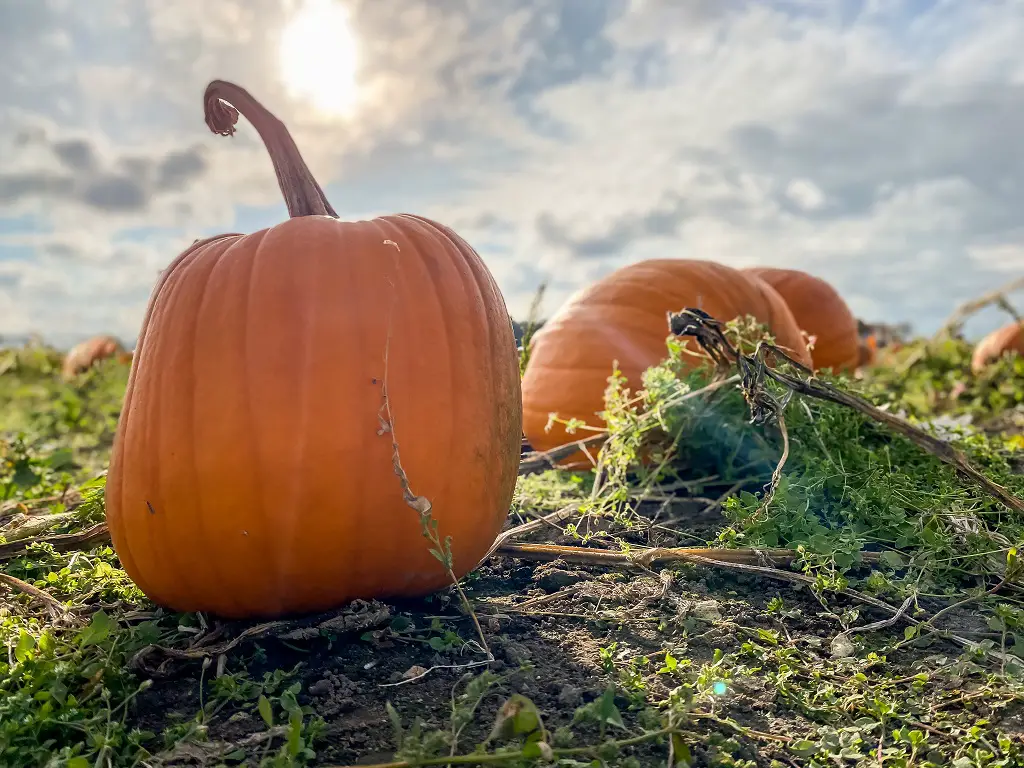 Located near Bury St. Edmunds in Suffolk, this pumpkin patch has been running for 22 years and has become an annual tradition for our family. Not only is it one of the largest pumpkin patches that I have ever been to, but it also has some of the biggest pumpkins I have ever seen. You can choose from 25 varieties of pumpkins and 36 different varieties of gourds and pick them directly from the vines.
It's a full day of fun as they also have a themed maize maze, giant inflatables, face painting, straw bale pyramid, seasonal craft stalls, and a wide range of delicious refreshments.
2021 Dates: Weekends and Half-Term in October
Pricing and Ticket Information: Admission is free but you must book time-entry tickets in advance. You pay for the activities that you want to do when you get there. The PYO pumpkins are priced based on size. Get details here.
More Events in Norfolk
Be sure to also check out our other event guides:
Best Bonfire Night Events in Norfolk
Best Christmas Events in Norfolk