Halloween in England may not be an official bank holiday, but that doesn't mean it's not something to celebrate. It's easy to get in the Halloween spirit when you are in Norfolk. Just get yourself to one (or more) of the best Halloween events in Norfolk.
Be sure to sign up for our email newsletter here to get more information about events happening around Norfolk.
*Details for events for Halloween 2023 that have not been finalised will be listed as TBC. I will continue to update and add more information as it becomes available.
Halloween Events in Norfolk
Halloween events come in all shapes and sizes throughout the month of October. Some are aimed at kids and families, while others may be more scary and better suited for adults. Whatever type of Halloween event you are looking for, you should find it on this list.
You might also want to read about the best pumpkin patches in Norfolk.
Note: This post contains affiliate links.  As an Amazon Associate, we earn from qualifying purchases. Please see disclosure for more information.
Best Halloween Events for Kids in Norfolk
Kids love Halloween – the costumes, sweets, and pumpkins. Most of the Halloween events in Norfolk are family-friendly and not too scary. Adults will like some of these Halloween events as much as kids do. They make a great Halloween day out in Norfolk.
*Read about more things to do in Norfolk with kids.
Halloween Spooktacular at the Hippodrome in Great Yarmouth
2023 Dates: 20 – 31 October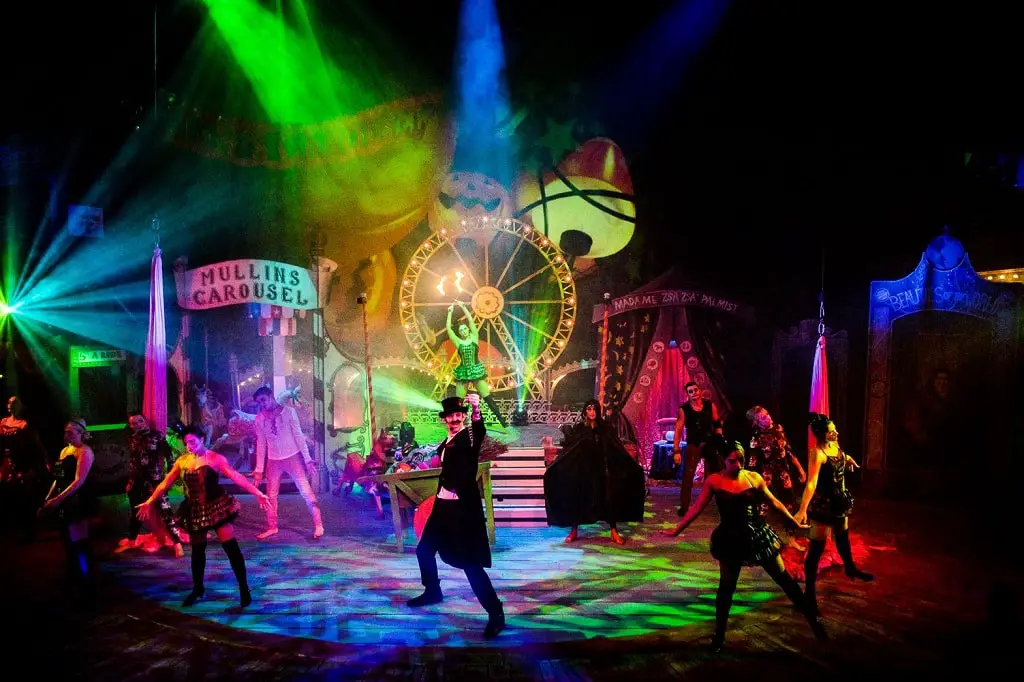 The Hippodrome is home to the Circus, but during the Halloween season it transforms so not everything is as it seems. Jack Jay and Johnny Mac go on a spooky adventure to try and save the cast from evil and mysterious characters who are up to no good.
It's a family-friendly indoor show and everyone is encouraged to come in costumes.
Also, check out our recommendations for things to do in Great Yarmouth while you are in the area.
Tickets start at £13 for children up to 14 years old and £20 for adults. Get more information about the event here. Save on tickets with a Groupon here.
Glorious Glowing Lantern Parade at BeWILDerwood
2023 Dates: 14 – 15 and 19 – 31 October
You start the adventure at Hazel's Hideaway where you can make your own Boggle Bindle Lantern to help light up the woods. Then after dusk, venture deep into the woods lit by Slitherigrubs in lanterns and spot the wonderful creatures of BeWILDerwood. Costumes are welcome.
Tickets for this event will sell out. You will need to buy an evening time slot to attend which costs £12.50 each (under 92 cm, wheelchair users and carers are free!) If you want to also visit BeWILDerwood during the day you need to make a separate booking. Get details here.
Creatures of the Night Trail at Pensthorpe Park
2023 Dates: 21 – 29 October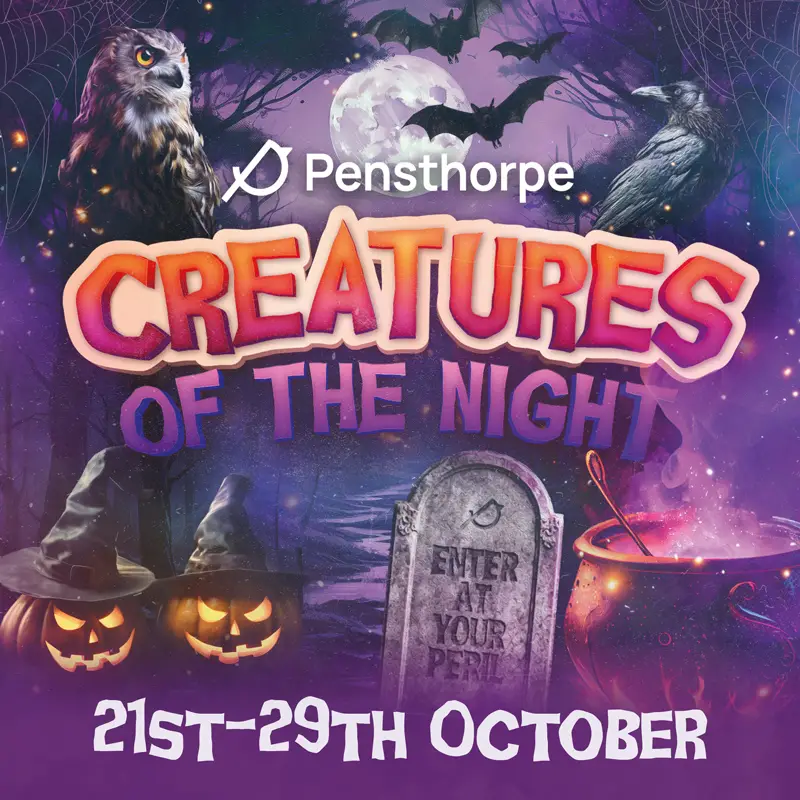 Creep on over to Pensthorpe this October half term for their Creatures Of The Night Trail. Find out which creatures like to crawl out after dark, from bats and owls to slugs and snails! For smaller children there will be a Freaky Feet trail in WildRootz where they can learn all about the weird science behind different animals' feet. There will also be lots of other activities including flamingo talks, free crafts and pumpkin carving (£3 per pumpkin).
The Creatures of the Night Trail is included with your admission to Pensthorpe. Adults are £14.95 while kids are £13.95 (under 3s are free). Book online in advance details here.
Pumpkin Festival at Wroxham Barns
2023 Dates: 22 – 30 October
Visit Wroxham Barns near Wroxham and Hoveton during the Pumpkin Festival and each child gets a pumpkin from their pumpkin patch and can carve it in their barn. You can also attend Wilma The Witch's potion school and enjoy all the fun of the Junior Farm and the Fun Park.
In the Junior Farm, you can meet friendly animals including chickens, donkeys, pigs, ponies, turkeys, ducks, alpacas, goats, lambs, and more. There is also a den building area, tree platform walkway, and guinea pig village.
At the Fun Park, you will find an 18 hole mini golf, Wroxham Barns train, pirate ship, toyset ride, go-karts, water wars, sand play, jumping frogs, and more. It's all included with unlimited play!
The maize maze introduced in 2022 is back!
Tickets are £14.99 for children 2 years and older (including a pumpkin), under 2 years old is £2.50 (including a pumpkin), and adults are £13.99 (not including a pumpkin). They also have an after hour pumpkin picking experience on select nights. Get details here.
Creepy Cruises aboard the Vintage Hauntsman
2023 Dates: 21 – 29 October
The Vintage Broadsman will be transformed into the Vintage Hauntsman which will be offering 1.5 hour long family-friendly Halloween themed river trips. There will be spooky commentary with the ghostly tales of the Broads by our River Trip skippers and trick or treat activity packs for the kids.
Tickets are £13.50 per person except those under 5 are £1.50. Get more information and book your trip here.
Real Halloween in Bradmoor Woods
2023 Dates: 28 – 29 October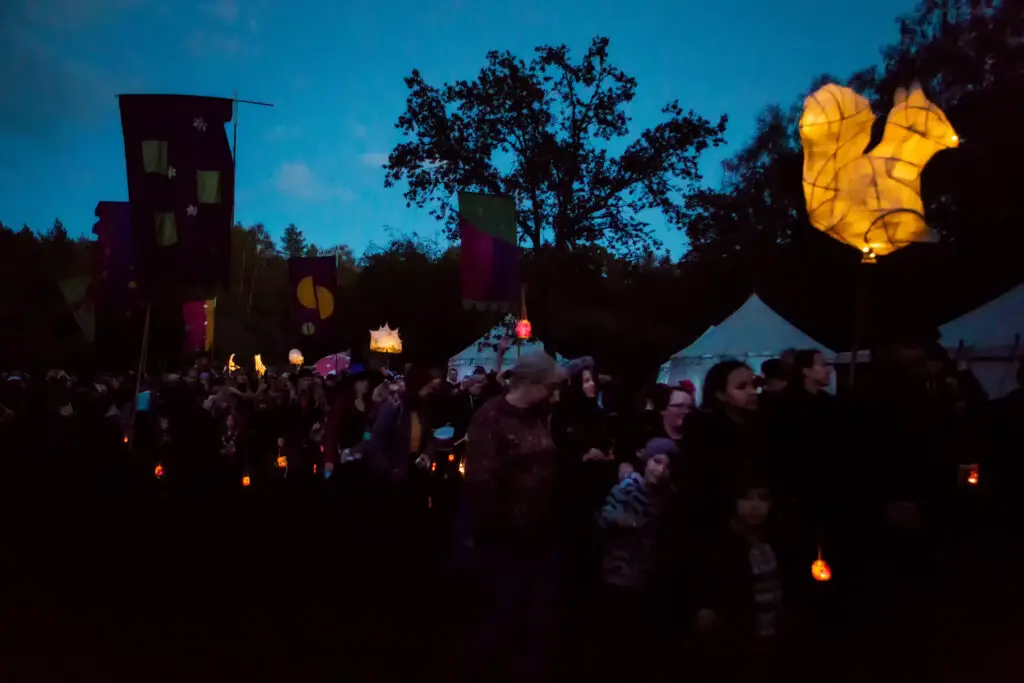 Set in a magical woodland glade deep in the Norfolk countryside, The Real Halloween is a true celebration of Autumn put on by the Fairyland Trust. It has music, log fires, traditional games, nature workshops, face painting, story-telling, and food and drink. There is also a candle-lit parade of lantern animals.
Home-made (plastic free) fancy dress is encouraged but not compulsory! Unfortunately dogs are not allowed.
Tickets start at £10 per person for the whole day (under 3s are free). Select activities have an additional charge of £1 – £3. Parking is free. Get more information here. NOW SOLD OUT!
Halloween at Merrivale Model Village
When: 21 – 29 October
Merrivale Model Village has a spooktacular Halloween event that promises to be a frightfully good time for the whole family! The charming model village has been transformed into a Halloween wonderland, adorning it with miniature Halloween decorations that will leave you in awe.
On Wednesday, they are turning up the spook factor with their Spooky Illumination Evening. As the sun sets, the village will come to life with eerie lights and ghostly decorations. But that's not all; stick around for the Great Yarmouth fireworks display at 21:00, which promises to be a dazzling spectacle.
Don't forget to don your best Halloween attire, as we'll be hosting a competition for the best-dressed Halloween outfit. The lucky winner will receive a family ticket for any date in the 2024 season at Merrivale Model Village.
For the little ones, they have an exciting Scavenger Hunt planned. As they explore the Halloween-themed village, they can collect goody bags filled with treats and surprises to make their Halloween even more special.
And here's a challenge for the keen-eyed visitors – see if you can spot the golden pumpkin hidden somewhere in the village. There's one hidden each day of the event, and if you find it, you'll be in for a mega prize!
Get more information here.
Halloween Family Night at the Ocean Room
2023 Dates: 26 October
The Ocean Room in Gorleston will be hosting a family-friendly Halloween party from 18:00 to 21:00. Disco Divas Shelley and Estelle will be in charge of the music, and they will also have bar food available. Come in your fancy dress.
Pricing and Ticket Information: Tickets are £5 per person and available here.
The Monster Club
2023 Dates: 23 -26 October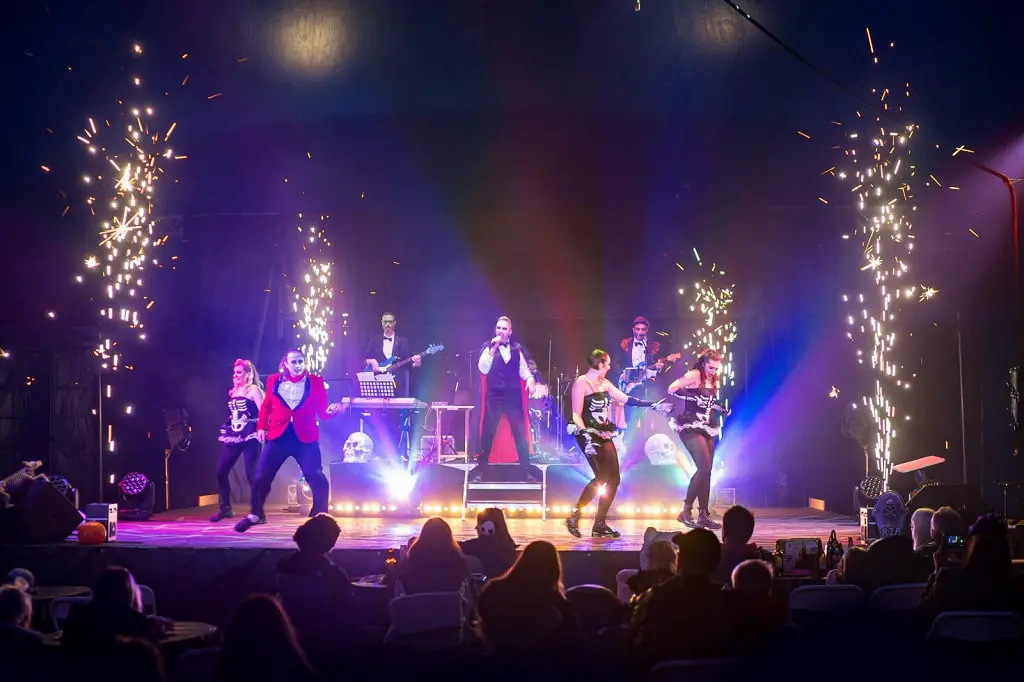 This family-friendly Halloween themed show is full of live music, circus acts, dance, and comedy. It's hosted by Friedrich Fright at the Norfolk Showground.
The show lasts 75 minutes and is suitable for ages 2 and up.
2023 Pricing and Ticket Information: Children aged 2-16 are £11, adults are £13, and concessions are £12 (plus a £1 booking fee). Get the details here.
Dippy's Halloween Days at Roarr Dinosaur Adventure
2023 Dates: 21 – 29 October
Make the most of your October half term by heading to Roarr Dinosaur Adventure for Weston-Smythe School of Dinosaurs. When you arrive, you will be assigned to a school house (Dippy/Raz/Paris/Terry) and receive a timetable for the day. Try to make sure you are not late to lessons, and if you can complete it all you will earn a reward. 
You just need to purchase an advance ticket as the Halloween activities will be included during the event dates. It's £19.95 per person and under 90cm are free. Get more information here.
Fairground Frights at the Pleasure Beach in Great Yarmouth
2023 Dates: 25 – 29 October
There will be five nights of fear at the popular amusement park. Watch out for blood-thirsty live actors roaming the park and some rides will have spooky guests too.
They will also have a live DJ, ghostly projections on the Scenic Railway, and face painting. On the last night, there will also be a free fireworks display.
Unfortunately, this event is not recommended for children under 10.
Ticket are £23.00 per person for those 7 and older, and £18.00 for those 3 – 6 years old. The capacity will be limited so it's best to book in advance here.
Pumpkin House in Thursford
2023 Dates: 14 – 15 & 21 – 29 October
The Pumpkin House is the creation of husband and wife team Henry and Victoria Cushing on their family farm in North Norfolk. It is handmade out of wood and decorated with over 1,000 pumpkins. To reach the Pumpkin House, you walk through a wooded trail decorated with pumpkins and scarecrows.
They will also be selling a range of Halloween decorations along with pumpkins. Additionally, there will be a pop up cafe site selling hot drinks, homemade cakes, and pumpkin soup.
It is free to visit the Pumpkin House, but there is a small charge for some activities. You don't need to book in advance and there is plenty of free parking. The pumpkins are for sale and include a free leaflet all about pumpkins. There are also separate charges for the some of the other activities and the cafe. Get more details here.
North Walsham Halloween Fireworks Spectacular
2023 Dates: 28 October
Head to the North Walsham Rugby club for a fantastic evening of entertainment including a grand fireworks display, arena show, fun fair, and more. You are encouraged to come in your fancy dress and there will be a variety of food vendors too!
You will need to buy tickets in advance. General admission for adults is £12.50. Under 13s are £8 and those under 3 are free. There is a VIP option for £15 which gets you into a special undercover area. Parking is free. Get more information here.
Halloween Cinema at Fairhaven Water Gardens
2023 Dates: 27 – 28 October
They will be showing several Halloween-themed movies (including The Nightmare Before Christmas, Beetlejuice, Edward Scissorhands, and From Dusk Til Dawn) under the stars at Fairhaven Water Gardens. Their tearoom will be open for drinks and snacks before the movie. You can also prebook a bean bag seat with a blanket set.
Adults are £5 and children are £2.50 (under 4 are free). Get details here.
Spooky Halloween Evenings at Bressingham
2023 Dates: 26 -28 October
Dress up and bring the kids to Bressingham for some Halloween fun with gentle scares and thrills. You can ride the Fen Railway Ghost Train through the haunted Waveney Valley countryside and take a spin on the ghostly Gallopers. There will also be some Halloween sideshow games.
You are encouraged to come in fancy dress, and the museum cafe will be open serving hot and cold drinks and running a BBQ too! 
Tickets must be purchased in advance. The prices are £9.00 for adults, £7.73 for children, and those under three are £1.82.  Get more details and purchase tickets here.
RELATED: Discover Norfolk Steam Railways
Hirsty's Halloween Hoot
2023 Dates: 14 – 15 & 21 – 29 October
Pick your own pumpkin from the Hirsty pumpkin patch, navigate the maze, see the other crops and livestock, and enjoy their play equipment. They have a barrel train, bale mountain, zipwire, soft play, bouncy castles, go-karting, rope pyramid, trampolines, climbing frames, jumping pillows (which were new for 2022) and more!
Children ages 1-2 are £7 and ages 3-16 are £15. Adults are £9. Entry price for children includes one pumpkin that can be carved onsite. It's best to book your tickets online in advance as the event does sell out. Get more information here.
Halloween Party at Norwich Puppet Theatre
When: 22 October
Norwich Puppet Theatre is excited to welcome you to their Halloween Party filled with games, creative arts and crafts, vibrant market stalls, enchanting face painting, exciting prizes, and much more! You are encouraged to don your spookiest attire, as there might just be rewards for the most creatively dressed participants!
Admission to our Halloween Party is free, and you'll find an enticing array of both free and paid activities to participate in. No reservations are necessary; just come and join the fun! To keep you refreshed and energized, the cafe bar will be on hand, ready to serve hot and cold beverages and snacks.
Get more information here.
Halloween Spooktacular at Applewood Countryside Park
When: 28 October
Applewood Countryside Park is excited for the return of "The Halloween Spooktacular," now in its 5th year. Experience a spine-chilling journey through Werewolf Woods, Scarecrow Alley, The Spider Forest, The Graveyard, The Big Top, and The Apocalypse on the "Spooky Walk."
Enjoy a mesmerizing "Fire Show" by Ruby Flames Entertainment and cap off the evening with a vibrant firework display and a bonfire dance. Additional attractions include spooky face painting, a variety of food vendors, and a thrilling Spooky Disco.
Get more information here.
Drac and the Beanstalk at Gorleston Pavilion Theatre
2023 Dates: 26 – 28 November
In the quaint village of Hammer, a unique rendition of 'Jack and the Beanstalk' takes centre stage, with its eerie inhabitants embracing the spirit of pantomime through lively music and whimsical entertainment.
Get more information here.
Eaton Park Miniature Railway Halloween Scare Trains
2023 Dates: 29 October
Experience thrills, chills, and spine-tingling fun aboard the Halloween Scare Trains at the Eaton Park Miniature Railway. As you journey around Eaton Park on one of our miniature trains, be prepared for a hauntingly good time filled with spooks, spectres, and all-around scary delights.
It's only £1.00 for children and £1.50 for grown ups. Small children must be supervised by a full fare paying grown up. No need to book in advance.
Get more information here.
Grove Lights Halloween Show
2023 Dates: 27 – 31 October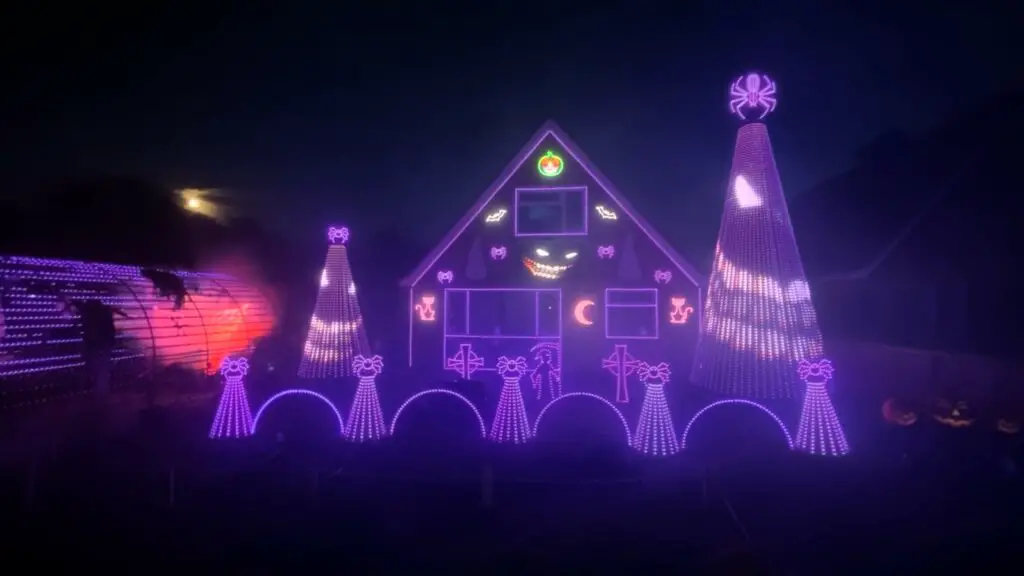 Get ready for a spine-tingling experience like no other this Halloween season! The Grove Lights in Newton Flotman, postcode NR15 1QE, is putting on a Halloween show while raising funds for a great cause, MacMillan Cancer Support.
The Grove Lights Halloween Show runs from 18:00 to 20:00 the first two nights. Then from 29 October to 31 October, the show will be open to the public from 17:00 to 20:00. Parking is conveniently available for visitors just a short walk away at the Village Hall, ensuring that you can easily access the Halloween magic without any hassle.
The display is huge but what sets the Grove Lights Halloween Show apart is its creativity and choreography. Each one-hour show is divided into two distinct halves. The first 30 minutes are designed for all ages and promise to deliver fun, excitement, and the kind of Halloween spirit that warms your heart. But that's not all! The second half of the show takes a thrilling turn as it becomes more rock-oriented.
Watch the video highlights here. Get more information here.
The Haunted
2023 Dates: 28 & 31 October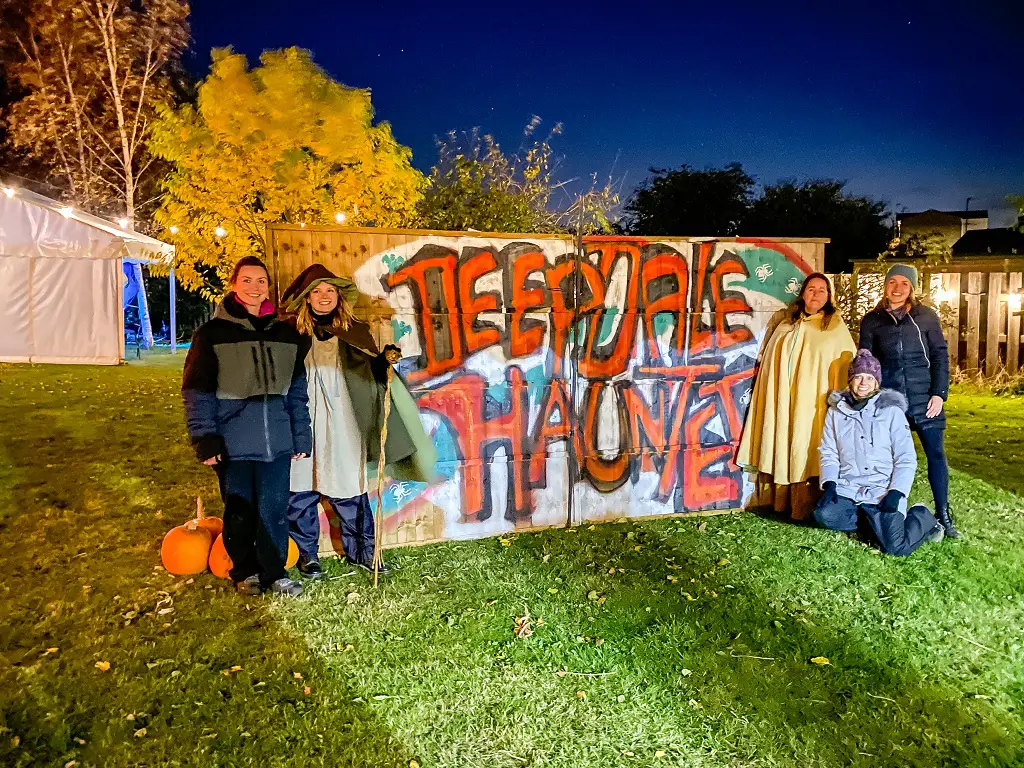 Explore the eccentric and slightly eerie realm of Norfolk's intriguing personalities in this captivating theatrical narrative. Whether it's encountering a she-wolf Queen, a daring anthropologist, a mysterious mummy's hand, or a enigmatic creature along a winding Norfolk trail, prepare for a rollercoaster of emotions!
Starring Danny O'Hara and Vanessa McAuley, "The Haunted" opened at The Camden Fringe in 2023 and continued to enthral audiences during its four-week run at the Edinburgh Fringe Festival. To get an idea of what to expect read our review of the Wild Ride from 2021. This year it will be at Margaret's Tea Room in Swaffham.
Tickets range from £10 – £12 with a small booking fee. It is recommended for ages 12 and up.
Get more information and get tickets here.
Best Halloween Events for Adults in Norfolk
Some Halloween events are too scary for young children, but that doesn't mean you can't enjoy them. Find someone to watch the kids and get your friends together for a spooky night out.
Alternatively, you could check out the most haunted places in Norwich.
Primevil Scare at Roarr Dinosaur Adventure
2023 Dates: Select nights 13 October – 4 November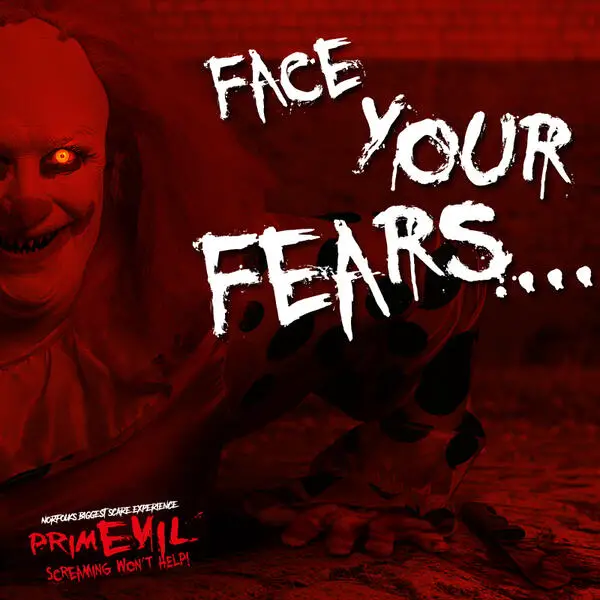 This event is back for its 14th year of fear! There will be five terrifying haunts full of scares and twists and turns, street performing actors, and plenty of entertainment. They will have a licensed bar and street food vendors too.
Primevil Scare is not suitable for those under 12. Also note that strobe and flashing lights are used.
2023 Pricing and Ticket Information: Ticket prices vary depending on the date you go, booking online will also help you save on the event. There is also the option to get VIP or fast-track tickets. Get the details and book in advance here.
Halloween Spooktacular at Epic Studios
2023 Dates: 27 October
It will be unprecedented Halloween club night, promising an eerie and immersive experience like no other. Prepare to be enchanted and entranced as you enter a realm where darkness reigns and spine-tingling thrills abound.
Epic Studios will undergo a spine-chilling metamorphosis, featuring haunting decorations, fog-filled nooks, and sinister surprises lurking at every turn. Enter at your own peril…
In addition, they've conjured up an exclusive Halloween-themed drinks menu, complete with unique cocktails and shots to satisfy even the thirstiest of creatures of the night.
2023 Pricing and Ticket Information: General admission is £15. Get more information here.
Halloween House of Horrors Afternoon Tea at the Assembly House
2023 Dates: 16 – 31 October
The Assembly House is one of the best places to have afternoon tea in Norwich. On the days leading up to Halloween, they offer a special-themed version where the delicate cakes and pastries are all specially designed for the occasion.
The menu can be adapted for vegetarians, vegans, and those that are dairy or gluten-free. They also offer a smaller portion at a reduced price for children.
Get more details here.
2023 Dates: 27 October
Get ready for a night of spooktacular fun! It will be unforgettable Halloween event where you'll enjoy bottomless cocktails and select drinks, plus a delectable main course for dinner.
Don't miss out on the eerie delights, including a thrilling photo booth, trick or treat shots, and hauntingly good music. You are encouraged to come in your fancy dress as there will be a special prize awaiting the best-dressed guest.
Book by email, it's £45 per person. Get more information here.
The Scarehouse
2023 Dates: 26 – 30 October
Introducing "The Scarehouse," a new and utterly terrifying Halloween experience that combines the intensity of a haunted house with the intrigue of an escape room. With 2000 square feet of indoor space, it features live actors who bring your worst nightmares to life. As you navigate the immersive atmosphere, complete with cutting-edge lighting and effects, prepare for heart-stopping jump scares that will leave you on edge.
This spine-tingling adventure is recommended for ages 15 and up, and younger participants must be accompanied by a paying adult. "The Scarehouse" is not for the faint of heart and promises an unforgettable, hair-raising experience.
Get more information here.
The Big C's Masquerade Ball
2023 Dates: 28 October
Get ready for an enchanting evening filled with mystery, magic, dinner, and dancing, all in support of the remarkable Big C Cancer Charity in Norfolk. This incredible charity provides essential help, support, advice, and information to those affected by cancer, while also funding vital, world-class cancer research right here in Norfolk.
Hosted by the captivating Laura Landamore at The Assembly House, your night begins with a delightful welcome drink. Next, indulge in a tantalizing feast of tapas and experience mesmerizing magic by the enigmatic Edd Crafer.
As the night unfolds, groove to the music of local rock legends, Ebb Tide, and dance the night away with DJ Rob Ellis. Finally, before the clock strikes midnight, make your way to your "pumpkin carriage" and depart with cherished memories of an unforgettable evening.
Get more information here.
More Events in Norfolk
Be sure to also check out our other event guides:
Best Bonfire Night Events in Norfolk
Best Christmas Events in Norfolk
Best New Year's Eve and New Year's Day Events in Norfolk
Disclosure: This post contains affiliate links. This means we will receive a small commission for some purchases made using links in our blog with no additional cost to you.  Please be assured we would not promote any product unless we believe that our readers will also benefit.  The commission does not influence the editorial content of this site.