Escape the unpredictable British weather and explore the vibrant heart of Norfolk without ever setting foot outside! Norwich, a city steeped in history and culture, offers a treasure trove of indoor activities that will keep you entertained, rain or shine. Whether you're a local looking for new adventures or a visitor eager to discover the city's hidden gems, our guide to the best indoor activities in Norwich will inspire you.
From fascinating museums and cosy cafes to thrilling escape rooms and theatres, there's something for everyone to enjoy, all under a roof. So, let's dive into the world of indoor things to do in Norwich and unlock the secrets of the Fine City while staying warm and dry!
If you want to find out about more things to do around Norfolk, be sure to sign up for our email newsletter here.
Note: This post contains affiliate links.  As an Amazon Associate, we earn from qualifying purchases. Please see disclosure for more information.
Indoor Activities in Norwich
Norwich offers a diverse array of indoor activities. Explore the city's history in museums, enjoy live performances in theatres, engage in gaming, indulge in diverse cuisines, shop at various indoor retail destinations, and much more. Whether you're a culture enthusiast, a theatregoer, a gamer, a foodie, or a shopaholic, Norwich has something to delight in indoors.
Visiting the Cathedral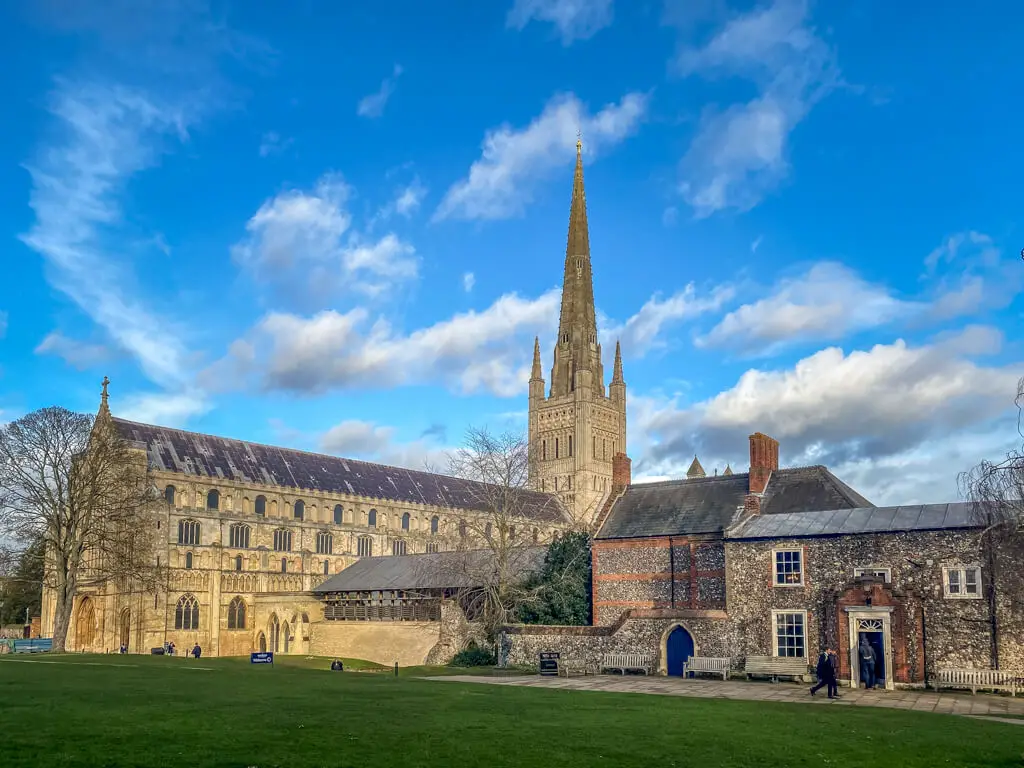 Even on a sunny day in Norwich, there's a captivating treasure waiting indoors, inviting you to step back in time and marvel at over 900 years of history. Norwich Cathedral, proudly standing as the most complete Norman Cathedral in England, is a testament to Romanesque architecture.
Upon entering, your eyes are immediately drawn upward to a breath-taking sight. The cathedral's ceiling boasts an intricate display of medieval roof bosses, unrivalled in any Christian cathedral worldwide.
Venture deeper, and you'll find a narrow staircase leading to the Treasury, where a remarkable collection of gold and silver communion vessels from various parish churches awaits your admiration.
Don't forget to explore the expansive Cloisters, the largest of their kind in the country, featuring intricate stonework and more medieval bosses.
A visit to Norwich Cathedral is an experience that doesn't cost a thing, but a small donation is greatly appreciated to support the maintenance of this historic building. The cathedral also generously offers free guided tours for those eager to delve deeper into its rich history.
If you can't make it to Norwich Cathedral in person, take a virtual tour here.
Exploring Museums
If you're seeking a culture enriching indoor activity in Norwich, look no further than the city's array of interesting museums. Norwich boasts a treasure trove of amazing museums, each offering a unique window into the area's vibrant history and cultural heritage.
In the city centre, three remarkable museums stand out:
Norwich Castle & Museum: Steeped in history, this iconic castle houses a wealth of fascinating artifacts that shed light on the region's past. From armour-clad knights to ancient relics, it's a journey through time that's as enlightening as it is engaging. The museum also boasts a splendid art collection, featuring the works of local artists and pieces inspired by the local landscape.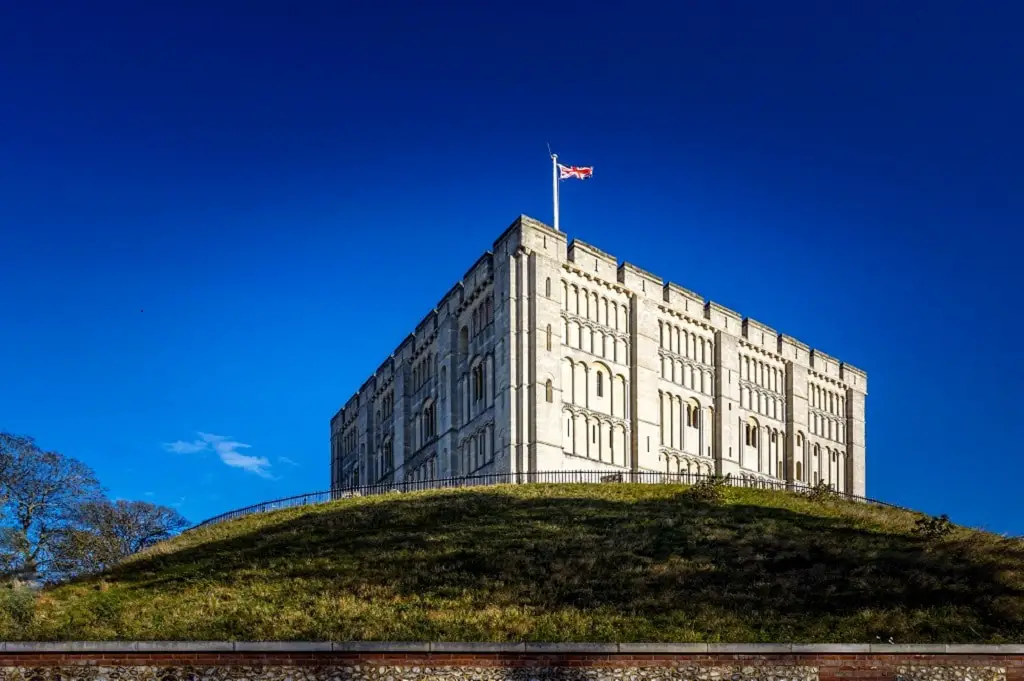 Museum of Norwich: This gem of a museum provides a captivating narrative of the city's evolution. Through a delightful collection of artefacts and exhibits, you'll trace the footsteps of generations past and gain a deeper understanding of Norwich's cultural tapestry.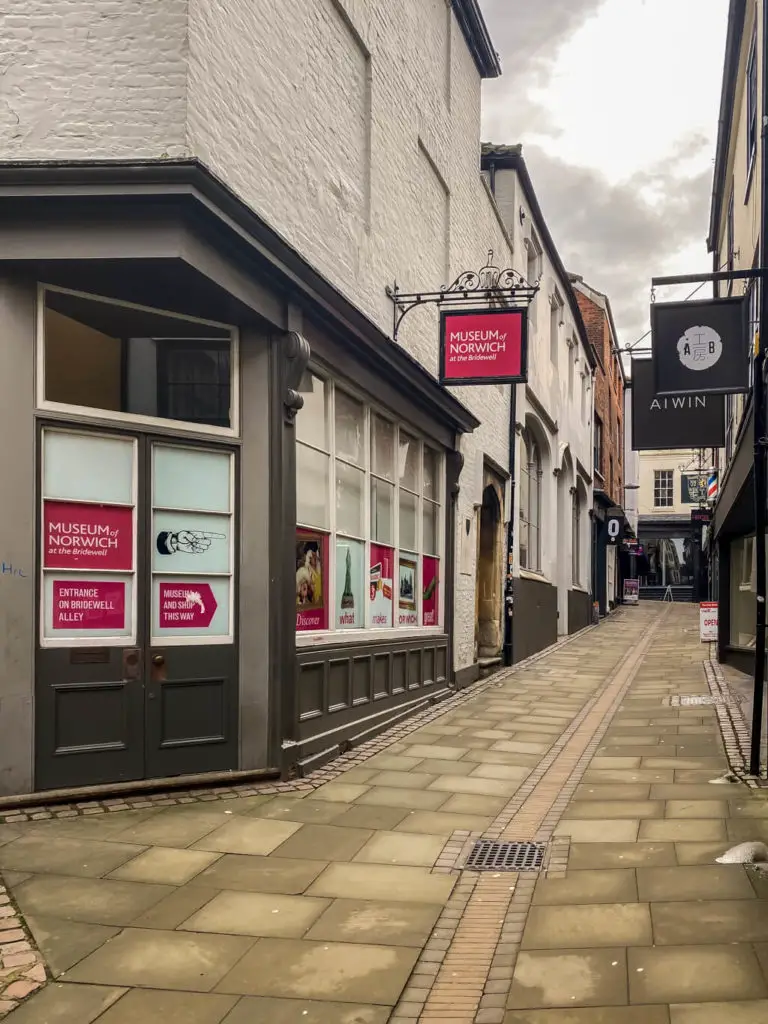 Strangers Hall: A hidden treasure nestled in the city centre, Strangers Hall offers a glimpse into the lives of Norwich's former residents. With its period rooms, antique treasures, and charming gardens, it's like stepping into a time capsule of yesteryears.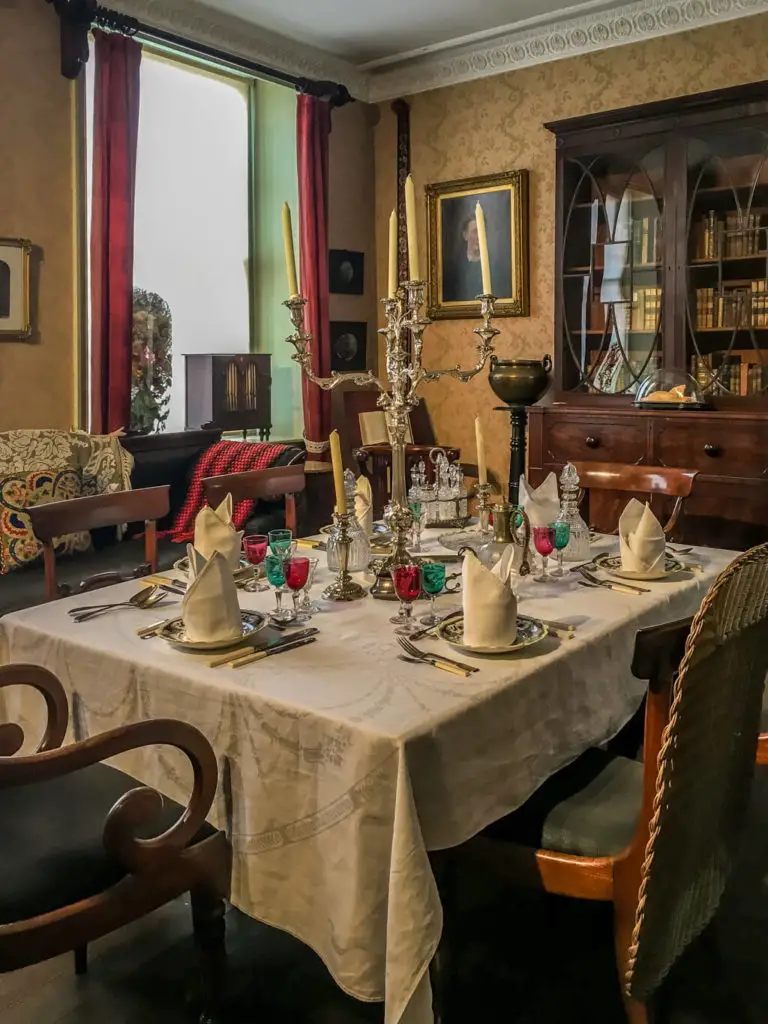 Just beyond the city centre, you'll find the magnificent:
Sainsbury Centre for the Arts: Venture a bit further, and you'll discover the Sainsbury Centre, a haven for art enthusiasts. The best part? It's free to visit! Here, the artistic treasures span different time periods, cultures, and renowned artists, from Pablo Picasso to Edgar Degas, Francis Bacon, Jacob Epstein, Henry Moore, and Paul Gauguin. The diverse collection ensures there's something to captivate every art lover.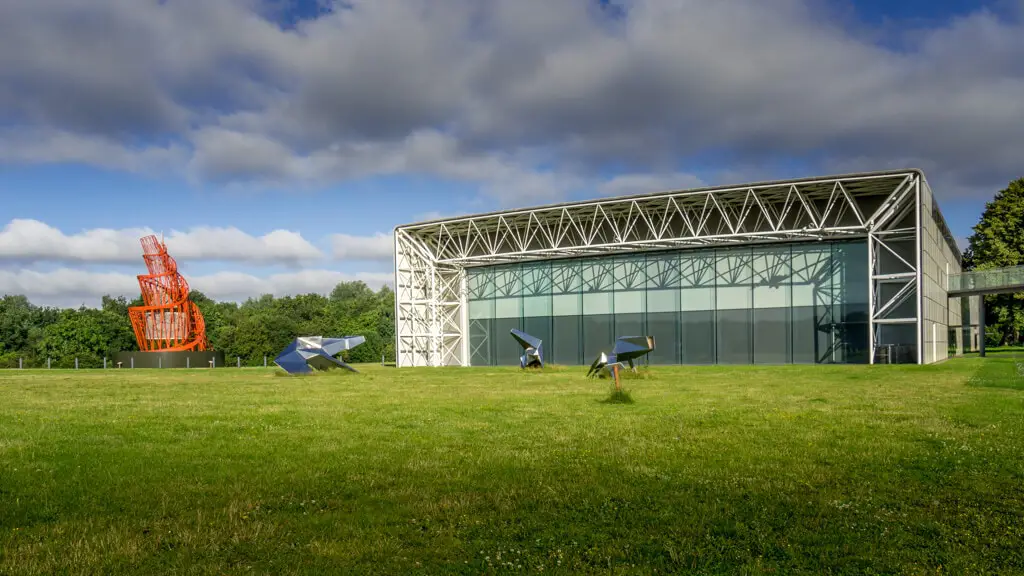 Each of these museums offers a unique experience, making them ideal for solo explorations, family outings, or an afternoon with friends. Whether you're an aficionado of history, culture, or art, Norwich's museums promise an indoor adventure that's both educational and enthralling.
Enjoying Live Theatre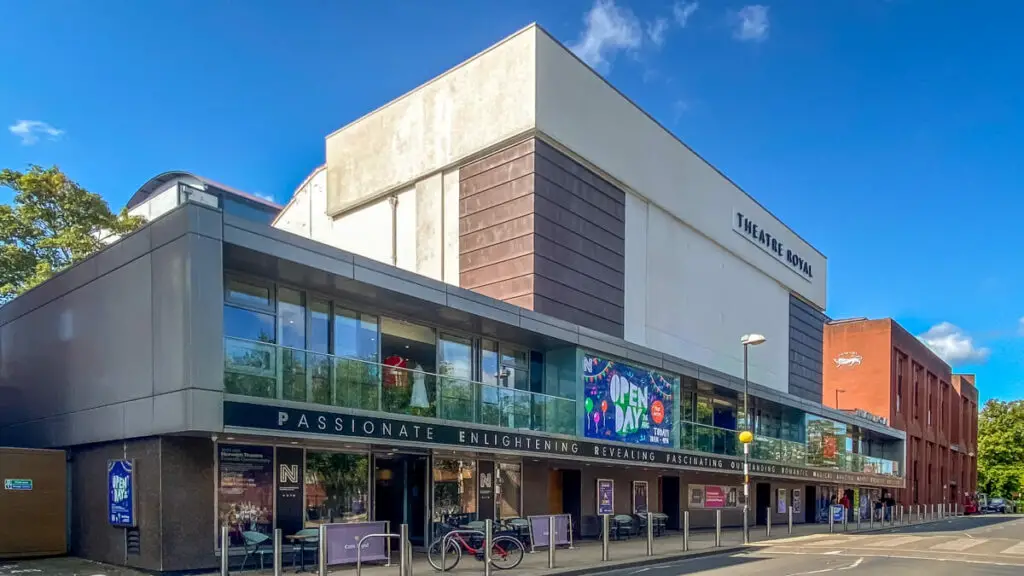 Indulging in the thrill of live theatre is an enchanting indoor activity, and Norwich offers a rich variety of venues to make it happen. Norwich Theatre Royal is the grand stage of the city, and hosts touring West End productions, star comedians, musical performances, and the beloved annual panto.
Smaller gems in Norwich include Norwich Playhouse, Stage Two, the Maddermarket Theatre, and Sewell Barn Theatre, each with its unique charm and delightful performances. For a touch of the extraordinary, there's also Norwich Puppet Theatre, one of just three building-based puppet theatres in all of England.
Learn more about the different theatres in Norwich.
Bowling
When it comes to indoor activities in Norwich, sometimes you just can't beat the classic fun of bowling. Fortunately, this charming city offers not one, not two, but three fantastic options to satisfy your bowling cravings.
Hollywood Bowl in Riverside: For a quintessential bowling experience with a dash of modern entertainment, Hollywood Bowl at Riverside is your go-to spot. Besides the thrill of knocking down pins, you can test your skills in their arcade area, offering a plethora of games that'll keep the whole family entertained.
Superbowl in Castle Quarter: Families with little ones will find Superbowl in Castle Quarter to be an ideal choice. Here, you can enjoy bowling while the kids have a blast in the soft play center. It's a win-win situation for everyone, making it a top destination for family outings.
Bowling House: Looking for more than just strikes and spares? Bowling House takes bowling to a whole new level. With delectable food and refreshing cocktails, it's perfect for those who enjoy a side of culinary delight with their game. What's more, they offer a private karaoke room for those who want to channel their inner rock star. Be sure to explore their membership program, which promises great value for avid bowlers.
Booking your lane in advance is the key to ensuring your bowling adventure goes off without a hitch. And here's a pro tip: check the respective websites before you head out, as you might stumble upon some online-only specials that sweeten the deal.
Trampolining
For those seeking an indoor adventure that will have you defying gravity and experiencing heart-pounding excitement, Norwich has just the ticket. With two fantastic trampolining destinations to choose from, it's time to gear up, jump high, and let the fun begin.
Gravity Active in Riverside: Located at the Riverside leisure complex, Gravity Active offers an expansive trampoline park that promises an adrenaline-fueled experience. Here, you can bounce, flip, and leap to your heart's content on a variety of trampolines, experiencing the sheer joy of weightlessness. But that's not all—Gravity Active takes it a step further with exhilarating rock climbing walls, perfect for those who enjoy a different kind of vertical adventure.
High Altitude: A short drive from Norwich city centre, High Altitude beckons with its enormous trampoline court, offering an expanse of bouncy fun that will have you feeling like you're walking on air. You can also enjoy an inflatable assault course that's big, bouncy, and brimming with challenges. Navigate through bish bash pillars, conquer spinning tops, scale climbing steps, and race down super-fast slides for an adventure you won't soon forget. Take a leap of faith into the massive airbag or showcase your basketball skills by shooting some hoops, adding extra layers of entertainment to your trampolining experience.
Solving Escape Rooms
If you're craving an indoor activity that combines adventure, mystery, teamwork, and a rush of excitement, an escape room experience in Norwich is just what you need. It's a thrilling journey that immerses you in a captivating storyline filled with puzzles, riddles, and enigmas that you must solve to secure your freedom.
An escape room experience is part brain-teasing puzzle, part exhilarating adventure, and all-around fun. Your group is plunged into a world of mystery where you must decipher clues, crack codes, and piece together the pieces of the puzzle to break free. The clock is ticking, and your collective wit and teamwork are the keys to your success.
For those looking to embark on an escape room quest in Norwich, several exciting options await:
Escape Hunt at Chantry Place: Step into the immersive world of Escape Hunt, where you'll encounter a range of thrilling scenarios that will test your problem-solving skills and leave you on the edge of your seat.
Cryptic Escape (Tombland or Rose Lane): Cryptic Escape offers a variety of rooms, each with its unique theme and challenges. Whether you find yourself in a crypt, a mysterious manor, or a hidden laboratory, you'll be in for an exhilarating ride.
Norwich VR Escape Room: For a futuristic twist on the classic escape room experience, consider delving into the world of virtual reality. Norwich VR Escape Room combines the thrill of VR technology with the brain-teasing puzzles of an escape room, creating a one-of-a-kind adventure.
Vector VR at Castle Quarter: Inside Castle Quarter, you can take on the challenge of free roam or pod-based virtual escape rooms at Vector VR. These high-tech escape rooms transport you to different worlds where you'll have to work together to solve puzzles and uncover secrets.
Playing Indoor Mini-Golf
When you think of mini-golf, you might envision lush outdoor courses beneath the sun. But in Norwich, we've reimagined this classic pastime, offering you the chance to enjoy the game indoors, rain or shine. If you're ready to putt your way to a good time, here are some exciting options you won't want to miss.
Putt Putt Noodle at Castle Quarter: You can try not one, not two, but three Asian-themed nine-hole courses, each brimming with its unique charm. From the enchanting Cherry Blossom course to the thrilling Crouching Tiger and Dragon Quest ones, there's a course to suit every taste. Plus, the fun doesn't stop with golf – Putt Putt Noodle also delights your taste buds with delectable Asian street food and specialty cocktails.
Boom Battle Bar: Just upstairs from Putt Putt Noodle, Boom Battle Bar brings a whole new level of excitement to mini-golf. With a course they proudly call "crazier," you're in for a wild adventure filled with unexpected challenges and surprises. It's not just a game; it's an experience you won't soon forget.
Mulligan's in Riverside: Norwich's newest indoor mini-golf option, Mulligan's, offers a creative twist on the classic game. The course design is a testament to innovation and fun, making each hole a unique adventure. But that's not all – Mulligan's is your one-stop entertainment hub, with electro-darts, shuffleboard, ping pong, pool, and an epic bar to keep the good times rolling.
Playing Laser Tag
When you're in search of an adrenaline-pumping indoor activity in Norwich that feels like stepping into a real-life video game, look no further than Laser Tag. It's an exhilarating experience that can transport you into a world of excitement and competition, and it's suitable for anyone aged 5 and older.
At Laser Tag, players wield infrared-emitting light guns, immersing themselves in a high-tech battle where strategy, teamwork, and quick reflexes reign supreme. Your mission? To target designated objectives in the arena and outwit opposing players in an intense game of laser combat. Just like your favourite video game, your score is meticulously tallied, and the thrill of victory awaits the top sharpshooters.
In Norwich, the go-to destination for this heart-pounding experience is Quasar. Whether you're seeking a fun workout or simply want to engage in friendly competition with friends and family, Laser Tag at Quasar promises hours of fun and a chance to hone your combat skills in a safe and exciting environment.
Skateboarding
Skateboarding enthusiasts aren't limited to outdoor skateparks in Norwich. For years, St. Peter Parmentergate Church on King Street remained empty, but now, it has undergone a remarkable transformation into an indoor skate park and a skate shop that's set to ignite your passion for shredding.
Imagine this: You can go skateboarding inside the very nave of the church, where architectural grandeur meets the vibrant energy of the skateboarding world. St. Peter Parmentergate Church has seamlessly blended these two seemingly disparate worlds, creating a space where skateboarding meets history.
Whether you're a seasoned pro or a beginner eager to learn, St. Peter Parmentergate Church offers a range of options. They host public skateboarding sessions, inviting you to join fellow enthusiasts for thrilling rides across their unique terrain. If you're new to the sport or looking to hone your skills, they also provide lessons that promise a safe and supportive environment for your learning journey.
To ensure you secure your spot for this extraordinary indoor skateboarding experience, it's best to book in advance here. The demand is high, and slots fill up quickly, so don't miss the opportunity to roll and ride within the captivating confines of this historic church.
Playing Games
When the call for indoor entertainment beckons, Norwich answers with a slew of options for gaming enthusiasts. Whether you're a fan of old-school board games, retro arcade classics, or contemporary gaming experiences, Norwich has just the places to satisfy your gaming cravings.
The Games Table: Nestled in the heart of Norwich, The Games Table is a haven for tabletop gaming aficionados. Here, you can immerse yourself in a wide variety of games, spanning board games, card games, miniature games, and roleplaying games. The atmosphere is brimming with fun and camaraderie, ensuring you have an unforgettable gaming session. And what's a great game night without some tasty drinks and snacks? The Games Table offers a fantastic selection of both to keep your energy levels up.
Slice and Dice: For a more laid-back gaming experience, Slice and Dice provides a welcoming atmosphere where you can unwind with friends over coffee, beer, wine, or even cocktails. Their menu boasts delicious plant-based snacks and mains (with a bottomless brunch on weekends) alongside delectable daily baked cakes and treats. It's a place that caters to both your gaming and gastronomic desires.
Retro Replay: Step into a nostalgic wonderland at Retro Replay, an arcade and gaming lounge situated inside Castle Quarter (formerly known as Castle Mall). Here, you can relive the golden age of gaming with over 80 classic arcade machines, featuring beloved titles like Space Invaders, Double Dragon, Time Crisis, Afterburner, and more. They also offer 20 retro console setups with an ever-growing library, ensuring you can play your favorite titles in a cozy and inviting setting.
Norwich's indoor gaming hotspots promise hours of joy and relaxation, so grab your friends, select your favourite games, and get ready for unforgettable gaming moments.
Drinking
While we can't deny the charm of relaxing at the riverside pubs in Norwich, there's just something so cosy about ducking into one of the city's snug little pubs, especially when the weather decides to misbehave. Even though Norwich used to brag about having a pub for every single day of the year, you'll still find plenty of inviting spots in the city centre where you can kick back and enjoy a pint or two.
Inside the city's time-honoured establishments, you'll discover the charm of exposed beams, snug corners, and the kind of warm ambiance that can only be found in a traditional English pub. Whether you're seeking a traditional cask ale, a crisp lager, or something a bit more exotic, you'll find a diverse range of beverages to choose from.
Some of our favourite pubs in the city centre are the Rumsey Wells, Last Pub Standing, Red Lion Bishopsgate, Adam & Eve, and the Murderers. If you are a wine-lover, you might prefer one of several wine bars in Norwich. Cocktail enthusiasts can check out one of the special cocktail bars in Norwich.
Watching Films
When the desire to lose yourself in the magic of the big screen beckons, Norwich boasts several cinema destinations, each offering its unique charm and cinematic experience. Whether you're in the mood for indie gems, blockbuster hits, or special screenings, Norwich's cinemas have something for everyone.
Cinema City: Tucked within the enchanting 17th-century Suckling House, Cinema City is a cinematic gem known for its intimate ambiance. The venue itself is a work of art, featuring vaulted ceilings, stone arches, and antique-panelled rooms that exude history and character. Here, you can enjoy a diverse selection of films, from indie darlings to the latest blockbusters and special events.
Odeon Riverside: If you're seeking the ultimate cinematic experience, Odeon Riverside is the place to be. Expect nothing but the best in cinema technology, offering everything from cutting-edge visuals to a wide array of experiences. With 14 screens, including a breath-taking IMAX, you will be immersed in film magic. The offerings extend beyond traditional films, with live sports, cultural events, and special screenings catering to various tastes.
Vue Cinema at Castle Quarter: The Vue Cinema at Castle Quarter offers a state-of-the-art cinematic adventure with eight screens and over 1,800 comfortable seats. The premium Sony 4K picture quality and Digital Dolby Surround Sound guarantee an exceptional audio-visual experience. Whether you're craving the latest blockbuster releases or family-friendly films, you can find it at Vue Cinema. Plus, don't miss their Big Screen Events, which include world-renowned opera, theatre, sport, music, and dance performances.
Eating
Norwich isn't just a city of history and culture; it's also a food lover's paradise. Within its charming streets, you'll discover a diverse culinary scene that caters to every palate and budget.
For those craving a quick and budget-friendly bite, Grosvenor is a local favorite, dishing up the quintessential British meal – fish and chips. The crispy golden batter, flaky fish, and perfectly cooked chips are a delicious taste of tradition.
If fine dining is more your style, Norwich offers two exceptional choices. Benedicts and Bishops redefine gastronomic excellence, presenting meticulously crafted dishes that are a feast for the senses.
International flavors are also well-represented, with restaurants like Benoli, Spice Valley, The Yard, XO Kitchen, and Haggle offering a global culinary journey. From Italian delights to rich and aromatic Indian dishes, each spot adds its unique flavor to the city's culinary tapestry.
Don't forget about the beloved tradition of Sunday roasts, with several places serving up succulent meats, crispy roast potatoes, and all the trimmings for a leisurely Sunday afternoon. Check out our recommendations for the best Sunday roasts in Norwich.
For an extraordinary treat, The Assembly House beckons with an amazing afternoon tea experience. Delight in a spread of delicate sandwiches, freshly baked scones, and an array of tempting pastries, all accompanied by a fragrant pot of tea. If you're a morning person, check out their Beforenoon Tea too.
Shopping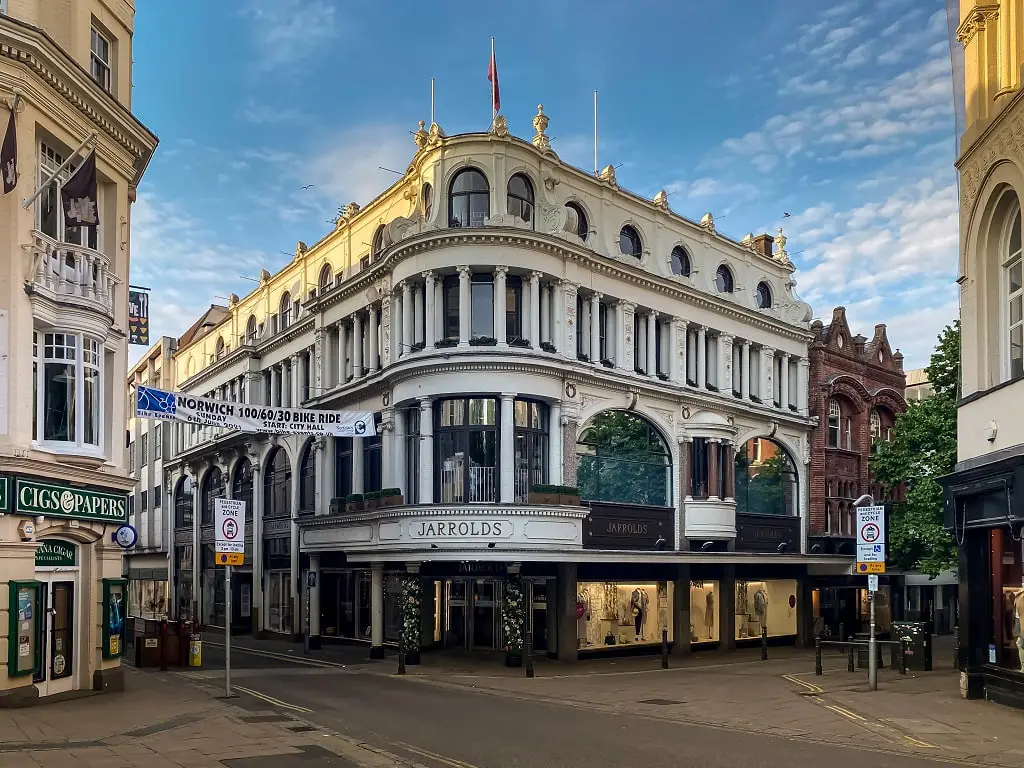 Shopping in Norwich is a delightful experience, and the city offers a diverse range of options for every shopper. Two indoor shopping malls, Castle Mall and Chantry Place, provide a variety of stores to explore. For a local touch, visit Jarrolds, a beloved department store in the city centre, and don't forget to check out their basement for unique local food and drink specialties. The charming Norwich Lanes are brimming with independent shops, offering one-of-a-kind finds. Even though technically an outdoor market, Norwich Market's covered aisles make it a fun and convenient option for shopping, offering everything from fresh produce to handmade crafts.
More Ideas for Things to Do in Norwich
If you liked this post and want to get more ideas for things to do in Norwich, check out these posts:
Romantic Things to Do in Norwich
Fun Things to Do in Norwich for Adults
Unusual Things to Do in Norwich
Disclosure: This post contains affiliate links. This means we will receive a small commission for some purchases made using links in our blog with no additional cost to you.  Please be assured we would not promote any product unless we believe that our readers will also benefit.  The commission does not influence the editorial content of this site.